National Parks and Nature Reserves guide includes full list, Top 10, map, tickets (Israel Pass, Matmon card, combo), and campsites. Let's begin!
Map Of National Parks In Israel
The maps in this post provided by Israeli Nature and Parks Authority.
You can find Hebrew Map above, and this is the English Map: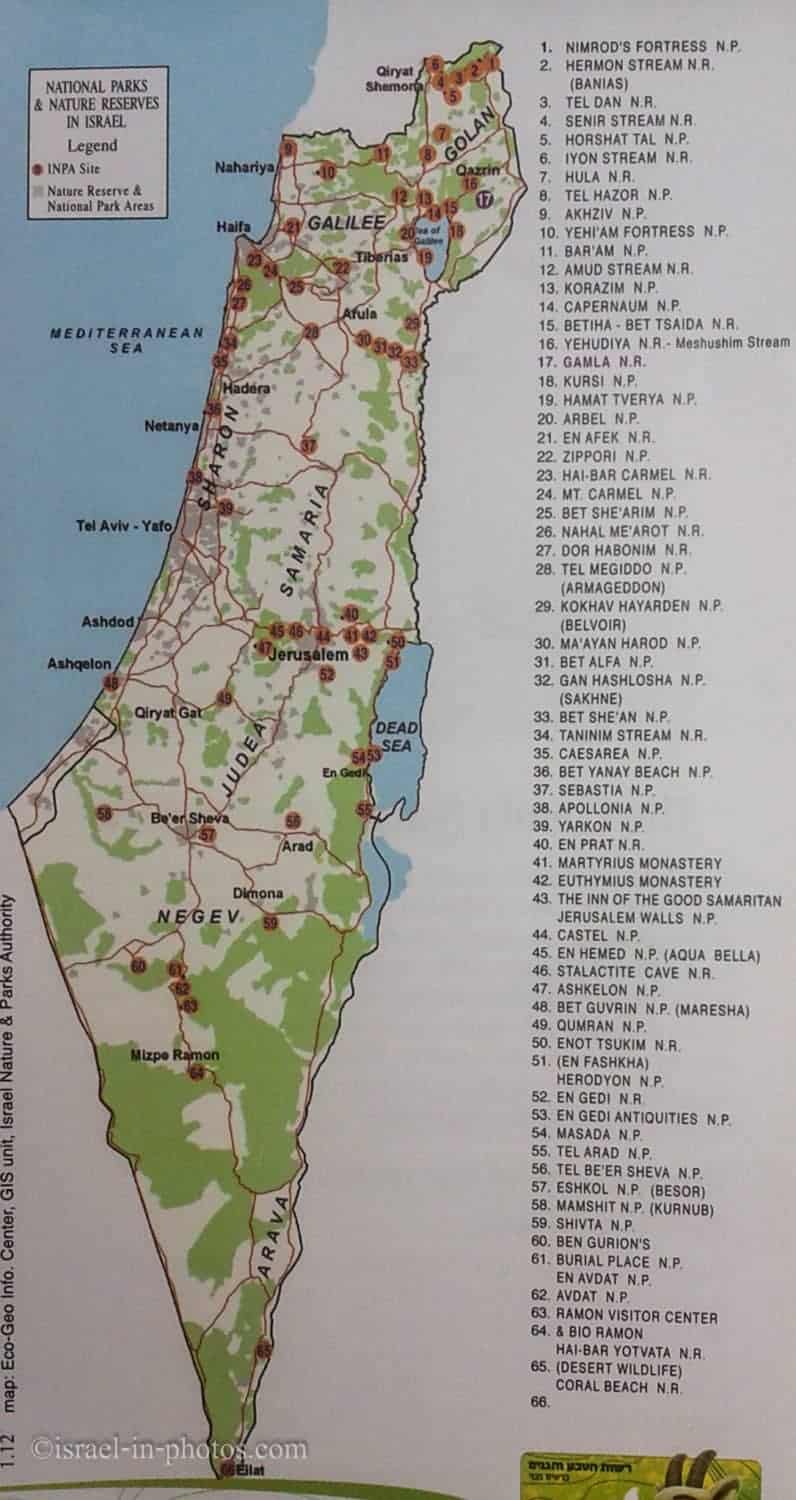 The total number is 69 (actually I saw several versions of these maps, with 63, 66 and 69 sites, but I guess the more significant the number, the newer the plan). From looking at the map, you can see that most of the national parks and nature reserves are in northern Israel, and there are also many in Jerusalem and its surroundings.
On the site of the Israel Nature and Parks Authority, you can find an interactive map.
List of National Parks And Nature Reserves in Israel
Here are three lists divided by region. Also, I added the "Size" column. The size denotes how big the national park or the nature reserve and how much time most people spend there. But, keep in mind that these are rough average estimates and you can either do a one-hour highlights tour or dedicate a full day to cover the same site. So here is the division:
Small – most people spend 1 – 2 hours there.
Medium – people typically spend 2 -4 hours there.
Large – anywhere from 3 hours to a full day.
In some places, I also wrote combinations of those categories. A combination is a union of the range. For example Small – Medium means 1 – 4 hours. Also, in some places, you will see an asterisk (*). The asterisk means that the duration of your visit depends on the selected routes, places you decide to visit, and activities you attend.
Northern Region
| # | Description | Size |
| --- | --- | --- |
| 1 | Nimrod Fortress National Park is the most significant Crusade-era castle in Israel. The entire fortress complex is 420 meters in length and 150 meters in width. | Medium |
| 2 | Banias Nature Reserve, also known as Hermon Stream is one of the most popular Nature Reserves in Israel, and it is located at the Golan Heights. | Medium – Large (*) |
| 3 | Tel Dan Nature Reserve is located in Northern Israel, not far from Kiryat Shmona. This nature reserve has different things to offer. There is water, greenery, and archaeological findings. | Medium |
| 4 | Snir Stream Nature Reserve | Small (*) |
| 5 | Hurshat Tal National Park | Small – Large (*) |
| 6 | Ayun Stream Nature Reserve offers an excellent trail with plenty of water, four waterfalls, and nature. | Medium |
| 7 | Hula Valley has two Nature Reserves. Hula Nature Reserve is the smaller one with bridges and hiding spots to see birds. I visited it once but never wrote about it. During our visit, we almost did not see any birds, but I liked the fact there are trails for wheelchairs and kid's trolleys throughout the whole reserve. The second Nature Reserve is Agamon ha Hula. Agamon is larger with a variety of tours and more birds (one of the reasons for that is the crane feeding that takes place at Agamon daily during the migration season). I visited Agamon many times and here is my combined post about Agamon Hula. | Small – Medium (*) |
| 8 | Tel Hazor National Park is located next to Kibbutz Ayelet HaShahar, between Rosh Pina and Metula. And it is the Largest Tel in Israel. | Medium |
| 9 | Akhziv National Park and Rosh HaNikra Grottoes are located north to Nahariya, next to the border with Lebanon. Rosh HaNikra Grottoes a is white chalk cliff face which opens up into spectacular grottoes. And nearby Achziv Beach is one of the most beautiful beaches in Israel. | Small – Medium |
| 10 | At Yehiam Fortress National Park you can find ruins of a massive and mighty fortress, combining buildings from the Crusader and Ottoman periods. The fort also tells the heroic story of the defenders of Yehi'am during the War of Independence. | Small – Medium |
| 11 | Baram National Park | Small |
| 12 | Amud Stream Nature Reserve in Northern Israel is a beloved nature reserved by families with kids. Read on to find out why. | Medium – Large (*) |
| 13 | Korazim National Park is located several kilometers north of the Sea of Galilee, and about 300 meters above the level of the lake. | Small |
| 14 | Capernaum is also called as The Town Of Jesus, and the word itself stands for two words: "Kfar Nahum" which means "Nahum's Village". | Small |
| 15 | Betiha Nature Reserve – The Majrase offers a short and enjoyable trail next to the Sea of Galilee that suits perfectly for the hot days. | Small – Medium (*) |
| 16 | Yehudia Nature Reserve – Meshushim Stream | Medium – Large (*) |
| 17 | Gamla Nature Reserve is located in the central Golan Heights, and despite its distance from any major cities, it is a popular site. I guess this is because Gamla can fit the interests of many people. Gamla Nature Reserve is a combination of nature, landscape, and historical remains. | Medium – Large (*) |
| 18 | Kursi National Park contains the impressive remains of a monastery and church from the Byzantine period. According to Christian tradition, this is the site of the Miracle of the Swine mentioned in the New Testament. | Small |
| 19 | Hamat Tiberias National Park displays not only hot springs but a rich history including a stunning zodiac mosaic in the ancient synagogue. | Small |
| 20 | Arbel Nature Reserve And National Park is located on Mount Arbel near Tiberias. And it offers both stunning views and a glimpse of history. | Medium (*) |
| 21 | Ein Afek Nature Reserve is located east of Kiryat Bialik, and it is a popular site among locals. We also attended Bird Ringing at Ein Afek Nature Reserve. | Small -Medium |
| 22 | Tzipori National Park is located in Lower Galilee, west of Nazareth. This National Park has many remains of the ancient city Tzipori, including many beautiful mosaics and an old water system. | Medium |
| 23 | Hai Bar Carmel National Park is located on top of Carmel mountain inside Carmel nature reserve. Israel Nature and Parks Authority always advertised it as the place to see eagles and deer. | Small -Medium |
| 24 | Mount Carmel National Park has many different trails to offer. And "The Spring is here or Hiking the Carmel Mountains" is one of them. | Medium (*) |
| 25 | Beit She'arim National Park is located near Kiryat Tiv'on (about 20km from Haifa). And it is an archaeological site of an ancient Jewish town, which is a world-famous Jewish cemetery of the Mishnaic era. | Medium (*) |
| 26 | Nahal Mearot Nature Reserve is located at Hof Hacarmel not far from Haifa. It is a world heritage site due to the importance of its archeological findings. | Small -Medium (*) |
| 27 | Dor HaBonim Beach Nature Reserve | Small – Medium (*) |
| 28 | You probably heard the word "Armageddon." Ancient people said that the battle of the End of Days would be Megiddo? Due to its importance, Megiddo was conquered 25 times! And in this post, you can find additional info on my last visit to Tel Megiddo National Park. | Small – Medium |
| 29 | Jordan Star National Park (Kokhav HaYarden) has Belvoir Fortress, an almost complete Crusader castle. | Small – Medium |
| 30 | Ma'ayan Harod National Park | Small |
| 31 | Bet Alfa Synagogue National Park is located at kibbutz with the same name not far from Bet Shean. And it has one of the best preserved and most beautiful mosaics in Israel. | Small |
| 32 | Gan HaShlosha (Sachne) National Park | Small – Large (*) |
| 33 | Beit Shean National Park has probably the best preserved ancient Roman city in Israel. | Medium (*) |
| 34 | Taninim Stream Nature Reserve | Small |
Central Israel
Southern Region
| # | Description | Size |
| --- | --- | --- |
| 47 | Ashkelon National Park offers various excellent activities. You can go to the beach, have a picnic, visit the archeological parts. Or even build a tent and stay for a night. For all these reasons it is one of the most popular national parks in Israel. | Small – Medium (*) |
| 48 | Beit Guvrin National Park is found not far from Kiryat Gat, and it belongs to UNESCO world heritage sites. | Medium – Large (*) |
| 49 | Qumran Park | Small – Medium |
| 50 | Enot Tsukim Nature Reserve | Small – Medium |
| 51 | Herodium (Herodion) National Park is a truncated cone-shaped hill, located 12 kilometers south of Jerusalem. | Small – Medium |
| 52 | En Gedi Nature Reserve is the largest Oasis in Israel. Thus it attracts people starting from ancient times. Moreover, it draws wildlife as well. Therefore, the combination of history, archeology, wildlife, and nature makes Gedi Nature Reserve Park one of the most popular attractions in the Dead Sea area. | Medium – Large (*) |
| 53 | En Gedi Antiquities National Park shows an ancient sunagogue with beautiful mosaics. | Small |
| 54 | Masada National Park | Medium – Large (*) |
| 55 | Tel Arad National Park is located in South of Israel northwest of the modern city of Arad. | Small – Medium |
| 56 | Tel Beer Sheva National Park | Small – Medium |
| 57 | Eshkol National Park also called HaBsor National Park at Northern Negev is one of the leading attractions during Darom Adom festival. | Small – Medium (*) |
| 58 | Mamshit National Park is a world heritage site by UNESCO, and it presents remains of Nabatean city not far from Dimona. | Small – Medium (*) |
| 59 | Shivta National Park | Small |
| 60 | Ben-Gurion's Tomb National Park is located in a garden at the Negev overlooking Tsin Canyon and Ein Avdat. Thus, I wrote about it at Ein Avdat post. | Small |
| 61 | Ein Avdat National Park located to the south of Sde Boker. In Hebrew, Ein means spring and offers a stunning hike in the Negev desert. | Small – Medium (*) |
| 62 | Avdat National Park has quite impressive remains of a Nabatean settlement. And it also was station number 62 on the Incense route. | Small – Medium |
| 63 | Makhtesh Ramon Visitors Center and Bio Ramon are found at Mitzpe Ramon settlement. And they are mostly dedicated to Ramon Crater, a fascinating geological feature in the Negev desert. | Small – Medium |
| 64 | Hai Bar Yotvata Nature Reserve at southern Arava Valley was established to foster the breeding of animals mentioned in the Bible and other endangered desert animals. | Medium |
| 65 | Eilat Coral Beach Nature Reserve is a nature's wonder. One of the best ways to see it is by visiting the Underwater Observatory Marine Park. | Medium – Large (*) |
Note: parks that have a short description are the ones I visited and covered in this blog. Parks and reserves that do not have a brief description next to them are the ones that I have not visited in recent years. Thus have not yet written about them (and the link points to the official site). For example, I toured the Dead Sea area and all the nearby parks almost a decade ago. Back then I was not into photography, and digital cameras were in their beginning. Therefore, I prefer not to post poor quality and probably not up to date content.
Best National Parks And Nature Reserves
Before I get on to the list, I should mention several points. First of all, this is a subjective list. It is based mostly on my preferences and those of people I traveled with. I asked myself: "if I had a limited amount of time, which ones would I visit?". Secondly, though I have visited most of the 65 parks and reserves (around 60 out of 65), I have not been to several. And lastly, this is an unordered list, thus whether something appears at the beginning or the end, it does not matter.
My Favorites
In Israel Trip Planner, I listed the Most Popular Israeli Attractions. Check it out as well.
If the top 10 (well actually 11) was not enough there here are several bonus places. Additionally, let us know what your favorites in the comments below.
Bonus Places
Ticket Types
There are several tickets types, ranging from regular tickets to annual pass. And now we are going to go through all kinds.
Regular Tickets
If you will be visiting 1 – 2 national parks then the regular paper tickets will probably suit you the best. You can purchase them at the entrance to every site and no preliminary action required. But if you will be visiting more then a couple of parks then combo ticket, Israel Pass or even Matmon card may be a better fit.
Combo Tickets
Israel Nature and Parks Authority have combo tickets. For example, the Blue Card that costs 78 NIS and allows to visit three sites. Or the Green Card with six entries at the price of 110 NIS. And the price of Orange Card is 150 NIS and you have unlimited site visits. All these cards are valid for two weeks from the first visit and intended only for tourists.
Thus, if you are planning to visit more than one national park, it is worth considering to purchase a combo ticket. You can find additional information here.
Note: combo tickets offer access only to sites listed on the front of the card, and not all national parks and nature reserves. Moreover, you can purchase them only at selected parks (see the link above).
Matmon Card – Annual Subscription
Israeli Nature and Parks Authority has yearly subscription tickets. They are called Matmon Card. These tickets include free entrance to National Parks and Nature Reserves during the year (there is no limit for the number of entries). Furthermore, you will get discounts on their tours.
Moreover, when you sign up for an annual subscription, you will receive Israeli Nature and Parks Authority's monthly magazine (either by mail or by post).
You can purchase the Matmon Card at the official site over here.
When is it worth buying the Matmon Card?
The answer depends on the subscription type. Let's take, for example, a family with two children, one at the age of 6 and the other 2. Why did I mention the ages? Children under the age of 5 years old enter free with subscription. Such a family would need a pair of adult plus an annual child pass, which currently costs 340 NIS. How does regular entrance costs stack up? It depends on the park. For adults, I have seen prices ranging from 14 NIS till 39 NIS, and for children, the prices vary from 14 NIS and up to 24 NIS. If we assume that average adult tickets cost 30 NIS and average child ticket costs 15 NIS, then one family entrance (2 adults + 1 child) cost 75 NIS.
Thus, in this case, if you are visiting national parks five or more times per year, Matmon becomes cheaper then regular tickets.
Also, keep in mind that when renewing the subscription, it is cheaper than buying for the first time (in the chosen case it is 306 NIS instead of 340 NIS, or 578 NIS per two years).
Notes:
full price list of different subscriptions is listed here.
all prices were updated in June 2019.
Israel Pass
During 2019 the Israel Pass was introduced. This combination suits both transportation (Rav-Kav) and national parks. Here is a quote from the official site:
The ISRAEL PASS enables entry to up to six leading national parks and nature reserves (for example, Masada, En Gedi, Caesarea, Qumran, and many others), as well as (when loaded) travel on public transportation throughout Israel, enjoying RAV KAV ride card benefits.

The ISRAEL PASS is a joint product of the Israel Nature and Parks Authority, the Ministry of Transport and Road Safety and the Ministry of Tourism.
There are two types of Israel Passes. Israel Pass – 3 which includes three parks entrances and costs 83 NIS. And Israel Pass – 6 which allows visiting six national parks for the price of 115 NIS. Keep in mind that the Rav Kav, ride card, is unloaded and you have to charge it before you use public transport.
Israel Pass cards can be purchased at the Ministry of Transport booth in the arrivals hall, ground floor, Terminal 3, Ben-Gurion Airport.
Note: Israel Pass is valid for two weeks from the first entry. Ride card (Rav Kav) can be reloaded.
Furthermore, you can use this map with locations of all posts.
Which National Parks Have Campsites?
If you like camping, then you can stay for the night at one of the national parks with the appropriate facilities. Moreover, in many of them, you can rent rooms as well. Here is the list of National Parks with campsites divided to geographic areas.
Notes:
Depending on the site, there are different camping options. Some offer public tents, and you can set up a private tent. And others, in addition to these options, offer staff rooms as well.
When I tried to make a booking, I noticed that the booking widget appeared only on the Hebrew version of the page. Thus, you can either book it in Hebrew (if you know the language or trust Google translate), or send an email. Each campsite has a dedicated email.
Northern Campsites
Campsites In Central Israel
Southern Campsites
Questions And Answers
Q: Can I show up at any National Parks and visit it? Or do I need some booking or pre-arrangement in advance?
A: As long as you come during the opening hours, there is no need for any preparations. But, if you want to join one of the tours, for example, there are lantern tours at several parks, then you need to make a reservation.
Note: on my blog, you can find all the national parks under the Israeli National Parks category.
What is your favorite National Park? Let us know in the comments below.
That's all for today, and I'll see you in future travels!
Stay Tuned!

Additional Resources
Here are several resources that I created to help travelers:
And if you have any questions then check out Useful Information For Tourists To Israel.

Did not find what you were looking for? Email me at
hi@israel-in-photos.com
, and I will do my best to answer your questions.