Agamon Hula guide starts with basics (best time to visit, entrance fee, rentals), and then join regular visits and different tours. Let's begin!
Map
Agamon Hula is located 15 km to the south of Kiryat Shmona.
Directions
You can reach Agamon Hula either by car or by bus. If you arrive by car then enter "Agamon Hula" into your navigation app. And if you choose public transport, then you can see directions at Moovit. Follow this link, and enter your starting point to get the updated directions.
History Of Hula Valley
Hula Nature Reserve and Agamon Hula are both located at the Hula Valley. And this valley has interesing history including swamp drainage and refilling it back with water.

Before its drainage in the early 1950s, Lake Hula was 5.3 kilometers long and 4.4 kilometers wide, extending over 12-14 square kilometers. It was about one and a half meters deep in summer and three meters deep in winter. Some perennial springs fed the marsh-like lake. The lake attracted human settlement from early prehistoric times. Paleolithic archaeological remains were found near the Bnot Yaakov ("Daughters of Jacob") bridge at the southern end of the valley. The first permanent settlement, Enan (Mallaha), dated from 9,000-10,000 years ago and was discovered in the valley.

Traditional crops were rice (as early as the Hellenistic period), cotton and sugar cane (brought by the Arabs following their conquest in 636), sorghum and maize (brought after the discovery of the Americas). Water buffalo were introduced in the eighth century supplying milk and serving as beasts of burden.
The source for this and the next quote is Wikipedia.
Swamp Drainage
The draining operations, carried out by the Jewish National Fund (JNF), began in 1951 and were completed by 1958. It was achieved by two main engineering operations: the deepening and widening of the Jordan River downstream; and two newly-dug peripheral canals diverting the Jordan at the north of the valley. The drying out caused the extinction of the unique endemic fauna of the lake, including the cyprinid fish Acanthobrama hulensis and cichlid fish Tristramella intermedia.

Though perceived at the time as a great national achievement for Israel, with the advent of the modern environmental movement, it became evident that the transformation of the swamp into agricultural land involved significant trade-offs and had effects on the ecosystem. The compromises had not been perceived in the first half of the twentieth century when the primary concerns had been the reduction of malaria-bearing mosquitoes and improving economic productivity. In 1963, a small (3.50 km²) area of recreated papyrus swampland in the southwest of the valley was set aside as the country's first nature reserve. Concern over the draining of the Hula was the impetus for the creation of the Society for the Protection of Nature in Israel.

Draining Hula turned out to be a mixed blessing. Water polluted with chemical fertilizers began flowing into Lake Kinneret (Sea of Galilee), lowering the quality of its water. The soil, stripped of natural foliage, was blown away by strong winds in the valley, and the peat of the drained swamp ignited spontaneously, causing underground fires that were difficult to extinguish. Eventually, part of the valley was transformed back into a wetland habitat.
Hula Nature Reserve
There is a common mix up between Hula Nature Reserve and Agamon Hula. These are two different places, which are both located in the Hula Valley. Hula Nature Reserve is located several kilometers to the south of Agamon Hula.
Hula Nature Reserve is a national park (official site). And I visited Hula Nature Reserve once while my daughter was a baby. There are several benefits to this nature reserve. A nice round trail goes along the whole park, and we could easily walk with a baby stroller (not many national parks are fully accessible). Moreover, this route is not long, and there are water, greenery, and animals. Unfortunately, we saw only a few birds. Mostly there were butterflies and turtles.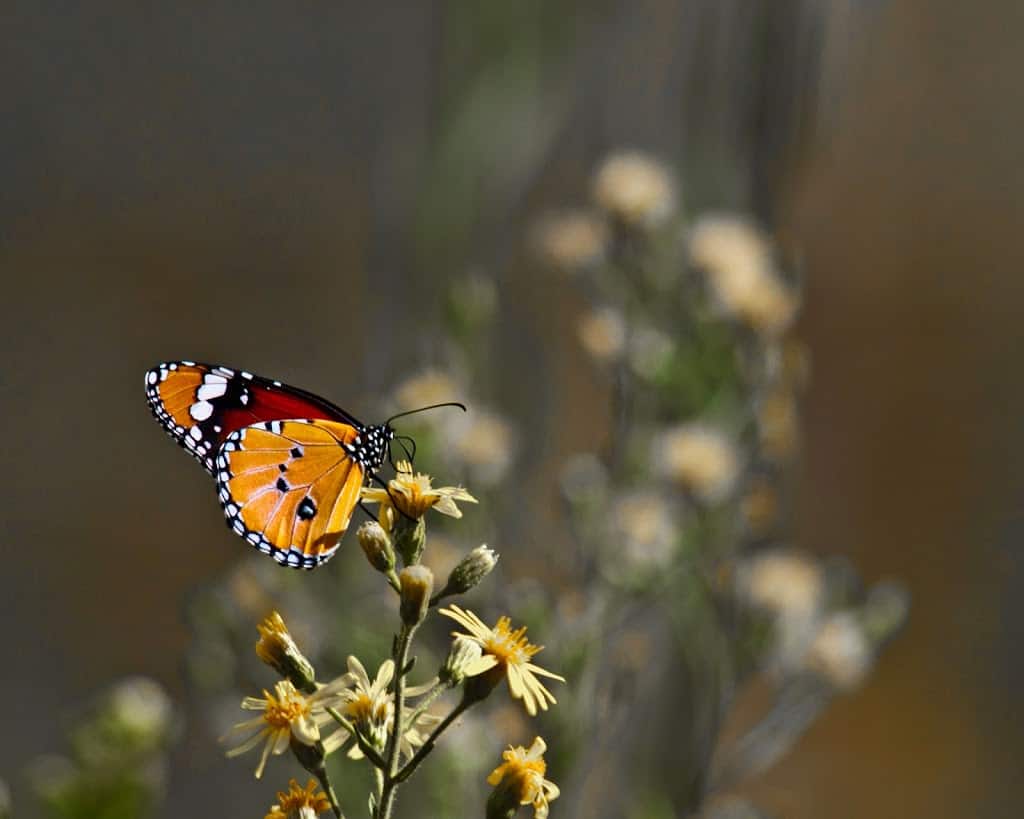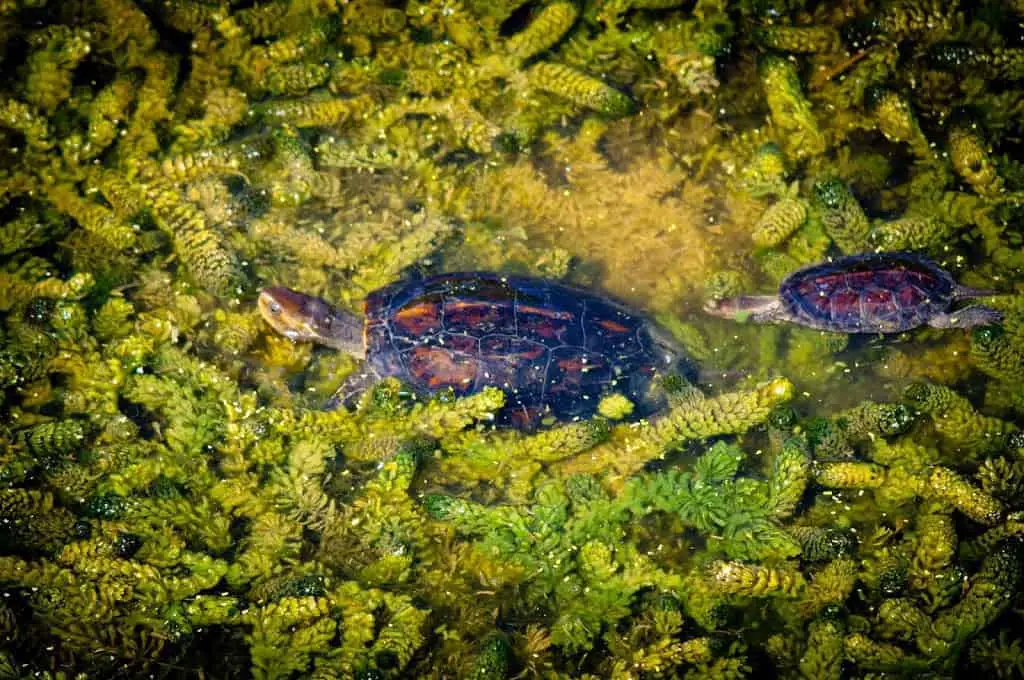 Hula Nature Reserve is a nice place for a 2 – 3 hours easy family walk. But if you want to see birds, then I would suggest continuing driving north for an extra 10 minutes till you get to Agamon Hula.
Agamon Hula
I visited Agamon Hula (official site) about a dozen times, and this post will contain some of those visits. But first, let's start with basic info.
The Agamon Hula Ornithology (Bird Watching) and Nature Park, is situated in the heart of the Hula Valley. The valley bordered by mountain ranges, to the east the Golan Heights and to the west the Naphtali Range, is critically located in the center of the Afro-Syrian Rift and one of the most significant bird migration routes in the world. During every migration season (fall and spring), over 500 million birds from more than 400 species migrate in the skies above us. Thousands remain at the Agamon during the winter, and others choose to nest here during the spring and summer.
In the area of the Agamon Hula, a unique eco-system of regional and international importance has developed. The park is a highly significant and prominent center for eco-tourism in Israel and throughout the world, and a model for cooperation between nature, tourism and agriculture.
Source: official site
Agamon Hula is much bigger than Hula Nature Reserve, and the round trail is around 10 km. Thus, you have several options to complete the path. You can walk, rent a bicycle, rent a golf cart, or join a tour.
Entrance Fee – Regular & Tours
Everybody that enters the Agamon pays 5 NIS (per person) for the cranes' project. This money used to buy food for migrating cranes.
If you are visiting on a regular day (not a holiday and not weekends), you can bring your bicycle. In that case, you will pay only the 5 NIS. Also, if you decide to walk, you will spend 5 NIS per person. Renting a bicycle, golf cart, or joining a tour is at extra cost.
There are different options of bicycles (Mountain Bicycle 50 NIS per person, Tandem Bicycle 132 NIS per Couple, Small Family Bicycle 150 NIS for a Group of 3, and Large Family Bicycle 185 NIS for a Group of 4-5 + Child Safety Seat). And there is a range of Golf Carts (Golf Cart for 2 – 149 NIS, Golf Cart for 4- 199 NIS, Golf Cart for 6 – 259 NIS).
During peak season (which is migration peak), they might run out of Golf Carts and Bicycles. Thus, I would suggest coming early. Moreover, rental time will be limited. You have to return bicycles within three hours, and golf carts within two hours.
The prices for the tours are as following: Safari Wagon – 57 NIS per person and 49 NIS per child (3-12). Sunrise Tour / Night Tour – 85 NIS per person and 65 NIS per child (3-12). These are the most common tours, but there are several others as well. For the full list visit the official site.
Note: prices were updated in November 2018.
Tour Languages
In all the tours I joined (Safari Wagon tours and Sunrise Tour), the guide gave explanations in Hebrew. If you are interested in tours at another language, then I would suggest contacting the Agamon either using the contact form at the official site or by phone +972-4-6817137.
What is the Best Time To Visit Hula Valley?
The best time for a visit is during bird migration. Meaning, either fall or spring (usually March – April and October – November). If you want to know the exact dates, and what birds are currently there, follow Agamon on social media (here is a link to their Facebook page).
As per the time of the day, the best time is either early in the morning or late afternoon (towards sunset). During these hours the cranes (and many other species of birds), like most wildlife, is most active. That is also why they offer sunrise and sunset tours.
Opening Hours
On weekdays (Sun. – Thu.) the site is open from 9:00 am till 5:00 pm (last entrance at 4:00 pm). And on weekends Agamon is open from 6:30 am till 5:00 pm (last entrance at 4:00 pm). But there might be changes, thus recheck the official site before your visit.
Agamon Hula With Kids
On most visits, we took our daughter with us (the only times we traveled alone was when I knew I wanted to stay longer and take more photos). Many people do the same, and there are plenty of kids there. It is a family attraction, and you should not be afraid to take children with you.
Safari Wagon
During my first several visits to Agamon, I cycled. But the problem is that you cannot get too close to birds and you can see them only from a distance. Thus, after several regular visits, I started to join the Safari Wagon tour.
When you are on-site, you register and pay for a Safari Wagon tour. And then you will need to wait (usually up to half an hour) for the beginning.
Usually, birds are afraid of human and keep their distance. Moreover, to see them or photograph them, you need binoculars or a long lens. One of the ways to get around that is by hiding, and another is gaining an animal's trust. The safari wagon is a combination. Firstly of all, you sit in a towed vehicle (by a tractor). Although it is open on one side, you are asked to keep quiet in order not to frighten the birds. Secondly, the same tractors are used to feed the birds. And since birds are used to those tractors, they come close to them. But those tractors supply food for mostly cranes during the migration season. Thus, it is less likely that you will see other birds from such a close distance. Songbirds and pray birds will keep their distance from the safari wagon.
Another critical factor is that the safari wagon enters areas in which you can not enter by foot or bicycle.
The duration of a safari wagon is about 40-60 minutes. And if you want an even better experience, then I would suggest the Sunrise Tour. These tours are also made in safari wagons, but they are made during sunrise. Which is a magical time (not only in photography but it is also time when the birds wake up and fly for breakfast).
Here are several of my shots from the Safari Wagon.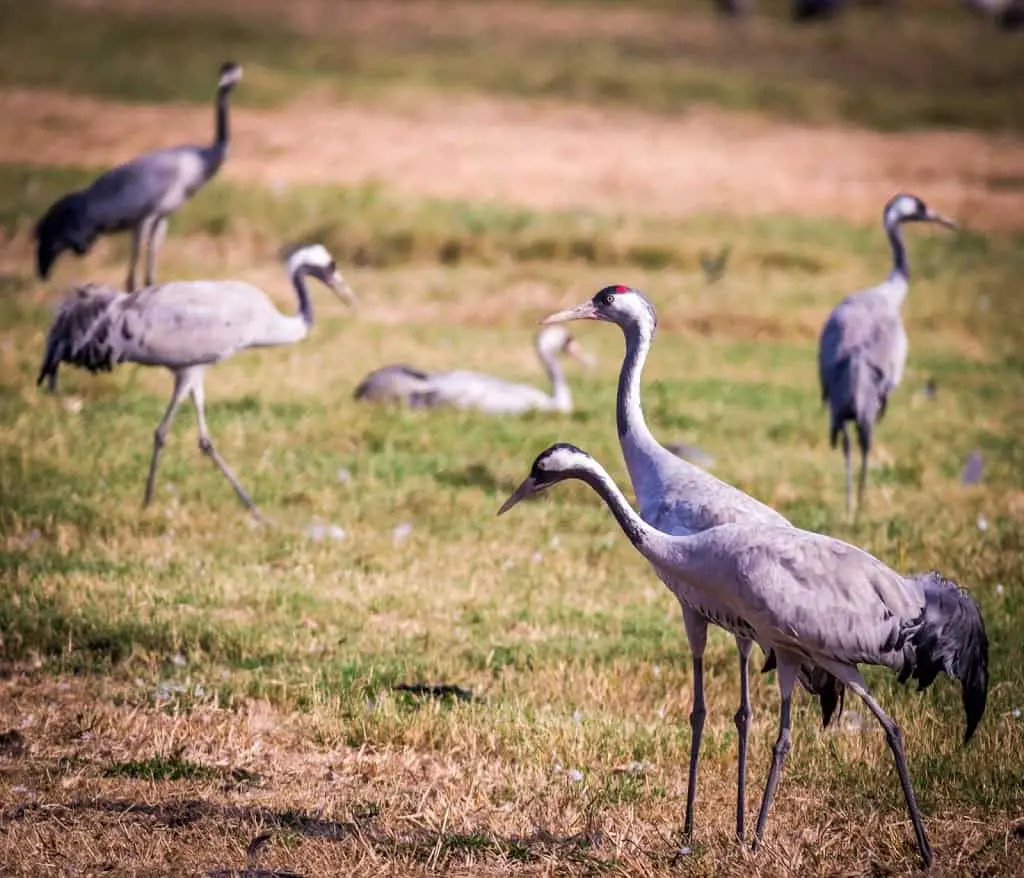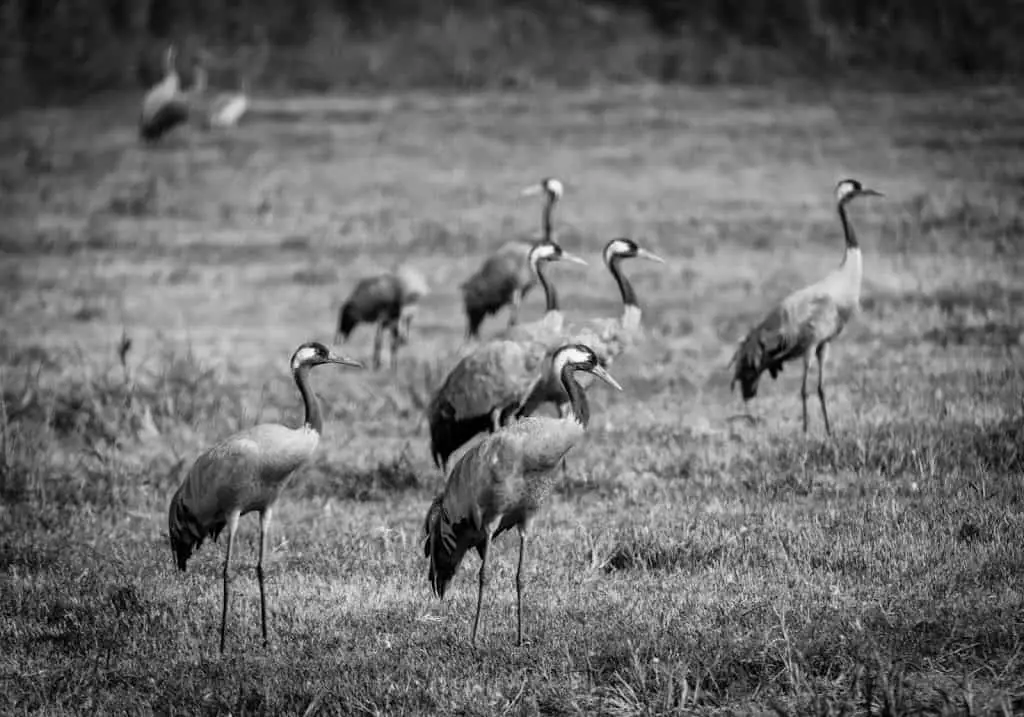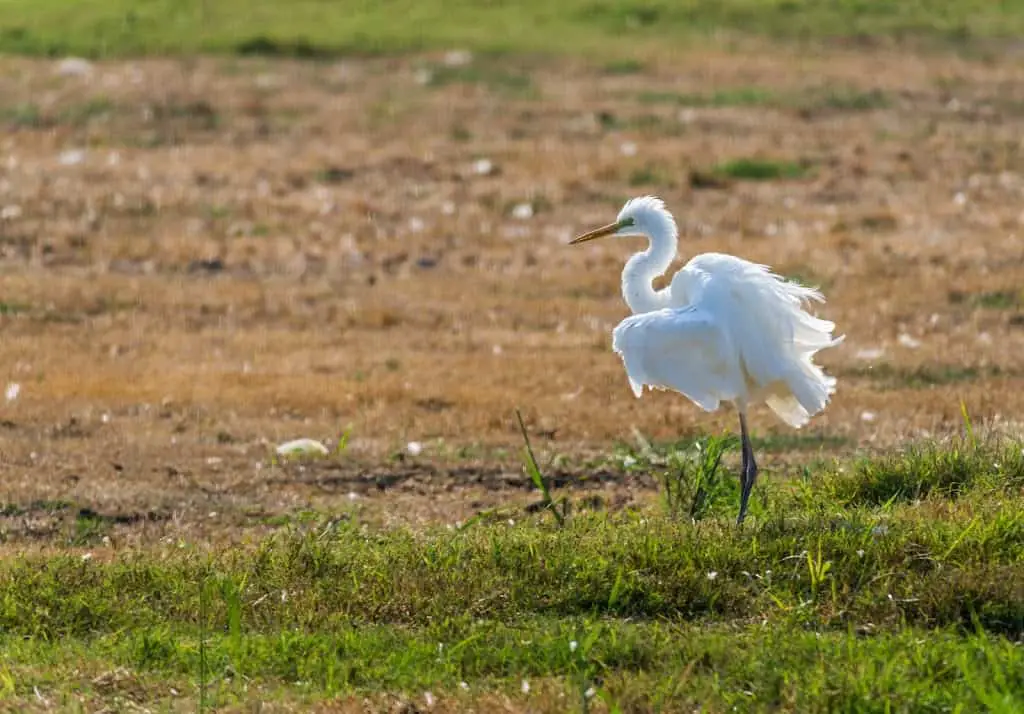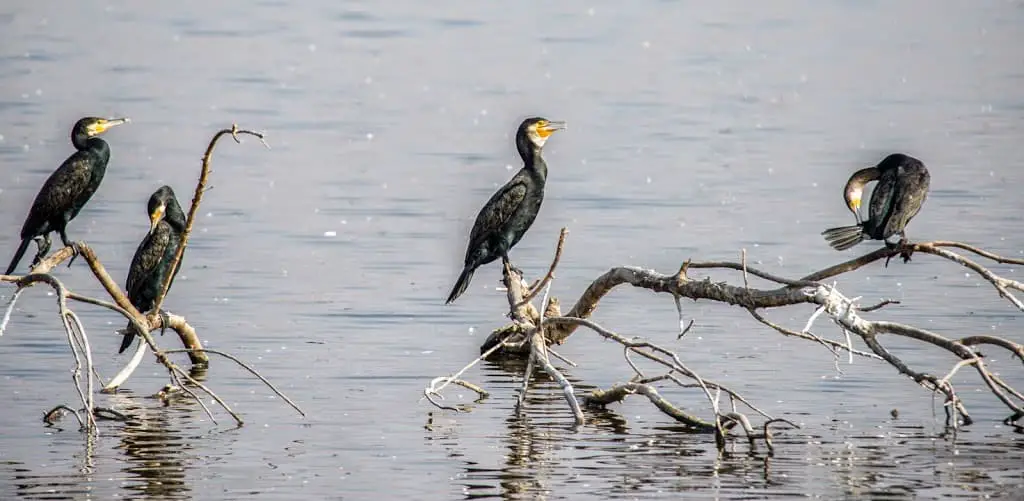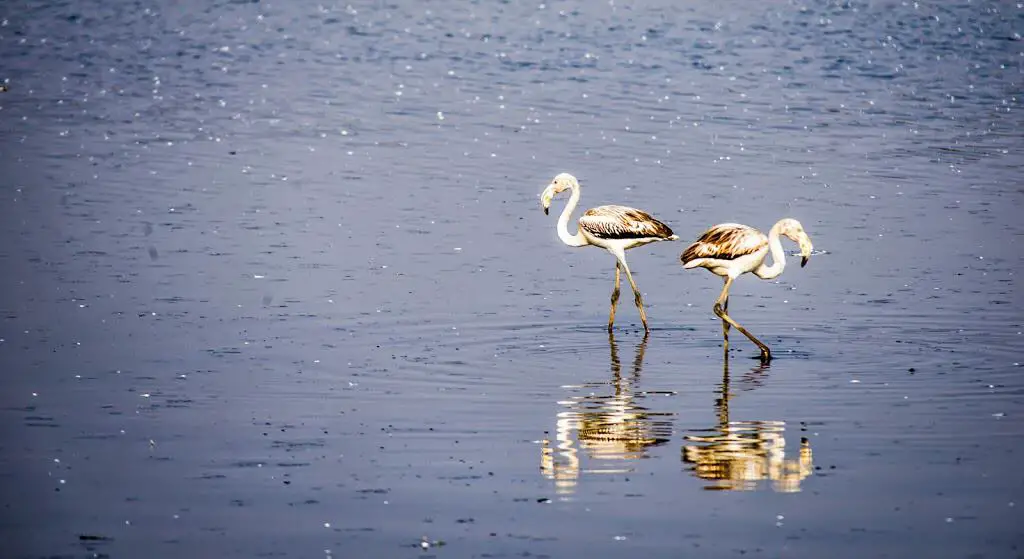 You can find Nutrias not only in Agamon but at Ein Afek Nature Reserve, and I wrote about their history in Israel at that post.
The Sunrise Tour
I wanted to start with a short video clip from the Agamon Hula sunrise tour. In the video, you can feel about 50,000 cranes, and it is still not the peak.
Two interesting and less familiar facts about cranes:
If you notice in the video, while some cranes were eating, others are on guard. You can never see all cranes with their heads down.
Cranes similarly to swans, they have one partner per life. Moreover, they are renewing their "marriage vows" each year by performing their mating dances.
Here is Agamon ha Hula Sunrise Tour video:
And they say that Israelis are loud 🙂
At The Sunrise Tour
Agamon Hula, as mentioned above, besides regular visits, offers different tours. One of which is the Agamon ha Hula Sunrise Tour. It lasts about two hours, costs 85 NIS (+5 NIS per crane project), and you need to sign up in advance. Preferably several weeks in advance during the peak season.
We arrived at 5:10 am, and the tour started at 5:30.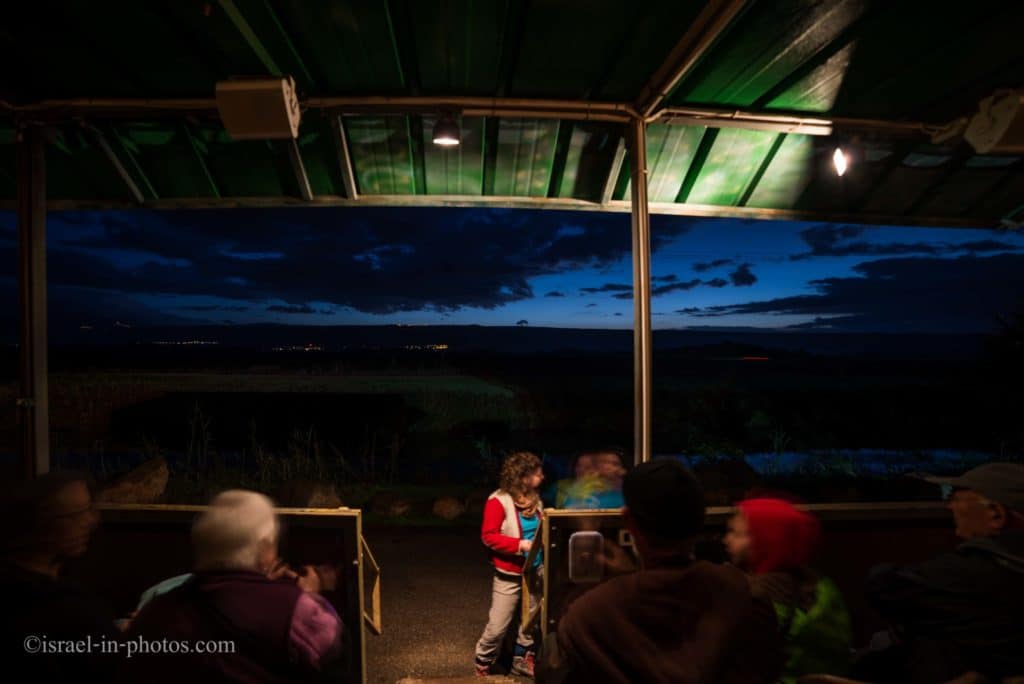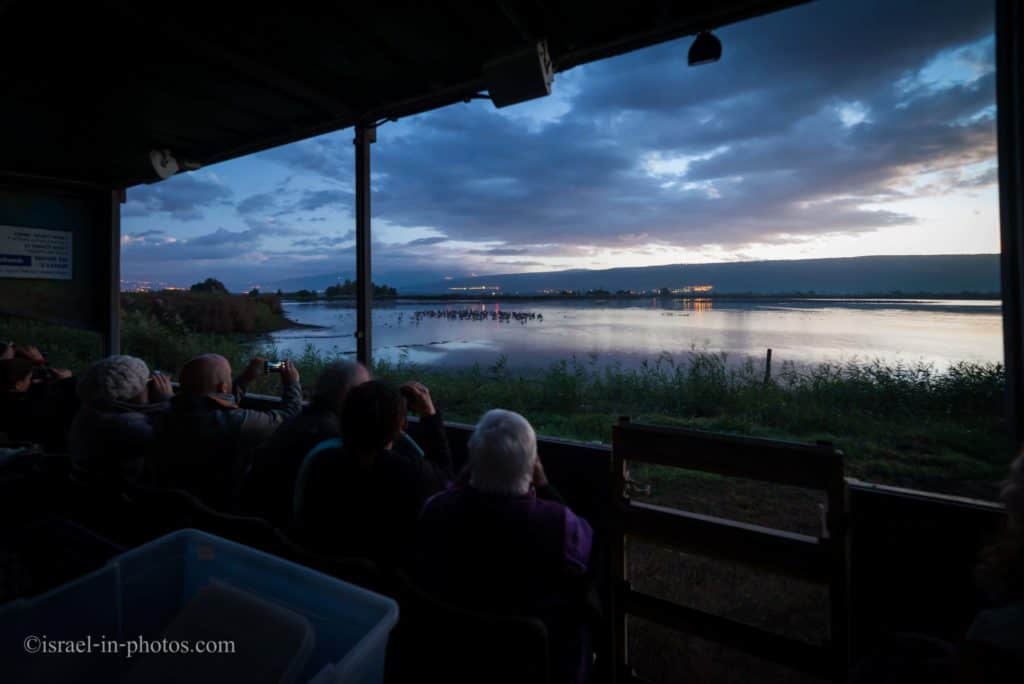 As we sit in the carriage that connected to a tractor, our guide performs last checks before departure.

Why carriage? Years ago, one of the farmers noticed that birds are not afraid of tractors. They are used to them since people using tractors feed the birds. Thus, birds come close. Since then, touristic carriages were constructed, these carriages are connected to tractors, and this way you can get close to the birds. Each carriage has three (inclined) rows and about 40 seats.
The photo above shows the view from the third row in the carriage. The box at the bottom of the photo is one of the several boxes with warm blankets and binoculars that were prepared in advance for us.
Common Cranes
Our first stop was to greet common cranes before they wake up: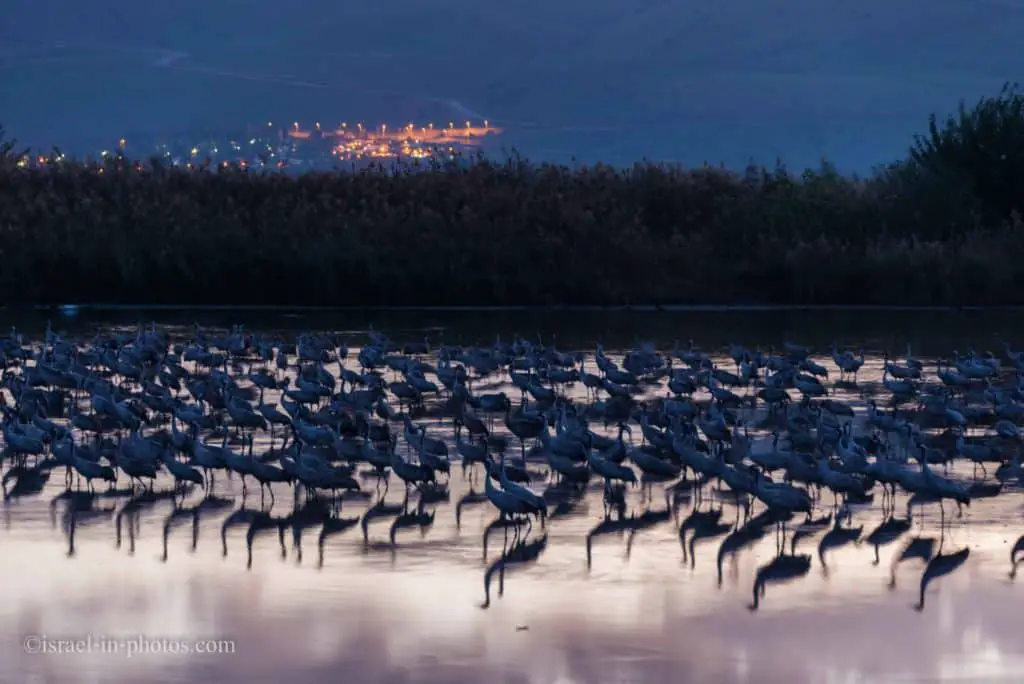 The sun starts to rise, and the cranes start to fly. But, not only birds are waking up. A family of wild boars is also in movement:
The cranes sleep in shallow water lakes (the depth is on average 30 cm, and a series of dams control it). The water offers protection from predators. Birds can feel any movement in water over distances, and it is hard to get closer without being noticed.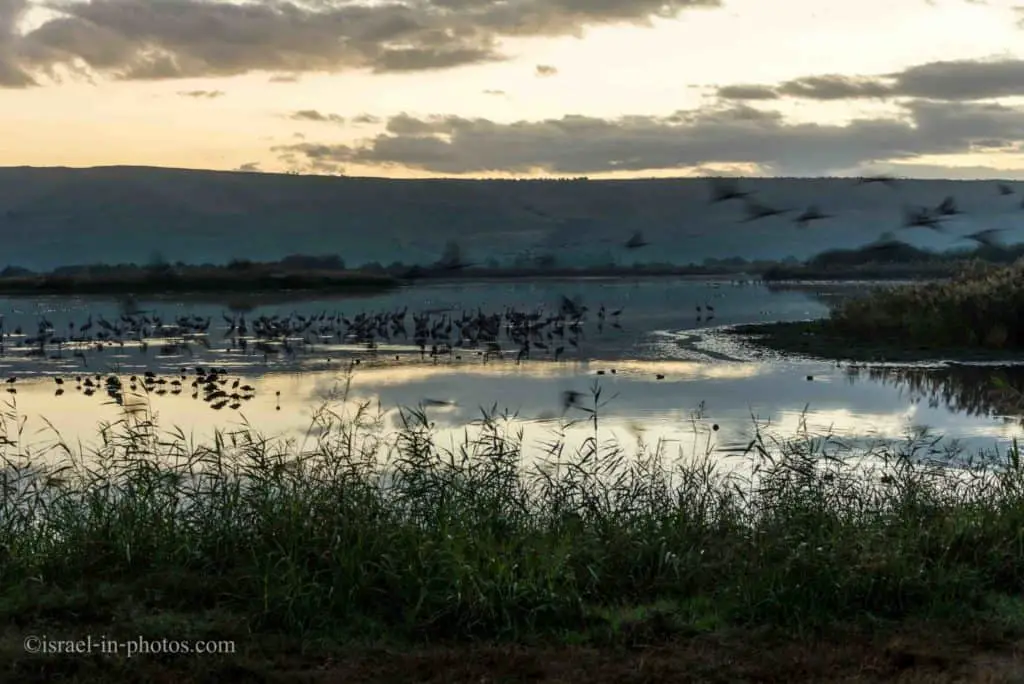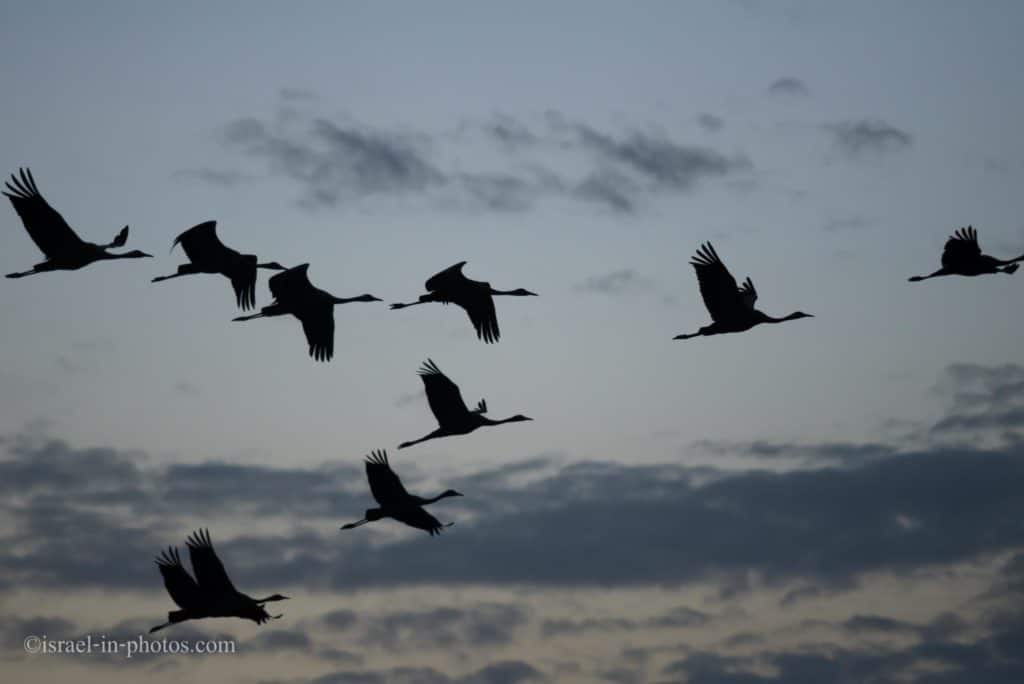 Then we drove to cranes feeding grounds. Here is a feeding tractor in action: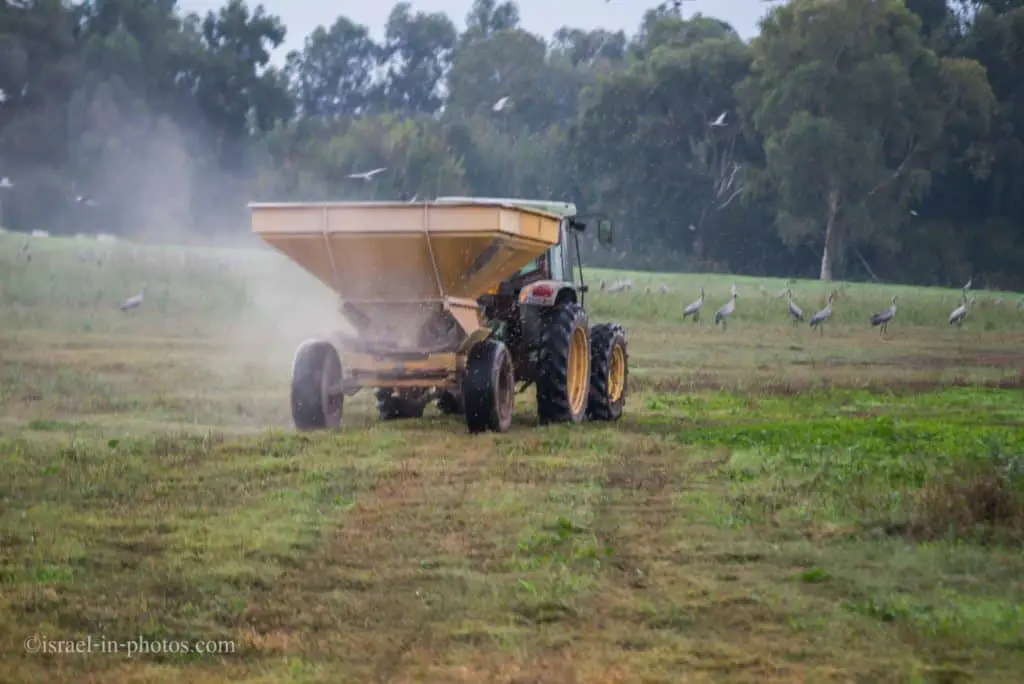 They are fed with corn.
Cranes as other birds cross over Israel in the winter. Around 500 million birds pass annually. It can cause severe damage to agriculture. Thus, feeding was organized at Agamon Hula. And Rangers patrol fields with sound guns. If they spot birds, they scare them off, and the intention is to direct them to Agamon. As a result, birds learn there is food, and each year more cranes come along.
Note: not all cranes continue their migration to Africa. And since there is food here, many decide to stop their migration here. According to different estimations, in 2019, 35,000 to 50,000 cranes will be spending their winter in Israel (and leave in March).
Up until several years ago, the farmers, whose fields were protected paid for the corn, but as the number of cranes increased a new source of income had to be found. Today, each person that enters the Hula reserve pays 5 NIS for the crane project, or more specifically, for corn that the cranes eat.
Our sunrise tour was not the only one that morning, there was also photographers sunrise tour:
As I mentioned above, somebody is always on guard. There is no second when all cranes eat together: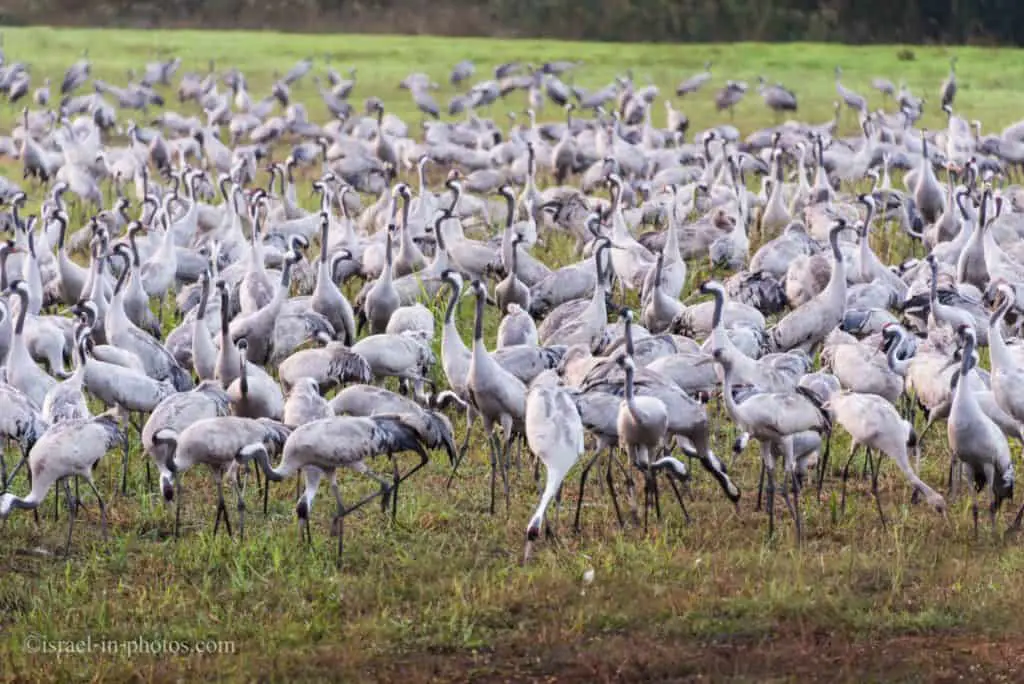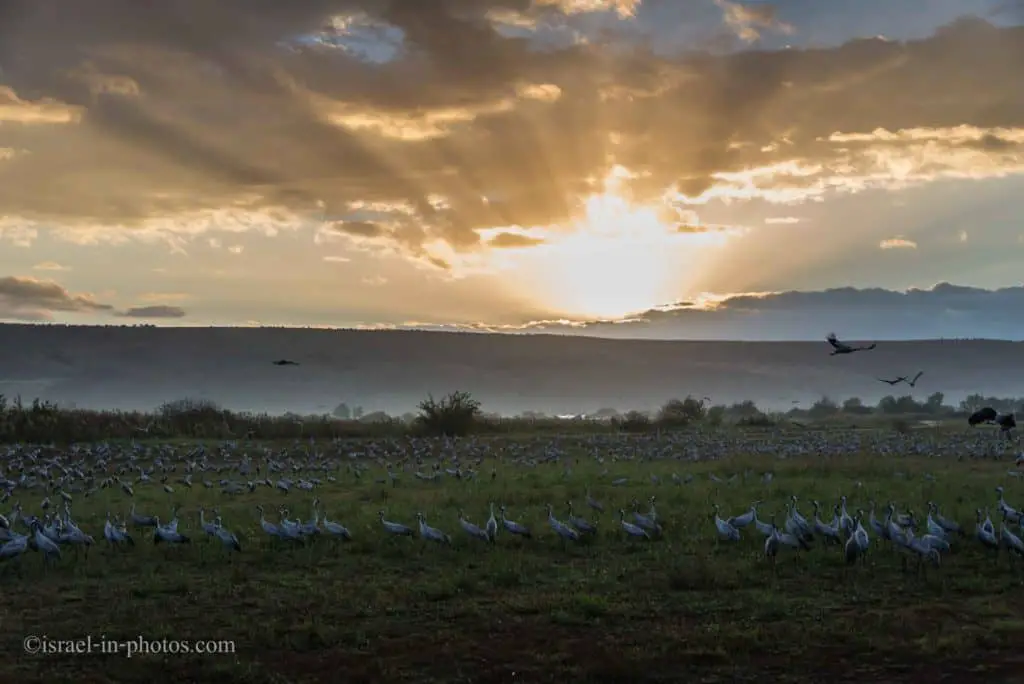 On the day of our visit, about 50,000 cranes were in the Agamon. Nonetheless, they all flew together and there were no accidents.
Several close-ups: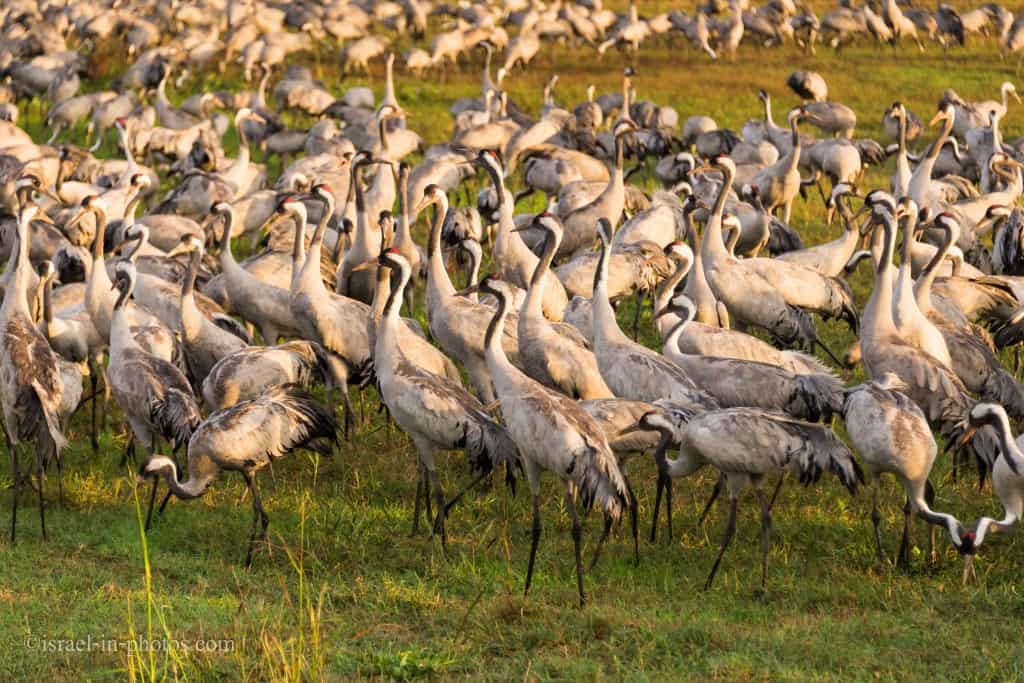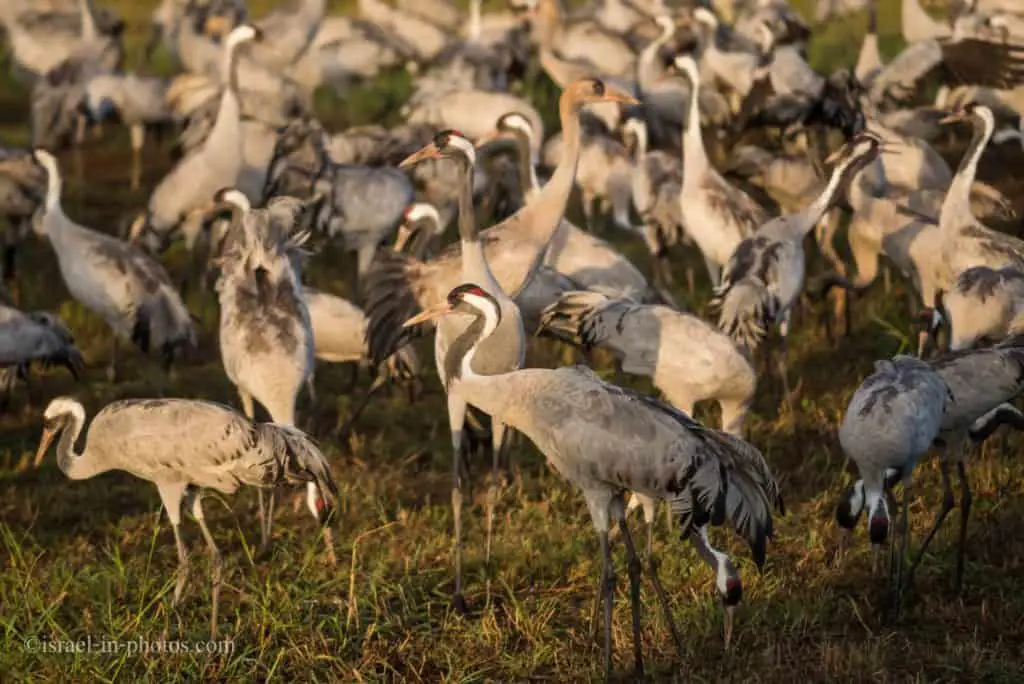 We were lucky to see a rainbow: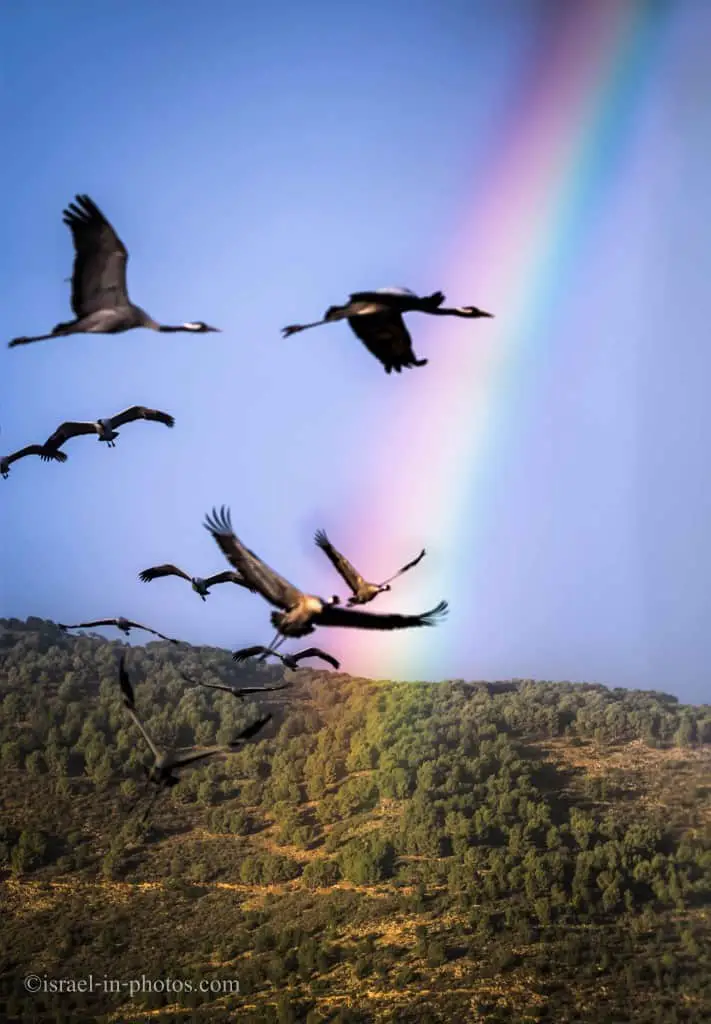 And here is the complete rainbow (using wide-angle lens [14mm]):
Other Species Of Birds
Cranes were the main attraction. Unfortunately, pelicans already left 🙁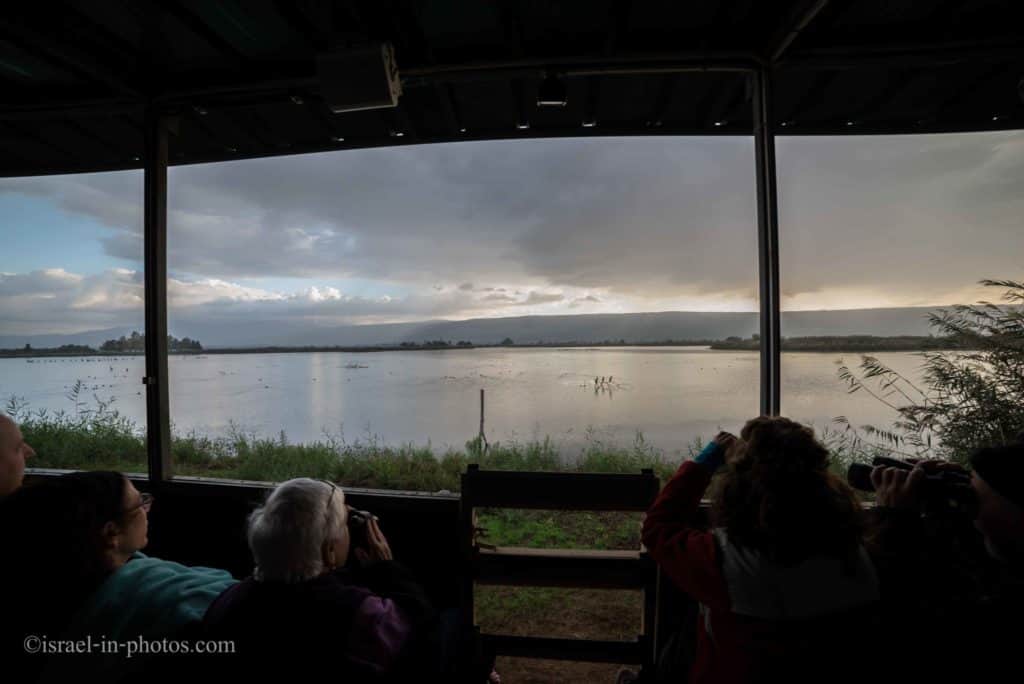 But, if you are interested in seeing pelicans, then there is also another place in Israel where you can see them. Check out Pelican migration at Emek Hefer.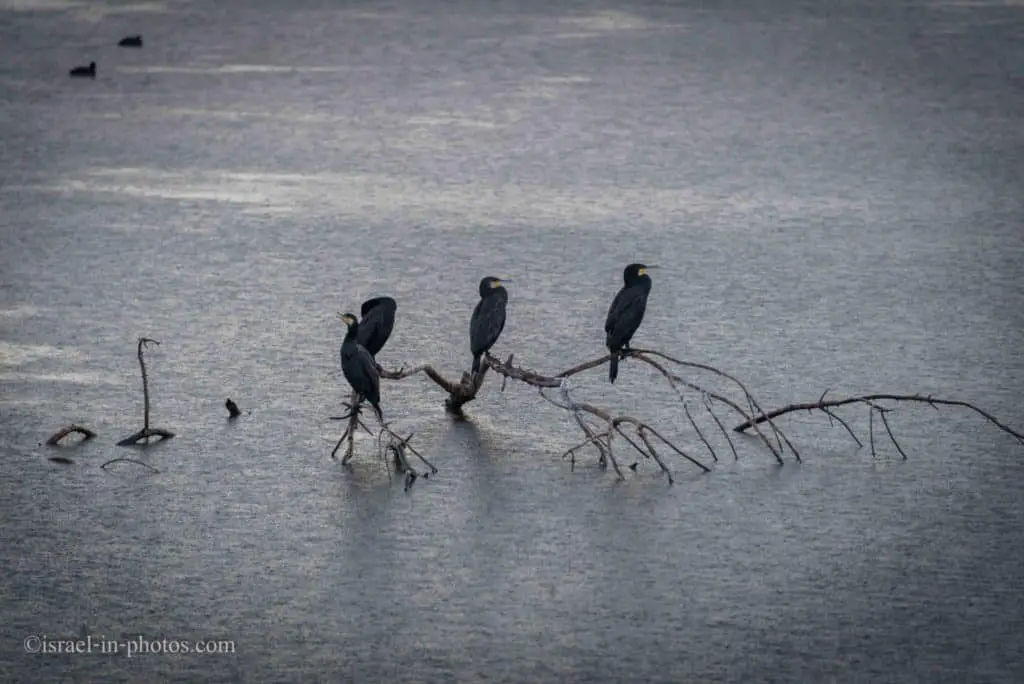 Cormorants are good fishers and been used in China and Japan for centuries (for more info see: Cormorant fishing).
Some cormorant species have been found, using depth gauges, to dive to depths of as much as 45 metres.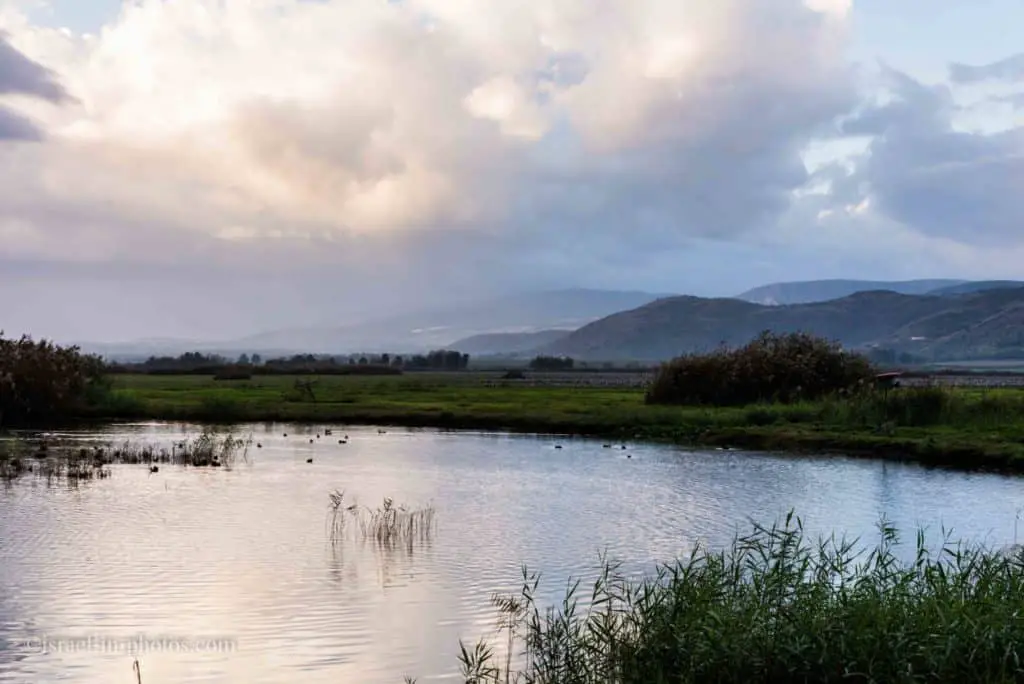 Heron can wait for hours till food comes to him: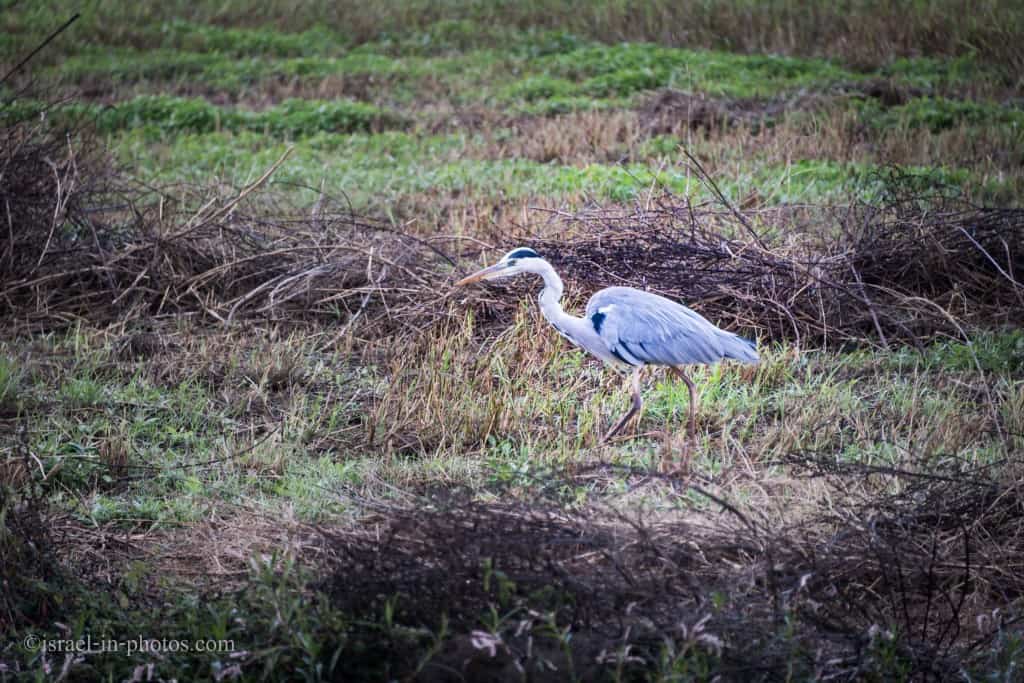 Predators are hard to capture (since they are not fed by the human, thus they keep their distance):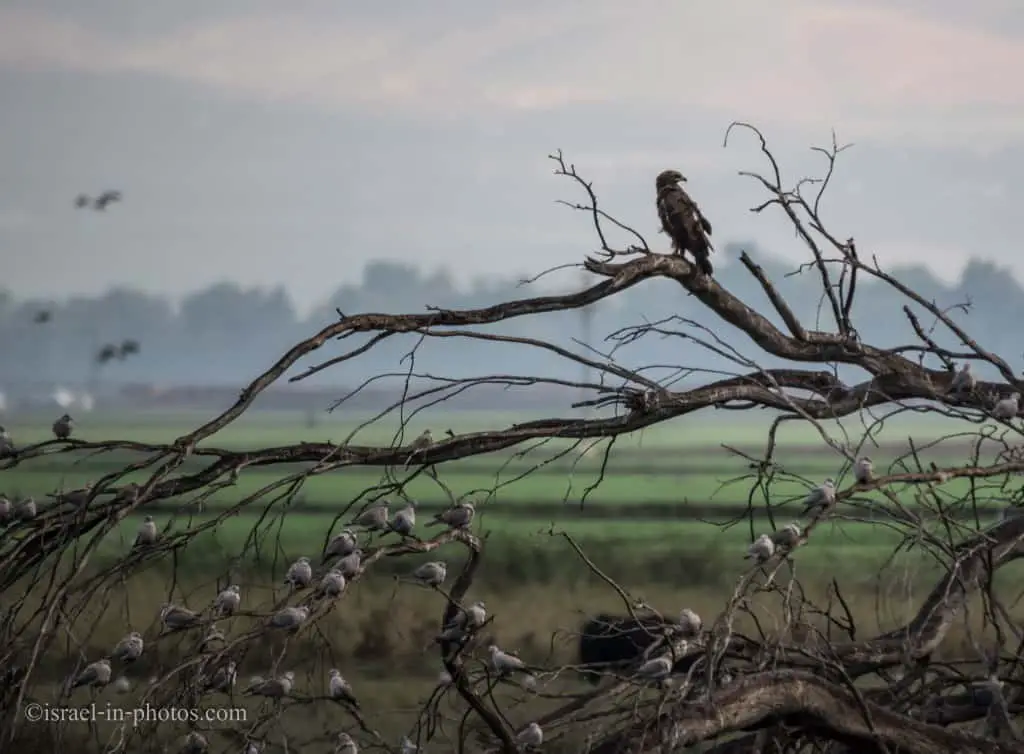 Note: most of these shots were made using Tamron 200 – 500 mm on a Nikon D610. Hopefully, this will give you a distance measure.
Sea Of Galilee
On our way back from the Sunrise Tour we have passed near Sea of Galilee (Kinneret) and I shot this panorama:

There are many attractions in this area and you can either browse the map at the beginning of this post or check out my guide to Sea of Galilee.
Common Questions
What birds are currently at Agamon ha Hula? Is the migration over?
The best way to know what bird are currently on-site is by visiting the official Facebook page.
Also, check out "What is the Best Time To Visit Hula Valley?" section above.
Summary
Visiting Agamon ha Hula is one of the top experiences that animal and bird lovers can have in Israel. And the sunrise tour takes it to a new level. If you are thinking about visiting Agamon, then this is probably the best way to do it. I would recommend it to all animal lovers out there. Being in a place with thousands of birds around you is a great experience.
Have you ever been to Agamon Hula? Tell us about your experience in the comments below.
That's all for today, and I'll see you in future travels!
Stay Tuned!
To find out more about birds in Israel visit birds category.
Additional Resources
Here are several resources that I created to help travelers:
And if you have any questions then check out
Useful Information For Tourists To Israel
.
Did not find what you were looking for? Email me at
hi@israel-in-photos.com
, and I will do my best to answer your questions.