This guide goes over the most popular Israeli events and festivals divided by season. There is also a listing of suggested points of interest and attractions. Let's begin!
---
Offers:
Weather
Hot or rainy weather can have a big impact on the attractions you will be picking. Thus, before getting to the Events and Festivals, let's talk about the weather.
Israel Meteorological Service offers aggregate data that was collected between 1981 and 2000. On their website, I selected seven places around Israel (Safed, Haifa, Tel Aviv, Jerusalem, Beersheba, Mitzpe Ramon, and Eilat) and checked for rain and temperature.
The data I collected: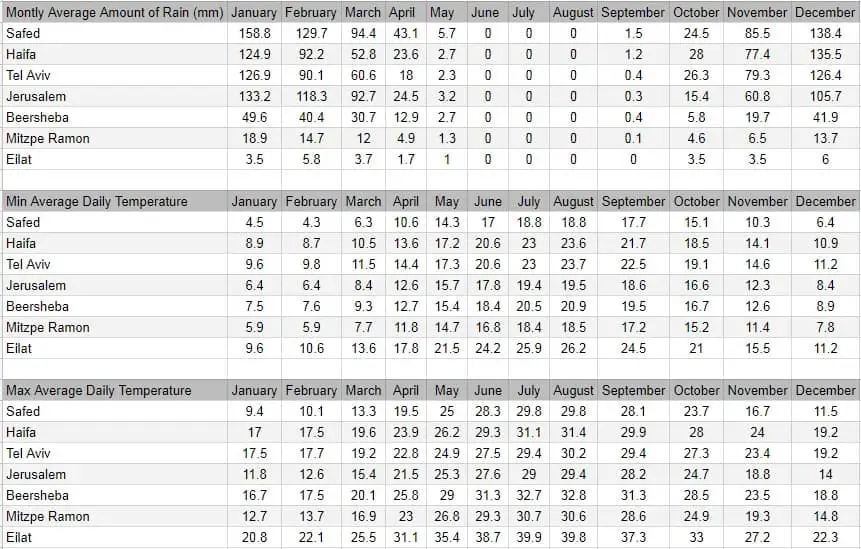 Rain
Monthly Average Amount of Rain (mm) Chart: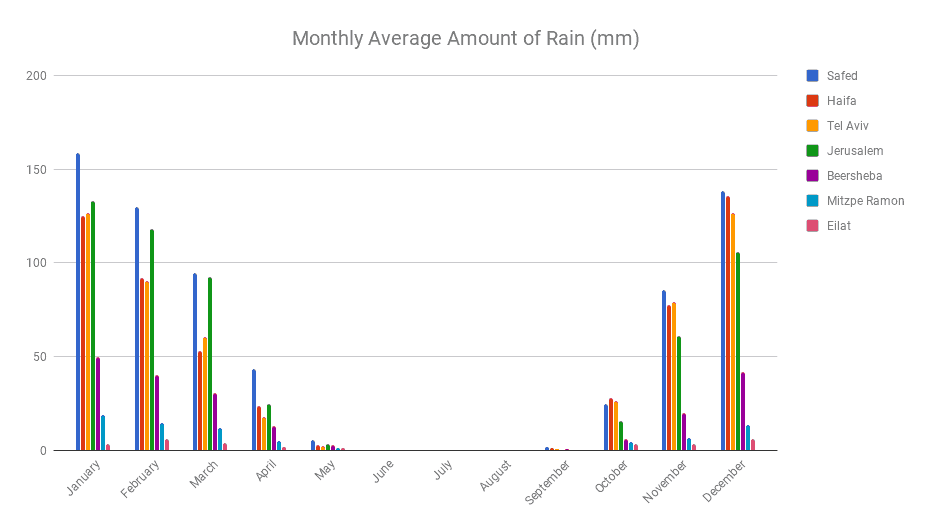 As you can see, the rainy season starts in October, and the most substantial showers are during December, January, and February. Also, there is a significant deviation between different regions in Israel. In the South, Eilat, for example, there are almost no rains. And the more to the North you advance, there are more rains.
Temperature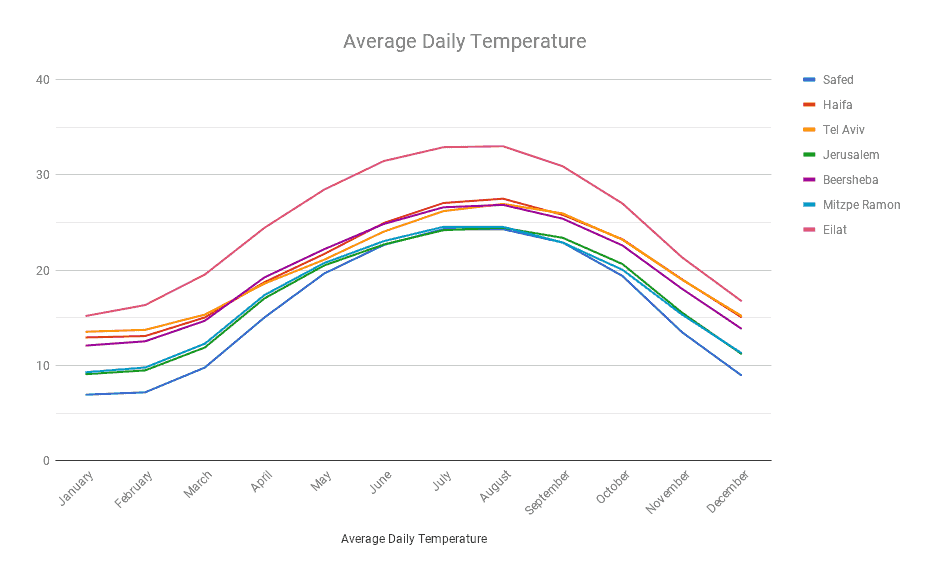 The temperature graph shows the opposite tendency. During the rainy month, the temperature decrease, and throughout the dry month, especially the summer, the heat is on.
Additionally, this shows a similar tendency to the previous one: the more to the North you advance, the lower temperatures you will encounter. But this is not the full picture. There is a difference between the temperature and now it feels like. If we take Eilat, for example, it is the leader in heat. But, since Eilat is in the middle of the desert, the climate there is quite dry. And in most cases, 35 degrees with 30% humidity will be better than 30 degrees with 70% humidity (at 70%, you are wet within minutes).
One additional point that I have to mention is that this graph's data is the average of min and max temperature. So these are roughly the temperatures you will be experiencing in the morning and the evening. At nights it will be cooler and during the midday hotter. If you are interested, you can see the min and max in the table above.
Spring
Spring is the best season to visit Israel. There are little to no rains, and it is not too hot as during the summer. Moreover, it is better than Autumn since following the rainy season, and nature starts to bloom.
Nature
The Spring in Israel starts early. It spans from February to May. And since I mentioned blooming, the most known event in February is Festival Darom Adom. But you can see more than Anemones. Also, in February, you can find Coastal Iris At Nahal Poleg Nature Reserve In Netanya. And, you can also visit the Buttercup Picking Festival. Moreover, you do not have to attend any particular place. You can get out and enjoy nature as we did in The Spring is here or Hiking the Carmel Mountains.
Not only flowers start to bloom. Fruits and vegetables are becoming ripe, and you can visit one of the self-picking farms. For example, Ktofoti – self-picking in Bethlehem of Galilee.
Holidays
So far, we have covered blooming and nature-related attractions. Additionally, there are Jewish holidays. Annually, during the Passover vacation Automotor exhibition takes place. Egged Museum in Holon is usually open during Passover and Independence Day. And there are many additional Attractions on Independence Day In Israel. Moreover, Purim takes place around March, and there are many celebrations as well. For example, Purim Celebrations at Tel Aviv Port and Adloyada 2016 in Petah Tikva. Moreover, Shavuot takes place in May. Usually, there are celebrations at Caesarea National Park, and there many agriculture-related attractions. For instance, Self-Picking Raspberries at Gedera and Celebrating Shavuot – Agritourism at its best.
Israel is an excellent hub for bird watchers. Around 500 million migrating birds pass through Israel annually. They fly above Israel towards the end of March and again at the beginning of April. I will give several examples when we are discussing Autumn.
Summer
Climate-wise, May is somewhere in the middle between Spring and Summer. June, July, and August are the hottest months. There are three options to deal with the heat. The first one is using water. There are many beautiful beaches in Israel. Like Beit Yanai Beach and Achziv. The second option is going underground. Several National Parks offer you to visit caves.
The temperature in caves is usually constant all year round, and of course, there is no sun. For additional information, see Avshalom Cave Nature Reserve, Bet Guvrin – Maresha National Park, and Beit Shearim National Park. And the third alternative is visiting a museum. If not all, then almost all buildings in Israel are air-conditioned, and I will give several examples in the winter section.
Festivals
Usually, during June and July Jerusalem Festival Of Light and Rehovot International Live Statues Festival take place. It is also worth mentioning Book Week in Tel Aviv.
Summer does not have many agrotourism-related events. But berry lover will love this season. You can join Cherry Picking, and it is still not too late to hit Self-Picking Raspberries at Gedera.
Autumn
In September, temperatures start to go down. And towards the end of September or the beginning of October, the first rains arrive.
As I mentioned previously, many migrating birds fly over Israel. Most of them pass over Israel twice a year. Once around November and the second time during April when they are making their way back from Africa. But not all birds continue South, and some stay in Israel during the winter. Since cranes are fed at Agamon ha Hula, many of them stay here. Thus, this is a good time for bird watching. Here are two options: Agamon Hula and Pelican migration at Emek Hefer.
Winter
November until January (and sometimes February) is the rainy season. Unfortunately, Israel is not blessed with rain. This means you can also travel during the winter as there are many breaks between the showers (it is not uncommon to find a completely dry week during the winter). A word of caution, if there are rains, do not visit the Negev and the dead sea area as there is a risk of floods.
Also, wait at least for several days after the rain to try any trail. Otherwise, the rocks will be slippery and the path itself dirty.
Urban Exploration
You can use the time during and after light rains for urban extrapolation, like visiting the biggest cities, including Jerusalem, Tel Aviv-Yafo, and Haifa. You can also visit tourist towns, like Old Acre. And in the case of showers, you need to hide somewhere. And it can be the perfect time to visit a museum. Here are several suggestions: the Israel Museum in Jerusalem, Bloomfield Science Museum, and the Eretz Israel Museum.
Holidays And Festivals
Usually, during Sukkot Jerusalem Knights Festival takes place. And during Hannukah, you can visit The Holiday Of Holidays In Haifa.
Agritourism
We already covered several agritourism events. And during the winter, you can go for Strawberry Picking, Olives Picking and Grape Picking at Tali Grapes in Moshav Lachish.
When To Travel To Israel
If you are not tied to any specific event or festival, then the remaining factor is the weather. Though you can visit Israel year-round, Summers are hot, and Winters are rainy. That leaves us with Spring and Autumn. As I mentioned above, I prefer Springs since nature is blooming after the rainy Winter (while in Autumn, trees and flowers are yellowish after the hot Summer). Thus early Spring, the end of February till May, is the best time to visit Israel.
Final Words
As you can see, though I tried dividing by season, many Events and Festivals do not have exact dates. Especially the ones that take place during Jewish holidays. That is caused by the fact that the Jewish calendar can move relative to the Gregorian calendar.
Moreover, agriculture-related events, as well as bird migration, are affected by the weather. So check each event before visiting. And take the division as guidance and not as something strict.
Regardless of the season, you can visit many of the National Parks And Nature Reserves in Israel. And you can always browse this attractions map:
Have I missed any Israeli Events and Festivals? What are your favorite ones? Let us know in the comments below.
That's all for today, and I'll see you in future travels!
Stay Tuned!
Additional Resources
Here are several resources that I created to help travelers:
And if you have any questions then check out
Useful Information For Tourists To Israel
.  
Did not find what you were looking for? Leave a comment below, and I will do my best to answer your questions.