Ein Hemed (Aqua Bella) National Park is a lovely place for a family visit. There are picnic tables, greenery, water, and even some archeology. Moreover, during autumn, many photographers visit this park due to the foliage. Let's begin exploring!
Map
Ein Hemed National Park is close to Castel, and they both are situated not far from Jerusalem.
The simplest way to reach Ein Hemed is by entering its name into Waze.
Map of the area:
At the entrance, you receive a brochure with info about this park. And here is the map from the official booklet.
Opening Hours
Sunday – Thursday and Saturday: 8:00 – 17:00 (16:00 during winter).
Friday: 8:00 – 16:00 (15:00 during winter).
On holidays usually 8:00 – 13:00.
Entrance Fee
Adult 22 NIS, child 9 NIS, and student 19 NIS. And free for National Parks' annual subscribers.
If you are going to visit several National Parks, then consider purchasing a combo ticket. You can find additional info at National Parks And Nature Reserves.
Note: opening hours and ticket prices were updated in March 2021. In any case, recheck the official site before visiting.
Contact Information
Phone: 02-5342741
Email: gl.ein-hemed@npa.org.il
Camping
I also wanted to mention that there is a camping option at Ein Hemed National Park. And if you are interested, you can find additional info at the official site.
Basic Info
Ein Hemed National Park lies in the Nahal Kesalon riverbed. There are springs in the park, as well as remains of a 12th century Crusader castle. It is also known by its Latin name Aqua Bella.
Ein Hemed is not a big National Park. It takes only five-seven minutes to go from one end to another. And as you enter this park, you will see a lot of families with kids. The main reason is the characteristics of this park. There is a lot of greenery, water, shade, and a place for kids to run. Thus, many families come here for a picnic and relaxing time.
My last visit to Ein Hemed National Park was more than a decade ago. Back then, I did not have kids, and when traveling, my primary purpose was to see and learn new and exciting things. Thus, Ein Hemed did not impress me, and it took me more than a decade to return for another visit.
Stroll through Ein Hemed National Park
We arrived on a Saturday morning in September. September is usually already not too hot, but it is before the rainy season. Thus Ein Hemed Spring barely had any water.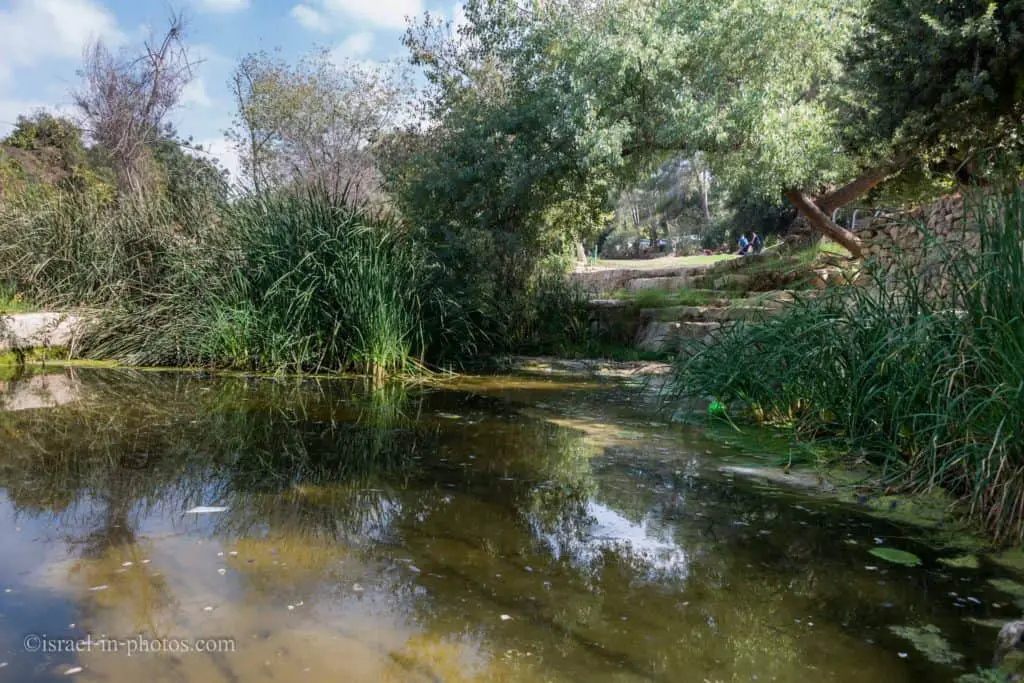 Water in the pond was not clean, but there was another place where kids could splash in the water.
The water route is almost completely dry.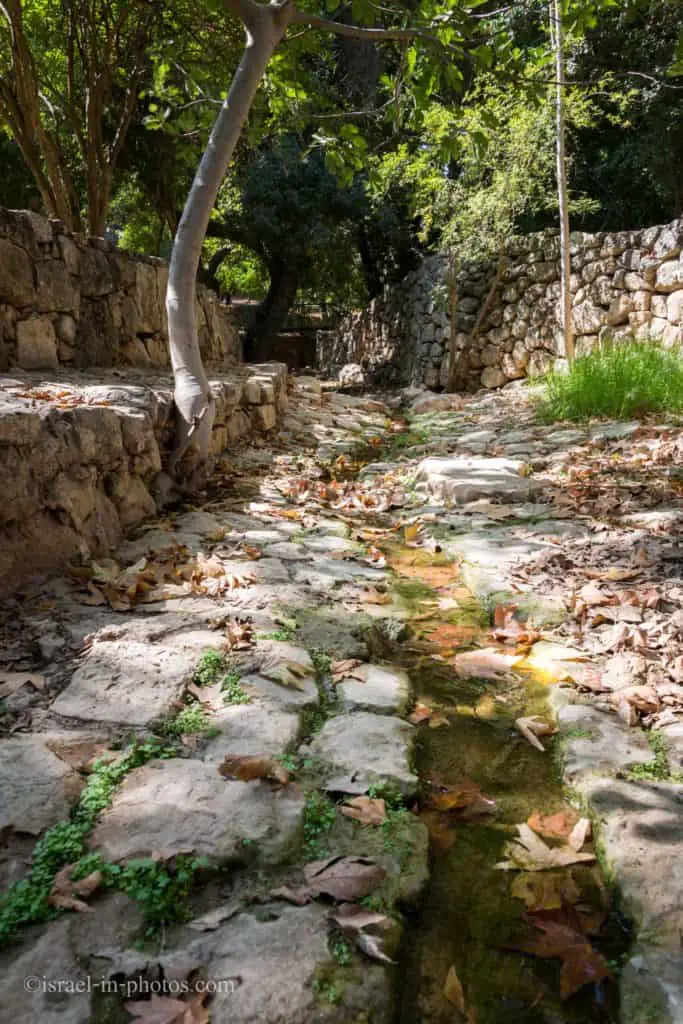 You rarely see autumn in Israel. Therefore when I saw these leaves I decided to make a small photo book for them 🙂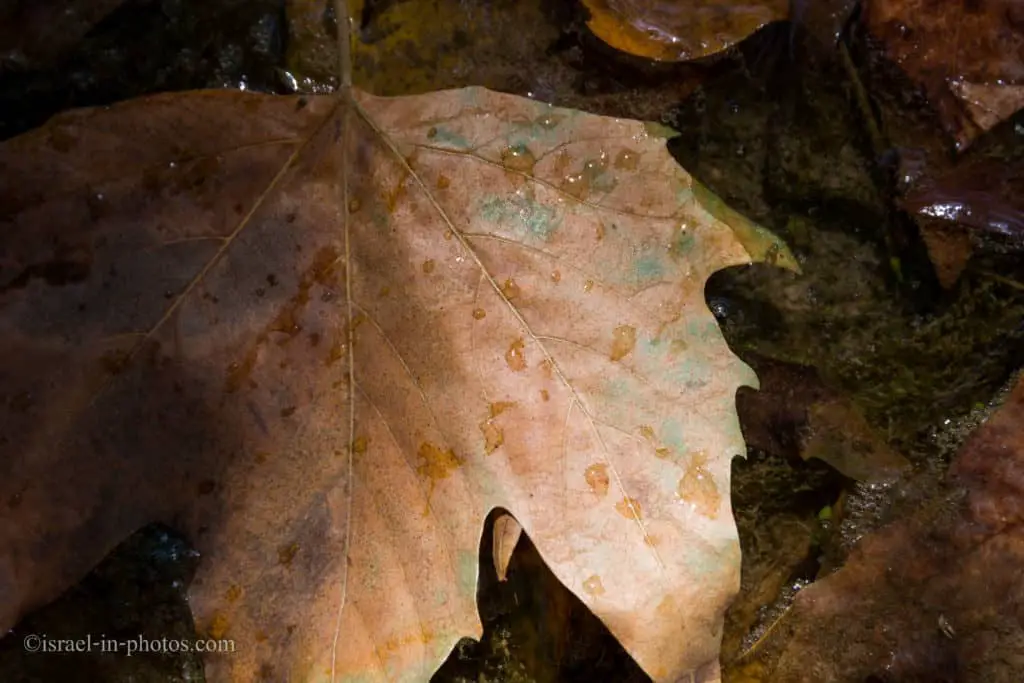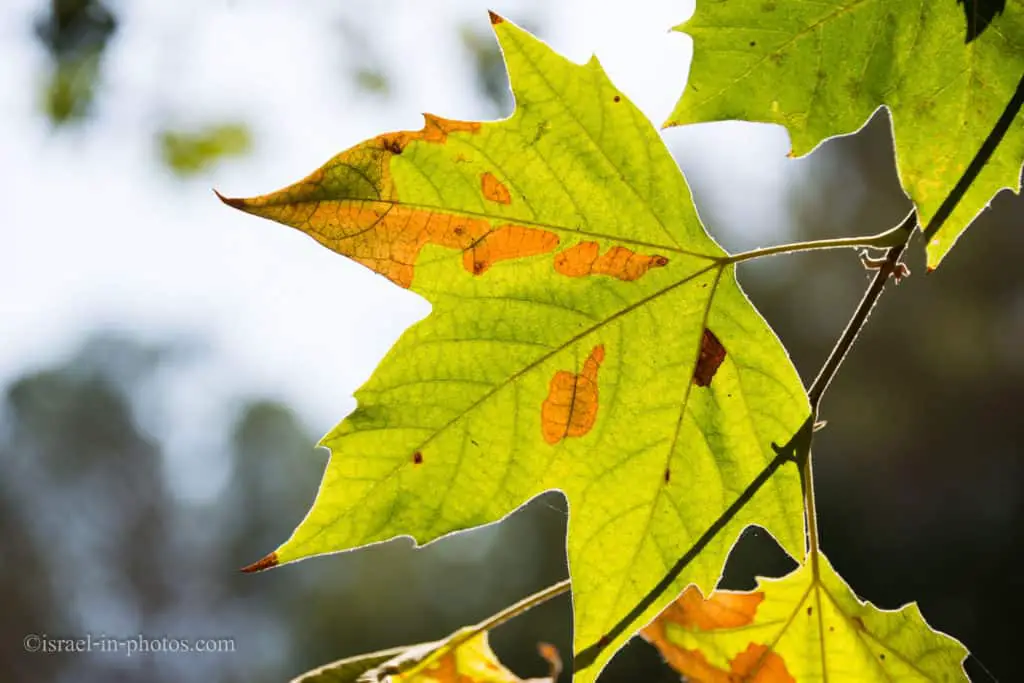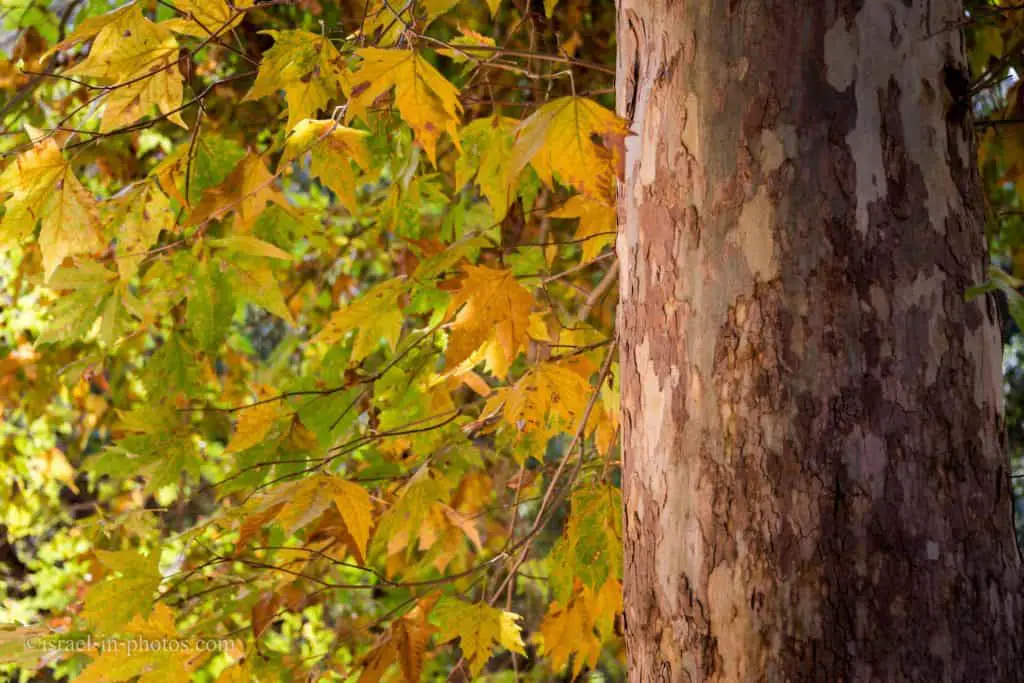 The Crusader Farmhouse
We walked along the water canal and reached The Crusader Farmhouse.
This farmhouse was built during the Crusader period (1140 – 1160). It is one of the buildings constructed along the road to Jerusalem, and it was owned by members of the Hospitalier family.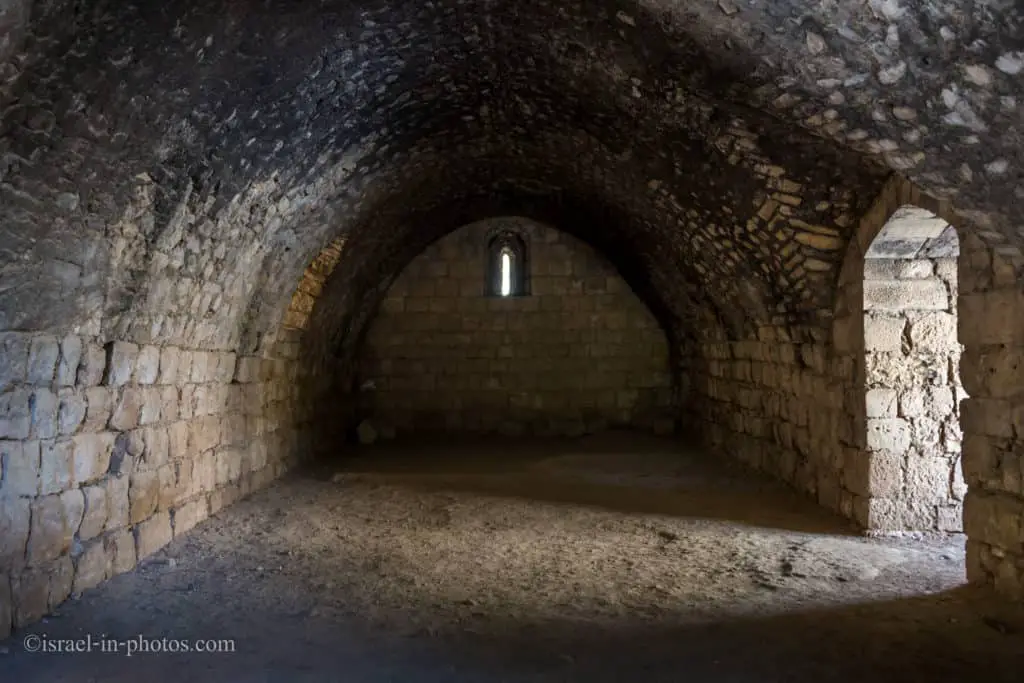 Look at the thickness of the walls: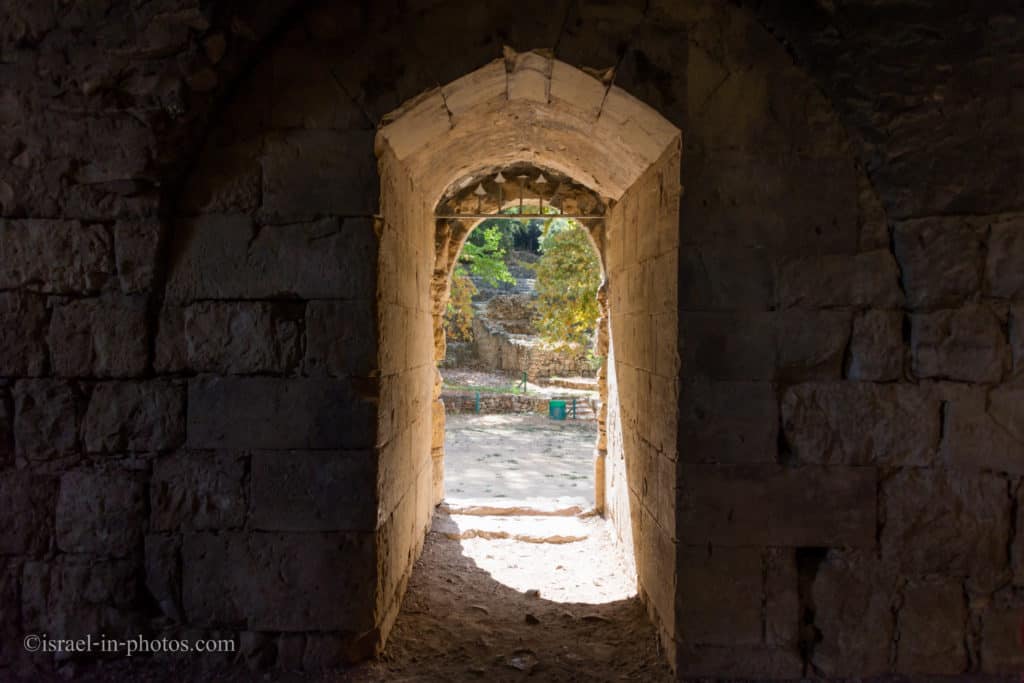 In the inner courtyard. The second and the third floors.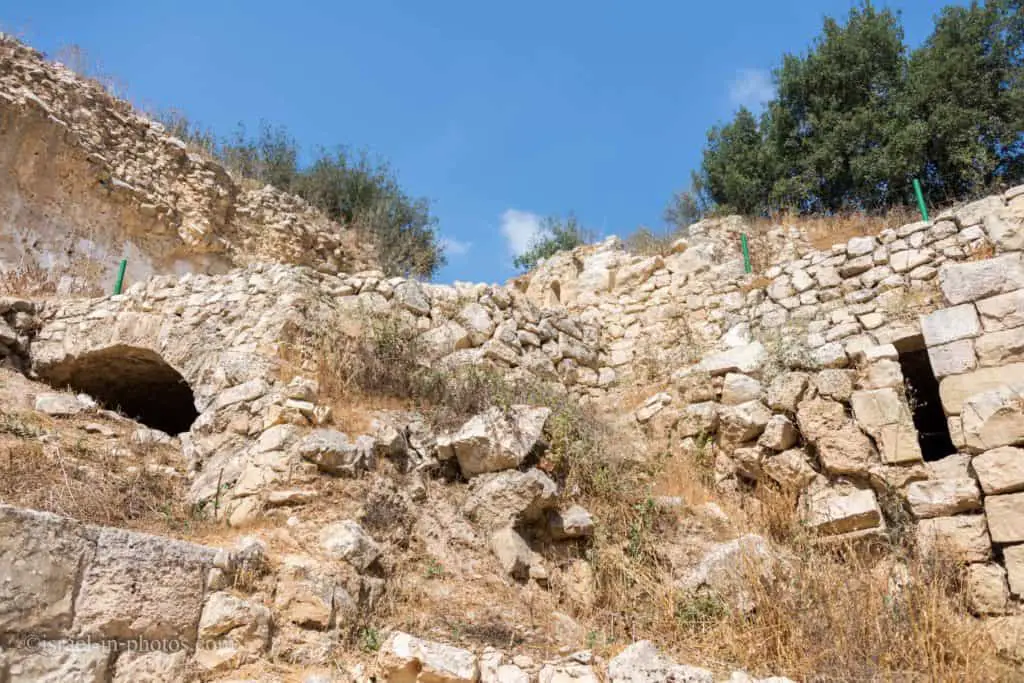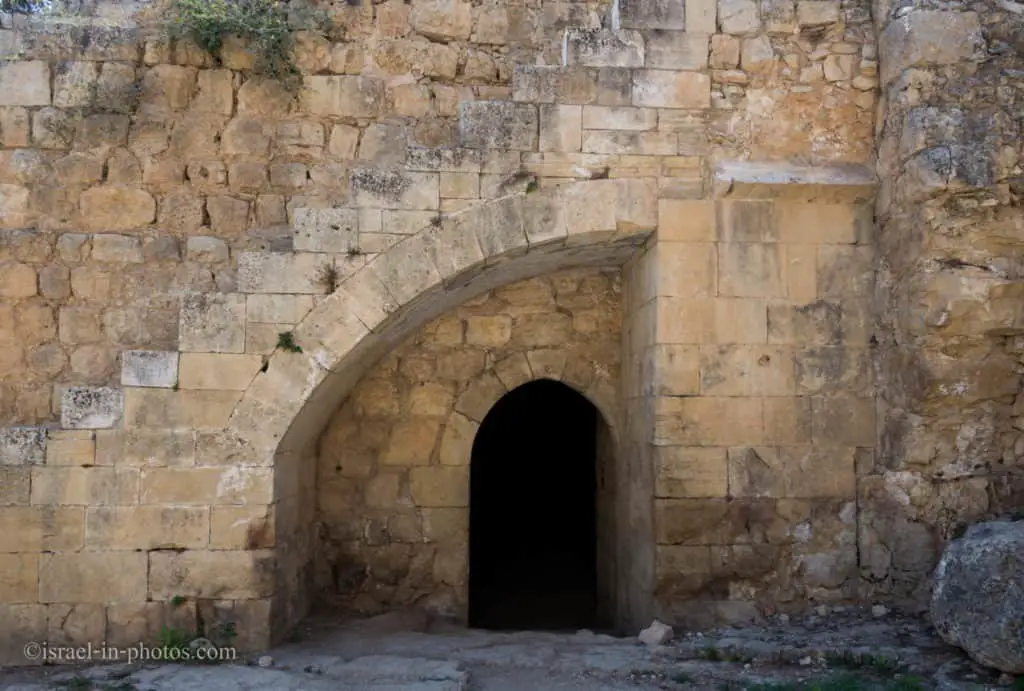 We exited The Crusader Farmhouse and followed the sign (next to the bridge) to the lookout trail.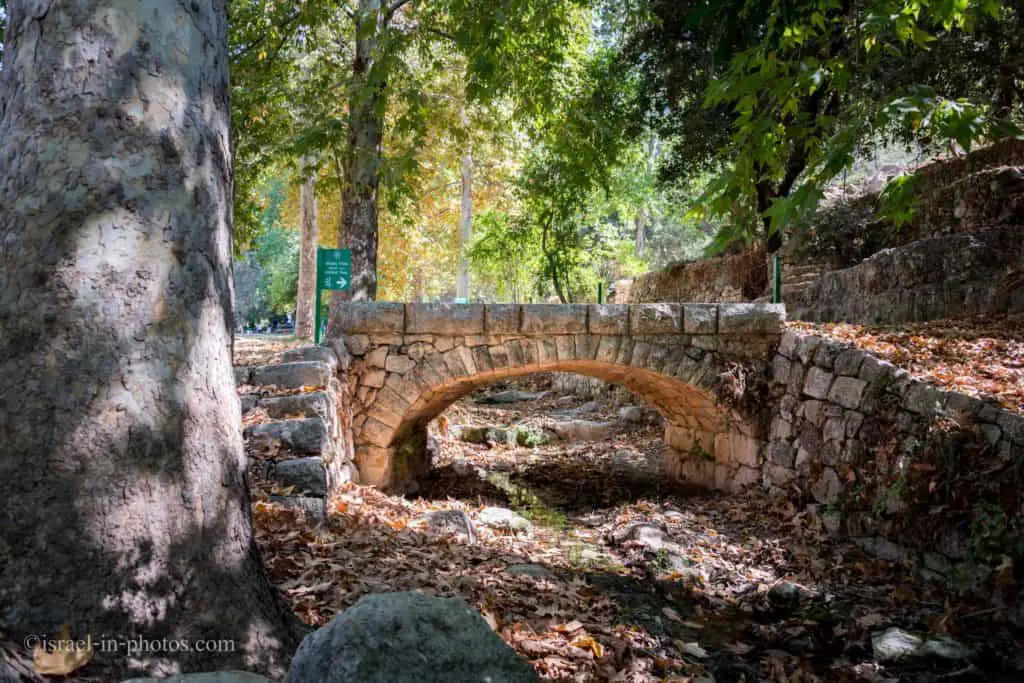 The lookout trail takes you a little into the mountain, but you do not see much because of the trees.
After about five minute walk, we returned to the parking (which is located near the entrance to Ein Hemed National Park). And since it was time for brunch, we made a small picnic.
A note for those who like barbecue. While the lightning of fire is not allowed in most areas, fire is permitted in some parts of this National Park. Just follow the signs.
Summary
Since that visit, we were at Ein Hemed once more. We were in Jerusalem for a half-day and had food with us. So we looked for a beautiful place for a picnic. And Ein Hemed was the perfect candidate.
That perfectly sums up Ein Hemed. It is a lovely shaded park, with water and grass area that allows kids to explore and have fun. Thus, it is the perfect place to have a family picnic in the Jerusalem area. Moreover, you can combine a visit to Ein Hemed with nearby attractions for a half-day or a full-day trip. That is what we did. After having brunch at Ein Hemed, we continued to Castel.
Have you ever been to Ein Hemed National Park? Tell us in the comments below.
That's all for today, and I'll see you in future travels!
Stay Tuned!
For nearby attractions browse the map at the top of this post, or check Jerusalem.
Additional Resources
Here are several resources that I created to help travelers:
And if you have any questions then check out
Useful Information For Tourists To Israel
.  
Did not find what you were looking for? Email me at
hi@israel-in-photos.com
, and I will do my best to answer your questions.