Trip Planner lists weather and best attractions and suggests routes for each area. And there are various itineraries for the perfect vacation in Israel.
Most Popular Israeli Attractions
Before planning the trip, we need to find the most popular Israeli attractions. I went over several websites and created a combined ordered list. Primarily it is based on TripAdvisor and enriched by several other sites. So these are the most popular attractions according to tourists.
Top 10
At this stage, I will only present the list (with relevant links so you can dive further if you want). The goal is to get familiar with the names. And in the following paragraphs, I will suggest how to combine these attractions into a trip.
Additional Attractions
Here are several other places that did not make it into the top ten list:
What is the Best Time for a Vacation in Israel?
The answer to this question depends on various parameters. Thus I created a dedicated article. See: What is the Best Time to visit Israel?
Map
Here is an Israeli map marked with places from all posts. When you click on an attraction, you will see the name and the link to the relevant post for additional info.
Planning Blocks
Since people have different interests and preferences, I suggest different planning blocks, and then you can create a trip by combining several blocks. And later in this post, I will also give several opinions using the same blocks.
Each block contains several attractions from a specific geographical area. The amount of time you dedicate to each block varies depending on the actual places you decide to visit.
To visualize all the planning blocks, I downloaded TUBS [CC BY-SA 3.0 or GFDL] from Wikimedia Commons and added relevant layers until I got this map.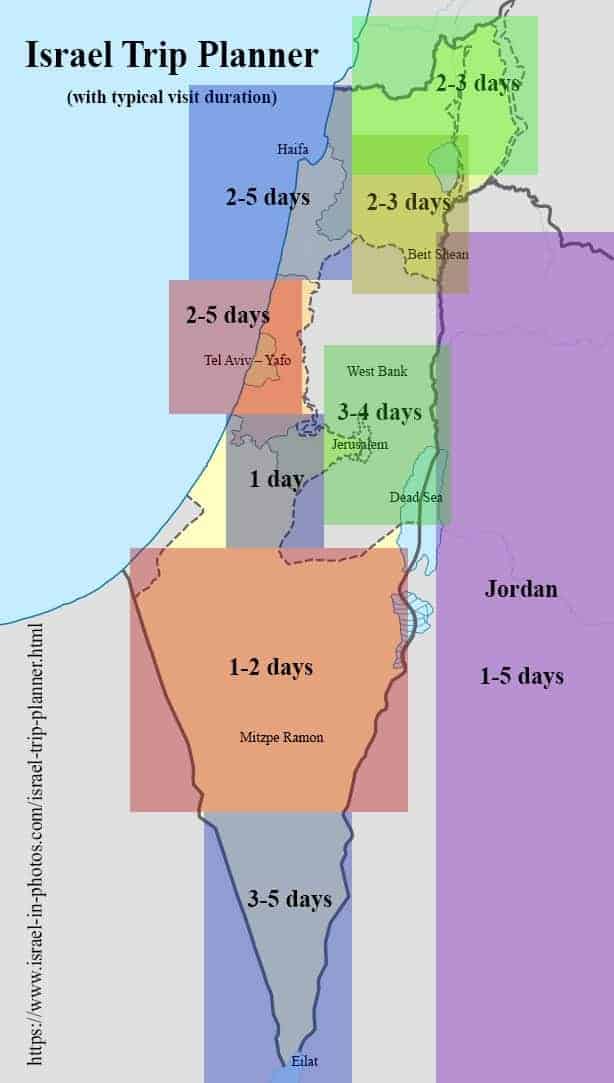 Jerusalem and the Dead Sea
In this block, I include attractions from Jerusalem. Like (first place in the top 10) the Old City of Jerusalem, (#3) Yad Vashem, (#7) Israel Museum, (#10) Mahane Yehuda Market, and the City Of David. But there are many more places in the Israeli capital that you can visit. Maybe you will travel to Jerusalem With Kids or search for something else. In either case, I suggest checking out the following page about Jerusalem.
Moreover, you can travel around Jerusalem. The most famous one-day getaway from Jerusalem includes visiting (#6) Masada National Park and the Dead Sea. Floating in the dead sea is an amazing experience. If you have an underwater camera, you can even take some unique photographs. Besides floating in the Dead Sea, you can also visit the nearby Ein Gedi and Qumran Caves National Parks. You can make those trips by yourself or join a tour.
Another one-day tour option includes visiting several cities inside the West Bank, like Nablus. It has become more popular in recent years, but I would not advise you to do it yourself. If you are interested, look for a tour.
This block would be my top priority, and you can spend 1 – 7 days there. The typical visit would be around 3 – 4 days.
Tel Aviv – Yafo
Many people visit Tel Aviv just for the sea and the beaches. But there are many more attractions (though none made the top 10). Attractions in Tel Aviv – Yafo lists a variety of attractions and suggestions. But in general, I will say that Tel Aviv has a unique vibe and is best suited for hanging out and urban explorations. If you like ancient port cities, then I would recommend visiting Jaffa.
While you can visit Tel Aviv for a day or two, some stay there for months. But I guess a typical visit would be from a couple of days to a week.
Haifa District
Haifa is the third-largest city in Israel, and Bahai Gardens is its most known attraction. But there are, of course, others as well. Check out Haifa for additional info.
Haifa district includes not only Haifa but the surrounding area as well. And though Caesarea National Park and Ralli Museum (#9) is approximately halfway between Tel Aviv and Haifa, they belong to this district. Caesarea can be an excellent stop on the way (especially if you are driving). Typically people spend from a couple of hours to a full day in Caesarea.
Acre is located close to Haifa. It belongs to the Northern District. So, we will cover it next.
Northern District
Acre And Surroundings
Acre is an ancient port city with a lot of history. Most people spend from several hours to a full day in Acre. And the Acre guide provides further information.
Since Acre is located close to Haifa, you can make one your base and visit both.
You can also take day trips to nearby parks and attractions. Here are several ideas: Rosh Hanikra Grottoes, Yehiam Fortress National Park, and Keshet Cave.
A regular visit will consist of one day per Haifa, another for Acre, and several more depending on whether you will visit nearby sites, like Caesarea, Rosh Hanikra, and others. So I would say 2 – 5 days for Haifa and Acre areas.
Lower Galilee
In Lower Galilee, you can find many National Parks. Here are several examples: Beit Shean National Park (#5), Megiddo National Park, Beit Shearim National Park, and Tzipori National Park. Moreover, there are many historical sites near the Sea of Galilee. Check the Sea of Galilee post for additional info. And, of course, there is the capital of the Northern District, Nazareth.
Depending on your preferences, you can spend anywhere from half-day (one site) to five days in Lower Galilee.
Upper Galilee And Golan Heights
Upper Galilee And Golan Heights are the northern parts of the Northern District. Hence it is cooler there, and during summer, many Israeli go to these areas for a vacation.
Fewer people live there, and most attractions are nature-related or national parks. The only touristic city in this area is Safed (and do not try to visit it on Saturday). But when it comes to national parks and nature reserves, there are plenty to choose from. The most popular are Gamla Nature Reserve, Banias Nature Reserve, Nimrod Fortress National Park, Tel Dan Nature Reserve, and Tel Hazor National Park. Plus, depending on the season of your visit, you can join Cherry Picking or a tour in Agamon Hula.
A usual visit to Upper Galilee and Golan Heights will include several of the mentioned attractions and takes several days.
Southern District
The southern district is the biggest one in Israel. And though significant parts of it are covered by sand, there are plenty of things to see and do. So we will start from the North and go towards the southern Israeli city, Eilat.
Bet Shemesh Area
Bet Shemesh is located approximately in the middle of the road between Jerusalem and Tel Aviv. And the following two attractions, which are not far from Bet Shemesh, could be visited either when driving from Jerusalem to Tel Aviv (or vice versa) or from the center to the south (or vice versa). Furthermore, you can tour them as a getaway from Jerusalem or Tel Aviv.
The places I referenced in the previous paragraph are Bet Guvrin-Maresha National Park (#8) and Avshalom Cave Nature Reserve. And you can cover both of them in one day.
From Dimona To Ramon Crater
Near Dimona, you can find Mamshit National Park and CameLand. CameLand is a ranch where you can enjoy a camel ride overlooking the ancient city of Mamshit.
Further to the south, you can hit Ein Avdat and Avdat National Park. And another half-hour drive to the south will bring you to Mitzpe Ramon. Makhtesh Ramon Visitors Center offers stunning views and explanations about Ramon Crater (#4). Then you can go inside the crater and visit HaMinsara, Ammonite Wall or take one of the hiking trails.
Two days should be enough for this area unless you are doing long hikes across the Ramon crater.
Eilat And Surroundings
Eilat is a resort town on the Red Sea. Many people visit it just for the sea. But there are plenty of attractions inside Eilat and around it. Red Canyon, Underwater Observatory Marine Park, and Timna Park are the most popular. For additional info, check out Visiting Eilat During The Winter.
Usually, two types of people visit Eilat. Some only come there for the sea. They go to the sea or a hotel pool and spend their days there. In that case, you can easily stay as long as you want. Others are there for attractions or a mix of sea and attractions. The standard visit duration will be 3 – 5 days in the latter case.
Jordan
So far, we have covered the main attractions in all Israeli areas. However, there is one nearby attraction that many people incorporate into their Israel trip. Of course, I am referring to Petra. Petra is located in Jordan, and you can cross the border near Eilat or Beit Shean. I will not go into details here since most people do not visit Jordan alone but as a part of a tour. You can find many tours from Israeli to Jordan, usually ranging from one to four days.
National Parks And Nature Reserves
While covering various planning blocks, we mentioned many National Parks And Nature Reserves. If you want further information, check out National Parks And Nature Reserves in Israel, where I cover all of them, tell you about my favorites, and describe different ticket options.
How Many Days Should I Visit Israel For?
I mentioned the typical visit duration at the end of each planning block (above). As you can see, you can select just one block and spend several days there, visit the whole country, and stay for a month or even more. I would suggest 3 – 4 days as the minimum and one or two weeks for a more thorough adventure. Furthermore, I have seen one-week routes that cover the whole country. That is a personal preference, but I prefer not to rush through attractions and see them at a slower pace. Partially it is because of the kids, but it is also because I do not enjoy half-day drives. In recent travels, I have been trying to limit the driving duration to three hours a day max. So you can cover the whole Israeli in 10 days. But I would not recommend it.
Note: according to the Israel tourism statistics, the average visit is 8.2 nights.
Itineraries
Planning a Family Vacation in Israel
Israel is a very child-friendly country. And you can take them anywhere. My personal experience shows that National Parks or dedicated children's activities are preferred over urban exploration, but that may be a personal preference.
When I plan a family trip, it usually involves three adjustments. First of all, museums. A full day in art, history, or any other museum can be hard on kids. Thus, we only review the highlights and spend several hours in the museum. Alternatively, you can look for children's activities in museums (plenty of those in Science Museums). Secondly, the trip is made at a slower pace. We do not try to visit as many attractions as possible. And thirdly, we add a place that kids love too. For example, visiting a zoo can be an excellent option. I would stick to the same principles when planning a family trip to Israel.
You will most likely bring a stroller if traveling with babies or toddlers. I would suggest bringing a baby carrier or a baby sling as well. Even if you visit only big cities, many have old parts. And I made the mistake of bringing a stroller to the Old City of Jerusalem. The result was carrying both the baby and the stroller in our hands. Thus, I recommend not taking strollers into the old cities, at least not in Jerusalem (in Jaffa and Acre, it is easier to get around with a stroller).
Weekend in Israel
If you spend only several days in Israel, I suggest choosing one of the planning blocks. If this is your first time, I recommend focusing on Jerusalem And the Dead Sea block. You can also check Tel Aviv – Yafo or Haifa District.
If you plan a trip to Jerusalem, I have you covered. I answered this question in the guide to Jerusalem.
Five Days to a Week in Israel
That is around the time it takes to cover one planning block. Therefore, I would advise covering one block or combining two nearby blocks. Here are several examples: Jerusalem and Tel Aviv, Jerusalem and Bet Shemesh Area, and Northern or Southern districts.
Two Weeks in Israel
In two weeks you can go through the whole country. But I am not a fan of rushing and prefer returning to a country in the future. Therefore, I would advise selecting several nearby planning blocks. For example, you can start in Jerusalem and then visit Tel Aviv. At the end of Tel Aviv, rent a car and visit the Southern district till you reach Eilat. Another option would be starting in Tel Aviv. Then visit Haifa, Acre, and Nazareth, and in Tiberias, rent a car. Then drive through Galilee and Golan Heights.
As you can see, my strategy is simple. I combine several nearby planning blocks and usually start from the big cities. That allows using public transport in the towns (having a car in a big city is inconvenient). And before hitting the outdoors, I usually rent a car (check the best deals at rentalcars.com).
Notes
Many places (stores, supermarkets, and museums) are closed on Saturdays, and there is no public transport. Remember that Saturday starts on Friday afternoon and ends on Saturday evening. Thus, recheck your plans for Saturdays and adjust accordingly.
Prices – Israel is not cheap. If we compare to average European prices, you will find that hotels are more expensive. Food in grocery stores and restaurants is a little more expensive. And the attractions are not cheap. So here are several tips to make it easier on your budget.

Hotels are one of the largest expenses. From my experience traveling in Israel, I found that sometimes apartments are cheaper. On our last Eilat trip, we rented a 90 square meters flat, which was twice less expensive than a 30 square meters hotel room. The only downside is the lack of a meal plan. But, even if you add breakfasts in a restaurant, it will still be cheaper. For most of my reservations, I am using Booking.com. They show both hotels and properties. Airbnb is also popular in Israel.
In Israel, as in other countries, there are two types of supermarkets. Small ones in the center of the big cities and big ones on the peripherals. The small ones are usually expensive and offer little variety. Thus, if you have the option, visit the bigger ones. When eating outside, you can consider street food instead of a restaurant. Israel offers various street foods, including Hummus, Falafel, Shawarma, Schnitzel, Khachapuri, Shakshuka, Bourekas, and other pastries. And I did not even mention the standard options like Pizza, Pasta, Salad, and sandwiches.
The pricing of many attractions is quite steep. Thus, you can always look for discounts and coupons online. Another popular promotion is 1+1, so you can search for the attraction's name and 1+1. I will save you some time and say that some places never offer discounts (at least I never saw them). I never saw discounts for national parks and nature reserves.
Questions
Check out Useful Information For Tourists To Israel if you have any questions. You can find answers to many basic questions, including transportation, electricity, passports, tipping, useful apps, common scams, and tour guides.
Have a great vacation!
Additional Resources
Here are several resources that I created to help travelers:
And if you have any questions then check out
Useful Information For Tourists To Israel
.  
Did not find what you were looking for? Leave a comment below, and I will do my best to answer your questions.