Havat Noy Botanical Garden in Kfar Monash offers free visits and tours. Moreover, it is the perfect place for a picnic.
Note: Havat Noy is similar to the nearby Ilanot National Arboretum, with a different specialization.
Map
Havat Noy Botanical Garden lies near the old Tel-Aviv – Haifa highway (intersection of roads #4 and #5711), close to Ruppin Academic Center. And the easiest way to reach it is by entering "Havat Noy" to Waze.
Directions for drivers: Link to Waze and Link to Google Maps
Directions for public transport: Link to Moovit
Interactive map of the area:
Offers:
Hotels, hostels, and apartments in this area:
There is free parking on site. But the parking lot is not big. Hence I would advise arriving early.
Opening Hours
Sunday – Friday: 09:00 – 15:00
Saturday: 10:00 – 14:30
Note: Opening hours were updated in March 2023. In any case, recheck the official site before visiting.
Entrance Fee
Free.
Contact Info
Telephone: 09-8988103
Email: havatnoy49@gmail.com
Facebook page: @HavatNoy.Botanical.Garden
At Havat Noy
We parked our car and saw a mushroom in the parking lot.
The restrooms at the parking lot were closed, but the other ones near the entrance were open.
As you can see from the photo above, you can tour the botanical garden using your smartphone.
According to the sign, entering with dogs (or other pets) to the Havat Noy Botanical Garden is forbidden. And lighting fire at Havat Noy is also prohibited.
About
The Botanical Garden – Havat Noy covers an area of ​​about 50 dunams, and in 2009 it was officially declared by the Minister of Agriculture as a "Botanical Garden." Various species of unique plants, plants brought from all over the world, were acclimatized and distributed in the various nurseries in the country. Some are even unique to this garden only.

The garden now has many mature trees with important historical, horticultural, and botanical value, which are the first details in the country from which propagating material was collected and distributed throughout the country, some of which have, of course, become part of the Israeli landscape.
Note: unless stated otherwise, all quotes were taken from the official site.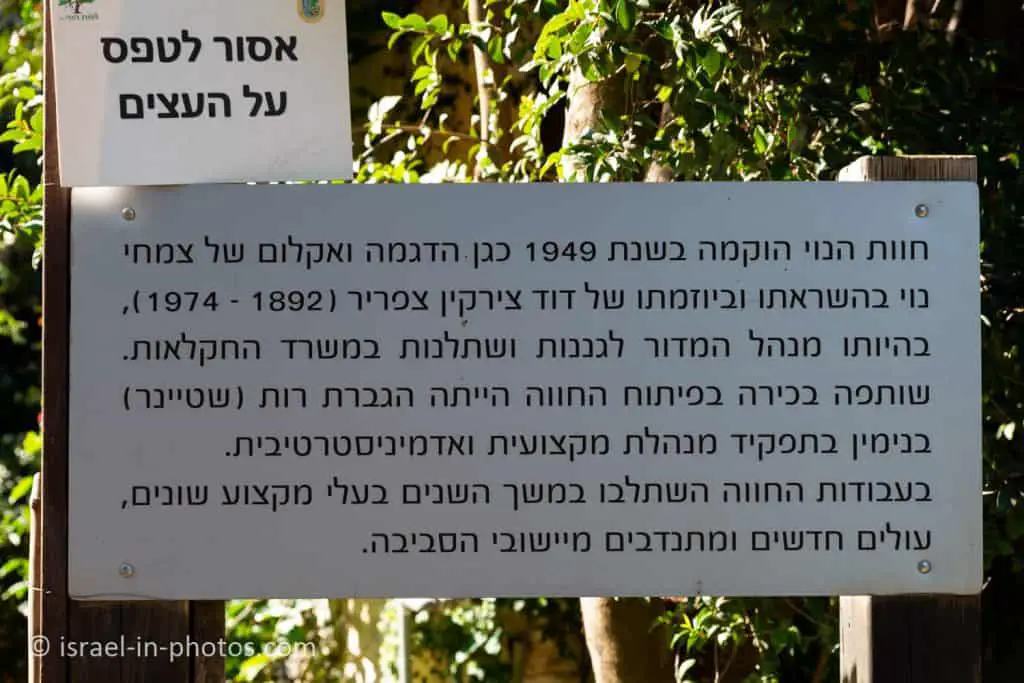 Note: we visited Havat Noy in December 2020.
You can find signs with basic info near most trees and plants.
If you love Hibiscuses, then check out Hibiscus Farm.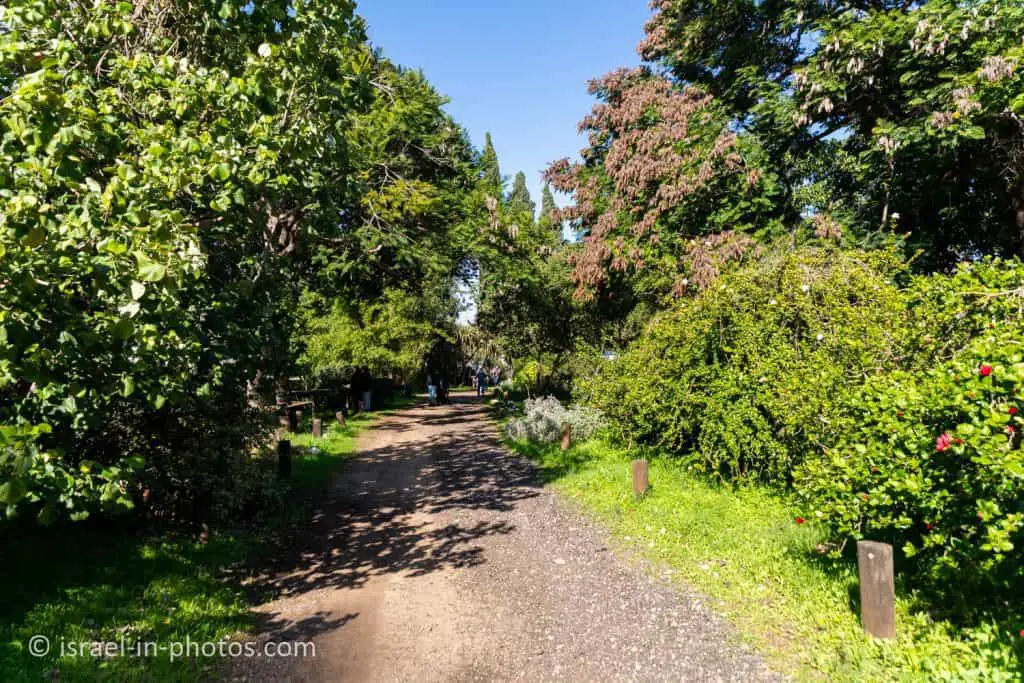 As you can see, though the trail is not paved, you can get by with a baby stroller.
Great bougainvillea is popular in many Israeli cities.
Fiddle-leaf fig (Ficus lyrata)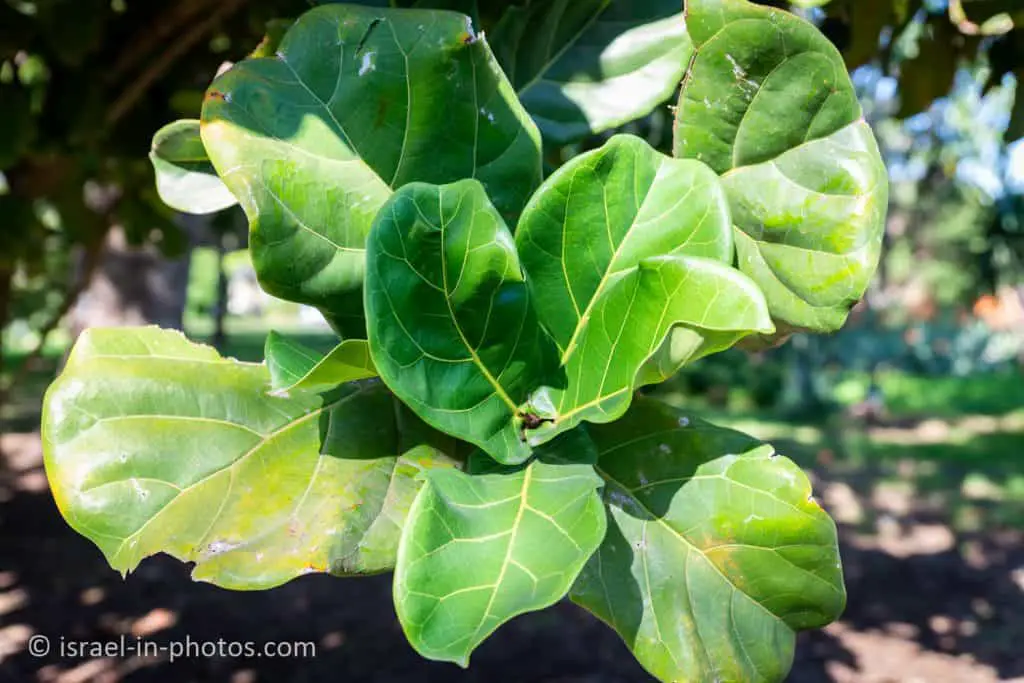 Ficus lyrata, commonly known as the fiddle-leaf fig, is a species of flowering plant in the mulberry and fig family Moraceae. It is native to western Africa, from Cameroon west to Sierra Leone, where it grows in lowland tropical rainforest. It can grow up to 12–15 m (39–49 ft) tall.

The leaves are variable in shape, but often with a broad apex and narrow middle, resembling a lyre or fiddle; they are up to 45 cm (18 in) long and 30 cm (12 in) broad (though usually smaller) with a leathery texture, prominent veins, and a wavy margin.
Source: Wikipedia
The size of the leaves surprised me. They were at least 25 cm long. Here is my hand with a leaf.
Brachychiton rupestris
The trunk of Brachychiton rupestris is wide. And it is also what it is named for.
Brachychiton rupestris, commonly known as the narrow-leaved bottle tree or Queensland bottle tree, is a tree in the Malvaceae family native to Queensland, Australia. Discovered and described by Sir Thomas Mitchell and John Lindley in 1848, it gained its name from its bulbous trunk, which can be up to 3.5 meters (11 ft) diameter at breast height (DBH). Reaching 10–25 meters (33–82 ft) high, the Queensland bottle tree is deciduous, losing its leaves between September and December. The leaves are simple or divided, with one or more narrow leaf blades up to 11 centimeters (4 in) long and 2 centimeters (0.8 in) wide. Cream-colored flowers appear from September to November and are followed by woody boat-shaped follicles that ripen from November to May. No subspecies are recognized.
Source: Wikipedia
After about twenty minutes of slow walking, we reached a small exhibition of agricultural tools. And since this is a hands-on exhibition, the first thing kids do is jump on riding lawnmowers.
There were two plots where they grew vegetables. And nearby, we saw several citrus trees.
Eriobotrya japonica
The loquat (Eriobotrya japonica) is a large evergreen shrub or tree, grown commercially for its orange fruit and its leaves for tea originated from China and imported to Japan during the Tang dynasty at early medieval ages (known as "biwa cha" in Japan), and also cultivated as an ornamental plant.

Eriobotrya japonica is in the family Rosaceae and is native to the cooler hill regions of south-central China. The loquat has been grown in Japan for over 1,000 years and has been introduced to regions with subtropical to mild temperate climates throughout the world.
Source: Wikipedia
Cereus peruvianus
As it turned out, this giant cactus is Cereus peruvianus.
Cereus repandus (Cereus peruvianus), the Peruvian apple cactus, is a large, erect, thorny columnar cactus found in South America. It is also known as giant club cactus, hedge cactus, cadushi (in Papiamento and Wayuunaiki), and kayush.

Cereus repandus is an unresearched, under-utilized cactus, grown mostly as an ornamental plant. And it has some local culinary importance. The Wayuu from the La Guajira Peninsula of Colombia and Venezuela also use the inner cane-like wood of the plant in wattle and daub construction.
Source: Wikipedia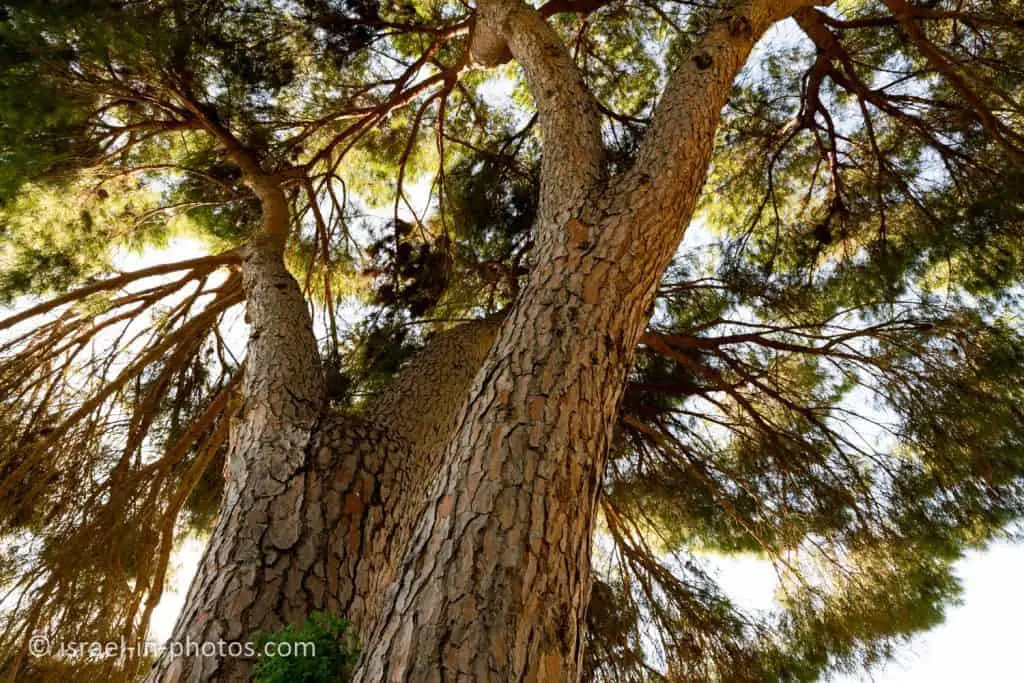 Look at the size of the plant compared to a child:
Saguaro
In the following image, you can find the Saguaro. And you probably saw it in movies and even Looney Tunes Cartoons.
The saguaro (Carnegiea gigantea) is a tree-like cactus species in the monotypic genus Carnegiea that can grow to be over 12 meters (40 feet) tall. It is native to the Sonoran Desert in Arizona, the Mexican state of Sonora, and the Whipple Mountains and Imperial County areas of California. The saguaro blossom is the state wildflower of Arizona. Its scientific name is given in honor of Andrew Carnegie. In 1994, Saguaro National Park, near Tucson, Arizona, was designated to help protect this species and its habitat.

Saguaros have a relatively long lifespan, often exceeding 150 years. They may grow their first side arm around 75–100 years of age, but some never grow any arms. Arms are developed to increase the plant's reproductive capacity, as more apices lead to more flowers and fruit.

A saguaro can absorb and store considerable amounts of rainwater, visibly expanding in the process, while slowly using the stored water as needed. This characteristic enables the saguaro to survive during periods of drought. The saguaro cactus is a common image in Mexican culture and American Southwest films.
Source: Wikipedia
There are picnic tables inside Havat Noy. Many people use the shaded area and the greenery for family meetups.
Arthura cafe
Inside Ruppin Academic Center, you can find Arthura cafe. The food truck offers sandwiches, salads, baked goods, Acai bowls, and drinks. But keep in mind that it is a popular place. During our latest visit (on a Saturday), we were told that preparing a smoothie or Acai bowl would take at least twenty minutes. Thus, if you want to skip the line and wait less, do not arrive during lunch hours.
Summary
We spent 1.5 hours in Havat Noy. This amount of time allowed us to walk slowly through the whole garden. It was a lovely experience, and we enjoyed it. And if you love such places, then consider visiting Ilanot National Arboretum.
Have you ever been to Havat Noy botanical garden? Tell us about your experience in the comments below.
Note: if you love similar places, check out agrotourism and nature.
That's all for today, and I'll see you in future travels!
Stay Tuned!
Additional Resources
Here are several resources that I created to help travelers:
And if you have any questions then check out
Useful Information For Tourists To Israel
.  
Did not find what you were looking for? Leave a comment below, and I will do my best to answer your questions.