Utopia Orchid Park opened more than a decade ago and the first time I visited this attraction was about a decade ago. During last weekend we decided to re-visit it with our daughter and see what changed.
What is Utopia?
A unique botanical-ecological garden which includes a spectacular and expansive outdoor area filled with mazes, a topiary, a musical fountain and more.
It's a unique botanical garden mainly due to the tropical rainforest:
An enchanting tropical rain forest grows with thousands of orchids from around the world, tropical plants, a myriad of animals and even carnivorous plants.
Source for both quotes: Official Site
Utopia Orchid Park is located at Kibbutz Bahan and it's open on Saturdays.
Map of the area:

At Utopia Orchid Park
We arrived on a Saturday morning and the closest parking was already full, thus we were directed to a nearby (probably 200 meters from the entrance) free parking.
At the entrance, we saw different plants.

But only after taking several steps back we saw the writing. It's Utopia both in Hebrew and English.
After purchasing the tickets (44 NIS for kids who 2-12 years old and 59 NIS per adults) we went into the Tropical Rain Forest.
Tropical Rain Forest
This is a two level building, fully air-conditioned with plenty of water and several small waterfalls. Inside this building, which's size is around a basketball stadium, they created a tropical ecosystem.


Walking on the upper level.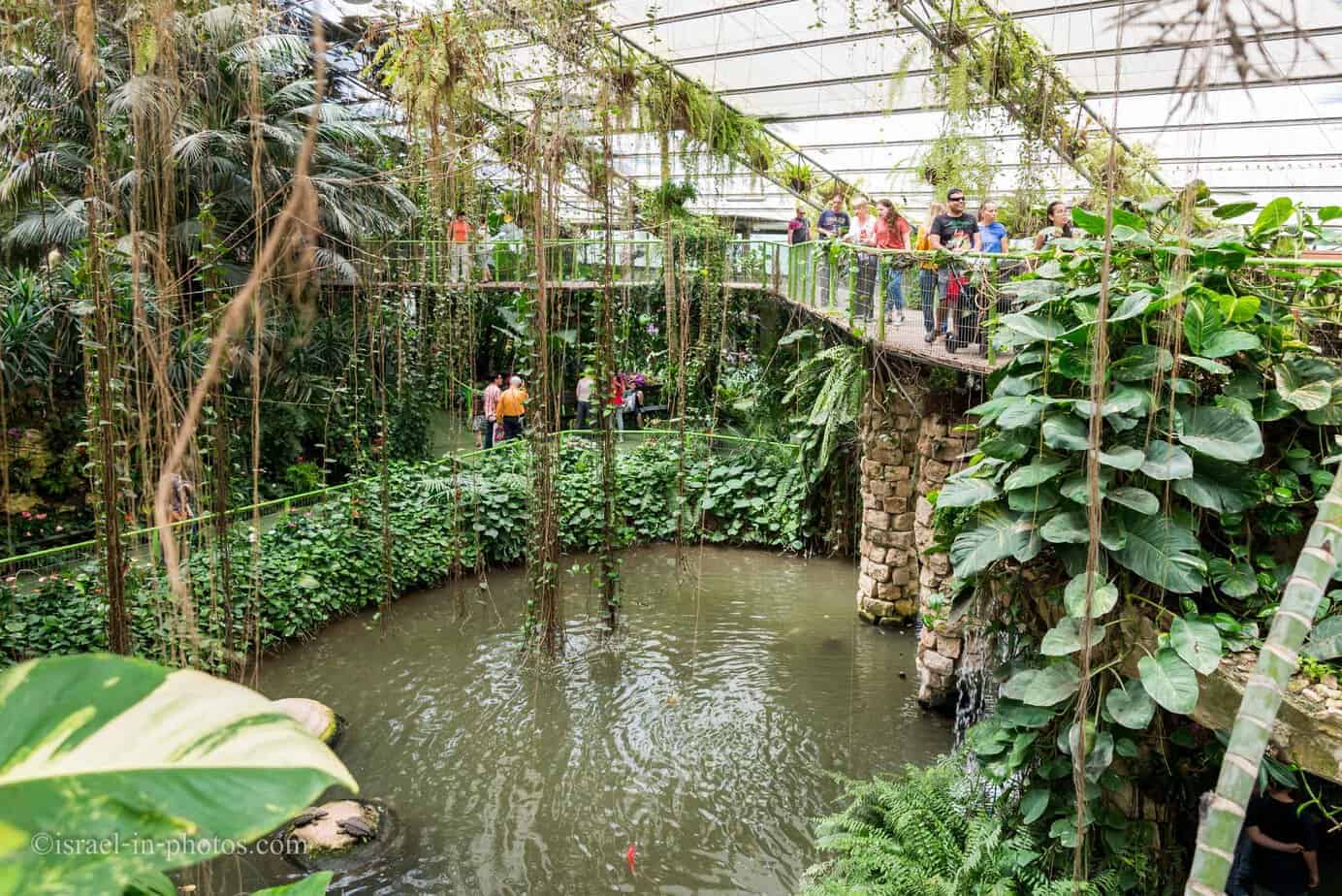 Inside you can find many different types of orchids.

Beside some plants, you can find explanation signs.

In the far end of this building, you can find Carnivorous Plants.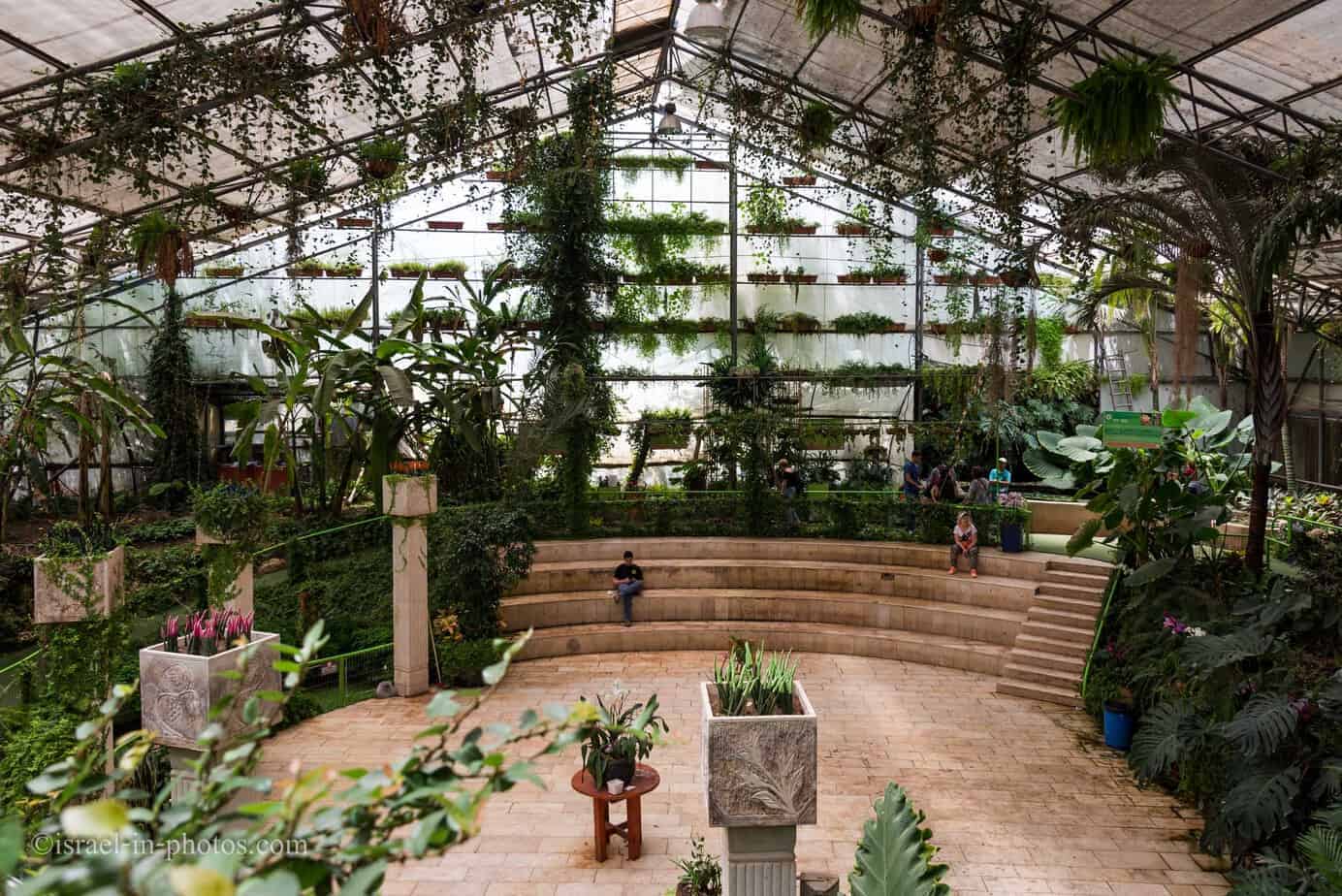 The photo above was taken from the second level. So we continued on the second level and returned to Carnivorous Plants later.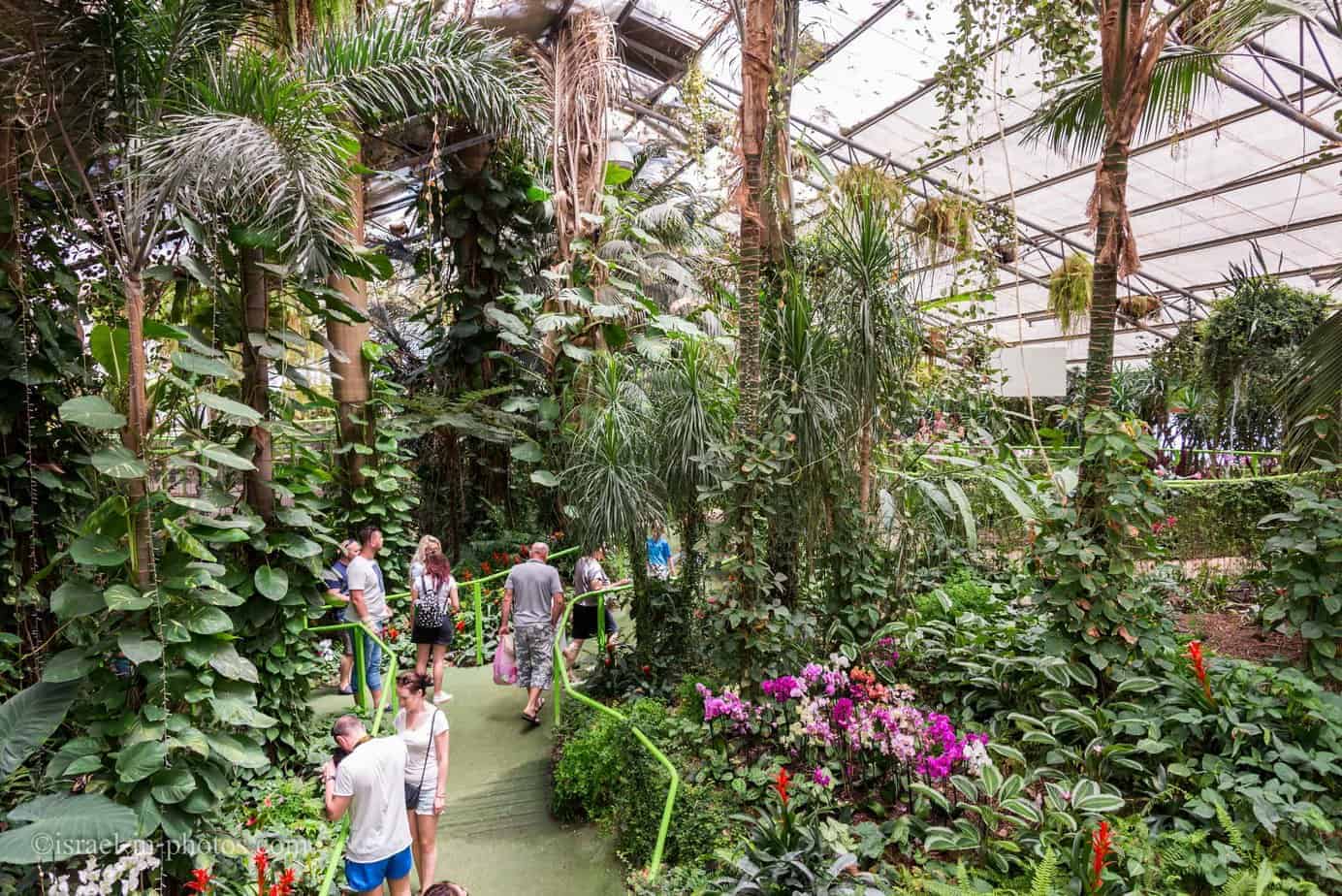 Looking down:

The pond at the entrance from the second level: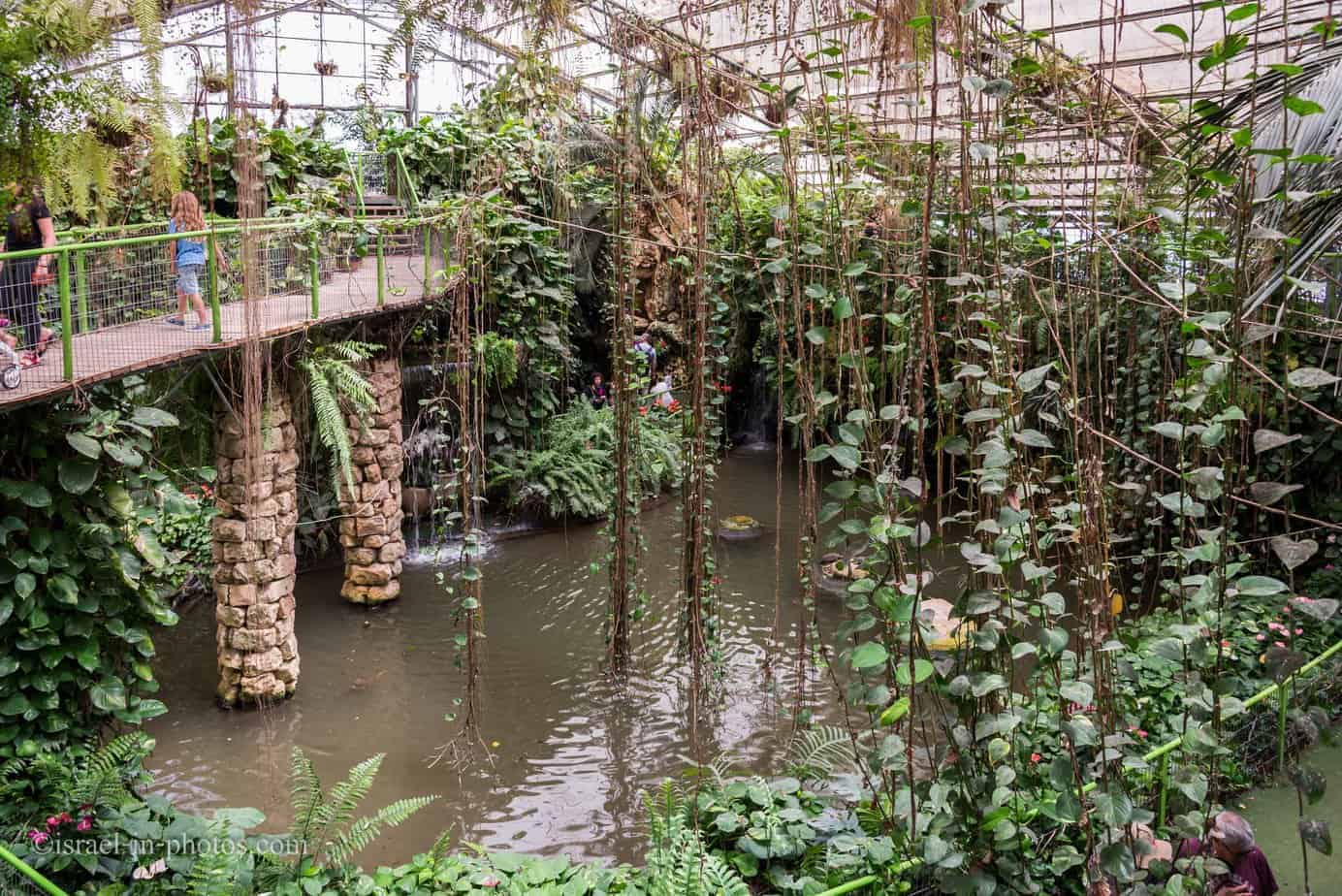 Several additional photos of Orchids:

Carnivorous Plants
Last time, there were short sessions where a guide was telling about different types of Carnivorous Plants. These sessions took place every hour. And there was a guide at this place. But, my daughter didn't have the patience so we didn't ask whether there are still such sessions.

And some more Orchids 🙂


There are different Carnivorous Plants. Here are explanations about probably the most common ones.
Nepenthes drives insects by smell and once they enter the pitcher they can get out. Insects can't hold onto the interior of the pitcher and fall into the water at the bottom of the pitcher. And the insect's movement is what stimulates Nepenthes's Gastric Glands.
Drosera is one of the largest genera of carnivorous plants. It traps insects using sticky leaves and then turns the leaves up.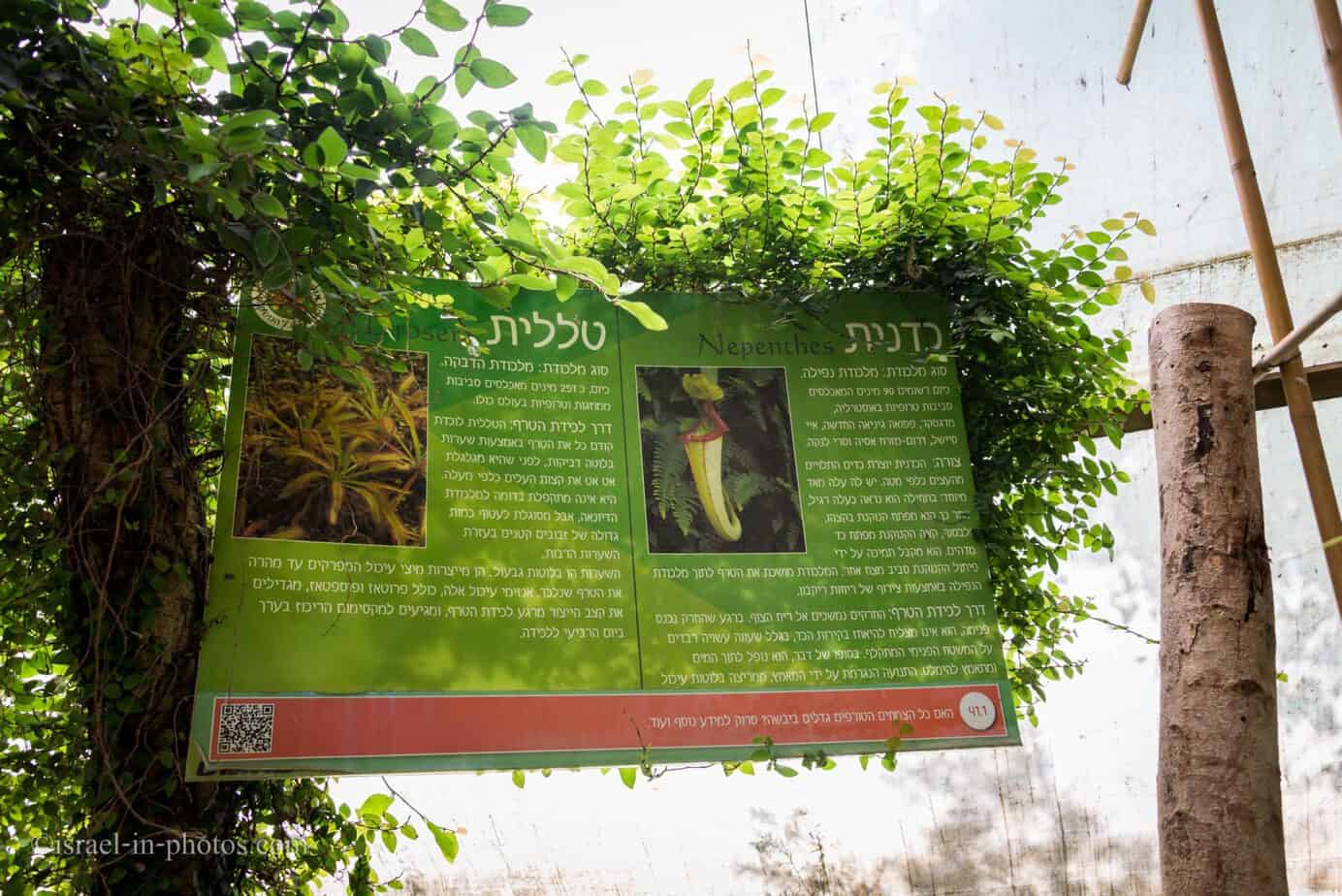 Closeup of the Nepenthes.
One more thing that I haven't shown is a big walk-in cage. There were different birds (mostly Phasianidae family, i.e. chickens, quails and so on).
We finished at Tropical Rain Forest building and headed outside.
Outside Area
Israel hill with Israeli plants: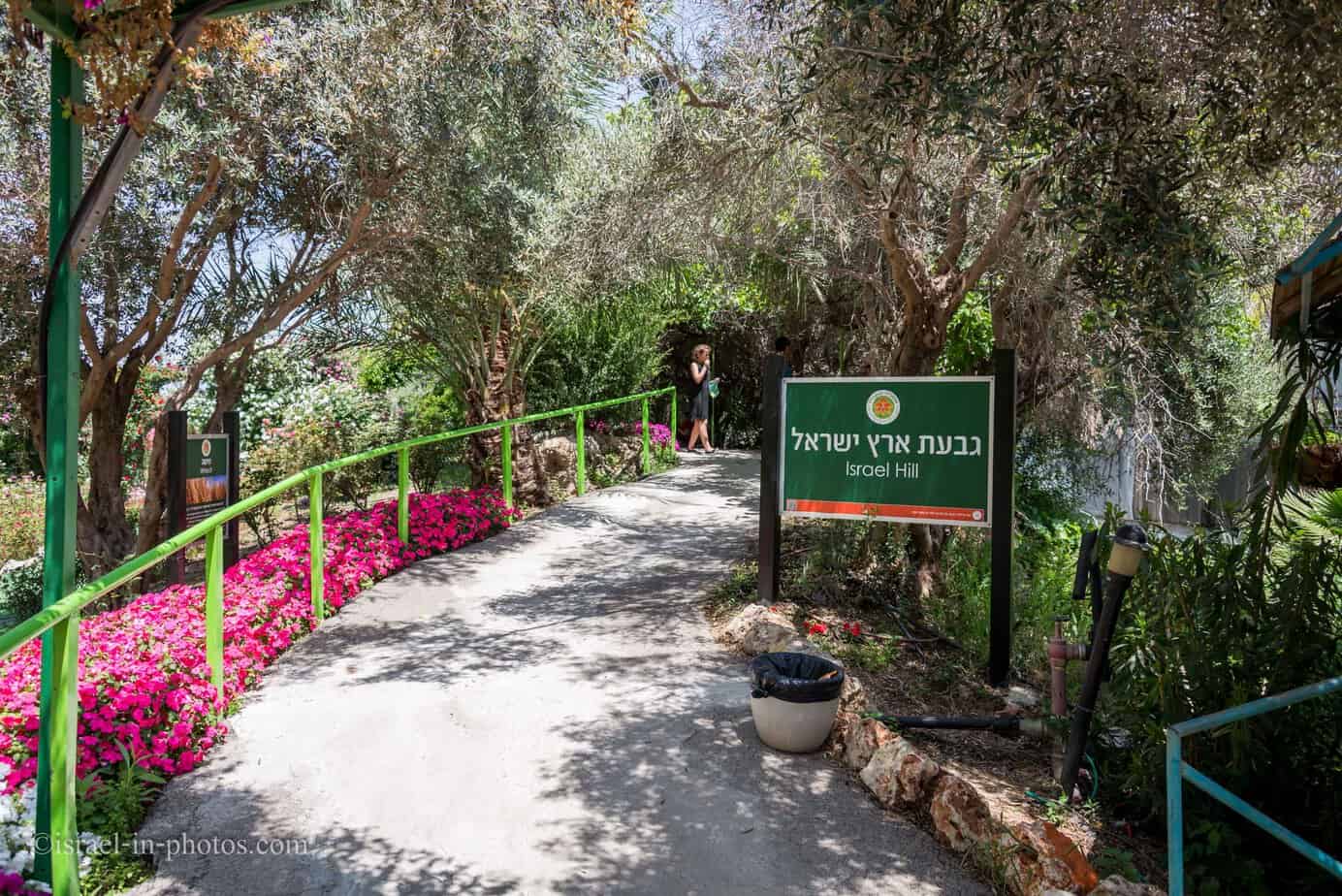 Rosegarden:

There are two plant Mazes on the premises. There is a two-floor maze and a regular one (shown in the photo).

Pretty much in the center of the outside are you can find Musical Water Fountain.

Every half hour music starts and the fountain starts working.
The show lasts about 10-15 minutes and quite nice if you don't expect much.
Animal Area
Musical Water Fountain is something new. Another thing that didn't exist during our previous visit is the Animal Area.
In the animal area, we saw mostly goats.

And they lived in colorful houses.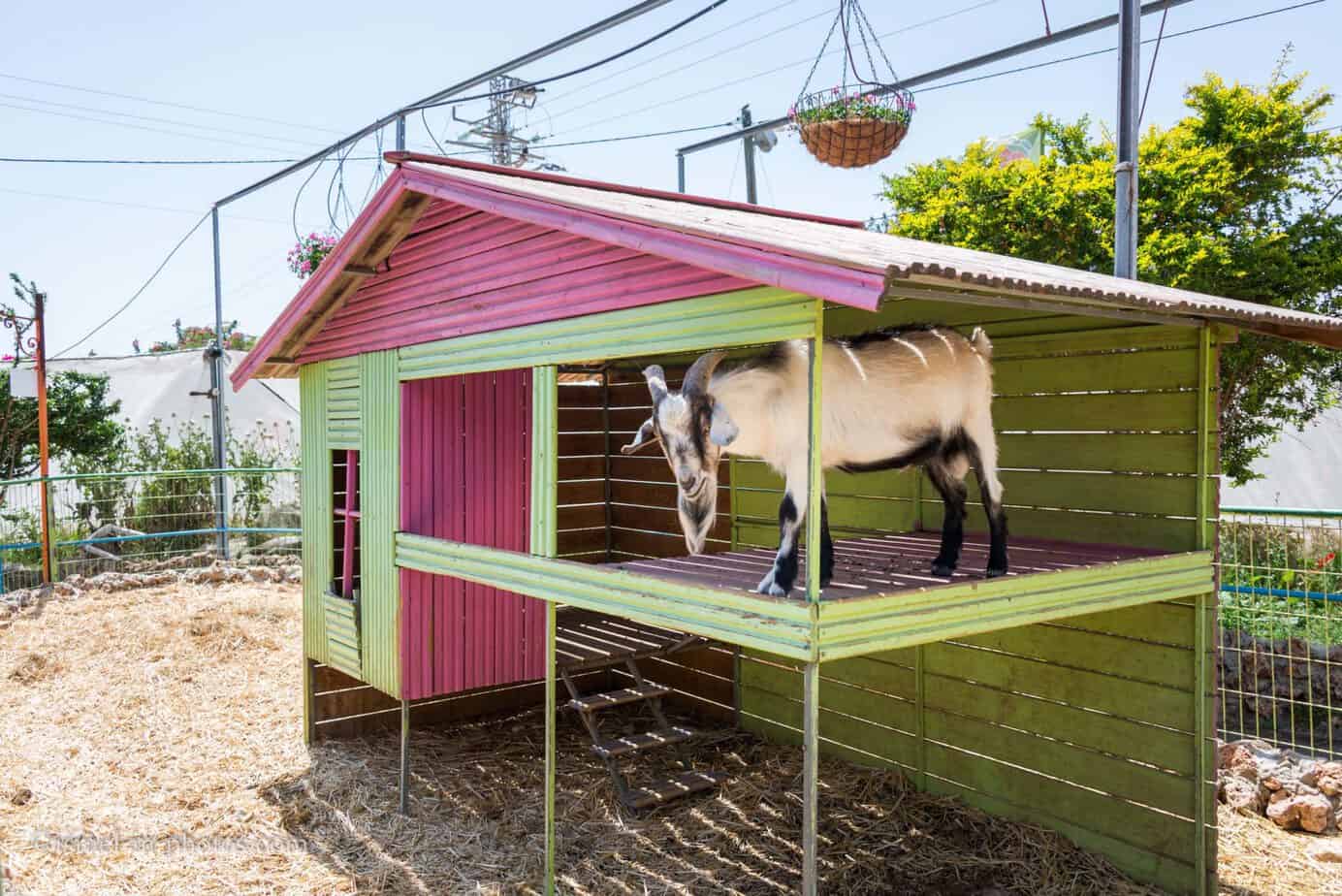 From the animal area, we continued our round trip. Here we are passing through the Cactus garden.

Cactus flowers: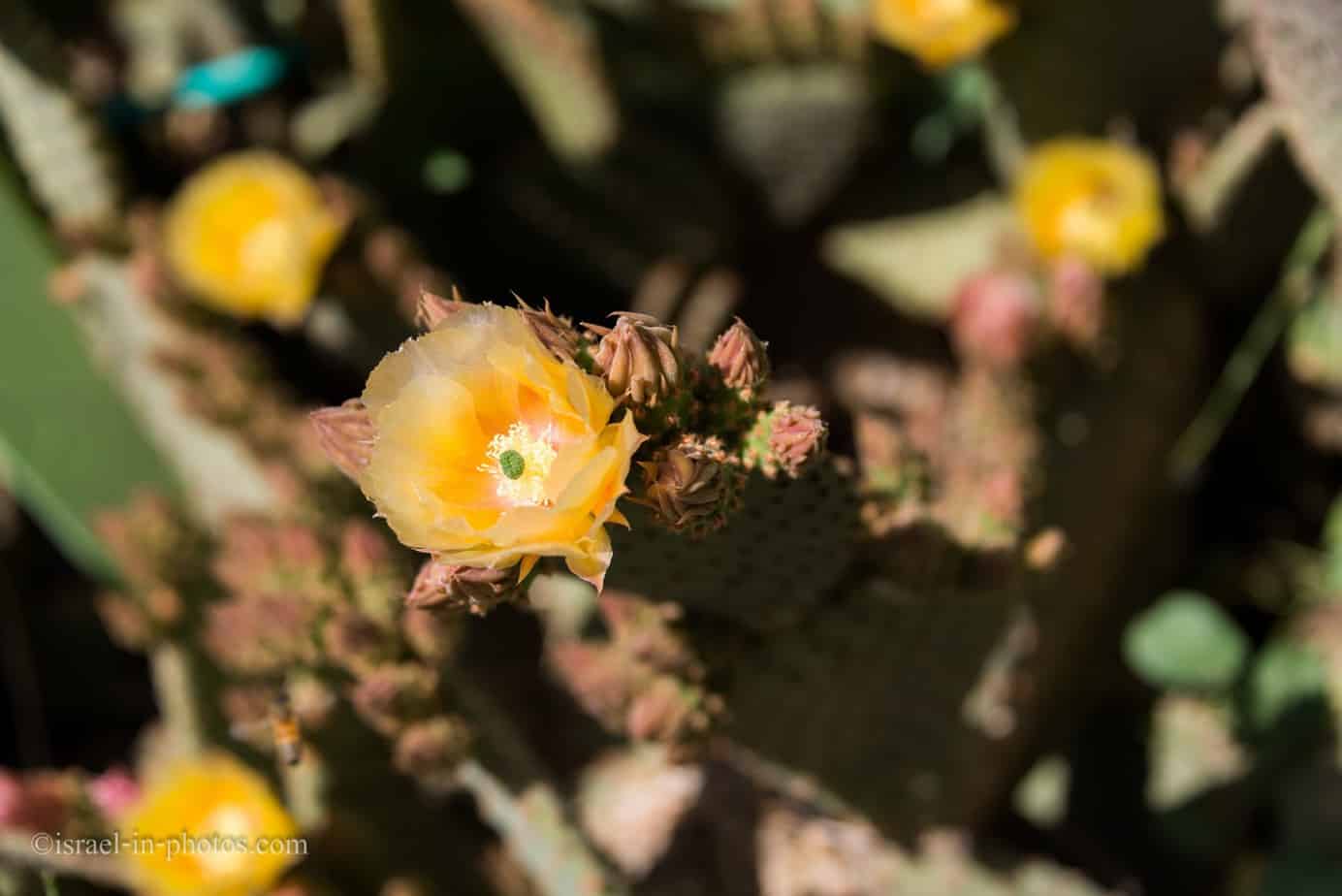 Some of the pathways are shaded using flowers. I think is a good and aesthetic solution to Israeli heat.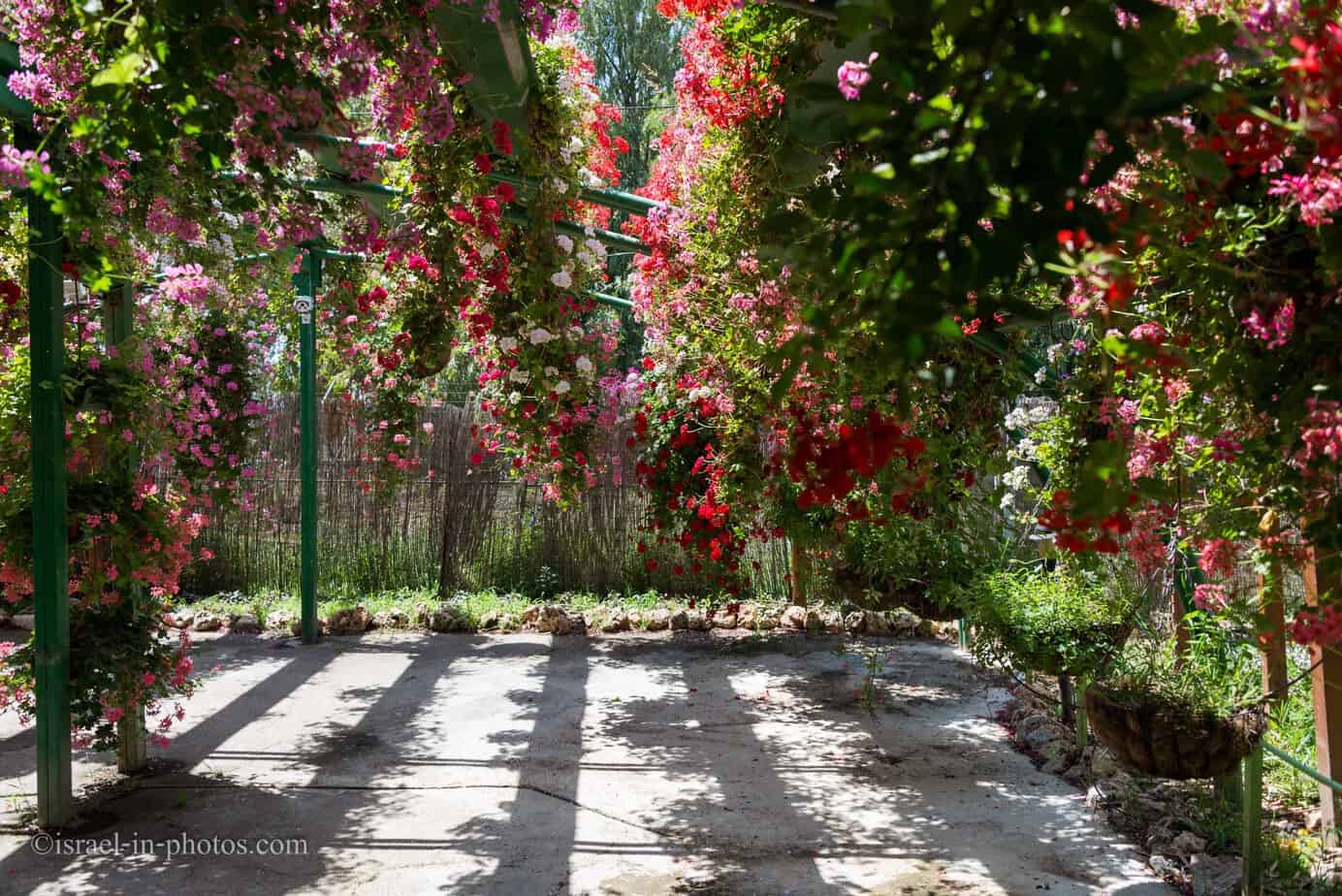 Parrots
The last complex we visited was the parrot one. There were about several dozens of different parrots. And about a dozen of them were free. You could pet them and let them sit on you.
A woman holding an Ara parrot: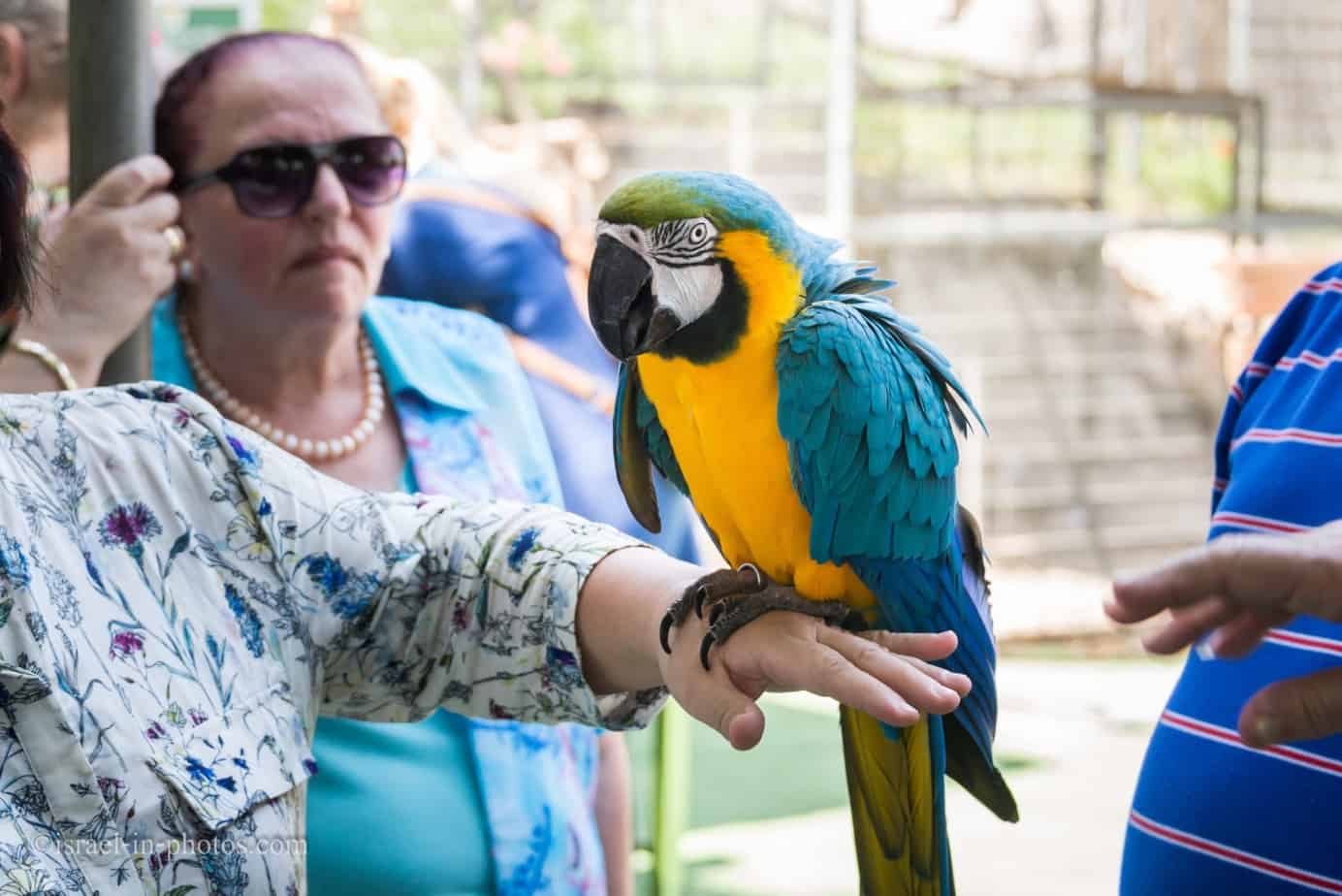 Though we spent only about 20 minutes with the parrots, from my daughters perspective, besides the fountain this it was the most memorable part.
While we were walking towards the exit the Musical Water Fountain played again.
The previous shots were made from the elevated deck (on the other side of the fountain). The deck is probably the best viewing point.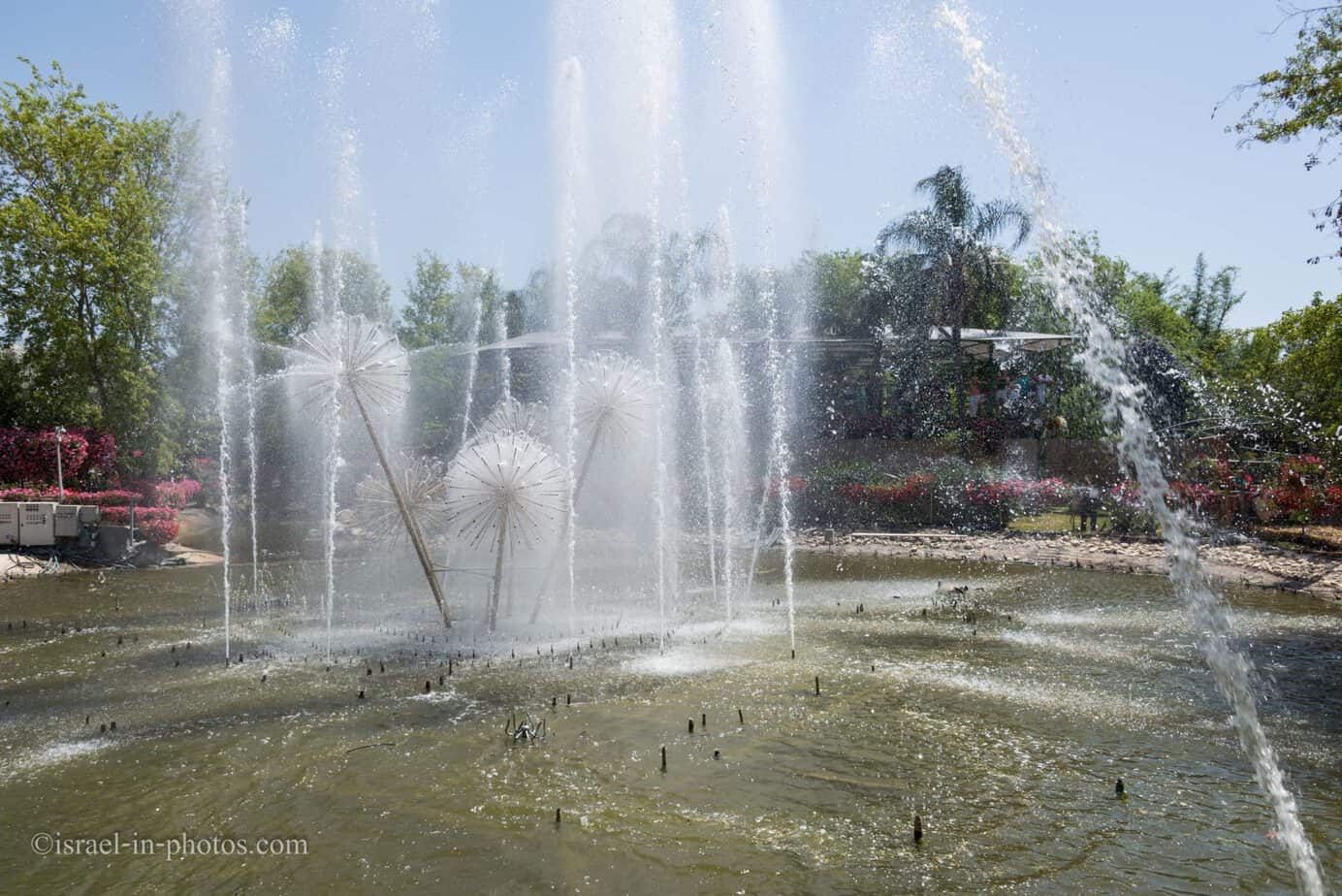 As you exit from Utopia you pass through a big store where you can find different things for your garden. You can find different plant and garden sculptures: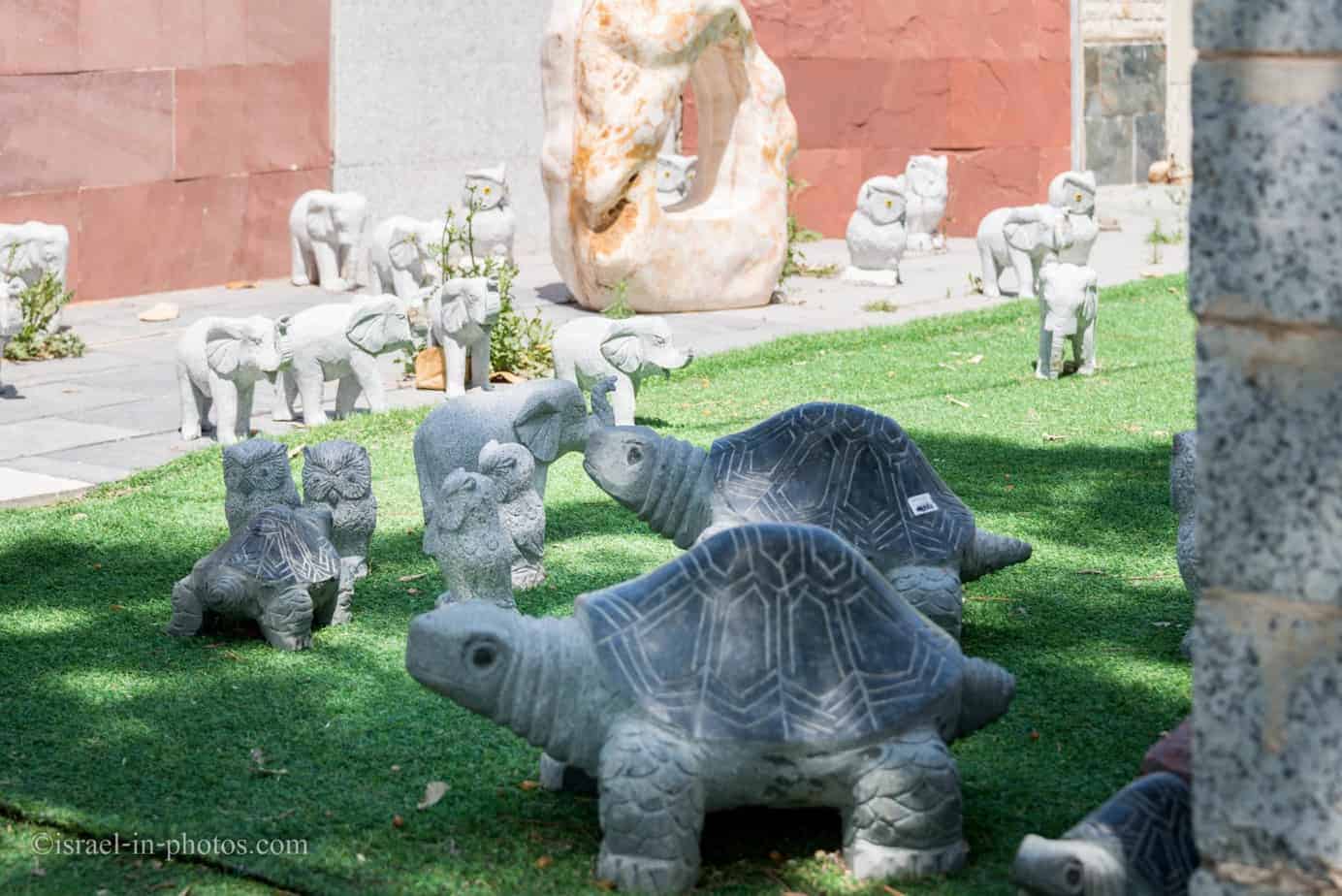 Summary
Overall, Utopia is a nice attraction for the whole family. You can spend from several hours up to a half day. And Kibbutz Bahan is not too far from the center. The only downside is ticket price. For such price, you can visit Jerusalem Biblical Zoo. Most families will enjoy the zoo more. But if mentioning families, I saw that Utopia offers a discounted family ticket on the Official Site.
That's all for today and I'll see you in future travels!
Stay Tuned!
For similar posts check out Agrotourism and Nature categories.

Additional Resources
Here are several resources that I created to help travelers:
And if you have any questions then check out Useful Information For Tourists To Israel.

Did not find what you were looking for? Email me at
[email protected]
, and I will do my best to answer your questions.