Background Info About Self-Picking (Agronen) Raspberries at Gedera
Self-Picking Raspberries at Gedera, also known as Agronen Raspberries (official site: www.agronen.co.il) is open during the weekends and works at a similar format as other self-picking farms in Israel. Meaning, entry ticket (30 NIS) allows you to pick and eat as much as you want. And if you want to take away, then you can buy an empty basket (about 300 gr.) and fill it up for an additional price of 30 NIS for a basket or 50 NIS for two baskets.
Map of the area:
Self-picking Raspberries at Gedera started offering self-picking in 1997. Back then they offered Raspberries, but today you can find at the farm other fruits as well. For example plums, different types of mulberry, Pitanga (Surinam Cherry) and strawberries.
Here is the map of the farm.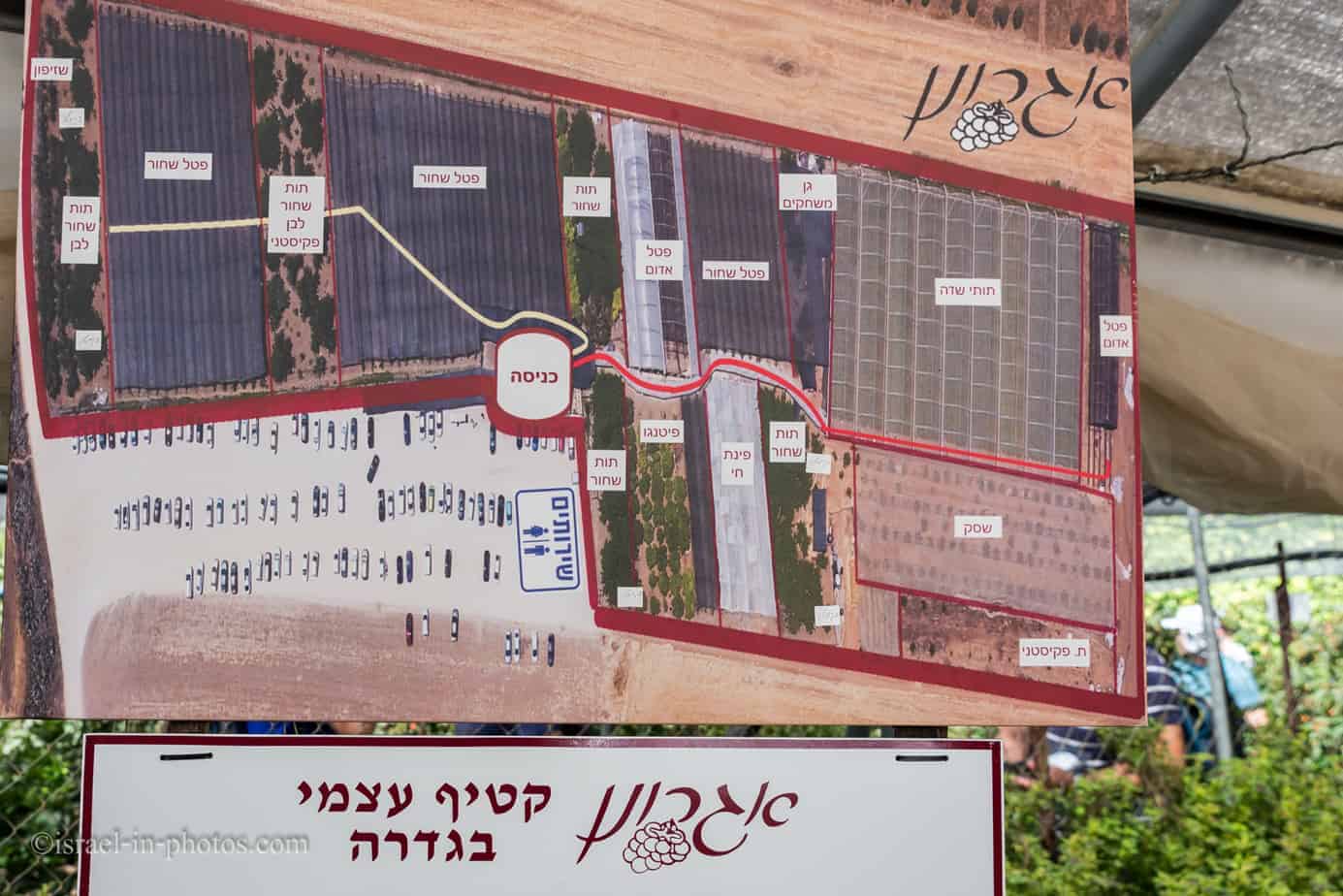 In 2018 I visited Agronen Raspberries at Gedera and Cherry Picking In Odem in two following weekends. This video is the result of those visits.
Visiting Agronen Raspberries
We visited Self-picking Raspberries at Gedera about a year ago, during Shavuot. Back then we ate eight different kinds of Raspberries. But, this year because the winter was not cold enough, so there are not many Raspberries. And since many people are visiting, only a few were left. But, I was able to find several for a photo 🙂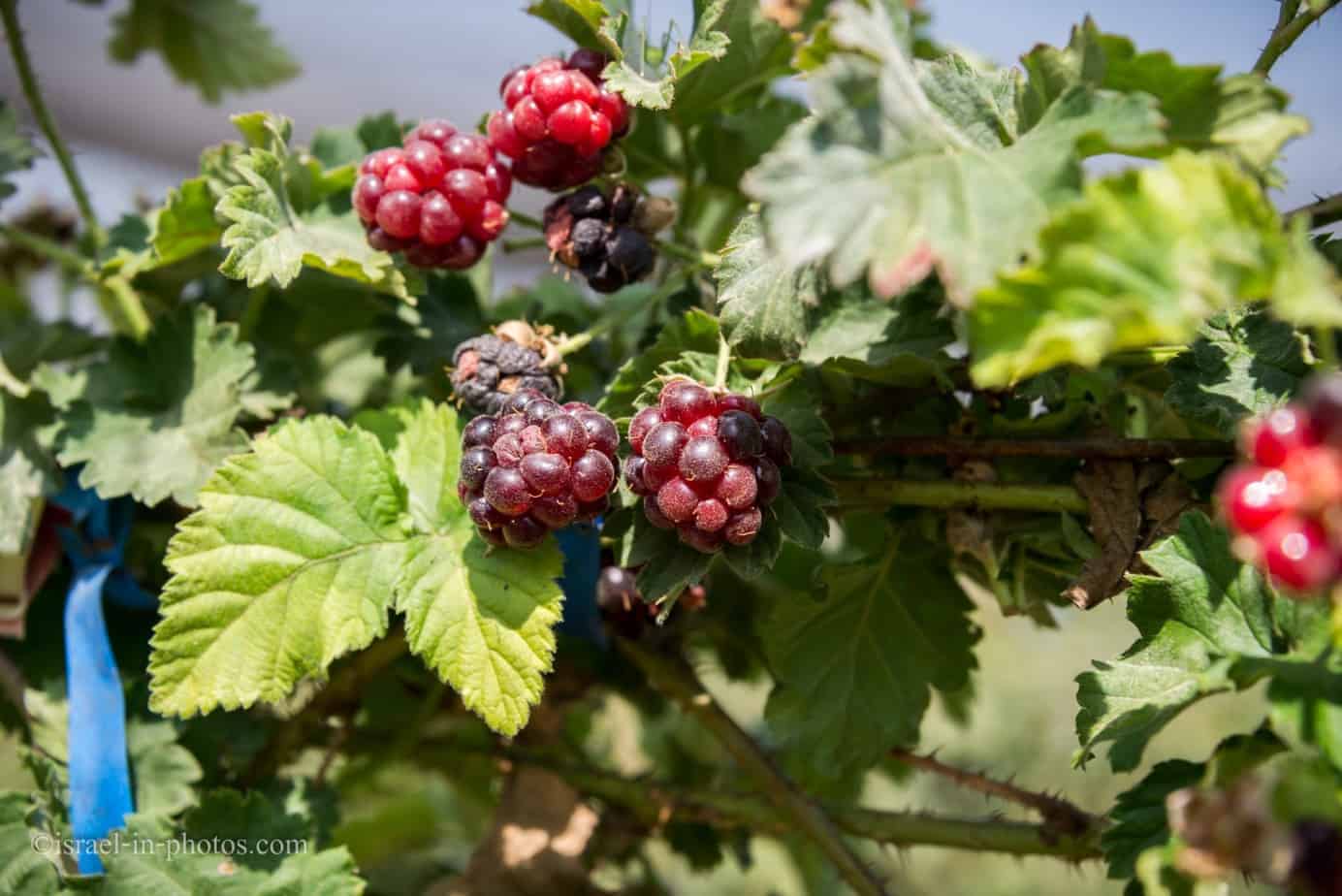 Most of the Raspberries we found weren't still ripe and had a sour taste:

If you are interested primarily in self-picking raspberries (and not other fruits), then you should check in advance. There are no live updates on the official site, but you can call them or check on Facebook.
Rows of Raspberries:

Then we continued to Mulberry:

There are both black and white Mulberry trees. How do you know which one is which and what's ready for picking? Just take a look at the ground. Ripe fruits fall on the ground. So if you see many black mulberries below the tree then collect black mulberry. And if you see white mulberry, then collect white.
Afterward, we continued to the plum trees: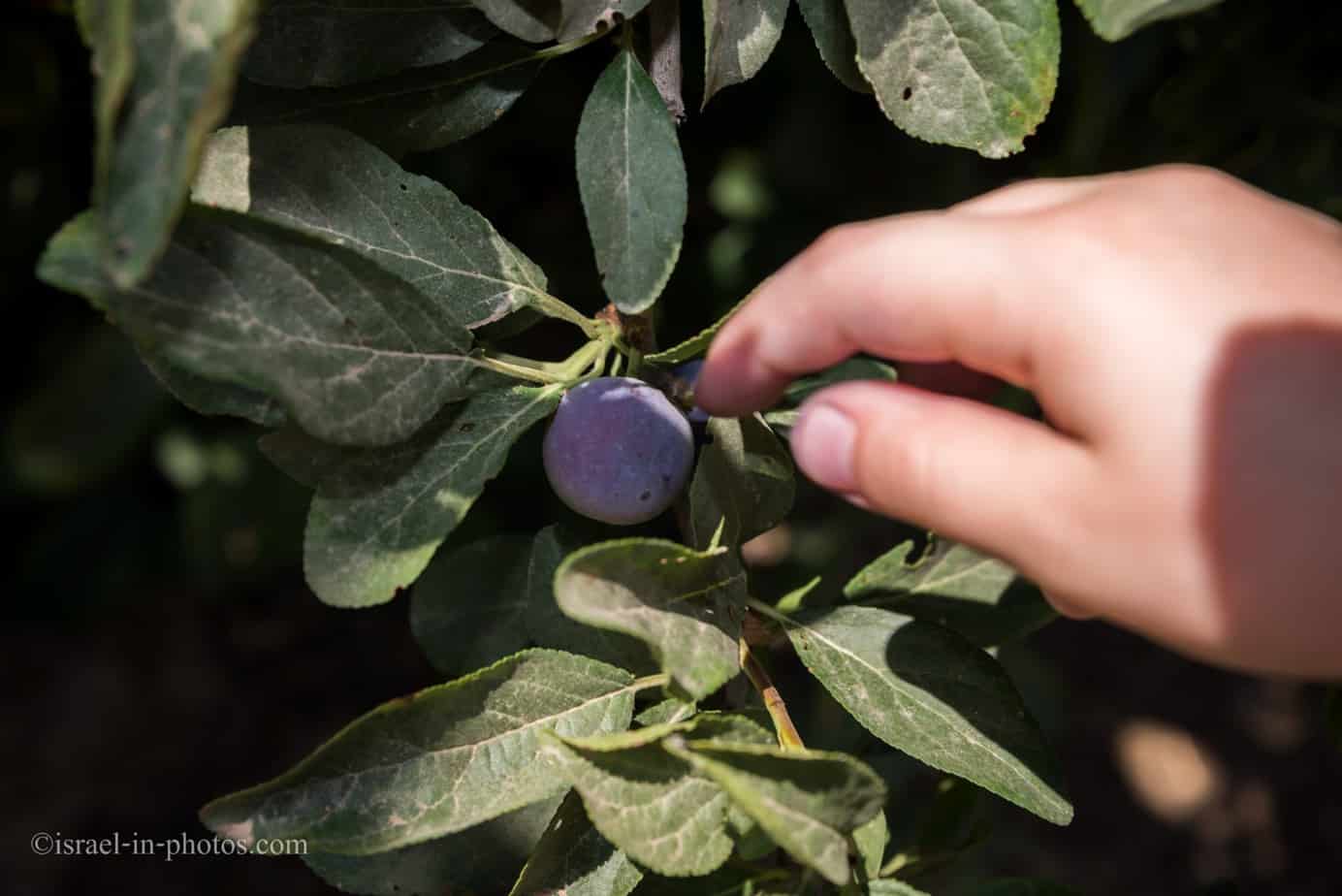 They were quite tasty: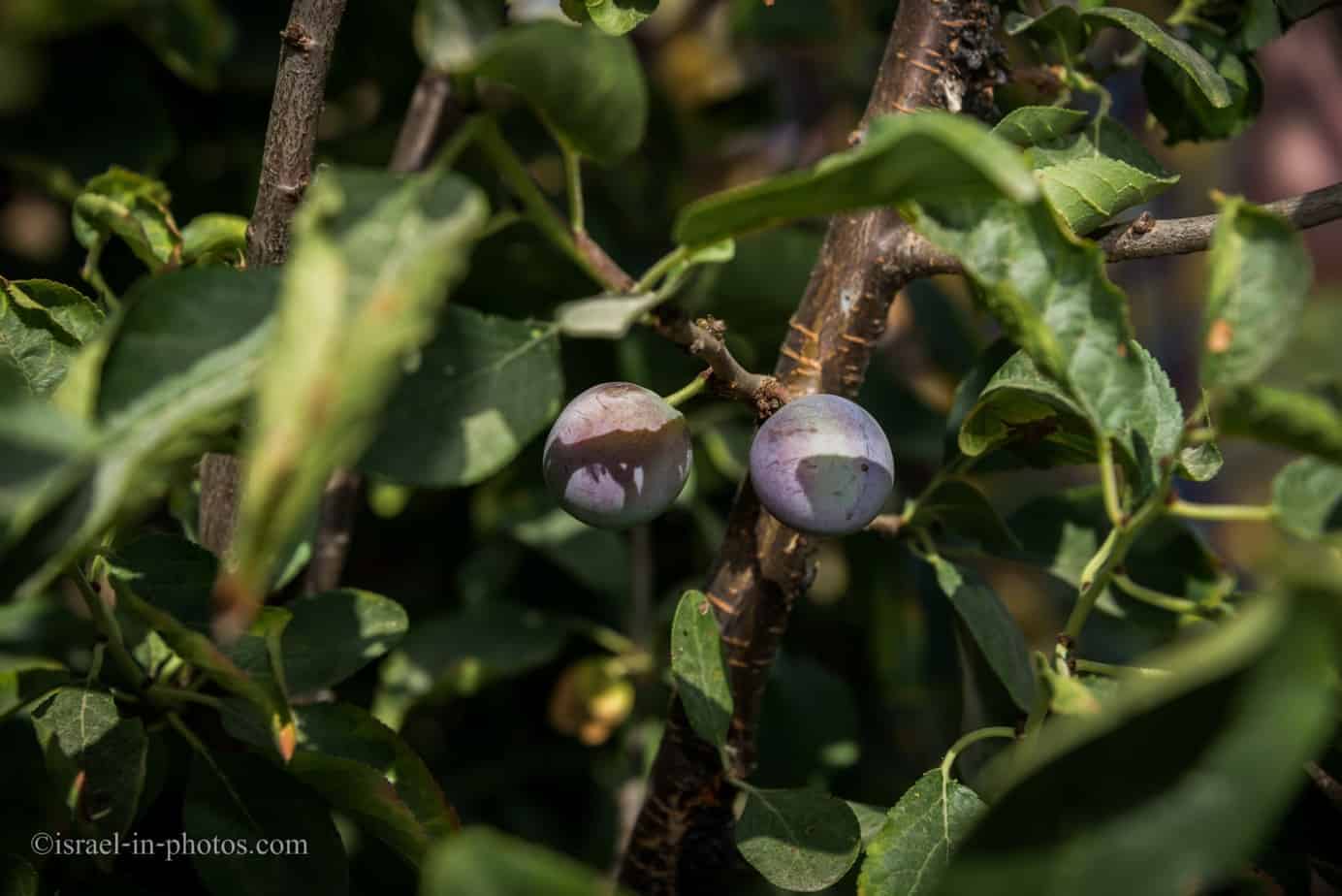 A closeup: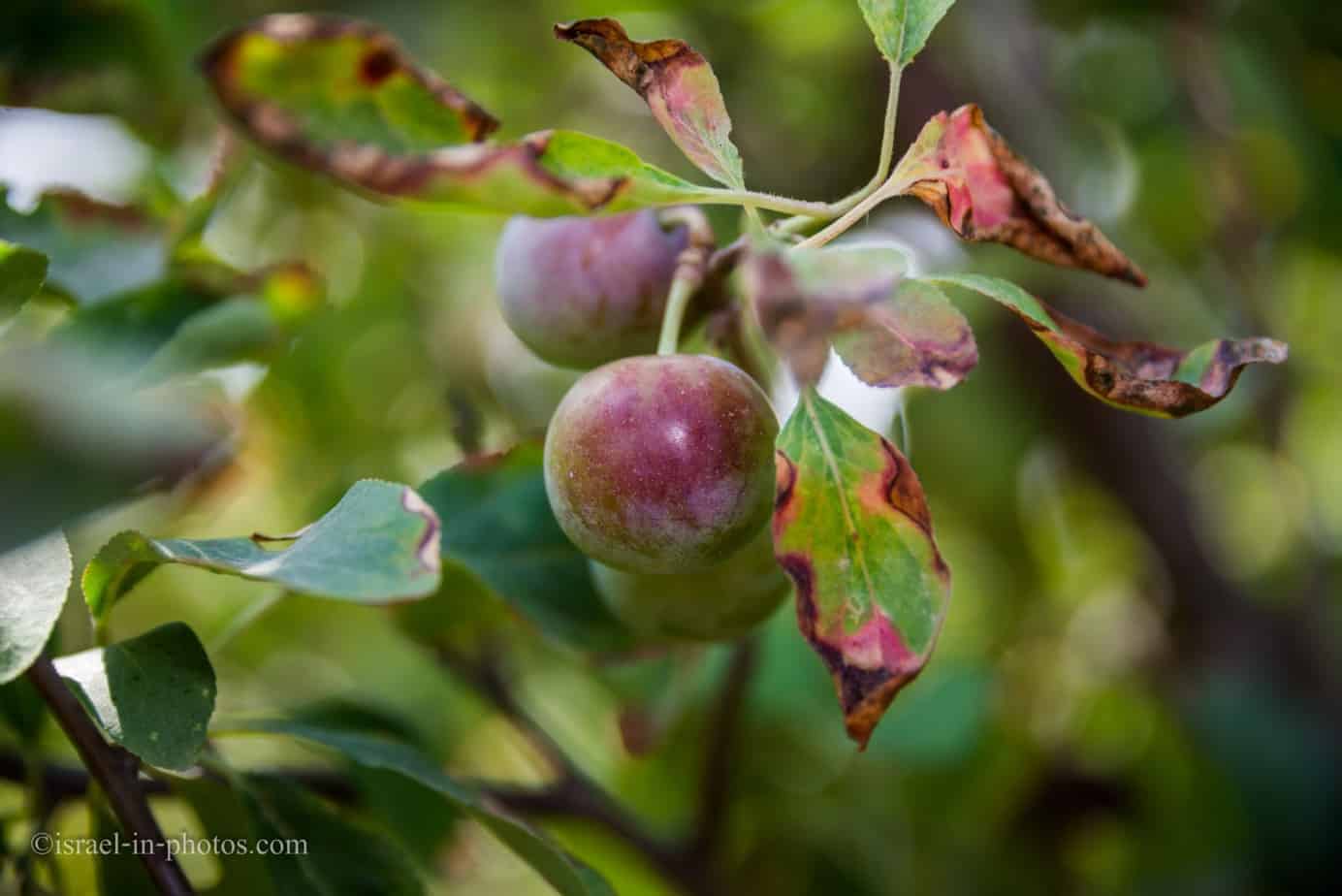 Those aren't big plums, in fact, they are not much bigger than cherries. Here are several on the palm of my hand: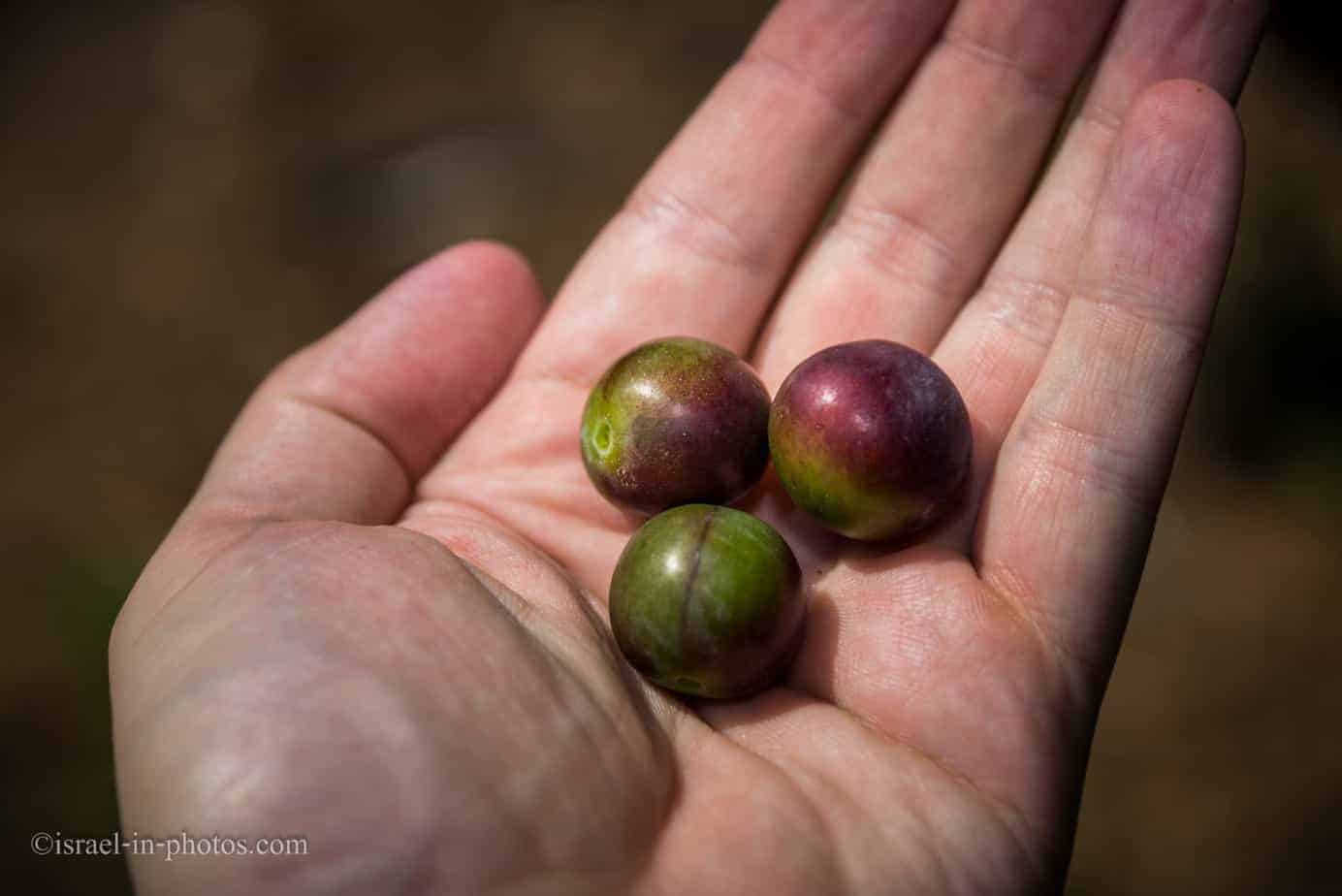 As I mentioned earlier, the winter wasn't cold enough and there aren't many raspberries. For that reason they planted trees of another fruit, that likes warm winter and it is Pitanga: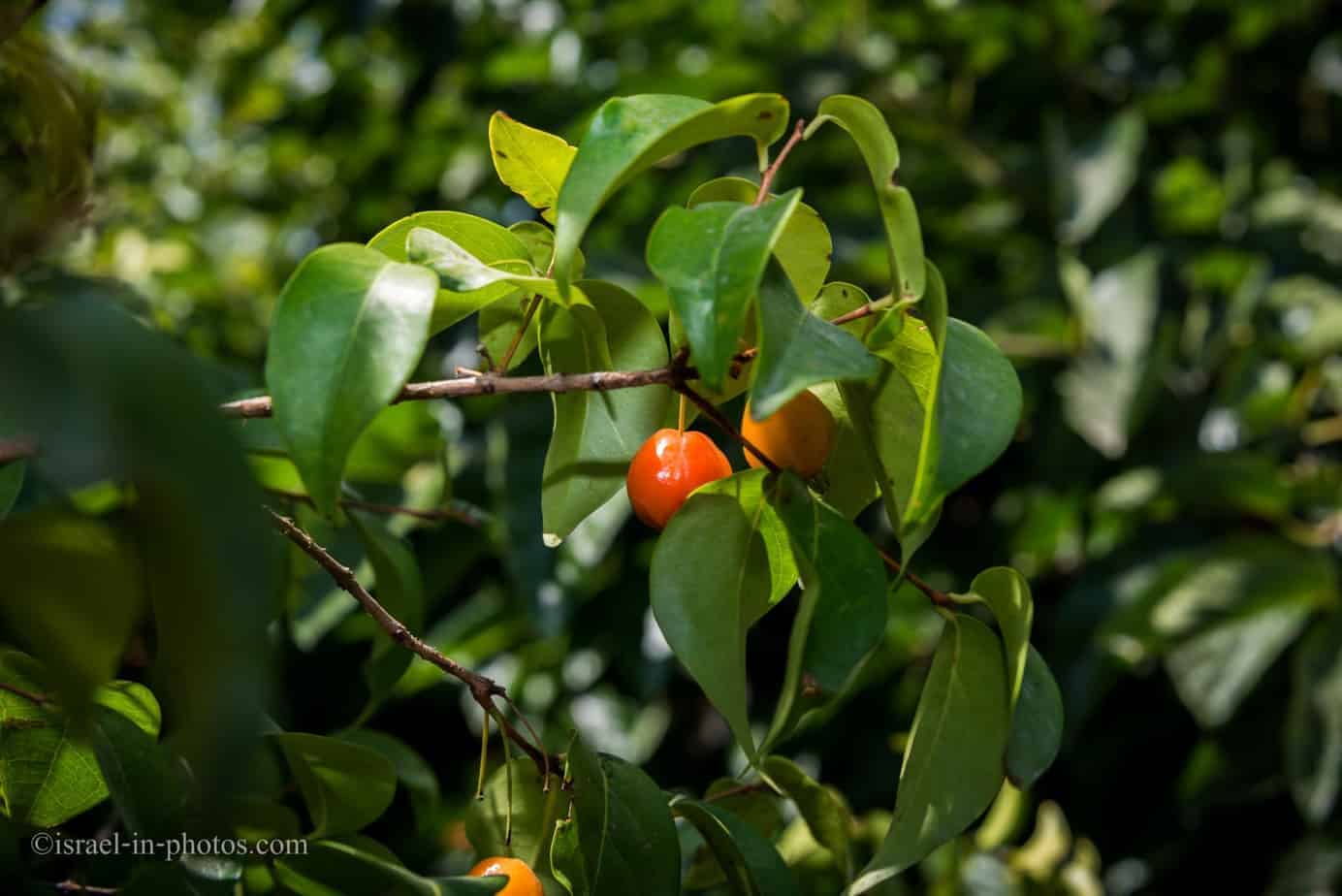 Thus on warmer winters, you will have plenty of Pitanga. This way, no matter whether the winter was cold or warm you will have something to collect.
Black Mulberry:

Hanging Strawberries
And the last fruit we went to collect and eat is strawberries: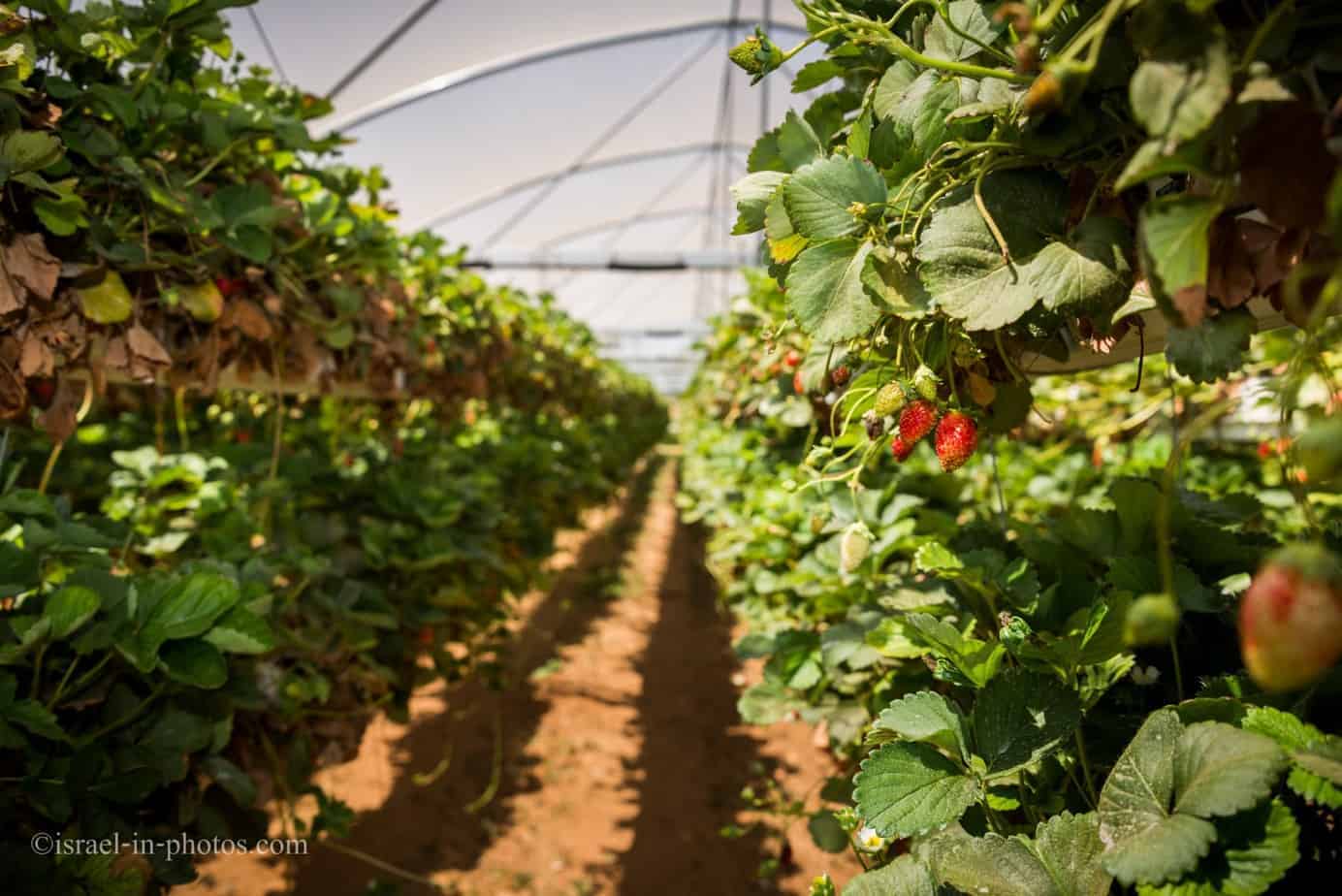 They interestingly grow strawberries. There are long rows of hanging plants. Such growing method makes collecting easier. But I wonder whether there other reasons for this method of raising? (maybe inappropriate land).
I know that in the Sharon area strawberries are grown in the regular way, i.e. plants in the land. Here you can find impression from our visit to Strawberry Picking at Hod Hasharon.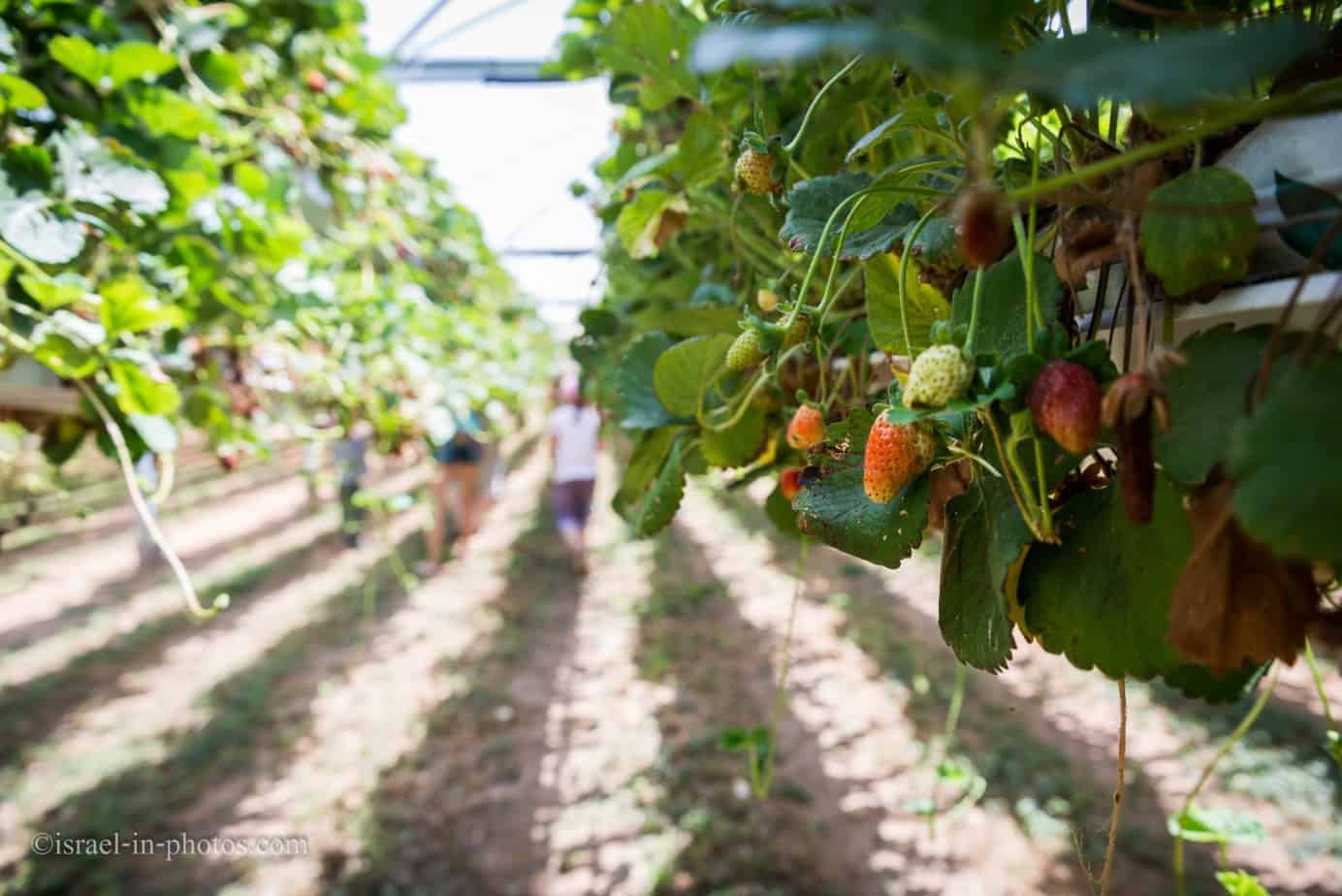 A look across the rows of strawberries: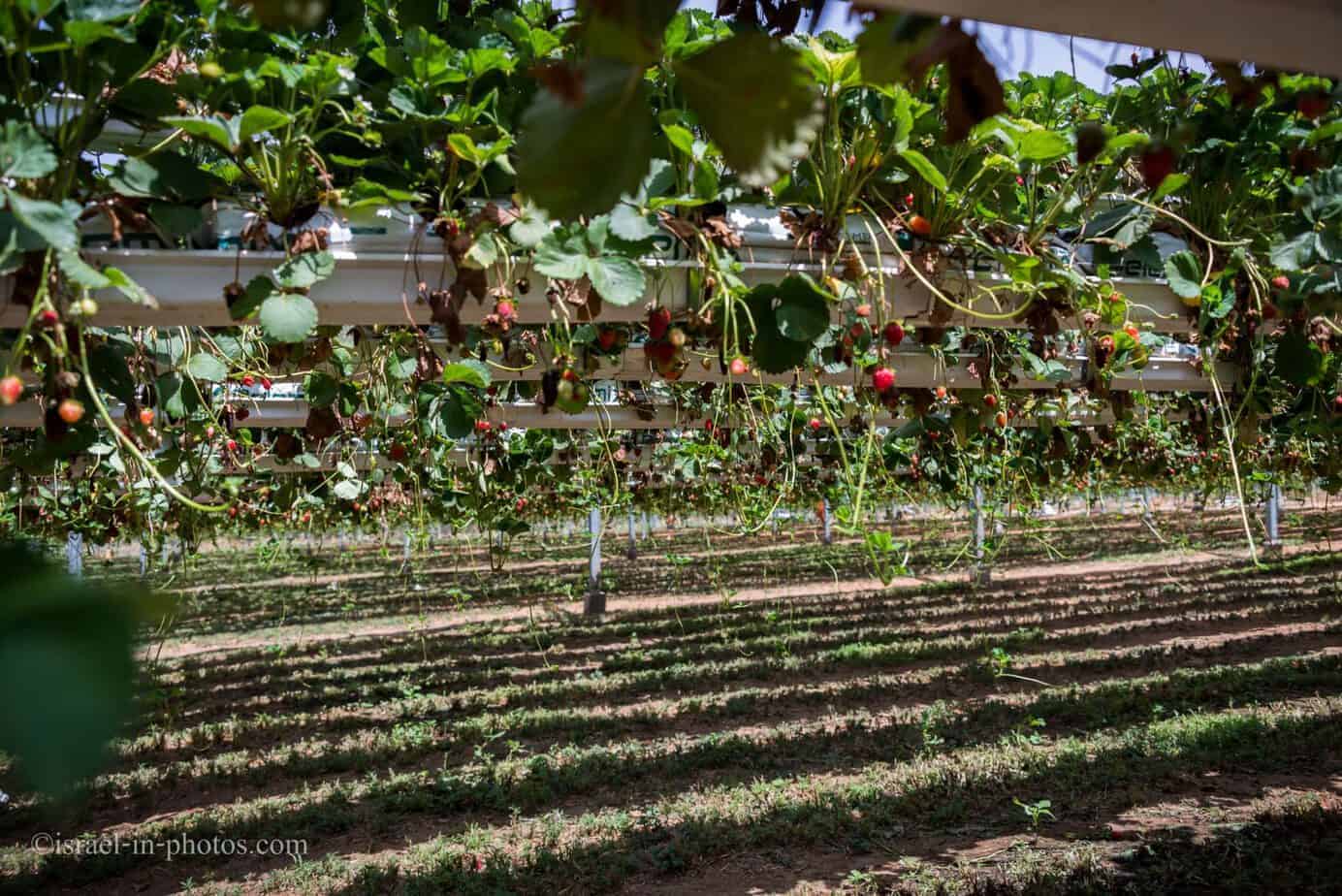 Interestingly, the fact that I noticed about strawberries is that while some of them are still green, some are ripe and others are overripe. That means that farmers who grow strawberries visit the same plants for several times.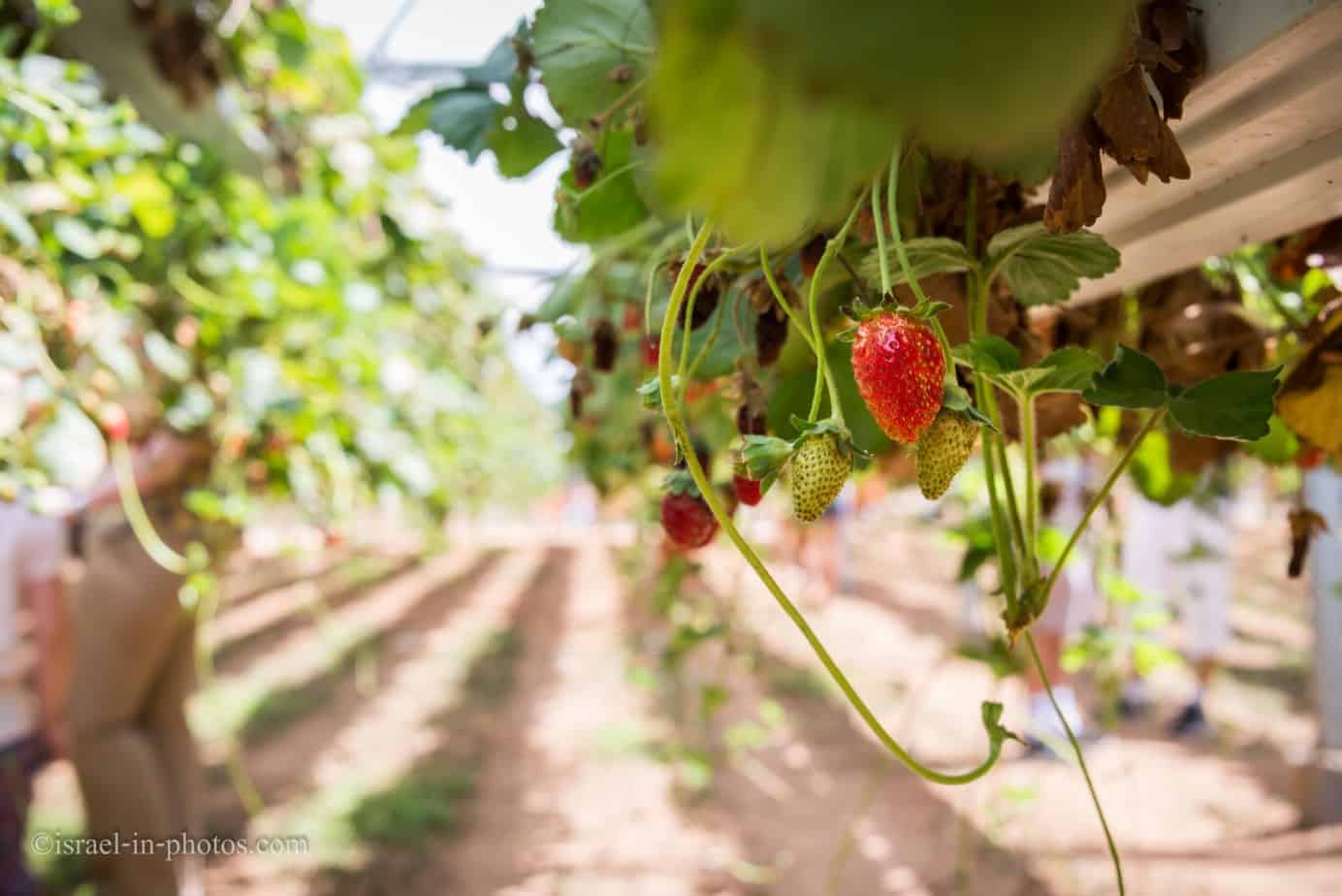 2018 Update
We revisited Agronen Raspberries at Gedera towards the end of May 2018, and there are plenty of black raspberries, mulberry, Pitanga and even some strawberries. The place got quite popular, and if you come during rush hour (around 10-11 am on Saturday), then there will be a long line at the entrance (took us about 20-30 minutes of waiting). Therefore, I would recommend either to come earlier or later in the day.
Summary
Overall self-picking raspberries farm in Gedera is a nice place, and it is pretty much what one would expect. But, if you are looking forward to self-picking of some specific fruit then check out in advance, since it is weather dependent.
Have you visited this self-picking farm? Tell us about your experience in the comments below.
That's all for today, and I'll see you in future travels!
Stay Tuned!
For similar attractions check out Agrotourism category.

Additional Resources
Here are several resources that I created to help travelers:
And if you have any questions then check out Useful Information For Tourists To Israel.

Did not find what you were looking for? Email me at
[email protected]
, and I will do my best to answer your questions.