Today we are going to visit Ktofoti, a self-picking farm. But let's start with the basics, like entrance fees and coupons.
Offers
Get 5% off for your next vacation at Isrotel.
Get 5% off for your next tour at Bein Harim with coupon code 'LEV5#12305'.
Map
Ktofoti is located at Bethlehem Of Galilee near Derech Hatavlinim. To reach it, you turn right just before the entrance to this Moshav. And the most straightforward way not to get lost is by entering their name into Waze.
Map of the area:
Opening Hours
Friday: 08:30 – 12:00
Saturday: 08:30 – 13:00
Visiting in other days of week, must be prearranged by phone – 0545507480.
Entrance Fee
The entrance fee is 45 NIS per person (everybody above two years old must purchase a ticket). And every fourth family member pays 40 NIS. Moreover, you pay 30 NIS per family basket or 20 NIS for a small basket. In our recent visit, we also received a small plastic box (contains about 300 grams) for picking strawberries and several knives.
Note: opening hours and entrance fees were updated in June 2020. In any case, recheck the official site before your visit. Moreover, on the official website, you can find the list of fruits and vegetables that are currently available on the farm. These are the fruits and vegetables you will be picking.
Coupons
You can find coupons online. Here is for example cuponofesh.co.il, which allows purchasing a ticket for 40 NIS per person.
At Ktofoti
We visited Ktofoti in Bethlehem Of Galilee several times, and in this section, I will tell you about our latest visit.
We arrived early and started with strawberries. And I would recommend coming early (and do not forget sunscreen) since you will be in the open fields.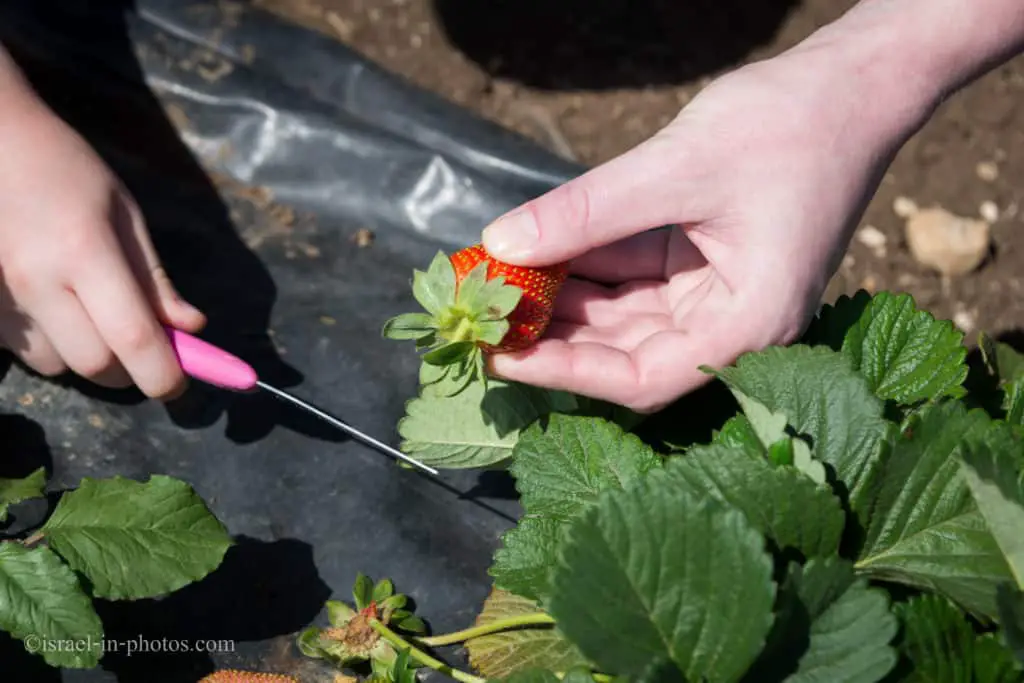 When we finished filling the strawberries box, we continued to one of the greenhouses, and there we found cherry tomatoes.
Here is our half-full family basket: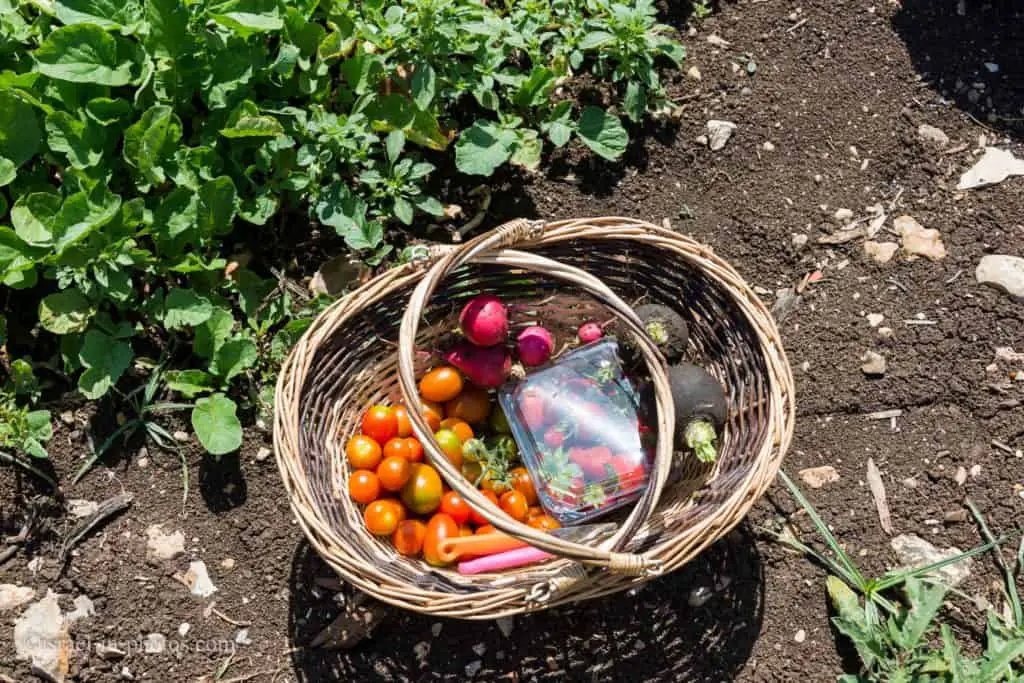 And by this point, we understood that we made a mistake. When picking fruits and vegetables start with the firm ones. Start with potatoes, carrots, onions, cauliflower and only then pick up more delicate (soft) things like tomatoes and cherries. And green leaves, like lettuce and various spices, should be left to the very end. Since they will start going bad quickly under the blazing sun.
And these tall flowers (about 1.7m tall) are Artichokes:
Earlier on, a tractor passed there, so there was no need to dig out the potatoes. We merely walked and collected them.
One more thing worth mentioning is that there are guides in the fields. If you have any questions or need help, they are there. For example, when we reached regular carrots, it was tough to pull them by hand. There was a guide with tools, which helped us.
You can eat them straight from the bush: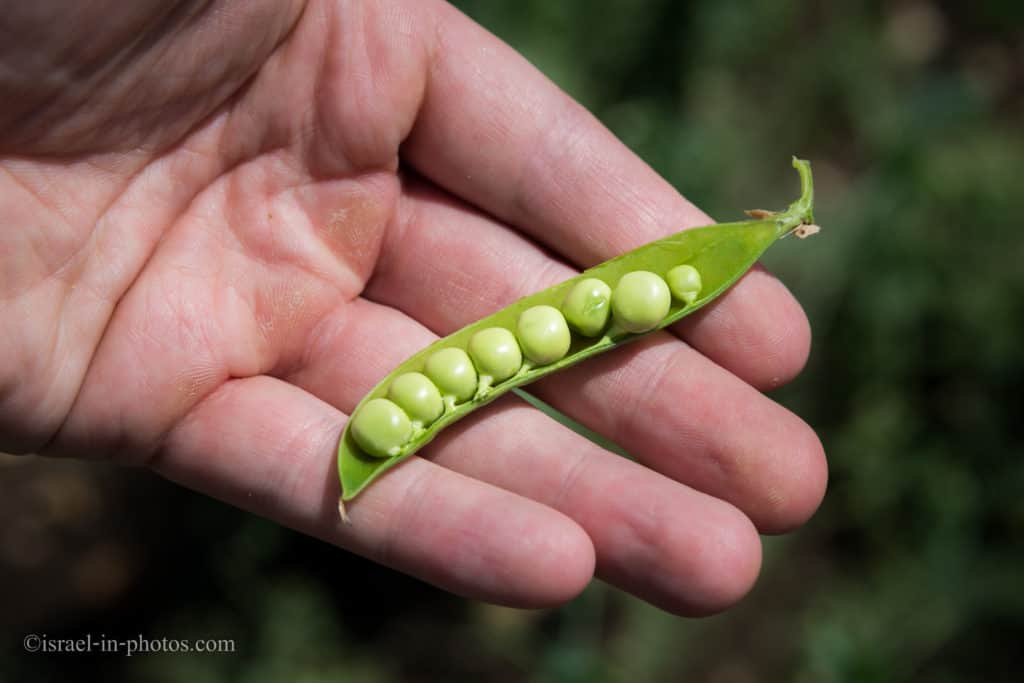 Cauliflower is hiding between those giant leaves:
Can you guess what this plant is?
That is broccoli, and this is how it looks in the beginning. Over time it becomes denser till it is the broccoli that we see in grocery stores.
After about 2.5 hours of picking we filled our family basket:
There were also some flowers you could pick, but my daughter preferred feeding goats with lettuce. Thus, we left the flowers.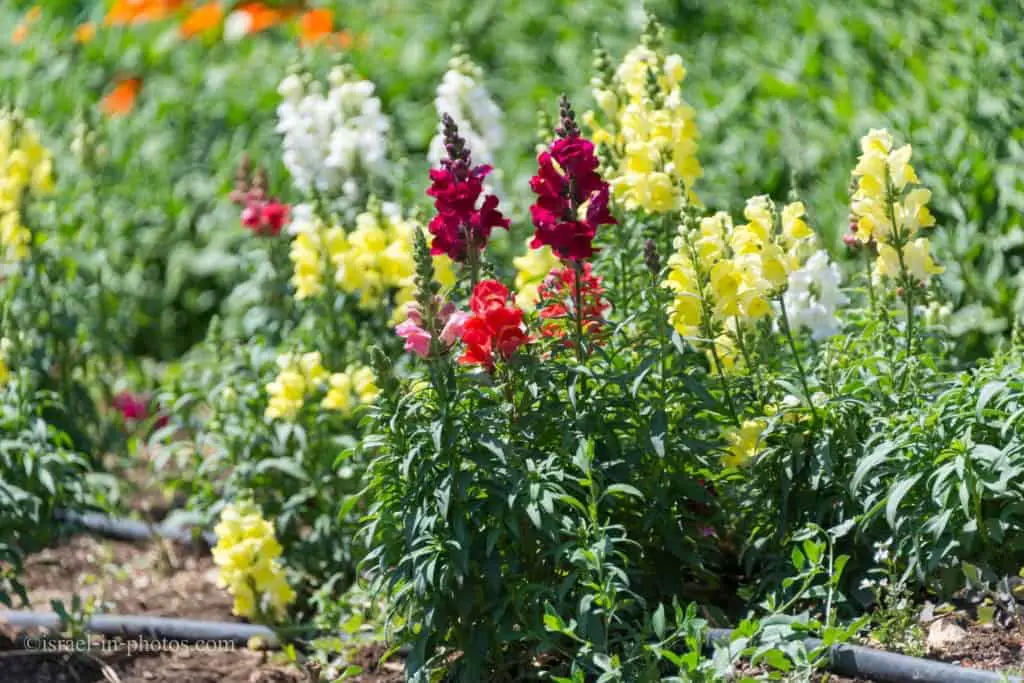 On the entrance, which is also the exit, you can find empty plastic bags. You fill them with whatever you picked up.
Summary
While I was there, I heard that some families complain about the price. And indeed, for a big family, it is not cheap. But, if you do it smartly, you can return more than half of the cost via the vegetables and fruits you pick. Moreover, you can also find coupons online.
After considering this, the price is not so scary, and overall we loved it. It is a fun experience for the whole family. And I want my kids to know that vegetables and fruits are not growing in the supermarket.
Note: if you love agrotourism, then check out the agrotourism category. And if you are looking for additional nearby attractions, then either browse the map at the top of this post or see Bethlehem Of Galilee.
Have you ever been at Ktofoti? Tell us in the comments below.
That's all for today, and I'll see you in future travels!
Stay Tuned!
Additional Resources
Here are several resources that I created to help travelers:
And if you have any questions then check out
Useful Information For Tourists To Israel
.  
Did not find what you were looking for? Email me at
hi@israel-in-photos.com
, and I will do my best to answer your questions.