Tel Aviv Port is a lovely place for all types of outings. There are restaurants, shops, various attractions, parks, and sports. Let's begin exploring!
Offers
Get 5% off for your next vacation at Isrotel.
Get 5% off for your next tour at Bein Harim with coupon code 'LEV5#12305'.
On One Foot
The Northern part of Tel Aviv promenade, Tel Aviv port, has experienced and is still undergoing significant changes. From the old port area, it became a fancy shopping area and entertainment space. Many Israeli's like to spend time there, and we are not the exception.
Note: Namal Tel Aviv means Tel Aviv port in Hebrew. Also, some refer to this place as the old Tel Aviv port. But most people leave out the word "old" since there is no new one.
Map
There are many entrances to Tel Aviv Port. The most popular ones are Rehov Yorde Hsira 1, HaTa'arucha Street 3, and HaTa'arucha Bridge (32.098941, 34.778035).
Map of the area:
Here is a map of the compound.
Another map with a description of what can be found in each building.
Note: you can click on the map to enlarge it.
History
Active port and decline
In the wake of the general strike of the Arabs of Mandatory Palestine at the outbreak of their 1936–39 revolt, an alternative was needed for Jaffa Port. The new port, founded by Otzar Mif'alei Yam (lit. "Treasure-of-Sea Works"), opened on a small scale in 1936 and was finally completed and inaugurated at its current size on February 23, 1938.

The port remained fully operational for less than two years. The outbreak of the Second World War put an end to its civilian use, as the British Navy took over the facilities. After the end of the war in Europe, an attempt to reactivate the port remained unsuccessful due to the lack of shipping at the time. During the civil war between Jews and Arabs from November 1947 and until Israel declared independence in May 1948 and in the ensuing 1948 Arab–Israeli War, the Jewish, then Israeli forces imported a substantial amount of equipment and weapons via the Tel Aviv port.

After the 1948 Arab–Israeli War, the port operated on a partial basis and was finally closed down on October 25, 1965, when its operations moved to the newly built Ashdod Port. After that followed a period of decay, and by the end of the century, the area was used by day as a low-key shopping place for tiles and plumbing supplies, while at night it attracted prostitutes and drug addicts.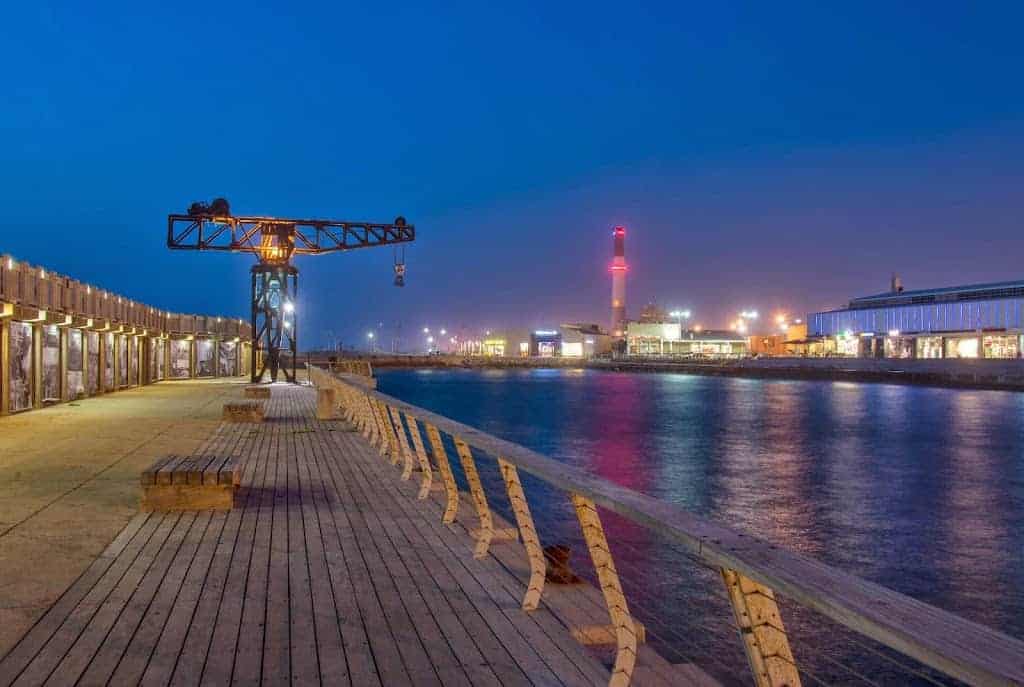 'Namal' entertainment area
A change came with architect Orna Angel's appointment at the helm of the Marine Trust Company that owns the port area. After completely overhauling the infrastructure by 2002, the administration attracted shop owners to move to the upgraded area by charging token rents. An open competition for the landscaping of the space around the buildings was organized in 2003, and by 2008 the new boardwalk in wavy shapes evocative of the dunes that once stood at this place was opened to the public. As a result of the transformation, the Tel Aviv Port, known in short as the Namal, has become the most popular attraction in Tel Aviv with 4.3 million visitors annually. In 2011, it was announced that the site would be developed to become a major tourist site with recreational and cultural venues similar to Times Square in New York.
Source of History quotes: Wikipedia
Parking
A couple of years ago a big free parking lot was built next to the Reading bus station. But as it turns out, it is not big enough. If you come later, there will be no free spaces (better come early, till 9 am or before evening wave, around 16). Additionally, there are paid parking places close to the free ones. And there are also paid parking lots in the port. But, you are not guaranteed to find parking on the paid one as well. So, parking can be problematic.
From the Reading parking lot, which is the further one, it takes about ten minutes to reach the promenade.
That parking is behind the Reading power station. And here is the view from the parking lot.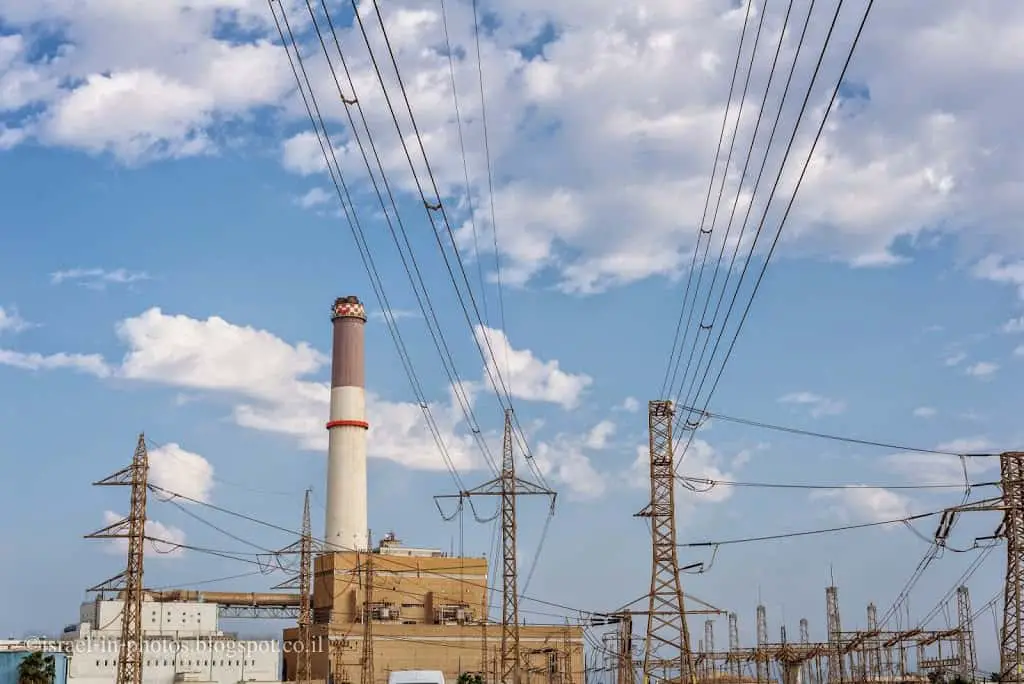 After a couple of minutes, we get to the Yarkon River. In the mornings there are usually sportsmen training. Daniel Rowing Center is not far, and many athletes row along the Yarkon River to the Mediterranean sea.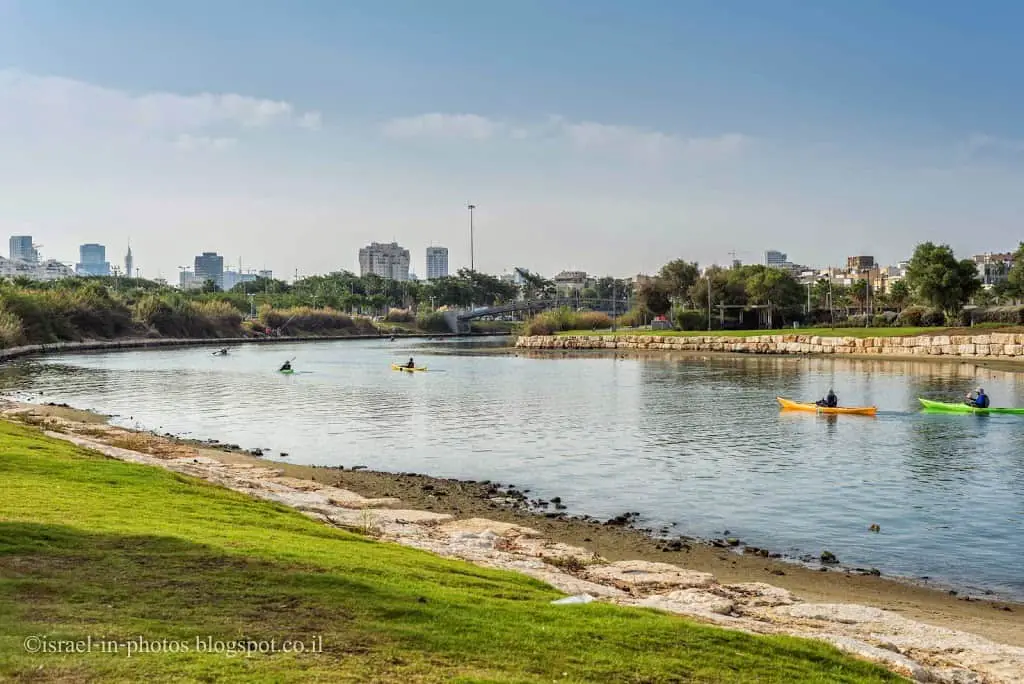 Opening Hours
The port is an open area. Thus you can visit it any day and any hour. But if you are interested in a specific shop or a restaurant, then check its opening hours.
Restrooms
There are several restrooms in the port, and they operate daily from 06:00 till 22:00. Here are their locations:
Building #3 (at the bottom of Tel Aviv Port Map)
Hangar #25 (at the top of Tel Aviv Port Map)
Container restrooms near the children's playground (not far from building #16).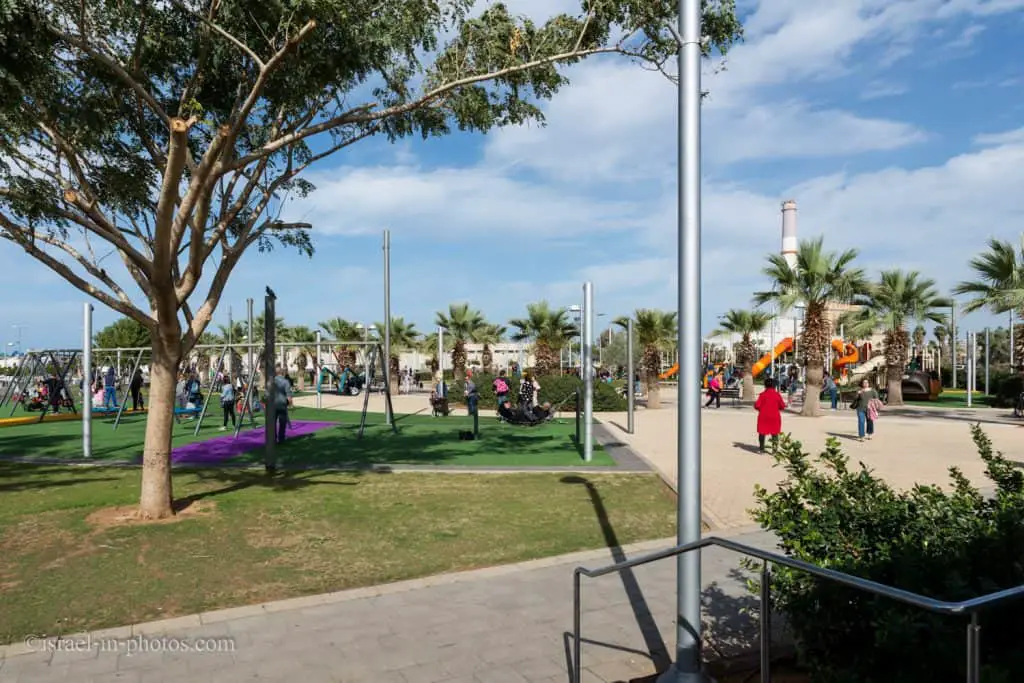 Restaurants and Shops
There are many shops and restaurants. But there are also businesses, spaces for exhibitions, and of course, the Tel Aviv Port Market.
If you are looking for a complete list of restaurants and shops, you can find it on the official site (only in Hebrew). And in this guide, I will list all of them, only the best ones.
Restaurants
Here are my favorites:
And here are all the restaurants that have a rating of 3.5 or more on TripAdvisor (and more than 10 reviews):
Port Market in Tel Aviv was opened in 2008. And it is the first one to open and start a new trend of "new" markets.
You can find additional info at Tel Aviv Port Market.
Sport Activities
As you can see in the following panorama, big parts of the promenade were covered with wood, and there are running and cycling trails on it.
You can also see the reconstructed lighthouse (on the left). It is not open for visitors at this stage, but AFAIK the opening is planned for the near future.

Sde Dov (aka Dov Hoz) airport is located next to the Reading power station. Thus you can see planes landing and taking off.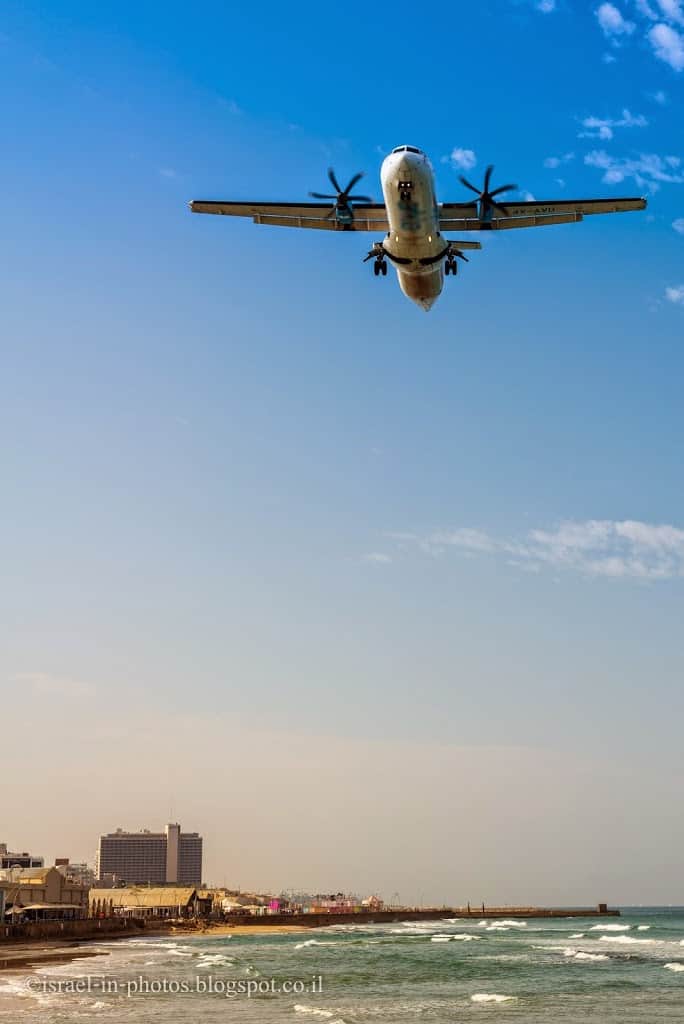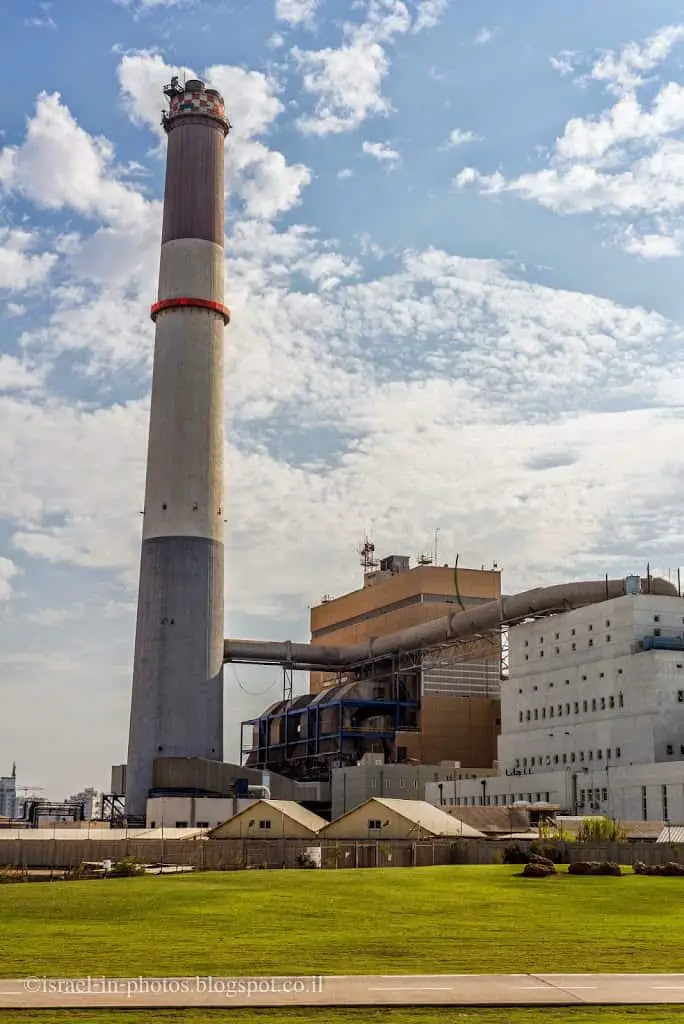 According to the governmental plan, both the Sde Dov airport and the Reading power station will be moved to other locations, and a new neighborhood will be built. That should start in two years, but the actual date was postponed already several times. So, this might take more than two years.
Note: Sde Dov airport was closed during 2019.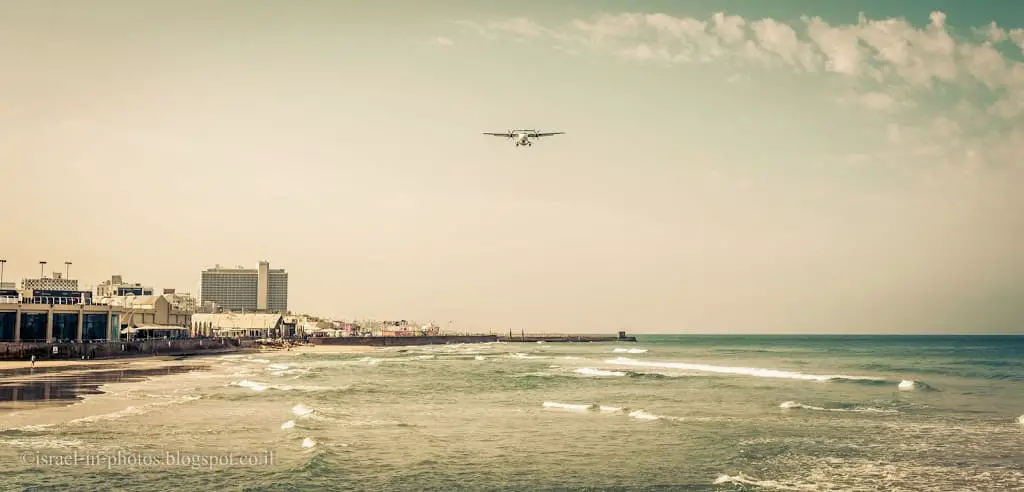 The main sports activities in this area are walking, running or cycling. But the promenade might be a little busy (depends on the time) since many people will be doing the same. Thus you can start at the port and hike along the Yarkon River.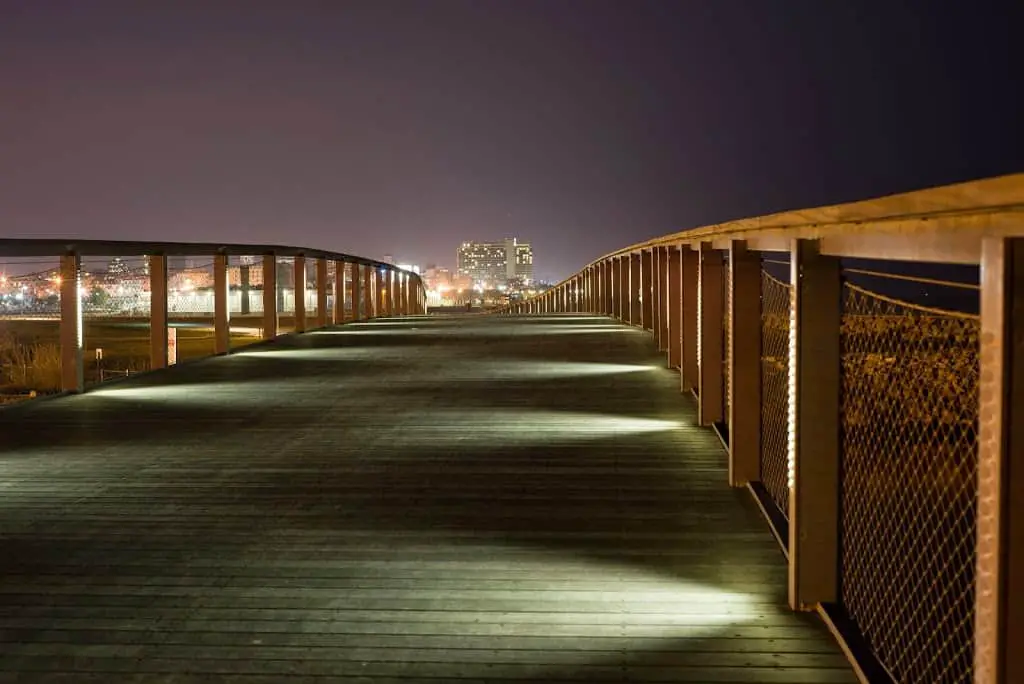 Also, near the bigger children's playground, you can find a free outdoor gym that you can use.
Activities for Children
There are several playgrounds for kids and a toy store. Also, you can rent a small electric car (suitable for little kids, probably till 5-6 years old).
Besides the playgrounds, a fountain was constructed. Jets of water with various power is an attraction that children love. And after they get in, it is impossible to get them out.
The fountain is next to the Iceberg ice cream restaurant.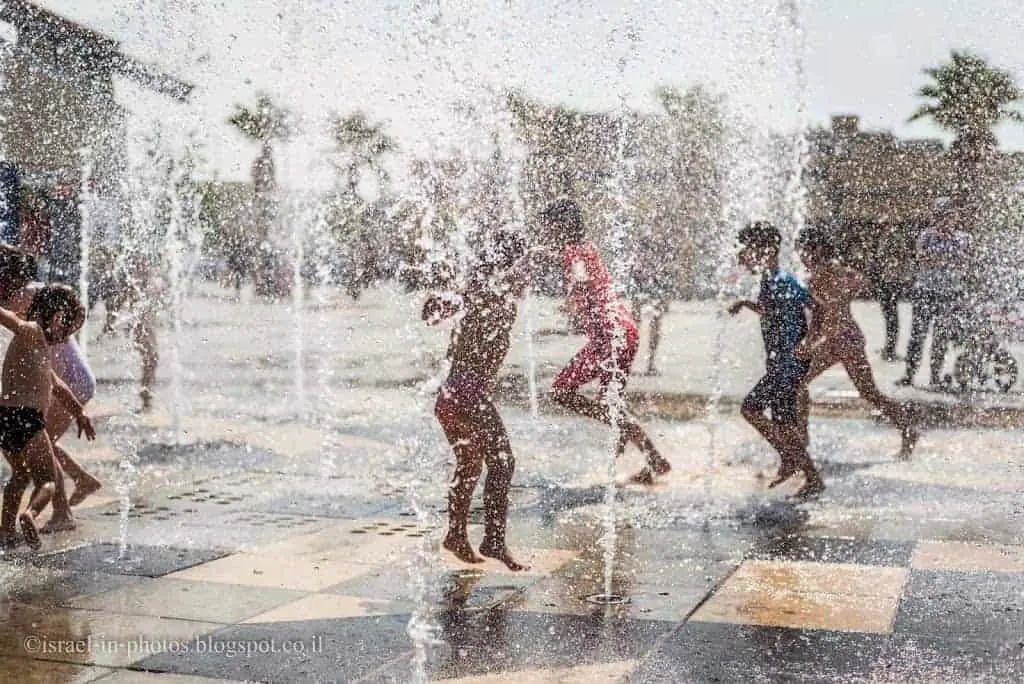 Events
Tel Aviv Promenade holds different events. Small events occur only in one place, and the bigger ones occur around the whole area. Here are several examples of smaller events.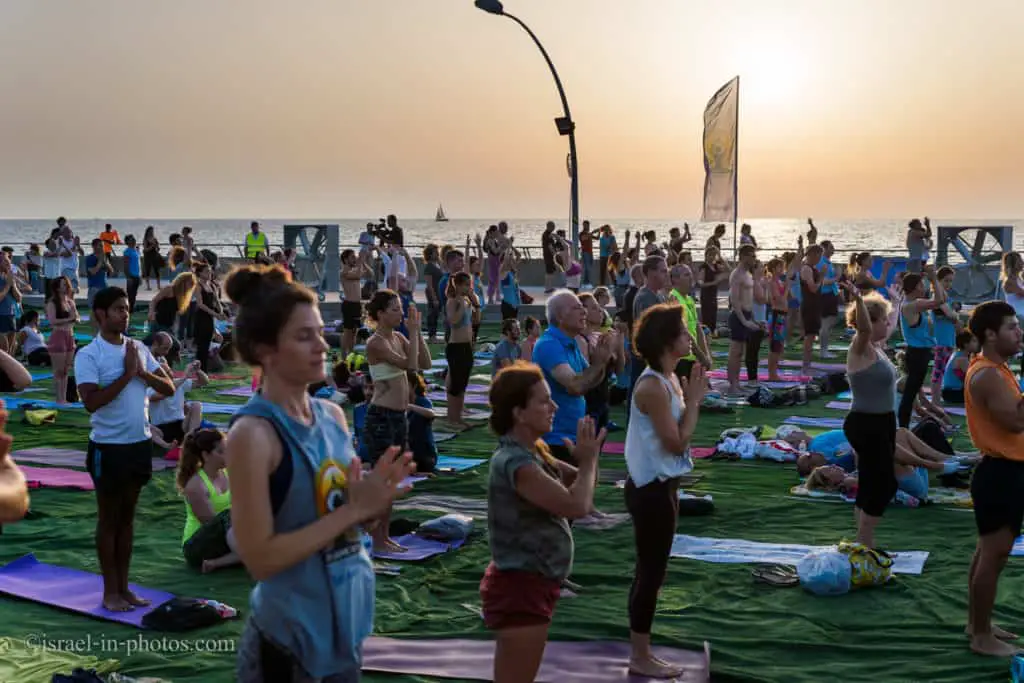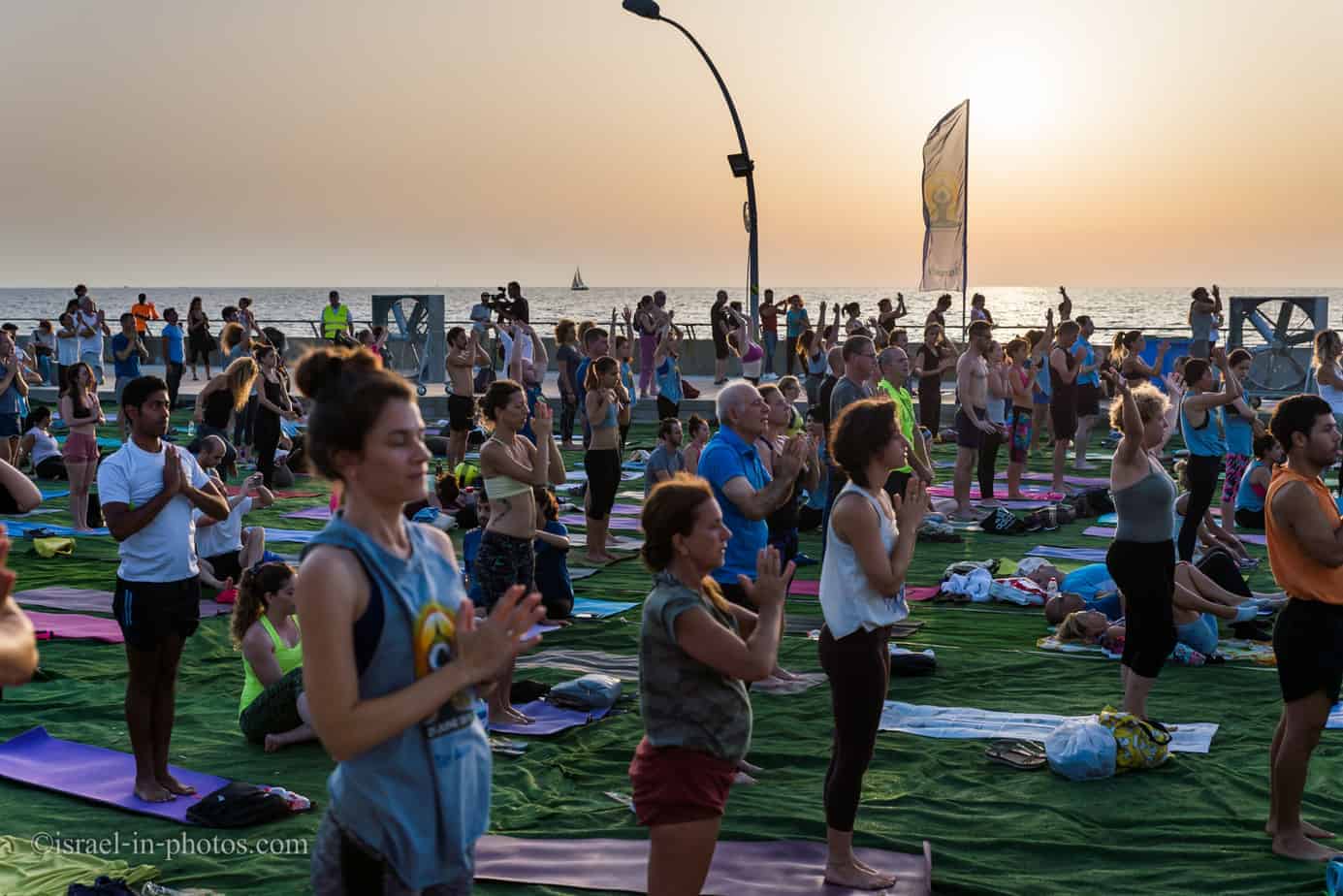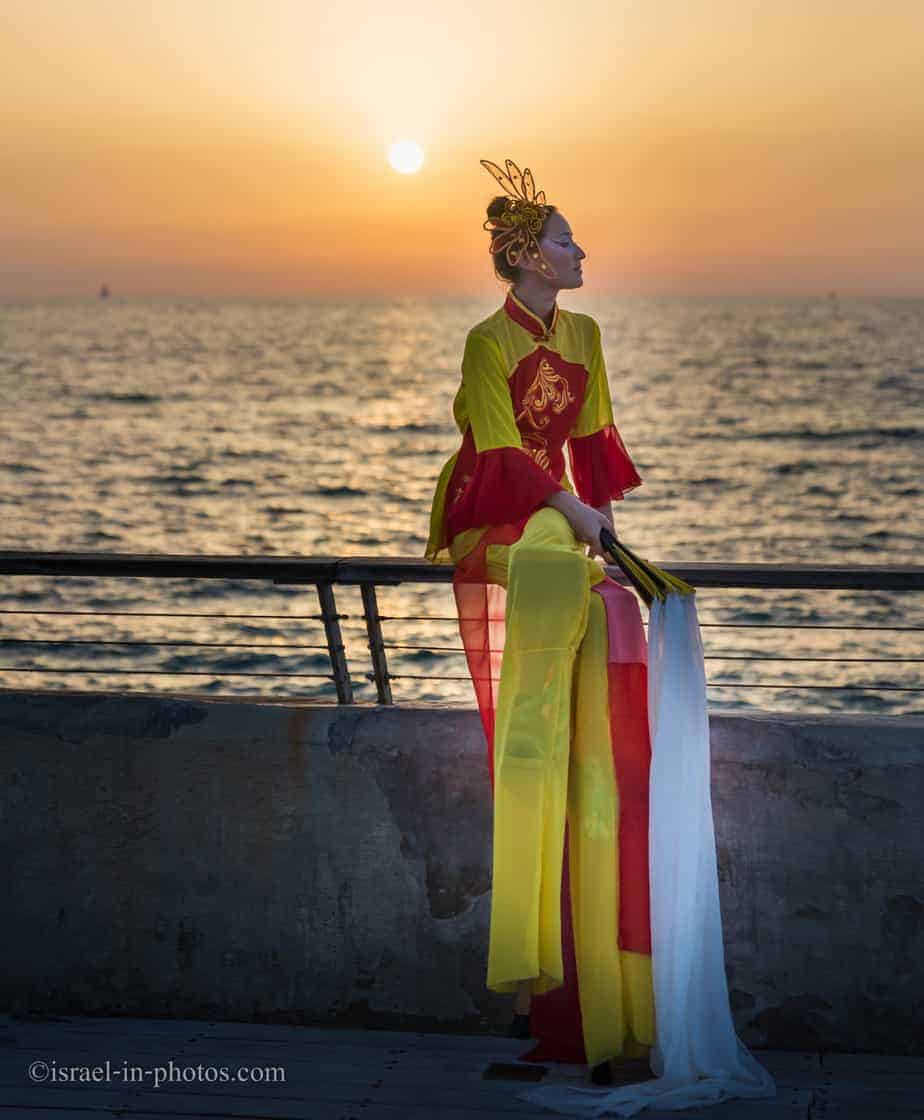 Bigger events are held in different places in Tel Aviv port. For instance: Purim Celebrations.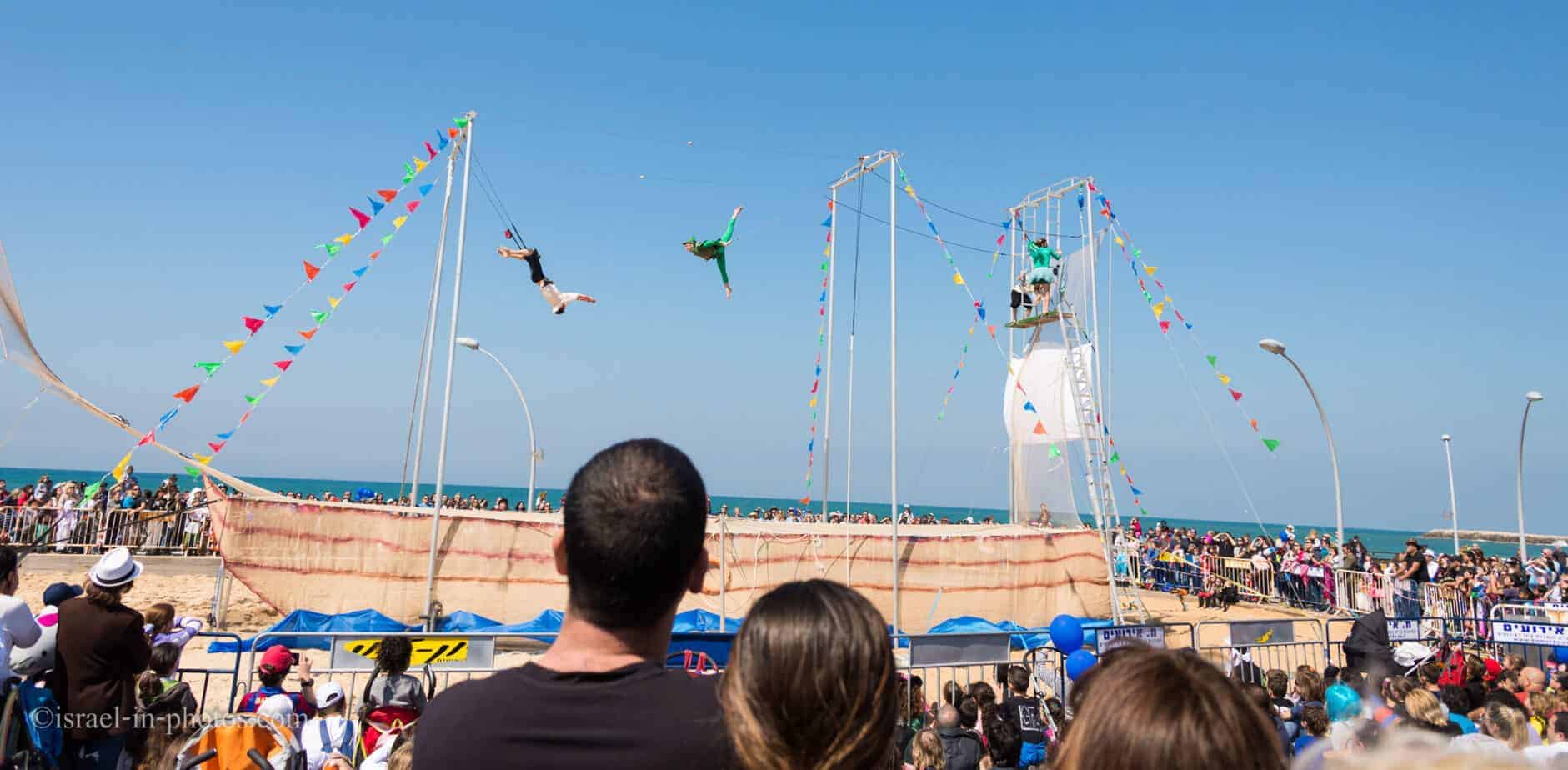 For a full list of upcoming event, check the official site.
But not all people are looking for events. Some are coming to enjoy the sea and the sunset.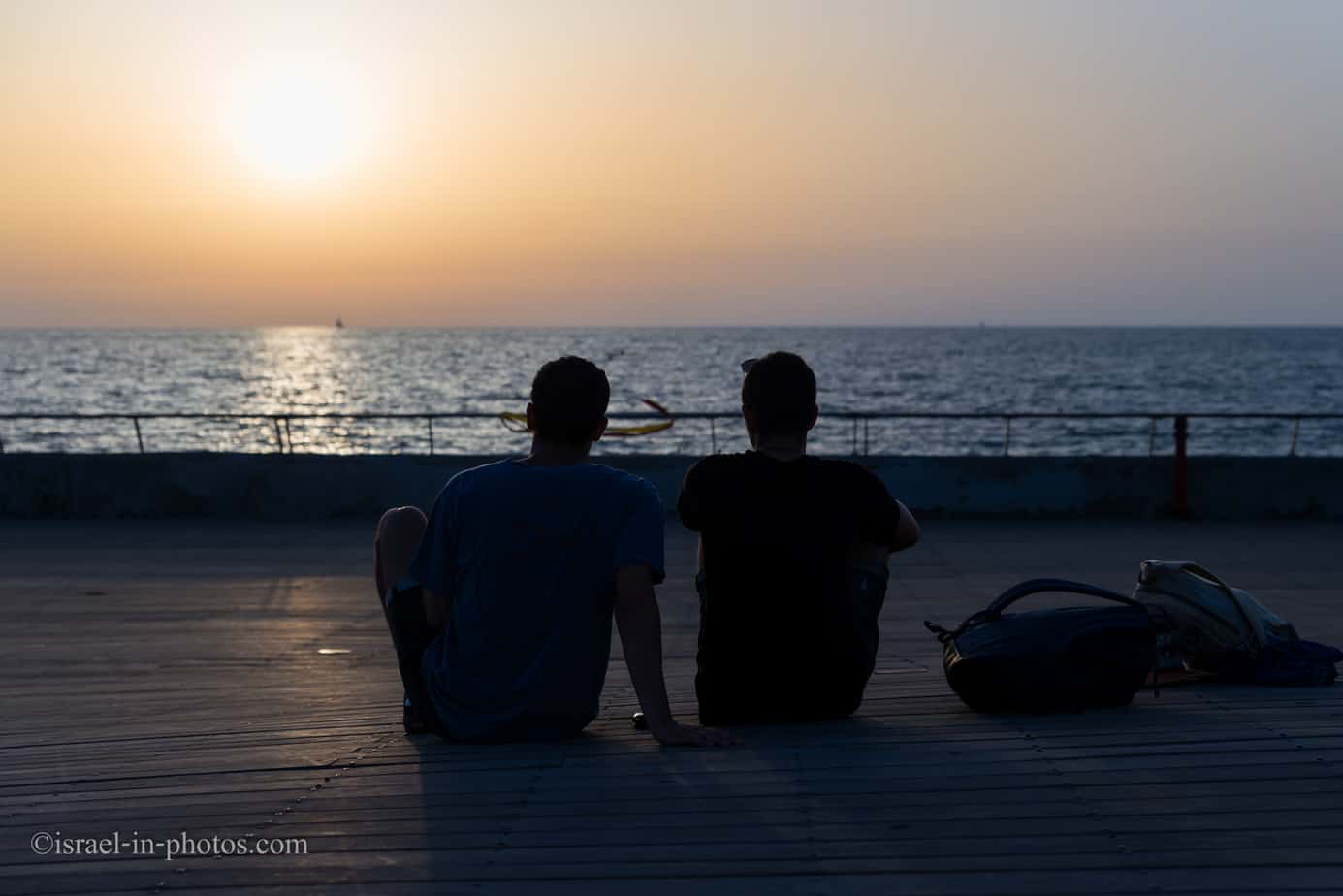 Or for the Tashlich prayer during sunset.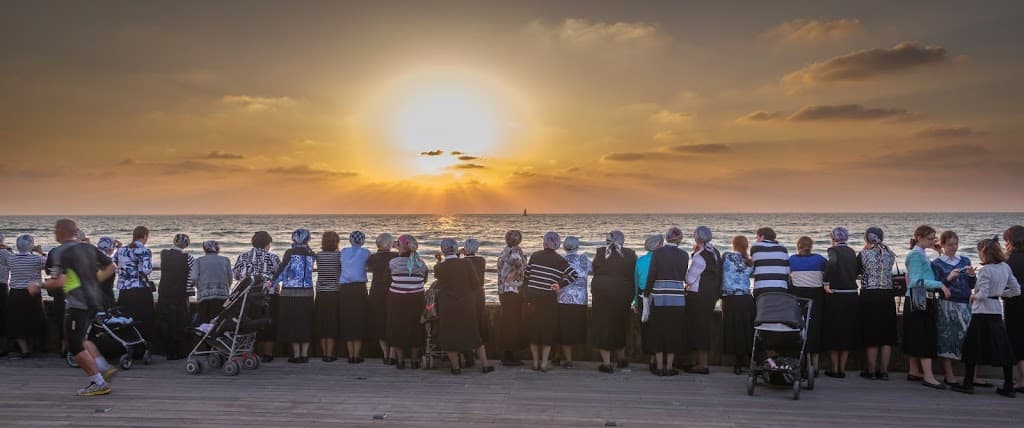 Summary
Tel Aviv Port offers a variety of activities. You can enjoy sports activities, spend some time with your family, dine, shop, attend an event, or visit the Tel Aviv Port Market. All these possibilities make the port one of the most popular places in Tel Aviv.
Have you ever visited Tel Aviv Port? What are your favorite activities? Tell us in the comments below.
That's all for today, and I'll see you in future travels!
Stay Tuned!
For additional points of interest nearby see Tel Aviv-Yafo.
Additional Resources
Here are several resources that I created to help travelers:
And if you have any questions then check out
Useful Information For Tourists To Israel
.  
Did not find what you were looking for? Email me at
hi@israel-in-photos.com
, and I will do my best to answer your questions.