Over the past decades, Agrotourism became more popular worldwide, and Israel is not an exclusion. One of the popular activities in Israel is sweet cherry-picking. Let's begin!
Note: we visited Odem at 12.06.2021, and there are fewer sweet cherries than in previous years. Therefore, the sweet cherry-picking season will probably be shorter this year.
Sweet Cherry or Sour Cherry?
There are many types of cherries. The most common are Prunus cerasus (sour cherry) and sweet cherry (Prunus avium). In Israel, due to the climate, you will be picking sweet cherries.
Where can I pick sweet cherries?
To grow, sweet cherries need cold winters. And currently, weather in three areas suit for sweet cherries. The most popular area with the biggest number of farms is Golan Heights. And the two other areas are Gush Halav and Jerusalem area (Gush Etzion and Ramat Rachel).
Are sweet cherries always available?
No. If the winter was not cold enough, there might be no fruit crop. For example, there was a moderate winter in 2021, and as a result, Savanna Farm in Gush Halav did not have any sweet cherries.
When is the sweet cherry-picking season?
The exact dates depend on the weather, but usually, the sweet cherry-picking season begins towards the end of May and lasts till the end of June. We ordinarily visit in the middle of this period, which is the first two weeks of June. In any case, check with the farm that you want to visit to know the exact dates.
Which Farm Should I Visit?
Many different farms offer sweet cherry-picking. And I have not visited all of them. Thus in this section, I will mention my favorites and what factors you should take into account.
Driving time – if your kids do not like sitting in a car for long periods of time, then driving time can be crucial. And unless you are living on the Golan Heights, Gush Halav (Savanna Farm) and Jerusalem area (Gush Etzion and Ramat Rachel) will be closer to you.
Other fruits – sweet cherries are sweet and tasty, but if you can taste other fruits during the same visit, it is definitely a plus. Some places offer almost exclusively sweet cherries, while in others, you can also pick raspberries, gooseberries, blueberries, and redcurrants. And we love Odem (see additional details below) for their variety of fruits.
Attractions – some farms offer additional attractions for kids. For example, at Bustan Bereshit (see additional details below), there is a playground, animal corner, pony riding, and other attractions for children.
Open on Saturday – not all farms are open on Saturday.
Entrance Fee – if the entrance fee is an important factor, then check out the next section.
Coupons
You can find various sweet cherry-picking coupons here. Also, some farms, like Odem, offer coupons on their websites.
And now we will visit two of my favorite places: Odem and Bustan Bereshit. And if you are interested in sweet cherry-picking in Gush Halav, then see Savanna Farm.
At What Time Should I Visit?
At this stage, you know about coupons and how to choose a farm. And now I want to share another important tip, which is: "come early." If you arrive at 11:00 on a Saturday or a vacation day, you can easily spend an hour in line (starting with the traffic jam by the entrance and ending in a line to the cash register). Hence, I would advise being on location by 9:00 am.
Sweet Cherry Picking in Odem
Odem is a small village located at Golan Heights. Odem has a farm that specializes in growing different types of berries, but mostly sweet cherries. And they let you collect the fruits by yourself (official site).
Map of the area:
Note: you can enlarge the map by clicking on it.
To get there, enter "Odem" into a navigation app. Once you reach the entrance gate, continue straight for 50 meters, and you will see signs and the entry to the farm.
During 2018, I visited Agronen Raspberries at Gedera and sweet cherry-picking in Odem two following weekends. This video is the result of those visits:
Sweet cherries are the most popular berries there: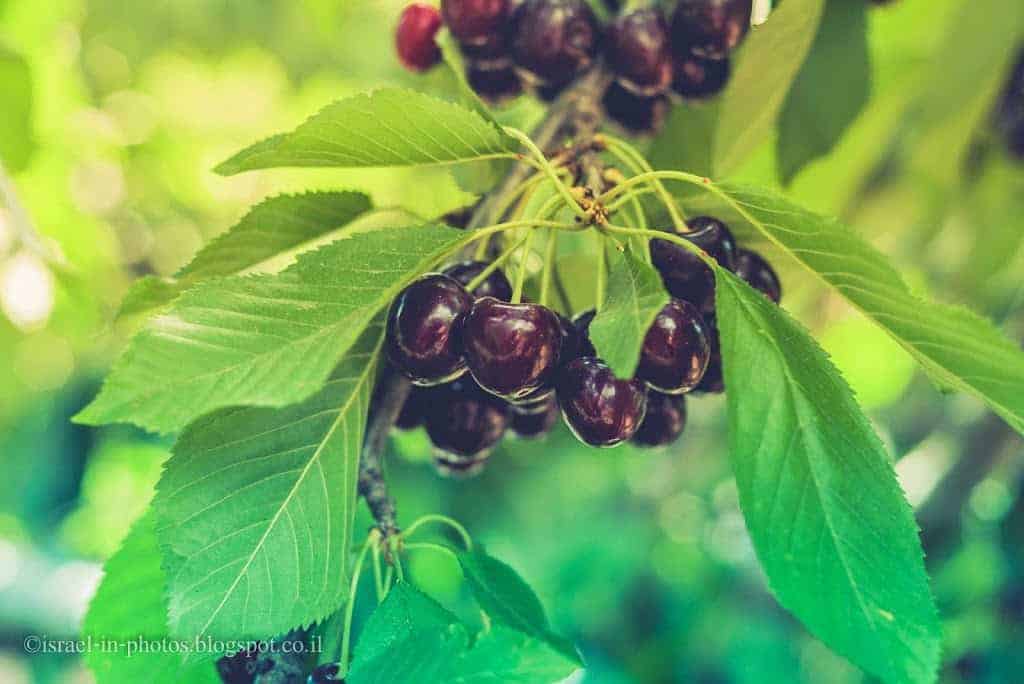 The Process In Odem And Many Other Farms
So how does it work? You buy a ticket, which costs 25 NIS per person (20 NIS if you download a coupon from their site). Then you can take small baskets. Each basket can hold about 1 kg. And on exit, you pay by the collected weight – usually 30 NIS per 1 kg of sweet cherries. And while you are inside you can eat freely as much as you want.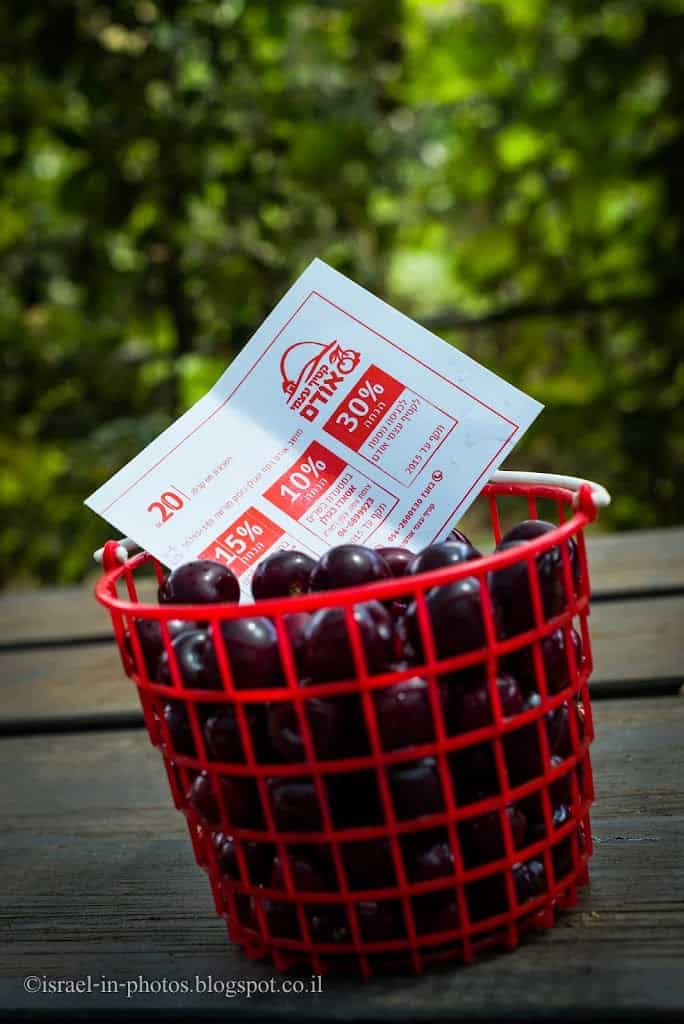 The owners say that all plants are organic. Thus you can eat everything directly from the trees/bushes. There are also sinks and soap on the premises, so you can wash the fruits before eating. But, most people eat directly from the trees.
Other Berries
Sweet cherries are probably the main attraction. They are tasty, and there are many of them. But there are other berries as well. Moreover, over the years, they started to plant many different kinds. But the trick is to arrive when not only the sweet cherries are ripe but other berries as well. From our experience, this is usually toward the end of the sweet cherry season, but that depends on the climate.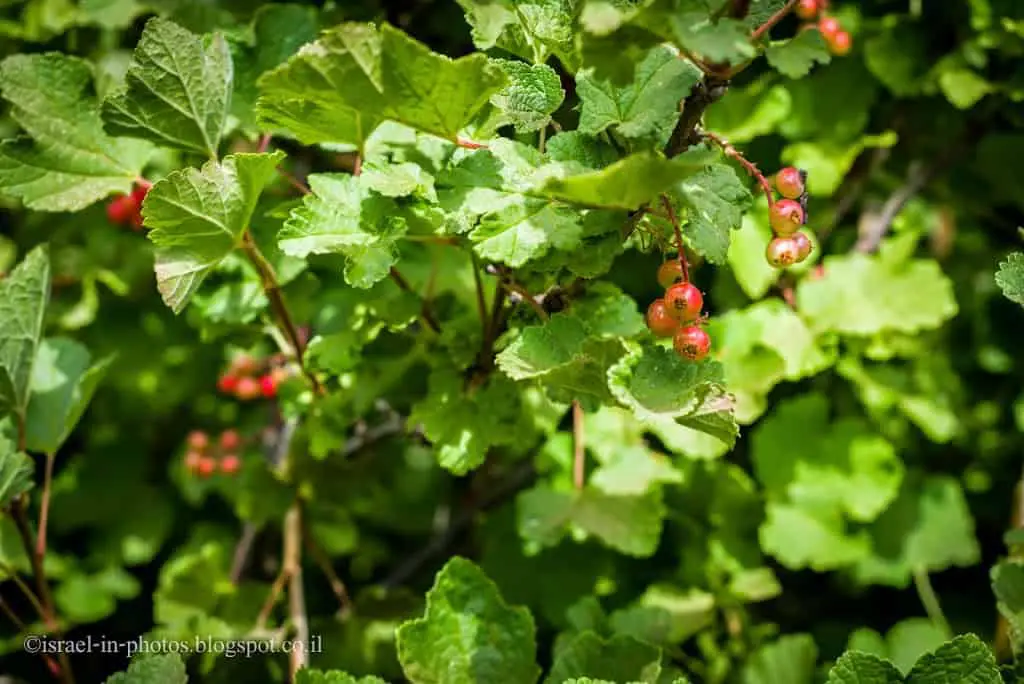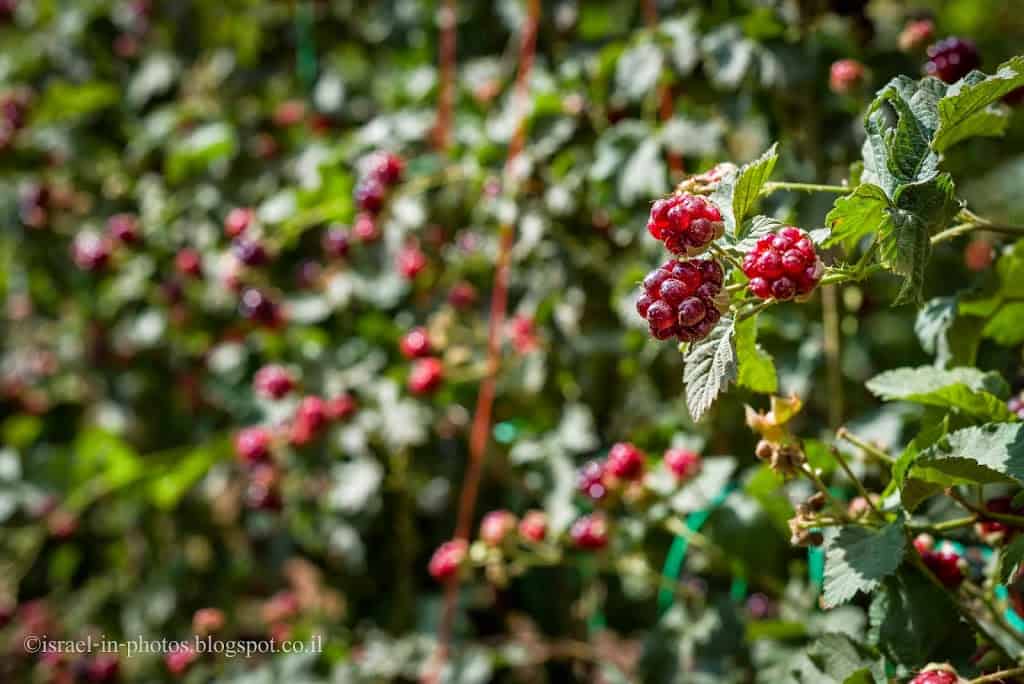 If you look at a sweet cherry tree from above, then you probably will not see anything. To see the sweet cherries, you need to look at them from the bottom (since leaves cover the fruits).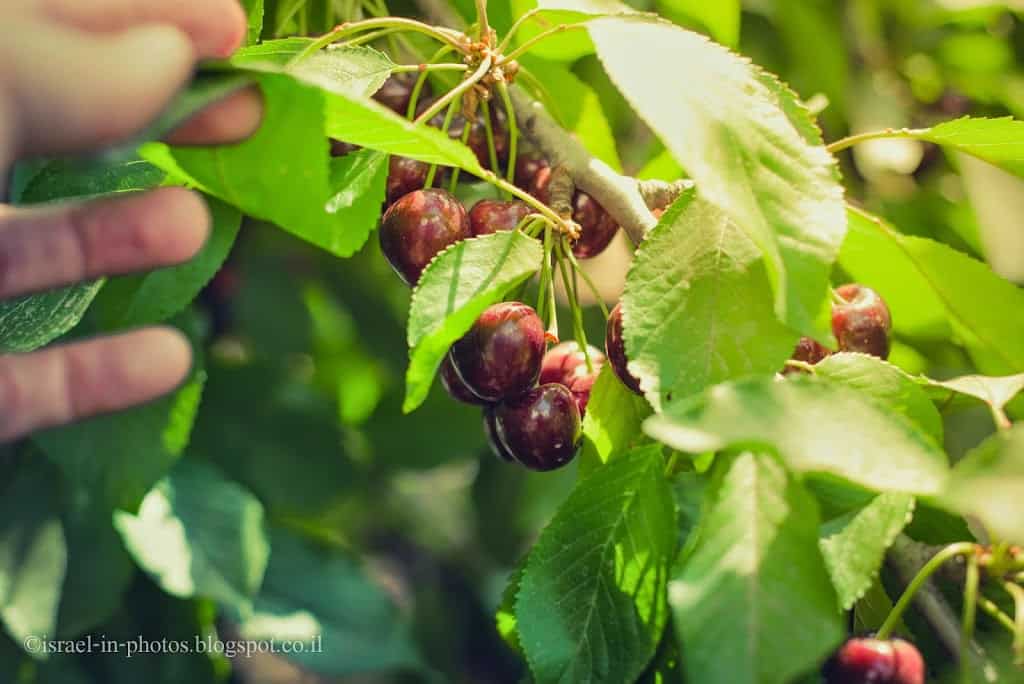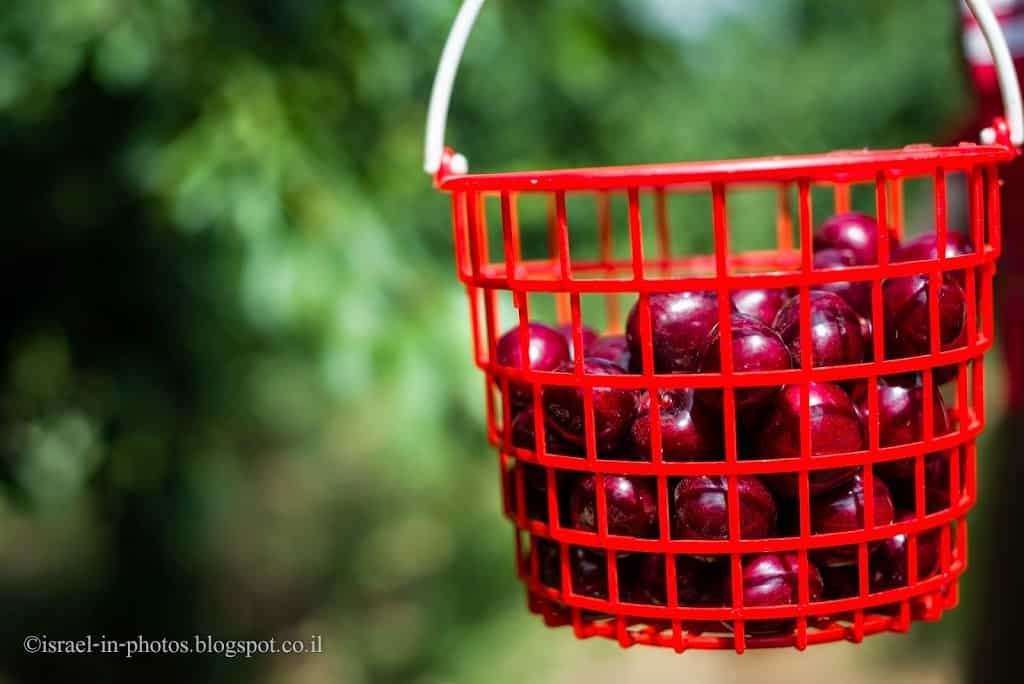 And this is a look at the Golan landscape: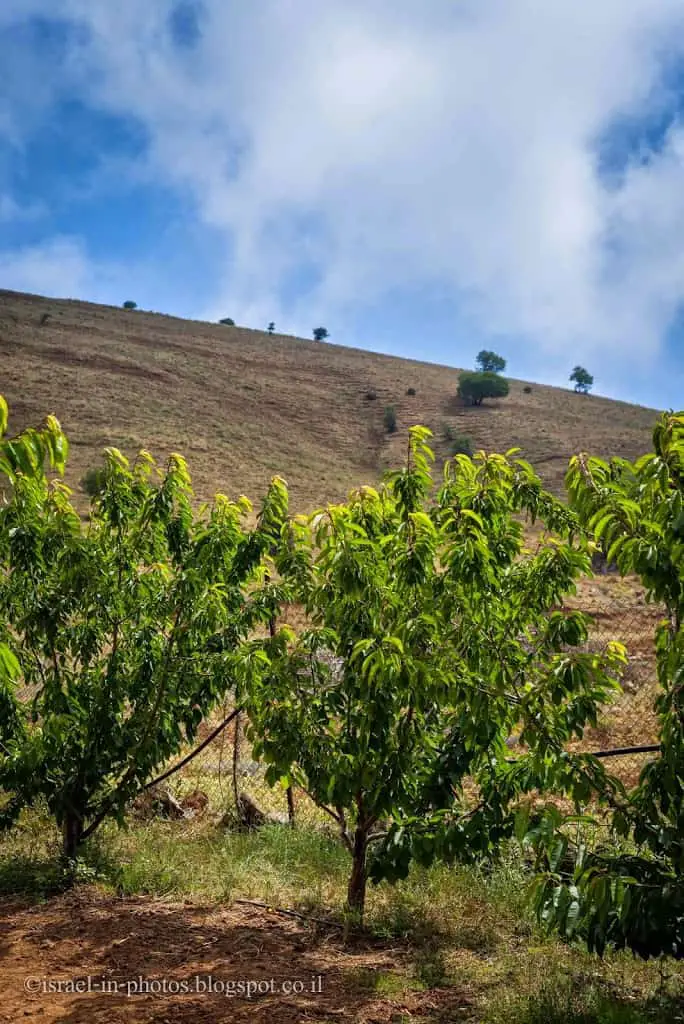 Another interesting thing I have noticed is that most visitors are Israeli with Russian origins. Probably because in Russia the climate is colder and there were a lot of sweet cherries. This sweet cherry-picking is a childhood reminder for them.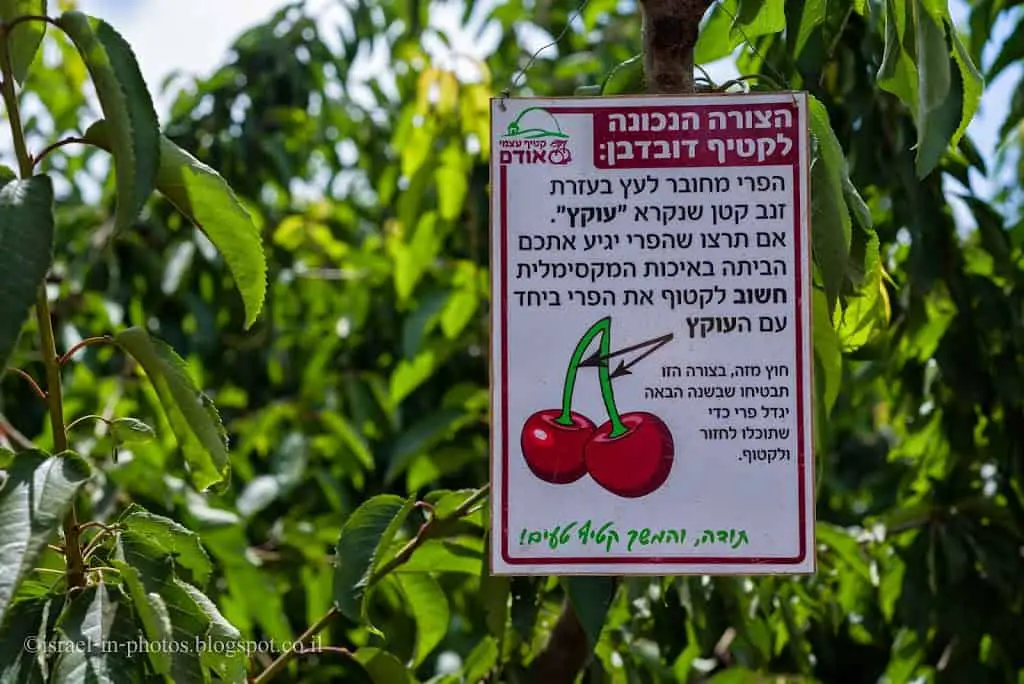 The sign says that it is better to pick the sweet cherries with the "tail" (the sting). This way, the sweet cherries will be better preserved, and next year, there will be more crops.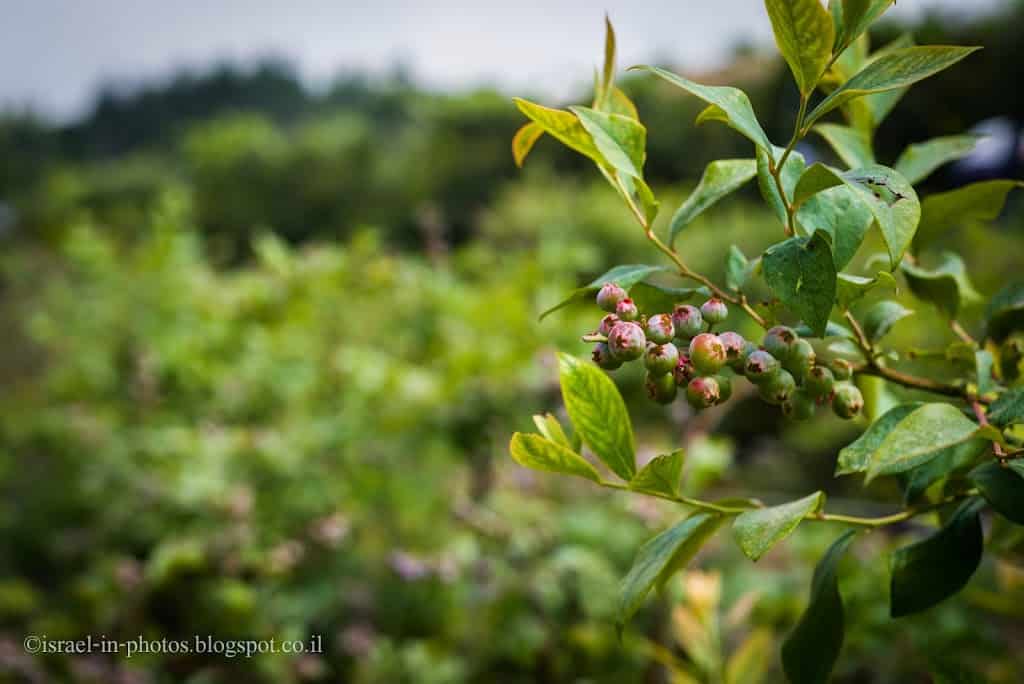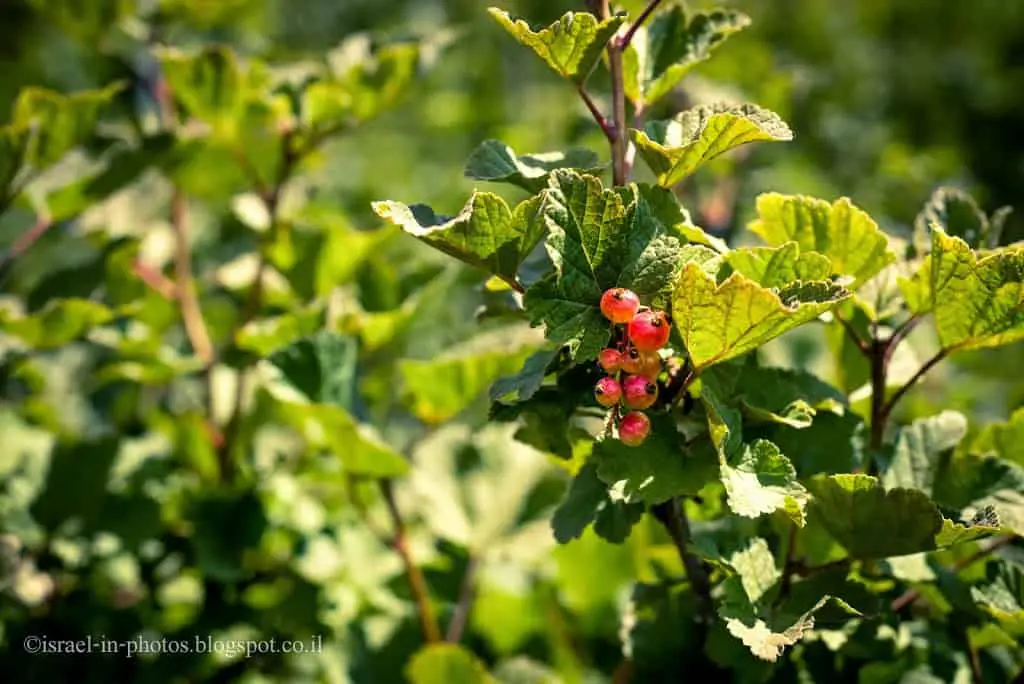 There are even some sitting places (if you ate too many sweet cherries and needed a rest 🙂 ).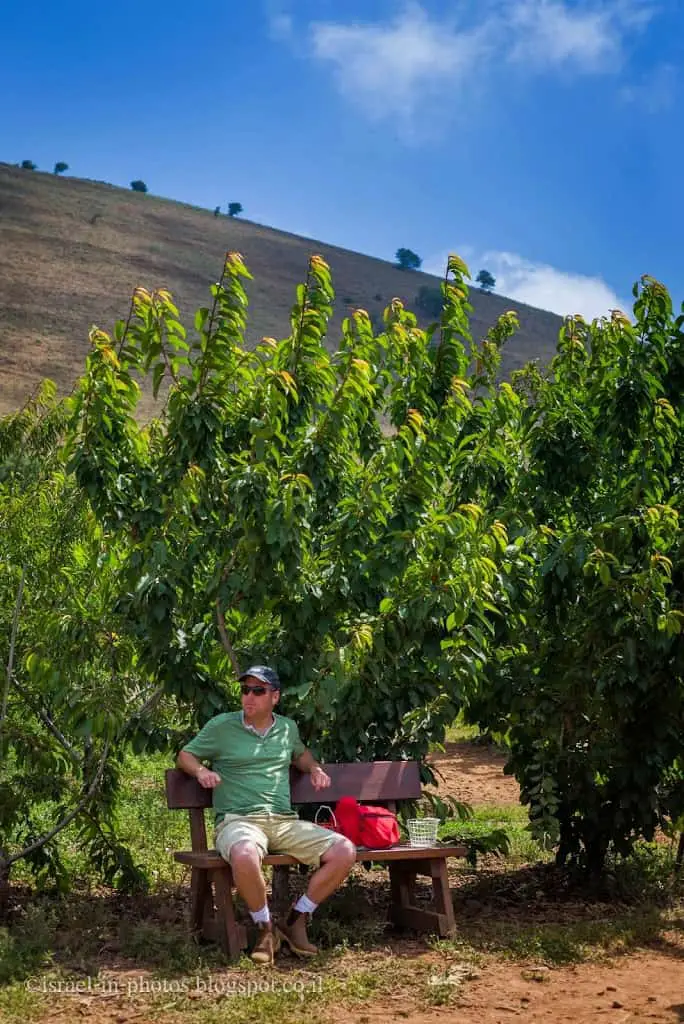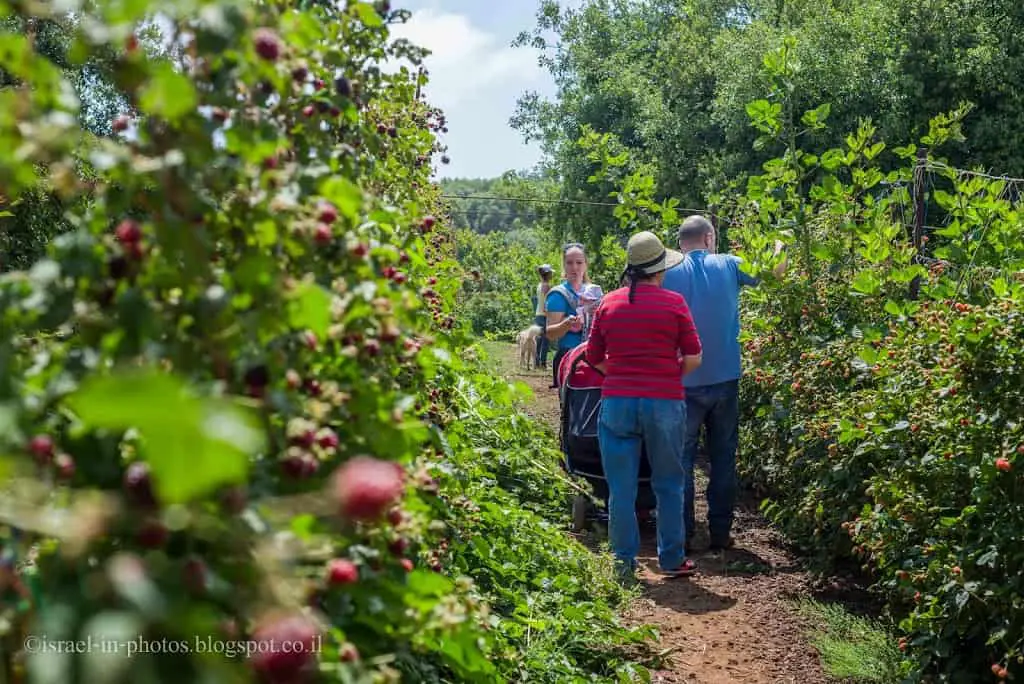 We typically spend 2 – 3 hours and Odem. And if you like agrotourism, then you should probably check this place.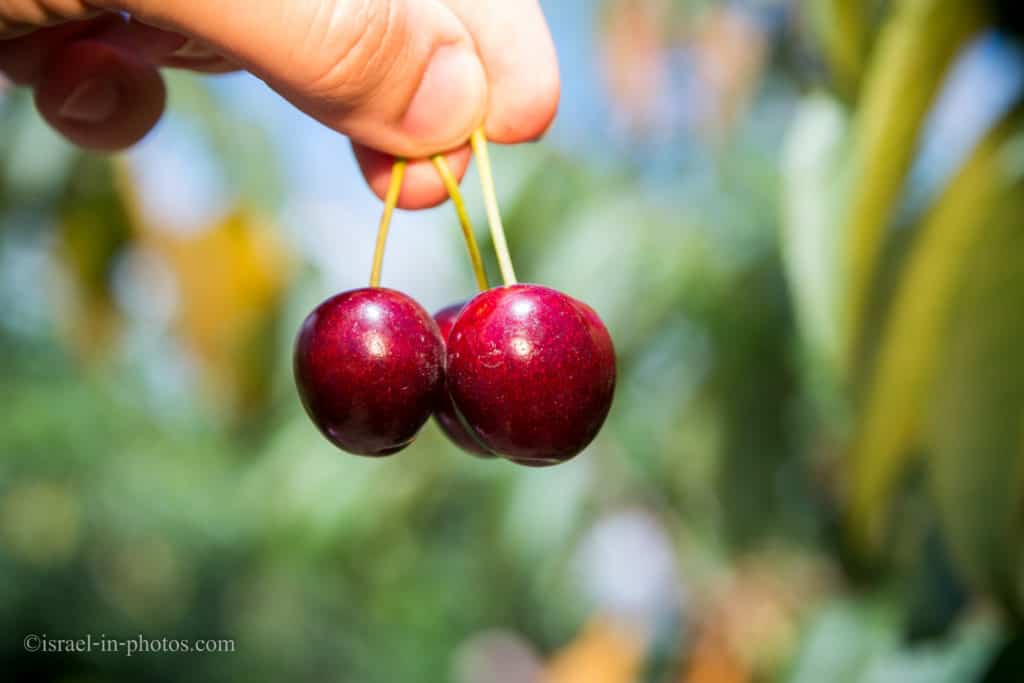 If you are looking for or hoping for a specific berry type, check the official website or call the organizers in advance.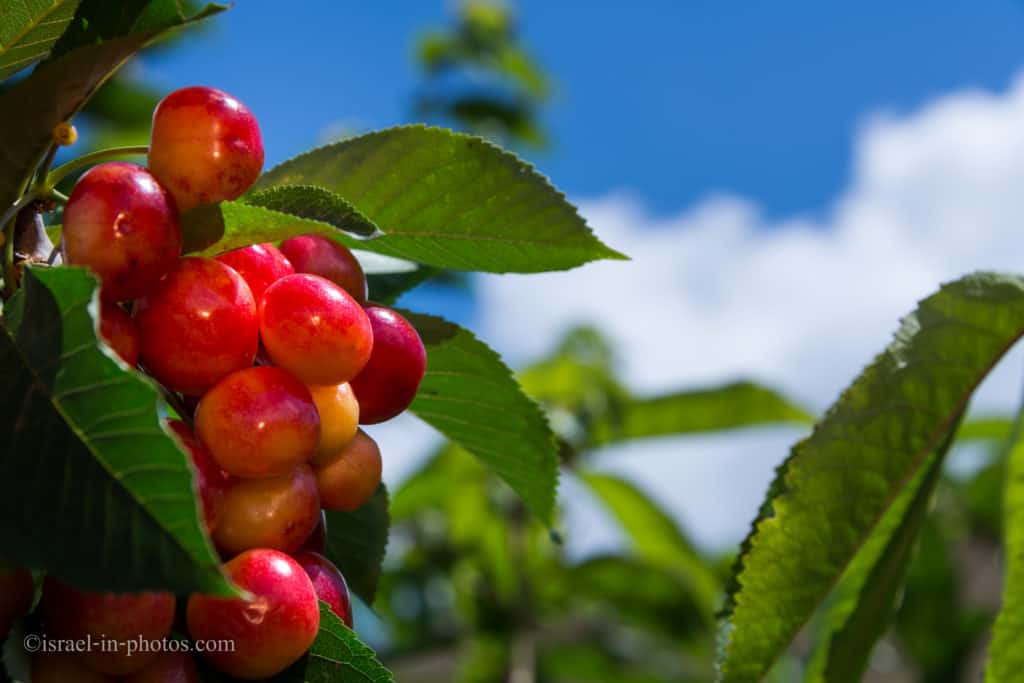 Gooseberries that are still not fully ripe but eatable.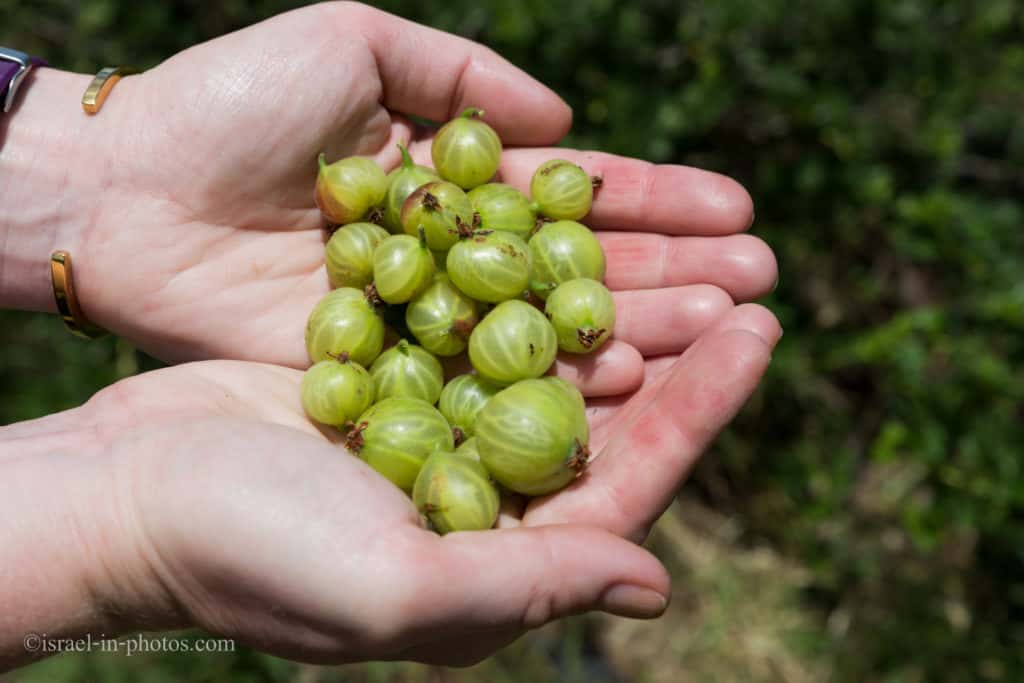 As of 2019, there are no toilets inside. So you have to exit the farm. And we did not see lines to the restrooms (as in previous years).
When entering sweet cherry-picking at Odem, there are two lines. One for people who purchased tickets on the web (through coupon sites or in advance), and the other for people without tickets. The line for people who purchased tickets in advance was already long at 9:30 (the other line was short). Thus, to skip the lines, I would suggest arriving at 9:00 or earlier.
Sweet Cherry-Picking in Bustan Bereshit
We visited Odem several years in a row. Thus, in 2017, we decided to try something different and went to Ein Zivan.
Map of the area:

At Ein Zivan, you can find Bustan Bereshit (official site). Bereshit is known to many Israelis via their apples in supermarkets. But they grow not only different kinds of apples, but grapes, berries, and sweet cherries.
Though the official site says they are closed on Saturdays, we visited on a Saturday. It was the peak of the sweet cherry-picking season, and we did not arrive too early (we were there around 10:30). Therefore, it took us almost an hour to park the car and about half an hour to exit the parking lot at the end of our visit. This operation would take no more than five minutes on a regular day. Thus, either come early or try coming in the afternoon.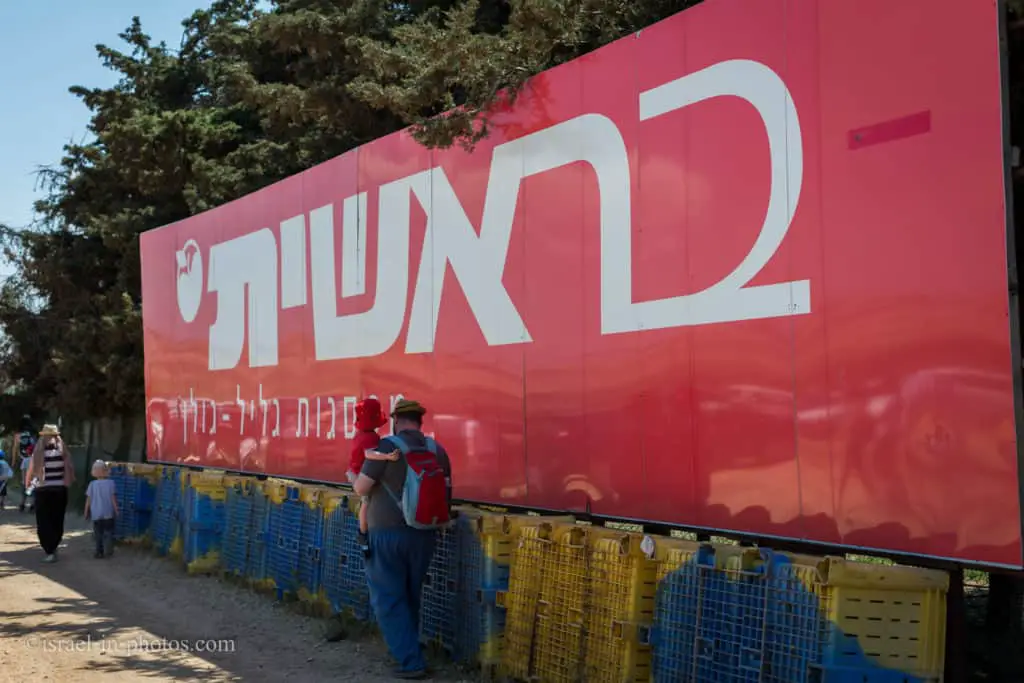 Bustan Bereshit, at least on paper, offers more attractions than Odem. As we entered, we saw several attractions for kids.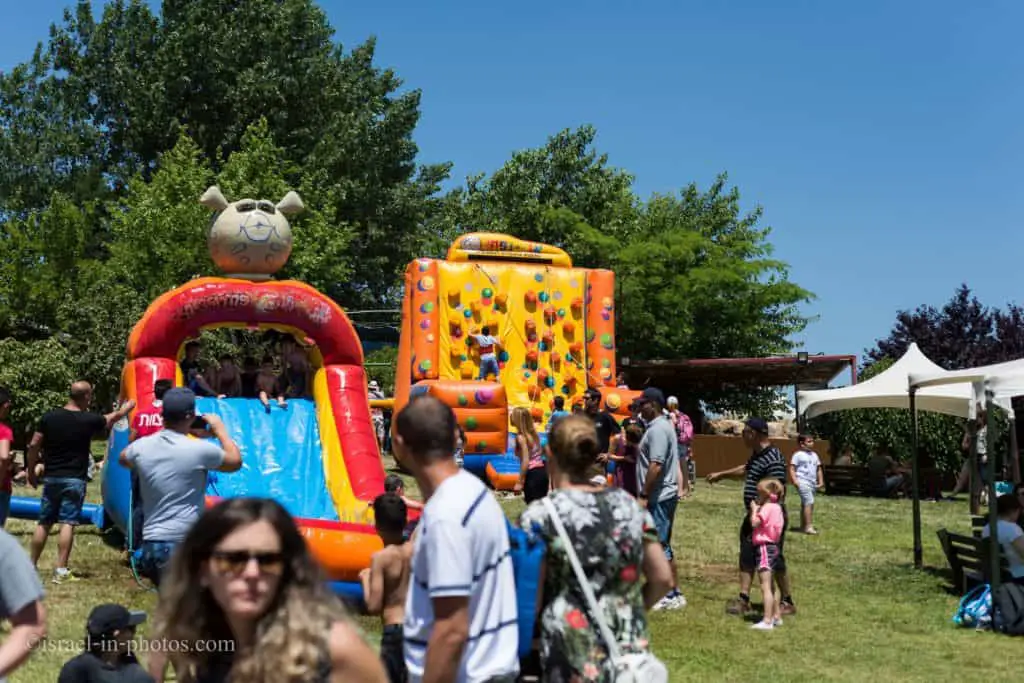 We also saw a small exhibition of old machinery (about a dozen tractors and harvesting machinery).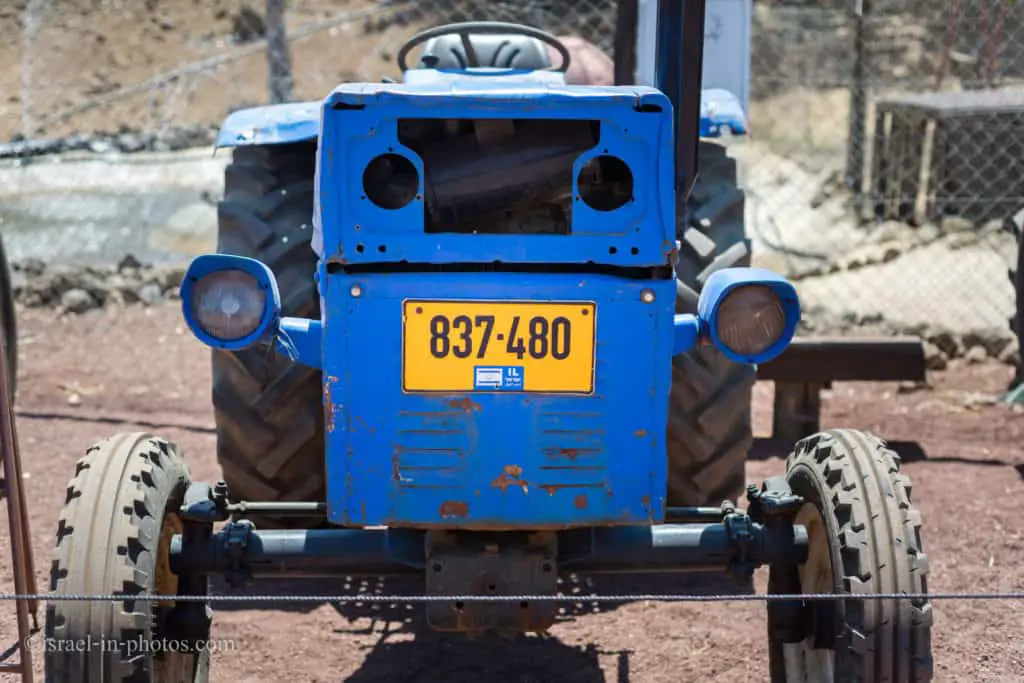 Sweet Cherry-Picking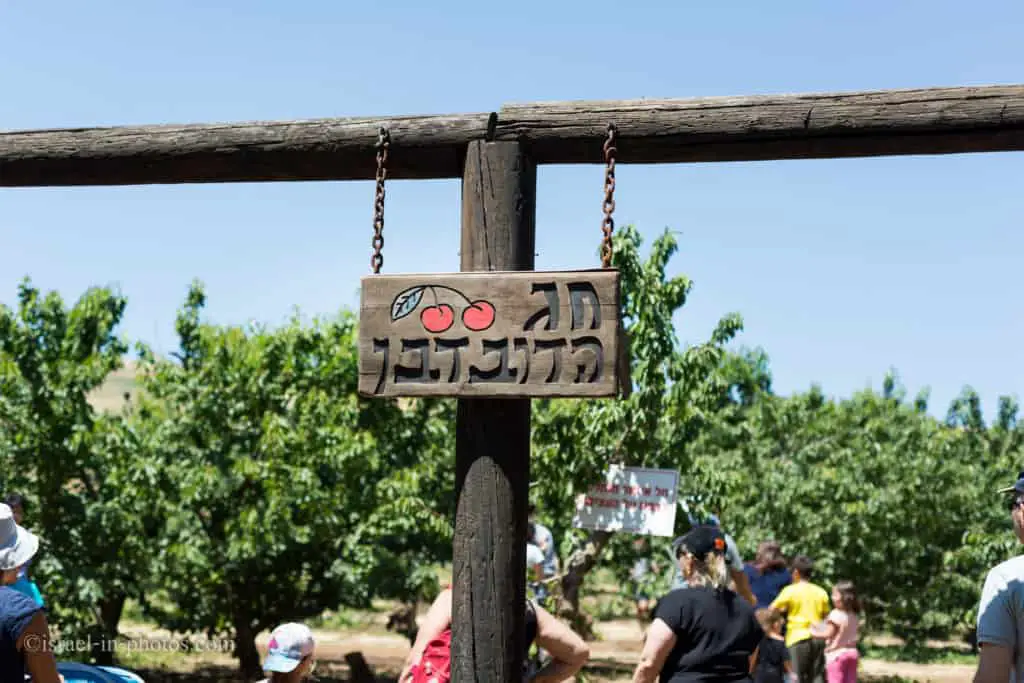 And we continued towards the main attraction, at least for us, sweet cherry-picking.

The concept is similar. You pay 33 NIS for entry, and when on-site, you can eat freely. If you want to take fruits home, you buy boxes at an additional cost and fill them.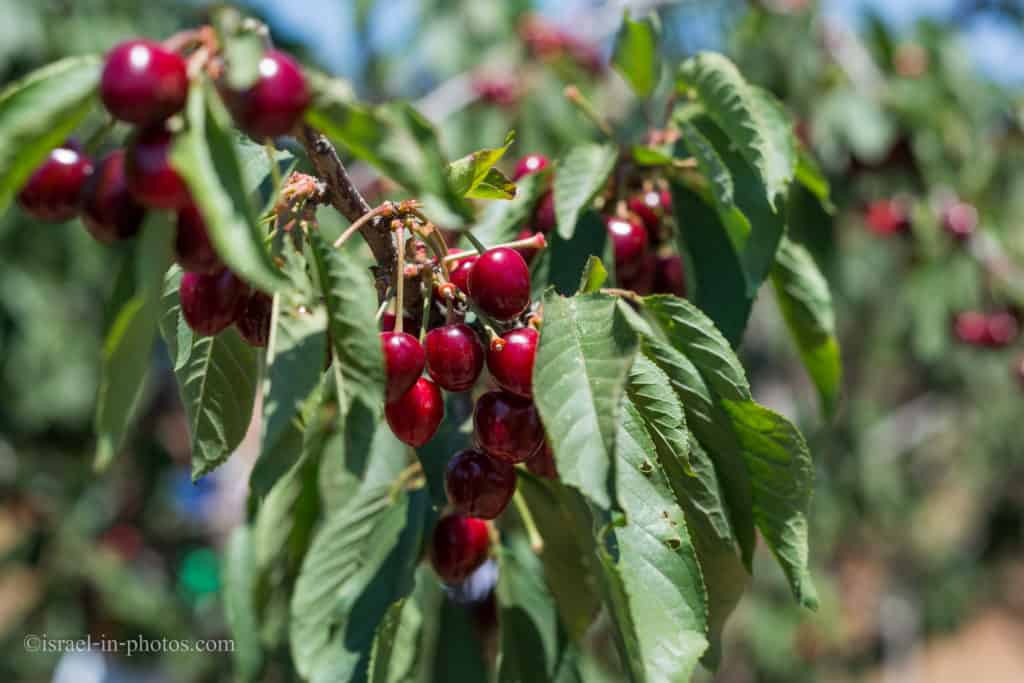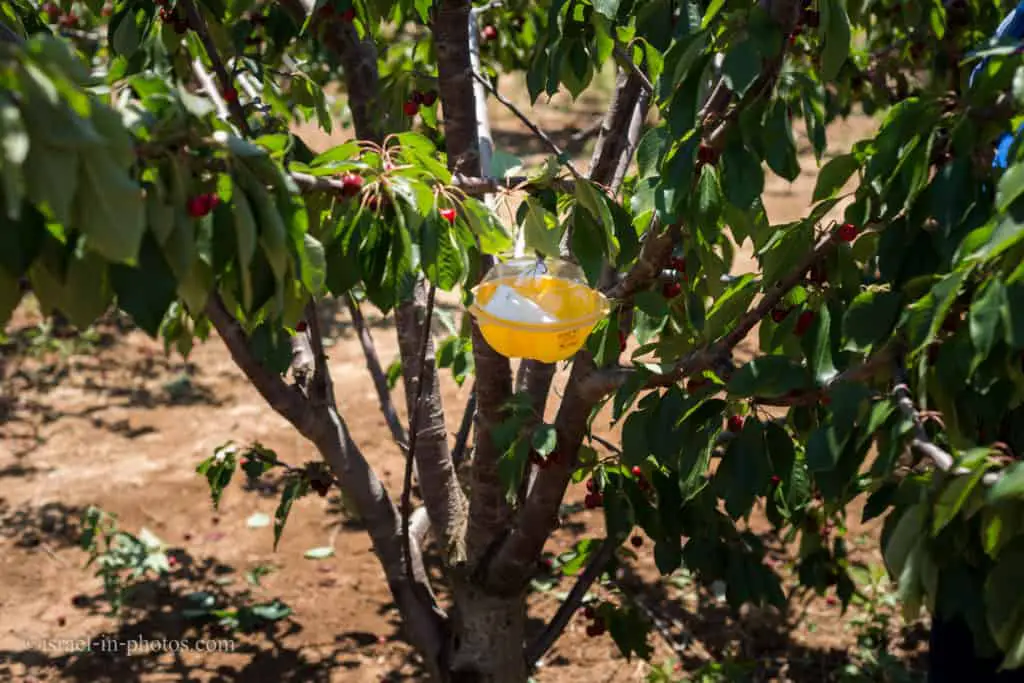 The one thing that I looked for and did not find was water. We ate fruits straight from the trees (did not wash them), but after several minutes, kids become completely red. And there are no taps nearby to wash them.
Extreme closeup, with 50 mm reversed: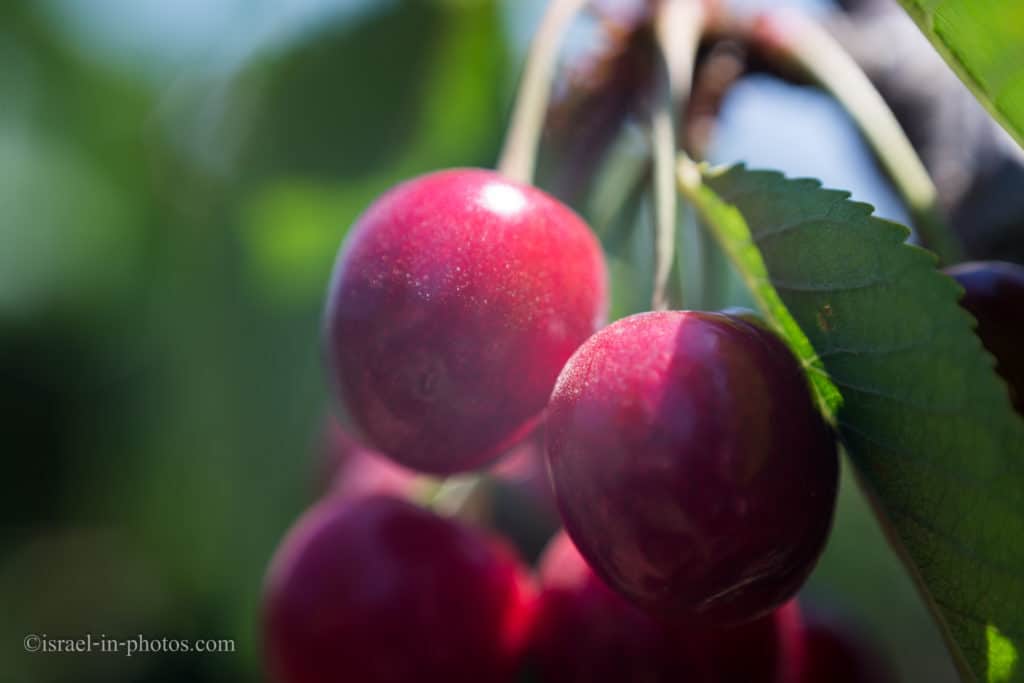 A small playground for kids next to the entry to sweet cherry-picking.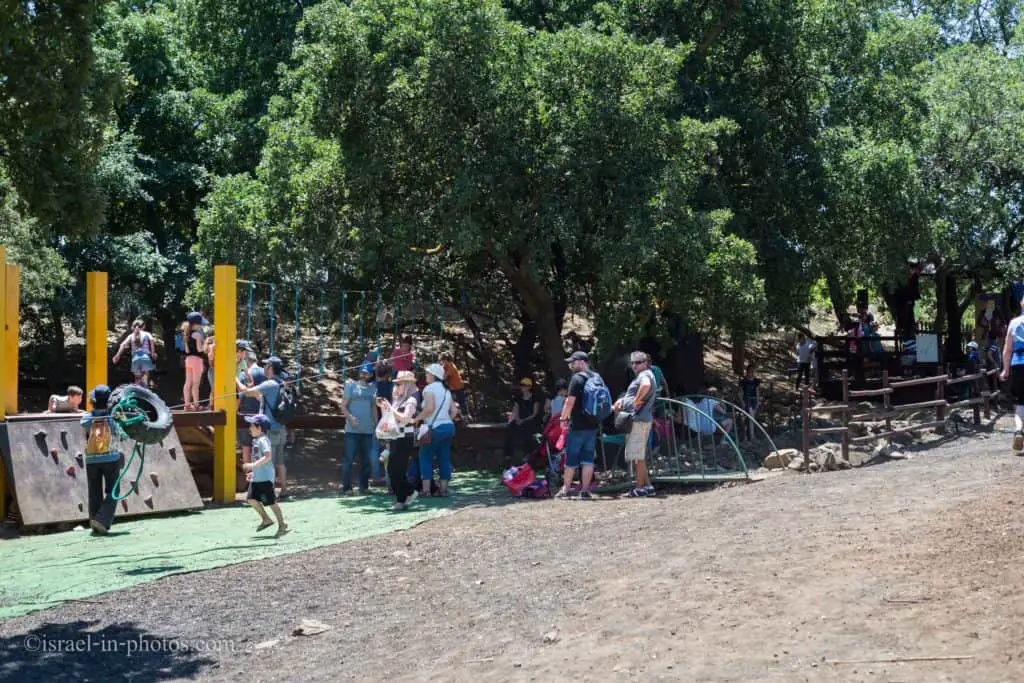 Animal Corner
There is also a small animal corner on site. Besides the standard small farm animals, there was an alpaca
and a donkey.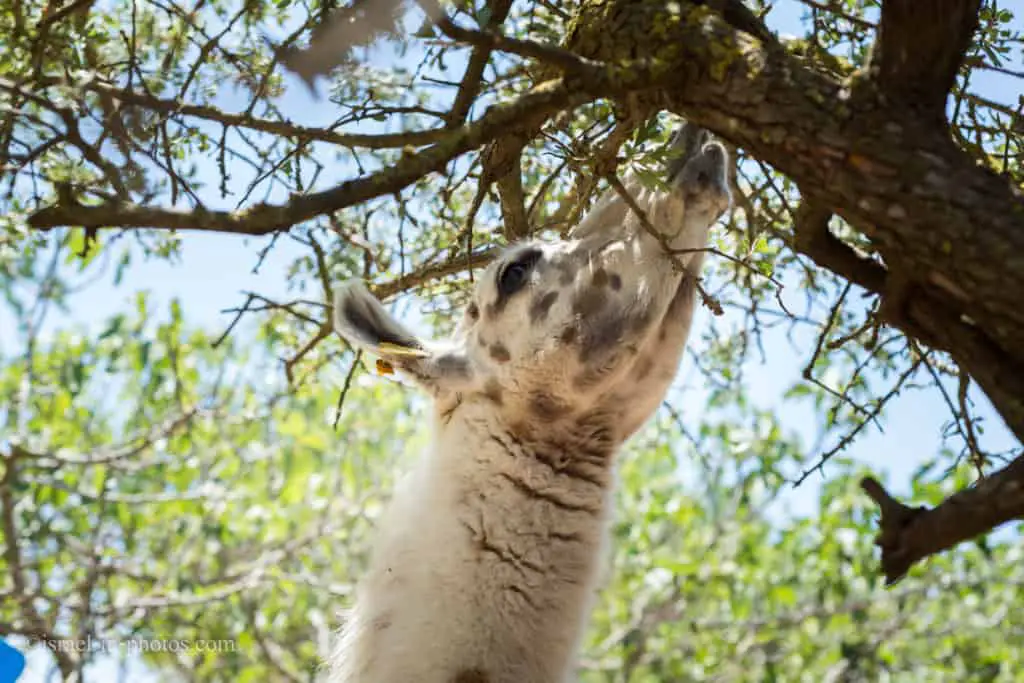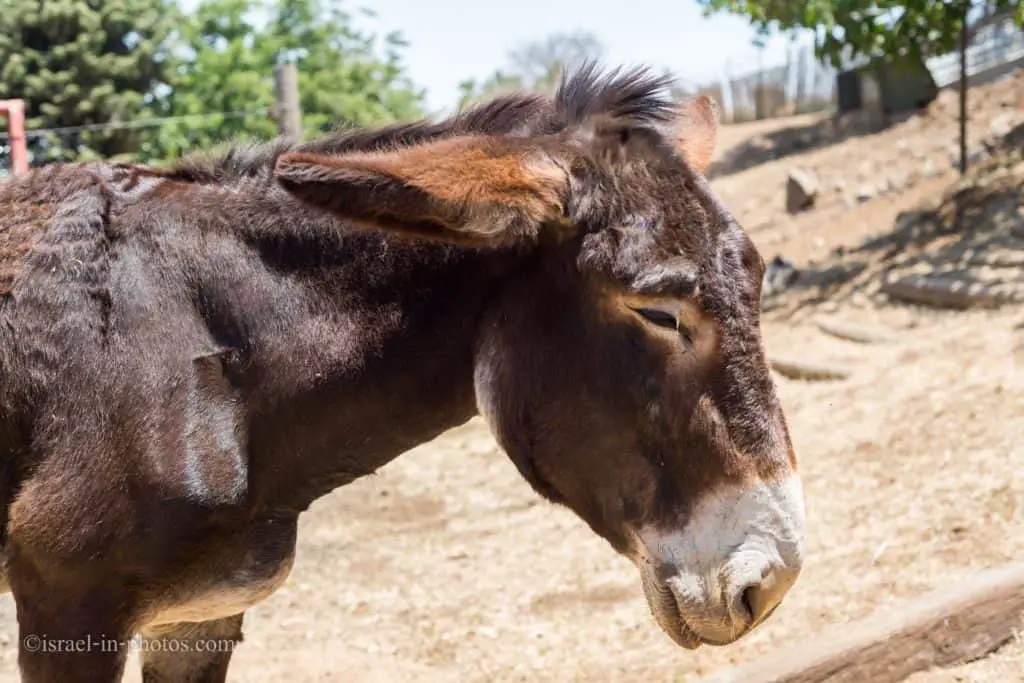 Back to the machinery exhibition.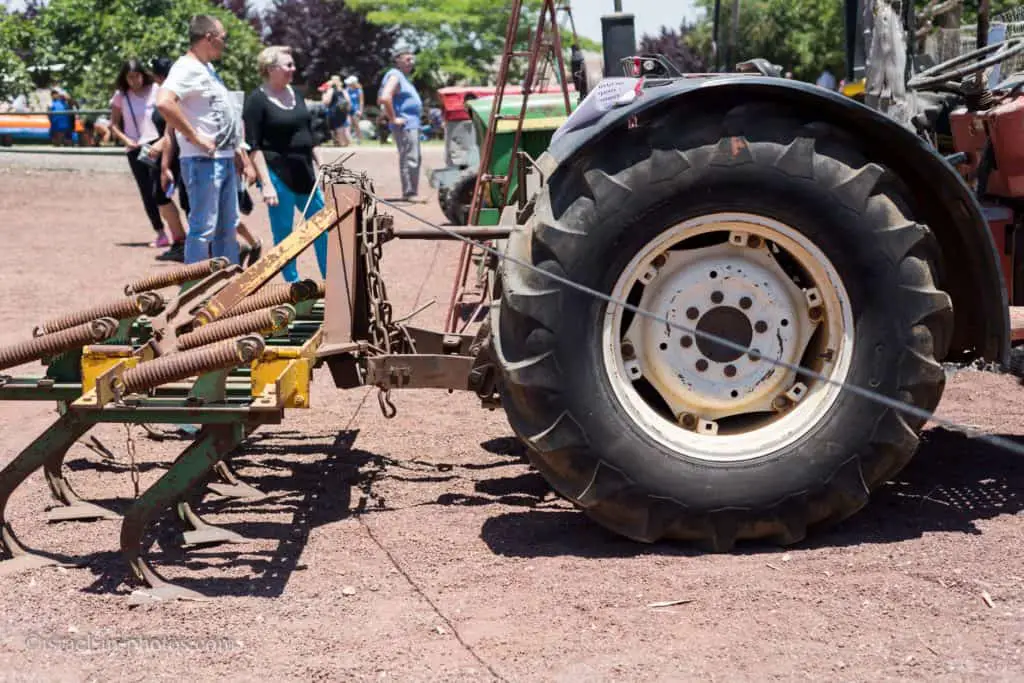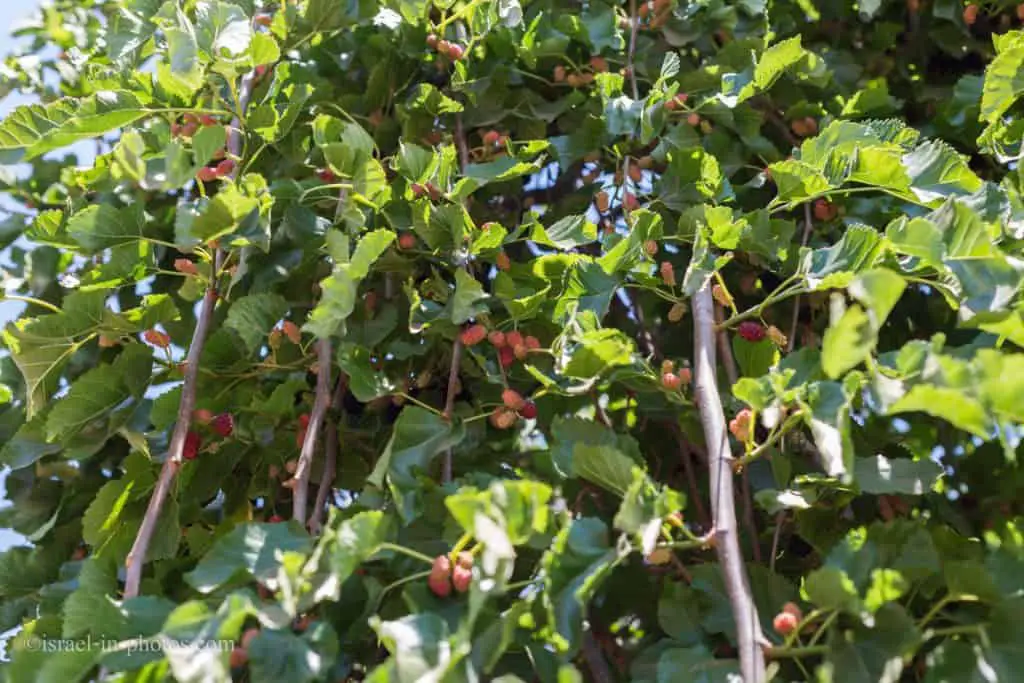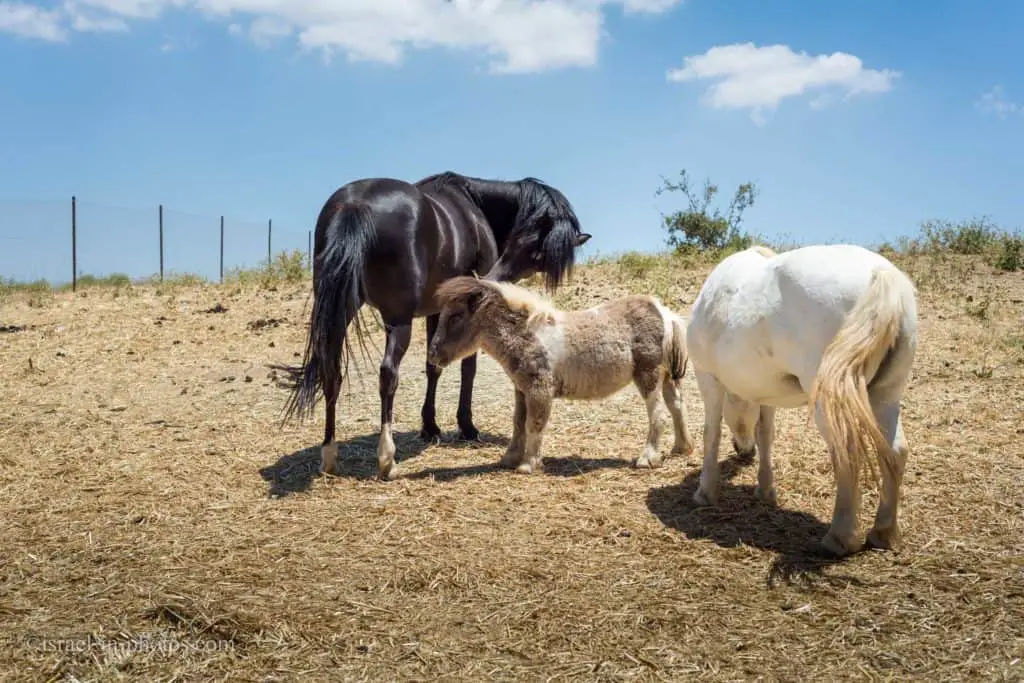 There were two additional attractions for kids at extra cost. Some variation of karting, which was closed and half-open horse riding. Why half-open? We bought a ticket for 10 NIS at the cafeteria, but the horses were on semi-strike. Our horse passed several meters and stopped. The organizers told us that the horses needed some rest, and we went to see other horses on the farm.
At this point, we decided to call it for today, and after several hours at Bustan Bereshit, we drove home.
Other Agrotourism Attractions
In my blog, you can find similar attractions in the Agrotourism category. But here are a selected few:
Summary
Sweet Cherry Picking is fun and tasty. We love it and do this activity annually. And at the beginning of this post, you can find answers to the most common questions, including which farm you should visit.
What is your favorite place to pick sweet cherries? Tell us in the comments below.
That's all for today, and I'll see you in future travels!
Stay Tuned!
Additional Resources
Here are several resources that I created to help travelers:
And if you have any questions then check out
Useful Information For Tourists To Israel
.  
Did not find what you were looking for? Leave a comment below, and I will do my best to answer your questions.