The Strawberry and Flower is a self picking farm at Ramot HaShavim. And this post will take you through our latest visit.
Note: for a complete guide about strawberries, see Picking Strawberries – When, Where, and Comparison of Places.
Offers:
Black Friday Deals on Booking.com are available from 18 November until 1 December 2021. Get 30% discount at participating properties. And stay from November 18 2021 until 30 June 2022. See additional details here.
Get 5% off for your next vacation at Isrotel.
Get 10% off for your next tour at Bein Harim with coupon code LEV10#12306.
What is the Strawberry Season in Israel?
As I mentioned in Strawberry Picking At Hod HaSharon, the season is winter (usually December until March). And towards the end of this period, some farms allow strawberry picking (self-picking).
Last year we visited Stalbetut (see Strawberry Picking At Hod HaSharon for additional details). And this year we decided to visit The Strawberry and Flower.
Map
The Strawberry and Flower is situated at Ha-Tarnegol street in Ramot HaShavim.
Map of the area:
Entrance Fee
During our 2019 visit, the entrance fee was 40 NIS per person. It also included a small basket for strawberries (can fit about 300 – 400 grams – see photo below).
Instead of a small basket, you can take a big plastic box suitable for a bouquet. Moreover, you can purchase an additional basket for 20 NIS and an extra box for 30 NIS.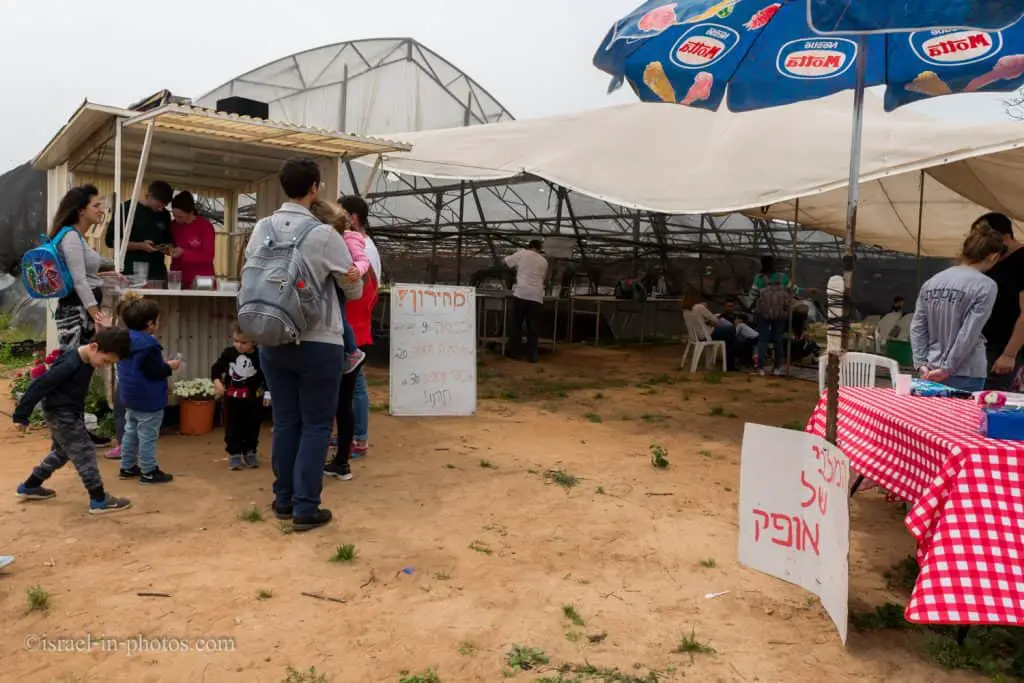 Also, I wanted to mention that during the picking season, you can usually find coupons online.
Opening Hours
The opening hours will vary depending on the weather and the amount of available strawberries. I will mention that they are open on Saturdays. In any case, before visiting, check the opening hours on the official Facebook Page.
Strawberries
The Strawberry and Flower cover about twenty acres. And they grow a variety of plants, but we will start with strawberries.
The strawberries are grown on the land, and you can eat as much as you want.
There were several different types of strawberries. And some of them were huge.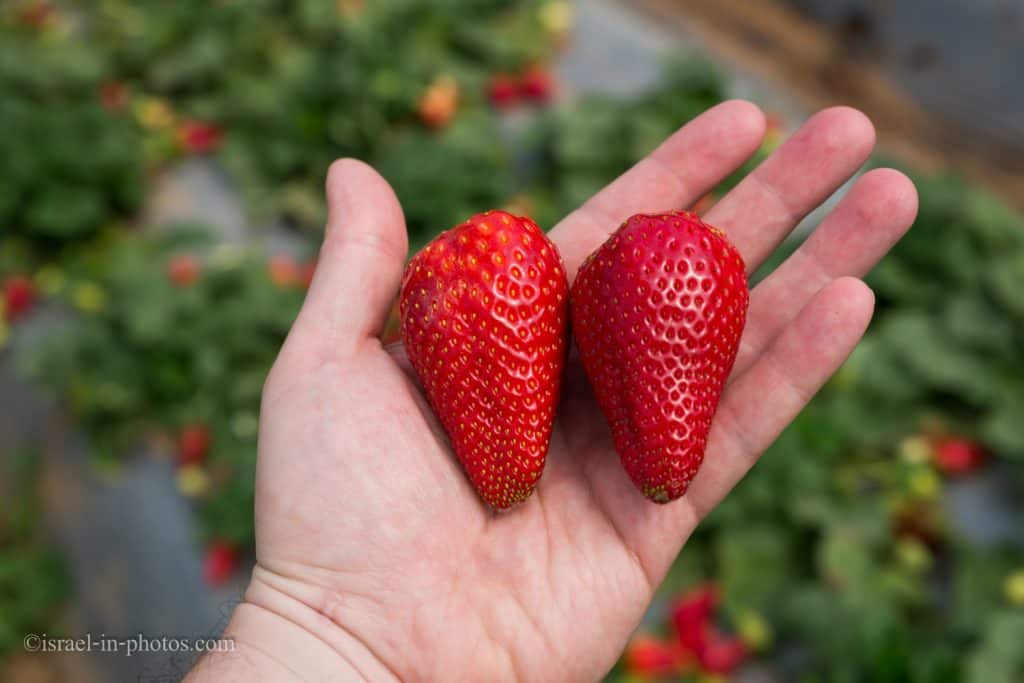 Flowers
After visiting greenhouses with strawberries, we continued to the greenhouses with flowers.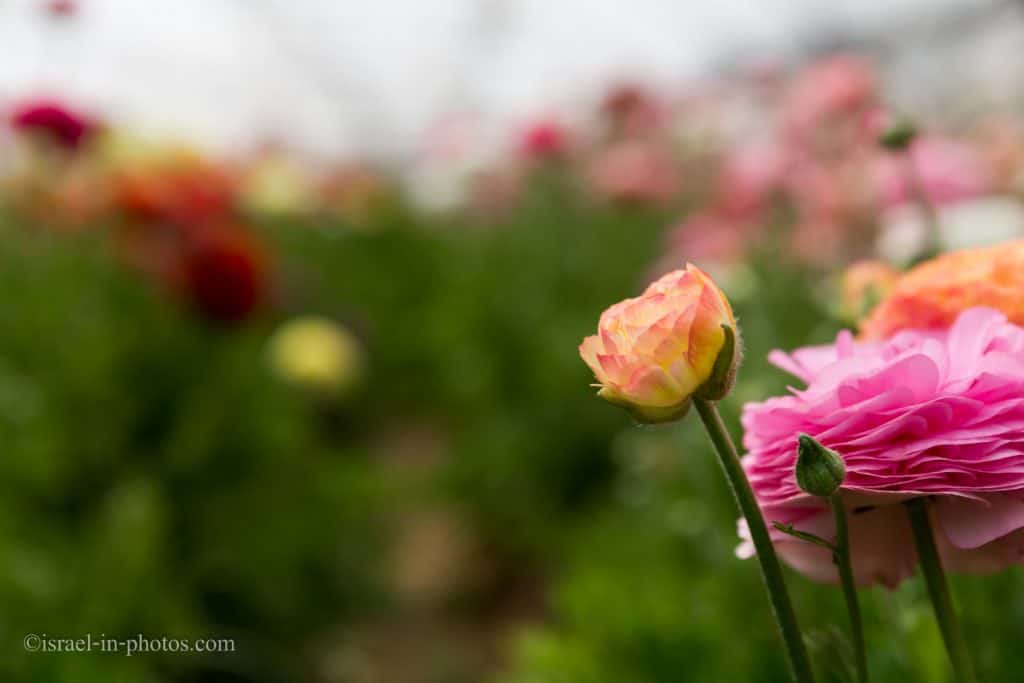 As we entered the flowers section, it reminded me of the Buttercup Picking Festival.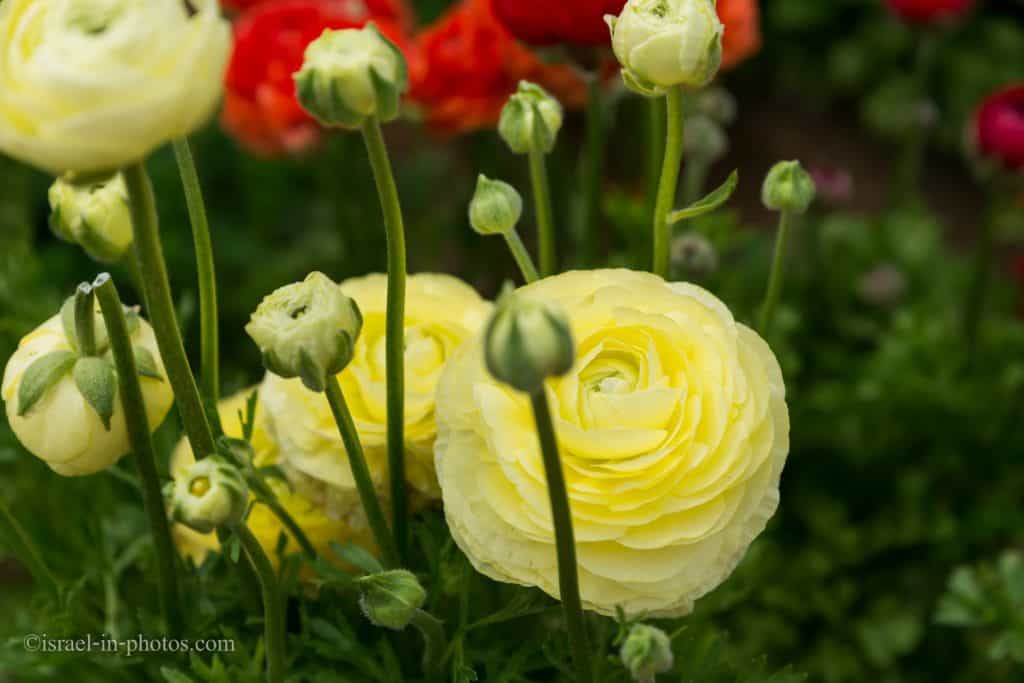 There were primarily buttercups and anemones. And you could make a lovely and colorful bouquet.
And if you love anemones, then you have to check out Festival Darom Adom.
Our visit was just after the big migration of butterflies. And we saw hundreds of them in the greenhouses.
Vegetables
Beyond what is mentioned in the name, you can find some vegetables at The Strawberry and Flower.
Here is, for example, the pepper greenhouse with several trivia facts.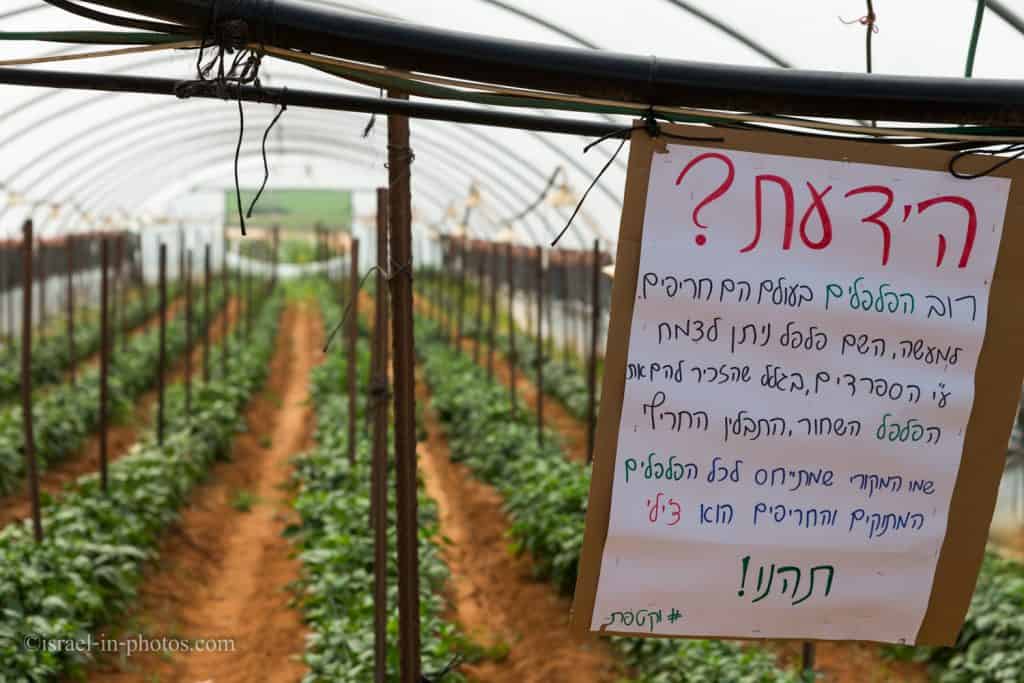 Did you know that the cucumber originated in India? And as you guessed, this is the cucumber greenhouse.
The array of vegetables was not too wide. And not in all cases did we find ripe vegetables. But it is a lovely addition to the attraction.
Summary
The Strawberry and Flower is a lovely attraction at Ramot HaShavim. We spent around two hours at this farm and enjoyed our visit. And if you love Agritourism, then consider visiting this place.
Note: if you are interested in similar places, then check out the Agrotourism category.
Have you ever been to The Strawberry and Flower at Ramot HaShavim? Tell us about your experience in the comments below.
That's all for today, and I'll see you in future travels!
Stay Tuned!
Additional Resources
Here are several resources that I created to help travelers:
And if you have any questions then check out
Useful Information For Tourists To Israel
.  
Did not find what you were looking for? Email me at
hi@israel-in-photos.com
, and I will do my best to answer your questions.