Tali Grapes offers agricultural tourism or simply put: visiting their vineyards. One Saturday morning we have decided to join one of the tours, and this post is the result of that visit.
"Tali Grapes is the brand name of the cooperative of growers from Moshav Lachish. Moshav Lachish (est. 1955) is home to 66 active growers, in addition to about 100 families of whom most are second-generation growers."
Source: official site
Visiting the vineyard: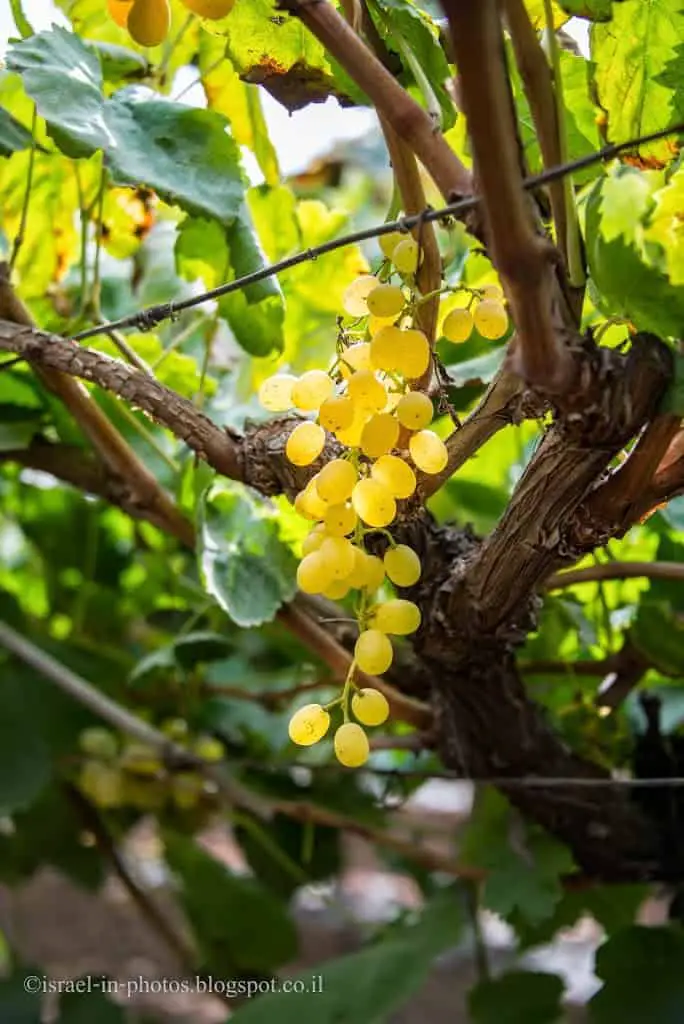 The tours are at Moshav Lachish, which is quite close to Kiryat Gat. You might remember Lachish stream from Lachish Park post. Yes, it is the same stream.
Map of the area:
The tour has three stops: vineyards, raisins factory, and an old wine press. It costs 30 NIS and with every ticket, you get a basket (about 1.5kg of grapes get in it, which you can take home). Thus, if there are four of you, you will end up with 6kg of grapes. You would better prepare the free place in the freezer or make some jam.
Visiting each stop involves self-driving (about 5 min each time). And in each stop, you can stay as much as you like. There are guides at each stop and they explain when a big group of people arrives, which was about every 10 min during our visit.
First stop – vineyards: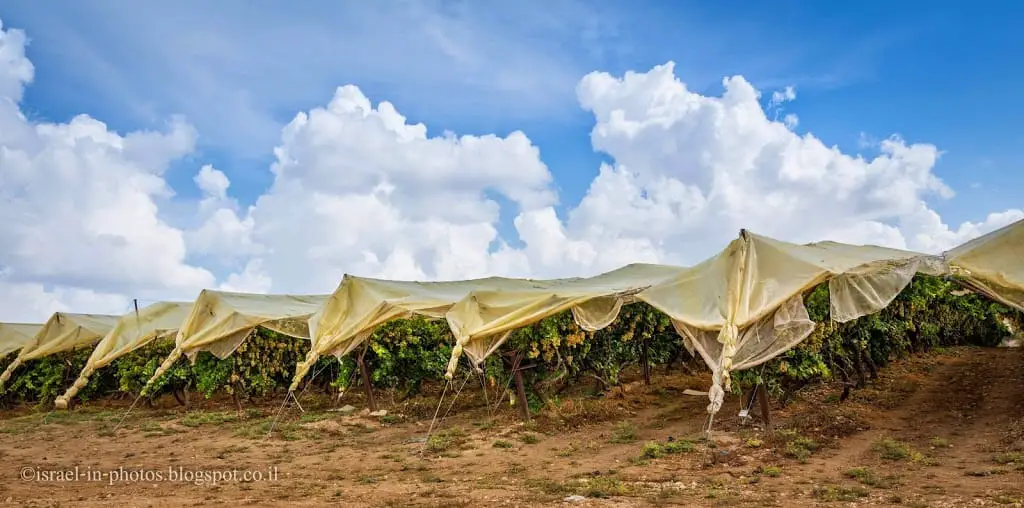 Before you start eating/harvesting grapes and fill up the baskets you receive a short explanation about the place. One of the interesting things we were told is about organic pesticide methods. For example: spreading non-fertile insects. Most insects don't live long and have one chance to bring the next generation. If they waste that chance on non-fertile females, it interrupts reproduction process.
Other pest controls are organic as well, thus you can freely eat grapes.
Since we visited in mid-October, end of the season, there were rotten grapes as well.
They grow twenty different grapes species and even winter grapes. The one we got to harvest is Thompson.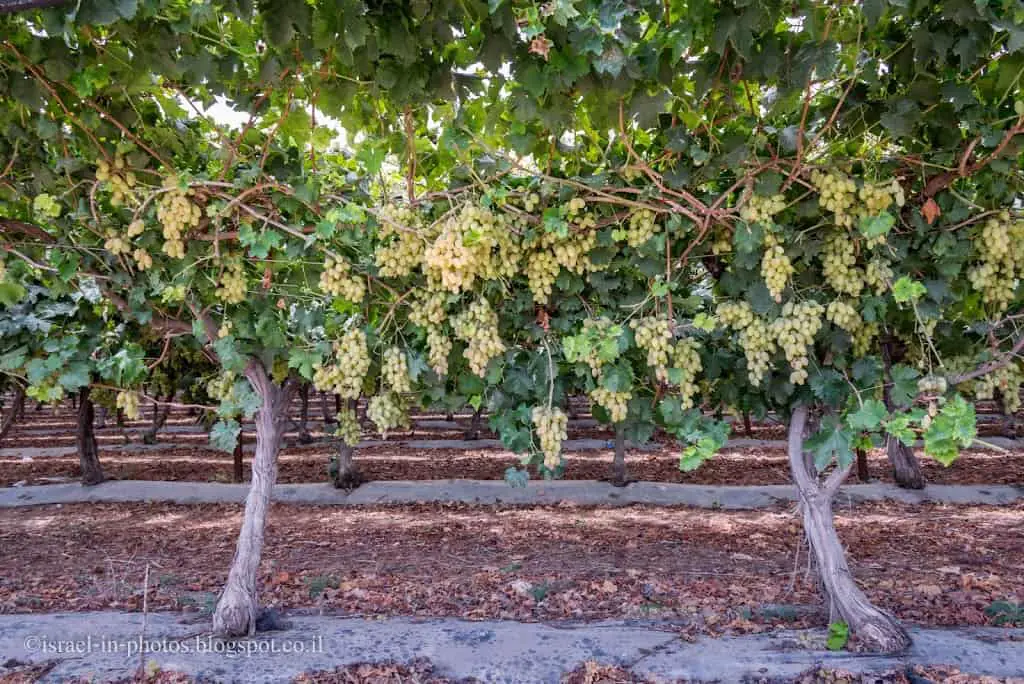 Looking at the top of the vineyards: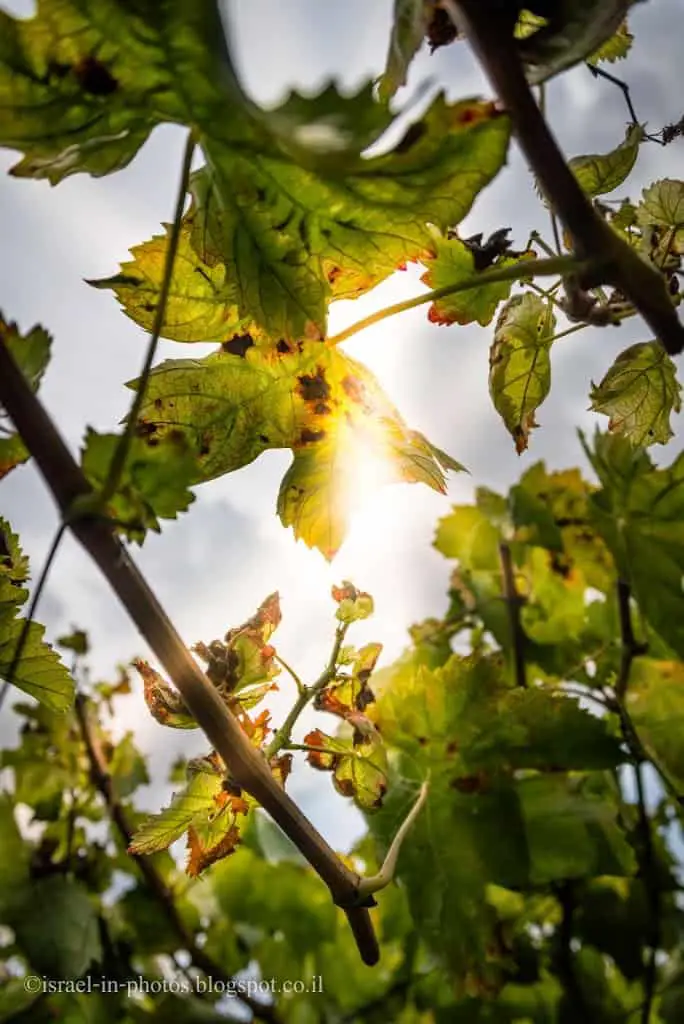 Grape leaf:


Vineyards: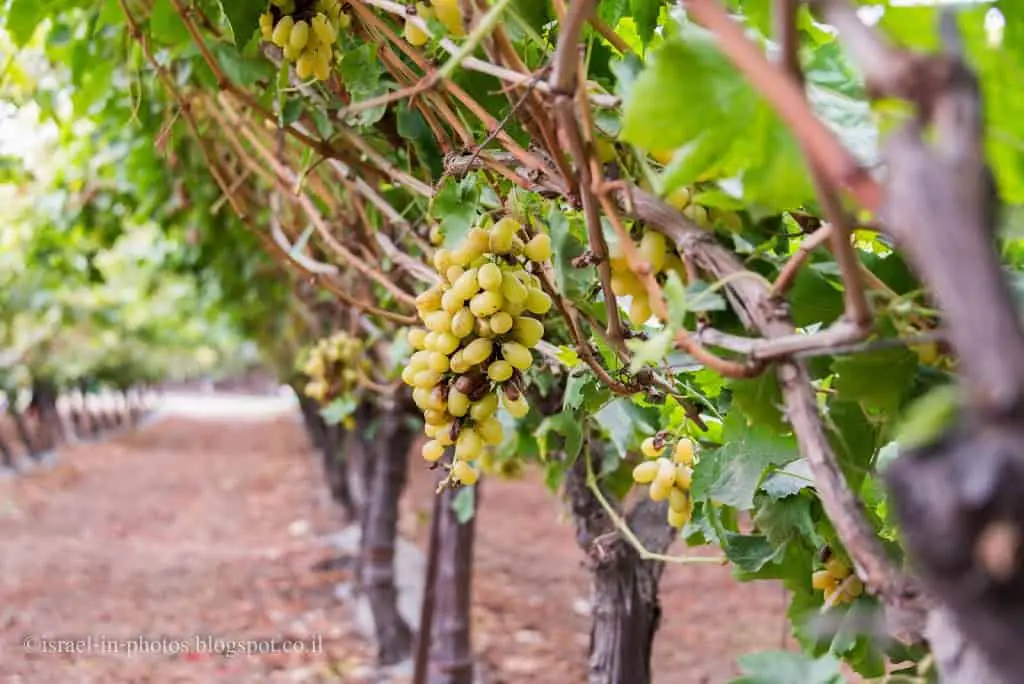 Second stop was raisins package factory. Actually, we did not get into the factory. We got explanations outside, next to the raisins: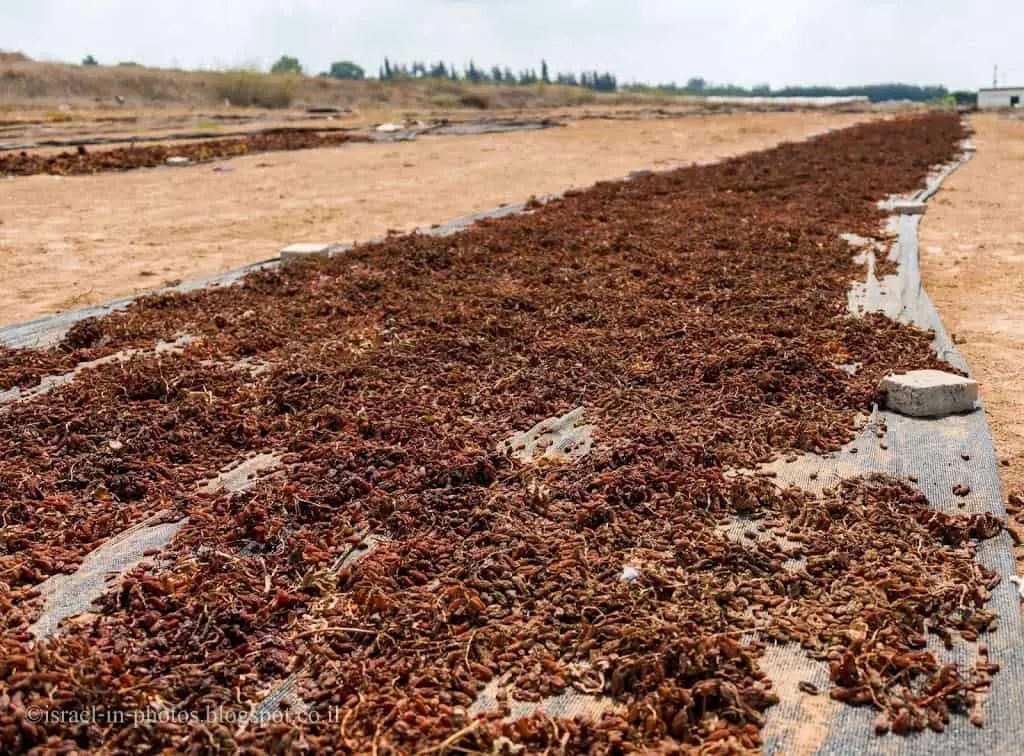 As you can see the grapes are dried outside for 2-4 weeks. Before spreading the grapes they add oil (similarly to sunscreen protection we use when going to the beach) and salt (for protection again insects). Grapes that were dried under the sun are always brown. If so, where do the white raisins come from? White means that it was dried in ovens.
Also, the following fact is logical but you never think about it when buying raisins: all raisins are created from second sort grapes. The best grapes are sold fresh.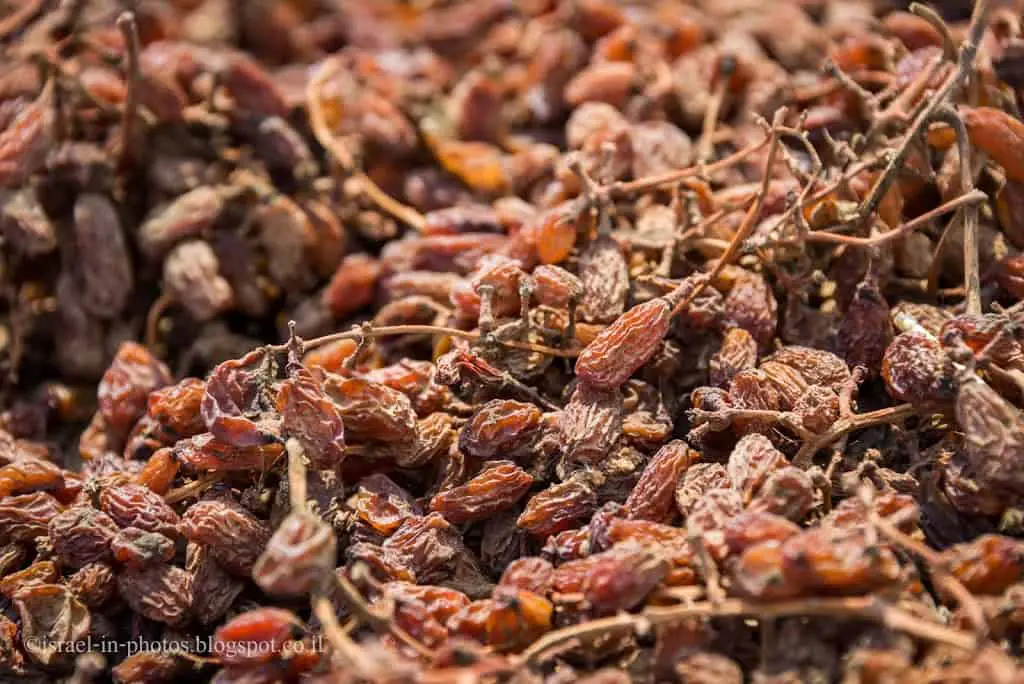 The third stop was an ancient wine press next to the historic 3,000-year-old city of Lachish.
We've got some explanations regarding Tali Grapes brand. As it turns out, there was no Tali (Tali is rather popular Hebrew female name). Moreover, since they adopted this name, none of the girls born in Moshav Lachish is called Tali. The growers hired a well-known marketing specialist and he came up with this name. Quite interesting that in the same period the same marketing specialist created Gali Shoes brand (Gali is also Hebrew female name).
As you probably know pressing is done barefoot. The reason for taking off shoes is grapes seeds. If you are barefoot than you won't squeeze the seeds (crushed seeds will add bitterness).
Wine press:

We finished visiting the three stops and our tour ended.
Overall, the tours are nice and aimed at families with small children. Our daughter enjoyed the tours and as a bonus also ate fruits. You cannot ask for more.
Tali Grapes Two Years Later (Oct. 2016)
We've visited Tali Grapes again and the concept remained the same, but there are several changes.
Grape leaf:

First of all the expected change is the kind of grapes you get to harvest. This time we picked Crimson Grapes: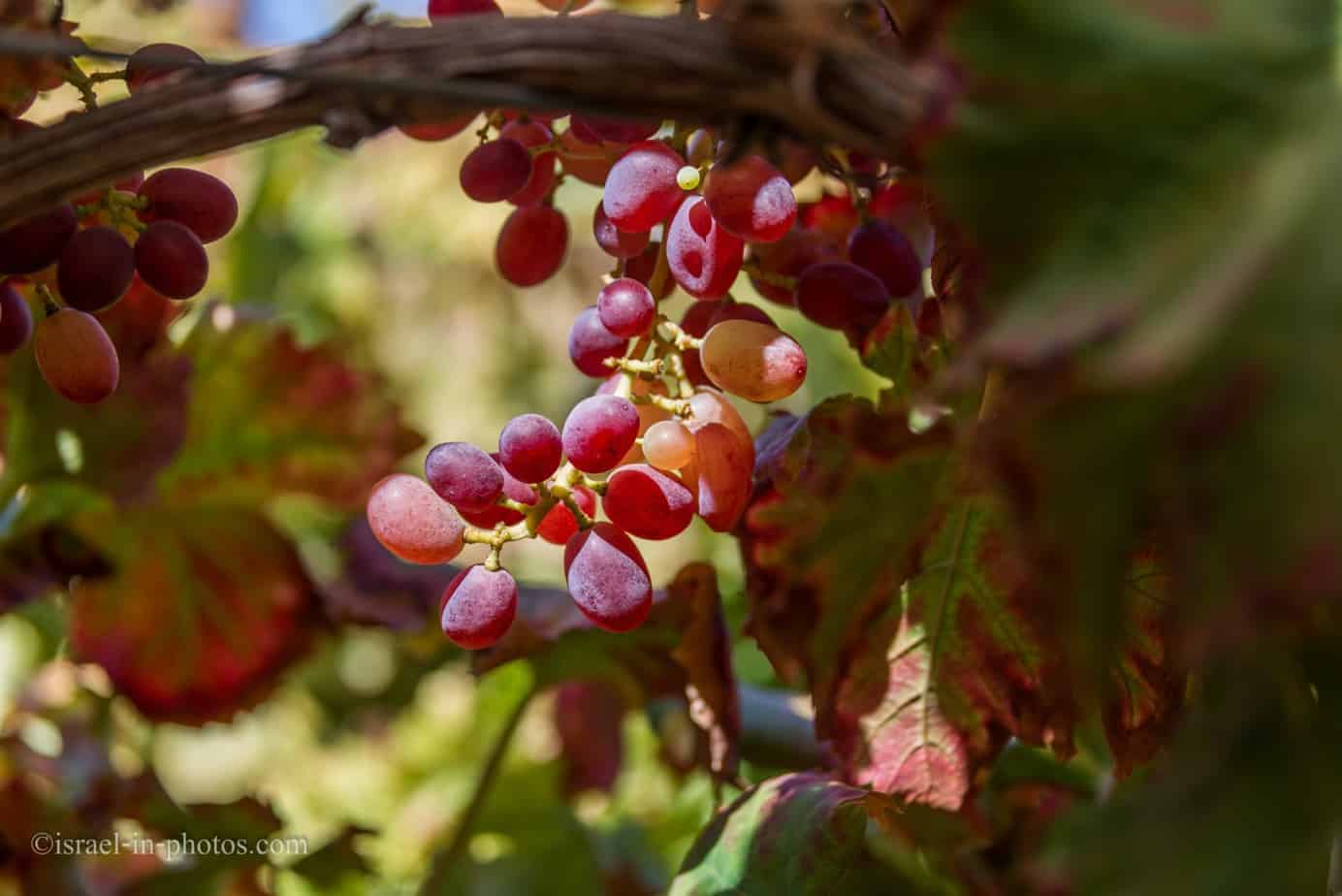 There are red and green Crimson Grapes: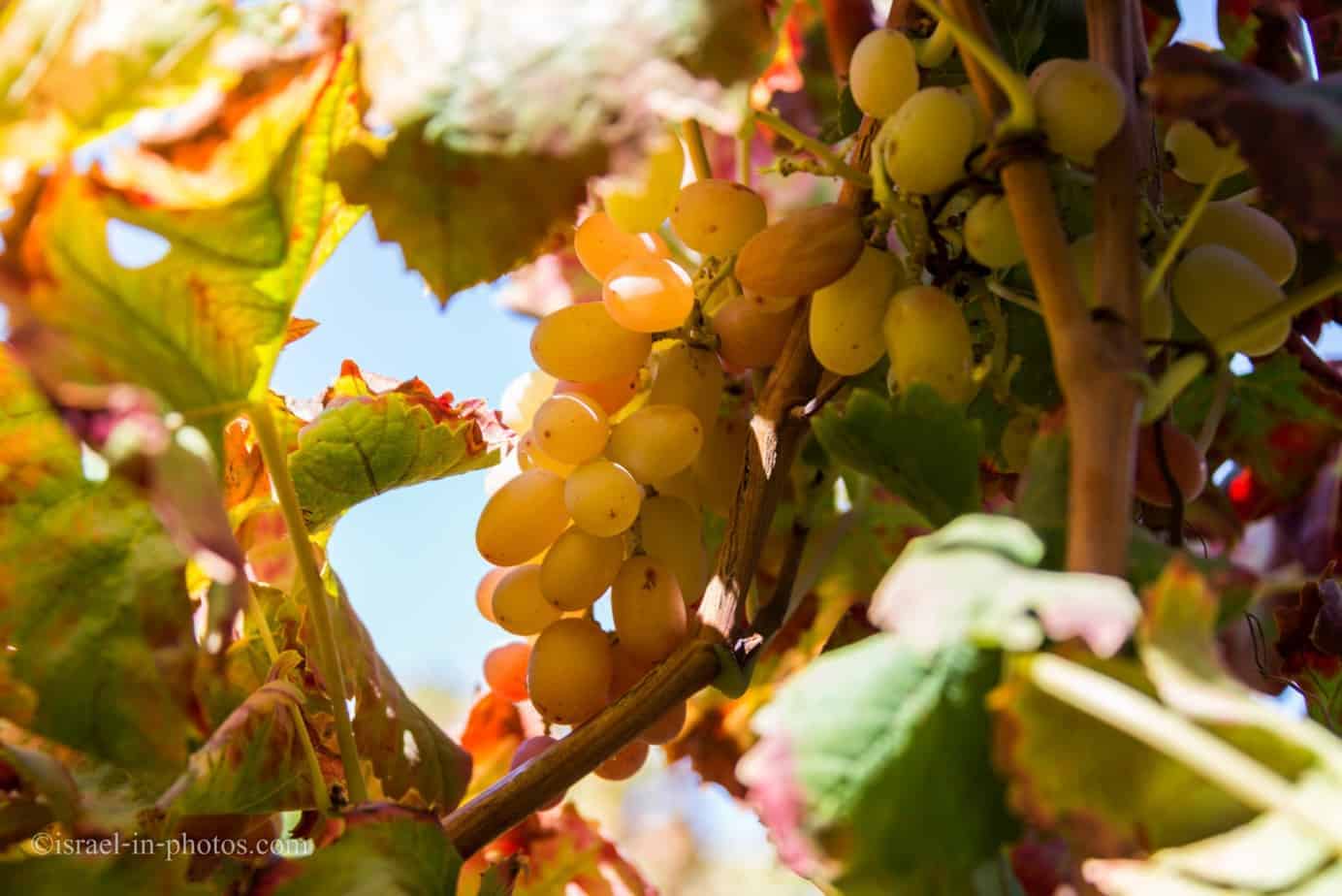 The second change is ticket price, which was increased from 30 NIS to 35 NIS.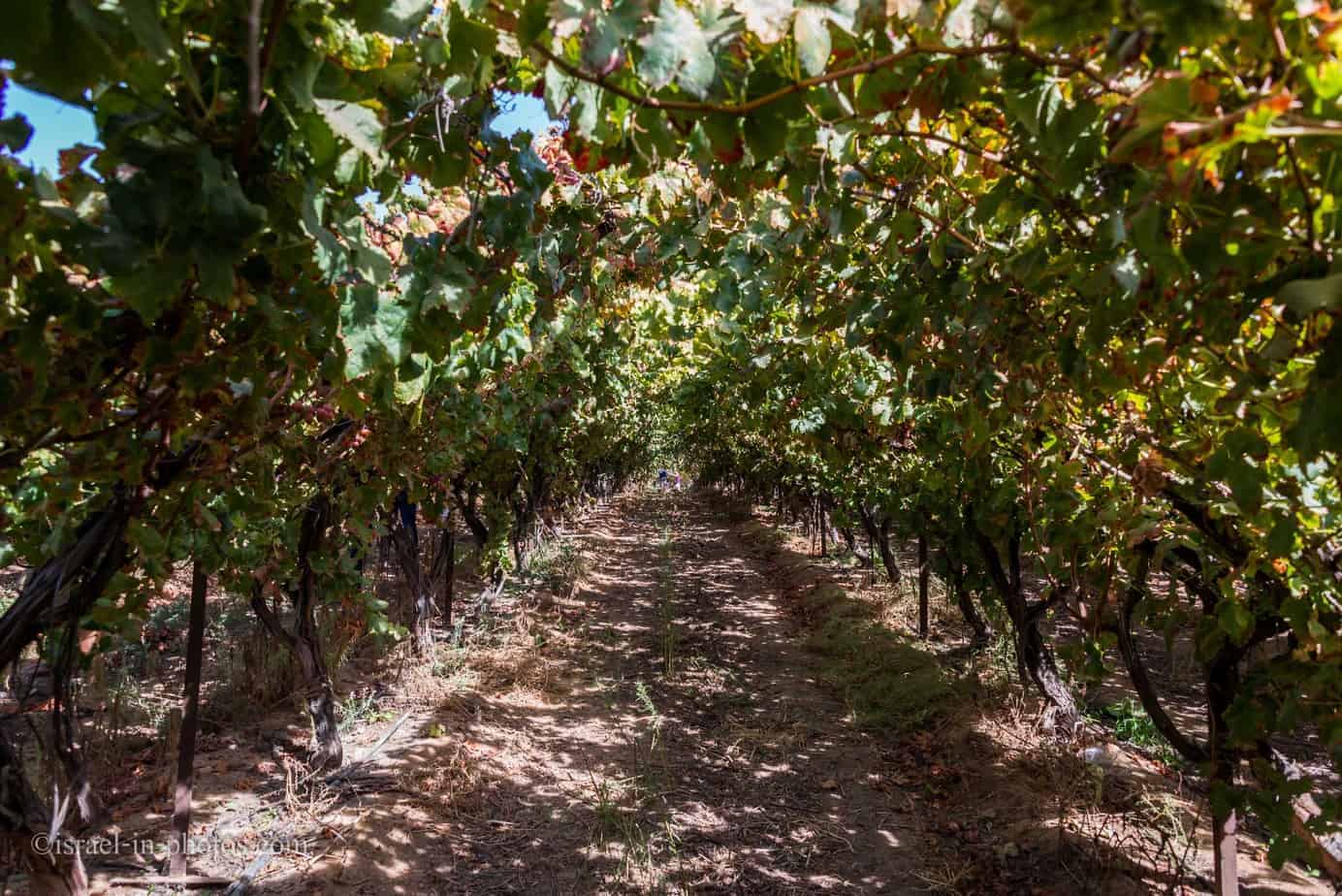 Also, in the past there were three stops, today there are two. No more visits to the raisins factory.
And the last change is that during our tour we got fewer explanations. This time before picking it was a short explanation (about 2 min). AFAIR in our previous visit, it was a 10-15 min one. The format changed a little, you were given a short explanation and those who wanted could stay and ask questions. But, knowing which questions to ask is half of the job 😉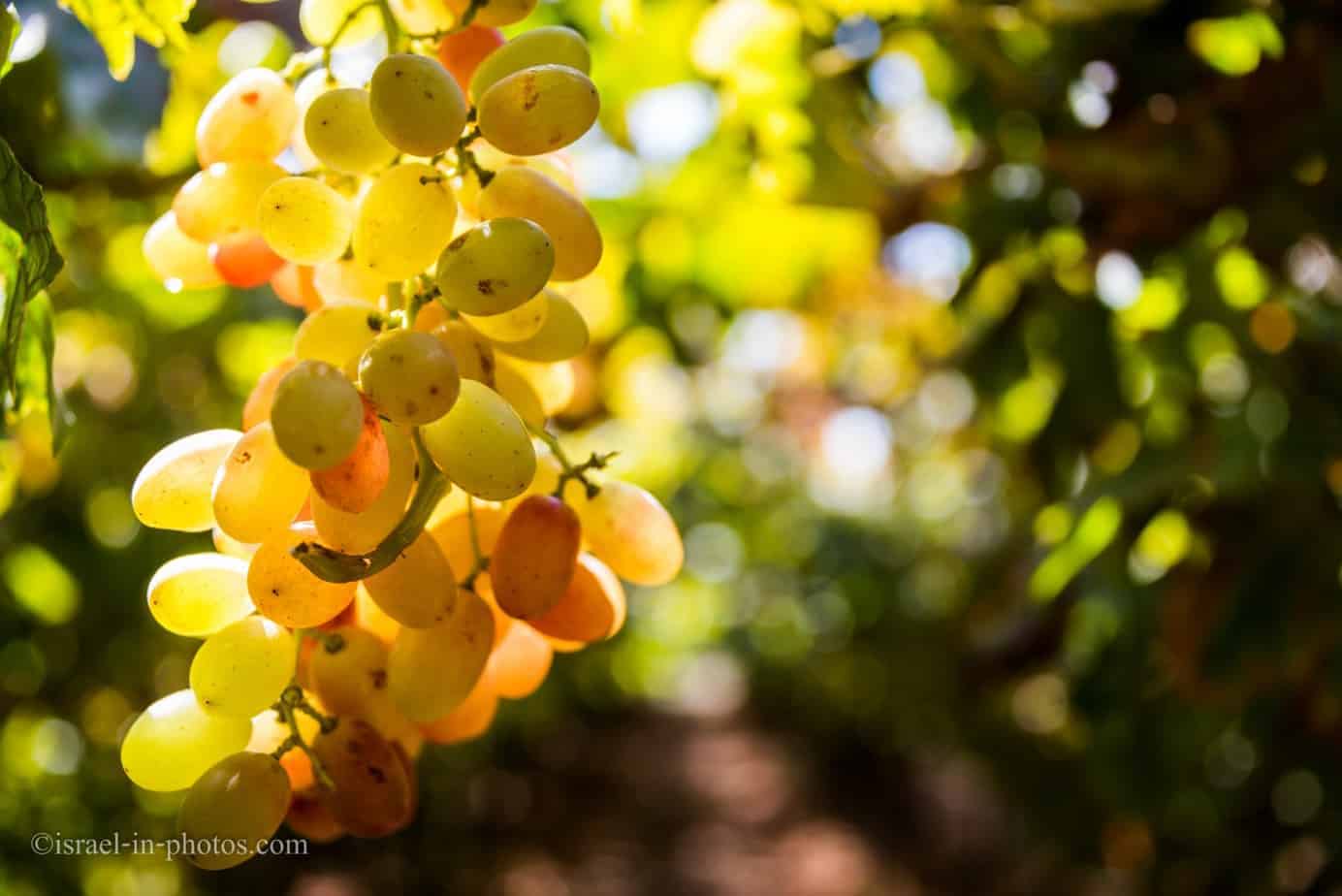 My impression has not changed from the previous visit. I still think it's a nice activity. And for many parents that struggle with children that do not like eating fruits, this could be a game changer.
Have you ever visited Tali Grapes? Tell us about your experience in the comments below.
That's all for today, and I'll see you in future travels!
Stay Tuned!

Additional Resources
Here are several resources that I created to help travelers:
And if you have any questions then check out Useful Information For Tourists To Israel.

Did not find what you were looking for? Email me at
[email protected]
, and I will do my best to answer your questions.