Shanghai Circus
A friend told me he visited Shanghai Circus (official site) with his kids and enjoyed it a lot. So I bought tickets and last week visited the circus.
Basic Info
Before I start showing the photos, a tip about the tickets. At the official site, you can find tickets for 82 NIS. Several credit card companies offer 1 + 1, i.e. two tickets for 82 NIS. And if you don't have one of these credit cards then check out Shanghai Circus' Facebook page. Occasionally they post coupon codes on the page. For example, I saw 59 NIS per ticket offer.
Let's start with the visit. We arrived at Holon about 10 min before the start of the show and we had enough time to pass the security and visit the (chemical) restrooms before the show started. But if you want to buy food before the show, then it's better to come earlier.
The first performance:

Shanghai Circus show is held in a big tent. There are about 10 rows of chairs (each row is higher than the previous one), thus I can't tell that some seating places have a much better view than others. You see approximately the same from different seats and thus the price doesn't depend on the seats you select.

The Show
Dragon acrobatics: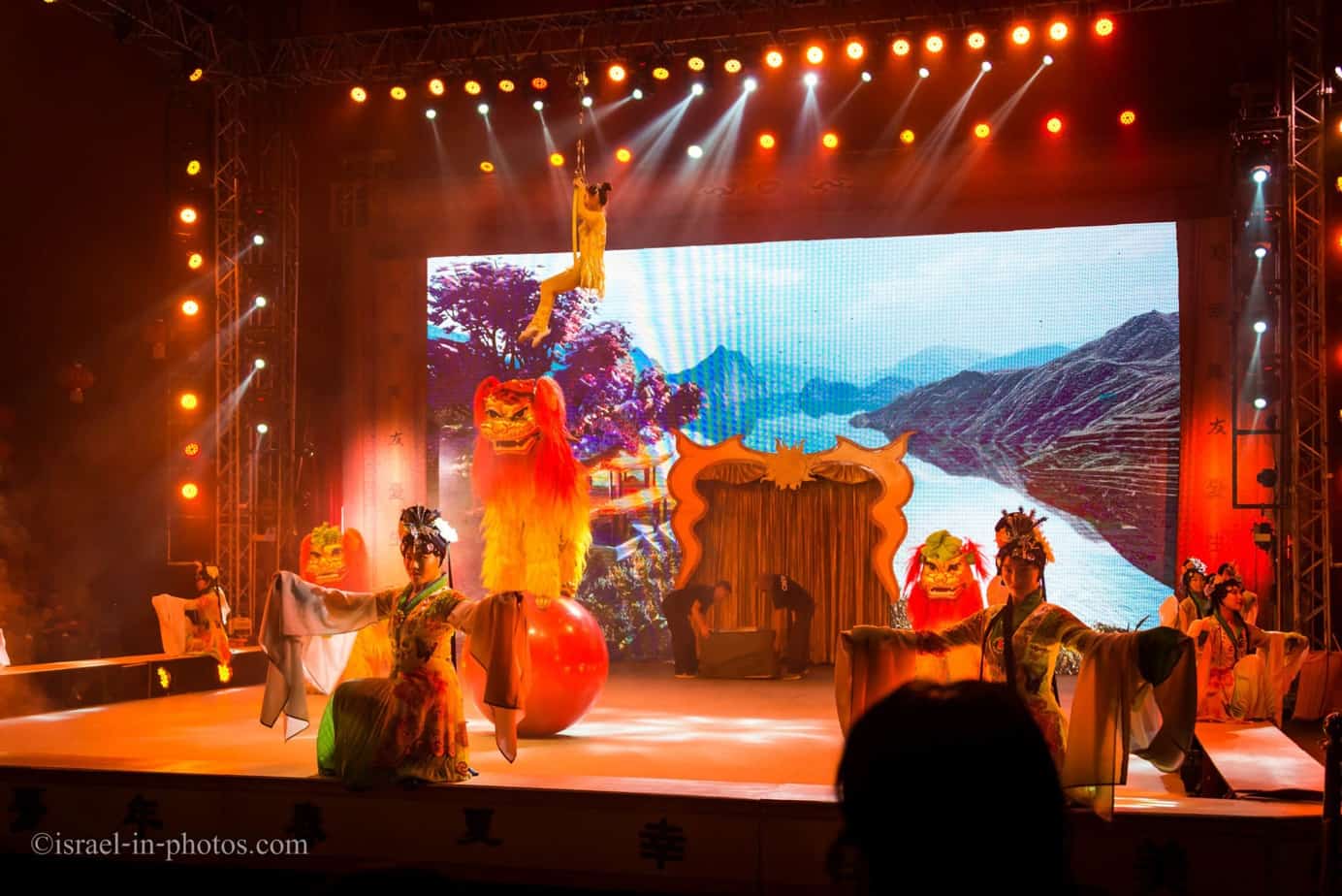 The show consists of two parts, about 45 minutes each and a 15-minute break in between.
One of the numbers was performing various acrobatic stunts while rotating two weights:

I guess this number is more popular in China since I haven't seen it in other circuses.

China always had great gymnasts. And the following gymnastics number was indeed one of the best ones: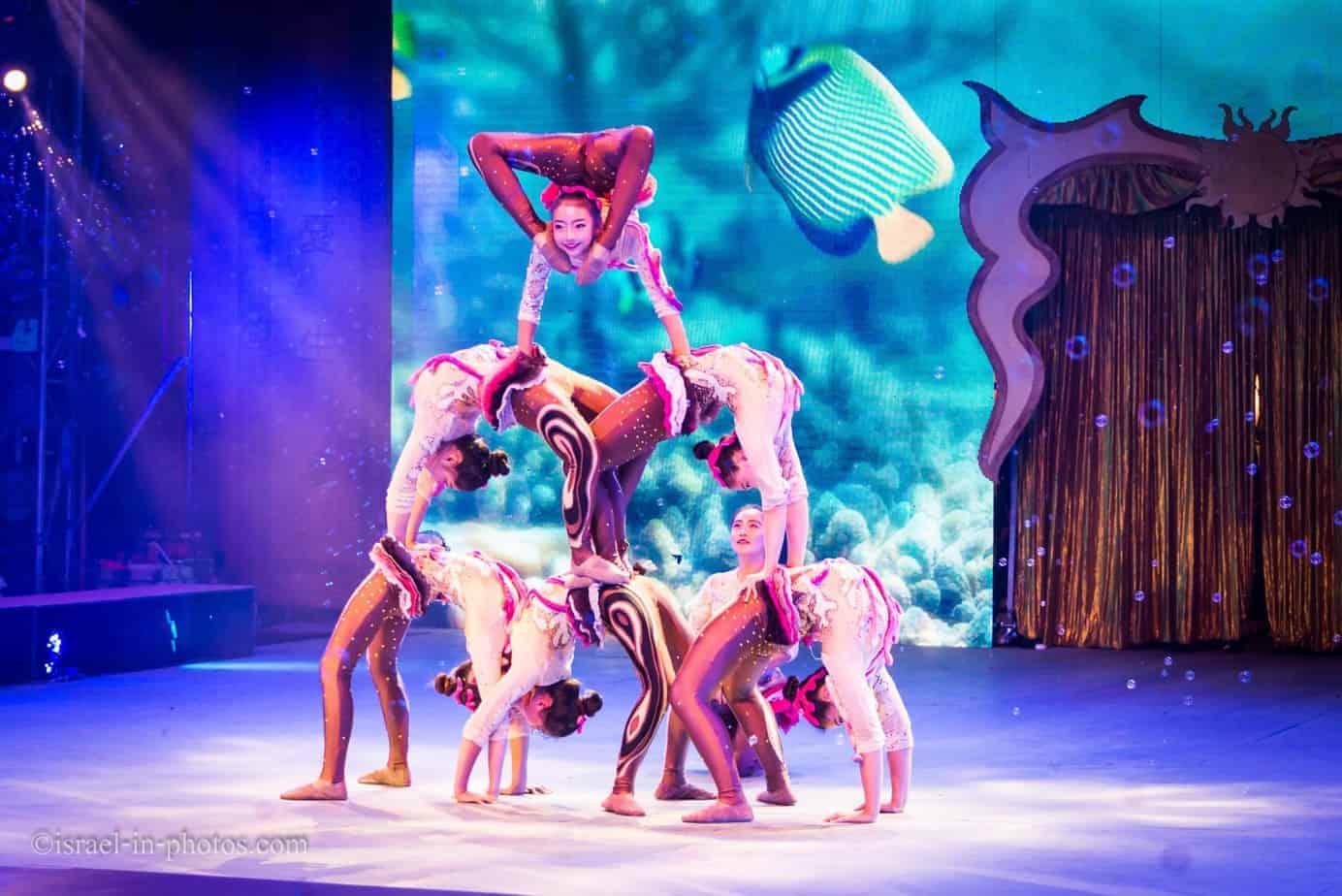 Another stand:

And of course, rope jumping:

As you can see, many of the seats stayed empty in the middle of the week. So definitely look for deals/coupons.
Bicycles
Bicycle riding was one of the highlights:

How many people can ride one bicycle?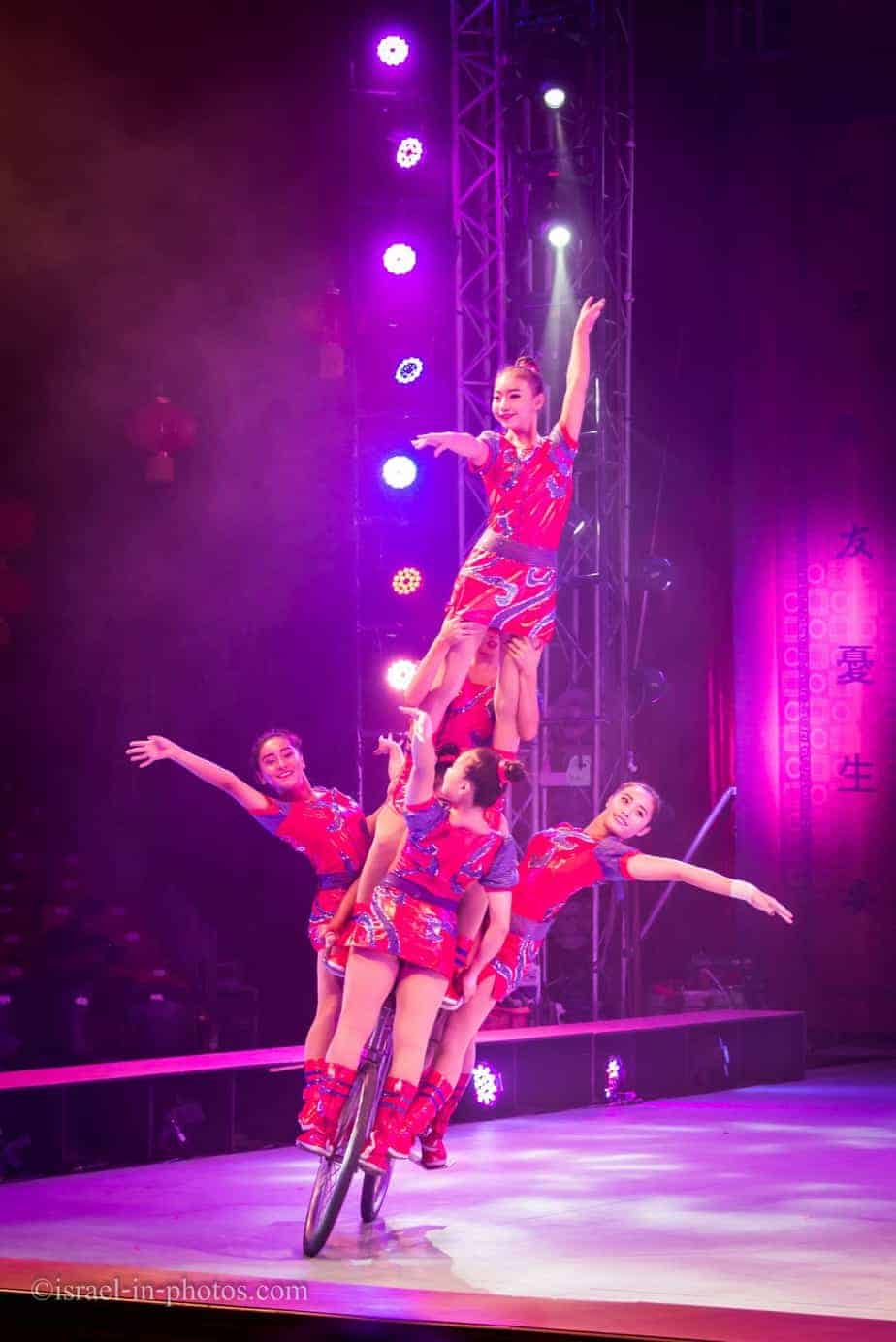 In the photo above, seven women rode one bicycle. But, that's only the beginning.
Pyramid:

In between bicycle jumping:

Can you count how many performers are there on this bicycle now?

I counted 13.
The thousand-hand dance wasn't the strongest number.

Also, keep in mind that I'm not showing all numbers. Only the photogenic ones 😉

Jumping through hoops:

Though he may be not that high, he's jumping higher than his own height. That's pretty impressive.

Rotating plates:

I didn't understand how come the plates are not falling when holding them vertically to the floor.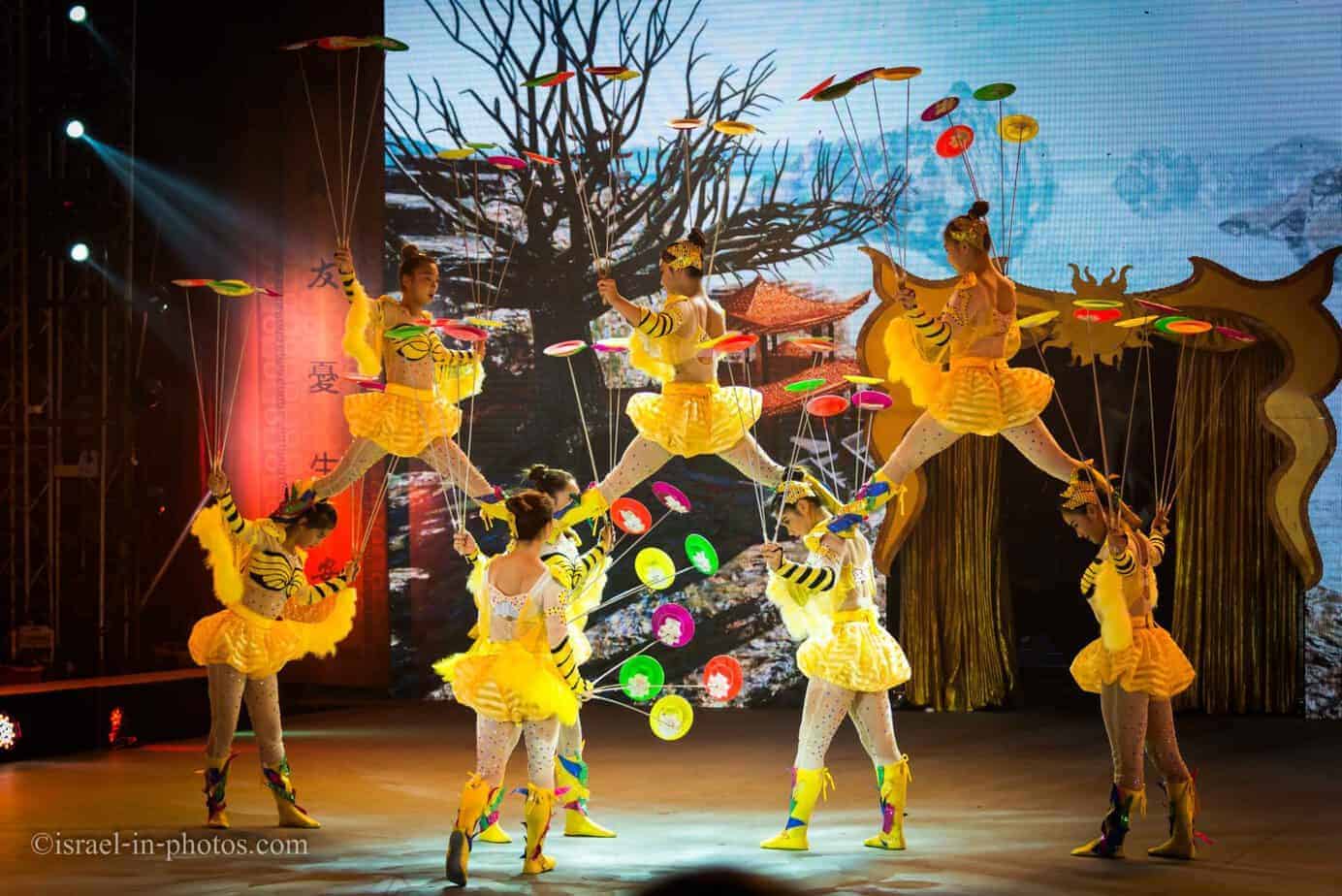 One of the two numbers that weren't performed by Chinese performers was this one:

This is something I haven't seen before. Both performers by running into one direction or another control the rotation speed.

But that wasn't enough. One of them took a rope, climbed outside and started jumping. That was scary:

Grand finale:

The tent from the outside:

Summary
Overall, Shanghai Circus was quite nice. Some numbers were average and others were very good. You shouldn't expect them to compete with Cirque du Soleil (though I didn't like that at Cirque du Soleil they didn't allow to take photos/videos even with a smartphone). They are at different leagues both price wise and at performance level. You get what you pay for. But for a moderate price Shanghai Circus offers two hours of enjoyable entertainment.
Moscow Circus
Basic Info
In 2017, the Moscow Circus was in Israel and we decided to go on for a visit.
Here is the opening act:

Moscow Circus was in many ways similar to the Shanghai Circus. Same size tents with familiar sitting. The show also consisted of two parts of about 1.5-2 hours with a 15 minute in between. The difference was in the acts themselves.
One point I haven't mentioned before is animals. In Israel, animal shows are forbidden by law. Thus, you won't see animals in circuses.
The Show
You always will see similar acts, like gymnastics.
And other acts will be more unique. Like the next one. I'll call it chair gymnastics.
After performing all the flips they found three volunteers (one adult and two kids) and together with one circus performer, set them all on top of this poor guy.
And of course, they incorporated typical Russian symbols, like the garmon (kind of Russian button accordion).
This was quite a unique number. He held different things with a knife.
And even after the balloon was popped (by the other performer), the chandelier remained on top of the knife.
Acrobatics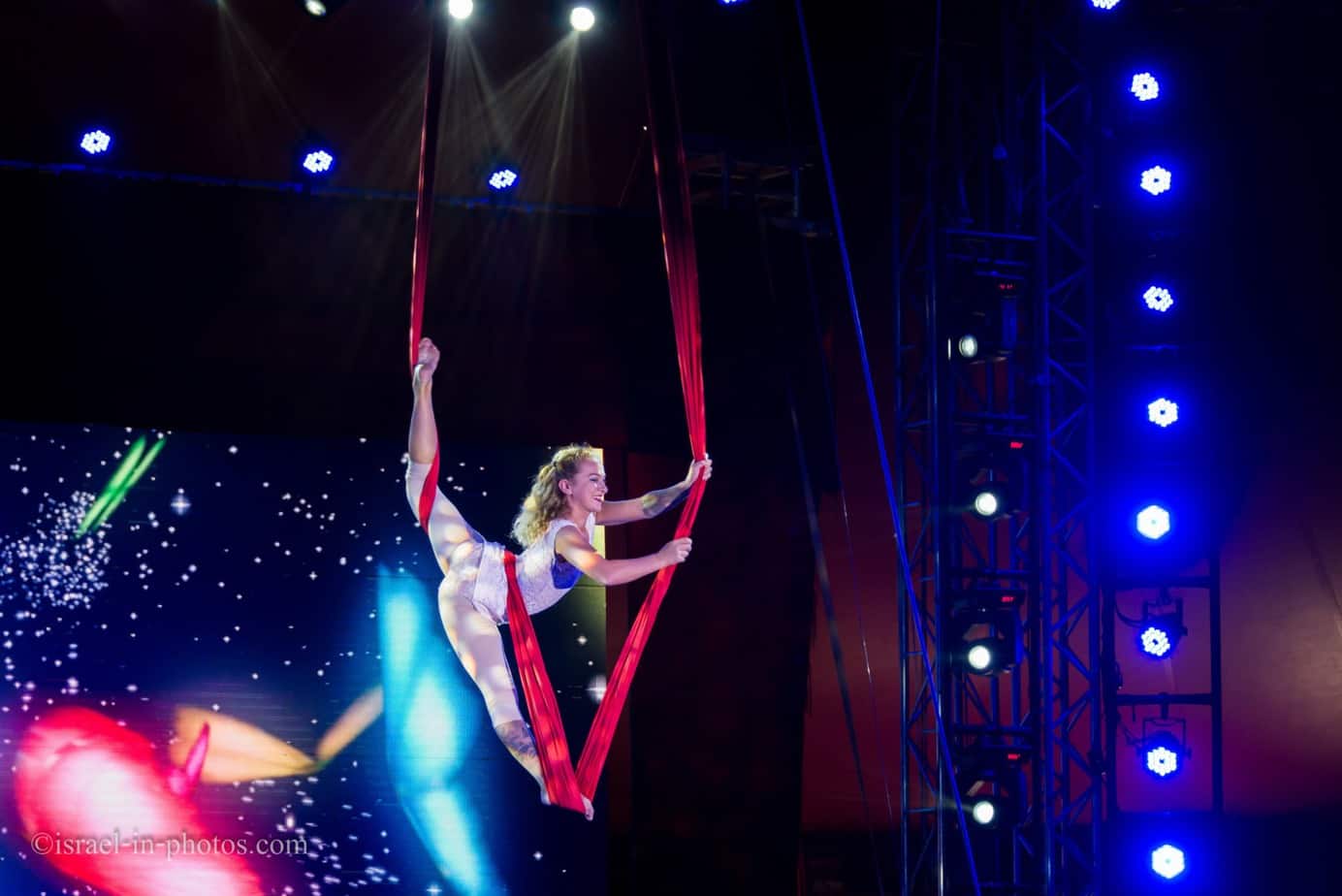 Rope jumping is one thing, but using a team member as a rope is something else.
And here is more advanced rope jumping.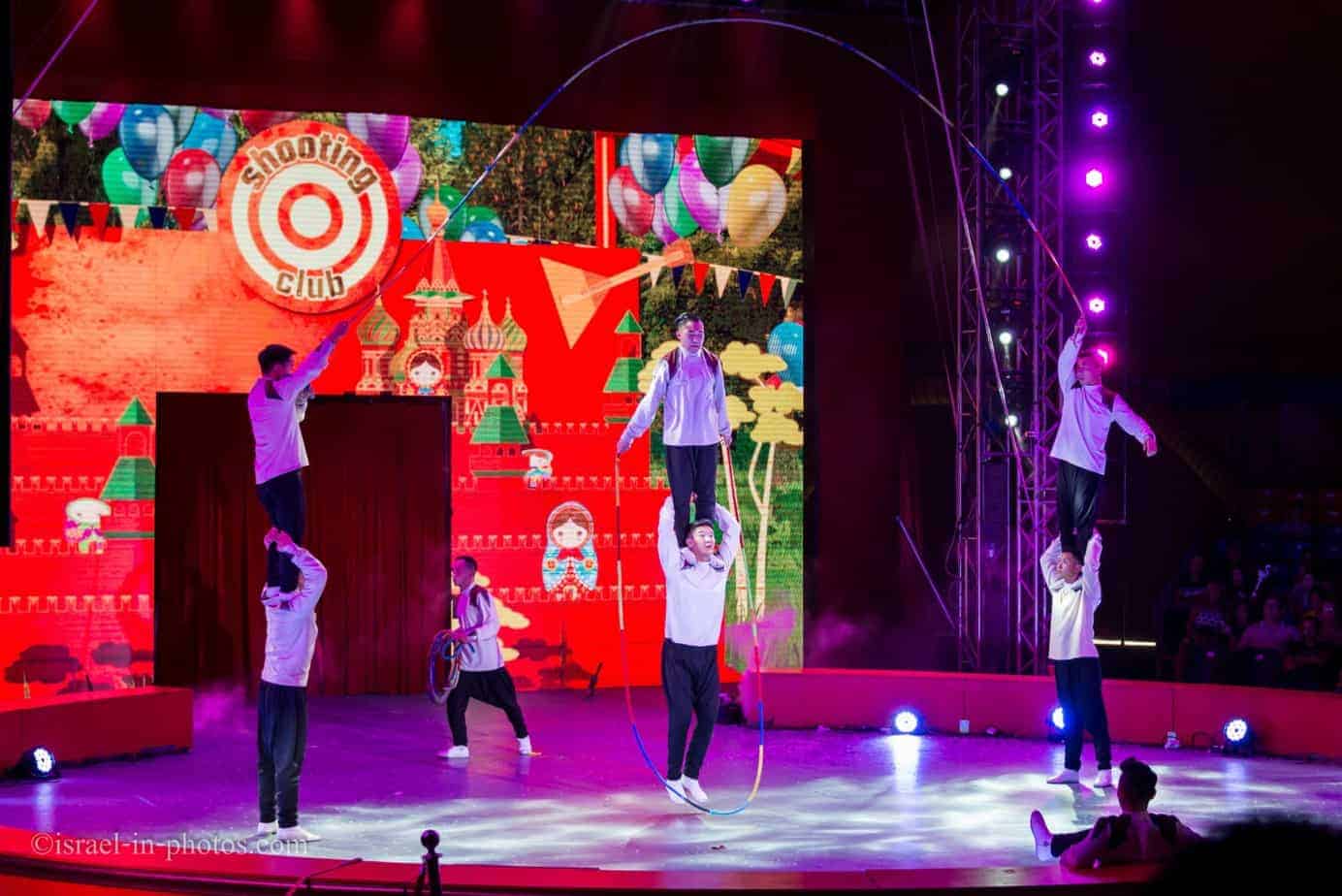 And you thought push-ups were hard. Add back weight and some jumping for a Rambo effect 😉
Even if both people are not that heavy, still this acrobat is jumping with at least 120 kg on his shoulders.
Using swings for higher jumps.
He is at least four meters in the air.
This is how you change swings 🙂
If we already jumping ridiculously high, then why not add some fire? Sure, it's a good idea.
Ending:
Moscow Circus was at about the same level as the Shanghai Circus. They both were very nice and not too pricey. Kids love these shows, so why not? Next time a circus is in town, pay them a visit.
That's all for today, and I'll see you in future travels!
Stay Tuned!
You can find related posts under festivals category. 
 
Additional Resources
Here are several resources that I created to help travelers:
And if you have any questions then check out Useful Information For Tourists To Israel.
 
Did not find what you were looking for? Leave a comment below, and I will do my best to answer your questions.