M'shoch BaGezer is a farm near Kfar Saba. And it offers two experiences: self-picking vegetables or gathering strawberries and flowers.
Note: for a complete guide about strawberries, see Picking Strawberries – When, Where, and Comparison of Places.
Map
M'shoch BaGezer is located on Ha-Movil Street in Tzofit, near northern Kfar Saba. And the easiest way to get there is by entering "M'shoch BaGezer self-picking" into Waze.
Directions for drivers: Link to Waze and Link to Google Maps
Directions for public transport: Link to Moovit
Interactive map of the area:
Offers:
Hotels, hostels, and apartments in this area: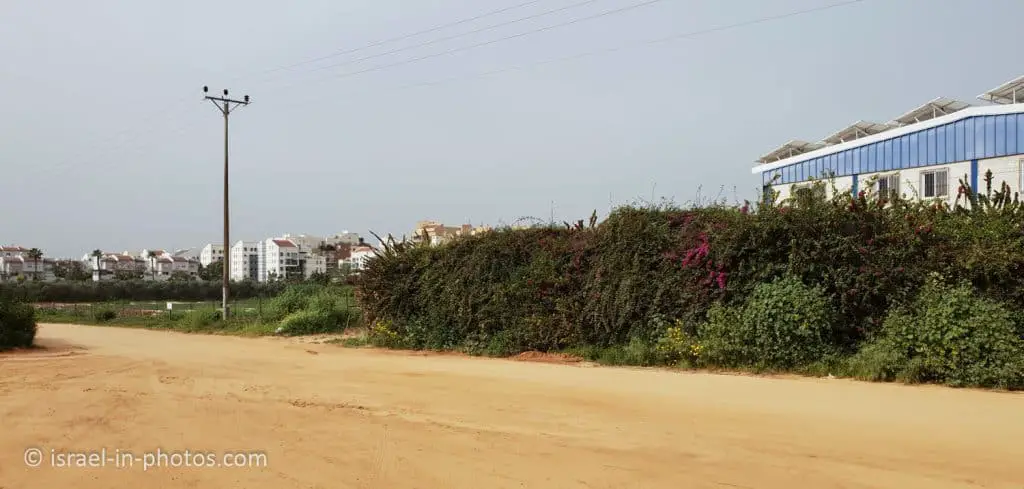 There is spacious free parking by the entrance.
Opening Hours
M'shoch BaGezer is usually open from September to May. They are open on Saturdays and holidays from 09:00 to 16:00.
On other days of the week, you have to coordinate your visit by phone: 054-5288335 or 09-9570220.
Note: opening hours depend on the weather and the availability of fruits and vegetables. Therefore, check before visiting (see contact information below).
Contact Information
Phone: 054-5288335 and 09-9570220
Facebook: @PullGezer
Website: pullgezer.co.il
Entrance Fee
Self-picking of vegetables – 45 NIS per person. Everybody above the age of 3 requires a ticket. The entrance fee includes a 50-60 minutes tour (tours start approximately every twenty minutes from 9:15 till 14:30) and eating vegetables at the fields.
Family basket of vegetables – during the self-picking, you can fill a basket with different vegetables and take them home. The basket holds up to 10 kg and costs 60 NIS.
Strawberry picking – 35 NIS per person and an extra 10 NIS for every basket (about 300 grams) you want to take home.
We visited M'shoch BaGezer in march 2021. During that visit, I photographed the entrance fee sign. But when I checked in November 2021, the prices went up.
Note: if you are visiting with babies, do not take a baby stroller. Use a baby carrier instead.
Coupons
As of November 2021, I did not find coupons online. Please comment below if you find any discounts, and I will update this post.
At M'shoch BaGezer
After entering M'shoch BaGezer, you can find a big shaded area. This area is situated between two buildings, and there are picnic tables.
Inside the buildings, you can find several big rooms. There are rooms with games for kids and a small tractor exhibition. Here are several photos:
On Saturdays, there is a Druze corner where you can buy food.
Strawberry Self Picking
To pick vegetables, you join a tour. But strawberry self-picking is independent. After purchasing tickets, you are pointed to the field. Here it is:
As in all other farms, you can eat strawberries from the plants. And that is what we started doing.
From what we saw, there was only one kind of strawberry, and it was not that tasty. Perhaps the taste was because we visited towards the end of the season (middle of March).
Here are several additional photos:
Near the strawberries, there are several rows of flowers. But their season probably also almost ended, and many flowers wilted. Here are several that remained:
We spent about half an hour picking strawberries and returned to the rooms with games for the children.
Agrotourism Attractions
You can find similar attractions in the Agrotourism category. And here are a selected few:
Mostly Raspberries
Flowers
Summary
We spent a little more than one hour at M'shoch BaGezer. It included both strawberry picking and games rooms. And though I love agrotourism, we left disappointed. My main complaint is similar to most people's criticism: the entrance fee is too high, and you do not get value for money.
You can argue that the entrance fee for picking vegetables is similar to The Salad Trail. But there is a wider variety at The Salad Trail, and the tour lasts about 2.5 hours (instead of 45 minutes here). The pricing of strawberry picking is similar to other nearby places, like Tutland. But other farms, for the same price, offer more than one field of strawberries. Thus, it is one of those rare occasions that I can not recommend a place.
Have you visited M'shoch BaGezer? Tell us about your experience in the comments below.
For other similar places, check out agrotourism.
That's all for today, and I'll see you in future travels!
Stay Tuned!
Additional Resources
Here are several resources that I created to help travelers:
And if you have any questions then check out
Useful Information For Tourists To Israel
.  
Did not find what you were looking for? Leave a comment below, and I will do my best to answer your questions.