Tutland (Tal's Strawberry Farm) offers self-picking vegetables, fruits (including different types of strawberries), and flowers in Hod HaSharon.
Note: for a complete guide about strawberries, see Picking Strawberries – When, Where, and Comparison of Places.
Map
Most strawberries grow in the Sharon area, and this time we went to Tutland in Hod HaSharon. They are located inside the city at Aliyat Hano'ar Street, Hod HaSharon. And the easiest way to get there is by entering "Tutland" into Waze.
Directions for drivers: Link to Waze and Link to Google Maps
Directions for public transport: Link to Moovit
Interactive map of the area:
Offers:
Hotels, hostels, and apartments in this area:
There is spacious free parking by the entrance.
Opening Hours
Tutland (Tal's Strawberry Farm) is usually open from the middle of December till the end of May. They are open on weekends from 09:00 till 14:00. And if you want to visit during the week, you have to coordinate a visit in advance.
Tip: Tutland is a popular place. On a Saturday at 10:00 or 11:00, you might have to wait for up to twenty minutes in line to enter the farm. Thus, either arrive early or in the afternoon.
Entrance Fee
Child – 45 NIS. It also includes a box you can fill with strawberries and take home (around 300 grams of berries fits in the box).
Adult – 30 NIS.
And, of course, regardless of the purchased ticket, you can eat on-site as much as you want during strawberry picking.
Also, you can pick different types of fruits, vegetables, and flowers. You can find the complete price list at the entrance (in the center of the following photo).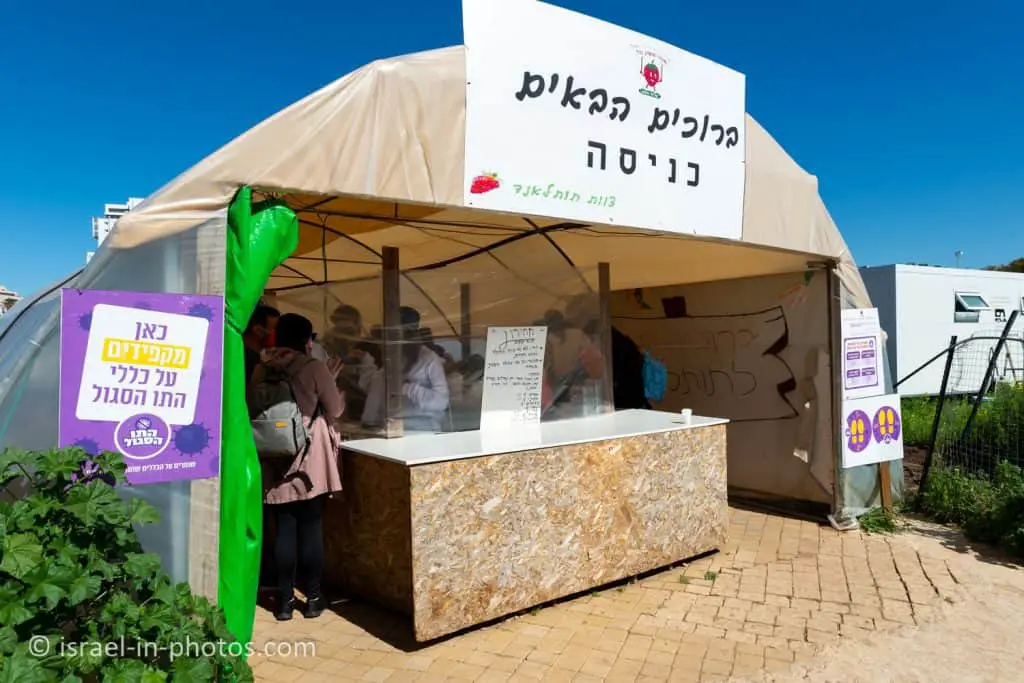 Our latest visit was in March 2021, and here are some of the prices:
Oranges – 6 NIS per kg
Lettuce – 6 NIS per piece
Cherry tomatoes – 10 NIS per kg
Flowers – 1 NIS per flower
Coupons
From time to time, you can find coupons online. And during the last season, there was an offer at Groupon where you could purchase a child ticket for 30 NIS. Thus it is worth searching for coupons online.
Contact Information
Phone: 054-7546149 and 054-7546148
Facebook: official page
Website: meshektal.com
At Tutland
When we entered, we received a short explanation about the place and started exploring the farm.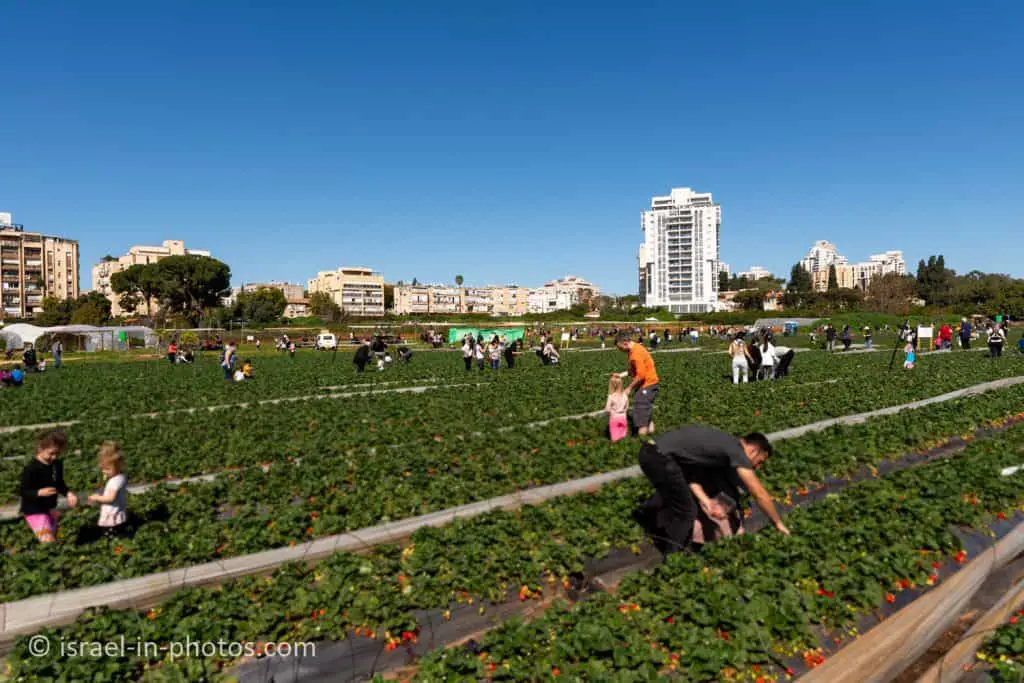 As in other farms, strawberries in Tutland are organic, and chemicals are not used. Thus you can eat straight from plants.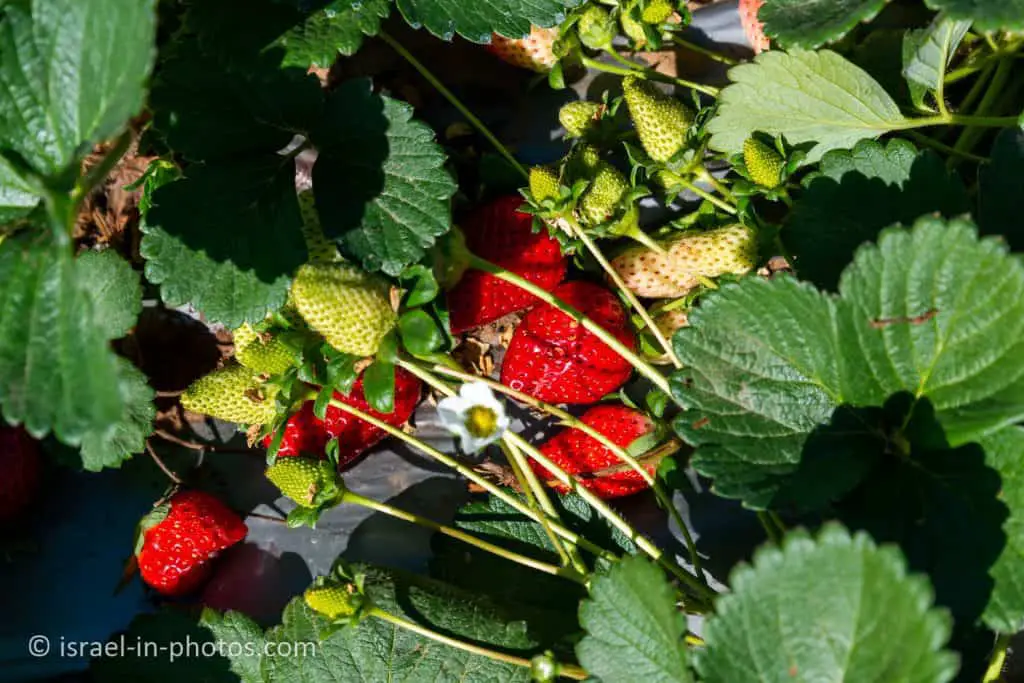 As far as I remember, there were four different types of strawberries. And you can find explanation signs near each type.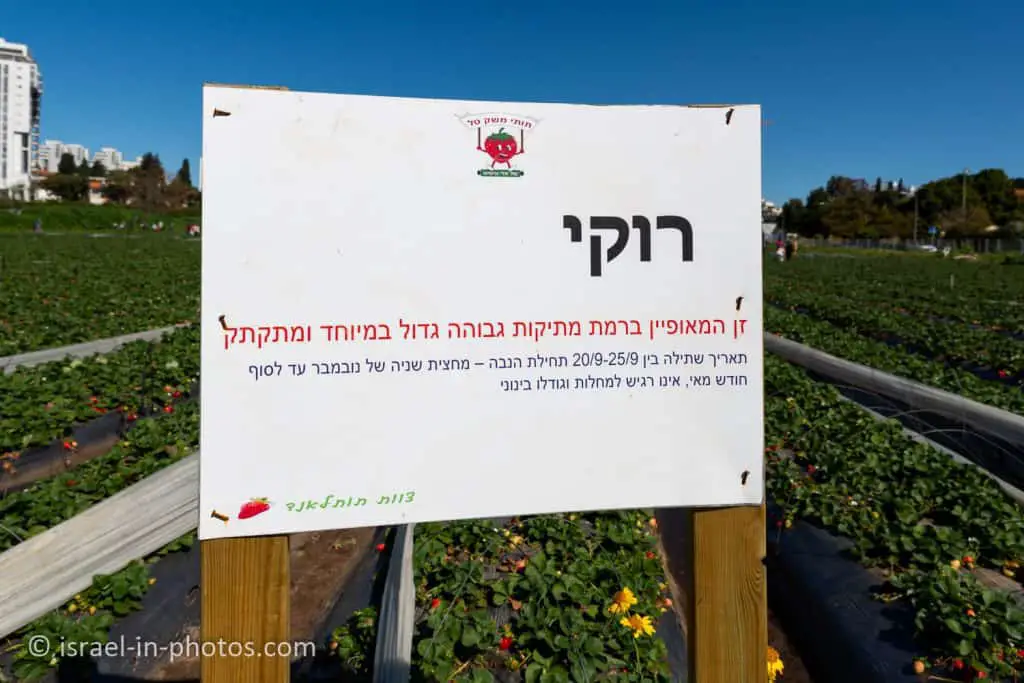 We started by eating different kinds of strawberries. And then we filled the boxes.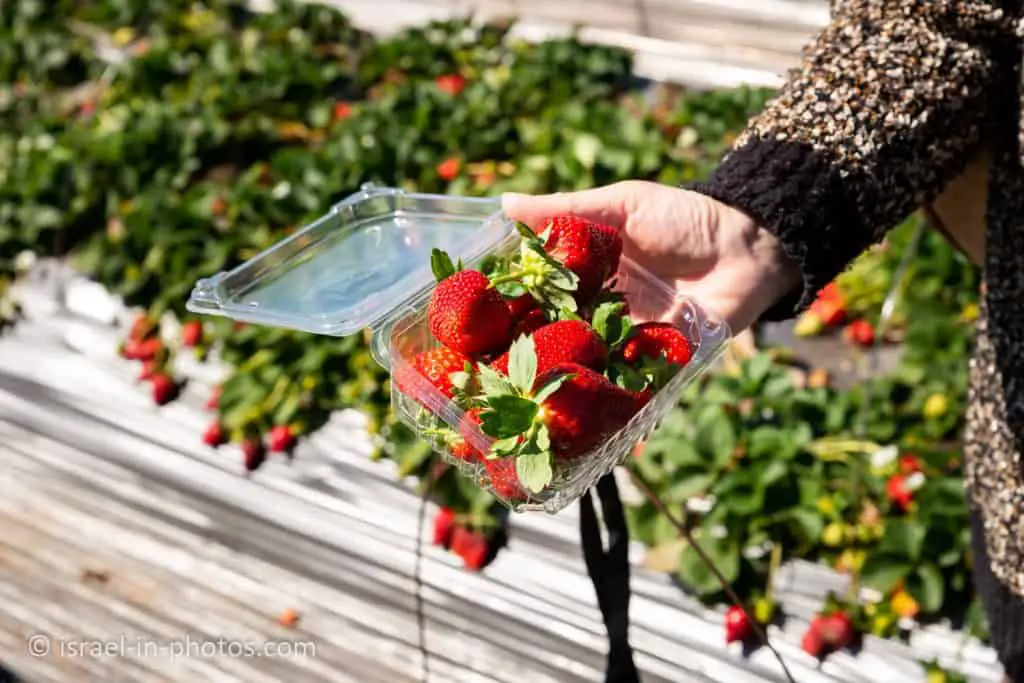 Here are several additional photos:
There is also an accessible area for picking strawberries.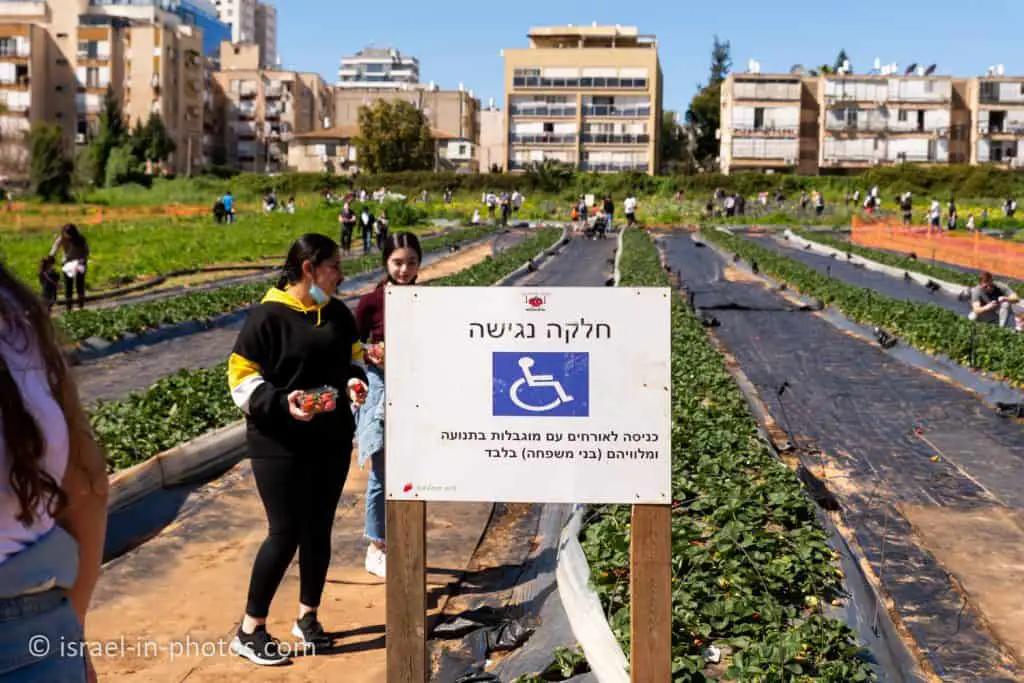 After about an hour, we could not eat any more strawberries. Thus we walked across the farm.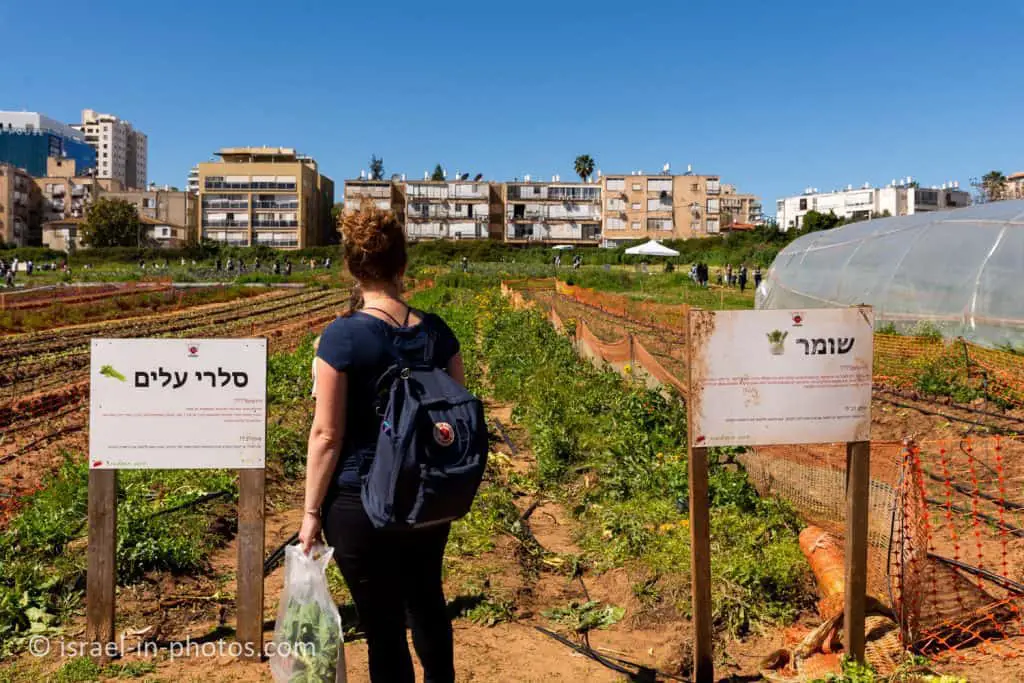 There were different kinds of vegetables, but not all had produce. Thus, I suggest checking if you are interested in something specific.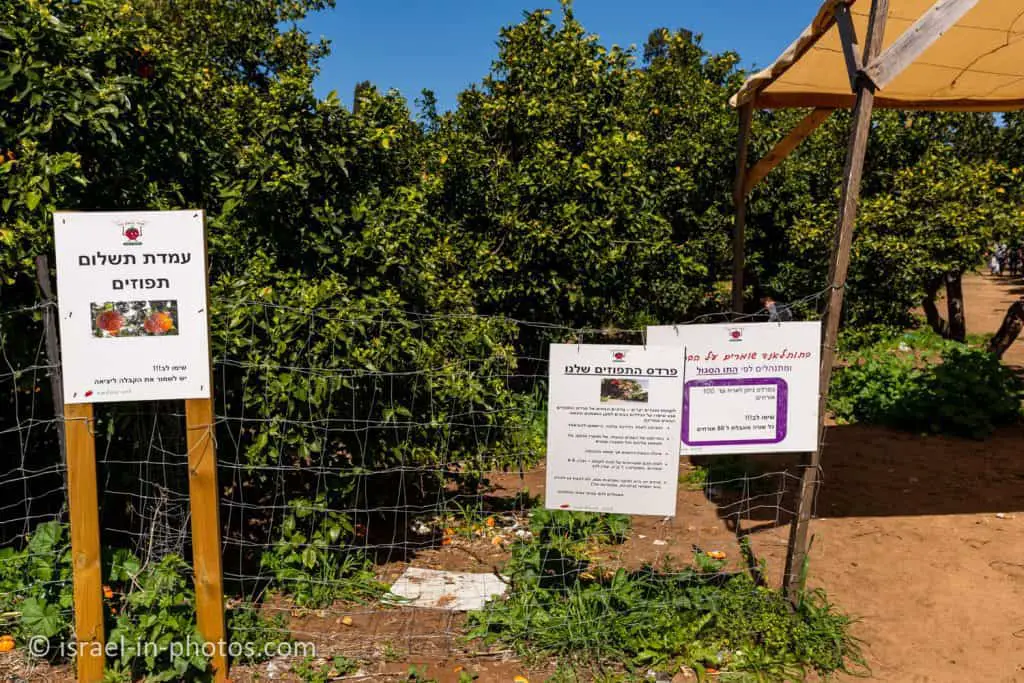 As you can see, Tutland is located in the city, by residential houses.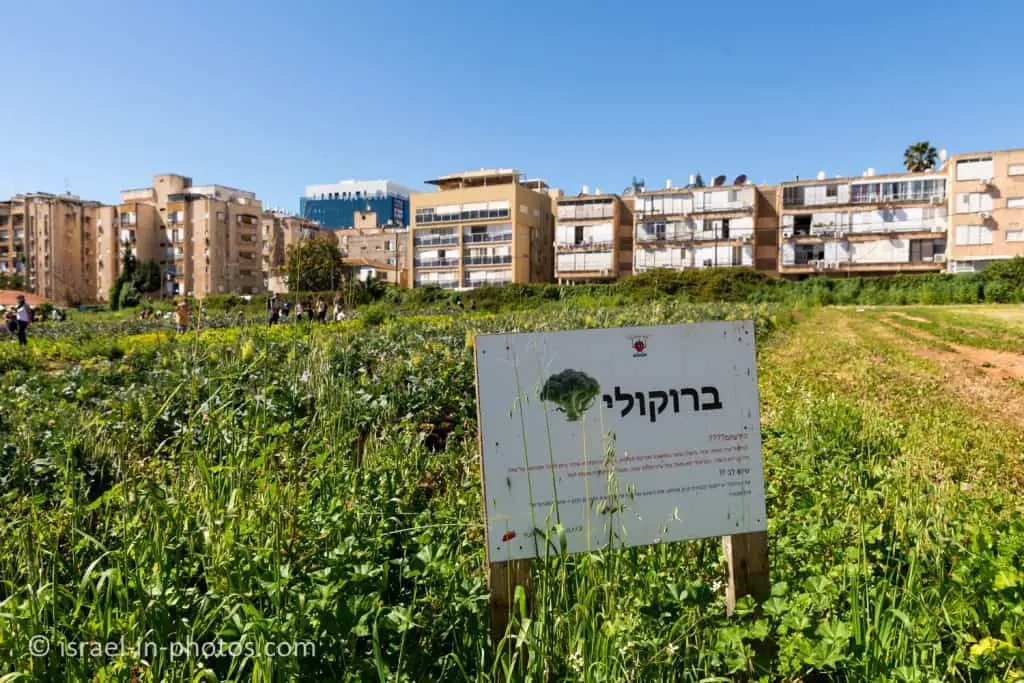 There was also a small exhibition of cars and tractors. And after about 1.5 hours, we ended our visit at Tutland.
Did you know that the strawberry is a plant with flowers from the rose family? You can check out the following photo for other interesting facts.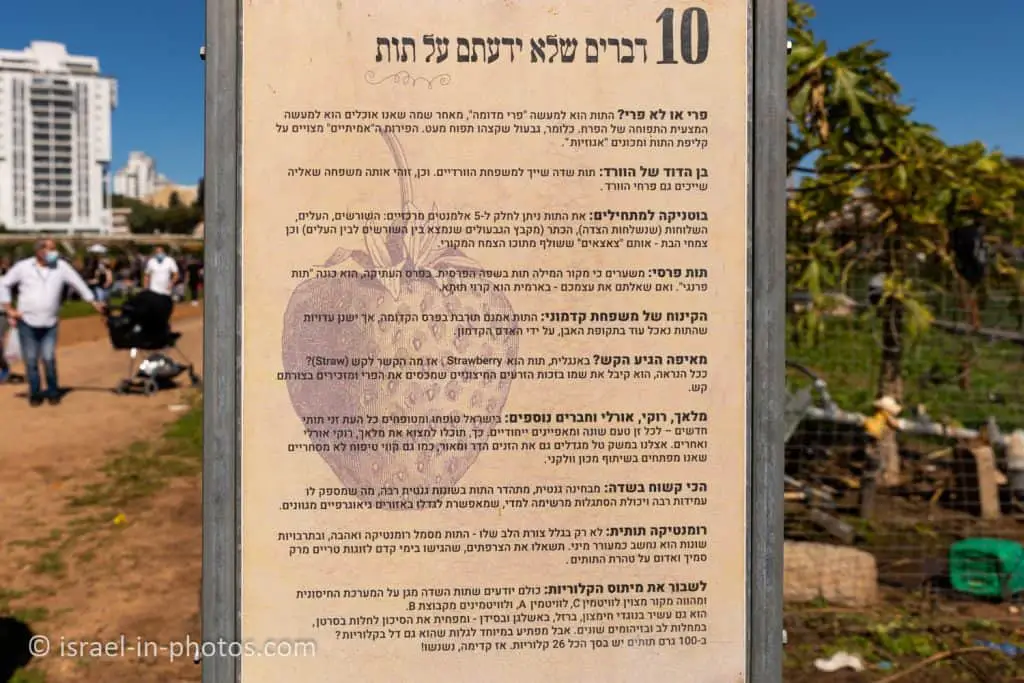 Agrotourism Attractions
You can find similar attractions in the Agrotourism category. And here are a selected few:
Mostly Raspberries
Flowers
Summary
We spent around one and a half hours at Tutland. Besides strawberries, there are many vegetables, fruits, and flowers. But many vegetables were entirely harvested. Therefore, if you are interested in something specific, check in advance.
Both adults and children enjoyed this experience. It is educational and teaches kids to eat more fruits (a problem many parents have).
If you want to add an extra activity after the self-picking, you can drive to Hod HaSharon Park for a short walk.
Have you visited Tutland? Tell us about your experience in the comments below.
For other similar places, check out agrotourism.
That's all for today, and I'll see you in future travels!
Stay Tuned!
Additional Resources
Here are several resources that I created to help travelers:
And if you have any questions then check out
Useful Information For Tourists To Israel
.  
Did not find what you were looking for? Leave a comment below, and I will do my best to answer your questions.