Every year, following the rainy season, anemones start to bloom. Between January and March in Northern Negev, you can find significant fields full of Anemones. And this is the time for Festival Darom Adom.
Flower fields draw a lot of tourists. Thus in 2005, it was decided to expand this into a festival. And in this post, you can find our annual visits.
Festival Darom Adom – 2015
In 2015 during all February's weekends, you could find various events in the Northern Negev. There were farmers markets, performances by artists and singers and other attractions. This way you could combine a hike/ride among the flowers with another event.
In Hebrew, this festival is called Darom Adom which means Red South, thanks to the red color of the anemones.
On a Saturday morning, we have driven to Shokeda Forest to see what all the fuss is about.
Map of the area:

One of my favorite photos from this visit: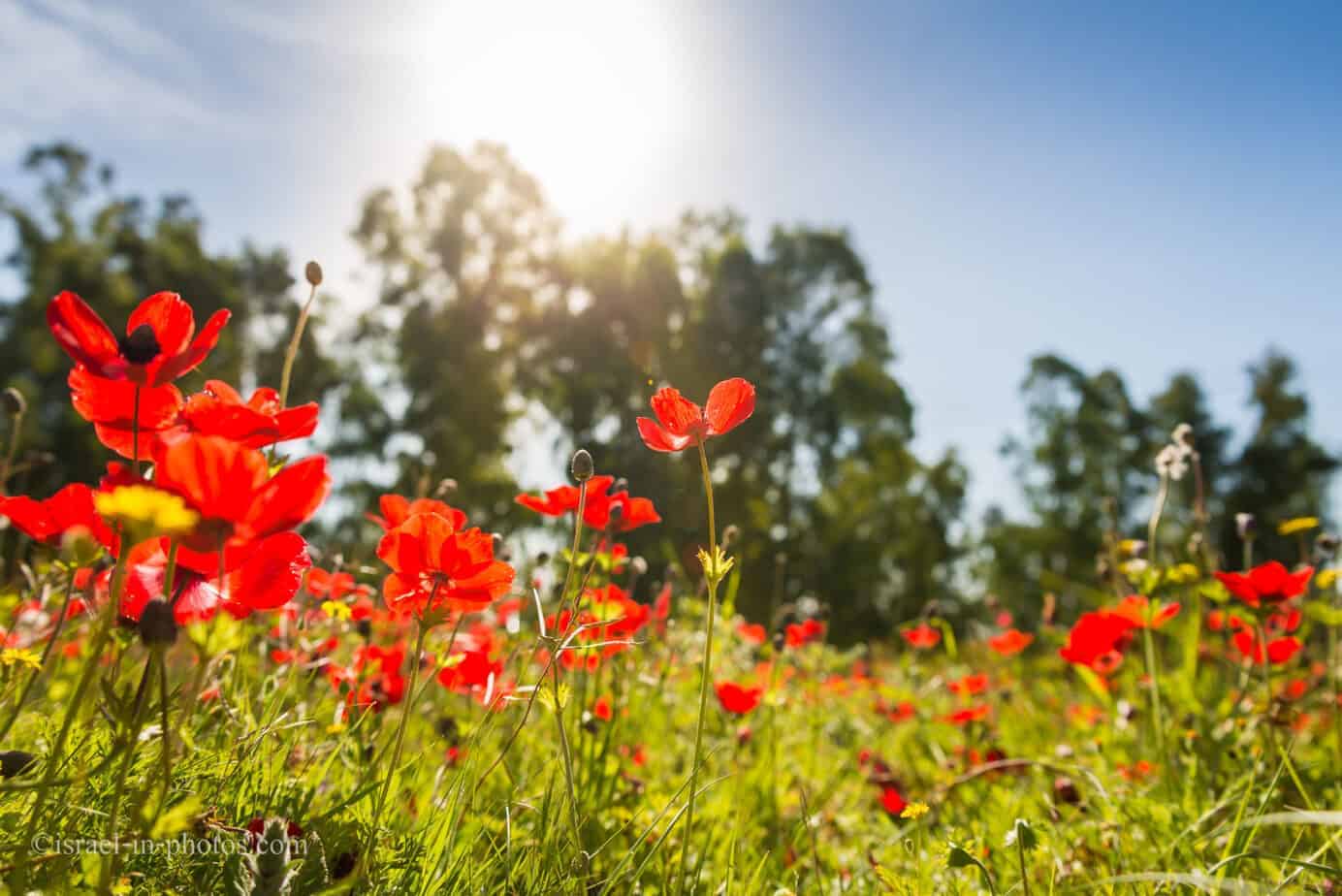 You park your car and start hiking:


One of the trails:


Red carpets:


Closeup: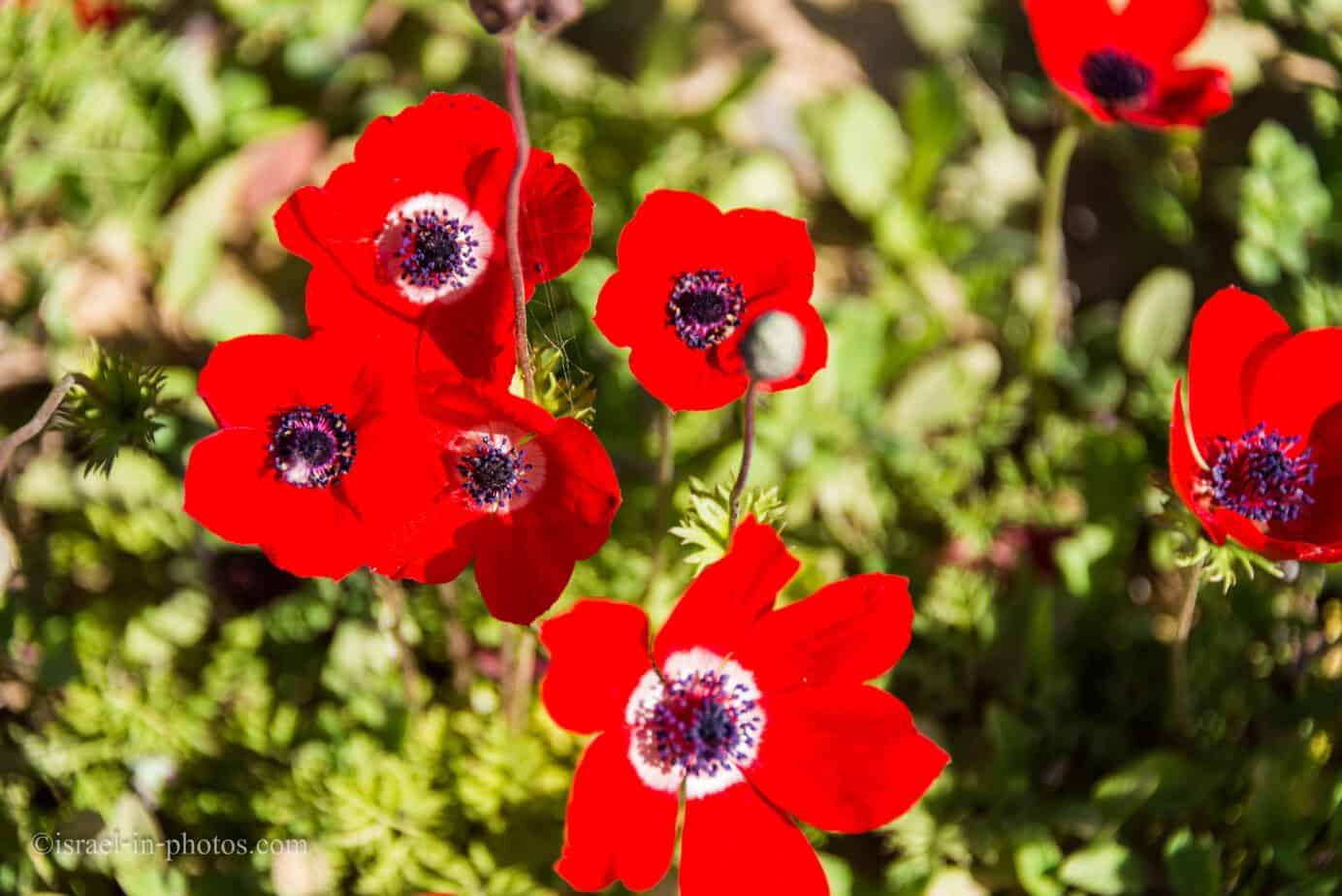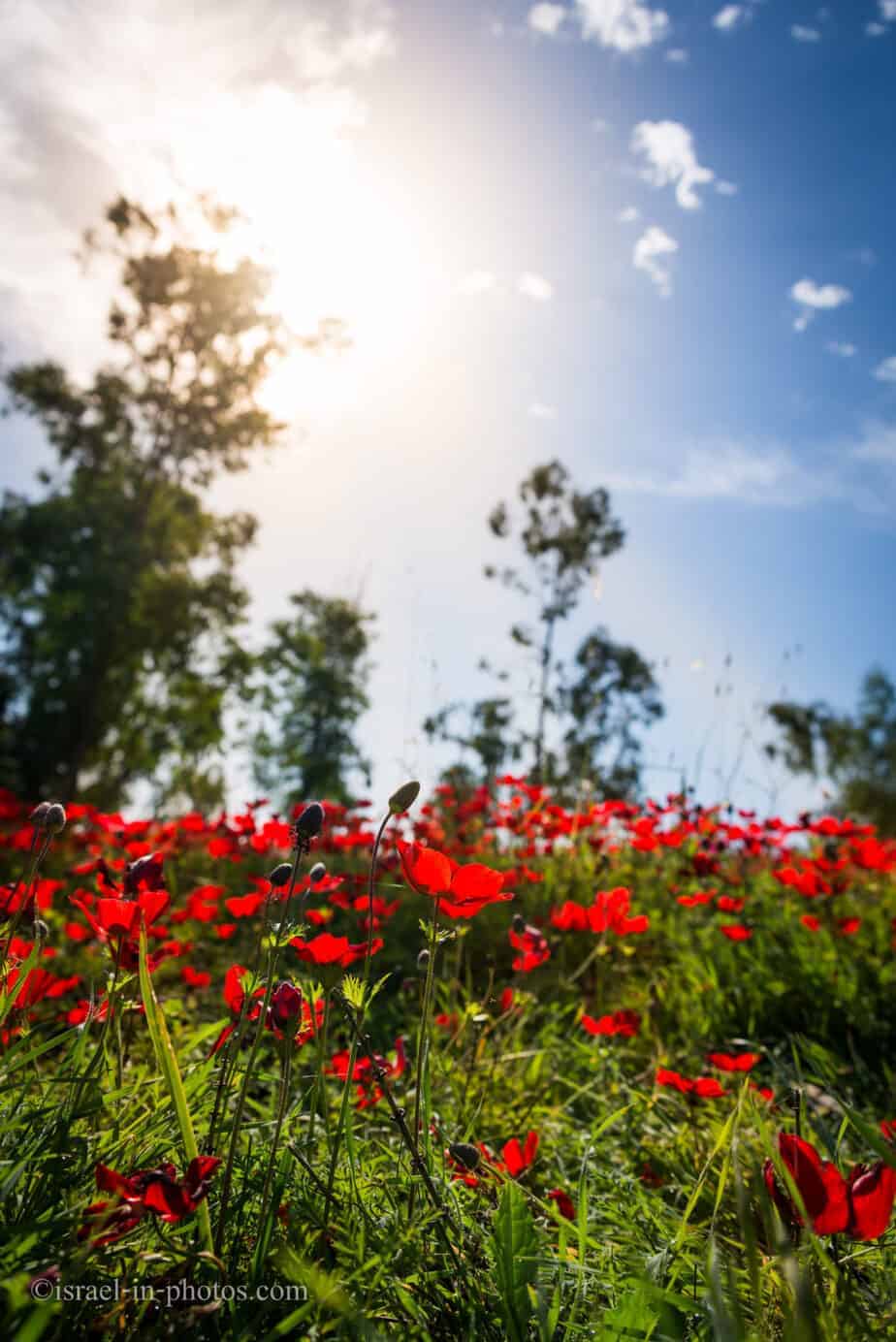 Well, I was impressed. I did not expect that many flowers. Also, keep in mind that these are wildflowers and there is no human intervention.
I would recommend visiting Festival Darom Adom, but there is one important tip. Come early. We've arrived around 9 am, and there were few people. When we left at 11 am there were extended traffic jams, full of people trying to get into the forest. Thus, if you do not want to spend several hours in traffic, come early. Moreover, when visiting earlier, you enjoy cooler weather.
Visiting Shokeda Forest – 2016
Darom Adom (official site) is an annual festival, and it usually occurs during February. In 2016, same as in previous year, we hiked at Shokeda Forest.
According to a survey that was conducted by Israeli Nature and Parks Authority, the anemones is the most recognized and loved flower by Israeli. And in 2013 anemones were chosen to the national flower of Israel.

Another interesting fact is anemones name in Hebrew: "Kalanit." This name comes from the word "Kala," which means bride. It's is said that this flower is as beautiful as a bride during her wedding day.

As you can see there are other flowers as well, but mostly anemones.
During the festival, many families hiking, cycling, but mostly taking photos. This time I even saw a priest that came to take some photographs with his smartphone.

Till now I showed a lot of red colors, and I'd better stop before I hurt your eyes 😉
That's all for 2016 from Shokeda Forest. And my verdict hasn't changed from the previous year. If you still haven't visited Darom Adom, then it worth it (unless you either don't like flowers or allergic to them). The last thing I would say is: check whether the weather will be good and there were no rains several days before your planned visit date. If that's the case, then you have no reason not to visit.
Eshkol National Park and Ostrich Farm – 2017
For several years now, during the days of Festival Darom Adom, we visited Shokeda forest and its surroundings. In 2017, we decided to try something different. We went to Eshkol National Park.
Eshkol National Park also called HaBsor National Park (official site) at Northern Negev.
Map of the area:

At Eshkol National Park
Several years ago we tried to visit Eshkol National Park. Why did I use the word "tried?" We started at Skokeda Forest, and around 11 drove to Eshkol National Park. We got stuck in traffic, and according to Waze, we had to wait about 40 minutes. The traffic jam was at the entrance to this National Park. Thus, this year we drove straight to Eshkol National Park and were there before 9. Therefore my first tip would be: come early.
We left our car, and the first thing we saw was the HaBsor Spring.
HaBsor Spring
HaBsor Spring is the name of a large concentration of springs producing a total of approximately 60 cu.m. of water per hour. The water is rather warm (about 21 degrees C) with a relatively high salinity of about 1,300 mg. per liter. The Nature and Parks Authority collects the waters of the springs into a stream from which they flow into a long, attractive pond. Another stream creates a series of paddling pools for children. Some of the water is used to irrigate the decorative plants in the national park and the rest flows naturally into the Nahal HaBsor channel.

During the First World War, the British built a large reservoir at HaBsor Spring, which collected 2 million liters of water. The water reached the pool via a pipe which was laid down simultaneously with the advance of the forces from the Nile, and it was conveyed night and day from the reservoir to the units at their posts using camel caravans loaded with water containers. The British built concrete facilities over the springs to collect the water and a British concrete structure still stands today at the catchment point of the spring.
Note: unless stated otherwise all quotes were taken from the Official Site.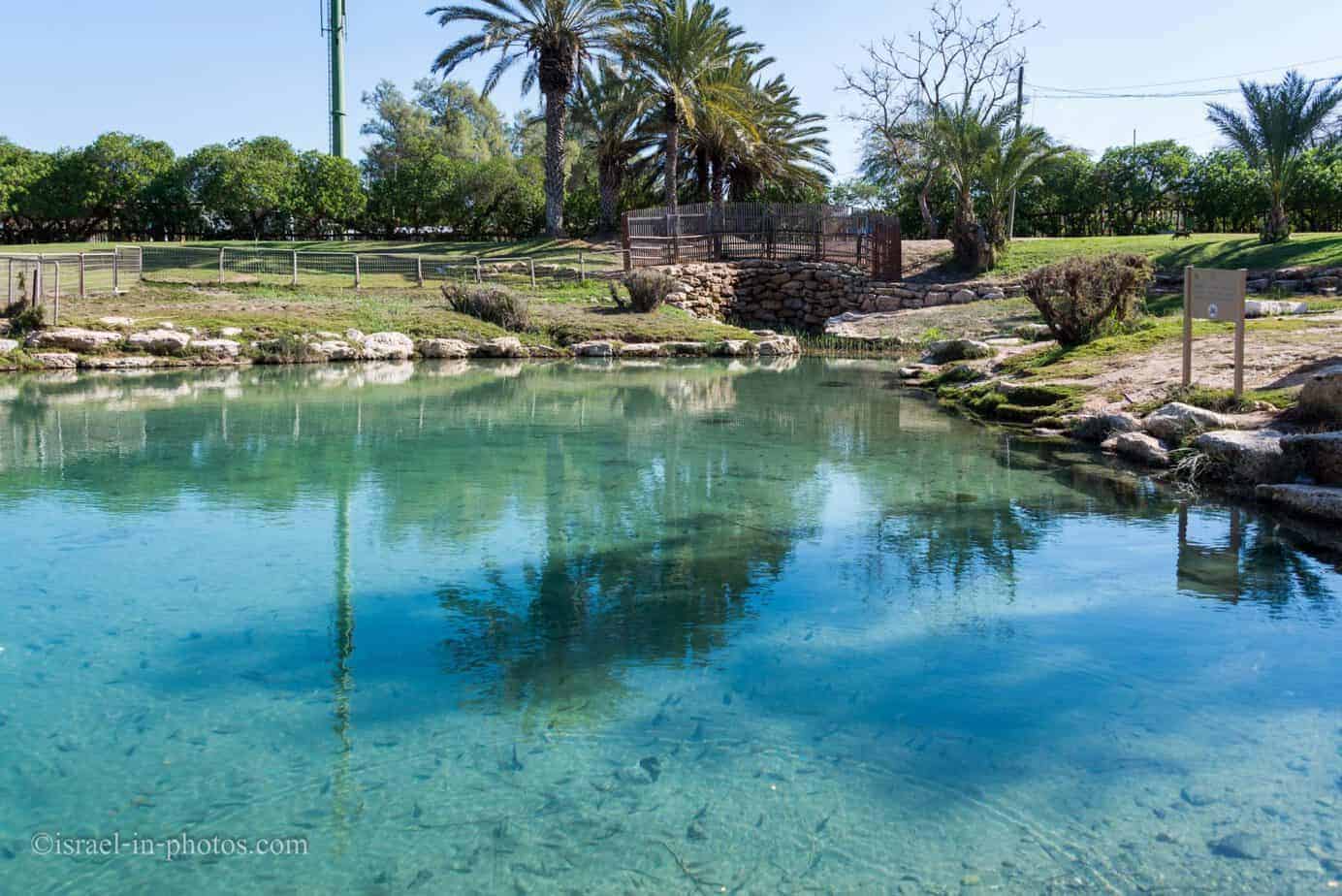 Israeli National Parks Authority uses beautiful words in their ads. Like "market on water" and "attractions for kids." When we arrived, there was nothing. We thought maybe it is still too early thus we started with a short hike at the pond area.
One of the bridges at HaBsor National Park: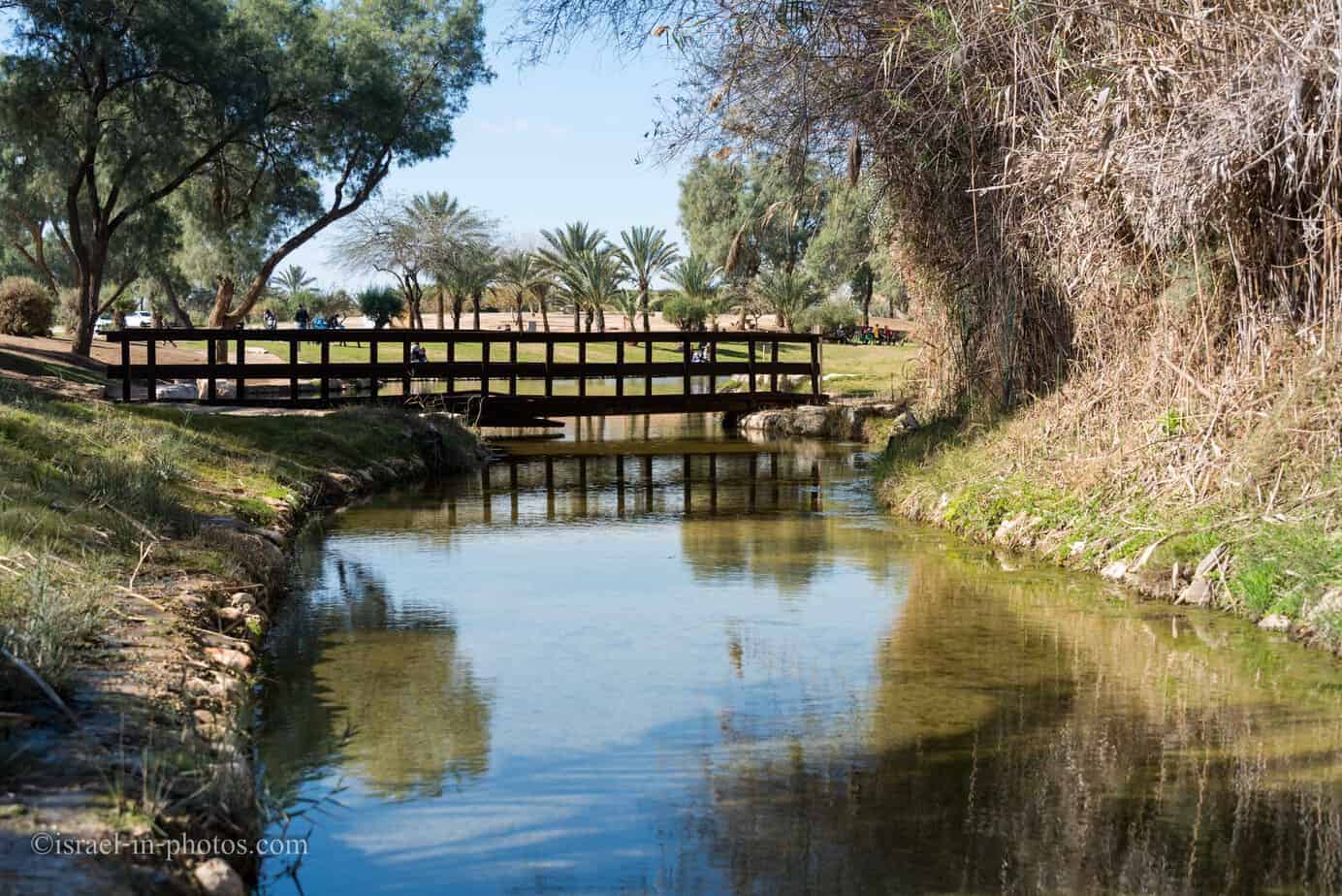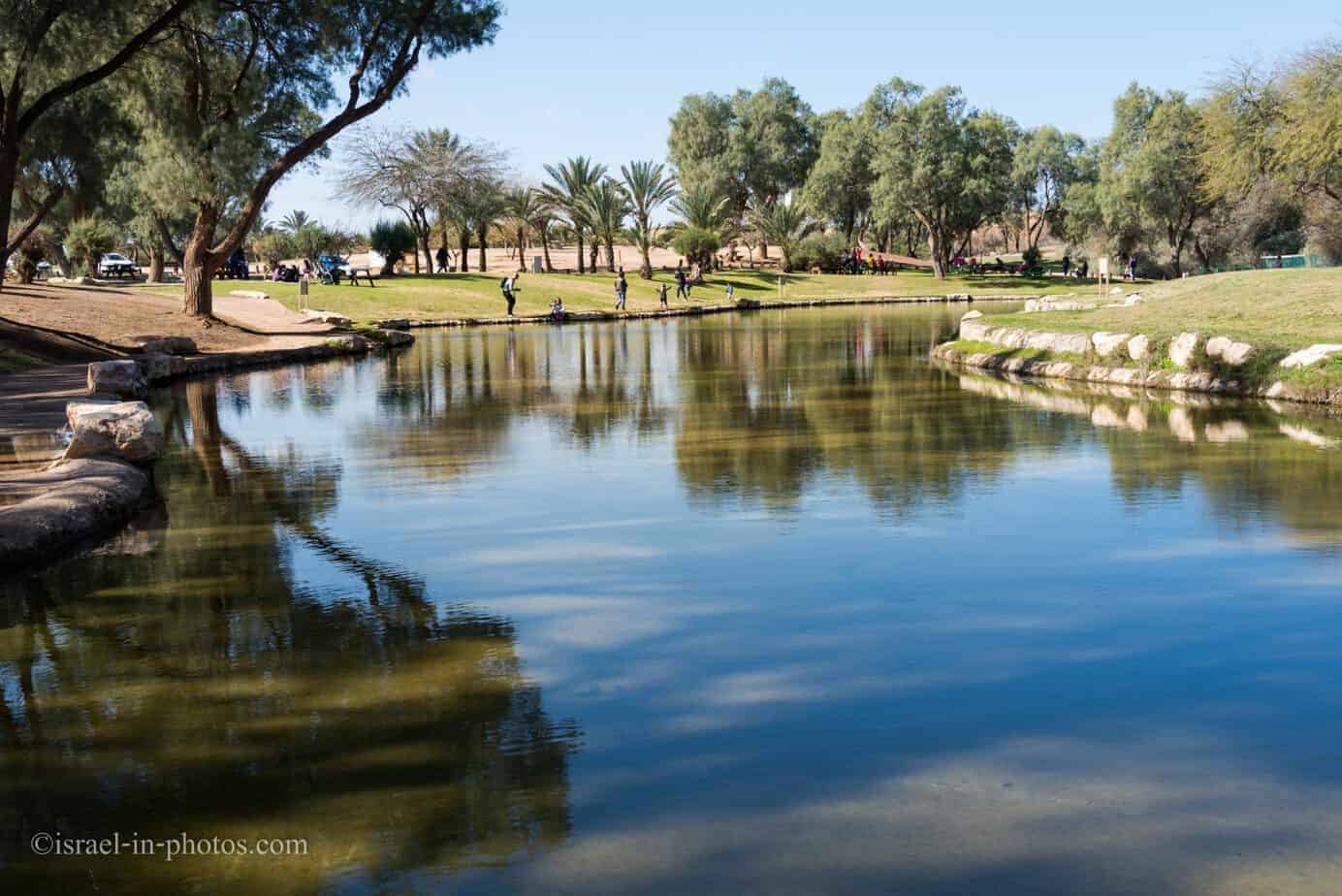 At the end of the pond, we saw a watchpoint and decided to climb on the top.

The view is pretty dull.
Then we returned towards the parking lot and on the way saw this hill.
HaBsor Spring Archaeological Site
When we climbed the top, we saw remains of the Royal Egyptian Way Station.
Some remains from an ancient building, containing a few layers of mud bricks, were uncovered at En HaBsor site, lying about 200 m. south-west of En HaBsor. Four settlement strata were found, the three earliest being from the Early Bronze Age (3300-2200 BC). At first there was a Canaanite village here, after that – an Egyptian way-station, and then a Canaanite village again. Eventually the place was abandoned, but was again re-settled in the Helenistic period (2nd century BC) and after that there was a way-station or a farm.

The site was excavated by a delegation of archaeologists from Tel Aviv University, headed by Ram Gufna and Dan Gazit. The reconstructed structure on the site exhibits the remains of the Egyptian way-station, and it testifies to Egypt's permanent presence in Canaan already in the days of Na'armar, founder of the First Egyptian Dynasty.
It was already half past ten, and there still was no market, no attractions for kids, nothing. We decided not to wait and drove to our next point of interest in the park.
The Railroad Bridge
You can also reach this point by foot (about 1.5 km from the initial parking), but since it was our first visit to HaBsor National Park we took the car.
At this point, you can find train rails and an old railcar.

Since antiquity, ancient roads have crisscrossed Nahal HaBsor in the springs area, and that was also the case at the time of the British Mandate. At the end of the First World War, the British laid a railroad line from Rafah to Beer Sheva. The line crossed Nahal HaBsor on a wooden bridge at just this point. The line was inaugurated on May 8, 1918, and it was in operation until July 31, 1927. The wooden bridge and the reconstructed railroad carriage commemorate the historic railroad line.
At this point, I will also mention there are bicycle trails. And close to the railcar, you can find a map of Wadi Besor bicycle trail.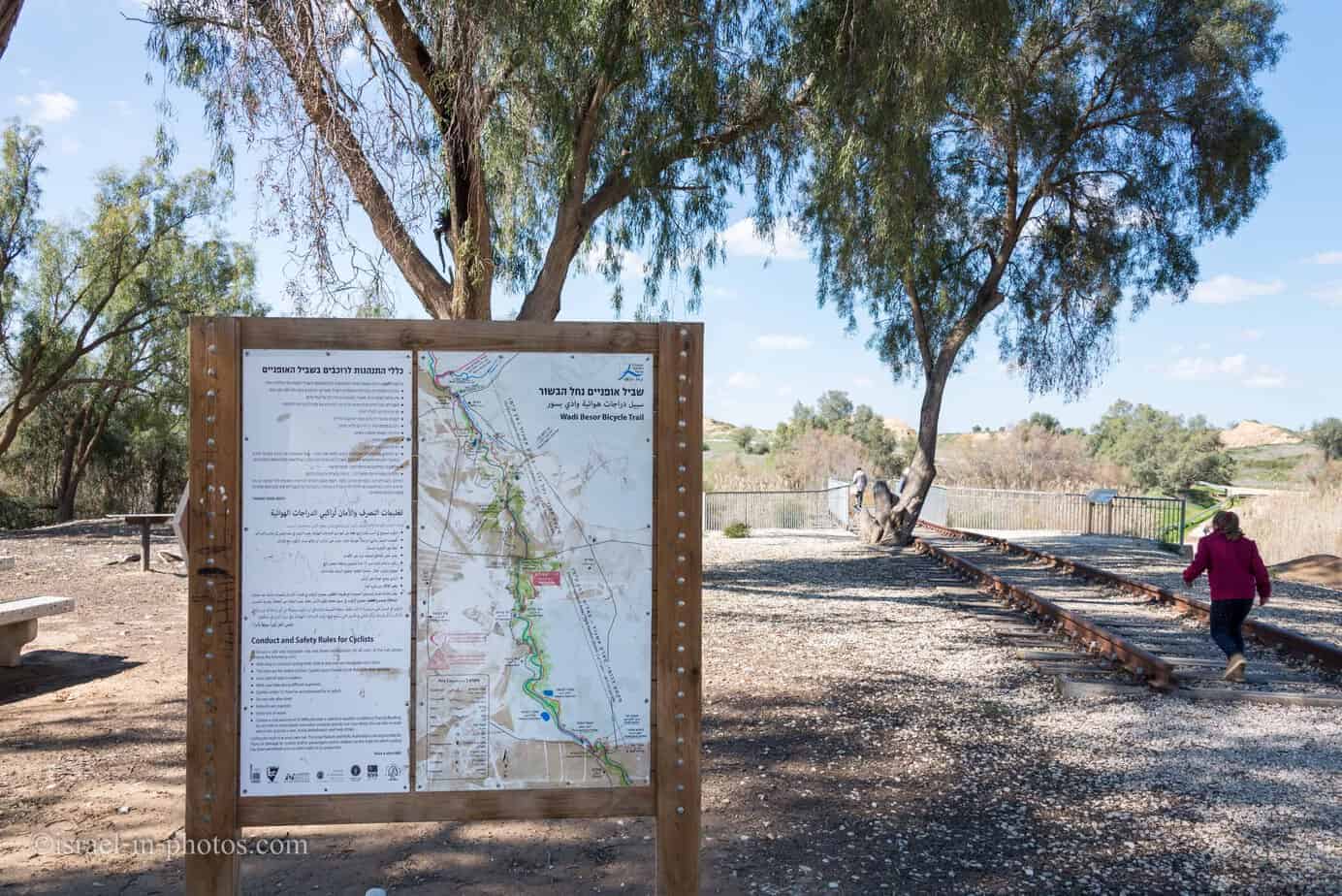 The old railway bridge.
If you go down, then you will find the Besor stream.

At this point, we decided to make a short hike.
We did not see many flowers and Anemones in particular at HaBsor National Park. Not even close to the number of flowers at Shokeda Forest. But, there were some.

We saw many trees like this.

There was probably fire several years ago. Maybe it affected the number of flowers.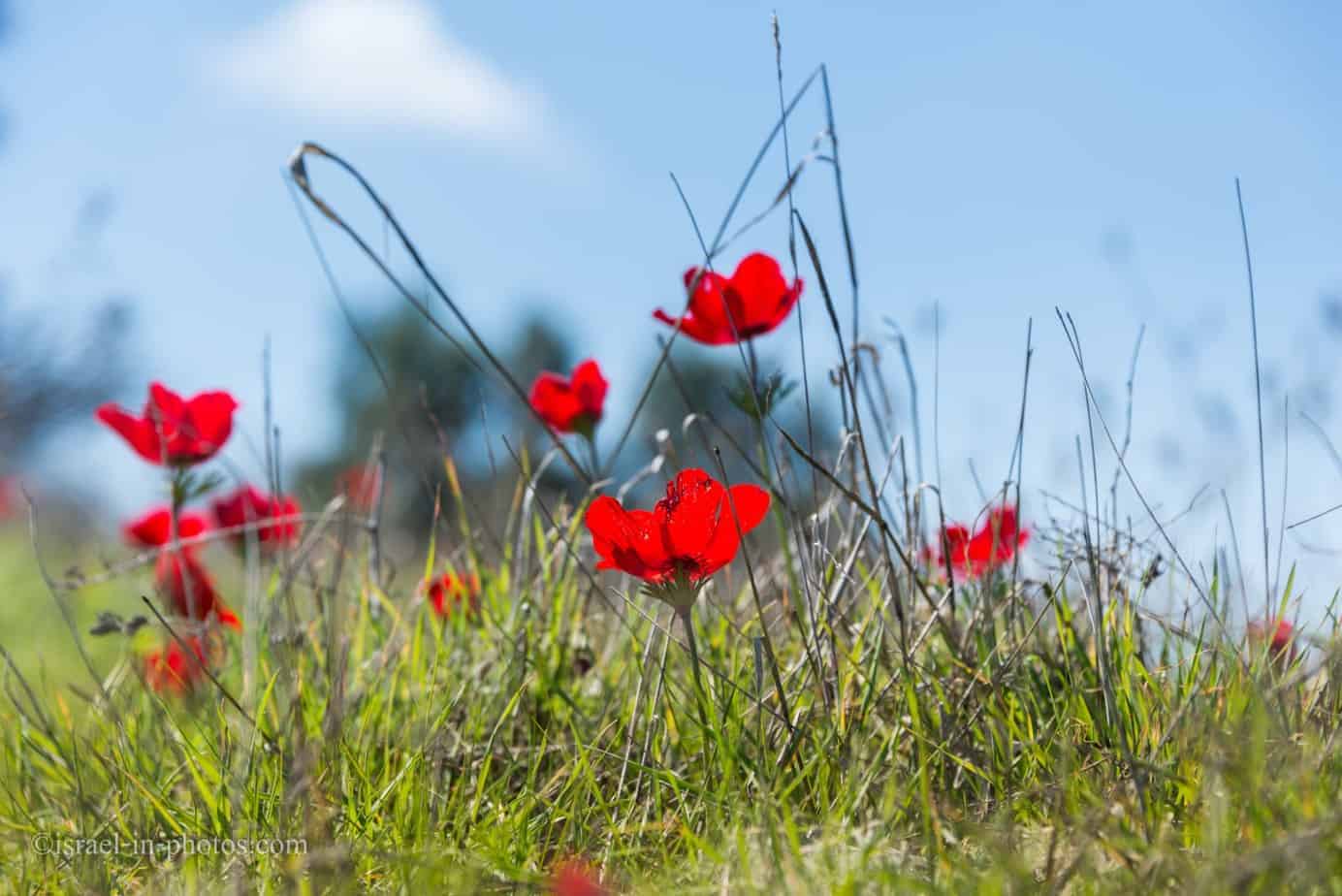 After the hike, we had a small picnic on premises, and since it was still early, we decided to visit another nearby attraction, the Ostrich Farm.
Ostrich Farm
The Ostrich Farm is quite close to Eshkol National Park (less than a five-minute drive from the moment you exit the park). You can see it on the map above.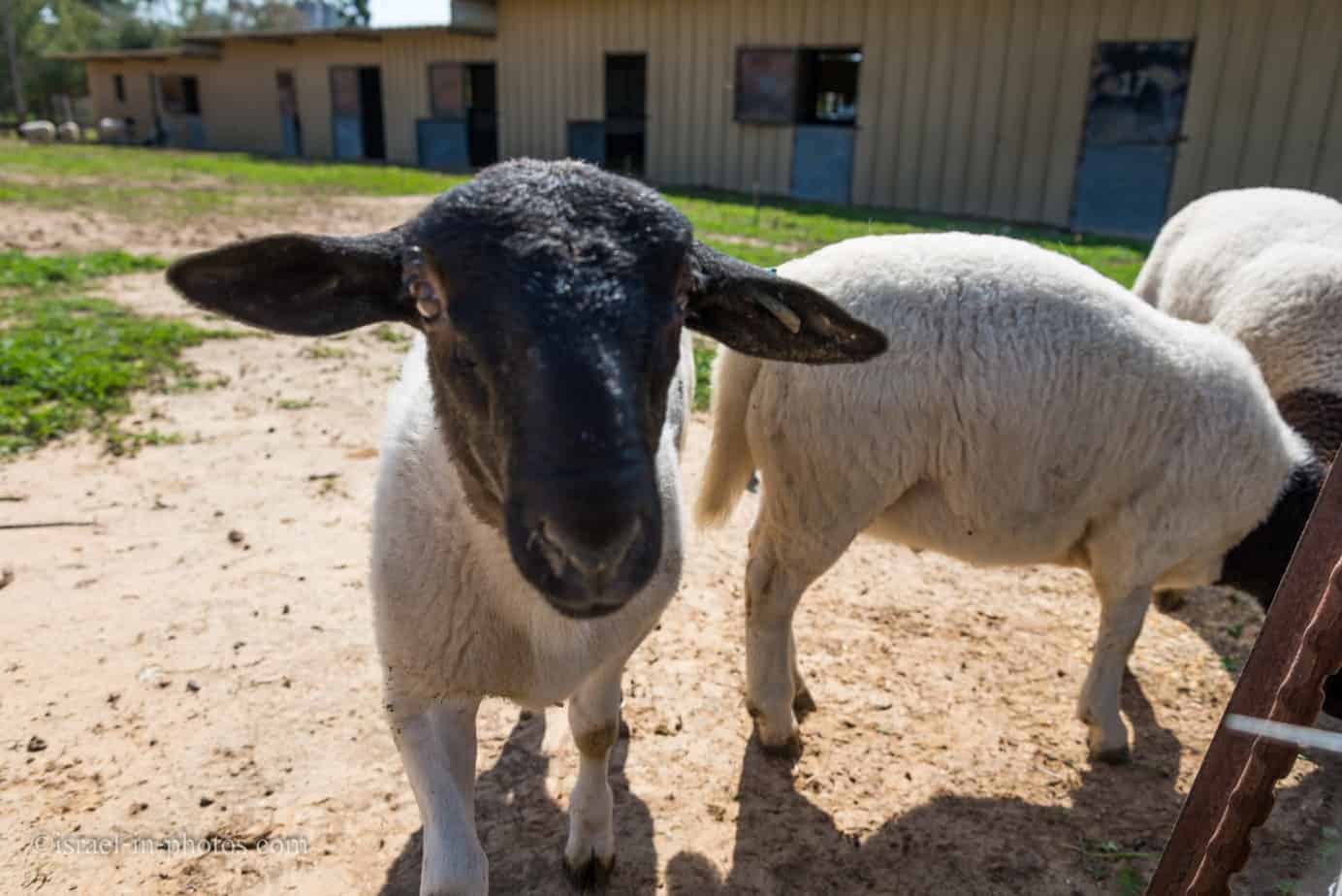 The entrance price was not high, AFAIR it was 20 NIS per person. And for additional 5 NIS, you can buy a small bag of food for ostrich and feed them.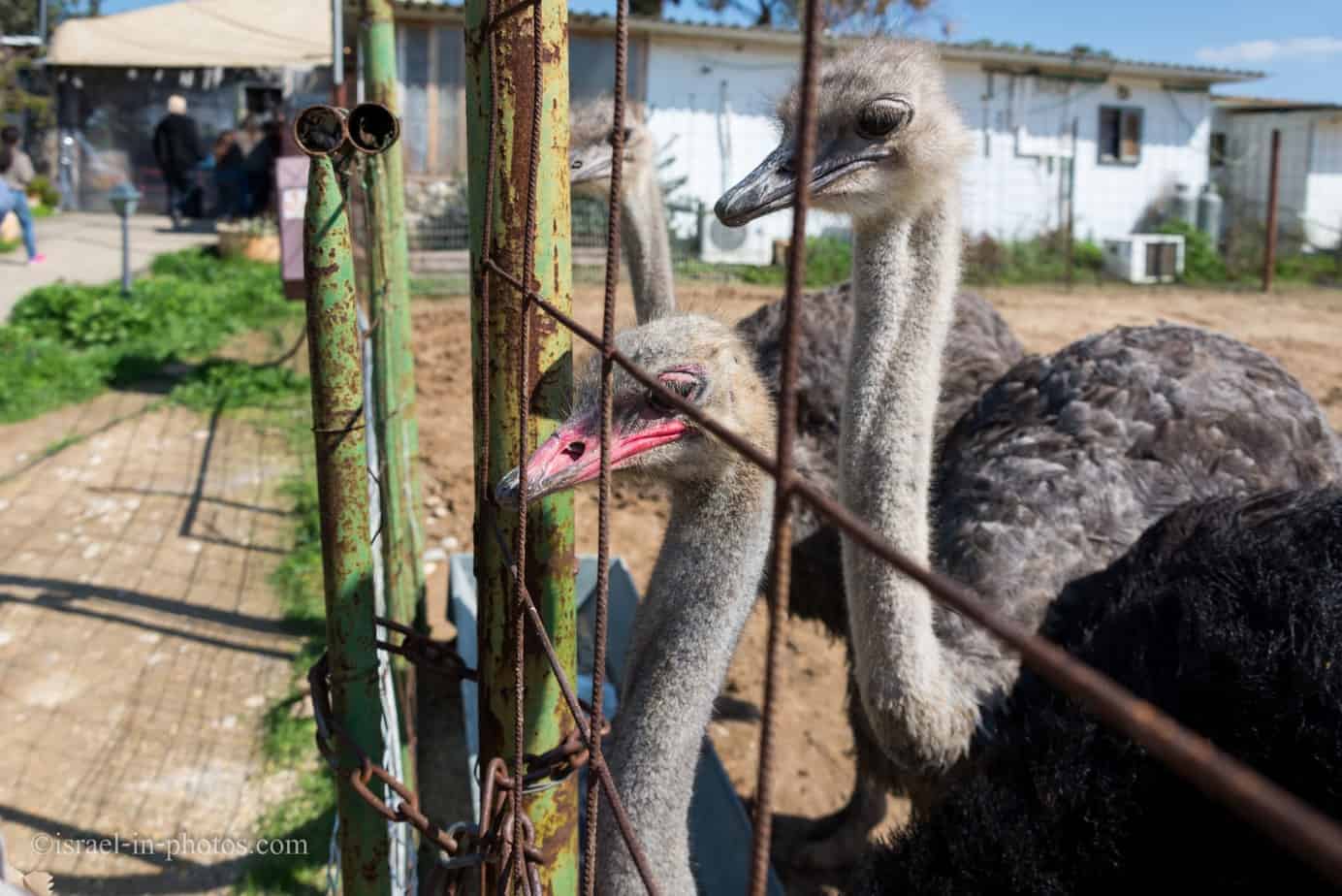 Besides ostriches, there are different farm animals as well (mostly chickens).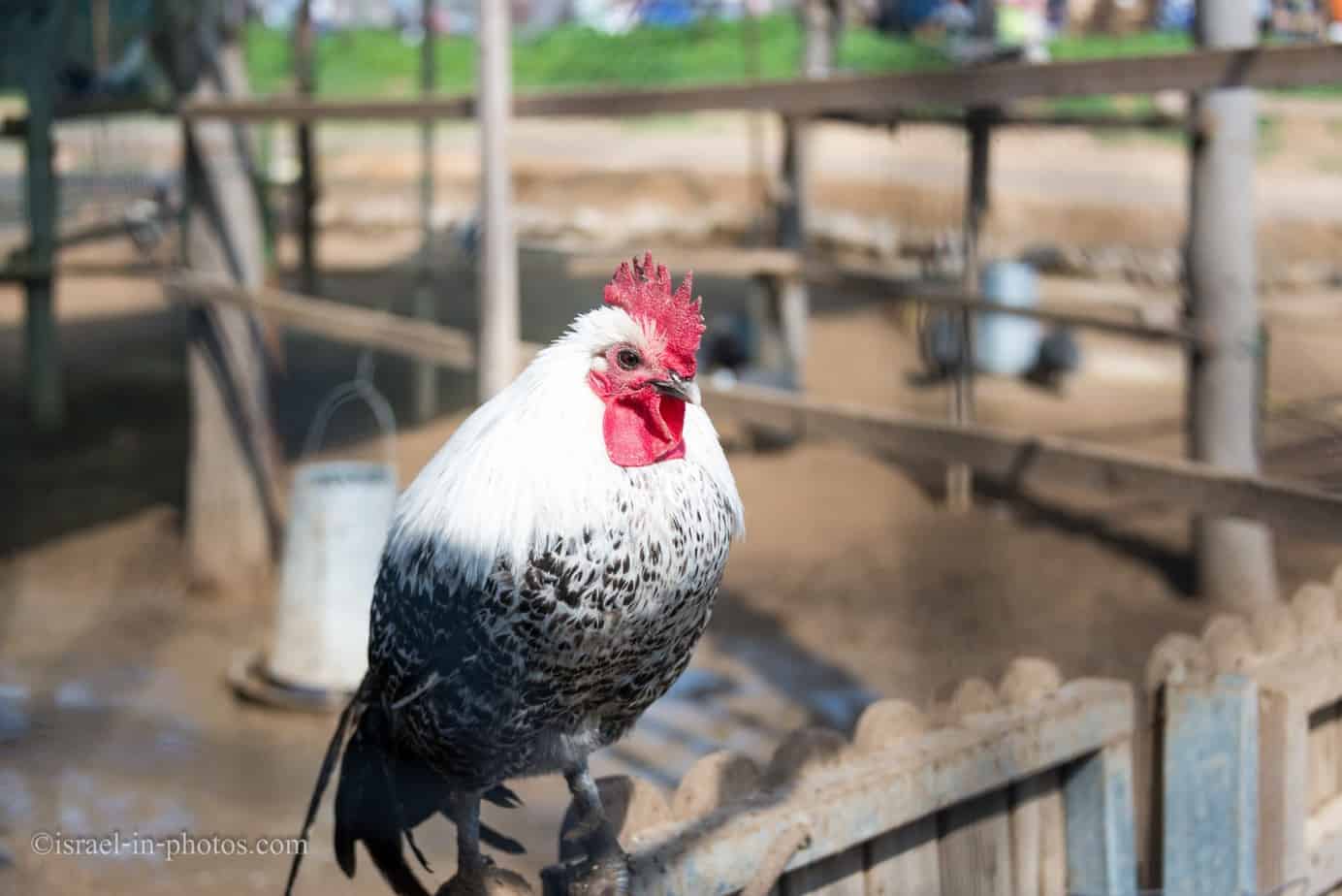 While we were there, I saw an informational sign with answers to two interesting questions. The first one: Do Ostriches bury their heads in the sand (when scared or threatened)? The short answer is no. It is an optical illusion. Ostriches are the biggest living birds, but their heads are small. When looking at them picking at the ground from a distance, you might think they bury the head, but in reality, it is hiding behind a small hill.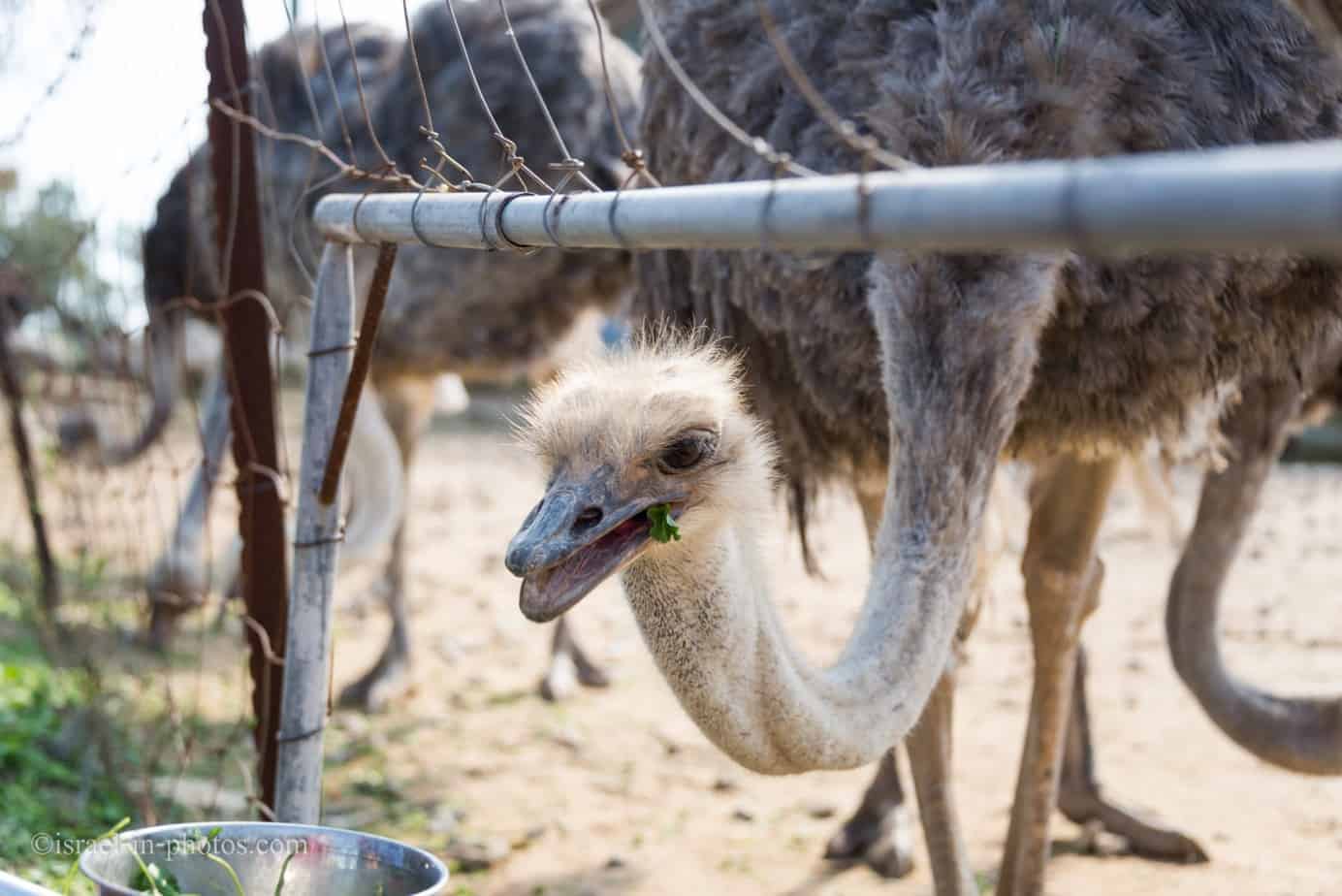 The second question is whether ostriches Kosher? The Book of Leviticus lists ostrich as a bird that forbidden for eating. Zoologists claim that the intention in The Book of Leviticus is to another bird that already extinct. Nonetheless, ostrich is still considered as non-Kosher.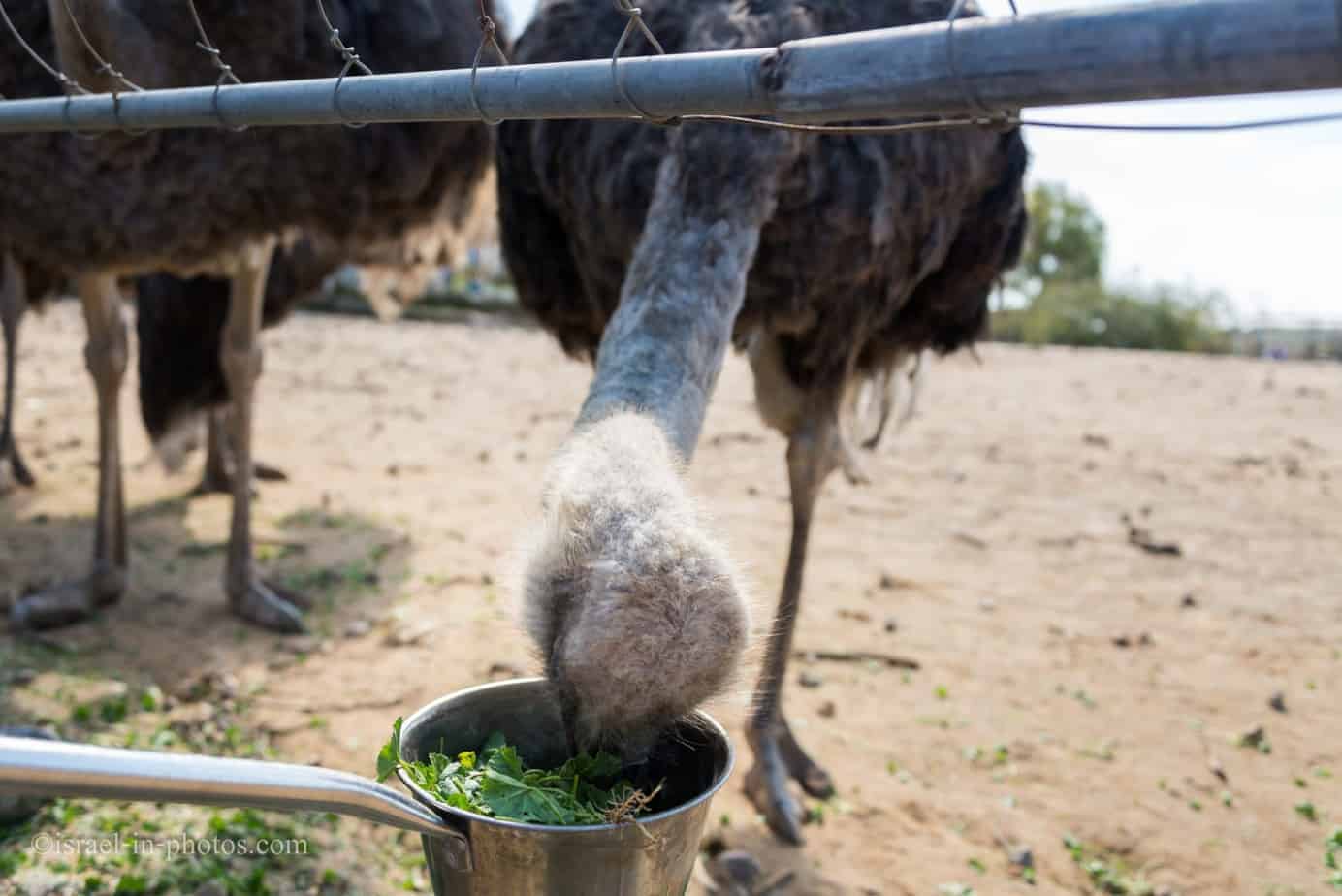 The Ostrich Farm is not large. There are probably several dozens of ostrich, and you can cover the whole farm in an hour. But, our visit was longer. It was about an hour and a half long since beyond the regular tour we saw a magician performance (mainly for kids). Keep in mind that it was Saturday during Festival Darom Adom. Thus there were many people, and a show seems obvious.
My daughter loved it. Thus, happy and tired we called it a day and went home.
Joe Alon Center And Lahav Forest – 2018
During the 2018 Darom Adom celebrations, we sought for a new attraction, something we have not visited yet. Thus, we visited Joe Alon Center (official site), which is located inside Lahav Forest.
Joe Alon Center for Regional Studies, named after the late Colonel Joe Alon and opened in 1974.The center lies in the heart of Lahav Forest.
Lying in the middle of Lahav Forest, Joe Alon is an educational visitors` center specializing in the geography of Israel, particularly that of the Negev.
The center includes a Bedouin hospitality tent where tea and coffee are brewed, a Museum of Bedouin Culture, an exhibit about the Bar Kochba revolt, a presentation on Jewish settlement in the Negev, a stunning panoramic view of the entire region and much more besides.
Note: all quotes were taken from the official site.
At Joe Alon Center
Since we visited during Darom Adom festival, there were additional attractions for kids. My daughter wanted to start with Henna decorations. She selected one of the decoration forms from the available ones.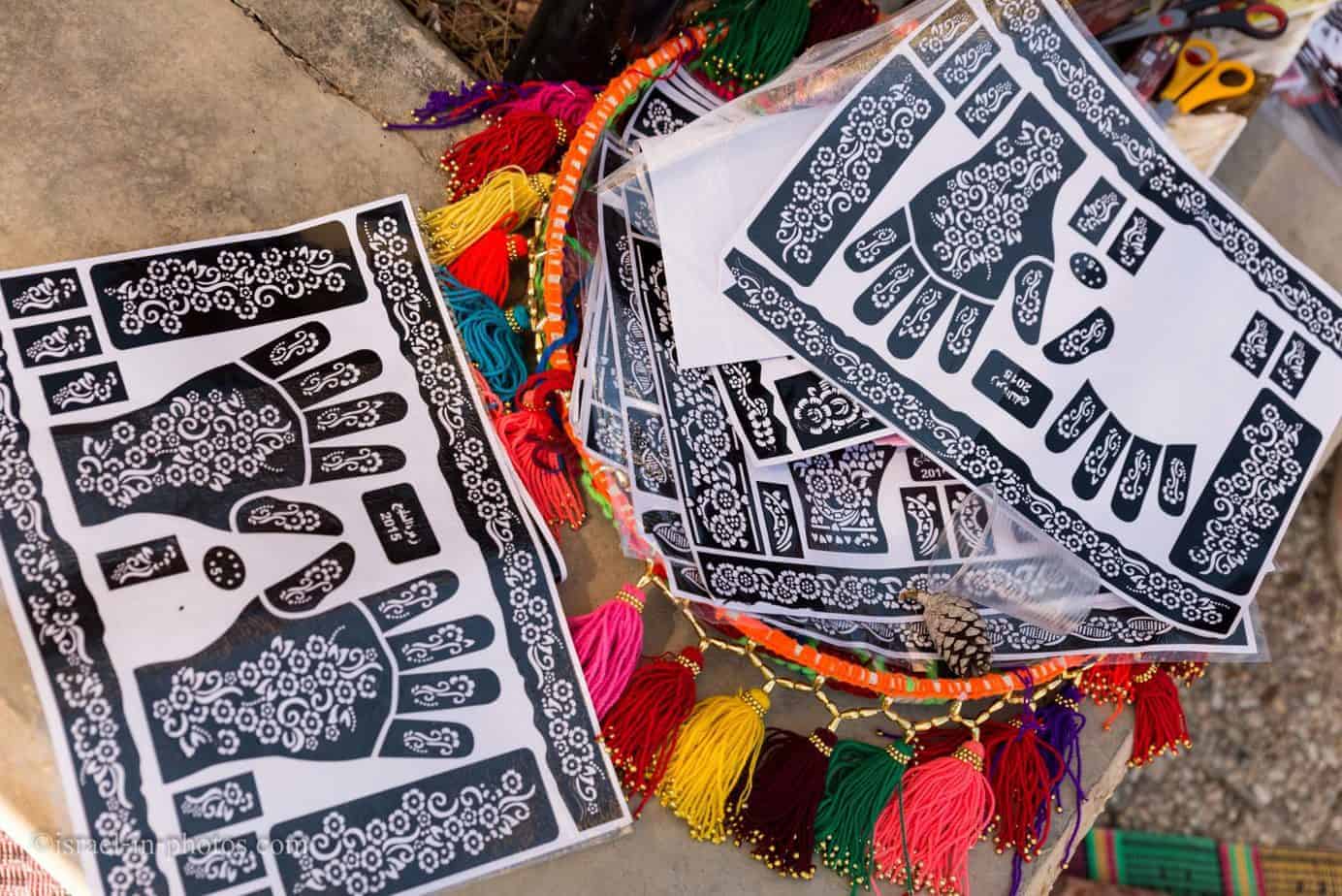 Then the selected form was laid on hand and a special paste used to paint. And this is the result: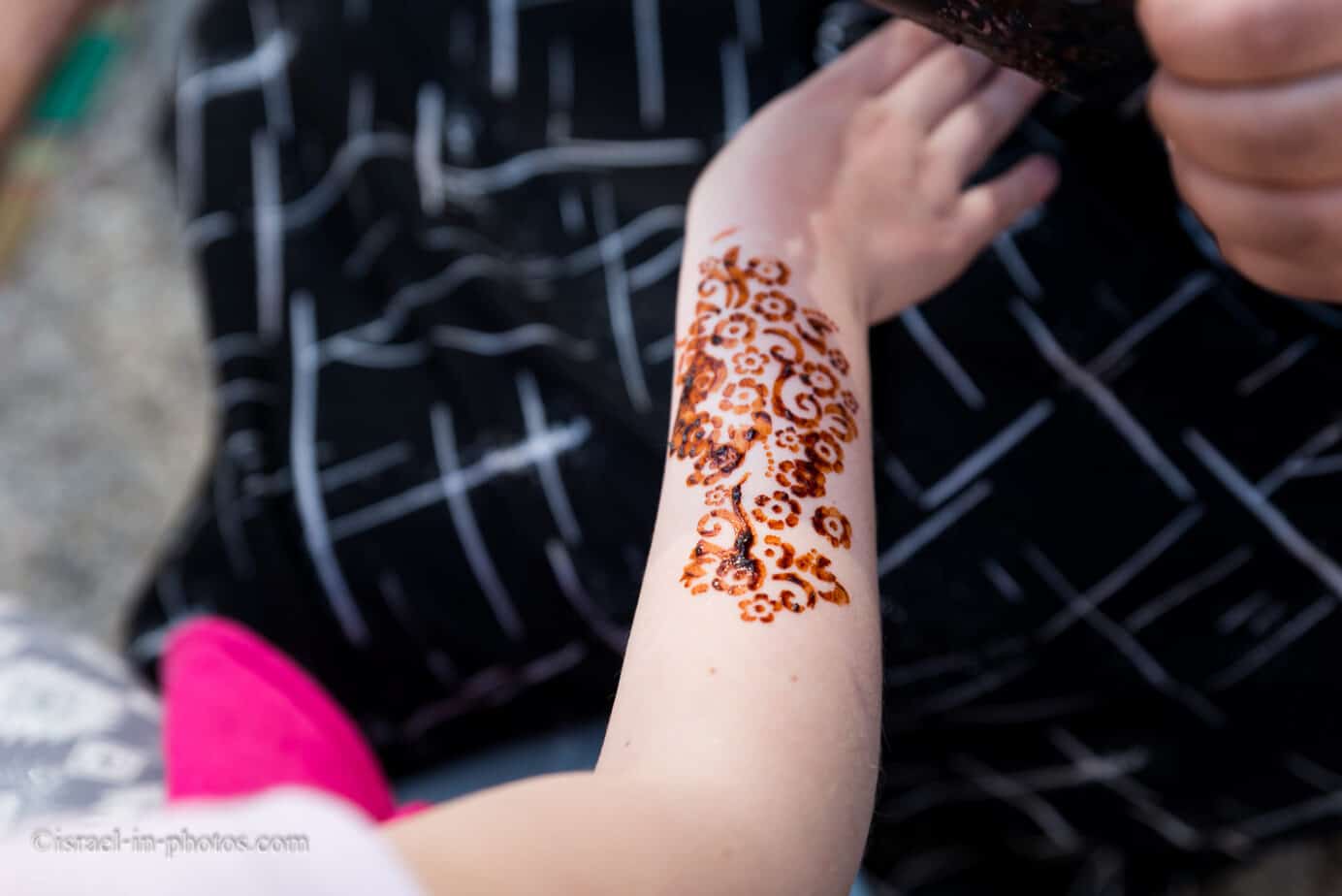 Interestingly, according to Wikipedia, this is called Mehndi, and it is a form of ancient Indian art:
Mehndi or Mehendi is a form of body art from Ancient India, in which decorative designs are created on a person's body, using a paste, created from the powdered dry leaves of the henna plant. Ancient in origin, mehndi is still a popular form of body art among the women of the Indian Subcontinent, Africa, and the Middle East.
From there we continued to Pita bread preparation.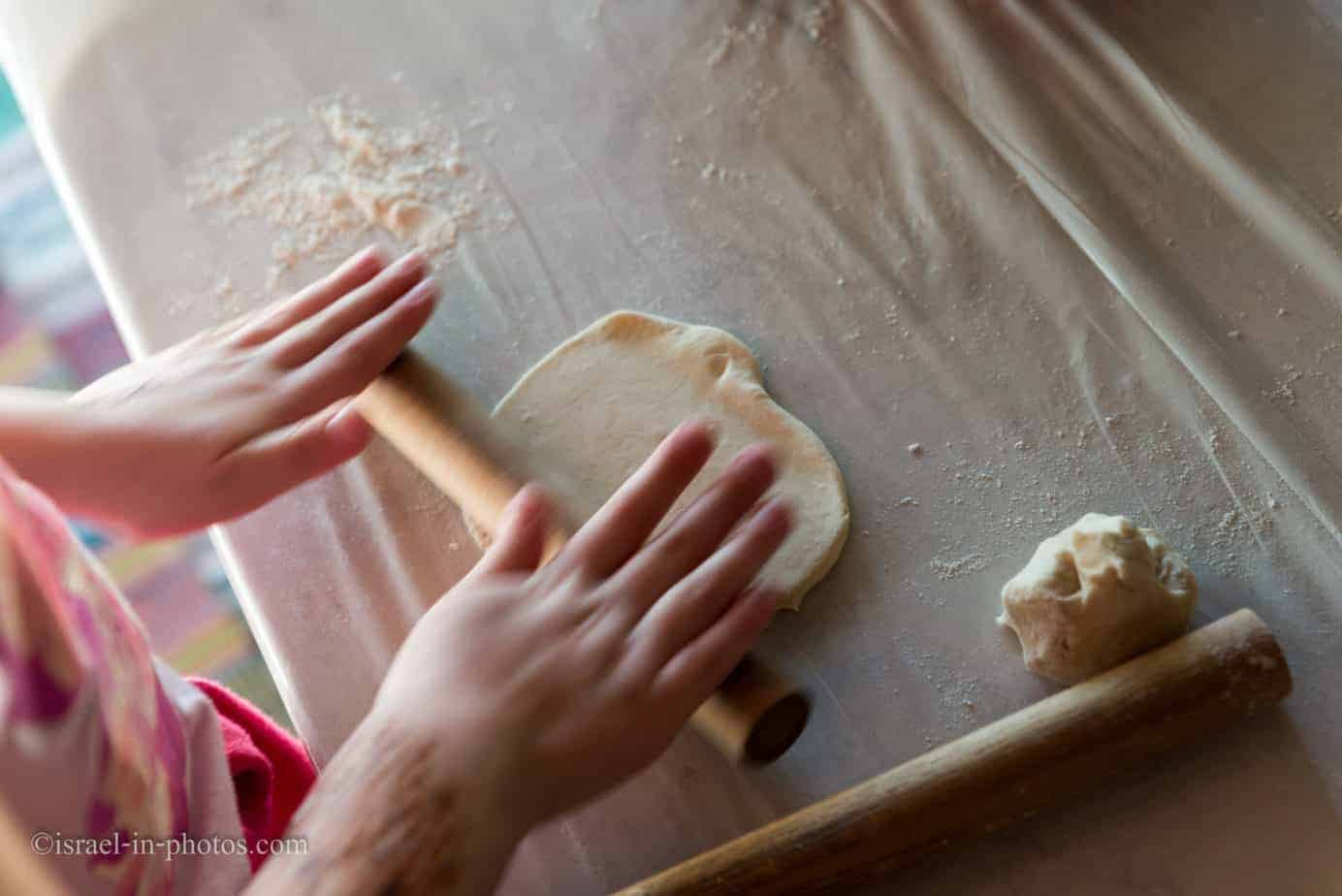 Adding some Za'atar to the Pita.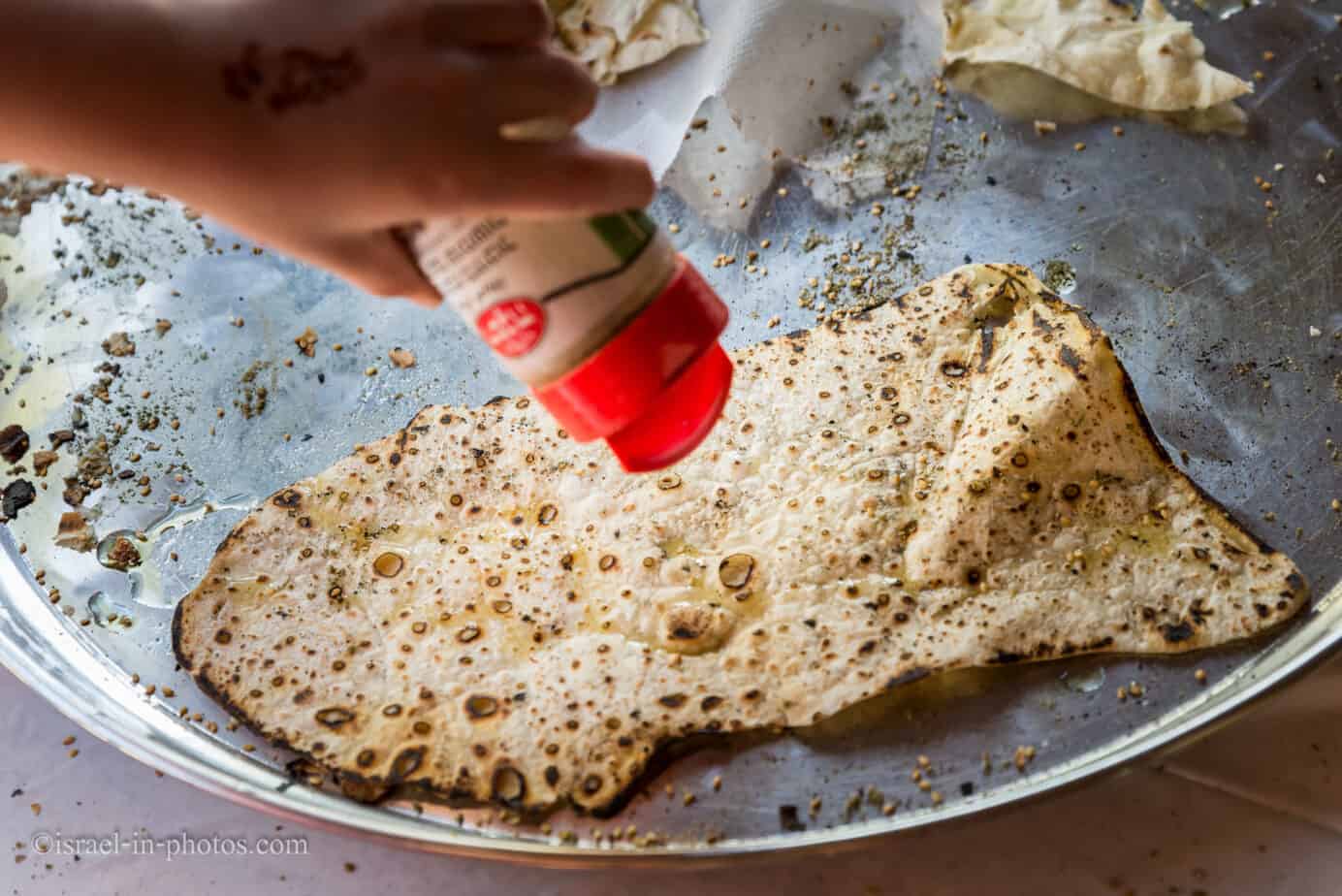 When we entered we were told there is a tour of the museum every round hour. Since we still had some time, we continued to the traditional Bedouin for some tea and coffee.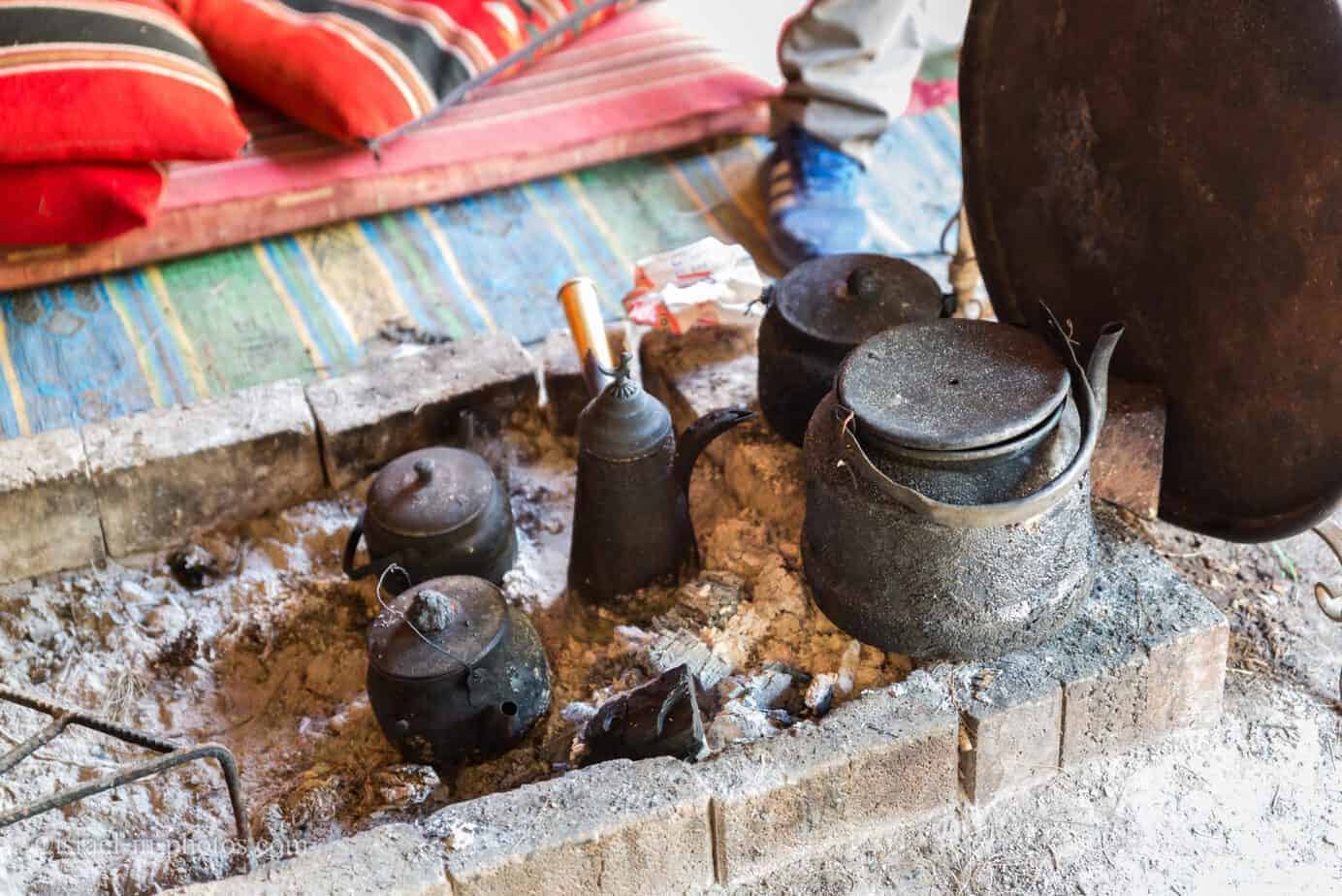 After a cup of coffee, we joined the 11 o'clock tour at the museum.
The Museum of Bedouin Culture – Preface
The Museum of Bedouin Culture, the only museum in Israel devoted entirely to the Bedouin culture. It was established in 1985 when it became apparent that the formerly nomadic Bedouin tribes of Sinai and the Negev were in the process of transition to a more settled way of life, moving to established towns and villages. The Bedouin have recently acquired a modern way of life, reflected in cultural, social and economic changes as well as changes in housing, dress, etc. As a result, many of the former Bedouin ways of life are disappearing, and with them, the objects and traditions of Bedouin society, prompting a need to collect, preserve and record them before they completely disappear. The museum's collection came from two main sources: Kibbutz Lahav, and a Bedouin museum established in the Sinai Mountains by Orna and Avner Goren.

The museum reflects the life of the Bedouin in the Negev and Sinai over the last century. The colorful display includes historical exhibits alongside modern objects, demonstrating both daily life and spiritual aspects of Bedouin tradition.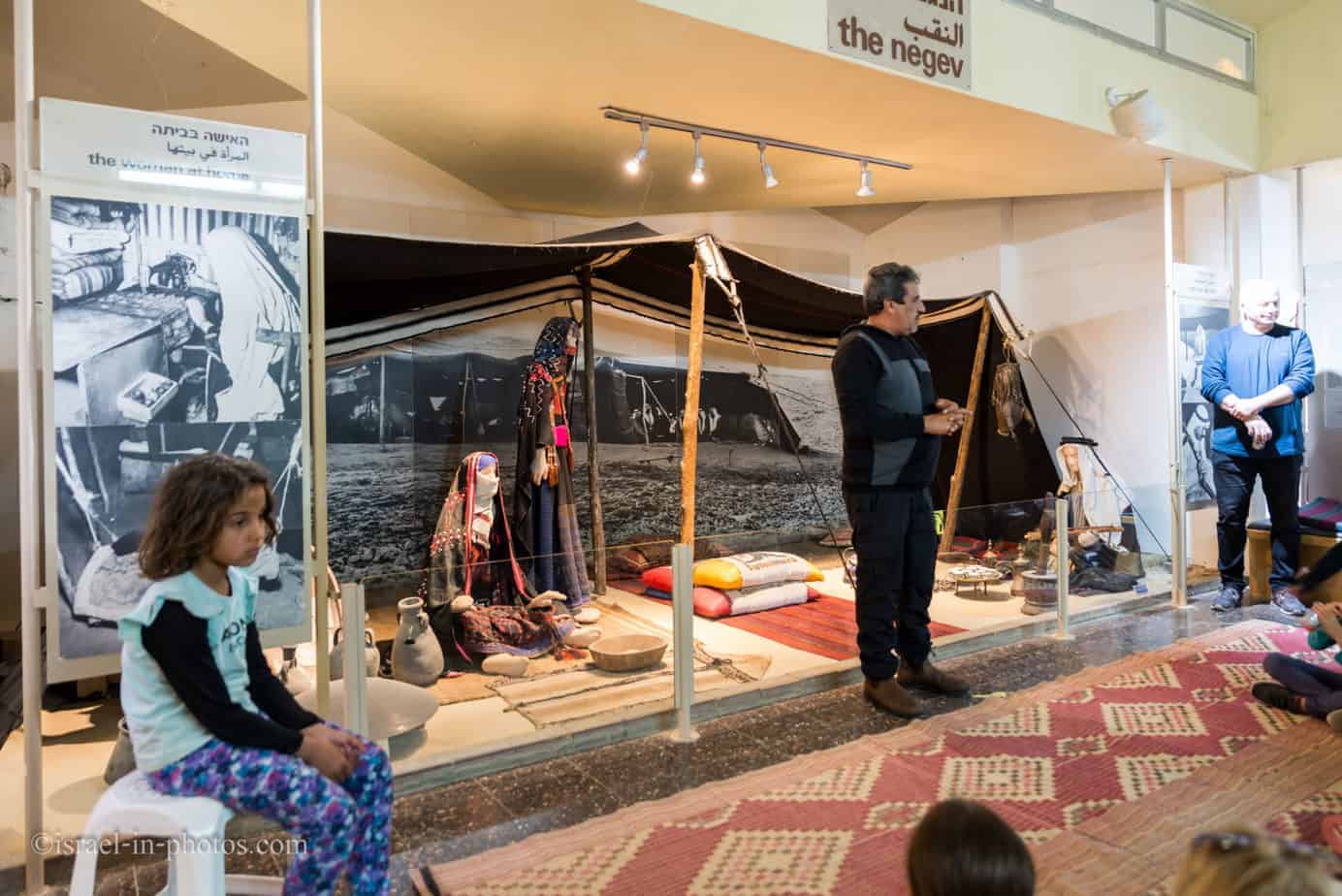 Inside The Museum of Bedouin Culture
Our tour started with a fifteen minutes explanations about Bedouin culture. The word Bedouin literary means "desert men" and there are around 250,000 Bedouins in Israel.
Though I visited Bedouin tents previously, there were many new things that I did not know. For example, as it turns out, there are two types of shelters. Winter tents, which are heavier and made of black goat wool that is covered by a layer of fat (so they will be waterproof). And summer tents are thinner (made of jute or cloth) and has lighter colors.
The museum itself is a small two levels building. Here is an interior photo.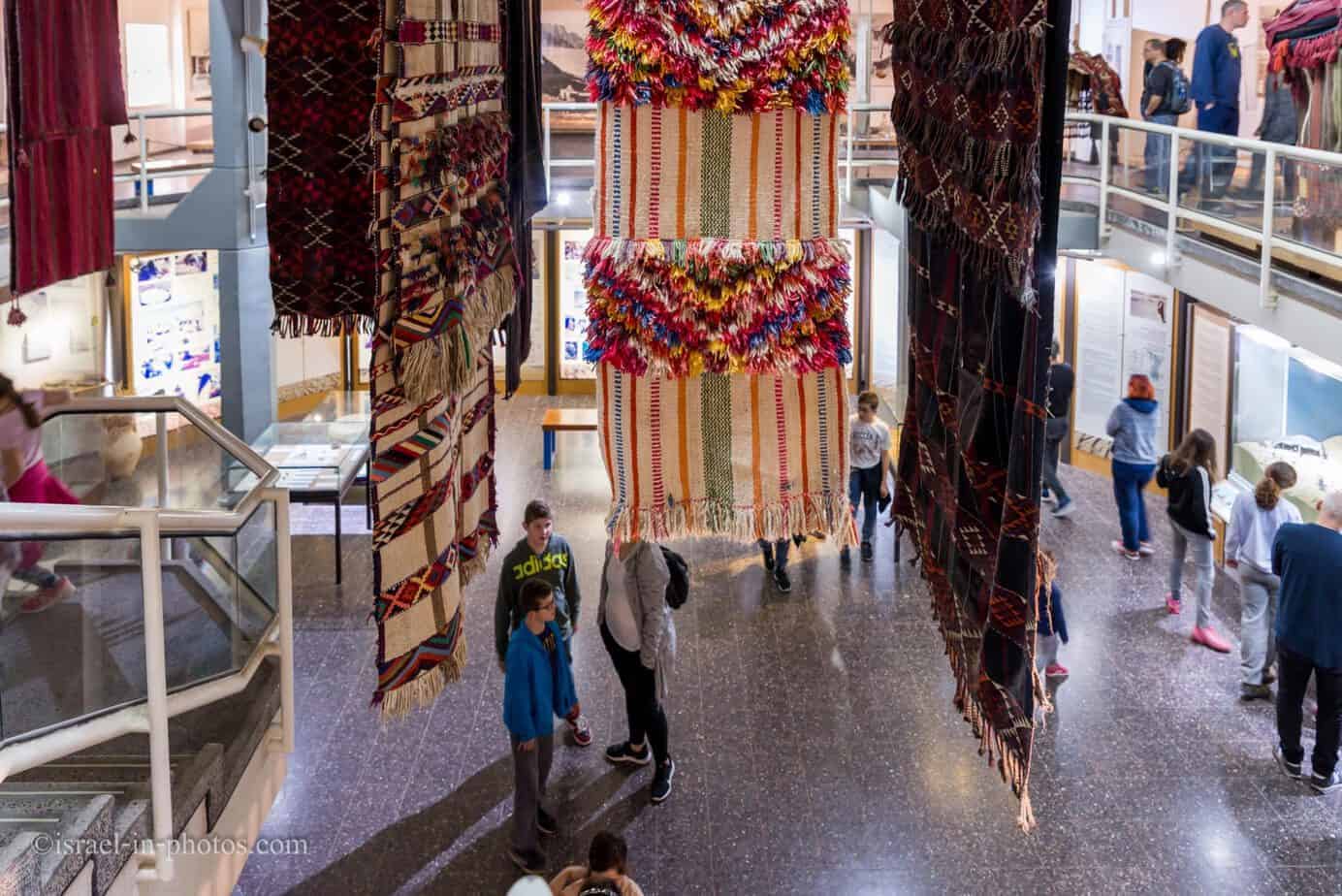 After the explanations, we went to the lower floor. There we saw a fifteen minutes movie about modern Bedouin life. When the film ended, we continued to wander around the museum.
One exciting thing that we saw repeating itself is the unexpected use of day to day items. For example, significant cans of olive oil used as parts of musical instruments. Or coins used as decorations.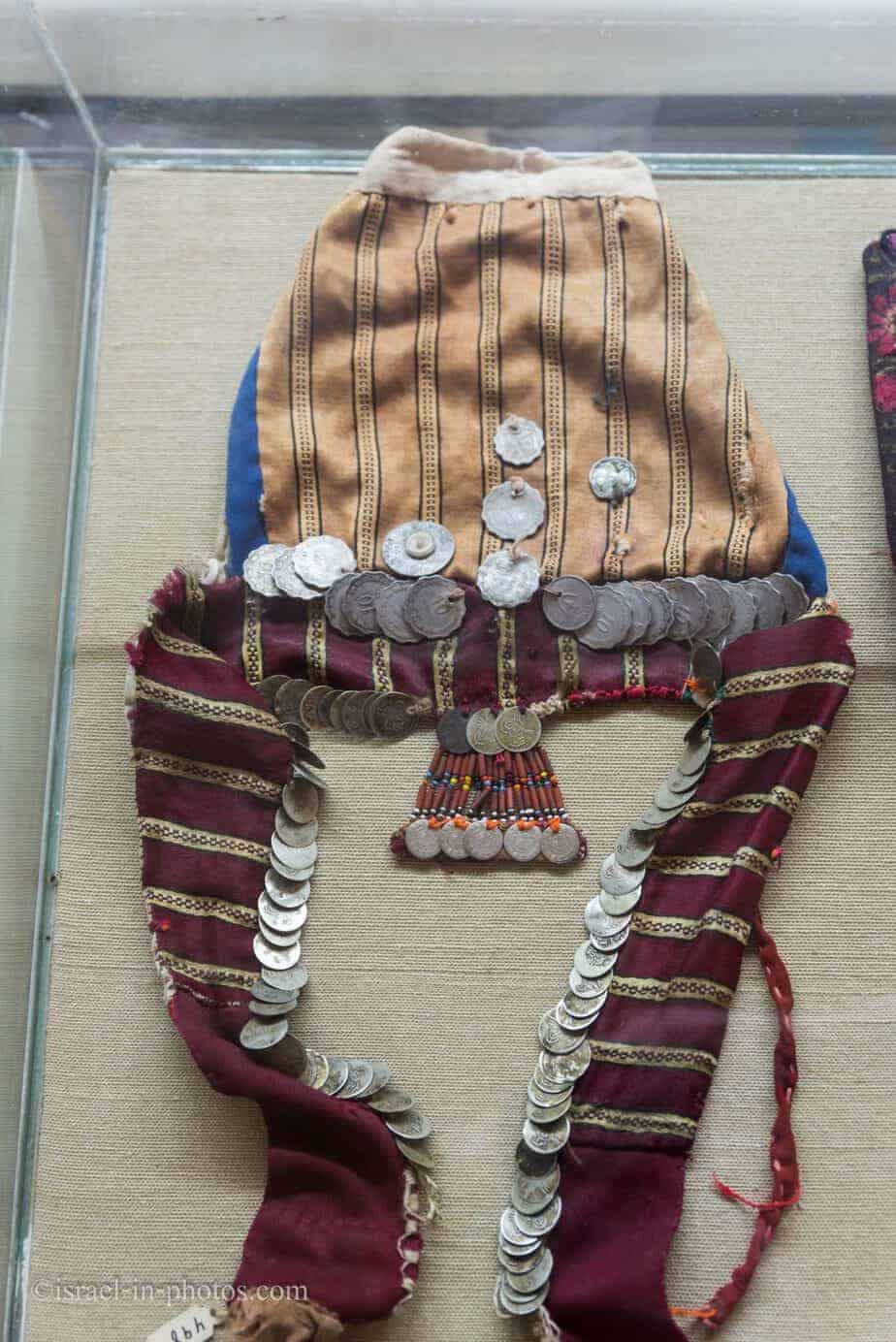 And children toys made of anything that found around. Like these: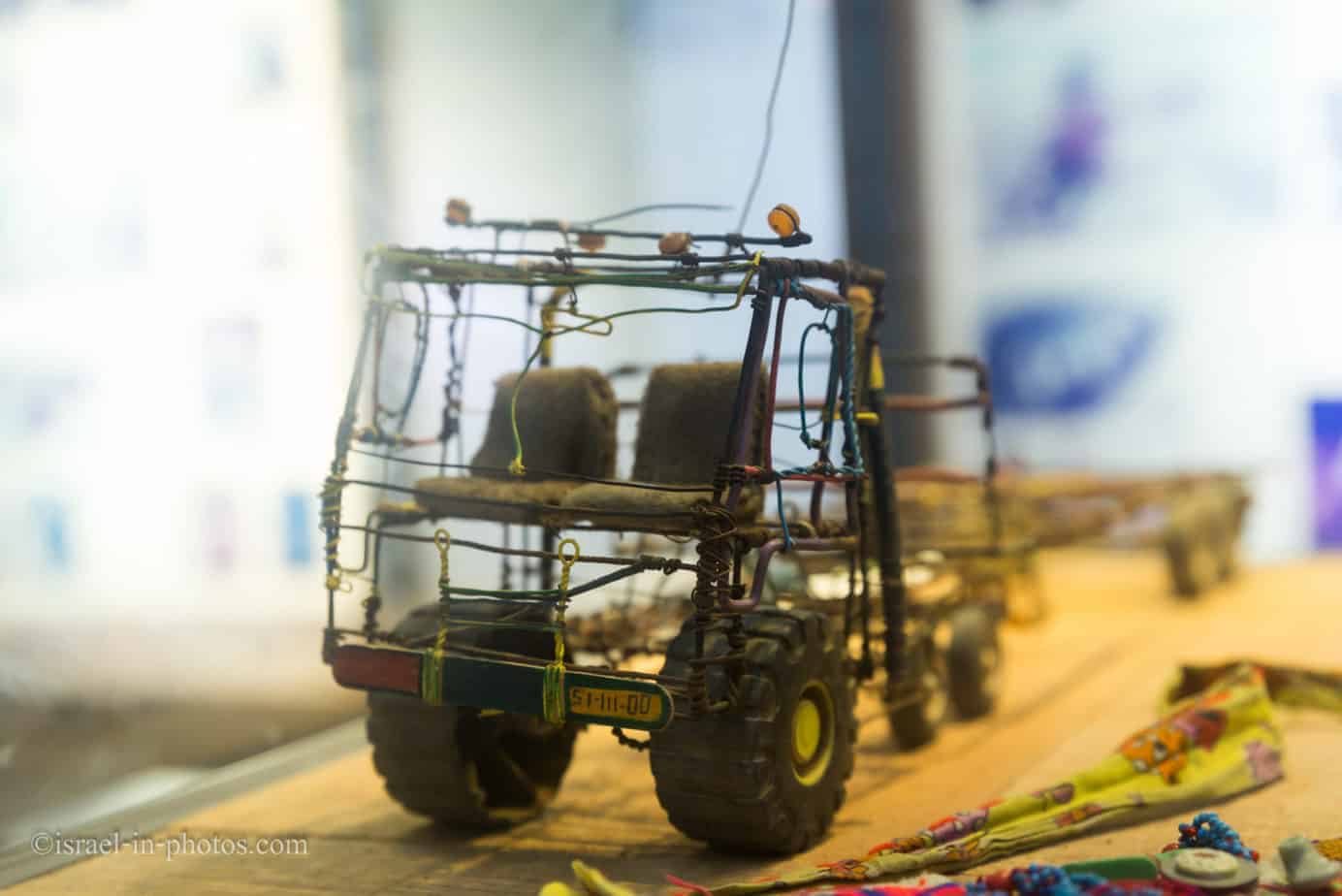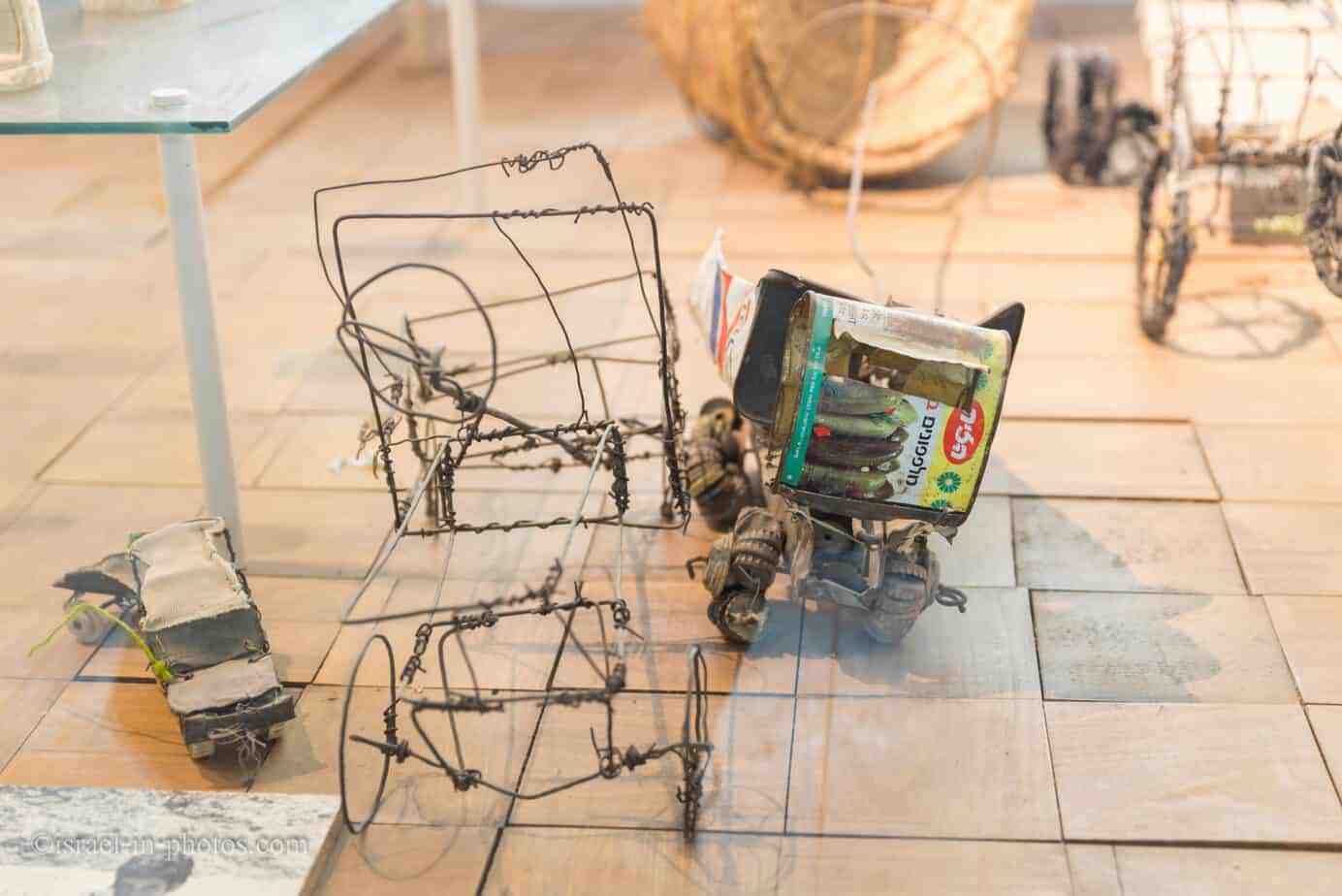 And this camel model is decorated as a real wedding camel would look.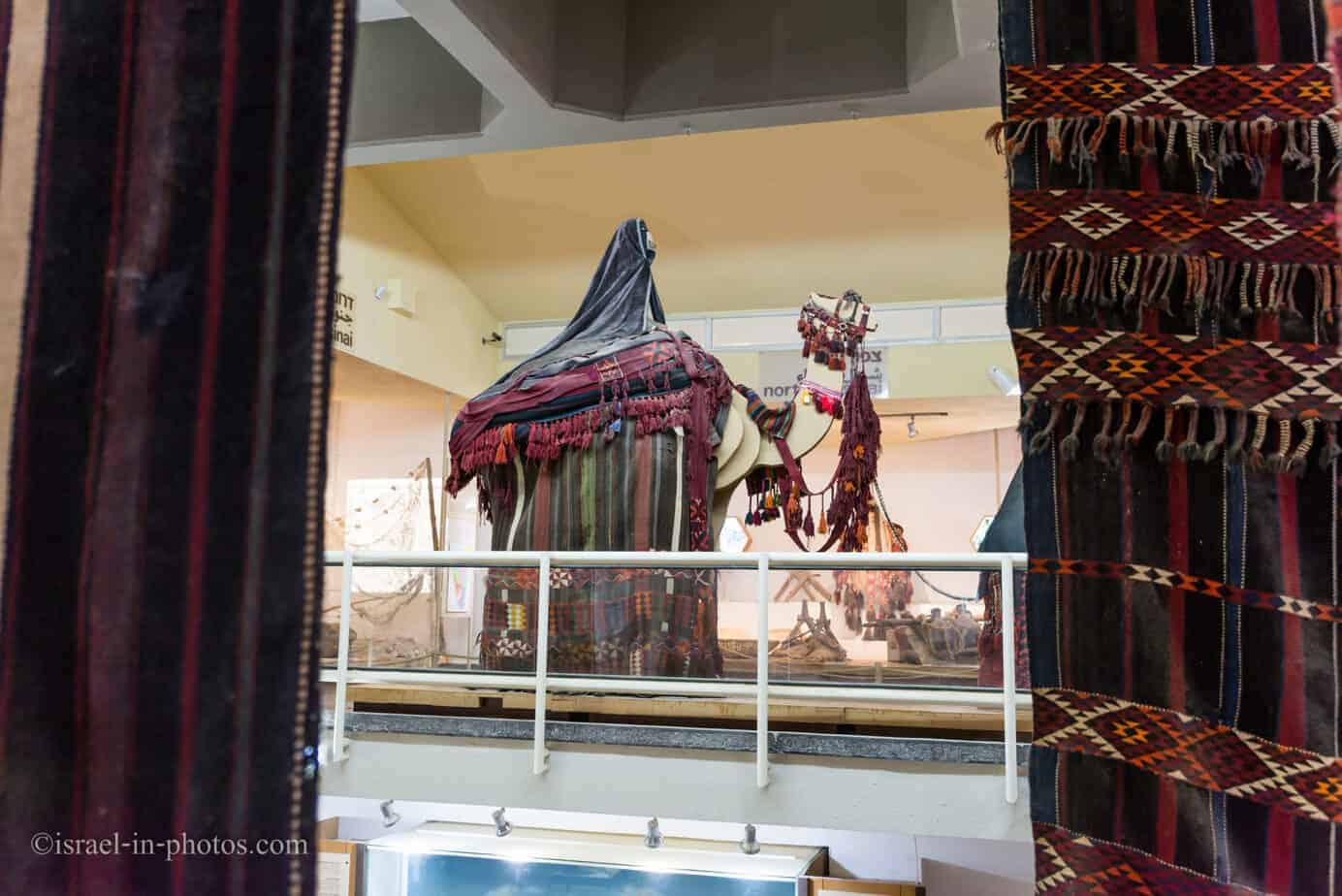 Several additional photos from the museum: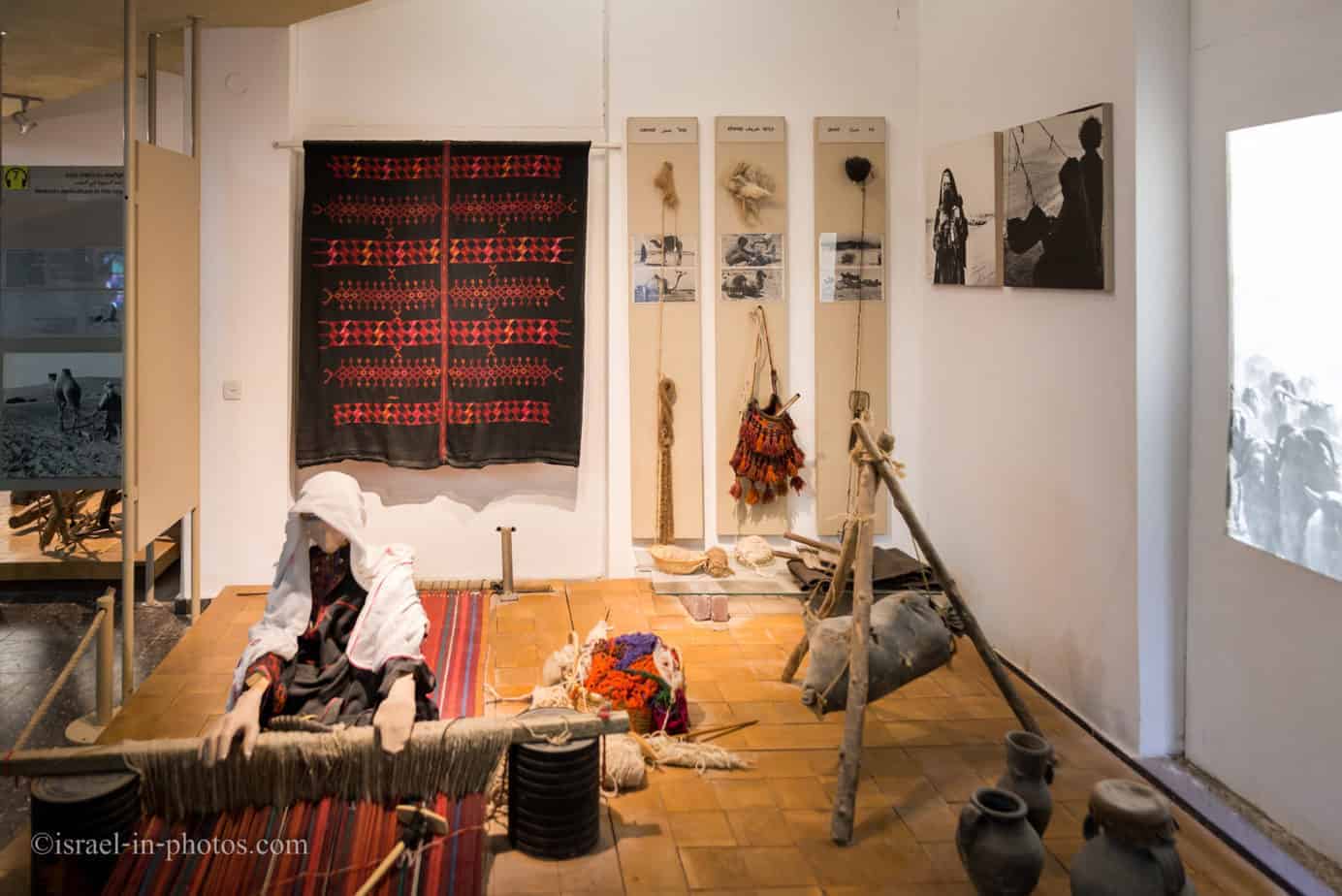 One of the associations to the word Bedouin would be desert. But some Bedouins lived next to the sea and fished. In the bottom of the next photo, you can see three palm trunks tied together and serve as a float.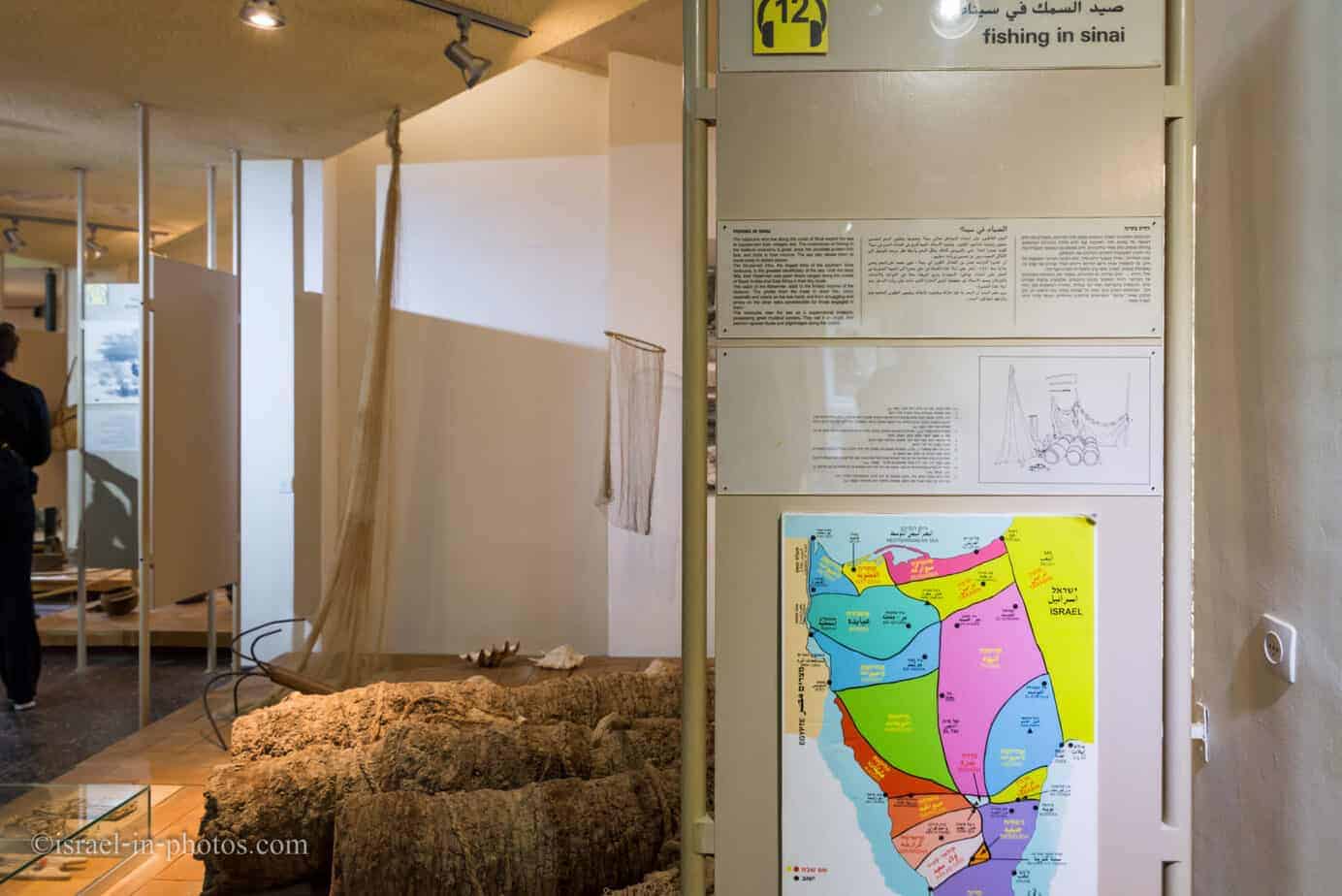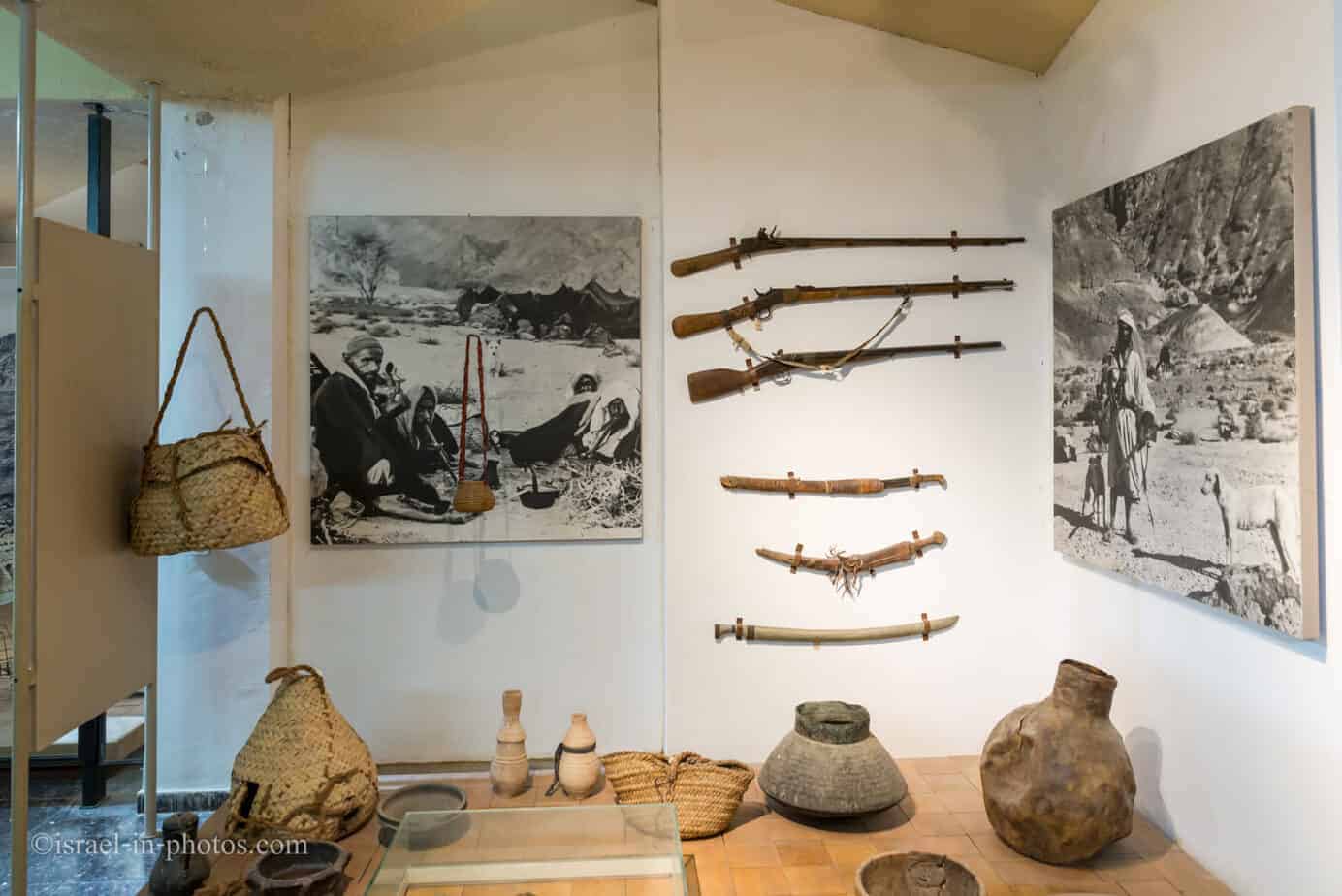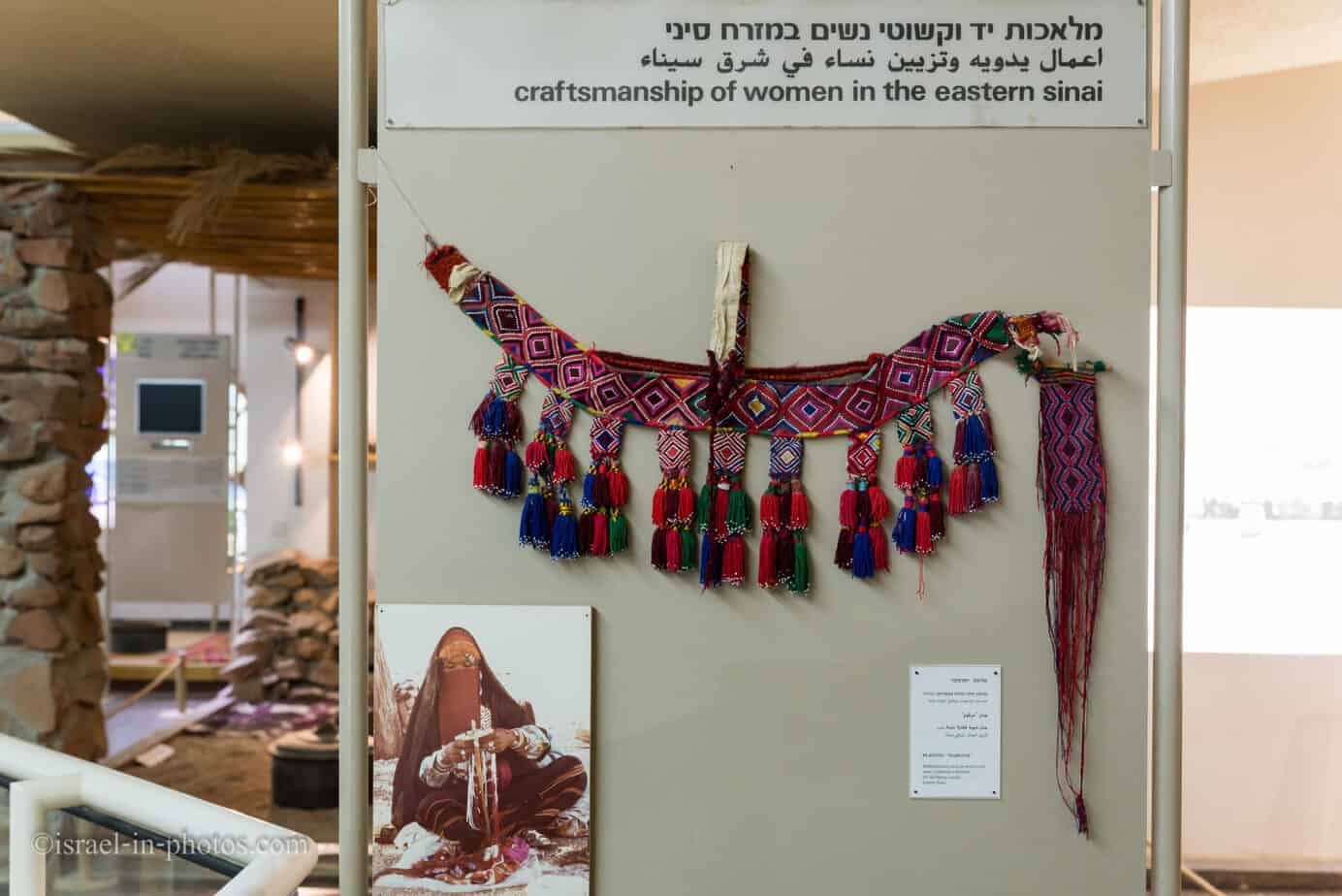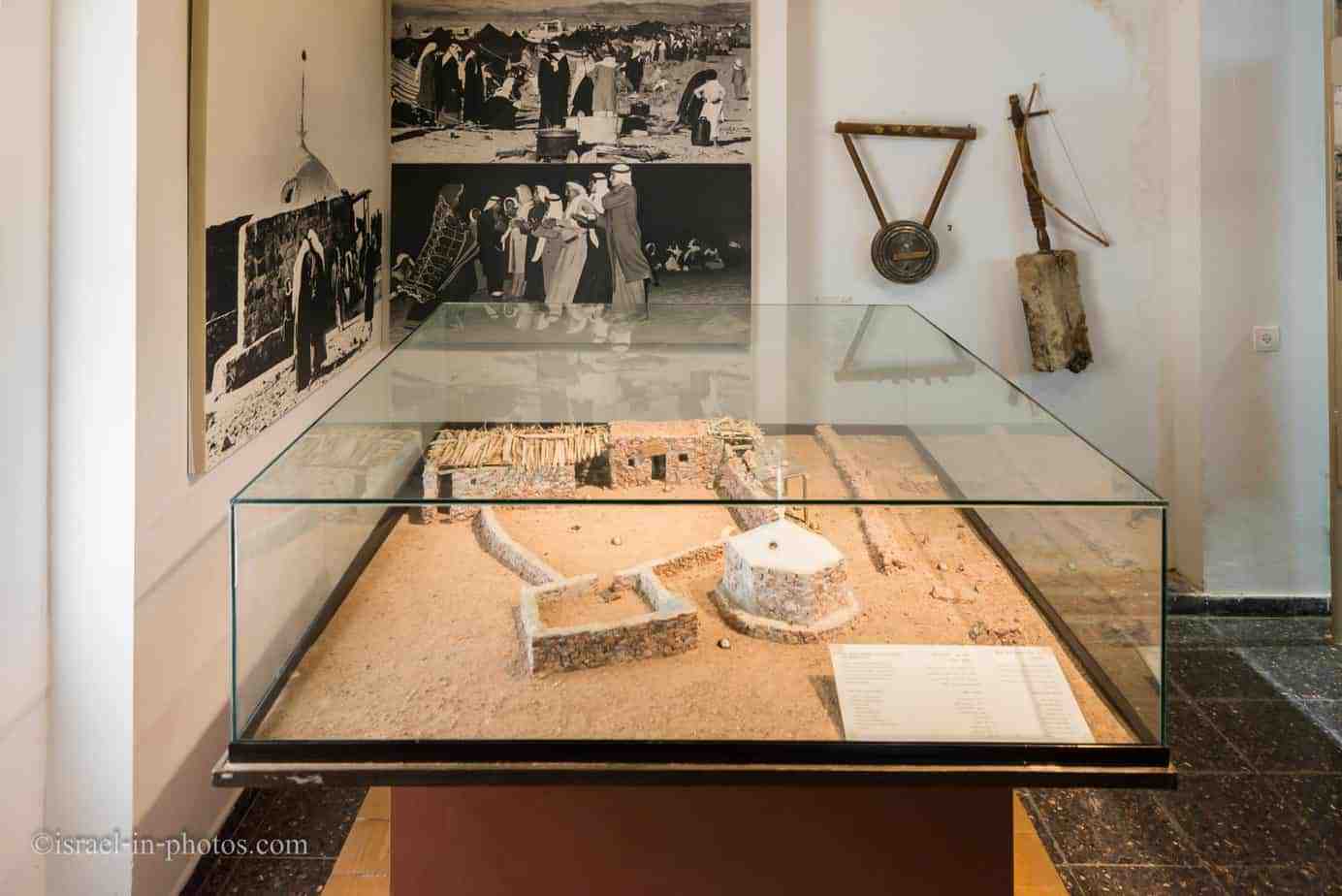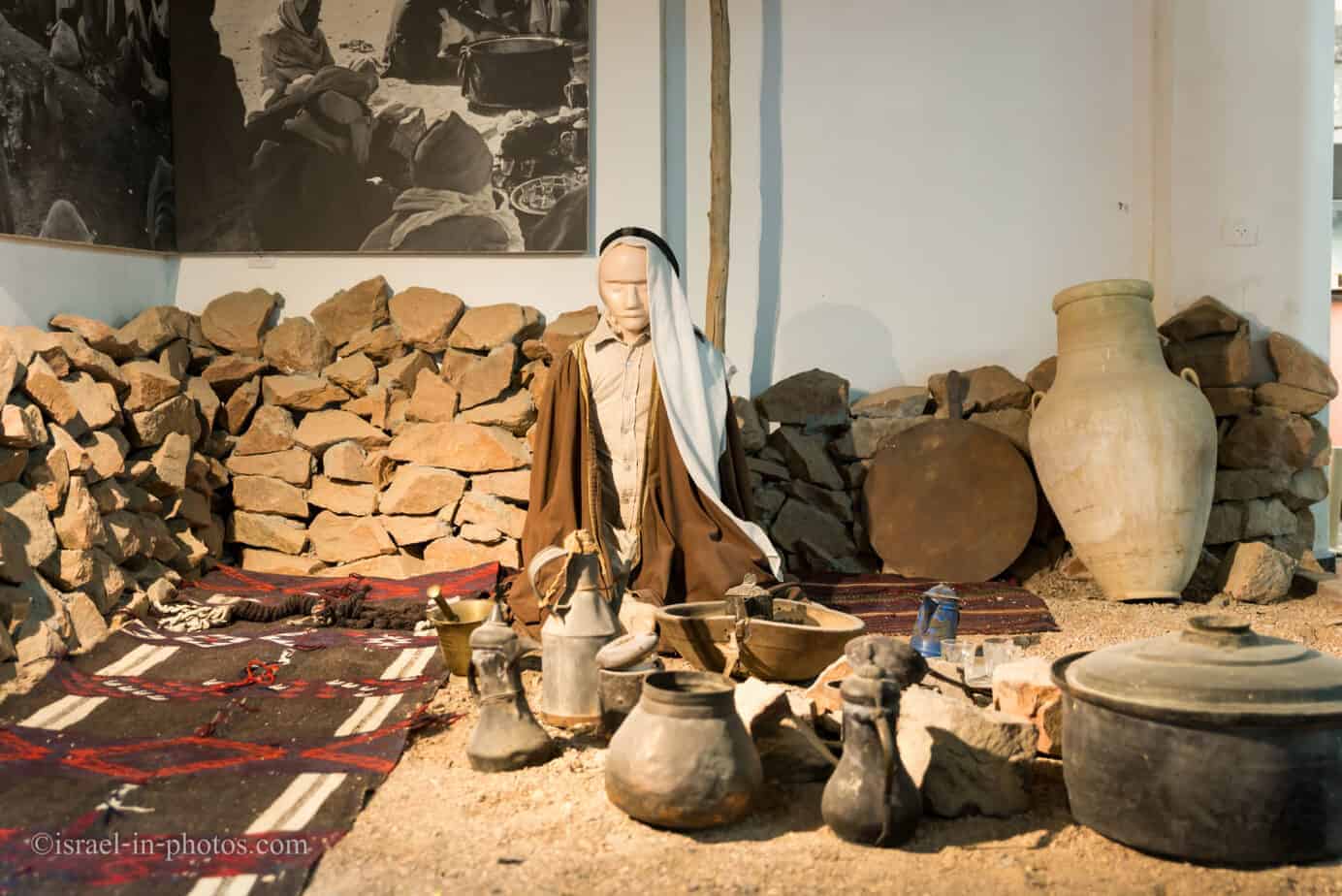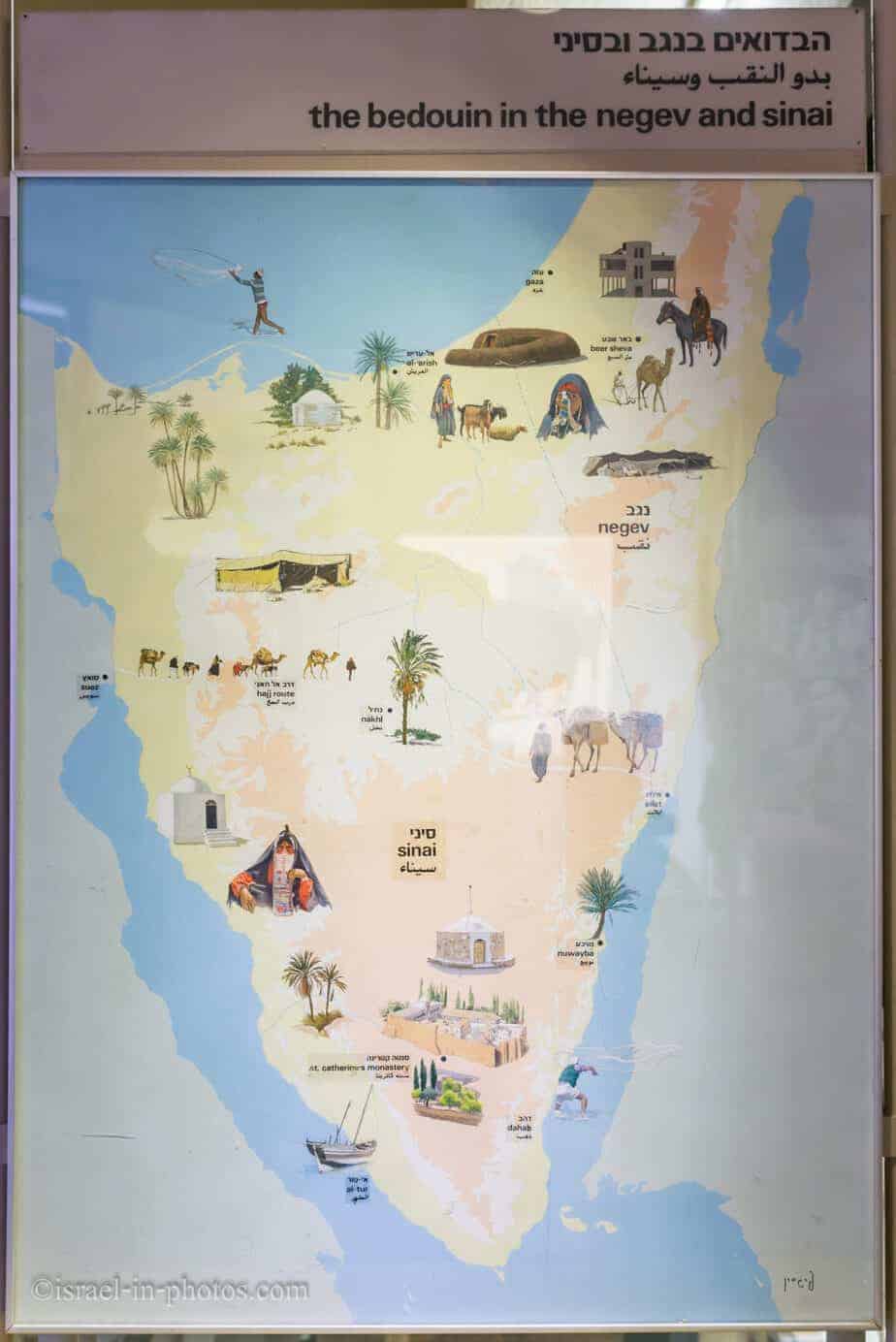 The tour plus our wanderings took about an hour. Then, my daughter dragged us to the last activity we have not done yet – bead knotting.
Lahav Forest
Our visit to Joe Alon Center with all additional activities took us about two and a half hours. When we finished, it was lunchtime. So we decided to make a picnic inside Lahav Forest. There were plenty free tables and garbage cans, but I have not seen restrooms and water cranes.
After lunch, we decided to make a short walk in the forest. This was our trail: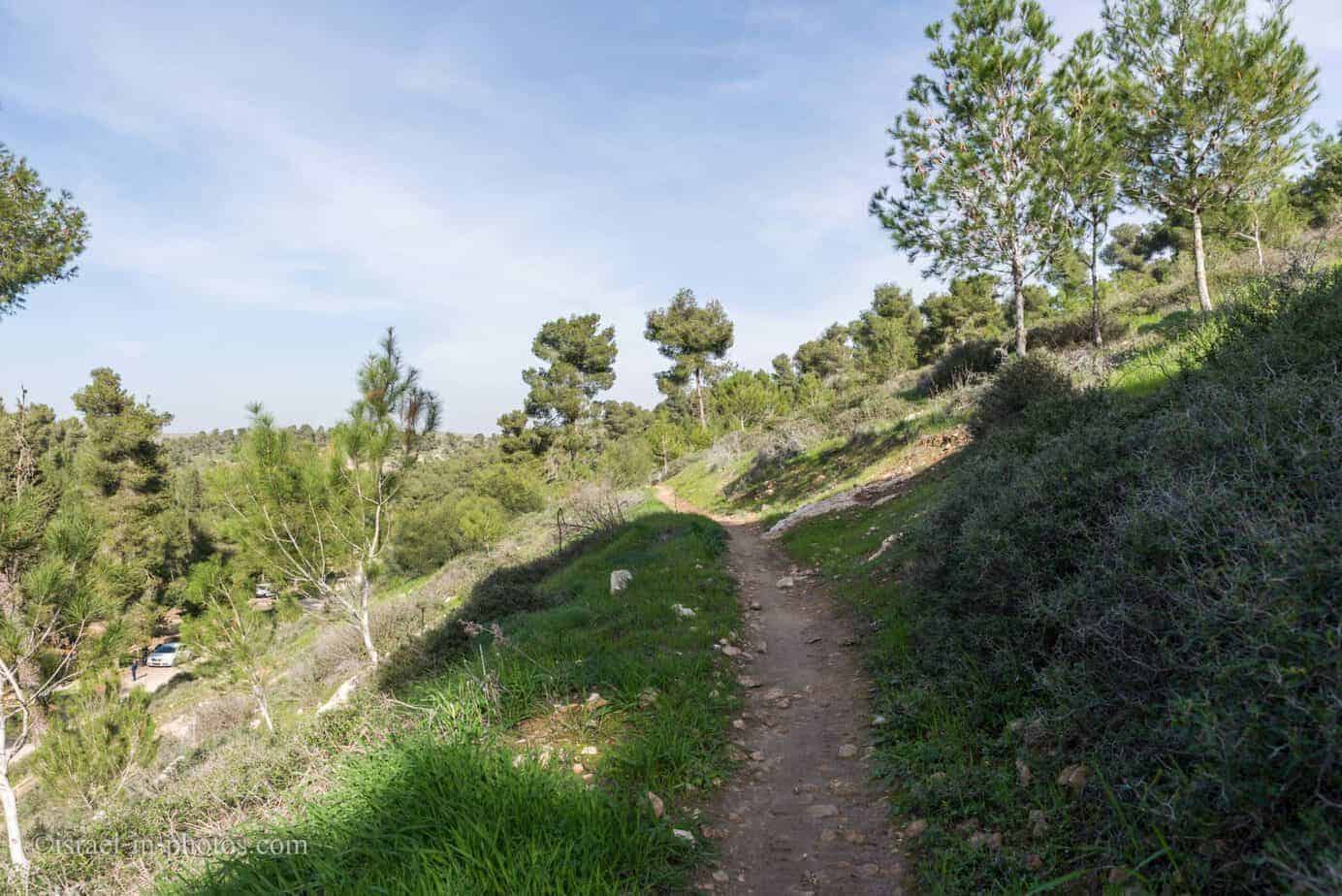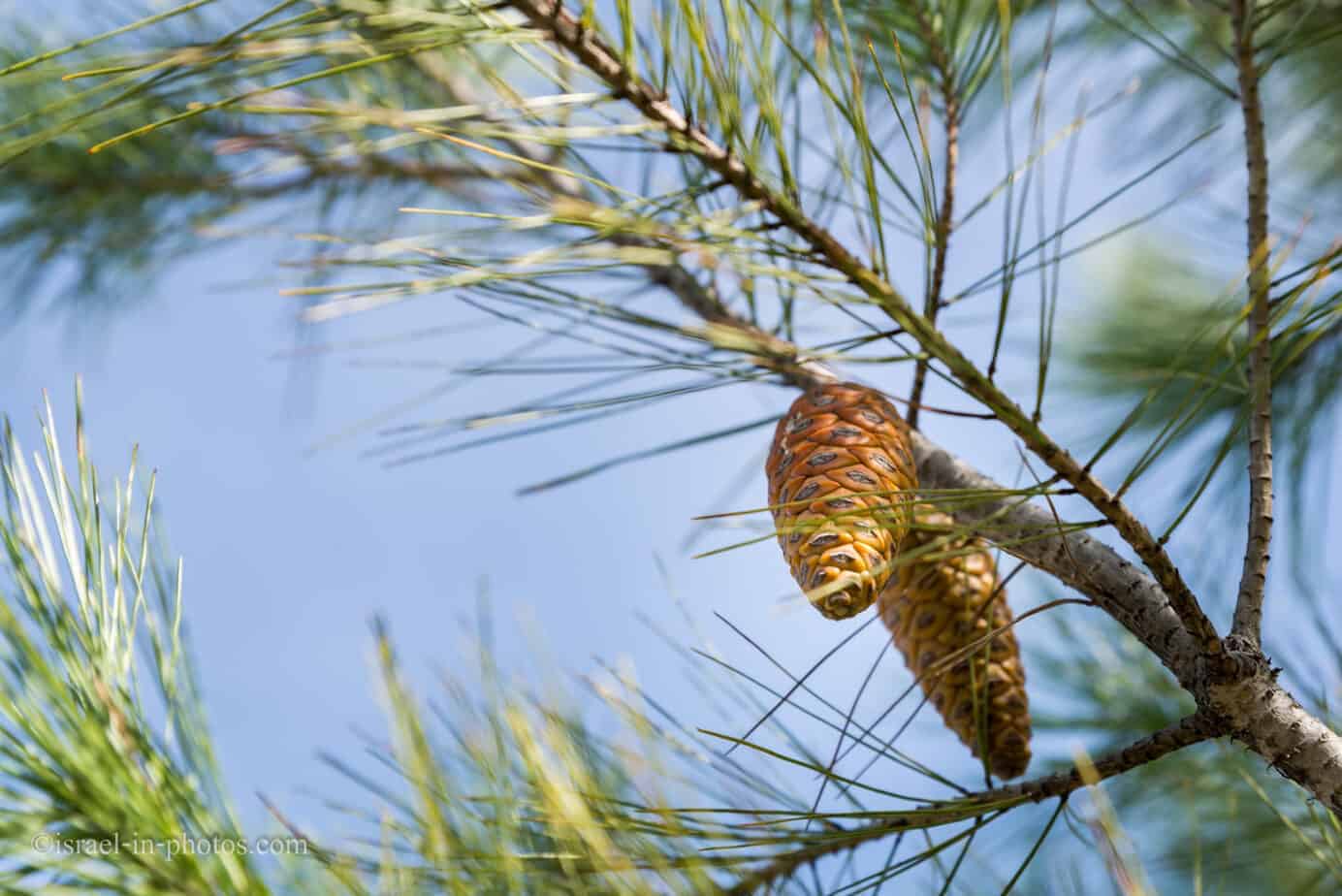 Thought it was the flower blooming season, there were not many flowers and no anemonies.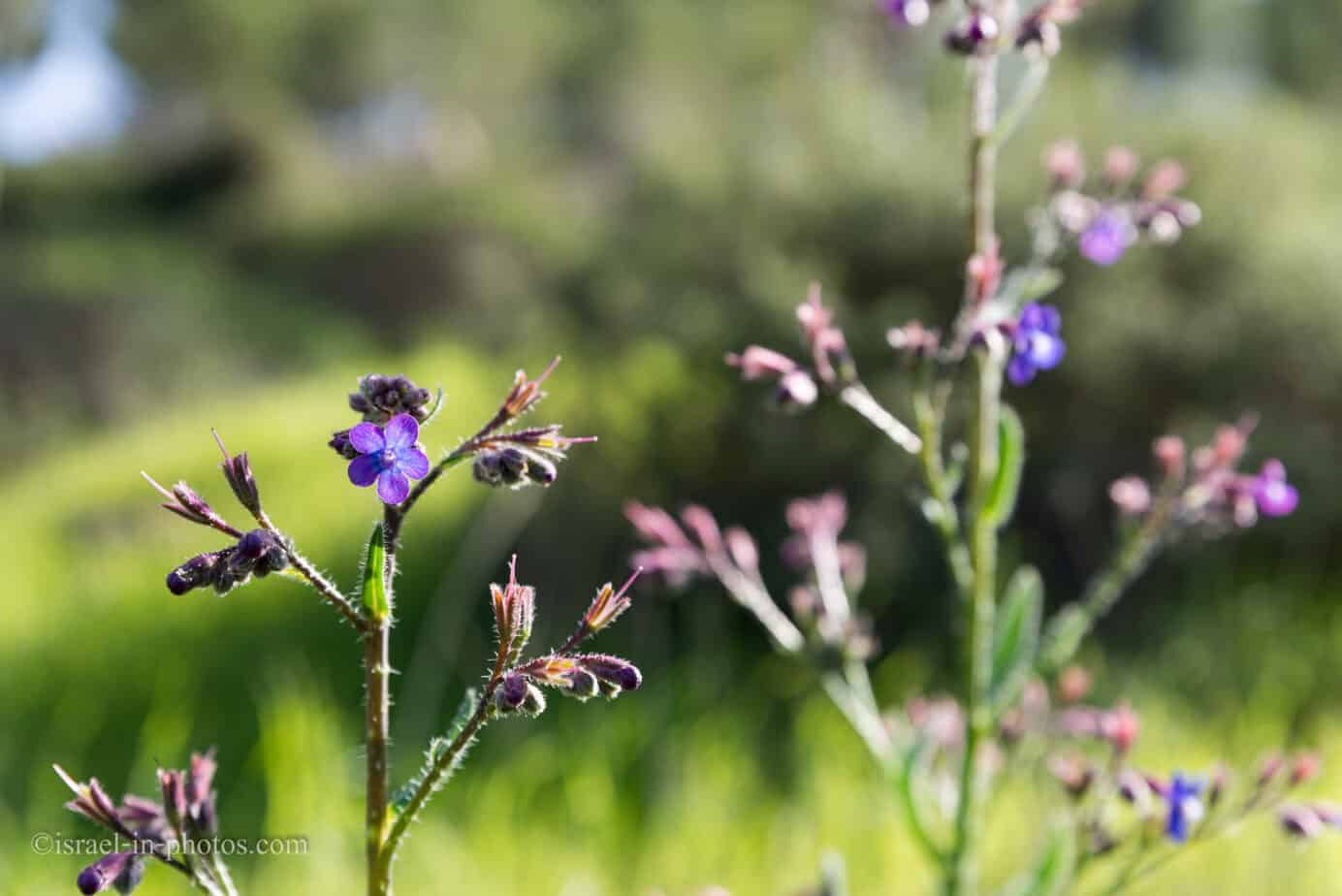 My last photo from that day.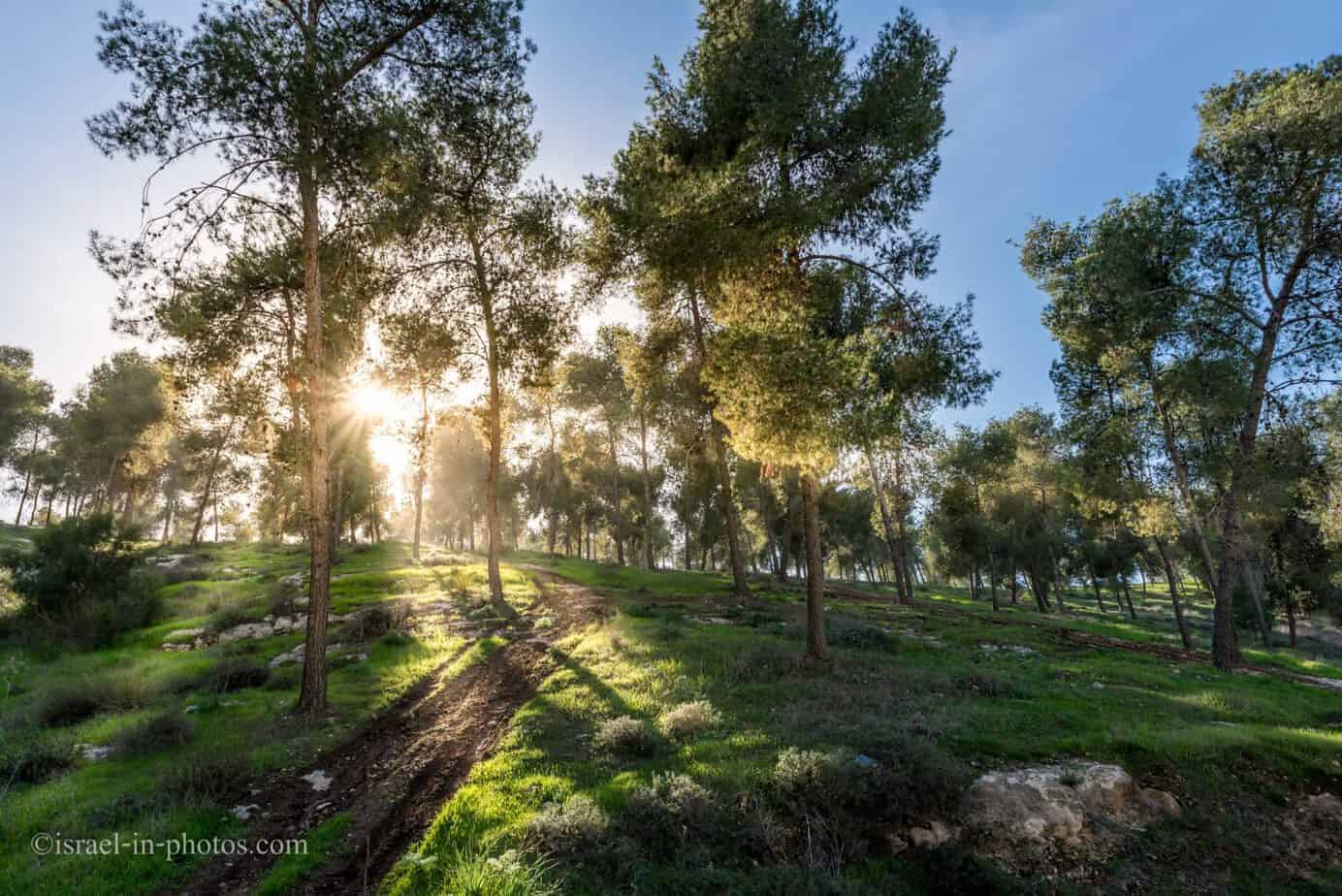 Visiting Joe Alon Center And Lahav Forest was a different experience. Mostly because during all previous Darom Adom festivals we saw many flowers and especially anemonies. Nonetheless, we learned new things, relaxed in nature and that was half a day nicely spent.
Summary
Festival Darom Adom offers different attractions. From our experiences so far I would recommend visiting Shokeda Forest early in the morning. You can also do a hike or a cycle along a trail. Eshkol National Park is an ideal place for a picnic (especially if you have Annual Subscription for National Parks), but due to the massive traffic jam at the entrance, I cannot recommend it. And if you want to experience something different, then you can hit Joe Alon Center.
Have you ever visited Festival Darom Adom? What is your favorite attraction? Tell us in the comments below.
That's all for today, and I'll see you in future travels!
Stay Tuned!

Additional Resources
Here are several resources that I created to help travelers:
And if you have any questions then check out Useful Information For Tourists To Israel.

Did not find what you were looking for? Email me at
hi@israel-in-photos.com
, and I will do my best to answer your questions.