Jerusalem Biblical Zoo AKA The Tisch Family Zoological Gardens guide includes directions, maps, activities, discounts, and much more. Let's begin!
Jerusalem Biblical Zoo, as the name suggests, is located in Jerusalem. And it is not only one of the fewer attractions that are open on Saturday in Jerusalem, but it is also one of my favorite zoos in Israel. On this note, let's go over the basic information.
History
The Jerusalem Biblical Zoo was originally established in 1940 as a small children's zoo on Harav Kook Street in central Jerusalem by the late Prof. Aharon Shulov, one of the pioneers in the field of zoology at the Hebrew University in Jerusalem. In 1941, a somewhat larger zoo was established on Shmuel Hanavi Street in Jerusalem. This one covered an area of 4.5 dunams (0.45 hectares, or just over one acre). In 1947 the zoo was moved to the Hebrew University on Mt. Scopus. As a result of the hardships caused by Israel's War of Independence in 1948, the zoo was transferred once again to a larger area of 60 dunams (6 hectares, or just under 15 acres) in Givat Komuna, adjacent to the neighborhood of Romema.

The zoo remained there for 41 years, from 1950 to 1991. During this time, it gradually developed into a well-known and beloved attraction. By 1991 it was evident that the zoo's location could no longer serve the purpose of a modern zoo and that it required new facilities to improve animal welfare conditions and to establish wildlife conservation and education programs. The old zoo closed in 1991, and the process of moving to the new location was begun which culminated in the current zoo being opened in 1993.

Today, the Jerusalem Biblical Zoo, as it is still unofficially known, stretches across an area of 250 dunams (25 hectares or 62 acres) in a lovely valley surrounded by green hills and new neighborhoods. It is considered to be one of the most beautiful parks in Israel and has become a meeting place for all of Jerusalem's diverse communities.
Note: unless stated otherwise, all quotes were taken from the official site.
The Tisch Family Zoological Gardens
Jerusalem Biblical Zoo is also known as the Tisch Family Zoological Gardens.
The establishment of the zoo in its present form was made possible thanks to the generosity of the Tisch family of New York, under the auspices of the Jerusalem Foundation. The dedication ceremony took place in the presence of the President of the State of Israel at the time, the late Chaim Herzog.
Mission
Usually, I do not mention the mission of organizations, but in this case, it will help you to better understand the zoological gardens.
We believe that zoos and aquaria have a strong role to play in protecting nature and wildlife, and we are working to achieve the following goals in this regard:
Ensuring the highest standards of animal welfare to maintain viable populations of animals in human care so that their survival over the long term is assured.
Emphasizing species from the land of Israel, with special emphasis on those mentioned in the Bible.
Establishing and participating in both in situ and ex-situ wildlife conservation projects aimed at protecting animal populations and their habitats.
Educating our visitors about animals and their habitats and providing them with the knowledge and opportunities they need to live sustainably as part of nature
It is not the full mission, but it represents the spirit. I want to mention two key values. Forst of all, wildlife conservation, especially of animals mentioned in the Bible. It is even reflected in the name. And secondly, public education, which is another top focus of the zoo. And hence, there are many explanations, feedings, and workouts.
Map
The Tisch Family Zoological Gardens is located at 1 Derech Aharon Shulov, Jerusalem.
Map of the area:
Directions
If you are driving there, then enter "Jerusalem Zoo" (or 1 Derech Aharon Shulov, Jerusalem) into the navigation app, and you will get there. There are several free parking lots. But keep in mind that on Saturdays, they will be filled quickly. Thus, I would suggest arriving at the opening time.
If you will be arriving by public transport, here is a link to Moovit where the endpoint is already set, so change the start point to your location, and you will get the updated directions. Also, I want to mention that there is a train station just next to the zoo (and this station is named after the zoo). The zoo even offers a discount if you use the train. The downside is that it is part of the old line. Hence, getting there using this train line will take more time.
Plan Of The Zoo
Jerusalem Biblical Zoo is located on the slopes of a mountain. The entrance and the nearby lake are situated in the bottom, and for all of the rest, you will have to walk uphill.
You can see on the plan where each animal species is located, and the map also suggests three routes. The blue trail is the shortest one, and it takes around an hour. The red route will take around two hours. And the orange way, which is the longest one, and covers almost the whole zoo, will take three hours. Also, on the map, you can see black up/down arrows within blue circles. These are zoo train stops. Train tickets are available at additional cost. And note that the train does not run on Saturdays and holidays.
Opening Hours
Sunday – Thursday: 9:00 AM – 5:00 PM
Friday & holiday eve: 9:00 AM – 4:30 PM
Saturday: 10:00 AM – 5:00 PM
Tickets are sold up to one hour prior to closing time.
Entrance Fee
You can purchase tickets either on their website or on-site. Here are the prices:
Adult – 58 NIS
Child aged 3 – 18, Police Officer, Student, Soldier, Senior Citizen, Guest w/Disabilities: 44 NIS
Annual Membership
There are also annual memberships. Here are some of the combinations:
Adult: 290 NIS
Child, Police, Soldier, Senior Citizen: 210 NIS
Couple: 510 NIS
Couple + 1 child: 590 NIS
Note: opening hours and ticket prices were updated on March 2019. In any case, recheck the official site before visiting.
Discounts
Up to 10% discount for Matmon/Isracard-Teva holders of a valid Israel National Parks Authority membership card. And a 10% discount on presentation of same-day Israel Rail train tickets.
Note: discounts valid on weekdays only (not on Saturdays).
Events
Jerusalem Biblical Zoo holds a range of events. There are temporary exhibitions, special events on holidays, and tours. You can find additional information here.
Beyond events, there are special activities. And I will tell you more about them in the next section.
Special Activities
Each time we visit Jerusalem zoo, we join as many guided feedings, training, and other activities as possible. Here is the current timetable, and in any case, recheck the official site before your visit.
Sunday – Thursday
10:30 Small Animals building
11:30 Meerkats enrichment at Underground World
Peccary at the South American yard
Amazon exhibit at Wet Side Story
12:00 Penguins
Elephants
12:30 Male Elephant
Chimpanzees
1:00 Giraffes at the African yard
1:30 Otters at Wet Side Story
3:00 Fallow deer at Bible Lands Preserve
4:00 Penguins
Chimpanzees
Lemur Land
4:15 Peccary at the South American yard
Red panda
4:30 Elephants
4:45 Kangaroo at the Australian Yard

Presentation on the naked mole rate at Underground Wolrd at 2:00 PM
At the children's zoo:
The petting zoo, with goats and sheep, is open throughout the day.
Encounters with friendly animals take place between 2:30 – 3:00 PM at the petting zoo.
Friday
11:00 Meerkats enrichment at Underground World
11:30 Peccary at the South American Yard
Chimpanzees
12:00 Penguins
12:30 Otters at Wet Side Story
1:00 Giraffes at the African Yard
2:30 Tigris enrichment
3:00 Chimpanzees enrichment
3:30 Peccary at the South American yard
3:30 Red panda
4:00 Kangaroo at the Australian Yard

Unreal encounters with an elephant
Fridays at 1:30.
Elephant training
You feed the elephants, from hand to snout.
Drawing to win a selfie with an elephant.
Tickets cost 1 shekel, and proceeds benefit the elephant hospital in Lampang, Thailand.

At the children's zoo:
The petting zoo, with goats and sheep, is open throughout the day.

Pre-Shabbat Music
12:30 – 3:00 with Pritzat Disk- a refreshing performance of hits.
Saturday
10:30 Small animals building
11:00 Lions (enrichment)
Meerkats at Underground World
11:30 Chimpanzees
Yellow marten (enrichment)
12:00 Penguins
12:30 Female elephant training
1:00 Ibex and fallow deer at the entrance to the Bible Lands Preserve
1:30 Giraffes at the African Yard
Asian otters at Wet Side Story
2:00 Meerkats at Underground World
3:00 Chimpanzees enrichment activities
3:30 Peccary at the South American Yard
4:00 Penguins
Lemur Land
4:30 Female elephants enrichment
4:15 Red panda
4:30 Elephants (enrichment)
4:45 Kangaroo at the Australian Yard

At the Children's Zoo:
The petting zoo is open all day long.
Encounters with friendly animals take place in the living classroom between 11:00 – 4:00.
Note: all the activities we attended were in Hebrew. If you are interested in other languages, then contact the zoo for more info.
Why I love Jerusalem Biblical Zoo?
It is probably my favorite zoo in Israel, and that is because:
It is located in Jerusalem, thus: it is a little cooler there, and the people are different.
Pricing Strategy: pricing is very simple – 58 NIS per adult. There are almost no deals and coupons. Thus you do not waste time searching and printing coupons. And you do not feel cheated since everybody pays the same. Ramat Gan Safari, like many other attractions in Israel, has the opposite pricing strategy. The spontaneous visitor will pay a lot, and if you belong to various clubs or find good deals/coupons than you can pay as low as 20 NIS per visit.
Within regular working hours, there are short explanation sessions. You can use the timetable given on entrance and visit such an event. For example, we went to bear feeding. There was a short explanation, about 10min and then the feeding itself. Total of 20-25 min. The explanations are nice, and you always learn something new. And the bears are active (usually when it is hot, they will lie in the shade somewhere in the back, and you can barely see them).
In many cases, there is no steel fence between you and the animals. For example, you are walking above the animals. It allows a clear view and better photographs 🙂
The downside is that the Jerusalem Biblical Zoo opens only at 9/10 am. In summer, at this hour it is already quite hot. But, most attractions in Israel opened only at 9/10 am.
At Jerusalem Biblical Zoo
We started our visit with the Penguins. Penguins in Israel? When most people think about Penguins, they think Antarctica. Though most penguin species are native to the Southern Hemisphere, they are found not only in cold climates. Only a few species of penguins live in the far south. For example, the Galapagos penguin lives near the equator.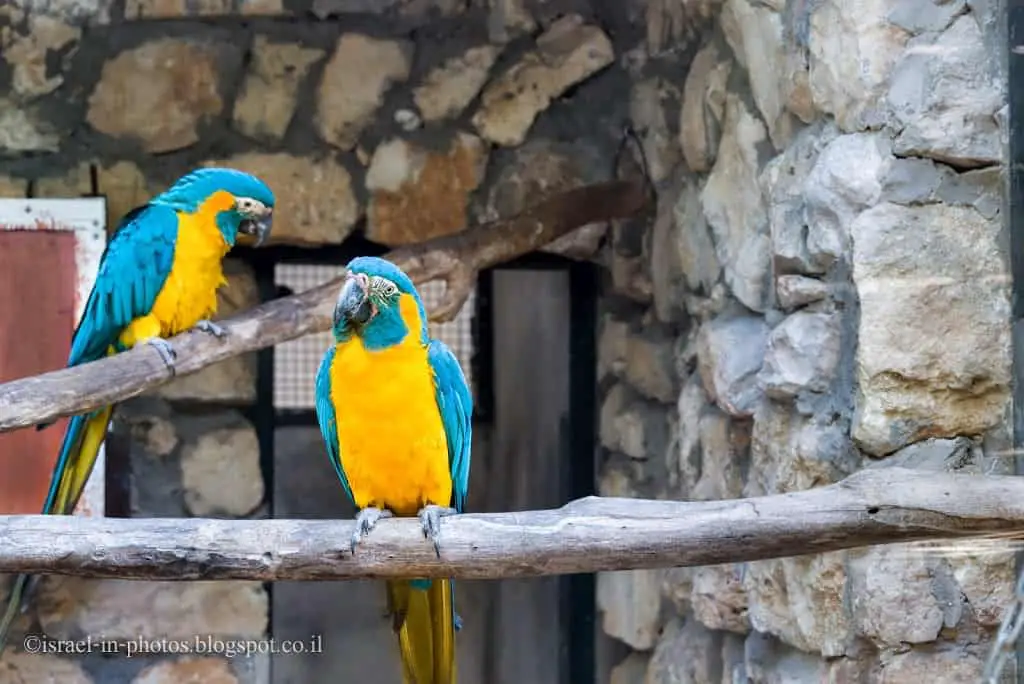 Bear Feeding
As I mentioned, one of the activities we attended was bear feeding. It started with a short explanation about the Syrian brown bear, and then the guide threw vegetables to them. Thus, the bears were active and searched where the food landed.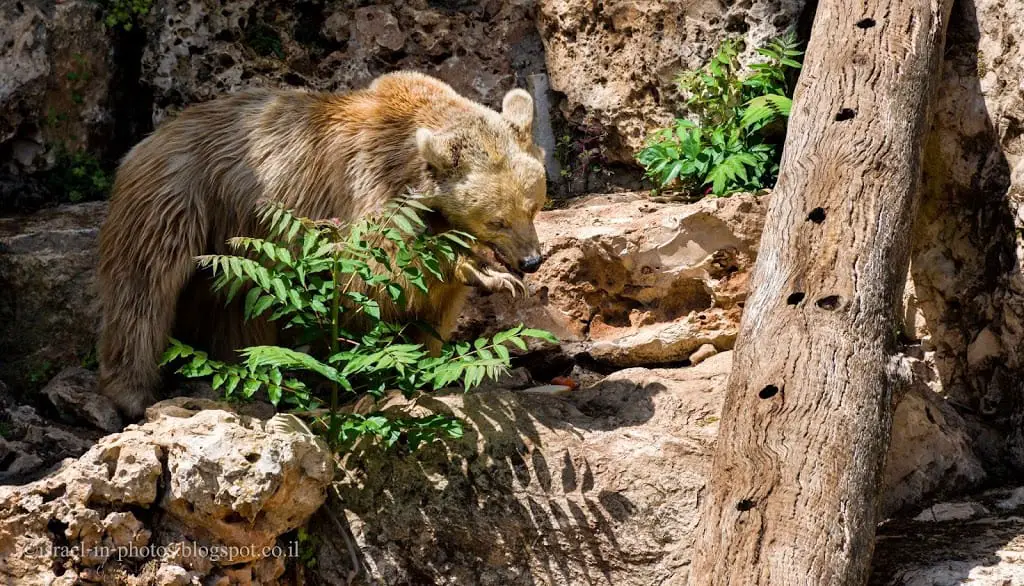 Historically, the Syrian brown bear occurred in the Middle East from Turkey to Turkmenistan. Today, the brown bear is extirpated in Jordan, Israel, and the Palestinian Territory, and survives only in Turkey, Iran, and Iraq.
Source: Wikipedia
Where did you hide it?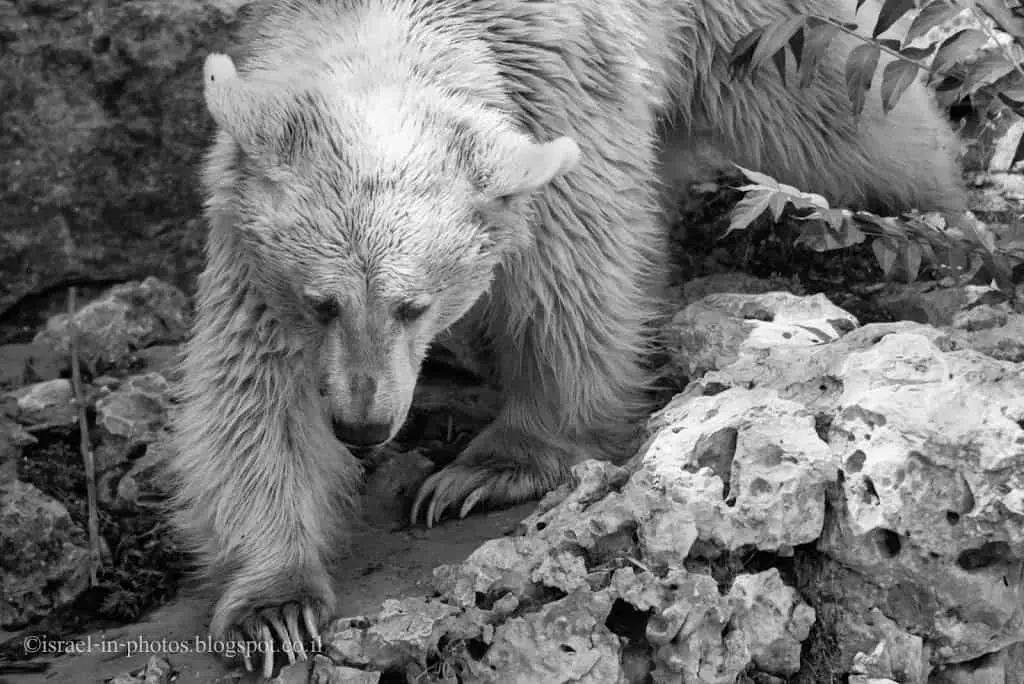 And after the feast, they started …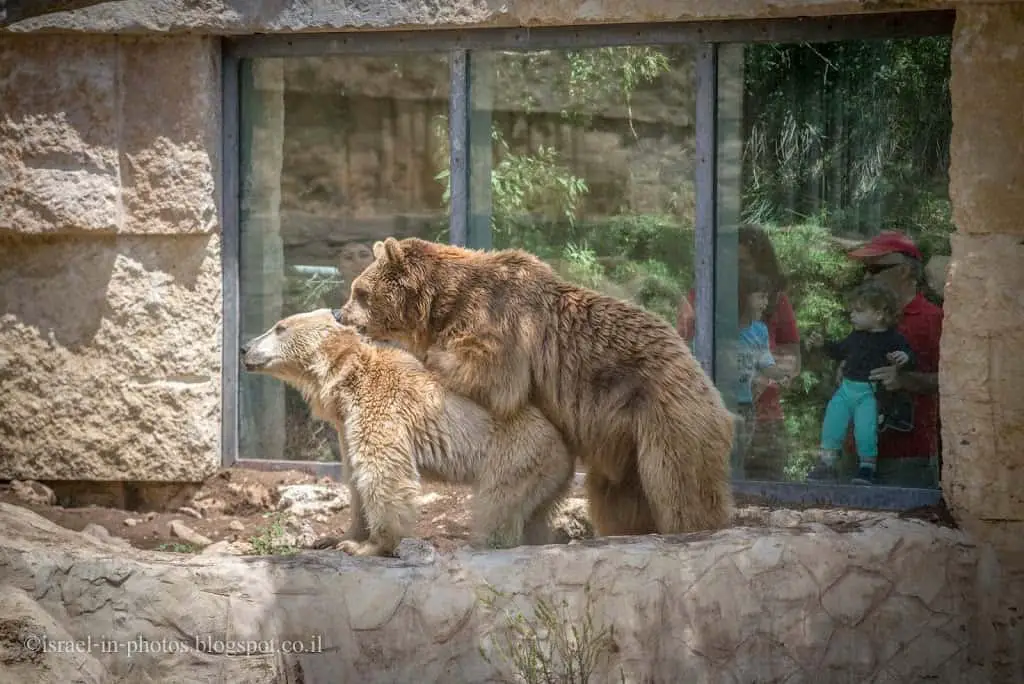 Not sure what those parents telling the toddlers 😉
And when there is no food involved, then high chances that you will find animals in the following state 🙂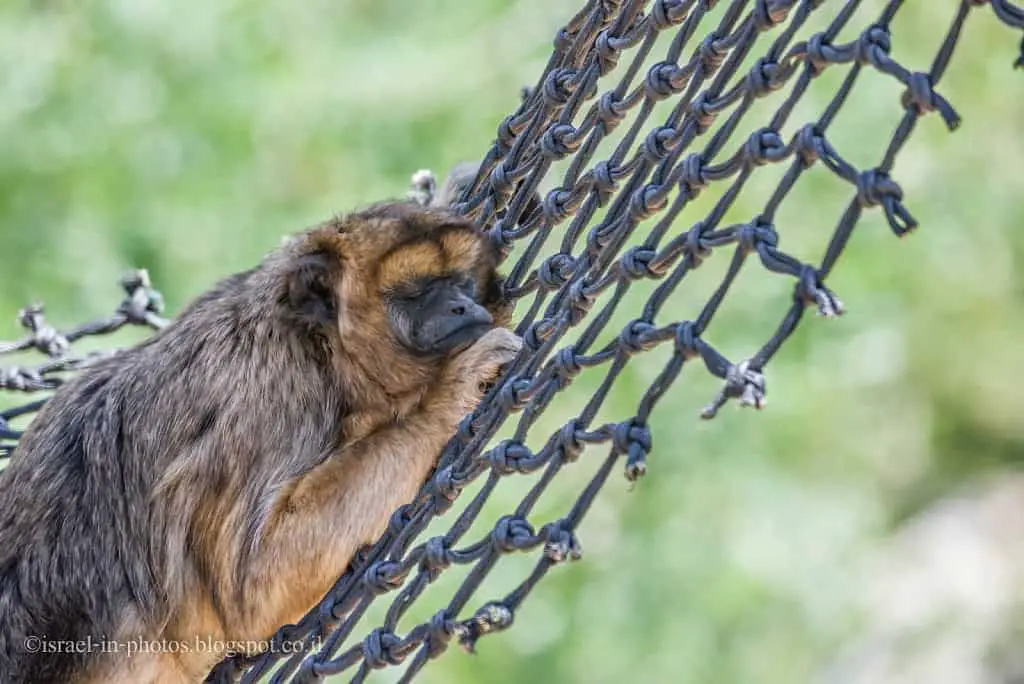 But sometimes they get up for a drink, and then I can get this: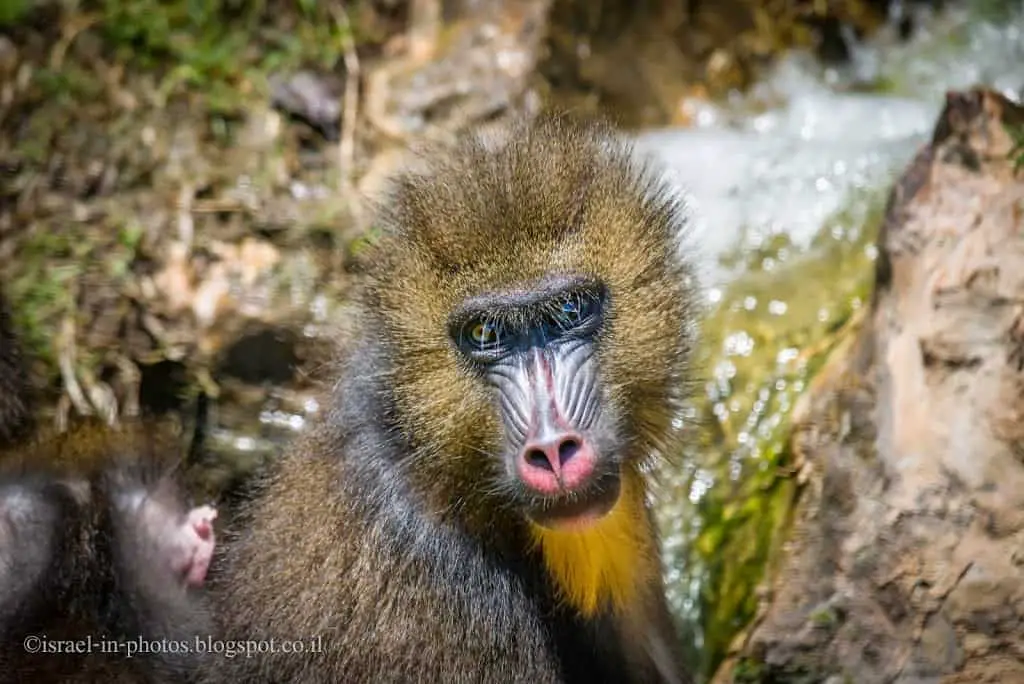 Elephant Workout
Later, we went to an elephant workout. The next photo was taken actually before the workout. They let each elephant to splash some water and to play with a tire.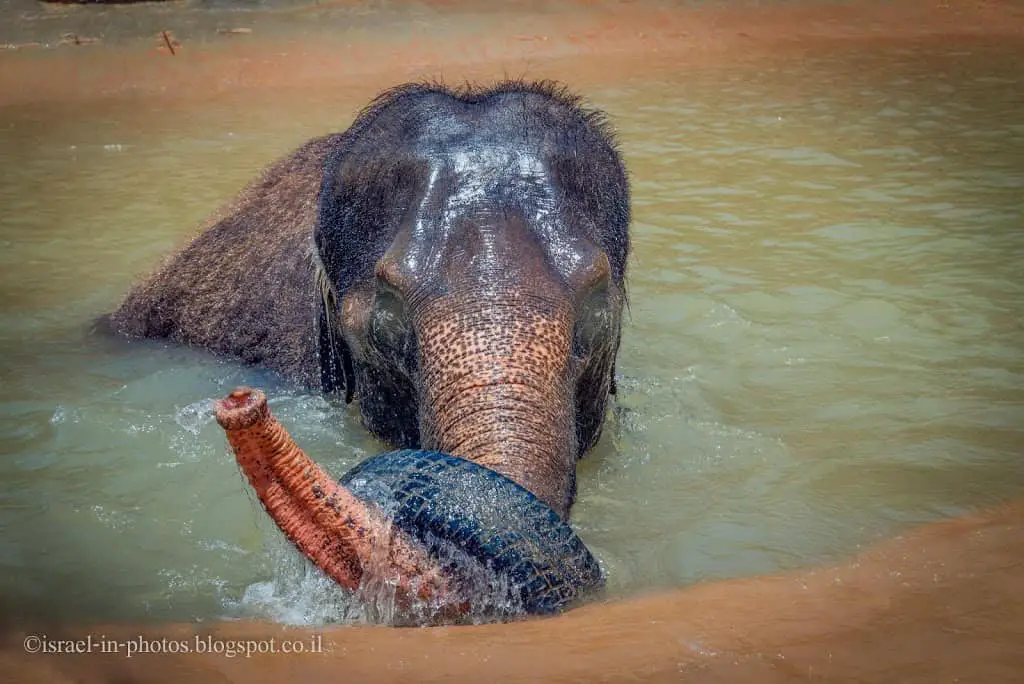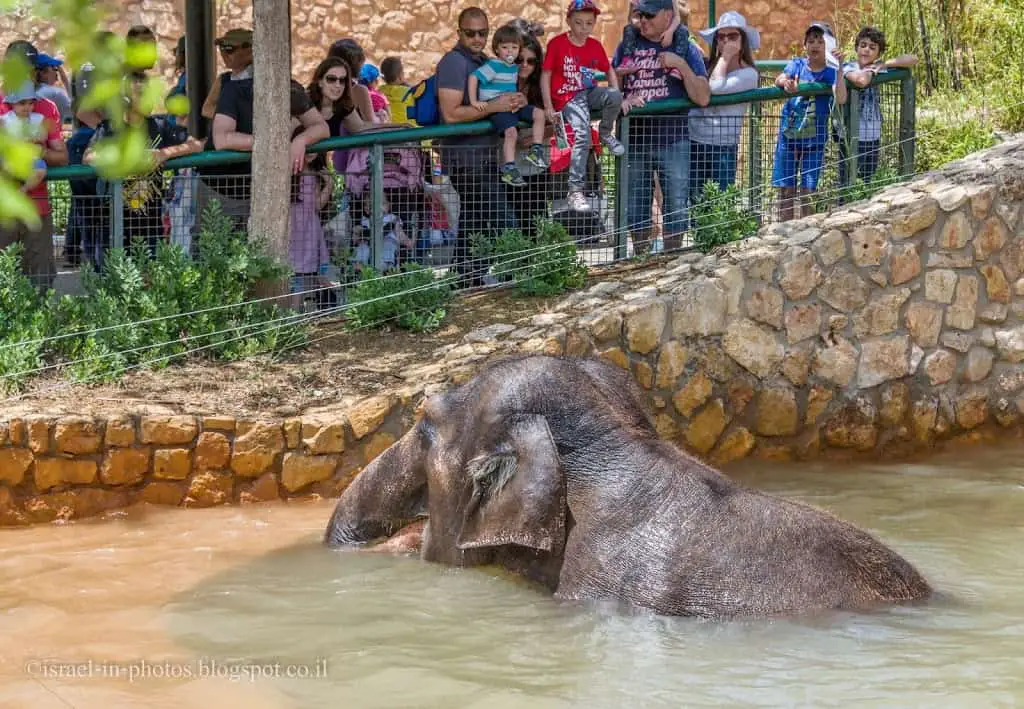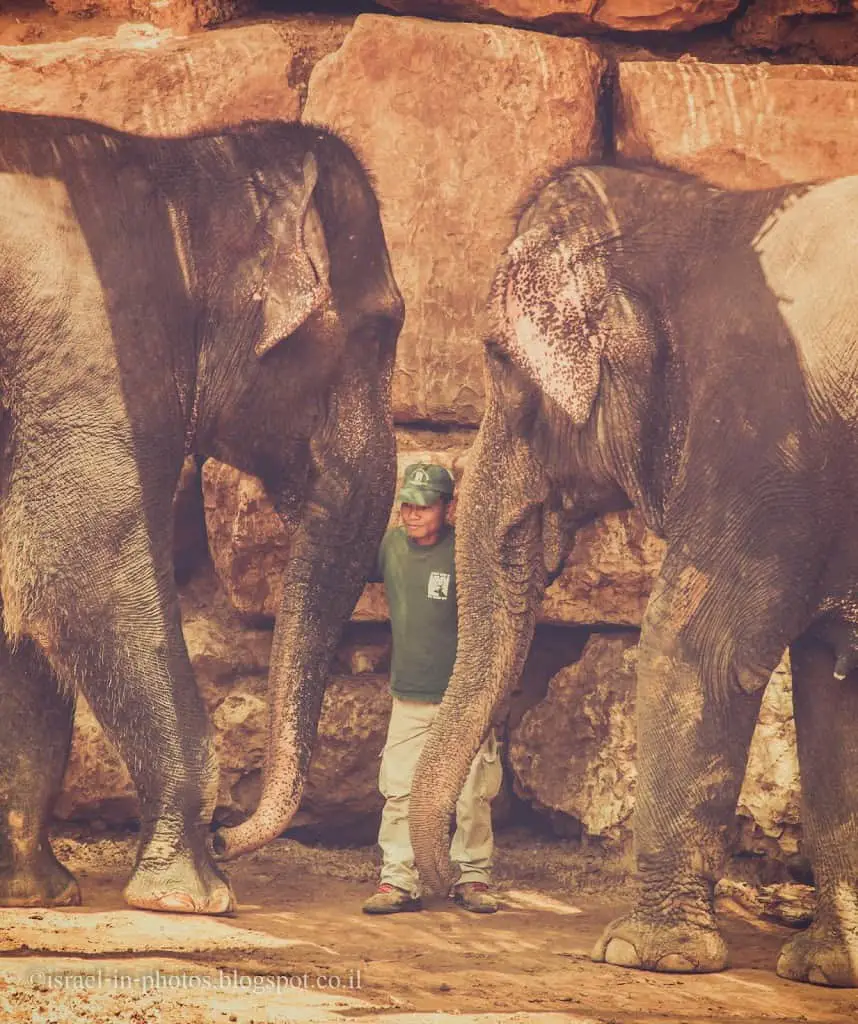 This is how it looks from the side:

At this point, they started to show their daily routine. As it turns out, elephants in the wild walk 20-30km a day. And they need to walk such distances to be healthy. Each day before the zoo opens for visitors, the elephants with their trainers walk around its premises.

When they are walking around the zoo they are holding "hands" in the following manner: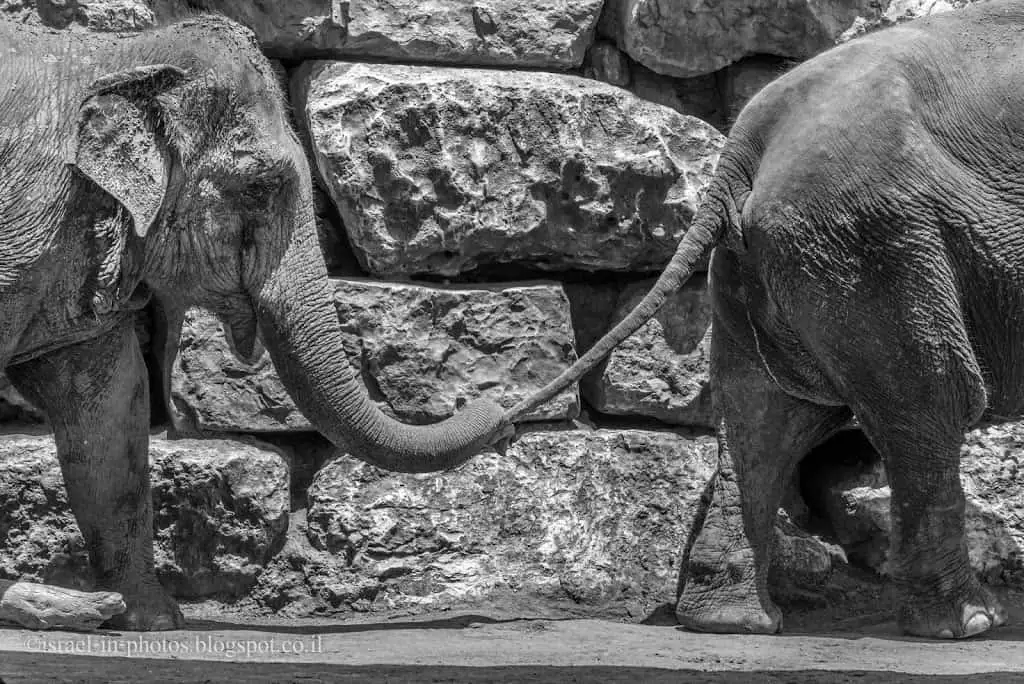 Also, there is a daily health inspection. They are checking mouth internals for diseases.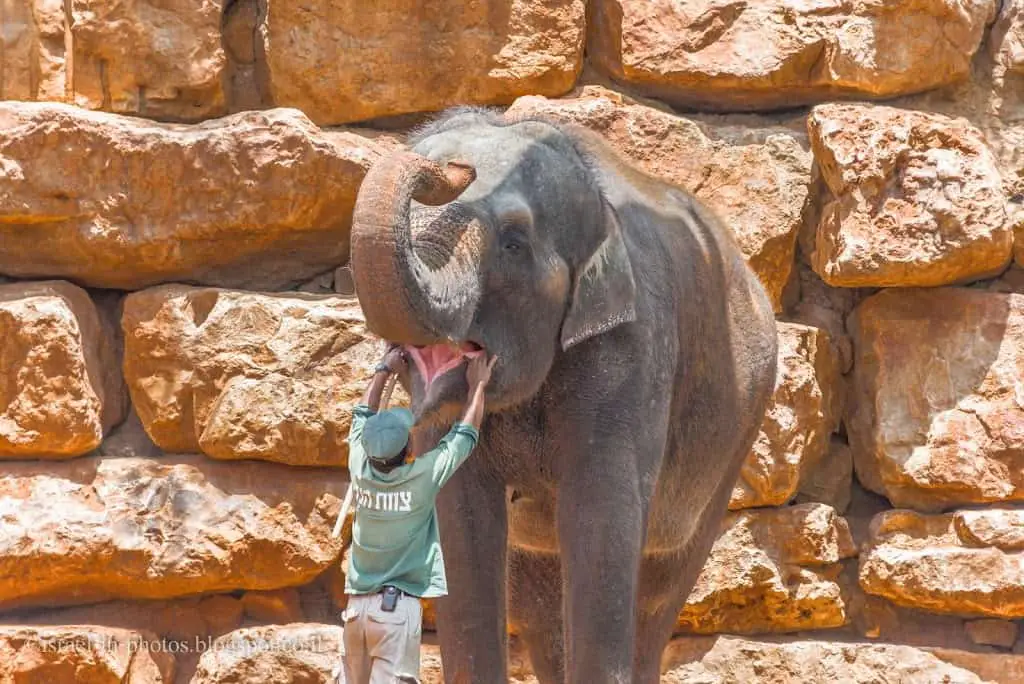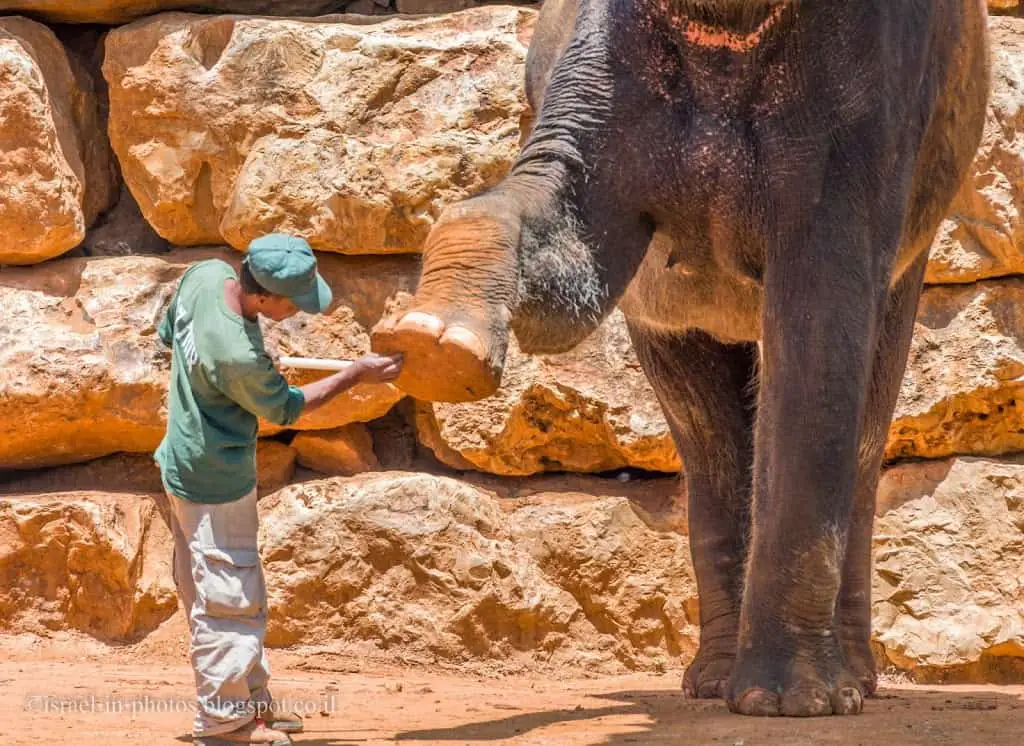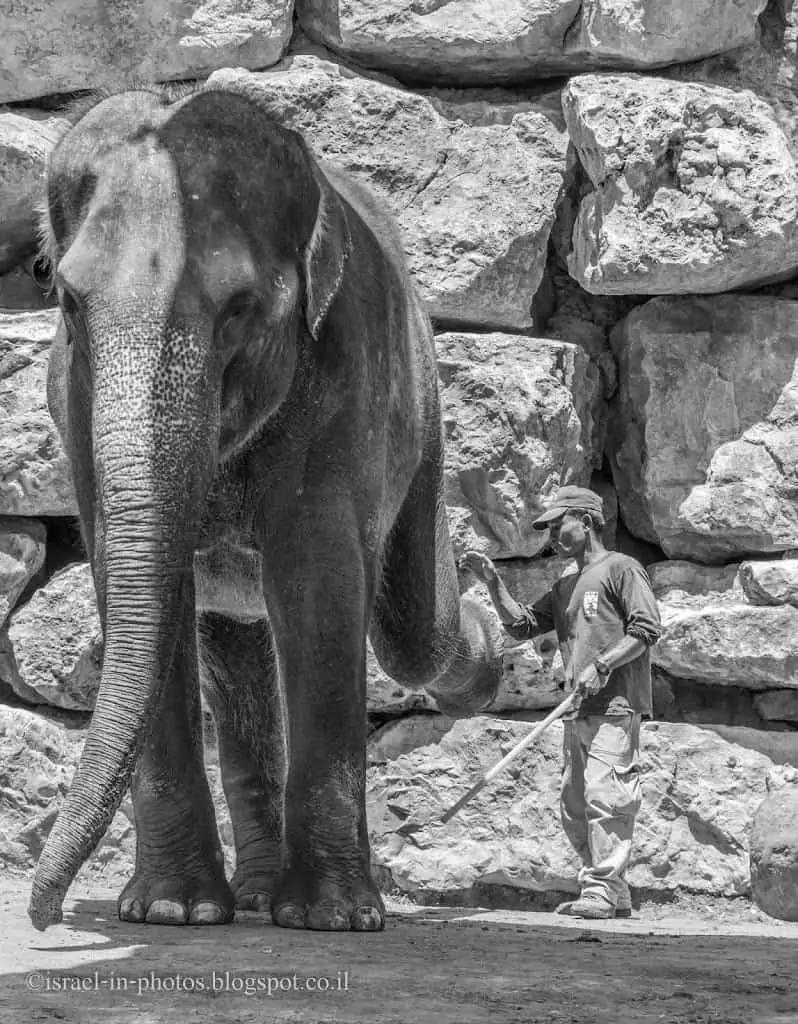 As it turns out, it is very hard for elephants to lie down. Not all elephants can do this: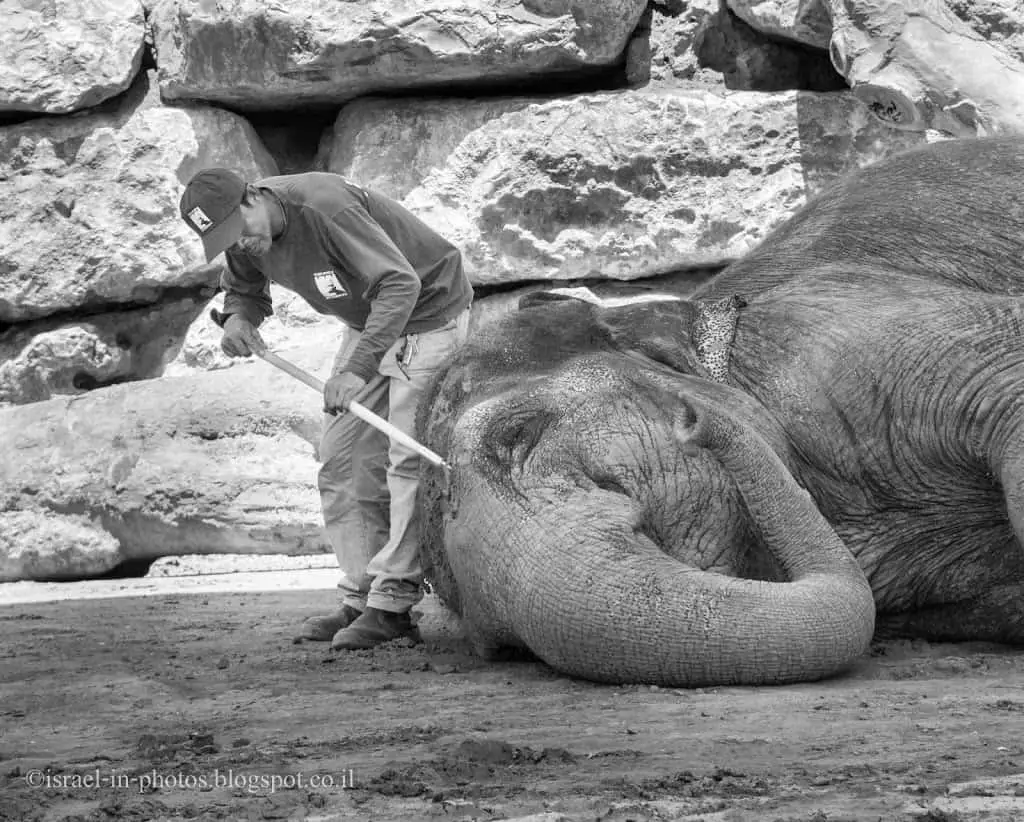 And in the end, some more exercising, like: walking, and moving weights.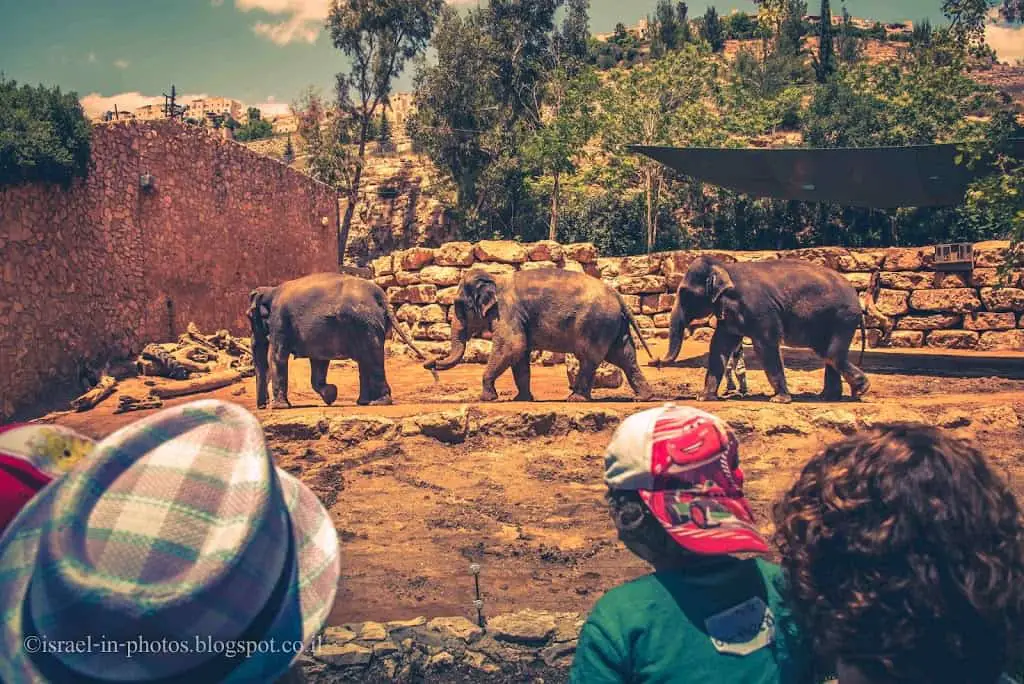 Bible Land Wildlife Preserve And African Savannah
Then we reached theBible Land Wildlife Preserve And African Savannah. A wooden bridge with viewpoints crosses over this area. The bridge is about 1km long and you walk above the animals.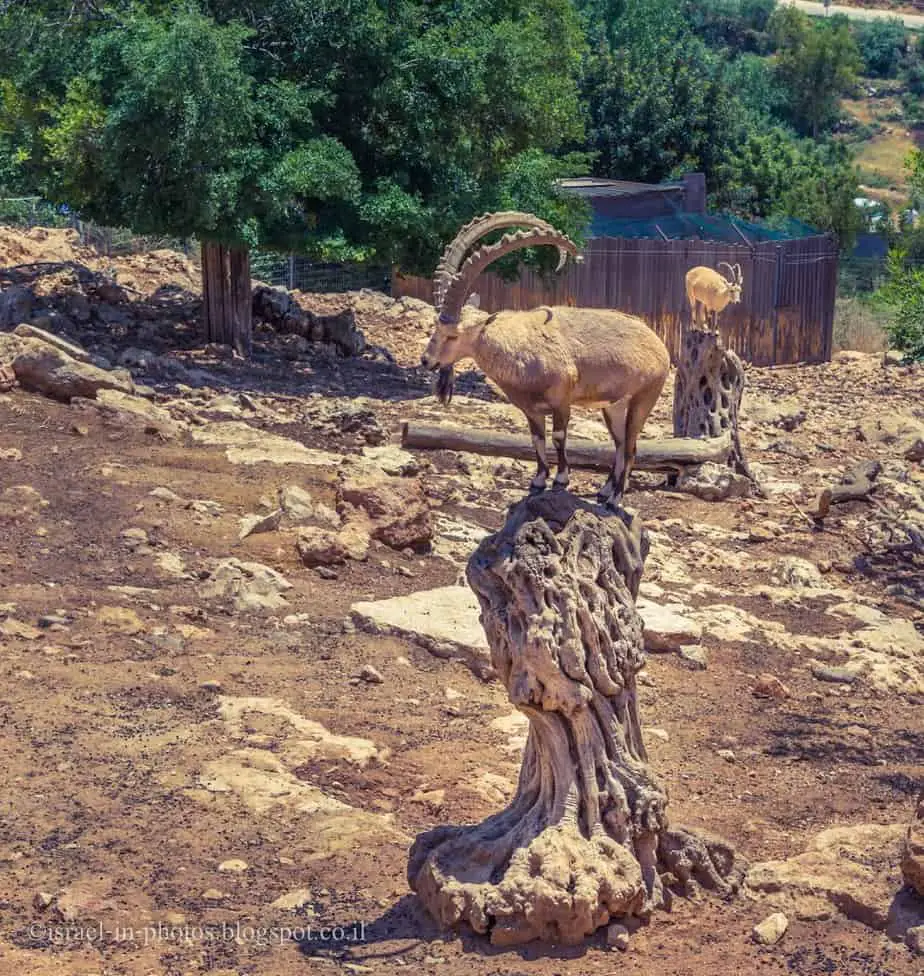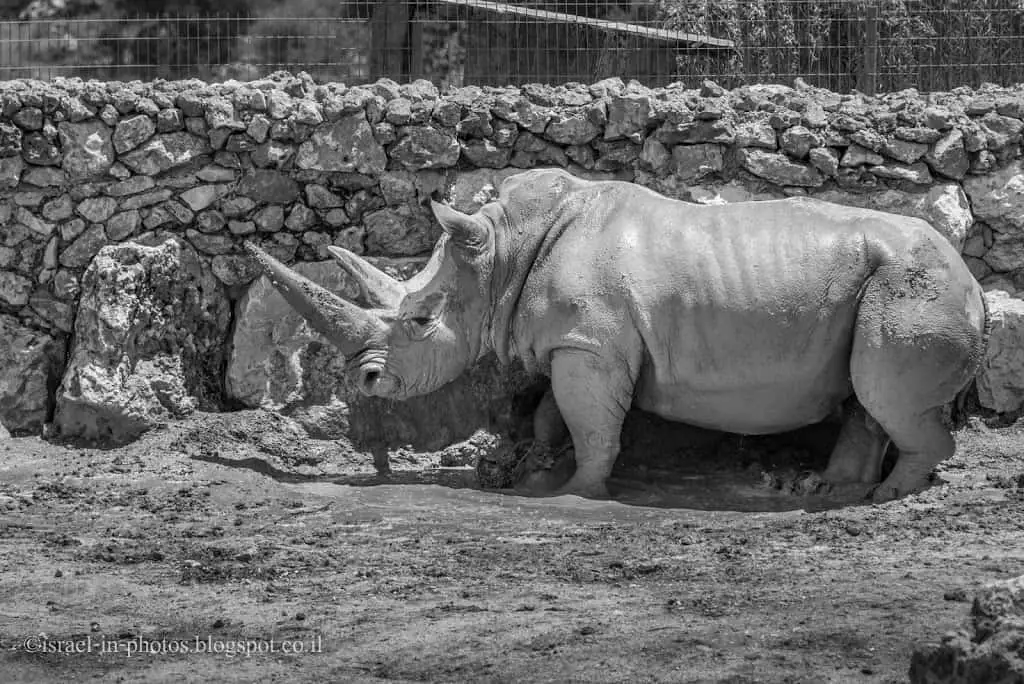 Hey, maybe you will throw some food down here?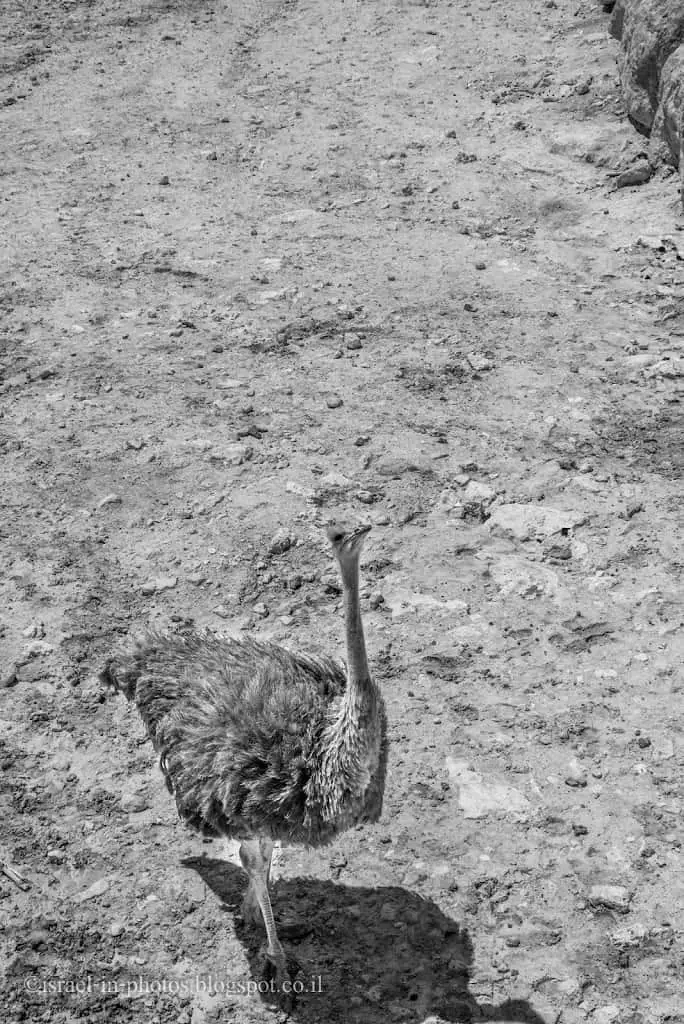 The bridge has some viewpoints, and here is one of them.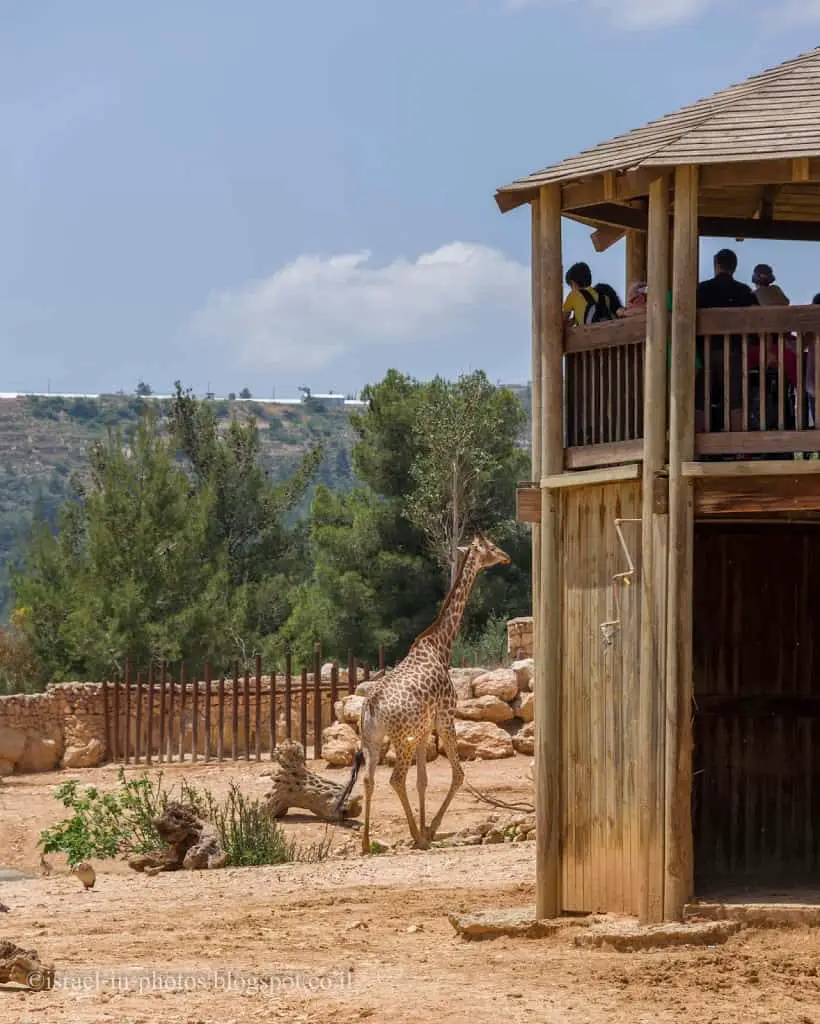 A Submarine 😉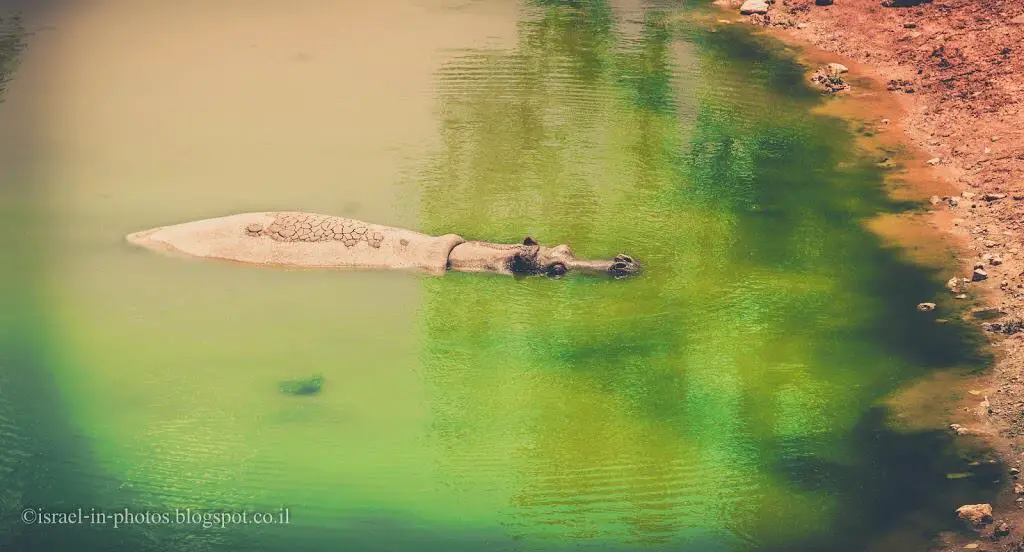 At this point, our time was nearly out (almost my daughter's nap time), so we headed towards the exit.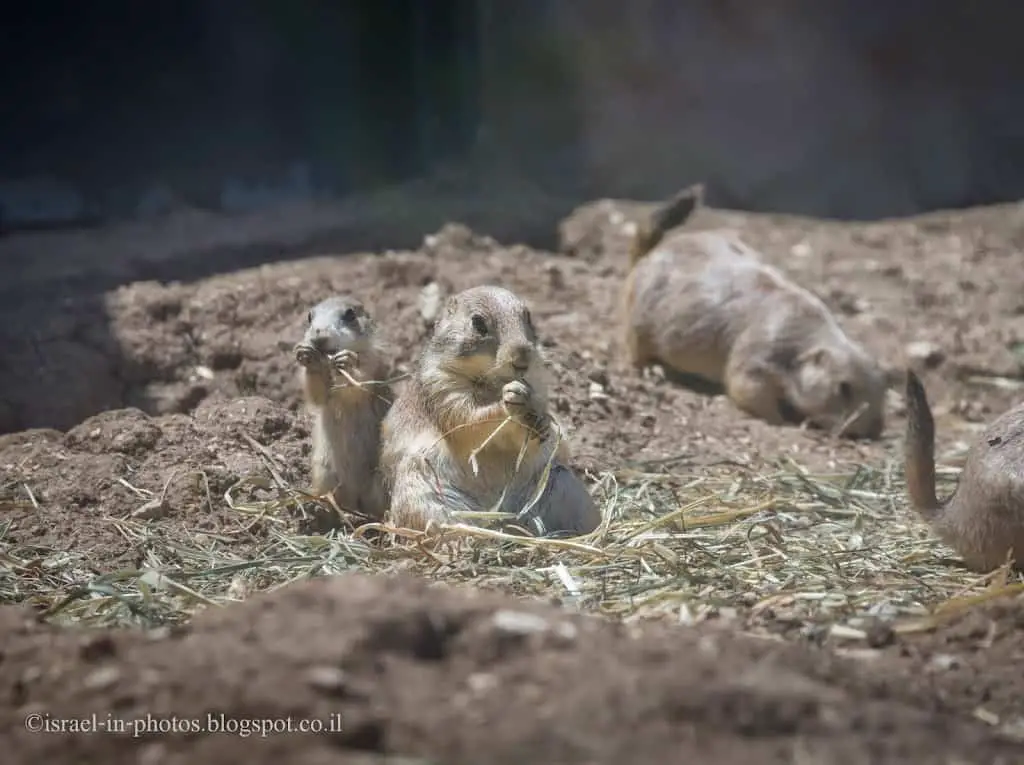 This man was hypnotized for several minutes, and I wonder whether they have special powers 😉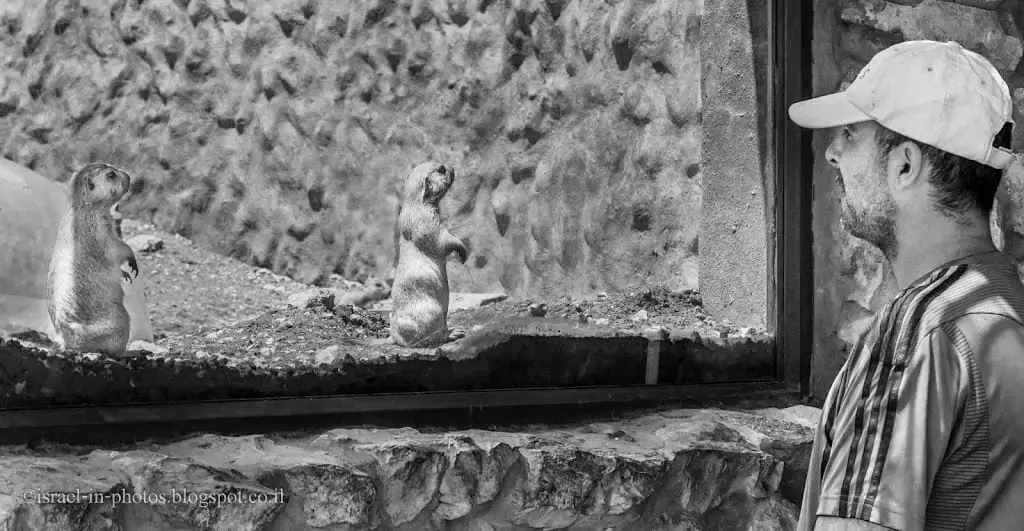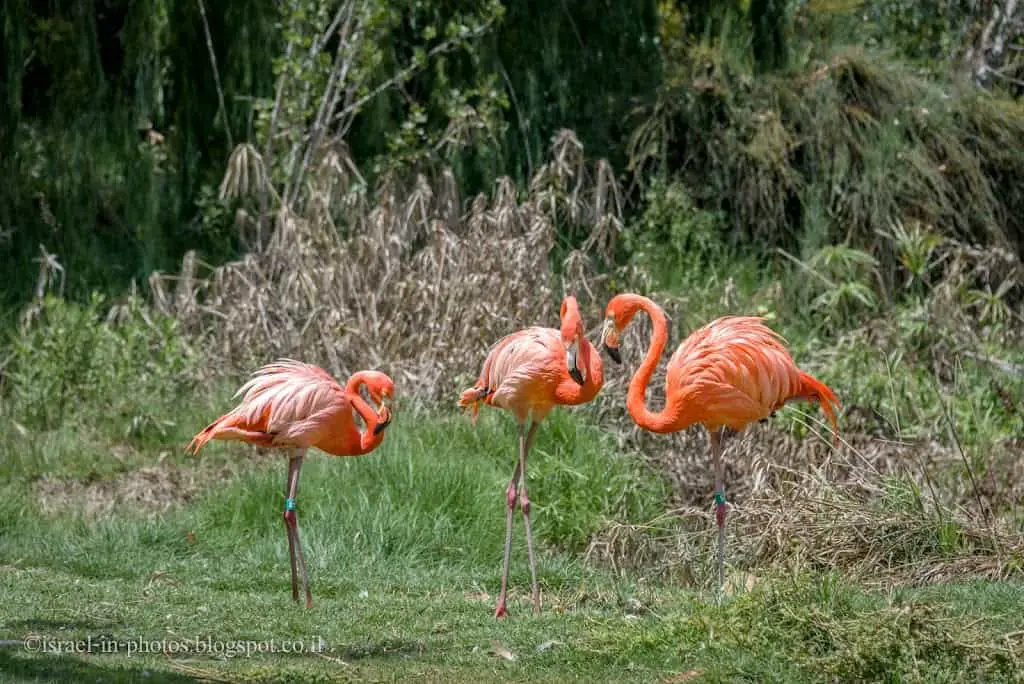 That was the end of that visit. But do not worry. In 2017, we returned to Jerusalem Biblical Zoo. And as in previous visits started at bear feeding. Note how the bears using the backside of their palm as a plate.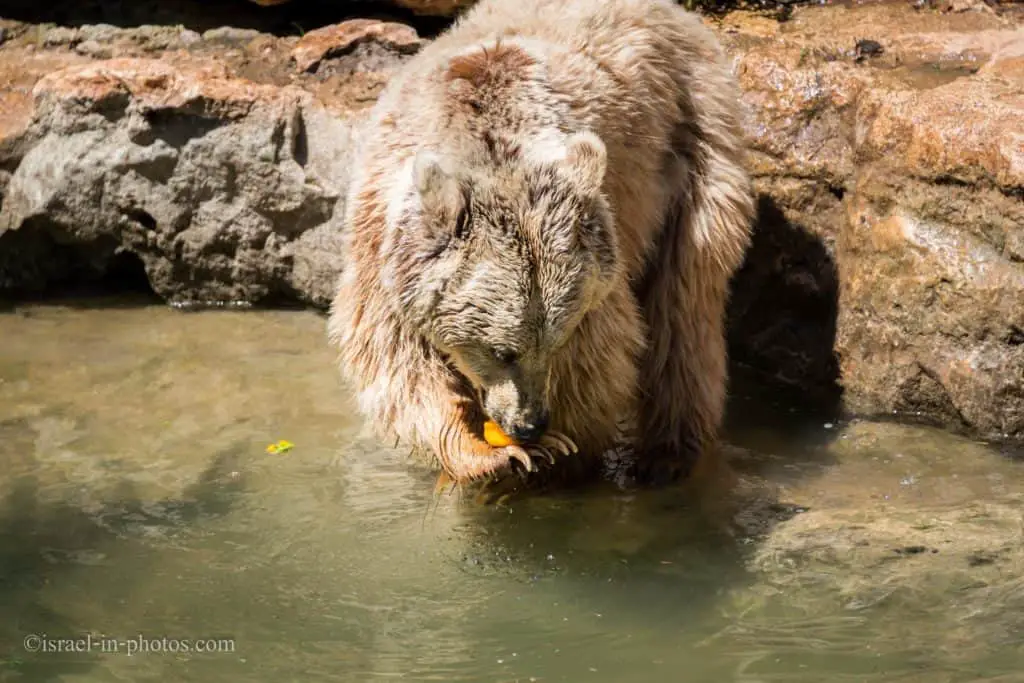 Feeding Loriini Parrots
Then we went to visit lory parrots.
And there we saw something similar to Gan Garoo. You can feed the parrots. But, unlike at Gan Garoo, it was not free. Feeding nectar drink costs several Shekels.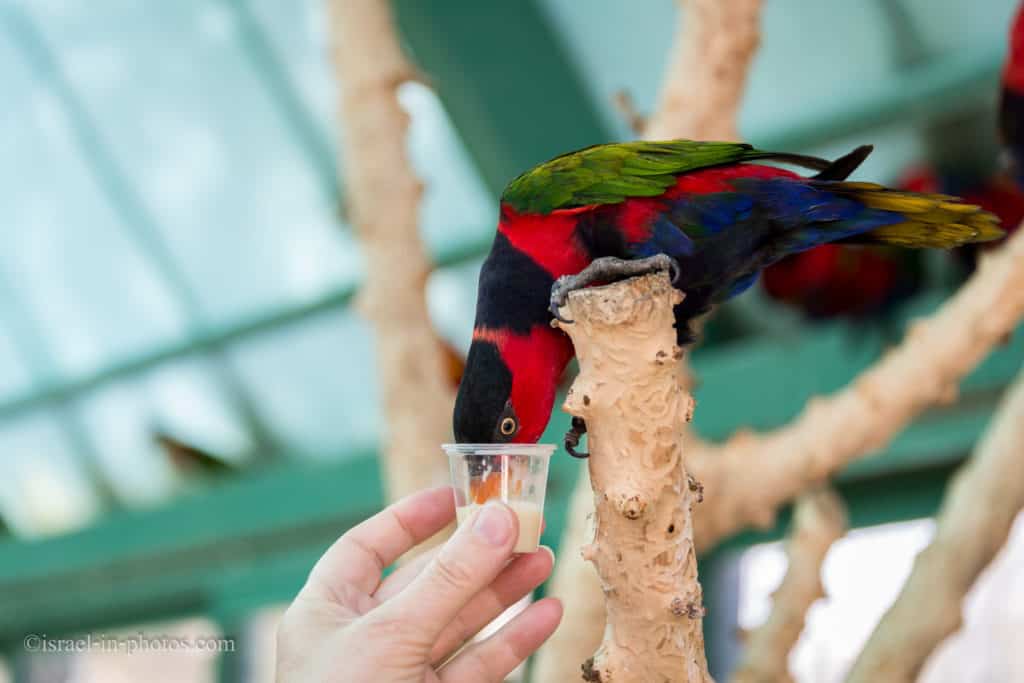 Lion Workout
One of the reasons for returning to different attractions is changing over time. Not only that, the attraction change but also as kids grow older, and you get to see more. And this year, my daughter had more stamina, and we saw more.
One of the additional things we saw was the lion's workout. Not sure if exercise is the best word, but it was some entertainment for the lions.
The young lioness walked near the glass, but the two other and older lions lied in the shade.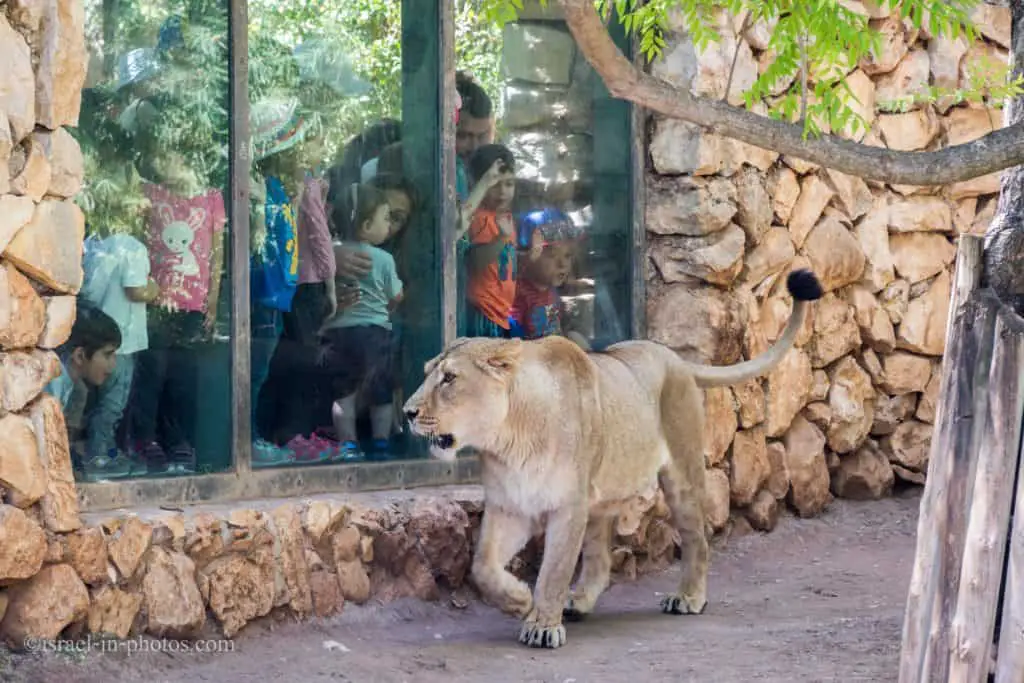 So they lowered this kind of a rope for the lion to play with.
You can also see a carton box they threw in. A special feromone, which lion loves, was added to the box. So after the lion finished playing with the rope, he lay on the box and started twisting on it.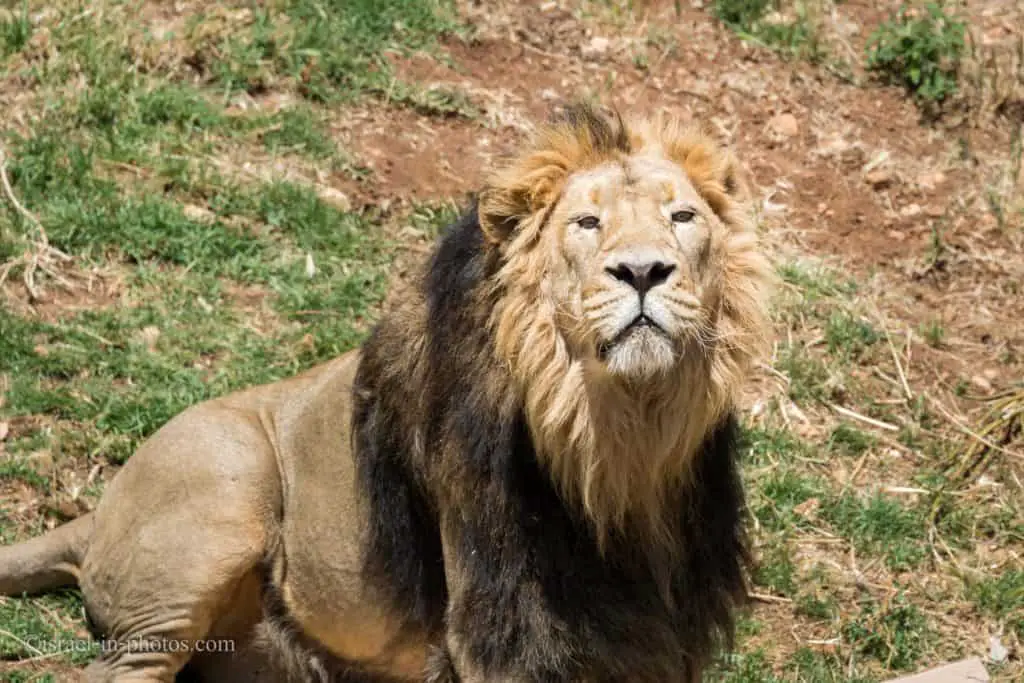 Chimpanzee Feeding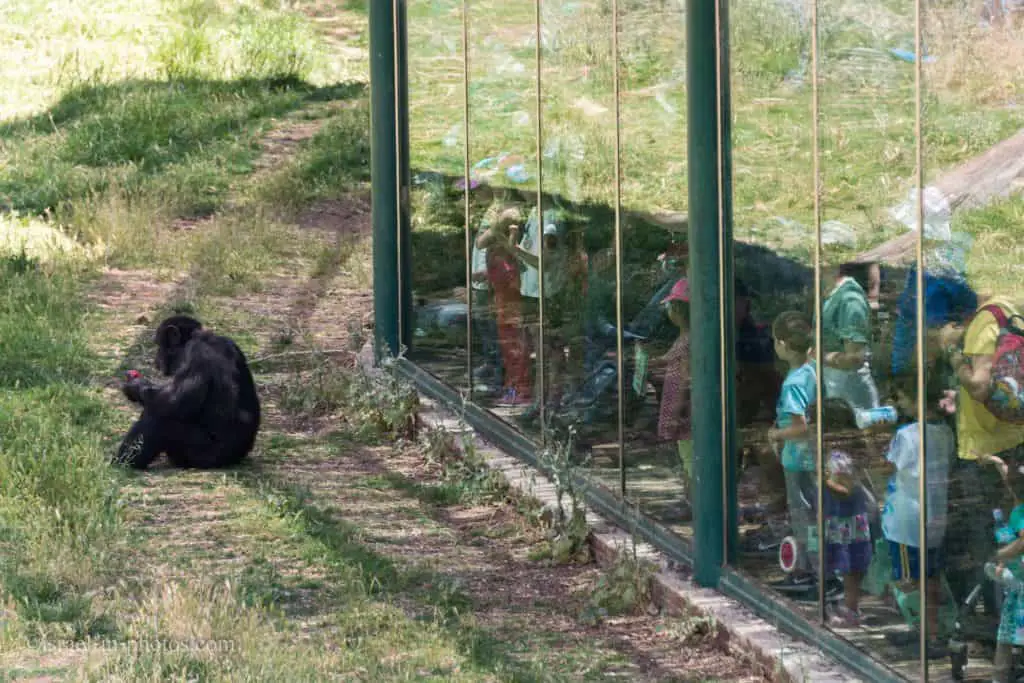 Another event that we visited this time was Chimpanzee Feeding. But they were not cooperative and turned their backs.
Visiting the birds of prey: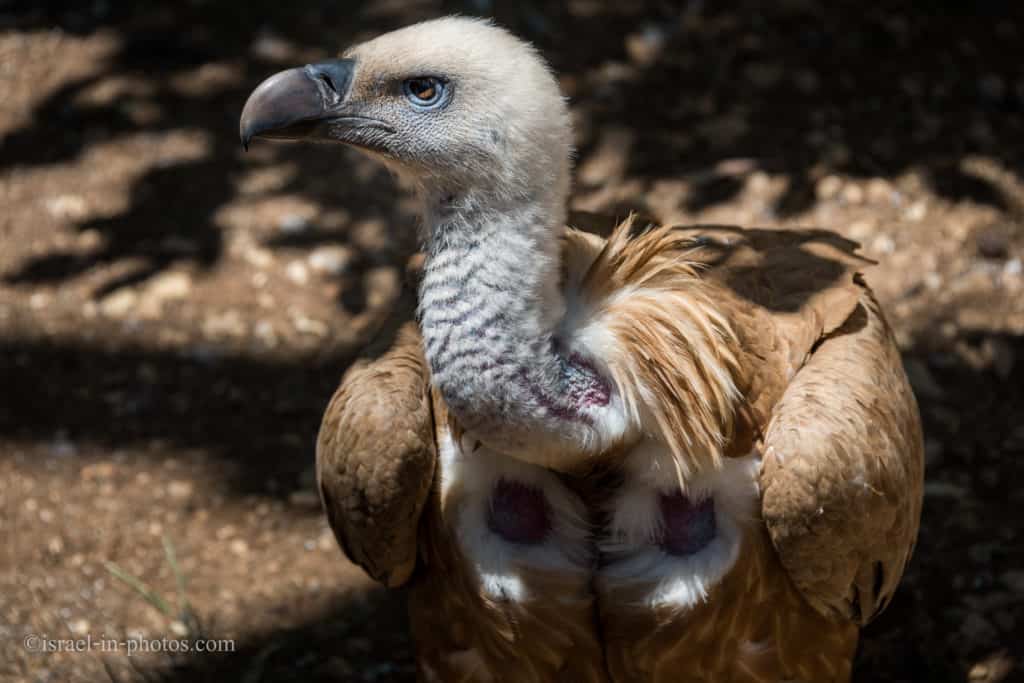 Elephant Training – Rerun
As in previous visits, we went to Elephant Training. They still have three elephants there, but since one of them is quite old and has vision problems, only two of them were training.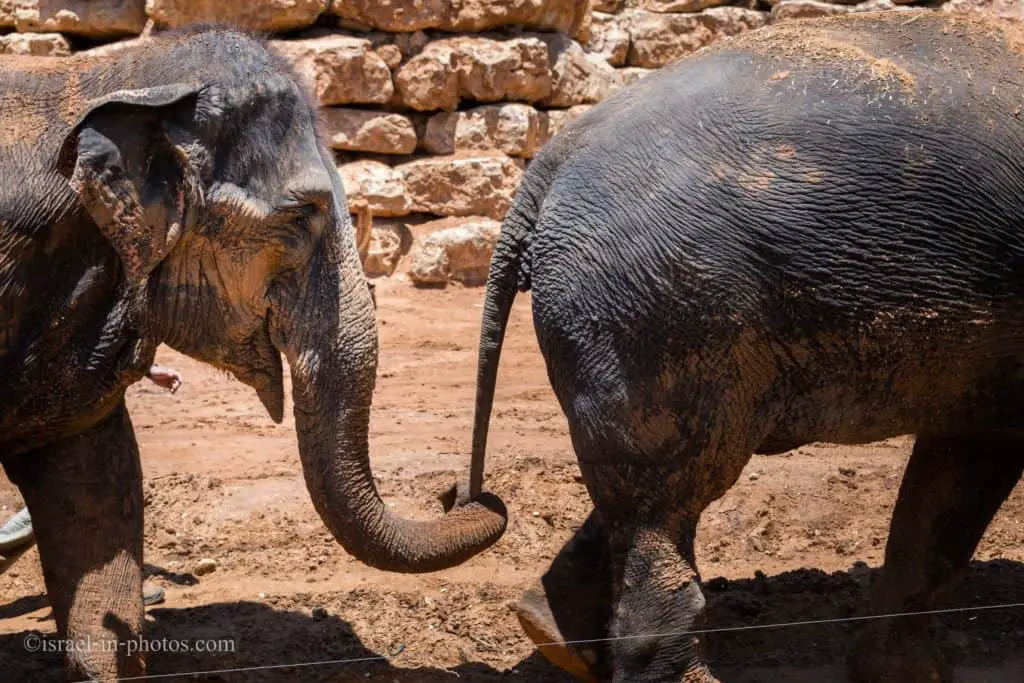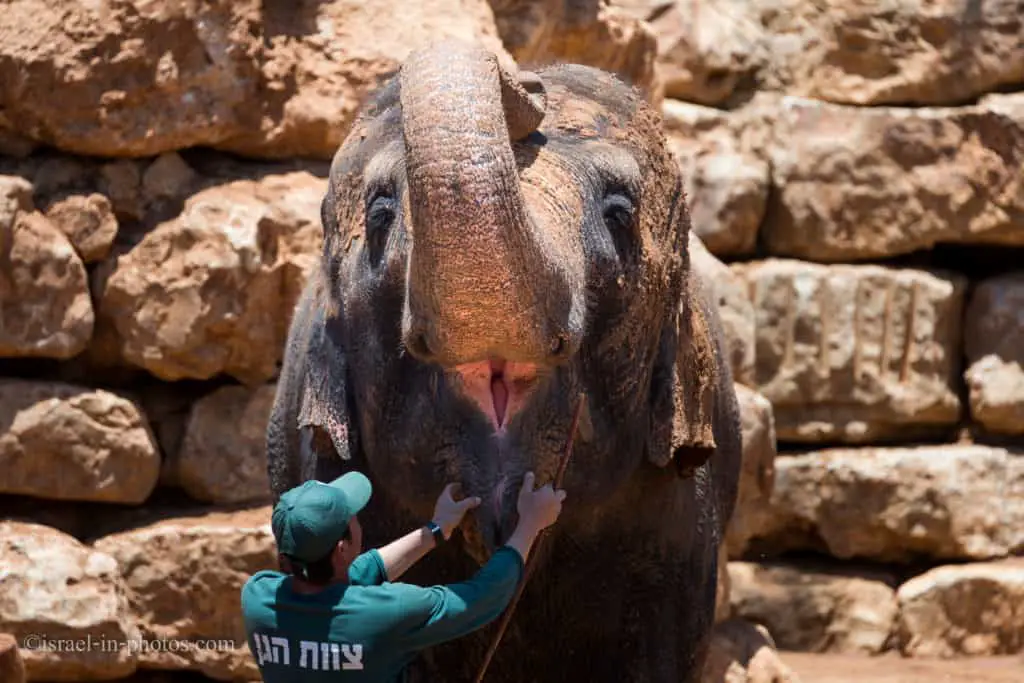 And all feet are checked as well.
We visited many more animals but one of my favorite photos from that day is the one with this chameleon.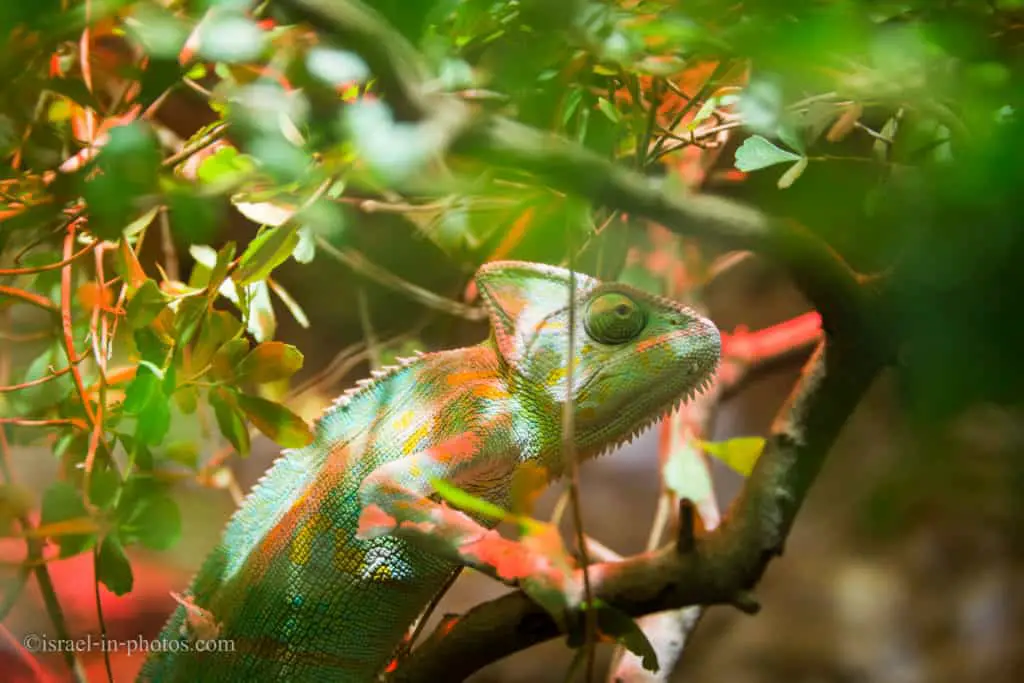 Before I end this post, I want to mention another nearby animal-related attraction, the Israel Aquarium.
The Israel Aquarium is situated adjacent to the Jerusalem Biblical Zoo, around 1 km from the zoo's entrance gate. You can drive or walk along the access road that begins at the end of the Zoo's parking area. Moreover, public transportation reaches only to the Zoo's main entrance.
You can find additional information at my guide about the Israel Aquarium.
Note: purchasing a ticket for the Israel Aquarium does not provide entrance to the zoo. Likewise, purchasing a zoo ticket does not provide entrance to the Aquarium.
Summary
For now, my opinion has not changed. The Special Activities upgrade the visit, and it is still one of the best zoos in Israel. If you love animals, then it should be on your TODO list.
Have you ever been to Jerusalem Biblical Zoo? Tell us about your experience in the comments below.
That's all for today, and I'll see you in future travels!
Stay Tuned!
For additional points of interest nearby check out Jerusalem page.
Additional Resources
Here are several resources that I created to help travelers:
And if you have any questions then check out
Useful Information For Tourists To Israel
.
Did not find what you were looking for? Email me at
hi@israel-in-photos.com
, and I will do my best to answer your questions.