The Salad Trail in Talmei Yosef offers agricultural tours where you will be picking and tasting fruits and vegetables.
Map
The Salad Trail is situated in southern Israel at moshav Talmei Yosef. And the full address is Marva 31, Talmei Yosef. But to get there, enter "The Salad Trail" into Waze, which will take you to the parking lot.
Directions for drivers: Link to Waze and Link to Google Maps
Directions for public transport: Link to Moovit
Interactive map of the area:
Offers:
Hotels, hostels, and apartments in this area:
Entrance Fee
The entrance fee is 45 NIS per person. And you have to purchase tickets in advance through the official website. Moreover, during Festival Darom Adom, many people visit this attraction. Thus tickets run out quickly. Last year when I tried to purchase several days before our planned visit, all tickets were already sold out. Hence this year, I bought the tickets two weeks in advance.
Also, I wanted to mention that occasionally you can find coupons online. But before our visit, I have not seen any discounts.
Opening Hours
To visit the farm, you have to join a tour, which means you select the date and time of the visit when you purchase tickets at the official site.
About
The Salad Trail would like to invite you to an unforgettable experience in the greenhouses of the Habsor region in the northern Negev.

The tour is planned and guided by the agronomist Uri Alon (a specialist in international agriculture.) Uri is assisted by a team of professional guides, who are fluent in several languages and adept at working with different age groups.

You will observe the most up to date agricultural technologies- the "high tech" of agriculture. At every stop of the tour, you will receive an explanation followed by you actually picking and eating your fruit right away!

On the tour, you will encounter a wide variety of seasonal fruits and vegetables.

There might be changes due to the agricultural season.

The tour lasts 2-3.5 hours. The tour is suited to all ages and all the yearly seasons

Please call us to book the tour 08-9982225

Arriving by appointment is necessary.
Note: unless stated otherwise, all quotes were taken from the official website.
And now, let's skip to the actual tour.
Talmei Yosef
The tour consists of various stations, and our guide started the tour by explaining about Talmei Yosef. As it turns out, Talmei Yosef was created in Sinai. But after returning Sinai to Egypt, original Talmei Yosef residents moved here and started moshav with the same name.
The moshav was established in 1982 by former residents of Talmei Yosef, an Israeli settlement in Sinai. The original settlement's residents were evacuated as a result of the Camp David Accords, and re-settled in Israel, naming their new settlement after their previous one (after Yosef Weitz, a former director of the Land and Afforestation Department of the Jewish National Fund).

In 2005, one moshav resident opened an educational farm called the "Salad Trail."Visitors see how Israel's agricultural technologies allow over 80 different crops, primarily fruits and vegetables, to grow in the desert soil – without pesticides.
Source: Wikipedia
Tomato Greenhouse
Our next stop was the tomato greenhouse.
The Tomato Greenhouse: How come the tomatoes grow upwards? Why are there enormous bees here? You will pick and eat colorful tomatoes and small peppers and tasty cucumbers.
Our guide started by showing tomato seeds and explaining how they grow. Then we talked about pest control and natural pollination (next photo). And afterward, we received some free time (about ten minutes) to wander in the tomato greenhouse and taste everything.
There are about half a dozen different tomato types in this greenhouse.
And though it is called a tomato greenhouse, there are other vegetables. There are cucumbers.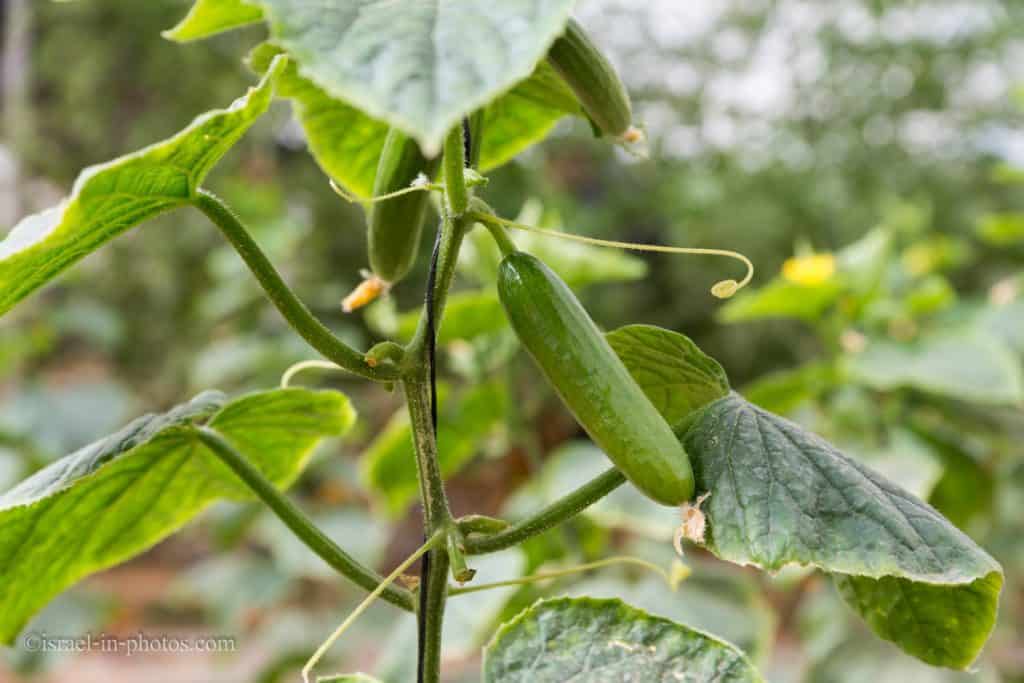 And there are hot peppers. In the next photo, you can see the Carolina Reaper. It is the official hottest pepper in the world, with over 2 million Scoville heat units reported. So be aware, and if you are with small kids, monitor what they are eating.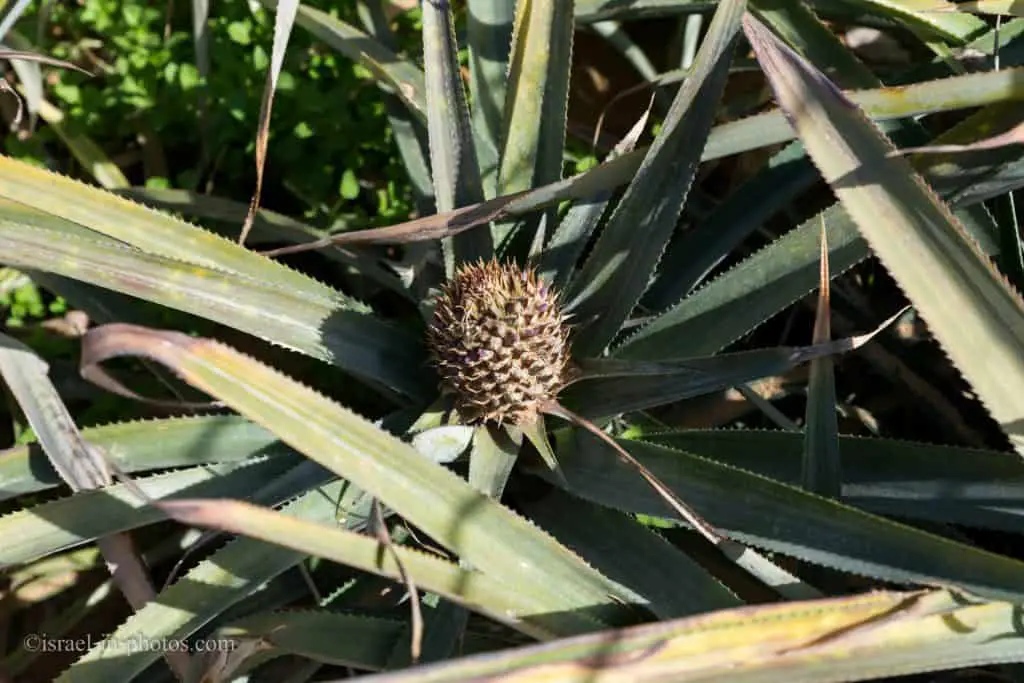 Strawberries
Our third stop was the strawberries greenhouse. And similarly to the previous station, we started with explanations and went on to the tasting.
The Greenhouse of flying strawberries: Why do they grow in the air? Who are the strawberries' bio-engineered friends? You will learn about the water, the special soil used and, of course, taste the fruit.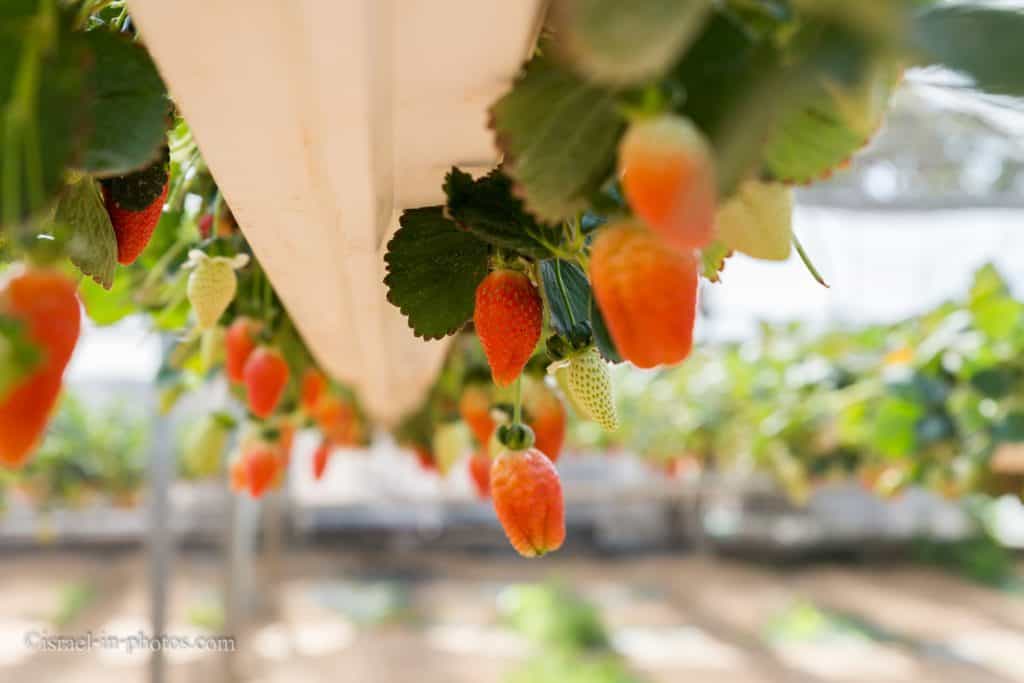 Till today, I have seen two methods of growing strawberries. In northern Israel and the Sharon area, the farmers grow strawberries in the soil (for example, see The Strawberry and Flower at Ramot HaShavim and Strawberry Picking At Hod HaSharon). And in southern Israel, strawberries grow in the air (see Self-Picking Raspberries at Gedera). The exciting thing we learned this time is that these strawberries are not planted in soil. They are raised in coconut leftovers.
Orchard of Chinese Oranges
Though in Israel, they are referred to as Chinese oranges, in other countries, they are known as Kumquat.
The Orchard of Chinese Oranges: Did you know that all of the orchards from the Sharon area were moved to the Negev? You will make Hawaiian style necklaces from Chinese oranges!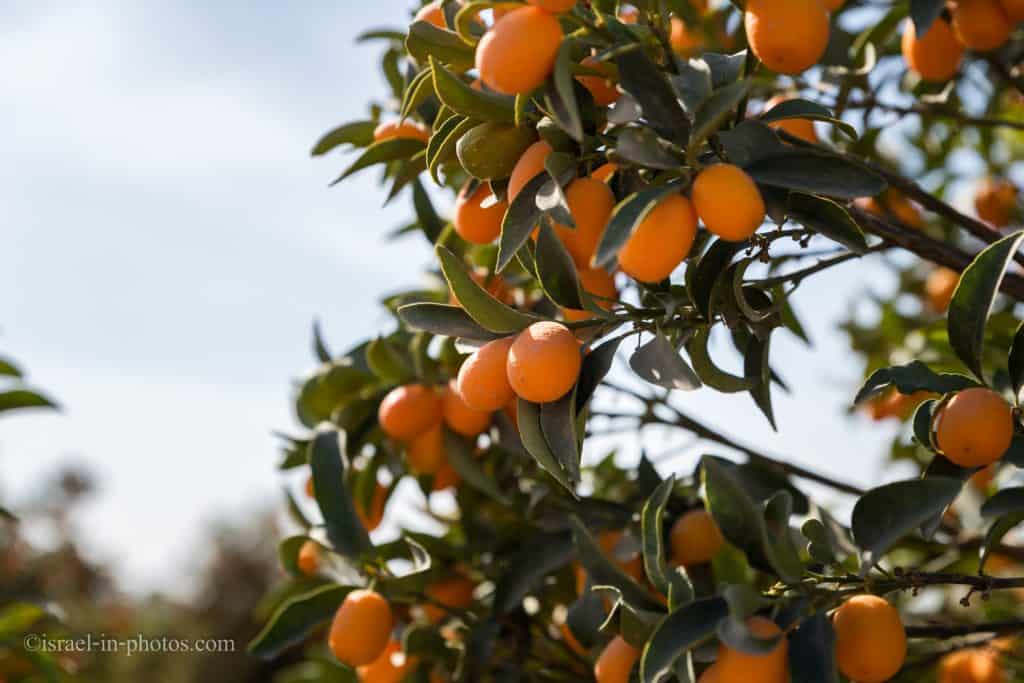 Kumquats are the size of big grapes, and you eat them the same way. In other words, you do not peel them like oranges.
Though Kumquat jams are very popular, you can eat them fresh. And they taste similar to oranges.
After eating Chinese oranges, we went on with Chinese lemons. They are similar in size and sourer (as you would expect from a lemon).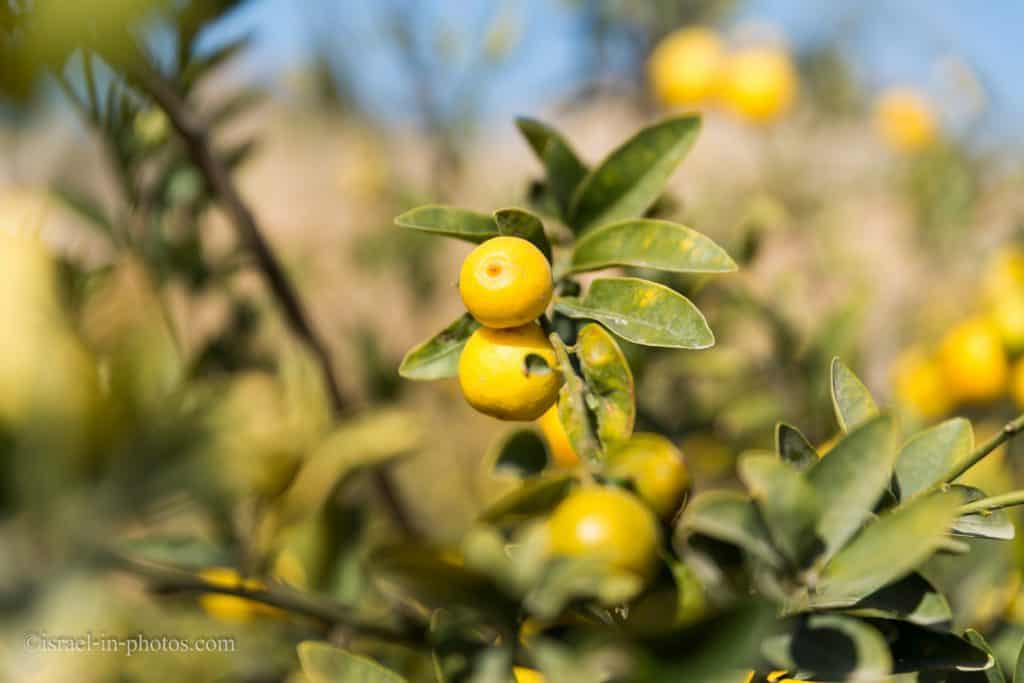 Note: we did not make a necklace from the oranges as the quote from the official site suggested. Maybe they stopped with that activity.
Carrots and Potatoes
We continued to our fifth station, the field of carrots.
The Field of Carrots: You will learn the history of the carrot and then find and collect orange, white, yellow and purple carrots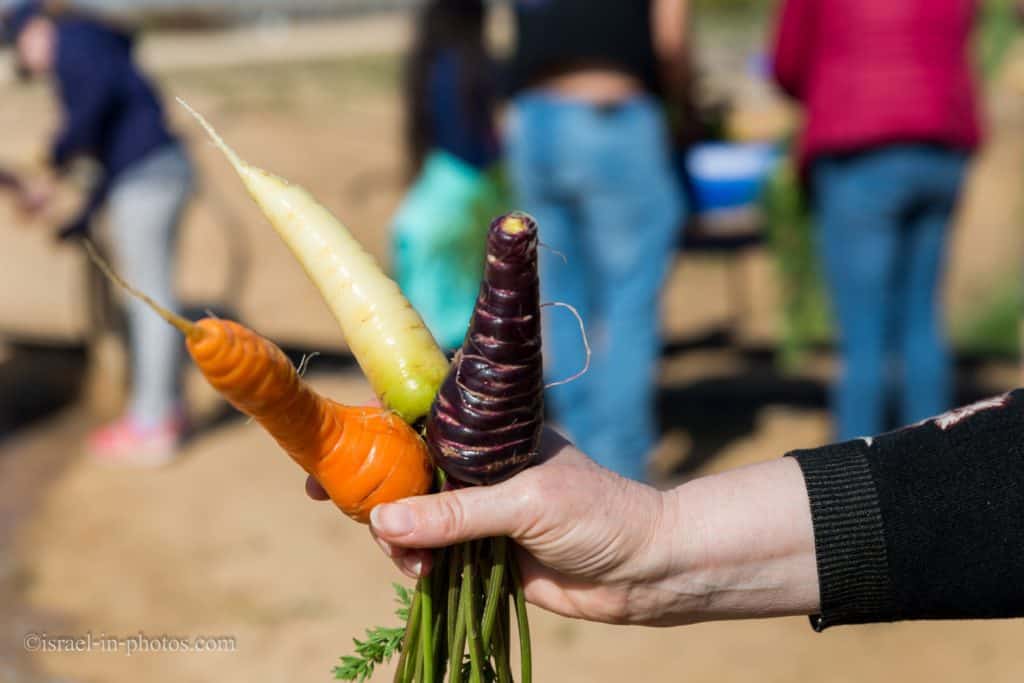 As in previous stations, we got explanations, and the activity started. So far, the action was eating, but here only we did some digging.
Passiflora Maze
Then we walked through the Passiflora fruit maze and looked for ripe fruits.
You will explore a genuine maze from passion fruit while picking and eating on your way!
Homing Pigeons
At our next stop, we got to release Homing Pigeons.
Racing of homing pigeons: Once these pigeons were the e-mail of the ancient world. Which is the fastest bird? You will send your messages and wishes on the legs of our homing pigeons.
And then we headed to the herbs garden.
Herbs
The Herbal Greenhouse of fresh medical herbs:  Green medicinal herbs that are not only for eating – you will touch and smell and learn about their essential oils.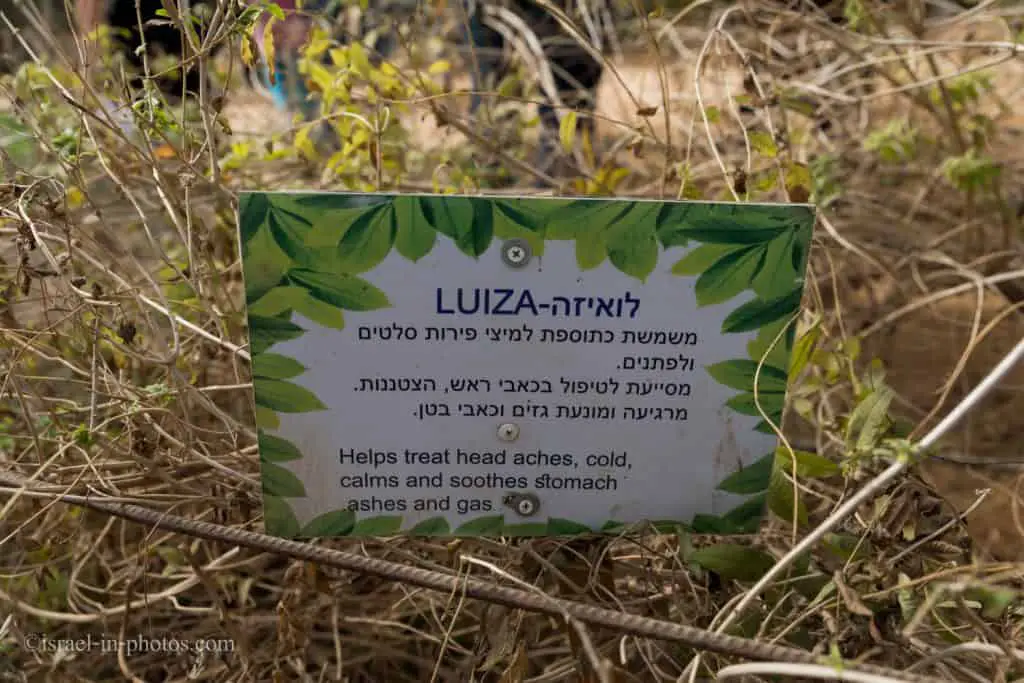 Preparing Pitot
"Pitot on the Saj": We will bake pitot with zaatar and olive oil. (A saj is a Bedouin oven covered by mud).
Each child got some dough at our last stop and prepared a pita. Then the guide collected the pitot and baked them on the Saj.
When the tour ended, we headed towards the tables on-site and held a picnic.
After the picnic, we looked at several palm types and headed home.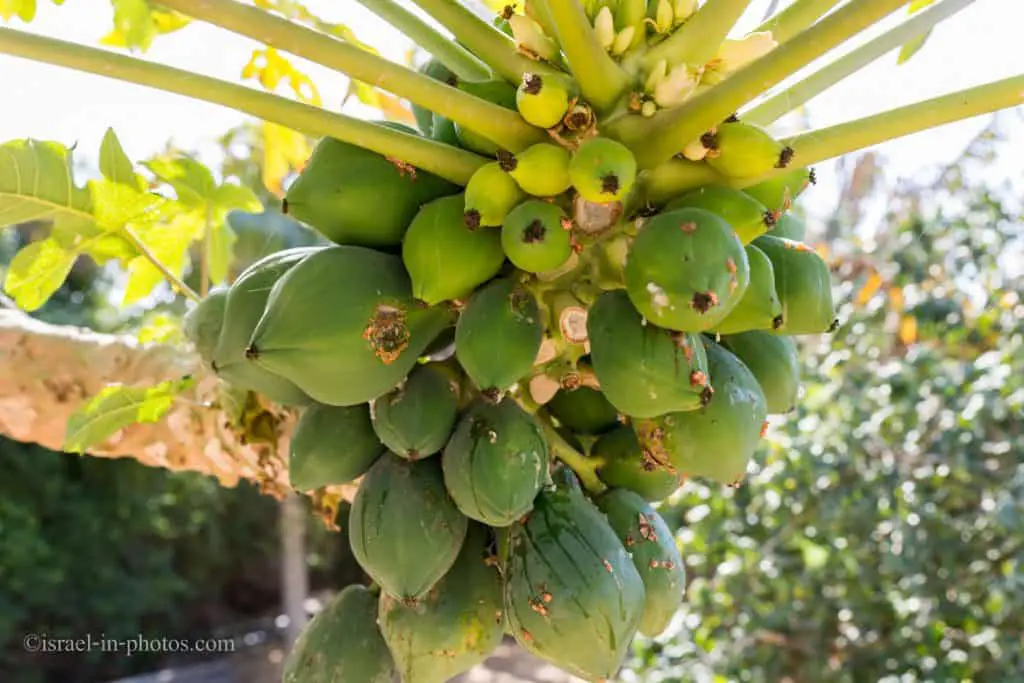 How much time a visit to the Salad Trail takes?
Our tour lasted two hours and twenty minutes. And according to the official site, the duration of a visit is anywhere from two to three and a half hours.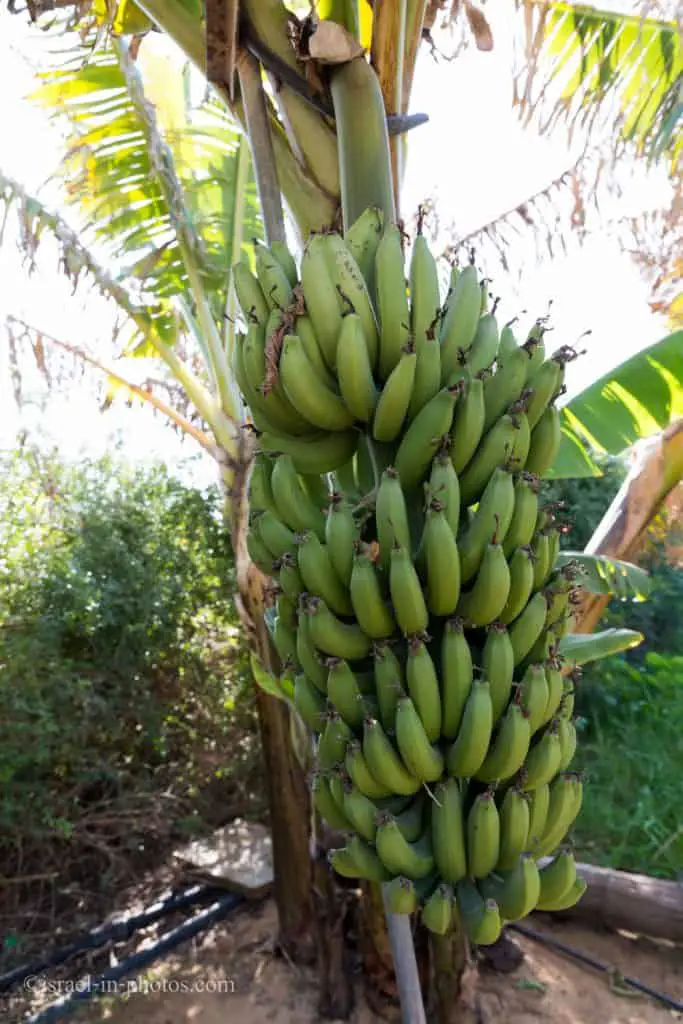 Agrotourism Attractions
You can find similar attractions in the Agrotourism category. And here are a selected few:
Mostly Raspberries
Flowers
Summary
Overall, the tour was charming, and we enjoyed it a lot. Due to all activities and short explanations, the tour is also suitable for small children. As with many other attractions, the only downside is that it gets pretty expensive once you purchase tickets for the whole family.
Note: for additional attractions during the festival, check Festival Darom Adom. And if you love agrotourism, then check out the agrotourism category.
Have you ever been to The Salad Trail? Tell us in the comments below.
That's all for today, and I'll see you in future travels!
Stay Tuned!
Additional Resources
Here are several resources that I created to help travelers:
And if you have any questions then check out
Useful Information For Tourists To Israel
.  
Did not find what you were looking for? Leave a comment below, and I will do my best to answer your questions.