Picking strawberries is an ideal activity for kids. Strawberries are tasty. You can eat them on the field for a while (unlike some fruits, when after several pieces you do not want anymore). Moreover, even small kids can pick them up when they grow on the ground. My kids always enjoyed strawberry picking. Thus in our case, it is an annual family activity.
What Months You Can Pick Strawberries At?
Strawberries become ripe towards the end of November, and most farms open during December. The availability of strawberries starts to decrease in March, but some places are open till the end of May.
Where Can You Pick Strawberries?
There are many places in the Sharon area. But there are also farms in the south and north. And if there is no appropriate soil, farmers grow strawberries in the air.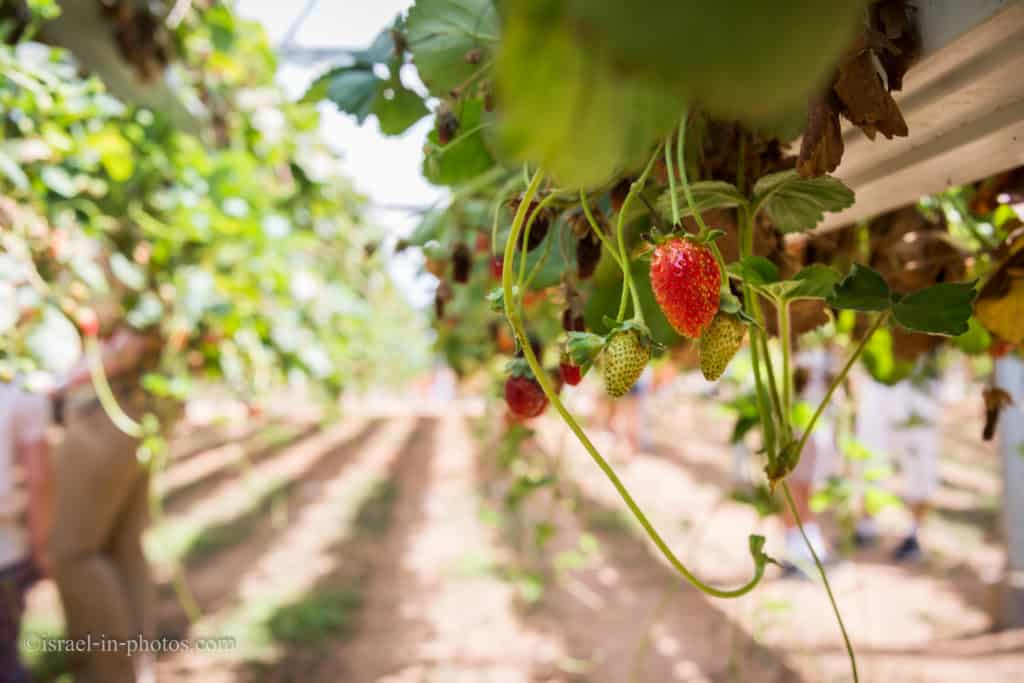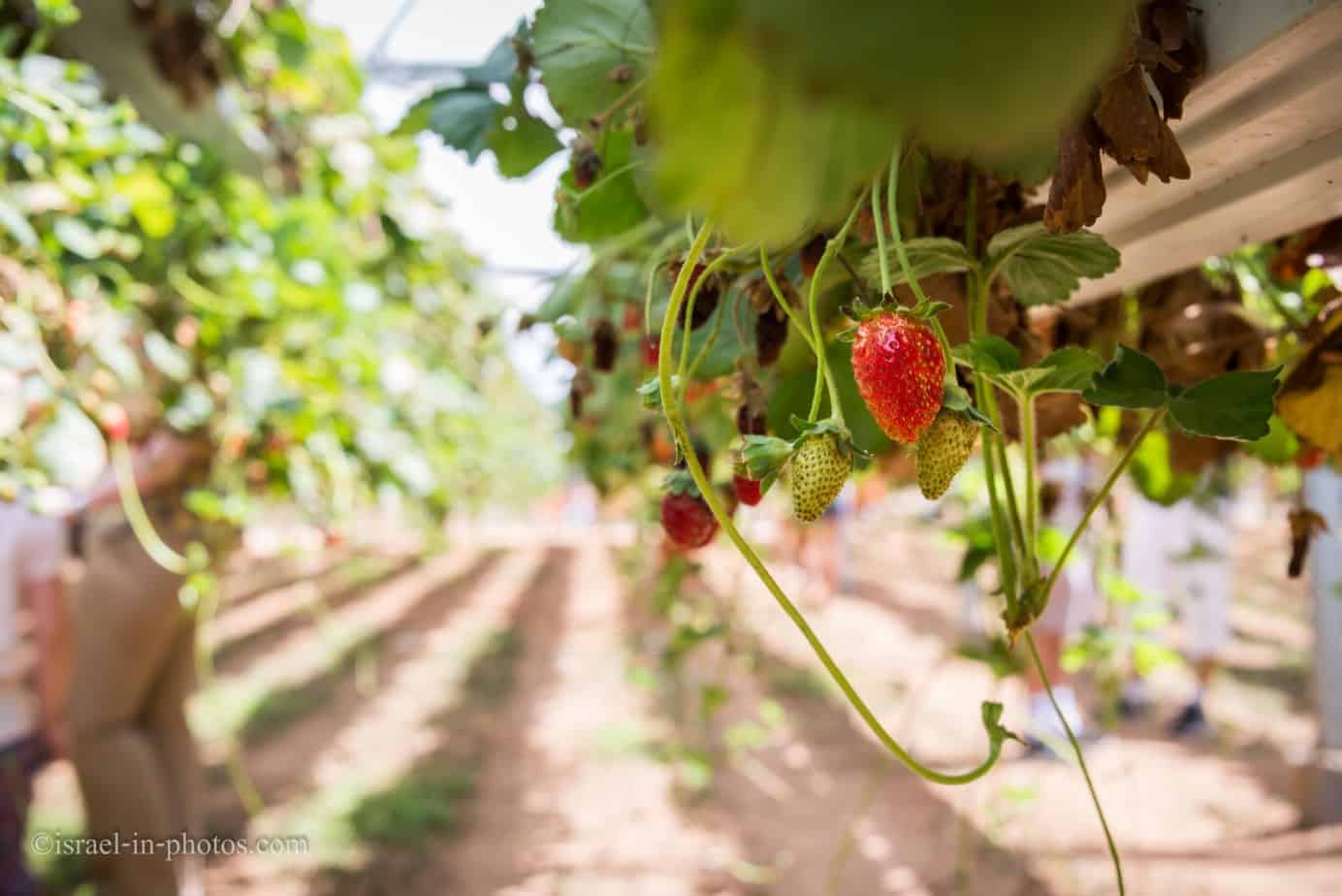 Organic
Most of the places are organic and use organic pesticide control methods. Moreover, in most farms, they will tell you that at the entrance so that people will not be afraid to eat strawberries in the field without washing. And if you are not told, you can always ask.
Children
Since strawberries are sweet and easily accessible, even young children enjoy this activity. At 1.5 years old, my younger daughter had already picked and eaten strawberries. Therefore, I suggest self-picking as a family activity.
Comparison of Strawberry Self-Picking Farms
Notes:
The table is ordered by regions. Starting with south, center, Sharon, and then northern Israel.
In this table I listed only places where strawberry picking is a significant part of the activity. For example, at The Salad Trail, strawberries is one of the stops and you are only tasting the fruit (and the is no self-picking).
Name
Location
Region
Entrance Fee
Opening Hours (*)
Rating on Google
Extra Activities
Meshek 77
Tkuma
Southern Region
There is a variety of options. Self-picking tours start at 35 NIS per person (including a basket)
Sunday – Thursday: 09:00 – 17:00
Friday:
09:00 – 13:00
4.4 based on 124 reviews
Self-picking of raspberries, variety of activities for children, and tours on a tractor
Uri Tutim
Yesha
Southern Region
30 NIS per person (including a basket)
Weekend: 09:00 – 14:00
4.6 based on 843 reviews
They also sell flowers
A farm on a hill
Gedera
Southern Region
30 NIS per person and extra 10 NIS per basket
Sunday – Friday:
09:00 – 18:00
Saturday: 09:30 – 14:00
4 based on 586 reviews
Agronen Self-picking in Gedera
Gedera
Southern Region
30 NIS per person
Saturday: 09:00 – 14:00
4.3 based on 1745 reviews
Agronen self-picking started with raspberries, but today you can pick strawberries, mulberries, plums, pitanga, and other fruits.
Hezi Nissim strawberry picking in Ramat Hasharon
Ramat Hasharon
Sharon Area
The official website and their Facebook page do not mention the entrance fee. The entrance fee is 50 NIS per child and 30 NIS per adult, according to reviews.
Daily from 08:30 till 16:00
3.9 based on 49 reviews
Animal corner
Stalbetut
Hod HaSharon
Sharon Area
40 NIS per child (including a basket) and 20 NIS per adult
Daily from 9:00 till 14:00
4.3 based on 352 reviews
Additional activities for children, like makeup artists and inflatables
Tutland
Hod HaSharon
Sharon Area
45 NIS per child (including a basket) and 30 NIS per adult
Weekends from 09:00 till 14:00
4.4 based on 1188 reviews
Self picking of a variety of fruits and vegetables
The Strawberry and Flower
Ramot HaShavim
Sharon Area
40 NIS per person (including a half kilo basket). And 30 NIS without a basket.
Saturday and holidays: 09:00 – 17:00
4.6 based on 69 reviews
There is also self-picking of vegetables and flowers.
M'shoch BaGezer
Tzofit
Sharon Area
35 NIS per person and an extra 10 NIS for every basket
Saturday and holidays: 09:00 – 16:00
4.1 based on 712 reviews
There are also vegetable self-picking tours.
Meshek 6
Geulim
Sharon Area
25 NIS per person (above two years old). 10 NIS for a small basket and 15 NIS for a big basket.
Daily from 9:00 till the fruit ends
4.5 based on 415 reviews
Creative activities, horseback riding, pony riding, and animal corner
Fields – Strawberry and flower picking Mishmar HaSharon
Mishmar HaSharon
Sharon Area
35 NIS per person
Sunday – Thursday: 09:30 – 16:30
Friday and Saturday:
09:00 – 14:30
4.4 based on 304 reviews
Flower picking
Ruach-Shtut
Gan Shmuel
Northern Area
35 NIS per person during the week and 45 NIS per person on Saturday (including a basket)
Sunday – Thursday: 09:00 – 16:00
Friday – Saturday: 09:00 – 14:00
4.5 based on 581 reviews
They also grow blueberries, raspberries, blackberries, and cherries.
There are additional activities for kids on Saturdays.
Ktofoti
Bethlehem Of Galilee
Northern Area
45 NIS per person
Friday:
08:30 – 12:00
Saturday: 08:30 – 13:00
4.5 based on 1008 reviews
It is a big farm that grows a variety of fruits and vegetables.
(*) In most farms, the opening hour will change depending on the weather and the availability of fruits. Therefore, always check before visiting one of these places (usually they are updating Facebook pages).
Note: the table was updated in November 2021.
Which Farm to Choose?
The most straightforward approach would be selecting the region and then choosing one of the top-rated places. Also, depending on the interests of the visitors, extra activities can be a deciding factor.
I visited many of the mentioned places and linked to the related articles in the table above. Thus if you want a more in-depth review, you can read them.
As you can see from the table above, the pricing of most places is relatively similar. Thus if you want to make the trip cheaper, search for coupons online.
Coupons
Sometimes during the strawberries season, farmers find themselves with too many fruits. Hence you can find coupons online. Here are several useful links:
Groo – search query of the word "strawberries".
Cuponofesh – link to relevant category.
Agrotourism Attractions
You can find similar attractions in the Agrotourism category. And here are a selected few:
Mostly Raspberries
Flowers
Summary
Picking Strawberries is a fun experience. We always enjoy it, and an annual visit became a family tradition. I highly recommend it!
One last tip, if you are planning on picking or buying a lot of fruits, prepare some free place in the freezer.
What is your favorite place? Tell us in the comments below.
For other similar places, check out agrotourism.
That's all for today, and I'll see you in future travels!
Stay Tuned!
Additional Resources
Here are several resources that I created to help travelers:
And if you have any questions then check out
Useful Information For Tourists To Israel
.  
Did not find what you were looking for? Leave a comment below, and I will do my best to answer your questions.