We decided to visit Eilat during the Hanukkah vacation. Hanukkah usually takes place in December. And when we told this to our family, some of our relatives were puzzled. That is because many people associate Eilat with swimming in the Red Sea and hanging on the beach. During winter, though you can swim, the water is quite cold. So, what can you do in Eilat during the winter? Read on, and you will find out.
But first, as a promo, take a look at a short video I created after this four-day trip:
Note: you can find additional travel ideas at my guide to Eilat.
Day 1 – The Road To Eilat
Driving to Eilat from the center takes around four hours. And we always add at least one stop on the way. Since we had a Hanukkah show for kids in the morning, we started driving to the South only in the afternoon. The result of the late-exit, the drive, and two stops was reaching Eilat in the evening. Meaning the first day was mostly dedicated to the road and attraction on the way. Where did we stop?
Tamar Observation Point
When driving on road #25, not far from Mamshit National Park, we stopped at Tamar Observation Point.
Map of the area:

There is dedicated parking with an information sign.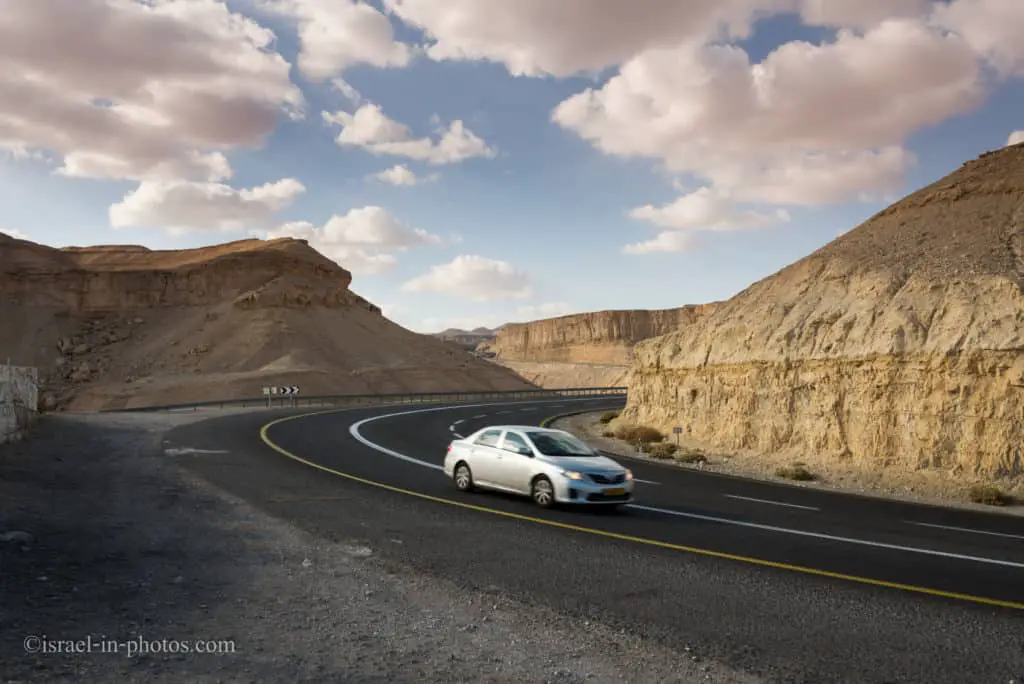 The parking is on the right, near the police car.

Road #25 as it descends towards the Dead Sea.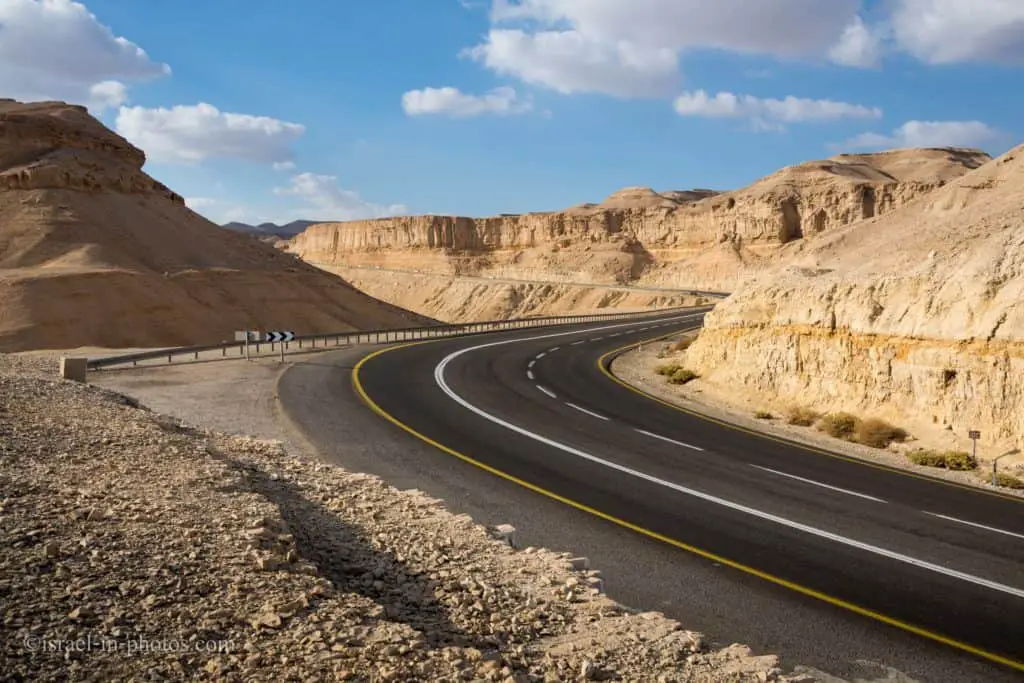 From Tamar Observation Point you can see the Eastern part of the Negev. At the North (from the viewpoint, not in the following photo), you can see evaporation pools of the Dead Sea. Near the border with Jordan, there are two moshavs, Ein Tamar and Neot Hakikar. People in these moshavs work mainly in agriculture and tourism. Fruits and vegetables that grow in these harsh conditions and salty land are known for their tasty flavors and exported worldwide. And the mountains in front of us are Moab and Edom Mountains in Jordan.
Within a half-hour drive from Tamar Observation Point, we reached our next stop.
Crocoloco Crocodile Farm
Crocoloco Crocodile Farm is a unique place in Israel. In the farm, they do not breed sheep or cows, and instead, they grow Nile Crocodiles. You can find the full post at Crocoloco Crocodile Farm.
The whole visit took a little more than an hour and then we continued to Eilat. We arrived at Eilat after 18:00, headed to a rented apartment, and stayed there for the rest of the evening.
Day 2 – Red Canyon And Underwater Observatory Marine Park
One of the reasons we did not go out the evening before was a fully packed second day. Our plan included starting the Red Canyon trail at 8:00 am, since I wanted to get to Coral World Underwater Observatory by 11:00 and see shark feeding.
Red Canyon
Here is the link, where you can check out the full details about the Red Canyon.
Underwater Observatory Marine Park
In order to make this post more fluent, I moved this topic into its own post, so check here is the link to Underwater Observatory Marine Park where you can find all details.
Evening Walk At Eilat Promenade
After late lunch, we headed to Eilat Promenade.
The promenade has not changed much over the last years.

The only change I saw was moving the stalls that were in this area into a dedicated small market.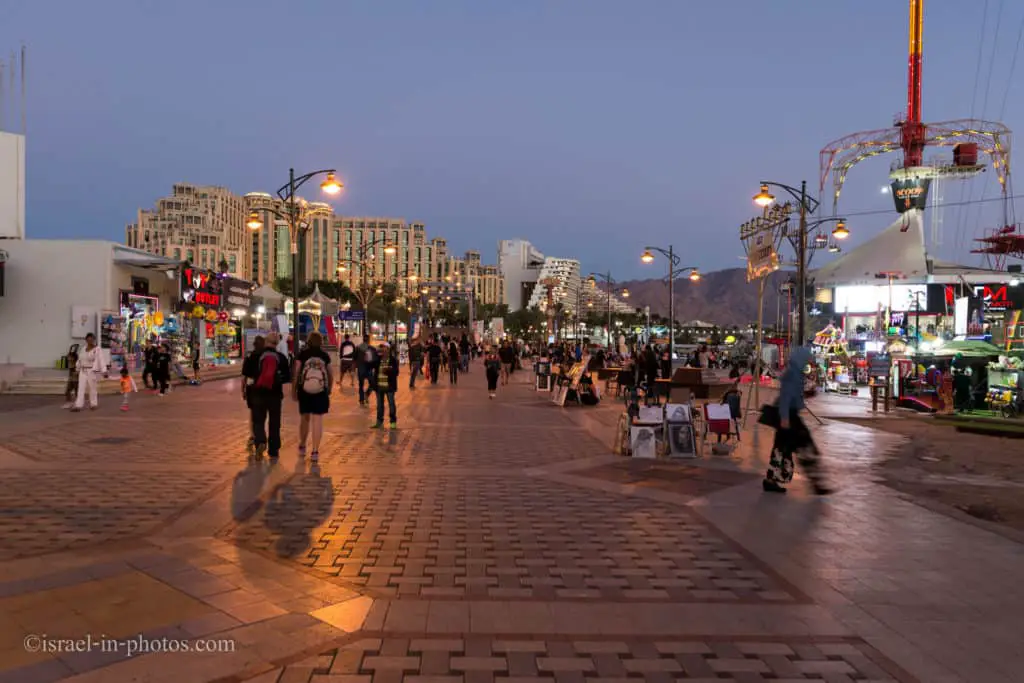 The promenade is quite dull, and it is not much you can do there. We enjoyed the sea breeze, and we saw several small attractions, like carousels. Also, there were several street artists.
Shopping In Eilat
As you probably know Eilat is declared by law as a free trade zone. Therefore there is a reduced tax there. Theoretically, items should be around 17% cheaper, but practically this is not the case. From our experience, this is not the case. Some things were less expensive than in other cities in Israel, while others were more expensive.
My wife checked out some clothing and accessories stores on the promenade. Additionally, on another day she visited Mall Hayam and after both times was disappointed. She said the variety of items and shops was limited and the whole experience boring. And the prices are not old. But many Israeli do buy electronics and camera equipment in Eilat.
I took this photo from the bridge, and this is the place most sails start from. We will return here tomorrow.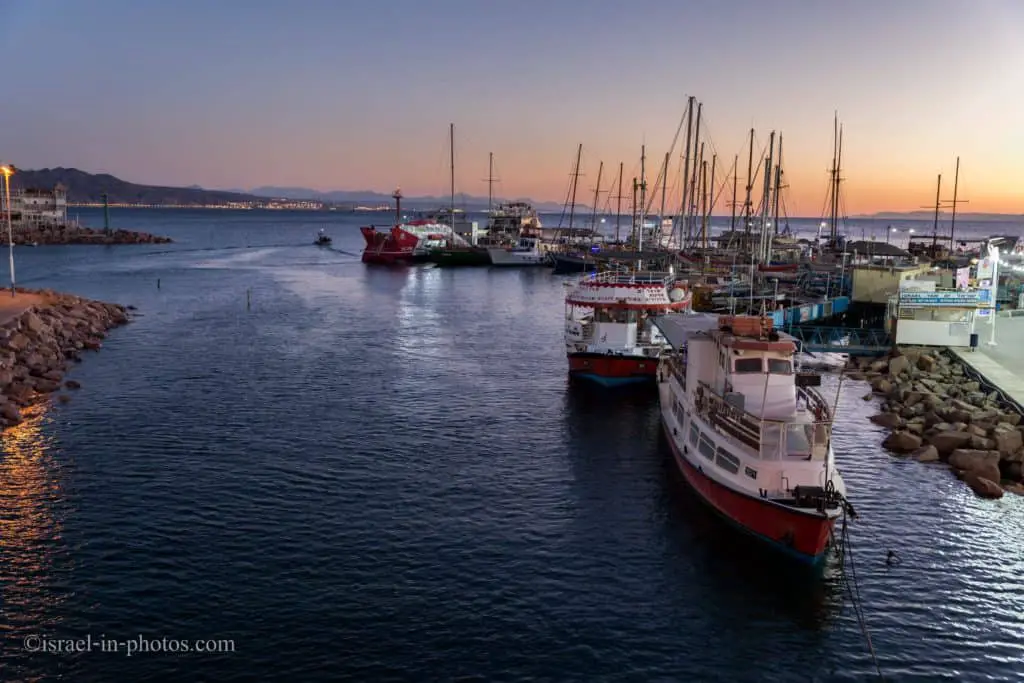 Day 3 – Sailing, Dolphin Reef, And Musical Fountain
Sailing On A Boat At The Red Sea
I preordered tickets for a sail in the red sea. Thus, the next morning we returned to Hananya Beach (the same spot we saw on the promenade the evening before).
We had some time till our 11 o'clock sail, so we hanged out on Hananya Beach. As you can see by the water circles in the photo above, according to my daughter, hanging out is throwing stones into the water.
We started sailing, and here you can see the hotel area.
The port of Eilat.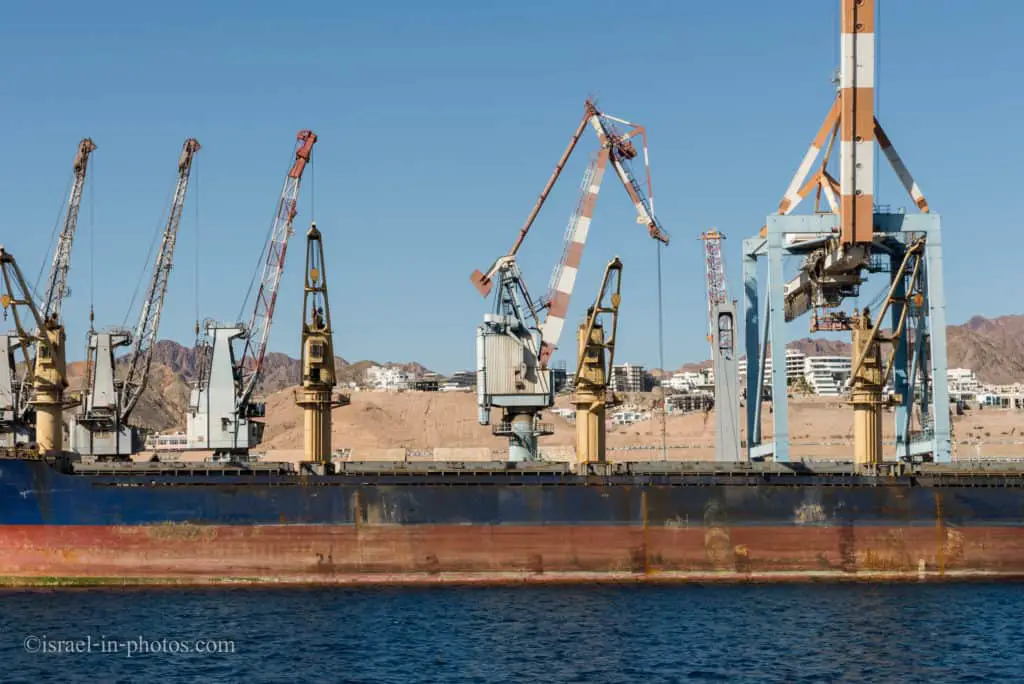 Here is the Dolphin Reef. We will return to it later today.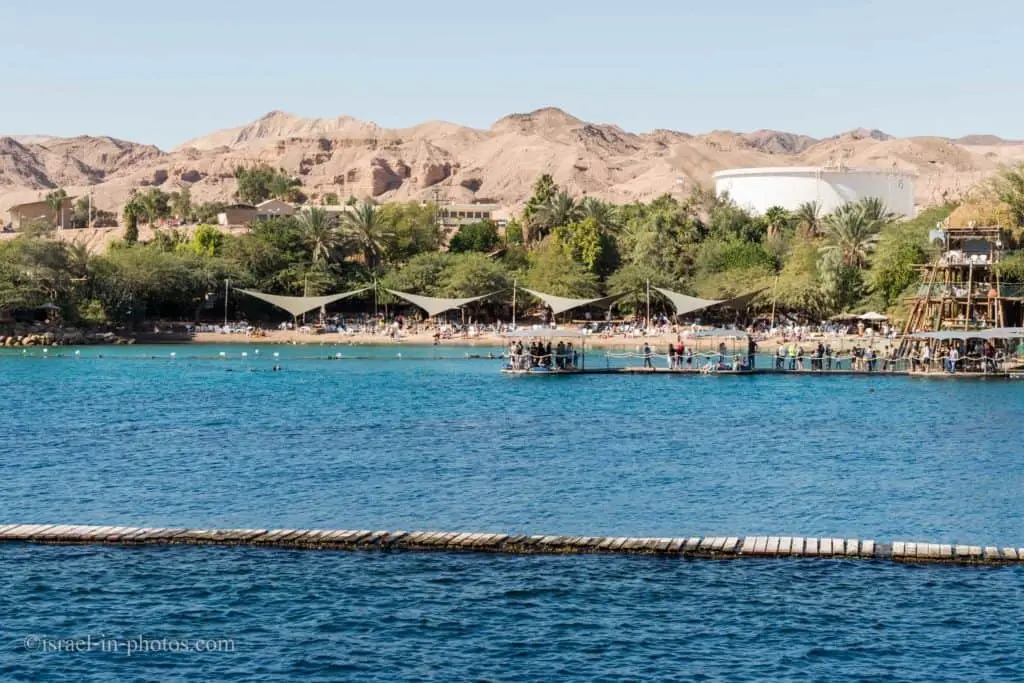 The cruise boat we took was not an ordinary one. It is a two-level cruise boat with another level underwater. The underwater hall has many windows, and it allows you to see the coral reef and marine life.
The trip from Hananya Beach to the coral reef took about 40 minutes. During this time, we heard some explanations about Eilat, the port, and other things. Also, the underwater space was closed all this time. Only when we reached the coral reef, near Coral World Underwater Observatory, the crew opened the sunken room, and we went down.
I took this photo from the upper deck while we approached Underwater Observatory Marine Park.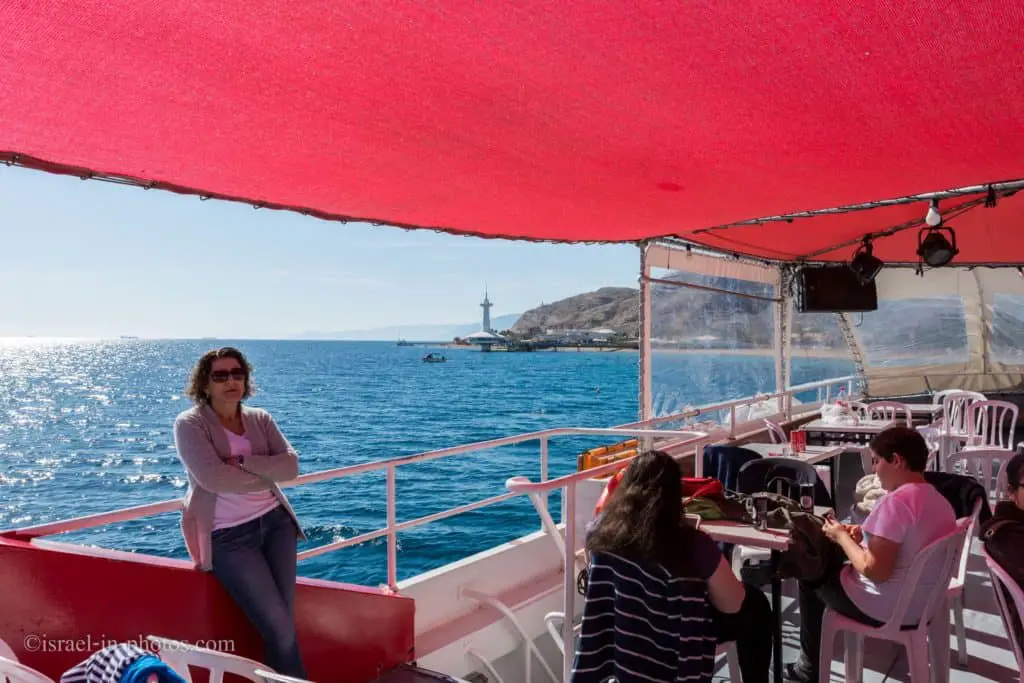 A man is snorkeling at the coral reef. And yes it is winter.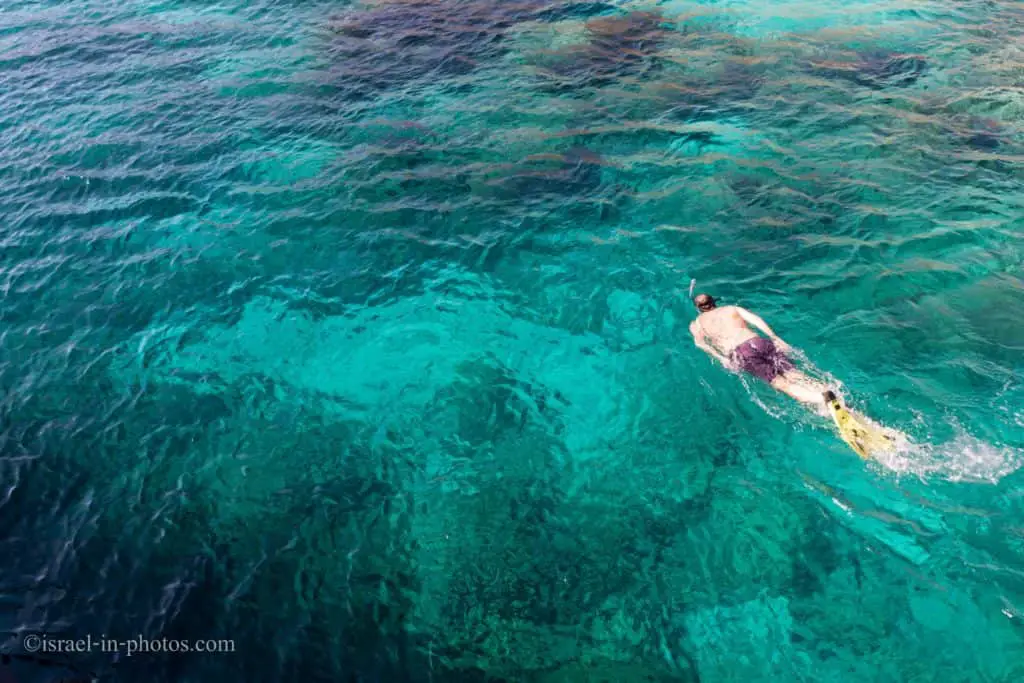 Here we are in the underwater space.

Here how it looks.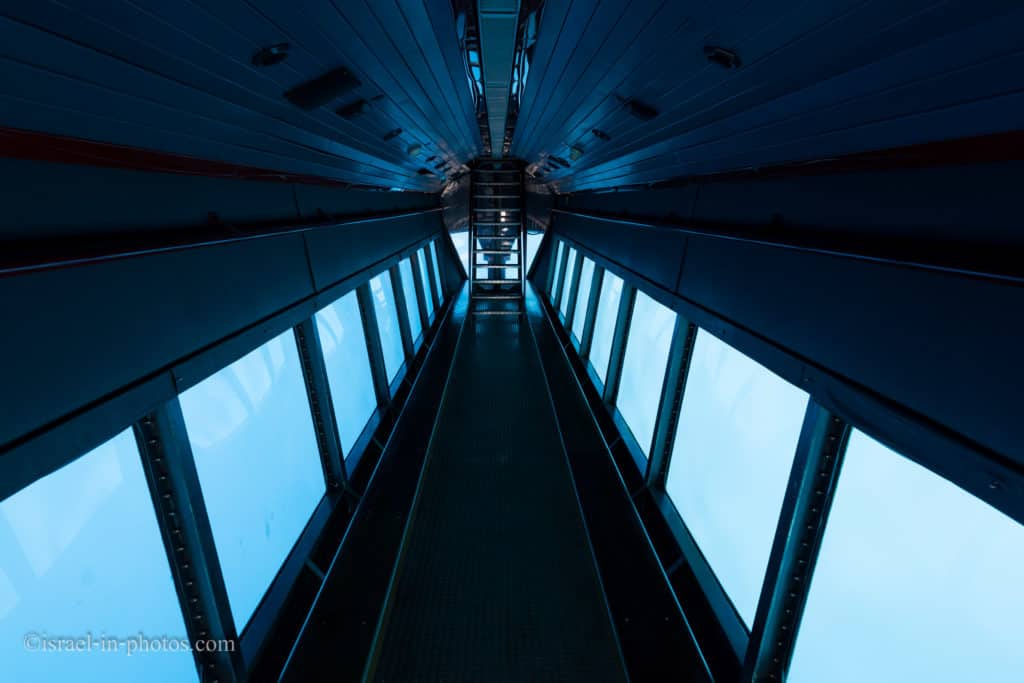 Cruise on a boat at the Red Sea – Summary
When we left the coral reef, the lower deck was closed, and we returned to the upper one. The ship has restrooms and a small cafe. Which might come in handy since the cruise took almost two hours.
Overall, it was a pleasant experience. Kids love such things, and you get to sit and relax for almost two hours. On the flip side, if your purpose is to see the coral reef, then you will be disappointed. Everybody I talk to says that thirty years ago the coral reef was in much better shape. Today, not much is left ( 🙁 ), and if your primary goal is to see corals and marine life then visit Underwater Observatory Marine Park.
Also, this is not the only boat with glass floors/walls in Eilat. Several firms offer similar cruises.
After returning to Hananya Beach, we headed to Dolphin Reef.
Dolphin Reef
You can find the full post about this POI at Dolphin Reef.
Musical Fountain
I heard about a new Musical Fountain in Eilat. And after the Dolphin Reef, we visited the fountain, which is located at Gan Binyamin Central Park.
Map of the area:

The musical fountain is free, and there were two half-hour sessions three times a week. But, I will not list the opening hours. When preparing this post, I saw that the musical fountain is closed for reconstruction and an upgrade. Thus, do not visit it in the meanwhile.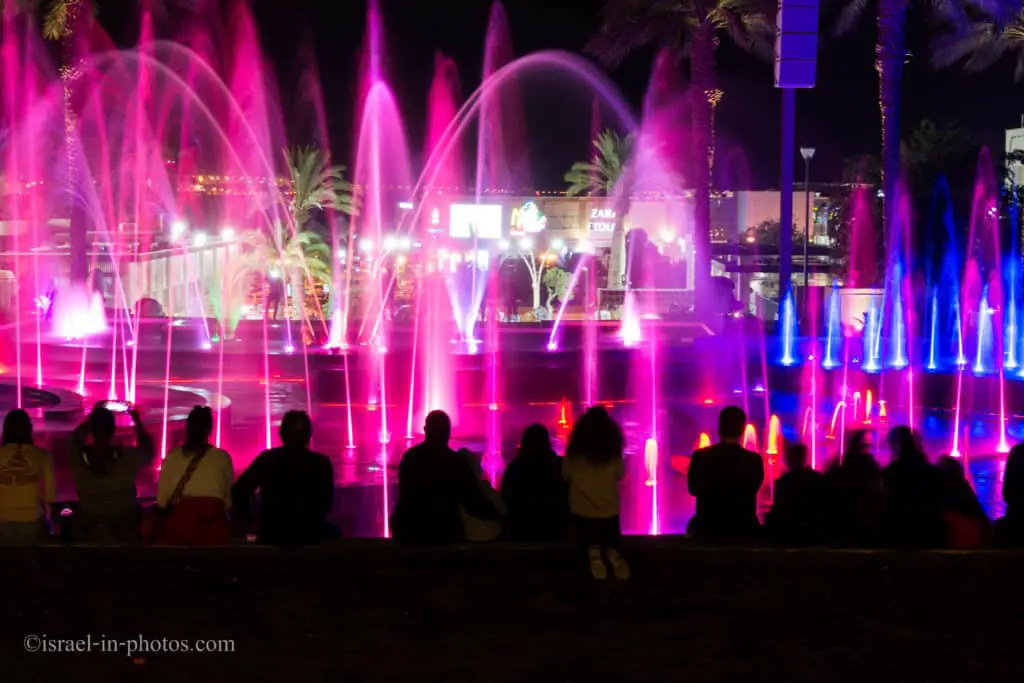 It was a lovely half-hour show divided into three segments: popular world music, movie hits, and Israeli schlagers.

The Musical Fountain is located next to the IMAX building.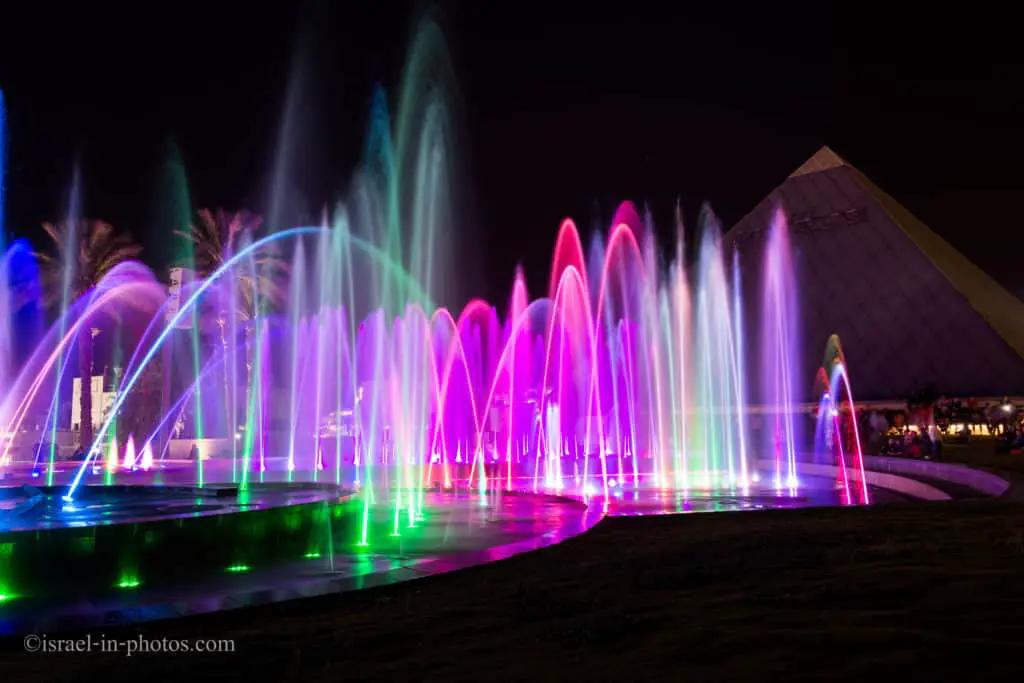 Maybe it was not the best musical fountain, but it was nice, and we loved it.
Day 4 – Timna Park And Makhtesh Ramon
After our last night in Eilat, we headed to Timna Park.
Timna Park
I have visited Timna Park several times previously, but this time there was a special event. The event called "A Day In The Life Of An Archaeologist," and it allowed regular people to experience archeology. Check out Timna Park for additional info.
Stop at Makhtesh Ramon
On our way back, we were passing Makhtesh Ramon during the sunset. Thus we decided to make a shortstop, stretch our legs, and have a snack.
And here is the link to my full guide about Mitzpe Ramon And Makhtesh Ramon.
Many people come to the edge of the crater to enjoy the views.

And not only people 😉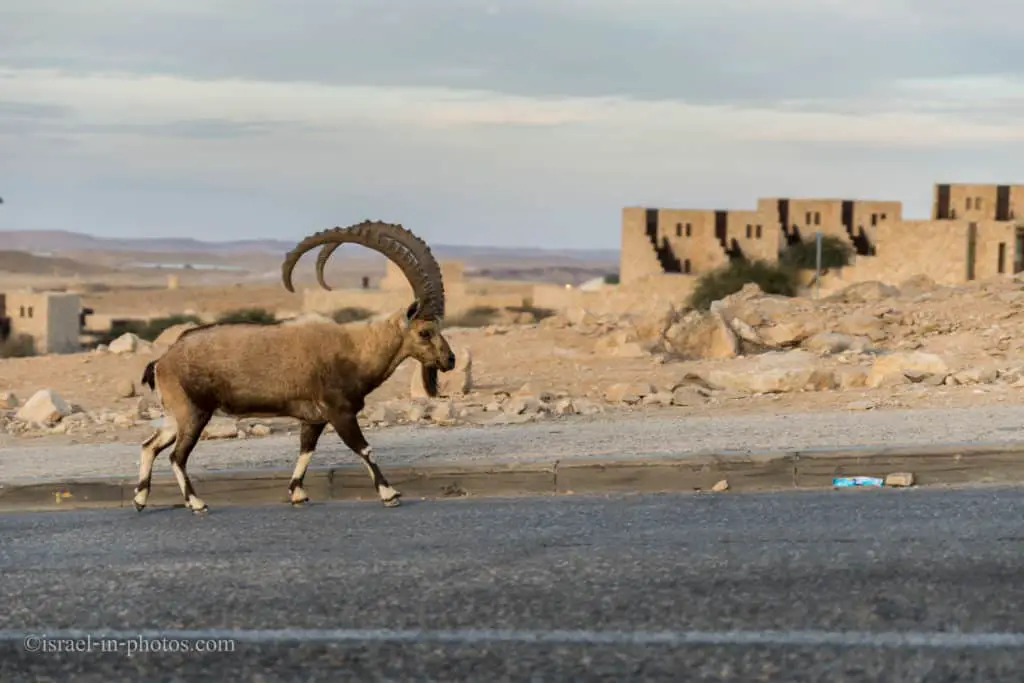 That was our last stop before reaching home. Hope you enjoyed this post and it gave you fresh ideas for your next adventure.
Summary
As you can see, there are plenty of things to do in Eilat and its surrounding area during the winter. Even though the city does not offer many attractions, there are plenty of nature and animal-related places to visit. We enjoyed the long weekend, and I hope you will too.
Note: for a full guide, see Eilat.
What are your favorite attractions in the Eilat area? Let us know in the comments below.
That's all for today, and I'll see you in future travels!
Stay Tuned! 
 
Additional Resources
Here are several resources that I created to help travelers:
And if you have any questions then check out Useful Information For Tourists To Israel.
 
Did not find what you were looking for? Email me at
hi@israel-in-photos.com
, and I will do my best to answer your questions.