Argaman Beach, also known as Acre Beach, is located to the south of the old city of Acre (Akko). It is a lovely sandy beach with standard facilities.
Note: if you would like to see the comprehensive photographed guide about the city, see Acre.
Offers:
Get 5% off for your next vacation at Isrotel.
Get 10% off for your next tour at Bein Harim with coupon code LEV10#12306.
Map
At the south entrance to Akko, you can find two beaches. The northern beach, the one that is closer to the Old Acre, is Argaman beach. And there is also a southern one. It is located near Rimonim Palm Beach hotel and does not have a name.
Interactive map of the area:
Note: in many cases, people refer to this beach as Akko beach.
Entrance Fee
Free.
Note: Argaman Beach, also known as Akko beach, used to be a paid one. But about two years ago they upgraded the beach, removed the fences, and now it is a free beach. Here is a photo I made using my phone in August 2019.
Parking
But, the beach is not completely free. All nearby curbs were painted blue and white. That means that you have to pay for the parking. However, there is a big dirt field on the other side of Yehonatan ha-Khashmonai Street. And many people park there for free.
Facilities
As you can see from the photos, there are all the basic facilities, like shade sheds, toilets, showers, and a kiosk. There are also lifeguard services. Moreover, there is a nice view of Acre.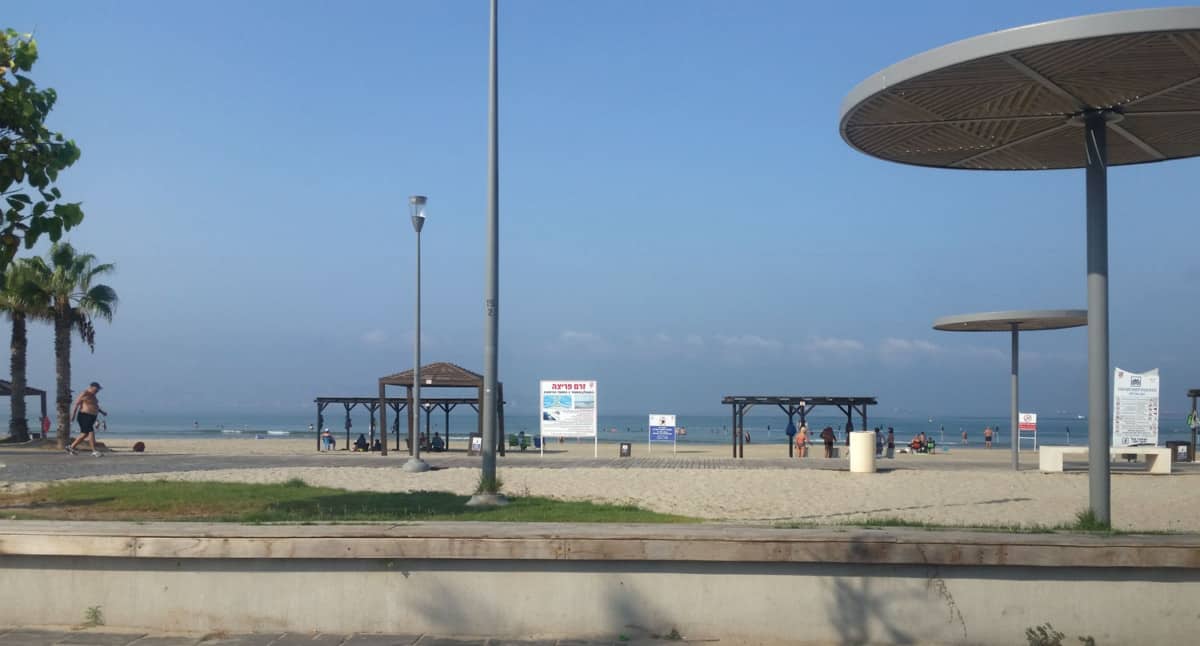 Opening Hours
According to Akko municipality, Argaman Beach opening hours are:
April, May: 08:00 – 16:00
June: 08:00 – 17:00
July, August: 08:00 – 18:00
September: 08:00 – 17:00
October: 08:00 – 16:00
To sum up, Akko beach is a lovely sandy beach, and we enjoyed our visits, thus returned on several occasions.
Palm Rimonim Hotel Beach
South to Argaman Beach, near Palm Rimonim Hotel there is another beach. It is a free beach, and I have not seen any facilities there. I have visited it only for photography purposes and never swam there. And now I will show you several photos from there.
I have parked next to Palm Beach Hotel and Country Club (on the south side) and walked around towards the beach.
Sand dunes with Carmel mountain and Haifa in the background:
The dunes are not high, at about half a meter. I have taken this photo from a low angle to make them look bigger.
The train that connects the Northern part of Israel with the central one also passes there. Here are the rails with Carmel mountain in the background.
Nahal Na'aman
I started by making my way to Nahal Na'aman. It meets the Mediterranean sea several kilometers to the south of Acre. On the spot where Nahal Na'aman flows into the sea, there are usually many birds. That is true not only for this river but for others as well (for example Alexander river). I guess the reason is that the rivers are not big. They are quite shallow in the meeting point. And this gives the birds a good opportunity for fishing.
Catching last sun rays for the day:
I would not suggest continuing further to the South, as it gets dirtier. Moreover, if you are looking for a place to swim, then do it only in areas where lifeguards are available. And in this case, it is to the north of Nahal Na'aman.
Then I walked back towards Acre.
There are many seagulls in this area. But in Israel, they are much smaller than their European cousins. In Israel, seagulls are roughly the size of a dove, while in some countries (Norway for example) seagulls are about the same size as a chicken.
Another view of Acre:
And here is a wider view that I shot while standing not far from Nahal Na'aman. The building on the far right is Palm Rimonim Hotel. And on the left, you can barely see Akko's old city and port.
Acre's old city at dusk:
Summary
Argaman beach, also known as Akko beach is a popular place. And most people visit it. If you prefer fewer people, the beach near Palm Rimonim Hotel is for you. Just keep in mind there are no (or very limited) facilities there.
For additional attractions nearby see guides to Haifa and Acre.
To find more about birds in Israel see birds.
Have you ever been to Akko beach? Tell us about your experience in the comments below.
That's all for today, and I'll see you in future travels!
Stay Tuned!
Additional Resources
Here are several resources that I created to help travelers:
And if you have any questions then check out
Useful Information For Tourists To Israel
.  
Did not find what you were looking for? Email me at
hi@israel-in-photos.com
, and I will do my best to answer your questions.