Beit Shean guide starts with basics (directions, prices, map, history, weather, night show), and then tours through the whole park. Let's begin!
What Is Beit Shean Famous For?
Beit Shean National Park has the best-preserved remains of an ancient Roman city in Israel. This impressive city remained in good condition due to an earthquake, but we will get to it later.
On a personal note, by visiting Beit Shean, I am closing a loop. When I started this blog, my first post was about Beit She'an National Park. And today, in this post, #130 two and a half years later, I am returning to the same place.
Note: sometimes Beit Shean is spelled as Bet She'an. Both these names refer to the same thing.
How To Get There
Beit Shean National Park as the name suggests is located in Beit Shean, a city in the North District of Israel.
Map of the area:
A drive to Beit Shean from Tel Aviv using the toll road #6 will take around 1.5 hours (117 km). You can also drive there without road #6 (using only free roads). And in such case, it will take around 1 hour and 40 minutes (116 km). Haifa is closer to Beit Shean, and a typical drive will take approximately one hour (70 km). get from Jerusalem to Beit Shean, there are two main options. The shorter one (2.5 hours and 131 km) will take you along road #1 and #90. If you do not want to drive across the Green line (near Jericho for example), then you can take highway #1 towards the center and then use for instance toll road #6 north. It will be a slightly longer drive (2.5 hours and 159 km). Of course, all times are approximate and may vary depending on the traffic.
If you plan to get around using public transport, then there are two options. You can use the train to get to Beit Shean. And then take a bus, taxi or walk (the distance from the train station to the national park is 3 km). Or you can use buses. Several sites include busses routes of all companies. Moovit is one of them. And they also have an app for smartphones. Here is a link to Moovit where the endpoint already set.
Opening Hours
Sunday – Thursday And Saturday: 8 – 17 (16 during winter).
Friday and holiday eves: 8 – 16 (15 during winter).
On the eve of Yom Kippur, Passover, and Rosh Hashanah: 8 – 13.
Entrance Fee
The entrance fee depends on two parameters. Whether you have a subscription or a combo ticket, and what you will be visiting. If you have a combo ticket or a subscription (I covered these topics at National Parks And Nature Reserves post) then regular entrance will be free. Otherwise, individual entrance ticket will be 28 NIS per adult and 14 NIS per child. In case you want to visit Beit Shean Nights (we will discuss the night show towards the end of this post), then the price will be 55 NIS for adult, 45 NIS for a child, and 28 NIS for a subscriber.
If you are going to visit several National Parks, then consider purchasing a combo ticket. You can find additional info at National Parks And Nature Reserves post.
Note: opening hours and ticket prices were updated in May 2019. In any case, recheck the official site before visiting.
Weather
If I had to describe the weather in Beit Shean in two words, I would say sunny and hot.
When I checked the annual temperatures for Beit Shean, I saw that from June to September it rises above 30 degrees C (up to 36 C). And it never goes below 10 degrees. Moreover, there is almost no shade in this national park and many structures. That makes it feel even hotter. Therefore, if you can choose, then I would advise not to visiting Beit Shean during the summer. And if you have no choice, then come either early or late. In any case, take plenty of water and use sunscreen.
Another option is to visit the night show called Beit Shean Nights (additional details towards the end of this post).
And if you are wondering what the best season to visit Israel is, then the short answer is Spring. In Events And Festivals By Season you can find both information about Israeli weather and various events.
What Does Beit Shean Mean?
I was interested in this question as well. And after investigating, I see that there is no clear answer. While researching, I found several different possible explanations. And here are the two most common:
According to the English Wikipedia, the word Shean relates to the modern word Sheannanut. Thus, Beit Shean means "House of Tranquillity."
According to Hebrew Wikipedia and biblewalks.com, Shean was probably the name of an ancient god. Hence the meaning is "House of Shean," and it probably refers to an ancient temple to Shean god on this site.
Beit Shean In The Bible
Beit Shean mentioned several times in the Bible. For example, at the battle of the Israelites against the Philistines on Mount Gilboa, the bodies of King Saul and three of his sons were hung on the walls of the city.
They put his armor in the temple of Astarte;[a] and they fastened his body to the wall of Beth-shan.
1 Samuel 31:10
Here are a few additional examples:
But Manasseh did not drive out the people of Beth Shan or Taanach or Dor or Ibleam or Megiddo and their surrounding settlements, for the Canaanites were determined to live in that land.
Judges 1:27
Also in Issachar and in Asher Manasseh had Beth-Shean and its villages, and Ibleam and its villages, and the inhabitants of Dor and its villages, and the inhabitants of En-dor and its villages, and the inhabitants of Taanach and its villages, and the inhabitants of Megiddo and its villages; the third is Naphath.
Joshua 17:11

Here is a short video I created during one of my visits.
Map
Here is the map of Beit Shean National Park from the brochure that you receive on the entrance: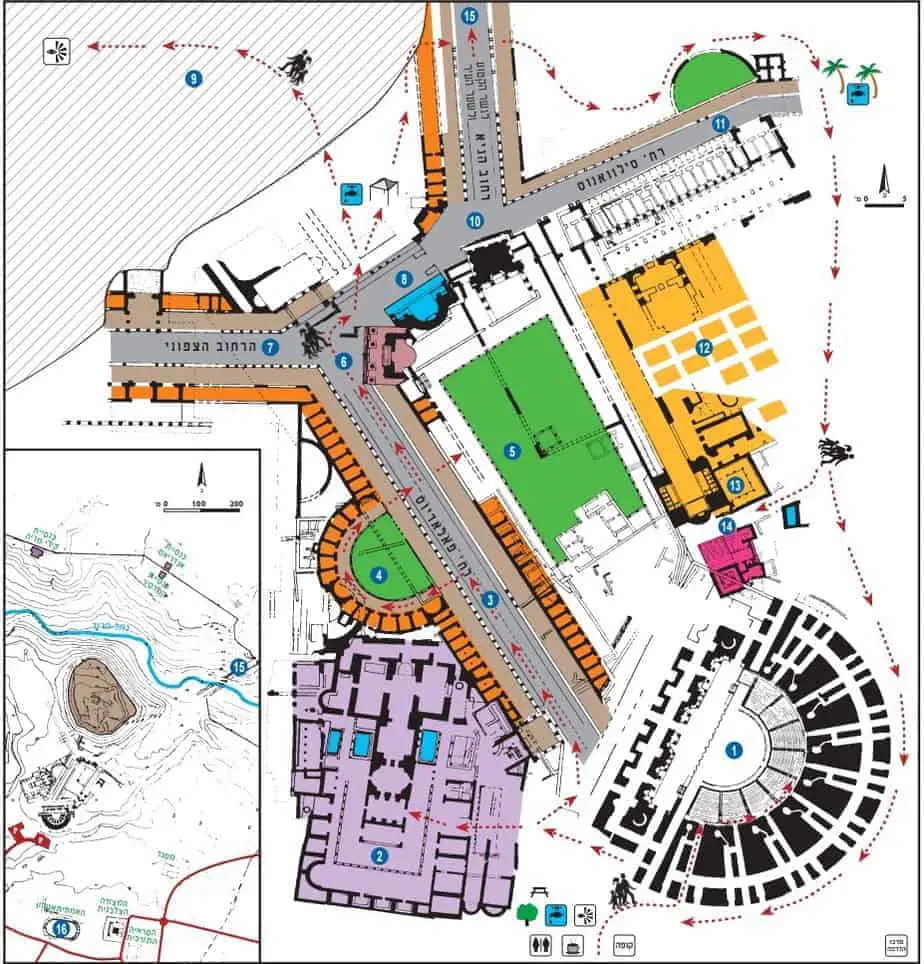 Note: you can click on the image to enlarge it.
The suggested route is a cyclic trail that goes through all POI on site. The route starts with the Roman Theater (#1), then continues to Bathhouse (#2), Palladius street to the Tel (#9), and returning using Silvanus street.
History Of Beit Shean National Park
Historical extract from the Israel Nature and Parks Authority site:
Egyptians, King David, And Alexander The Great
Beit Shean was first settled in the fifth-millennium NCE on a mound south of the Harod Stream, in the heart of a region of great fertility and abundant water, and at what became a major crossroads.

During the Late Bronze Age (16th-12th centuries BCE), the Egyptians made Beit Shean the center of their rule over Canaan. According to the Bible, the Israelite tribes were unable to capture Canaanite Beit Shean. After a battle at nearby Mount Gilboa, the Philistines hung the bodies of King Saul and his sons on the city's ramparts.

King David conquered Beit Shean together with Megiddo and Ta'anach, and in King Solomon's day, it became part of an administrative region encompassing the country's northern valleys. In 731 BCE, the Assyrian King Tiglath-pileser III destroyed the city.

In the second half of the fourth century BCE, at the time of Alexander the Great, Beit Shean was reestablished as a Greek polis, with all the trappings of Greek culture in the East: colonnaded streets, temples, theaters, markets, fountains, and bathhouses.
Nisa Scythopolis
Later in the Hellenistic period, the city was named Nisa Scythopolis.

In 107 BCE, the Hasmoneans conquered Scythopolis. The pagan inhabitants, who were given a choice or converting or leaving, chose exile, and Jews resettled there, restoring the old biblical name Beit Shean. In 63 CE, the Romans took the city transforming it into an essential member of the alliance of cities called the Decapolis.
During the Great Revolt of the Jews against the Romans (66 CE), the Jews of Beit Shean were murdered by their pagan neighbors, who took over the city and gave it back its pagan name. It developed significantly during the reign of Emperor Hadrian (117-138 CE) and Marcus Aurelius (161-180), and during the Late Roman period, Jews, pagans, and Samaritans lived together there. Grand public buildings were built, adorned with inscriptions and statues.

In the fourth century, when Christianity became the religion of the empire, the city's lifestyle changed again. They neglected the amphitheater where gladiators had fought, although the theater and the bathhouses continued in operation. Churches were built, but the center of town retained its pagan character for a long while.

In 409 CE, Beit Shean became the capital of the administrative region known as Palaestina Secunda. The city extended to 1,300 dunams (325 acres) and prospered, mainly thanks to the linen industry, and its population reached an unprecedented 40,000-50,000.
The Decline And Reestablishment
After the Arab conquest in the first half of the seventh century, the city gradually declined, losing its hegemony to Tiberias. Then, in 749 CE, an earthquake rocked the region and devastated Beit Shean–its evidence was prominent everywhere in the excavations. The name Scythopolis was eventually forgotten, and the place became known as Beisan, recalling the ancient biblical name.

The Abbasid period saw a village established here. In the Middle Ages, settlement focused mainly on the rise to the south of the old city center, and the Crusaders built a fortress east of the destroyed amphitheater.

After the founding of the State of Israel, Beit Shean was reestablished and began to grow. The ruins, which are the pride of the city, have undergone major restoration and reconstruction, allowing special events and performances to take place in the ancient streets and theater.
The Entrance
When you enter the site you can find a metal model of the city: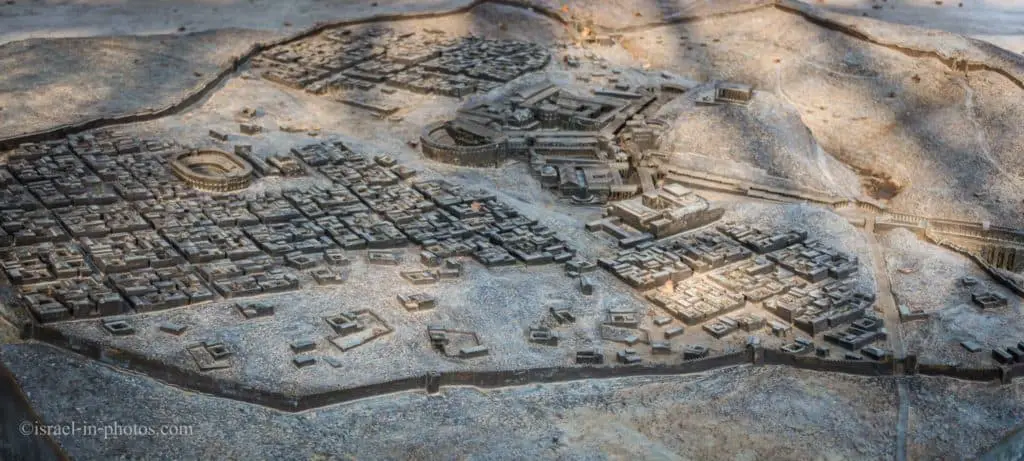 The entrance is one of the viewpoints of the city. And I shot this Panorama of the city from there.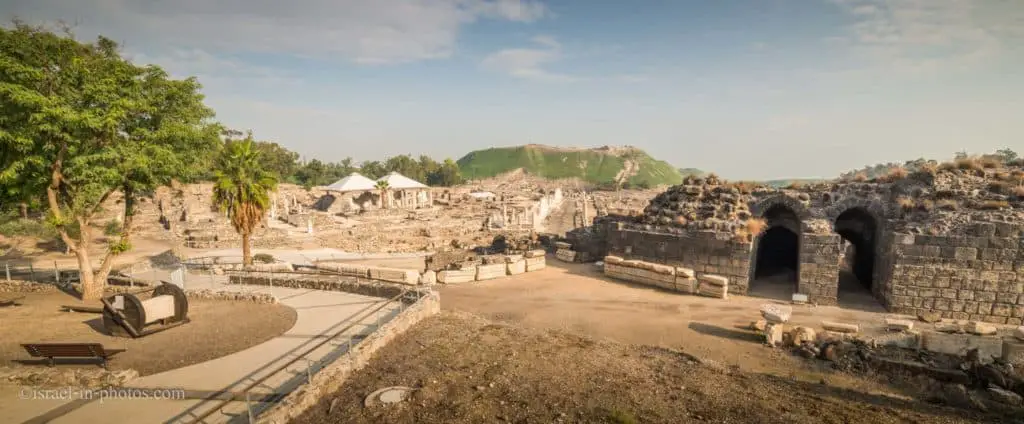 A view over Palladius street: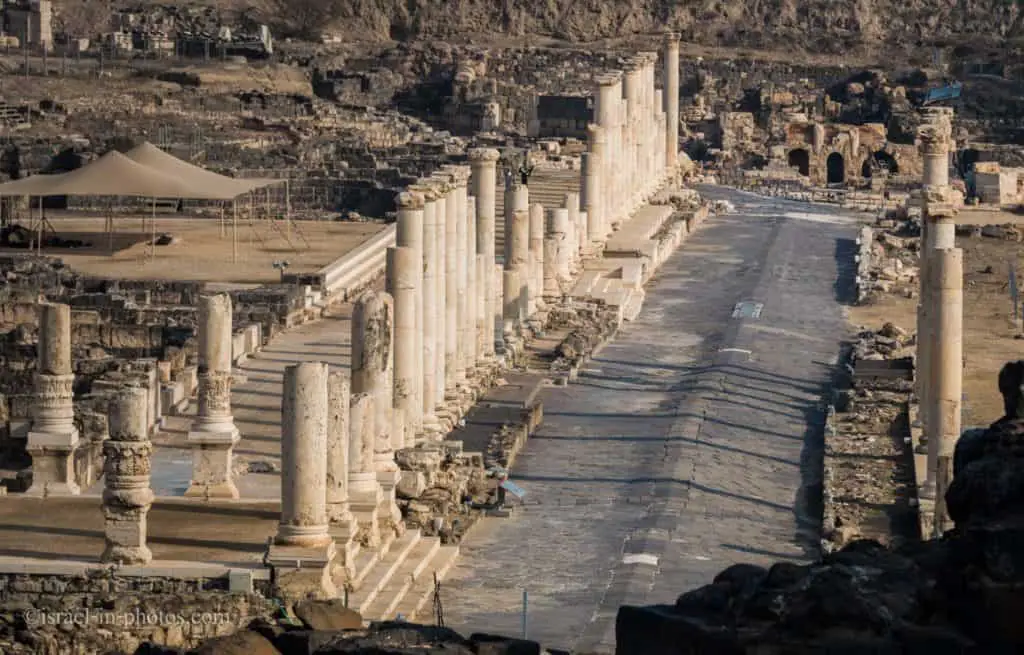 While looking at the photographs you might wonder, how come the town remained in such good condition? Beit Shean is located above the Dead Sea transform fault line, and as such, is one of the cities in Israel that is at high risk for earthquakes. And an earthquake occurred in 749 CE. A layer of stones and ground concealed the city. Thus for centuries, nothing was touched (of course the standing pillars are part of reconstruction).
Roman Theater
One of the most impressive structures is the theater (numbered #1 on the map you will receive on the entrance):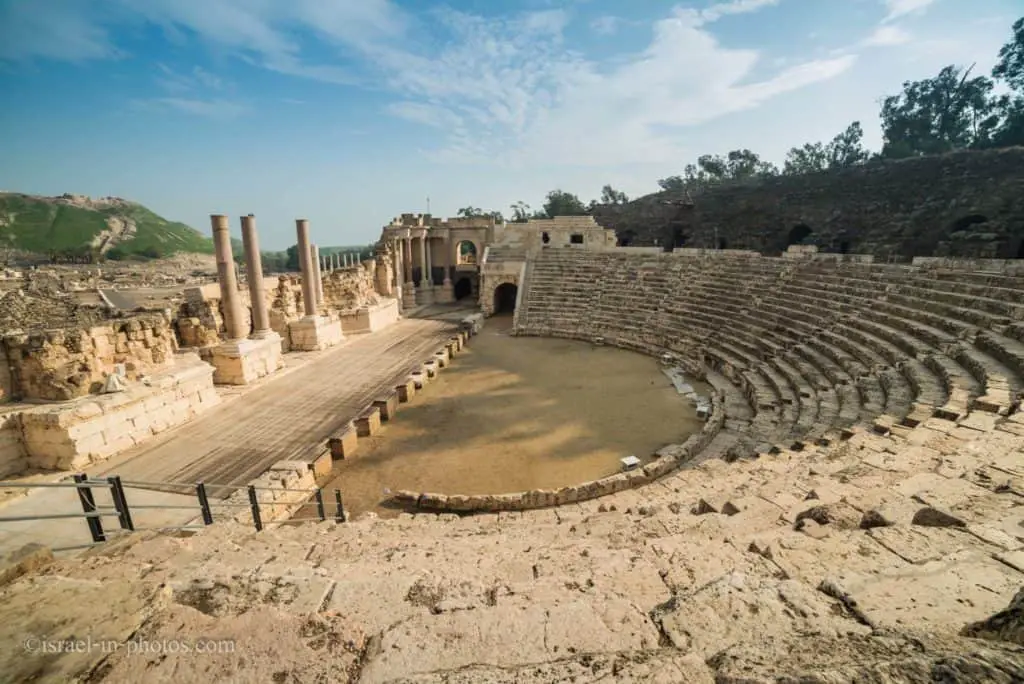 It's a 7,000 seat theater. Only the lowermost tier of seating (out of three) survived intact. Thus, in the photo above we see about 2,000 seats and the original construction was three times higher.
As in other Roman theaters, the acoustics is phenomenal. If you stand on the stage and talk, without a microphone, you will be heard.
What Is The Difference Between Roman Theater And Amphitheater?
Many people confuse between theater and amphitheaters. The amphitheater has the prefix "Amfi" which means "on both sides" in Ancient Greek. For example, frogs belong to the Amphibia class, since these vertebrates live on land but breed in water. Or the Amphibian Man, who lived both on the ground and in water. Thus, the amphitheater is a circular theater where people sit on both sides. And though Form follows function is a principle associated with 20th-century modernist architecture, it is also applied in this case. Semi-circular theaters allowed better hearing (suited for theater), and amphitheater is better suited for viewing (for example gladiator battles).
Today amphitheaters are often confused with theatres, but there are differences between the two structures that relate principally to the event's stages therein.

As the action was the order of the day in an amphitheater, seeing that action was more important than hearing it. The reverse is true for theatres. Consequently, theatres tend to be smaller and have much better acoustics. Perhaps the most fundamental difference between a Roman amphitheater and a Roman theatre is the shape, theatres have a semi-circular arrangement of raised seating looking into a stage, whereas an amphitheater is a 'theatre in the round' – amphi is Greek for around.
Source: archaeology-travel.com
Thus, Beit Shean and Caesarea National Park have theaters. And the only amphitheater in Israel can be found at Beit Guvrin National Park.
View from the theater over to Palladius Street and Western Bathhouse: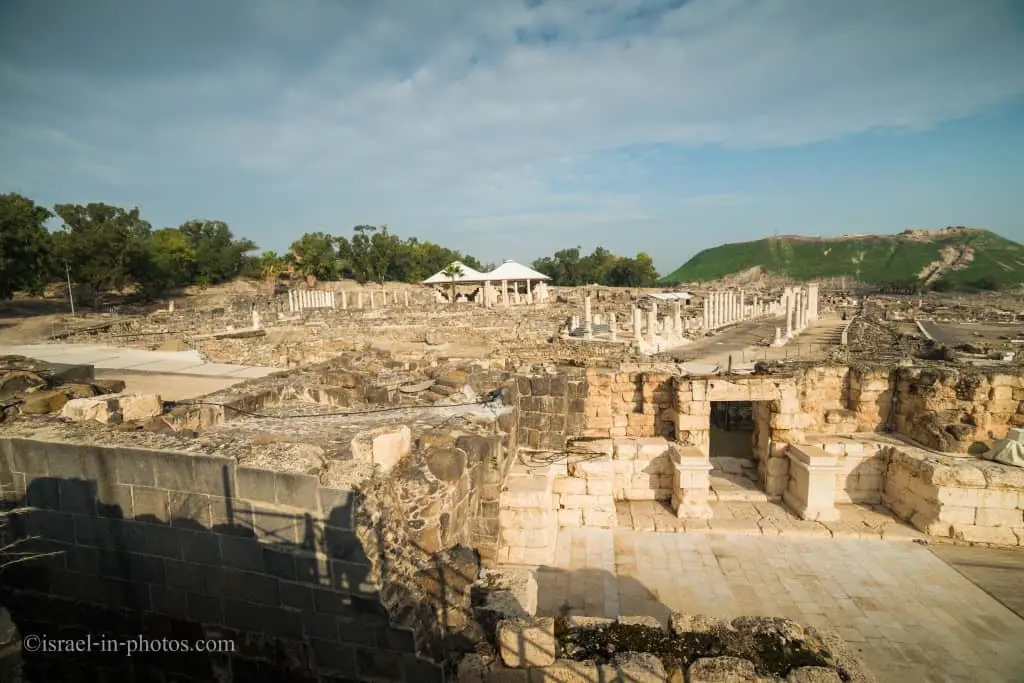 In the first row:

The stage: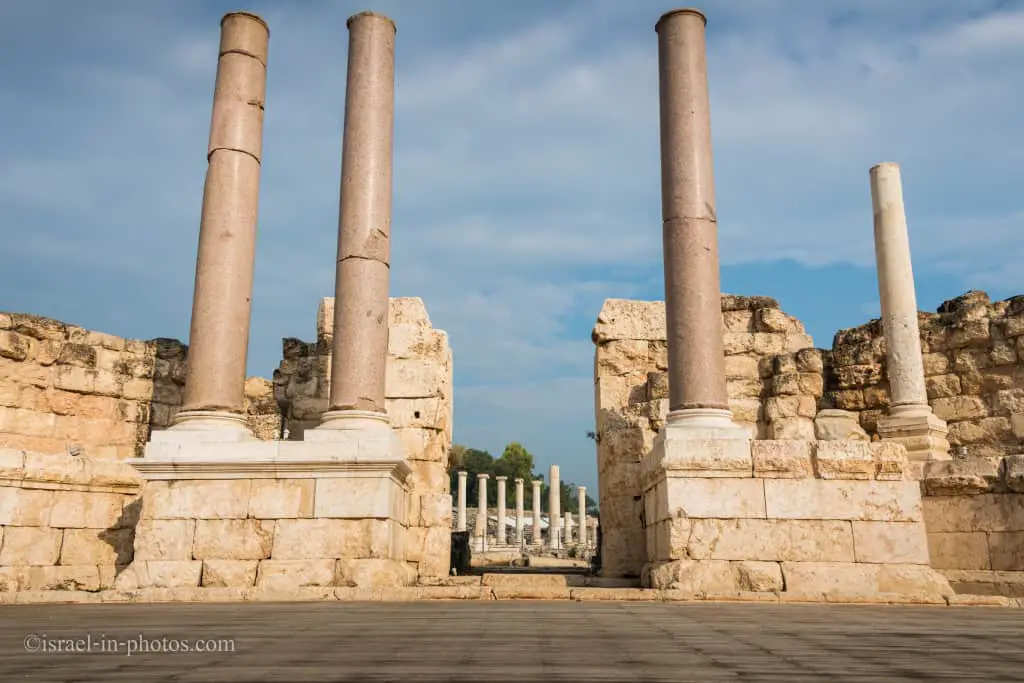 As you can see some parts are being reconstructed: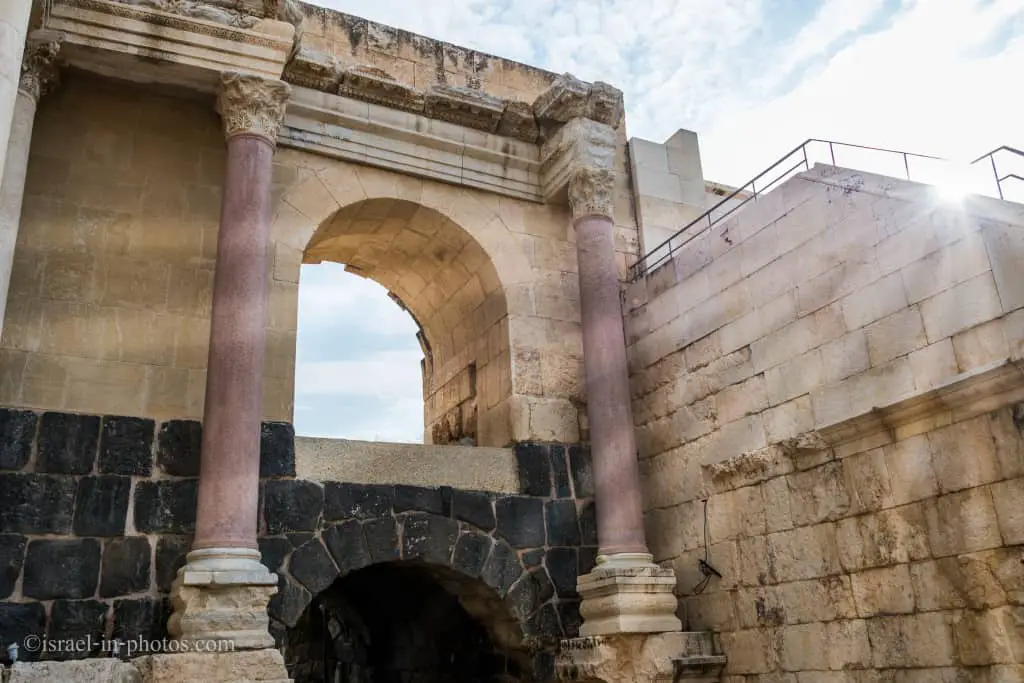 Leaving the scene and going on to the Western Bathhouse (numbered #2 on the map):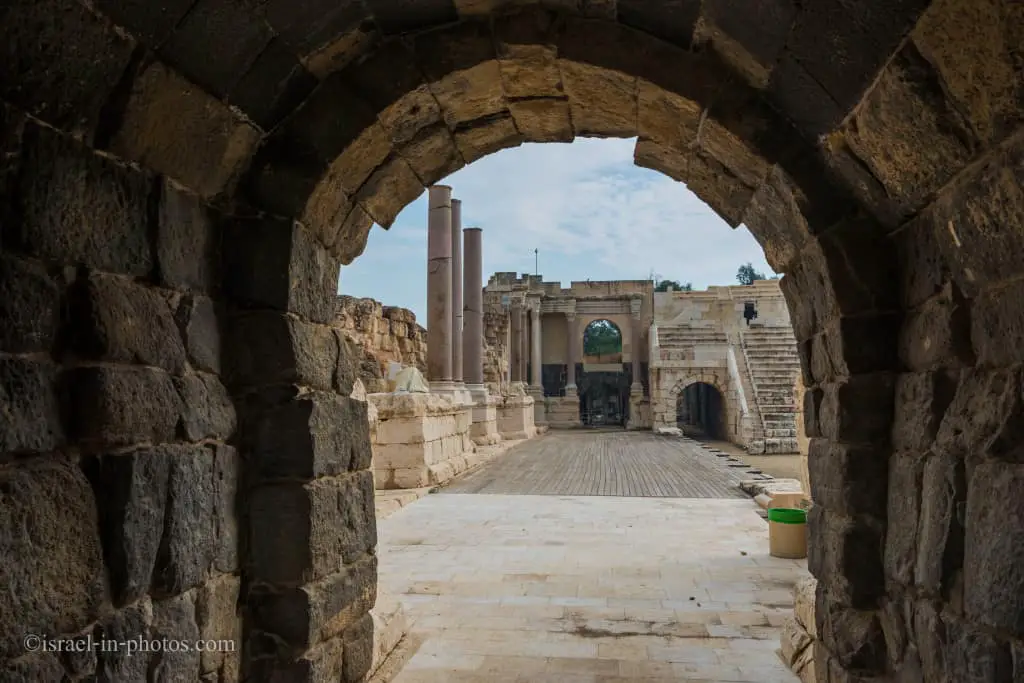 The Bathhouse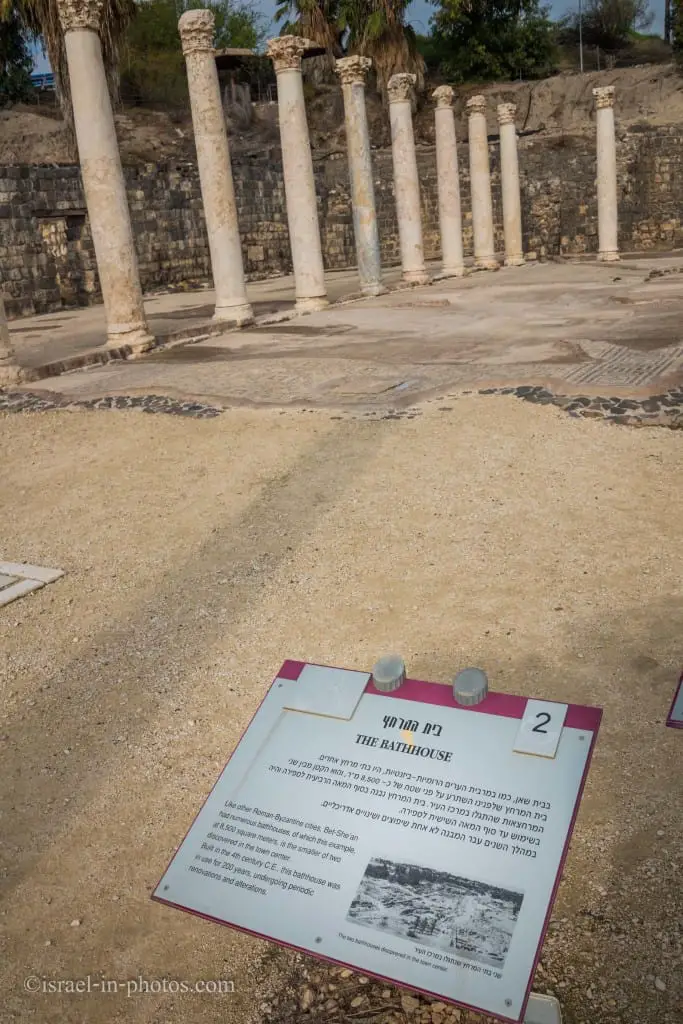 It was accustomed to working out, usually weightlifting or wrestling, before washing. And the square in the photo above probably served for these workouts.
Here you can see the underfloor heating system:

Water was heated using fire and injected inside. This circulation made the rooms above sweltering, basically a sauna.
Since they did not have soap, they covered their body with olive oil and scraped it off with a stick.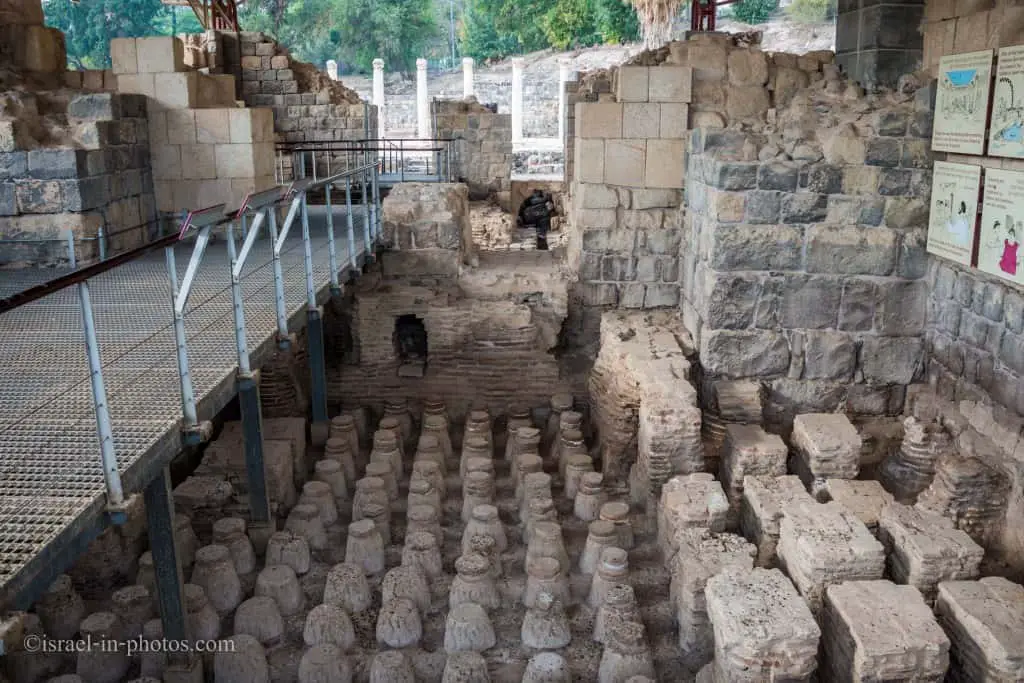 But besides the hot room, there are many others as well. For instance, after hot places, they visited warm rooms (for relaxation purposes) and then cold plunge baths.
Also, on the premises, you can find many small rooms. Masseurs and hairdressers could have used them.
The large bathhouse was built at the end of the 4th century CE and was in use throughout the Byzantine period. It is 100 m long, and 90 m wide. The bathhouse had a courtyard surrounded by porticoes, with rooms facing into it on three sides, from the outside, most of them paved with mosaics or colored marble tiles. The central courtyard served as a palestra – a place for physical exercise. Inside the bathhouse were eight halls and four open bathing pools, surrounded by columns. Fountains stood between the pools.
Note: unless stated otherwise, all quotes were taken from the official site.
Palladius Street
Palladius street is a 150 meters long colonnaded street:
On its northwest side, there was a covered patio which opens into a row of shops. A dedicatory inscription was found in the portico mosaic. The inscription recounts the construction of the portico in the days of Palladius, governor of the province. Thus this street was named Palladius.
Weather Related City Planning
I have taken the following photo from a low angle because: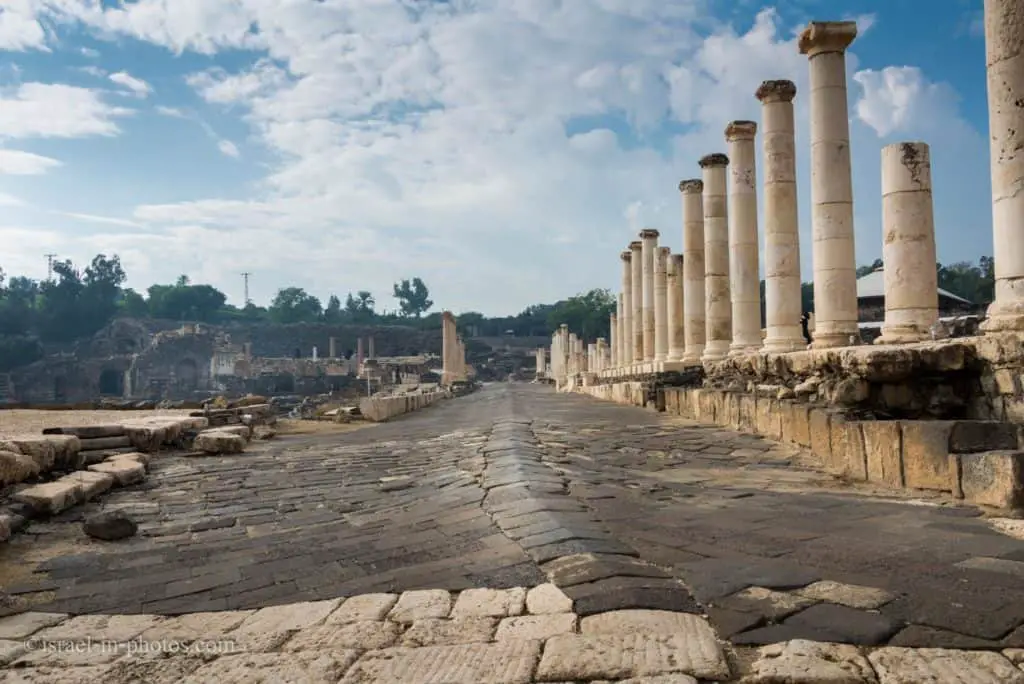 I wanted to show you the slopes. There are two slopes, one to each side and there is a functional drainage system. Many modern towns in Israel have worse drainage system than this one from the Roman period. And all this even though Beit Shean does not get a lot of rains (average annual rainfall is 344 mm).
If I mentioned the weather, then I should also say that it is quite hot in this area. Thus, the streets in Beit Shean were straight. Straight roads allowed better wind circulation throughout the city. And again, most modern cities in Israel do not use this simple technique. Only, in the last couple of years, there are talks of how street's shape and its buildings affect the wind (mainly in regards to skyscrapers that built along the coastline in Tel-Aviv).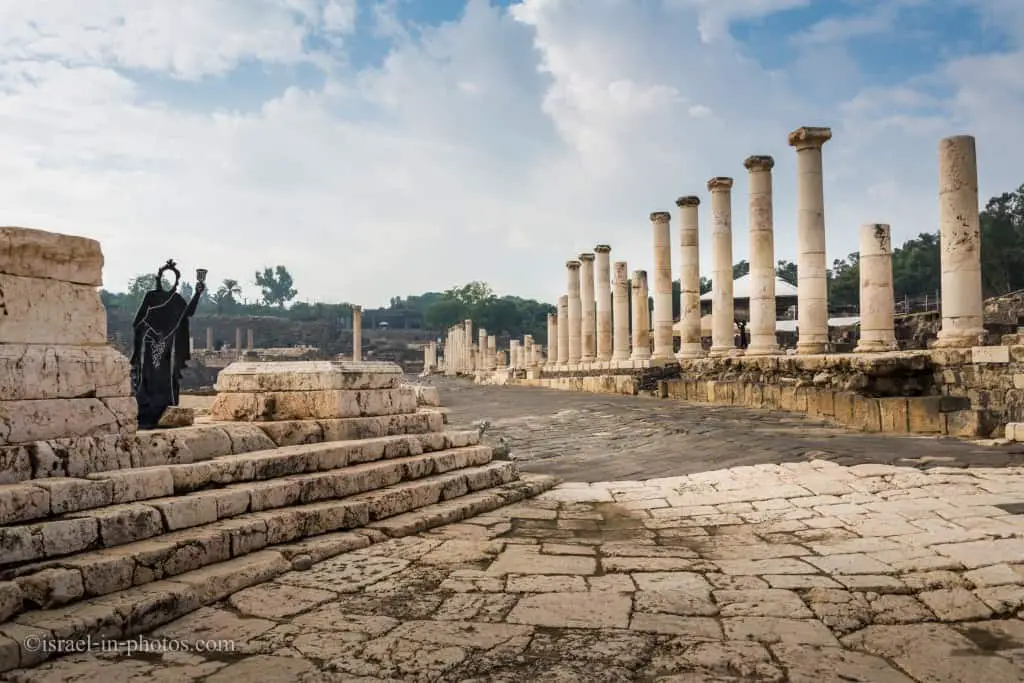 That is quite amazing: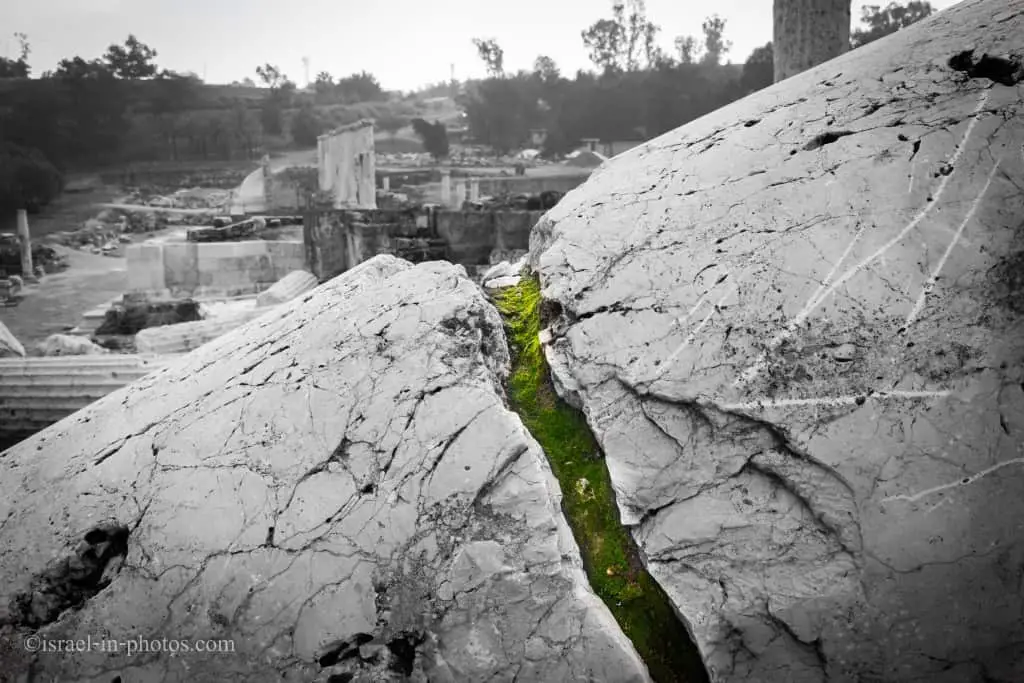 The middle part of this column isn't touching the ground, and nonetheless, there is grass there. Survival mechanisms are amazing.
View of Silvanus Street: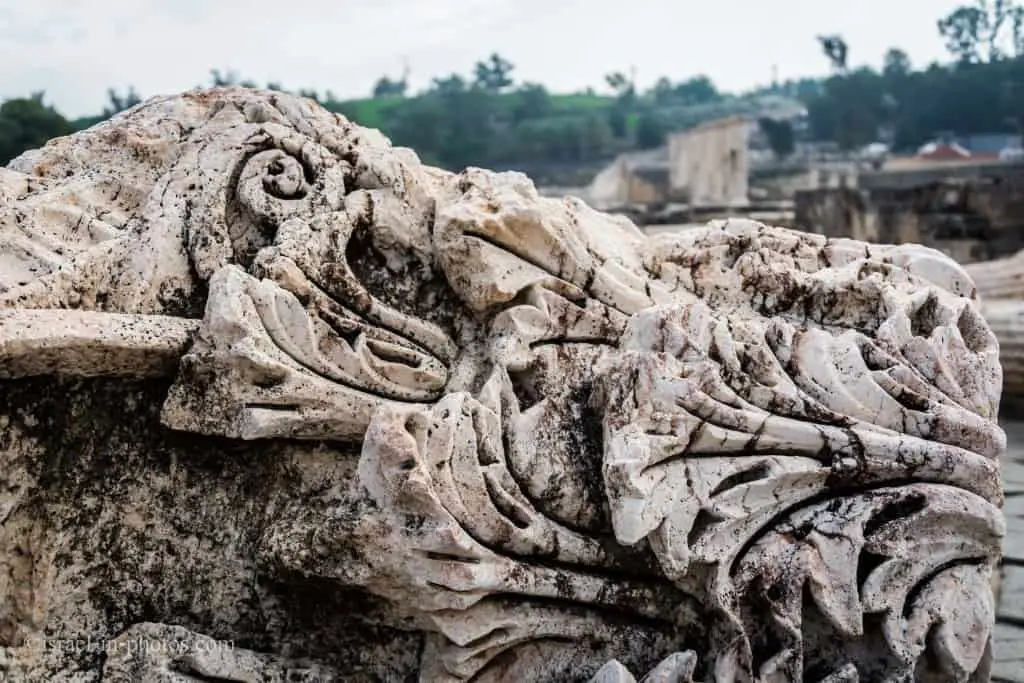 Silvanus Street
Monumental colonnade along running Silvanus Street: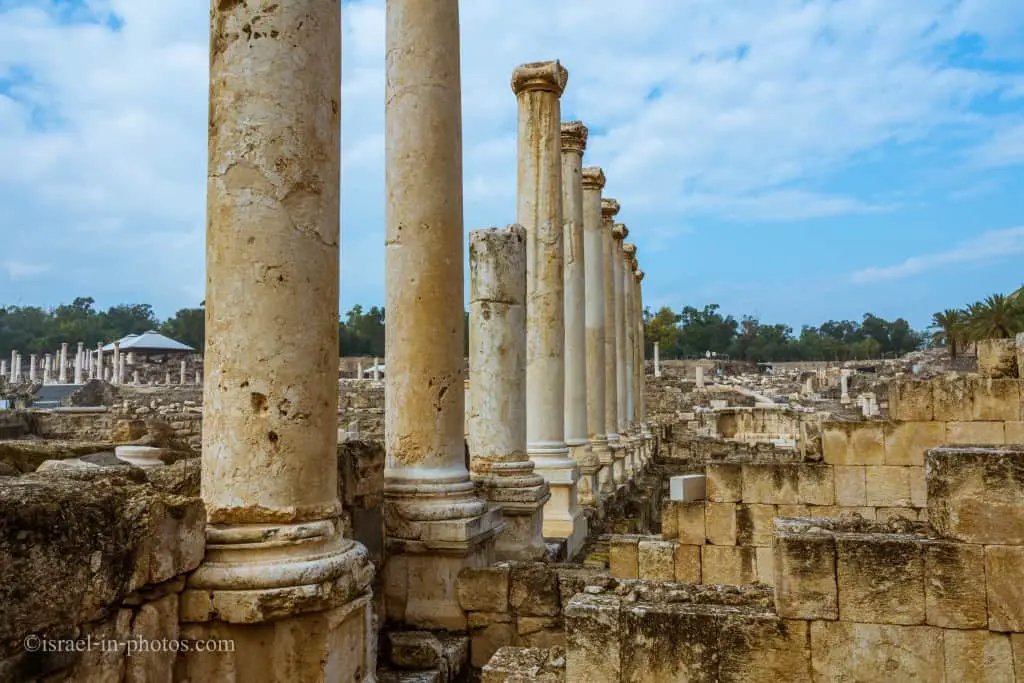 Tel Beit Shean
I took the Valley Street to climb Tel Beit Shean, A.K.A. Fortress Mound.
If you are interested to find out what Does the word Tel means, then check out my Megiddo post.
View from Valley Street: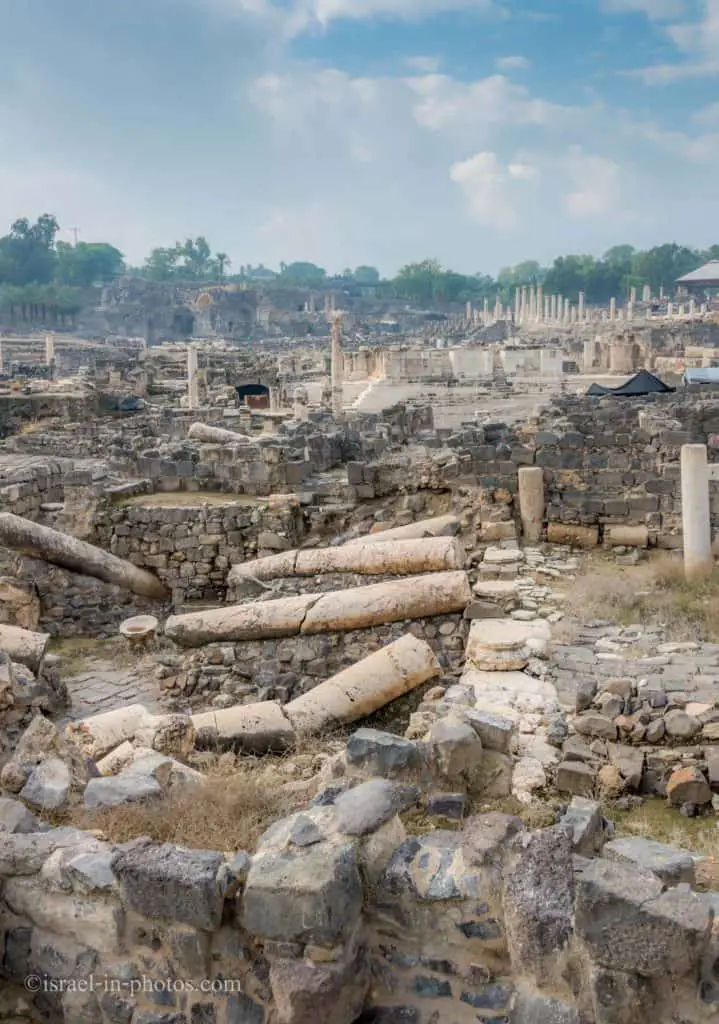 After a couple of dozen stairs, you reach a viewpoint where you can find models and drawings demonstrating how some of the buildings of Silvanus Street looked.
In the following photo you can see the model and the remains of Nymphaeum (numbered #8 on the map):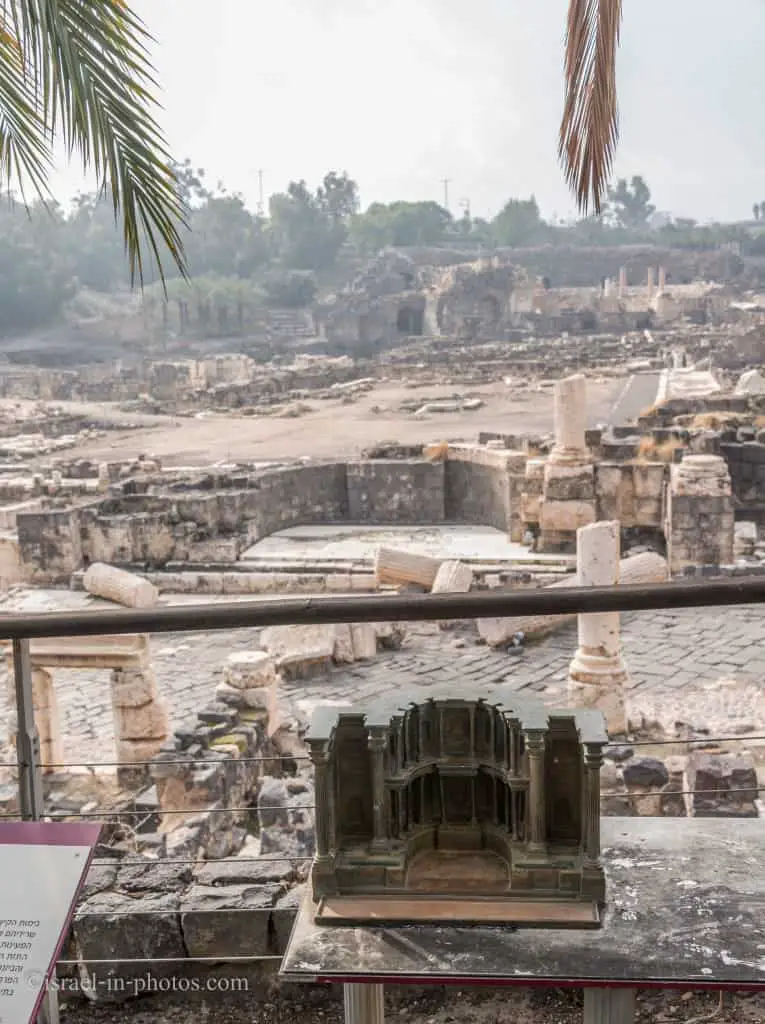 Nymphaeum is a public fountain from the 2nd century. As you can see in the model, there was a pool in front of the building. Water spilled on it. Also, decorative elements were found on the site, and incorporation will be made in the future.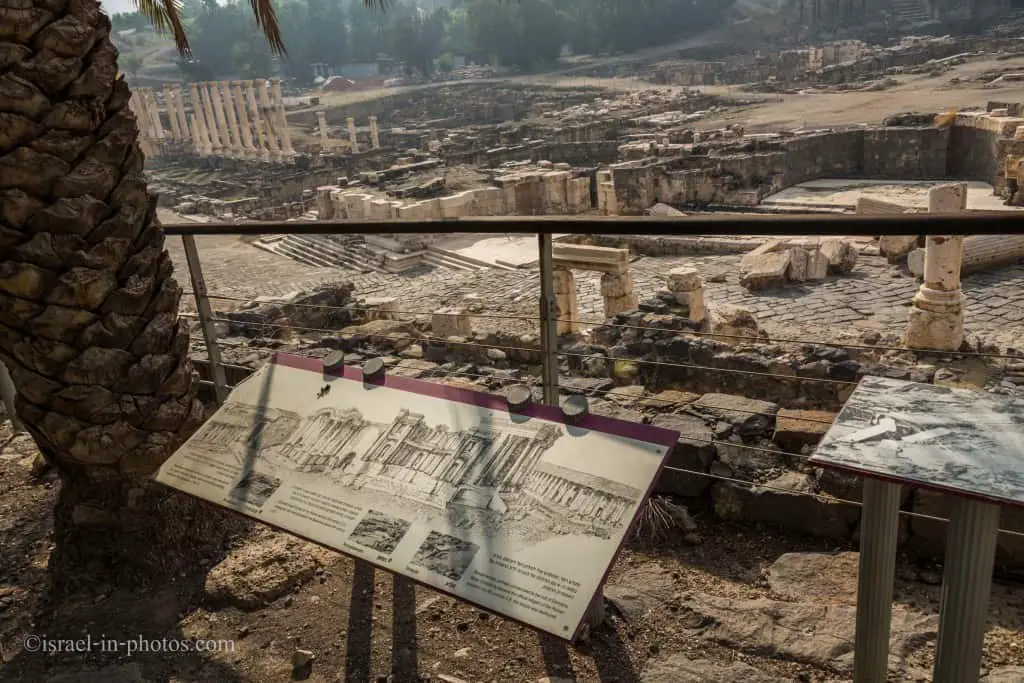 From there I continue the climb, and you can see my previous spot (next to the Palms):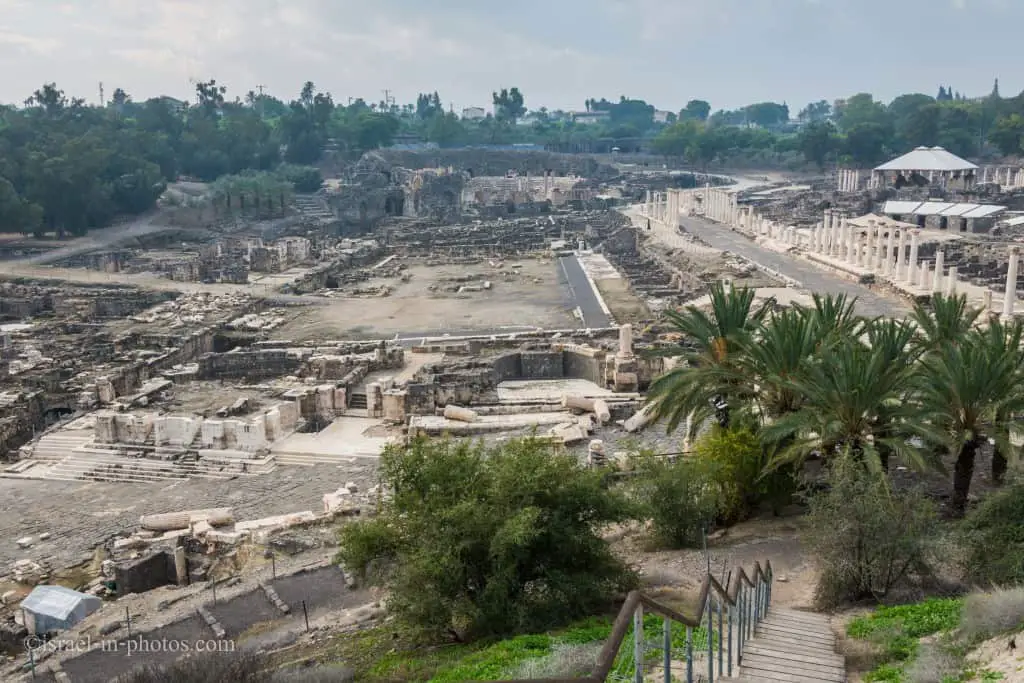 Little Bee-eater
While you climb, you will see many small holes in the sides of the mountain. I thought maybe birds, and after several minutes I saw two guests: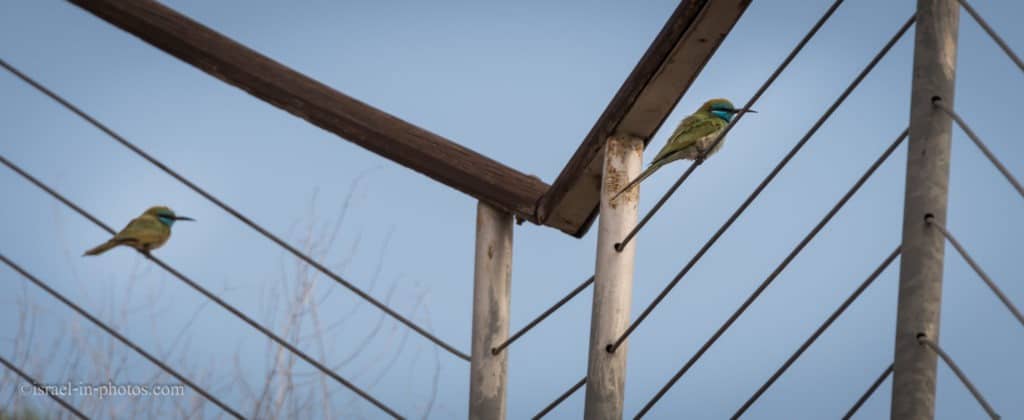 Little bee-eater reaches the length of 15–17 cm, which makes it the smallest African bee-eater. Unlike other bee-eaters, these are solitary nesters, building tunnels in sandy banks.
If I mentioned birds, there are many storks in this area. While I was on site, I saw stork thermals (lift) above Tel Beit Shean. But unfortunately, I was far away at that moment. There is a bird watching center in Kfar Rupin (their site), which is only several kilometers away.
Almost at the top: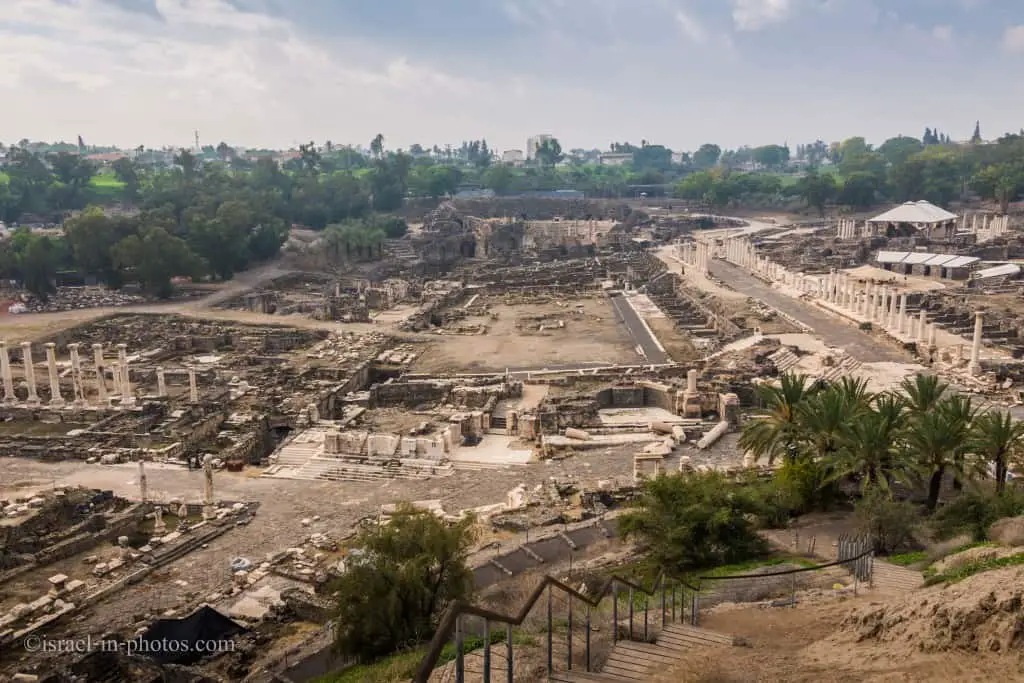 At the viewpoint on top of the Tel:

Modern Vs. Ancient
According to the Central Bureau of Statistics, in 2013 the population of Beit Shean was 17,263. And the inhabitants of Scythopolis reached 40,000-50,000 people. As one of the guides told us: "we don't want empty slogans from politicians, we want Beit Shean to reach the same size as Scythopolis."
Before an earthquake destroyed ancient Beit Shean, 40,000-50,000 residents lived in the city. But, what you see today is only a small part of that city. Archaeological studies show that there is still more underground than discovered. Restoration and digging continue. And every time I visit there (on average every several years), I see new additions. Unfortunately, there is not enough money, therefore work is done at a slow pace.
You can see the modern city above the ancient one. There are documented cases where residents wanted to build new shelters/storerooms, and when they started digging, they found remains of the old city. But, since as I mentioned before there is not enough money such findings usually put on hold until better times.
You might think that the Tel (mound) has only viewpoints, but this is not the case. Archeologists uncovered twenty settlement strata, the most ancient dating from the 5th millennium BCE and the most recent from medieval times.
Best preserved is the Egyptian governor's house: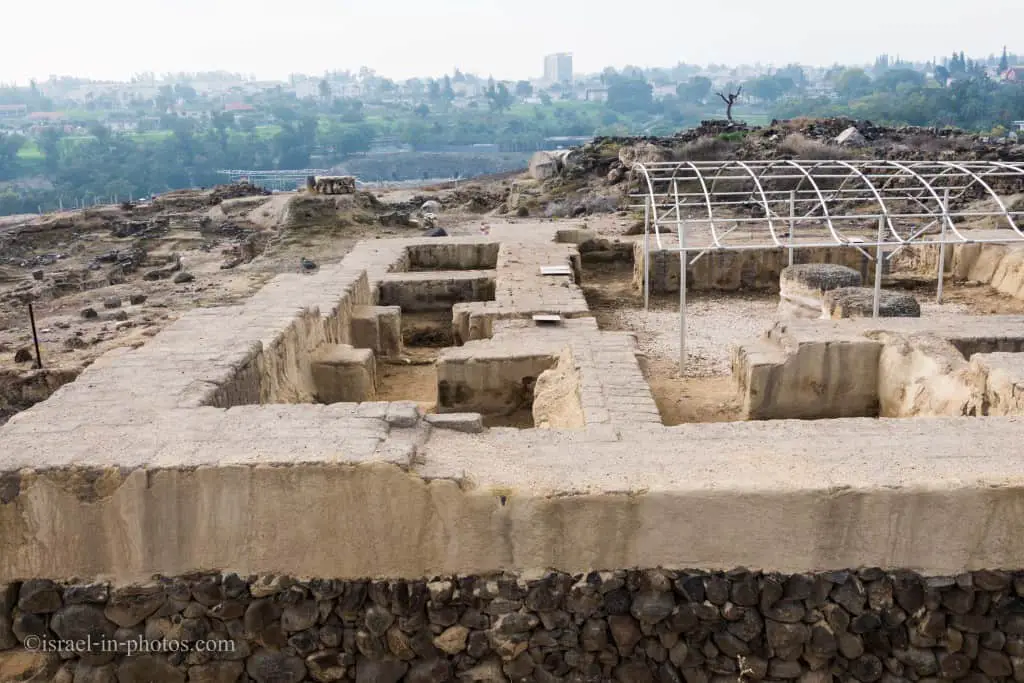 Another view from the top: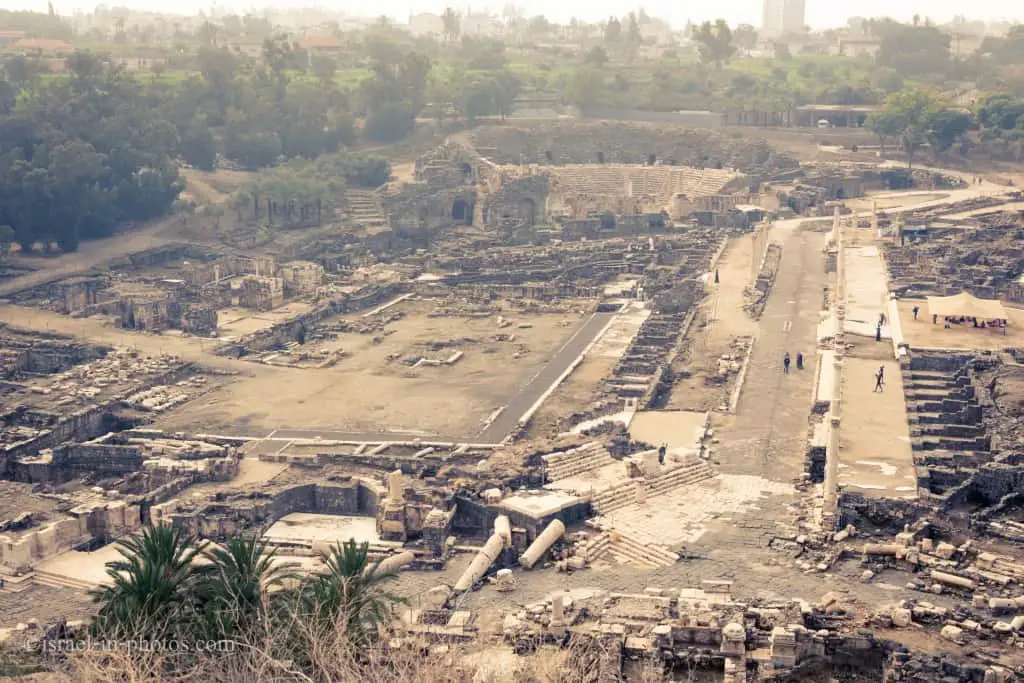 Getting Down From Fortress Mound
View of Silvanus Street: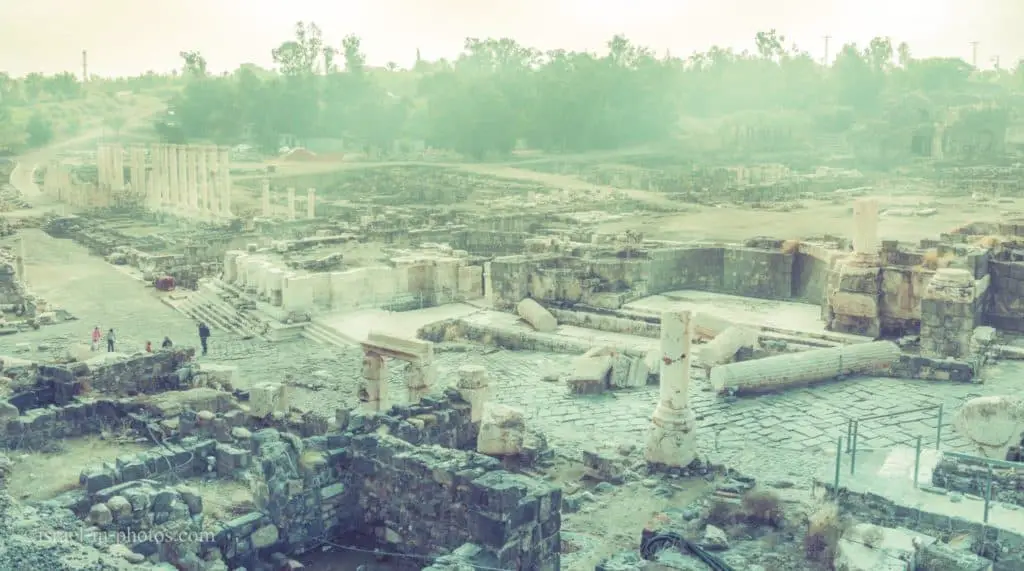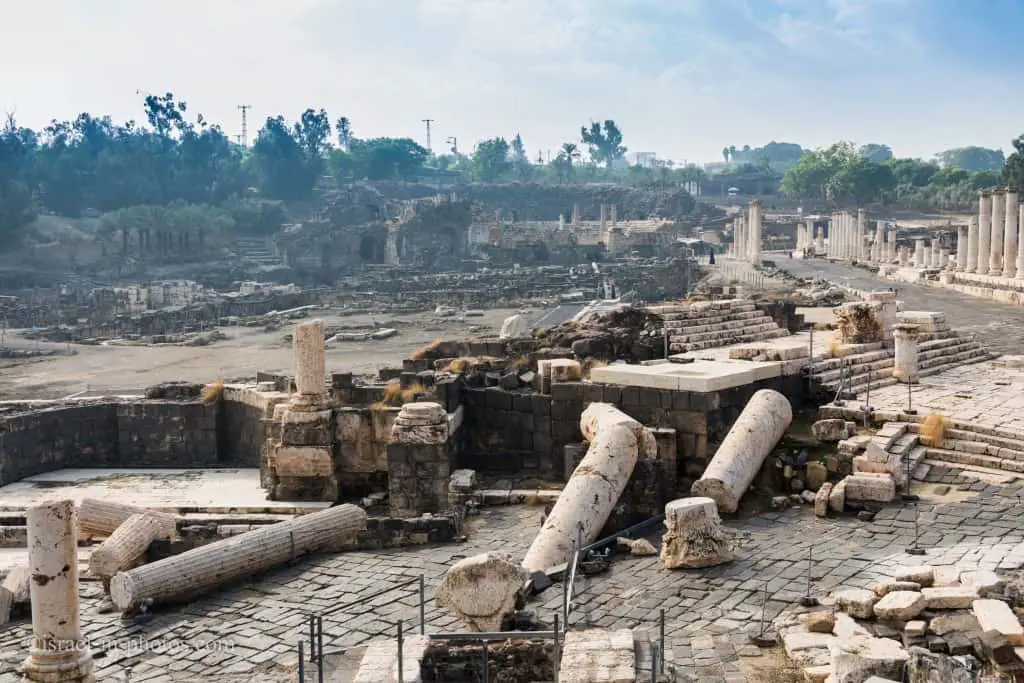 Central monument in front of Valley Street:

In the photo above I have incorporated a woman so that you can have a sense of scale.
Monumental colonnade running along Silvanus Street: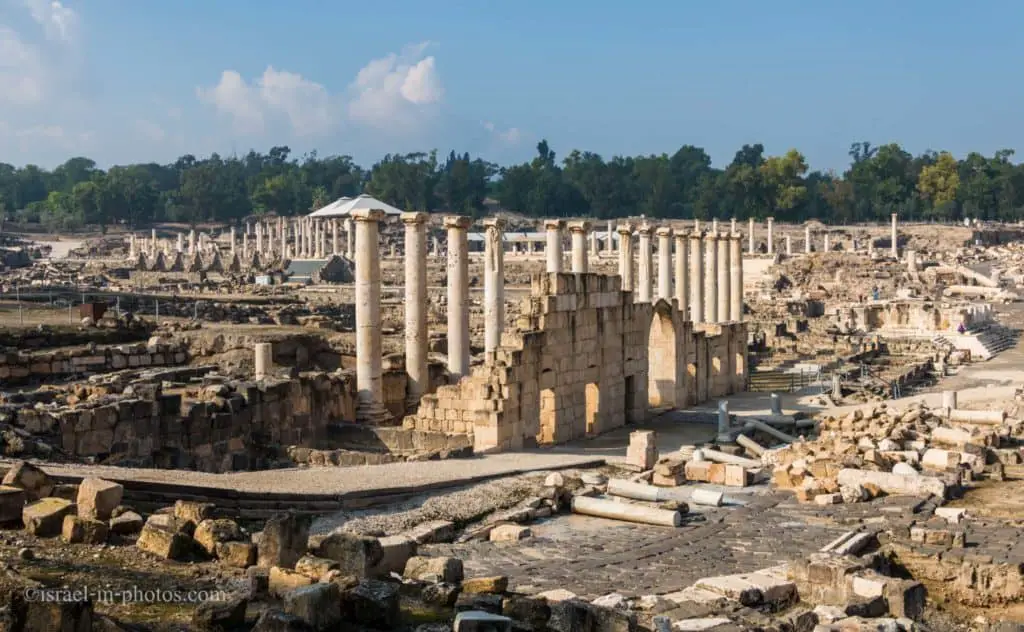 I find this building fascinating (numbered #13 on the map), probably because by today's standards it looks strange. But, before that, try to guess what it is?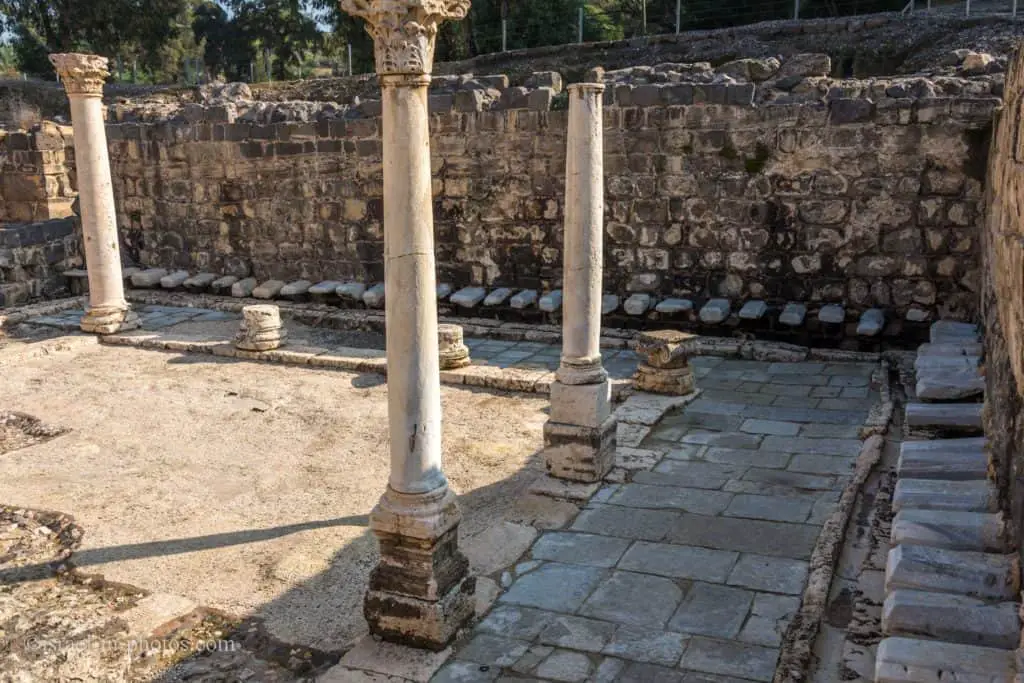 Public Lavatories
The photo above and below shows public lavatories. These public toilets are located next to the theater.
As you can see in the picture above, there is a small courtyard with columns. That is the waiting area. If there were no empty places, people waited and sometimes used this area to close deals.
The photo below gives a closer view of the sitting places, but the exciting part is the water system. There are two different "pipes": one straight beneath the sitting places and the second one is much narrow one in front of the sitting place, and it was used to wash hands. And I used the word "pipes" to emphasize that there was running water at all times.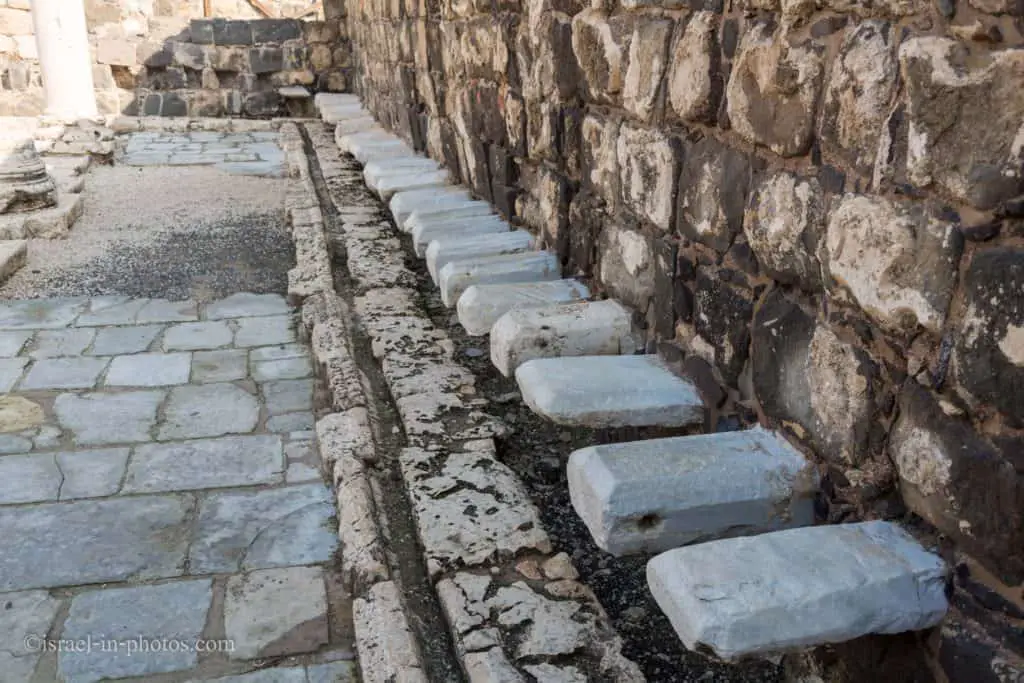 Sacred compound (numbered #14 on the map):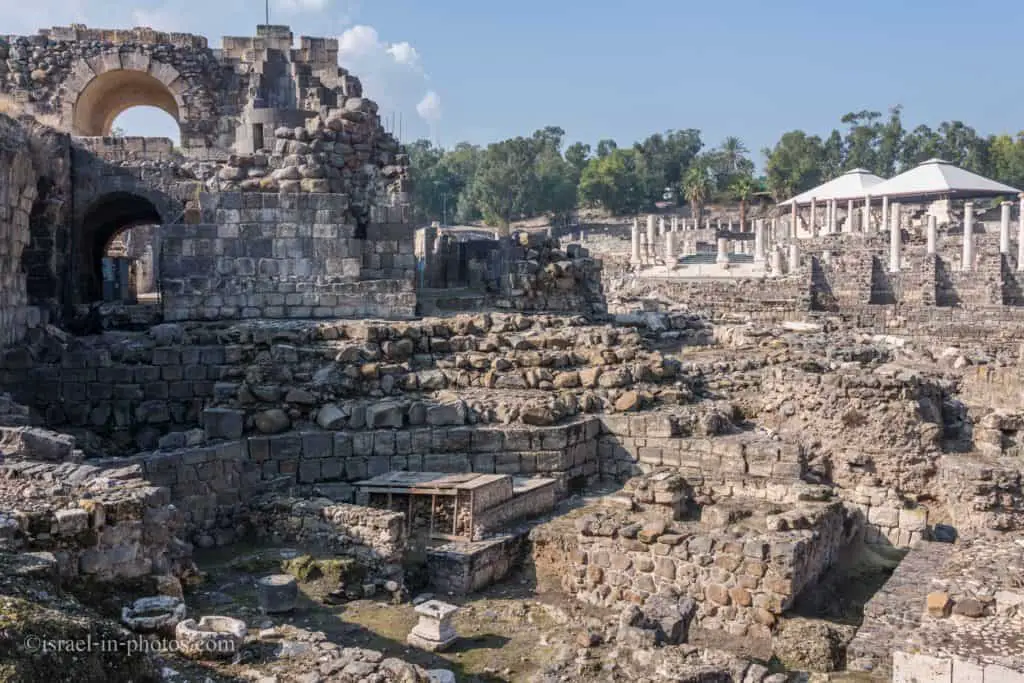 And back to the theater.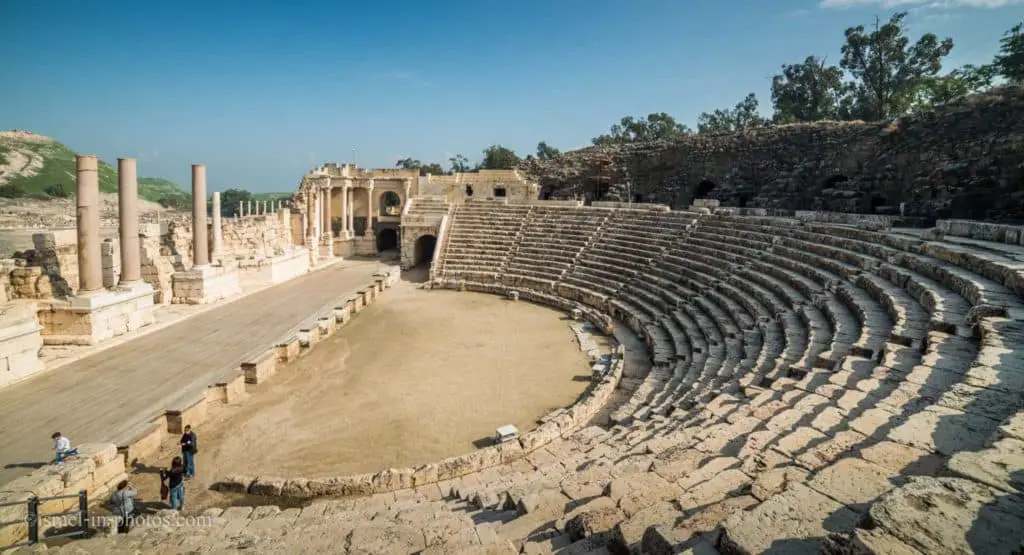 Beit Shean Nights – The Night Show
As I mentioned before, it is usually hot during the day in this area. But during the night the weather is pleasant. Not sure if the weather is the main reason, but several years ago a new audiovisual display was created on site. It is called Beit Shean Nights. I attended Beit Shean night show as a part of a company event. Thus, it might be a little different for a private visit, but I will tell you my experience so that you will know what to expect.
We sat behind the theater and saw a short movie in Hebrew about the history of Beit Shean. The movie was projected on theater's back wall. Here is the official film:
When the film ended a guide came up, and we did a short tour around the city. There were lights in most of lower city, and it was a pleasant experience. The only downside is that it was too short. We did not have time to wander by ourselves, and both the movie and tour lasted about an hour.
To buy tickets, you have to call the Israeli Nature And Parks Authority. Their phone number is *3639.
Nearby Attractions
If you are already in this area then consider the following nearby attractions:
Hotels, Hostels, And Apartments
In the nearby attractions section, I mentioned only the most popular ones. But there are others as well, and I would suggest taking a look at my Israel Trip Planner for additional info. And if you will be spending more than one day in this area, you will need a place to stay. Here is a link to booking.com with properties at Beit Shean area.
Summary
Beit Shean National Park has the best preserved ancient Roman city in Israel. It is also an impressive city, but keep in mind that during the summer it is boiling in this area. Thus, I would suggest visiting Beit Shean during Spring or Autumn and preferably not during the hottest hours of the day. In any case, take plenty of water, a hat, and sunscreen.
Moreover, there are guided tours on site, and I would recommend joining them. Either check in advance or ask about tours when you buy tickets. On several occasions, when we visited during Saturday's, there were volunteers, who made free tours.
Regarding Beit Shean nights, as long they keep it a one hour show, in my opinion, it is not worth the drive. But if you are staying in the area, then you can add it to your to-do list.
The bottom line is that it is one of the most impressive national parks in Israel. And it unquestionably worth a visit.
Have you ever visited Beit Shean National Park? How was it? Tell us in the comments below.
That's all for today, and I'll see you in future travels!
Stay Tuned!
If you have any questions then check out Useful Information For Tourists To Israel. And if you are looking for ideas on where to visit, then read Israel Trip Planner, National Parks And Nature Reserves, and Events And Festivals By Season.

Additional Resources
Here are several resources that I created to help travelers:
And if you have any questions then check out Useful Information For Tourists To Israel.

Did not find what you were looking for? Email me at
hi@israel-in-photos.com
, and I will do my best to answer your questions.