Nahal HaShofet offers loop and accessible tracks. Stunning nature and easy trails make Nahal HaShofet a popular place.
Nahal HaShofet is Closed
According to this announcement by KKL, Nahal HaShofet will be closed to visitors due to the trail access works. During the works, the railings and benches will be replaced, seating and observation areas will be added, the signage will be updated, and an organized parking lot will be created.
Estimated due date of the works: December 2023.
Map
Nahal HaShofet is located near Menashe Heights, not far from Yokneam.
When driving on road #66 from Yokneam towards Megiddo after Hazorea, you will see a turn right towards "Ramat Menashe Park" and "Nahal HaShofet." Follow the signs, and you will reach Nahal HaShofet.
Alternatively, you can search for Haruvim Parking at Nahal HaShofet on Waze.
Directions for drivers: Link to Waze and Link to Google Maps
Directions for public transport: Link to Moovit
Interactive map of the area:
Offers:
Hotels, hostels, and apartments in this area:
Note: see the map of the accessible trail below.
Tracks
Nahal HaShofet has a variety of trails. And KKL-JNF created a loop wheelchair-accessible track. This path goes through many attractions, and because it is accessible, it became popular among families with small children (you can hike with a baby stroller).
Note: you can click on the map to enlarge it.
Here is an interactive map from israelhiking.osm.org.il where the most popular trails are marked:
Notes:
As you can see, the longer trails include the short path (wheelchair-accessible trail).
The color I used to mark the trails is not the actual color on site.
All the marked trails start and end at Haruvim Parking.
And here are the details of those trails:
| # | Name | Color of the Track on the Map above | Description | Distance (km) | Total climb and descent (meters) | Notes |
| --- | --- | --- | --- | --- | --- | --- |
| 1 | The short path – wheelchair-accessible trail | Blue | Loop trail that takes you through different points of interest. | 2 | 78 | It is by far the most popular option. |
| 2 | Longer track #1 | Red | Short path + En Parur, Tel Parur (optional) + flowers (on season) | 5.5 | 190 | |
| 3 | Longer trail #2 | Green | Short path + flowers (in season) | 5.2 | 155 | |
Cycling Trails
The trail contains about 30 kilometers of riding in the unique landscape of the Biosphere region "Ramat Menashe" within the Megiddo Regional Council. Most of it crosses the KKL-JNF Forest following remarkable landscape and sceneries. The trail includes about 22 km of "single-tracks", and the rest are forest roads. The trail is built of two rings that meet in a mid-point, allows switching between them. The trail is designed as a one-way direction and suited for mid-range class riders.
Source: sign
Blue ring: 17,100 meters and ascent height is 370 meters.
Yellow ring: 12,760 meters and ascent height is 212 meters.
Opening Hours
Always open.
Entrance Fee
Free.
Contact Information
KKL-JNF's Forest Hotline: 1-800-350-550
When to visit?
As you can see from the following sign, there is water at Nahal HaShofet all year round (though in Autumn, there will be little water). Thus you can visit anytime. But if you want to enjoy cooler weather and see flowers, I suggest visiting towards the end of Winter and during the Spring.
If you plan to visit on a Saturday or during the holidays, you should remember that it is a popular place. Therefore I would suggest either arriving early or visiting during weekdays.
Few Words About Nahal HaShofet
Nahal HaShofet is a short river that rises between Moshav Ein HaEmek and Kibbutz Ramat HaShofet. This is the site of the river's most important spring, Ein Rehaniya.

The river flows through a landscape of rounded hills and crosses Kibbutz HaZorea before entering the open spaces of the Jezreel Valley, where it becomes a canal that empties into the Kishon River. The river flows through Ramat Menashe for about seven kilometers, and through the Jezreel Valley for about another three kilometers. Nahal HaShofet's catchment basin is soon to be declared a core heritage site in the Ramat Menashe Biosphere Reserve.
Source: KKL
The Wheelchair-accessible Path
And now, I will take you through the most popular path. It is a two km accessible trail. And it is also suitable for baby carriages.
At the Haruvim parking, you will see signs of the short trail.
Small Waterfall
The path descends at first along Nahal Sanin, a short tributary of Nahal HaShofet in which water flows until the end of summer. Dense foliage adorns the river banks.

Further on, Nahal Sanin meets up with Nahal HaShofet, and the path continues along the bank. The flowing stream creates a small waterfall and a pool. A nearby lookout platform provides a view of this beautiful spot, which is dotted with field elms (Ulmus minor), a tree that grows only beside the water and which is rarely found in Israel. In the winter the elm sheds the asymmetric serrated leaves that make it easily identifiable for the rest of the year.
Source: KKL
The Dam – Hydro Metering Station
Our route takes us past a small dam that is part of the station that monitors water flow in the stream, and past two small caves, before bringing us to a beautiful grove where the remains of a flour mill can be seen. This is the end of the route.
Source: KKL
As you can see, though significant parts of the trail are shaded, not all of it is. Thus, in any case, take sunscreen.
A small part of the wheelchair-accessible trail is not paved. Thus I would advise you not to visit immediately after heavy rains.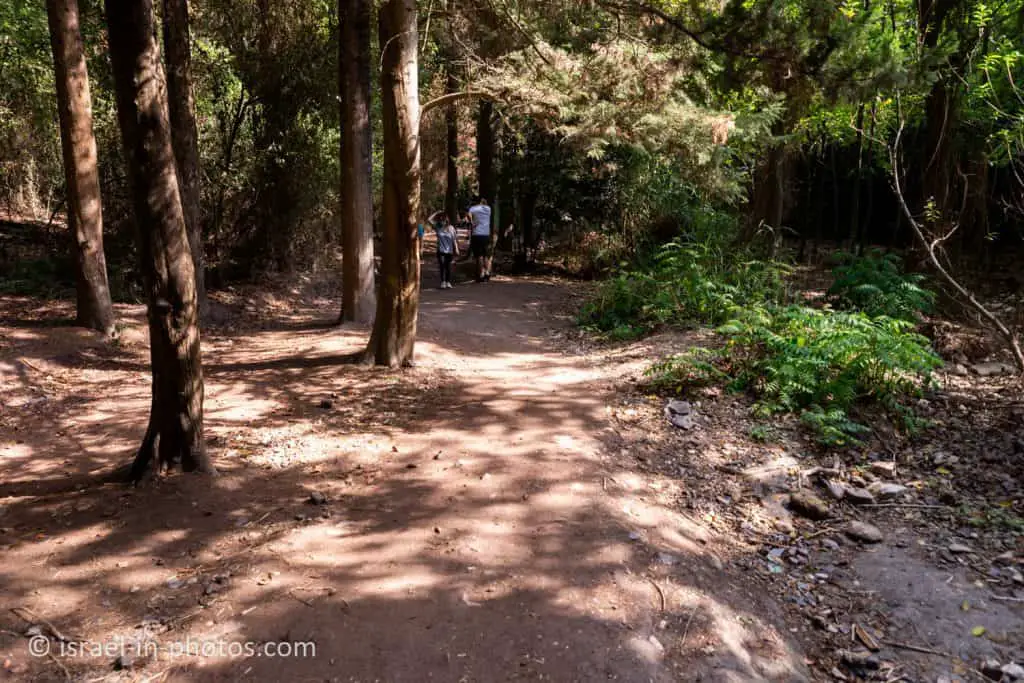 As you continue along the trail, you will see the following marking attached to a tree.
We will continue in the opposite direction and then return to this point. So we will cross the bridge over Nahal HaShofet to visit the nearby cave.
If you choose trail #3, you continue with the trail toward Hazorea. You can also make a picnic at the groove near the cave.
And now, we will return to the bridge and the sign. At that spot, you take the other path, the uphill road (to the left). And within several minutes, you will reach the flour mill.
Flour Mill
This Ottoman-era flour mill was operated by water. And here is a sign with additional explanations.
A short walk uphill will lead you to the next point of interest.
Ein Choshrat (Ein Ami)
This beautiful spring flows from a tunnel into a square pool hewn into the flat white rock. The rock above has been hewn into the shape of an arch. From here the path makes its way along the side of the hill back to the Carob Recreation Area.
Source: KKL
Near Ein Choshrat (Ein Ami), you will see a sign. If you turn left, then you return to the parking. And if you turn right, then after 750 meters, you will reach Wilfrid Israel Museum. Here is a quote from the official site:
The Wilfrid Israel Museum of Asian Art and Studies began life with a collection of Near and Far Eastern art bequeathed to the kibbutz by Wilfrid Israel (1899-1943), friend and patron of its young founders. Israel was the last heir of a Berlin Jewish business dynasty and an ardent pacifist in his youth. He became one of the leading figures in the rescue of Jewish children and youngsters from Nazi persecution before and during the Second World War.
If you want to visit the museum, check its opening hours.
We will take a left and return to the parking. Also, note a wooden trail to the right in the following image. For some reason, it was closed, so we followed the road.
Summary
Nahal HaShofet has a lovely short route. Families with children love this trail since kids can play in the water, explore caves, and enjoy nature. Moreover, if you have a baby, you can use a stroller.
Have you ever been to Nahal HaShofet? Tell us about your experience in the comments below.
That's all for today, and I'll see you in future travels!
Stay Tuned!
Additional Resources
Here are several resources that I created to help travelers:
And if you have any questions then check out
Useful Information For Tourists To Israel
.  
Did not find what you were looking for? Leave a comment below, and I will do my best to answer your questions.