Machane Yehuda Market is the most famous market in Jerusalem. It is popular among locals and tourists looking to buy and taste food.
Note: sometimes, Machane Yehuda Market is spelled as Mahane Yehuda Market, and locals call it Machane.
Preface
In recent years Machane Yehuda has become a popular tourist attraction with plenty of tours and workshops. Today this marketplace incorporates not only standard food stands and utensils stores. But there are also many restaurants and food kiosks. And at night, pubs open their doors.
Map
Machane Yehuda Market is spread over between Machane Yehuda and Etz Hayyim streets. And there are also places to the west, at HaEshkol Street and others.
Map of the area:
Directions for drivers: Link to Waze and Link to Google Maps
Directions for public transport: Link to Moovit
Interactive map of the area:
Offers:
Hotels, hostels, and apartments in this area:
Directions
You can reach Machane either by car or by public transport. I would suggest public transportation, as finding free parking is almost impossible in this area (at least I never did). If you decide to drive there, then you can use the Shuk Parking Lot and Klal parking (both located near Ki'akh Street 2, on opposite sides of the street), Agripas parking (HaRav Shmuel Baruch 4), Einin parking (Ovadya Somech street 3), and there are many others. But you should know that parking is not cheap, and expect to pay 18 – 25 NIS per hour. Thus, if you spend around three hours at the market, the parking will cost ~80 NIS.
Update: during August 2019, we used the market parking lot at Agripas 4, and the fee was: 20 NIS per the first hour and 5 NIS per every additional 15 minutes. And the total can be at most 60 NIS. So for a 2.5-hour stay, we paid 50 NIS. So, yes, it is one of the most expansive parking-wise areas in Israel.
My preferred way to reach the market is by public transport. You can take Jerusalem Light Rail, CityPass, to the Mahane Yehuda station. It is located close to the market's entrance. When I come from outside the city, I usually use the free parking at Ammunition Hill and take the light train (part of their Park & Ride initiative). Other Park & Ride stations and Light Rail also stop at the central bus station. So this covers most scenarios.
Tip: take a backpack with you. Carrying products will be much easier, especially if you are reaching by public transport. I always take a backpack, even when my wife says that we do not need anything 🙂
Opening Hours
Sunday – Thursday: 8:00 – 19:00.
Friday: 8:00 – 15:00 (can be earlier, depending on the season).
On Saturdays and holidays, the market is closed. But on Saturday evening, though the market is closed, most of its cafes and restaurants are open.
When To Visit The Market?
There are two options. If you prefer a calmer and quieter visit, come during the weekdays. Not too early and not too late. 10:00 to 16:00 should be ideal. If you prefer a more authentic visit, seeing all the locals who come to shop, Friday morning (between 9:00 and 12:00) is the time for you. Keep in mind that Friday is the busiest time, and there will be a lot of people. But there is a higher chance for street artists. So everything has its ups and downs.
Since plenty of good restaurants and food stalls exist, we prefer combining a visit with a meal (usually breakfast or lunch).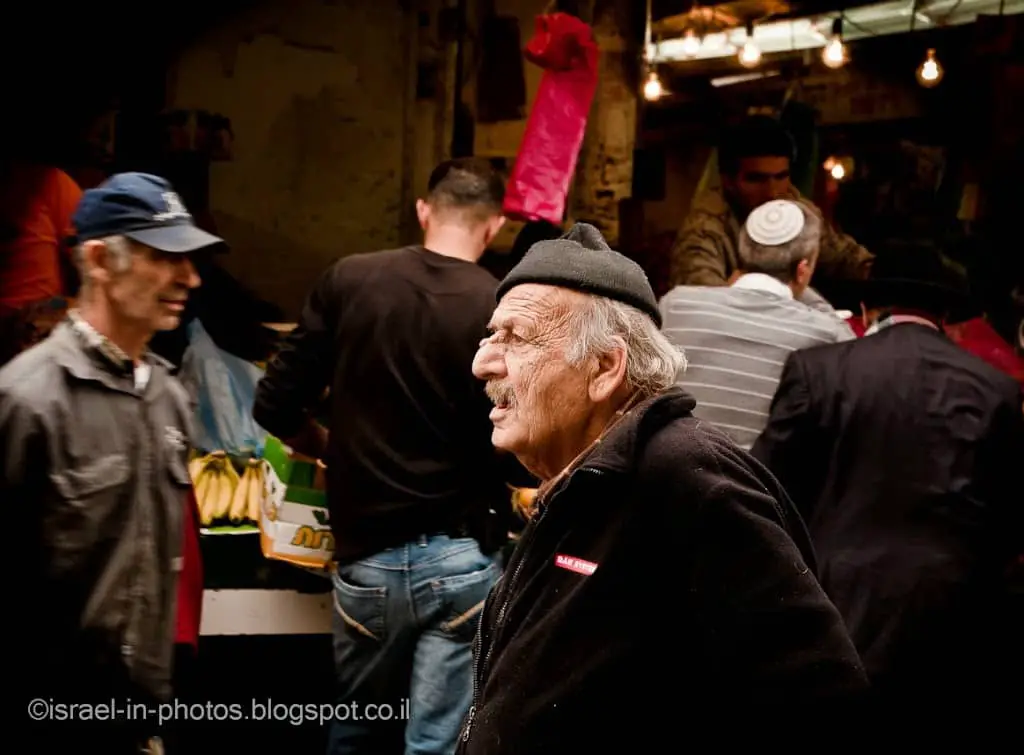 Restrooms
There are several public restrooms in the market. But since some of them are women only while others are men only, and I usually do not visit alone, I only have one option. The biggest restroom (both for men and women) is located near HaEshkol and Machane Yehuda streets. The simplest way to find it is to walk along HaEshkol Street, and at HaEshkol 6, you will see a restroom sign. You will reach the restroom by following the sign into the small alley.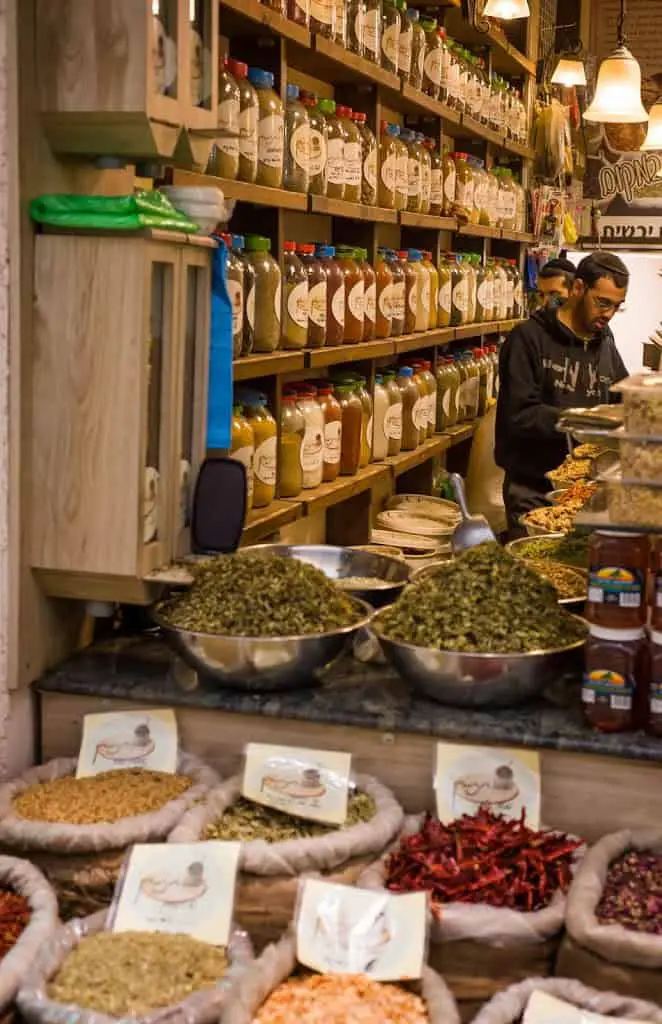 Restaurants
There are many restaurants not only in the market itself but nearby as well. And I will present some of my favorites.
Note: as time passes, restaurants' food quality can change (especially as owners and chefs change jobs). Thus, I suggest checking the latest reviews online before any visit.
Hachapuria
Our favorite place is Hachapuria at Mahane Yehuda Market, 5 Ha-Shikma Street.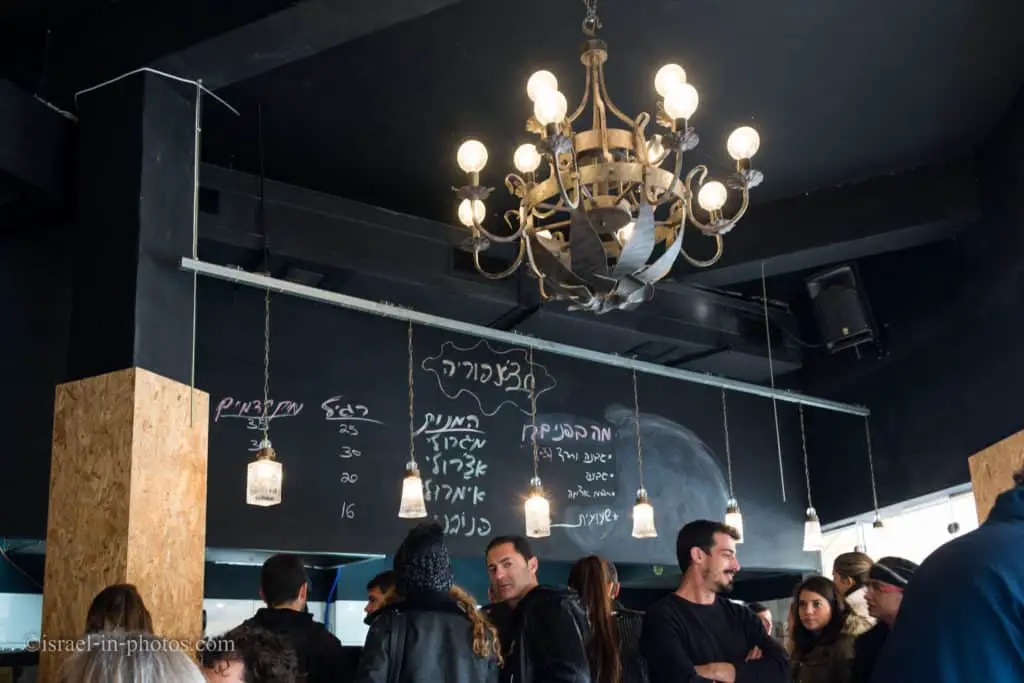 The general concept of hachapuri (hacha means cheese, and puri means dough) comes from Georgia, but it differs in taste and style from region to region. This bakery offers a classic khachapuri, an acharuli–filled with cheese and topped with a fried egg–and a magaruli–yeast dough with a layer of cheese on top, crisped in the oven.

The proprietor, Tango, noticed that Israelis had embraced Turkish burekas and decided to enrich the city's culinary offerings with the amazing taste of Georgian burekas. Hachapuria makes these pastries fresh, without margarine, just like Tango's mom has been making them for years. It's recommended to order the pastries ahead because every pastry is made specifically according to the customer's request.
Here is a photo of a traditional Georgian dish, the Khachapuri.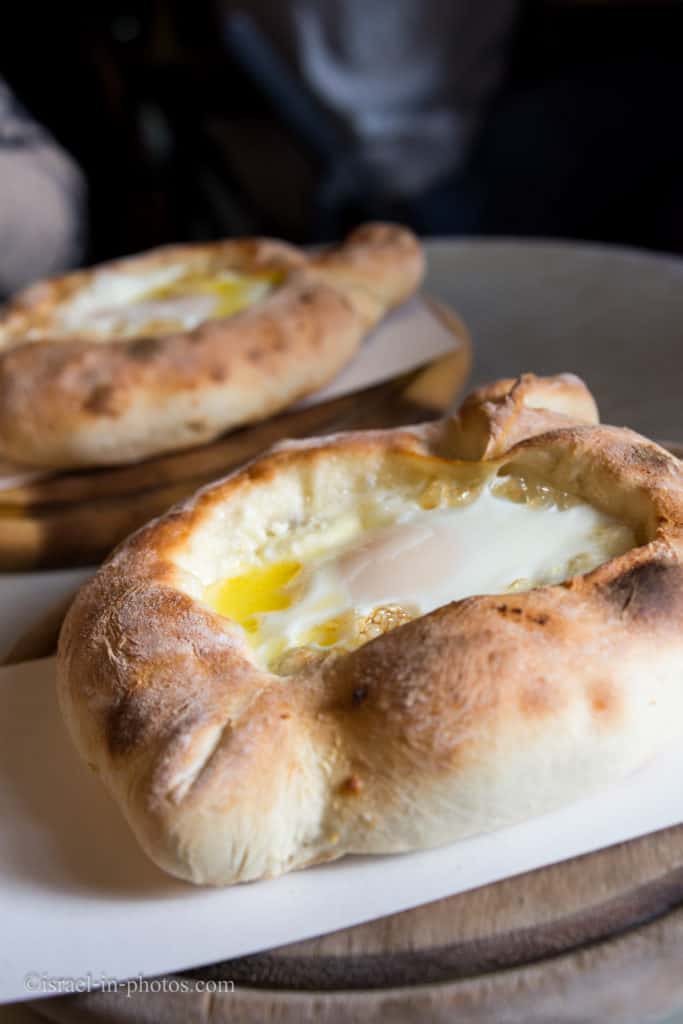 It may not look big here, but in all my attempts, I can barely finish my Khachapuri. Cheeses and butter inside the Khachapuri fill you up pretty quickly. This small place is very vibrant and has a young and energetic atmosphere.
Pasta Basta
Pasta Basta is situated at the market on 8-12 HaToot Street.
Chaim and Shir are two good friends who moved to Jerusalem four years ago. They fell in love with Machne Yehuda and decided to open a pasta restaurant. The idea behind Pasta Basta is high-quality pasta – made on the spot – at a low price so anyone can enjoy it.

At Pasta Basta, only high-quality raw materials are used; some of them come straight from the market, and some are imported from Italy. The pasta is prepared every morning in front of the customers. Sauces and desserts are also made on the spot. Among some of the unusual flavor combinations: red pesto (using sun-dried tomatoes) with goat cheese, or coconut milk with curry and roasted peppers cream. Desserts include tiramisu, panna cotta and more.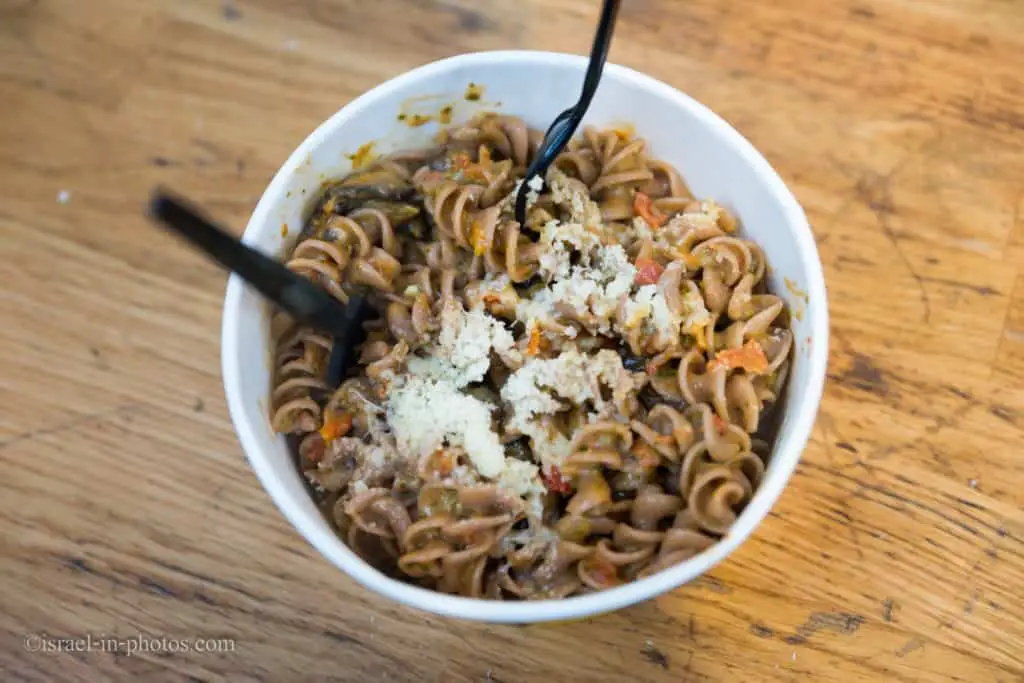 Pasta Basta is a good default option if you are traveling with kids. My daughters are not the only one who loves pasta and cheese. 😉
Ishtabach
Istabach is located a little further away at HaShikma 1. And it is a small Kurdish restaurant.
We ate there only once and loved it. Moreover, some of my readers recommended this place, as well. So check them out.
Jerusalem Bourekas
On a recent visit, we found a new place. They are selling Bourekas.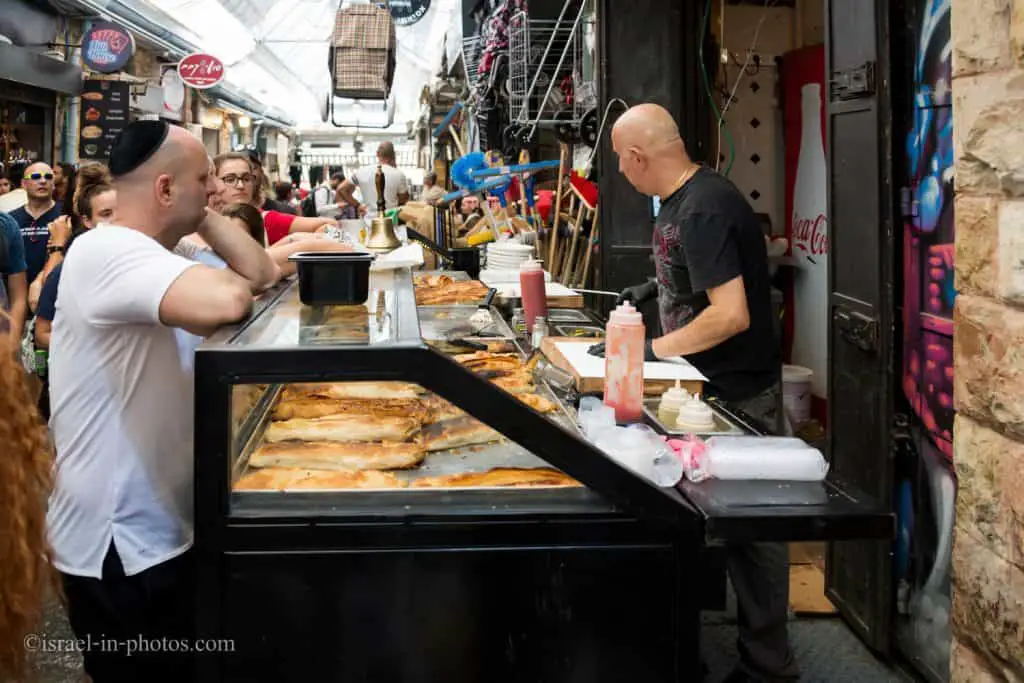 This bourekas is similar to the one we had at Levinsky Market. And it is also delicious. Here is what a serving looks like.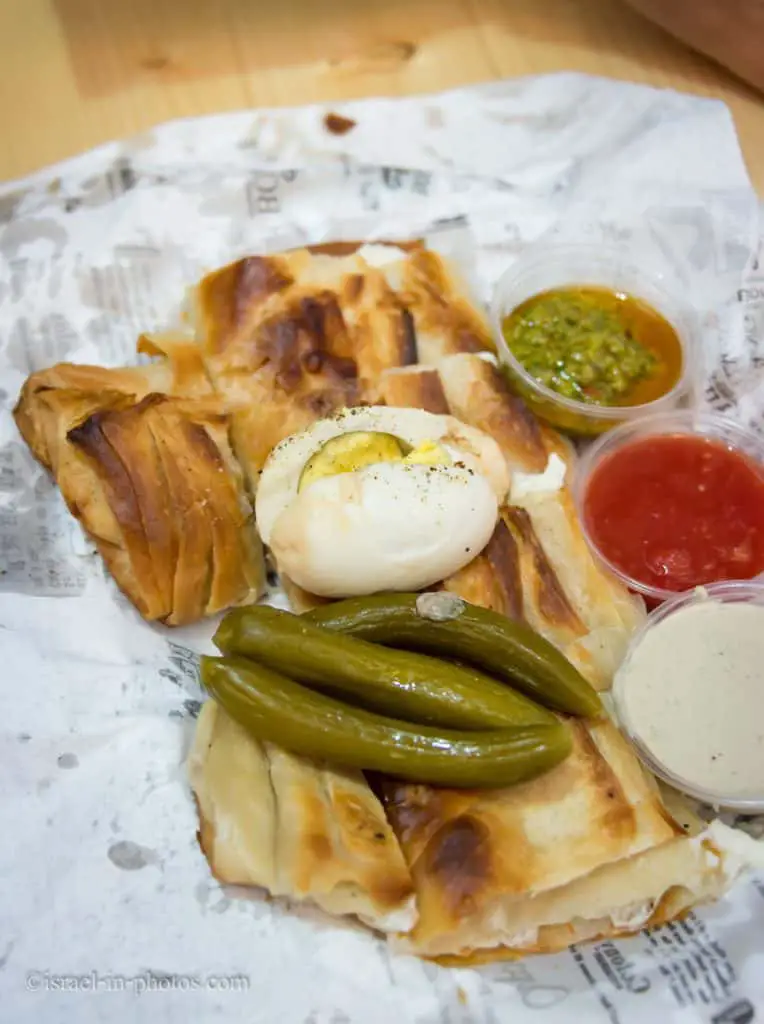 Machneyuda
Machneyuda is a chef restaurant. It was established by Assaf Granit, Yossy Elad, and Uri Navon, three well-known Jerusalem chefs. The restaurant is located at Beit Ya'akov Street 10.
We tried getting in without reservations, but it was fully packed. Thus, I suggest booking a place in advance if you are interested. You can book a table on their site.
Jachnun Bar
Most of my readers are probably asking what Jachnun is. So here is a little preface:
Jachnun or Jahnun is an Israeli-Jewish pastry, originating from Adeni Jewry, and traditionally served on Shabbat morning.

Jahnun is prepared from dough which is rolled out thinly, brushed with shortening (traditionally, clarified butter or samneh), and rolled up, similar to puff pastry. It turns a dark amber color and has a slightly sweet taste. It is traditionally served with a crushed/grated tomato dip, hard boiled eggs, and skhug (a type of hot sauce). Those with a sweet tooth like to unroll the Gachnun, spread strawberry jam, before rolling it back up and serving it Jam roly-poly style.
Source: Wikipedia
Jachnun Bar is situated inside the market at HaEgoz Street 30.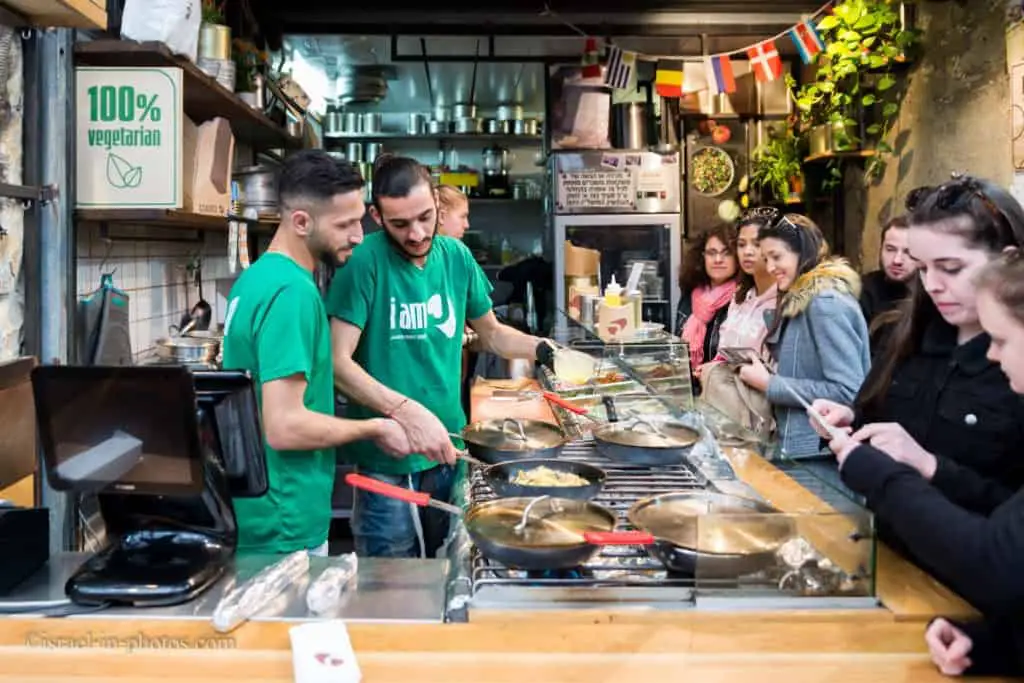 Mousseline
So far, we have focused on the main dishes. Besides restaurants, many places offer desserts, and Mousseline ice cream is one of them. Mousseline is located about 100 meters from Hachapuria at 2 HaArmonim Street. And along with traditional flavors, they have some unique ones like black sesame ice cream, Matcha tea ice cream, wasabi, saffron ice cream, and others. I took the Matcha ice cream and loved it.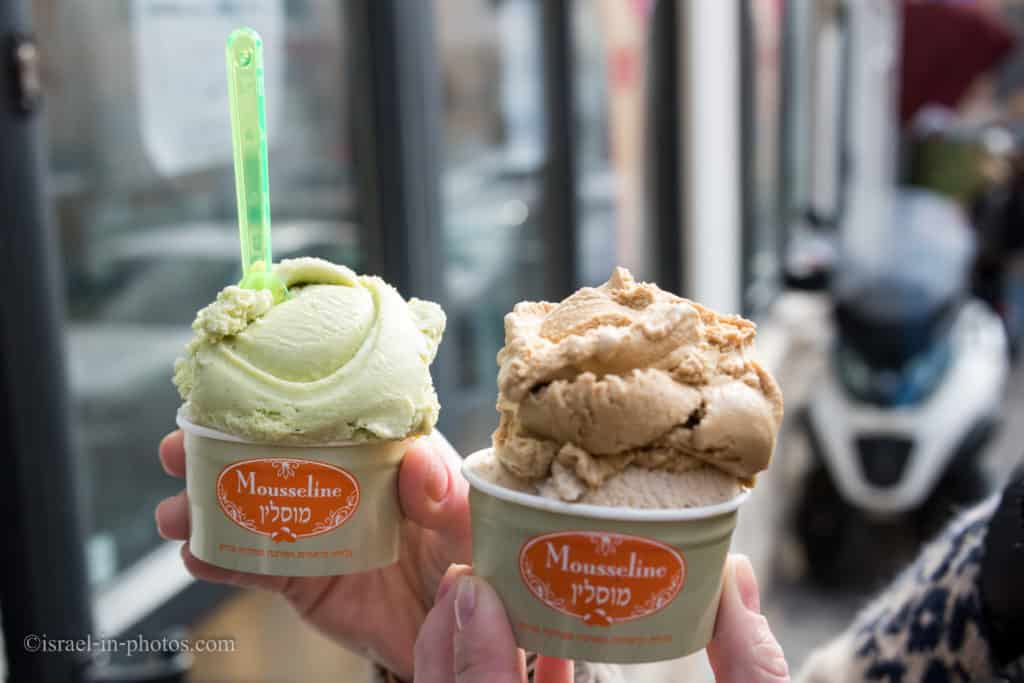 Urbun
I want to mention one more place we visited recently for people with a sweet tooth. It is located at Ha-Shikma Street 5 and is called Urbun – Fresh Hot Buns. If you love sweet pastries, check them out.
And here is the coffee I received on a Friday morning (I do not remember where). It had the cutest drawing saying: "Good morning."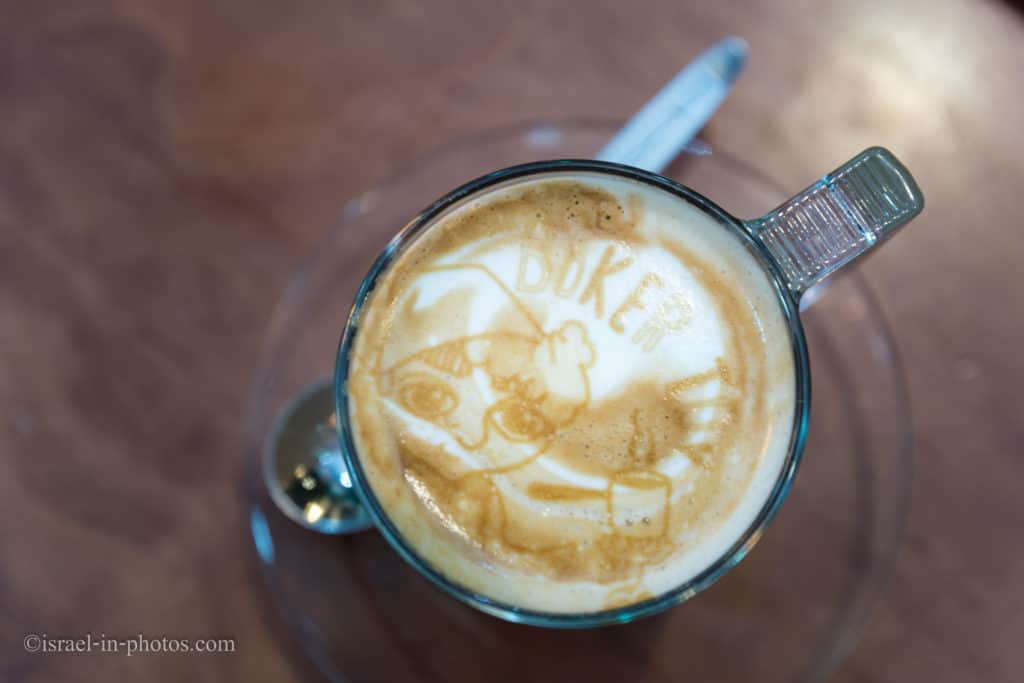 At Machane Yehuda Market
Over the years, we visited the market over a dozen times. And in this section, I want to share some photos and tell you about some stands.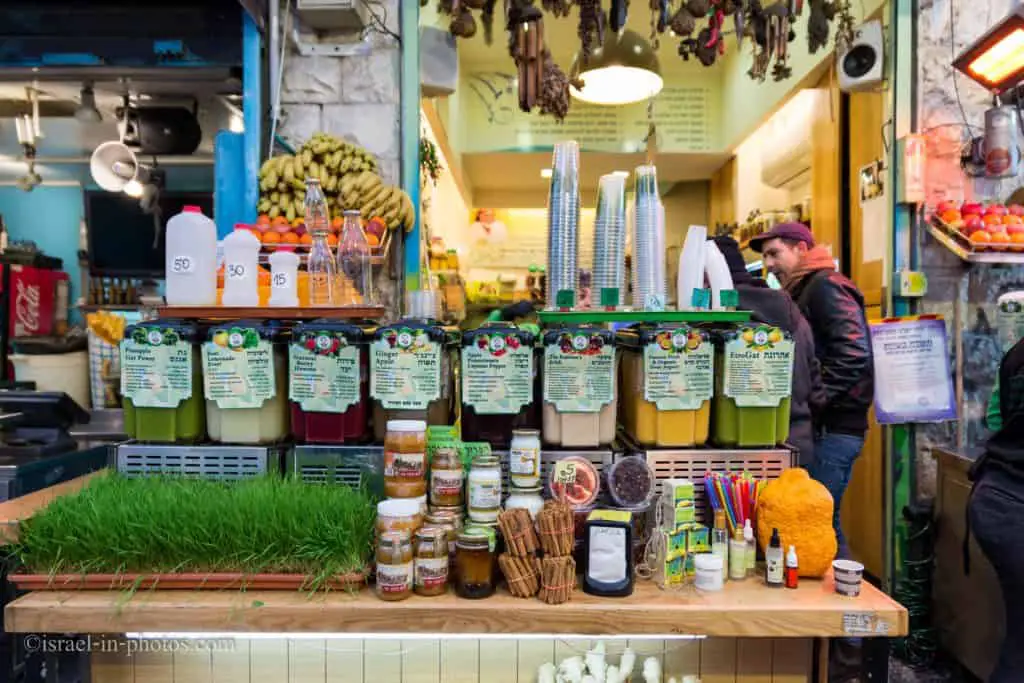 This juice stand takes a medical approach. You can select the drink according to the symptoms or what you want to improve. There is even Rambam's drink. But I recommend getting a small taste before ordering a big glass, as the taste might be unexpected.
Here is a closeup showing the drinks' names and prices according to the glass size.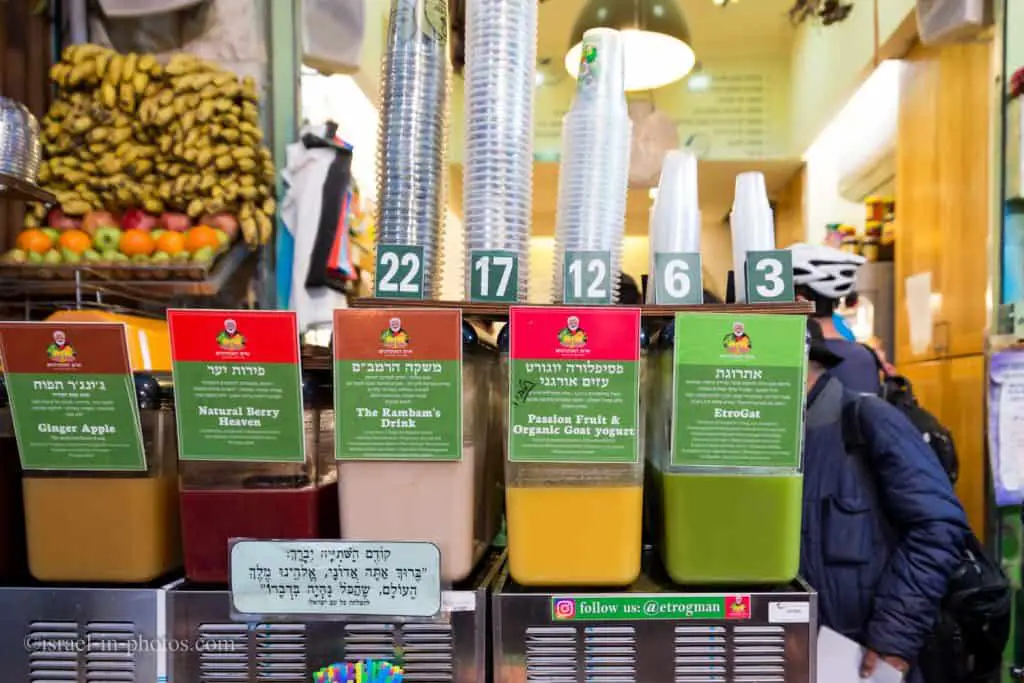 Turkish Desserts
Kadaif and Baklava are among my favorite desserts.
Kadayif is a Turkish dessert made from shredded wheat with nuts and sugar syrup.
Bearing a resemblance to Künefe, Kadayif does not have cheese and is eaten cold. Shredded wheat is pressed out in sheets and then rolled around a center of nuts, often pistachio or walnuts.
Source: sirkecirestaurants.com
Baklava is a rich, sweet dessert pastry made of layers of filo filled with chopped nuts and sweetened and held together with syrup or honey. It is characteristic of the cuisines of the Levant and the broader Middle East, along with the Caucasus, Balkans, Maghreb, and Central Asia.
Source: Wikipedia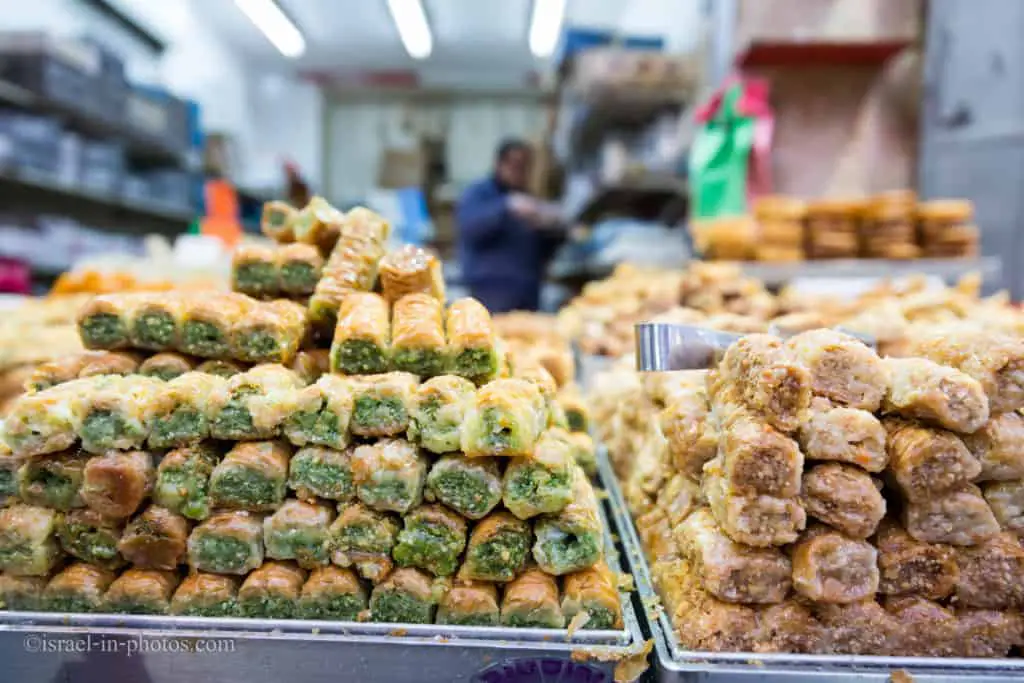 But since they are very sweet, you usually eat one alongside black (unsweetened) coffee.
Flatbread
And near Agripas 60 Street, you can find a small bakery where they prepare Flat Bread in a Vertical Oven.
Baking flatbread in a vertical oven is a baking method that has been used for millennia across the Middle East and the Mediterranean. The method involves rolling out a flat sheet of dough and then sticking it onto the inside wall of a clay or stone oven in the center of which there is fire.
Source: http://www.ancientrecipes.org/ancient-method-of-baking-flat-bread-in-a-vertical-oven/
In the following photo, you can see when one of the bakers takes out the prepared bread. Also, you can see that other flatbreads are stuck to the inside walls of the oven.
The Halva Kingdom
The Halva Kingdom is one of the more extensive stands that sells many different types of Halva.
The term halva meaning "desserts" or "sweet," is used to describe two types of desserts: Flour-based and Nut-butter-based. In Israel, the Halva is nut-butter-based. Mixing sesame butter or paste (tahini) with honey or sugar is the most straightforward recipe.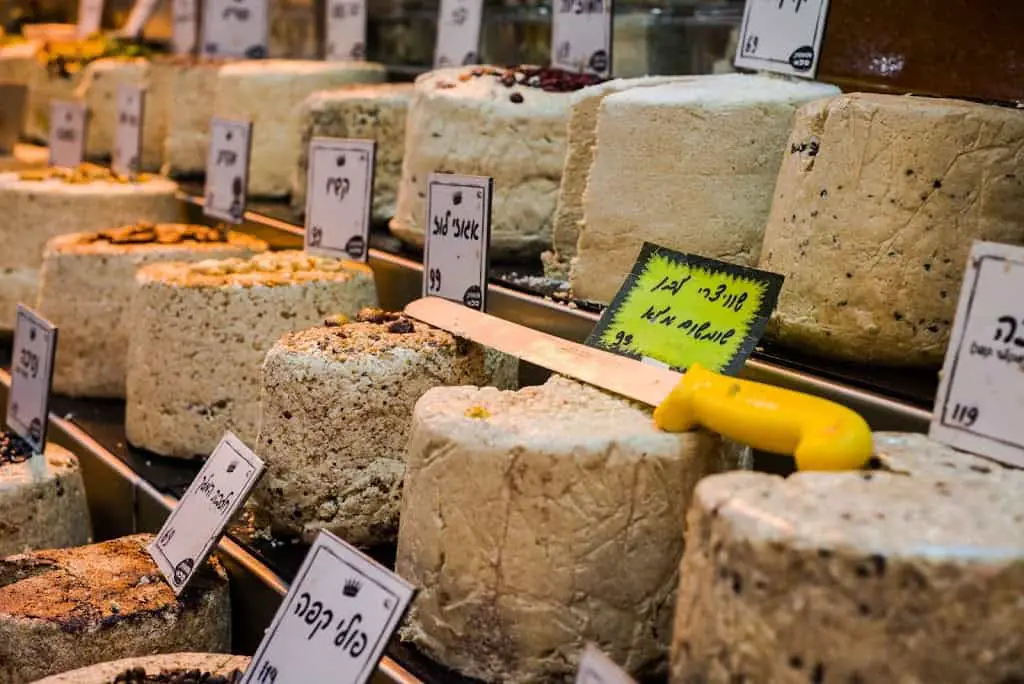 The Halva Kingdom is located at 12 Etz HaChaim Street.
Eli Mamman knows all the family secrets. Rooted in his Moroccan family, his recipes create this well-known Jerusalem-based sweet sesame treat. The halva sold at the Halva Kingdom is only available at Machne Yehuda market, and the brand makes over 100 different flavors and types.

The first Halva Kingdom store opened in 1947 in the Old City. After the Jews were deported from the Old City, the family opened up the store at the Machne Yehuda market. The halva is manufactured at a factory in Mishor Edomim. The process includes imported sesame from Ethiopia, millstone grinding of the seeds, and mixing the blend with sugar until it's as sweet as it gets.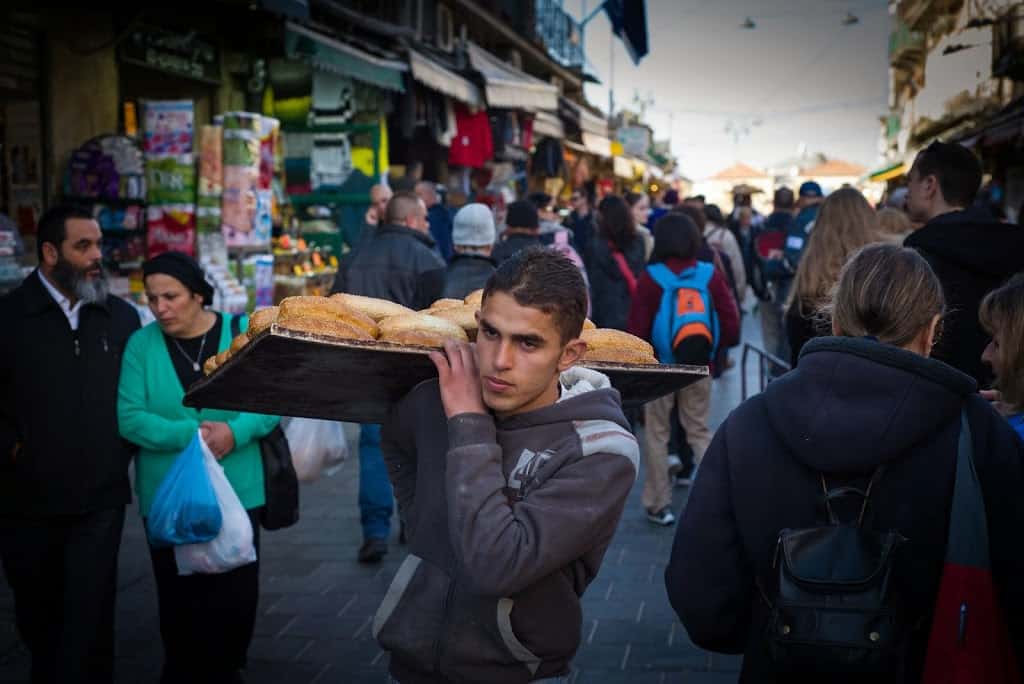 I noticed that many bakeries are not inside the market but in the streets next to it. And occasionally, they bring the goods to the stores in the market.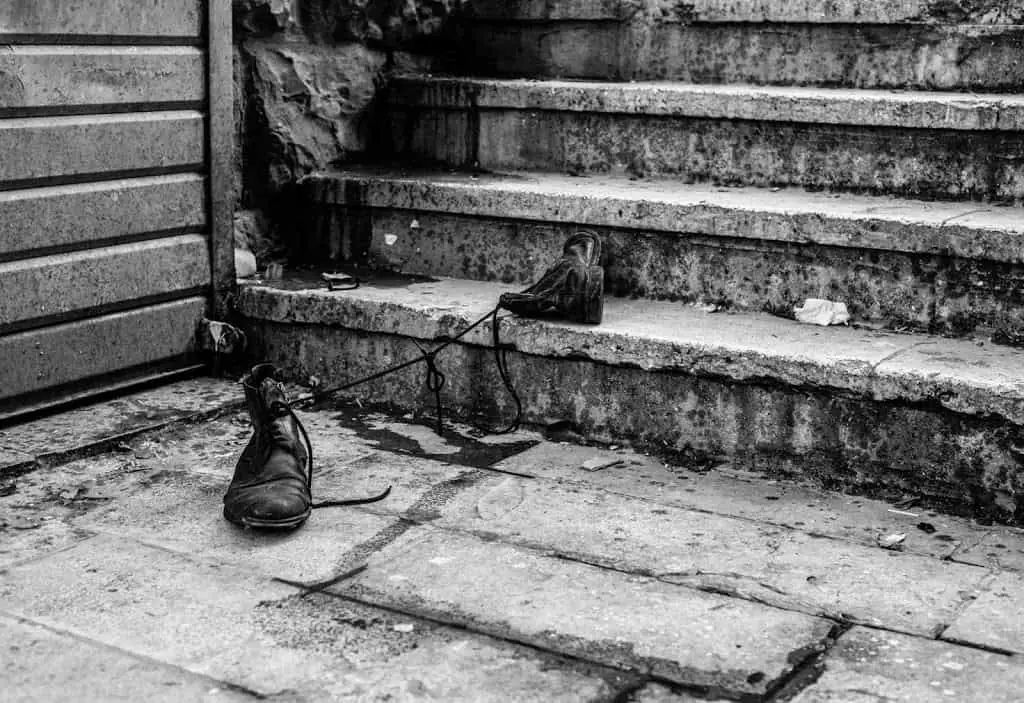 History
Machane Yehuda Market dates back to the Ottoman period. An empty lot as the 19th century drew to a close, and it was developed by local peasants who brought produce to sell in this central location. Slowly the open grounds were turned into an organized market. The success of the Shuk was attributed to its location, which was a much closer walk to neighborhoods and villages located outside of Jerusalem's older and more established Old City. The Ottoman rulers did not have a particular interest in the market, however, and did not develop an infrastructure for it, such as drainage ditches or stalls for the sellers.
Note: unless stated otherwise, all quotes were taken from the official site.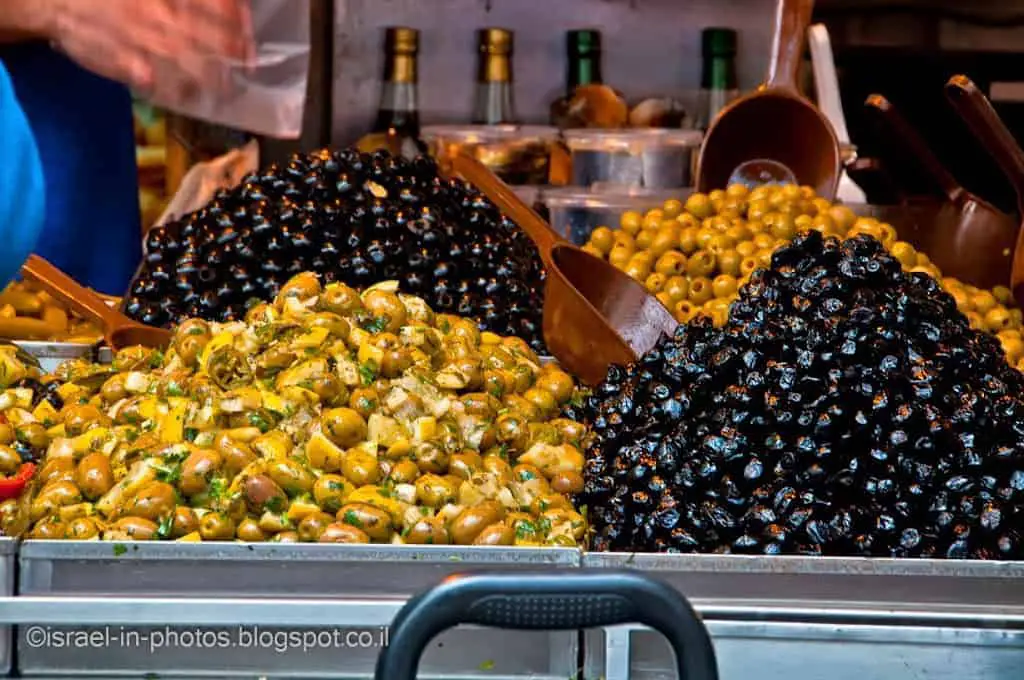 Mandate Period
A significant difference in the outer appearance of the market began to develop during the Mandate Period (1917-1948). The first governor of Jerusalem (Ronald Stores) saw how important the Shuk was to Jerusalem's unique atmosphere. Stores also wanted to encourage the citizens of Jerusalem to support themselves financially; he couldn't bear the sight of the Shuk, and so he appointed a city planner, Charles Robert Ashby, and an architect to create a formal design for the market. Ashby's plan included desperately needed infrastructures, such as proper sewage and garbage disposal, lighting, and running water. Ashby planned a large market, surrounded by walls on each side. He proposed Oriental-style gates, with arched domes, which matched well with other Mandate Period designs.

Despite his great efforts, Ashby's design was not executed (mainly because of budget restrictions ), and the market continued to maintain its ramshackle appearance. Over time, larger crowds began to attend the Shuk. The merchants began to change (a certain percentage of the Arab merchants sold space to new Jewish immigrants). At that time, the Etz Chaim Yeshiva showed a spirit of initiative. Located amid the market, the yeshiva established a row of shops alongside the wall, collected the rent from the merchants, and by doing so managed to increase the income of the yeshiva.

Although the British did not implement Ashby's proposed improvements to the market, the government asked the merchants to renovate the dilapidated stalls and instill order and cleanliness in the Shuk. The city government managed to disburse some loans to merchants, but, overall, the merchants were dissatisfied with their conditions. Merchants who owned permanent structures in the Shuk, though they did not have to pay rent, had to pay high taxes and pass health inspections. Renters, who were not subject to these rules, were able to undercut their prices and win customers while avoiding all the restrictions.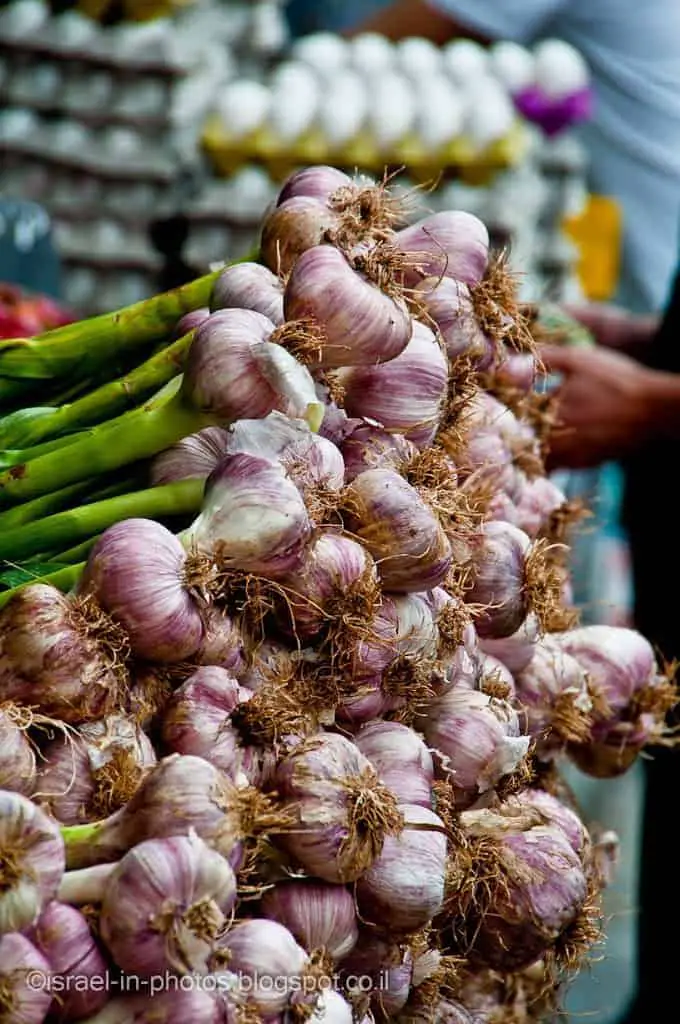 The New Market
In 1930, the merchants all came together, and, with the help of the city committee, they acquired a portion of land located south to HaAgas street. They established a new market here. Again, the British did not make it easy for them and stated many requirements as to the appearance of the shops, but city hall did take care of the sanitation and the cleanliness of the new market.

About a year after the new market was built, about 20 merchants and stand owners decided to go to the city committee for financial help to allow them to build their permanent shops. The traders of the "loan and save" market were extremely apprehensive about their livelihood, and therefore, they were against these demands. Nevertheless, a portion of land was acquired, west of the first market, and in 1931 a new and additional market was launched. Many of these merchants were immigrants from Iraq—and this area is still known as the Iraqi market.
Machane Yehuda Bite Card
I just wanted to mention that you can have the option to purchase a bite card through the official site. We never purchased a bite card, so I can not share our experience. But if you will visit Machane only once (and not dozens of times as we did), I would suggest considering this option.
Also, on the official site, you can find a variety of tours. And we did join a tour at Machane Yehuda (though not through the official site). And in the next section, I will tell you about our experience.
Tours
We headed to the Machane Yehuda Market area on Friday morning since we had pre-booked a Machane Yehuda Market tour.
Nachlaot
Our Machane Yehuda Market Tour started in the surrounding neighborhoods, the Nachlaot. Nachlaot is a group of around twenty courtyard neighborhoods close to the market.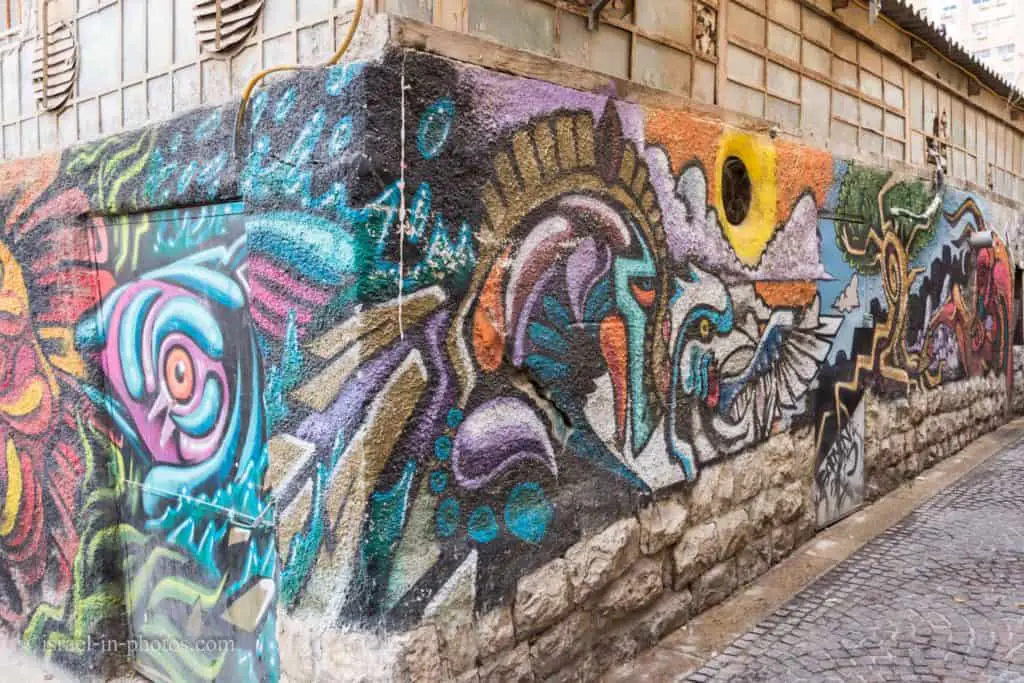 Nachlaot is known for its narrow streets, old-style houses, hidden courtyards, and many small synagogues.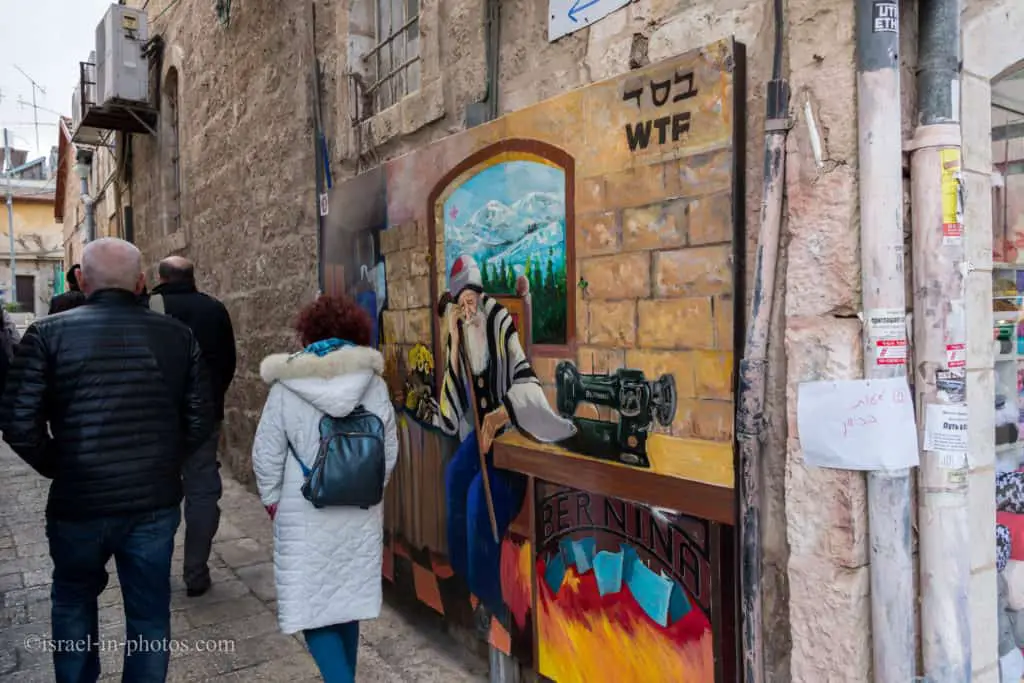 I could not tell even ten percent of what we heard during the three-hour tour. Thus I will only touch on several points and show some of my photos.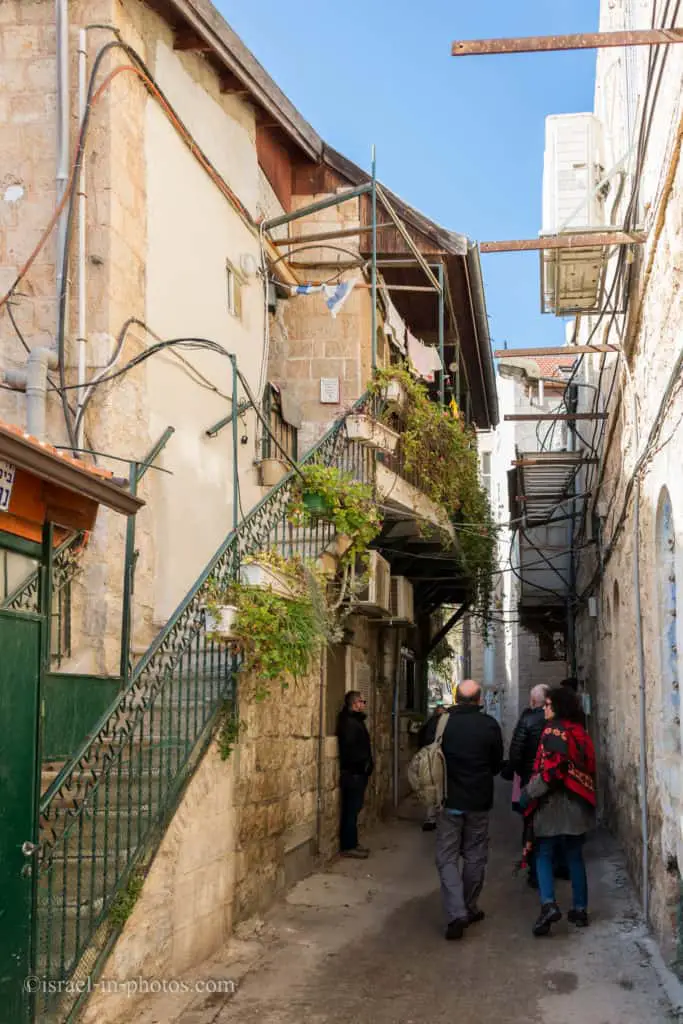 The House Of Rabbi Aryeh Levin
This house was the residence of Rabbi Aryeh Levin, born on March 22, 1885, in Poland.
Rabbi Levin served as a teacher and spiritual mentor for many decades at Talmud Torah Etz Haim. In addition to his work at the yeshiva, he endeavored to reconcile unhappily married couples, visited the sick, and comforted mourners.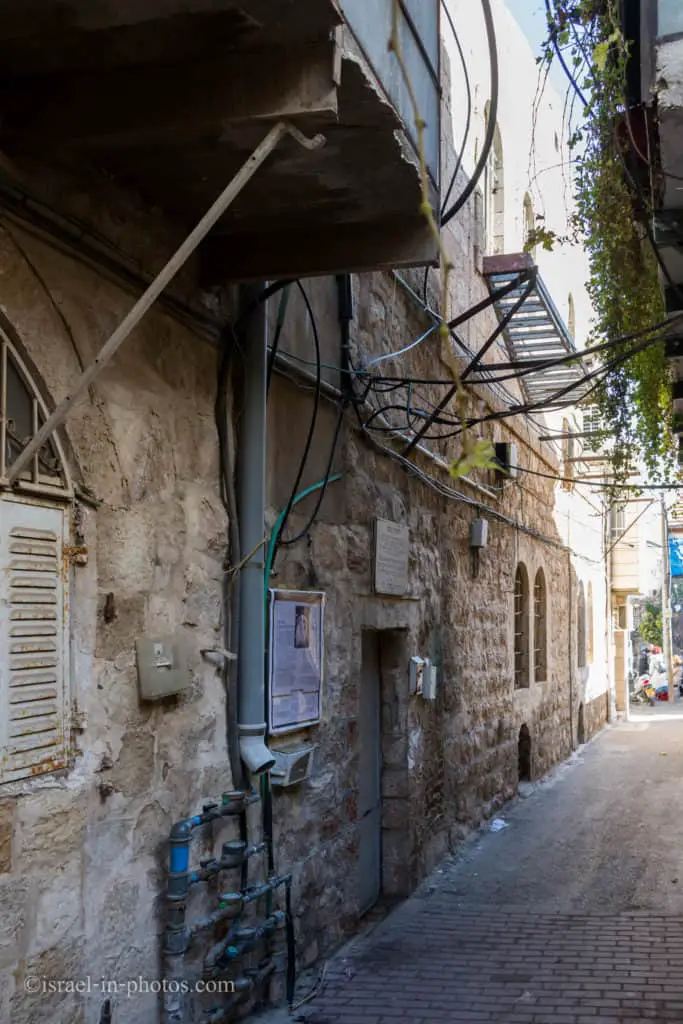 During the period of the British Mandate, Rabbi Aryeh Levin would go every Shabbat morning to visit imprisoned members of the Jewish underground. He taught the Torah and Jewish ethics and prayed with them. This practice led to him being called "the Rabbi of the Prisoners."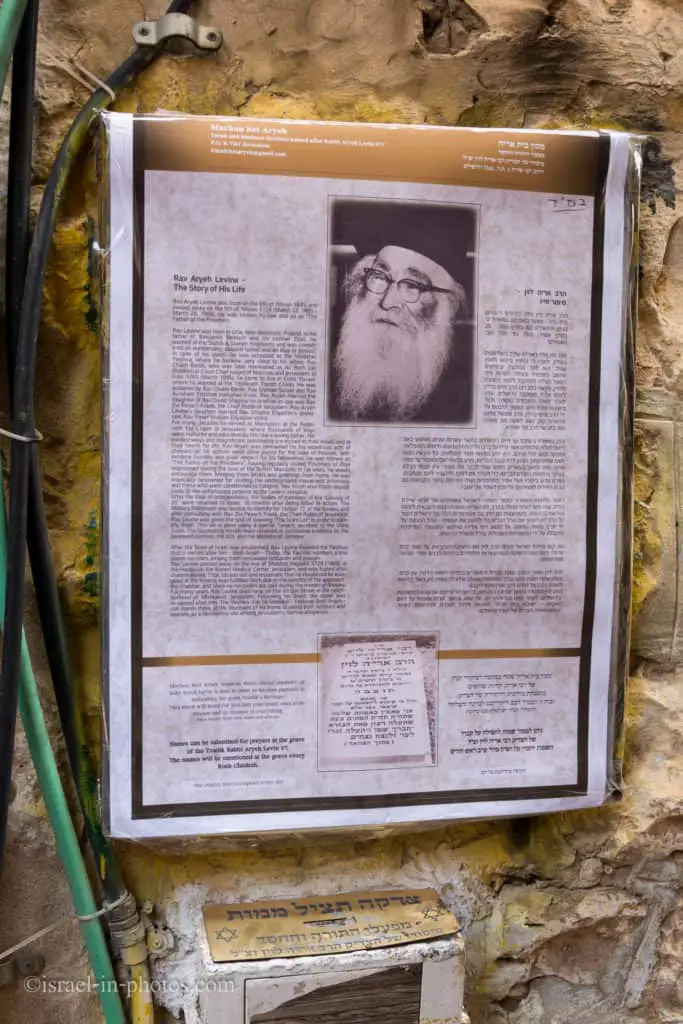 After establishing the State of Israel, he founded and headed the Beit Aryeh yeshiva. Rabbi Aryeh Levin passed away on March 28, 1969.
Instead of using ropes, they decided to hang a cloth drying stand. 🙂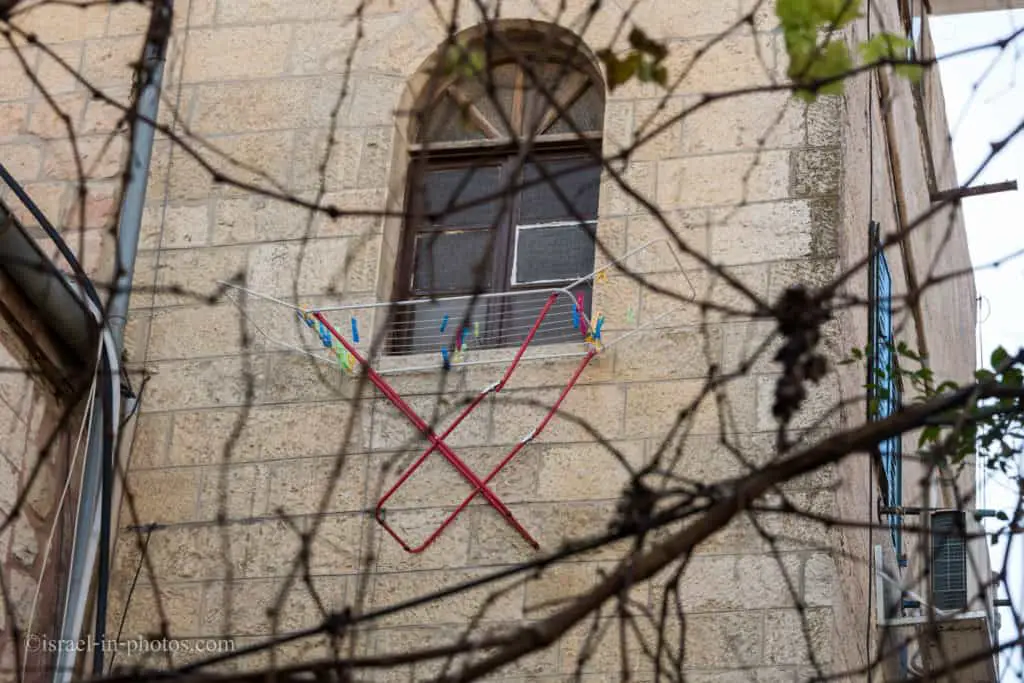 The Language
If you know Hebrew, then look at the neighborhood's obituary messages. Here is an example: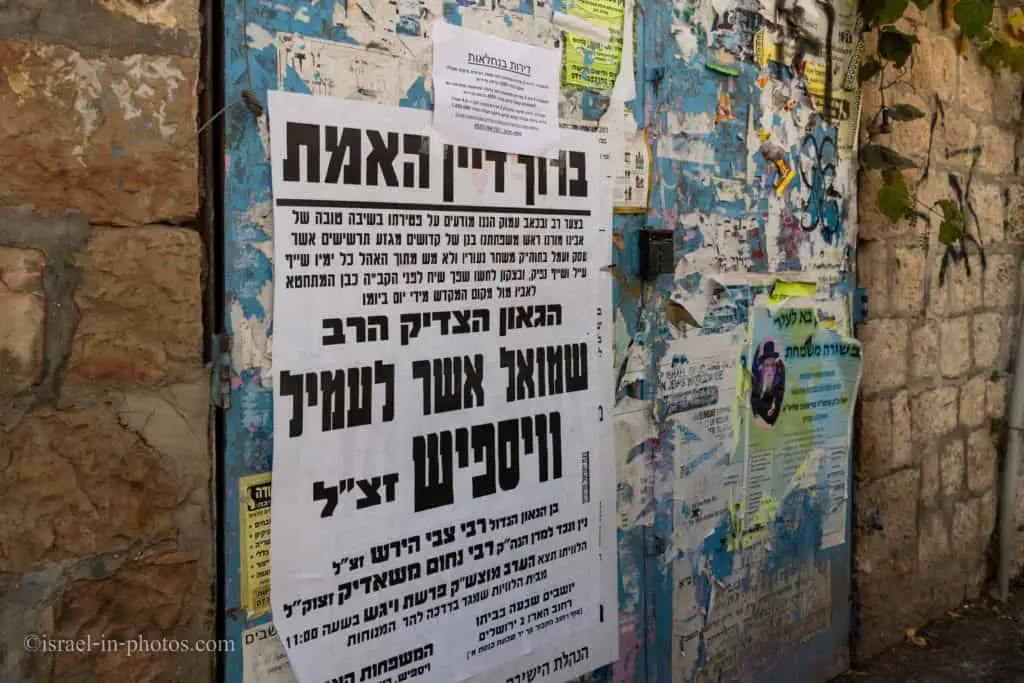 It is not the standard Hebrew language. Religious Jews use poetic Hebrew in obituaries.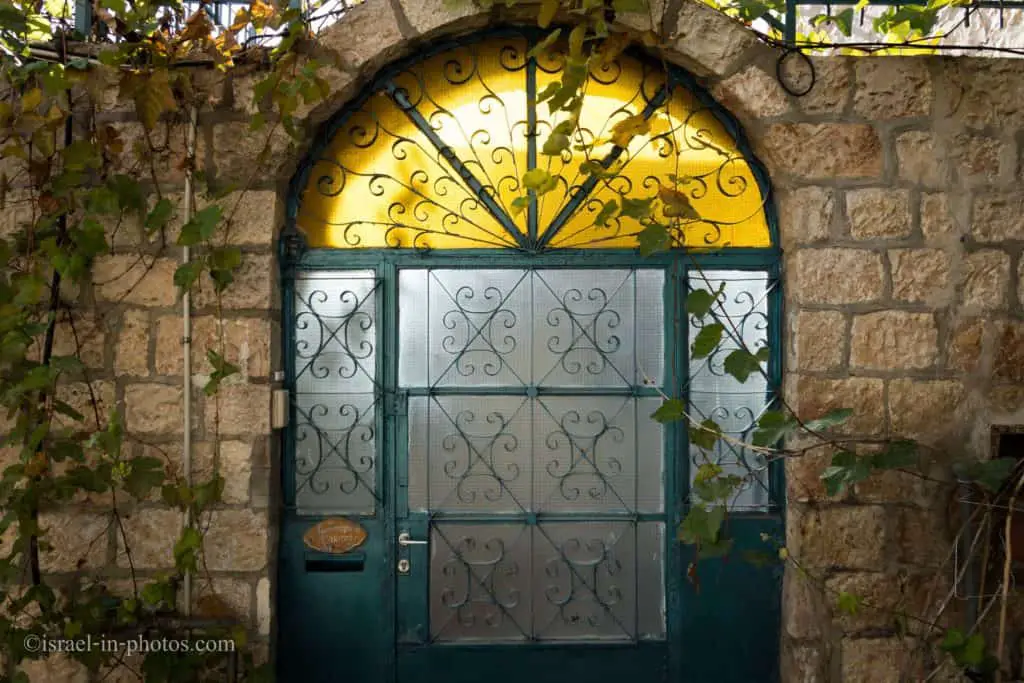 Many houses in Nachlaot were or are being renovated. In many cases, if the second floor is made of stone is a sign of a renovation.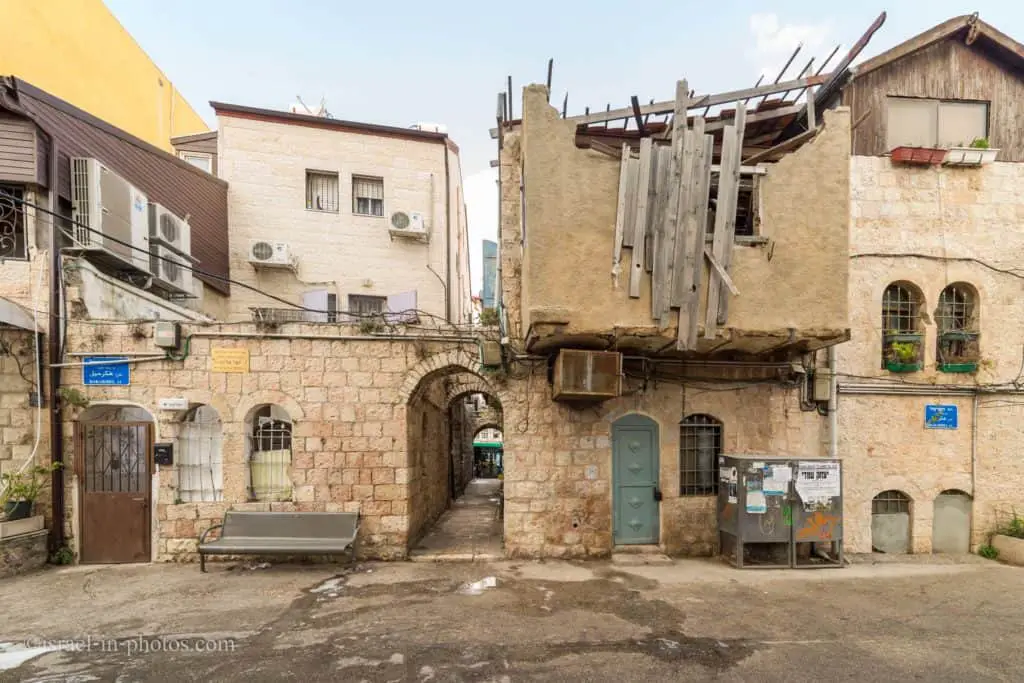 This synagogue has beautiful doors, but unfortunately, we could not visit it since it was washed after morning prayer.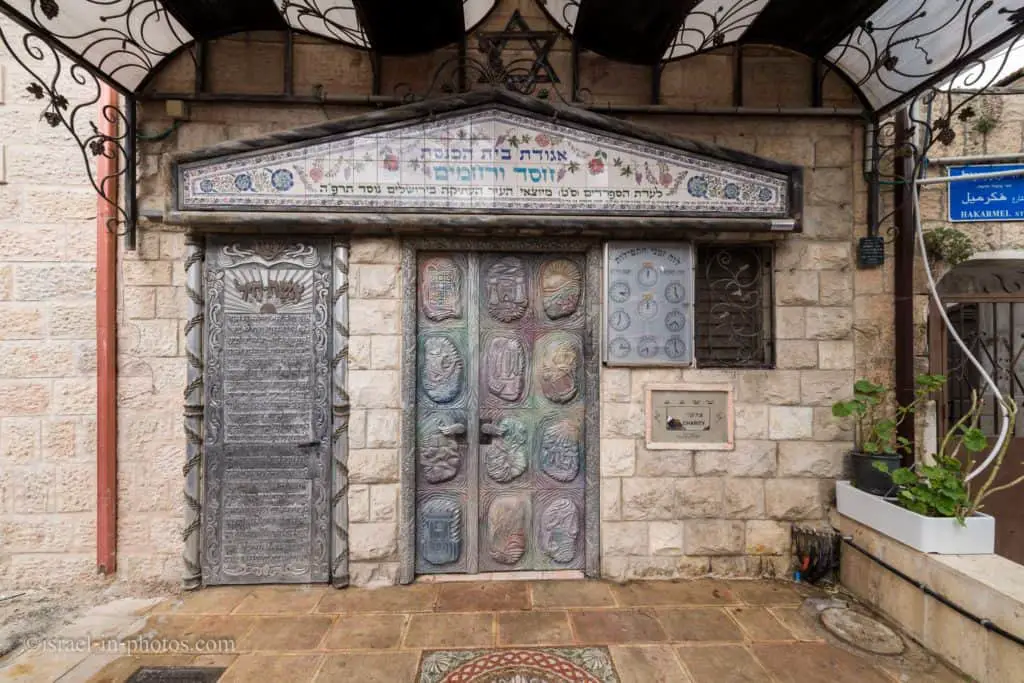 And if you see a house on Nachlaot second floor covered with metal sheets, it means it was not yet renovated.
Some houses are colorful: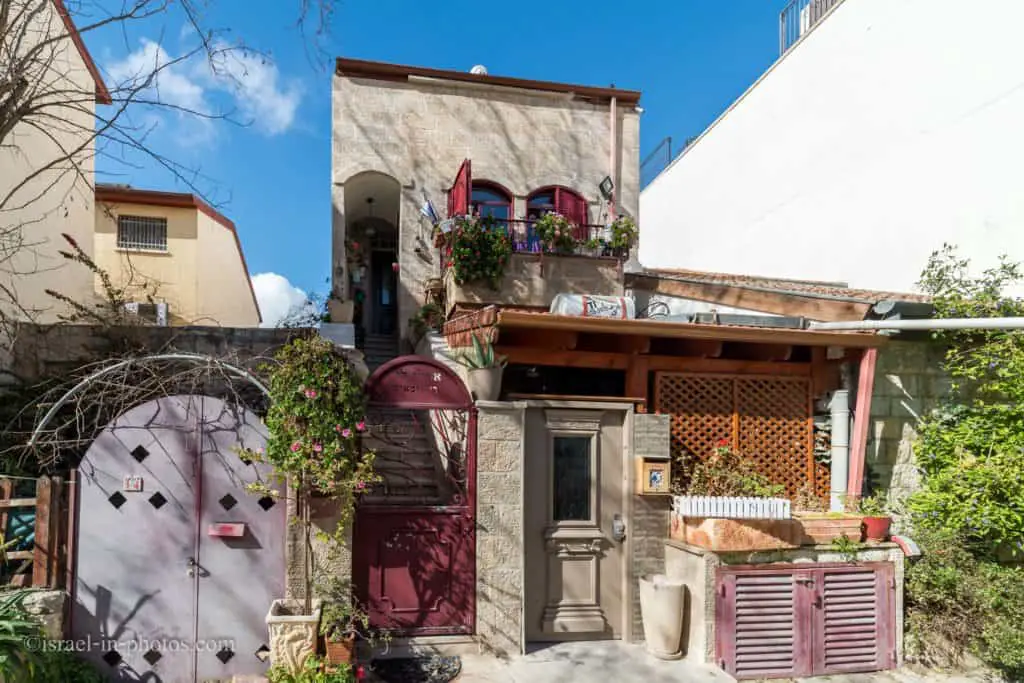 In some streets, you will see a stone construction in the middle of the pavement. It is also a little higher than the pavement level. These used to be water pipes and water cisterns that were closed as the city underwent modernization.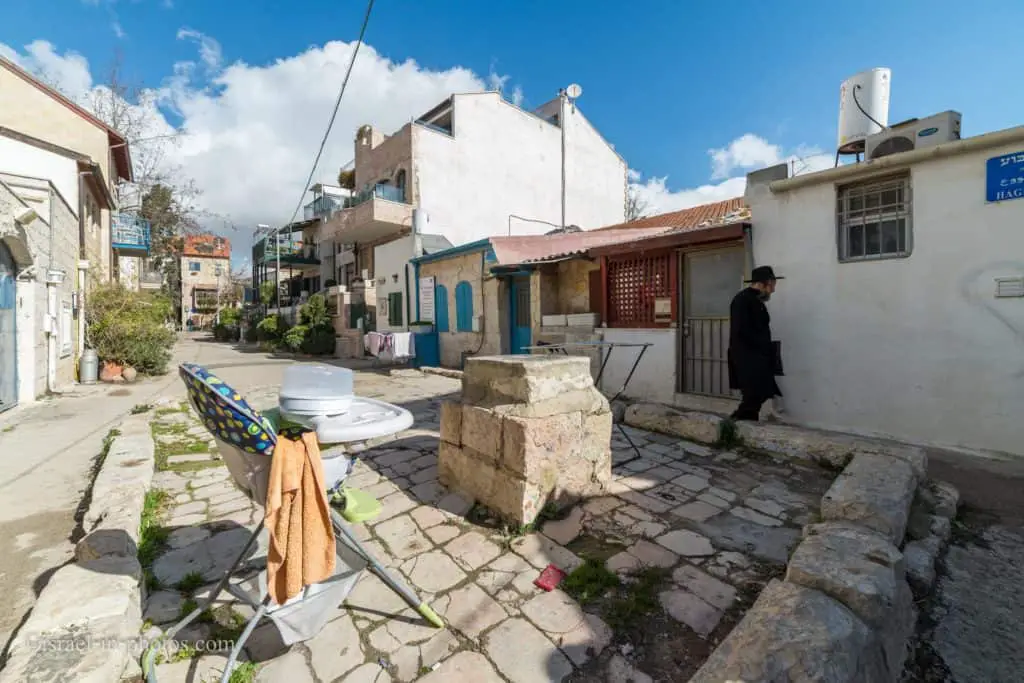 Ohel Moshe Neighbourhood
Ohel Moshe Neighbourhood is part of Nachlaot, famous for several things. First, Yitzhak Navon, the former Israeli president, grew up in Ohel Moshe. The neighborhood served as the inspiration for his play Bustan Sephardi, one of the most popular musicals. Secondly, the Banai family, a well-known family of actors and singers, lived in Nachlaot.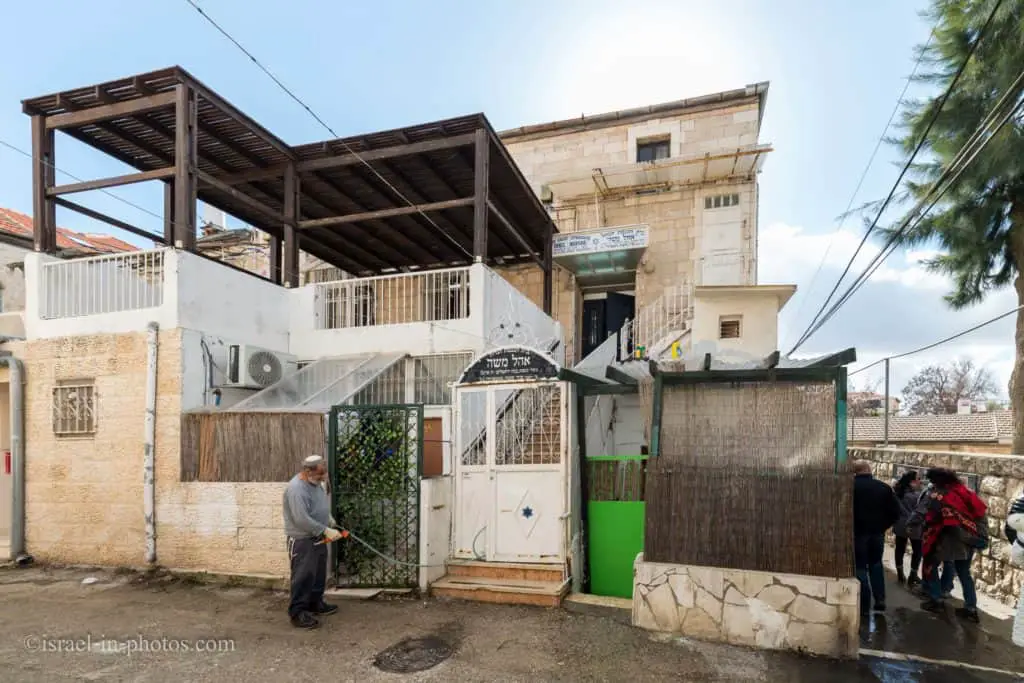 Unfortunately, we could not visit it either.
In many neighborhoods of Haredi Jews, you can see signs like the one on the left building, asking not to pass through the neighborhood if you are not modestly attired.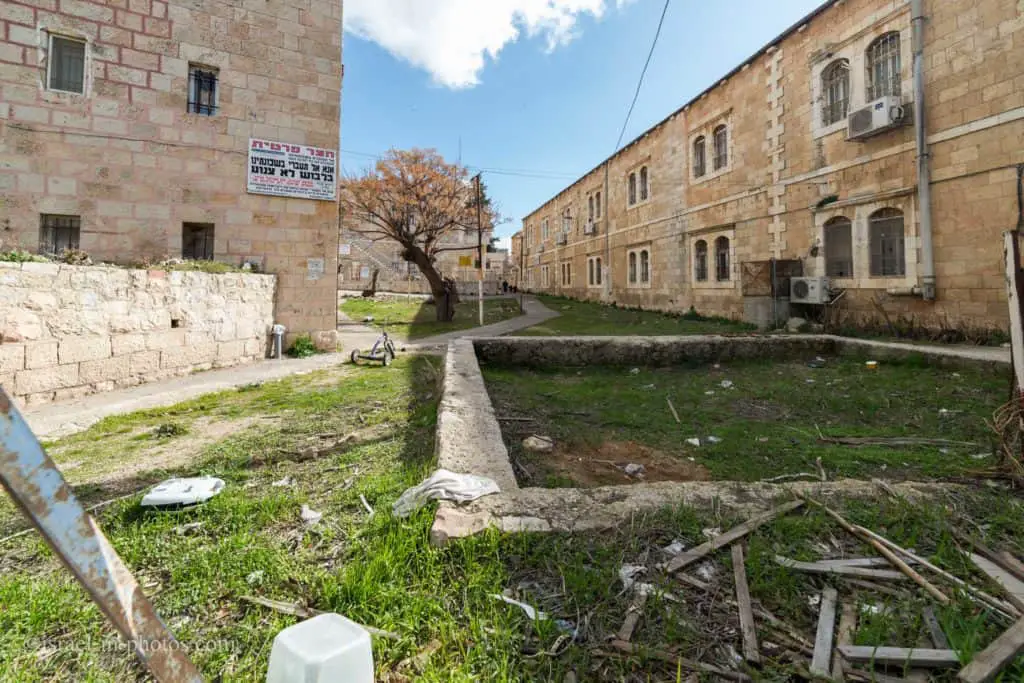 We walked through such a small neighborhood. And as expected, it was a poor one with no signs of modernization.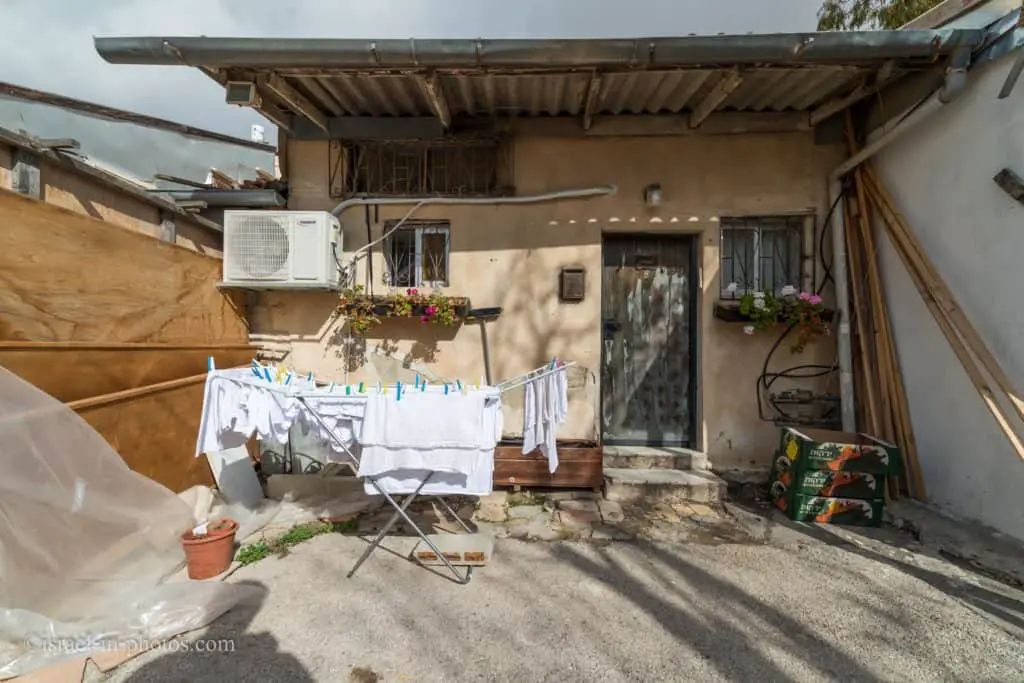 Ades Synagogue
The Ades Synagogue, also known as the Great Synagogue Ades of the Glorious Aleppo Community, was established by Syrian immigrants in 1901. It is considered to be the center of Syrian Hazzanut in Israel.
Source: Wikipedia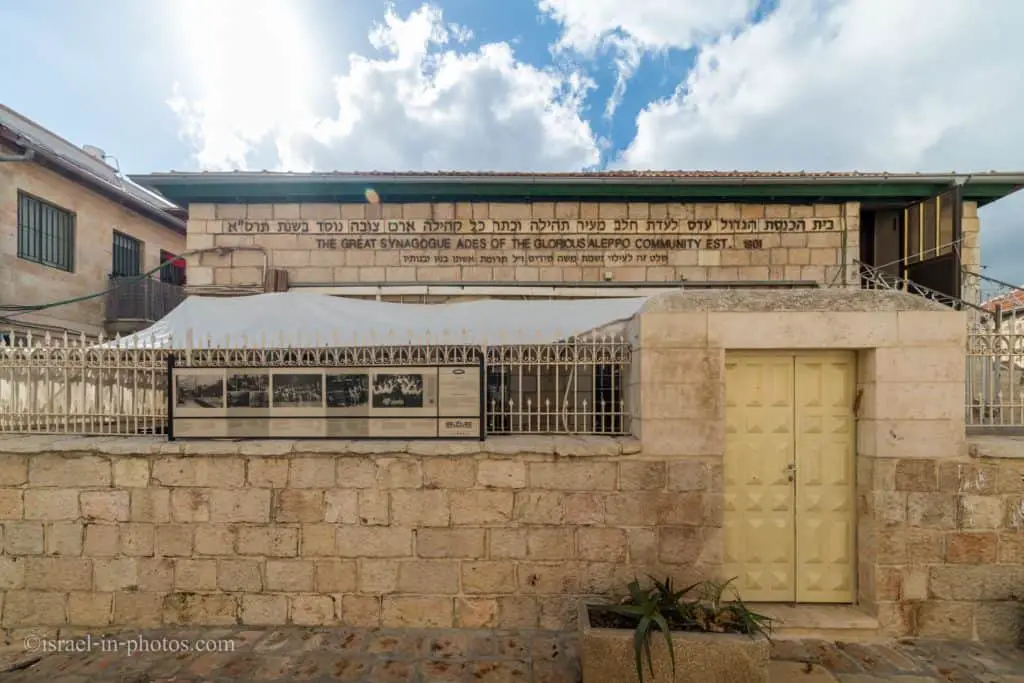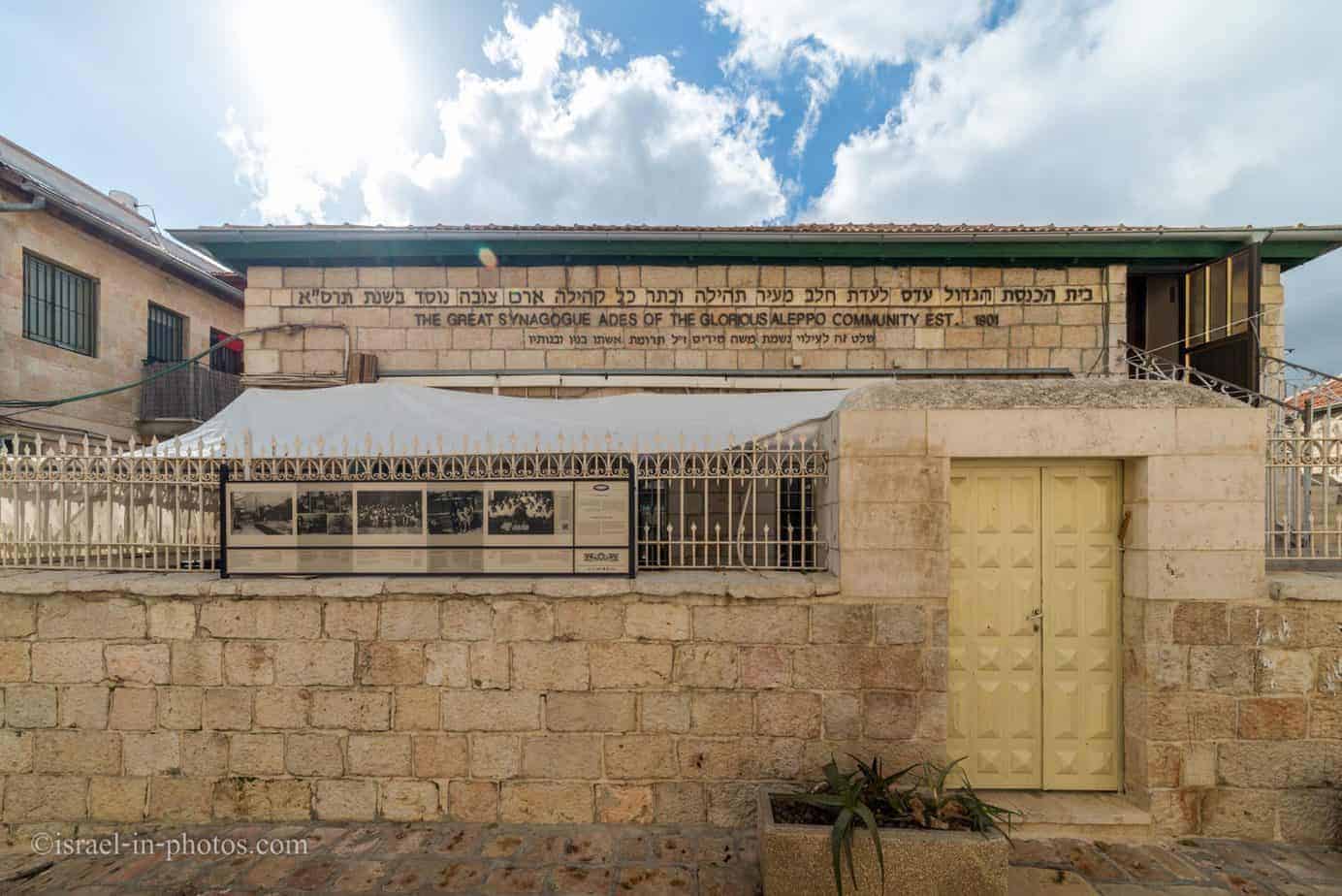 Touring Mahane Yehuda Market
Our culinary journey started at a bakery near Agripas 99 Street.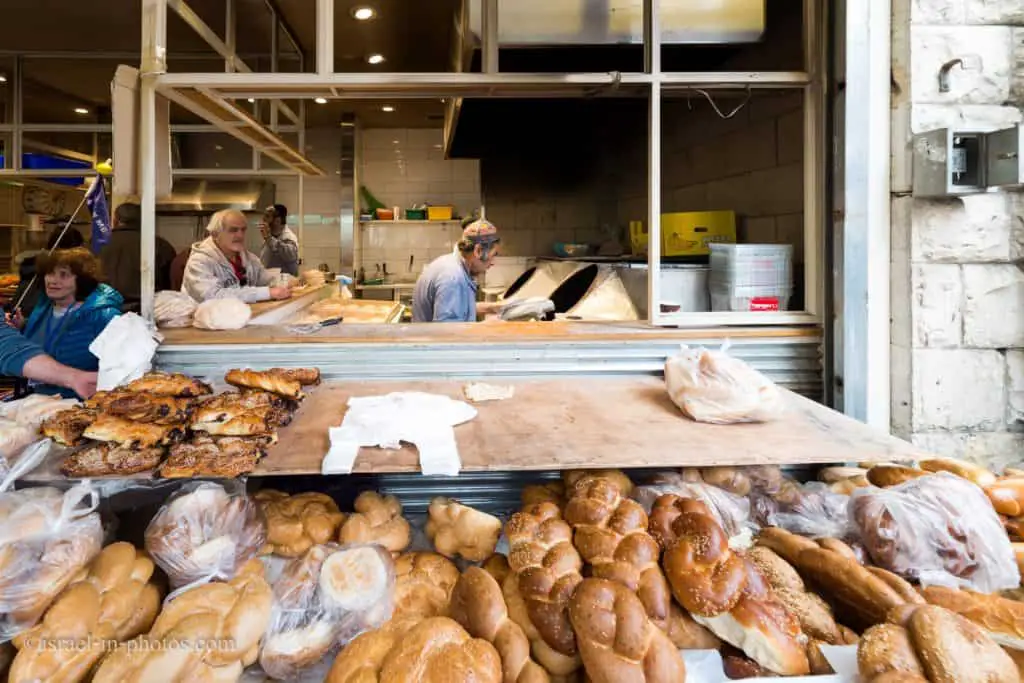 They prepare bread by attaching it to the walls of the oven.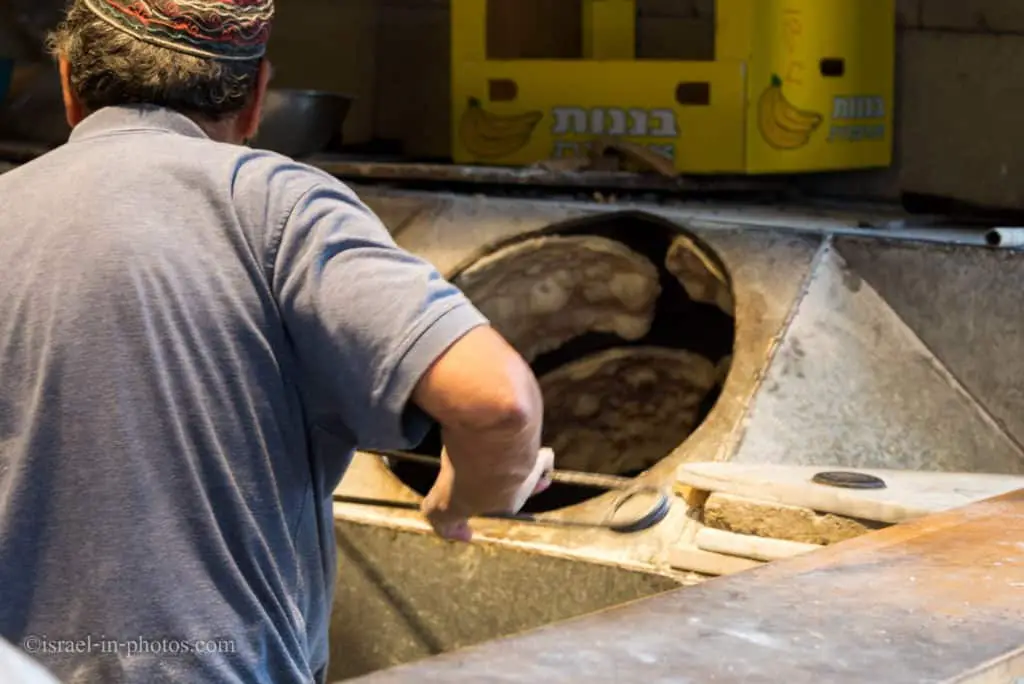 A painter in the market? What is in the painting?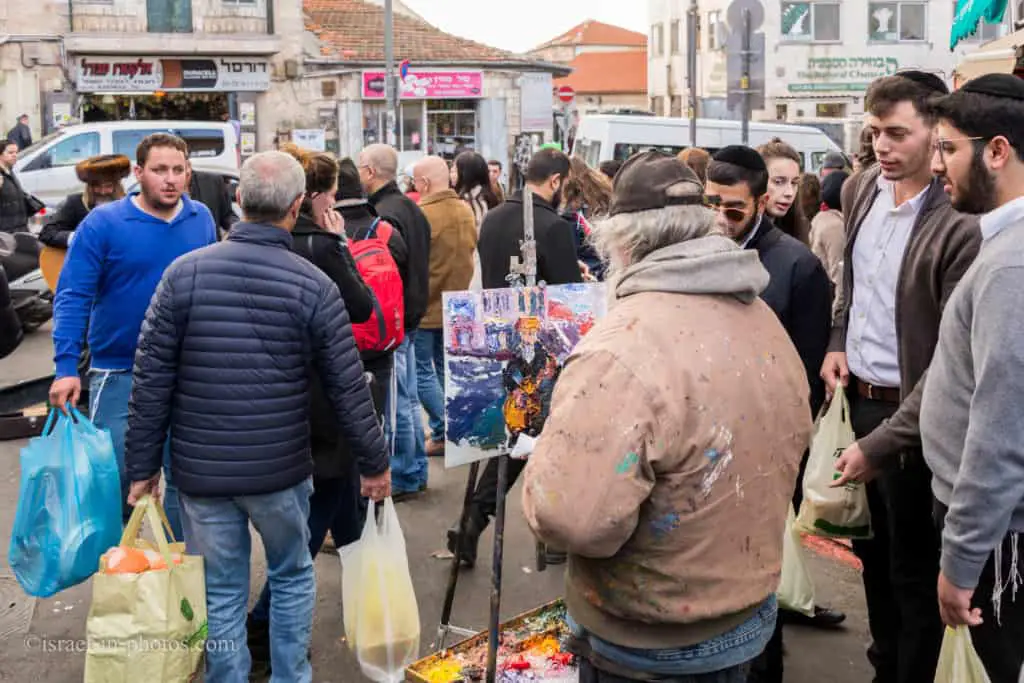 The guitar player.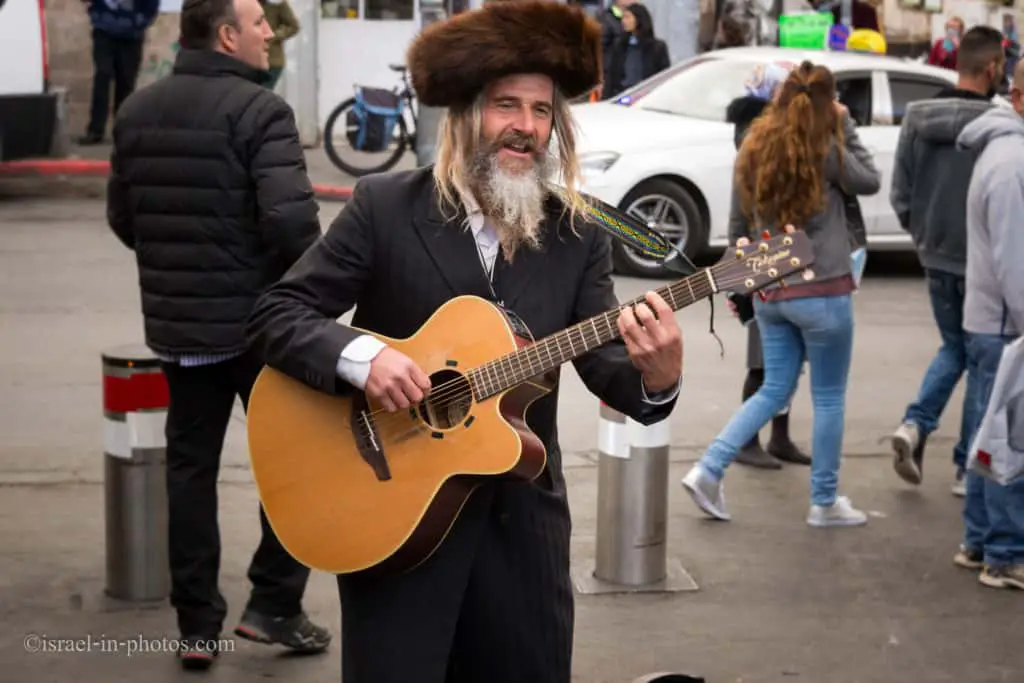 Keep in mind this is Friday morning. Thus besides performers, there are many people. How many? This is what Mahane Yehuda Street looks like: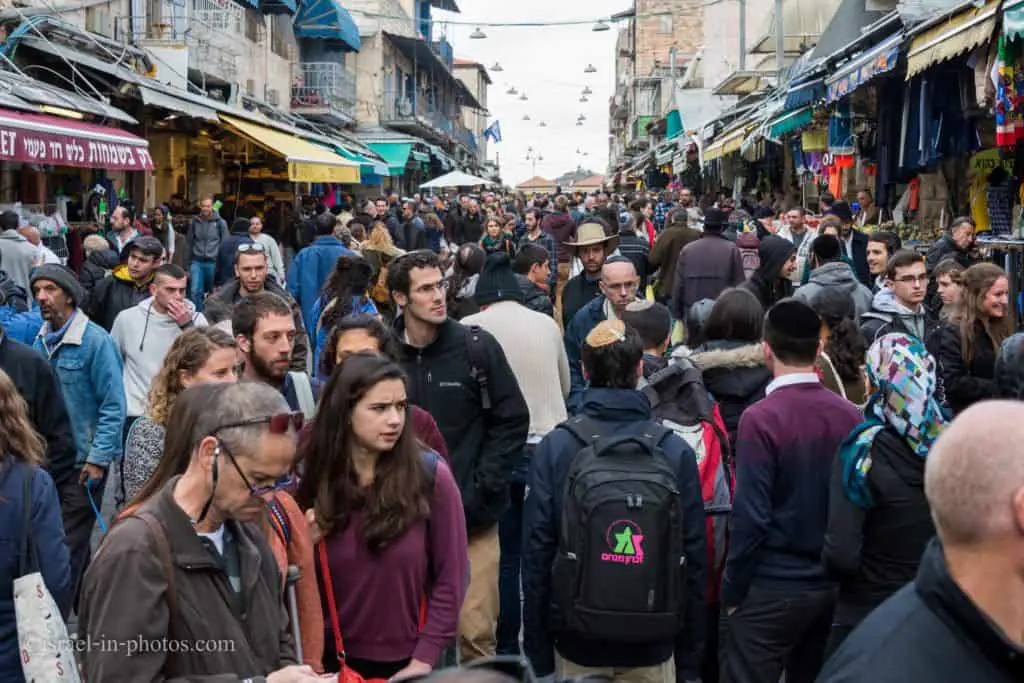 After tasting bakery products and falafel, our next tasting stop was sweets. Halva is popular in Israeli markets, and this is what we tasted.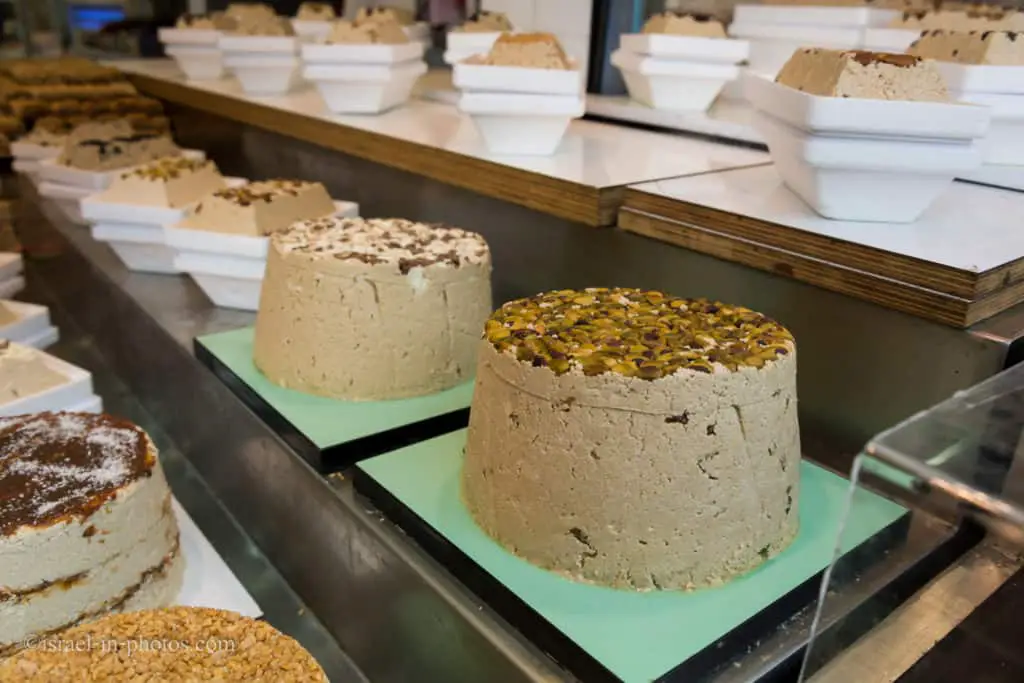 Then we continued to the streets on the other side of the market. We went to the burial place of Avraham Mordechai Alter.
Avraham Mordechai Alter
Avraham Mordechai Alter (25 December 1866 – 3 June 1948), also known as the Imrei Emes after the works he authored, was the fourth Rebbe of the Hasidic dynasty of Ger, a position he held from 1905 until his death in 1948. He was one of the founders of the Agudas Israel in Poland and was influential in establishing a network of Jewish schools there. It is claimed that at one stage he led over 200,000 Hasidim.
Source: Wikipedia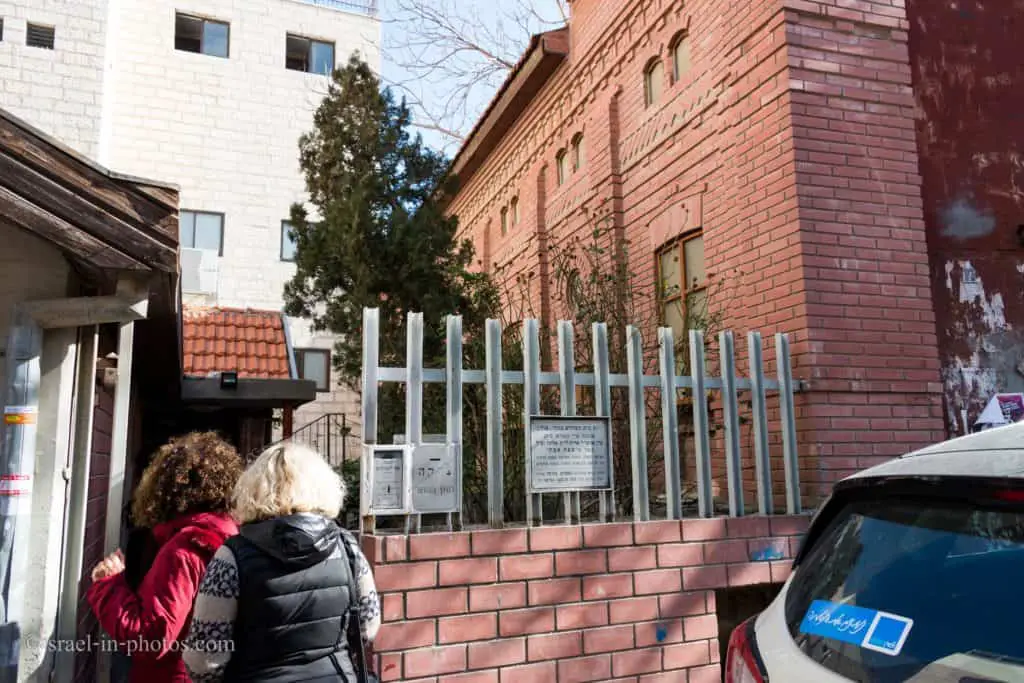 Why is he buried in the middle of the city?
He died during the 1948 Arab-Israeli War of natural causes. Since it was during the city's siege by the Jordanian Arab Legion, bodies could not be removed to the Mount of Olives. He was buried in the yeshiva courtyard on the condition that he would be reburied elsewhere after the war. However, his sons did not proceed with the reburial.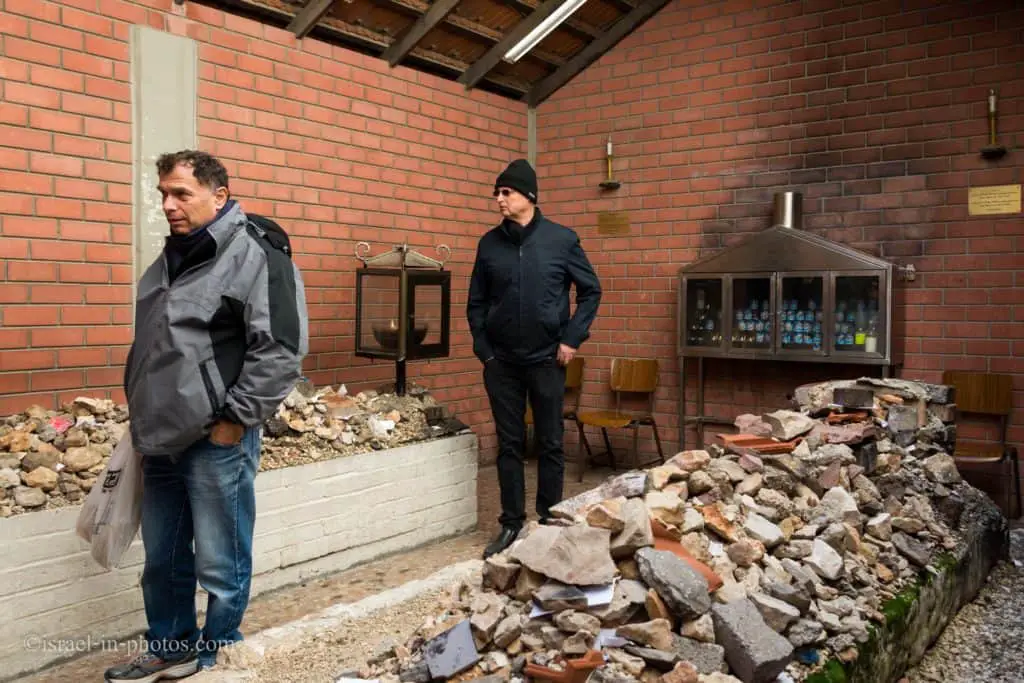 In 1996, his son, Rabbi Pinchas Menachem Alter, was buried next to his father in the courtyard, and a red-brick building was placed over both graves. This was not part of the culinary tastings, but still, it was an exceptional and atmospheric site where people prayed for blessings and health.
At this point, our tour ended. It lasted for about three hours, and we loved it. You learn so many new things, and you get to see places that you would not visit otherwise. The only thing I wish is that we could spend more time in the market.
Our tour guide was Orna Sidi‬ from Dynamic Tours. Highly recommended.
Near The Market
In this section, I wanted to make several honorable mentions of stores near the market. These stores that we shopped at and loved.
The first one is "The Natural Choice" at Agripas 111.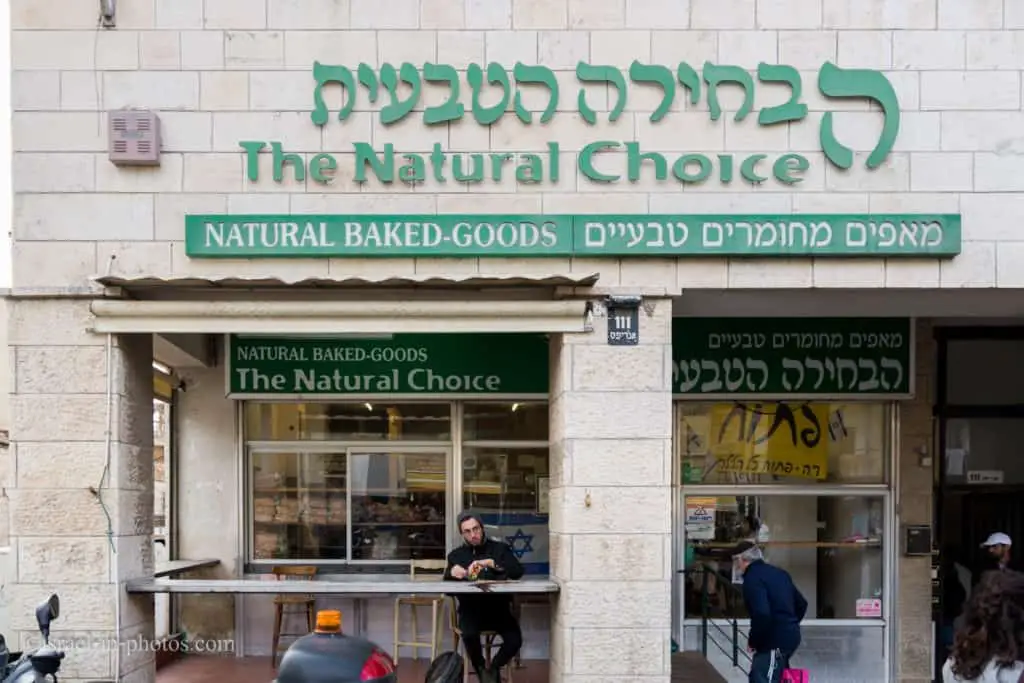 They sell natural baked goods, and when in the area, we stop there to buy bread and cookies.
And the other place is Basher.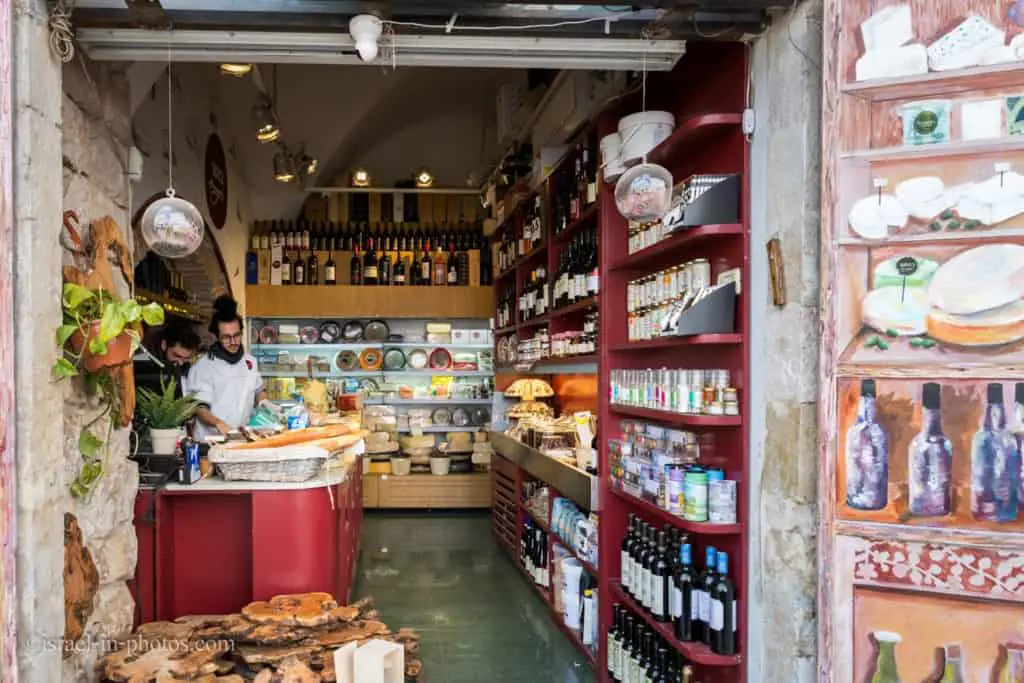 Basher is located at Agripas Street 21, and they offer a variety of cheese and wine. If you love cheese, then check them out. And I should warn you that it will be tasty, but not a cheap experience.
Street Performers
As I mentioned, Fridays (and Thursday afternoons) are the busiest days since everybody prepares for Saturday. And on those days you can also find street performers in the market.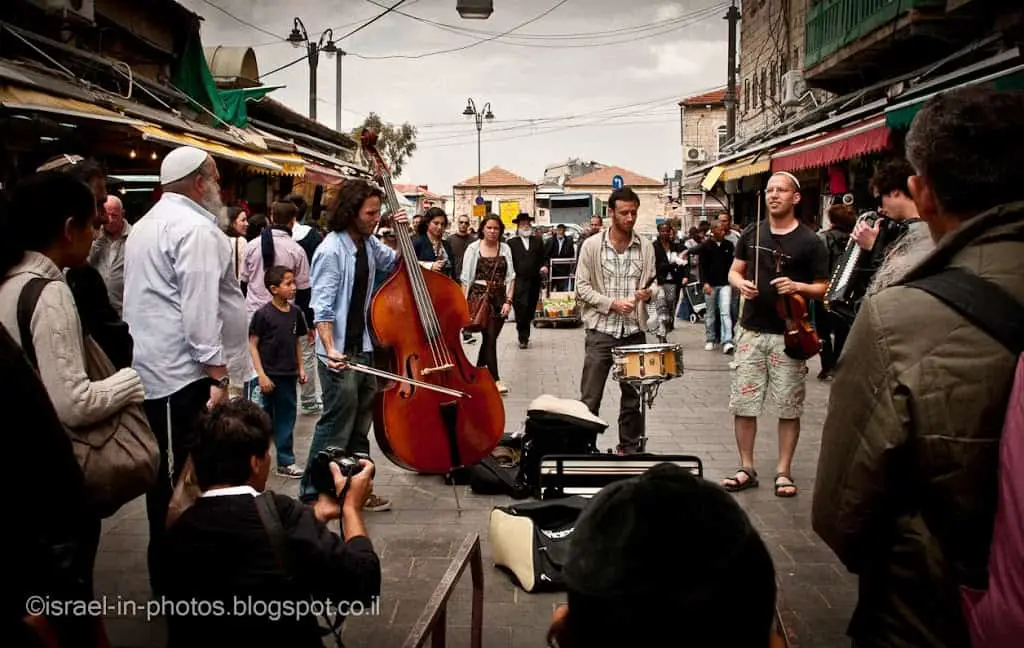 Graffiti
This painted wall is next to the Machane Yehuda market on Agripas Street 86. It was a pilot, and the mayor (at that time) liked it. Thus today, you can find additional painted walls in Jerusalem.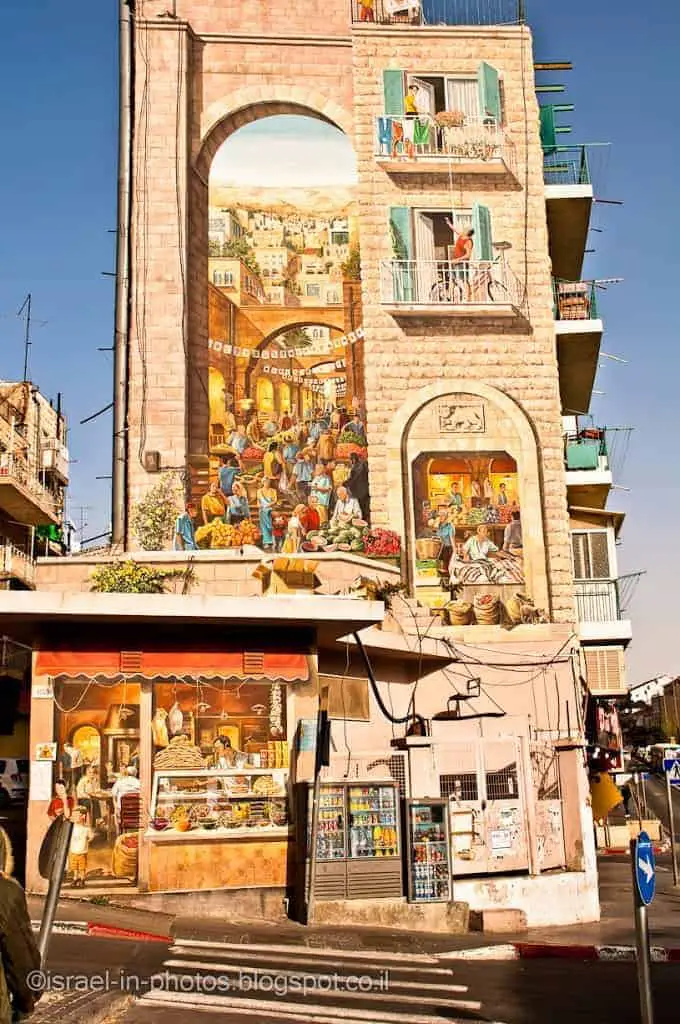 Note: if you love street art in general and graffiti in particular, check out my Tel Aviv Street Art Guide – Graffiti At Florentin.
I mentioned graffiti because we will talk about the market at night.
At Night
Many stands will be closed if you visit the market early or late. And many of the metal shields are covered with graffiti, and the fact they are closed allows seeing the drawings.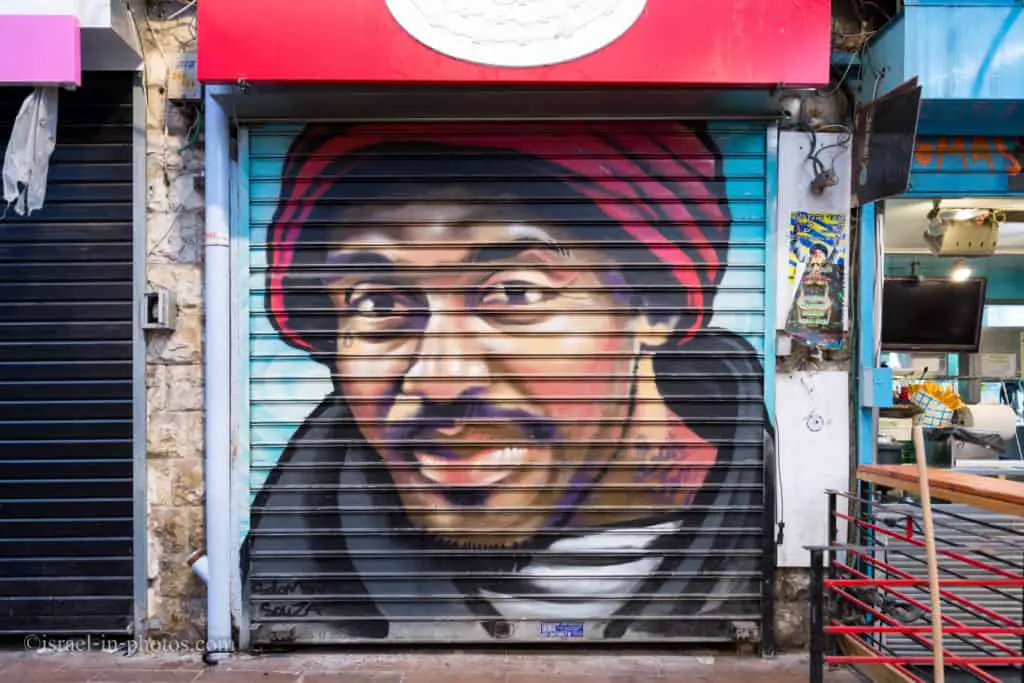 The bonus of visiting at night is that beyond graffiti, you will also see different pubs in the market. The one I am familiar with is BeerBazaar.
BeerBazaar is located at Etz Hayyim 3, and they serve over 100 types of local Israeli craft beers (and, of course, there is food as well). But this is not the only pub. There are about half a dozen others.
Unless a special event occurs (you can check at the official site), night visits will mix pubs and street art. And this is what Graffiti and Nightlife tour at the official site offers.
How much time a visit to Machane Yehuda Market Takes?
The duration of your visit depends on the type of visit. If you take a tour, it will probably be several hours (in our case, it was three hours). It will take around two hours if it is a regular visit combined with eating lunch. And when looking at the statistics that Google provides, I see: "People typically spend 25 min to 1.5 hr here".
Summary
Machane Yehuda Market has become a tourist spot for a reason. You can find authentic people and tasty food. Thus if you like such places, I recommend paying a visit.
Moreover, you can combine a visit to the market with nearby attractions. You can check the map at the top of this post or follow our route along HaNeviim Street.
And if you love markets, then check out Markets In Tel Aviv.
Have you ever visited Machane Yehuda Market? What is your favorite spot? Let us know in the comments below.
That's all for today, and I'll see you in future travels!
Stay Tuned!
For additional points of interest nearby, check out Jerusalem.
Additional Resources
Here are several resources that I created to help travelers:
And if you have any questions then check out
Useful Information For Tourists To Israel
.  
Did not find what you were looking for? Leave a comment below, and I will do my best to answer your questions.