Though Israel is a small country, it has both desert and snowy mountains. Thus you can experience both camel ride and skiing in the snow, within only several hours of drive. And today we are going for a camel ride. Let's begin!
Map
I had ridden camels only once previously when I was a small child. And I thought it would be a nice family experience. So we drove to CameLand (official site). It is a camel ranch not far from Dimona.
Map of the area:

Besides being close to Dimona, this camel ranch is also close to many attractions. Some people even use it as the base for exploring the Negev and the Dead Sea area. In our case, the planning was for a half day trip which included the ride and a visit to Mamshit National Park.
How To Get To Mamshit Camel Ranch?
If you are driving there, then enter "Negev Camel Ranch" into Waze. And in case you have problems finding the place, you can set "Mamshit National Park" as your destination as both of these places are close to each other.
Reaching by public transport is less convenient, as no bus reaches directly to the ranch. You can take public transport to Dimona and then a taxi to the park. Or as Moovit suggests, a bus to Rotem junction and then almost 4 km walk to the entrance of the CameLand. And if you will be staying there for the night, you can call them at 08-6552829, when you are at Dimona's central bus station or train station. And they will pick you up for free.
Lodging
Since I mentioned staying for the night, I want to mention that CameLand has different lodging options. From what I saw (I never stayed there, but as we passed near the rooms I saw the interiors), the rooms are simple and clean. So this can be a budget option. They also offer breakfast and dinner for an extra price.
Another nearby budget option is camping at Mamshit National Park. The Nabataean Khan offers different tents and staff room options. And there is also vehicle hookup camping option.
A little further away would be Dimona or even Beer Sheva.
Camel Tours
There are several various camel tours. The shortest is a one hour tour which goes along northern Incense Route and offers a view of the Nabataean city of Mamshit. There are also two and four hours tours. But, since my daughter was still young (2.5 years old), and we are not used for saddle riding, we decided to take the one hour tour.
In any case, whether you are looking for lodging, or want to book a camel tour, contact them in advance either by email at kurnob@gmail.com or by phone at 972-8-6552829.
At The One Hour Tour
The one-hour camel tour starts every round hour between 9:00 and 15:00. When we registered, the price was 75 NIS per adult and 65 NIS per child.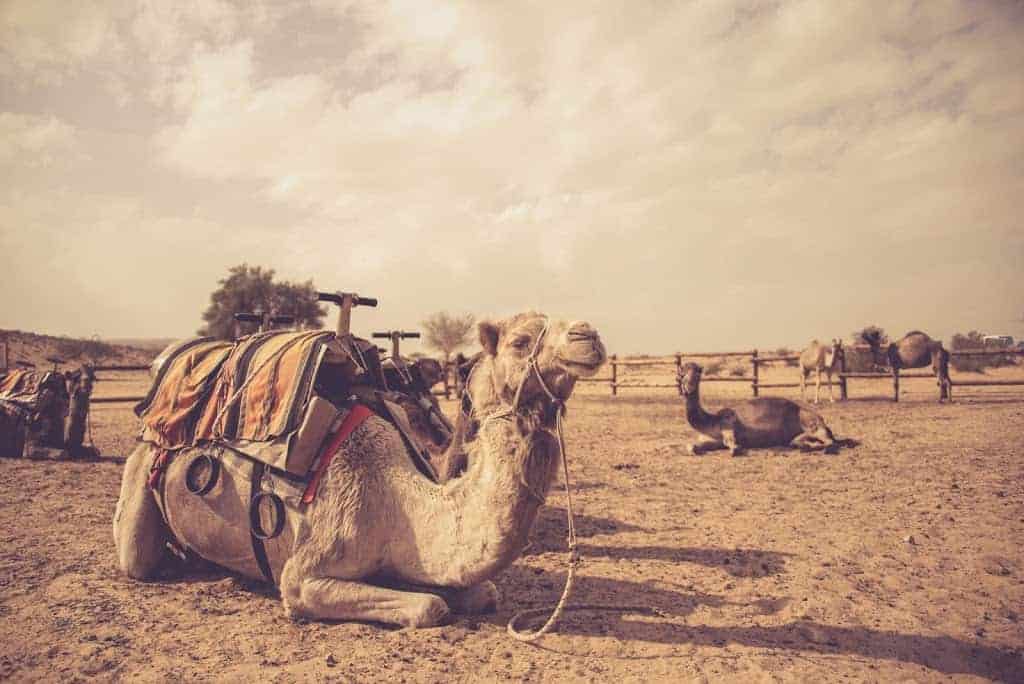 The camels are lying like in the photo above, so it is straightforward to get on. The only scary moment is when they stand up (back legs first so you have to hold on).
The one hour tour stars at the ranch, then you are led to a viewpoint of the Nabataean city Mamshit and back.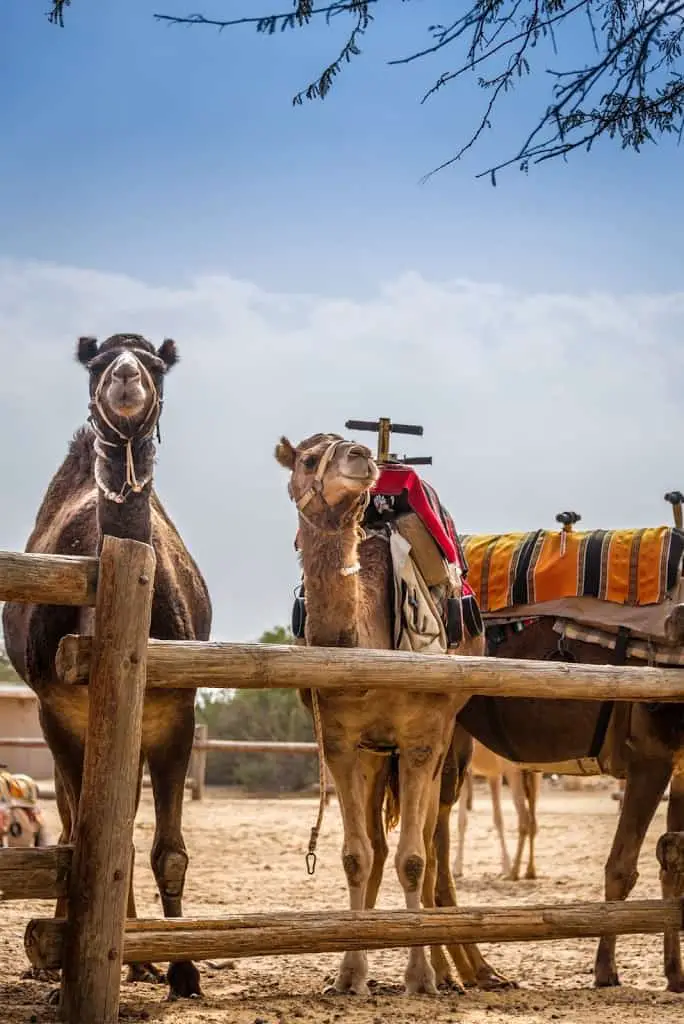 The camel caravan is led by the instructor which also tells you a little about the farm, the camels, and Mamshit. For example, did you know that camel's blood is different from other animals? It has the potential of absorbing big quantities of water. If a cow would drink the same amount of water, it would die.
If you are traveling with younger kids, then you will share a sitting place. Older kids (5-6 years old) could sit by themselves. My daughter was 2.5 years old during the ride, and we sat together. I sat behind so that I could hold her.
The ride was smooth, and the instructor was very pleasant. At the end of the tour, I stayed for several minutes with the camels and took some photos.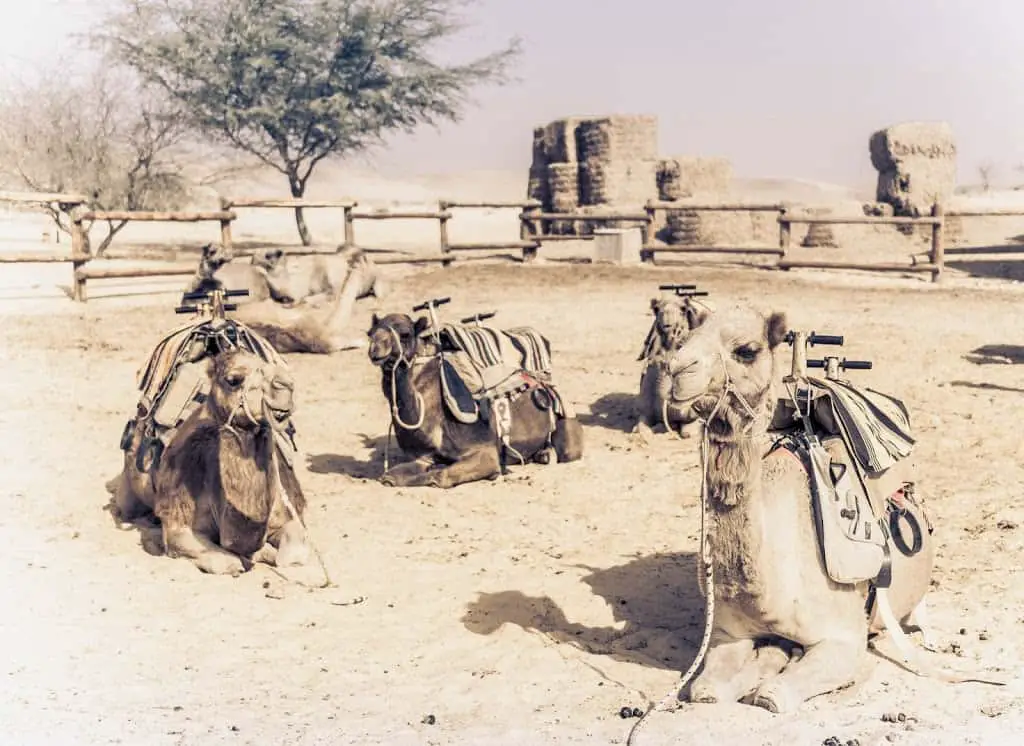 Lucky, the camels are probably used to photographing, and nobody spat on me 🙂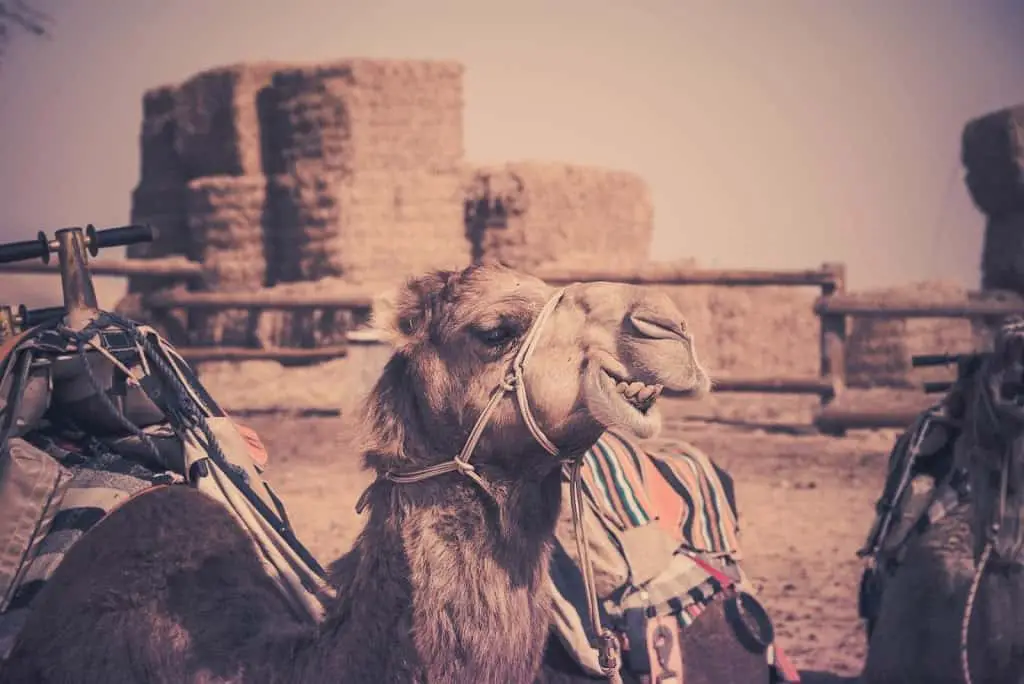 Summary
Both the adults and the children found the activity enjoyable. The ride was nice and we learned several new things from the guide. Moreover, we got some nice photos, what else can you ask for 😉
You can combine the camel ride with a visit to Mamshit National Park for a half day journey, as we did. Or you can unite it with other nearby attractions. Moreover, you can make it as your base for exploring the Negev and the Dead Sea.
Have you ever been at Mamshit Camel Ranch? Tell us about your experience in the comments below.
That's all for today, and I'll see you in future travels!
Stay Tuned!

Additional Resources
Here are several resources that I created to help travelers:
And if you have any questions then check out Useful Information For Tourists To Israel.

Did not find what you were looking for? Email me at
hi@israel-in-photos.com
, and I will do my best to answer your questions.