Bahai Gardens guide starts with basics (opening hours, map, parking, tours) and then visits all entrances including the Shrine of the Bab. Let's begin!
Bahai Faith
Before getting to the gardens, here is a short introduction to the Bahai Faith.
The Bahai Faith is a monotheistic religion based on the teachings of the Bab and Bahaullah, each of whom received a direct revelation from God. The Bahai Faith accepts the validity of all the other major world religions, but it is not a sector offshoot of any of them. Its independent character is reflected in a unique world-view and community structure anchored in its sacred scriptures, religious laws, and calendar.
Note: unless stated otherwise, all quotes were taken from the official site.
Basic Bahai Belief
Bahais believe that the unique God, Creator of the Universe, has educated humankind all through history by sending the prophets or messengers, such as Abraham, Moses, Jesus, and Mohammed, as well as Krishna, Buddha, and Zoroaster, who established the world's major religions.

Thus, Bahais believe that all religions come from the same source and are part of one ongoing educative process. Bahais recognize two prophets for this age, the Bab and Bahaullah.
The Three Entrances
The Bahai Gardens in Haifa comprise a staircase of nineteen terraces extending up the northern slope of Mount Carmel. The geometry of the complex is built around the axis connecting it with the City of Akko, which also has great historical and sacred significance for Bahais. At its heart stands the golden-domed Shrine of the Bab, which is the resting place of the Prophet-Herald of the Bahai Faith.
The terraces start from Ben Gurion street and end on Yafe Nof street. And there is one additional entrance on Hatzionut Avenue. Each entry point allows limited access, and you can not go all the way by yourself. If you want further access, then will have to join a tour.
Here is a list of the entries:
Main Entrance is located at 80 Hatzionut Avenue. It is the middle one, and through it, you can access the Shrine of the Bab, the temple with the golden dome. While there, you can also visit nearby Ursula Malbin's Sculpture Garden.
The lower entrance is located in the German Colony, more specifically Ben Gurion street.
Upper entrance at Yafe Nof street is part of Louis Promenade, and it offers breathtaking views of the whole bay.
And in this post, we are going to visit all of them.
Parking
In this section, I will mention where I usually park when visiting all three entrances.
Main Entrance: sometimes you can find parking along Sderot Hatsiyonut. But there are a few places. Thus I would suggest driving to Shnayim Be'November 2. There are usually many parking spaces along Shnayim Be'November street.
The lower entrance: finding parking along Ben Gurion street is pretty much mission impossible. Thus I usually drive to a paid parking lot (there are several along HaGanim street – keep in mind that it is one-way street). Or park a little bit further away, like Derekh Yafo 104 and further including Tel Aviv street, and walk.
Upper entrance: you can find parking at Yefe Nof Street, just a little bit further away, like Yefe Nof 40. Also at Yefe Nof 46, you will see a street going uphill. It is a public parking lot.
If you have general questions regarding navigation and parking apps, then check out Useful Information For Tourists To Israel.
Entrance Fee
The entrance to Bahai Gardens is free, and the tours are free as well.
Opening Hours
The Gardens are open from 9 to 17 daily. But the gardens near the shrine close at noon. Also, the gardens are closed on Bahai holy days and Yom Kippur. In rainy weather, they may be closed temporarily.
Note: in any case, I would suggest checking the official site before visiting.
Tours
Walk-in tours are offered daily except Wednesdays. These tours are free of charge, and no reservation is required. The tour starts at 45 Yefe Nof Street, and lasts 50 minutes, ending at the main garden's entrance on Hatzionut Avenue. Tours are offered in English, Hebrew, Arabic, and Russian. Here you can find the walk-in tour schedule. And this is the timetable for May and June 2019.
General Notes
Wear clothing that covers your shoulders and reaches your knees. Because of the pebbled paths and occasionally slippery pavements, wear comfortable shoes with good traction.
Photography is permitted, except for the interior of the Shrines.
Visitors can bring their bottle of water, but drinking other beverages, eating, chewing gum, and smoking is not allowed inside the gardens.
Map
Map of the area:

Lower Entrance At German Colony
German Colony, specifically Ben Gurion street, is the lowest entry to Bahai Gardens. I have visited there numerous times, but till now I did not have a photo from Sderot Ben Gurion street of Bahai gardens together with car trails. So I decided to give it a go.
But beforehand, there were two places that I see each time I pass through Haifa and want to photograph. So I decided to use this chance to make a short stop on the way.
On The Way
On the intersection of road 22 and 4 (Israel Railway Museum and Haifa east station), you pass above an array of rails. Unfortunately, I found that getting into the wanted spot is dangerous (going on the side of a highway). Thus, I got only the following photograph from a nearby area.

The second spot is about a 1km away. It is the Istiqlal Mosque in the lower city of Haifa. I wanted several photos with car trails. And this is what I got:
Bahai Gardens At Sderot Ben Gurion
And the next stop was Sderot Ben Gurion street in Haifa. You can get a great view of the Bahai garden terraces from this street. And since there are many restaurants where you can also get something to eat, you should be all set. What else does a photographer need 🙂
The only downside is that Bahai gardens, like most other places in Israel, is closed during sunset hours.
Here are some of my photos taken from there: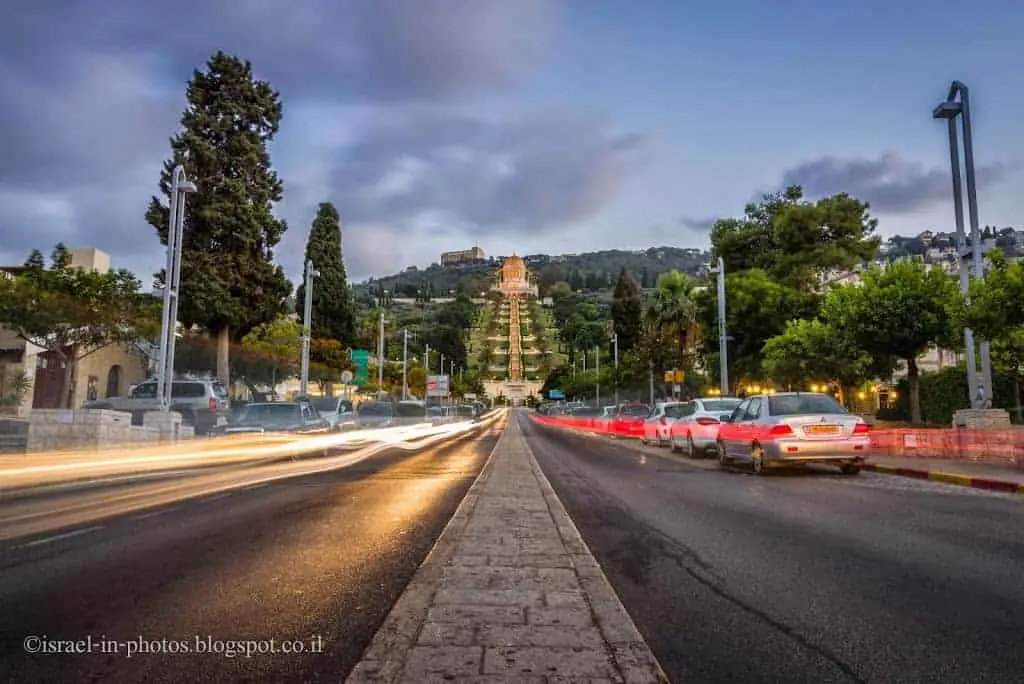 Getting closer: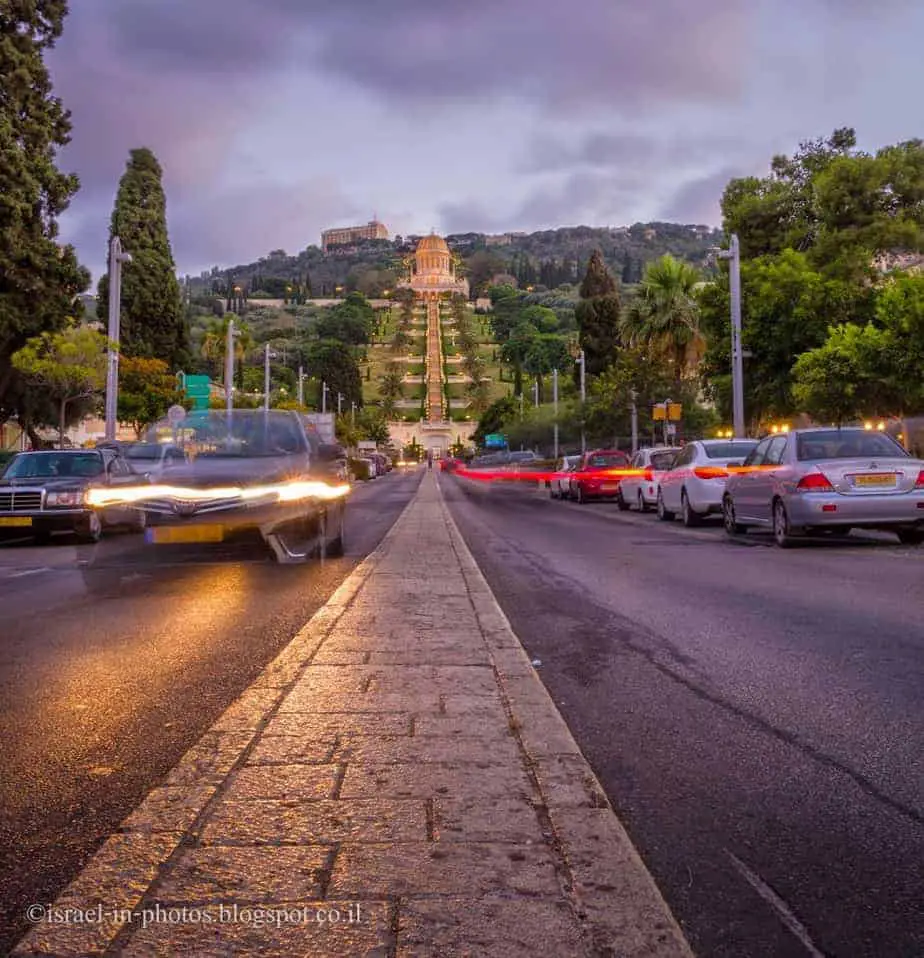 Bahai Temple with leading stairs (shot from UNESCO square):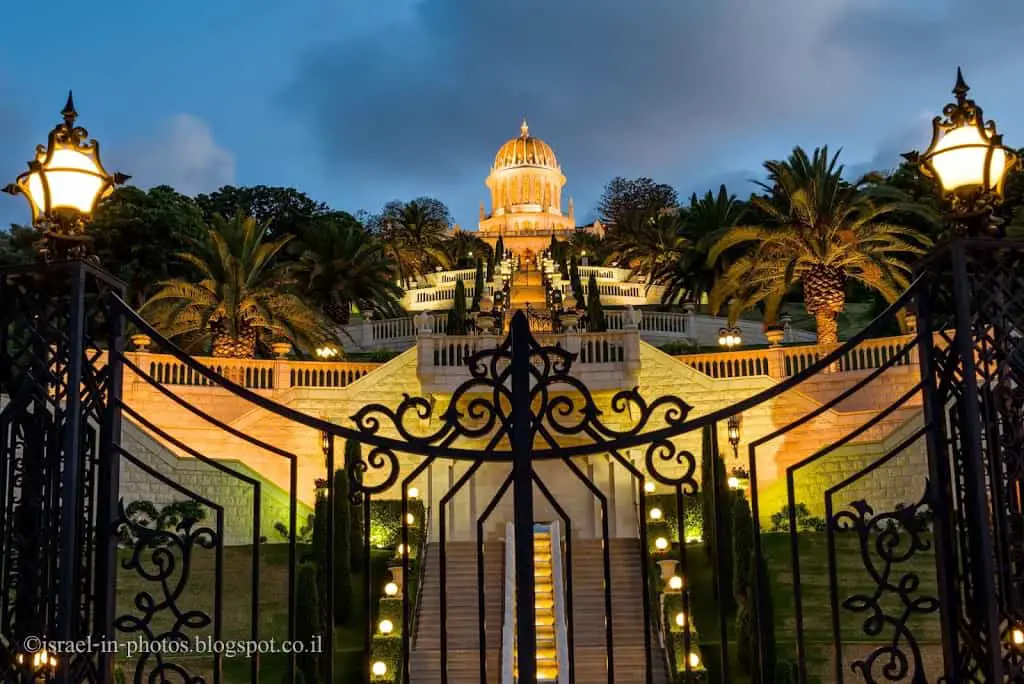 The gardens are close but I was able to fit the lens in between metal bars of the fence and to capture this: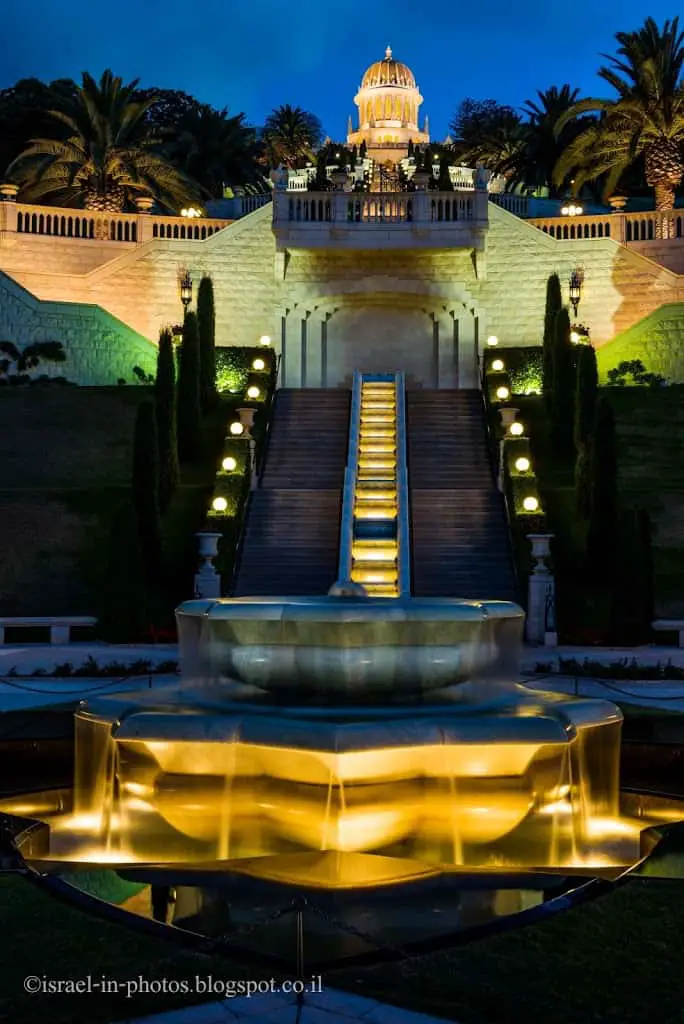 When entering during the opening hours, you will be allowed the get on top of the first block of stairs. Further access is limited by gates.
And the last photo from that day: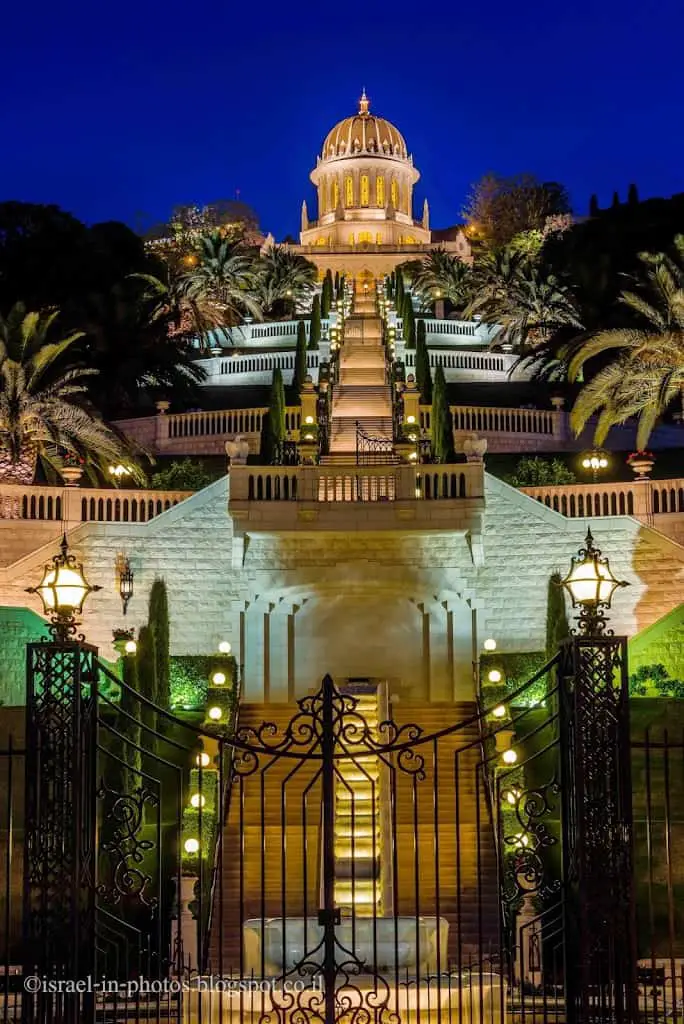 The blue hour is over, and it is time to pack things. But before I finish the first part let me ask you a question. Have you ever heard about Hyperlapse? Check out my Hyperlapse of Bahai gardens.
Note: during The Holiday of Holidays festival German Colony is especially beautiful. Thus, if you got the change, I would advise visiting this area during the festival.
Main Entrance – Bahai Shrine (Temple)
The main entrance, which is also the entrance to Bahai Shrine, is located at 80 Hatzionut Avenue in Haifa.
Note that at every entry, whether it is the Bahai shrine or the gardens, there is a security check. And when I came with a tripod, they did not allow me to take the tripod inside. But I could leave it at the security and walk with the camera.
Metal artwork in the gardens: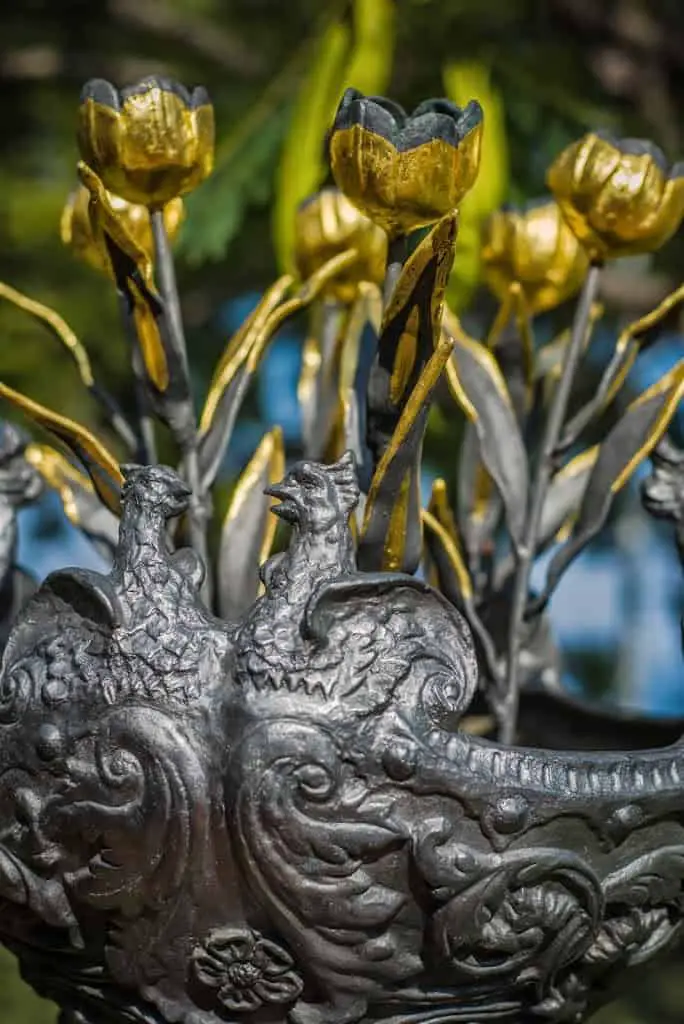 The shrine is the resting place of the Prophet-Herald of the Bahai Faith.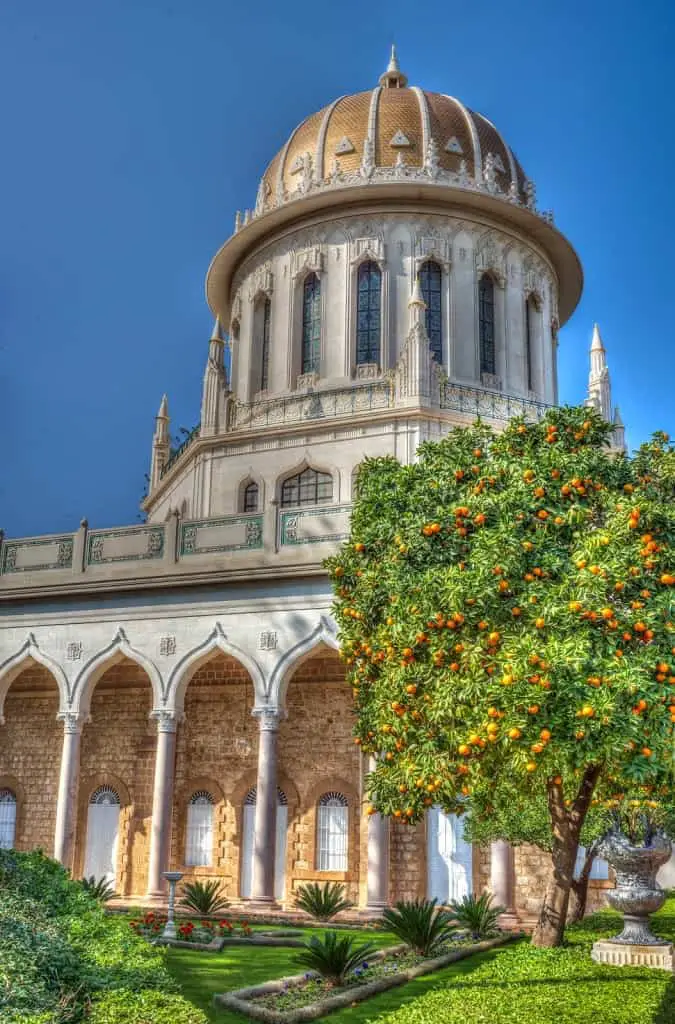 Photography is not allowed inside. But that is not a big loss since, despite the exterior, the interior is very plain.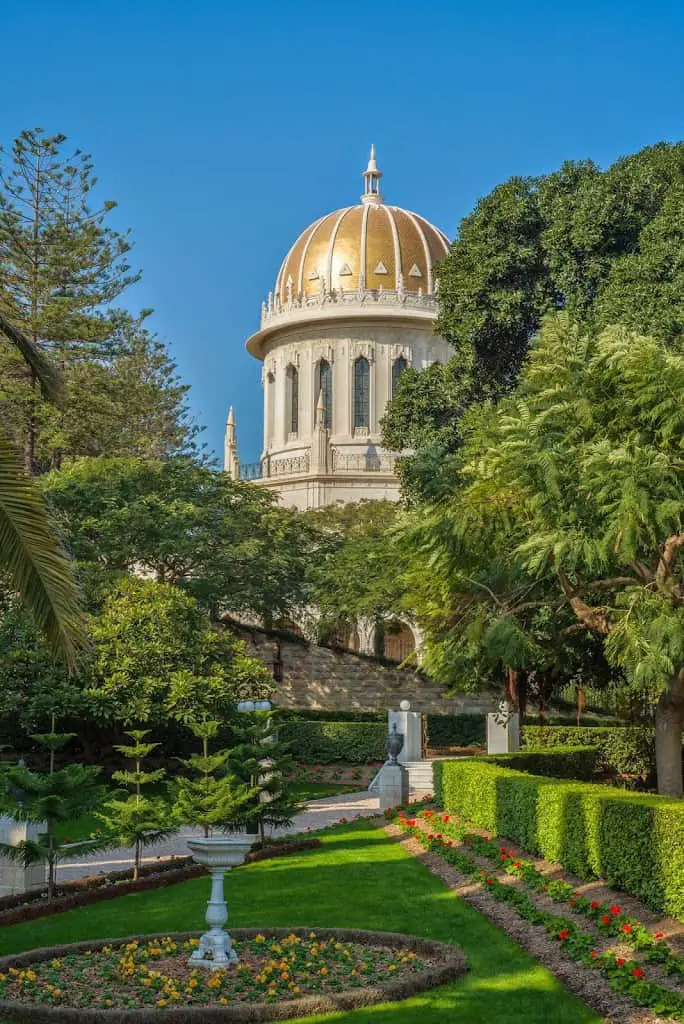 Ursula Malbin Sculptures Garden
Here is the link to the full post about Ursula Malbin's Sculpture Garden. And near the Sculpture Garden, I found a lovely viewpoint. And we will visit it now.
Non-Marked Viewpoint
While scouting several locals recommended another viewpoint. Well, this was a simple spot with several benches. It is located within 5 min walk from the park at 12 Shnayim-November St. This was probably the best viewpoint among all I have seen that day. And here are several photos from there: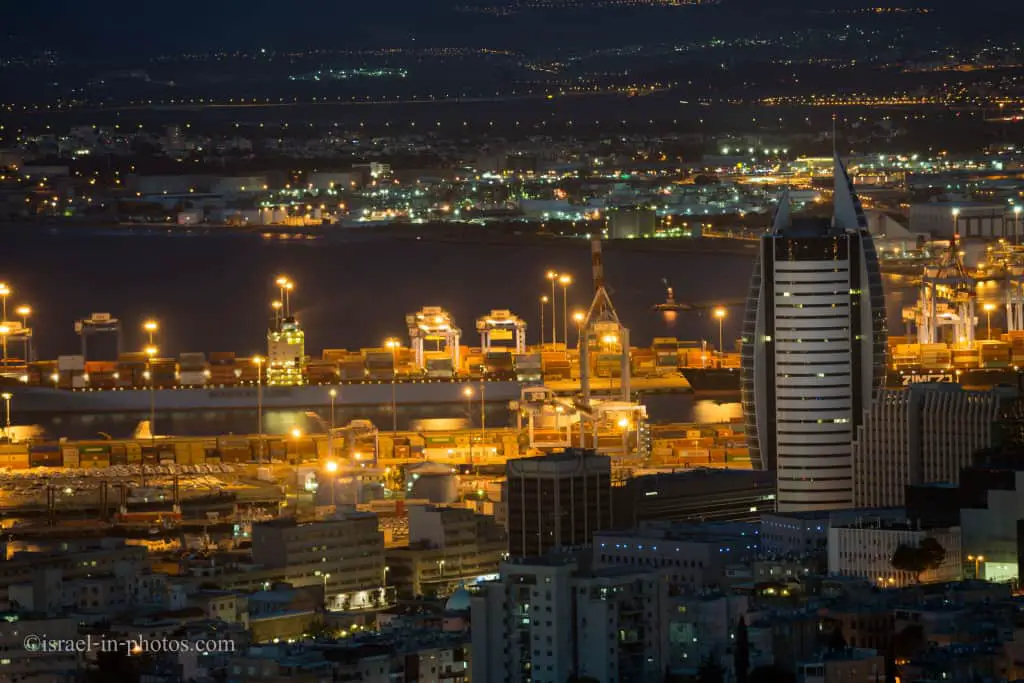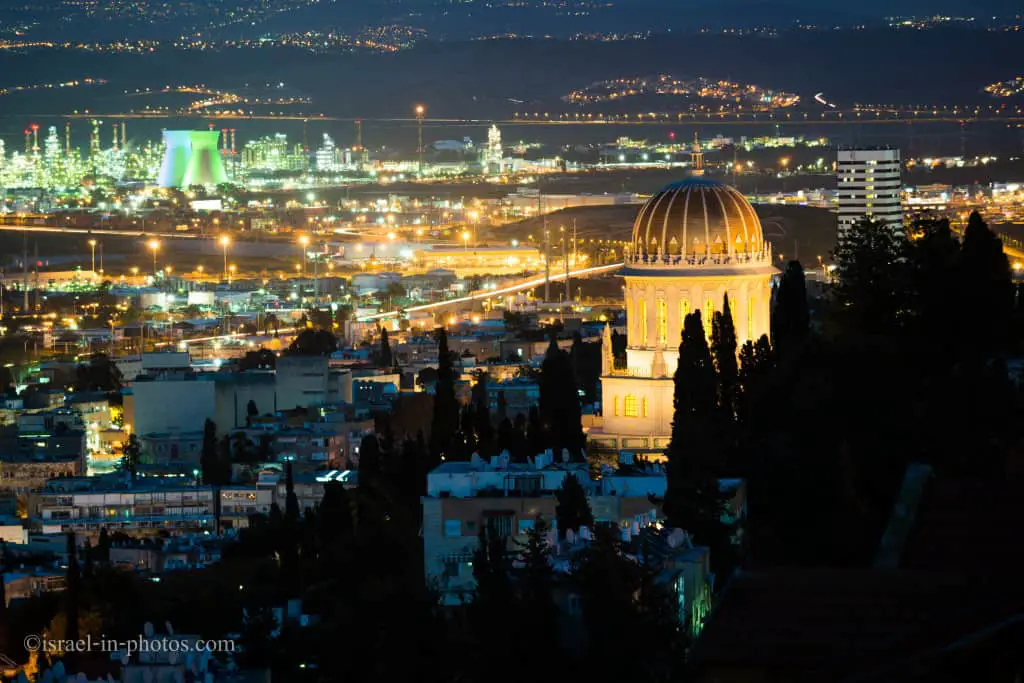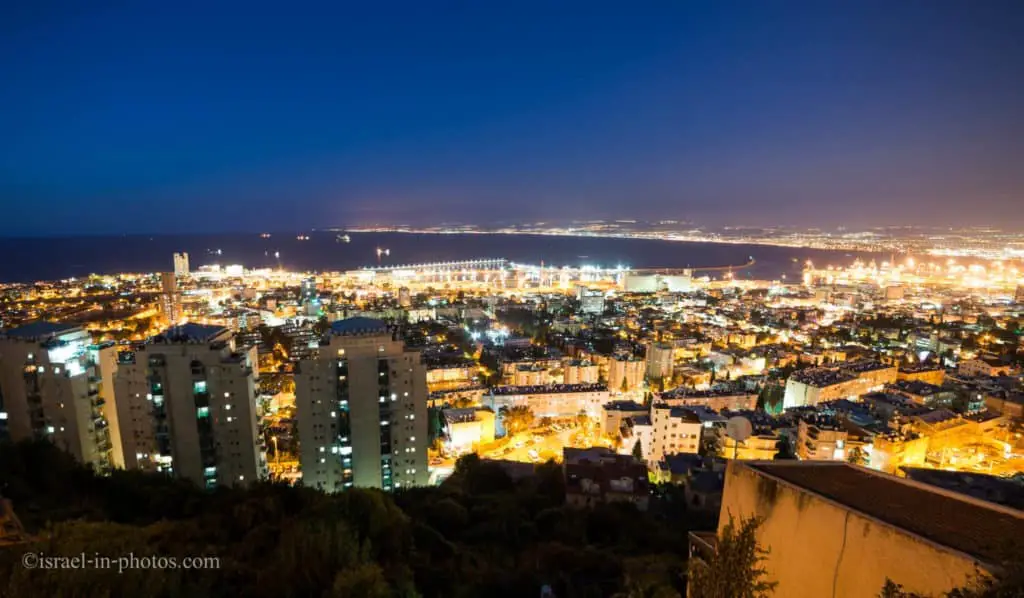 Upper Entrance – Yafe Nof Balcony
From the shrine, a five-minute drive will lead you to the viewing balcony at the top of the gardens (61 Yefe Nof Street). And here are a couple of shots from there.
The gardens and Bahai Shrine from the top: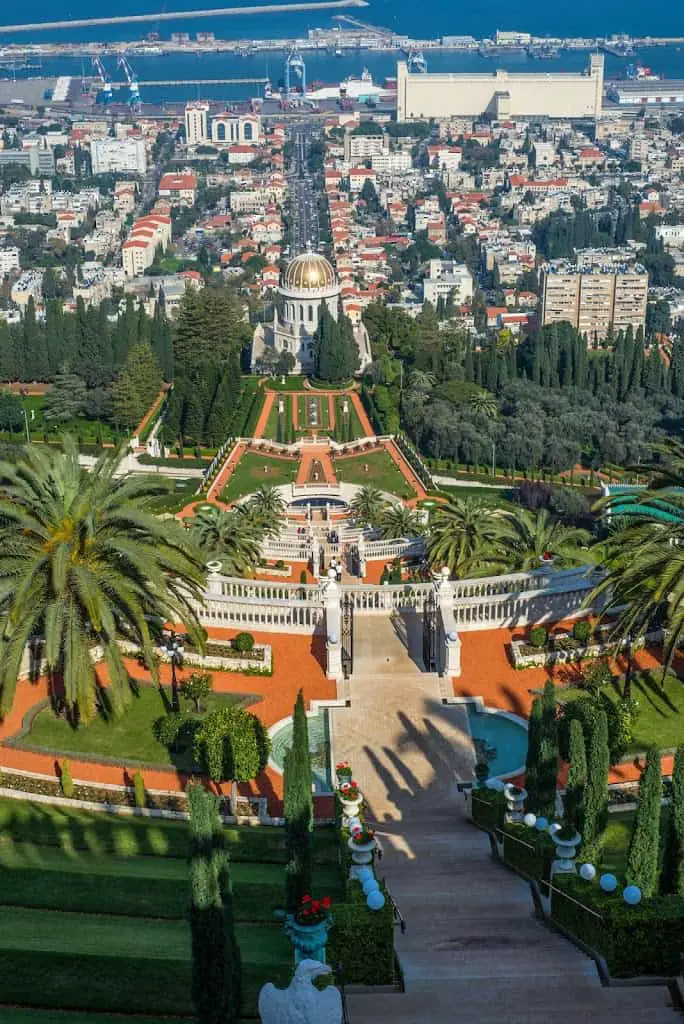 View of the port: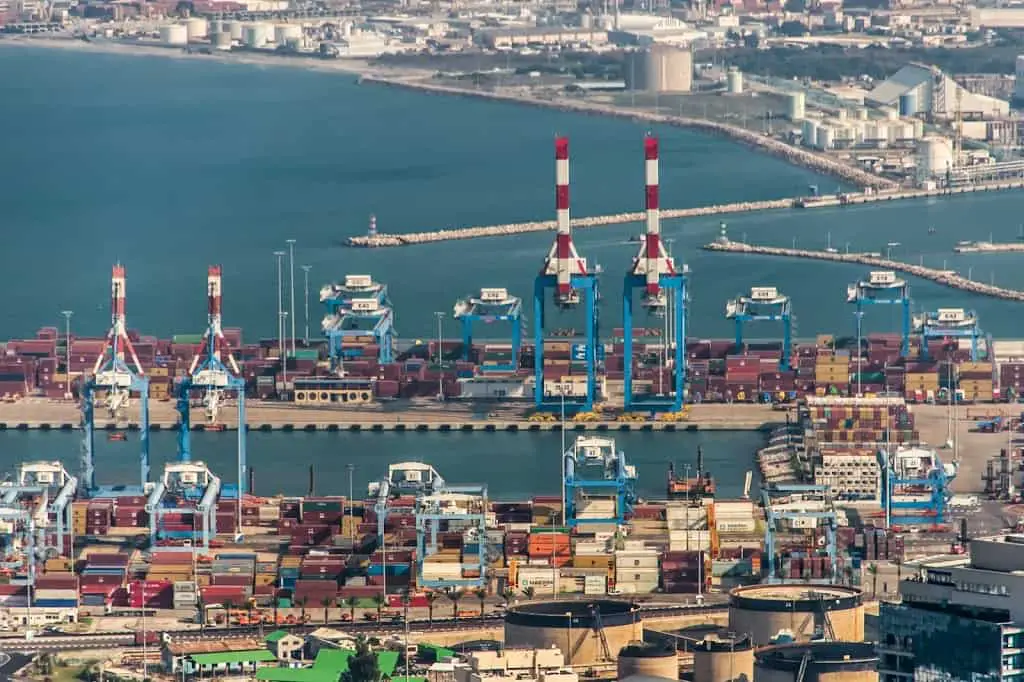 Haifa and Krayot: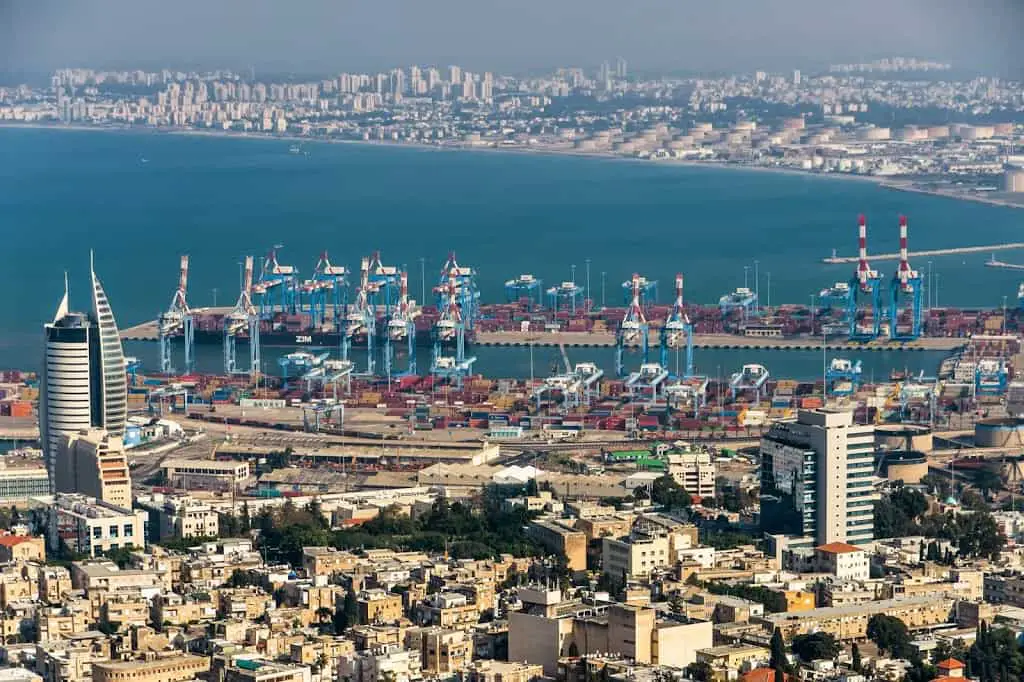 Yafe Nof Balcony is located on Louis Promenade. And now I will share with you two of my visits to the promenade.
Louis Promenade
Yafe Nof Balcony is located on Yafe Nof street which is a part of Louis Promenade. You can get great views from Louis Promenade without getting into the balcony, and the advantage of the promenade is that it is always open. Thus, you can shoot sunsets and sunrises as well.
Louis Promenade in Haifa is one of the most beautiful promenades in Israel. Though it is quite short, you can see a big part of the city from it. Among the things you can see are the Bahai gardens, Haifa port, and Haifa downtown.
Background
In 1992 Louis Promenade was established, thanks to the contribution of Paul and May Goldschmidt, Haifa residents, who desired to commemorate the memory of their son Louis, who was killed in a car accident, and who loved so much the magnificent views of Haifa.

The Promenade's 400 meters stretch along Yefe Nof Street, from Nof Hotel to the upper entrance of the Bahá'í Gardens. Louis Promenade is located close to Carmel Center, with its cafes and restaurants, to the hotels and other attractions in the area, and integrating naturally into the area which attracts many tourists, who come to enjoy the touristic abundance the area offers. It is evident that also residents of Haifa stroll along the Promenade enjoying the beautiful views it offers.

Many tourists integrate the visit to the Louis Promenade when arriving from the many tours departing from the upper entrance point of the Bahá'í Gardens, located, as said, in the Promenade.
I visited Louis Promenade many times and in this post, I will tell you about two of these visits.
Sunset At Louis Promenade
Here is a series of photos that I got during the golden hour: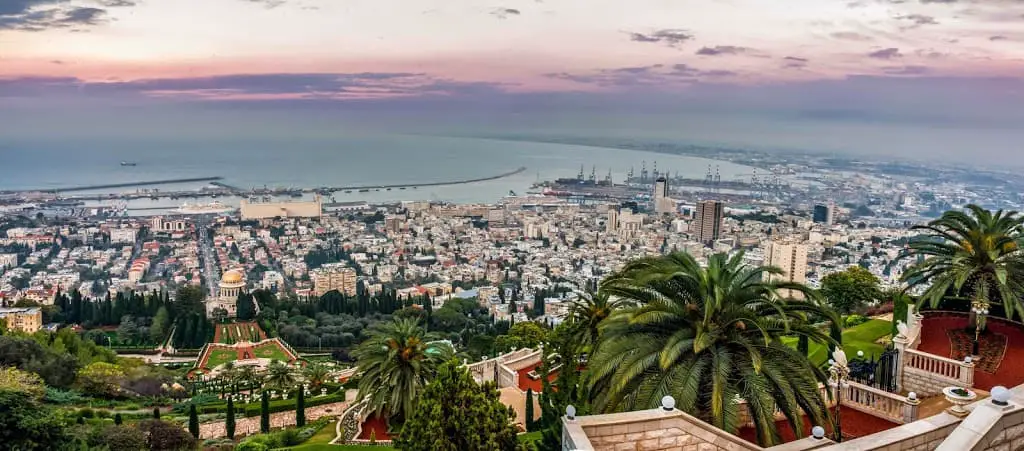 The promenade is located on the slope of Carmel mountain, and it is always open and free.
Bahai Temple and downtown: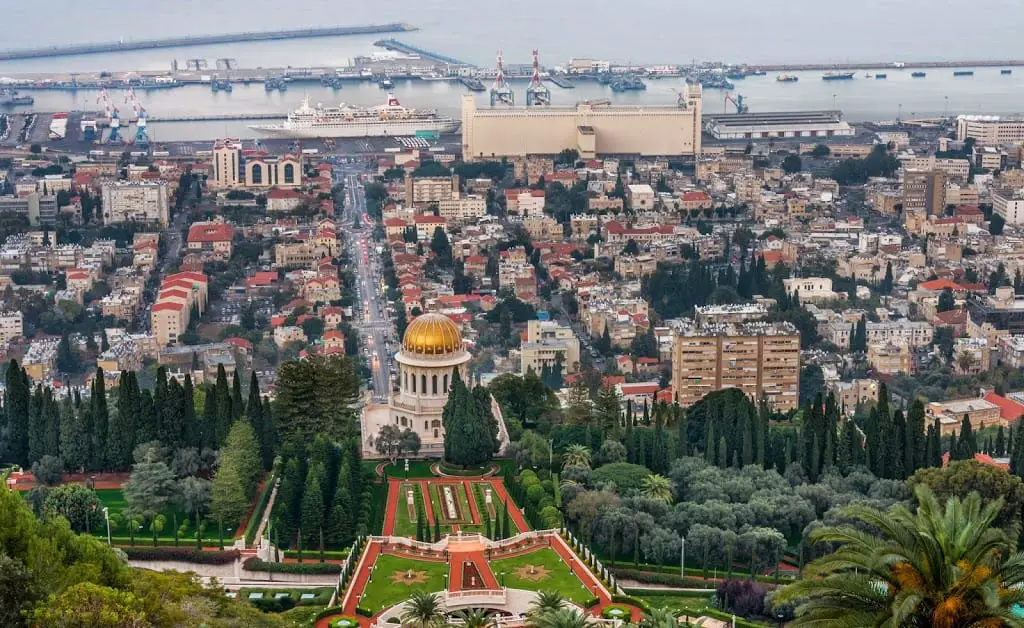 To the left: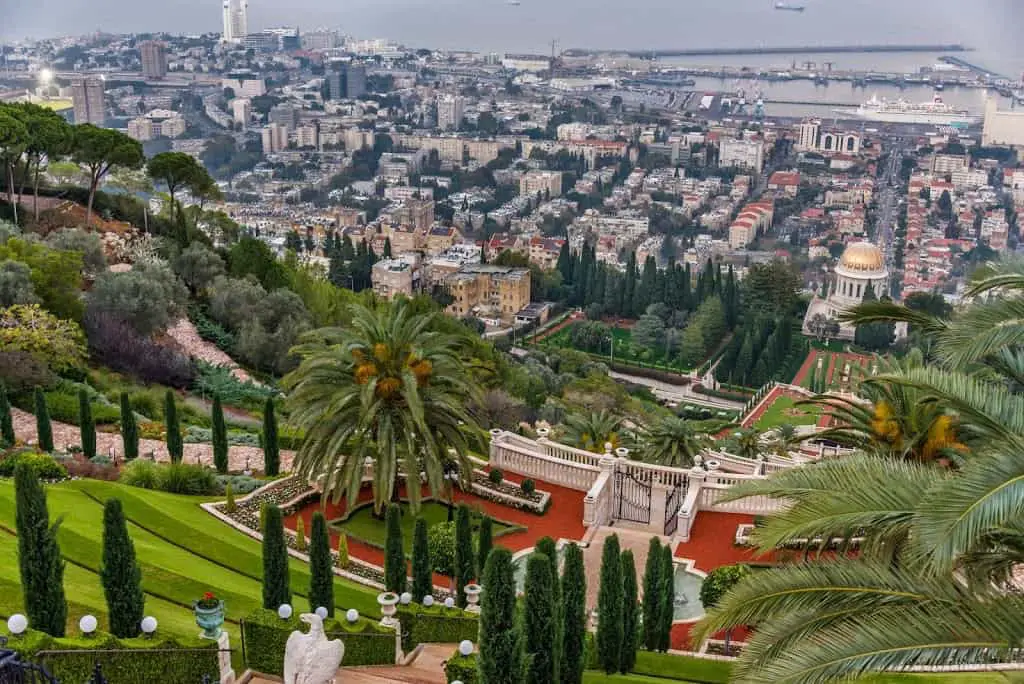 Bahai Gardens and the port: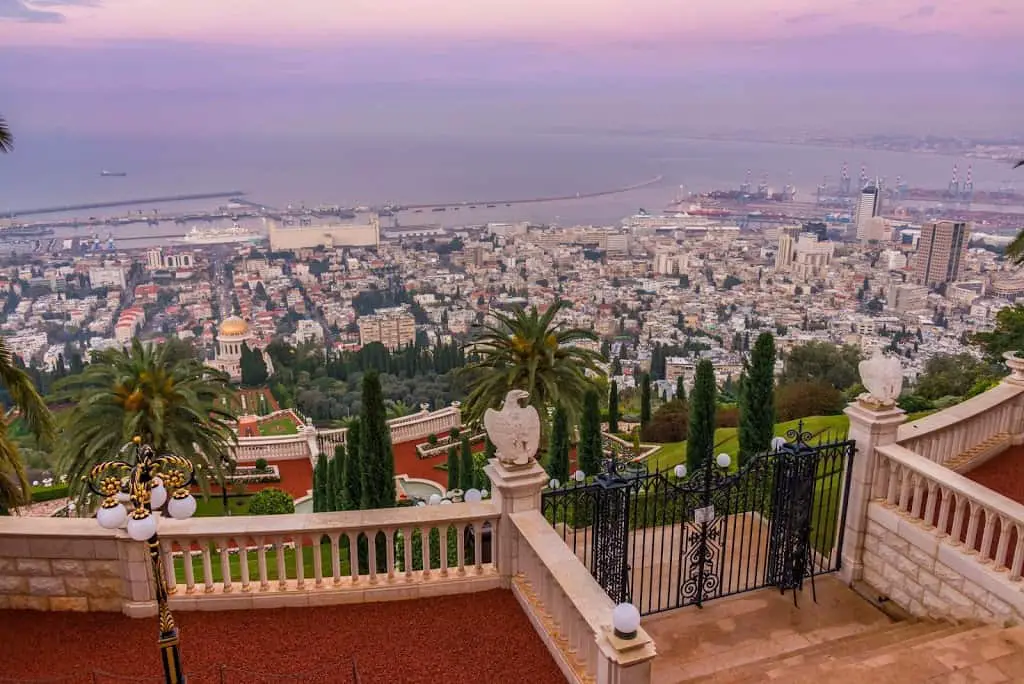 Haifa's industrial zone:

From further ahead, Haifa's neighborhoods: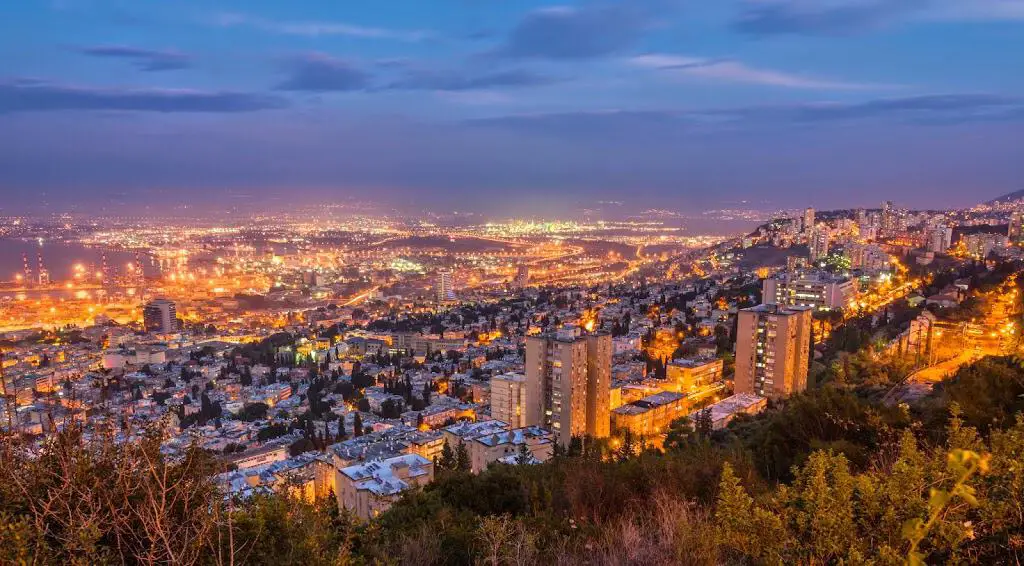 Industrial zone:


Bahai temple and car lights: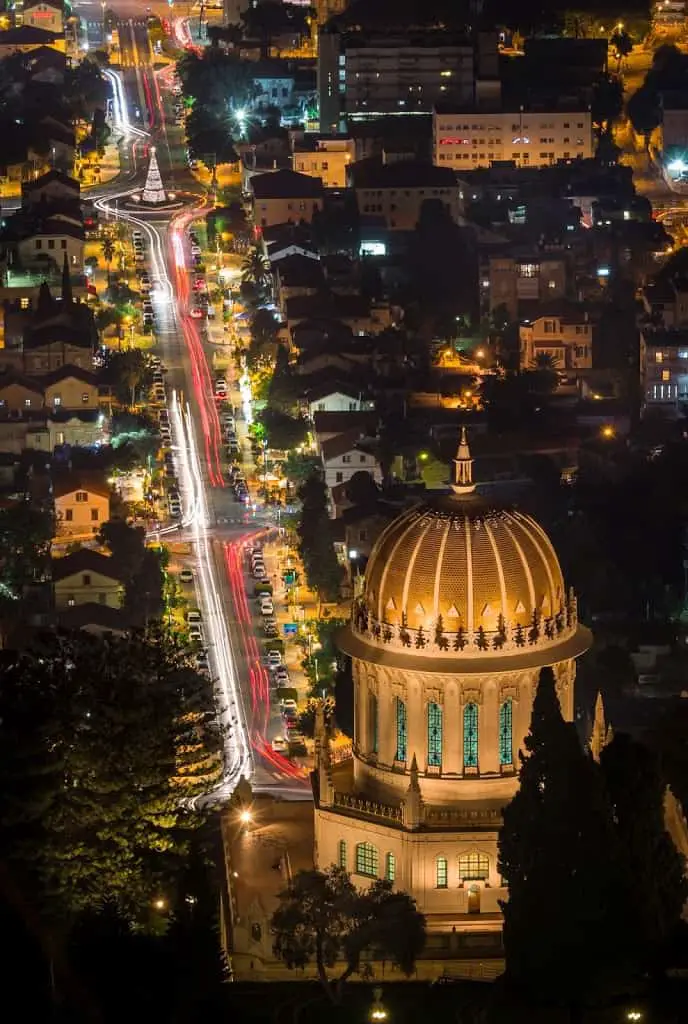 Last photo from that evening: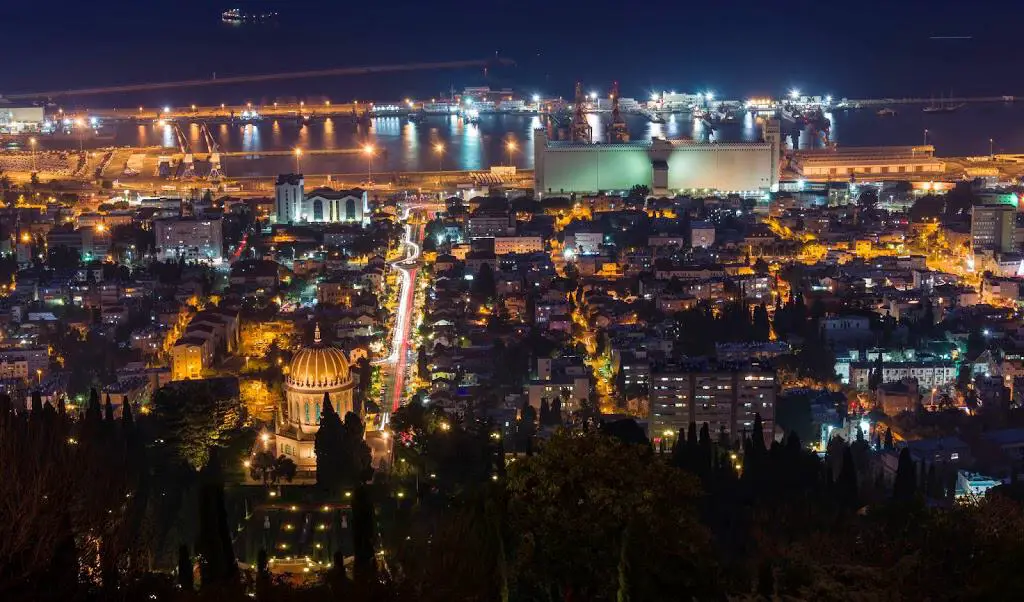 Sunrise at Louis Promenade
Sun Cal and other Preps
Instead of sleeping on a Saturday morning, I decided to go and watch the sunrise at Louis Promenade. And this is not easy for me since I prefer to sleep late. But, since I decided to make an effort, there are preparations that need to be done. I'm not talking about preparing photo gear, I'm talking about checking the sunrise time and sun location. I used suncalc.net to check the sunrise time and sun location. It's a pretty handy tool, you mark a spot on the map and using sliders you can see sun location during each hour of the day.
After all the preparation I woke up and drove to witness the sunrise at Louis Promenade. And this is my first photo:

Wait. What? No, I did not wake up late. I arrived half an hour before the planned time, but it was already bright. At this point, I realized that I made a mistake. When I checked SunCalc, I looked at the sunrise time. Sunrise time is the time when you see the sun. But if you in an area with mountains, then at the moment when you see the sun peeking behind a mountain, everything is already bright (daylight).
Expectations Vs Reality
I prefer the earlier time when everything is still blue. If you also prefer the blue light then check out twilight time and not sunrise time. Or more specifically: astronomical twilight. Astronomical twilight is defined as the period when the sun is between 12 degrees and 18 degrees below the horizon.
Haifa panorama:

As you can see the sun is starting to appear from behind the mountain:

First rays:

Backlighting industrial zone:

Haifa port:

Bahai Temple:

And this is my favorite photograph from that shoot:

At this point, I decided to drive down to a viewpoint that is located next to the Bahai Temple.
I hoped for a photo of the sun behind the temple, but I wasn't at the right angle 🙁
Here are several photographs I got from there.
The Sail Tower with the port:

Foggy morning:

Bahai Gardens In Akko
Bahaullah, the Prophet-Founder of the Bahai faith, resided during the final years at a mansion in Akko. His remains were laid to rest at a shrine, and today there is a big garden surrounding the area. In my opinion, the gardens in Haifa are more impressive, and I would advise making them a priority (and visit the Akko ones if you have the time). You can find additional info at Acre post.
Summary
If you are in Haifa, then Bahai Gardens is a must see. Moreover, it is probably the most popular attraction in Haifa. And that is for a good reason. They are simply stunning. Moreover, join a free tour to learn about Bahai and get more access. And check out my Hyperlapse of Bahai gardens.
Have you ever visited Bahai Gardens? Let us know in the comments below.
That's all for today, and I'll see you in future travels!
Stay Tuned!
For additional attractions nearby see Haifa page.
If you have any questions then check out Useful Information For Tourists To Israel. And if you are looking for ideas on where to visit, then read Israel Trip Planner, National Parks And Nature Reserves, and Events And Festivals By Season.

Additional Resources
Here are several resources that I created to help travelers:
And if you have any questions then check out Useful Information For Tourists To Israel.

Did not find what you were looking for? Email me at
hi@israel-in-photos.com
, and I will do my best to answer your questions.