First time I visited Park Peres (official site) was about two years ago. We attended children musical at Holon Toto Arena. On that occasion, I did not have time to explore. But recently we celebrated my Dad's birthday. And as I was looking for a restaurant, I stumbled upon an Italian Restaurant called SILO. It had many good online reviews, and I decided to book it. The reason I am mentioning SILO is its location. SILO is located in this compound. We visited it on a Saturday, and after lunch, we walked for a while in the park. And the photos in today's post are the result of that visit. Let's begin!
Shimon Peres
In 1997 the cornerstone for this park was laid by Shimon Peres and Motti Sasson, the Mayor of Holon. This site is named after Peres thus I thought it would be adequate to bring a short excerpt about Shimon Peres from Wikipedia.
Shimon Peres born Szymon Perski (August 2, 1923 – September 28, 2016) was an Israeli politician who served as the ninth President of Israel (2007–2014), the Prime Minister of Israel, and the Interim Prime Minister, in the 1970s to the 1990s. He was a member of twelve cabinets and represented five political parties in a political career spanning 70 years. Peres was elected to the Knesset in November 1959 and except for a three-month-long hiatus in early 2006, was in office continuously until he was elected President in 2007. At the time of his retirement in 2014, he was the world's oldest head of state and was considered the last link to Israel's founding generation.
Park Peres – Background Information
Map of the area:
Park Peres is a landscape, nurtured, green and beautiful public park. It is comprising an abundance of attractions that provide a variety of recreation and enjoyment options, different sports games in the open lighted courts, maintaining a healthy lifestyle while pacing in the clean air on well-organized walking trails alongside vegetation, training in special fitness facilities as well as some interesting history. The Park, inclusive of all its various installations and facilities, enables a unique recreation experience designated for all layers of the population. The Park includes full accessibility for people with special needs, and it comprises a track for the visually impaired.

The Park's size and orientation throughout its area: the Park spans over an area of approximately 300 dunams, and it is located at the south-east of the City of Holon. The Park is bordered on the west by the Yamit Water Park, on the north by the Kiryat Sharet residential neighborhood, on the east by the renewed and developing industrial area and on the south by the dunes of Holon. Park Peres offers a variety of attractions intended for recreation and enjoyment for all layers of the population. Park Peres is a public park open to the public throughout the week, from early morning until nightfall, and it does not entail an admission fee. The attractions throughout the Park require payment.
Note: unless stated otherwise, all quotes were taken from the official site.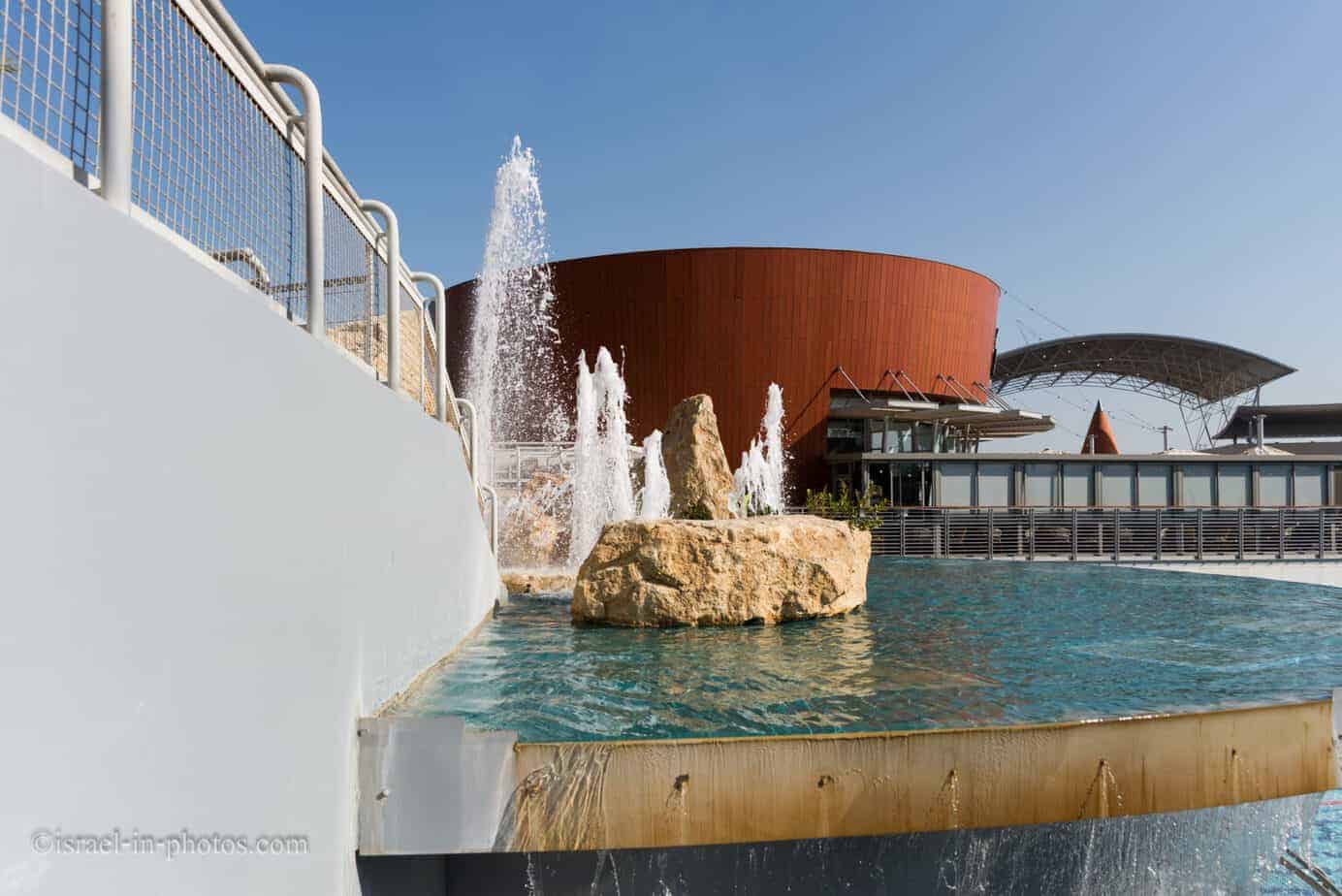 Attractions In The Park
In and around the park there is a variety of attractions both for kids and adults. Here are few of them:
Ice Peaks – an ice skating and ice hockey center.
The Israeli Children's Museum is an educational-cultural institution providing unique learning experiences which are one of a kind in Israel.
There is an artificial lake with pedal boats.
Dining complex including restaurants and cafes near the lake.
Yamit Water Park – one of Israel's most prominent and well-known water parks.
Two playgrounds with a variety of facilities for children of all ages. Furthermore, there is "The Accessible Playground" – a unique playground equipped with facilities designated for children with special needs.
Sportek offers a variety of sports courts and fields including futsal, basketball, ping pong, and tennis practice walls. There are also marked walking trails of different lengths.
The Chess Complex offers dedicated tables for chess games.
Moreover, many events and activities take place in this compound. The Amphitheatre, with approximately 7,000 seats and the Holon Toto Arena containing around 5,000 seats are perfect for it.
Lego Park
Lego Park is aimed at kids and takes place during the summer vacation. This event has been running for several years already. Moreover, in 2018, this became not an only annual event, but an annual that takes place in multiple places at the same time (not sure whether the organizers are the same ones), one in Holon and the second in Tel Aviv. In previous years we did not visit the Lego Park, but this year, we saw discounted tickets and decided to go.
Holon Lego Park (official website) takes place at the Toto Arena and one big plus is that the whole complex is air-conditioned.
Lego Park 2018 At Holon Toto Arena
The first thing we saw when we entered the Toto Arena were mosaics of famous Israeli women.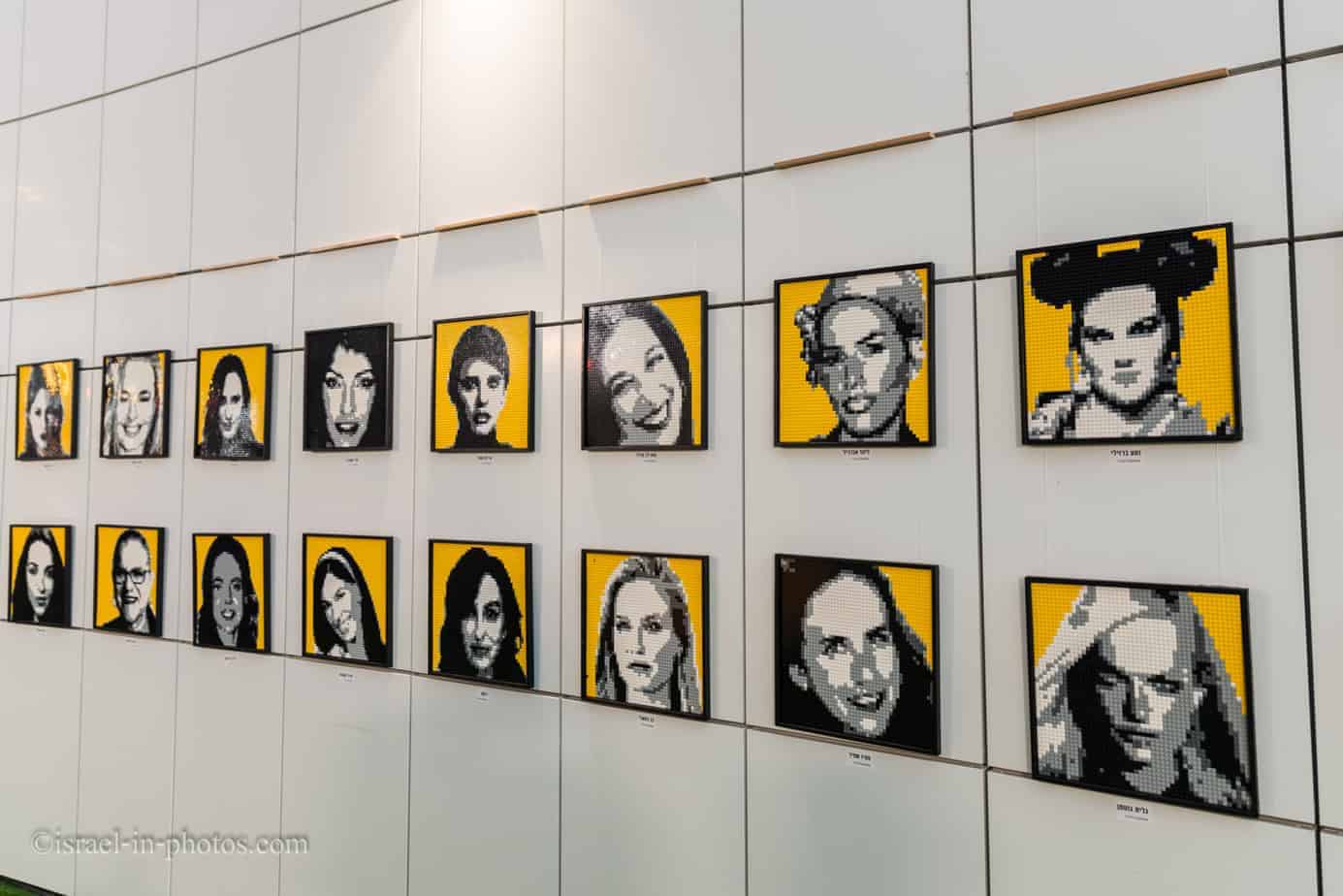 Somebody had a lot of work. I wonder whether today robots can perform such tasks.
Most of the attractions are in the stage area.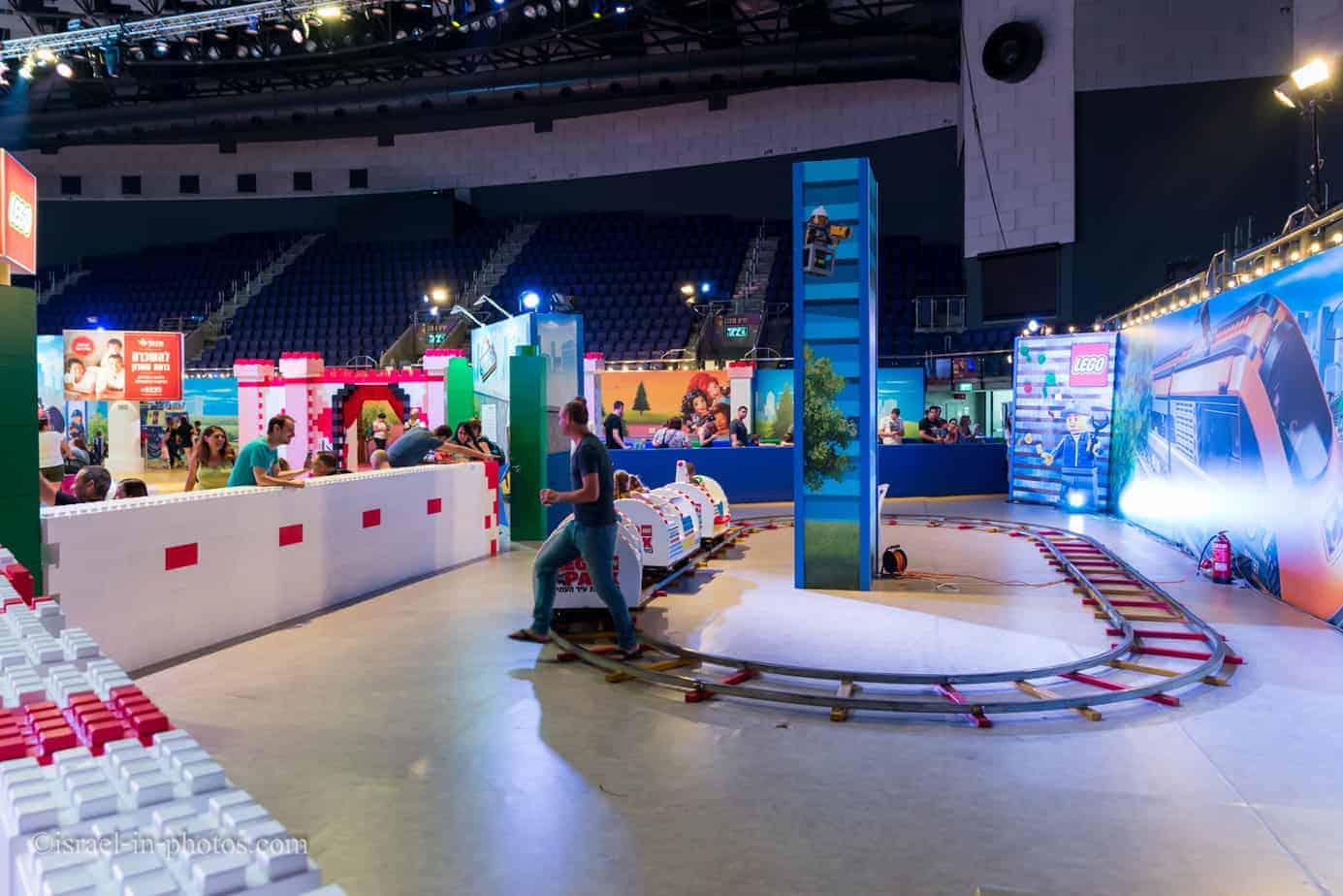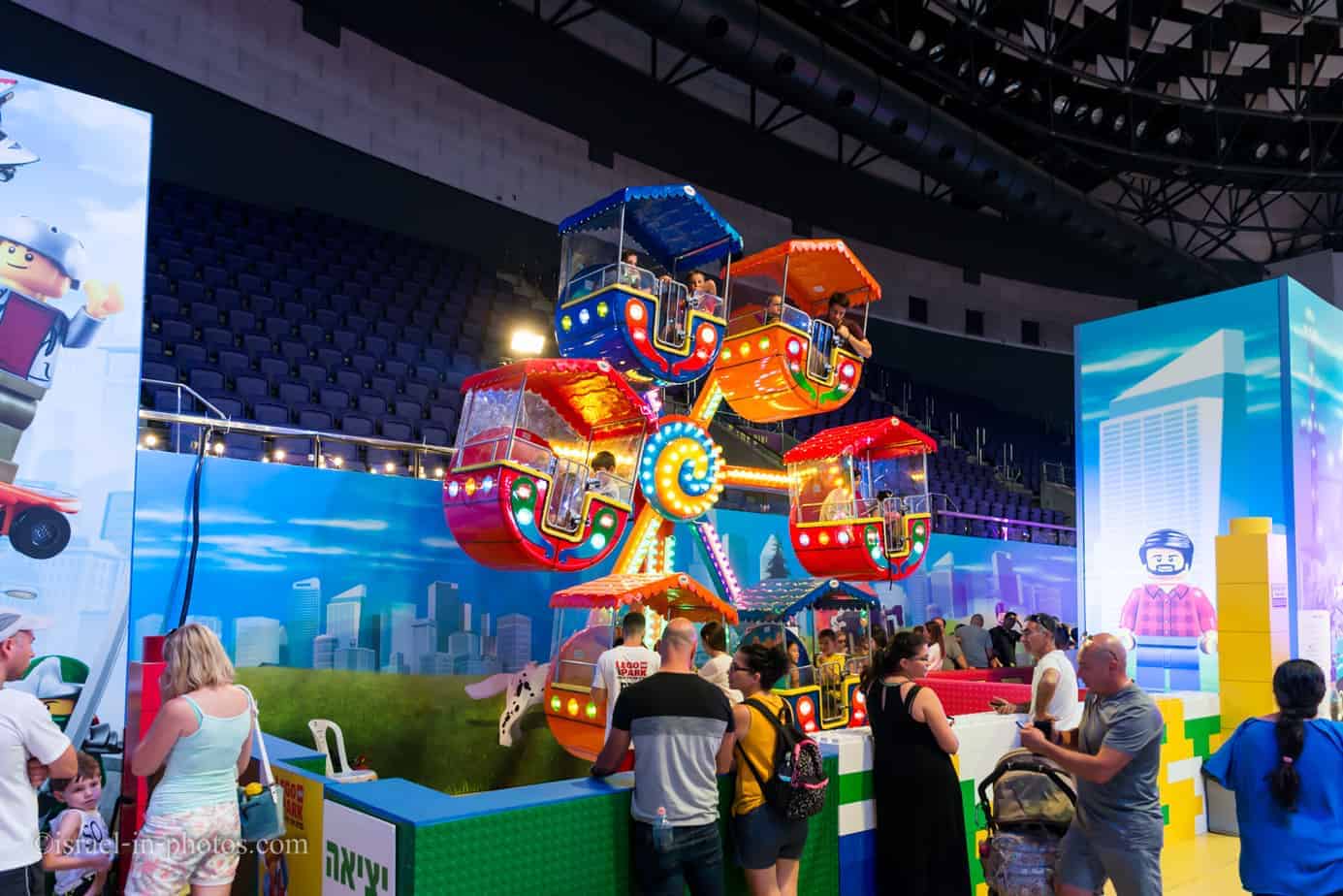 Attractions
As you can see the train and the small Ferris wheel are suitable for small kids (above 105 cm). Additionally, there were construction areas with small and big Lego parts. Bungee jumping adjusted for children. Carousel for small kids, PlayStation area (about ten stations and all occupied), two play areas (one for 0 – 1.5 years and the second for 1.5 – 3 years), and of course a store, cafeteria and restrooms. Here are several photos of the attractions.
And in the end, we wrote our name on the Graffiti wall.
Prices
Full ticket price is 101 NIS. Which is not worth it. For that price, there are many better alternatives. Many credit card companies offer 1+1. I bought tickets for 49 NIS. And after the event, I feel that I was ripped off. Most of the attractions are suitable for toddlers. My daughter, who is seven years old, could not use any of the Lunapark style attractions. So, we assembled Lego at different places and after an hour left the event.
As for the store, do not get me started. When you exit Lego Park, you have to go through the store. And the prices are high and more expensive than in regular toys stores.
Lego Park 2018 – Summary
As you can probably guess from the previous section, I cannot recommend Lego Park. This event is suitable mostly for toddlers, and the tickets are overpriced. One advantage is that the whole complex is air-conditioned. So, if you cannot stand the heat, have kids between the ages of 2 to 5 years old, and find tickets for 35 NIS or less then you can go.
Artificial Lake
There are two types of pedal boats in the lake. The smaller ones (the white in the foreground of the next photo) are suitable for up to four people, and the larger ones (swan-shaped) can fit up to six people. And you can rent a boat either for 15 or 30 minutes. The prices range 30 to 70 NIS.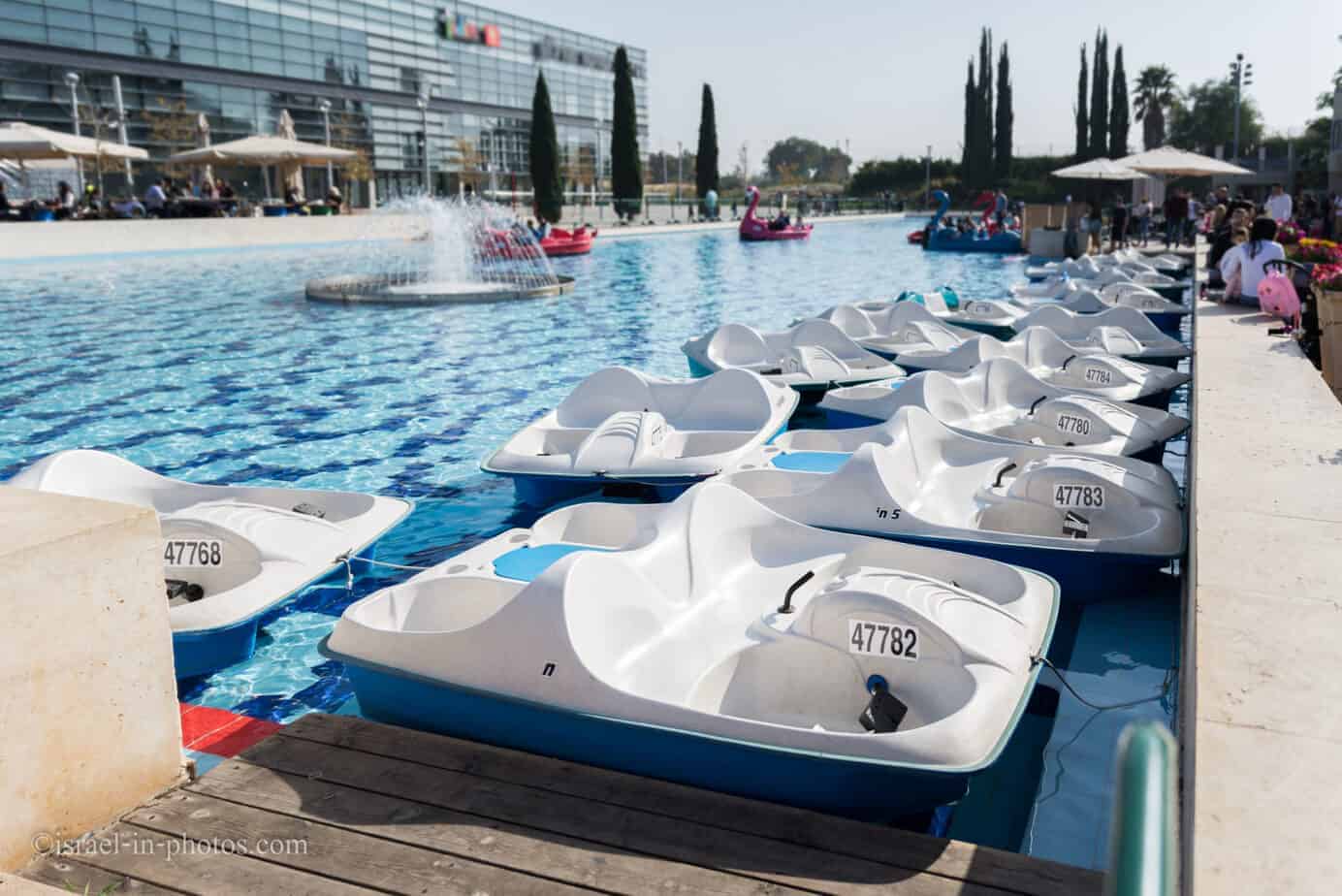 A photo of the SILO restaurant from the pedal boat.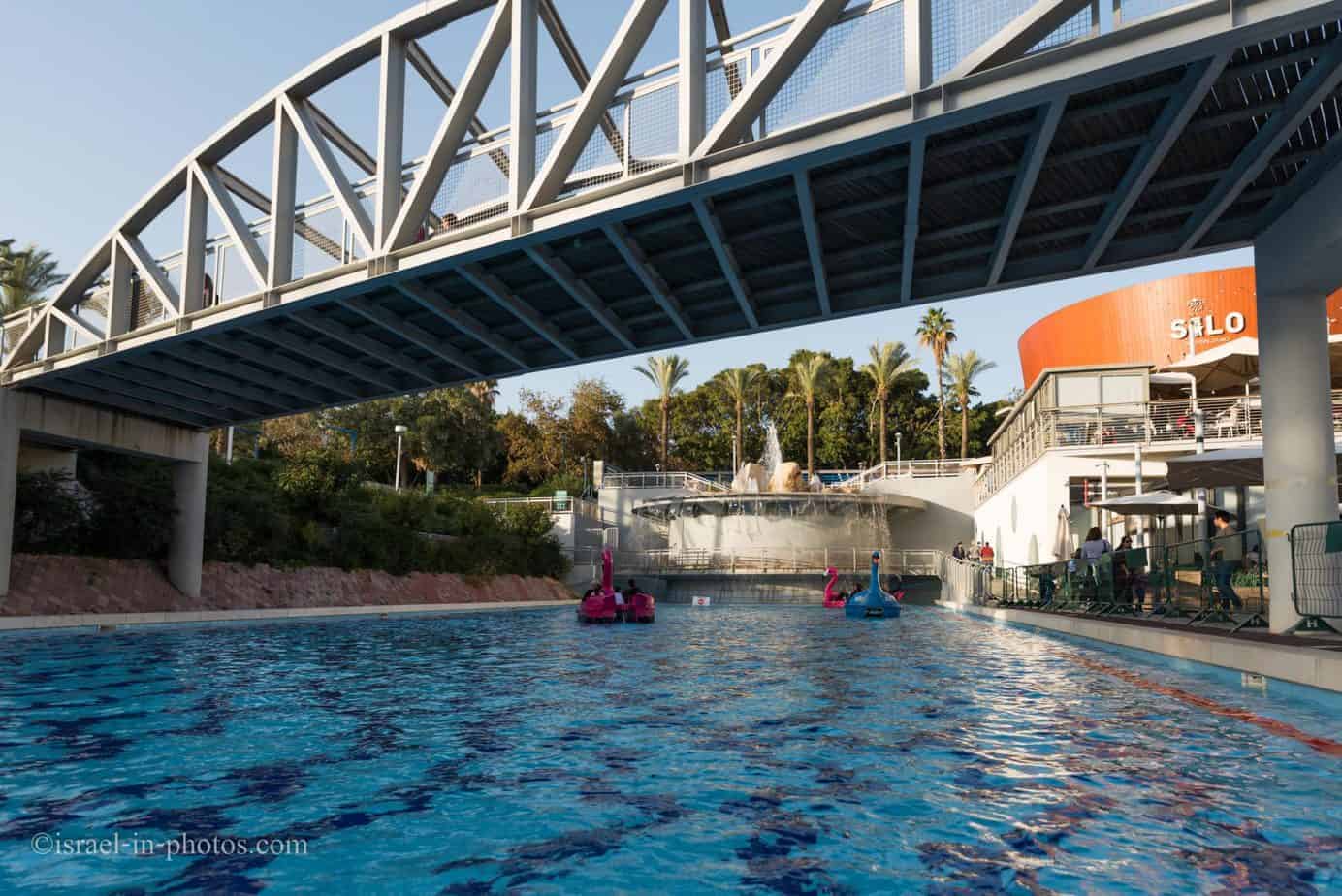 View from the bridge: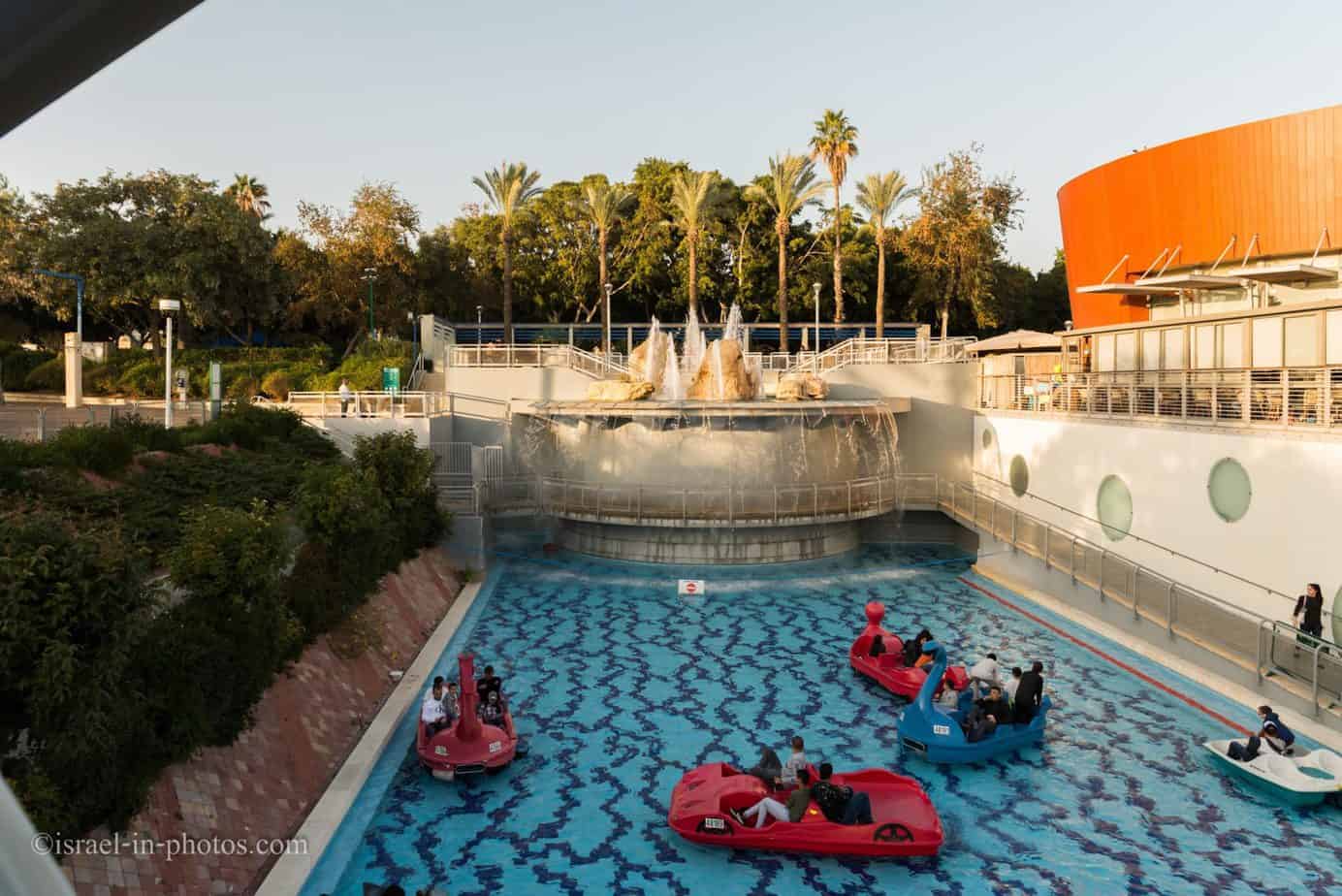 Summary
Park Peres in Holon offers various attractions for kids and adults as well. I would recommend combining several of them for a half day visit. For instance: the Israeli Children's Museum, a ride at the artificial lake, and lunch. Have fun!
Have you ever been to Park Peres in Holon? Tell us about your experience in the comments below.
That's all for today, and I'll see you in future travels!
Stay Tuned!

Additional Resources
Here are several resources that I created to help travelers:
And if you have any questions then check out Useful Information For Tourists To Israel.

Did not find what you were looking for? Email me at
[email protected]
, and I will do my best to answer your questions.