Jerusalem Botanical Gardens at Givat Ram has more than 7,000 species of different plants from around the world.
Note: I photographed the featured image at the gardens during the winter lights festival.
Map
Jerusalem Botanical Gardens is located not far from Israel Museum at Zalman Shne'ur Street 1, Jerusalem.
Directions for drivers: Link to Waze and Link to Google Maps
Directions for public transport: Link to Moovit
Interactive map of the area:
Offers:
Hotels, hostels, and apartments in this area:
You can find the map of the gardens here.
Note: there is extensive free dirt parking near the entrance to the botanical gardens.
Opening Hours
Sunday – Thursday: 09:00 – 19:00 (till 17:00 in winter).
Friday: 09:00 – 16:00 (till 15:00 in winter).
Saturday: 09:00 – 18:00 (till 17:00 in winter).
Opening hours of the tropical greenhouse:
Sunday: 10:00 – 13:00
Monday – Thursday: 10:00 – 15:30
Friday: 09:00 – 14:00
Saturday: 09:00 – 15:00
Entrance Fee
Adult – 40 NIS
Child (3 – 18) – 35 NIS
Student – 25 NIS
Note: there are discounts for Yerushalmi card owners.
Notes:
Opening hours and entrance fees were updated in February 2023. In any case, recheck the official site before visiting.
Opening hours and entrance fees during events will probably be different. For example, when I purchased tickets for the winter lights festival 2022, the price was 55 NIS per person.
Contact Information
Phone: 02-679-4012
Email: media@botanic.co.il
Website: botanic.co.il
Social media: Facebook page
About Botanical Gardens
Over 7,000 species and varieties of different plants from around the world can be found at the university botanical garden in Givat Ram, Jerusalem. This is the largest botanical garden in Israel, covering 150 dunams. The collection of living plants in the garden is the largest in the Middle East. It is spread across six geographical sections – Southern Africa, Europe, North America, Australia, Southwest and Central Asia, and the Mediterranean Sea. The garden plots simulate the flora of each region and display spectacular blooms throughout the year. In addition, there are a tropical greenhouse and a desert greenhouse in the garden, which create a space that simulates the specific type of climate in which plants grow in habitats of this kind in nature.
Source: official website
At Jerusalem Botanical Gardens
We visited the gardens several times in recent years. Here are several photos from a July visit: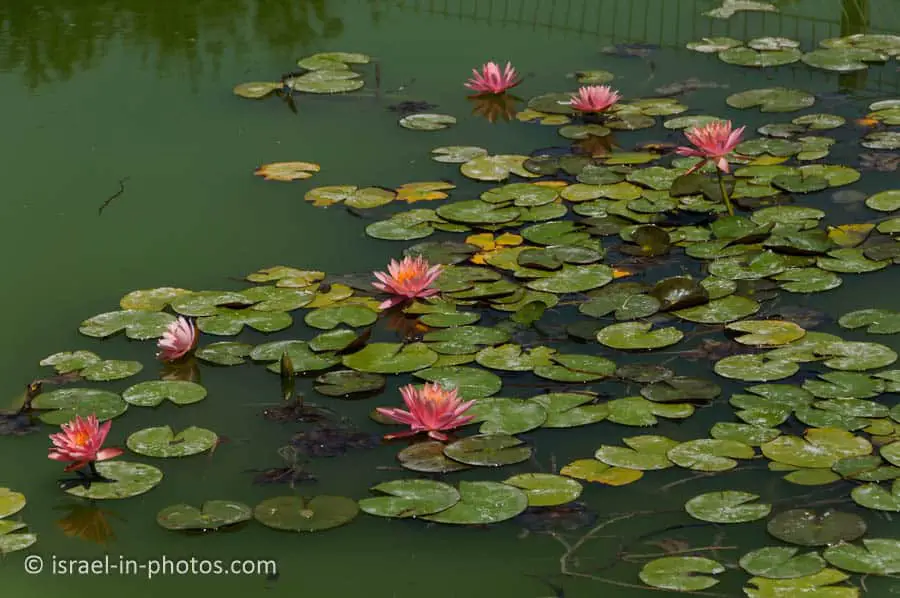 In the photo above, you can see a building near the pond. It is a branch of Caffit Kosher restaurant. They specialize primarily in pizzas and pasta.
Winter lights festival
In recent years, during the winter months, they have held the winter lights festival in the gardens. The festival takes place in the evening, usually from November to February. Hence it includes Hanukkah and Christmas. Thus some people call this festival a Hanukkah celebration.
We visited the winter lights festival in December of 2022, and the photos (and video) are from that occasion.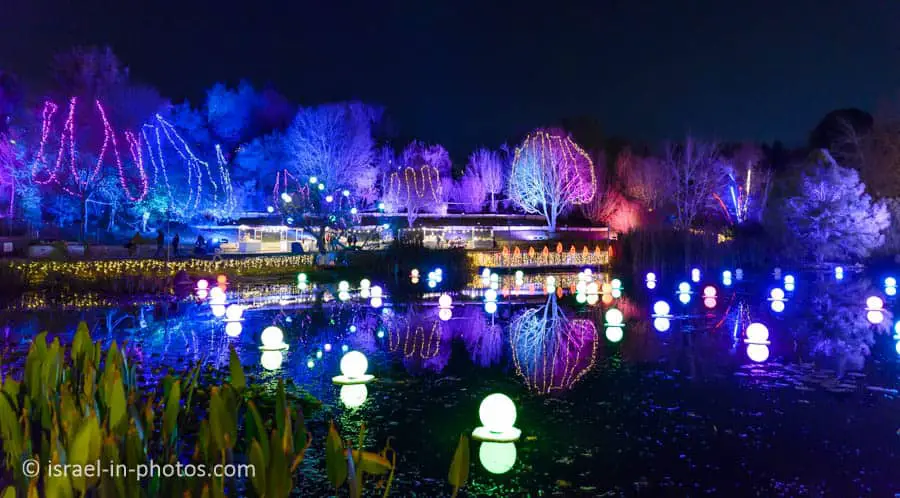 At the festival, we followed a path in the park. Along the way, there was illumination and music. The food stands offered only junk food (primarily sausages and chips). Thus, if you are not a fan, bring food. Also, there were only a handful of artists and art stands. However, it was a lovely family experience, and we enjoyed it. It took us about 1.5 hours to complete the marked trail.
Summary
If you love botanical gardens, then consider visiting Jerusalem Botanical Gardens. Our visits were always lovely and enjoyable.
Have you visited Jerusalem Botanical Gardens? Tell us about your experience in the comments below.
That's all for today, and I'll see you in future travels!
Stay Tuned!
Additional Resources
Here are several resources that I created to help travelers:
And if you have any questions then check out
Useful Information For Tourists To Israel
.  
Did not find what you were looking for? Leave a comment below, and I will do my best to answer your questions.