Bethlehem Of Galilee guide starts by visiting this Moshav, and then we will go over different attractions in this area. Let's begin!
Map
Bethlehem Of Galilee, as its name suggests, is situated in the Galilee area. About ten kilometers from Nazareth and 30 kilometers east of Haifa.
Map of the area:
Bethlehem Of Galilee
Basic Info
Bethlehem of Galilee is a moshav in northern Israel. Located in the Galilee near Kiryat Tivon, around 10 kilometers north-west of Nazareth and 30 kilometers east of Haifa, it falls under the jurisdiction of the Jezreel Valley Regional Council. In 2016 it had a population of 788.

The modern moshav is located at the site of the ancient Israelite settlement known as Bethlehem of Zebulun or Bethlehem Zoria. The town existed as a Christian settlement in the classic era and was populated during the Middle Ages. It was reestablished as a Templer Bet Lam colony in the 19th century and turned into Jewish moshav in 1948.
Source: Wikipedia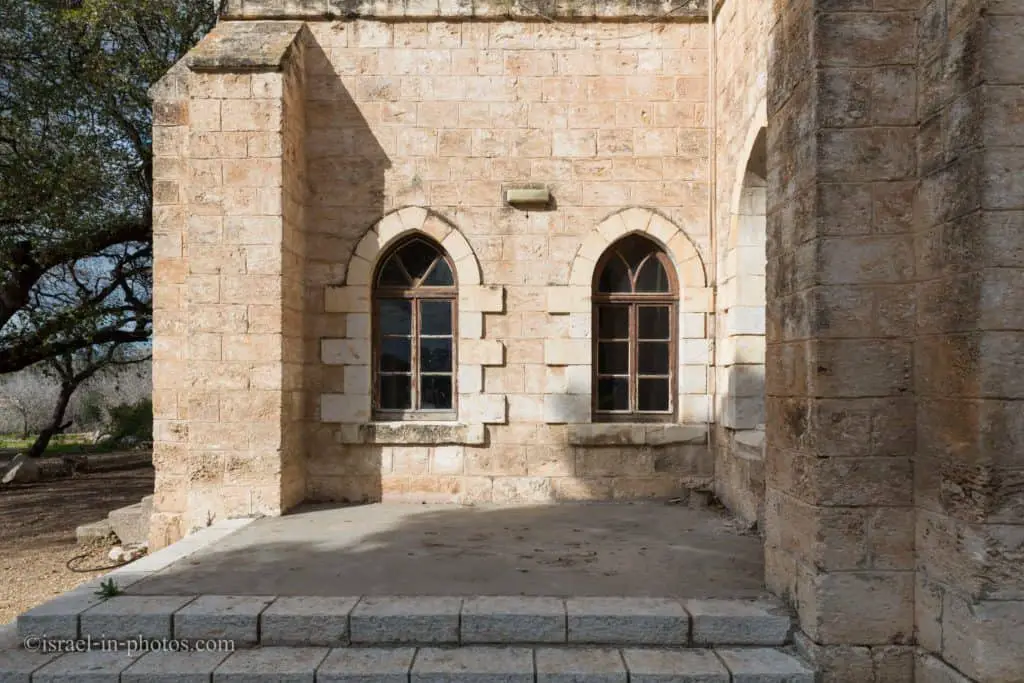 Much of the original Templer architecture survives and is similar in style to the homes built by the Templars in other parts of the country, such as Sarona in Tel Aviv and the German colonies of Haifa and Jerusalem.

In recent years, tourism has replaced agriculture as the main economic branch. A dairy, a herb farm, restaurants, and country-style accommodation are among the tourist-oriented businesses in the village today.
Source: Wikipedia
Walking in the Moshav
Bethlehem of Galilee is a small moshav. We drove along the main road (you continue straight from the entrance) till we saw a prominent parking place. We left the car there and started walking.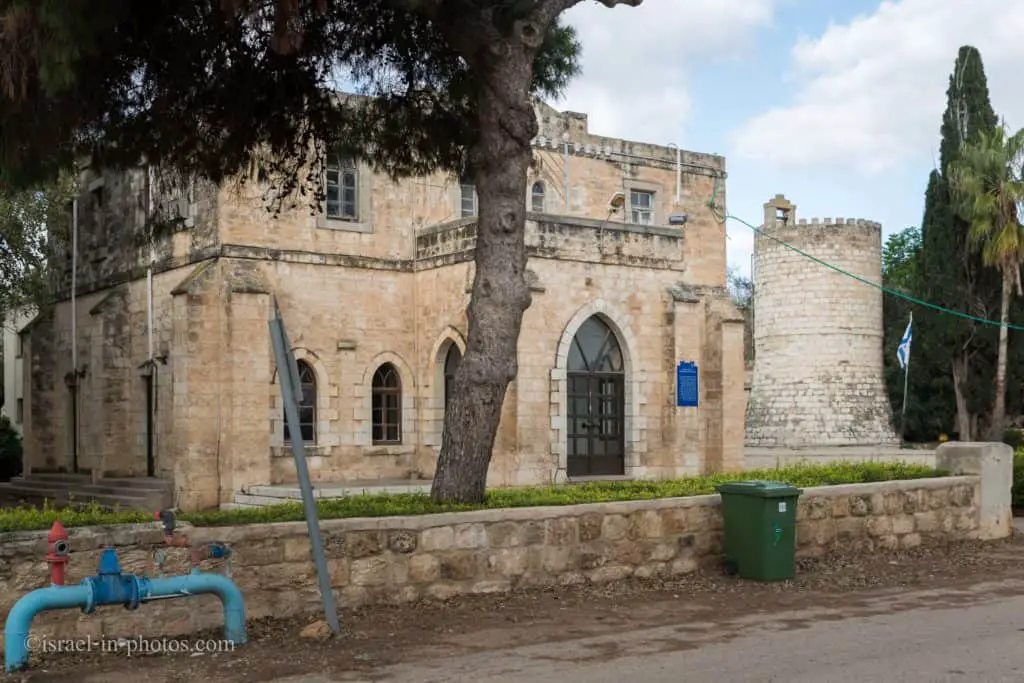 All Templer buildings were converted to residential houses. All except this one: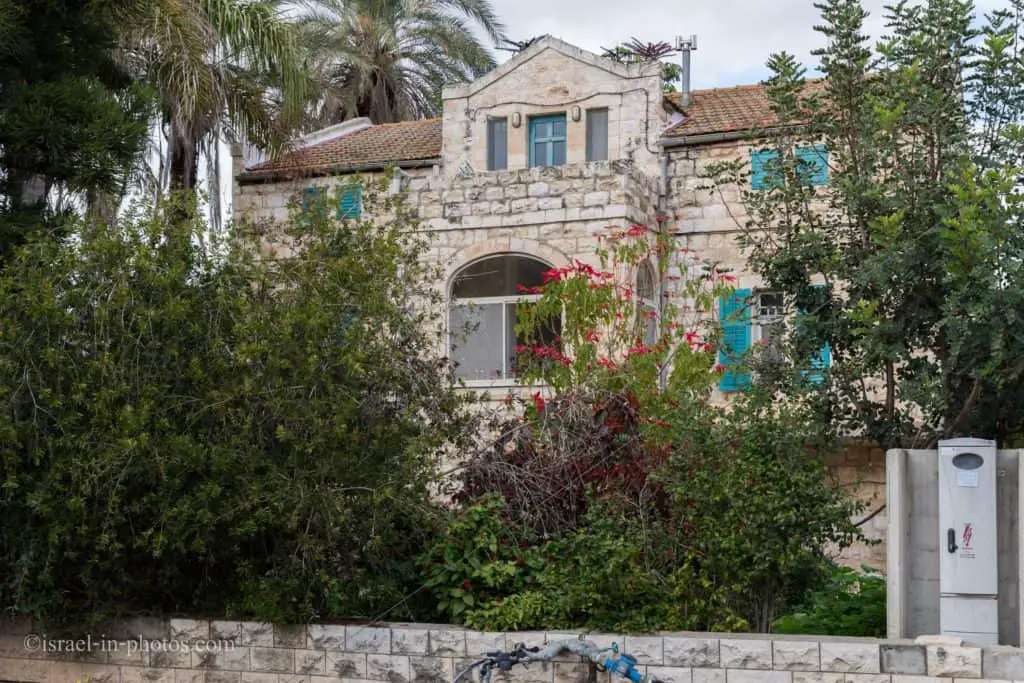 And here are some other buildings: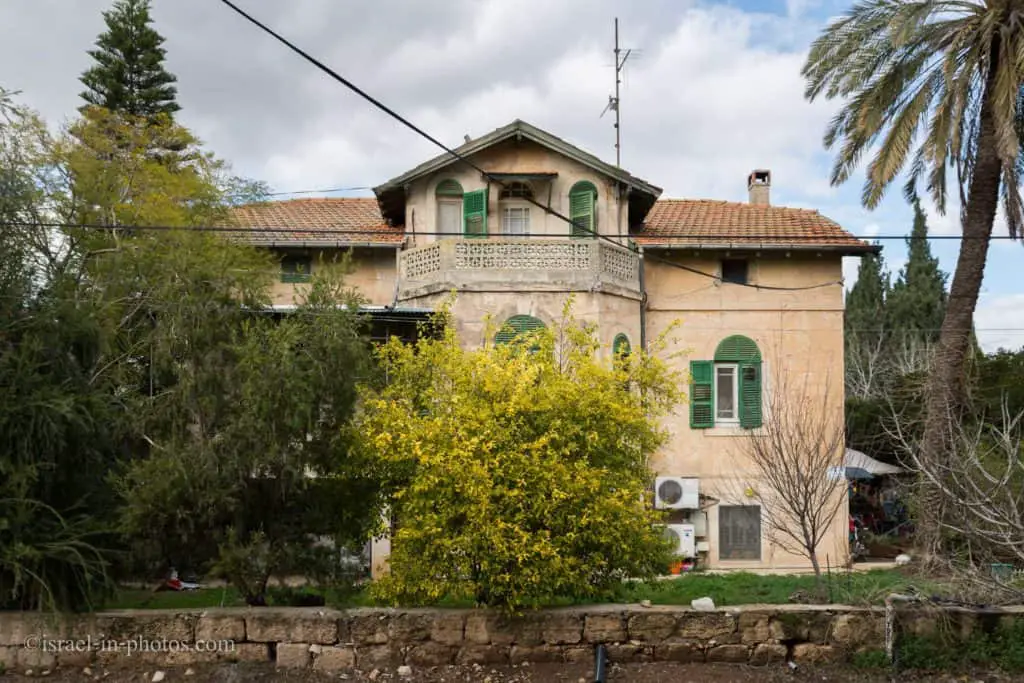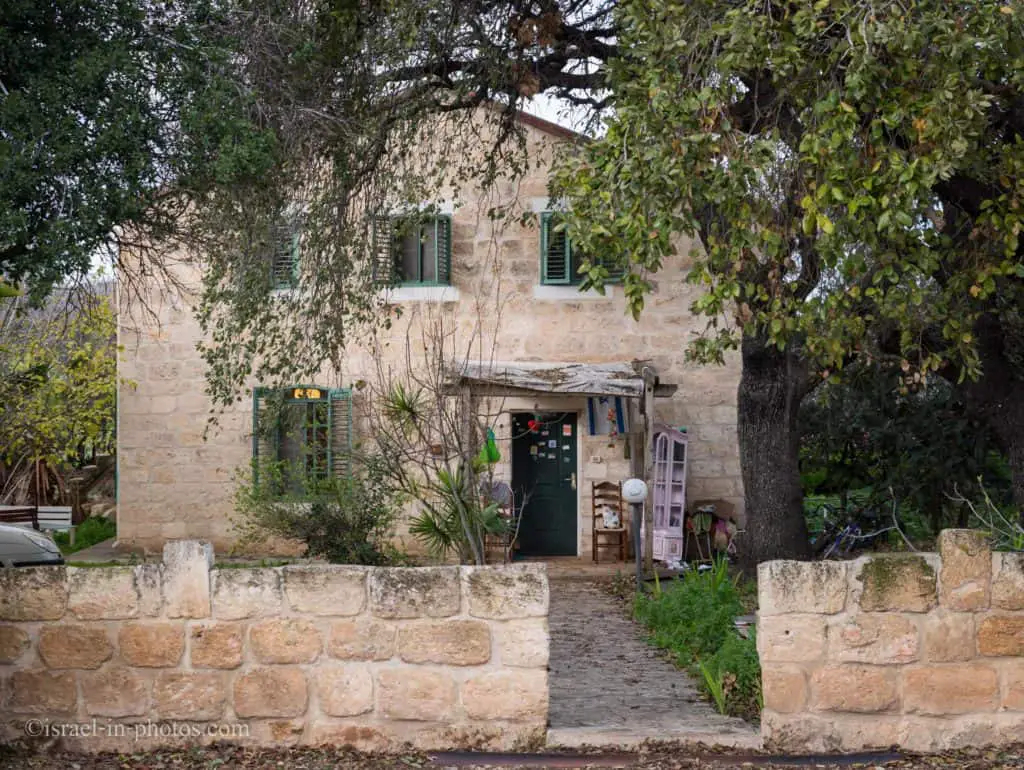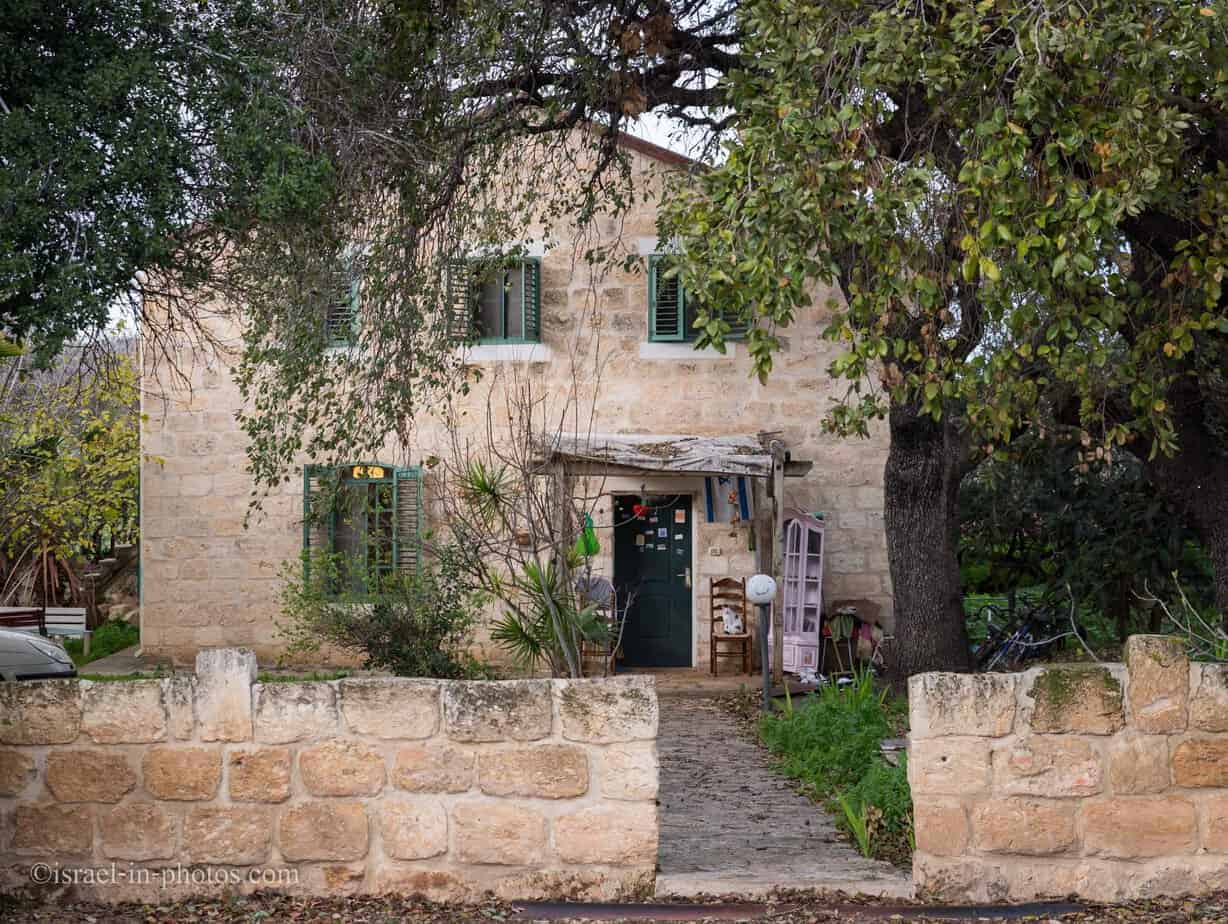 We walked along the street till the end, and there is a turn left (to the north). We continued walking along that road and reached Shvil Parot HaChalav.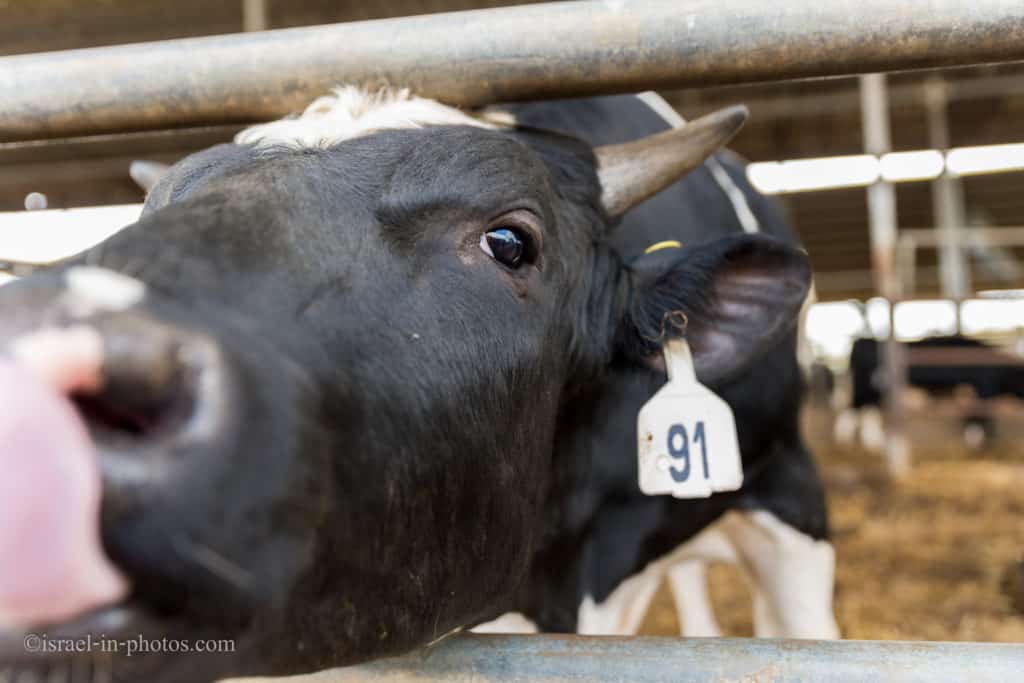 And since we reached one of the more popular attractions in Bethlehem Of Galilee, this is what we are going to discuss now.
Regarding Bethlehem Of Galilee, the moshav is quite small, and I cannot say it is a touristic spot. There is only one explanation sign, and almost all the houses are residential. Thus I would not drive there only to see the homes. But, if you are already there, then you can do a short stroll.
Attractions at Bethlehem Of Galilee
From September till November, you can join olive harvesting tours. And if you would like to know more, then check out Harvesting Olives At Galili Olive Oil.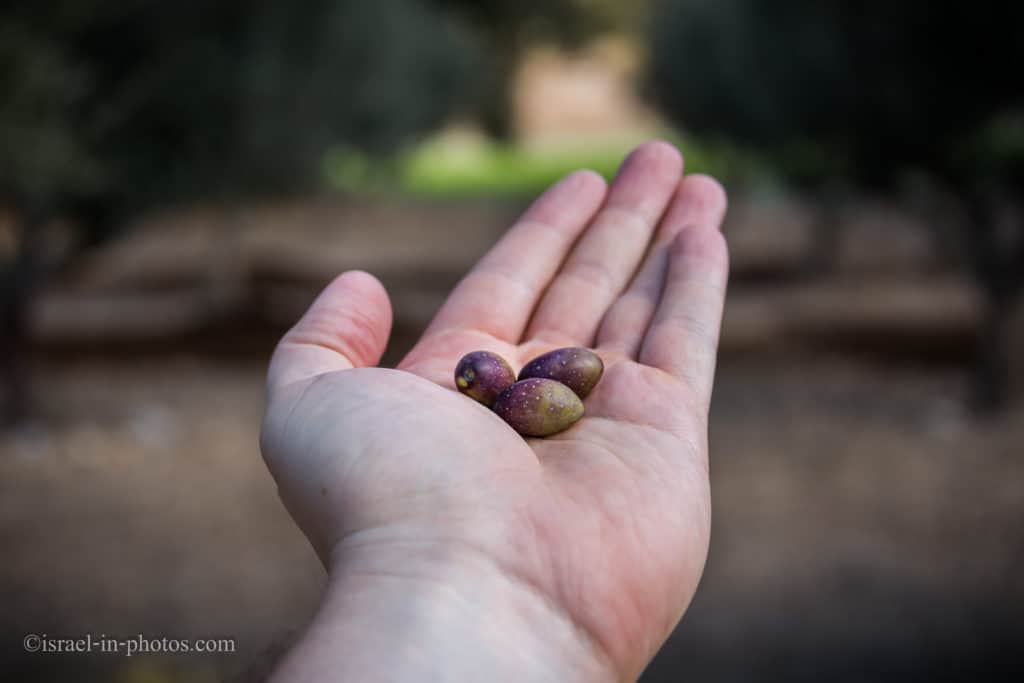 Ktofoti – Self-Picking In Bethlehem Of Galilee
Ktofoti is a self-picking farm in Bethlehem Of Galilee. And if you want to visit it, then check out my guide about Ktofoti.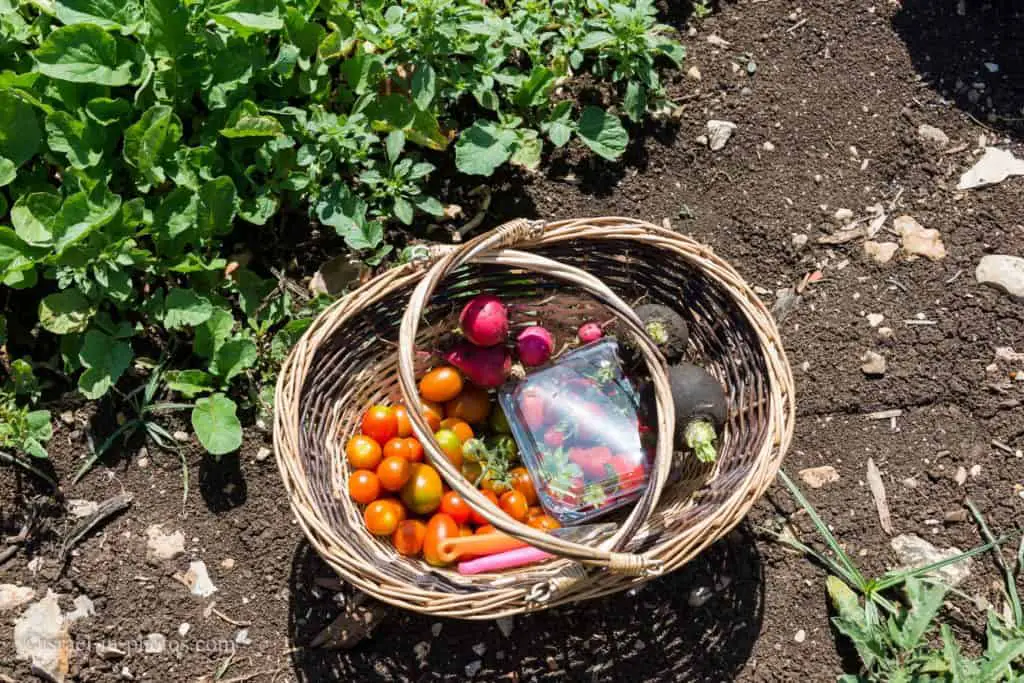 Derech Hatavlinim at Beit Lehem Haglilit
Basic Info
Derech Hatavlinim is located near Beit Lehem Haglilit (official site). The owners, Zithershpieler family, has been growing herbs and spices for more than 50 years.
Today near the fields you can find a big store. The store has a big assortment of herbs, spices, and teas. There are also some cookware and knives. And recently a small eating place was opened on site.
The farm grows, dries and blends spices and herbs, and also, allows the general public to buy products in its substantial open market. The farm's owner, Avi Zitherspieler has worked in herb/spice agriculture since childhood. Both Avi and his family, have been accumulating knowledge and experience for many years, making the quest for a new way of life a family mission. Avi, an herbalist, strives to share his knowledge with the public and personally conducts lectures and workshops.

Groups visiting the farm can enjoy a lecture regarding the numerous uses of spices, and an endless supply of ideas designed to change their lives using spices.

Derech Hatavlinim offers over 1000 different products including dried spices, herbs, herb and spice blends and mixtures for cooking, natural dried fruit, and healthy blends and infusions, which are all displayed and sold in the market in which you can enjoy their enticing aroma and taste.
Source: all quotes unless stated otherwise were taken from relevant official sites.
At The Farm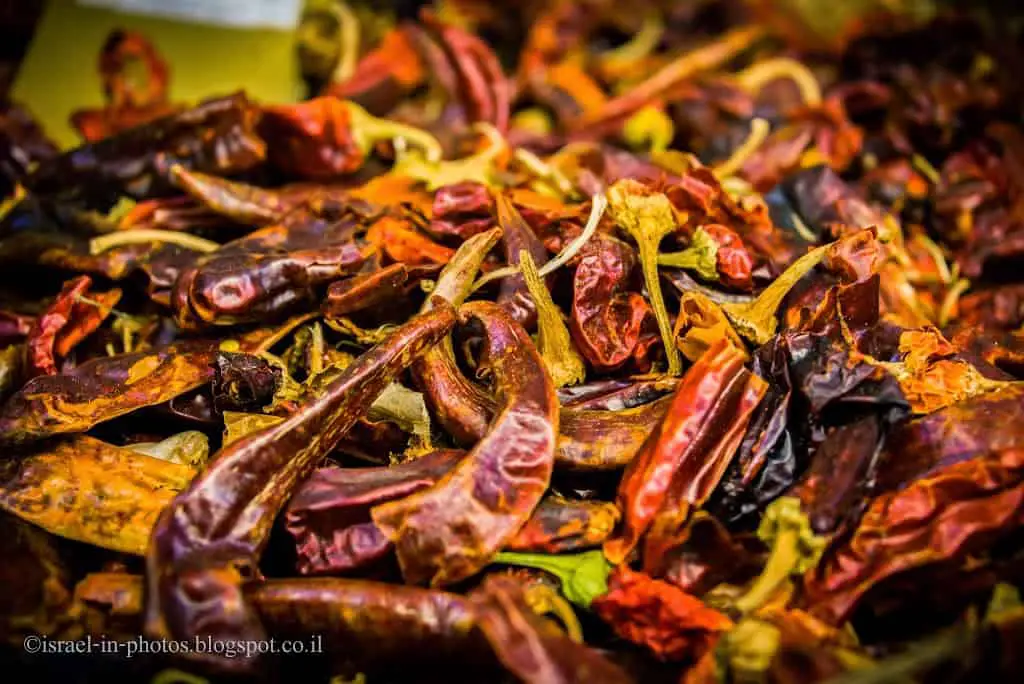 Whenever we in the area, my wife drags me there. But what can I say, I love their smoked sweet paprika. It combines well with meat.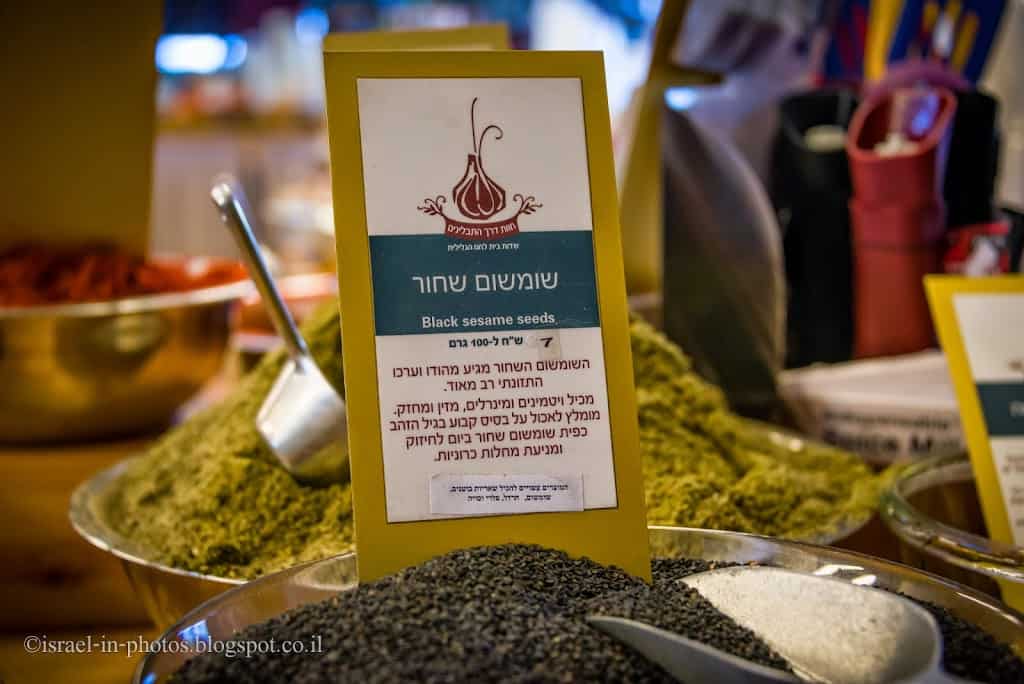 When you enter Derech Hatavlinim store, you take a basket, a marker and a stack of plastic boxes. The boxes come in two sizes: the bigger ones (about 500 ml) and smaller ones (about 250 ml). When you find the spice you like, you fill one of the plastic boxes and using the marker write the name of the spice (and maybe preparation instructions for yourself).
Black sesame seeds: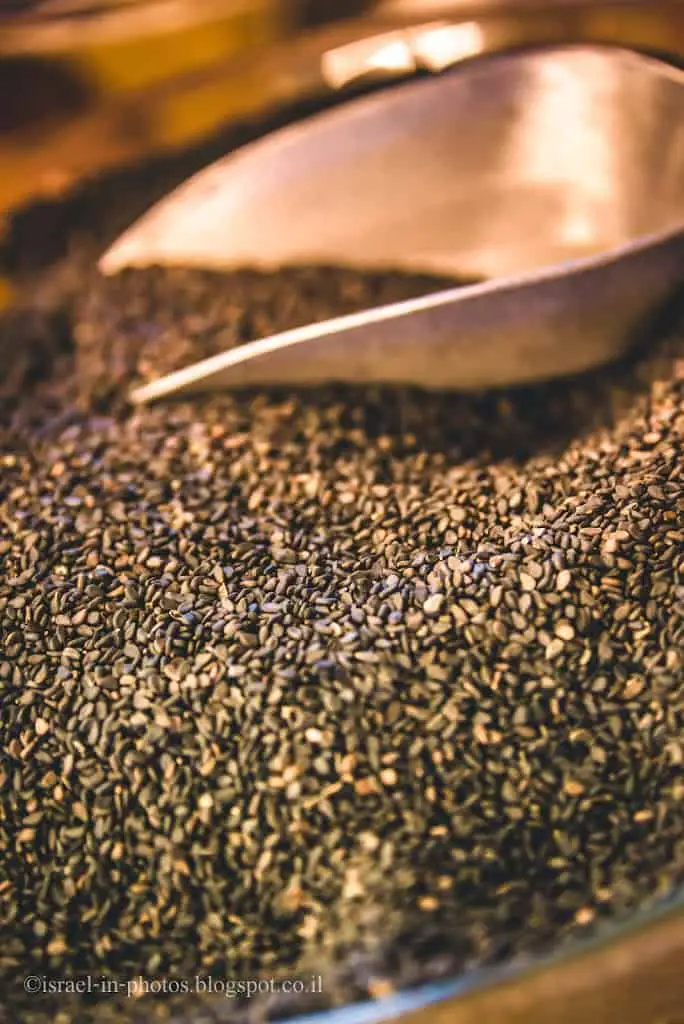 Spices: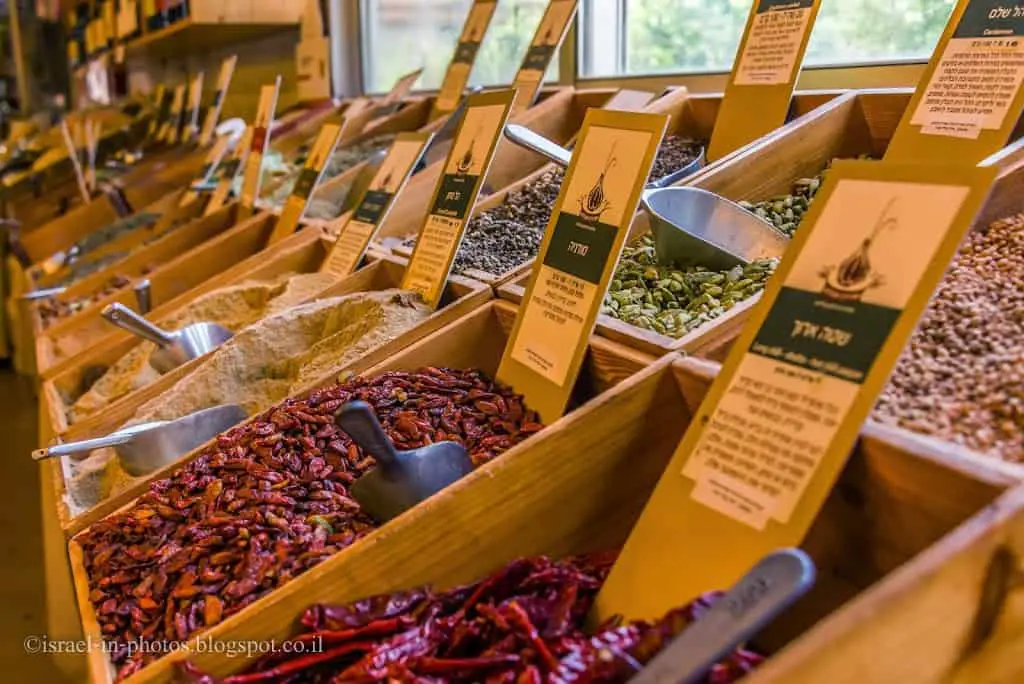 A row of different spice combinations to be added to rice:
This is the row of various green teas: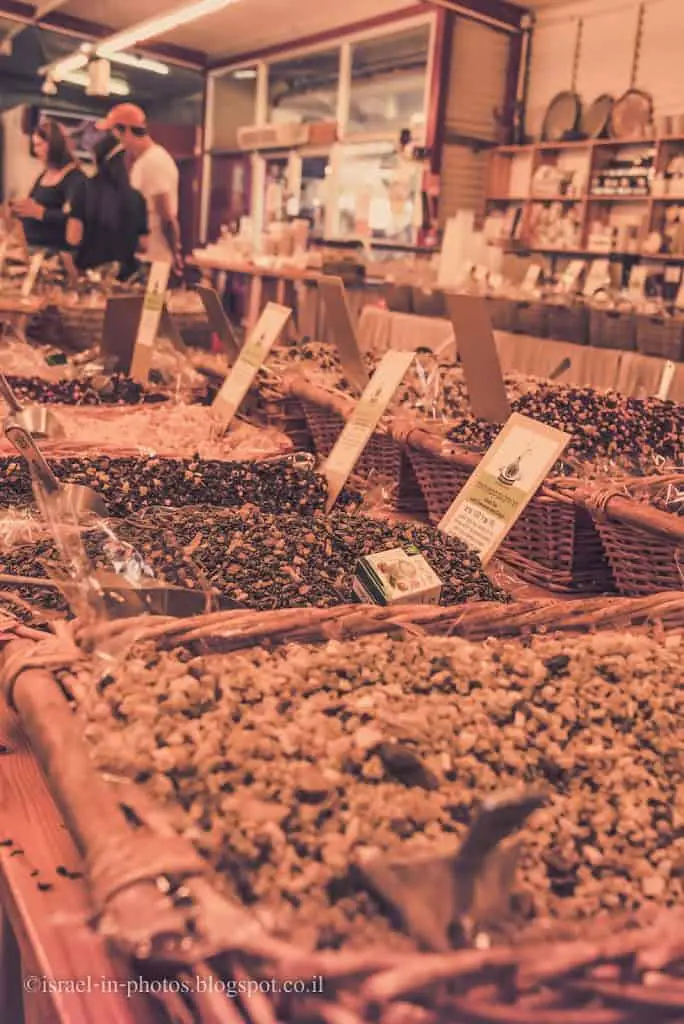 Wine: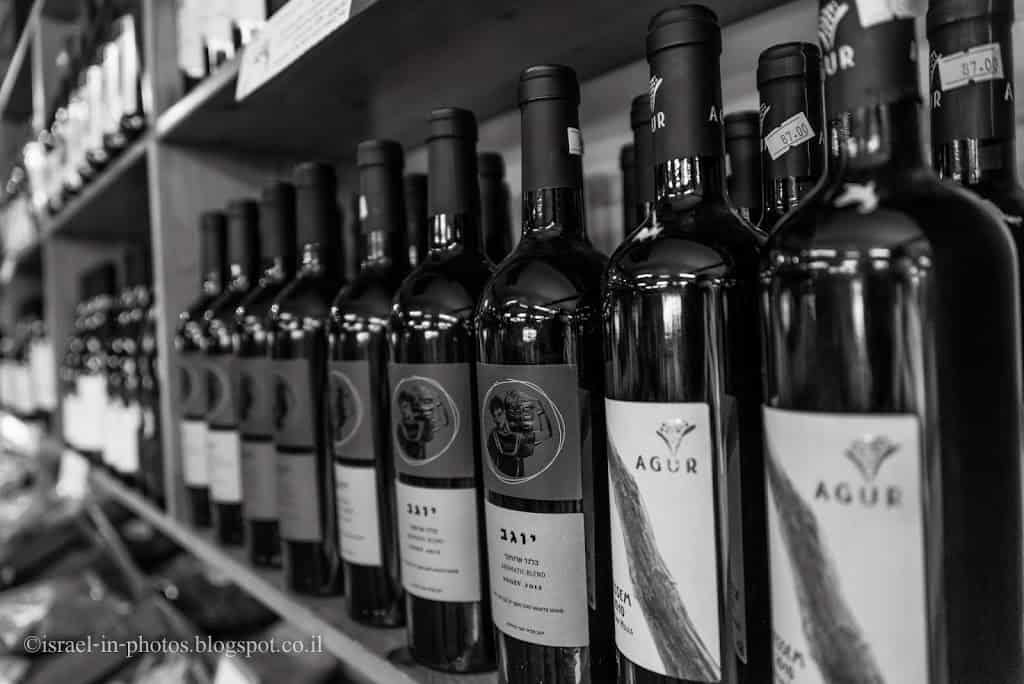 That is quite a new machine (have not seen it on our previous visit). It makes tahini. The image below consists of five different photos describing the process. In the beginning, they are filling the upper tank with sesame seeds. Then the machine is turned on, and it starts grinding the seeds (by the rotating top wheel). The result is poured slowly into a container.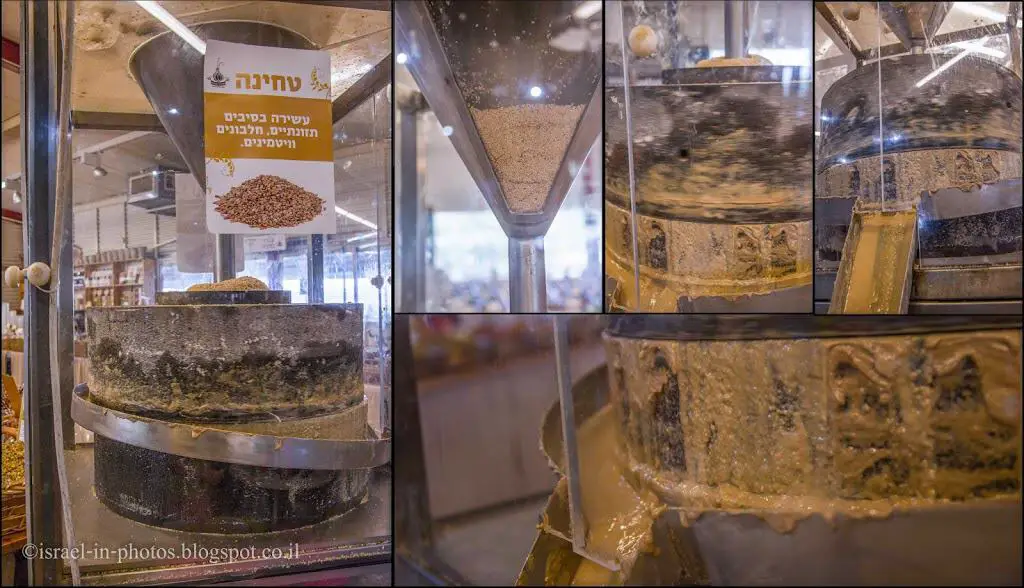 There are one time spoons, and you can taste the result. I did, and as expected it was sour and "heavy." That is what Israeli call: "raw tahini." You never eat it as is (well rarely, probably beside some health fanatics) but always add something to it. When preparing halva, for example, they are adding other ingredients like sugar/honey and nuts.
Different green teas mixes: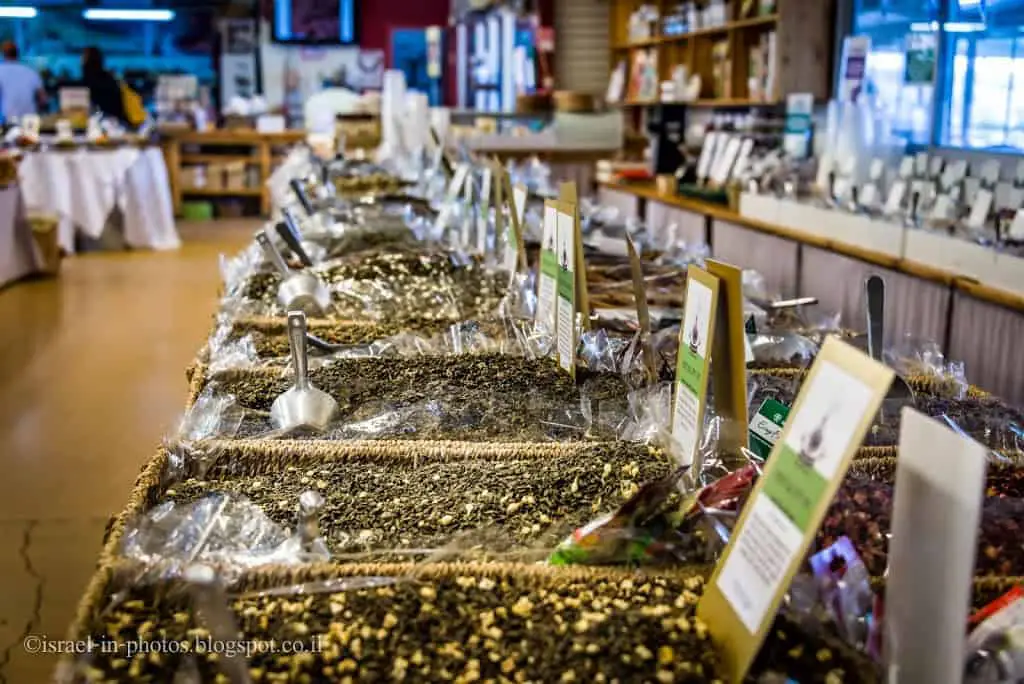 Storage boxes: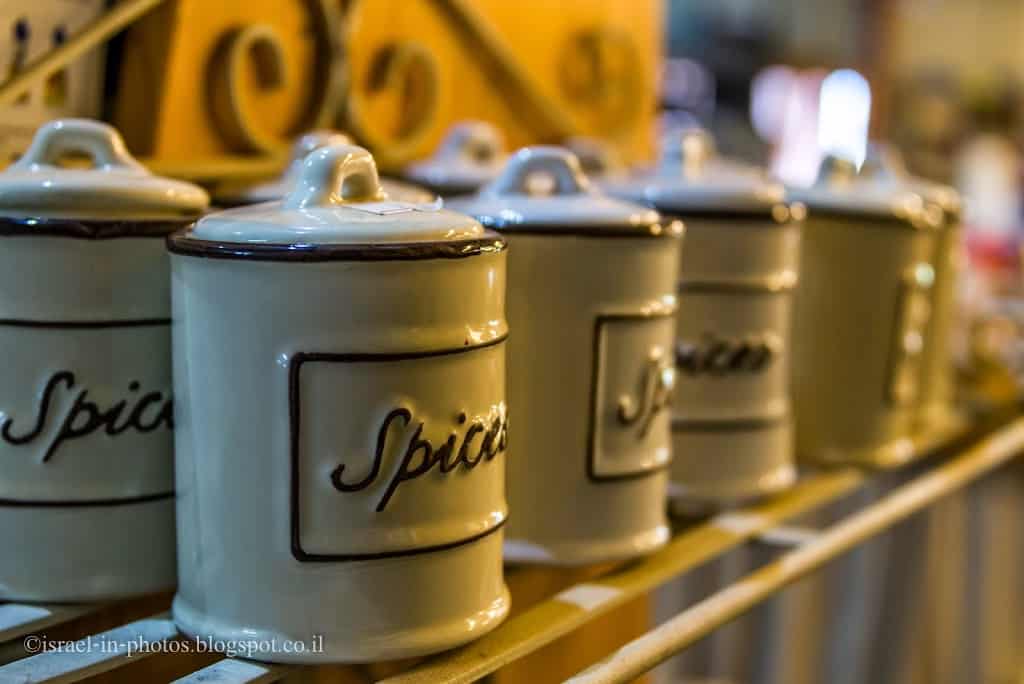 Most of the year there is only the store, but sometimes on holidays, they offer additional activities (mostly tours), as the annual paprika festival.
We joined several times short tours. Usually, they take you out into the fields and tell about different spices and their usage and healing capabilities. Nice free half-hour tours. Here is Lavender that I shot during one of the journeys.
And this is a Mandarin orange tree in front of the store.
Derech Hatavlinim – Summary
If you love spices, herbs or teas then this is the place for you. They have a wide variety of products (with recipes) in one place. Otherwise, wait for holidays (there are usually tours and activities on holidays) or combine it with nearby attractions.
Hike At Alonei Abba Nature Reserve
Alonei Abba Nature Reserve is located next to Alonei Abba (which means Abba's Oaks in Hebrew). It is a small village near Bethlehem Of Galilee.
We visited Alonei Abba Nature Reserve during February, which is the perfect time to see the blooming flowers.
Adjacent to the Nature Reserve there is free parking, and when we started the hike we saw this sign: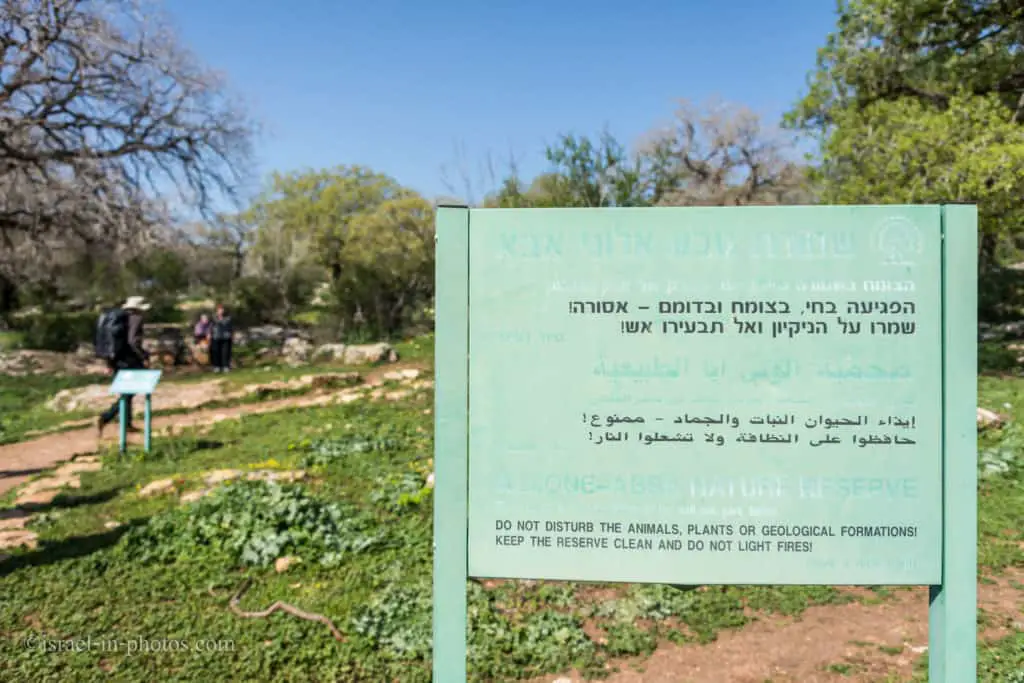 The Nature Reserve and the village are called Abba's Oaks. Who was Abba?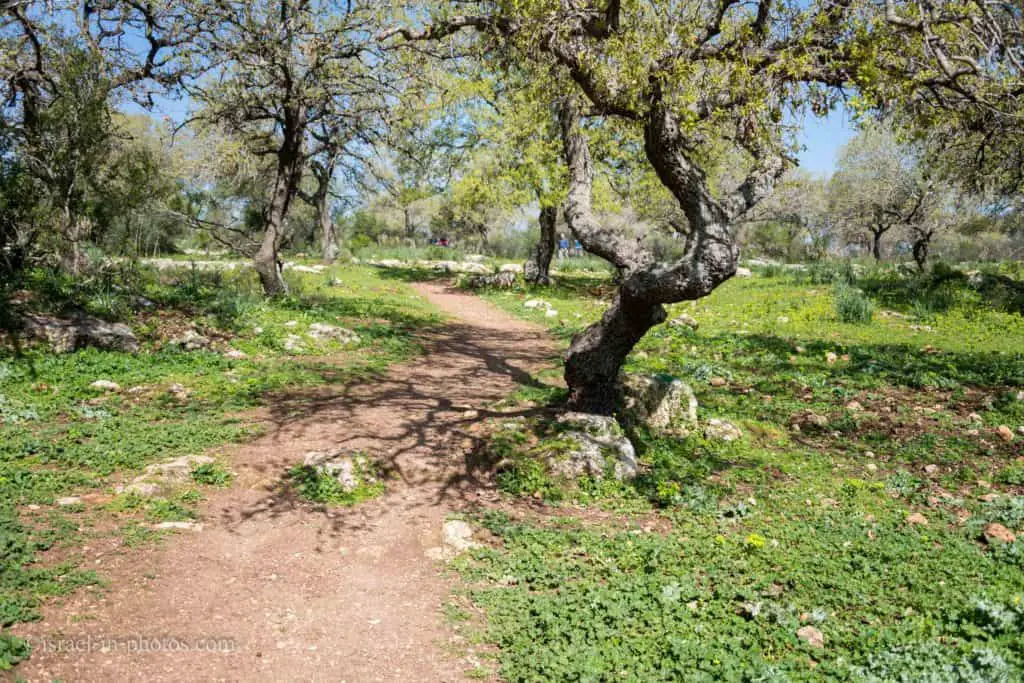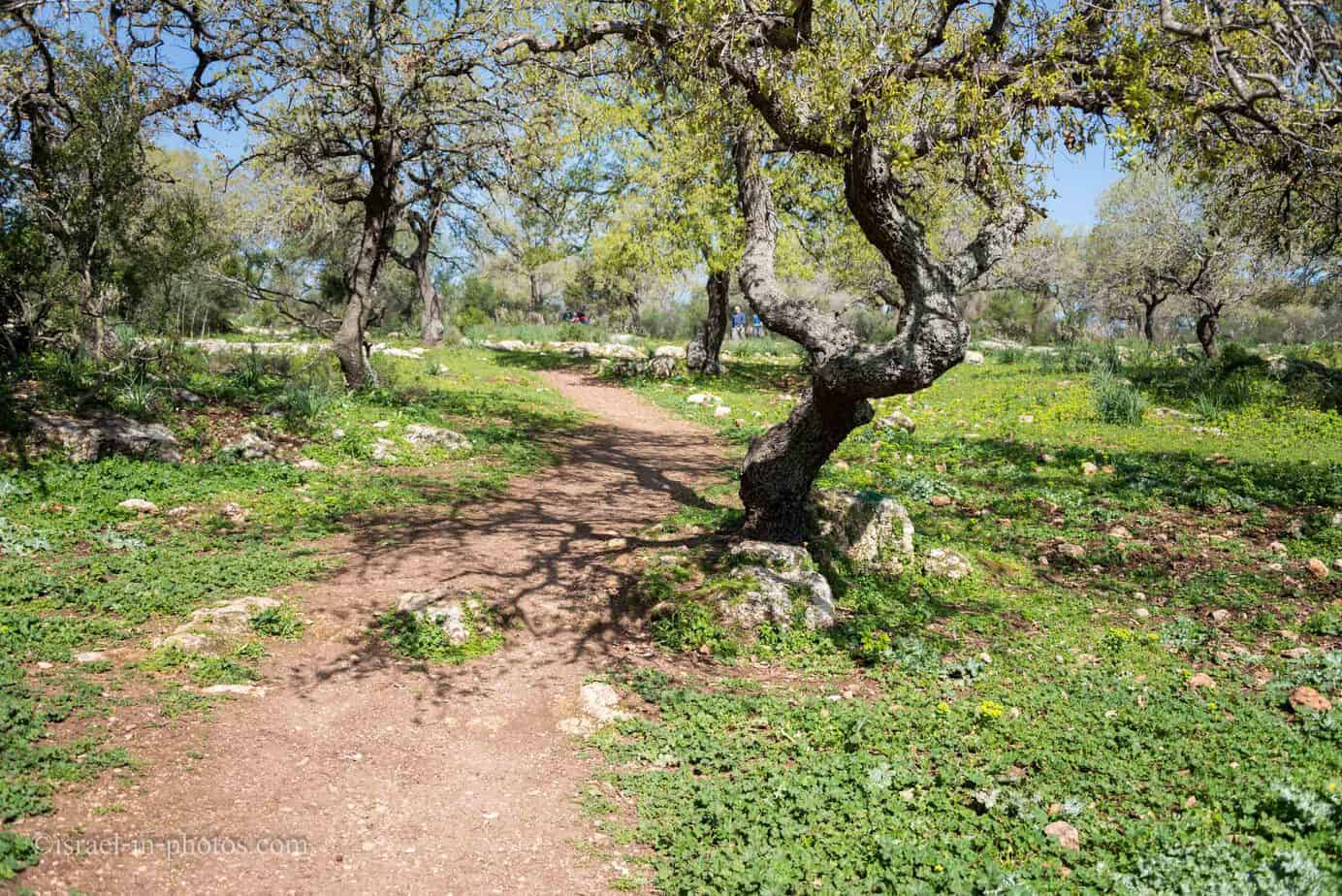 Abba Berdichev was one of the seven paratroopers that were captured and executed by the Germans during the Second World War.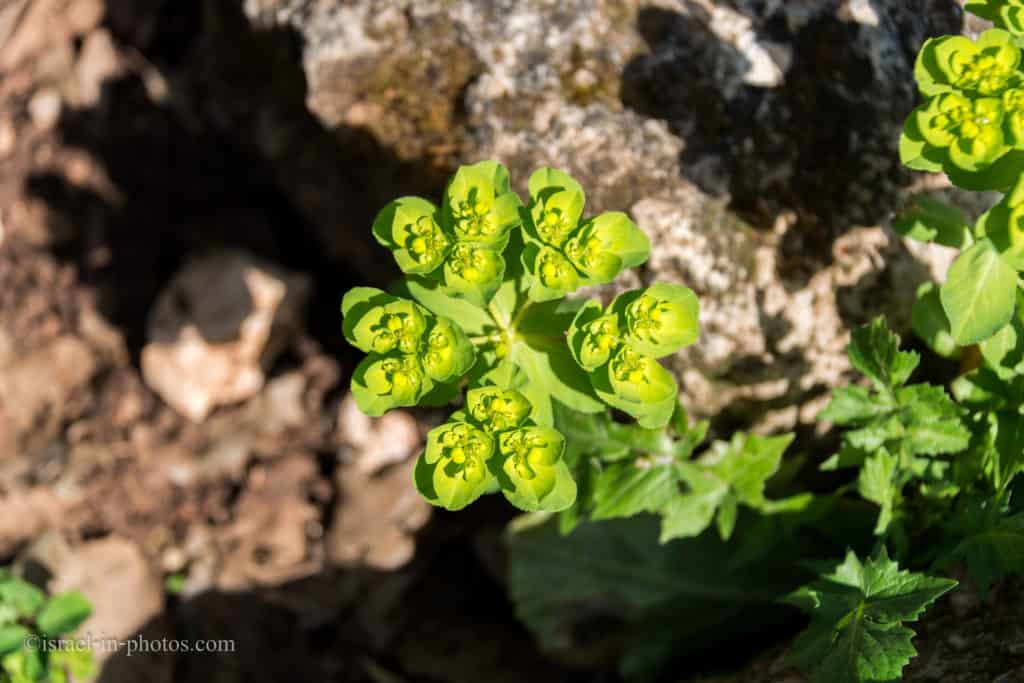 In 1994, a 950-dunam nature reserve was declared close by, to the north. The reserve is home to Valonia oak trees (Quercus macrolepis) and Palestine Oak (Quercus calliprinos). Other flora in the forest includes Pistacia palaestina, Styrax officinalis, Carob, Rhamnus palaestinus, and Judas trees. Most of the reserve is open for experimental grazing by cattle from the moshav.
Source: Wikipedia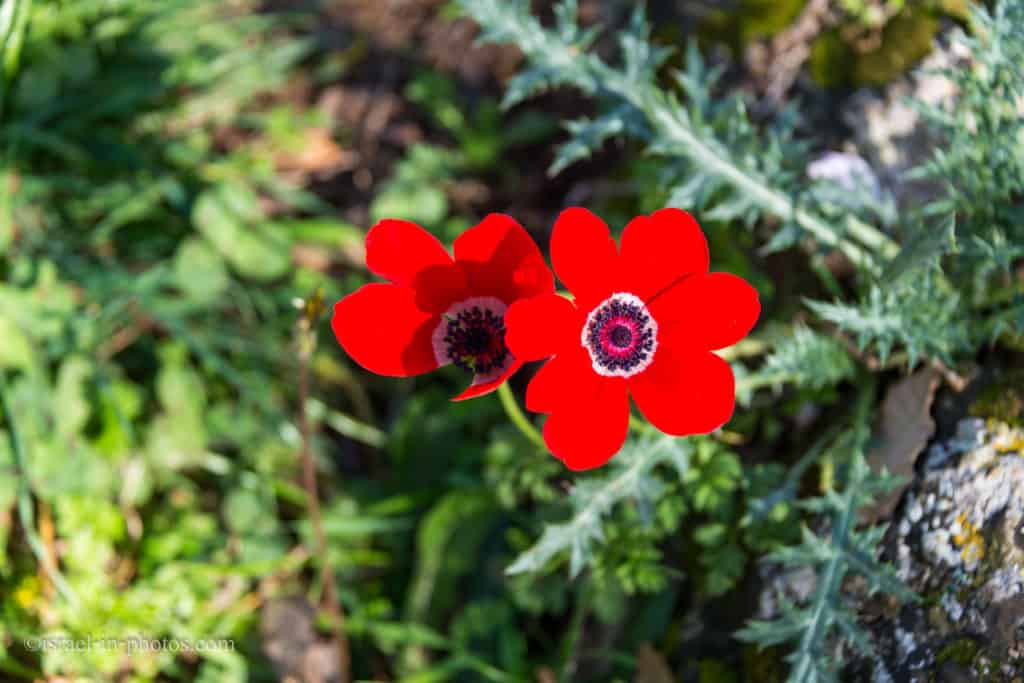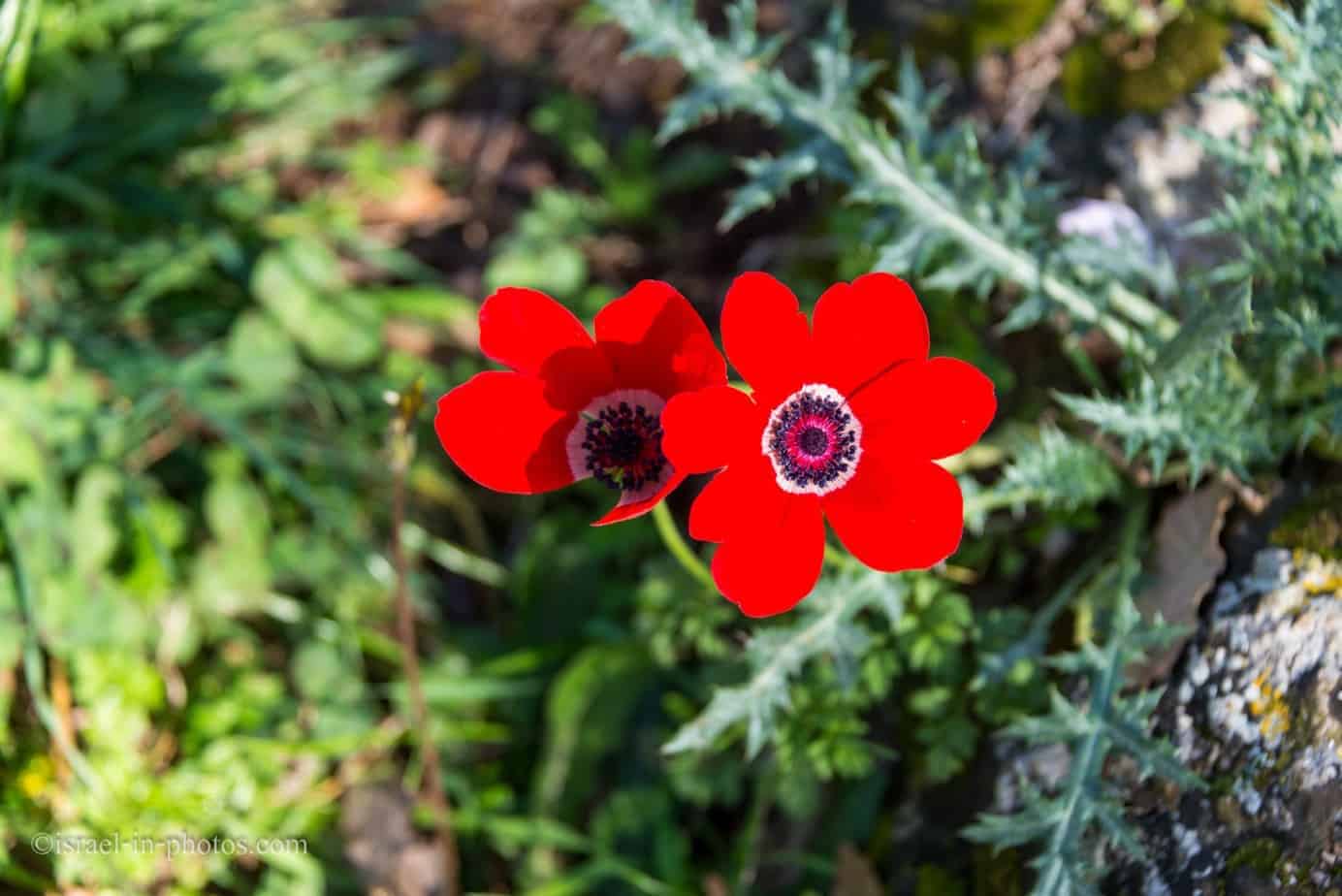 Anemones: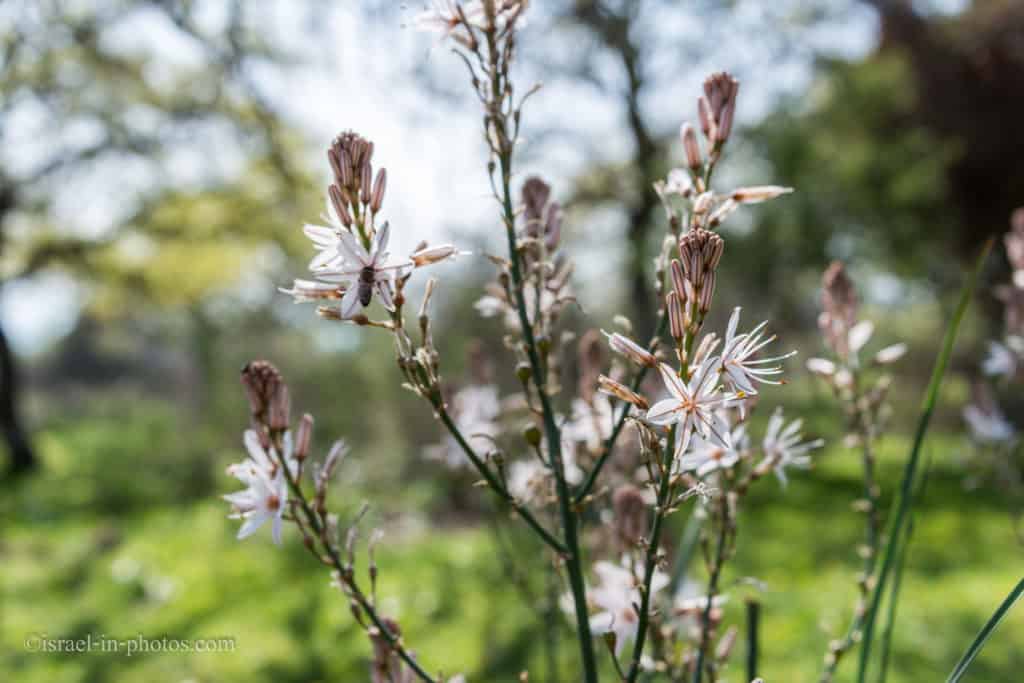 From what I read in the net, Alonei Abba Nature Reserve is remains of a big forest (from Nazareth mountains till Caesarea). Most of the trees were cut down by the Ottoman forces during the First World War. The trees were used as fuel for trains. This little forest remained only due to the Templar's (from Bethlehem of Galilee) objections.
Old oak: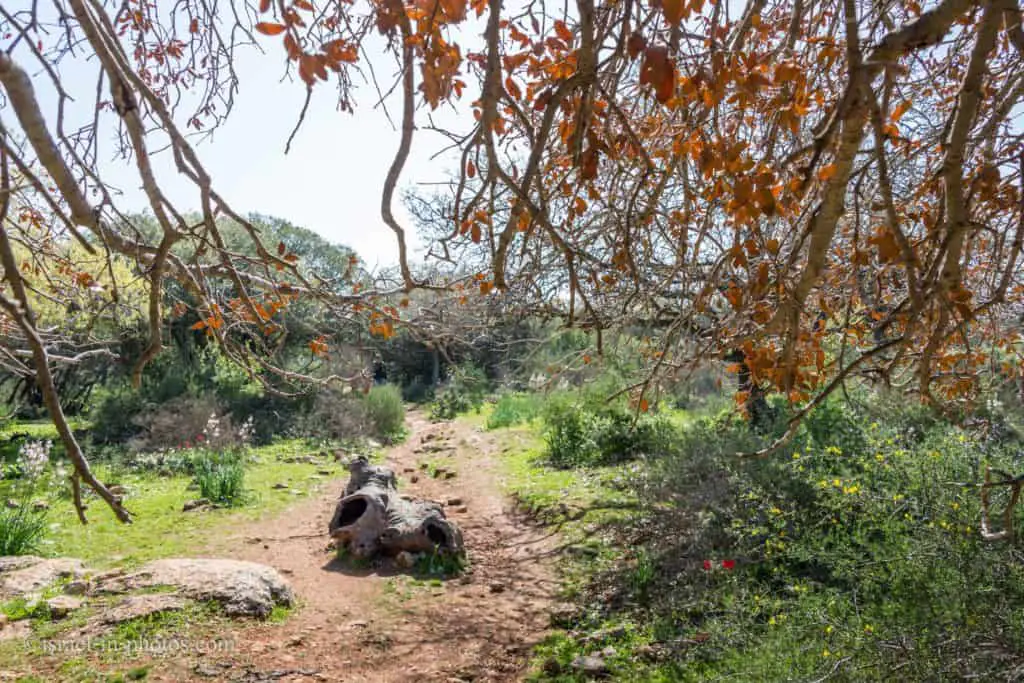 From what I heard there are two trails. One is about 2-3 round one and the second is a straight one. Meaning you go till you reach Basmat Tab'un (Bedouin town) and then turn back. As it turned out, we did the second route.
Cyclamens: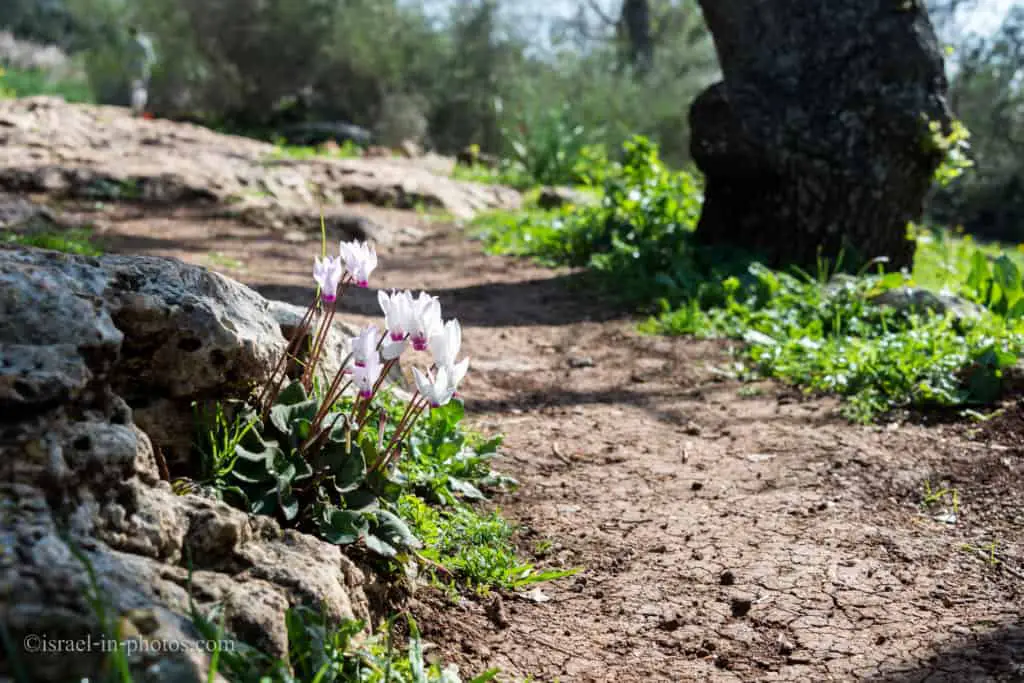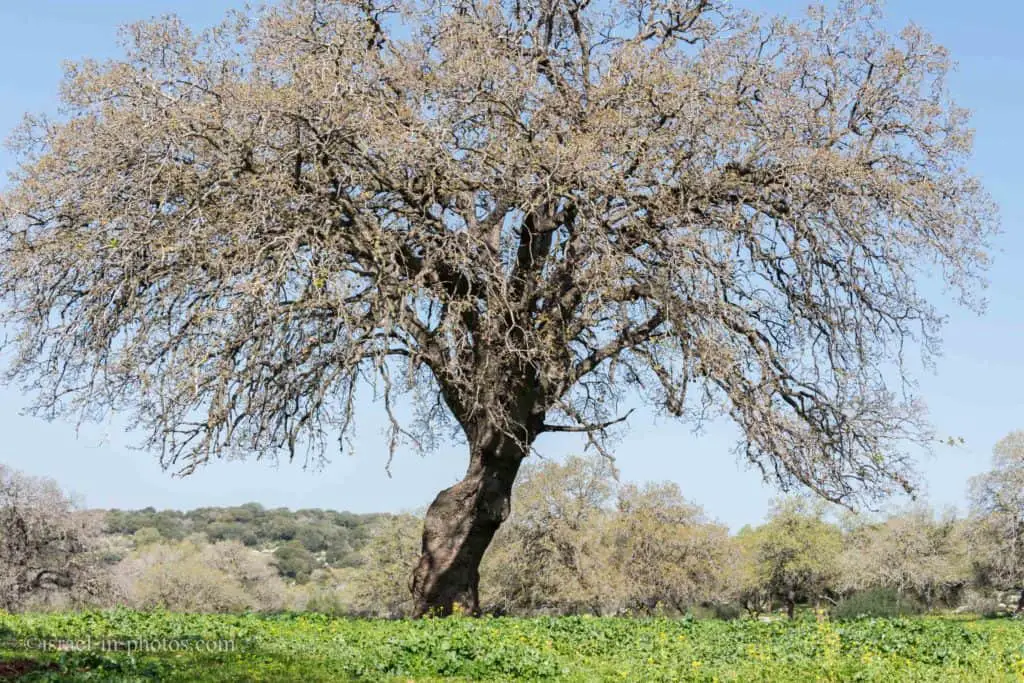 White Anemone: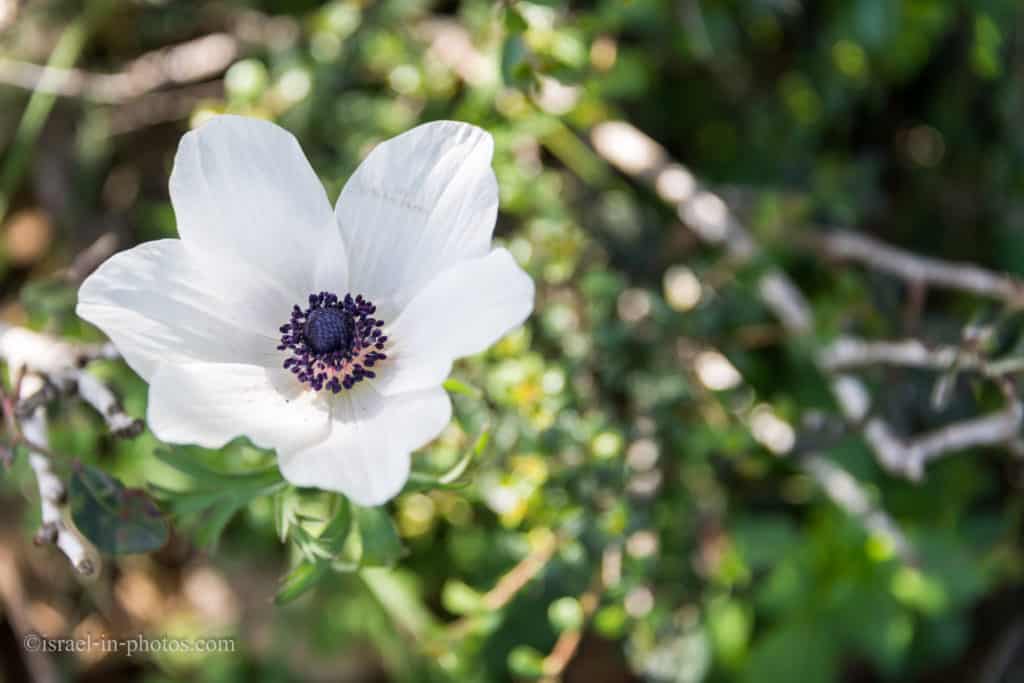 New leaves: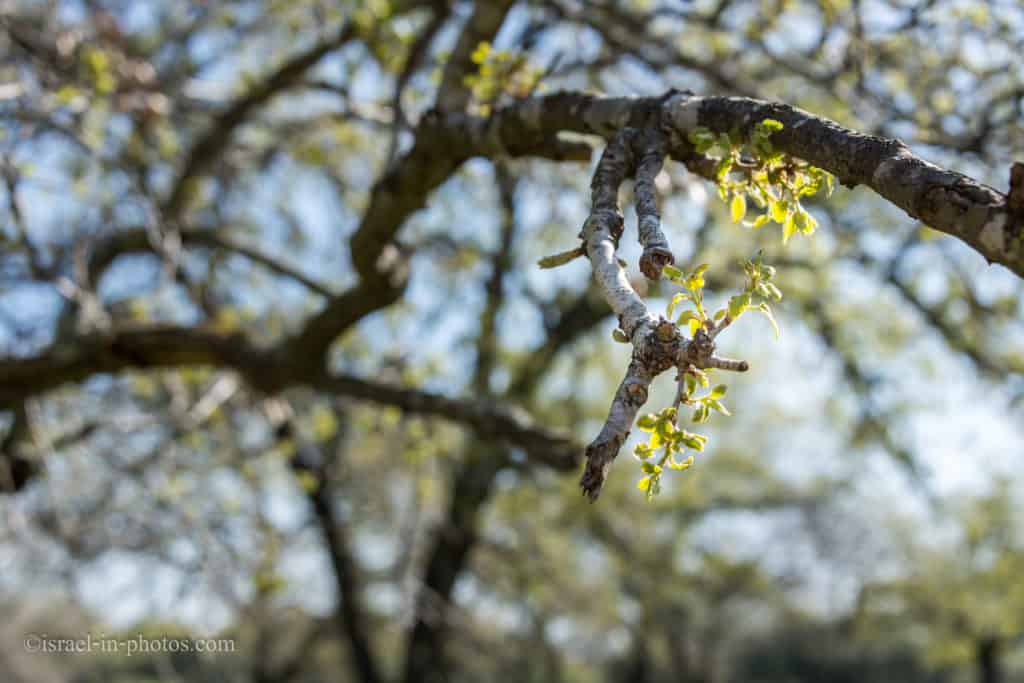 That is how the trail looks: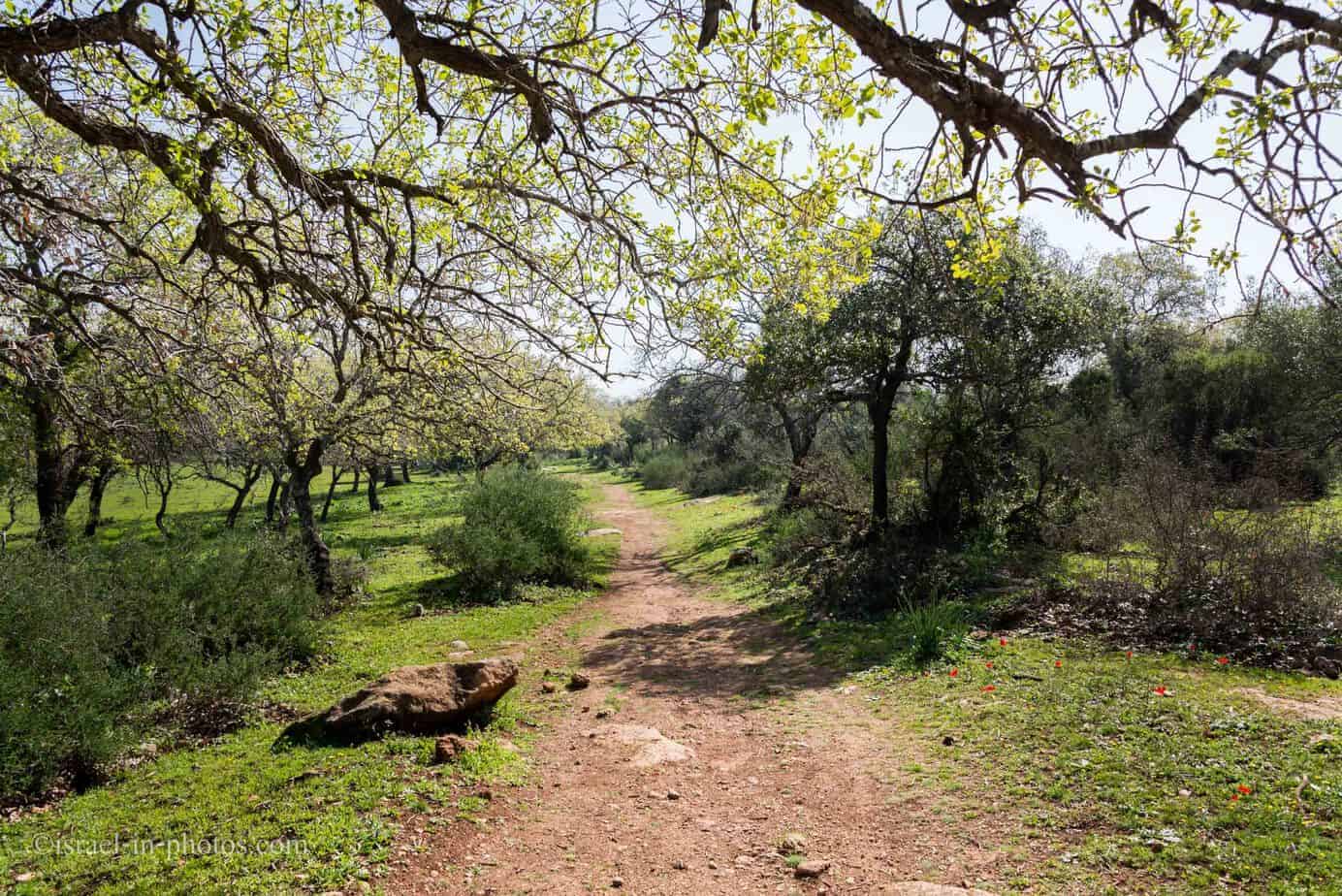 Several photos of Anemones: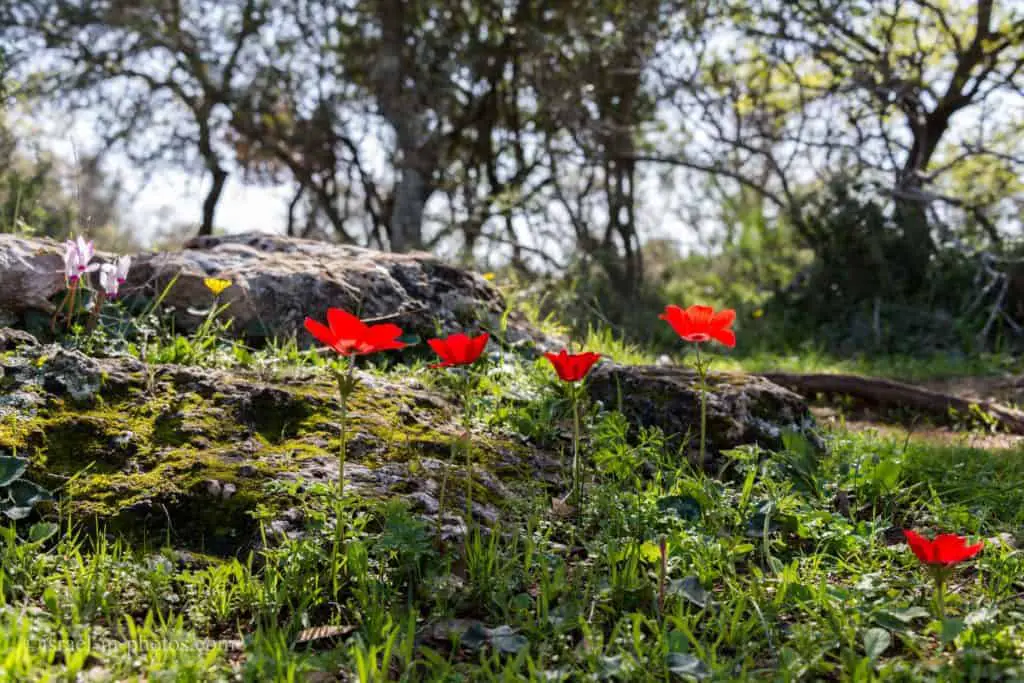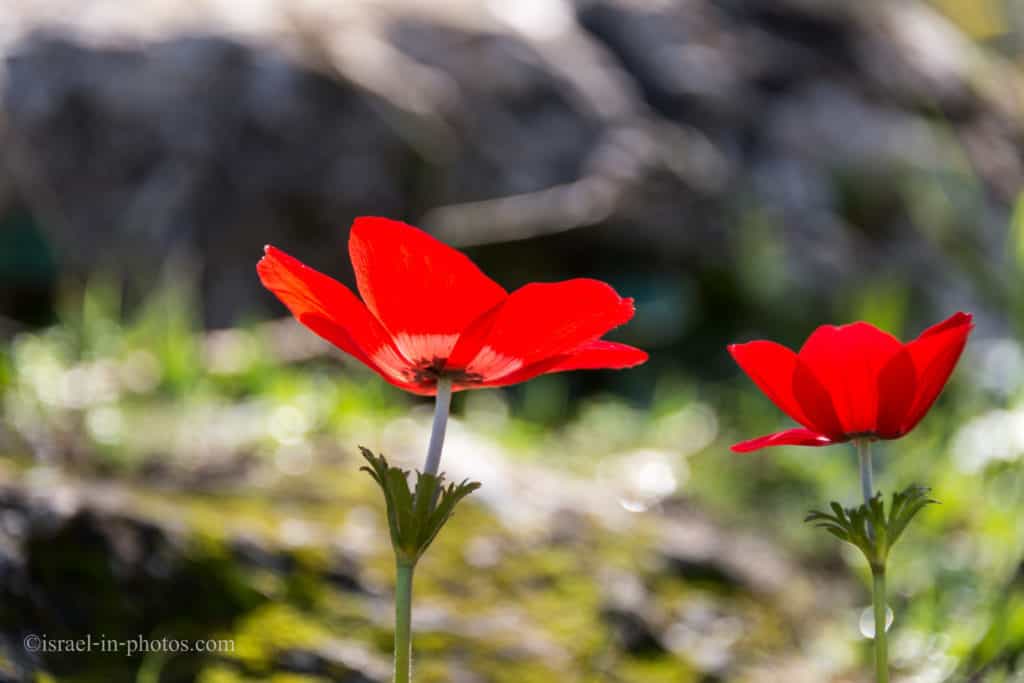 Oaks and the sky: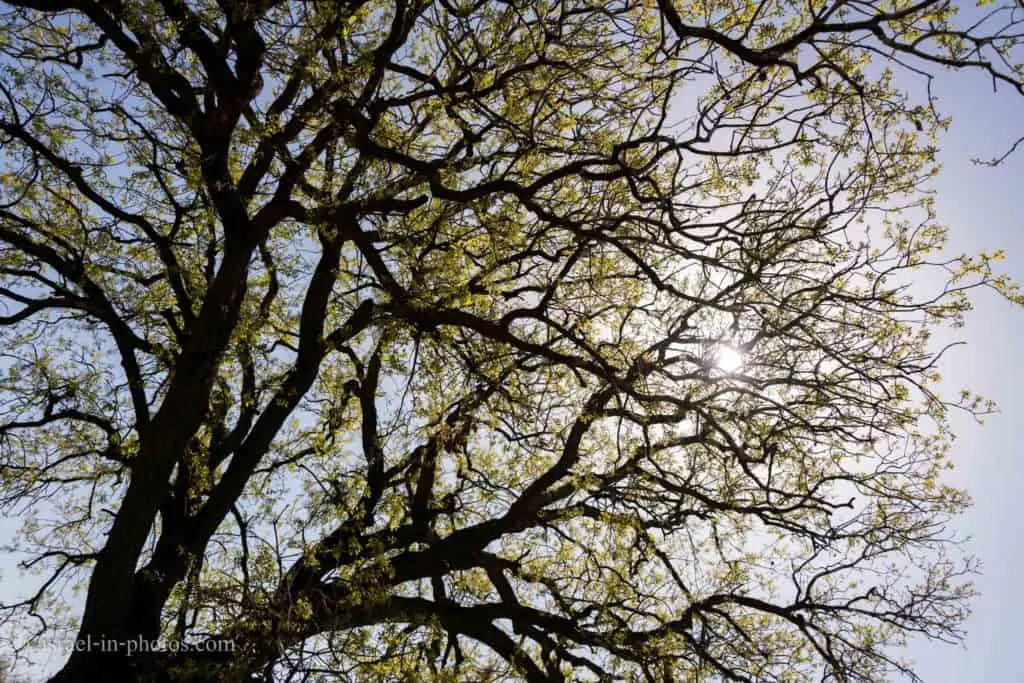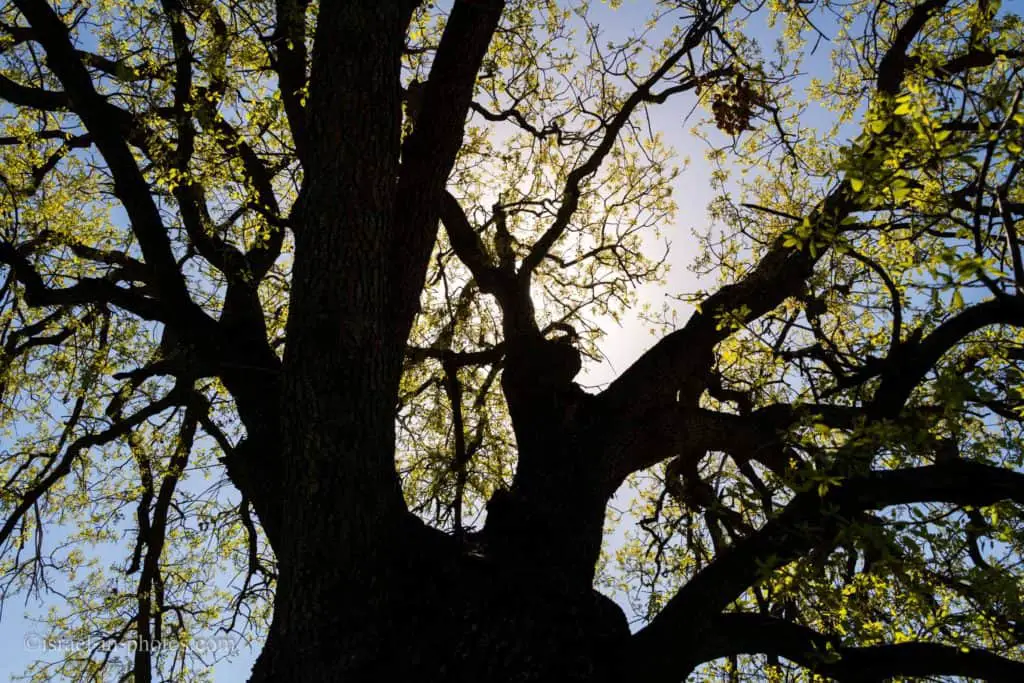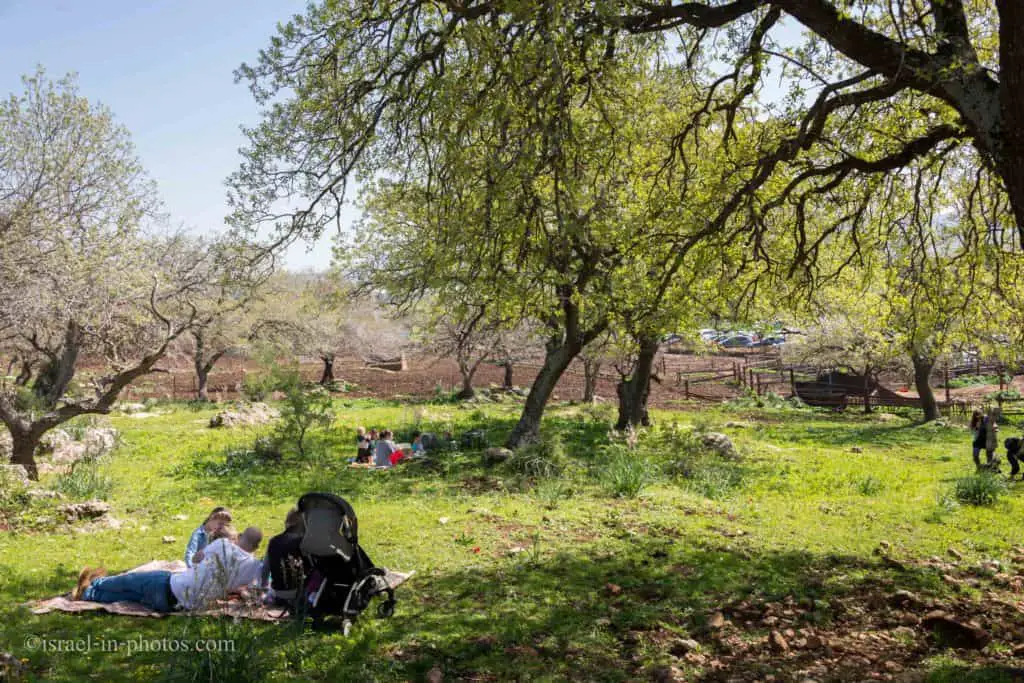 We started walking at around 10 am, and when we approached the starting point (around noon), we saw plenty of people having picnics:
And only when we reached parking we saw cows: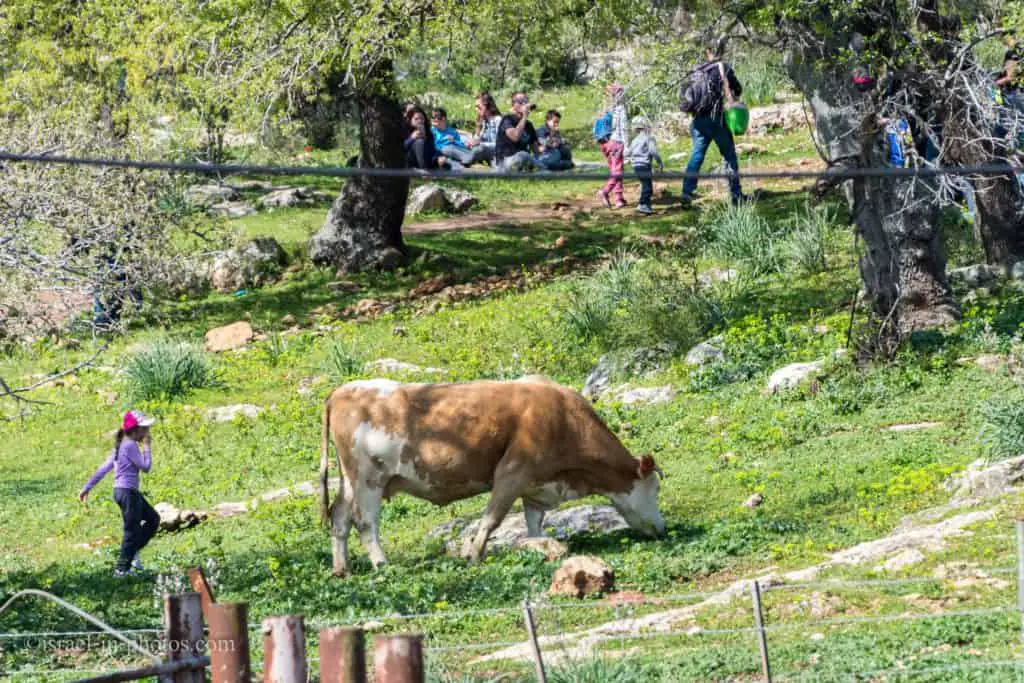 Hike At Alonei Abba Nature Reserve – Summary
Overall, it is a beautiful and short trail. Since the path is not long and light (you can probably make it with a stroller) it is beloved by families with young children. You can probably visit all year round, but Spring is the best season for a tour. And as I always say, come early. You will both enjoy the colder weather and will be able to find nearby parking (around noon there was no parking in the parking lot and people parked along the road, #7513).
Summary
As you saw, there many Agrotourism related attractions at Bethlehem Of Galilee area. Most of the attractions are not vast and several hours will be enough to cover them. Thus, you can combine several of them for a half-day tour.
What are your favorite attractions at Bethlehem Of Galilee area? Tell us in the comments below.
That's all for today, and I'll see you in future travels!
Stay Tuned!
Additional Resources
Here are several resources that I created to help travelers:
And if you have any questions then check out
Useful Information For Tourists To Israel
.
Did not find what you were looking for? Email me at
[email protected]
, and I will do my best to answer your questions.