Eretz Israel Museum in Tel Aviv is not only a multidisciplinary museum with many temporary exhibitions, but it is also an archeological site.
Map
Eretz Israel Museum is located at 2 Haim Levanon Street in Tel Aviv.
Directions for drivers: Link to Waze and Link to Google Maps
Directions for public transport: Link to Moovit
Interactive map of the area:
Offers:
Hotels, hostels, and apartments in this area:
Notes:
You can click on the map to enlarge it.
The scale of this map (which appears at the top-center) is 40 meters.
In the bottom left corner, you can see the parking. Nearby (bottom-center), there is the museum store. And as you enter, there are the permanent exhibits to your left, like Glass Pavilion and Ceramics. You can find the Rothschild building, Tell Qasile, and Planetarium (bottom-right corner) to the entrance's right.
Directions
You can reach the museum in different ways. If you choose public transport, you can commute either by bus or by train (Tel Aviv University train station is about 15 min walk away). You can use this Moovit preset link, where you update the origin and get the updated directions.
If you decide to drive there, I should warn you that finding parking in Tel Aviv is problematic. The museum has parking, and the price was 20 NIS for the whole day during our visit.
Opening Hours
Sunday – Closed
Monday, Wednesday: 10:00 – 16:00
Tuesday, Thursday: 10:00 – 20:00 (the ethnography and folklore display is open until 16:00)
Friday 10:00 – 14:00
Saturday: 10:00 – 16:00
Entrance Fee
Adult: 52 NIS
Adult – Tel Aviv Resident: 42 NIS (upon presentation of ID)
Student: 35 NIS (upon presentation of ID)
People with disabilities: 26 NIS (with disability card)
Child under 18: free
An adult must accompany children under 13. And each adult may be accompanied by no more than three children. Moreover, children must pay for special exhibitions and events, the Planetarium, and workshops.
Planetarium Tickets
A Visit to the Planetarium, including a visit to the Museum, costs:
Adult: 84 NIS
Adult Tel Aviv Resident: 74 NIS (upon presentation of ID)
Child: 32 NIS
Coupons
At this point, when I am searching for coupons, I see only offers by credit companies. For example, MAX offers 1+1.
There is also an offer for Cal credit card owners, where you can purchase a ticket for 39 NIS.
Note: opening hours and ticket prices were updated in May 2019. In any case, recheck the official site before visiting.
How much time a visit to Eretz Israel Museum takes?
The duration of your visit will depend on the temporary and permanent exhibitions that you will be seeing. I think that all permanent collections will take around 3.5 – 4.5 hours. But since we always included temporary exhibitions, our visits lasted 3- 4 hours, and we never covered all permanent exhibits. And if we use big data, then according to Google: "People typically spend up to 2.5 hours here".
About Eretz Israel Museum
MUSA, the Eretz Israel Museum, Tel Aviv is a multidisciplinary museum that exhibits Israeli culture, past and present. The new character of the temporary exhibitions seeks to create contemporary and bold connections between the diverse cultural aspects which the museum deals with, among them archeology, ethnography, applied art, art, photography, and documentation in Israeli society, and expand them.

The museum, which is one of the third largest in Israel, is spread over an area of some 20 acres and comprises about 15 buildings and various installations. Hundreds of thousands of items are housed in the diverse museum collections, among them numerous and rare treasures.

In the center of the museum, adjacent to the buildings and exhibit spaces, stands Tell Qasile – an ancient archeological mound dating from the 12th century BCE. Additional ancient relics, such as mosaics, oil presses, an antique wine press, flour mills, etc. can be found in the gardens surrounding the site.

In addition to the ten permanent exhibitions and ancient sites, the museum displays about 20 temporary exhibits every year. It also conducts symposiums, lectures, and meetings with curators and scholars in various fields. The museum site also houses an innovative planetarium, halls of various sizes, lecture rooms and workshops, a cafeteria, and a gift shop.
Note: unless stated otherwise, all quotes were taken from the official site.
Temporary Exhibitions
Eretz Israel Museum holds many temporary exhibitions, and all of our visits included a visit to a temporary exhibit. For example, we visited the Ice Age And Dinosaurs Exhibition. And in this post, I will tell you about another exhibit, The Dancing Machine Exhibition.
The Dancing Machine Exhibition
Background
A colorful, stimulating humorous and thought-provoking exhibit of mechanical toys and automata, which the spectators can operate by pressing a button. All the exhibits were made by artists who work in wood and with mechanical objects for the Cabaret Mechanical Theatre in Great Britain, and are masterpieces that combine imaginative artistic design and impressive technical abilities.

The people, animals, and all other creatures come to life and begin moving, all by pressing a button. That works different components such as cogwheels, levers, rubber bands, and wood chips visible mechanisms that maintain old, long-standing traditions that involve precise manual mechanical instruments.

The Cabaret Mechanical Theatre is exhibiting its extensive collection – intriguing and surprising work that offers a witty, ironic, and original worldview. Among the artists, whose The Dancing Machine work is exhibited here are Paul Spooner, Ron Fuller, Peter Markey, and Matt Smith. There will be scores of exhibits that offer amusement and fun for all ages.
At The Exhibition
This exhibition was held inside one of the buildings in the Eretz Israel Museum. But there are many permanent exhibitions, and you can visit others once inside.
Just after entering the museum: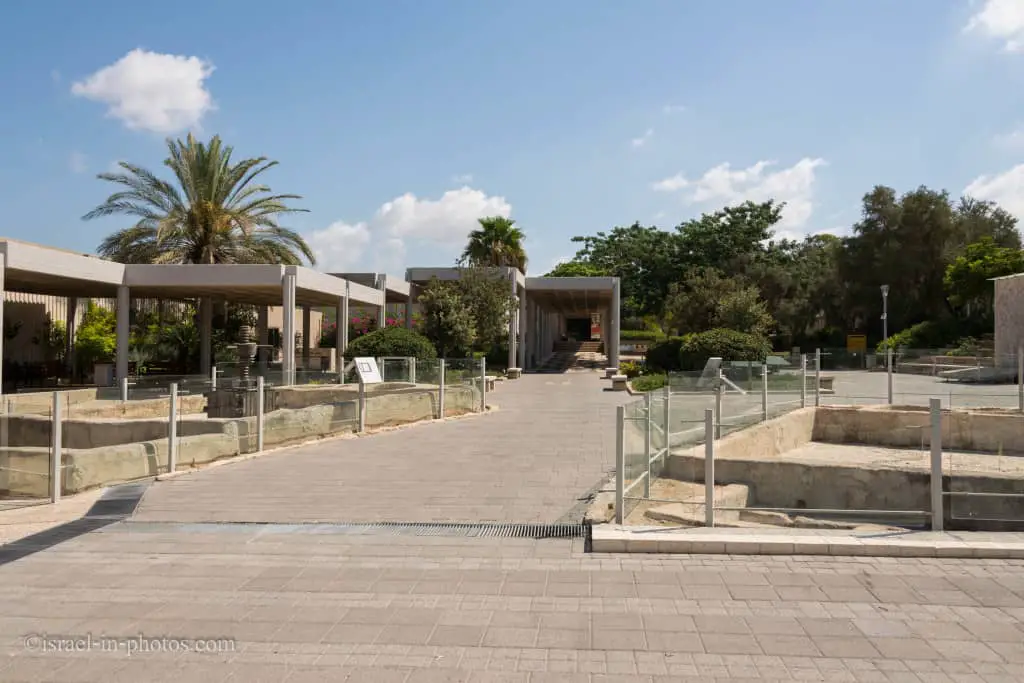 The whole complex is located on a hill. Thus you can get lovely views of Tel Aviv, but we will get to it later.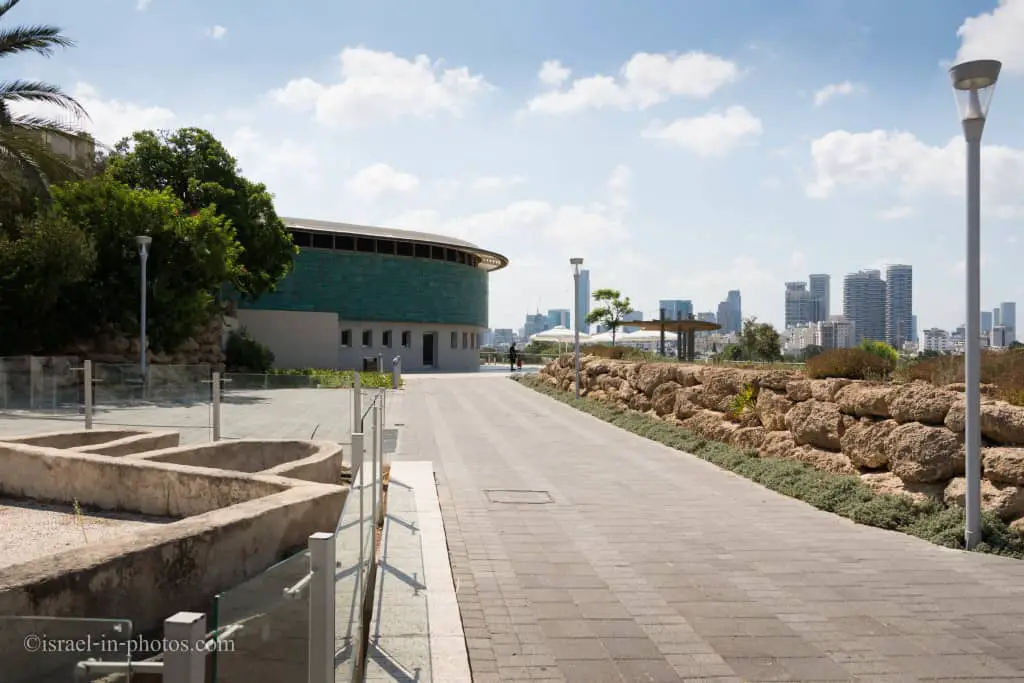 The exhibition is on the second floor of the Rothschild building. That means that after entering, take a right and then a left. It is a 2-3 minute walk.
You will see a big room with many exhibits when you enter the exhibition. Here is one of them:
View of this room: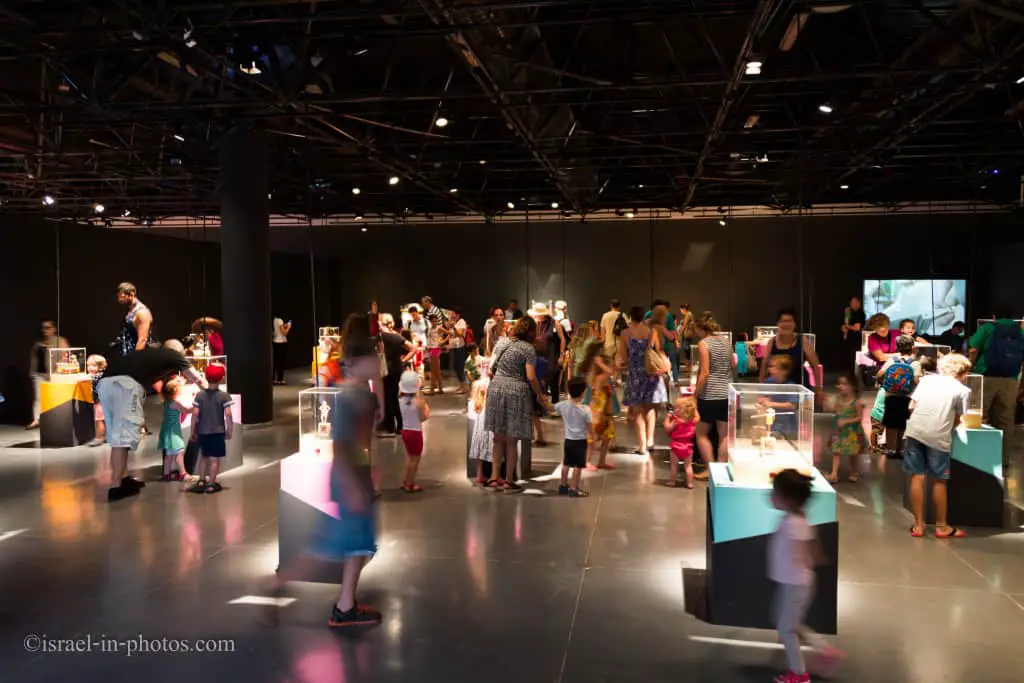 It is not a very big one. There are probably around 30-50 exhibits.
Since all the toys are moving, a video will tell the story better. Here is a short video I made:
Near this room, there is another one. This adjacent room holds a workshop. Each child receives materials (you will receive an extra ticket at the entrance for this) and can create his toy. But, since there was no room, we took the materials as take away.
The visit to the Dancing Machine took about an hour. It is a rather expensive attraction if you are planning to visit only it. And in case you will be visiting the rest of the museum, i.e., half-day attraction, you get more value. Remember that the rest of the museum will be adequate for children over 5.
Permanent Exhibits
Note: permanent exhibits close from time to time. Thus, if you are interested in a specific exhibition, verify that it will be open on the official site.
Man and His Work Center
Besides the Rothschild building, you can find a small area that shows how artisans worked. It is called "Man and His Work Center."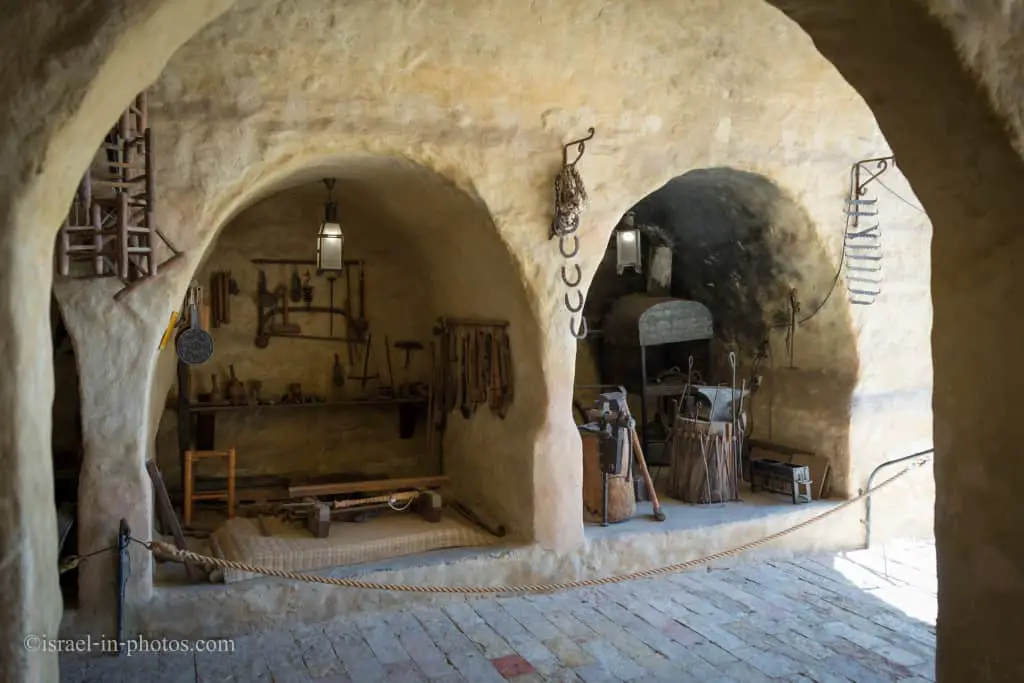 The Center displays the traditional material culture of the Land of Israel in various spheres of daily life, among them agriculture, crafts, domestic work, design, and decoration. The center is rooted in the 1930s when Professor Avitsur, after whom it is named, began studying the subject and collecting ethnographical artifacts and utensils illustrating traditional ways of life.

Archaeological finds show that work tools, artifacts, and production methods have scarcely changed over thousands of years of history and have been used until recent years in the Arab localities, Bedouin encampments, and by Jews living in the Land of Israel and neighboring countries. Most of the exhibits in the collection are ethnographical and relate to recent generations; nonetheless, they are enlightening as they show life in ancient times as well. For comparison, ancient artifacts and tools have been incorporated into the exhibit, concerning their date and place of origin. As this traditional material culture is disappearing, the center seeks to preserve its cultural and historical importance.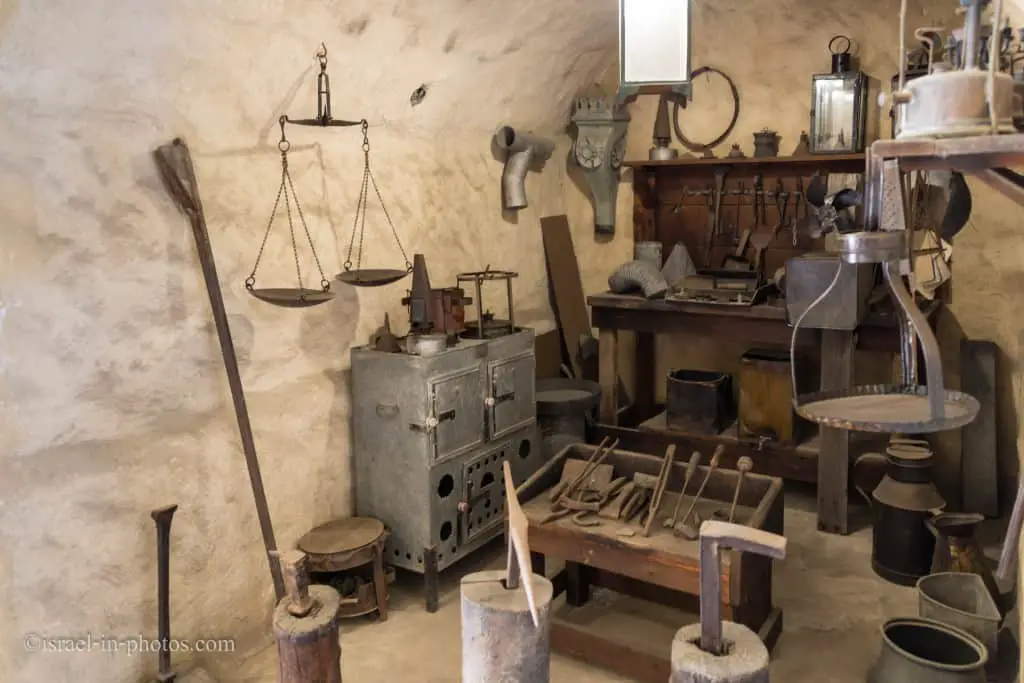 Ceramics Pavilion
Then we visited the ceramics pavilion. As you enter will see this large wall installation that shows how ceramics was made.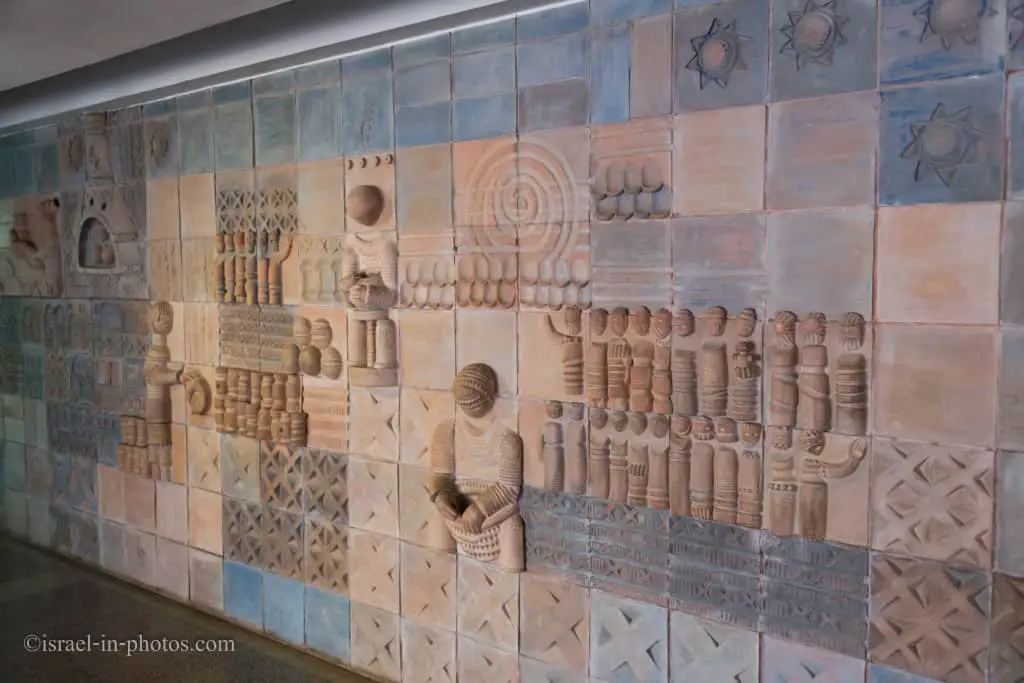 When ancient man first learned to harden clay by firing and turning it into pottery, life in ancient times changed. A new artificial commodity, more flexible and cheaper than other materials, could now be used for art, ritual, storage, and household needs. As seen in this exhibit, the durability of pottery and the ease with which it can be transported have allowed us a window into the prehistoric and ancient world.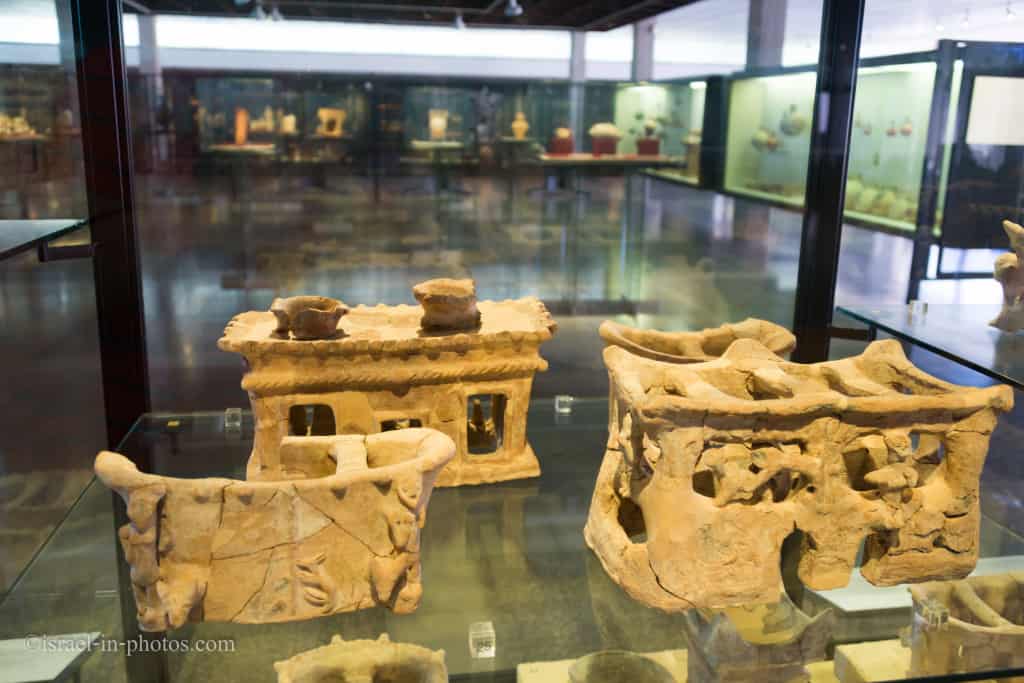 The ceramics exhibition is not a very big one, but it is versatile. There are many exhibits, and each one tells a different story. For example, here is the recreation process of ceramic jars creation. You can see the four steps: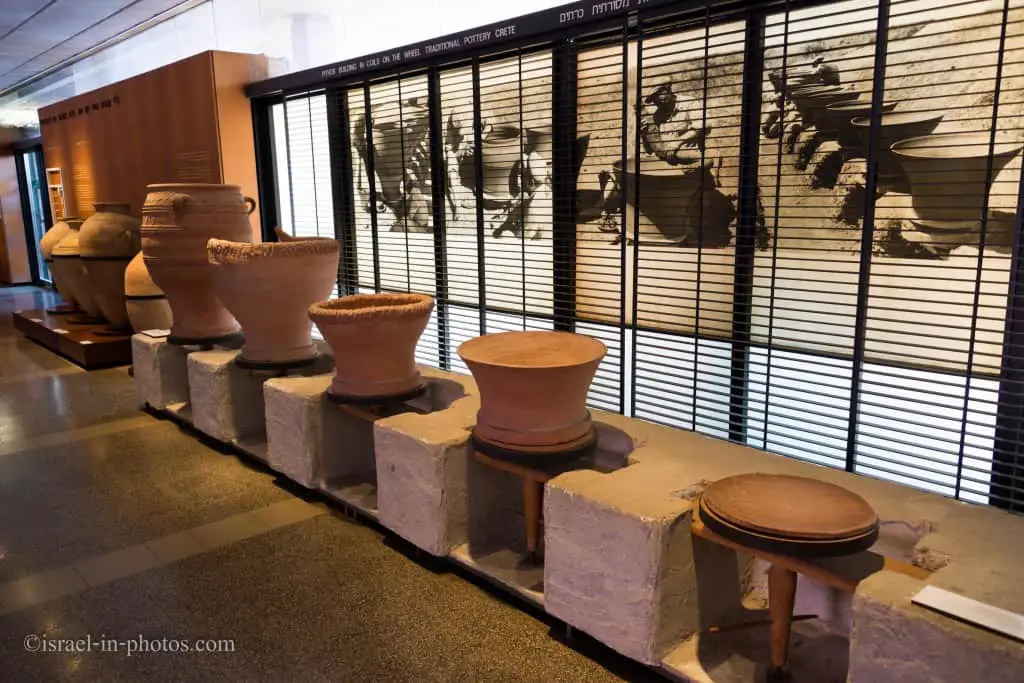 Handmade Pottery from Ancient Cyprus Ceramics

The exhibit includes ancient Cypriot ceramics (3rd – 2nd century Bc) that are noteworthy for their intriguing shapes, aesthetics and superior quality. Traditional methods of making pottery by hand, especially fine ware, persisted in Cyprus long after the potter's wheel was introduced in neighboring countries and on the island itself.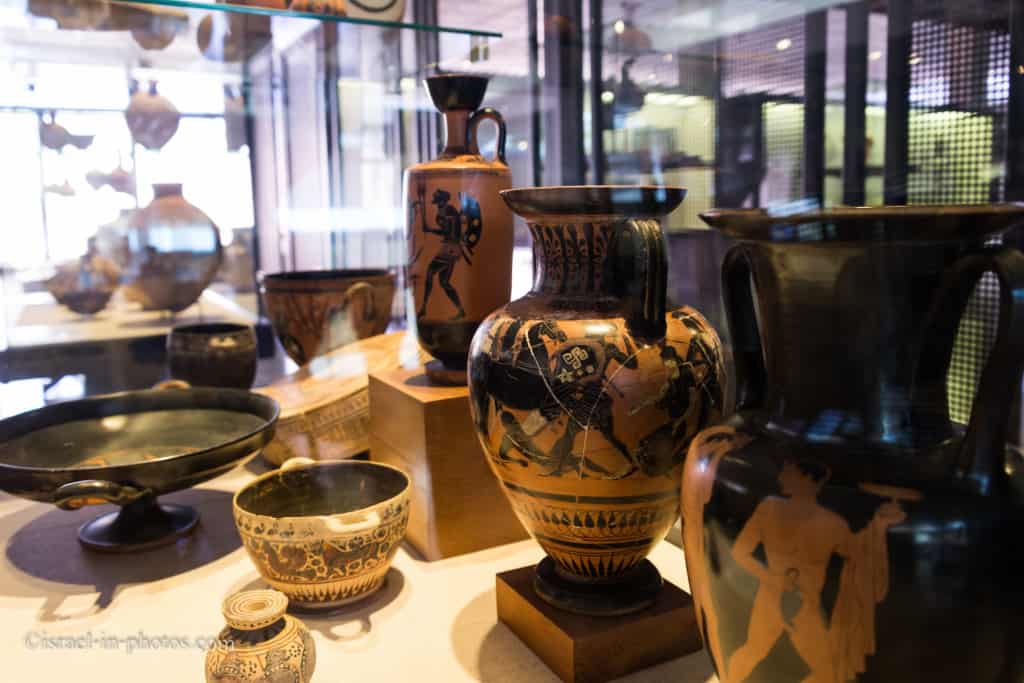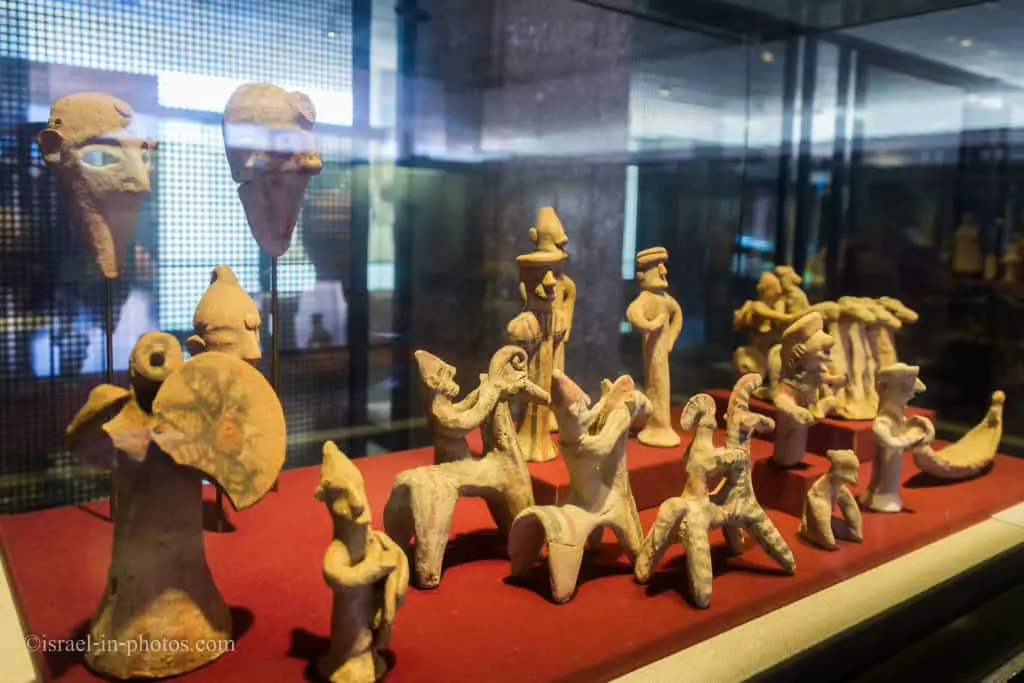 The Alexander Museum Of Postal History & Philately
We found the Postal History & Philately exhibit near the ceramics pavilion and decided to check it out.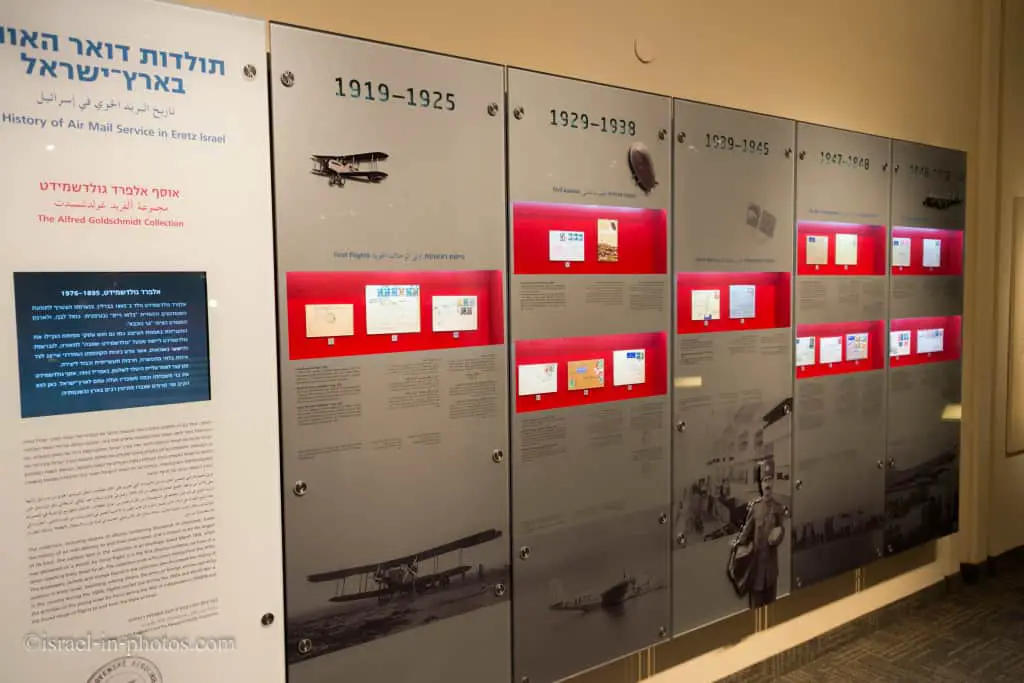 The evolution of the mail service in the Land of Israel is an intriguing window through which to view the myriad historical, social, and political developments that have shaped this region. Existing, state-of-the-art installations and interactive multimedia exhibits provide an impressive record of living history.

Begin with a chronicle of the post in the Land of Israel from the mid-19th century through the establishment of the State of Israel. The story unfolds through envelopes and letters, photographs and posters, mailboxes and telephones, and a 1949 mail trucThe Alexander Museum of Postal History & Philately that transports the visitor back to the early days of nation-building Moving forward in time, computer stations track the activity of the Israel Postal Company today. Survey the service's comprehensive collection of stamps under a magnifying glass, homing in on individual examples at the click of a button.

Other exhibits include a large-scale stamp album, where a chronological selection of Israeli stamps illustrates the changes in design and subject over the years, offering a unique narrative on the life of the country; and the philately wing, with its display of valuable and rare stamps.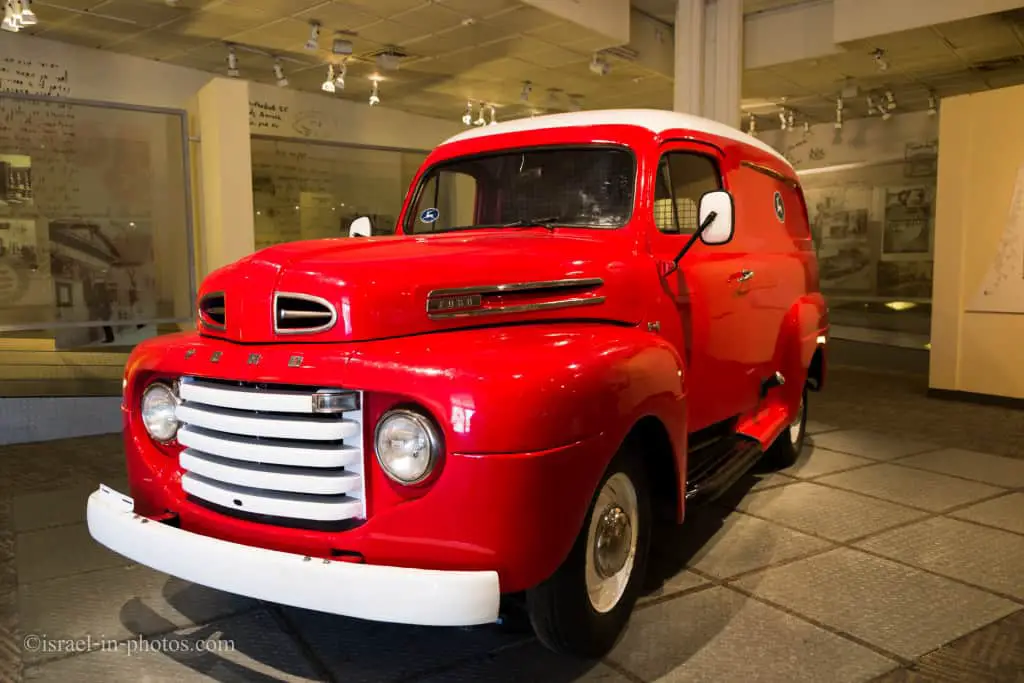 Today's kids have no idea what this is: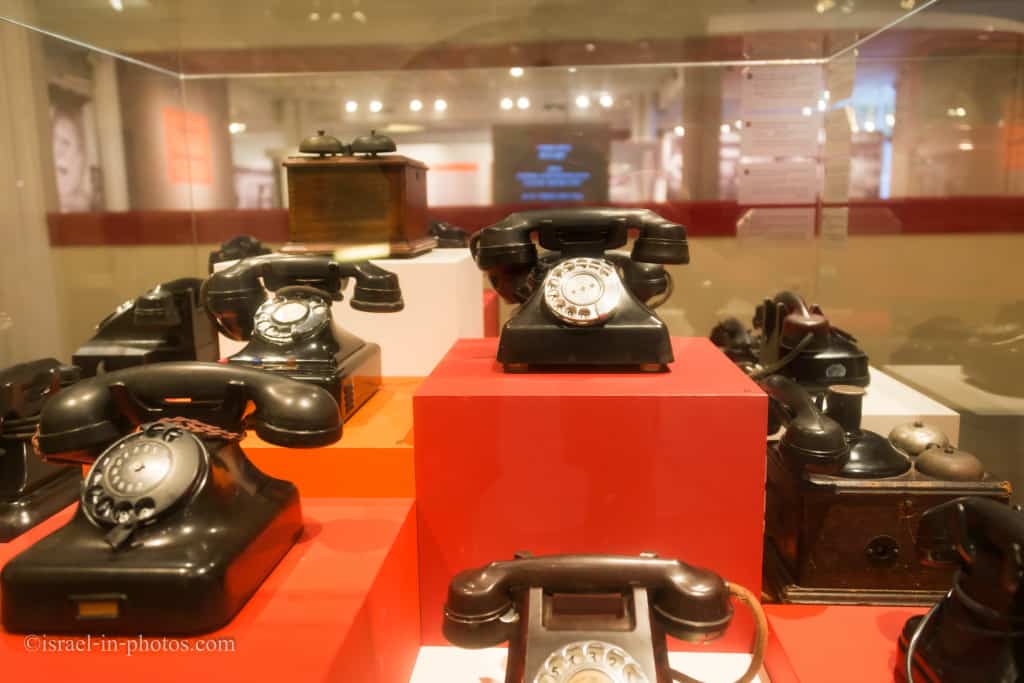 Weights: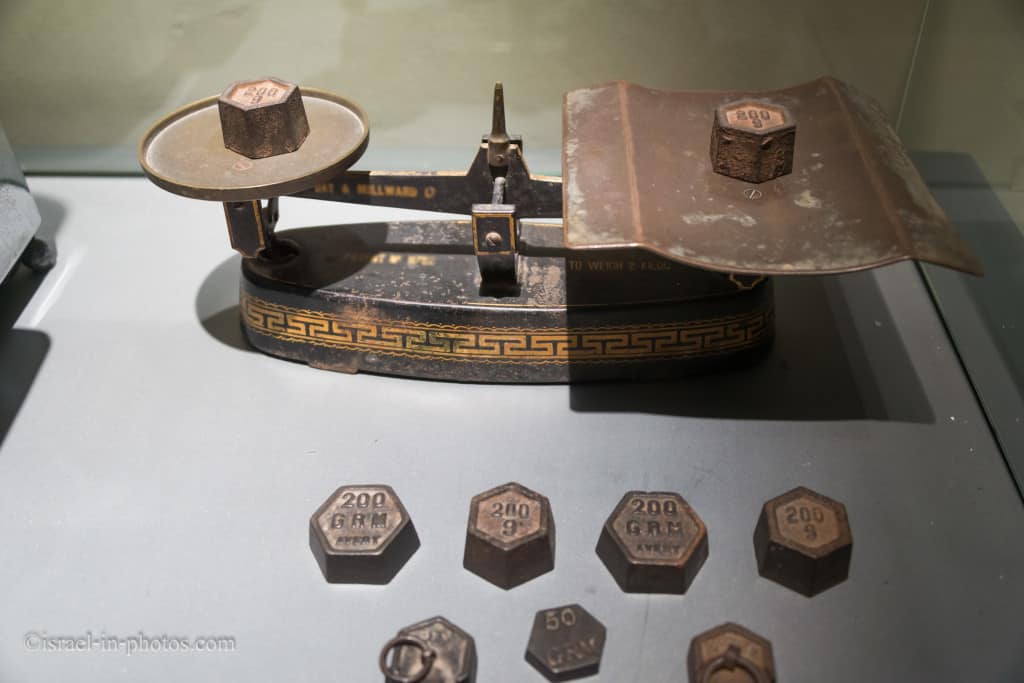 Another look at the red Israeli post truck:
Glass Pavilion
The last pavilion we visited (not the latest in the museum, but the last one our daughter had the patience for) was the glass one.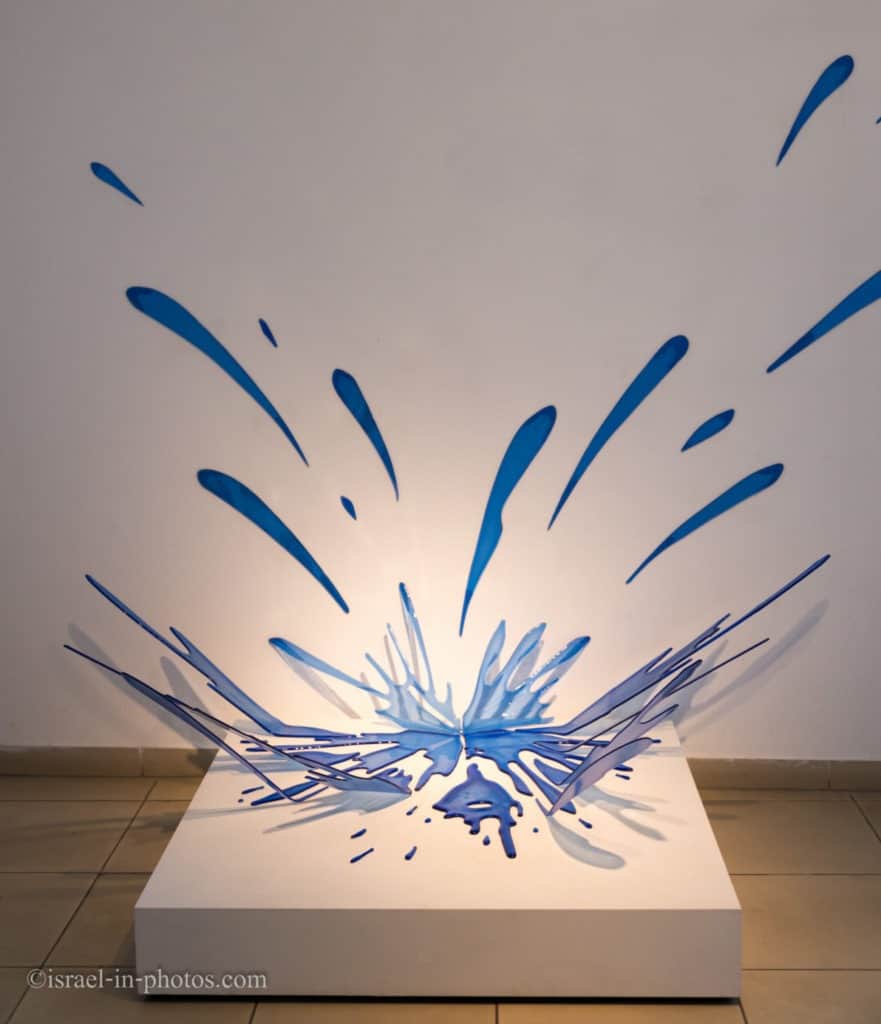 The Eretz Israel Glass Pavilion takes visitors on a unique journey through time, traveling back thousands of years to the earliest days of glassmaking in this region. Donated from the rich private collection of Dr. Walter Moses, who founded the Eretz Israel Museum in 1958, this rare and beautiful assemblage of glass has been enhanced over the years by exciting new acquisitions and significant donations.

Visitors to the Glass Pavilion are drawn not only by the enchanting displays of ancient glass objects but also by the presentation of the history, range, and intricate art of glassmaking. Among the unique features are fragile relics of glass dating from biblical times, as well as some of the earliest blown-glass discovered from the Roman period. Contributing greatly to the study of the origin glass Pavilion of glassmaking, and especially the important invention of glass blowing, the Pavilion highlights the crucial role played by this region in the discovery of glass and its production.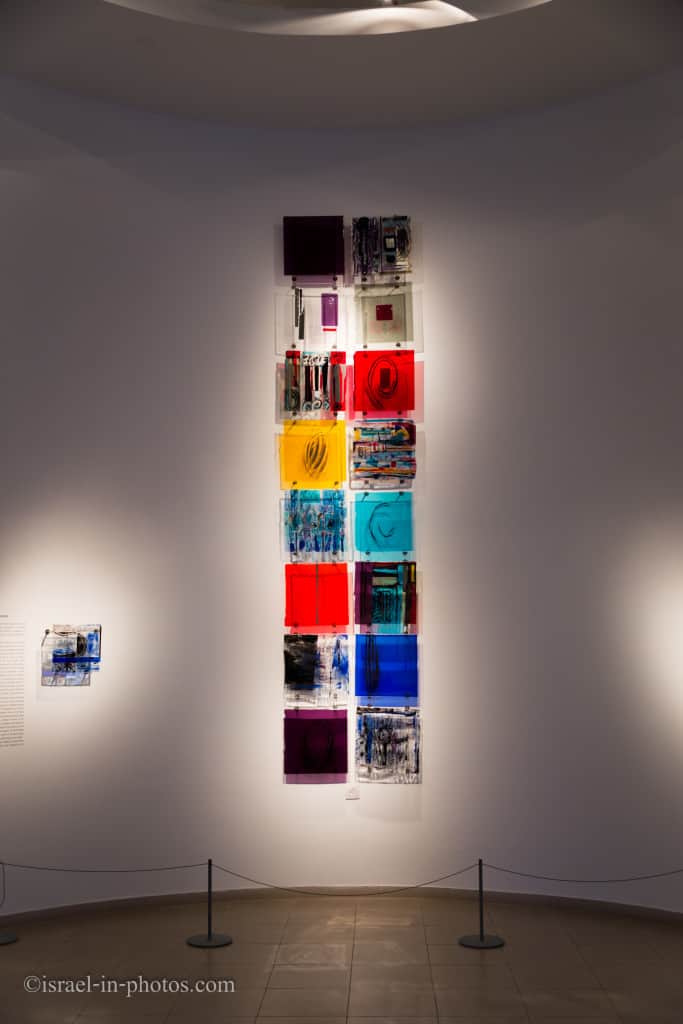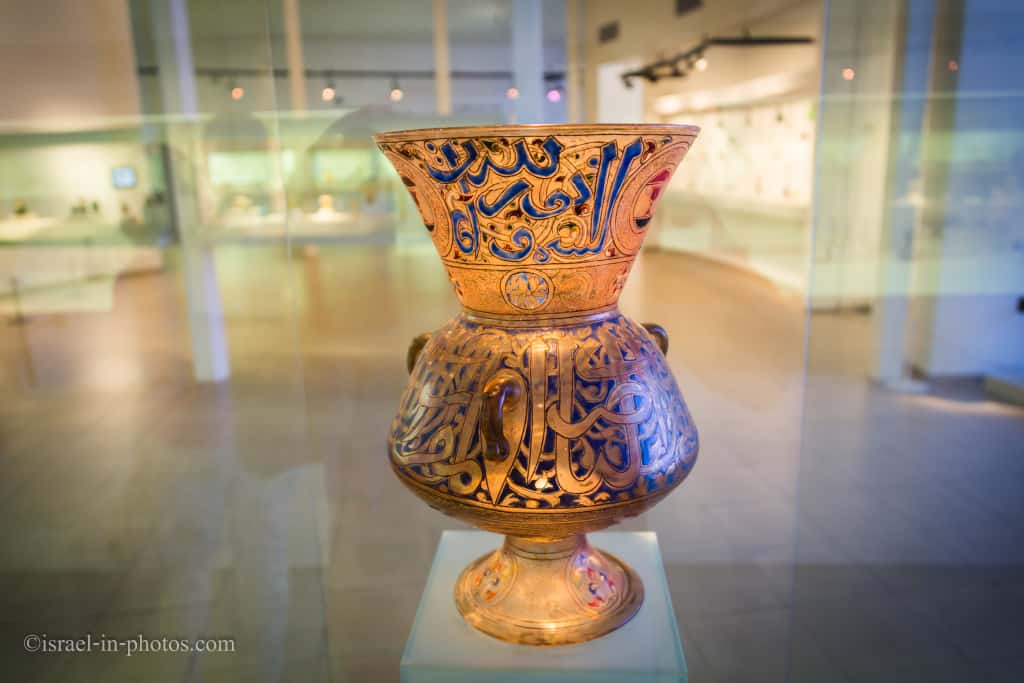 In this pavilion, I liked this masterpiece glass tractor: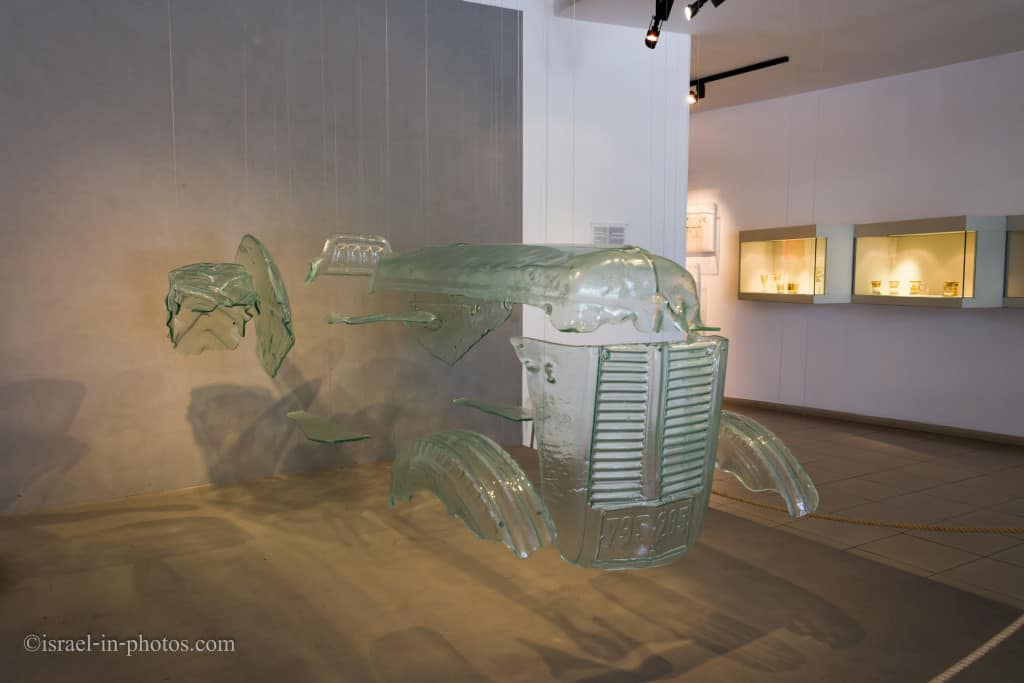 Other Permanent Exhibitions
Other Permanent Exhibitions that I have not covered here are:
The Land of the Baron – Baron Edmond Benjamin James de Rothschild is well-known for his two great loves: art and the settlement.
Ethnography and Folklore – the many facets of Jewish life find expression in the rich array of items used in religious rituals and the ethnographic objects.
Nechushtan – the revolutionary discovery that copper ore could be converted into metallic copper is the story of the Nechushtan Pavilion.
Kadman – the history of the Land of Israel comes alive in The Kadman Numismatic Pavilion, where the evolution of coinage takes place.
Tell Qasile
While walking around Eretz Israel Museum, you will see the remains of Tell Qasile. So here is some basic info:
In the center of the museum complex rises Tell Qasile, one of the most fascinating and important archaeological sites in the Tel Aviv area. Two pottery shards from the First Temple Period with Hebrew inscriptions were discovered on the hill in the 1940s, stirring great interest. As a result, excavations began in 1948, under Prof. Benjamin Mazar, and continued through the early 1990s.

The dig revealed the remains of an ancient port city built by the Philistines in the 12th century BCE, on the edge of a kurkar (sandstone) ridge, close to the Yarkon riverbed. The town was destroyed in a major fire in the 10th century BCE, apparently the work of King David. It was eventually rebuilt and even flourished in later periods. The zenith of its development was in the 11th century BCE, when it was bursting with life and densely built according to a precise city plan: Intertwining streets divided blocks of buildings and created a partition into living quarters, work quarters, and a holy complex – underscoring a tradition of public life and urban planning.

The Center for Religious Rituals

The Philistine city's sacred complex was discovered near the top of the hill: Remains were found of three temples built one on top of the other, each an extension of the one before, a likely indication of the city's increasing population. The temples were built from sun-dried mud bricks; the walls were whitewashed and lined with low benches. On the temple floors, especially close to the sacrificial platform and storage compartments, many ritual and sacrificial vessels were found, some rare and unique.
Planetarium
On one of our visits, we went to the Planetarium show. We saw a lovely movie in Hebrew. It was aimed at kids (entry to the Planetarium is restricted to children over age 6), but adults could also learn several things.
If you want to order tickets for English Planetarium shows, you have to pre-book by phone at 03-7455710/720.
You can find the show's timetable here.
And I will finish with a panorama of Tel Aviv that you can see from the museum:

Similar Attractions
If you are interested in other nearby attractions, you can find museums, markets, and other points of interest from the city on the page dedicated to Tel Aviv. If you want to learn more about archeology and Jewish art, I recommend checking out Israel Museum In Jerusalem.
Summary
Eretz Israel Museum is a very diverse museum. There is something for everybody. And if you love the variety of topics and exhibits, this is the museum for you. Moreover, since there are many great temporary exhibitions, check what is currently on display.
Have you ever been to Eretz Israel Museum In Tel Aviv? Tell us about your experience in the comments below.
That's all for today, and I'll see you in future travels!
Stay Tuned!
Additional Resources
Here are several resources that I created to help travelers:
And if you have any questions then check out
Useful Information For Tourists To Israel
.  
Did not find what you were looking for? Leave a comment below, and I will do my best to answer your questions.