Hamat Gader is hot springs site about 10 km from the tripoint of Israel, Jordan, and Syria. And last November we visited it. We will start with an overview, and then visit the site. Let's begin!
Etymology
The ancient Hebrew name means hot springs of (the ancient city of) Gadara. The latter is above the springs, in modern Umm Qais. The Arabic name El-Hamma preserves this, and the name of the tel located near the site, Tel Bani, is a corruption of the Latin word meaning "baths".
History
Hamat Gader was already a widely known health and recreation site in Roman times. It is mentioned in Strabo, Origen, and Eunapius, as well as the Rabbinic literature of the first centuries CE.

Construction of the bath complex began in the 2nd century by the 10th Roman Legion, which was garrisoned in the city of Gadara. Two distinct construction periods are evident at the site: The Roman-Byzantine Period, during which most of the bath complex was built, and the Muslim period, during which major changes were made to the existing structures.

The site includes a Roman theatre, which was built in the 3rd century CE and contained 2,000 seats. A large synagogue was built in the 5th century CE.

Some of the buildings were damaged by an earthquake and restored in 633 by the Umayyad caliph who ruled from Damascus. A century later the 749 Galilee earthquake hit. Eventually, in the 9th century, the baths were abandoned and a thick layer of silt covered the ruins.
Note: the two quotes above were taken from Wikipedia.
Map
Geographical map of the area:
Hamat Gader valley is 150 meters below sea level and surrounded by Yarmuk river. It is also part of the Syrian-African rift. And the area's unique geological structure and volcanic history produced the conditions that created hot mineral springs. Six hundred cubic meters of water rise each hour from artesian wells at a depth of more than 2000 meters.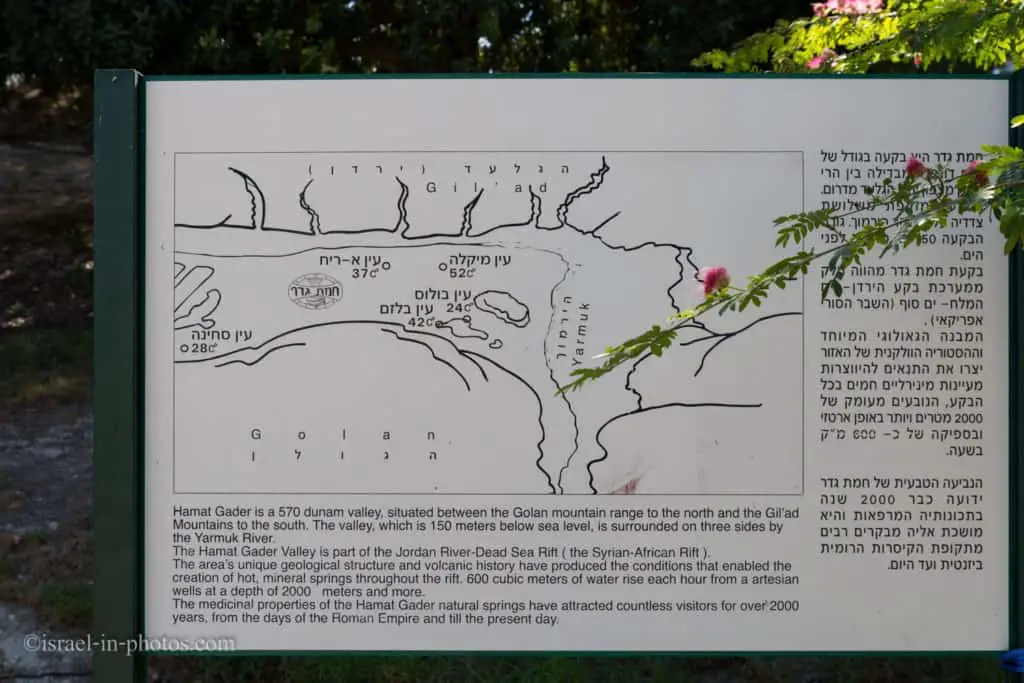 Map of Hamat Gader: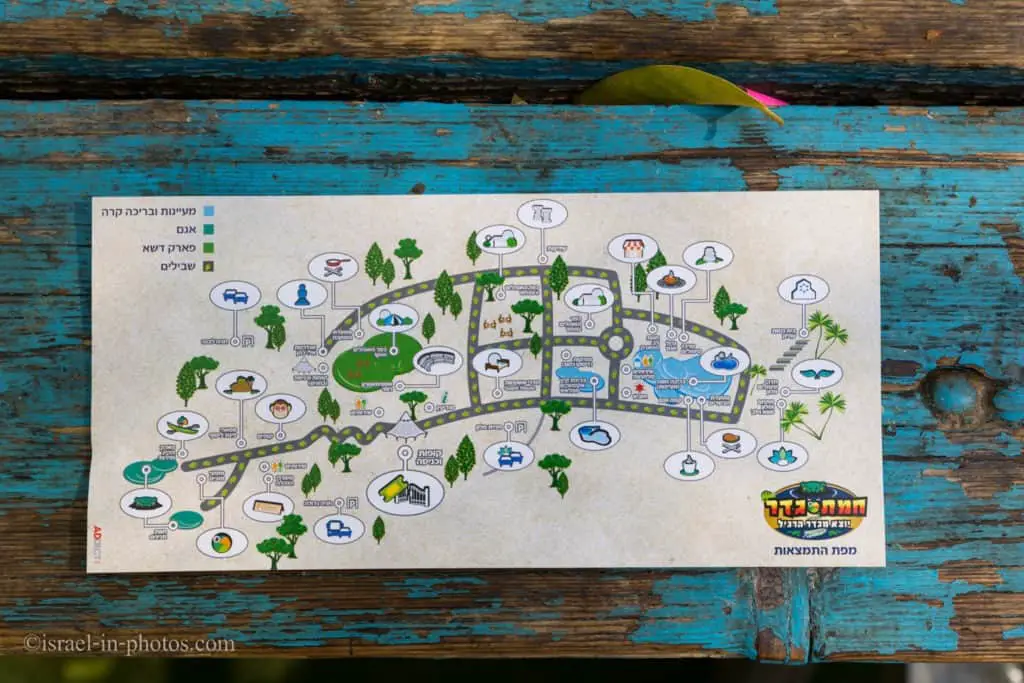 There is free parking next (appears at the bottom of the plan) to the Hamat Gader. The entrance is marked with the gate and the tickets. To the left of the entry there are mostly animal-related attractions, and to the right, there are the hot springs.
What can be found on site?
Besides the hot springs, you can find a spa, several restaurants, cafes, archeological site, fishing pons, different accommodations, and animal-related attractions.
Opening Hours
Sunday: 8:30 – 17:00
Monday – Friday: 8:30 – 22:00
Saturdays 8:30 – 19:00
Opening Hours Of Attractions During The Summer Season
The animal corner: every day from 10:00 until 14:30 including Saturdays
Parrot Show: every day at 13:00 and on Fridays and Saturdays there is an additional show at 15:00
Feeding crocodiles: Monday – Thursday at 13:30
Fishing ponds: open only on Saturdays from 10:30 until 16:00
Children playground: Sunday to Saturday, according to the park's opening hours
The Splash – Regular Pool
Sunday to Wednesday: 10:00 – 17:00
Thursday – Saturday: 10:00 – 19:00
The Frying Pan Restaurant
Open Monday – Saturday between 12:00 and 15:30
Closed on Sundays.
Food stalls
Sunday to Wednesday: open until 17:00, and until 21:30 during the weekends.
Entrance Fee
You can purchase tickets either on site or on the official website. The price depends on the package and the date. Here is what they currently offer on the official website:
Entrance on Sunday – Thursday: 89 NIS
Entrance on Friday, Saturday and holidays: 98 NIS
Entrance + Meal on Sunday to Thursday: 139 NIS
Entrance + Meal on Friday, Saturday and holidays: 148 NIS
Entrance + Massage on Sunday to Thursday: 265 NIS
Entrance + Massage on Friday, Saturday and holidays: 319 NIS
Entrance + Massage + Meal on Sunday to Thursday: 323 NIS
Entrance + Massage + Meal on Friday, Saturday and holidays: 359 NIS
Note: the prices above already include a 10% discount, and if you purchase tickets upon arrival, they will be more expensive.
Coupons
We were looking for regular entrance tickets (without a meal and a massage) during the weekend. The full price is almost 100 NIS, and if you multiply it by the whole family, then it turns into a not cheap attraction. So I checked for coupons online and found the following ones.
Almost all Israeli credit card companies offer discounts. Leumi card and Isracard offers 1+1, Visa Cal offers about 10% discount, and American Express offers 4% off. Moreover, other firms offer coupons as well. For instance, Cuponofesh offers up to 21% discounts, but there are also coupons available by Triptips, and GROO. Coupon availability changes over time, thus look for "Hamat Gader coupon" (preferably in Hebrew) prior visiting.
Also, I want to mention that there are picnic tables on site, and we brought food from home. Furthermore, you can not light a fire on site.
Note: opening hours and entrance price can be changed, thus recheck the official site before your planned visit.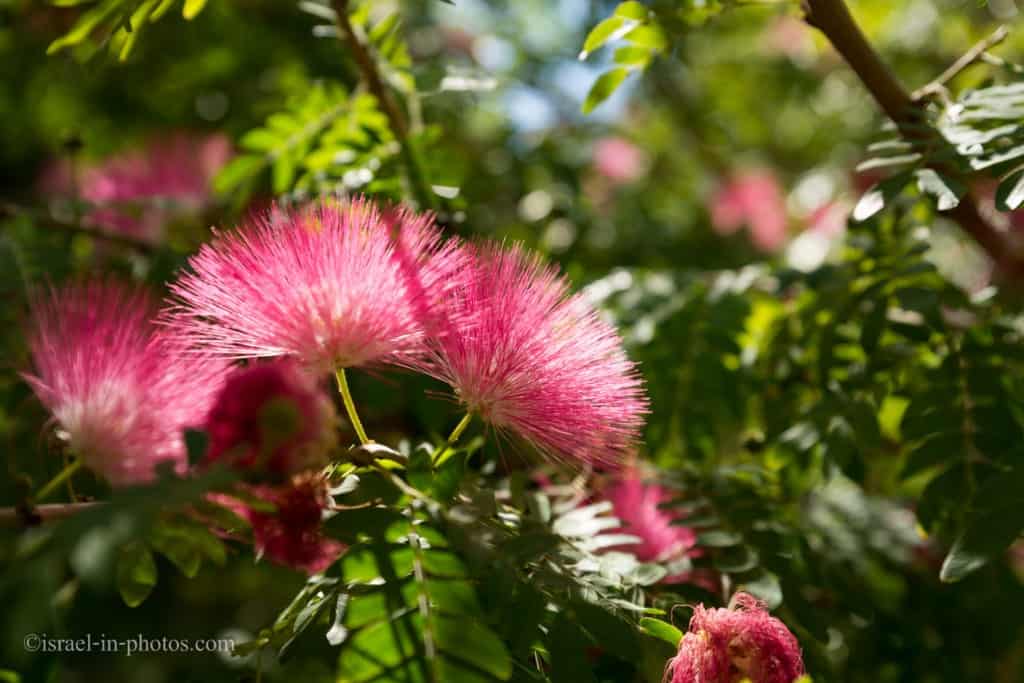 When To Visit Hamat Gader?
Every season has its upsides and downsides. We visited Hamat Gader during the winter. One of the apparent advantages of winter is the cooler weather (20C outside and the water at the hot springs is 42C all year round). But it is not the only one. In winter there will be fewer people and you are more likely to find coupons online. The disadvantage of a winter visit is that some of the attractions will be closed (as you will see below).
Thus, if the primary purpose of your visit is the hot springs, then consider visiting during the winter. If, on the other hand, you are visiting with kids and you want to visit the water world, or interested in a tour at Hamat Gader's Antiquities then you will probably have to visit during the summer. Moreover, keep in mind the day of the week. During the weekends, entrance tickets are more expensive, and there will be more people on site. Thus, I would suggest sticking to weekdays.
Restaurants
The Frying Pan
An oriental Israeli grill restaurant, offering a large selection of dishes especially loved by the Israeli diner, including the young diner. In the restaurant, you will find a variety of fish dishes, high-quality meats, stews, salads, and surprising children's dishes.

The restaurant is kosher under the supervision of the rabbinate.

Opening hours: 12:00 – 14: 30.
Note: unless stated otherwise, all quotes were taken from the official site.
Bluber
The Hamat Gader boutique hotel, which serves a selection of fine dairy dishes, includes fresh and special ingredients: breakfasts, toasts and sandwiches, salads, fresh fish, Italian cuisine and more. The restaurant serves breakfast from 8-11 and dinner from 19-22. Lunch can also be ordered in advance. The restaurant serves hotel and spa guests.
Lake Grill
Next to the swimming pools is the Lake Grill, an open meat buffet seven days a week, offering a selection of grilled meats on a plate or pita: sausages, shawarma, chicken breast, hamburgers, chips, salads, soft drinks, and more. For the convenience of diners, there is an open seating area overlooking the pools.
Opening Hours: Please check at the ticket office on the visiting day.
Lake Coffee Shop
Beneath the meat restaurant, you can find Lake Coffee Shop – a dairy buffet open seven days a week, offering delicious and fresh treats: coffee and baked goods, pizzas, sweet and savory pastries, juices, ice cream, snacks, dairy dishes, and hot/cold drinks.
Opening hours: Sundays to Saturdays from 8:30 am until the park closes.
As I mentioned above, we brought food with us and had a picnic. The reason is that I do not like to be pushed into such deals. I do not know how good the food is there. But my experience from other attractions in Israel and around the world shows that usually, the food is expensive and not that tasty. In other words, you do not get value for money. Thus, I prefer to visit the attractions that I like and dine in places that I select.
Accommodations
If you want to stay at Hamat Gader for a night, then you have several options. You can either camp or stay at the Spa Village Hotel.
Camping
There are several camping options available. You can stay at a white air-conditioned tent or smaller igloo camping tents, and there are also guesting rooms.
Spa Village Hotel
Spa Village – Boutique Hotel and Spa in the Golan Heights, at the heart of Hamat Gader Resort, allows you to enjoy the quiet surrounding, and enjoy the best of all worlds: Romantic setting, a broad range of pampering services, maximal comfort, and if you wish – a great place to conduct business.

A selection of advanced treatments and Spa packages in the North, at your service at Hamat Gader Resort. Come and take some time off the hassle, charge your body with renewed energy, and return home fresh and invigorated.
Animal World
If you follow my blog for a while, then you probably know that I love animals. And since the springs are not going anywhere, I decided to start with a visit to the animal world.
Hamat Gader is known for its crocodile farm, but as it turns out, there are other animals as well. When I entered the animal world, I saw several baboons.
And then I met Monica:
Monica is a Burmese python.
The Burmese python (Python bivittatus) is one of the five largest species of snakes in the world (about the fourth-largest as measured either by length or weight). It is native to a large area of tropical South and Southeast Asia. Until 2009, it was considered a subspecies of Python molurus but now is recognized as belonging to a distinct species.

They are often found near water and are sometimes semi-aquatic, but can also be found in trees. Wild individuals average 3.7 m (12.1 ft) long, but have been known to reach 5.74 m (18.8 ft).
Source: Wikipedia
There is also about a dozen species of reptiles and snakes.
Mini Safari
A puzzle: You are taking a trip in the North, and your kids decided they want to visit a Safari. What can you do?
The answer is very simple: go to Hamat Gader! Among the many attractions available in our World of Nature, you will also find the "Mini Safari – a large site where many animals live in their natural habitat.

Our Mini Safari peacefully houses beautiful deers and mountain deers, emu's and islands (a type of antelope), raccoons, friendly suricatas, impressive iguanas, a jumpy Kangaroo family and two giant python snakes.
A special attraction is waiting for you at the baboon area. On the site resides a baboon family, that came right from Africa, and they provide all the visitors an exceptional and amusing experience. The baboons will give you smart stares, jump playfully between the branches and facilities, and in fact, do everything so you don't leave them and continue to enjoy the "show".
Come to our "Mini Safari" and have fun with the animals!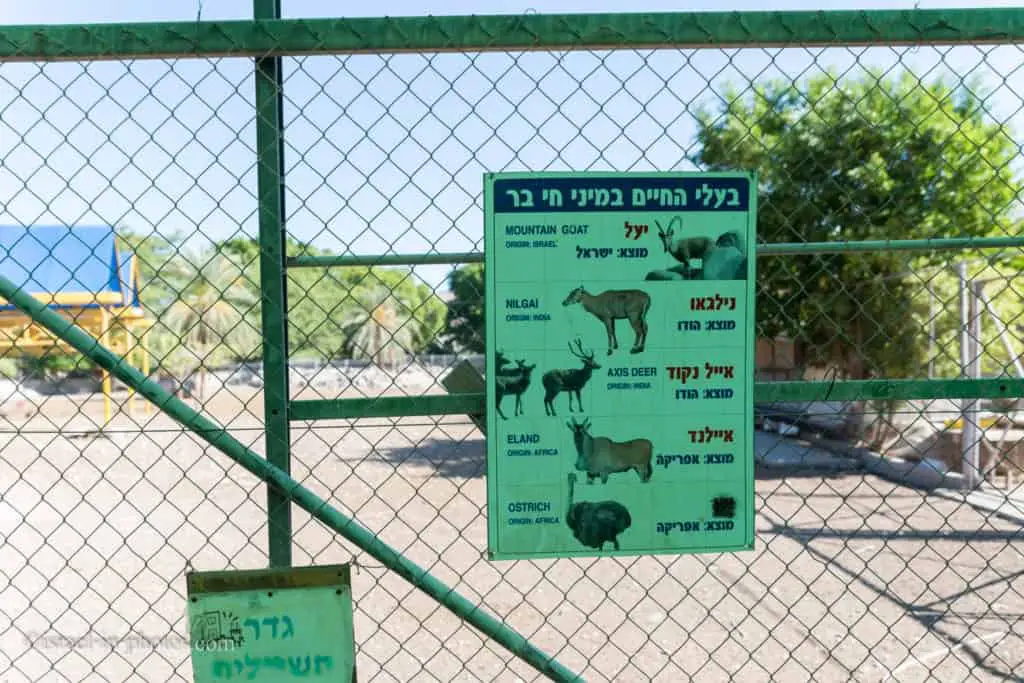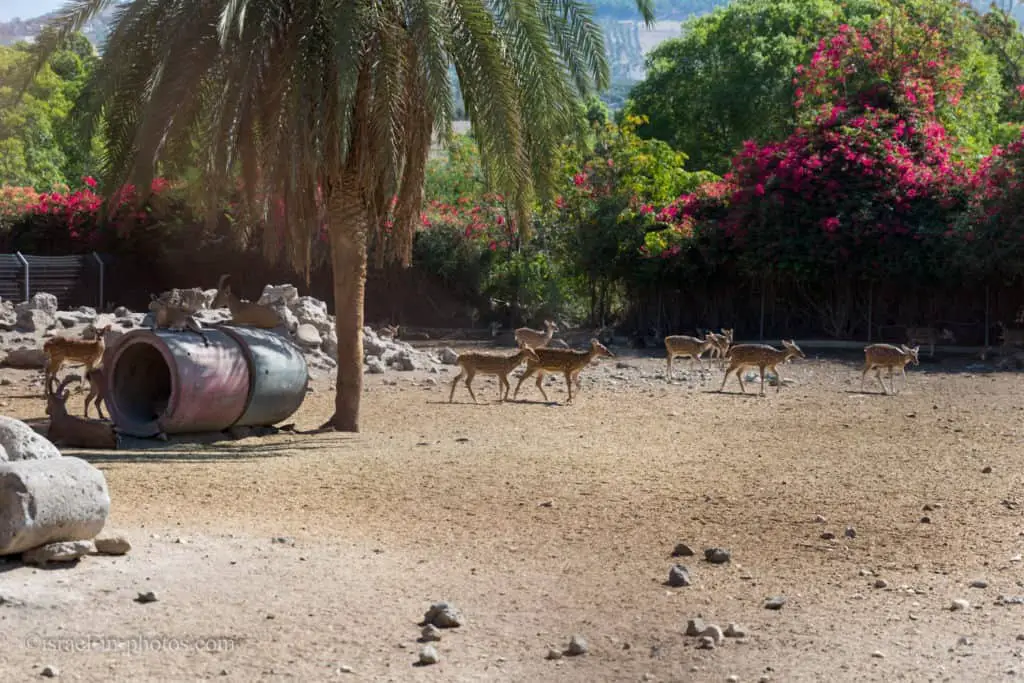 The Petting Corner
Would you like not just watching the animals, but also touching them up close? This is the time to come and visit the magical Petting Corner of Hamat Gader Park.
Waiting for you in a shaded and well-ventilated area lots of small and large animals. Among others, you will find in our Petting Corner gentle and cute bunnies and hamsters, that will gladly sit on the palm of your hand, and even taste a piece of carrot or a cucumber, more active ferrets; smart Surakates, that will probably remind some of you Timon, from the movie "Lion King" – animals with a human-like expression and a lot of joy; as well as a large family of goats, deers and mountain deers that you can feed with lettuce, cabbage and other vegetables.

Our park staff is at your service throughout the visit, and they will gladly provide you with information and explanations on each of the animals, and even tips for raising pets in your own home.
A visit at the Petting Corner is a relaxing experience, and coming in close contact with these cute creatures was proven to be beneficial for peace of mind and creation of social interaction. Come with your young kids and we guarantee they will not want to go home.
We did not pet anyone. All the animals were resting in their cages. Maybe it is because we were visiting during the winter.
When I passed near the parrot's area, the sign said that the Parrot Show would be in 13:00. We will return to it later.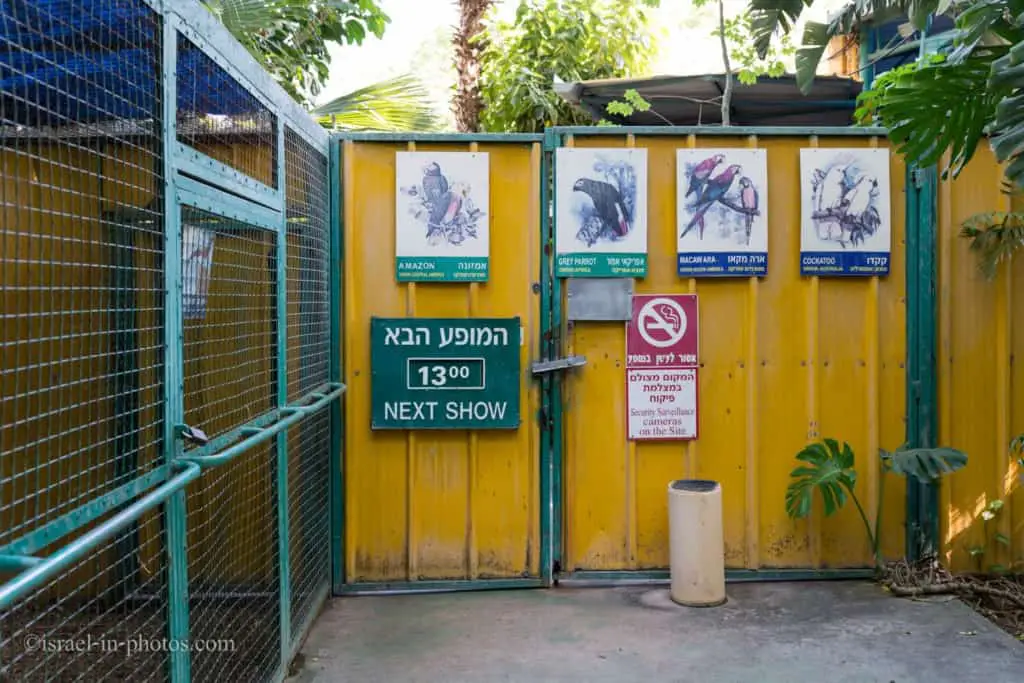 Crocodile Farm
Hamat Gader is known for its Crocodile Farm. And I guess it is due to the farm's size.
Over 200 crocodiles of various species, that came to us virtually from all over the world – India, Africa, South America, and other locations. At the farm, that is identical to the crocodiles' natural habitat, live peacefully crocodiles, caimans, a giant sea crocodile, and other crocodiles. Our crocodile farm attracts tourists and visitors from all over the world and is considered to be the largest farm in the entire Middle East.

The tour of the farm includes walking over a wooden bridge, that passes right inside the reserve, and allows visiting the crocodiles up close, and see how they live. You will also be able to see the dedicated staff taking care of the crocodiles and feeding them (please check in advance of the feeding times). Our crocodile farm is a real attraction for the entire family, and a great opportunity to meet up close some of the most intelligent and impressive animals of nature.

Fun fact: alligators are born with 60 teeth, and adults have 66-80 teeth.

Nile Crocodile
The Nile crocodile (Crocodylus niloticus) is an African crocodile, the largest freshwater predator in Africa, and may be considered the second-largest extant reptile and crocodilian in the world, after the saltwater crocodile (Crocodylus porosus). The Nile crocodile is quite widespread throughout sub-Saharan Africa, occurring mostly in the central, eastern, and southern regions of the continent, and lives in different types of aquatic environments such as lakes, rivers, and marshlands. Although capable of living in saline environments, this species is rarely found in saltwater, but occasionally inhabits deltas and brackish lakes.

The range of this species once stretched northward throughout the Nile, as far north as the Nile delta. On average, the adult male Nile crocodile is between 3.5 and 5 m (11.5 and 16.4 ft) in length and weighs 225 to 750 kg (500 to 1,650 lb). However, specimens exceeding 6.1 m (20 ft) in length and weighing up to 1,090 kg (2,400 lb) have been recorded. Sexual dimorphism is prevalent, and females are usually about 30% smaller than males. They have thick, scaly, heavily armored skin.
Source: Wikipedia


Near to each area, there is a sign with basic info. Like this one for the Caimans: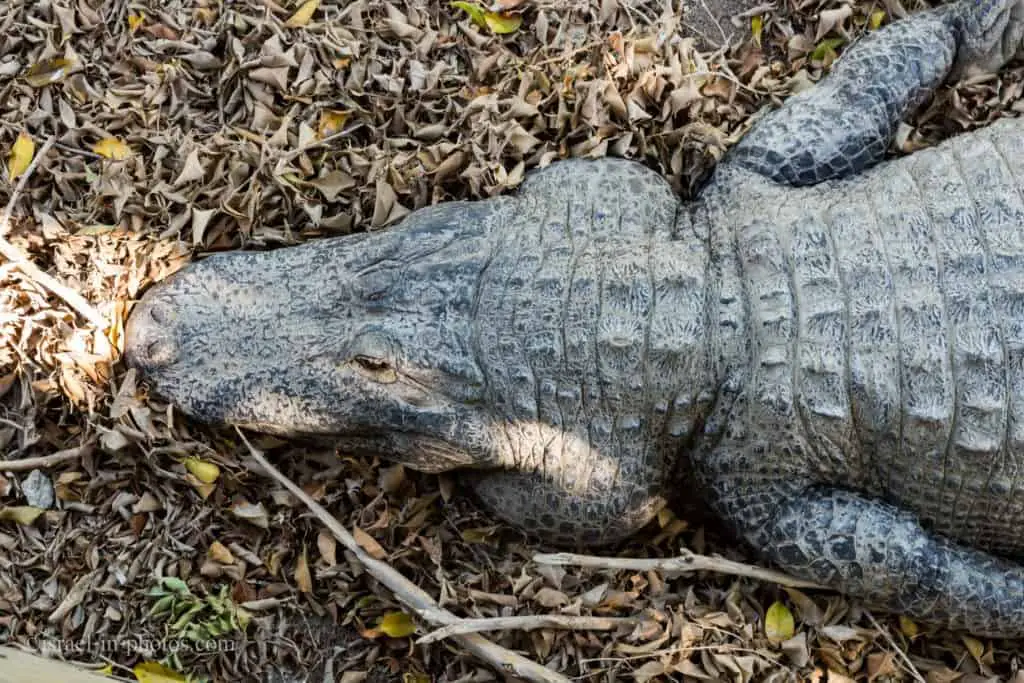 Gharial
The gharial (Gavialis gangeticus), also known as the gavial, and fish-eating crocodile is a crocodilian in the family Gavialidae and is native to the northern part of the Indian subcontinent. The global wild gharial population is estimated at fewer than 235 individuals, which are threatened by loss of riverine habitat, depletion of fish resources, and entanglement in fishing nets. As the population has declined drastically since the 1930s, the gharial is listed as Critically Endangered on the IUCN Red List. It once inhabited all the major river systems of the Indian subcontinent, from the Indus River in the west to the Irrawaddy River in the east. Its distribution is now limited to only 2% of its historical range. It inhabits foremost flowing rivers with high sand banks that it uses for basking and building nests. Adults mate in the cold season. The young hatch before the onset of the monsoon.

The gharial is one of the longest of all living crocodilians, with a body length of 350–450 cm (140–180 in). Male gharials reach a body length of up to 600 cm (240 in) and have a distinctive boss at the end of the snout, which resembles an earthenware pot known in Hindi as ghara. The gharial's common name is derived from this similarity. With 110 sharp, interdigitated teeth in its long, thin snout, it is well adapted to catching fish, its main diet.
Source: Wikipedia
During the summer months, you can join a crocodile feeding. But since we visited during the winter, we saw an add near the ticket office telling there will be no feeding today.
The Fishing Ponds
Near to the Crocodile Farm, you can find the fishing ponds.
At Hamat Gader, you too will become a fisherman, take a fishing trip to the lake with your children and eat a fresh fish meal (and fish) on your hands!

Our fishing lake is one of the most popular attractions in the Golan and the entire North. Here you can fish for yourself – fish and carp – and prepare them for eating. The pool staff will be happy to clean the fish for you and a special area in the park is assigned to the barbecue. There is nothing like the taste of fresh fish on the grill, plus herbs, fresh vegetables or as it is.

We know that health is important to you too, so the produce in the fish ponds is organic.
From the animal world, I returned to the hot springs. And near the hot spring's picnic area you can find the Hamat Gader's Antiquities.
Archeological Site – Hamat Gader's Antiquities
Did you indulge yourself at Hamat Gader's ancient baths? Did you enjoy our Spa treatments? Now is the time to see where it all started.
The warm springs site was established by the Romans 1800 years ago, the discovered the large touristic potential of this site. Like any other site founded by the Roman Empire, the baths site was also built implementing the highest standards of those days, and with great luxury: Large halls, fancy arches, and giant gates, designed and crafted mosaic floors and expensive marble coating. In those times, Hamat Gader's bath sites were considered only second in beauty throughout the Roman Empire.

Besides the touristic and recreation sites, the Romans also established various religious buildings (including a synagogue!), and pagan temples. In the site they also built a theatre, that was used for entertainment and culture shows.

All this grandeur was preserved till our times, and we invite you to take your time and tour Hamat Gader's antiquities tour. Together we will stroll among the large halls, admire the artworks that decorated every corner, and visit the remnant of the structures and theatre. A true attraction for both adults and kids.
Probably because we visited during the winter, Hamat Gader's Antiquities was closed. After several attempts, I was able to shoot this through the fence.
The Water World
At the heart of the site, you will find the large pool and a 10 meters high splash water slide. In the large pool, you can enjoy water cannons specially designed to release the neck and shoulders' muscles, as well as a giant waterfall that will give you a powerful massage. Under the waterfall, you will find designed mosaic benches. You are welcome to sit on them and enjoy a strong and quality massage for your neck, shoulders and upper back muscles.

Beside the pool, you will find in the geysers bursting from the heart of the earth, next to a relaxing bubble pool. Outside the Splash Site, you will find open playgrounds.
To make a long story short – whether you want to jump into the water, or have the water jump at you; whether you seek a refreshing experience or prefer a relaxing experience, where you can loosen your muscles – the appealing Splash Site is here for you.
I feel that I start repeating myself, but I should mention that since we visited during November, this complex was closed.
Though, this small children playground was open.
The Hot Springs World
And now we will see the main attraction, the hot springs.
The bathing site at Hamat Gader Springs was found 1800 years ago by the Roman Empire that rules Israel during those times. The Romans discovered the water springing from the heart of the earth and immediately realized that this is a place everyone will enjoy visiting.
Since then and up to our times, Hamat Gader's thermo-mineral springs attract tourists and visitors from all over the world. Thanks to their many medicinal qualities, the water temperature is a constant 42 C throughout the year, and bathing in them is soothing and relaxing.

Among the health benefits that can be enjoyed from bathing in this water are the release of joint pains and pains in general, rejuvenation of skin cells, speeding the metabolism, expansion of the blood vessels that contribute to the reduction of blood pressure and an increase of the pulse, etc.
The springs site includes large pools and waterfalls, unique Jacuzzi chairs and comfortable beds. Alongside the pools, you can find the magical treatment rooms, in which you can enjoy a broad range of pampering Spa treatments.
The hot springs complex is not massive. And at the beginning of this post you saw a photo of it from one side, and here is how it looks from the other side.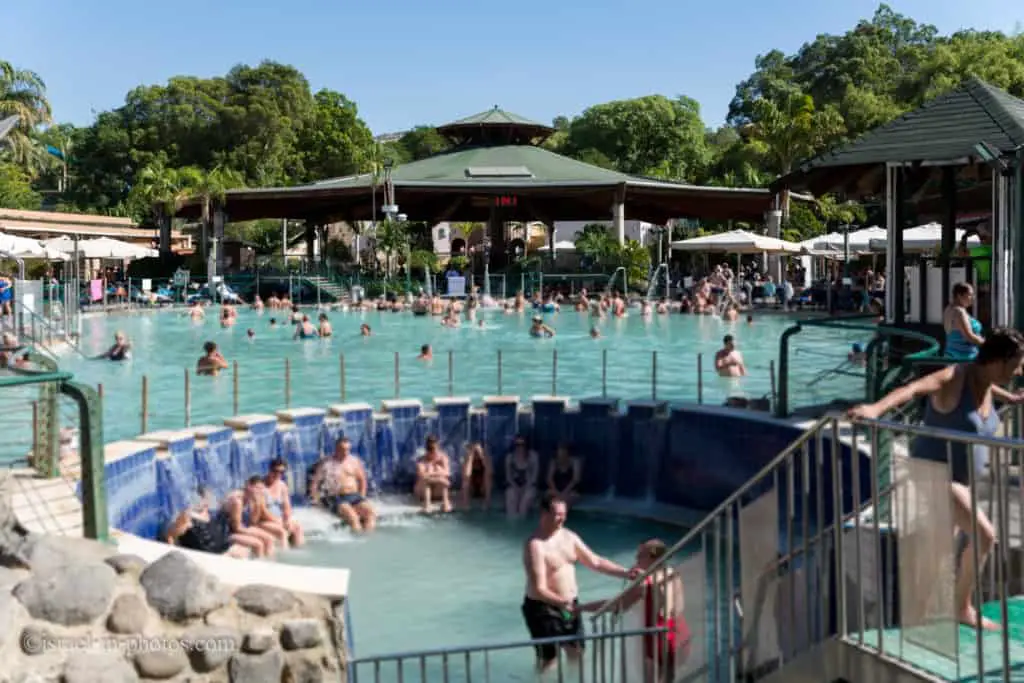 I liked the fact that a big part of this complex is shaded. And the Jacuzzi chairs were nice. But in all instances, all chairs and beds were taken. We had to wait in line, and it was November. I guess that the density in the hot springs complex during the summer month is much higher. So, keep this in mind when planning.
Also note that these are more relaxation pools, and you can not swim there.
Parrot Show
It was almost one o'clock, so we made a break and went to the parrot show.
The parrots you'll meet come from all over the world: Indonesia, Africa, and even the remote South America, They are yellow or read, have orange or green wings. They speak and play around, and know how to do many other things. Meet Hamat Gader's parrots.

18 trained parrots take part in our spectacular parrot show: Cacadu, Macao, Amazon, Jacko, and many others, performing many actions and stunts: They speak, surf on various devices, ride miniature bikes and even gamble in a special game! Both children and adults will be wowed during the show of these smart and energetic parrots. A show you will leave wishing for more!
Following the 20 minutes' show, you will be invited to continue for a tour of our green tropical greenhouse, in which dozens of colorful rare birds grow. Bring your cameras and feel like you took a trip in the Amazon forests – right here in the North.
At the parrot show: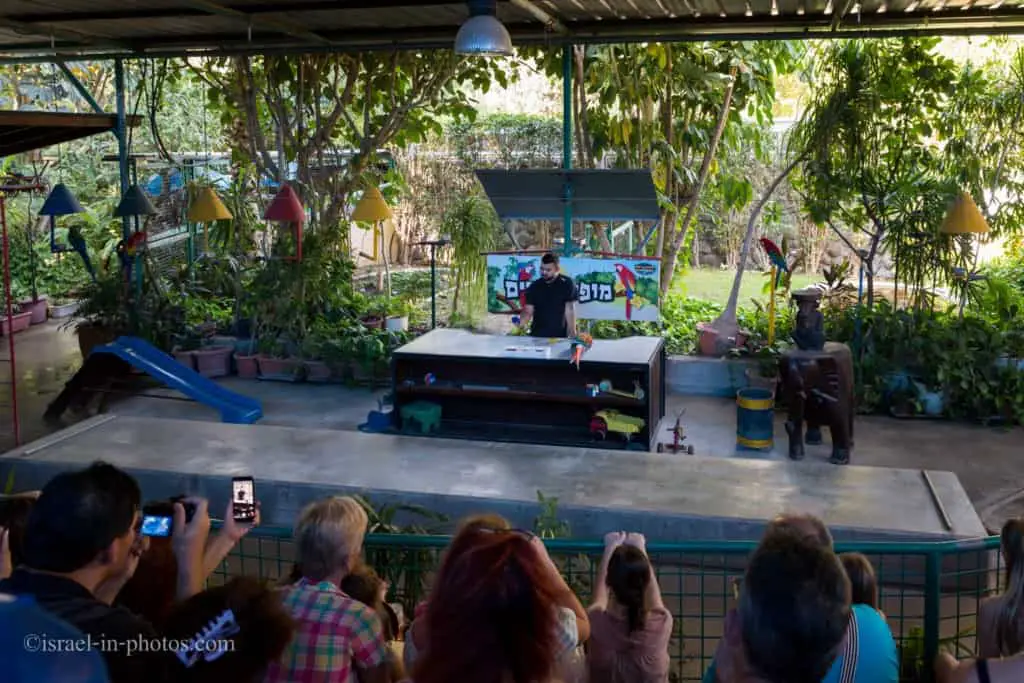 Solving puzzle: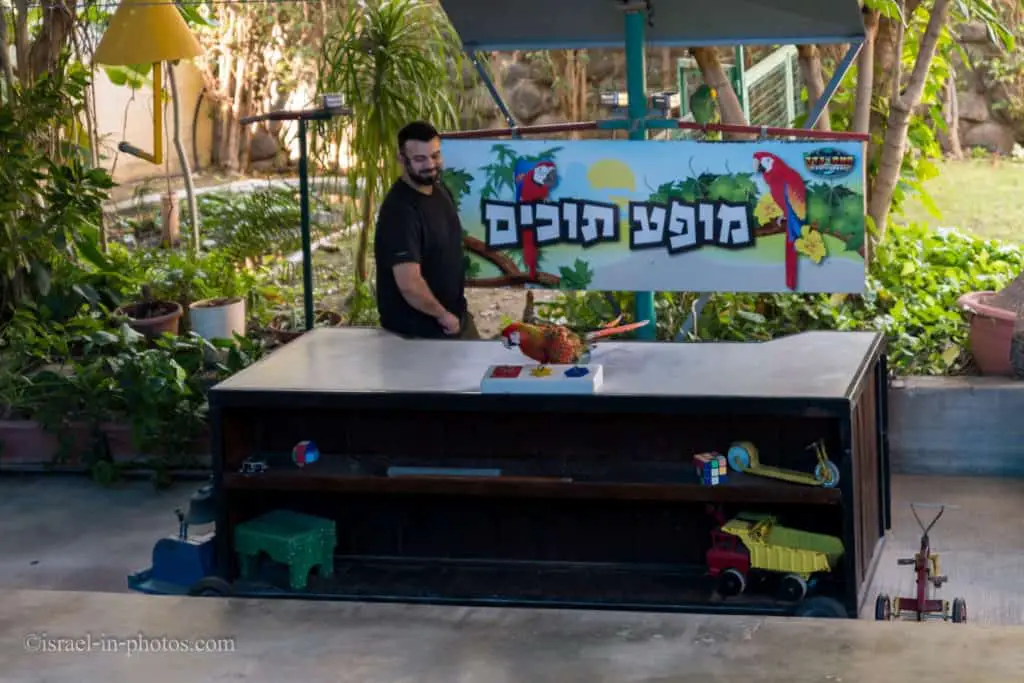 Here are several other photos from the show.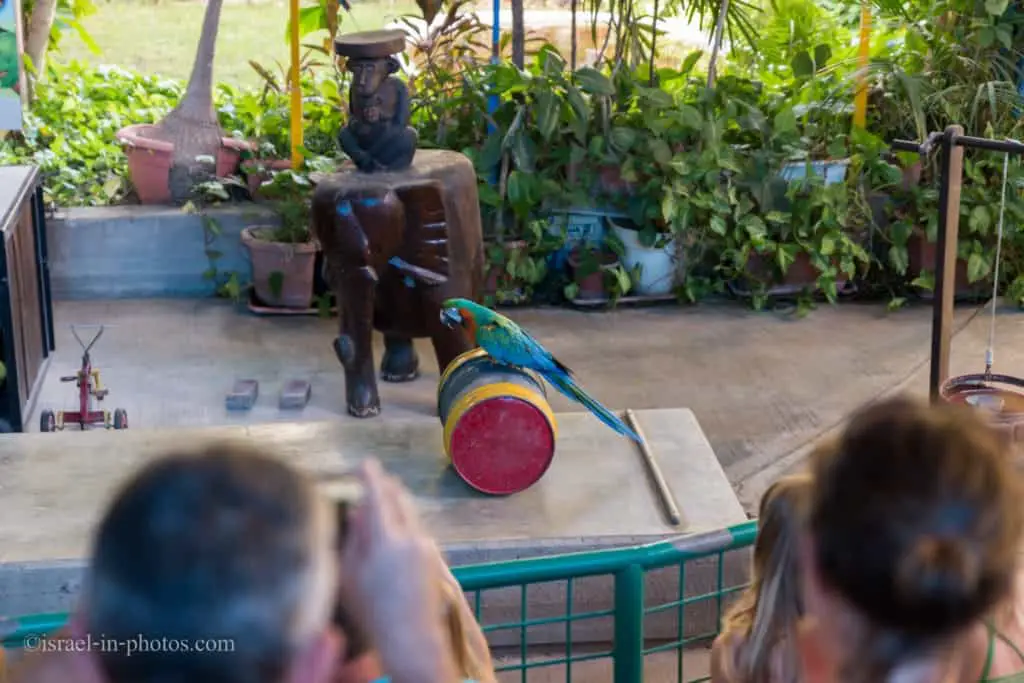 Overall, the 20-minute show was nice, and most people loved it. At the end of the show, we revisited some of the animals and went for lunch.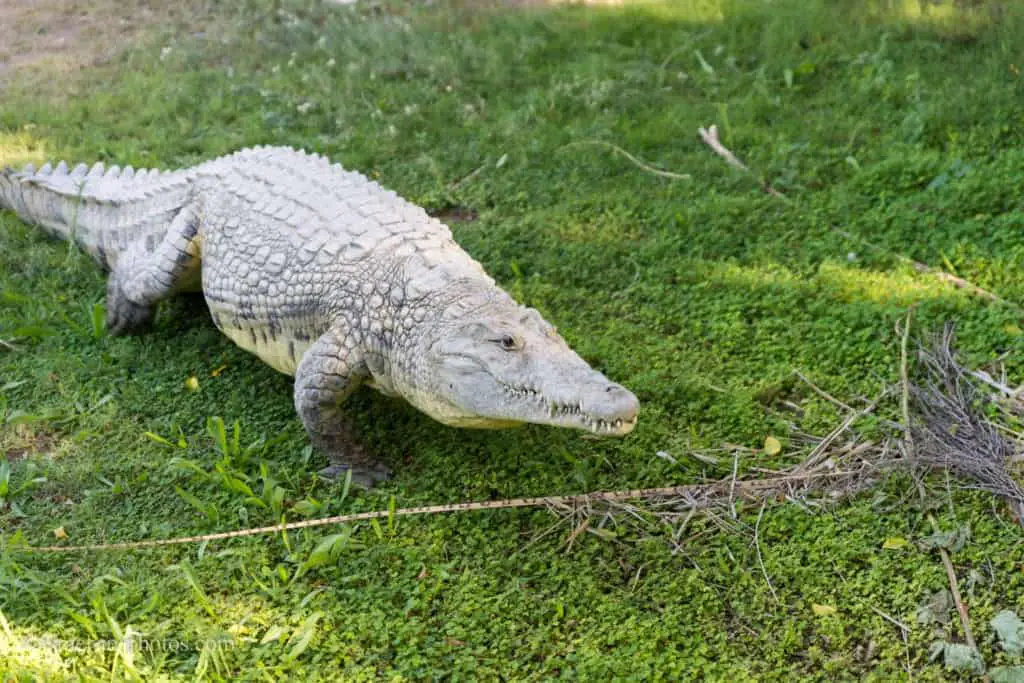 After lunch, we returned to the hot springs for another round and called it a day.
Summary
Hamat Gader is a lovely attraction for the whole family, and you can easily spend the entire day there. But before you plan a visit, first of all, decide when to visit (see When To Visit Hamat Gader? section above). And secondly, look for coupons online.
Also, Hamat Gader is first of all a hot springs site. All the other attraction are extras where you can spend some time between dipping in the hot springs. I intend that if you want to visit a good zoo, then Hamat Gader is not the place for it. Or if you are looking for an archeological site, then visit one of the National Parks And Nature Reserves. Just wanted to mention it, so that you will keep realistic expectations.
Also, as you during the post saw many places were closed. Thus, if you are interested in them, I would suggest calling Hamat Gader in advance and checking what is open.
For additional attractions in the area, check out Sea of Galilee post.
Have you ever been to Hamat Gader? Tell us about your experience in the comments below.
That's all for today, and I'll see you in future travels!
Stay Tuned!

Additional Resources
Here are several resources that I created to help travelers:
And if you have any questions then check out Useful Information For Tourists To Israel.

Did not find what you were looking for? Email me at
hi@israel-in-photos.com
, and I will do my best to answer your questions.