Today we are going to talk about a hidden observation stock at Emek Hefer. It's probably one of the best places in Israel to watch pelican migration. And I found out about this lookout only recently through social media. Since then, I visited this area twice and today I'm going to share my findings.
Pelican Migration
If you have been following my blog for a while then you know that Israel is a good place for bird lovers. This is due to the fact that Israel lies on the migration path of many birds (you can read more about bird migration at Bird Ringing at Ein Afek post).
I've visited Agamon ha Hula many times, but never saw many pelicans there. What I did see was cranes, tens of thousands of cranes. But as it turns out, you don't have to drive all the way to Northern Israel to see pelican migration. In fact, you can find them at Emek Hefer in a place that's called Viker lookout point (named after Viker family that donated the money).
Map of the area:

First visit
The first visit was in the middle of October. We arrived around 9:30 am, quite late but there we still many pelicans.
Viker observation at Emek Hefer and Alexander stream:
As you can see, there is no big parking lot. Thus, people park along the roads. Therefore if you arrive late there is a big chance there will be no nearby parking. Another reason to wake up early.
Viker observation: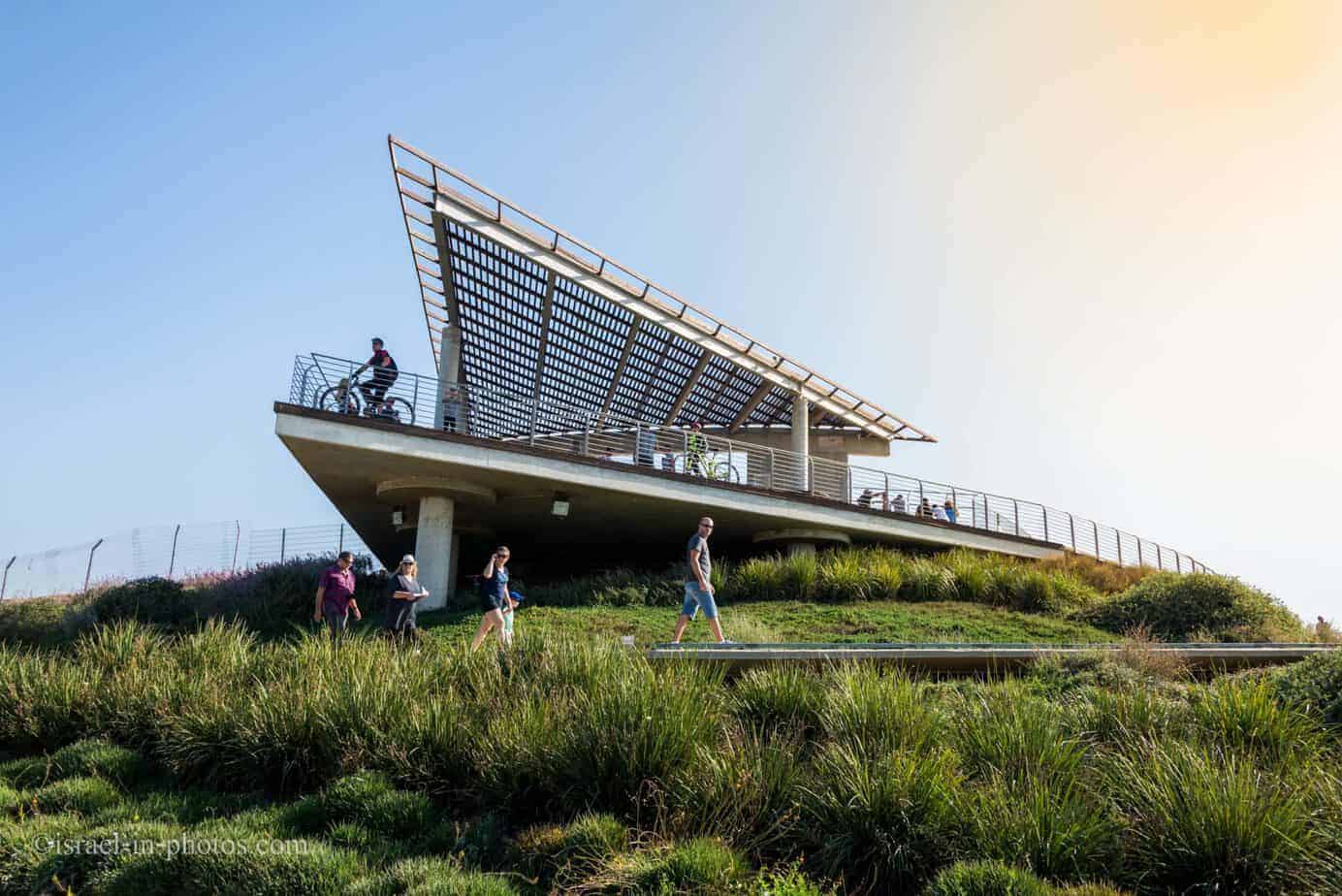 After climbing to the lookout we saw thousands of pelicans:

Many of them were already leaving on their way to Africa.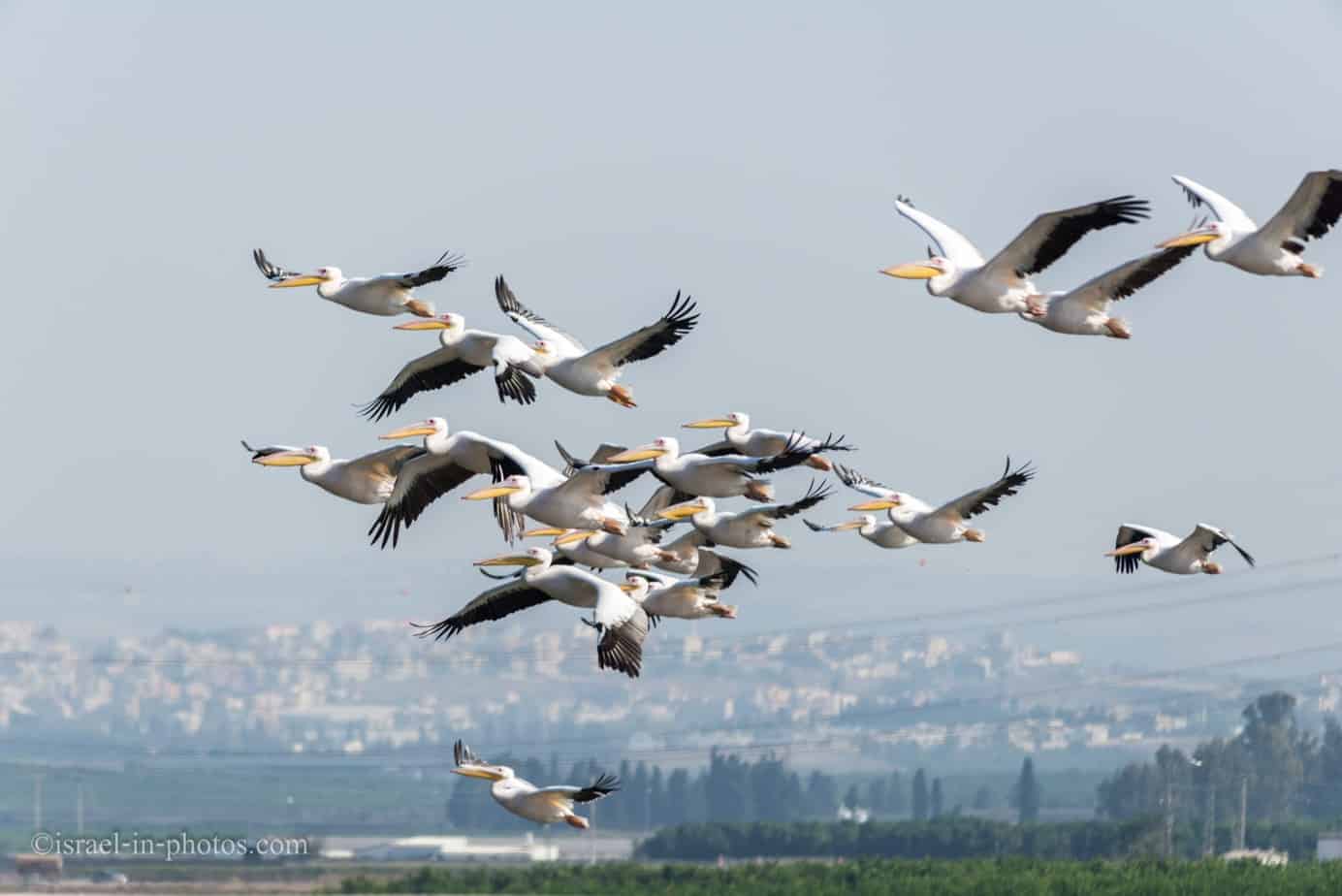 And many people enjoyed the view:

Of course, there are many photographers 🙂

The viewpoint is on one side of a pool. If you look at the opposite side, then you will see another lookout. But, the other one is not "people friendly", it's simply standing by the fence. Here is it:

We decided to walk to the other side and on our way, we saw other species besides pelicans. Here is a cormorant for example:

The view from the other side:

As I mentioned, the other side there is fully covered with a fence. But, there are several holes you can photograph through.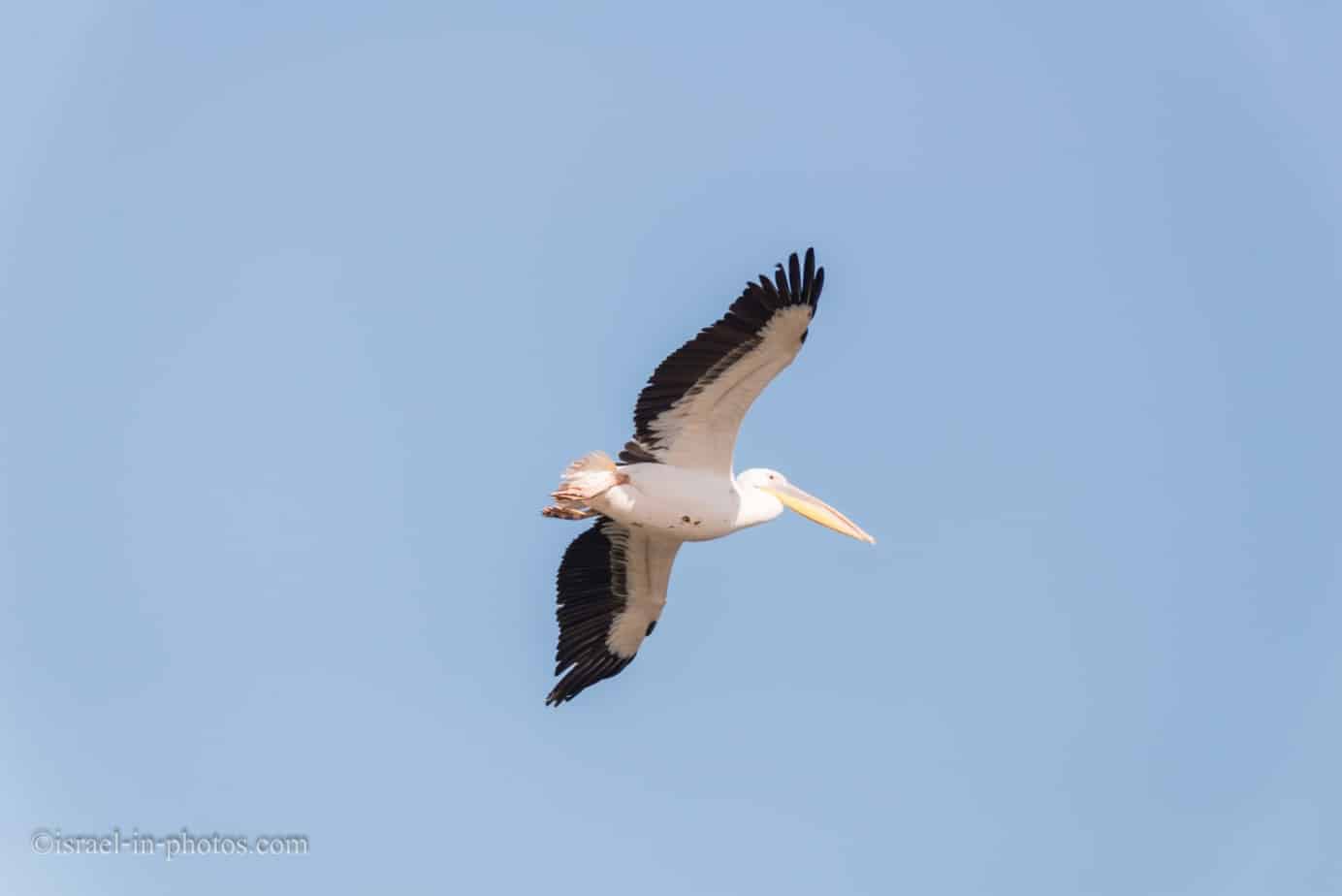 Second visit
Our second visit was in the beginning of November. And there were much fewer pelicans. As you can see, there are about the same number of cormorants as pelicans.

Pelican is the largest bird that migrates through Israel and its wingspan can reach 3.5 meters.

One of the reasons that pelicans stop by this pool is food. I've seen reports that people from the nature authority feed them with fish.

Resting before the long flight: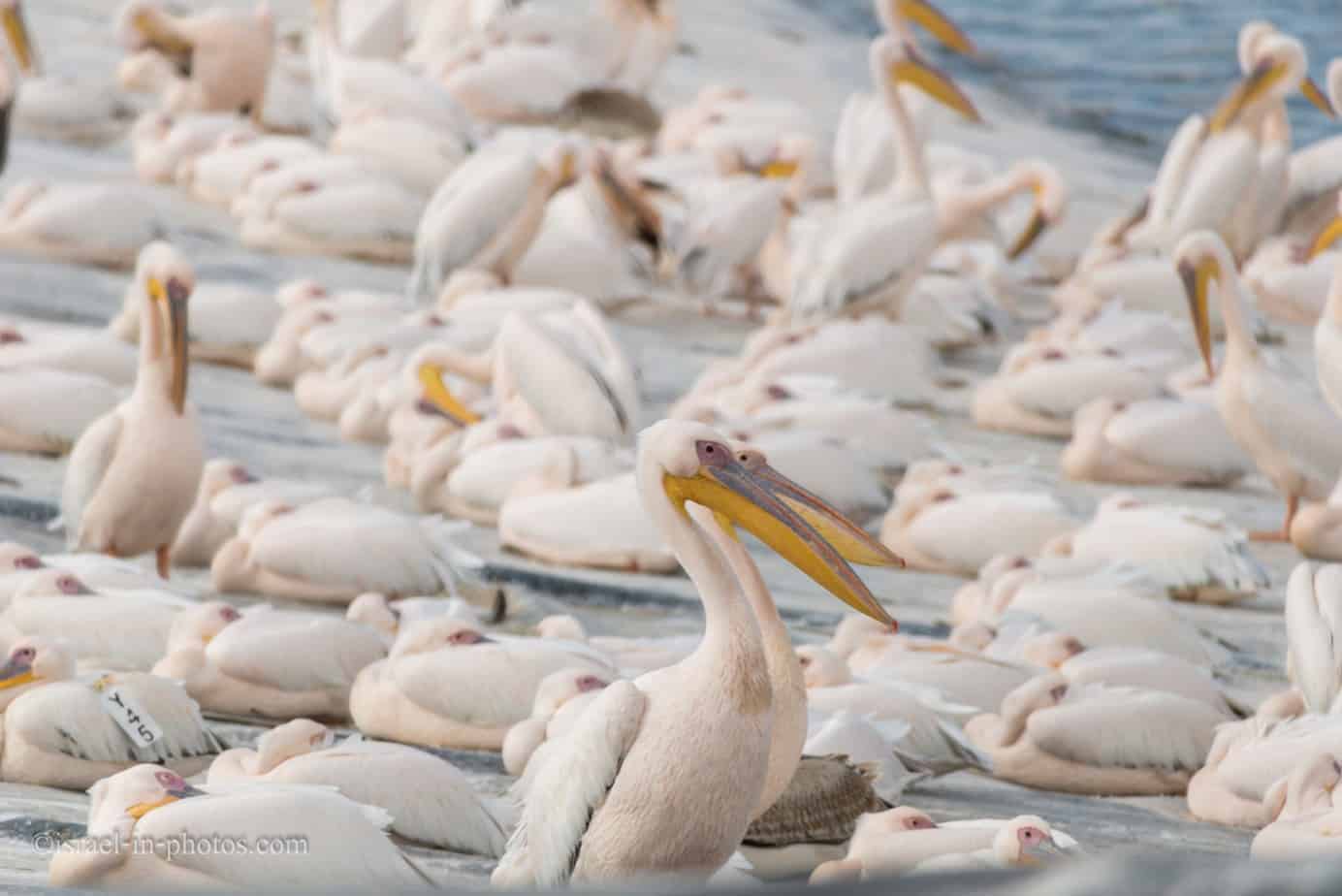 And one last view from the other side: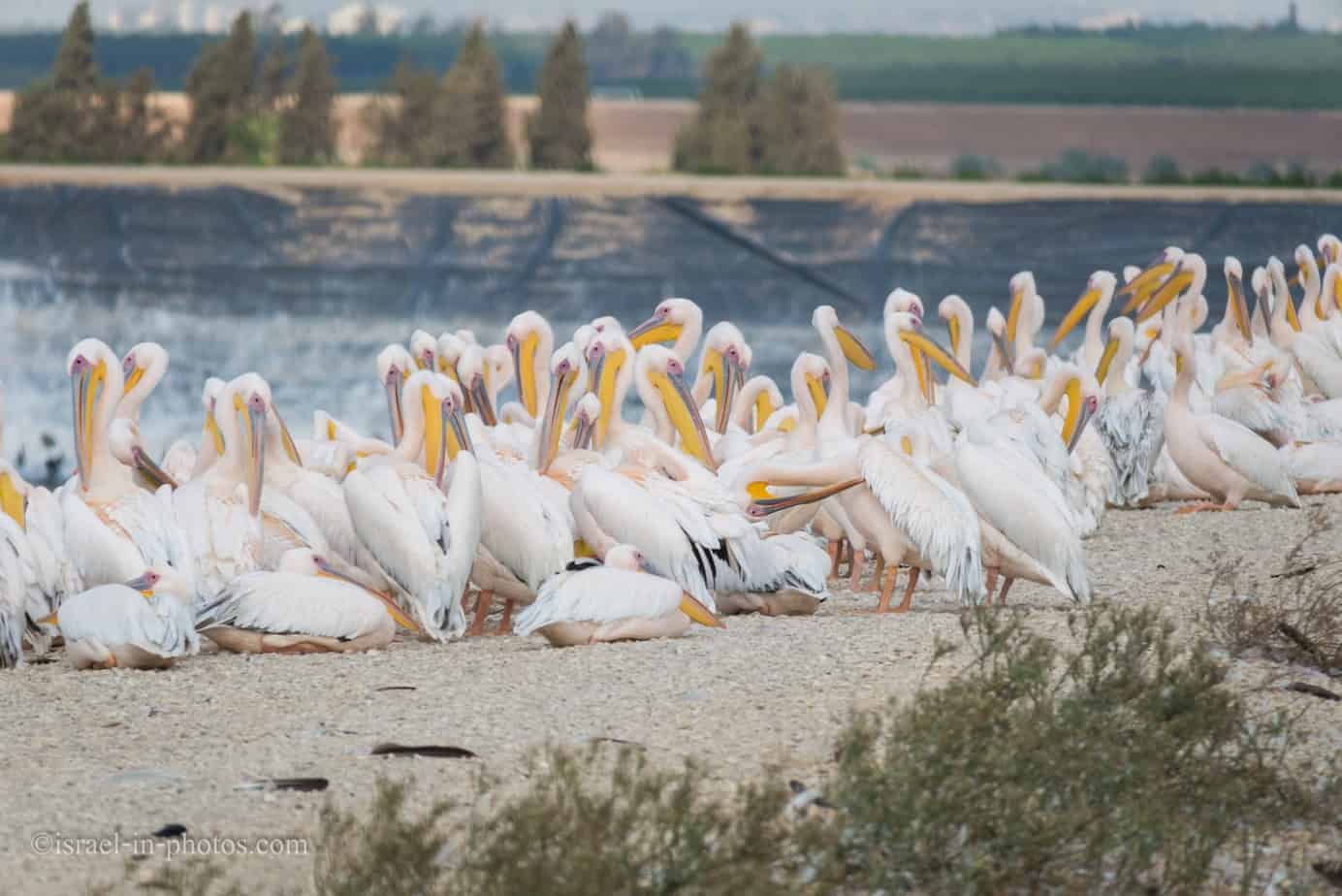 Soft-shell turtles at Alexander Stream
On our second visit, we decided to visit another nearby attraction. At the same Alexander Stream, next to Turtle Bridge you can find soft-shelled turtles.

Map of the area:

It's the only place in Israel, that I'm familiar with, where you can find these turtles.

They might look small but they are actually quite big. The soft-shelled turtle can reach 1m in length 50kg weight. The origins of the soft-shell turtles are in the sweet water lakes of East Africa. It's a carnivore that feeds on a diet of worms, fishes, and other small water animals.

As you can see all my photos of the turtles are as they swim in the water. That's because we arrived after visiting the pelicans, it was late and already hot.
If you want to see them outside, come early as they warming up at the sun.


I haven't mentioned, but both places (Viker lookout and Turtles bridge) are free.
Hope you enjoyed this post and I'll see you in future travels.
Stay Tuned!
To find more about animals in Israel visit birds category and animals category.