Today we are going to look at migrating birds, specifically pelicans. We will visit several places at Emek Hefer including Viker Lookout and Agamon Hefer. Let's begin!
Pelican Migration
The common pelican weights 8 – 11 kg and has a wingspan of 2.5 – 3 meters. That makes them the largest migrating bird that crosses Israel. Moreover, if you have been following my blog for a while, then you know that Israel is a good place for bird lovers. That is because Israel lies on the migration path of many birds (you can read more about bird migration at Bird Ringing at Ein Afek). Around 40,000 of pelicans fly over Israel twice a year, in Spring and Autumn.
Emek Hefer
Hefer Valley is part of the Sharon area in the coastal central plane of Israel. Big parts of Hefer valley are dedicated to agriculture. And farmers understood many years ago that millions of migrating birds could hurt agriculture. For example, a pelican eats 1 kg of fish a day. And a squadron of five thousand pelicans eats 5 tons of fish per day.
As a result, they created feeding places for birds. This form of "tax," is beneficial for both sides. Birds know where they can find food, and other fields and fish tanks remain not affected. Moreover, if the feeding place becomes a touristic attraction, then the tourists pay for the food (win-win situation). For example, when you enter Agamon ha Hula, you pay several NIS for the cranes' project. The money goes to buy corn for hundreds of thousands of migrating cranes.
Map of the area:
There are two main pelican feeding places in Israel. The first one is at Agamon ha Hula, and the second one is at Viker Lookout.
Viker Lookout
Viker Lookout (named after Viker family that donated the money) is a hidden lookout point at Emek Hefer. It is one of the best places in Israel to watch pelican migration. And I found out about it only several years ago through social media. Since then, I visited this area several times, and now I am going to share my findings.
Free entrance. Well actually, there is no entrance. There are several dirt roads passing through the area. And this leads me to the next question:
Directions
I wrote a hidden lookout point because, during my first visit, there were no clear instructions on how to get there. And even today, when you enter Viker lookout into Waze, it will almost lead you there. You will end up at the beginning of a dirt road (end of road #5711). You need to continue on the dirt road till you reach a three-way junction. On the T intersection, you should turn left, and after about 1 km you will see the lookout to your right. See the map above.
Visiting Viker Lookout
My first visit was in the middle of October 2017. We arrived around 9:30 am, quite late but there were still many pelicans.
As you can see, there is no big parking lot. Thus, people park cars along the roads. Therefore if you arrive late, there is a big chance there will be no nearby parking. Moreover, most pelicans that stay here for the night will also leave. Therefore, I suggest coming early.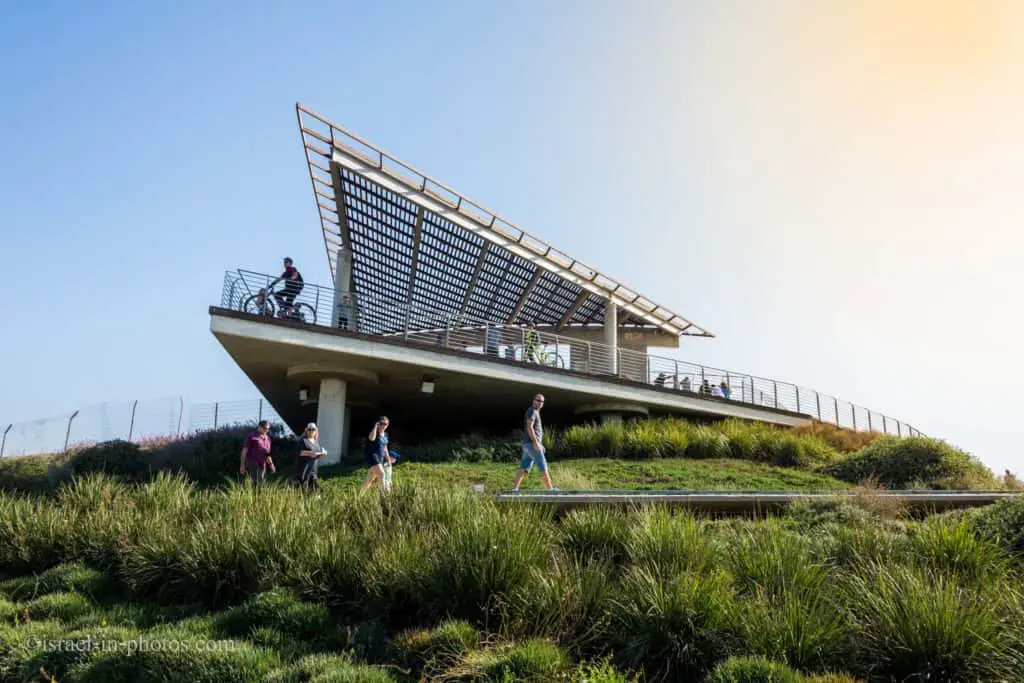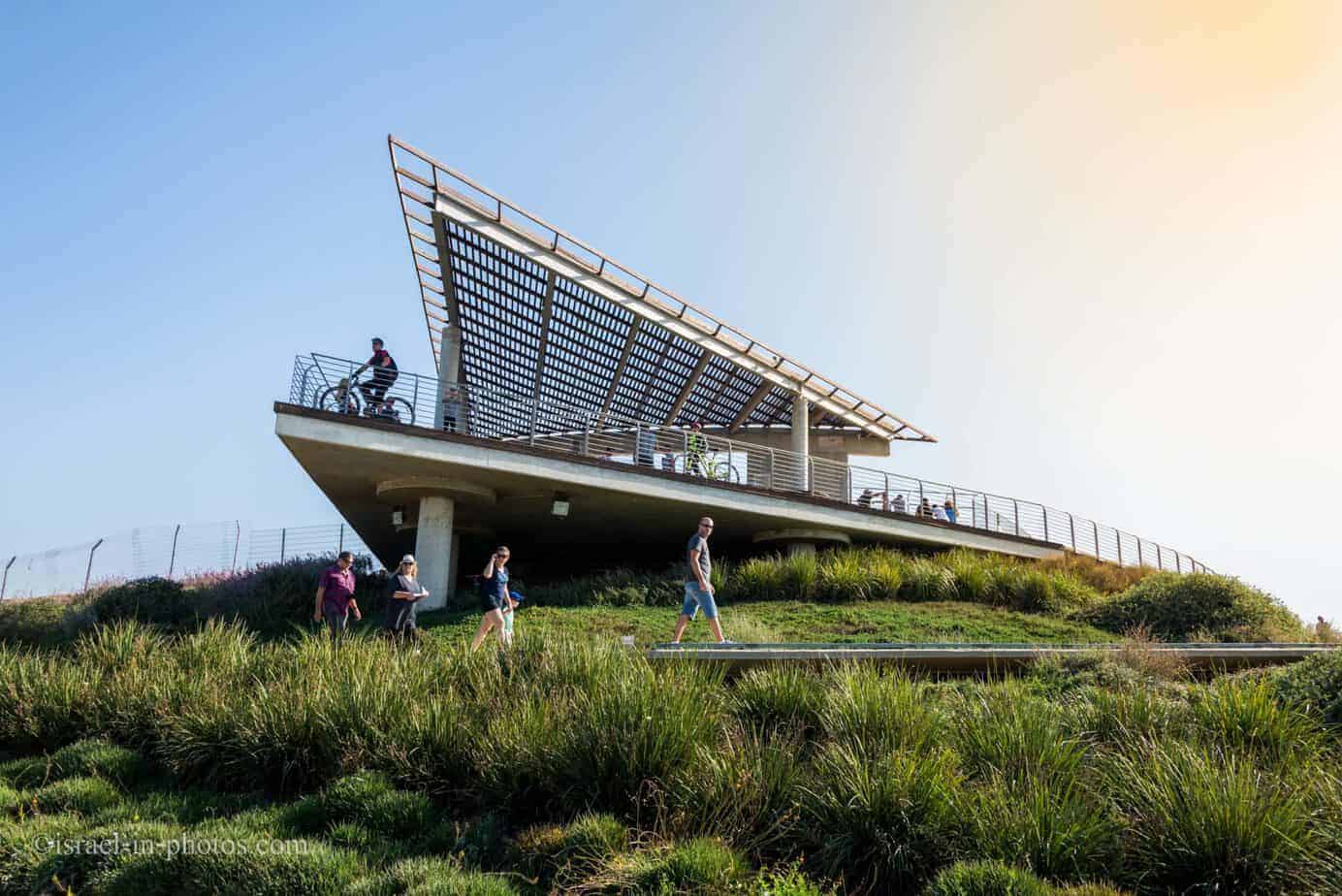 If you come during migration peak, then after climbing to the lookout you will see thousands of pelicans.
Many of them were already leaving on their way to Africa.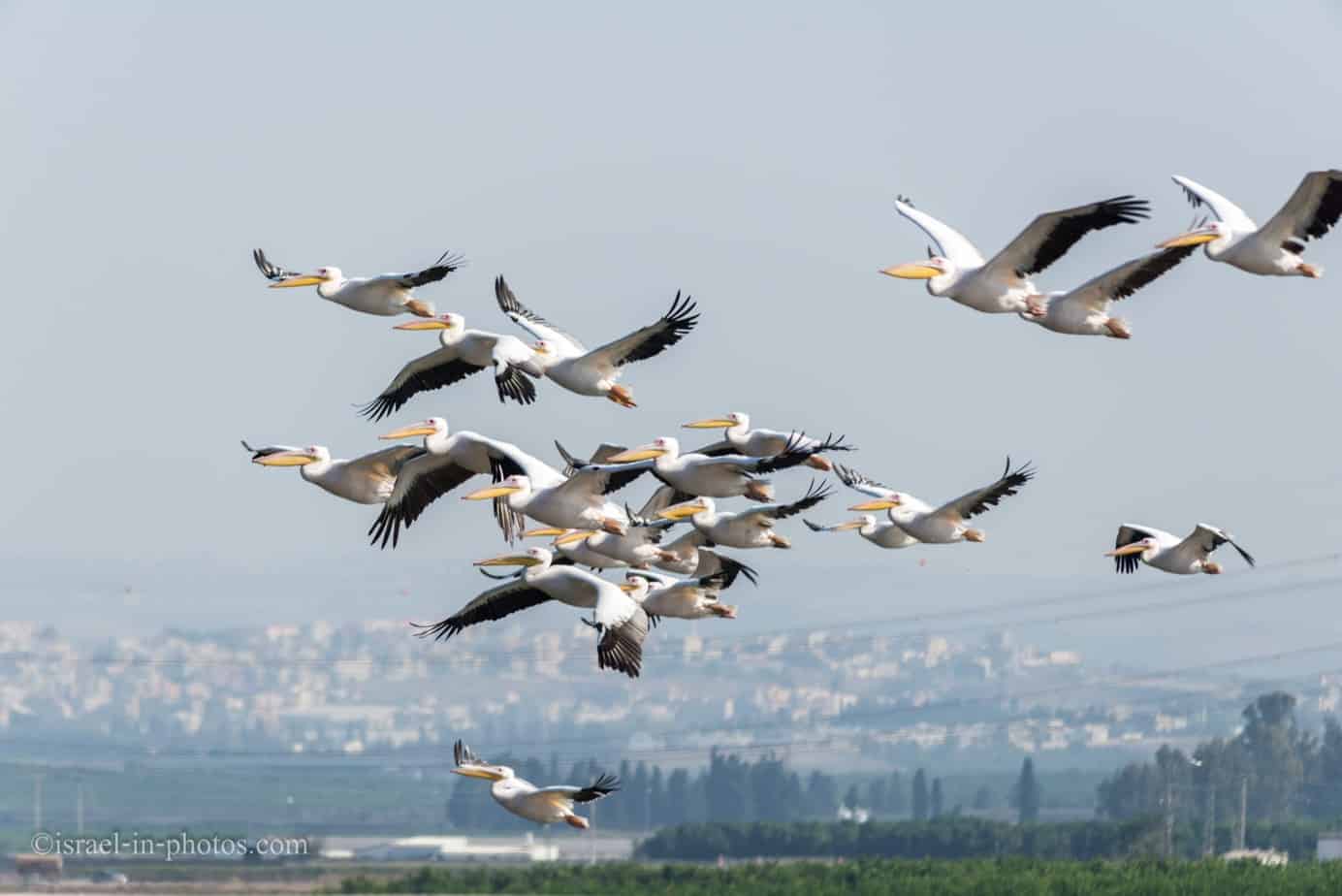 And many people enjoyed the view:
Of course, there are many photographers 🙂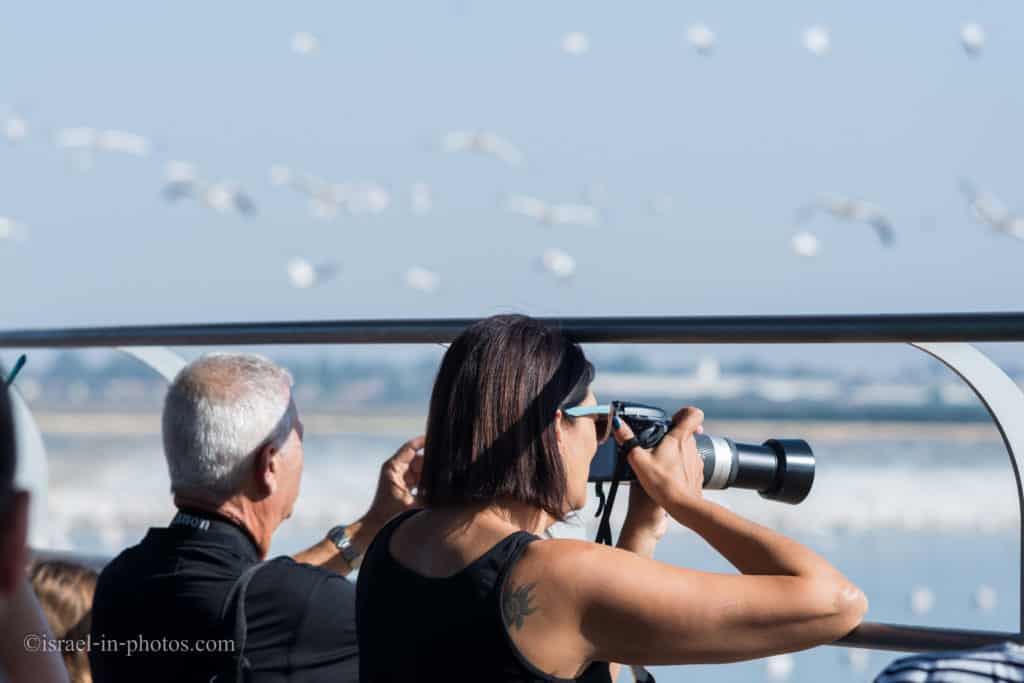 There is a viewpoint on the other side of the pool. And what I found during all my visits, is that on the other side you will be closer to the pelicans. You can either walk there or drive there.
The view from the other side:
The other side there is fully covered with a fence, with half a dozen holes, that you can photograph through.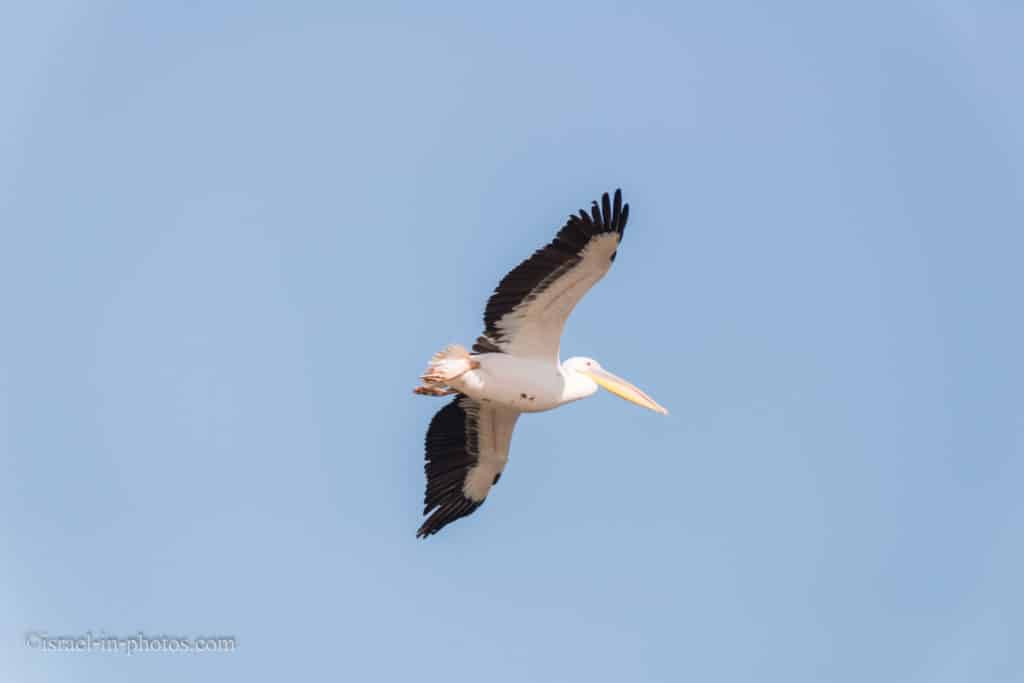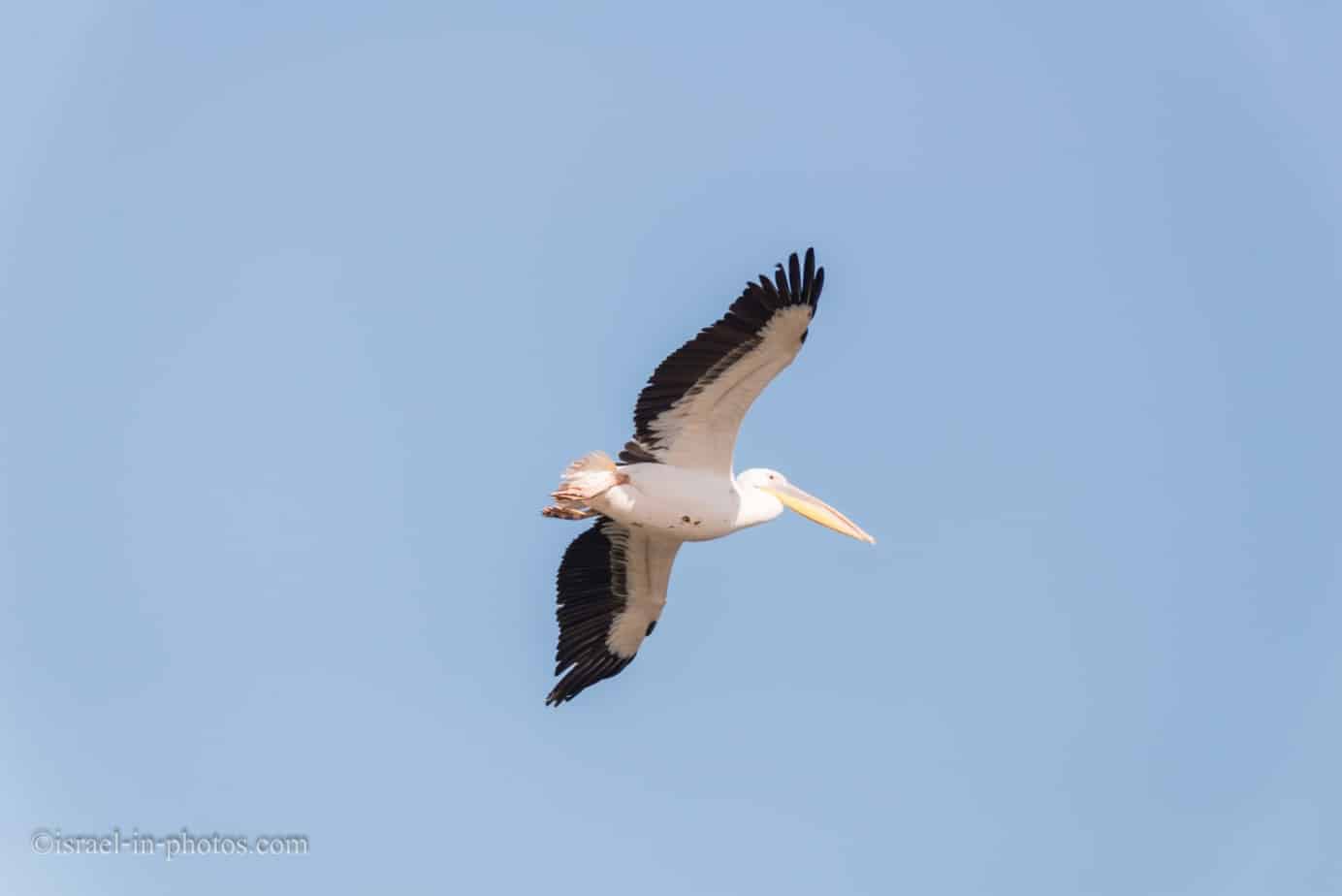 The second visit in 2017 was at the beginning of November. And there were much fewer pelicans. As you can see, there are about the same number of cormorants as pelicans.
Another shot from the other side: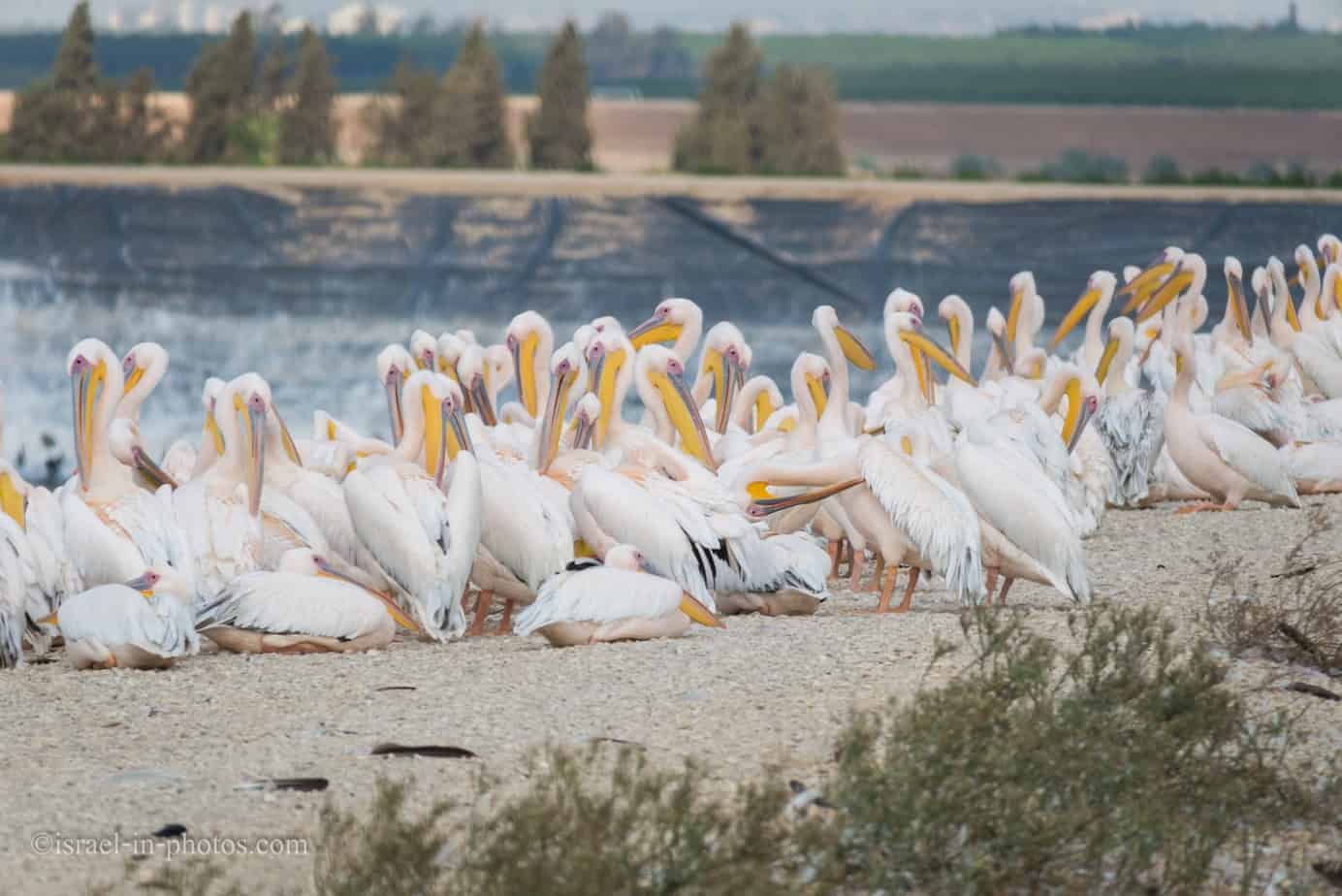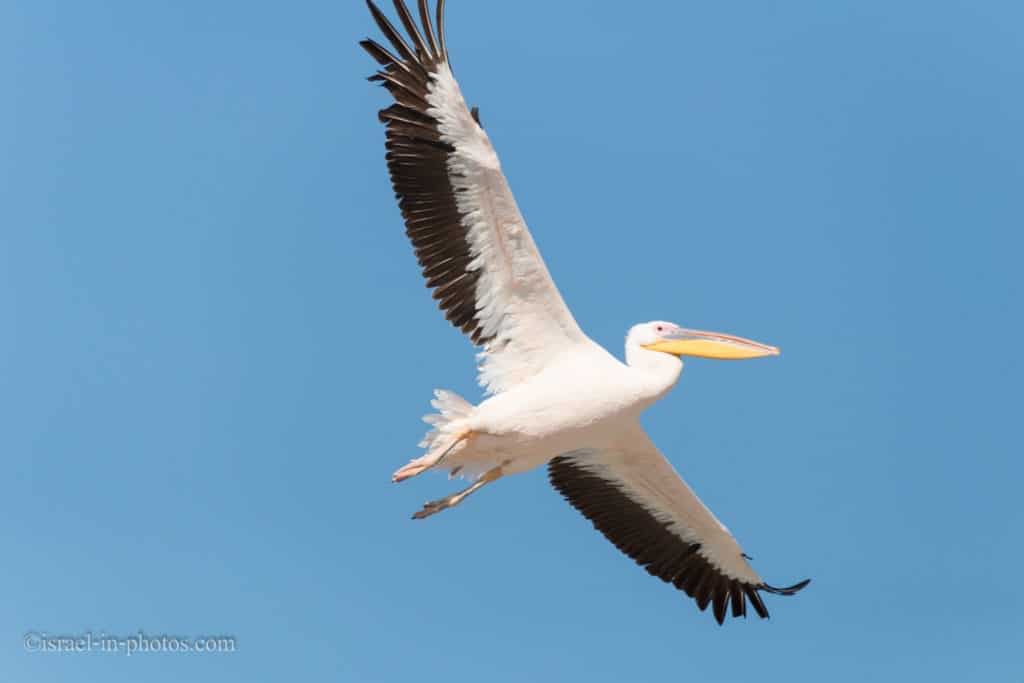 I have visited on 13 of October 2018, and there were quite many pelicans. But it was not the peak.
Mid October seems like the best time to visit, but this can be affected by climate and other factors. Therefore I suggest to follow relevant channels on social media, to know the exact dates.
Note: I took all the photos above with Tamron 200-500 mm on Nikon D610.
Agamon Hefer
Agamon Hefer is located not far from Viker Lookout (see map at the beginning of this post). And on one of the occasions, we drove there after visiting Viker lookout.
Agamon Hefer is also located close to the Alexander river and gets water from it. Here is a map of the area:
This place is also free, and there is plenty of parking nearby.
Agamon Hefer was opened in recent years and it is similar to Agamon ha Hula. Meaning, the muddy ground was turned into shallow pools. And dedicated walking trails were created along those ponds.
Here are the birds you might find at Agamon Hefer.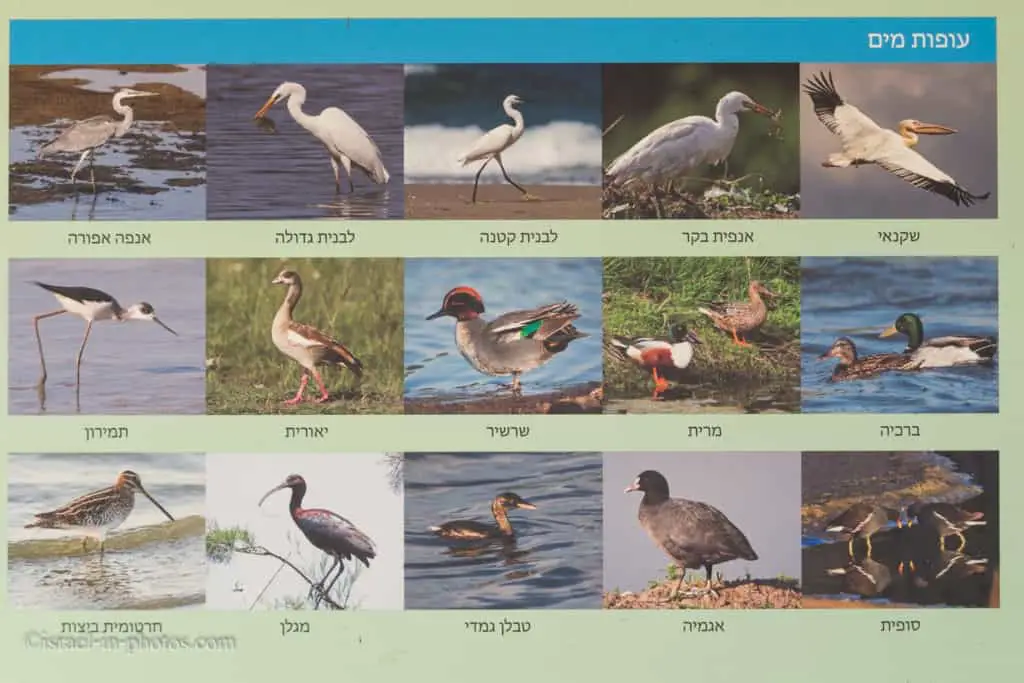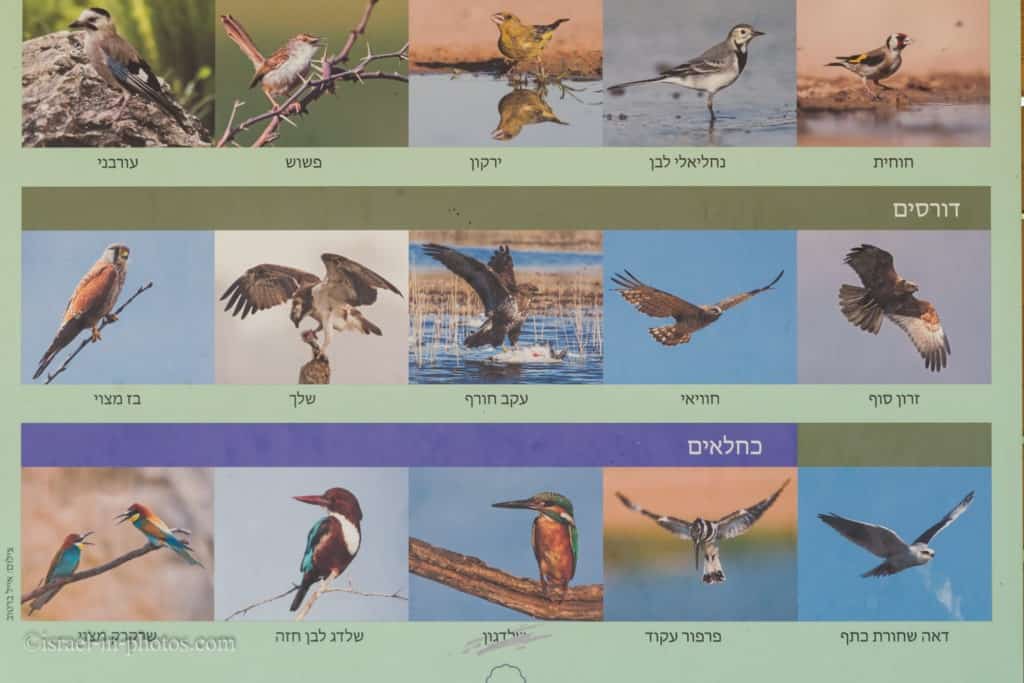 Along the trail, there are several lookouts.
One of the trails:
High viewpoint with Hedera power station at the background: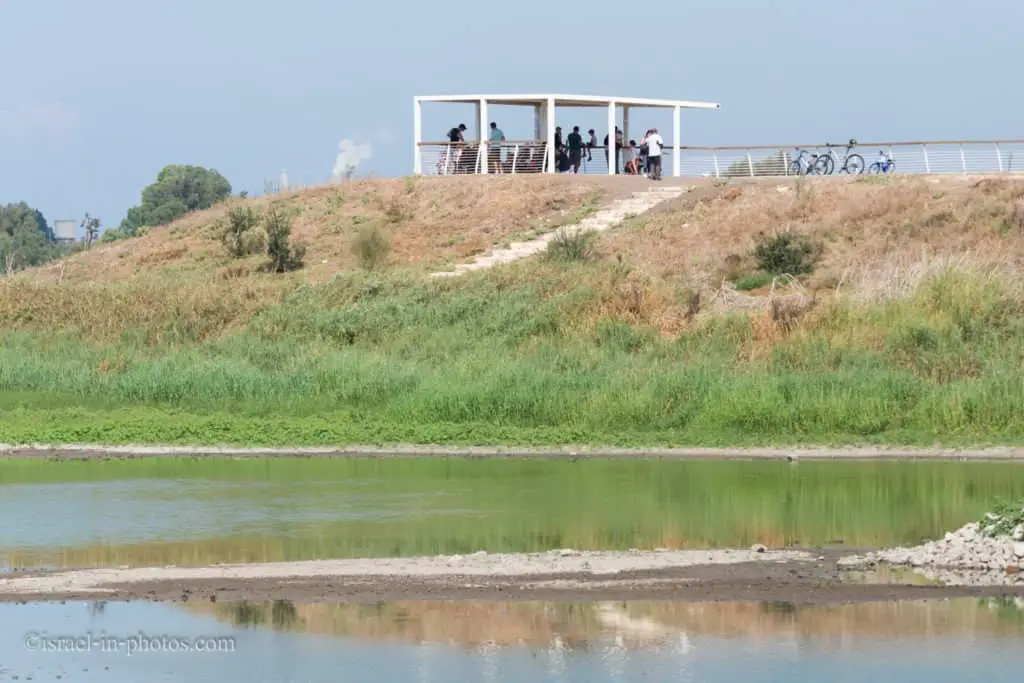 Unfortunately, though we saw many pelicans at Viker lookout, we did not see any here. There could be several reasons for it. First of all, this is a new place, and it might take time until birds will stay here. Also, we were there later during the day. But, I guess the main reason is the people. At Viker, there is a fence around the pool. Here there is none. And though the signs ask people to stay on the trails, many walked along the water. Some released their dogs, and of course, this scared away all birds.
But, at more distant places, there were birds. Moreover, I saw many Kingfishers there.
Not sure why Agamon Hefer is so popular, but there were many people there. Thus, if you are planning a visit, and want to see wildlife, come early.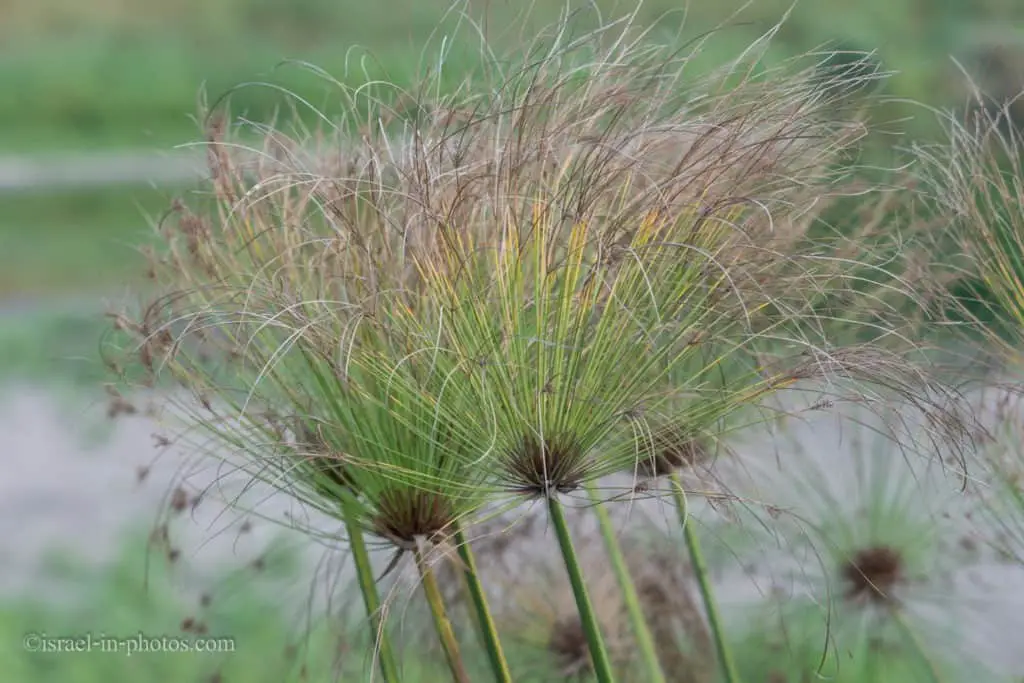 Agamon Hefer is not a big place. And slowly walking the round route took us an hour.
Softshell Turtles At Alexander River
On another occasion, we decided to visit another nearby attraction. At the same Alexander River, next to Turtle Bridge you can find softshell turtles (see map at the top of this post).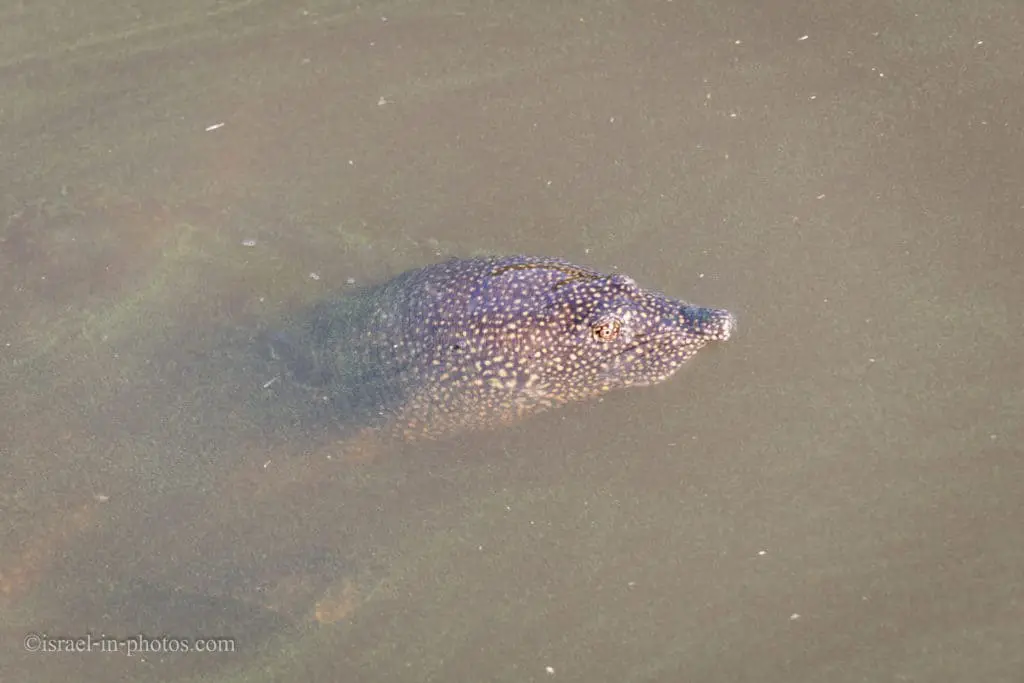 It is the only place in Israel, that I am familiar with, where you can find these turtles.
They might look small, but they are quite big. The softshell turtles can reach 1m in length 50kg weight. The origins of the softshell turtles are in the sweet water lakes of East Africa. It is a carnivore that feeds on a diet of worms, fishes, and other small water animals.
As you can see all my photos of the turtles are as they swim in the water. That is because we arrived after visiting the pelicans, it was late and already hot.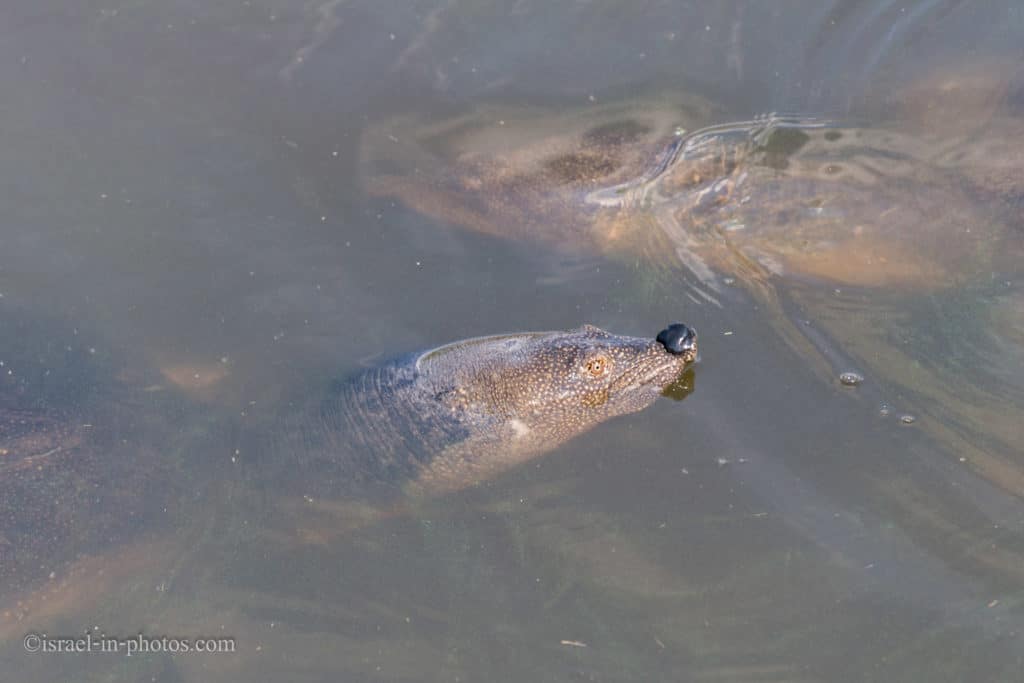 If you want to see them outside, arrive early as they are warming up under the sun.

The entrance to the turtle bridge is also free.
Common Questions
What are the best places to see pelican migration?
The best places are Agamon ha Hula and Viker Lookout.
When is the best time to see pelican migration?
Mid October is usually the best time to visit, but this can be affected by climate and other factors. Therefore I suggest to follow relevant channels on social media, to know the exact dates.
Are there pelicans right now?
The best way to know is by checking social media. On Instagram, you can check a tag or a location. Here is the link to the Viker lookout location on Instagram. Check the most recent posts, and if you see many recent photos of pelicans, then they are probably there.
What is the best time of the day to see pelicans?
Since pelicans are migrating, they are only looking for places to sleep. Thus, the best time to see them is either in the morning (best before 9 am) or in the evening (starting from an hour before sunset).
Summary
Viker lookout is one of the best places in Israel to watch pelican migration. And it is free. The only downside is the road. Or actually, the lack of road. My tip would be not to wash the car before visiting. Because of the dirt roads, you will need to wash it after your visit.
Moreover, you can combine Viker Lookout with a visit to Agamon Hefer or Softshell Turtles for a nice half-day experience.
Have you ever been to Viker lookout? And what about Agamon Hefer? Tell us about your experience in the comments below.
That's all for today, and I'll see you in future travels!
Stay Tuned!
To find more about animals in Israel visit birds category and animals category.
Additional Resources
Here are several resources that I created to help travelers:
And if you have any questions then check out
Useful Information For Tourists To Israel
.
Did not find what you were looking for? Email me at
hi@israel-in-photos.com
, and I will do my best to answer your questions.