The annual International Live Statues Festival takes place in Rehovot during the first week of July.
Rehovot International Live Statues Festival – 2017
Intro
During the first week of July (4-6 July), International Live Statues Festival took place in Rehovot. It is an annual festival that takes place for the eighth time.
The dates of this festival overlapped with the Jerusalem Festival Of Light. Since we could not visit both, we had to choose. In the end, we selected the Live Statues Festival for two reasons. The first one is: we have already visited the Jerusalem Festival Of Light several times, and I wrote about it on this blog three times. The second reason was the opening time. During weekdays Jerusalem Festival Of Light starts at 20:00, and the Live Statues Festival starts at 18:30 (till 22:30). It is not that important for adults. Still, for parents of toddlers and preschoolers, this 1.5-hour difference can be significant (since you might have time only till 21:00).
We planned to arrive at seven, but due to traffic jams, we made it there only around 20:00. Also, remember that there will be heavy traffic on nearby streets. Thus, if you arrive by car, try to park several blocks away.
Map of the area:

At the International Live Statues Festival
During this Festival, Yacov Street (in Rehovot) is closed to traffic. And for several hours, it became a pedestrian street with performers on both sides.
Started walking along Yacov Street: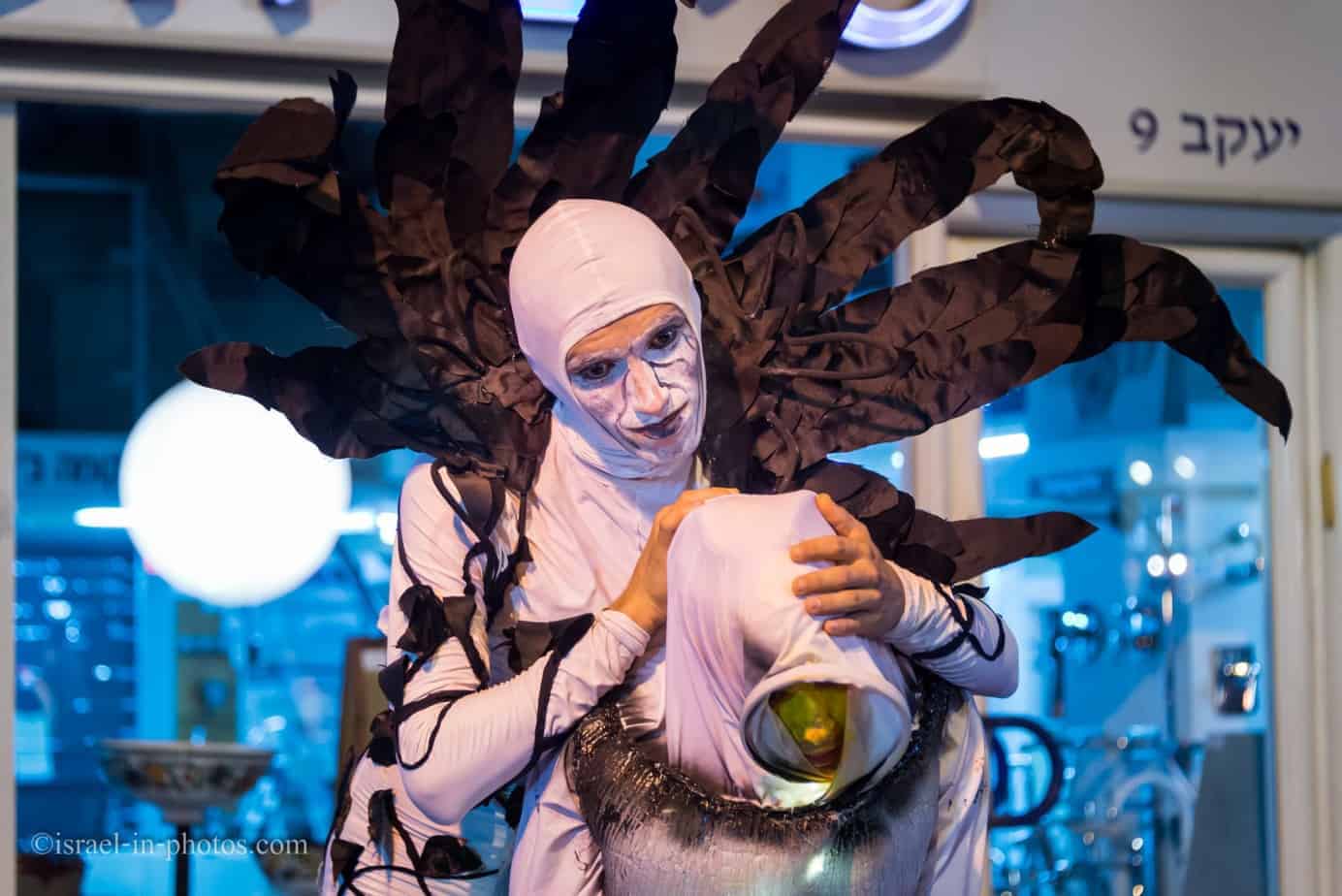 Note: detailed information about all performers can be found on the Rehovot Municipality website.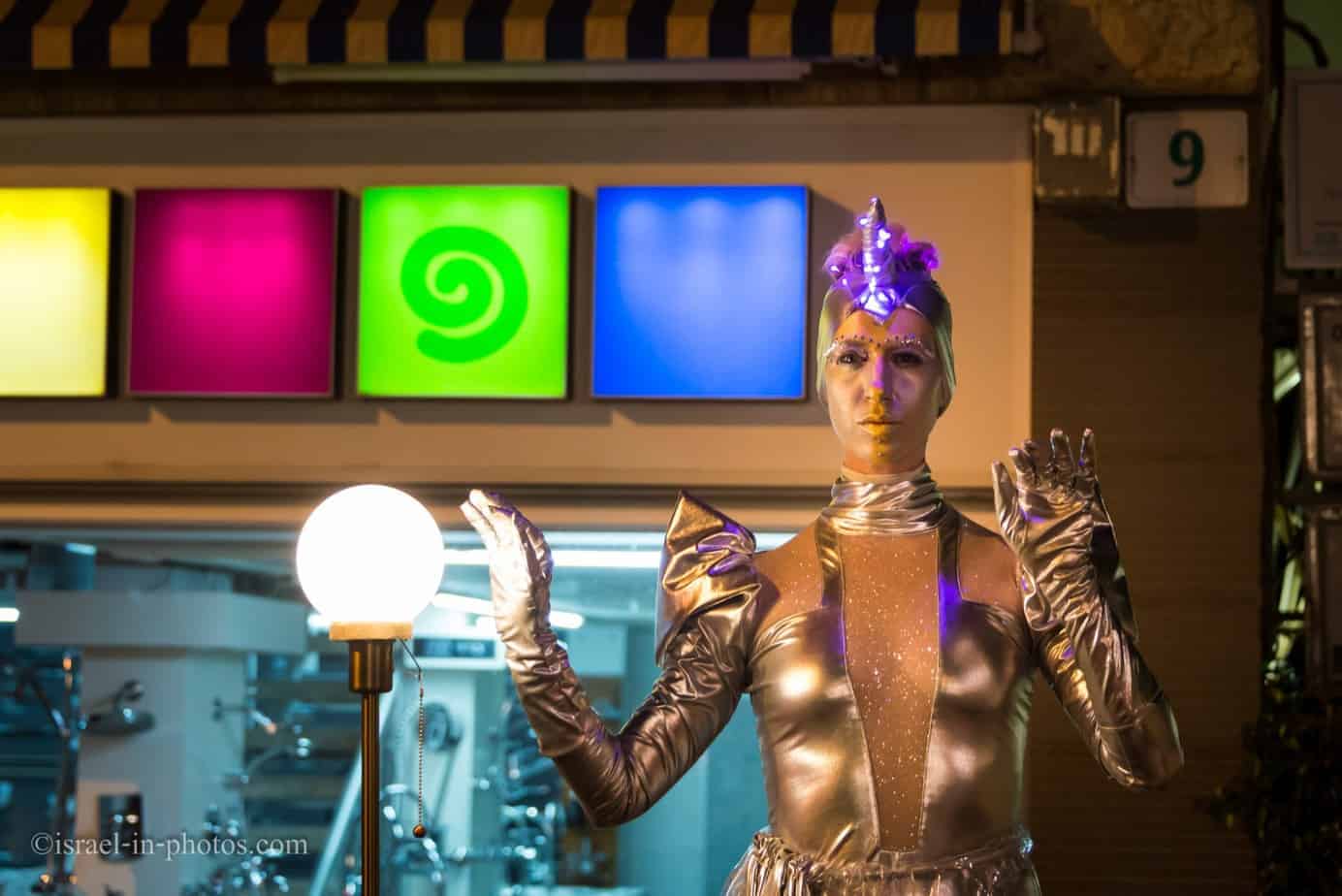 It is called the International Festival since there were artists not only from Israel but from other countries as well. There were artists from Portugal, Serbia, Belgium, Ukraine, Holland, and Spain. In total, 150 artists took place in this festival, the biggest one to date.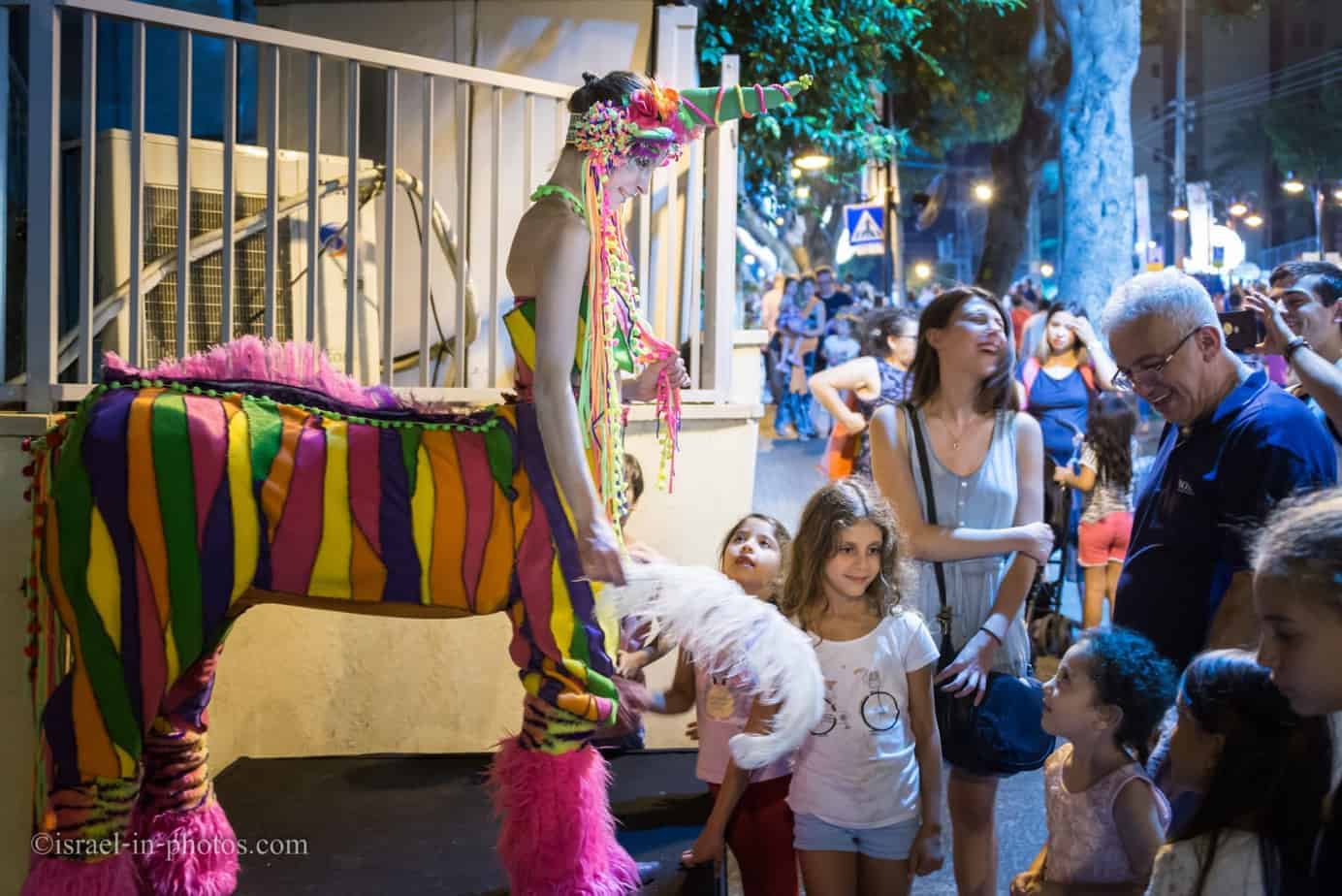 Shows
After about 100 meters, we saw a show. I did not expect it since it was a Live Statues Festival. But as it turns out, there were several shows. The first one was The Wizard of Oz (and we will reach the second one towards the end of our visit).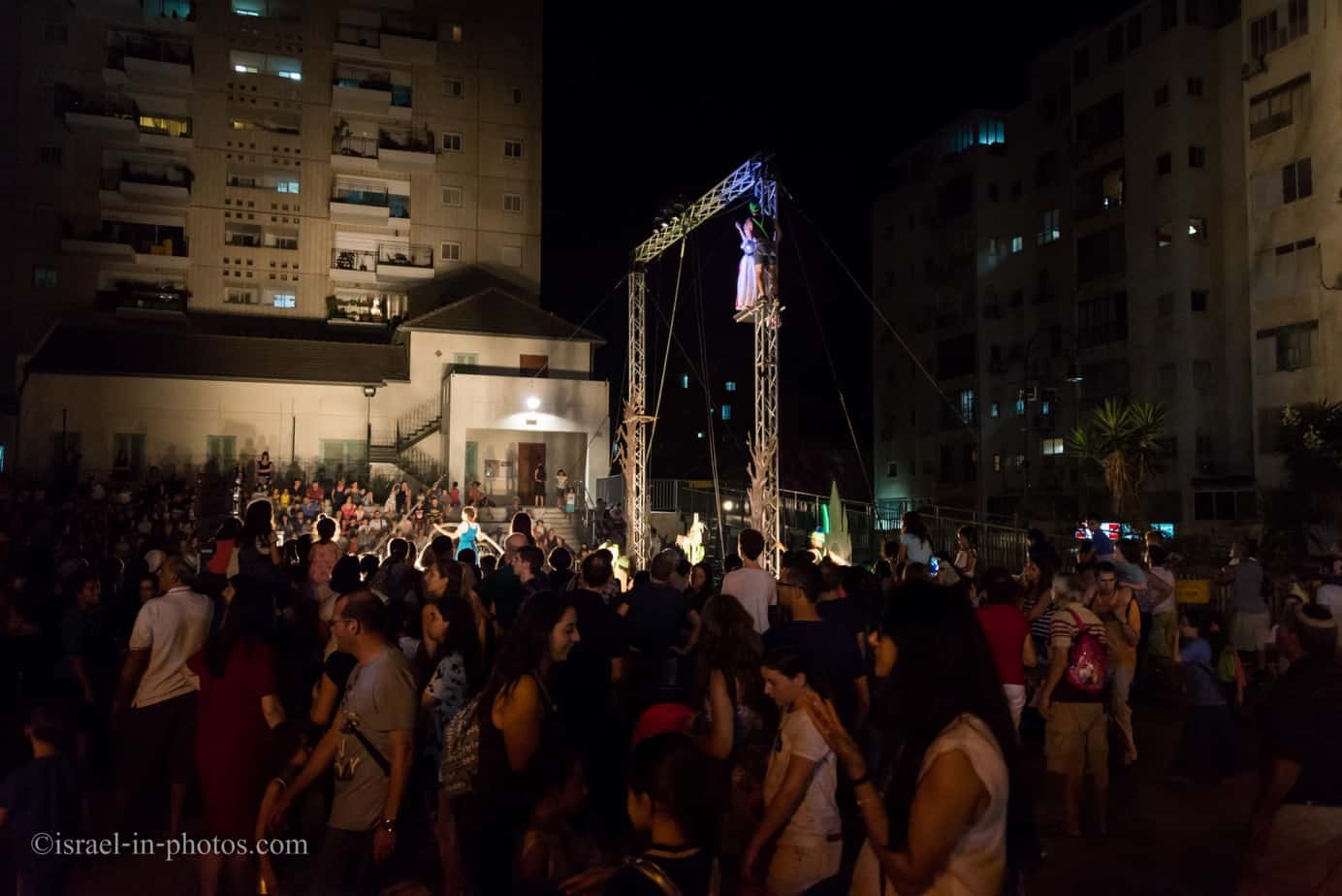 As it turned out, a unique Wizard of Oz production was created for this festival. Kids loved it, but we were far away due to the number of people.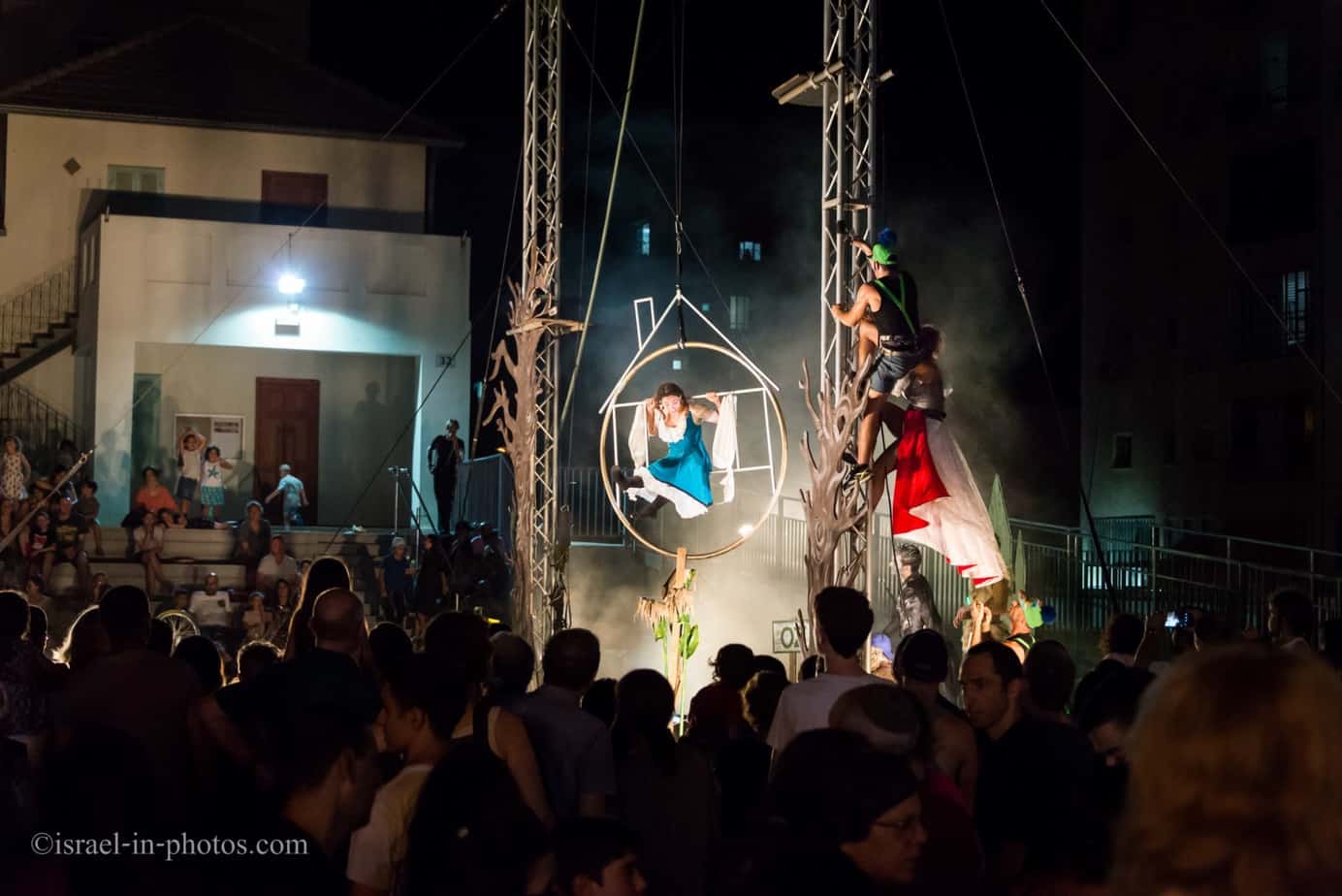 At the show's end, we heard an announcement saying the next show would be in an hour, but we decided to keep moving.
These are not bronze statues but live people: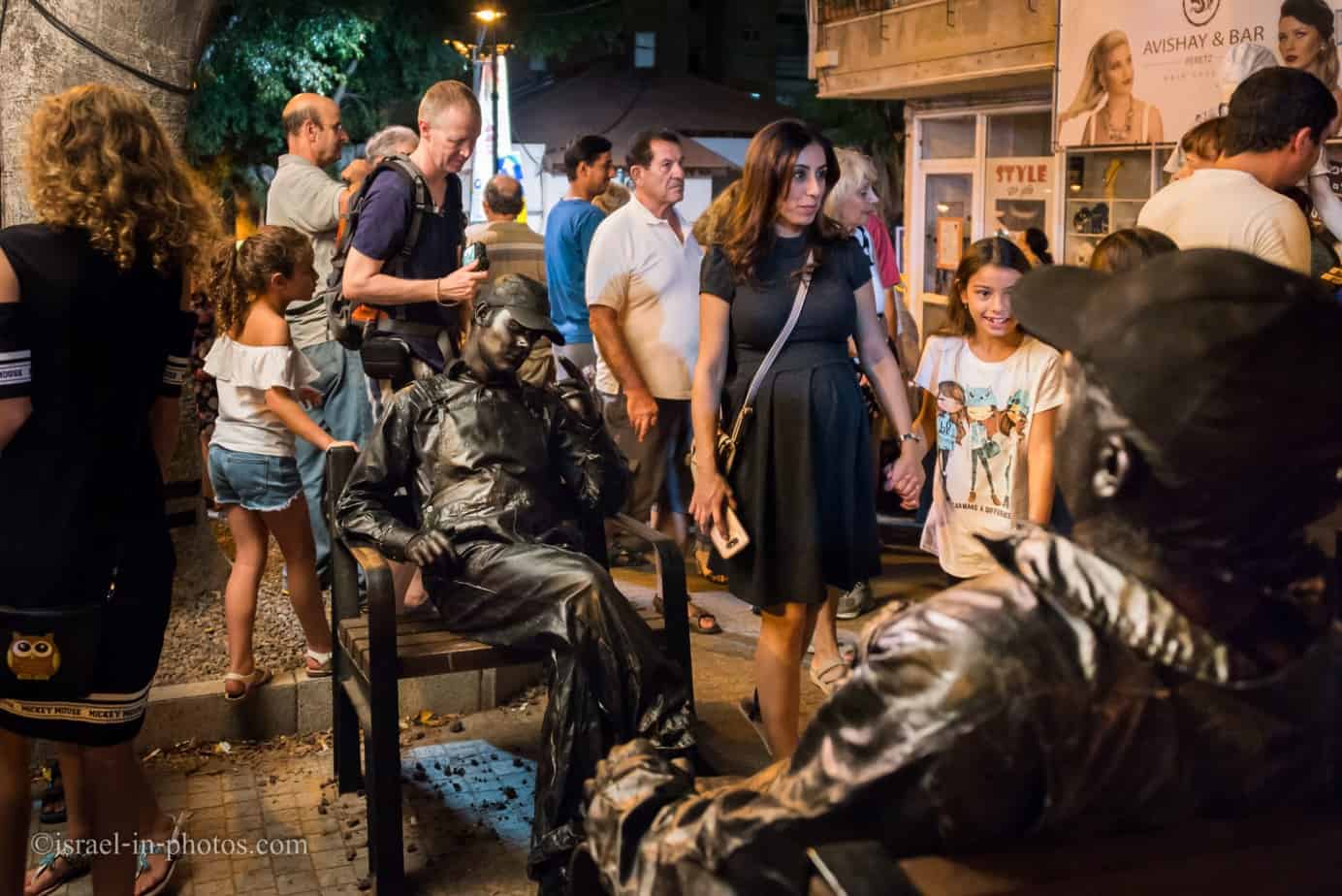 There were many actors, and most of them had unique costumes.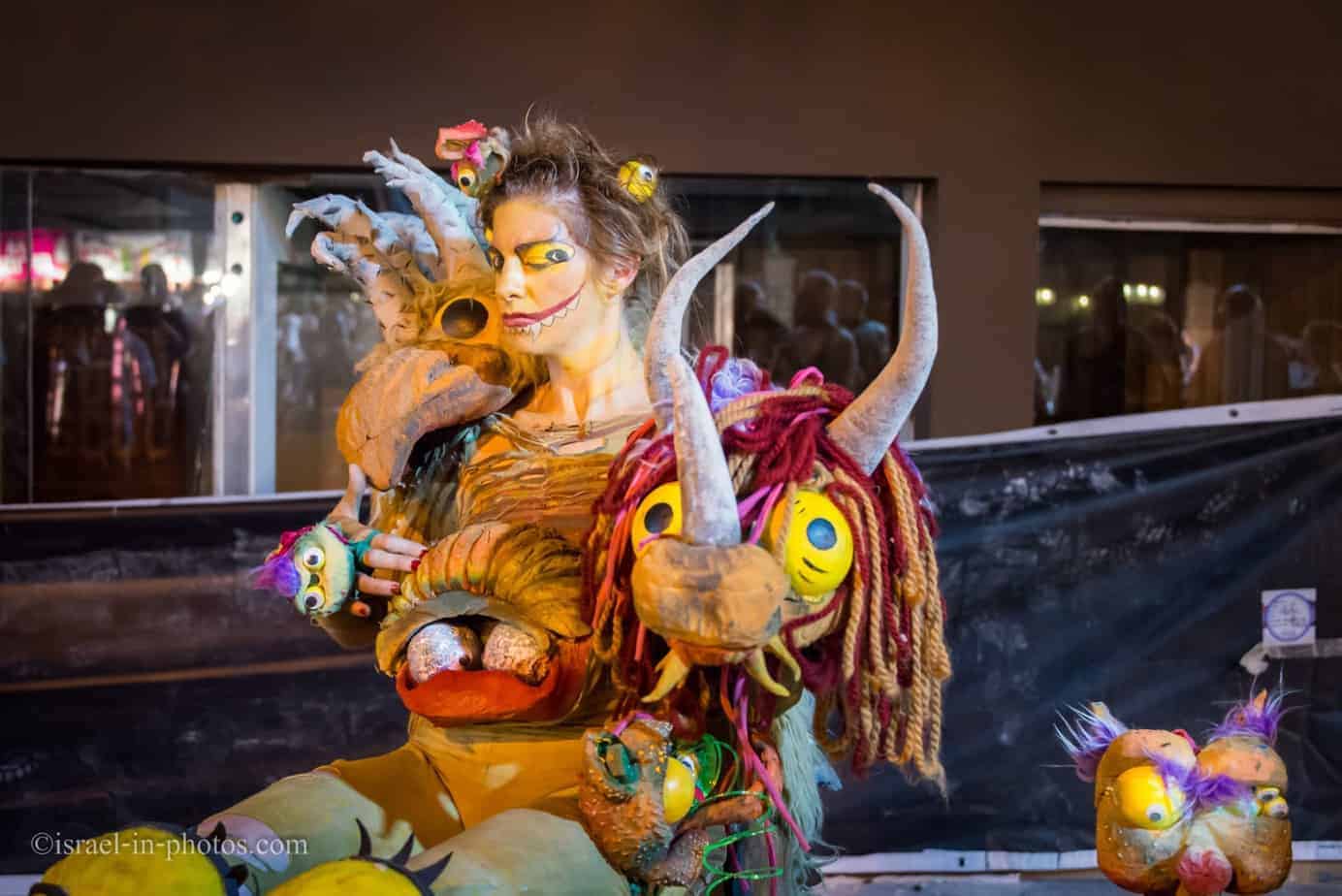 Some held still or had no movement, and others were making a show.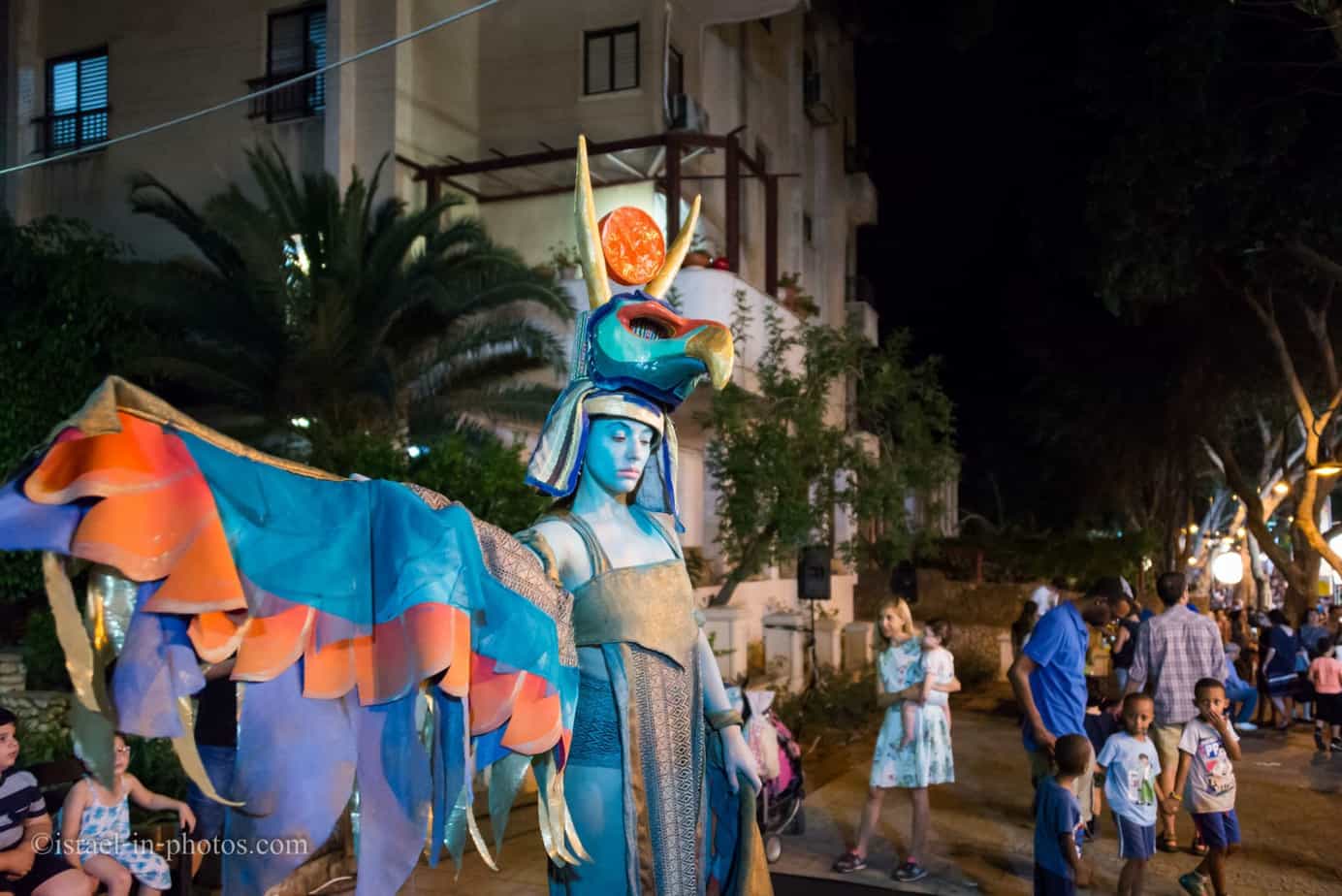 Yes, there are many people. Thus most of the time you try to take a photo, several smartphones block your view.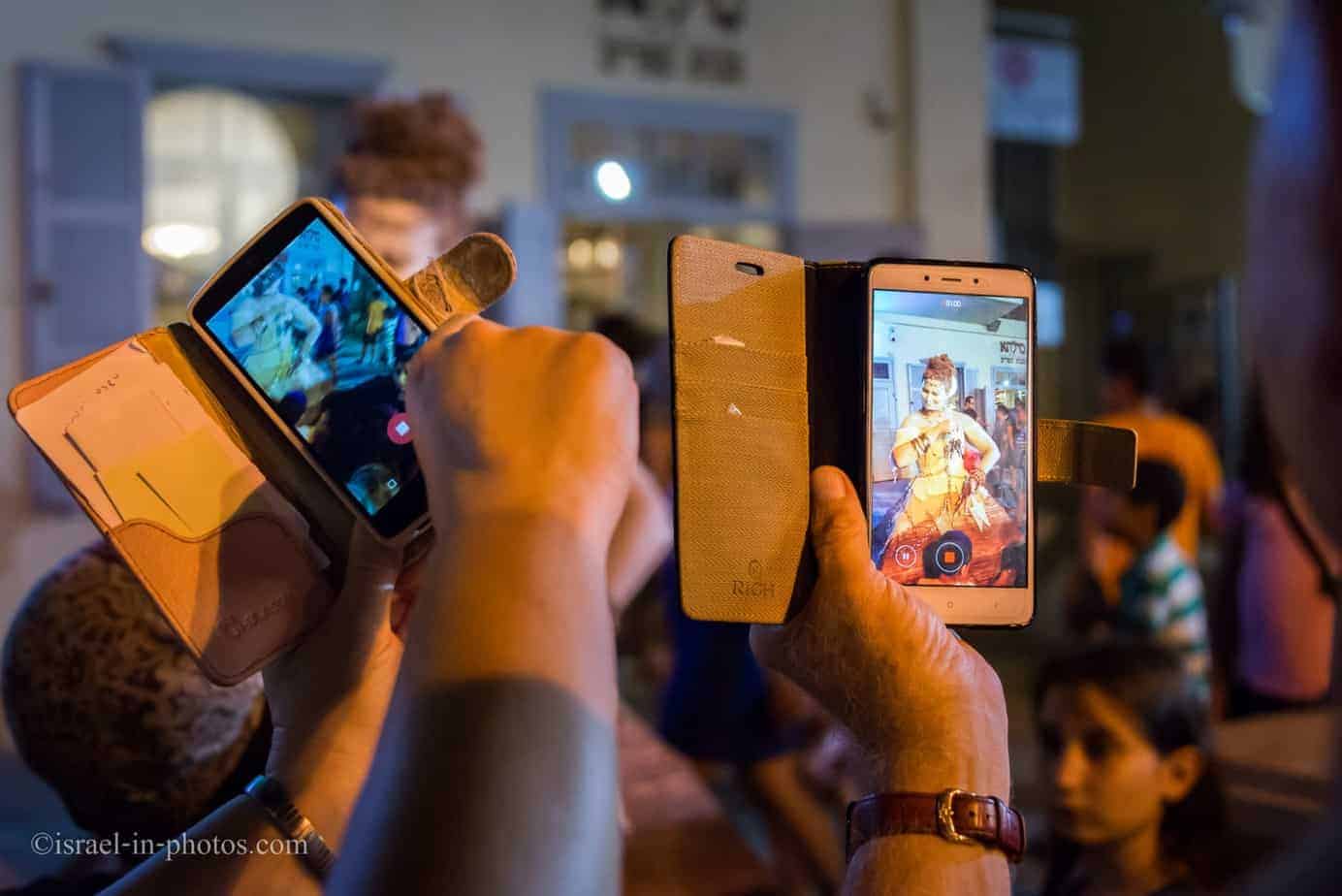 Pandora box: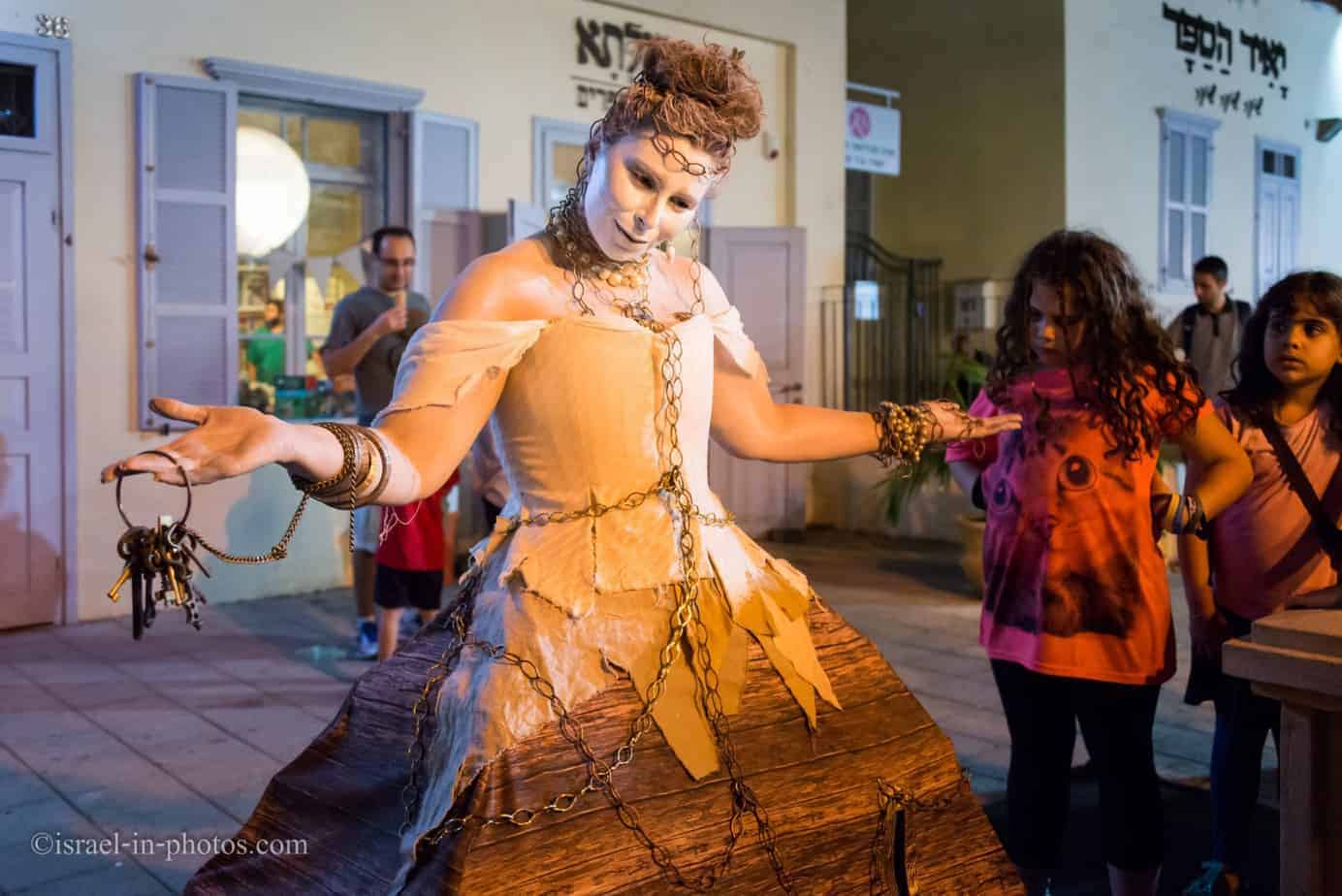 Therefore, if you want to get close or even take a photo, it can take 5 minutes.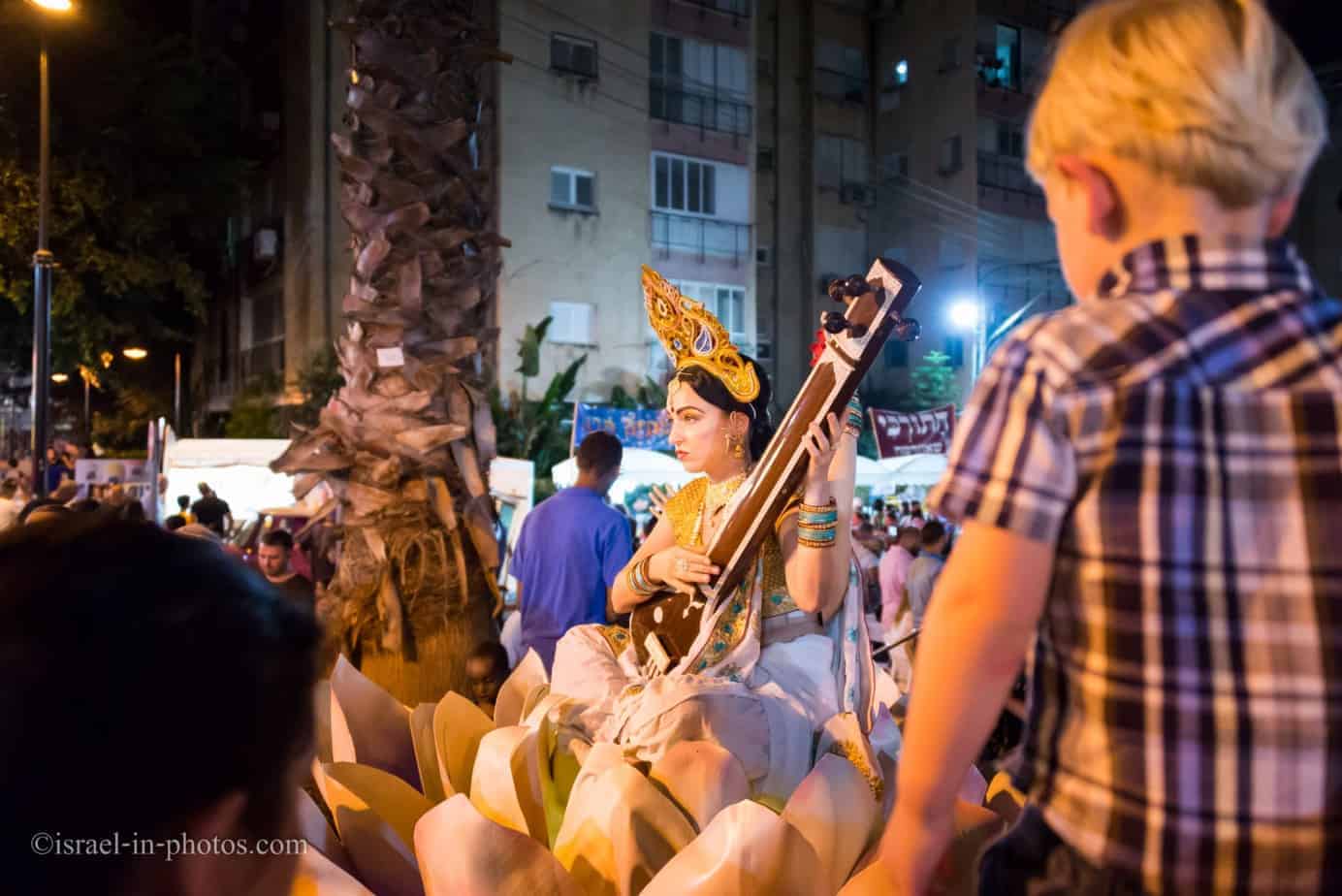 In this case, it probably took me at least 5 min till it cleared a bit, and I could move into position and take a front photo.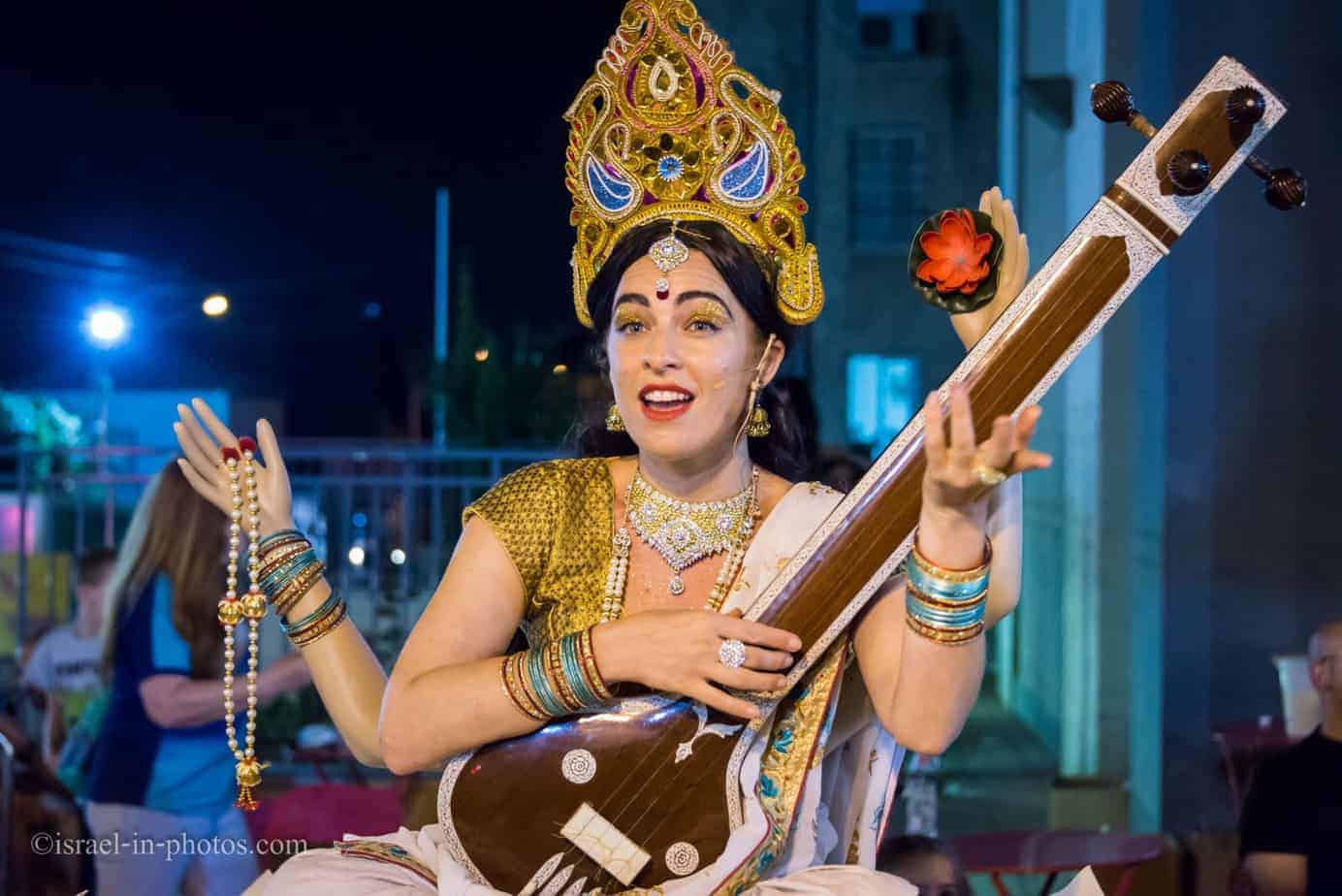 But keep in mind that we visited on Thursday. Probably the busiest day of the festival.
There were two open-air food courts on the premises. They had only junk food (pizza, hot dogs, ice cream, and frozen beverages (similar to Slurpee)). And when I tried to buy a water bottle, they did not have any.
All this came at the non-cheap price tag of 15nis per piece. Thus, if you want something healthier, bring your own.
These kids probably do not have a clue about what these performers represent. And what is that big thing he is holding? Boombox? You can play music from your phone 😉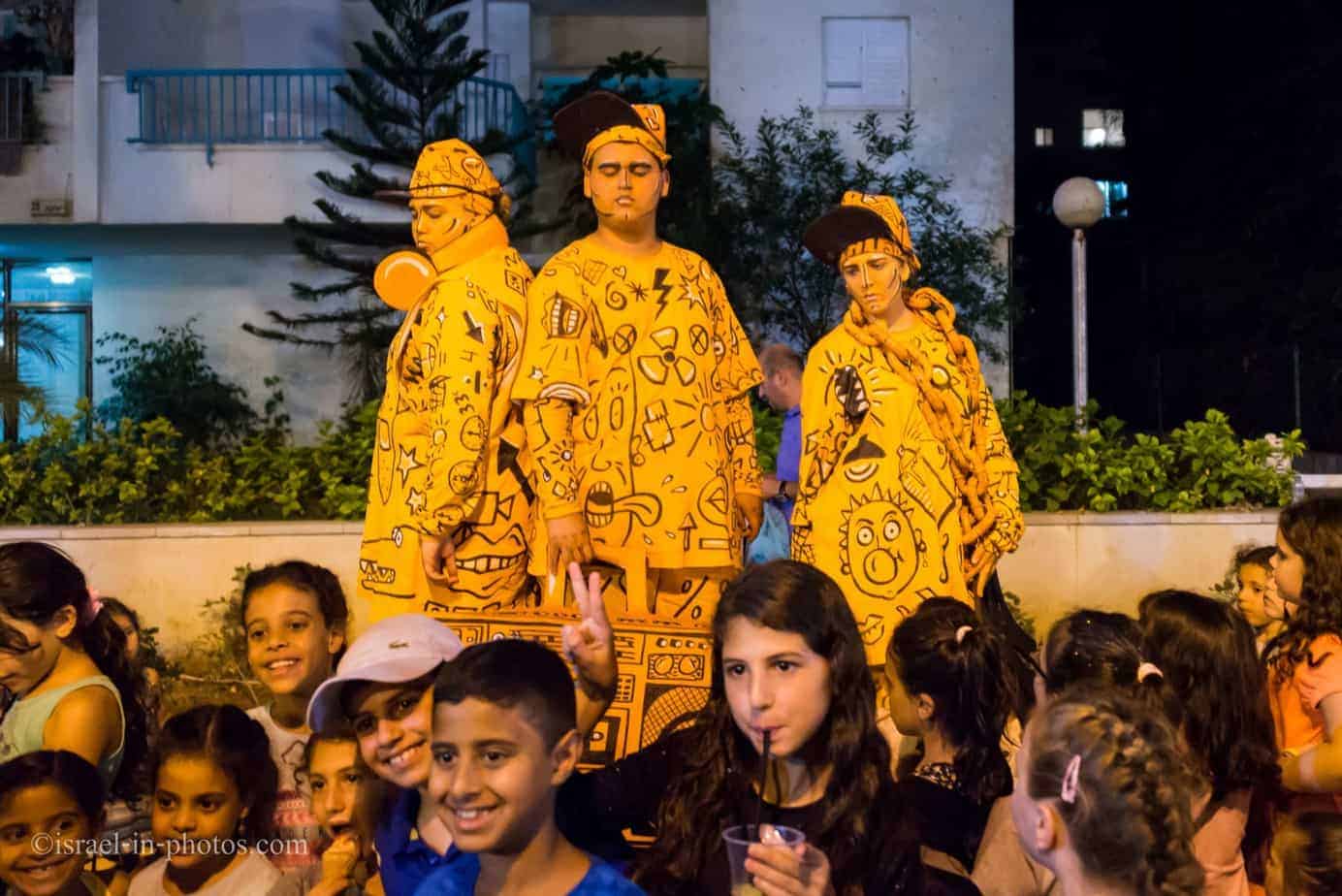 I have seen similar variations of people hovering but have not fully figured out the trick.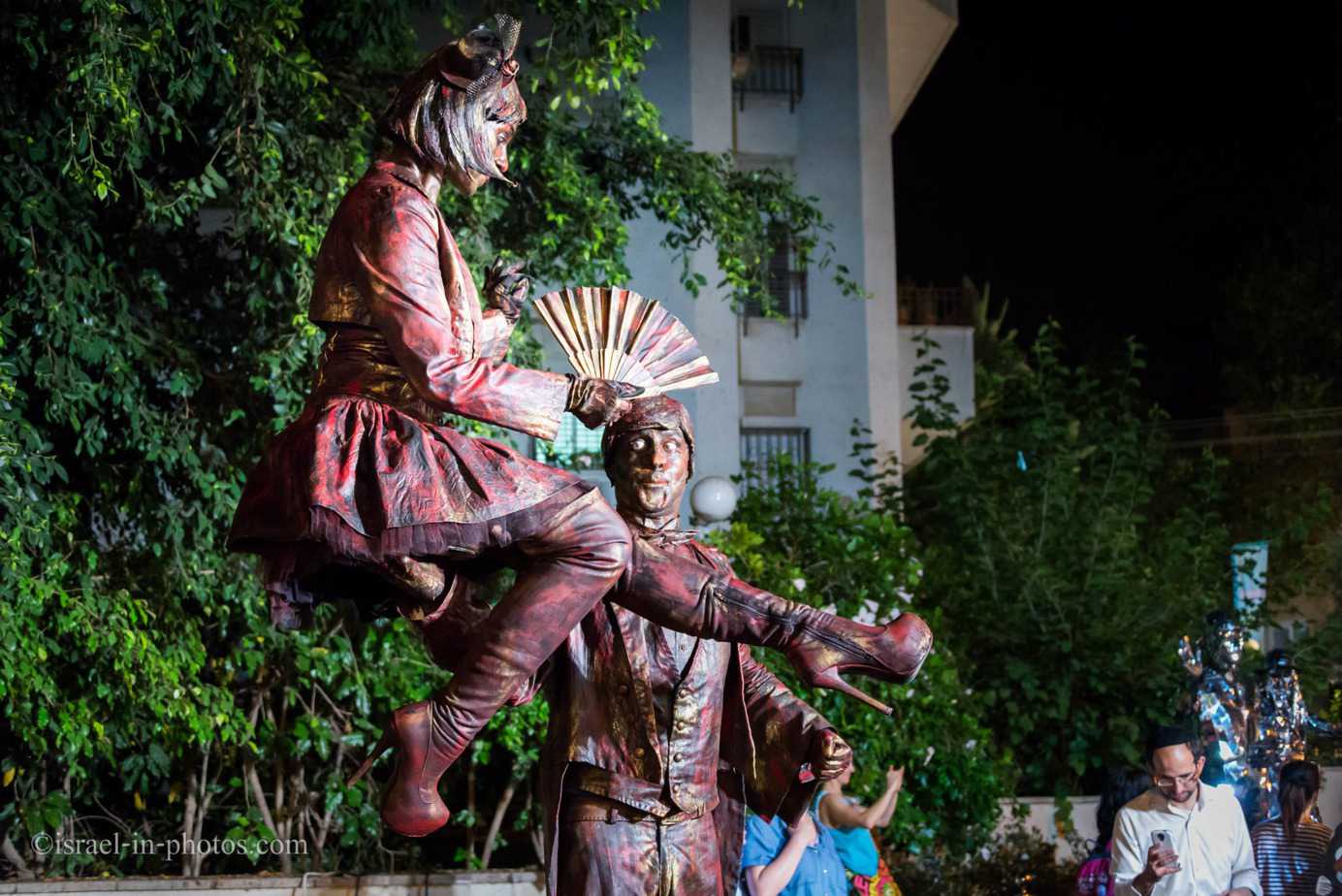 I guess the hand is not real, and it is a metal stool.
Also, looking at the photo above, you can see the following actors in the right corner. The performers were quite packed. There were about 5-15 meters between performers. Thus you do not have to cover big distances to see all of the Live Statues Festival.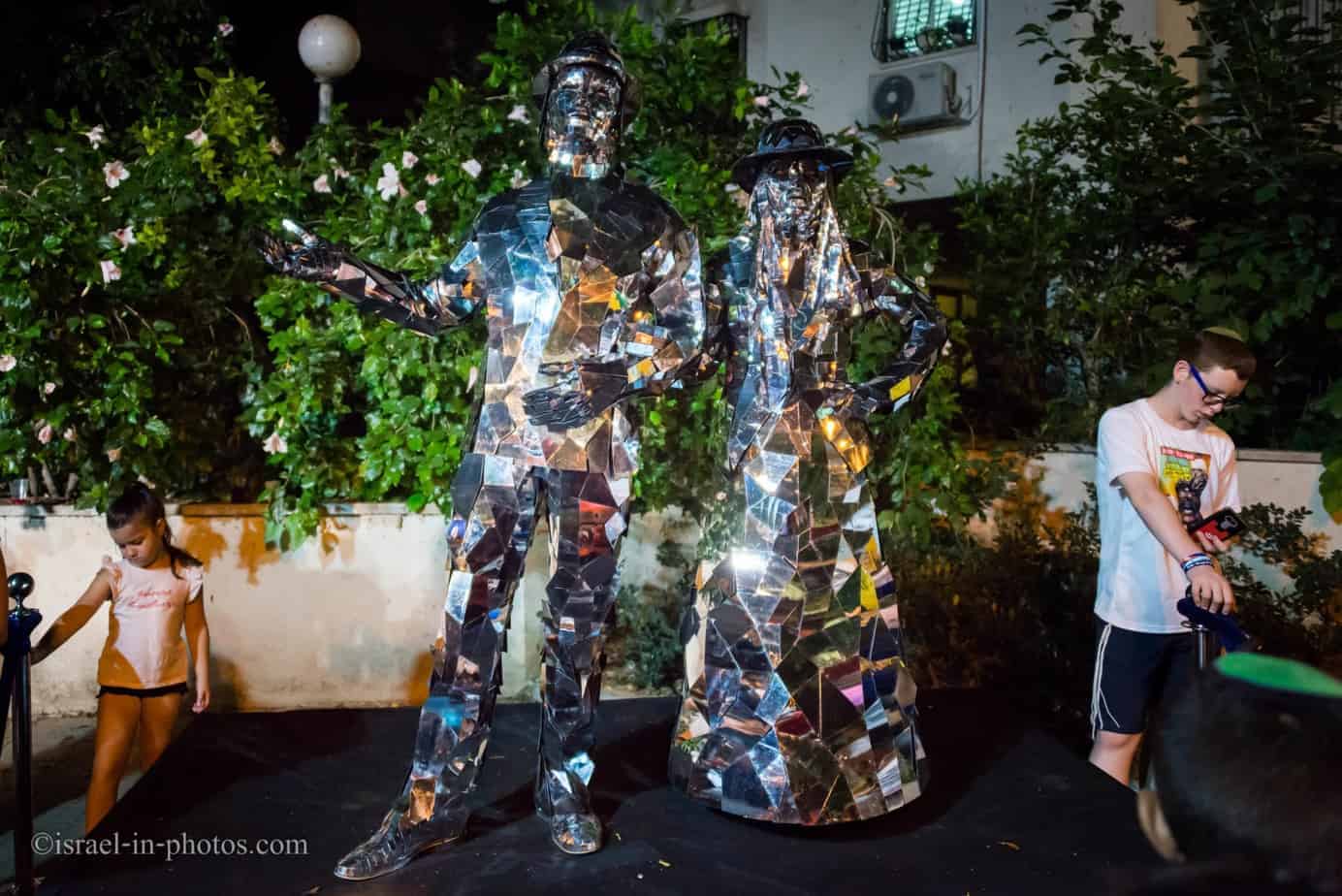 Might I join you for a selfie?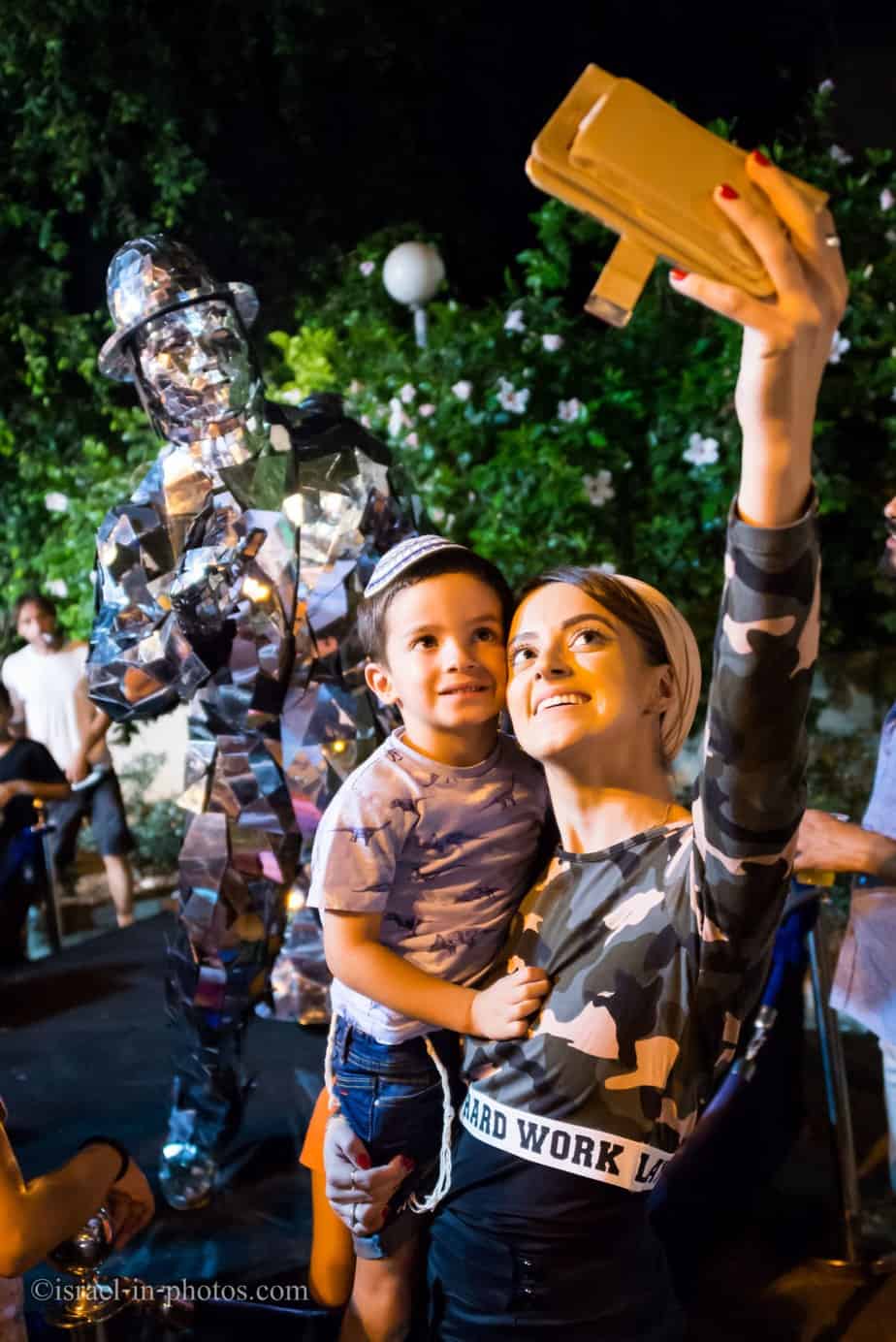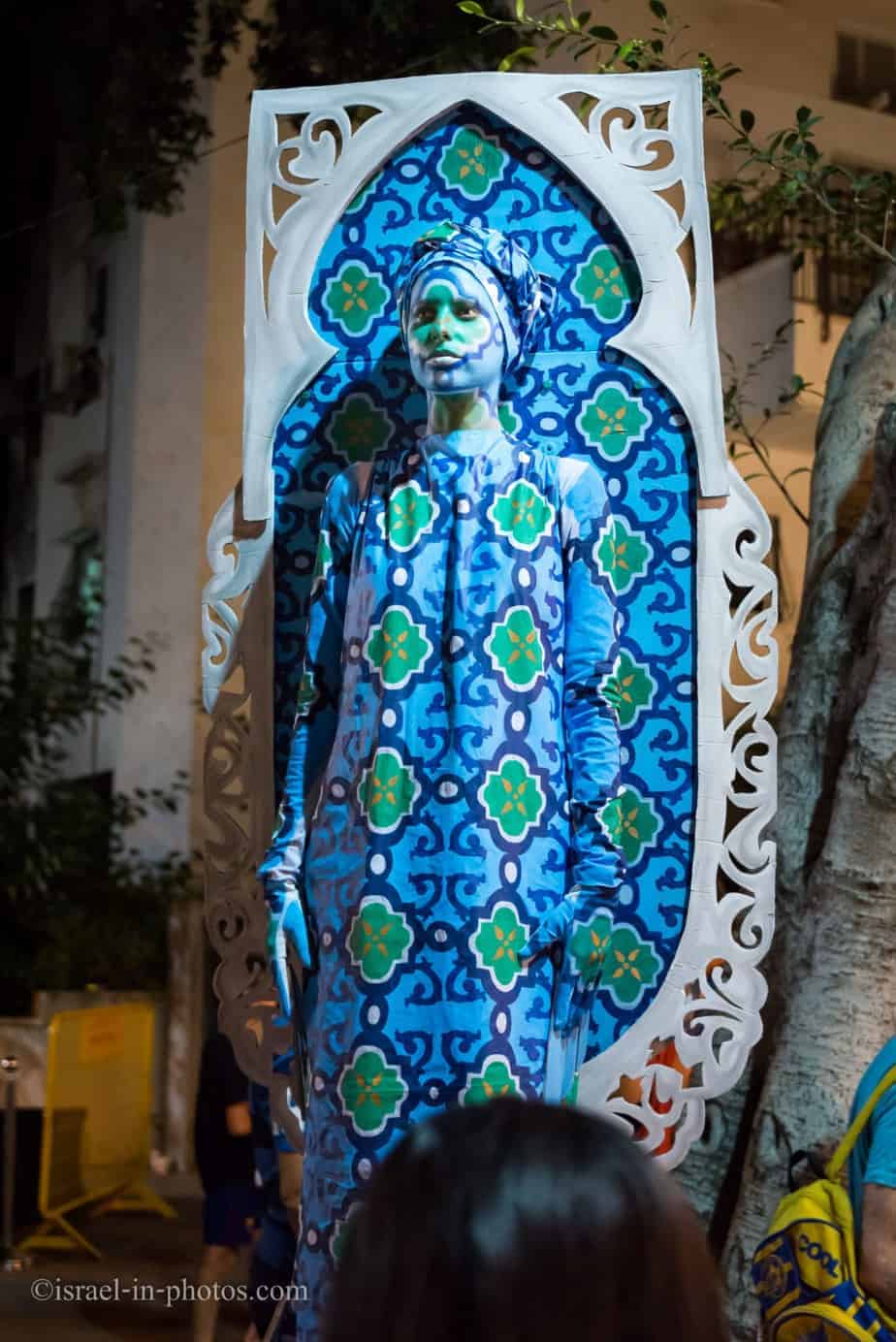 Moving Artists
Most of the performers were on their stages. But some of them moved through the crowd.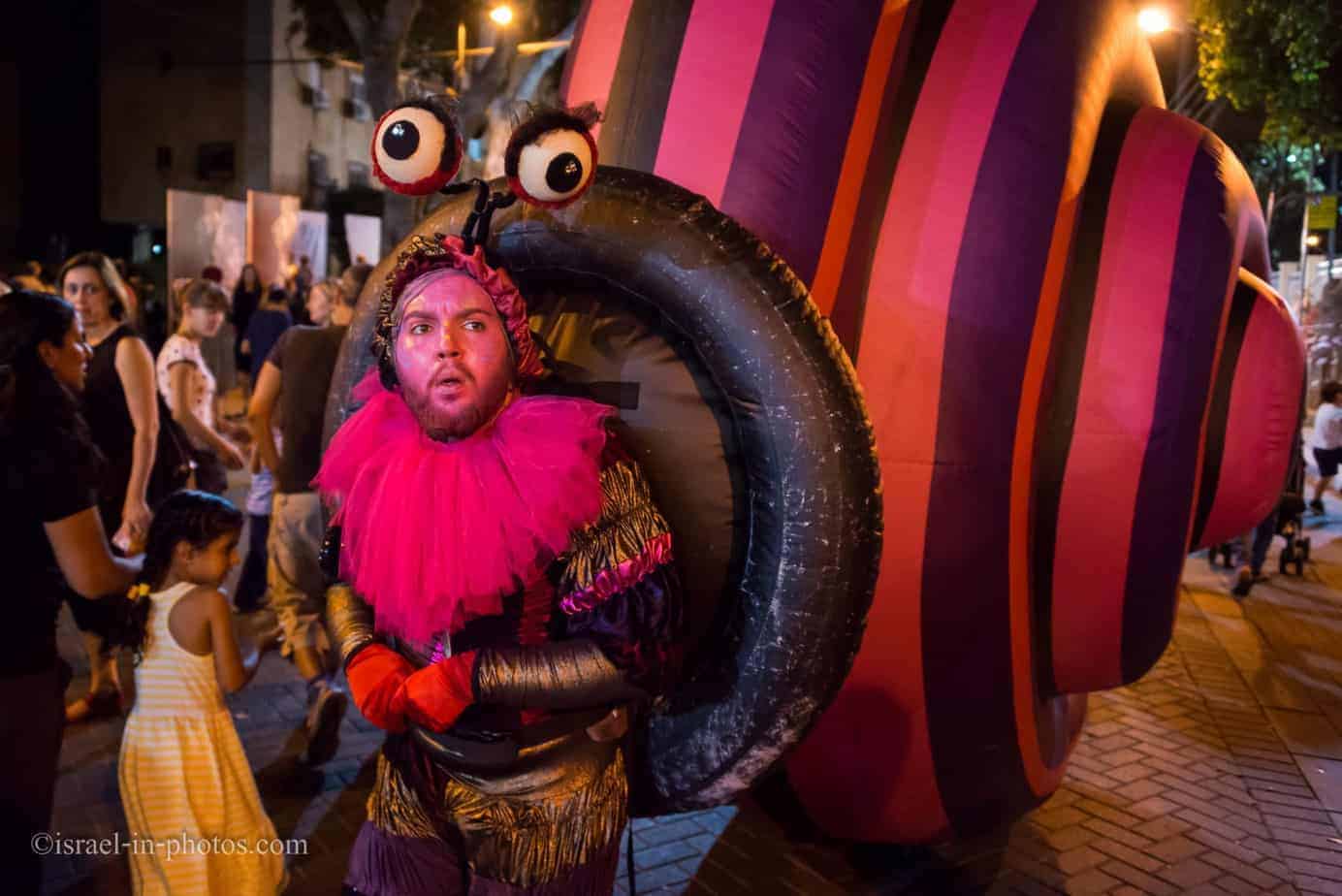 Several big snails: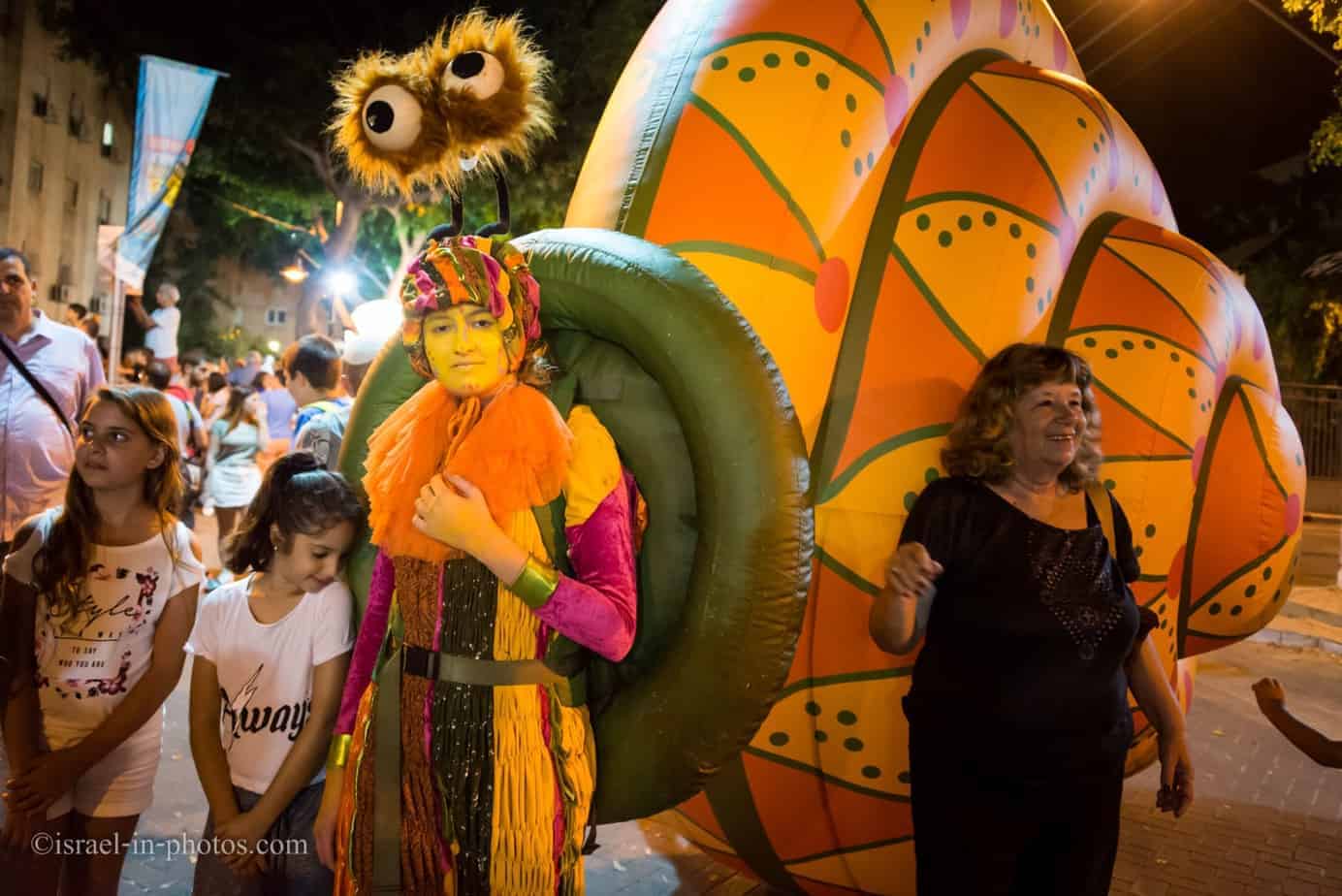 This performer played with clay. Here he added some clay to his thumb.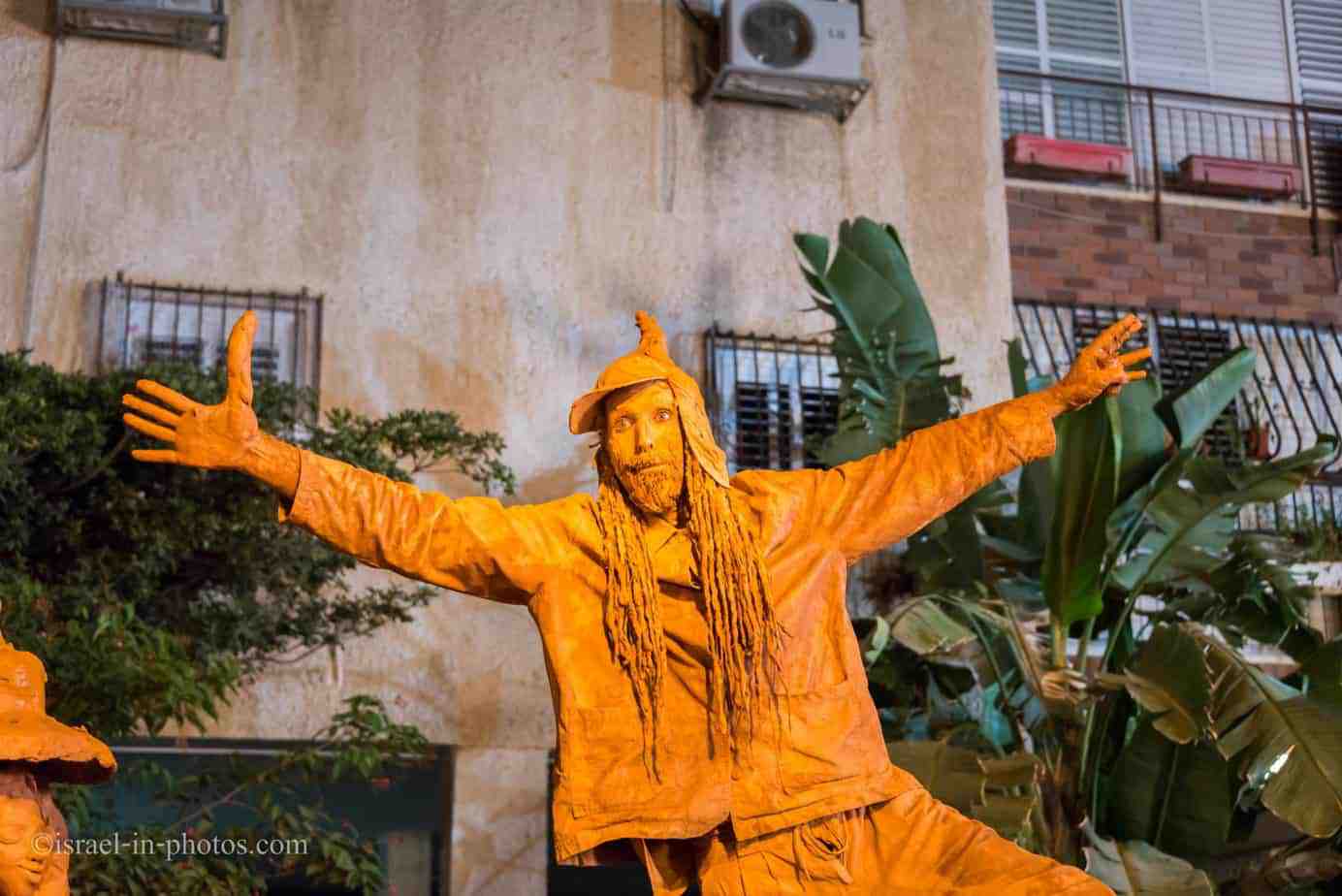 Alien? 😉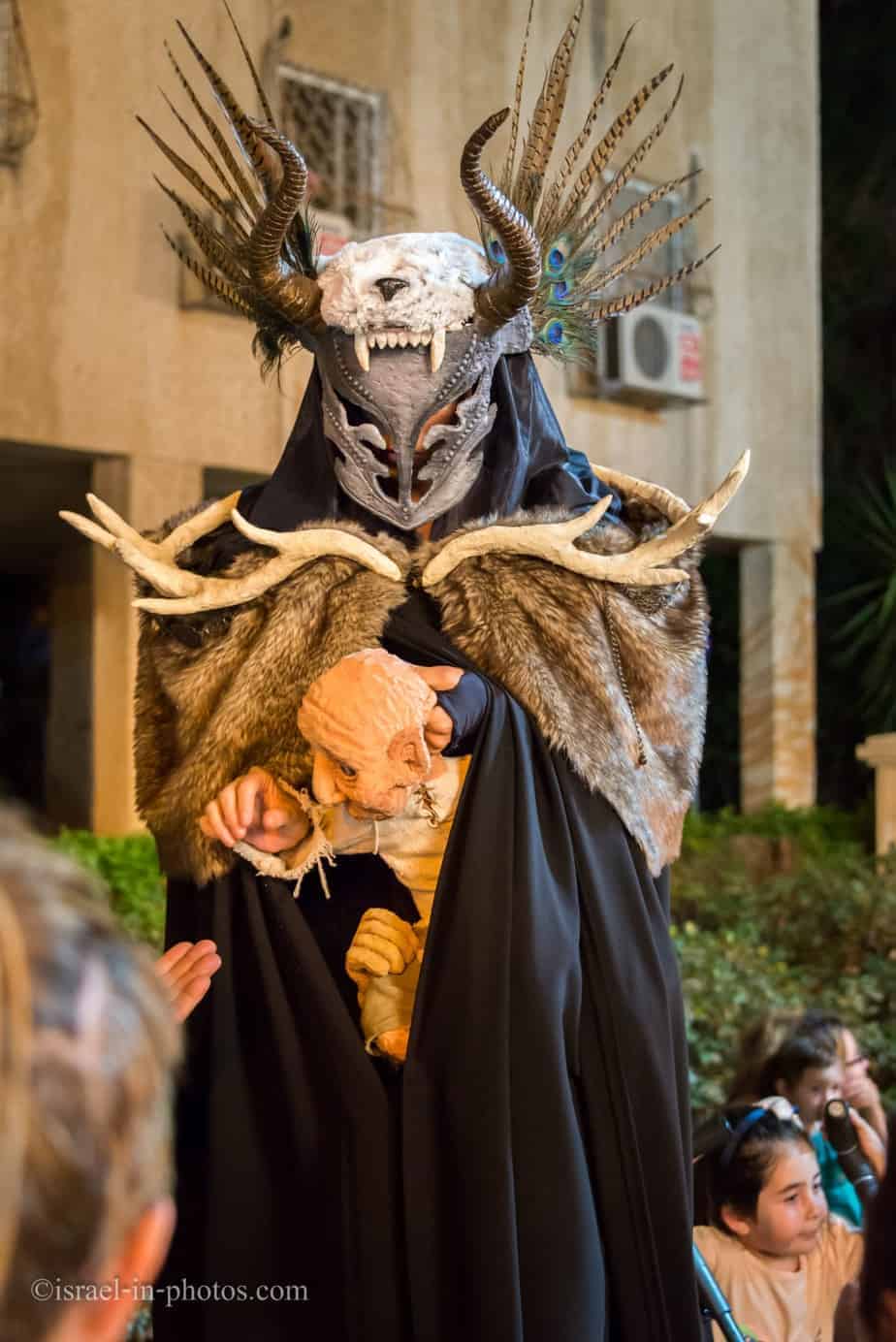 Some performers had musicians, and it was a group performance.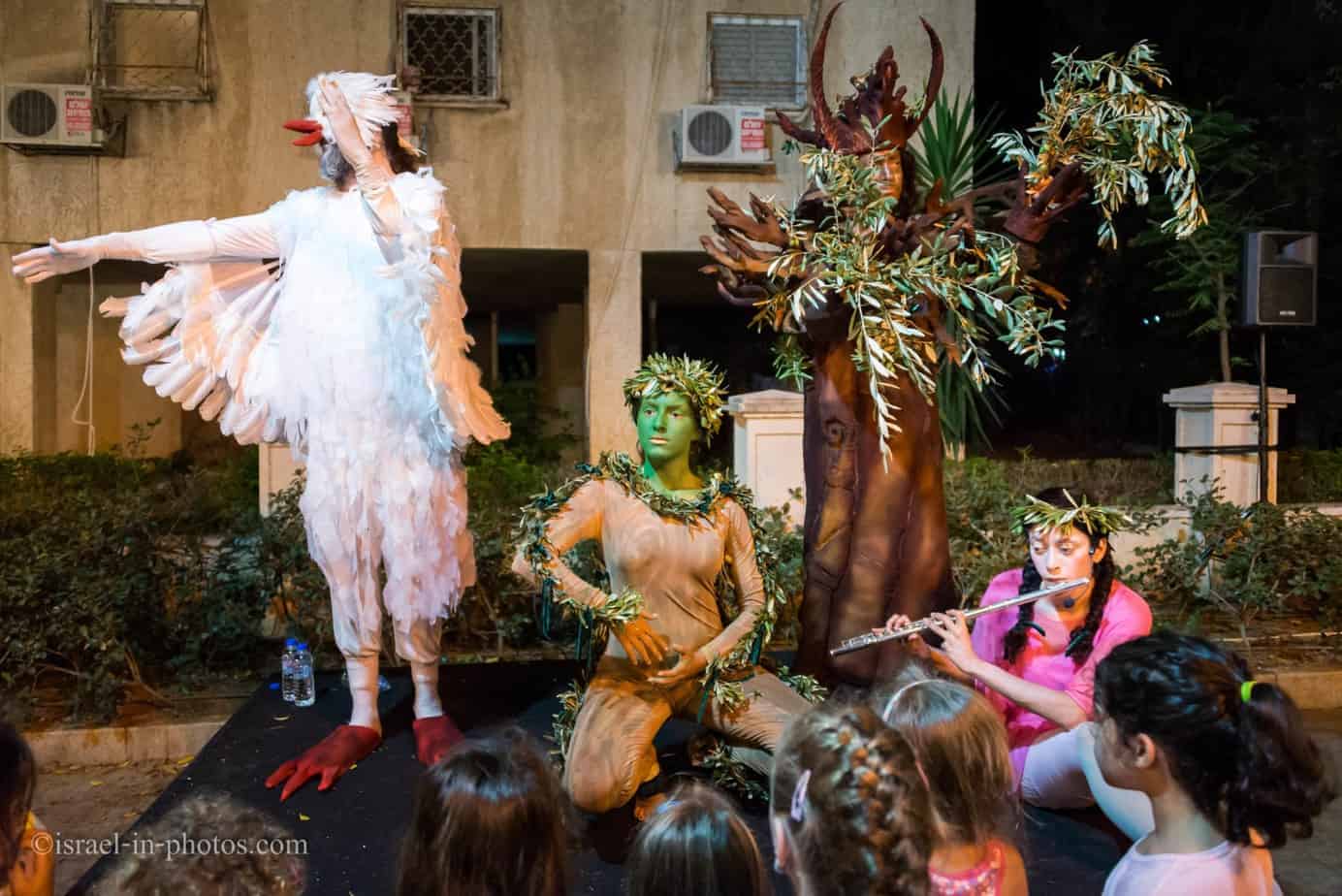 I haven't seen labels next to all performers. But, some had labels telling what it was and who it was. As you can see, these are two theatre actors.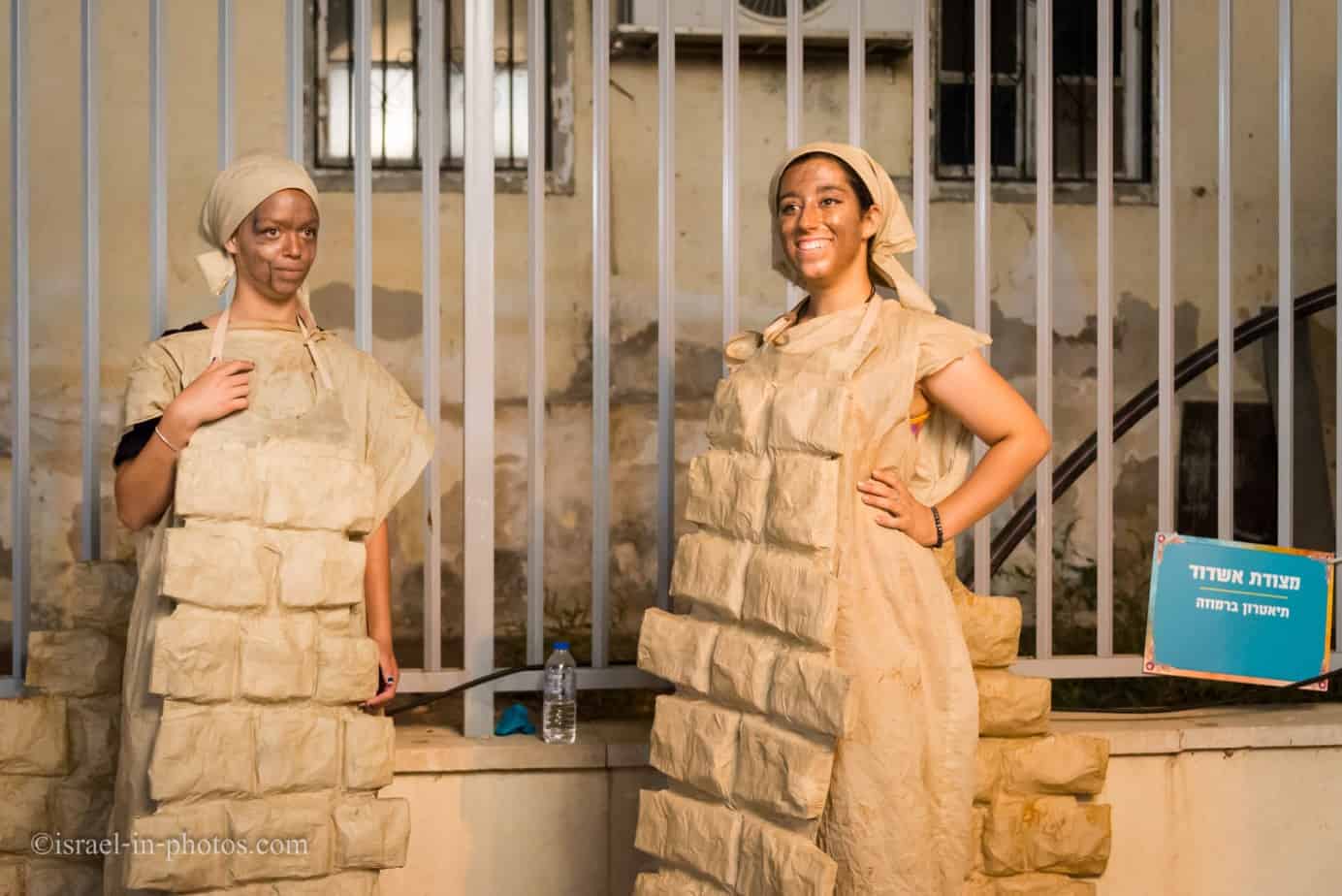 There were three performers dressed in white and moving through the crowd. Interestingly, they used hoverboards, which added a lot to their image.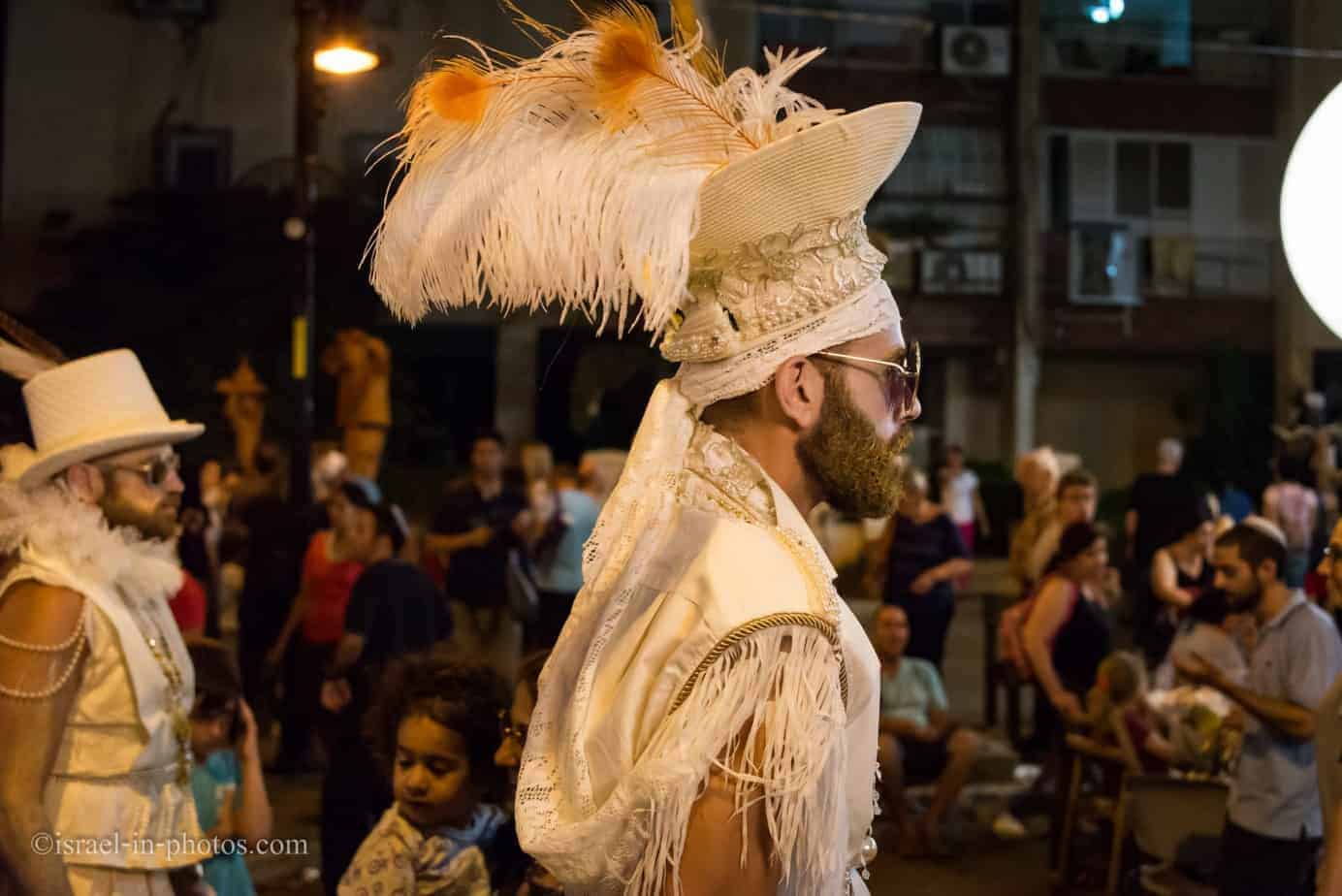 This guy was a part of a canvas: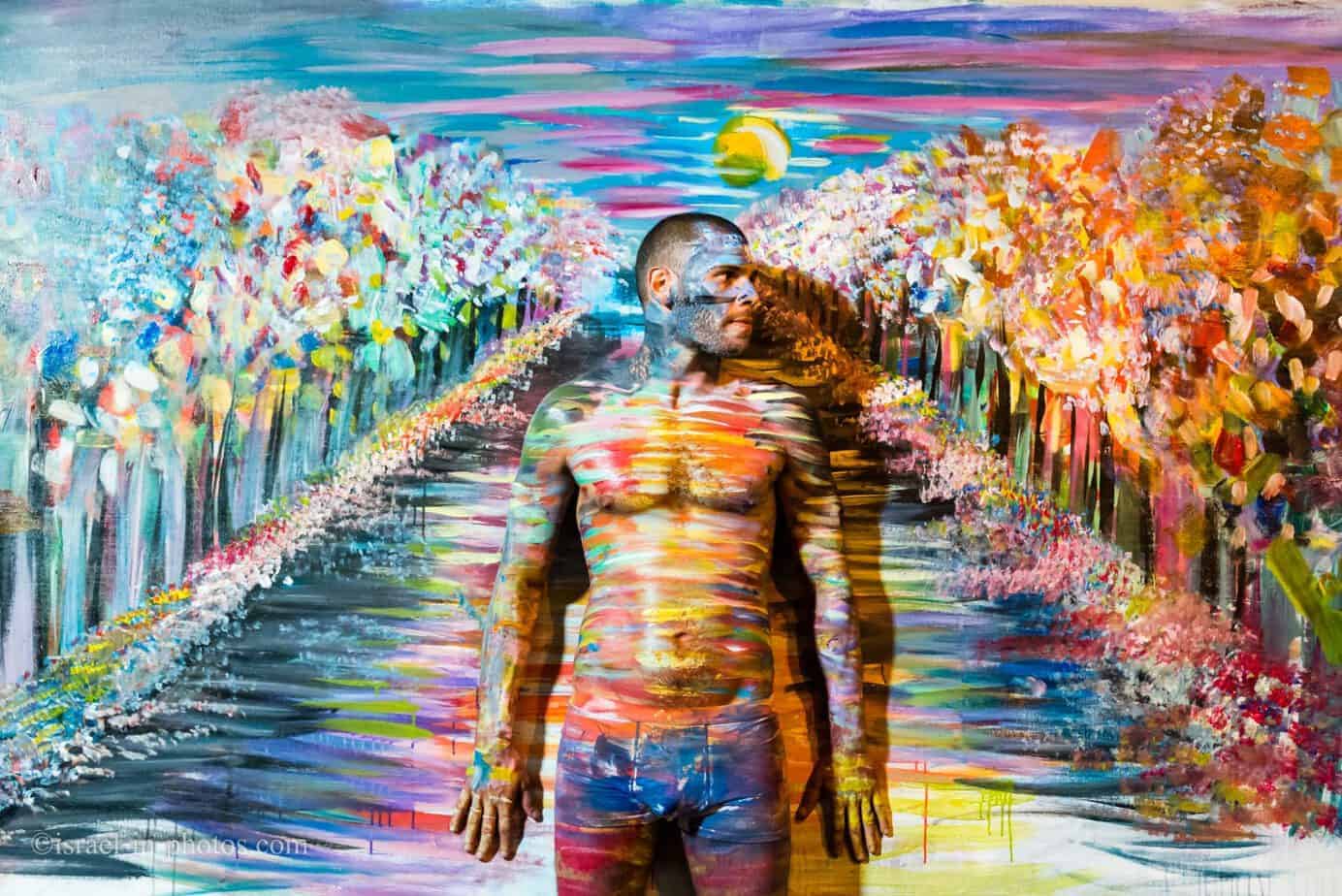 The masterpiece by @ella_art_tattoo.
And these two Indian women, besides being photogenic, also gave candies to children.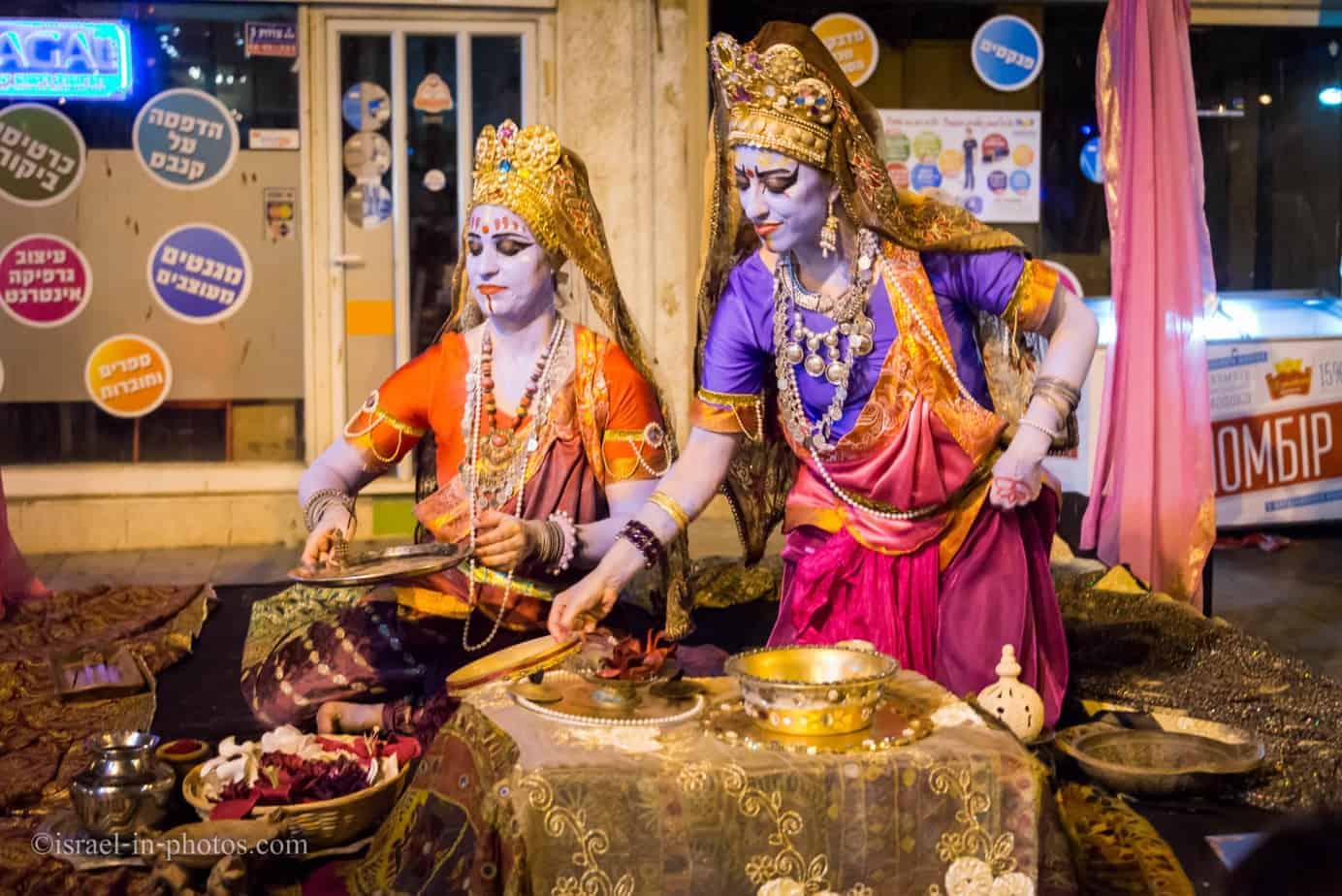 Are you meditating together?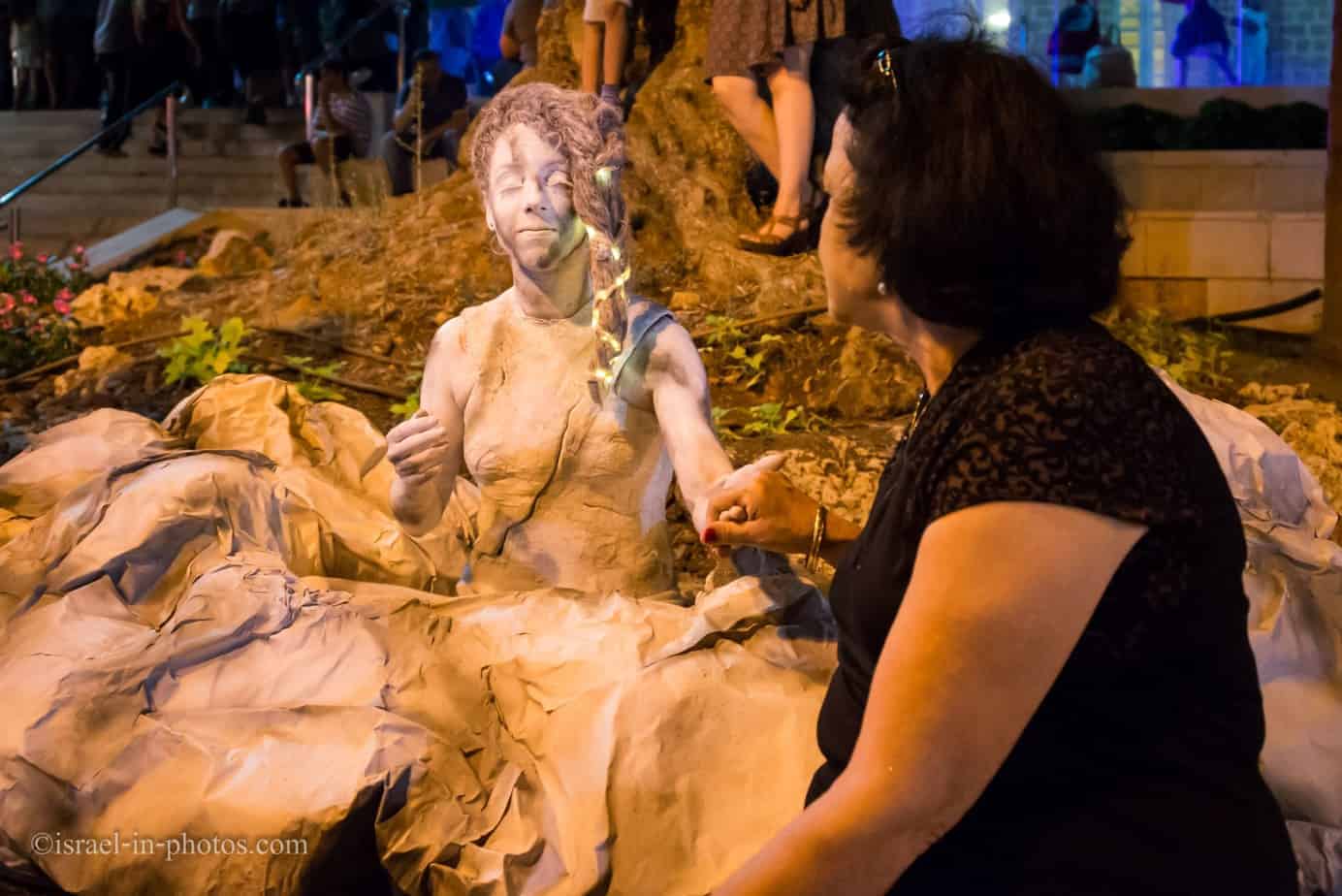 As I mentioned previously, towards the end, we saw another show.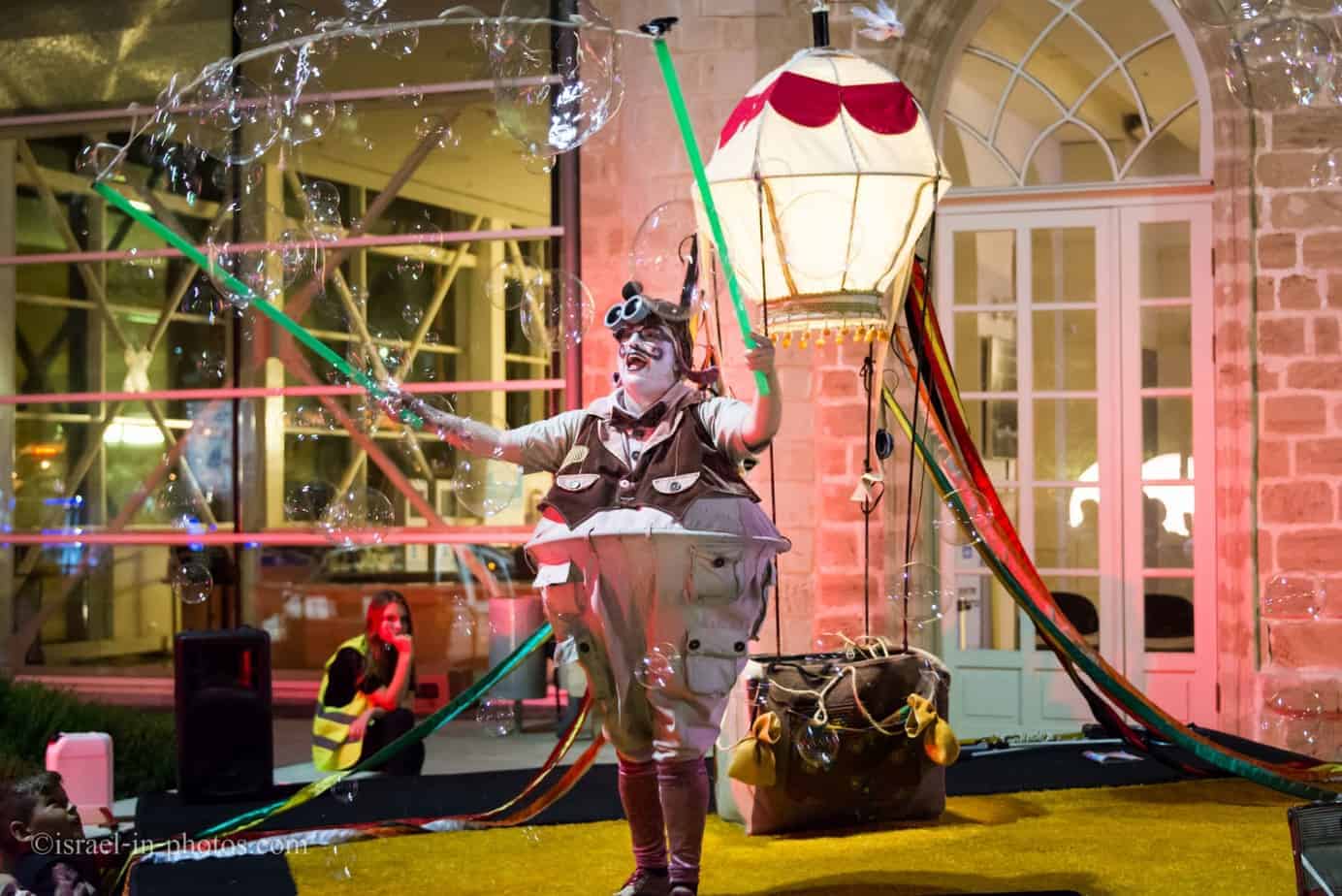 These two performers specialized mainly in soap bubbles.
In the end, they dipped this long rope with loops into soap. And then swung the rope towards the crowd. All kids got up and tried to catch the balloons.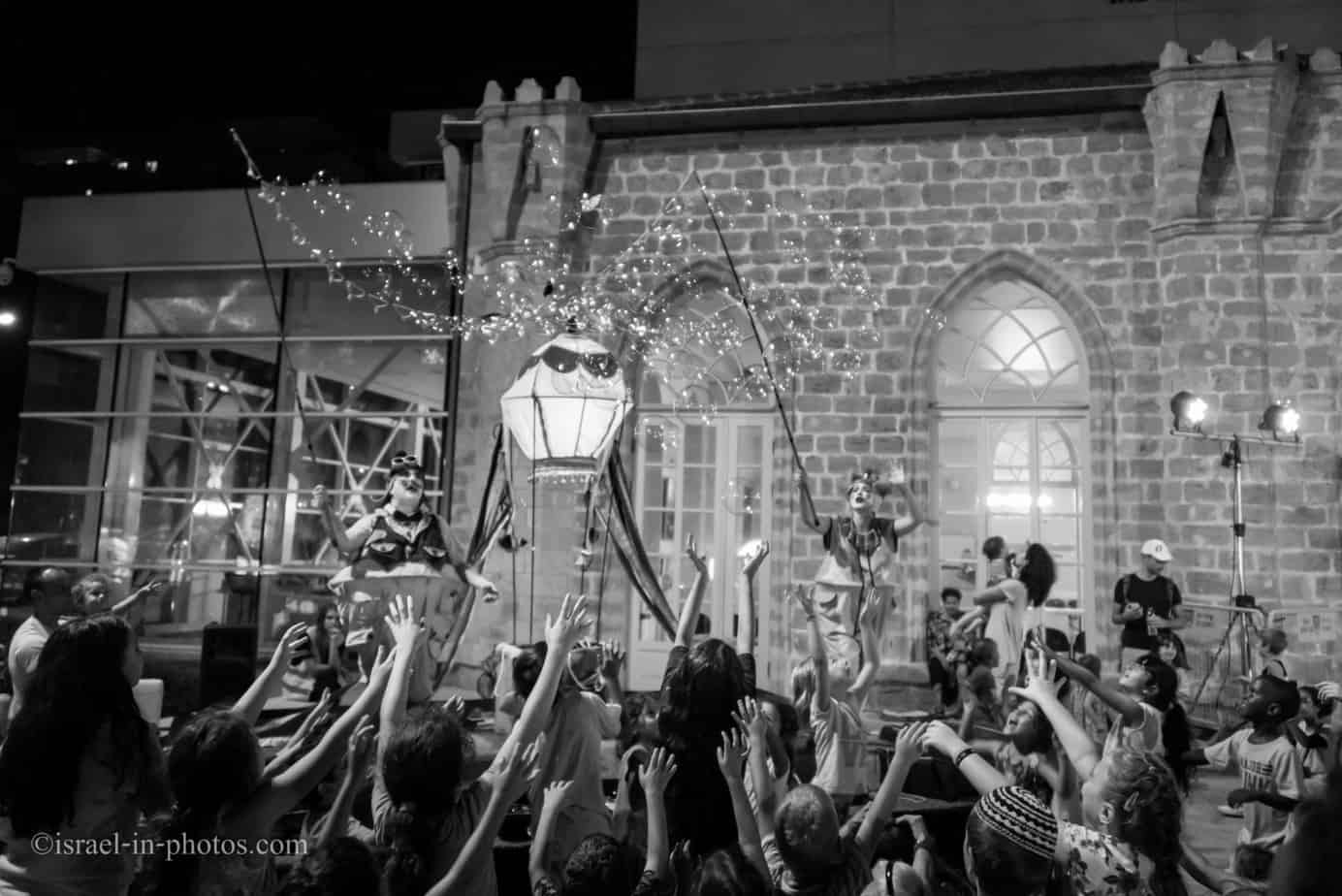 It was a lovely show for kids.
These are not police officers but artists cycling along the street. Initially, I thought it might be hard to rotate the pedals, but like many bicycles in Israel, this was an electric one.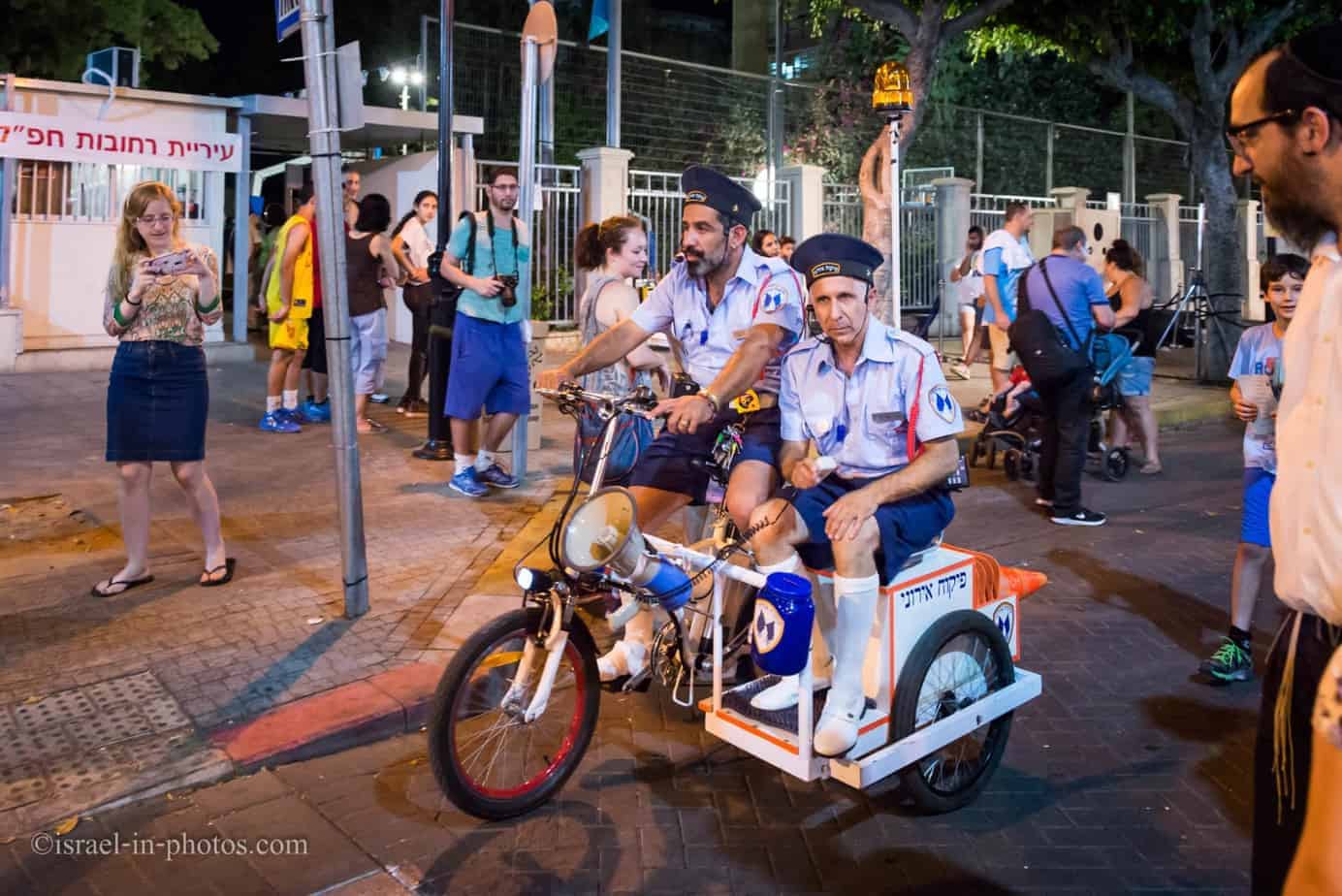 After 22:30, International Live Statues Festival was over, and the actors started to go home. I captured "the resting actor" on our way back to the parking.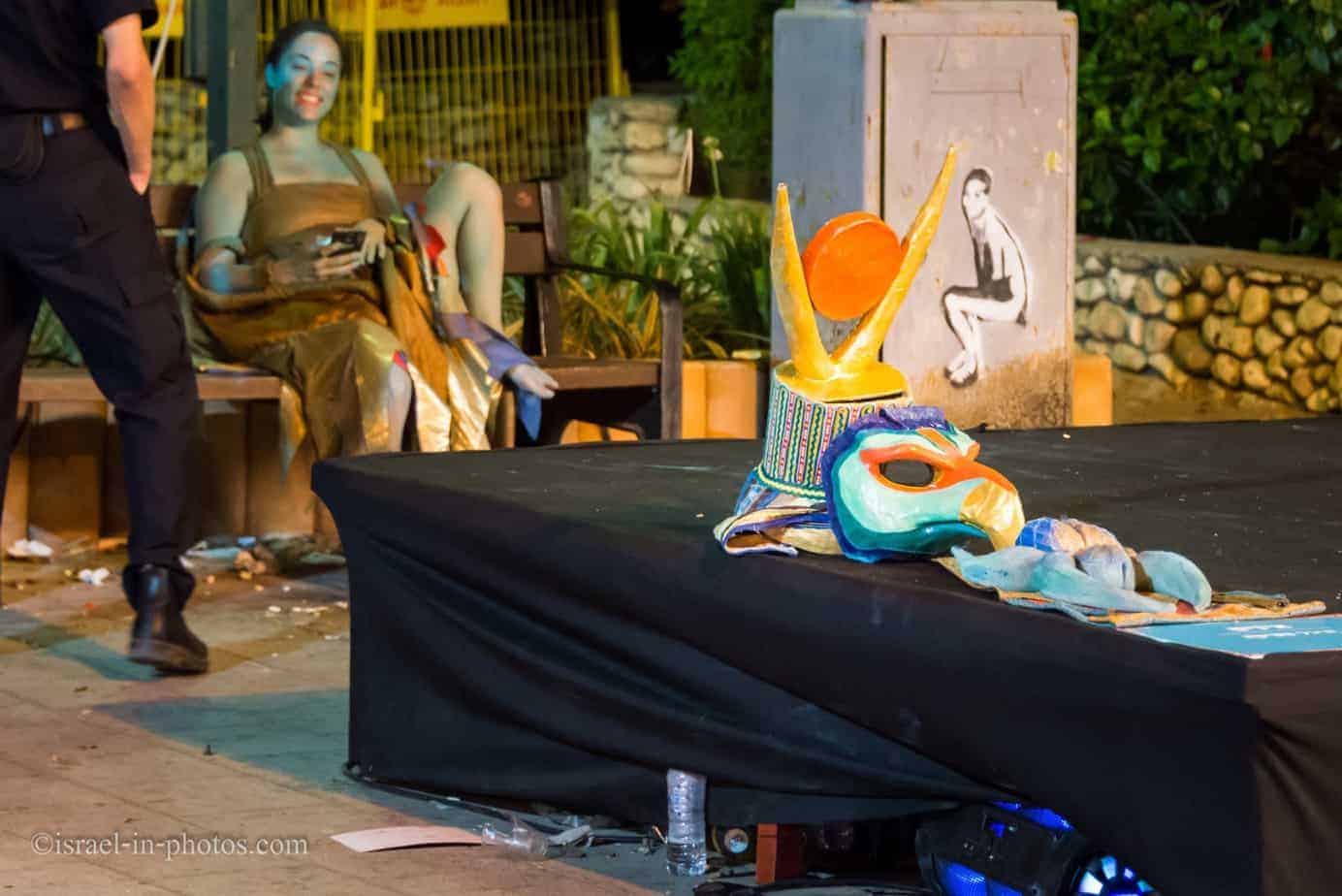 Rehovot International Live Statues Festival – 2018
Jerusalem Festival Of Light and Rehovot International Live Statues Festival still occur during the same week. In 2017, I did not have time to visit both. But, in 2018, I was able to see both of them. I combined all the material and created a video. Here it is.
Summary
Overall, we (both adults and kids) enjoyed the Live Statues Festival. It was much more than I expected. We spent two and a half hours and had not seen everything. The only downside was the crowds. My tip would be not to come on Thursday but instead in the middle of the week.
Have you ever been to Rehovot International Live Statues Festival? Did you like it? Let us know in the comments below.
That's all for today, and I'll see you in future travels!
Stay Tuned!
Additional Resources
Here are several resources that I created to help travelers:
And if you have any questions then check out
Useful Information For Tourists To Israel
.  
Did not find what you were looking for? Leave a comment below, and I will do my best to answer your questions.