The Holiday of Holidays in Haifa is an annual festival in December. Most celebrations happen at the German Colony and Wadi Nisnas.
Tips
Here are several essential tips you should know before visiting:
Do not drive to Sderot Ben Gurion. Usually, there are traffic jams in the area, especially on weekends. Thus you have several options:

Park nearby – I typically search for parking in the area (walking distance of 10 – 15 minutes) without driving through Sderot Ben Gurion. Thus, if you are arriving from the center, look for parking west of the German Colony.
Park further away and use public transport – you can park near one of Metronit stations and use it to reach the German Colony.
On weekdays you can use the train. Haifa center – HaShmona station is located nearby (less than 1km away).

Check the weather – since you will be mostly outside during your visit, verify there will be no rain. It started raining on one of our visits, and we had to terminate our trip.
Tours – if you are interested, you can join various tours and activities for additional fees. But since they are popular, book in advance (preferably several weeks in advance). And if you are looking for additional activities, check out the guide to Wadi Nisnas.
Note: for some reason, Israeli train does not allow to enter with balloons. Thus, if you arrive by train, do not purchase balloons with lights for kids. When they took away our balloon, they already had a dozen other balloons with lights.
About the Festival
This festival started in 1993 and was celebrated for three weekends in December. The purpose of this festival is to show the character of Haifa, a city with a mixed population and different faiths, and promote coexistence and tolerance among them.
The festival's name expresses the intention to mark the religious holidays that apply in December (and next to it): Hanukkah, Christmas, Ramadan, and Eid al-Fitr.
Note: full timetables and additional information can be found at the official site.
Map
The celebrations occur at The German Colony (mainly Sderot Ben Gurion) and Wadi Nisnas.
Directions for drivers: Link to Waze and Link to Google Maps
Directions for public transport: Link to Moovit
Interactive map of the area:
Offers:
Hotels, hostels, and apartments in this area:
In the following sections, you can see my photos and impressions.
German Colony During Celebrations – 2014
Main attractions usually include music concerts, street artists, children's theater, exhibitions, antique fairs, and tours in Haifa downtown. But this year, besides the regular attractions, there was something additional.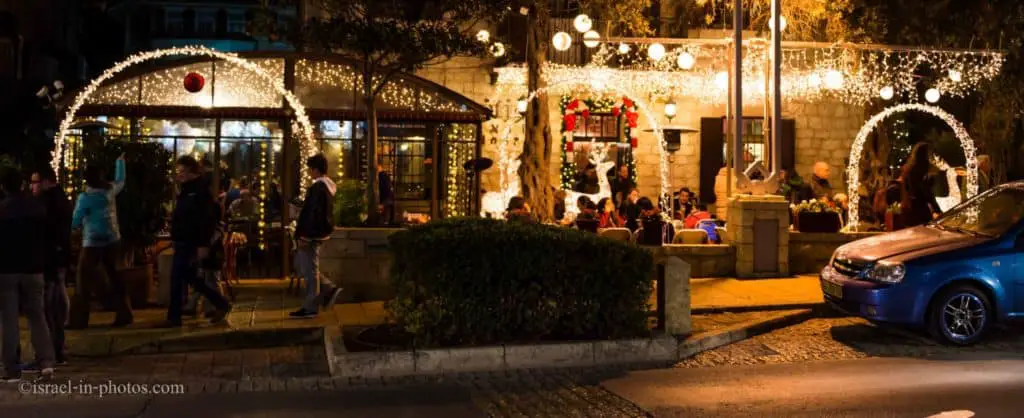 Decorations
Uri Blum, project manager of the Haifa municipality, was responsible for setting up the lighting. According to Uri, the construction of the display lasted about two weeks and included more than a mile of cords and twinkling wires lights.
"We used 800 meters of Garland, and the central tree has about 300 meters of cable with LED bulbs," he says. "Also, there are about 50 meters of LED teardrop-shaped and ten curtains, the length of each ten meters".
Note: all quotes were taken from the official site.
Along the avenue, there were established almost forty different elements of lighting. And since the lighting installation, thousands of visitors have come to the street, and the flow will increase, especially in the evening – Christmas Eve – New Year's Eve.
Lights will remain on the street until after the New Year, and the infrastructure will stay in place to establish additional lighting displays for the future. Next year, Haifa Municipality promises that the project will be extended to nearby streets and other areas in the city.
Here are several photos: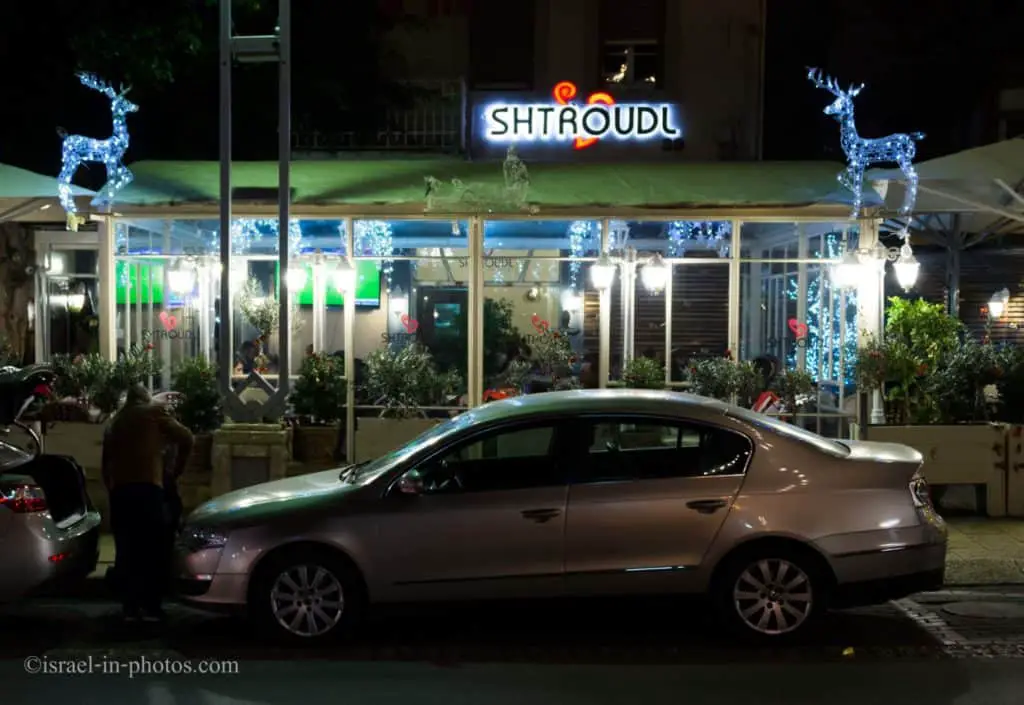 One interesting thing that I noticed, there is no Santa Claus, but there are many reindeer.
Summary – 2014
Compared to Christmas celebrations around the world, the holiday of holidays contains a small installation. But it is a big one for Israel. In Israel, Christmas was ignored for many years on a religious basis. And for many Israelis, it is still hard to accept that many Jews celebrate New Year without any religious context (Jewish Calendar is based on the moon movement, but in Israel, the Gregorian calendar is the standard one).
Hopefully, Haifa municipality will keep its promise, and this event will grow. After all, The Holiday of Holidays is a beautiful event and supports local businesses.
Sderot Ben Gurion – 2015
We did not plan to visit any special events held during the Holidays in Haifa. Instead, we planned to walk through the German Colony and get a festive feeling.
We arrived before sunset to check what was there. Here is a view of Sderot Ben Gurion: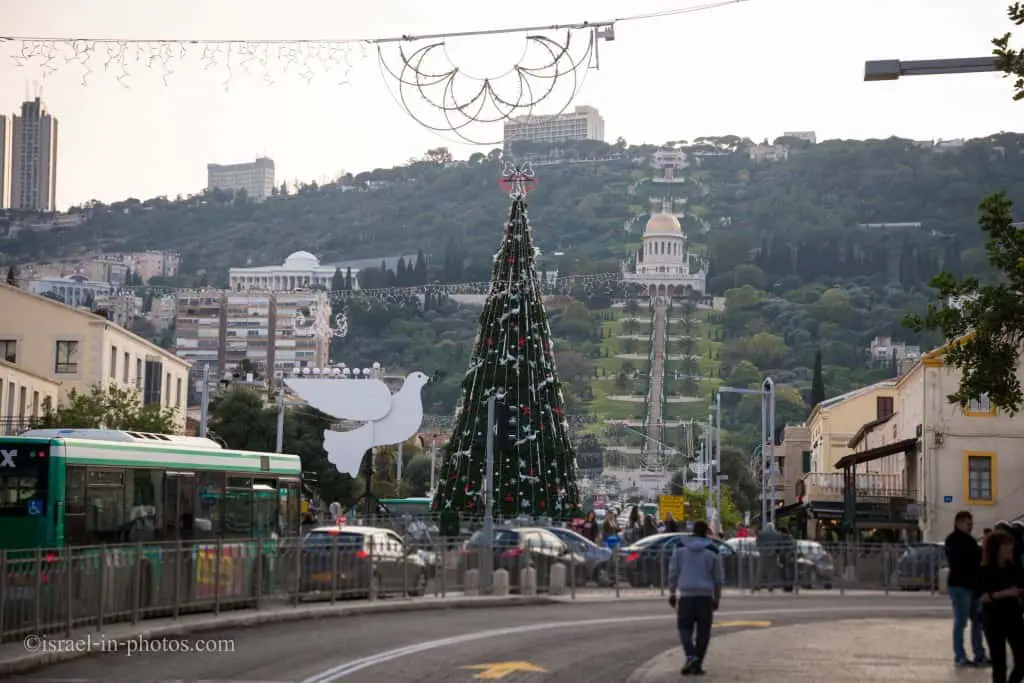 You can see a big Christmas tree and dove Chanukiah at the junction of Sderot HaMeginim and Sderot Ben Gurion.
Parking and Traffic
Since you can see heavy traffic in the photo above, let me refer to this subject. First, if you are looking for parking, there will be none on Sderot Ben Gurion (unless you are fortunate). Look for parking in the surrounding neighborhoods. We were able to find parking within a five-minute walk distance. Secondly, if you do not have to, try to avoid driving through Sderot Ben Gurion altogether.
Why is there such heavy traffic? Many drivers stop their cars, get their phones out and start taking pictures. I even saw somebody sticking his cell phone through the sunroof to get photos.
As long we are on the traffic subject. Since it is already barely moving and there are many people and not enough space, I think Haifa municipality should consider closing Sderot Ben Gurion for traffic during tourist peak hours. It is also worth mentioning that we were there on Saturday, probably the busiest day.
Food and Decorations Stalls
And with such crowds, you would think there would be many additional stores. Well, no. Meet the only items seller on Sderot Ben Gurion: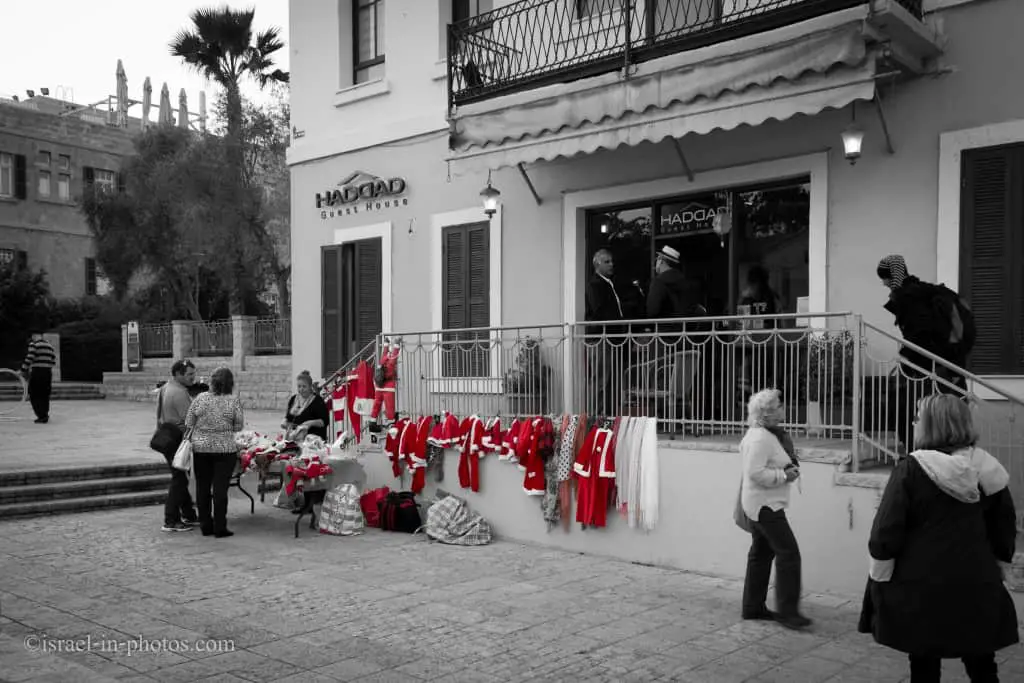 And what about food stands? Also, one. Total disappointment.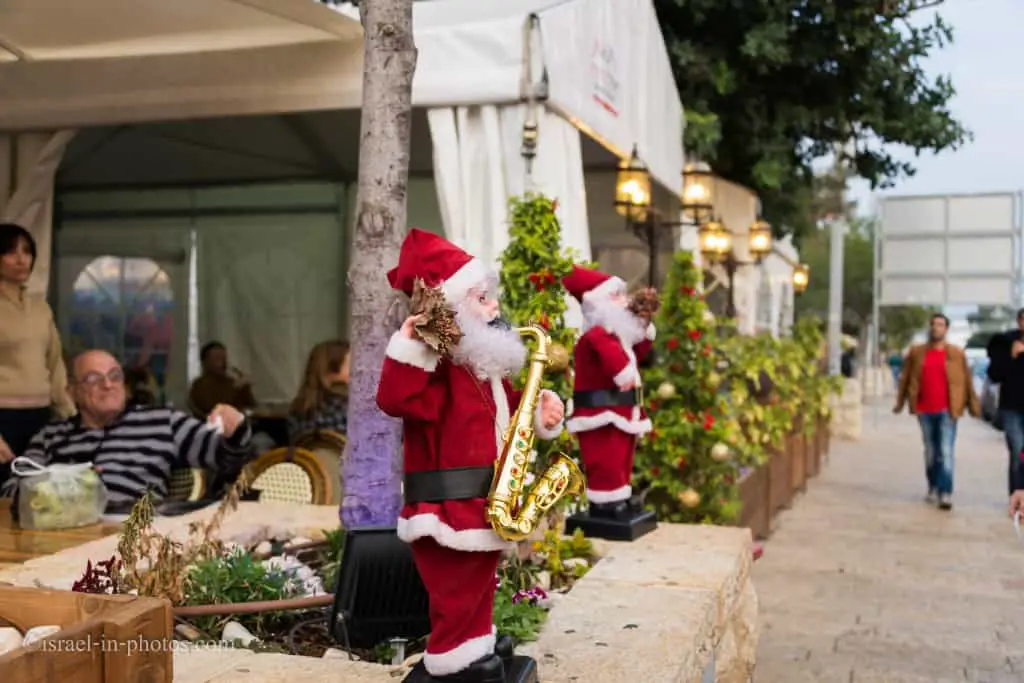 If you are worried about trees, then do not. I have not seen one real tree. All trees were made of plastic. Though not sure what is worse.
Restaurants started to turn on their lights (but the street and Christmas tree lights were still turned off):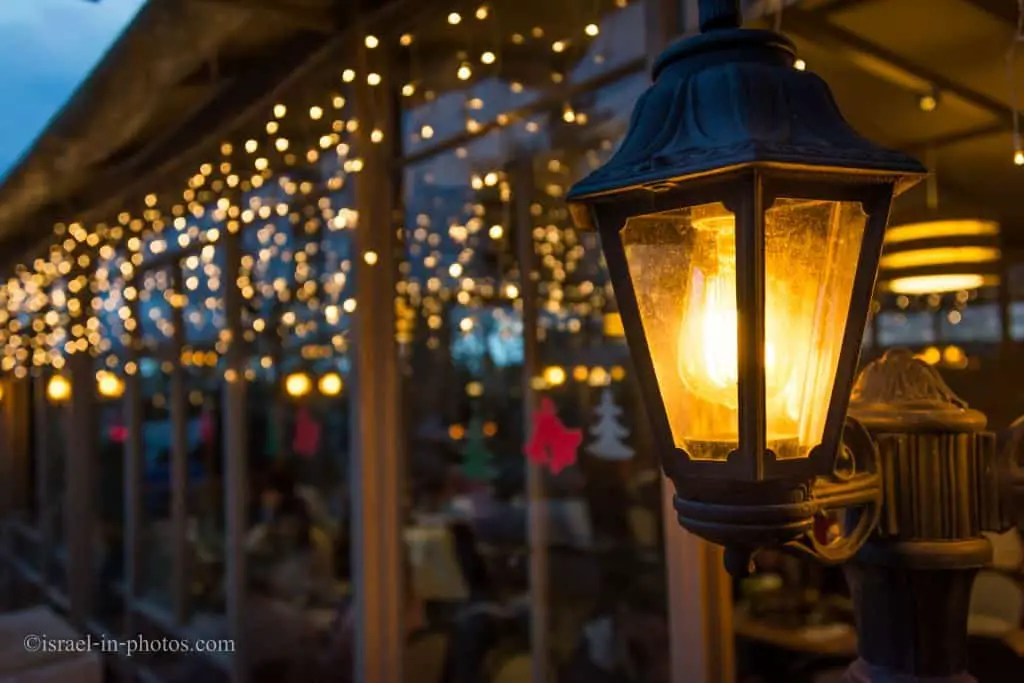 Besides each tree, there was a line of people waiting to take a picture. Most parents wanted to take a picture of their children with a Christmas tree, but many adults also wanted their photo taken.

An idea for a business is to put up a big tree, decorate it nicely, and then allow people to take a picture next to the tree for a small fee 😉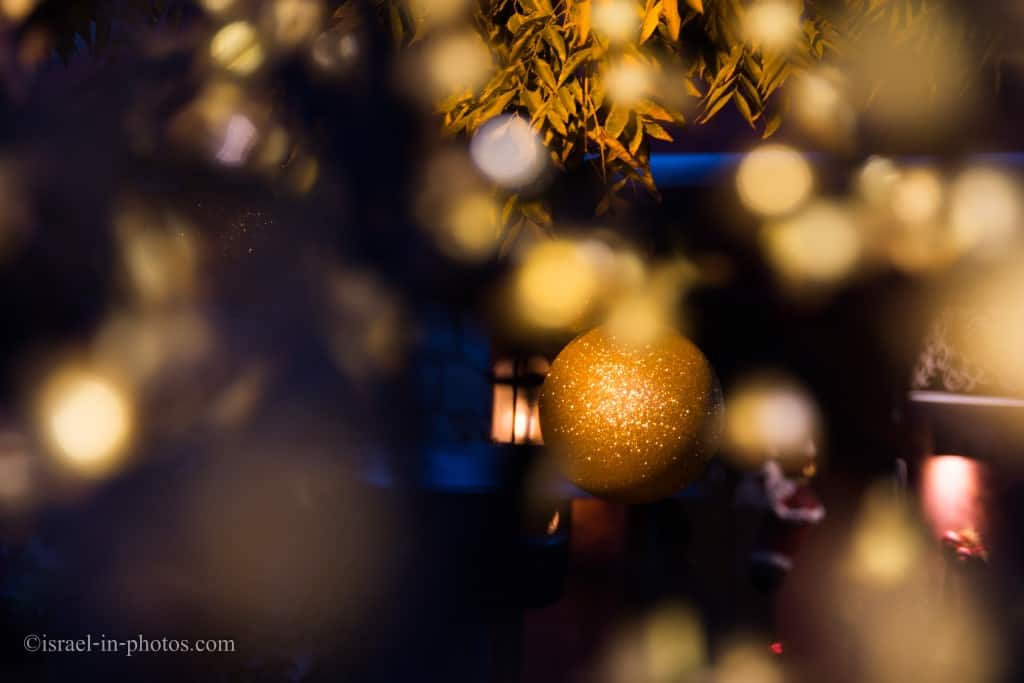 This restaurant, except for standard decorations, also hung umbrellas. The result is very nice: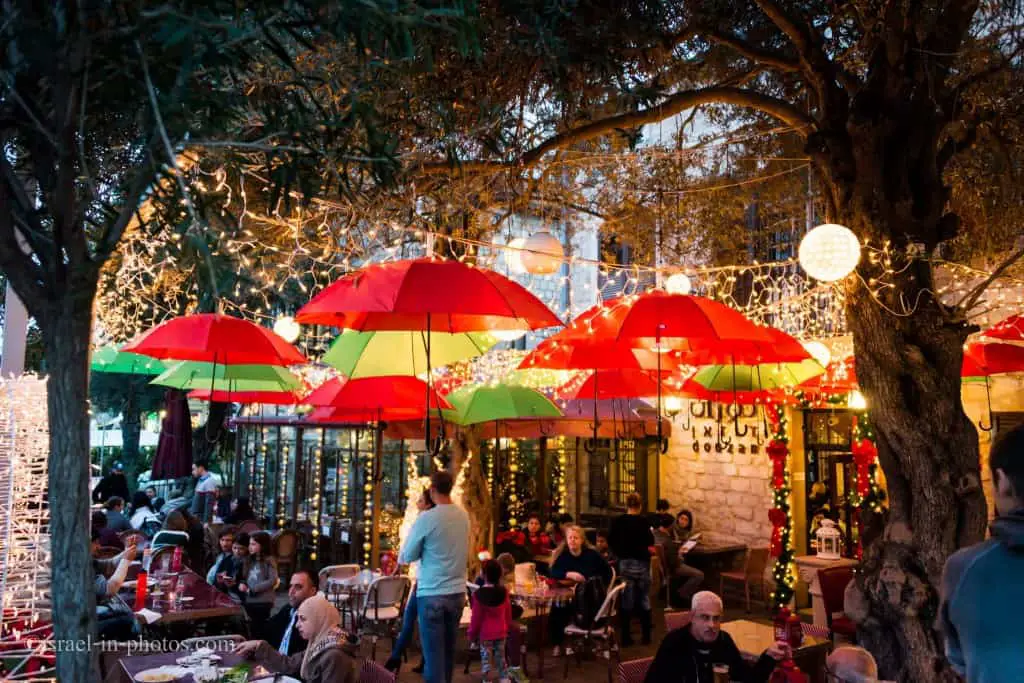 A group playing on a balcony heading to the main street: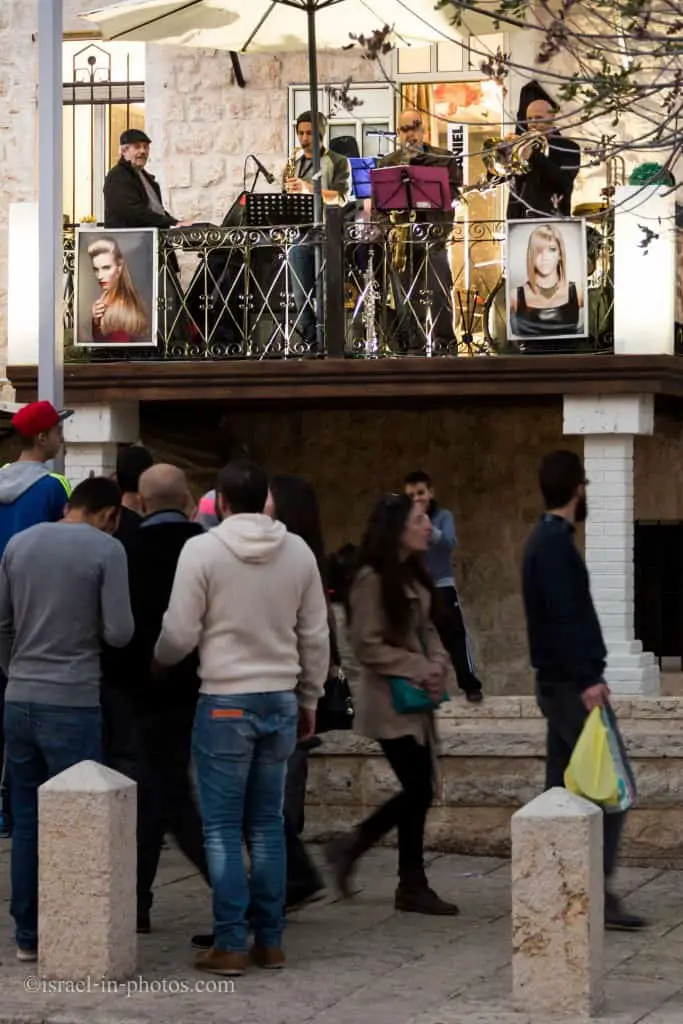 The problem was that after one piece, they took a long break (did not hear music for 20-30 minutes).
Finally, the street lights were turned on: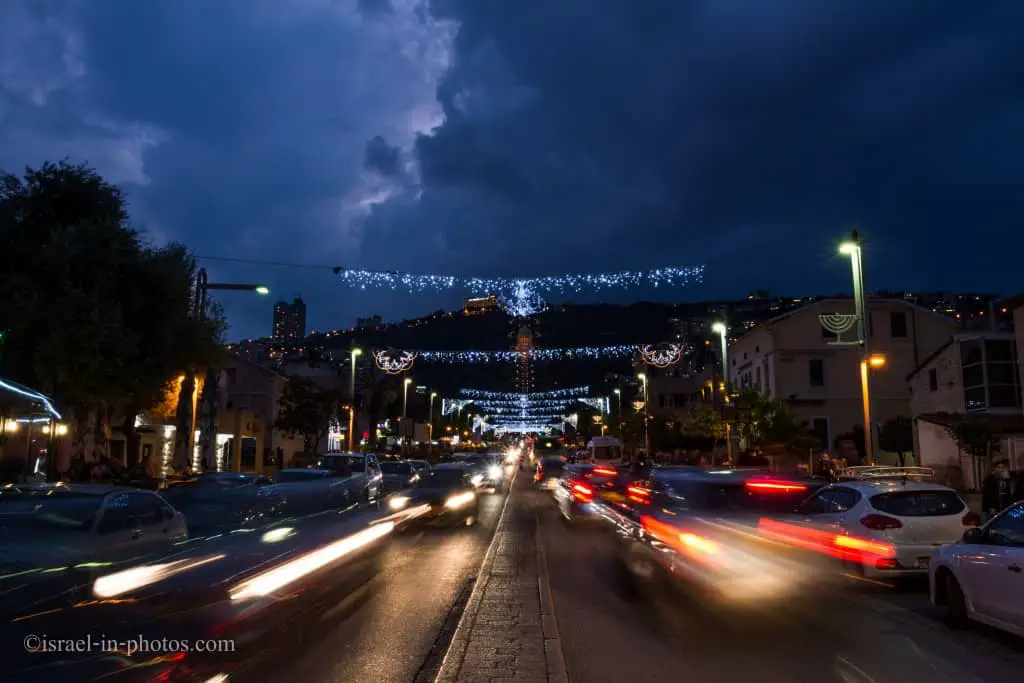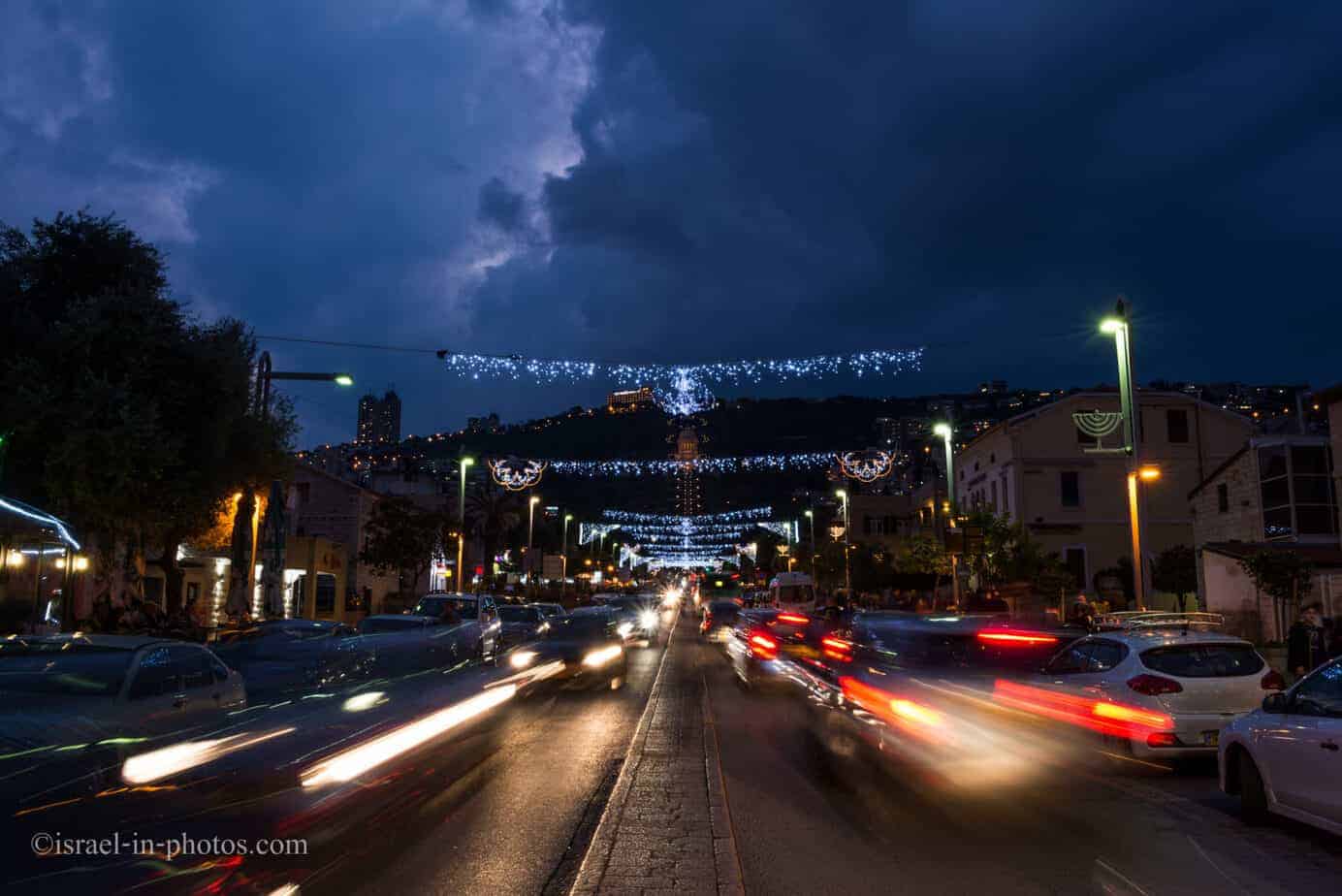 Remember I mentioned heavy traffic. There was one driver that was very eager to take pictures. He parked his car in the middle of the junction (the vehicle on the left in the photo above) and went to take photographs. He stood there for at least five minutes. And then people ask why there is such heavy traffic.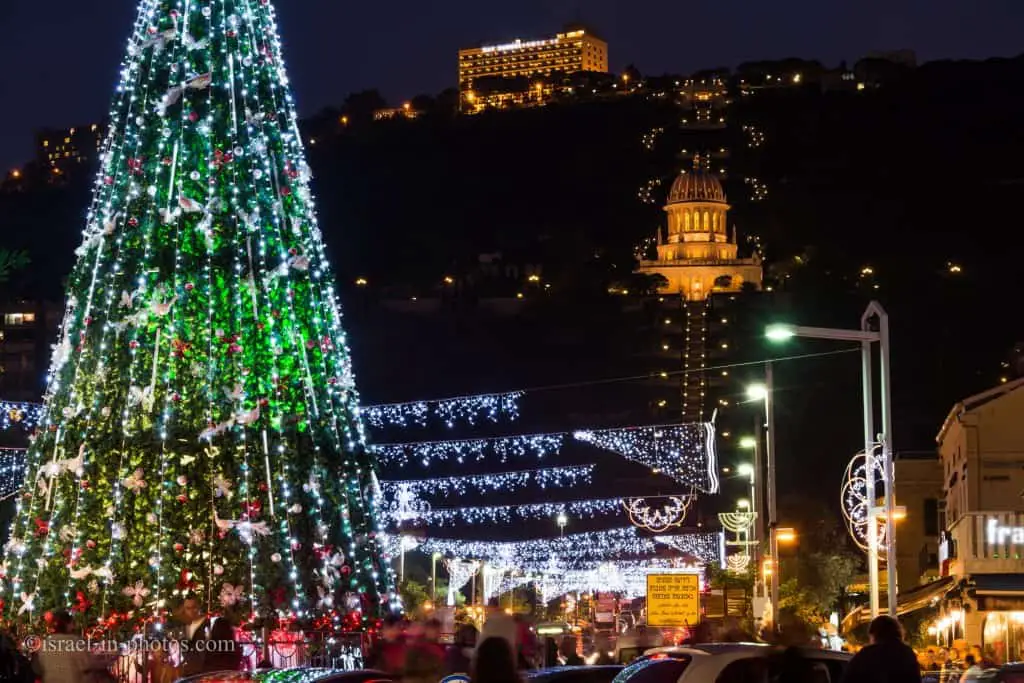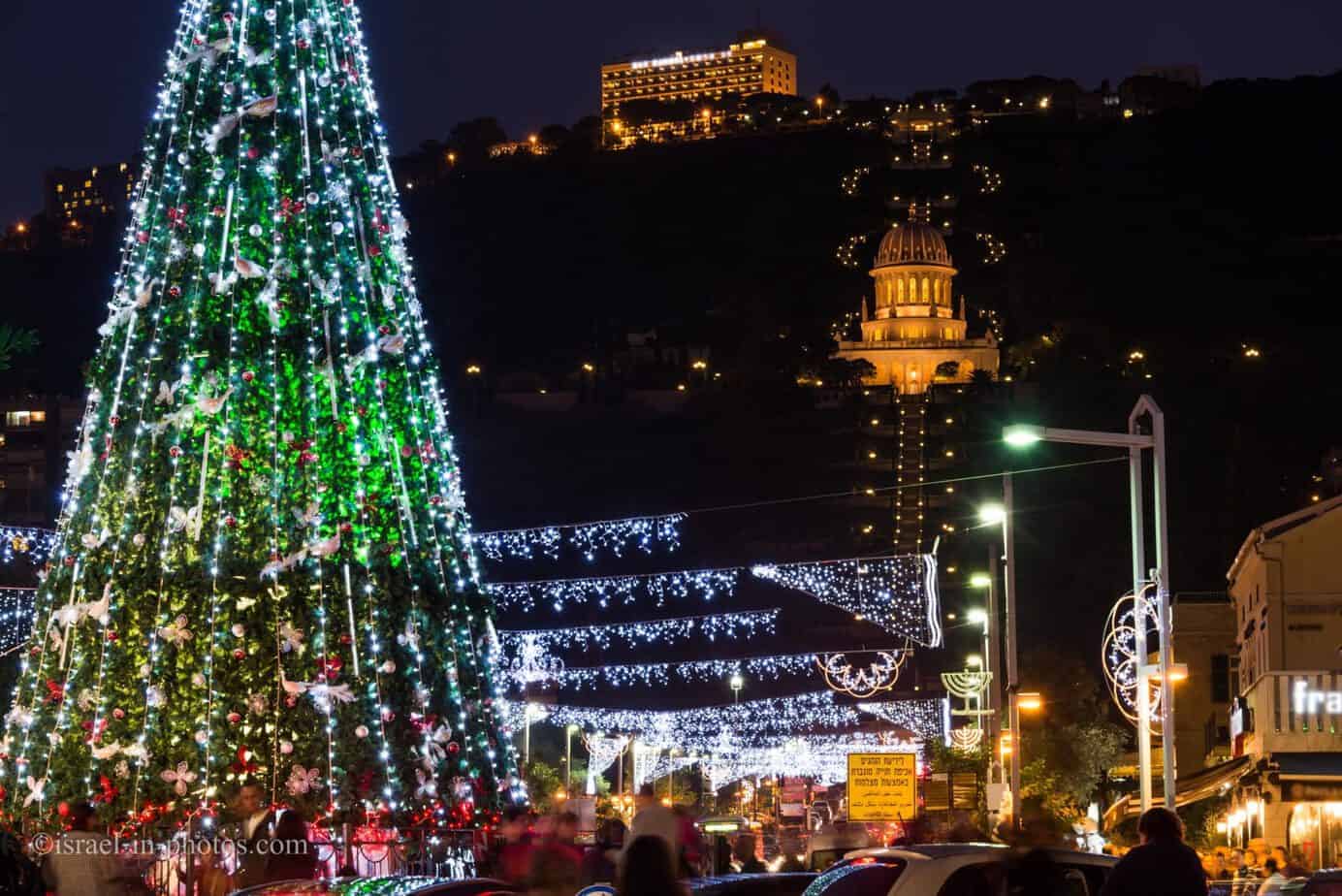 At this point, it started raining, and we ran to the car.
The Holiday of Holidays – 2018
In 2018 we returned to The Holiday Of Holidays in Haifa. And I must say that this event gets bigger and better every year. There are more activities and tours (for an extra price). And they are popular. I wanted to book one of the tours for the weekend, and they were sold out. Thus, book in advance if you want to join one of the tours.
This year we decided to arrive earlier. We wanted to see the 14:30 festive procession. We arrived on time, but not early enough. The first two rows of people observed the parade. The rest, including us, barely saw anything. But, since the whole procession ended after a couple of minutes, I would say that if it will not be improved, there is no real reason to look for it.
After the disappointing parade, we headed to Wadi Nisnas.
We walked along Wadi street and saw many holiday-related produce and food places.
I noticed that not all products were made in China, and some decorations were brought from Russia.
If you are not looking for food or souvenirs, then I am not sure there is a point in heading to Wadi Nisnas. We were a little disappointed by this part, but as we returned to Emil Khavivi square, we saw these street performers.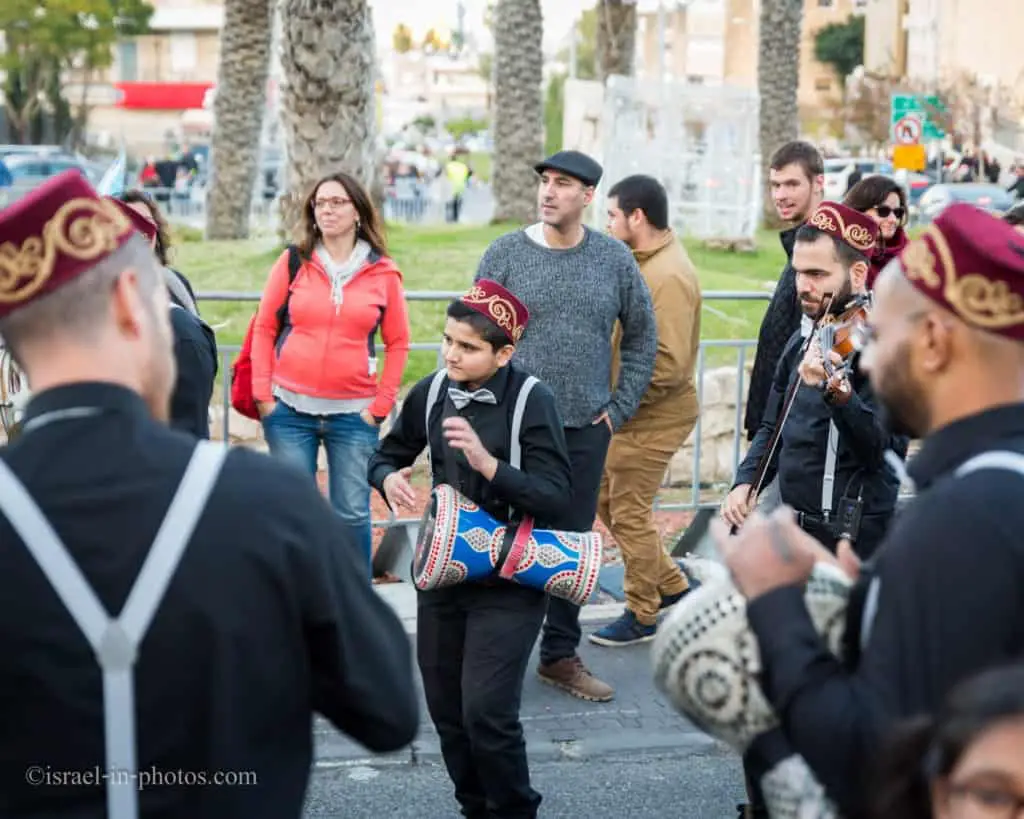 Encouraged by the music, we visited Abd al-Hadi Sweets at 3 Sh'Hada street.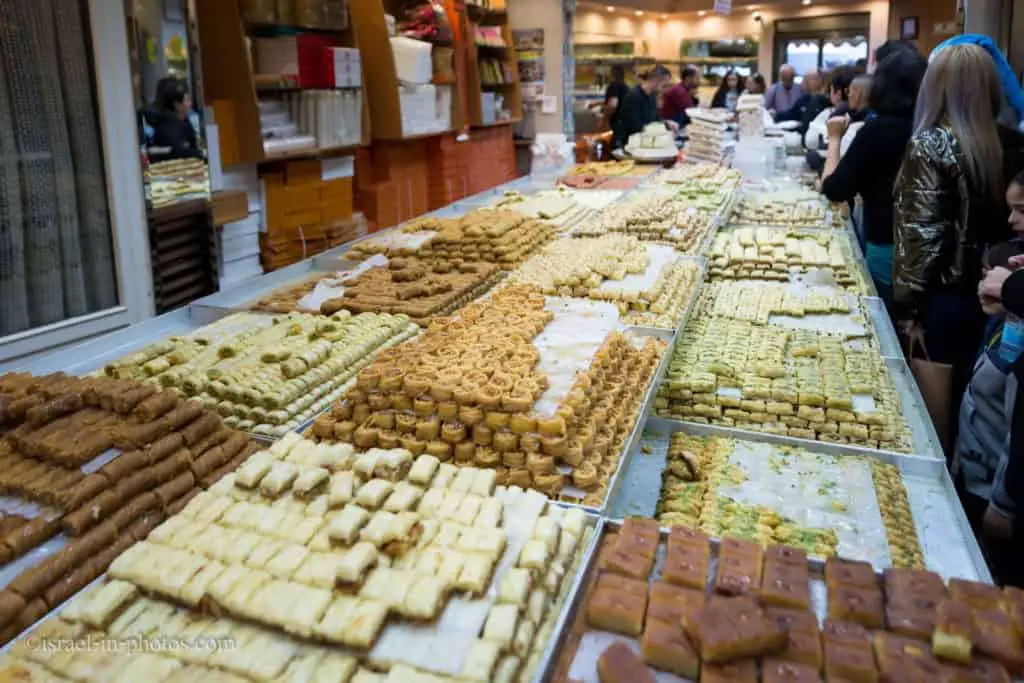 There are many different types of Baklava, Kanafeh, and Kadaif. Everything was tasty, but my favorite was the Kadaif with goat cheese.
And to burn all those calories, we headed back to Ben Gurion street.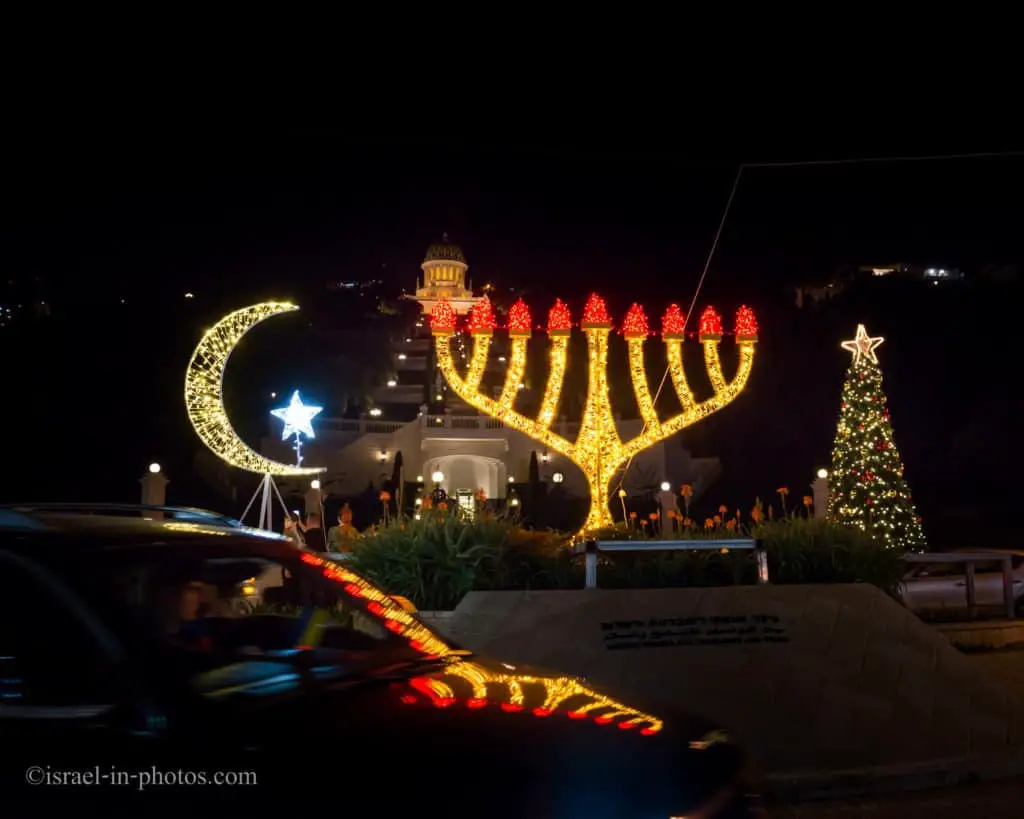 As you can see, Haifa municipality started closing many streets in this area. That is what I suggested a couple of years ago. And as a result, people can walk safely, and the extra space is used for food souvenir stalls.

We saw several performers, listened to Irish music, and were delighted to leave home.

One extra thing that I should mention is we visited on Saturday. It is one of the busiest days, and the downside is the big crowds. But, the upside is the number of performers and events.
The Holiday of Holidays – 2022
This year we visited on a Thursday evening, and hence we were able to use the train. Haifa center train station is located within a ten-minute walk from Sderot Ben Gurion.
The celebrations are extending, and there are more food and toy stands than in previous years. Moreover, this year, they added a light show on the Dagon Silo building.
Summary
The Holiday of Holidays in Haifa is a colorful event. Therefore, it is a must for photographers 😉 Besides decorations, there are concerts and performances (the full timetable can be found on the official site). Hence, I suggest visiting it. Moreover, you can enjoy many additional activities, like tours (for an extra fee).
Did you visit The Holiday of Holidays in Haifa? Tell us about your experience in the comments below.
That's all for today, and I'll see you in future travels!
Stay Tuned!
For additional attractions nearby, see Haifa.
Additional Resources
Here are several resources that I created to help travelers:
And if you have any questions then check out
Useful Information For Tourists To Israel
.  
Did not find what you were looking for? Leave a comment below, and I will do my best to answer your questions.