Jerusalem Knights Festival is an annual festival that held in Jerusalem since 2009. And in this post, I will cover our visits.
Jerusalem Knights Festival – 2013
In 2013, Jerusalem Knights Festival was held in the Old City of Jerusalem during November. Jerusalem Knights Festival is a medieval style celebration in the unique setting of the Old City of Jerusalem. It featured knights fights and various performers.
Map of the area:

Admission to this event was free.
Here we are getting towards the Jaffa gate. Because there is available space there, most festivals put some installation there.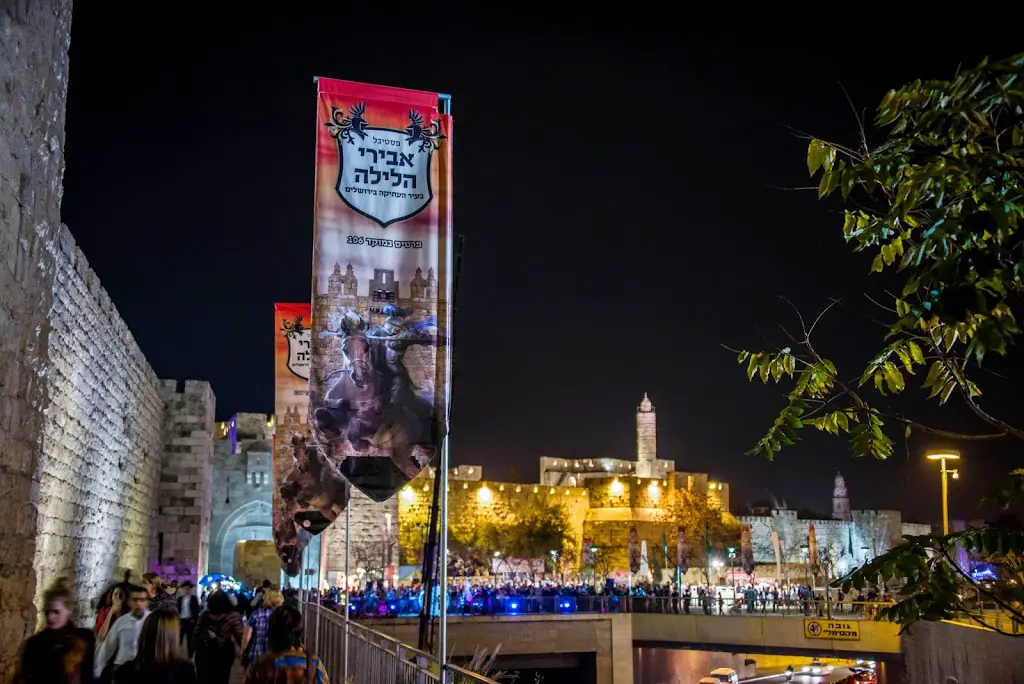 A crane was holding a metallic construction inside which a drummer was seating. Also, there was a white ball hanging.


Crowds watching the show:


Hopefully, nobody strained the neck 😉
But wait, the white ball is not for decoration. Three girls popped out of it:


A view of the acrobatic performers and the drummer from the ground:


As we entered through Jaffa gate we saw a stage there. There were different groups of dancers and here you can see two photos of girls performing. These may be not the best photos, but since it is a free event there are big crowds and even such photos need some art of elbowing 😉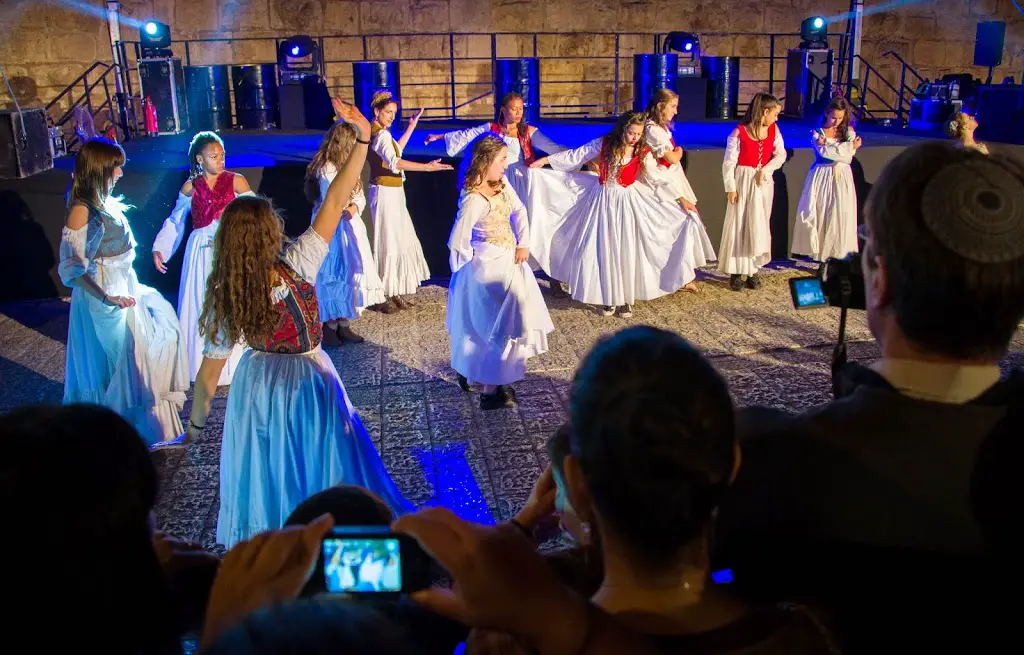 There musicians and street performers scattered around the old city.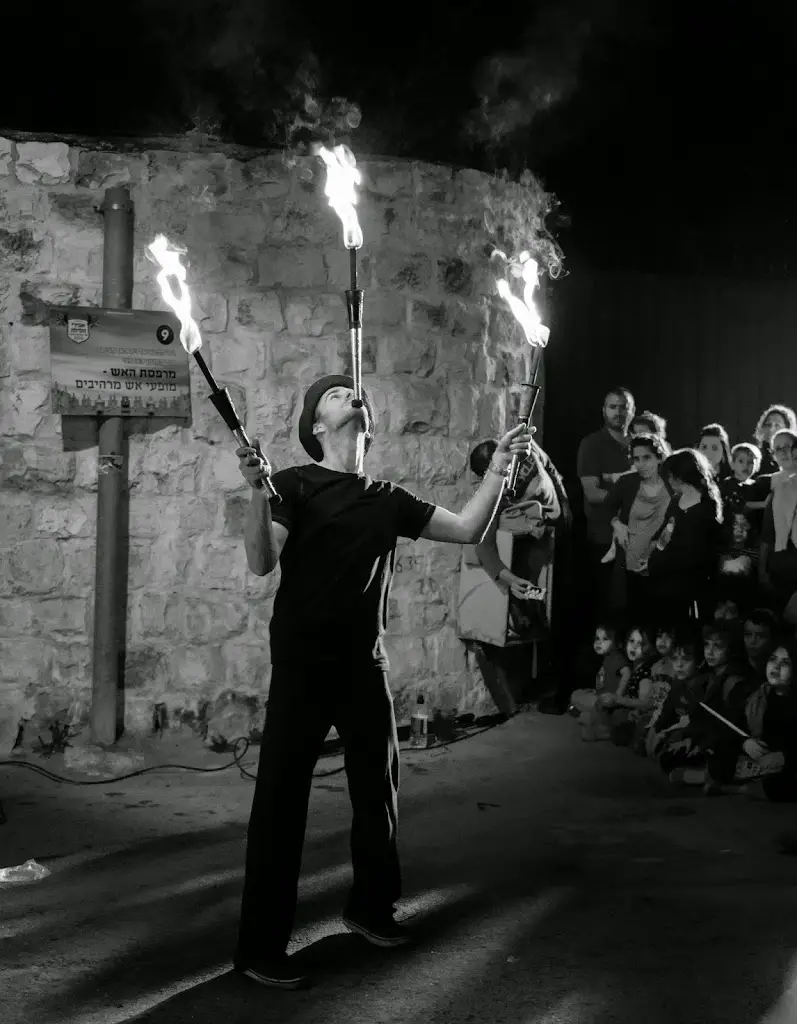 And since it is a knight festival, there should be knights:


They had rounds of staged fights until the winner was selected.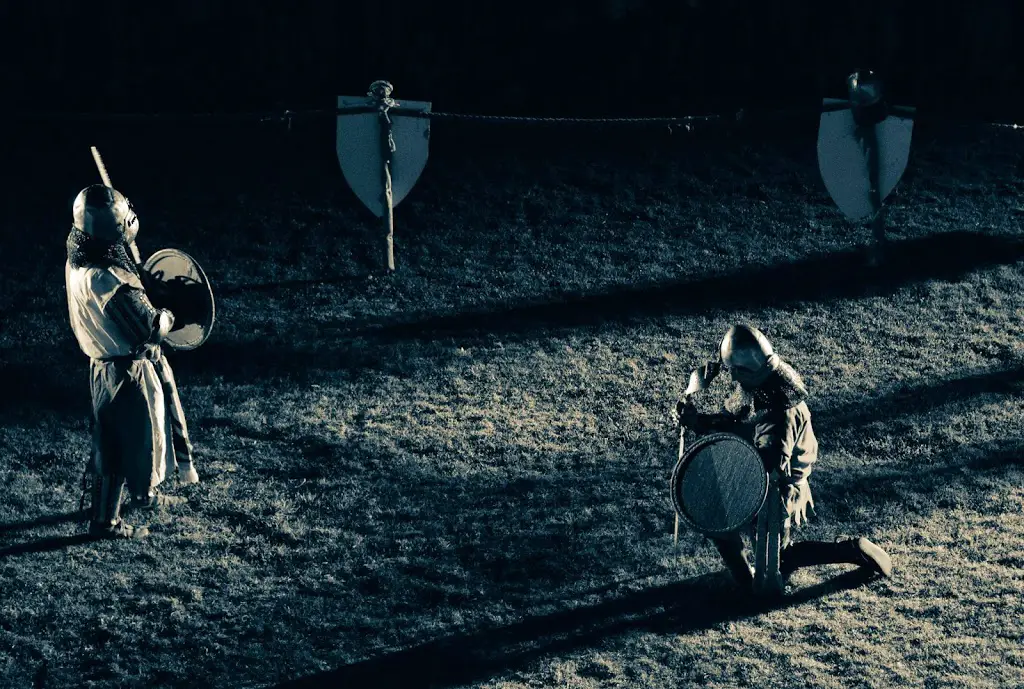 Overall, it was very nice and if you are in the area do not miss it.
Jerusalem Knights Festival – 2017
Jerusalem Knights Festival of 2017 (official website) was very different from 2013 one. First of all, it was held during the September holidays and not November. Secondly, it was not held in the old city. It was held in Ein Yael. And thirdly, the entrance was no longer free. Ticket price was 80 NIS, which is not a cheap event for the whole family.
Map of the area:

Ein Yael
First a little info about Ein Yael. What is it? Shortly: Ein Yael is a Living Museum.
And here is a longer description:
Ein Yael is situated in the Emek Refaim valley in the heart of nature on the outskirts of Jerusalem. The site includes ancient terraces, a spring, gardens and agricultural areas, and a reconstructed Roman street with shops and workshops. Ein Yael is also home to various archaeological remains such as a Roman villa and bathhouses, as well as impressive mosaics. Each of these areas come to life through a variety of workshops and activities that focus on ancient crafts and agricultural practices.

Activities at Ein Yael include weaving, pottery, mosaic making, fresco painting, scented oil production, construction, basket making, musical instruments and more. During specific times of the year and depending on the agricultural season, Ein Yael operates an olive press to make oil, a wine press to make grape juice, and a granary to thresh wheat. Workshops enable participants to experience the process of creating tools, objects, and food that have been used since ancient times.
Source: itraveljerusalem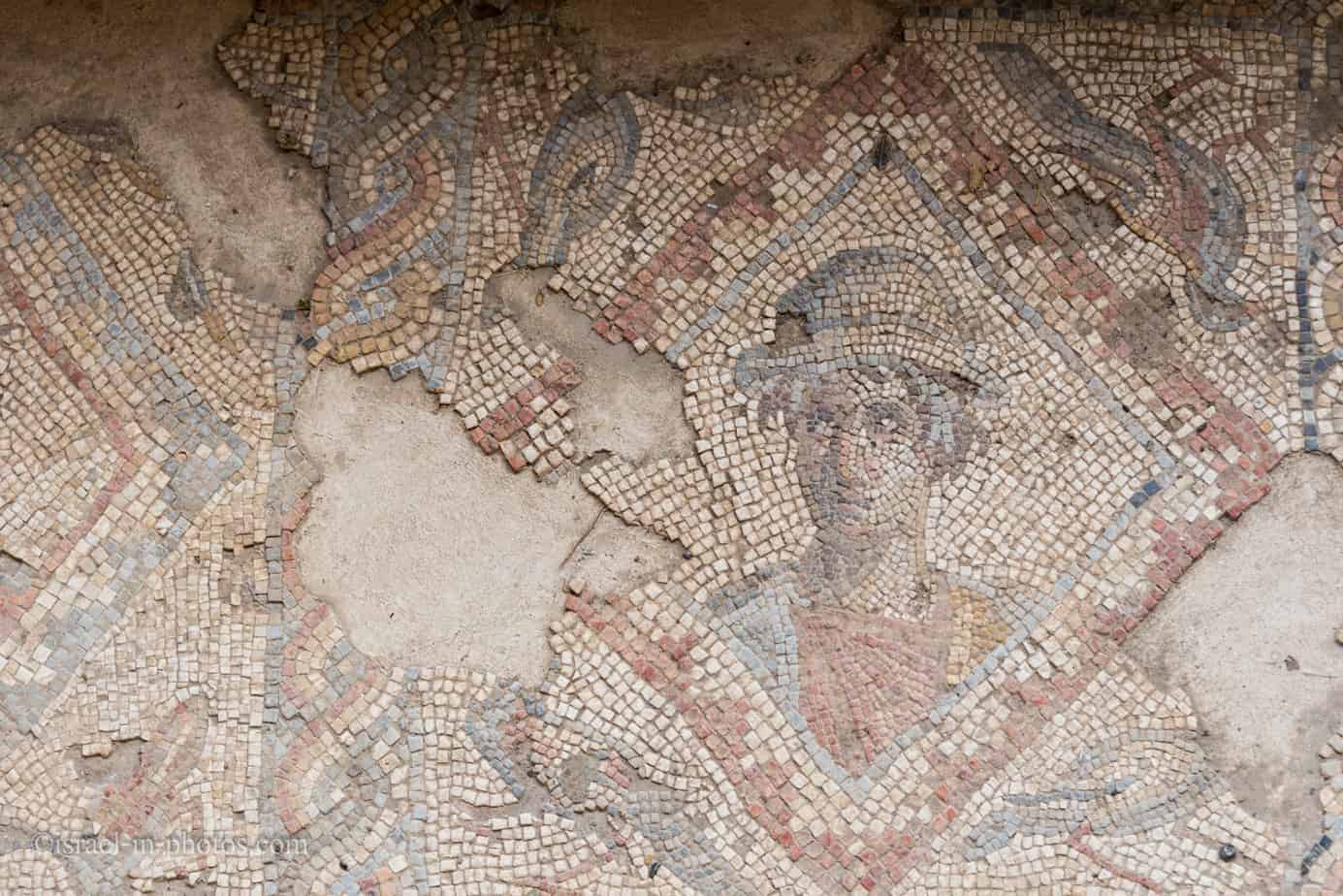 At The Knights Festival
As we entered Ein Yael, we were greeted by two musicians.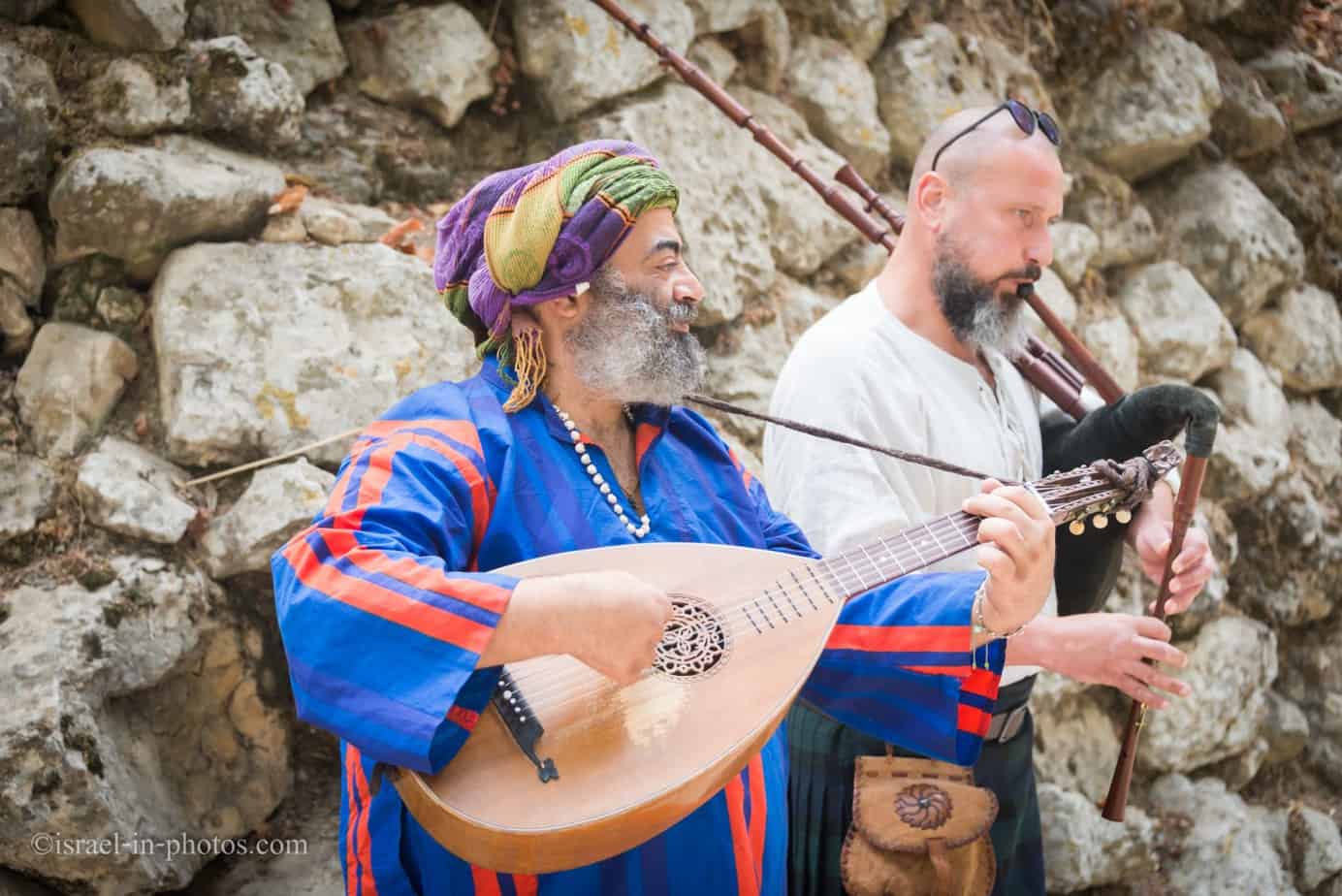 Further ahead we saw different craftsmen selling their art.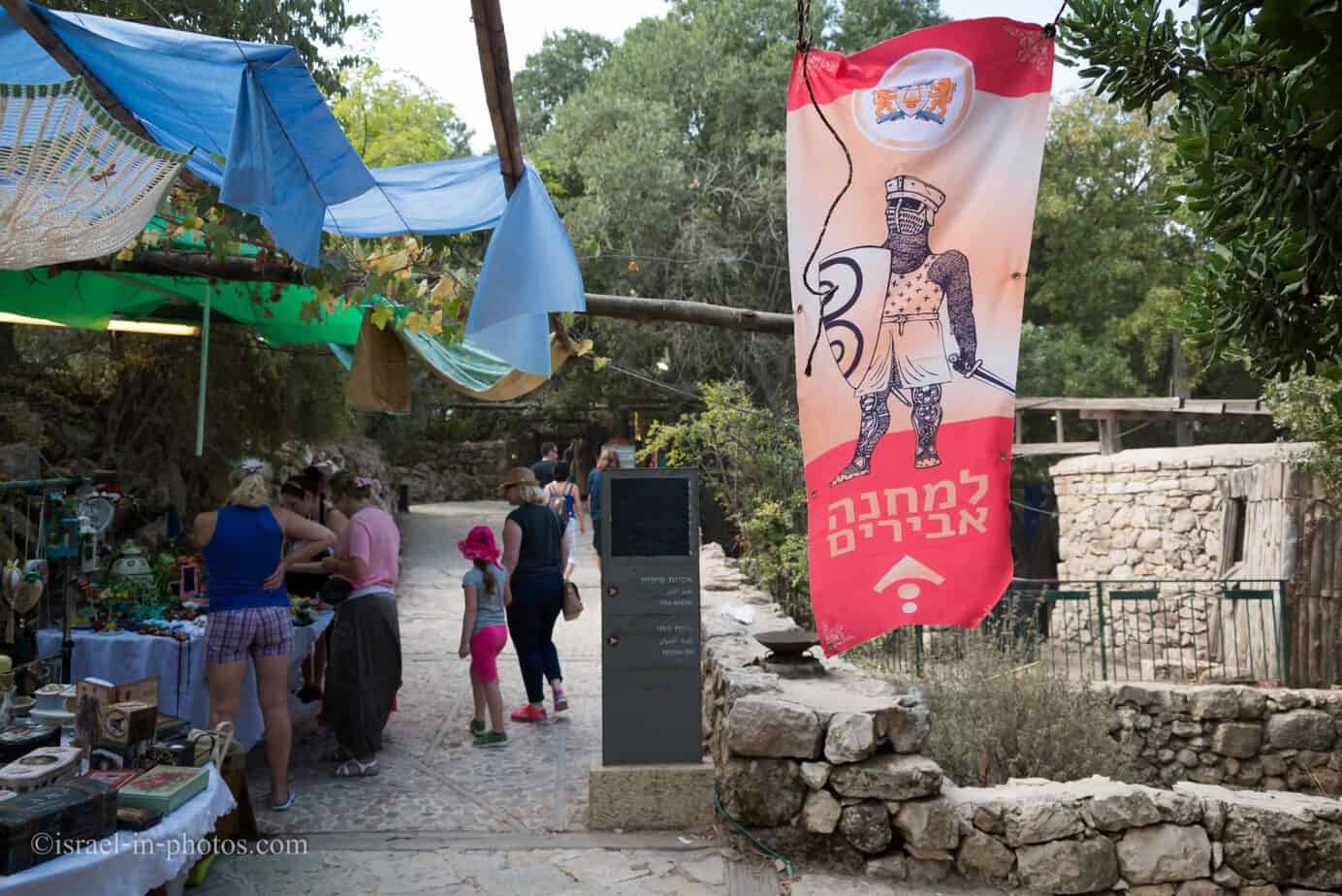 And this is the "music complex".
Well, I made up the name. But, in the several times we passed there we heard different music performers.
There were also small workshops for kids. Here, for example, my daughter selected a clay figure and paints on it. The extra activities for children were at an additional cost. The price of this clay figure (including coloring) was 25 NIS.

Passing by: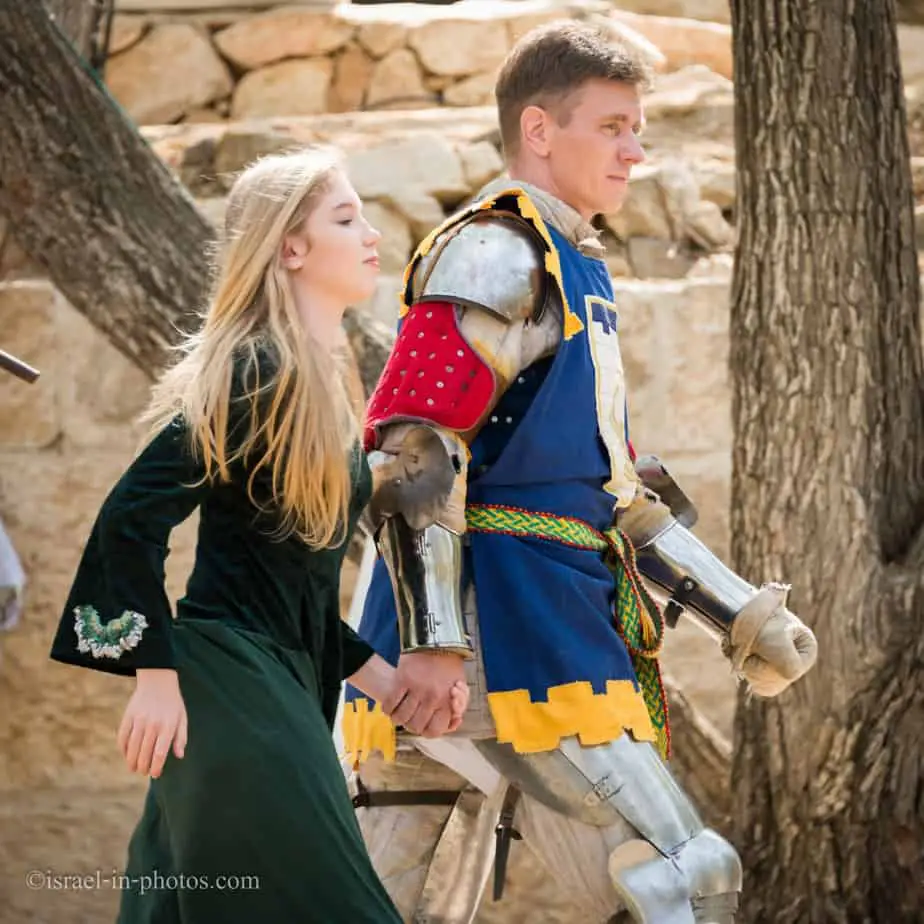 Another craftsmen's stand.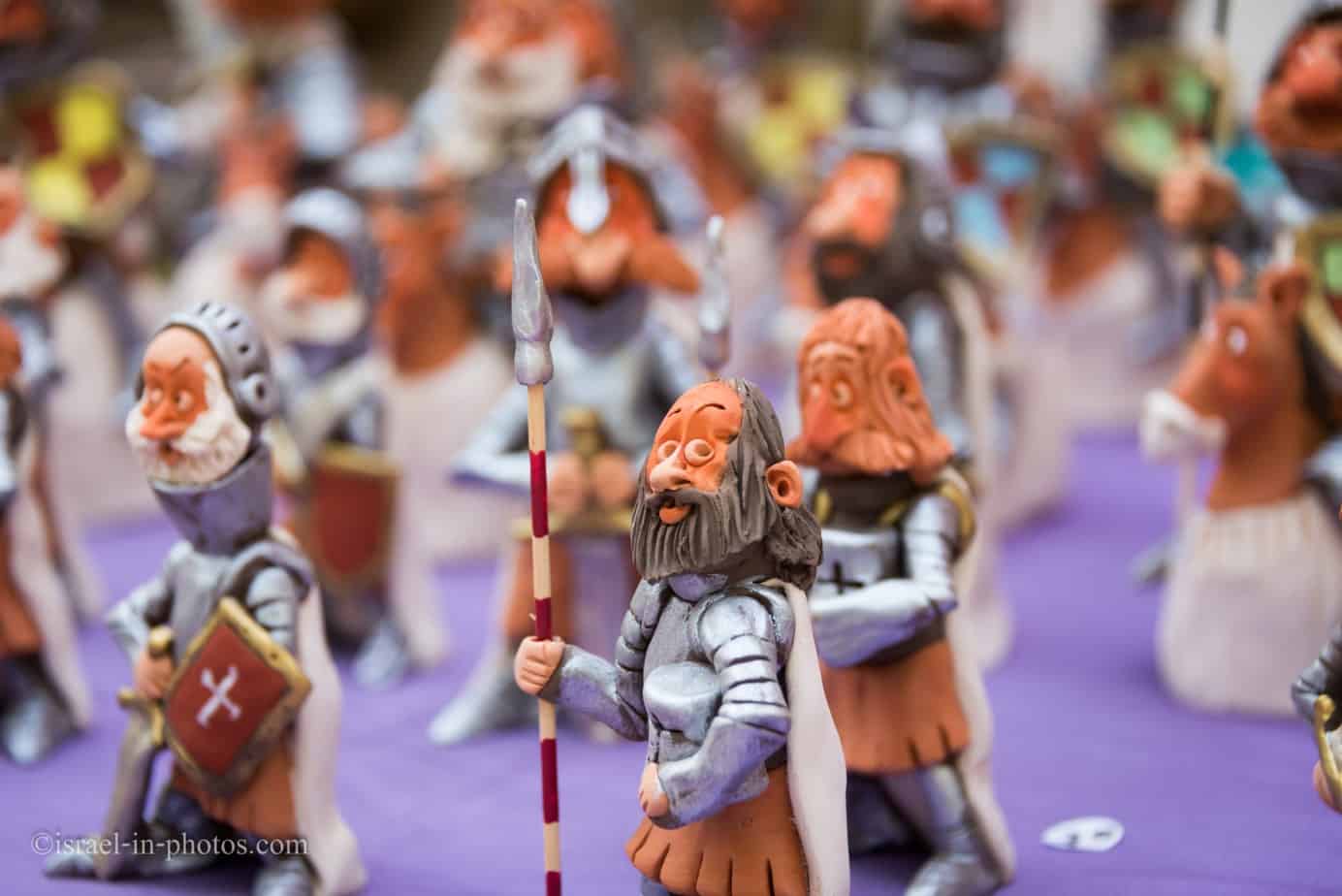 There were also several food stalls. One was selling Russian food and the other pizzas.
Knight Fights
I thought it would be a show. But in reality, it was a tournament. As it turns out, it was the last day of the festivals and they were having finals and semi-finals.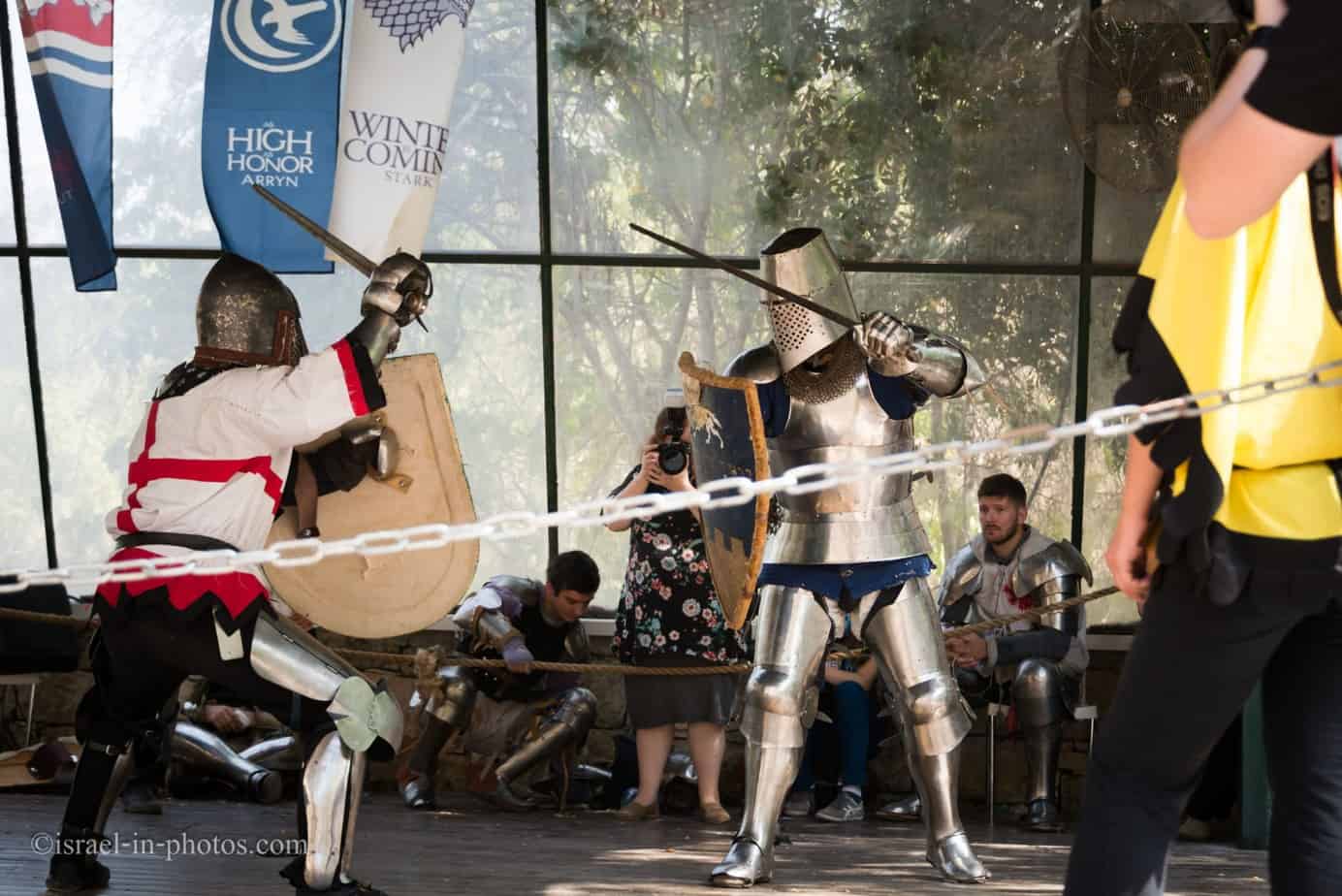 There were teams from different countries (Israel, Poland, Russia, Ukraine, and others).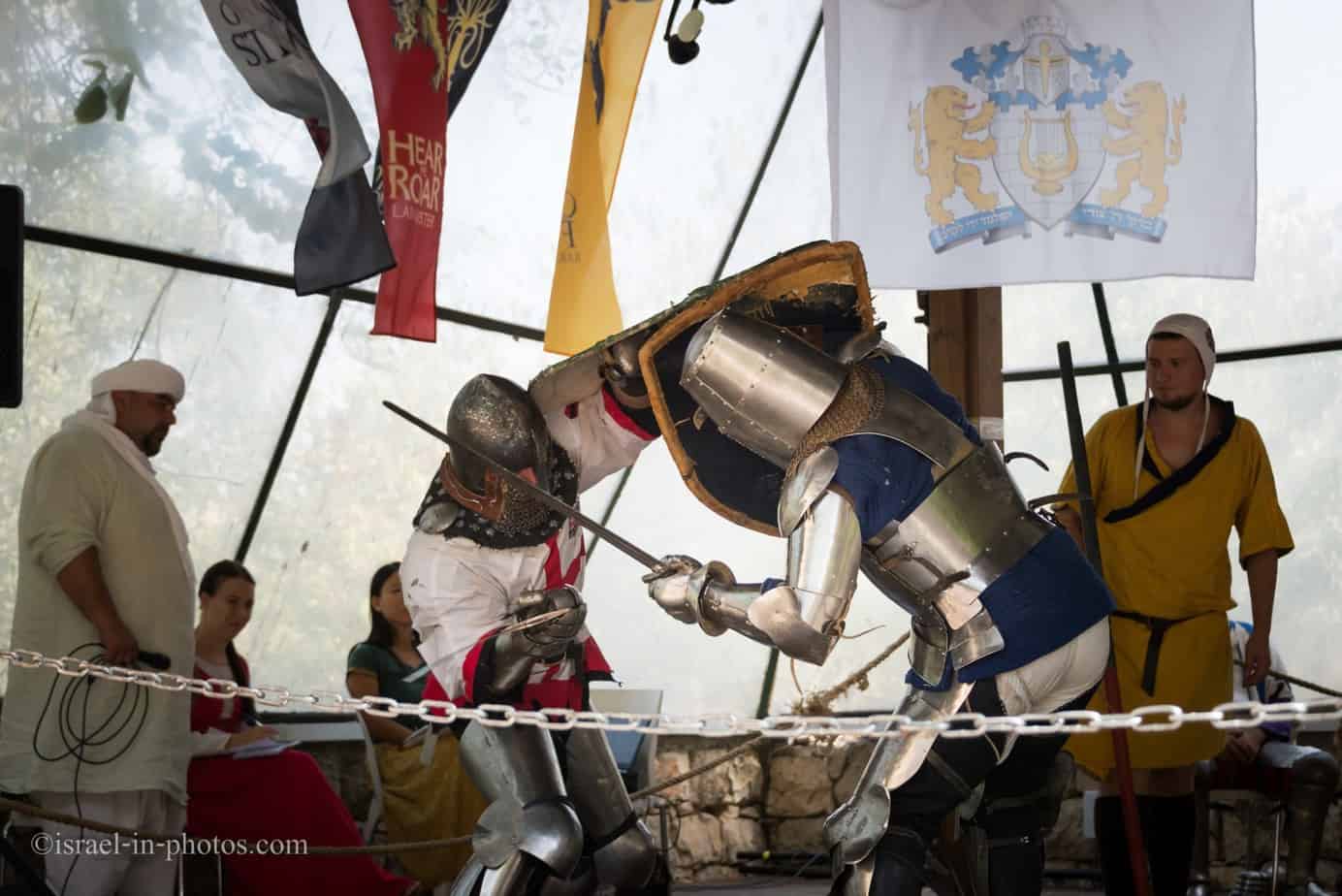 There were a broadcaster and three judges. Two corner judges and the center one. You can see the center judge, he was in a yellow robe and holding a long stick. The stick was used to sign fight stop.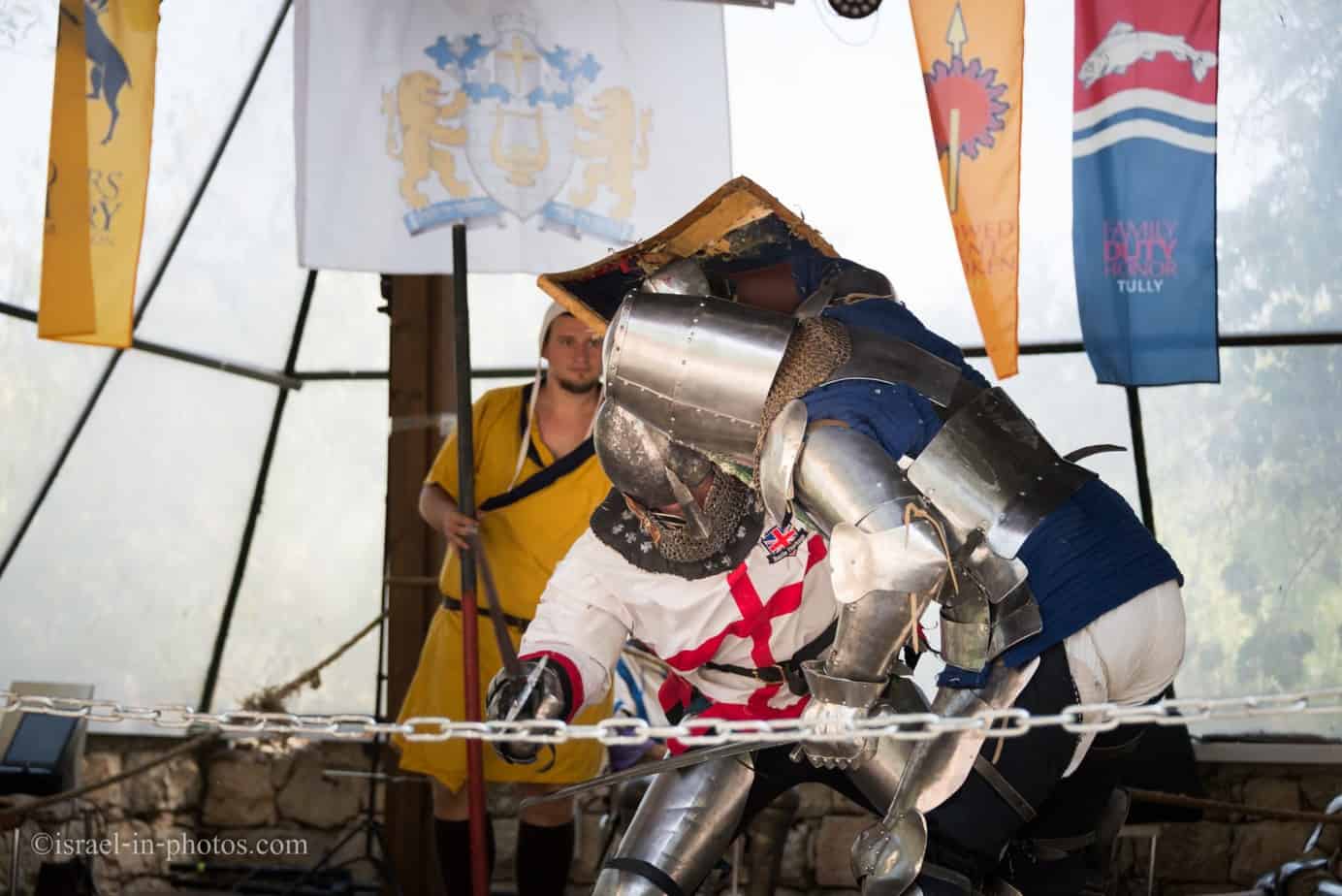 Here you see a sword and a big shield fight. Later on were the sword and a small shield, then two-handed swords (no shields) and group fights.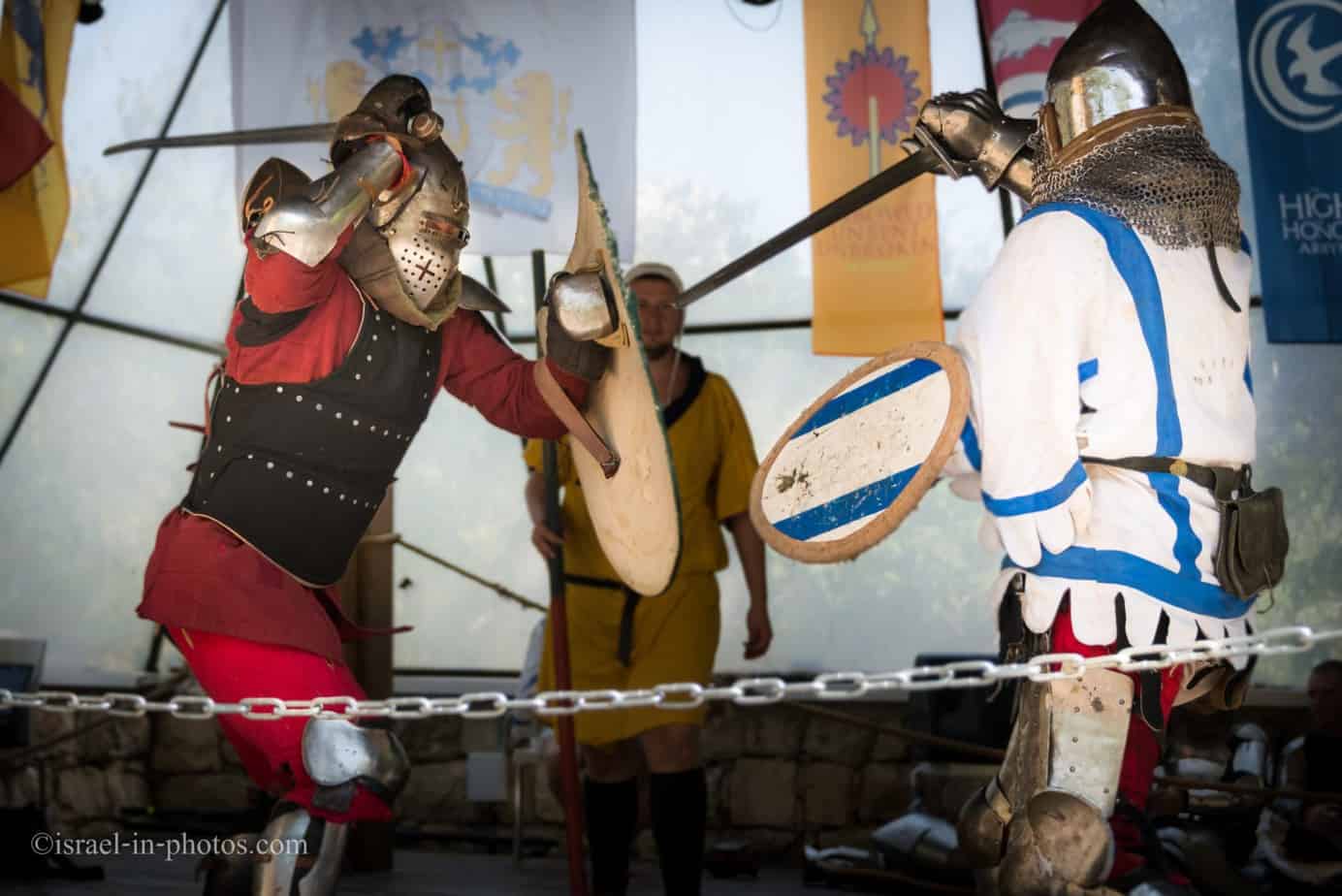 During the break between fights, they showed a sword to children.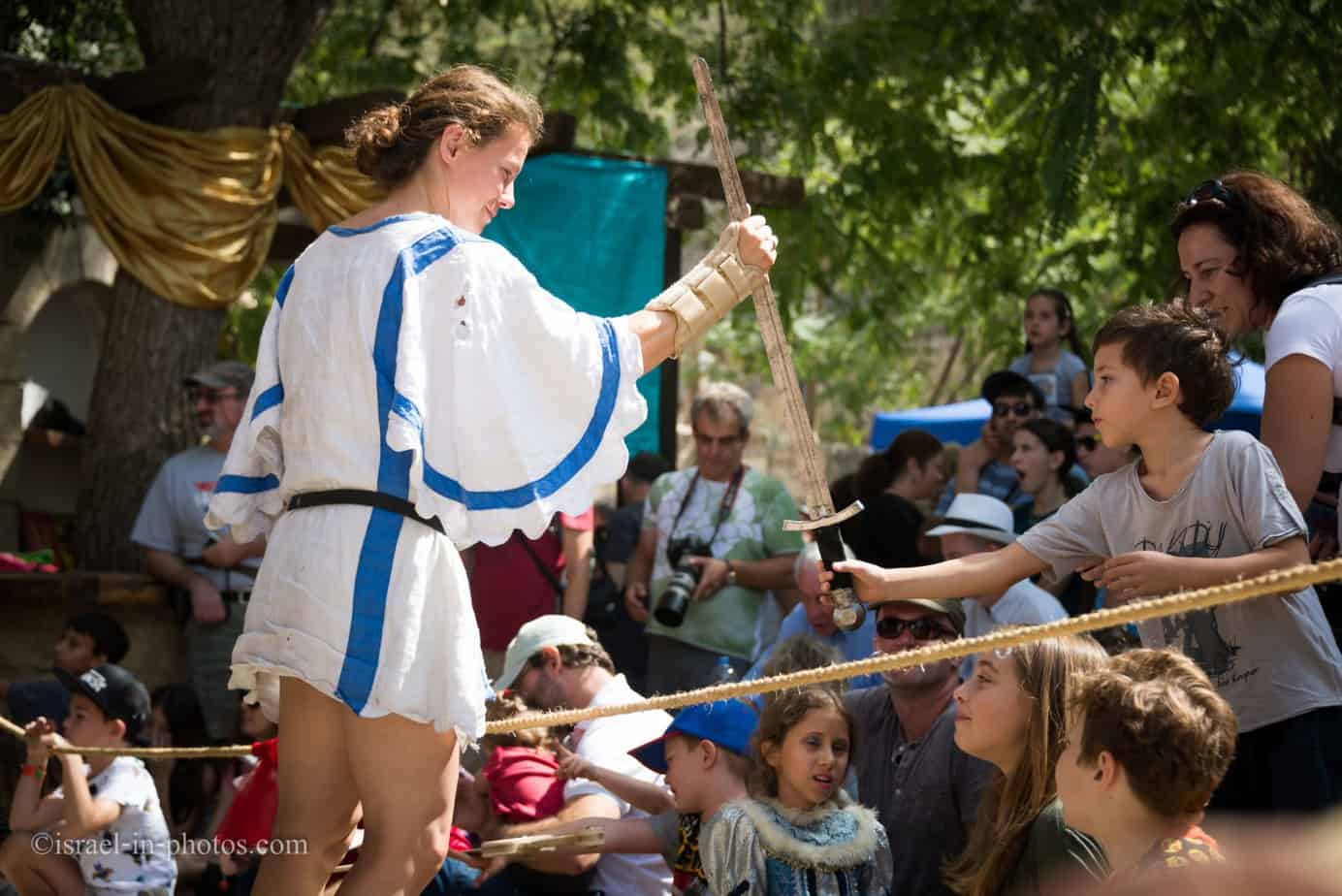 The broadcaster mentioned that some of these matches will enter the Olympiada.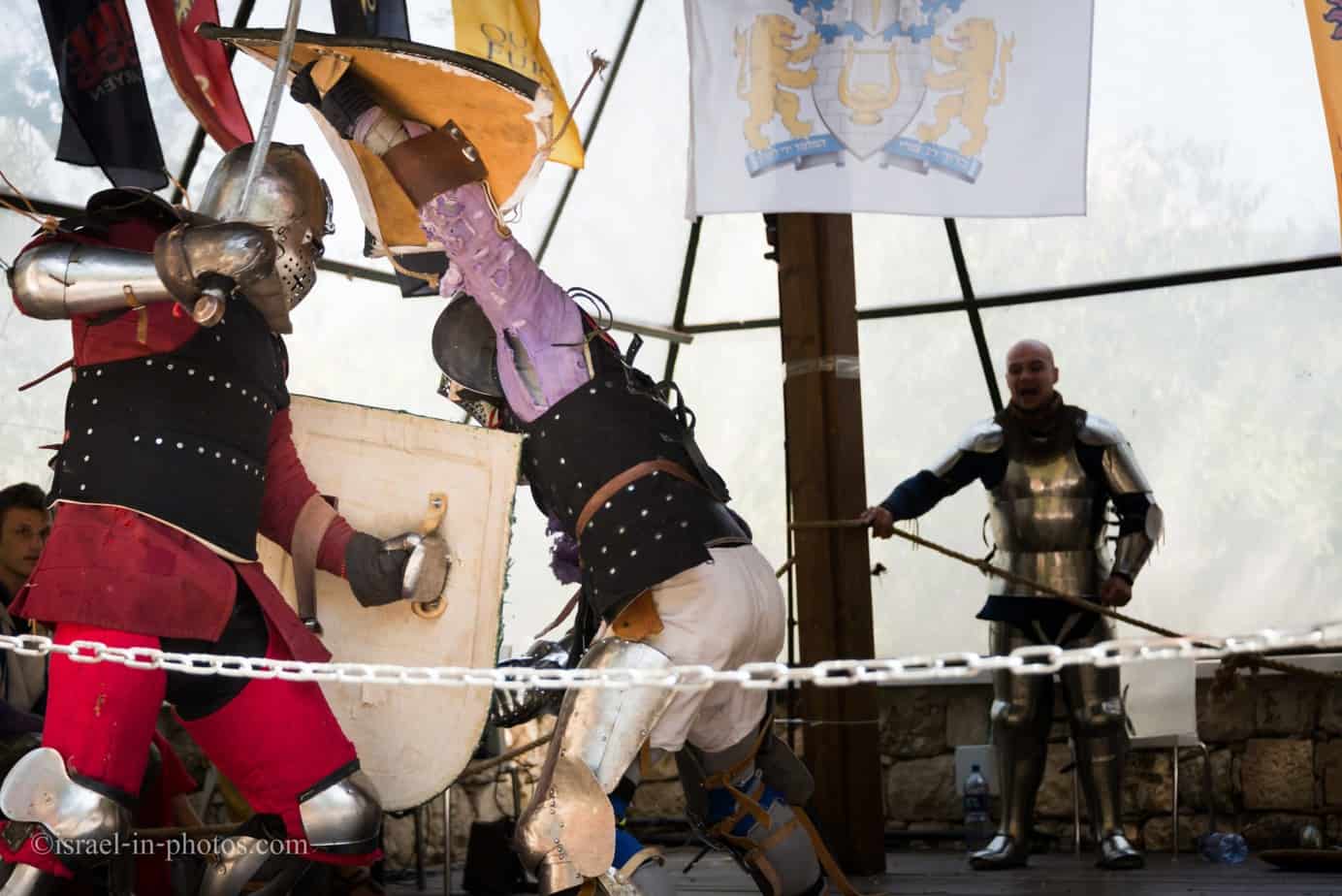 Preparing for sword and small shield fight.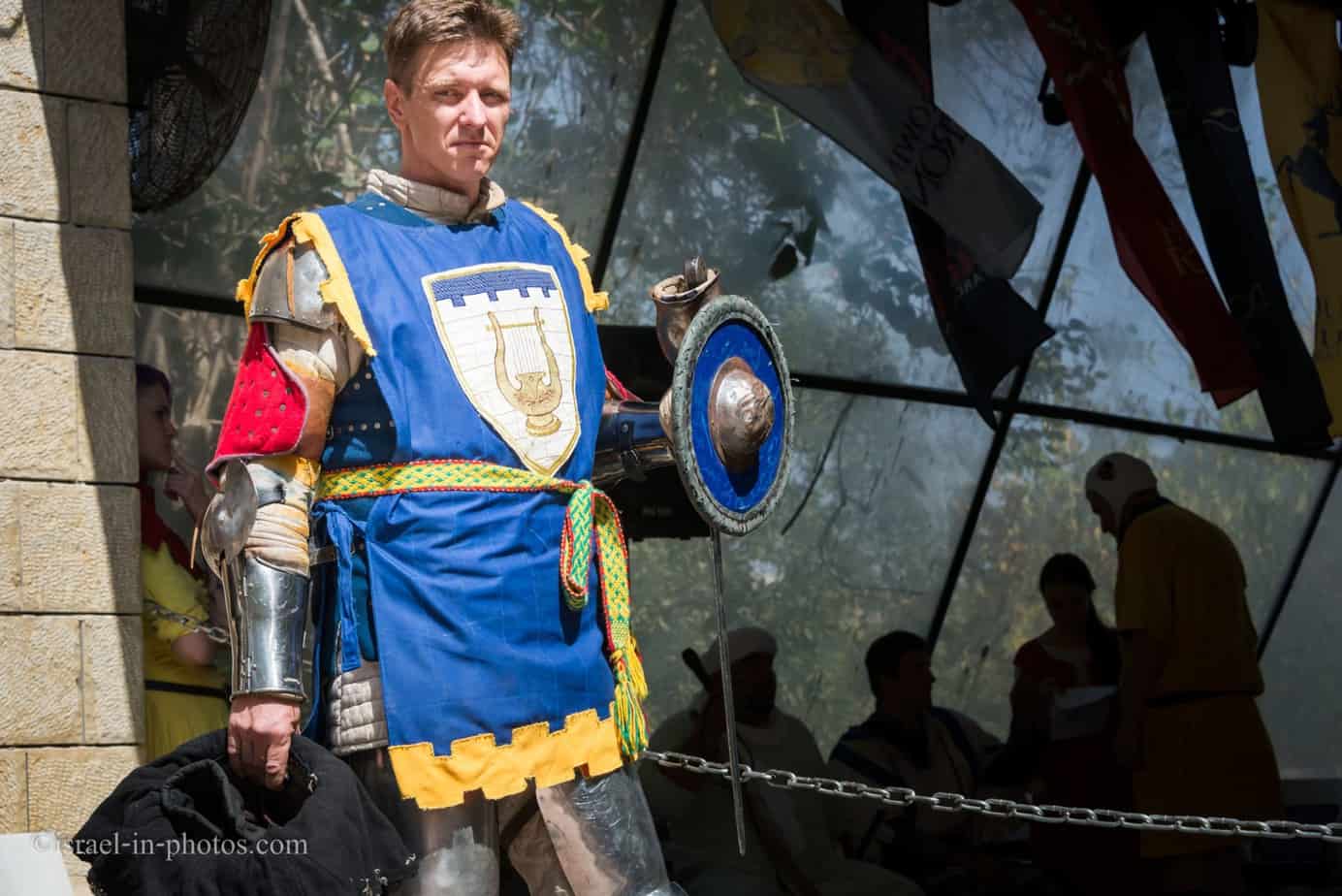 At this point, we made a short break from the fights and went to see what else was there.
We found a blacksmith. He was preparing knives.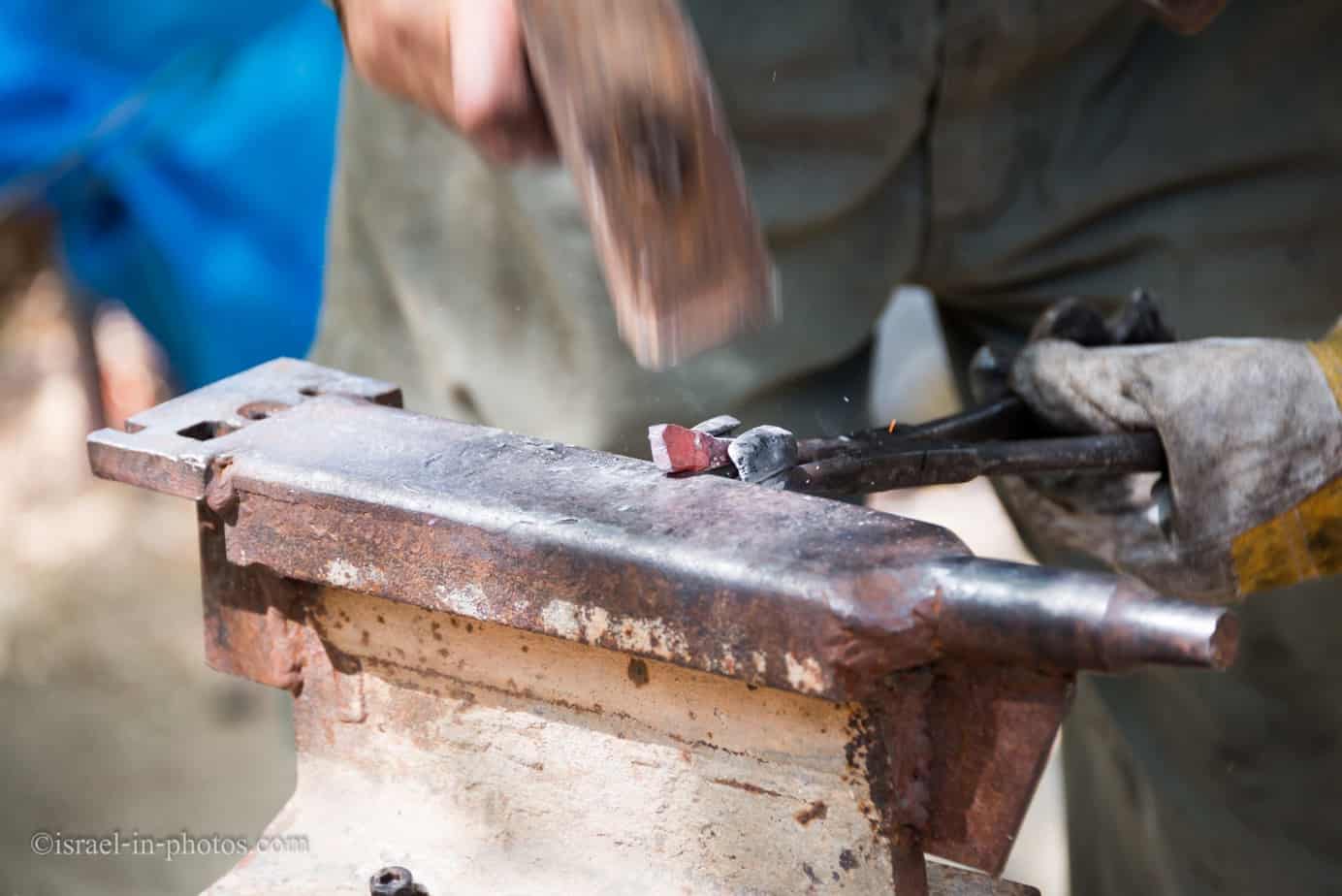 And next to him you could find a stand and buy a knife or a sword.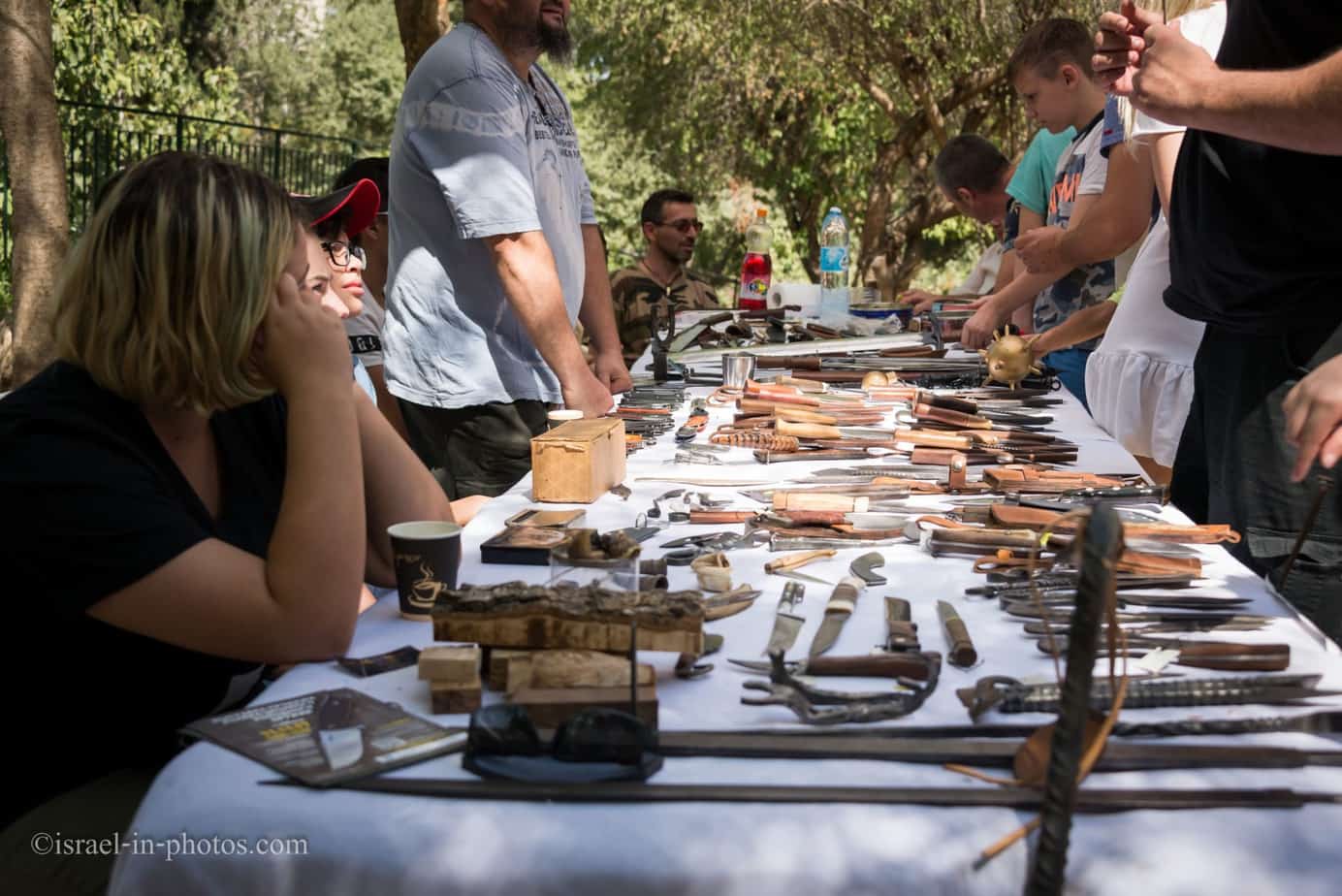 But the blacksmith was not working alone. There was a kid helping him. I guess it was one of the workshops for kids.

Sword and a small shield fights were at a higher pace. The purpose is to reach ten unshielded strikes.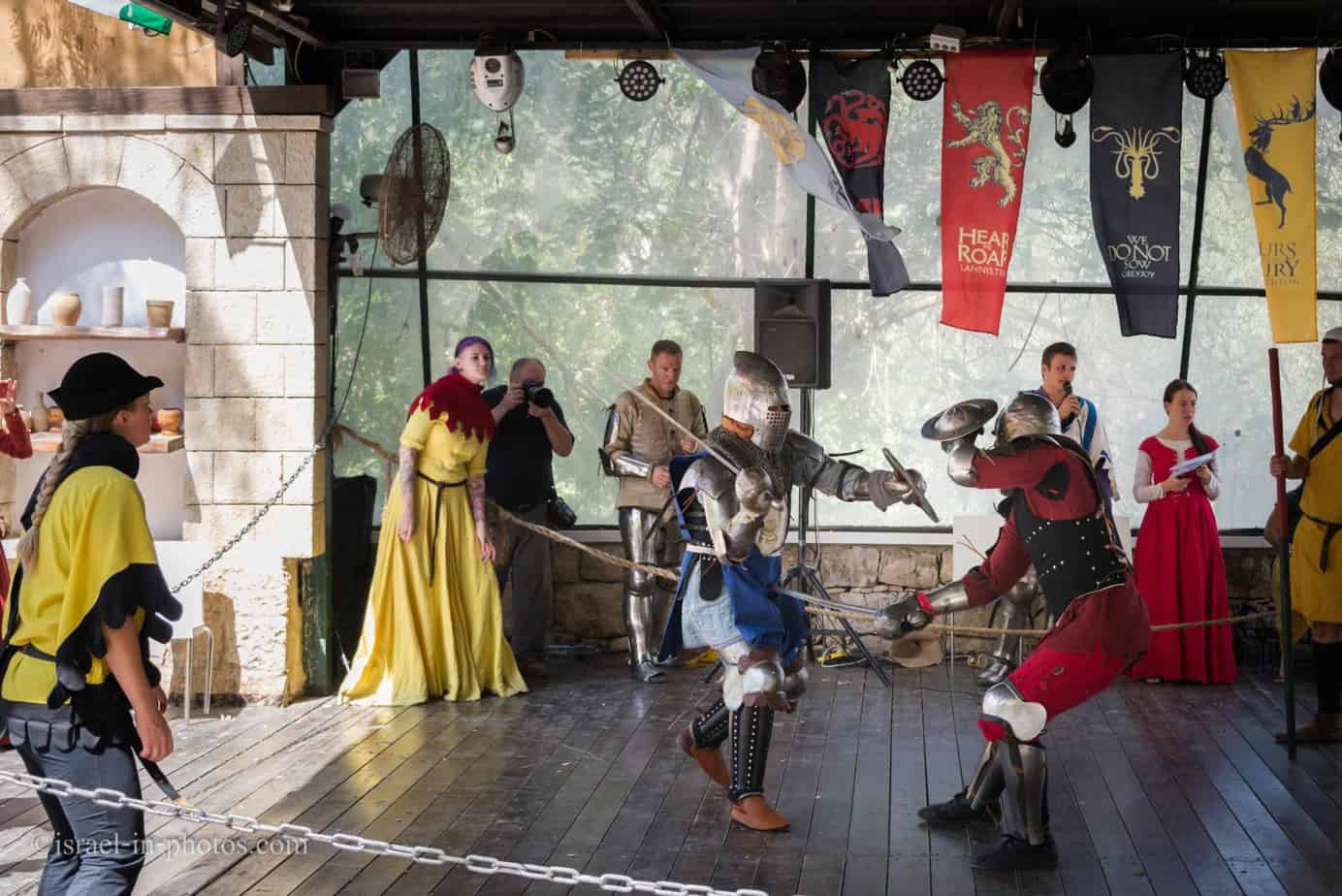 Stopping the fight:

And the winner is:
Attractions For Kids
Besides painting on clay figures that I mentioned earlier there were additional attractions specifically for kids. There was a shield preparation workshop.

And as you probably guessed, there were several makeup stands.

And while my daughter participated in beads workshop I watched another fight with the gang 😉


Two-handed sword competition:
Fight Shows
At this point, we were already several hours at the festival and almost left home. But when walking towards the exit saw horses. So we came closer and saw a fight show with a horse rider.


Then two Cossacks showed different weapons.

And here they are having a fight.

When Cossacks finished their show, they invited kids. With special hats, kids could not see anything and use the bags to hit each other.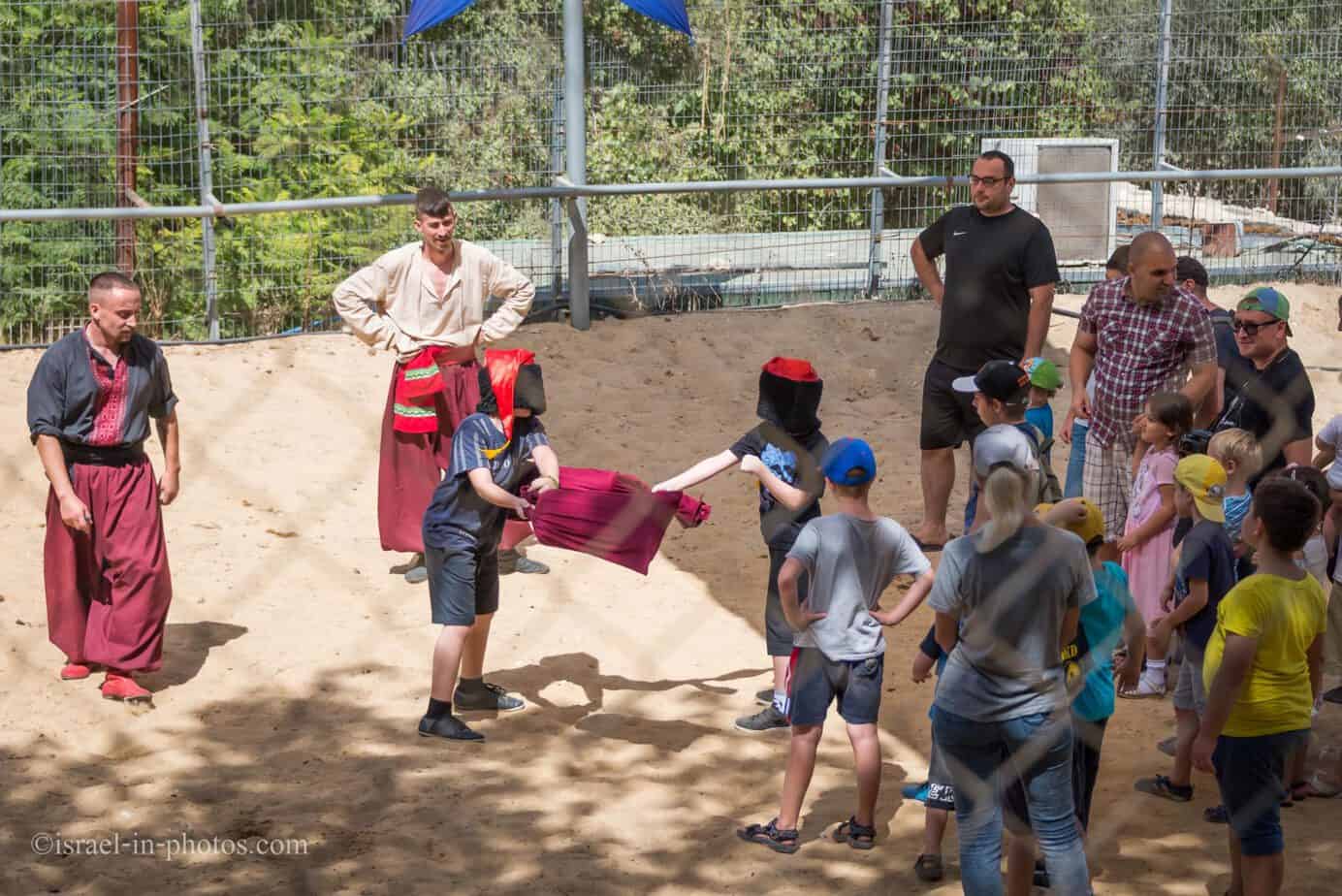 Nearby were several instructors who could teach you some basic sword moves.

Then we went to shoot a crossbow and regular bow and arrow.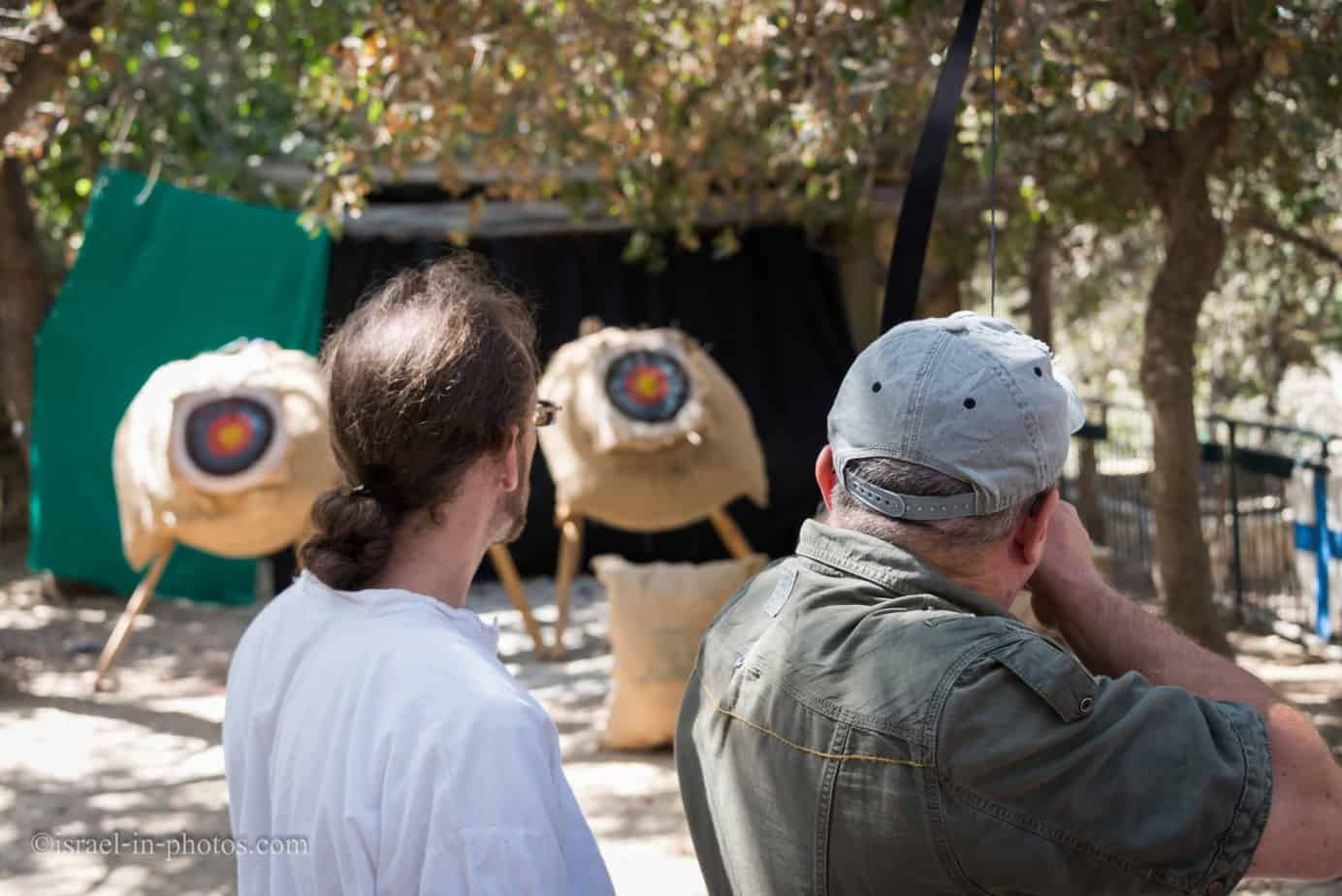 At some point, I noticed that all staff members including craftsmen were speaking Russian. Probably the organizers and all staff came from Russian speaking countries.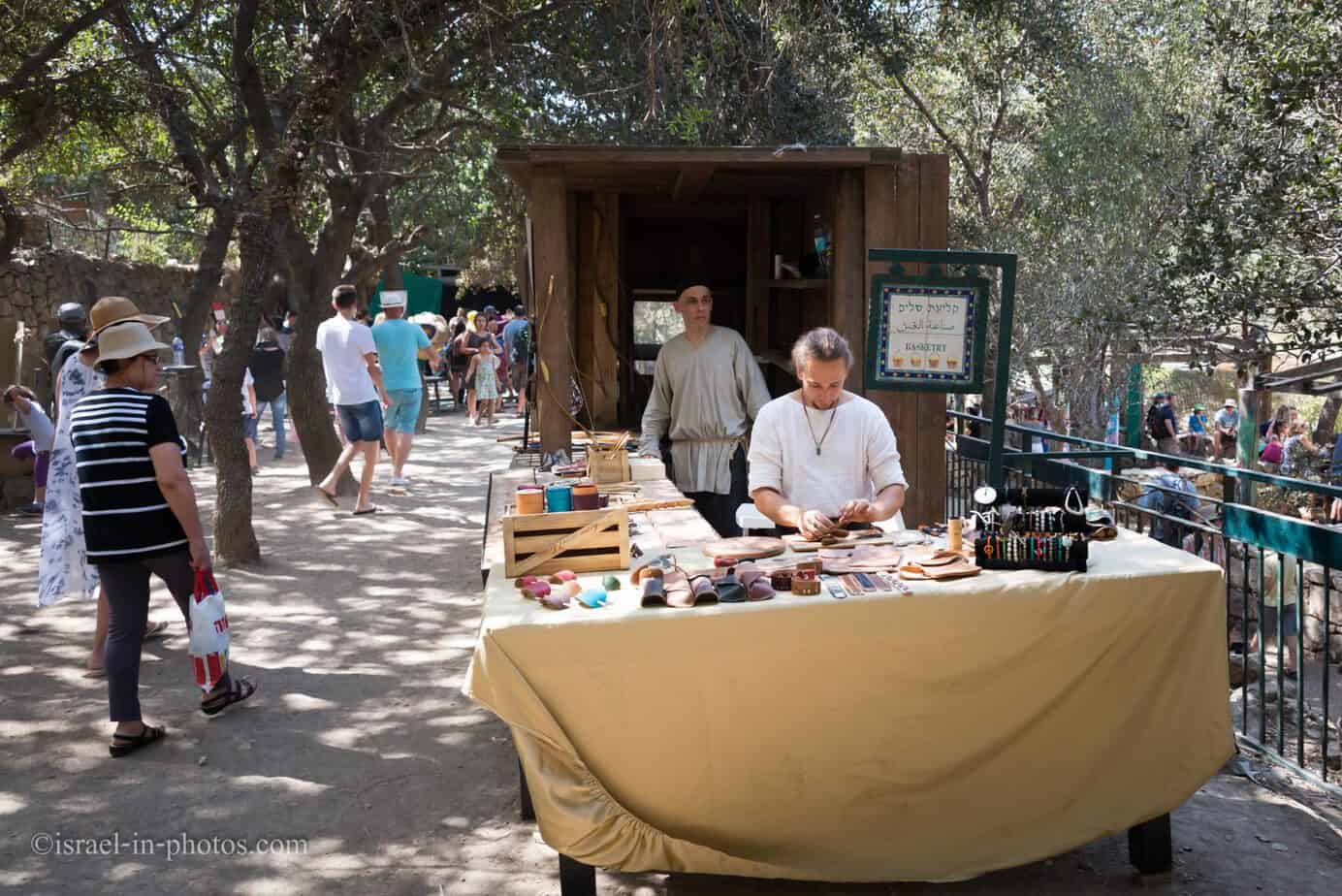 Close to the entrance, there was this fighter to entertain kids. Kids could enter the ring and use one of the soft weapons to fight the fighter. Poor guy 🙂
Jerusalem Knights Festival – 2018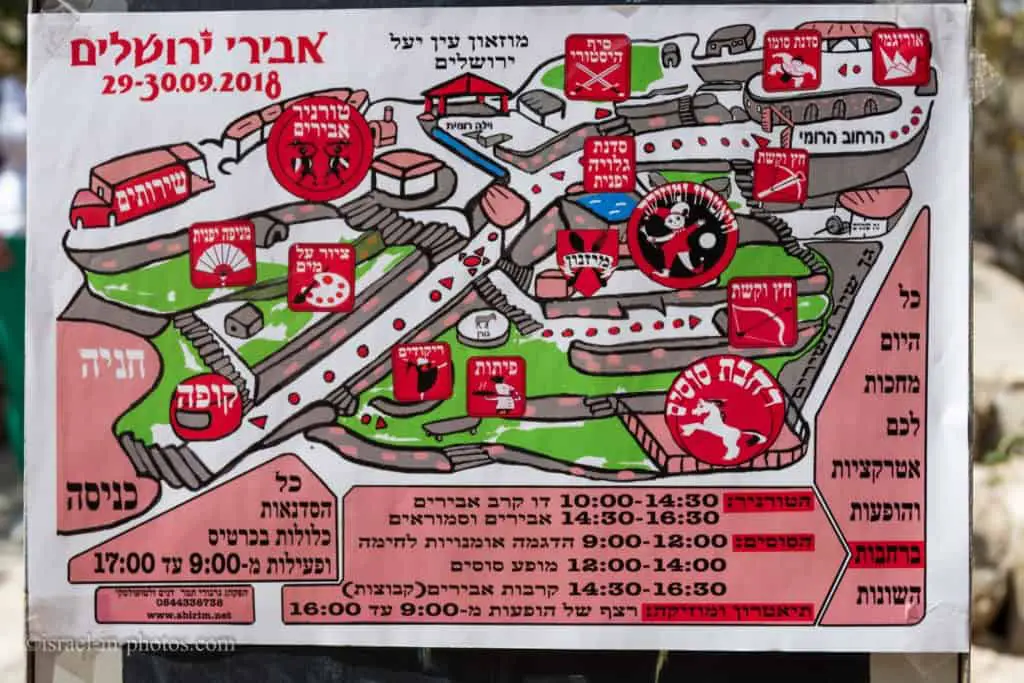 In 2018, Jerusalem Knights Festival took place towards the September. Though, in general, it was similar in many ways to the event in the previous year, this year the concept was a little different. This year, the festival was dedicated to Japanese arts. There was Samurai workshop, Origami workshop, water painting and of course, Samurai presentations.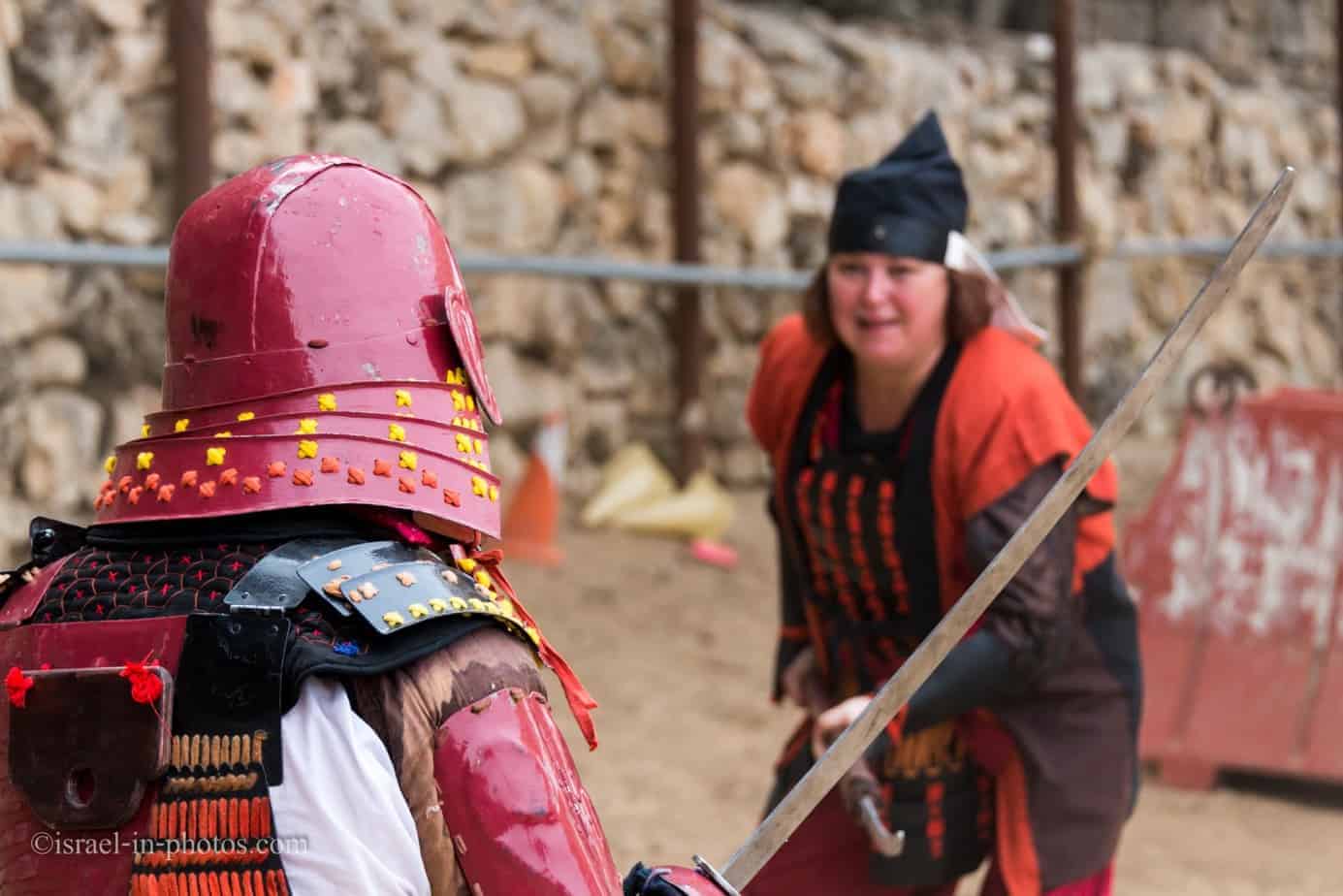 Samurai vs Knight fight.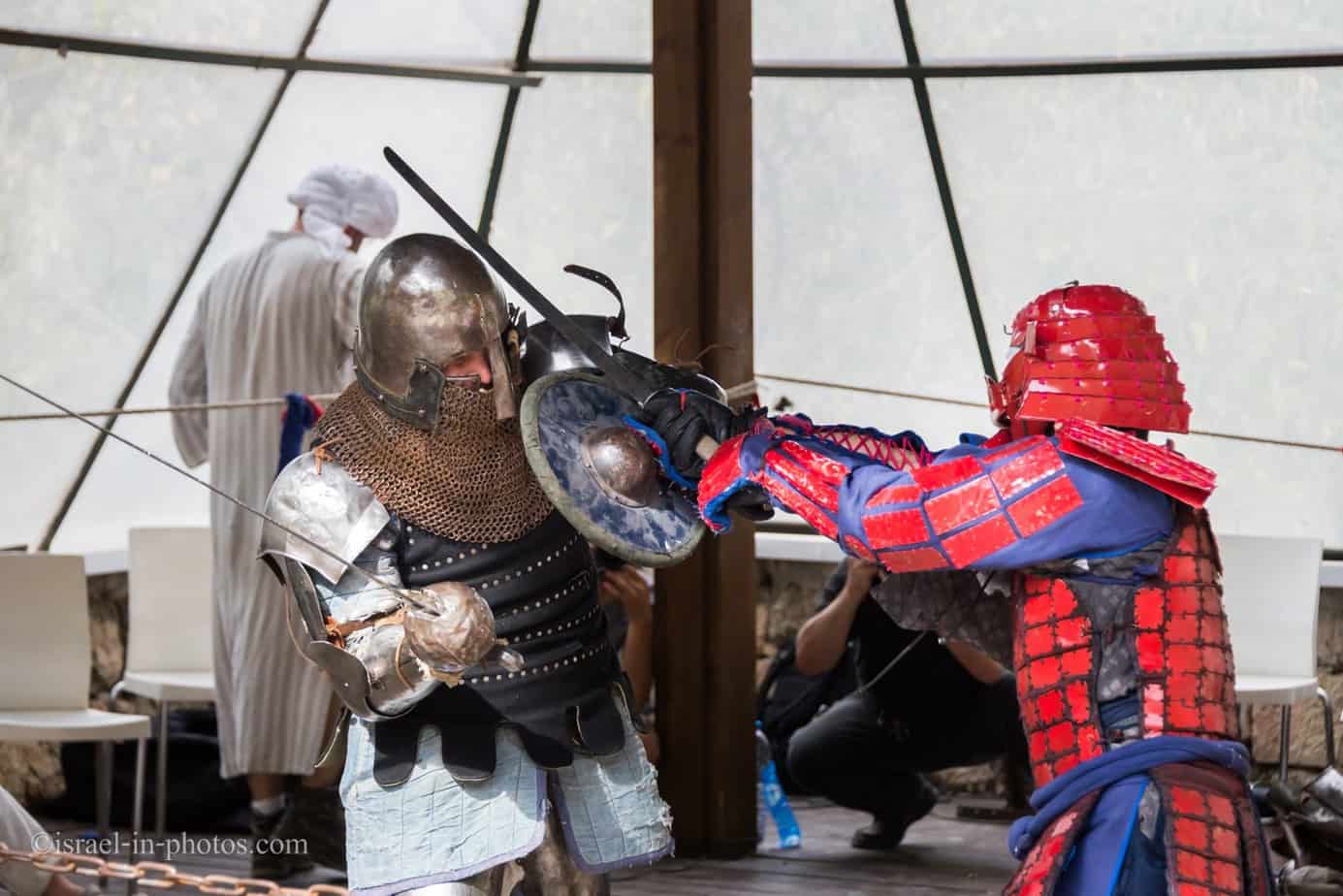 And since we stayed later, we saw group fights.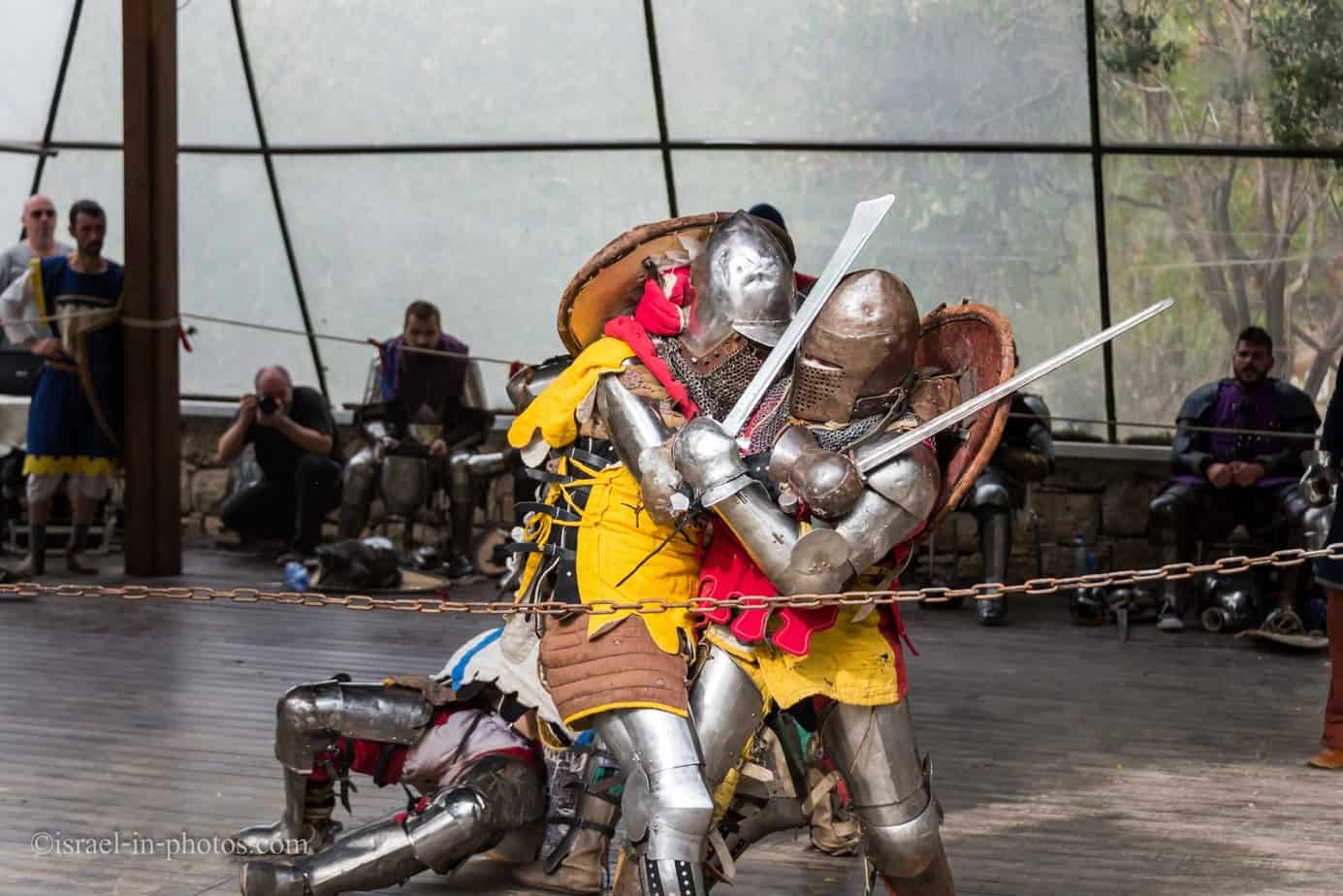 Overall, my impression has not changed relatively last year's event. See summary.
Summary
Though I had initial doubts, 2017 Jerusalem Knights Festival was very nice. We enjoyed the festival, and it exceeded our expectations. We spend there more than half a day at the event, and could easily spend the whole day. Moreover, there were plenty of attractions to keep kids entertained.
Initially, I had doubts because the official site did not say much. No complex map with explanations and no timetable. And the main downside is the ticket price. But, if you like such events, then you will enjoy this festival.
In 2018, they improved the website. There were a clear map, a timetable, and an attraction list. Moreover, in 2018, you could find coupons. Almost all credit card companies offered discounted tickets. And 2018 tickets cost me almost 20% less than the 2017 ones. Thus, if you enjoy such events (and if you are reading this then you probably do), I would recommend not to miss it.
That's all for today, and I'll see you in future travels!
Stay Tuned!
For additional points of interest nearby check out Jerusalem page. 
 
Additional Resources
Here are several resources that I created to help travelers:
And if you have any questions then check out Useful Information For Tourists To Israel.
 
Did not find what you were looking for? Leave a comment below, and I will do my best to answer your questions.