Jerusalem Festival of Light is an annual event that takes place since 2008. It is usually held in June for a week. And since this is a Light Festival, the show is active only in the evenings (20:00 – 23:00).
Note:
Map
The location of the festival is the Old City of Jerusalem, and there are usually three illuminated paths (marked with different colors) along which you can walk and see the works of art.
Map of the area:
Entrance Fee
Admission to the Jerusalem Festival of Light is free.
I have visited this festival in different years, and today I will tell and show photos and videos from this festival.
Jerusalem Festival of Light – 2013
There are several ways of getting to the Old City. Either by car or by public transport. I prefer parking at Ammunition Hill and taking the Jerusalem Light train to the City Hall station in many cases. From there, it is a five-minute walk to the Jaffa gate.
Tower Of David with colorful kites from a distance: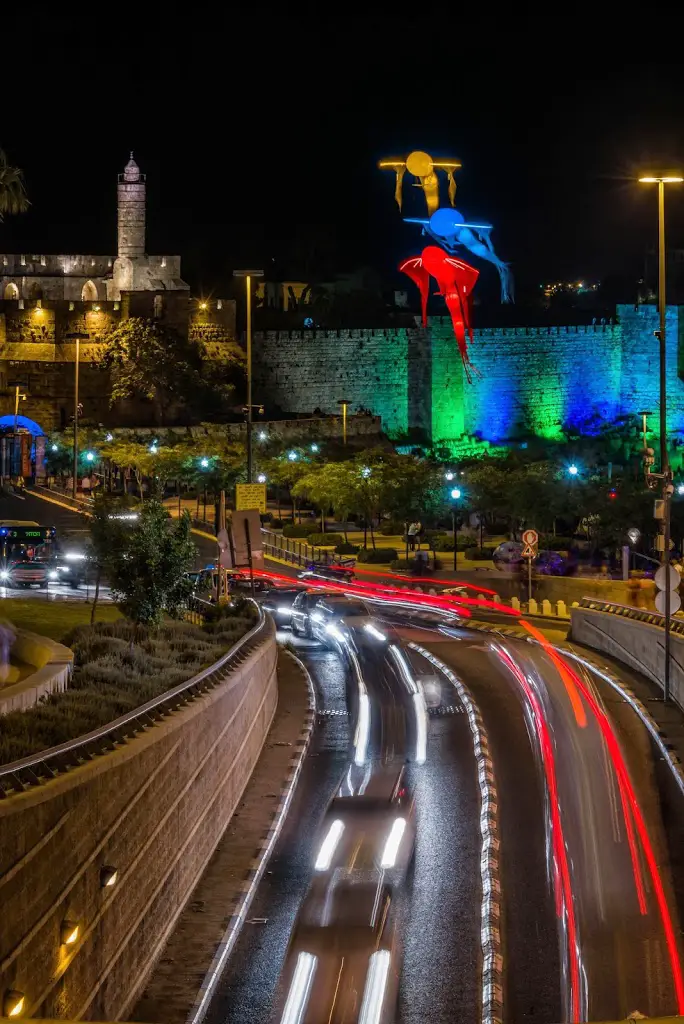 In front of the Jaffa Gate, there is a square. And since the (the Old City is quite dense, there is usually an installation there. This year there were big air balls and color-changing dragon (or some other creature) kites: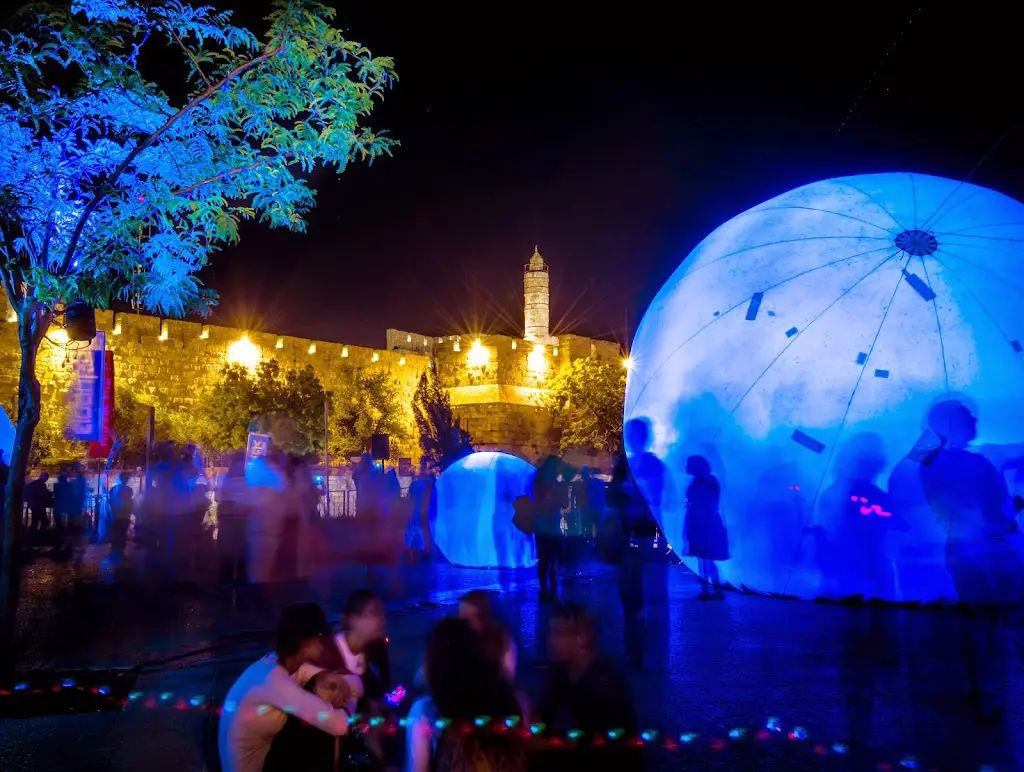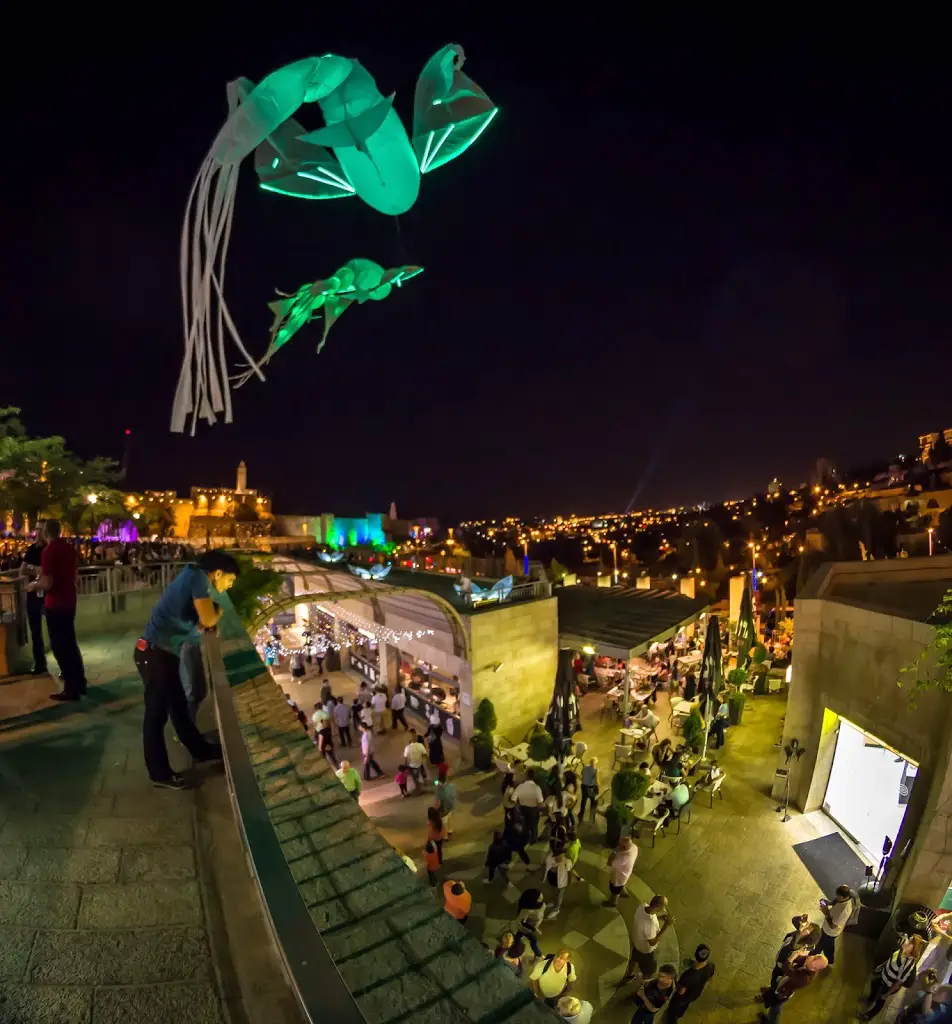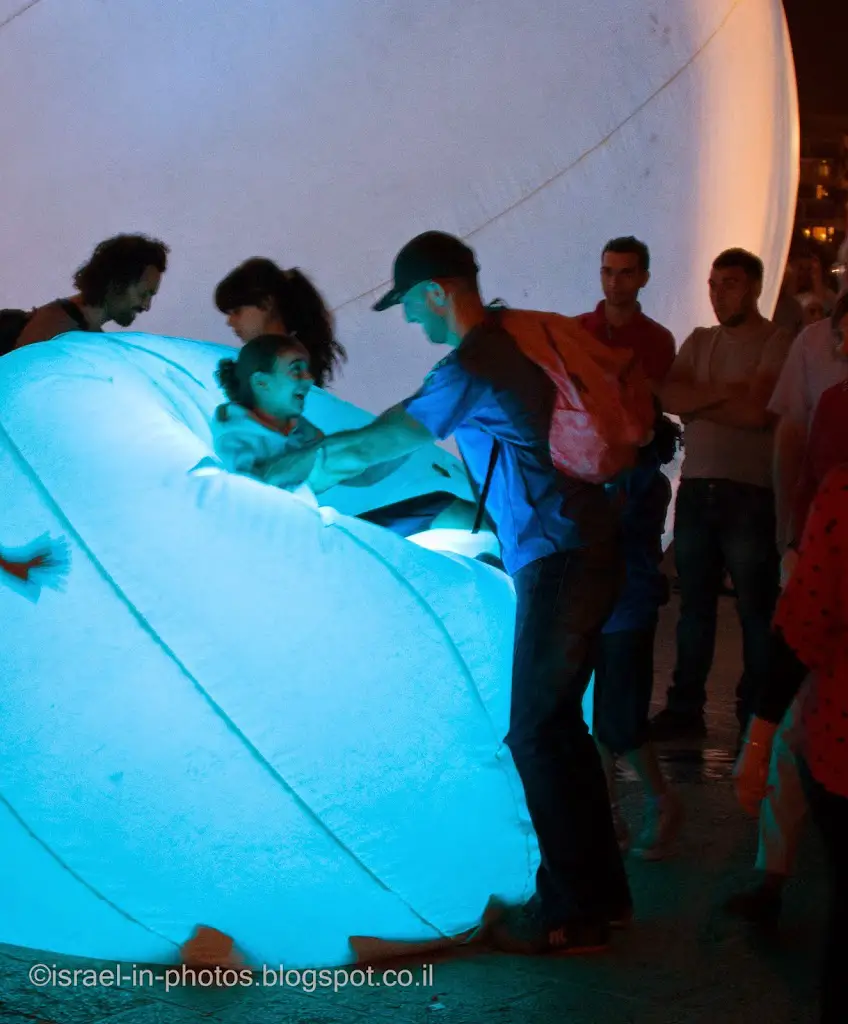 Flower installation near Tower Of David: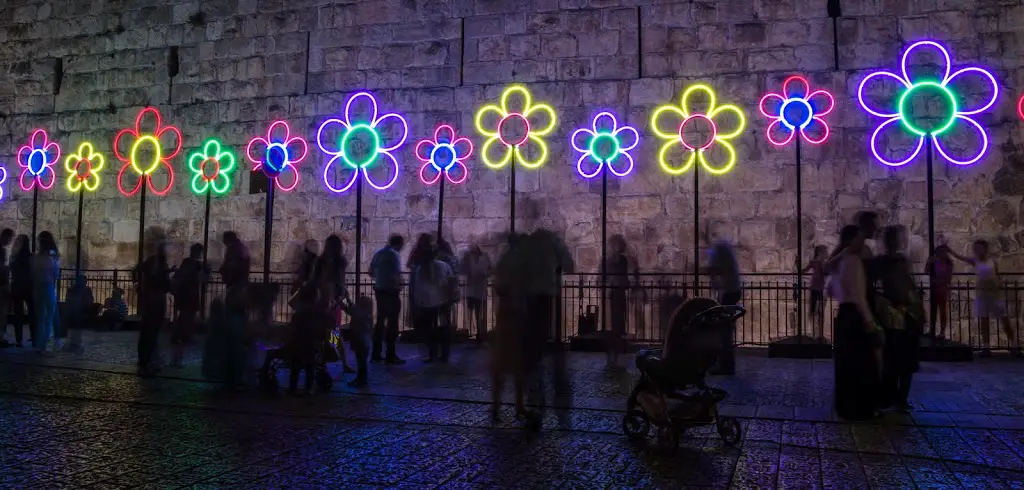 Rotating ballerina: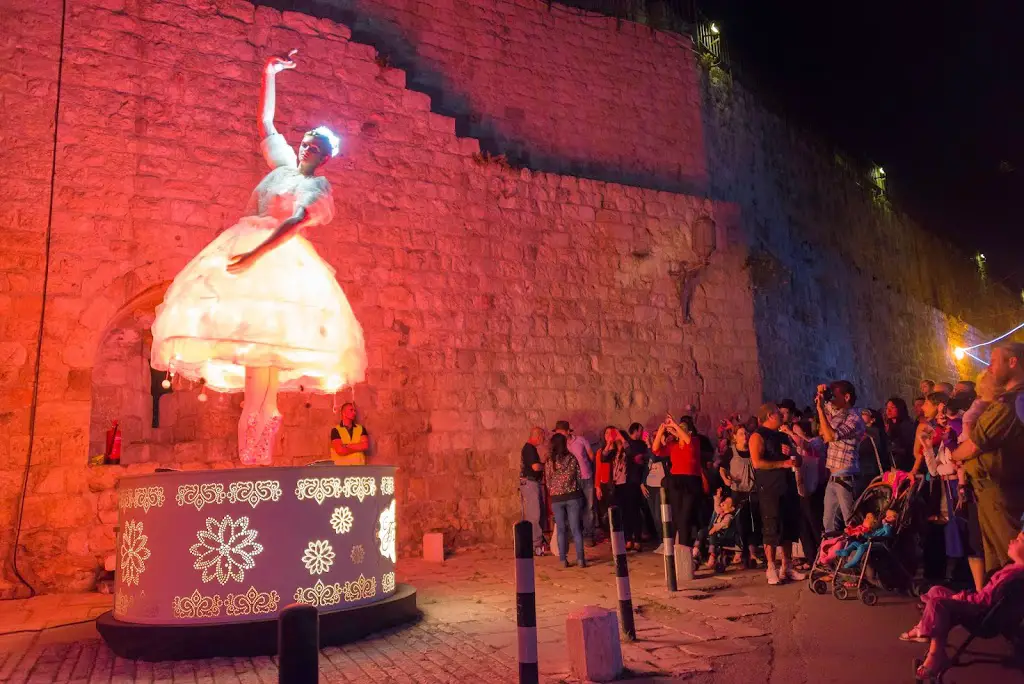 The ballerina was not only rotating, but it was also changing colors. Also, though it is called the light festival, most installations are accompanied by music.
The piano concert: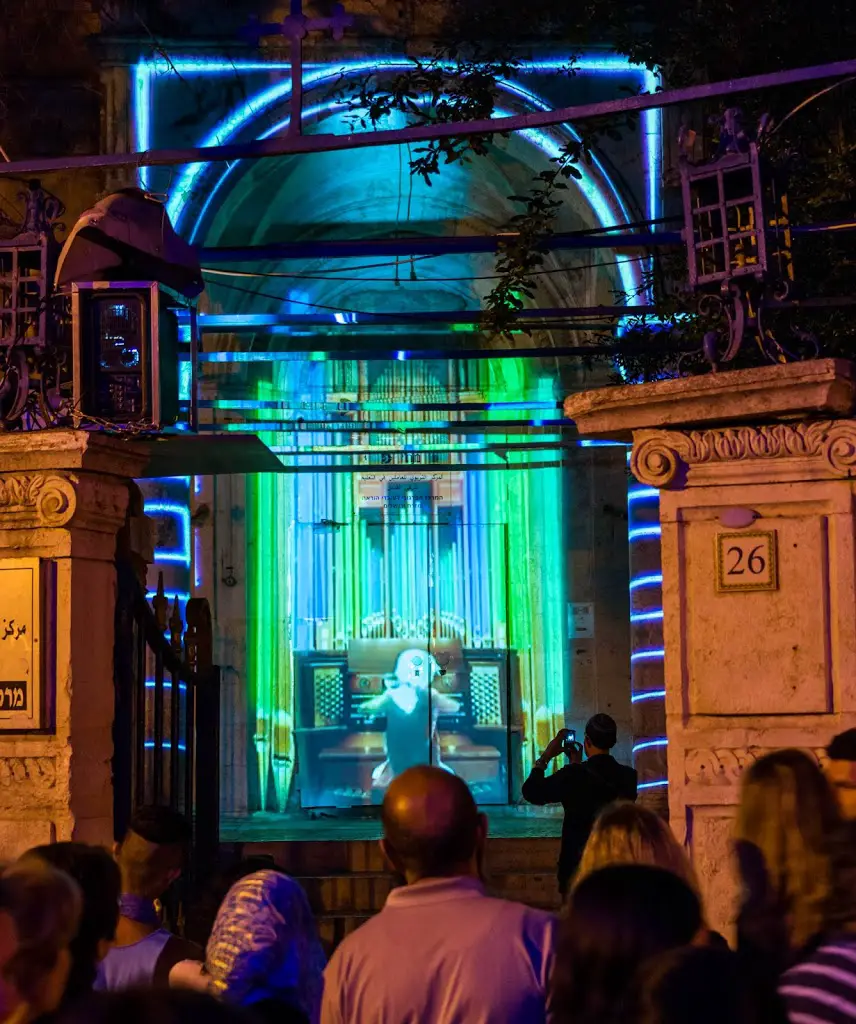 Notre Dame of Jerusalem Center at night (no special lighting):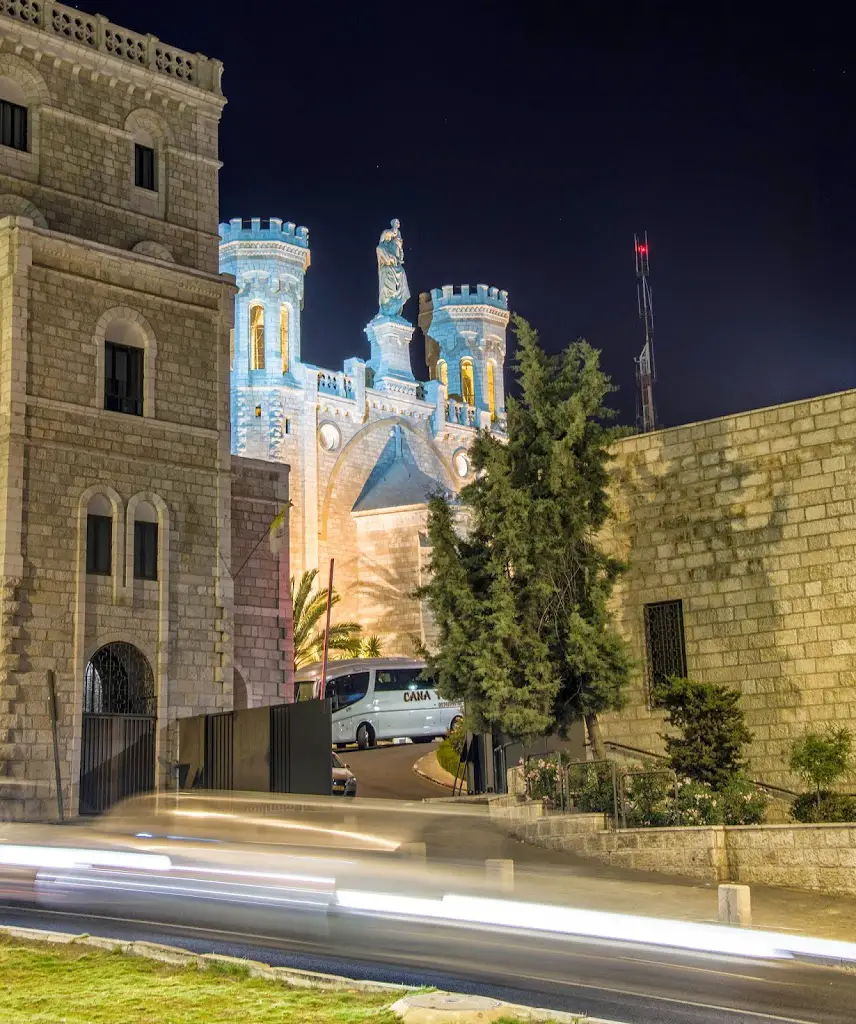 There is usually animation projection on Damascus Gate, and there was one this year as well: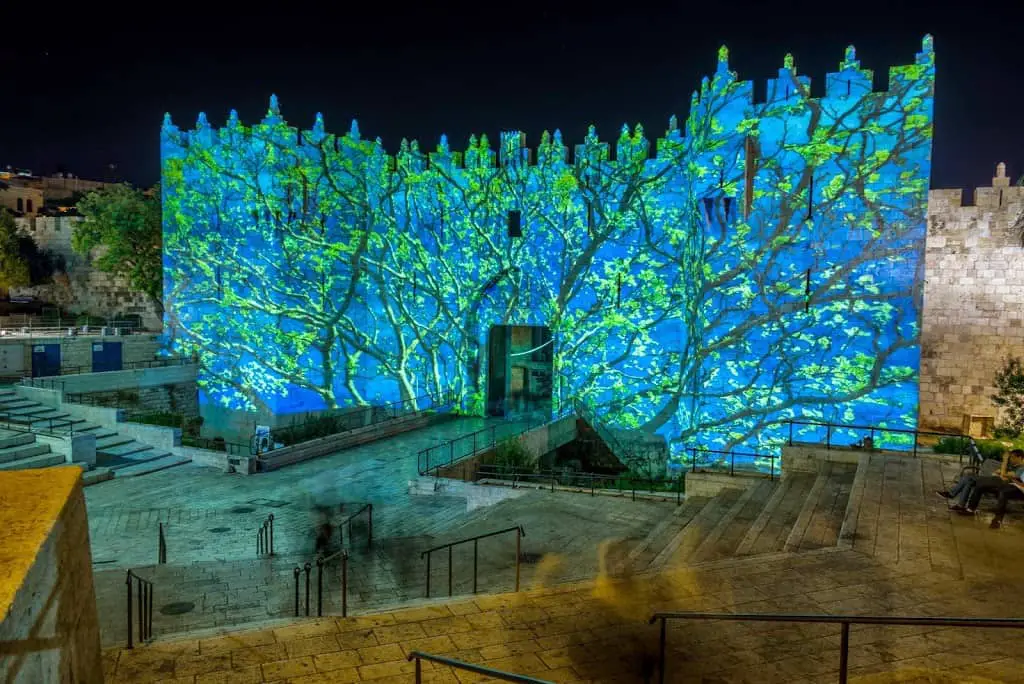 These are some visual impressions from 2013, and let's see what 2014 has to offer.
Jerusalem Festival of Light – 2014
Jerusalem Festival of Light offers several different walking routes throughout the Old City. They present dozens of installations and displays. You can get a hard copy of a map, view it on the official website, or follow signs on location.
This year I started at Jaffa Gate, where there is usually a large installation.
The red lighted rope at the top of the photo is the route marking. Each route has a color (this year there were four: red, green, blue and white). Such ropes were stretched throughout all Old City, so it was virtually impossible to get lost.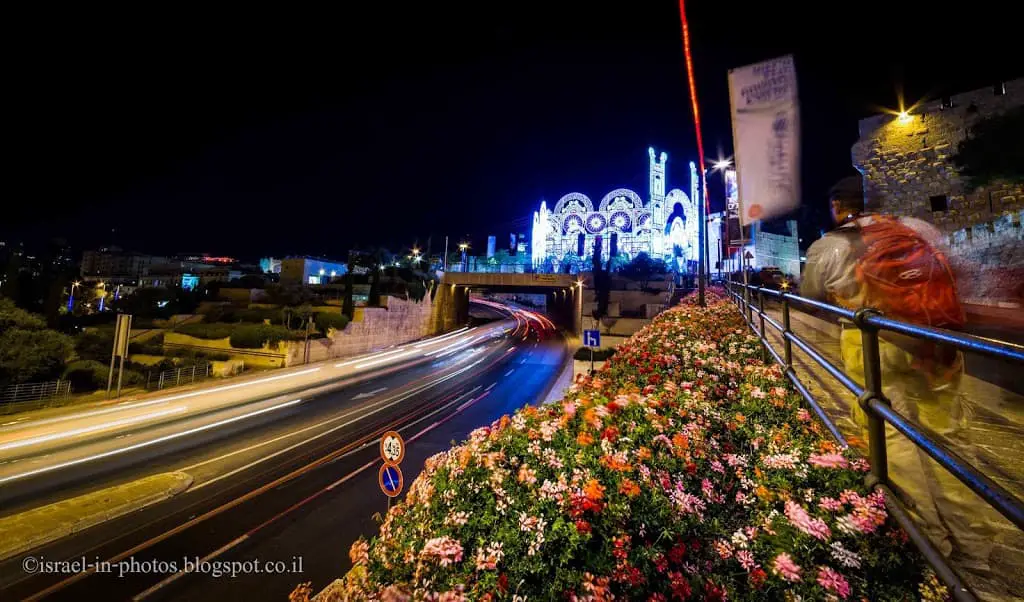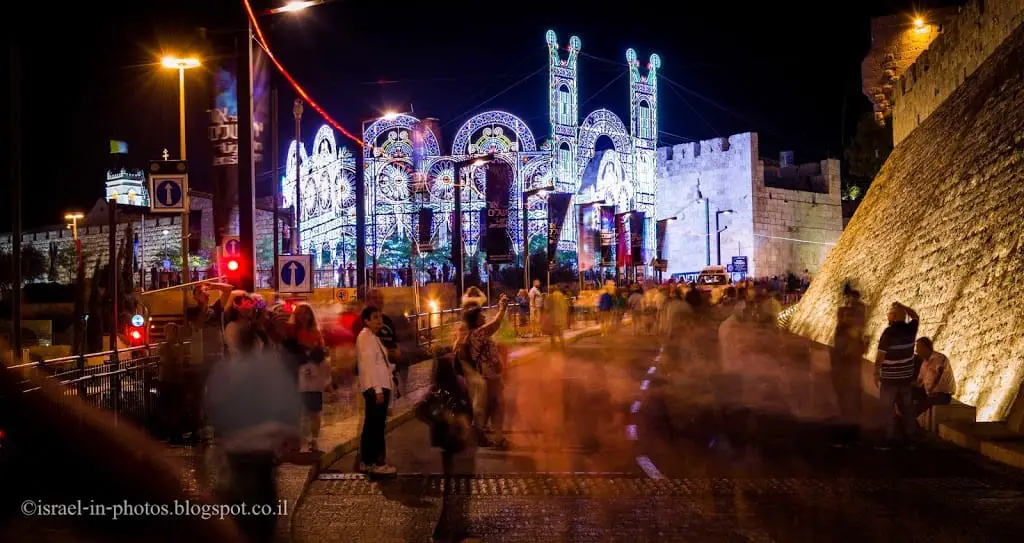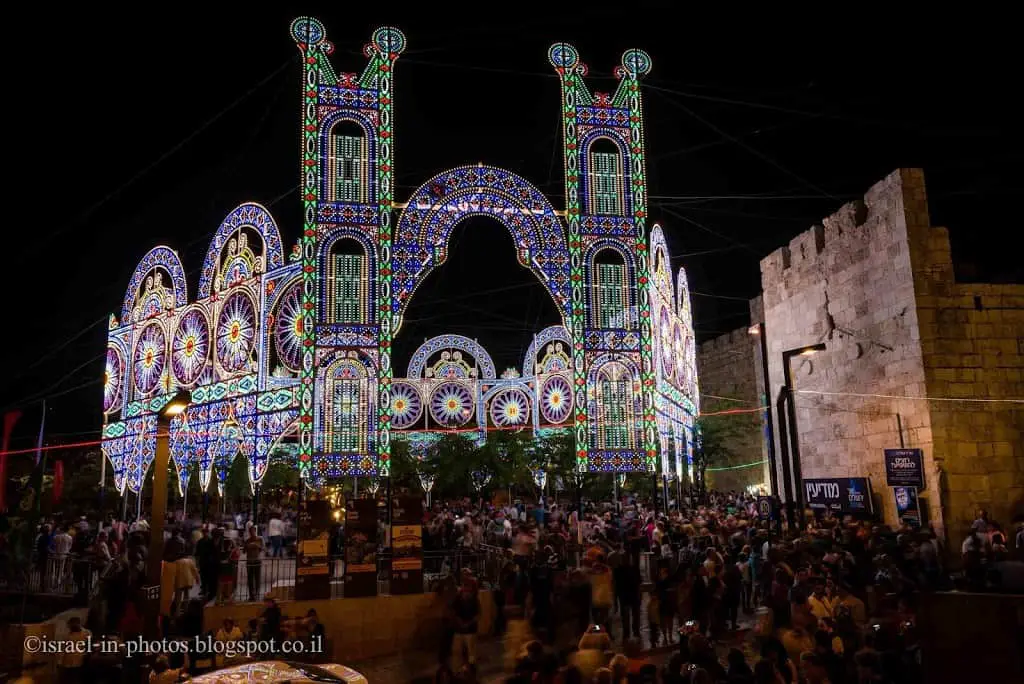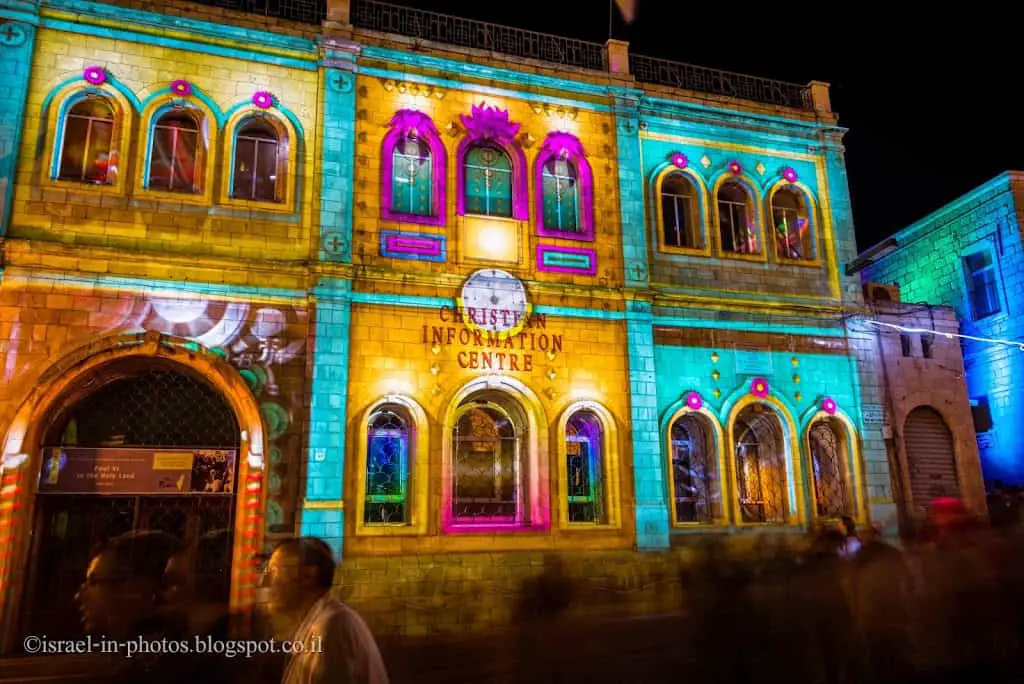 In the left bottom corner, you can see the sign with the number of the installation and a short description.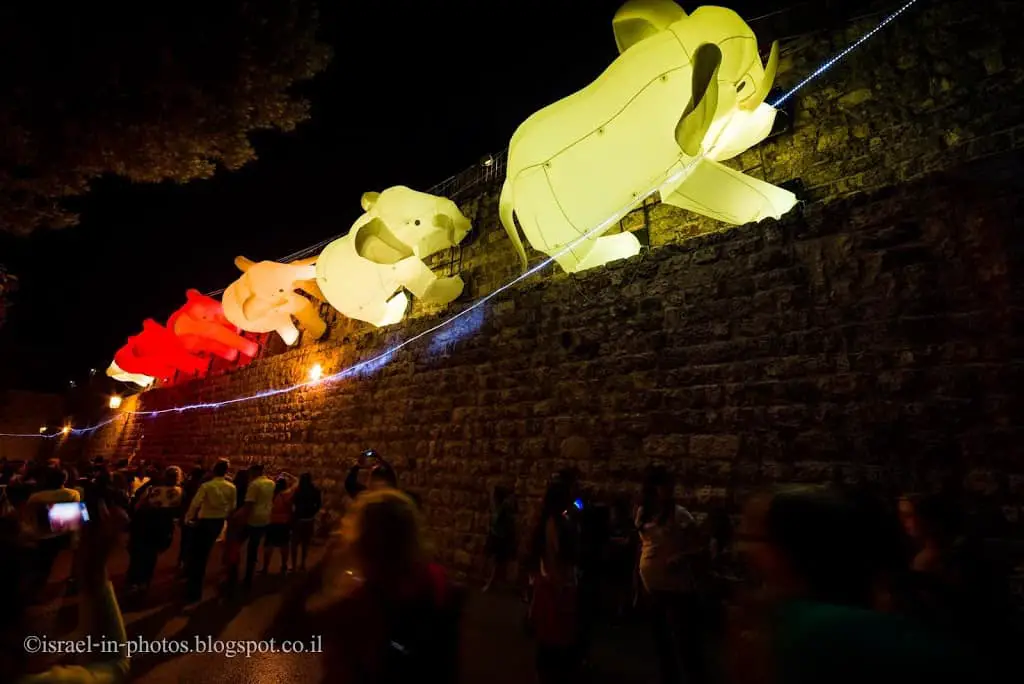 These look like regular cards, but they are not. All the kings were replaced with historical persons. There are Solomon, Josiah, Bar Kochba and some others.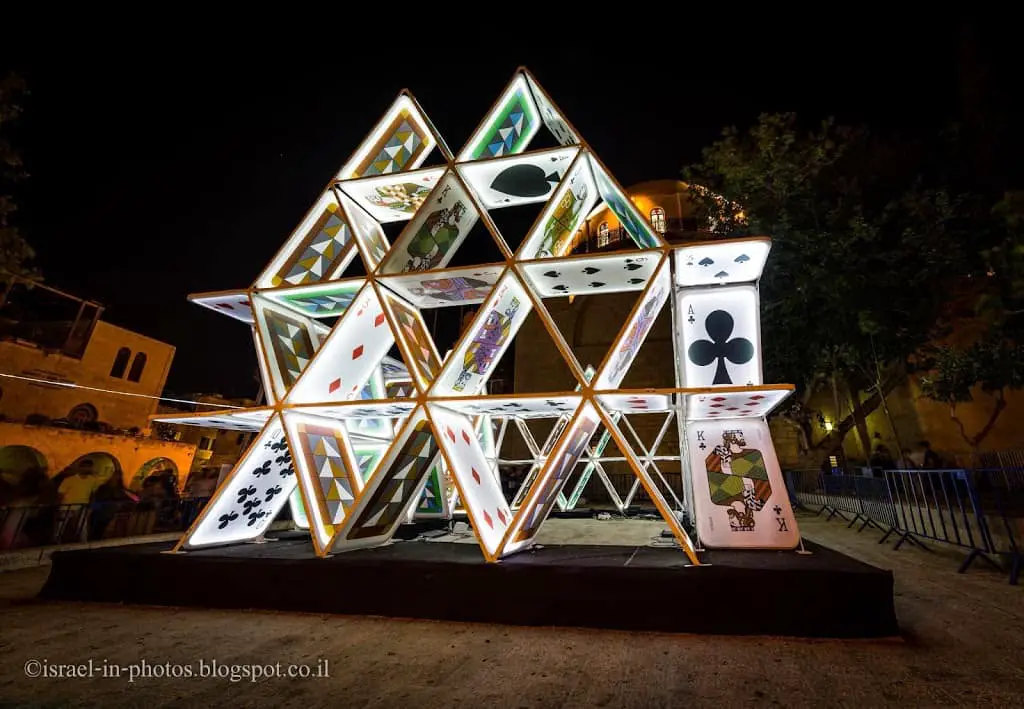 I have seen the following scene only during this festival: a group of religious young girls with cameras on tripods. This is a rare scene. Most youngsters pull out their smartphones and do not carry DSLR and tripods.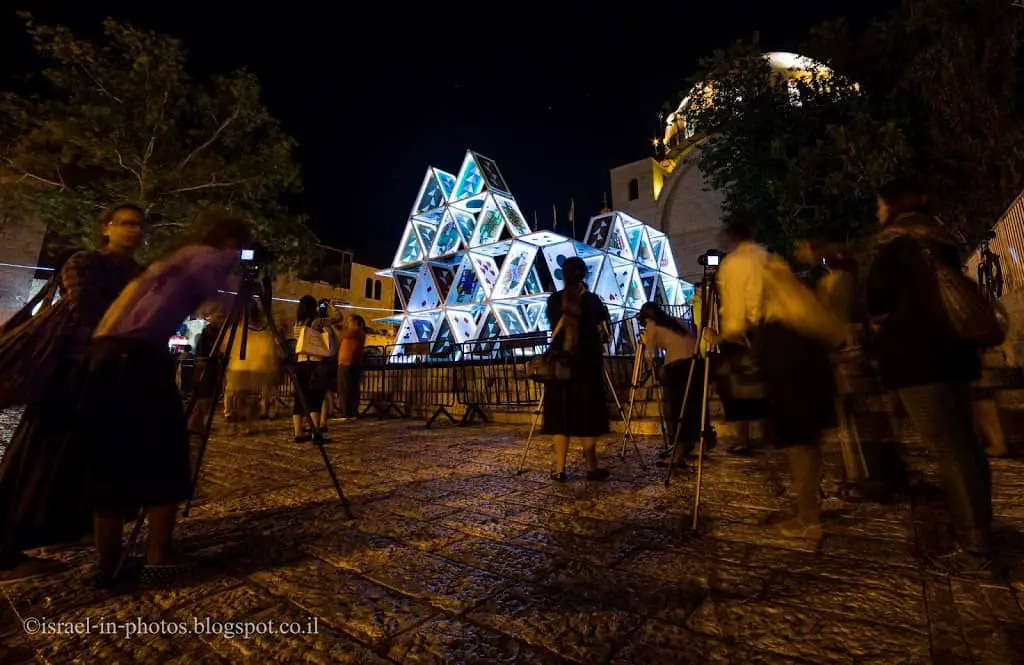 Keep in mind that installations and displays are scattered on a rather extensive territory. And there are a lot of people. Thus, you will probably complete only two routes in three hours (20:00 – 23:00). If you are visiting the Jerusalem Festival of Light only one evening, choose the most interesting routes for you. If it is not the opening night, you will find photos and videos of the previous evenings on the internet.
Many installations included sound and movement. Thus, I created a short video:
As you can see, installations change every year. Thus you can visit the Jerusalem Festival of Light annually. And this is what I did.
Jerusalem Festival of Light – 2015
If you are planning to visit, you should know that the walking routes were changed to one way (not bi-directional). If it will remain this way in future years, it is best to start at Jaffa gate.
Let's start with several photos and then I will show you can find a short video that I made.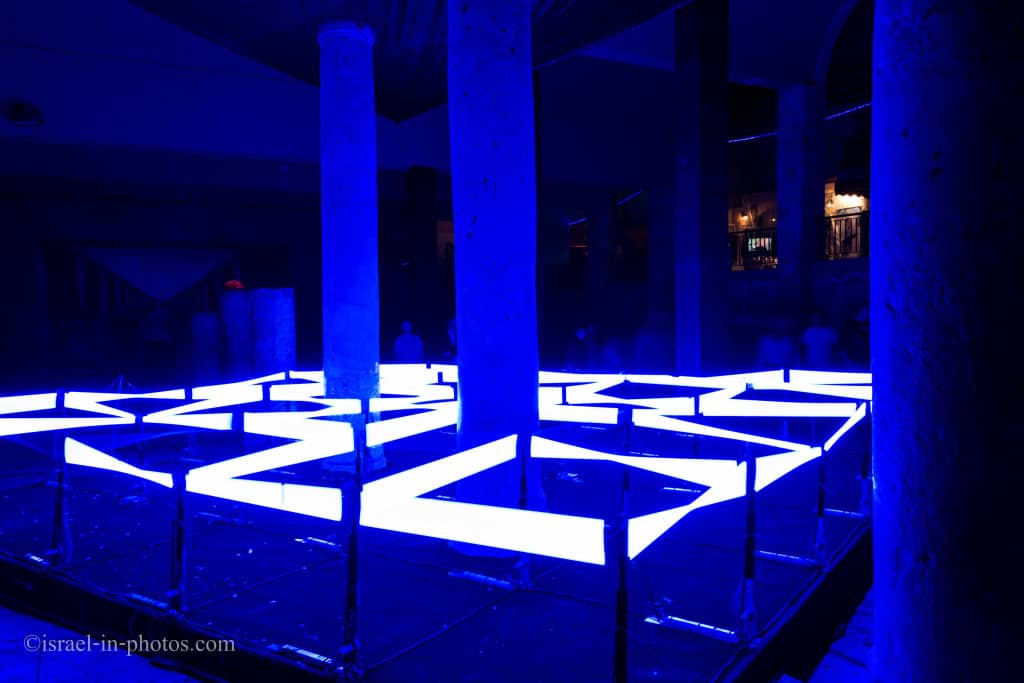 These paintings were made with shade. There is one lamp at the top and special parts that are stuck horizontally. And the shade is what creates the painting:

And after they shut off the lights (at 23:00), I have taken this photo (just regular lights):


Lastly, here is a short video I prepared for that event:
Side Note: For some reason, in 2017 Jerusalem Festival of Light was held during the same week as Rehovot International Live Statues Festival. Since I could not visit both of them and have already visited Light Festival several times, we went to the Live Statues Festival.
Photo Competition
They held a photo competition for the best photo from the festival for several years. The prizes were quite lovely, and I participated several times (never won anything). For some reason, in 2015, though the competition was announced and people submitted photos, they did not announce the winners. And in the following years, they even did not announce the competition. Thus, enjoy the Light Festival and do not work too hard for the competition.
Jerusalem Festival of Light – 2018
Jerusalem Festival of Light and Rehovot International Live Statues Festival still take place during the same week. In 2017, I did not have time to visit both. But, in 2018, I was able to visit both of them. I combined all the material and created a video. Here it is.
Jerusalem Festival of Light – 2019
The 2019 Jerusalem Festival of Light was similar to previous years. There were three walking trails, and some parts were one-directional.
The new thing that was introduced in 2019 was the shuttle. There were three stops around the Old City, and this could have been useful. I planned to take the shuttle from the end of one walking trail to the beginning of another. But as I came to the bus station, I saw a massive traffic jam. A bus shuttle is a good idea, but if it is stuck in traffic, then it won't help. We turned and walked when we saw the heavy traffic (instead of waiting for the bus).
And now I want to show several photos from the 2019 Jerusalem Festival of Light.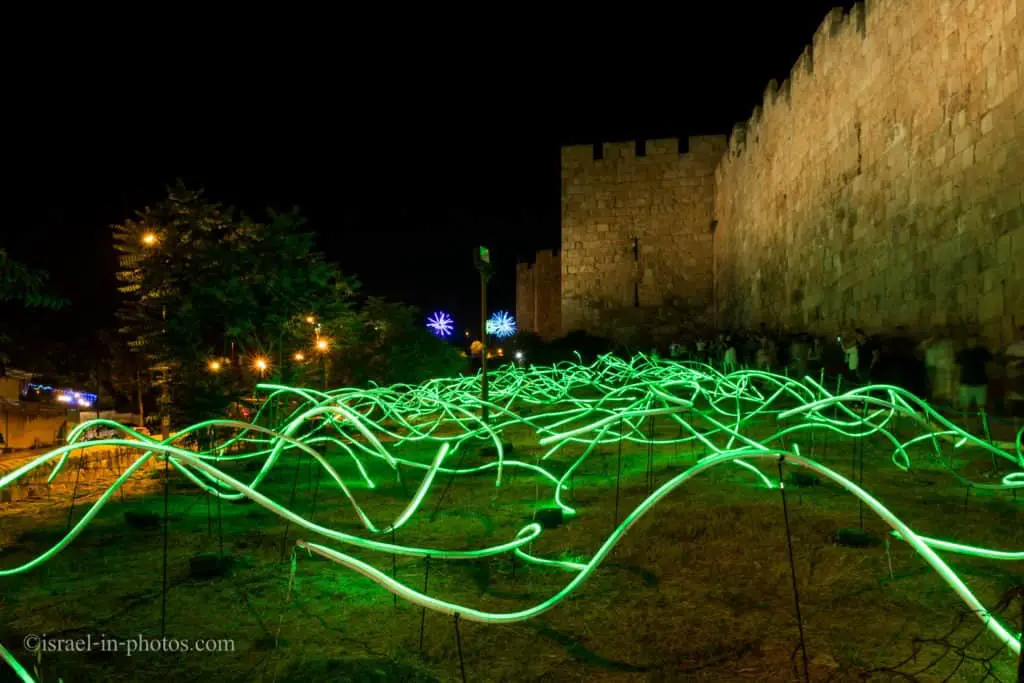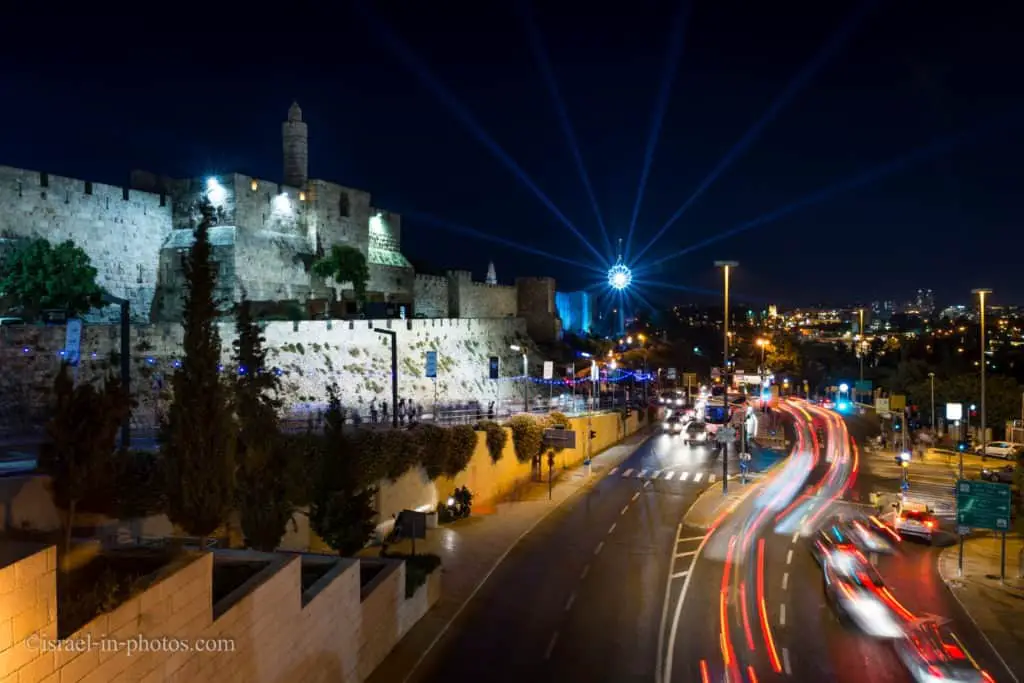 Summary
Jerusalem Festival of Light is a beautiful annual event. It is held in the evening. Thus it is not hot (but can be problematic for families with small children). Most likely, you will not be able to cover everything in one evening. Therefore, I would recommend not to visit it during the opening evening. You can wait for a day or two and then check social media (for example, you can search for hashtags on Instagram). This way, you will pick the trails with the requested installations and visit them first.
Overall, it is beautiful and free, so definitely check it out.
Have you ever been to the Jerusalem Festival of Light? Did you like it? Let us know in the comments below.
That's all for today, and I'll see you in future travels!
Stay Tuned!
For additional points of interest nearby check out Jerusalem. 
 
Additional Resources
Here are several resources that I created to help travelers:
And if you have any questions then check out Useful Information For Tourists To Israel.
 
Did not find what you were looking for? Leave a comment below, and I will do my best to answer your questions.