Hod HaSharon Park offers lovely hikes along the ecological lake, a climb on the top of the former waste dump, and a beautiful place for a picnic.
Offers:
Black Friday Deals on Booking.com are available from 18 November until 1 December 2021. Get 30% discount at participating properties. And stay from November 18 2021 until 30 June 2022. See additional details here.
Get 5% off for your next vacation at Isrotel.
Get 10% off for your next tour at Bein Harim with coupon code LEV10#12306.
Map
Hod HaSharon Park is located in the south of the city. It is situated behind the industrial sector, not far from road #5. You can reach it by driving along HaHarash Street till the end. Or you can enter Hod HaSharon Park into Waze.
Interactive map of the area:
Map of the park and its surroundings:
Note: you can click on the map to enlarge it.
And here is the map of the park:
And here is how the park looks from the top of the "Garbage Mountain".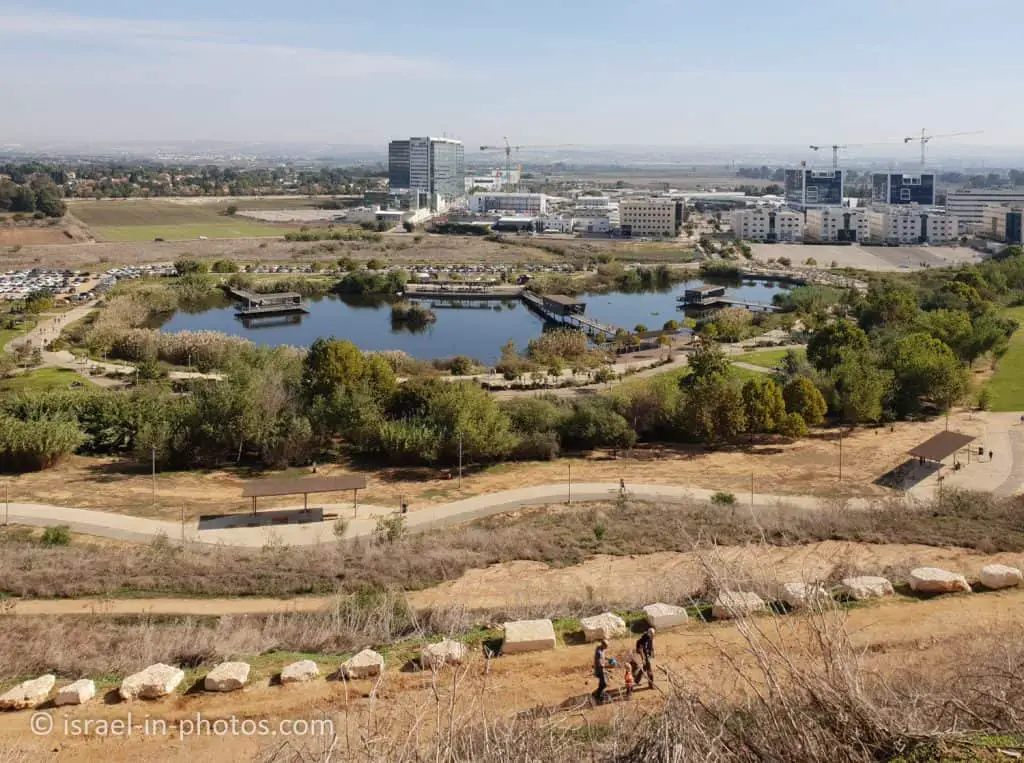 There is free parking near the park.
Paths in the Park
On the map above, you can see two paths. The length of the short blue trail is 2 km. And the length of the red path is 6.5 km.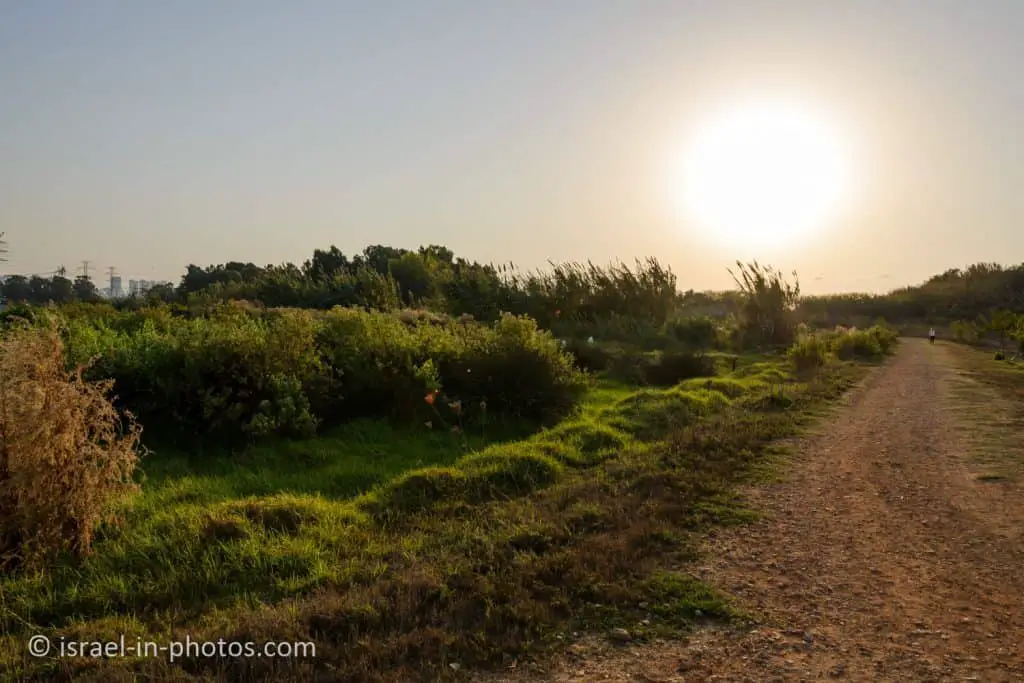 Opening Hours
Always open. There are no fences and no gates. Therefore you can visit at any time. There is also artificial light.
Entrance Fee
Free.
Contact Information
Phone: 053-775-2565
Email: chaimon@calcalit-hod.com
Facebook Page: link
About
Hod Hasharon Park is an urban nature park created for people to enjoy while maintaining a rich flora and fauna world, once typical of the Yarkon River and the Sharon region landscapes. The park is home to a delicate ecosystem based on treated wastewater. You will find a large ecological lake and a flowing tributary of the Hadar Stream, a birdwatching blind, pedestrian paths, and cycling trails.

When development is complete, the park will cover 1,400 dunams (140 hectares). Among the plans for the park are fitness and playground equipment and a picnic area.
Source: sign on site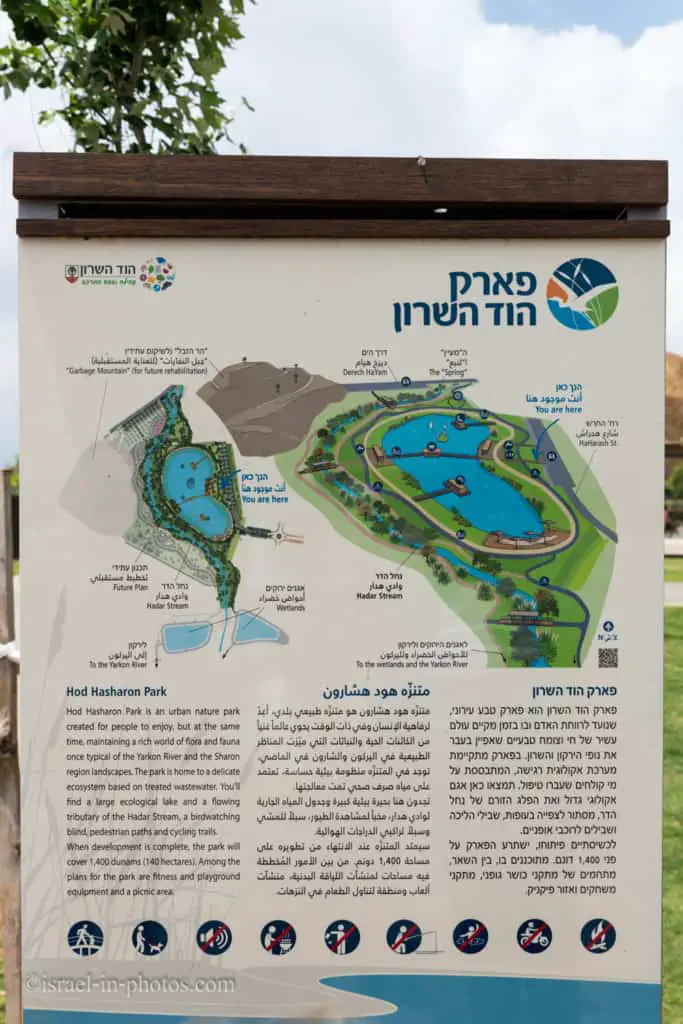 Since I showed the photo of the sign, there are several things I should mention. First of all, it is forbidden to start a fire and make BBQ at Hod HaSharon Park. Secondly, swimming and fishing are not allowed. And thirdly I should mention the facilities.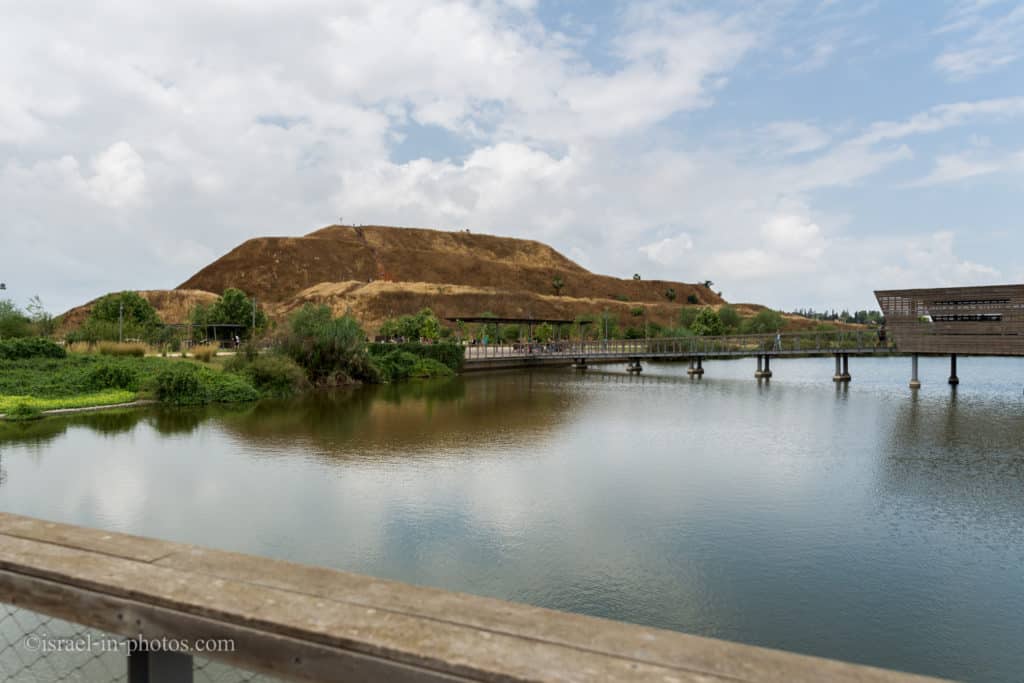 Entrance with dogs to Hod HaSharon Park is allowed, but dogs should be on a leash.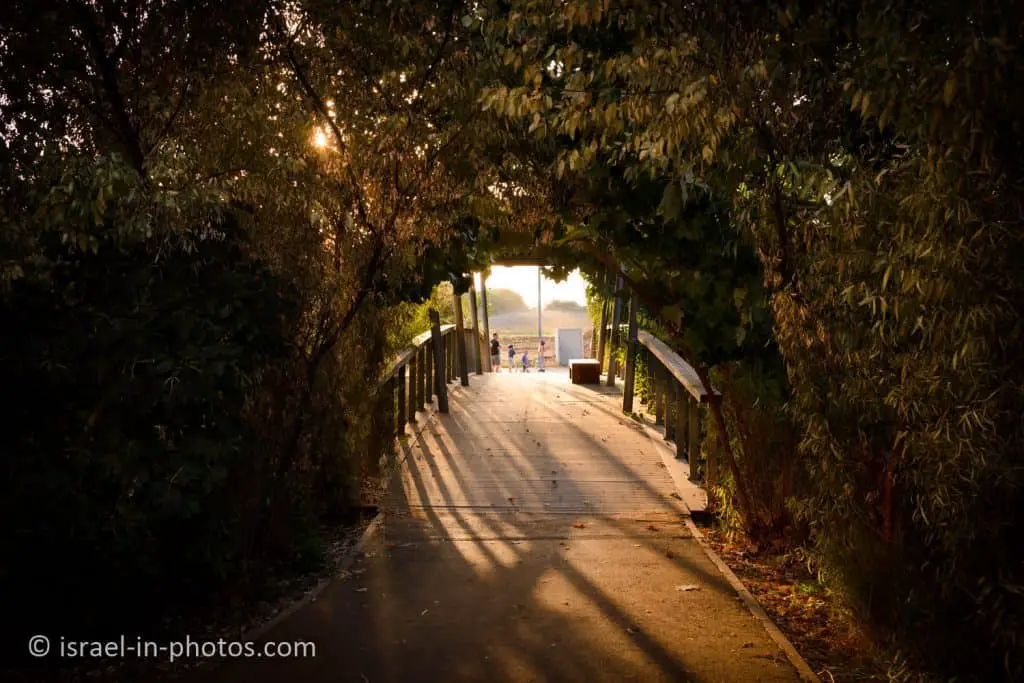 Cafe
Near the main entrance (#1 on the map), you can find a cafe.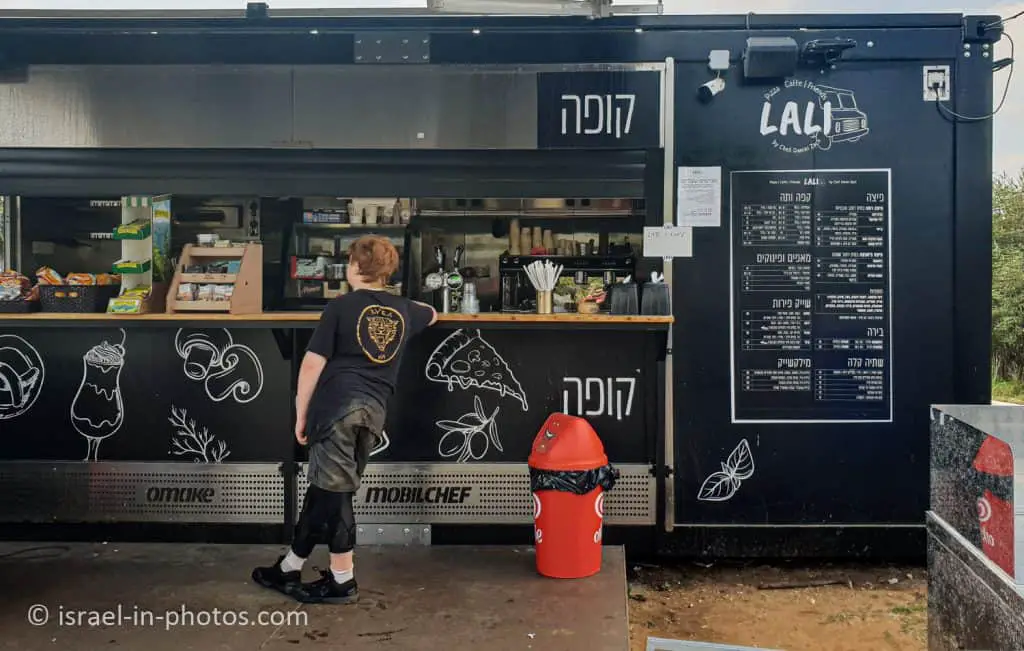 This cafe specializes in pizza, and here is their menu: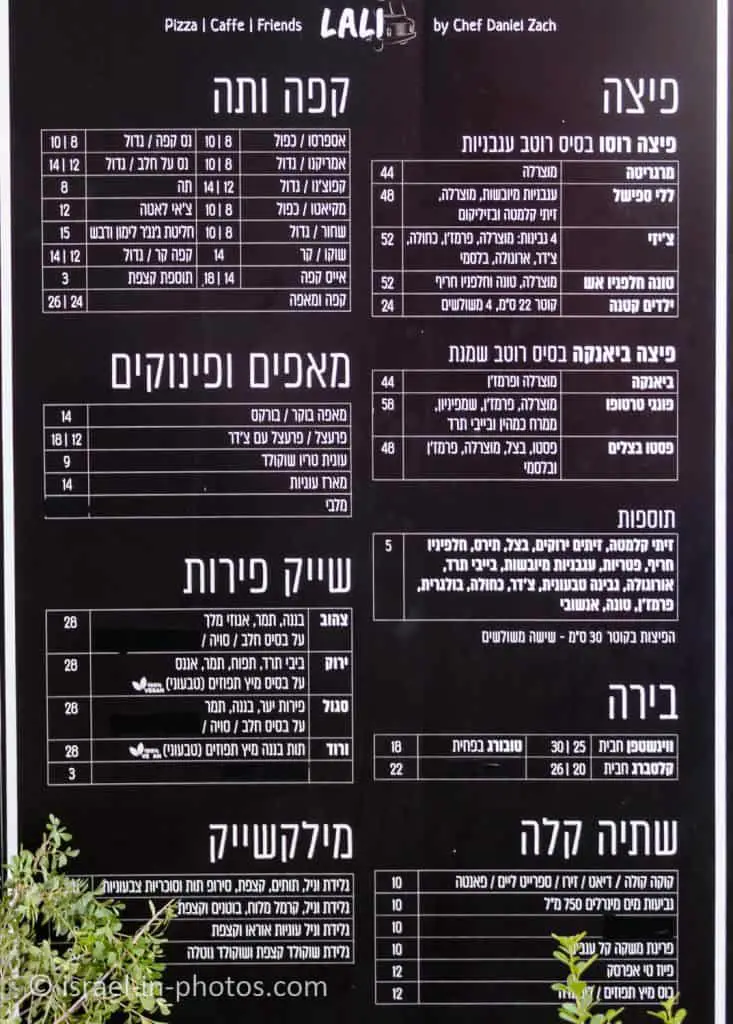 Facilities at the Park
Besides the cafe, there are benches and restrooms. Also, keep in mind that the park is constantly upgraded.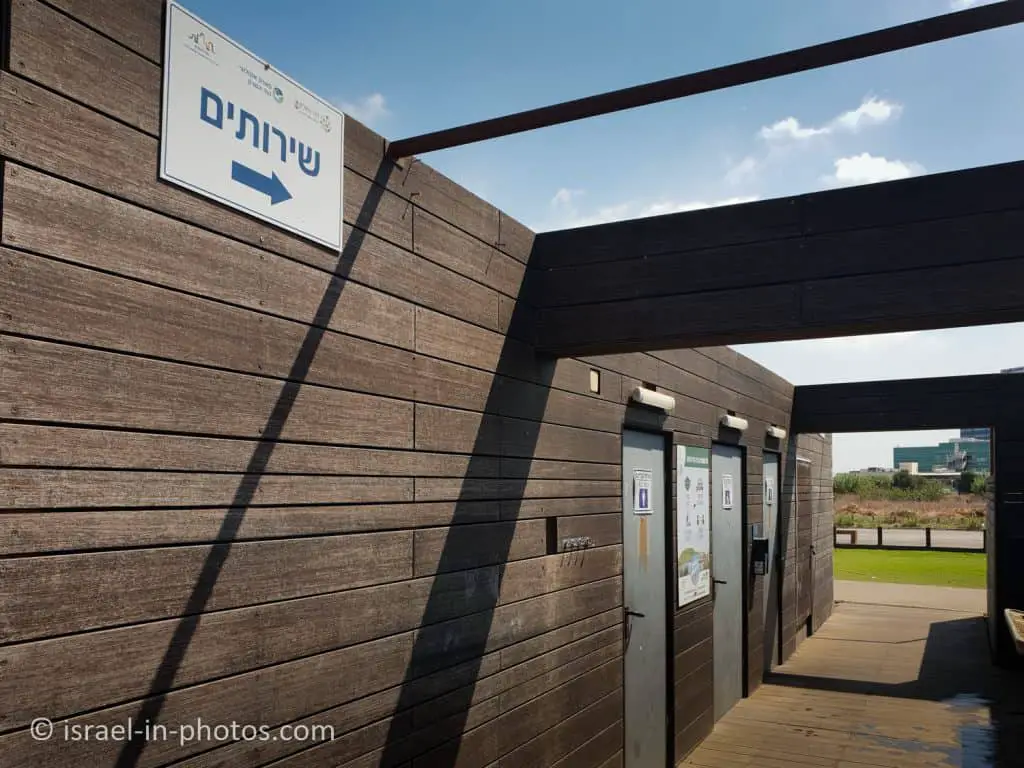 In 2021 new fitness complex was installed.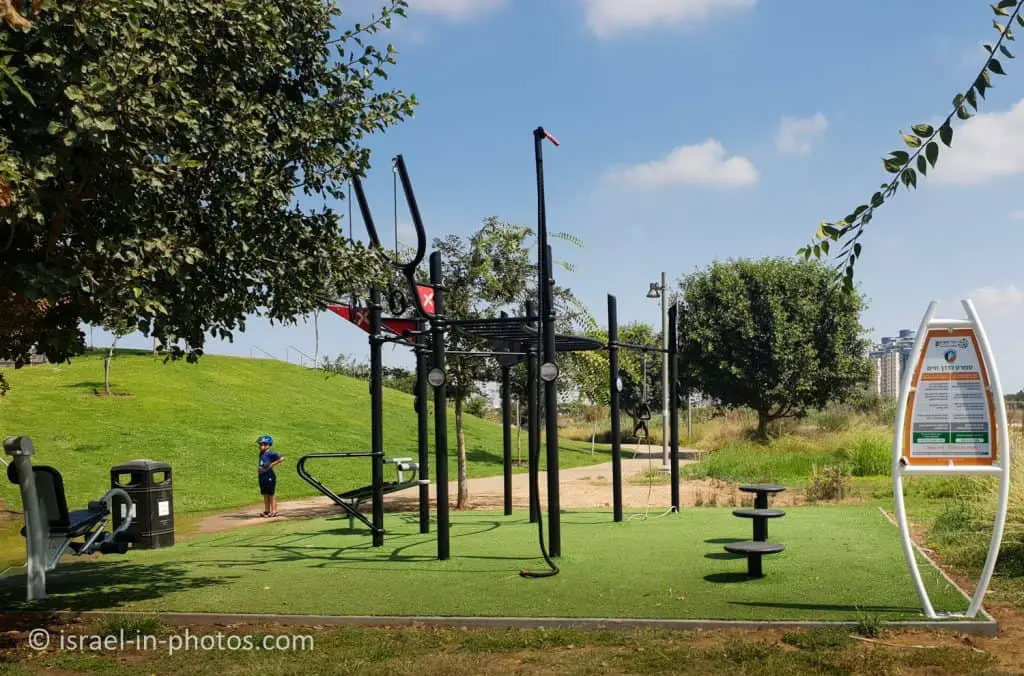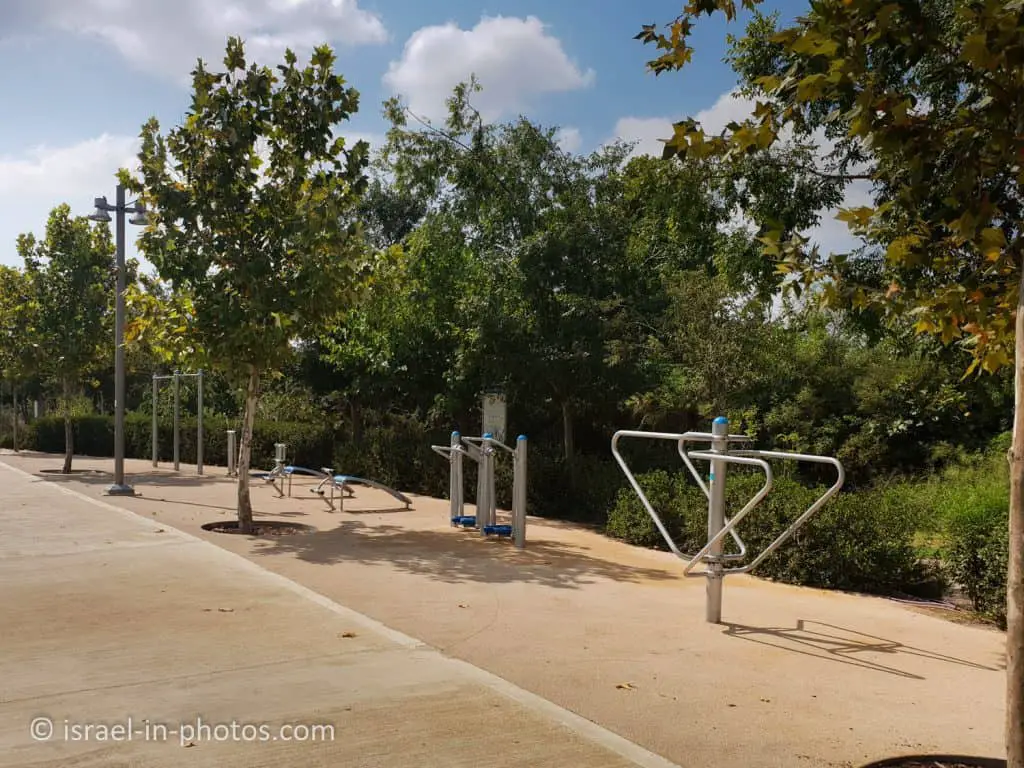 But there are still no playgrounds for kids.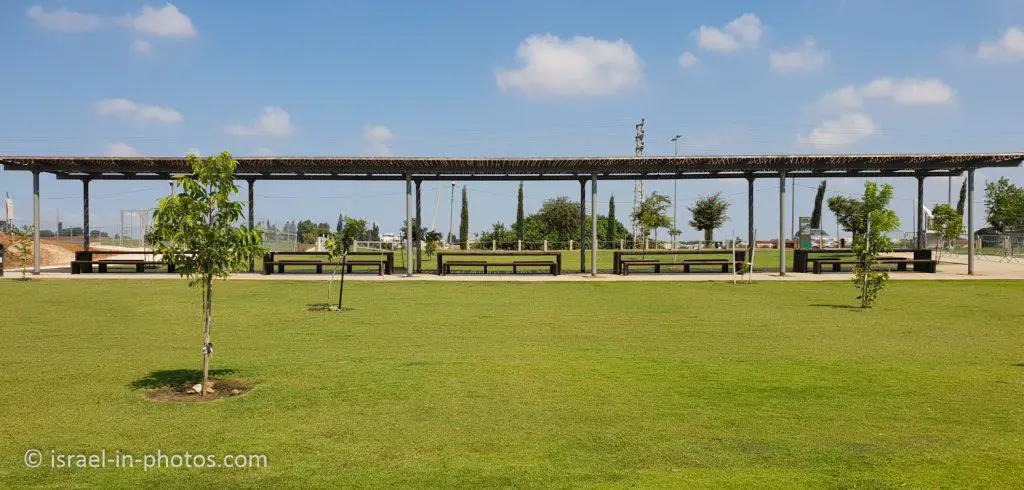 Also, several tables for picnics were installed. But most people do picnics on the grass. However, since most trees are young, there is little shade in the park.
Note: during Saturdays and holidays many people arrive at the park. Thus if you plan on having a picnic, I would suggest coming before 10 am to get a good spot.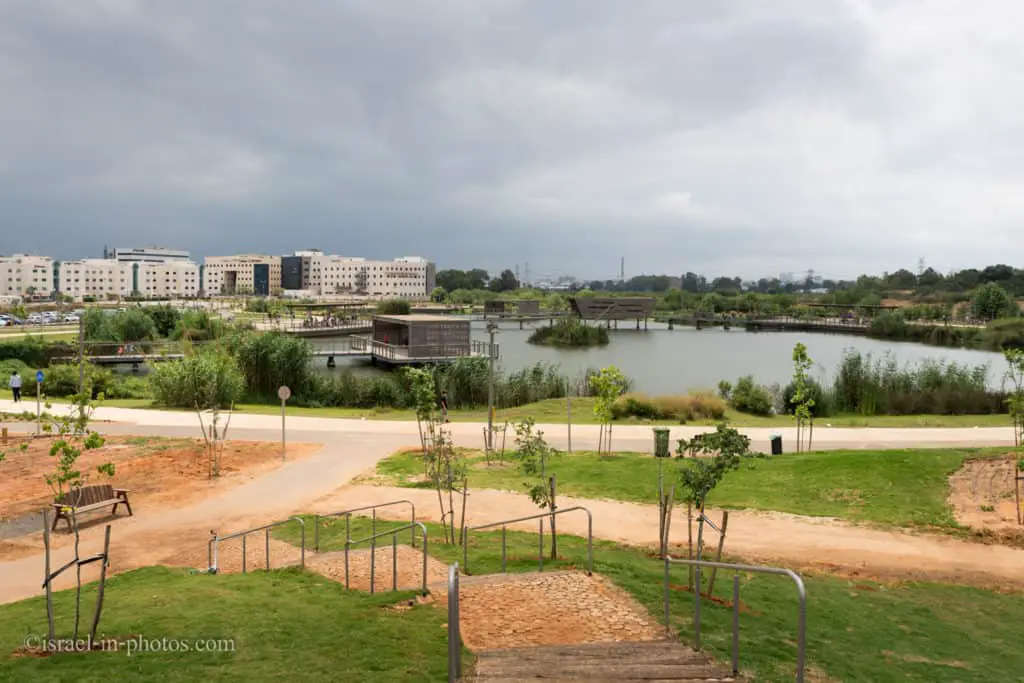 Garbage Mountain
The trail to climb to the garbage mountain begins in the west. It means that you have to go along the asphalt road to the backside of the hill. And there you will see the following building.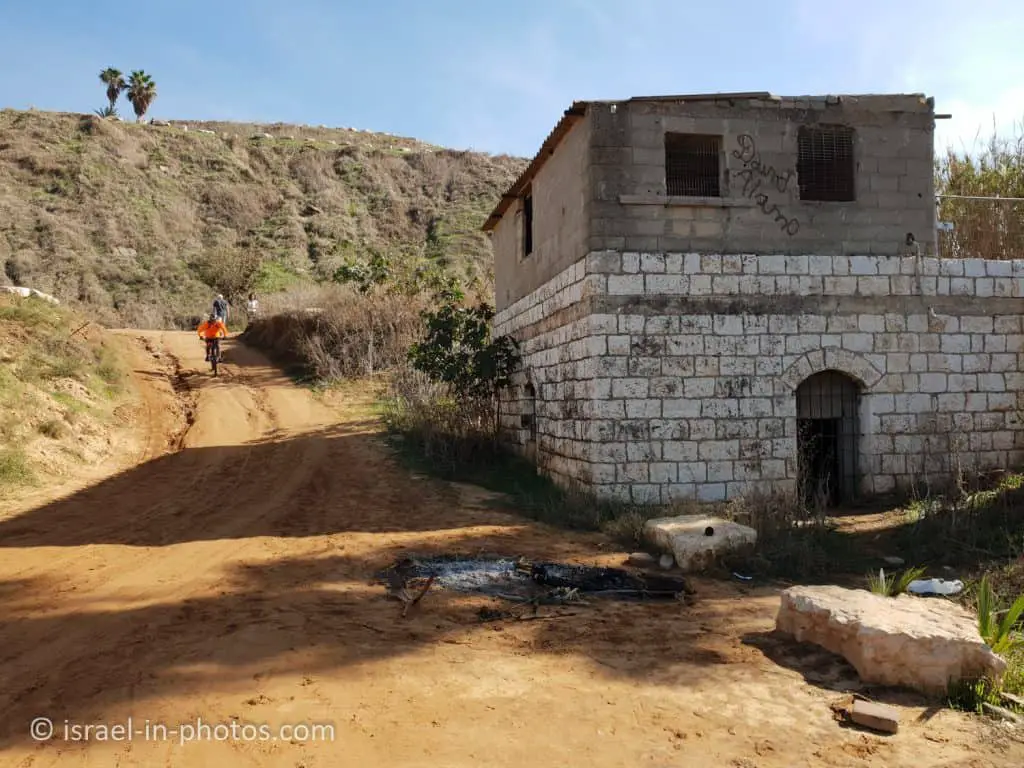 The British built a school (1929 – 1944) for the children of Bedouins living in this area. This building was not restored yet.
After a short climb (you can do it with a baby stroller), you will get to the top of the garbage mountain.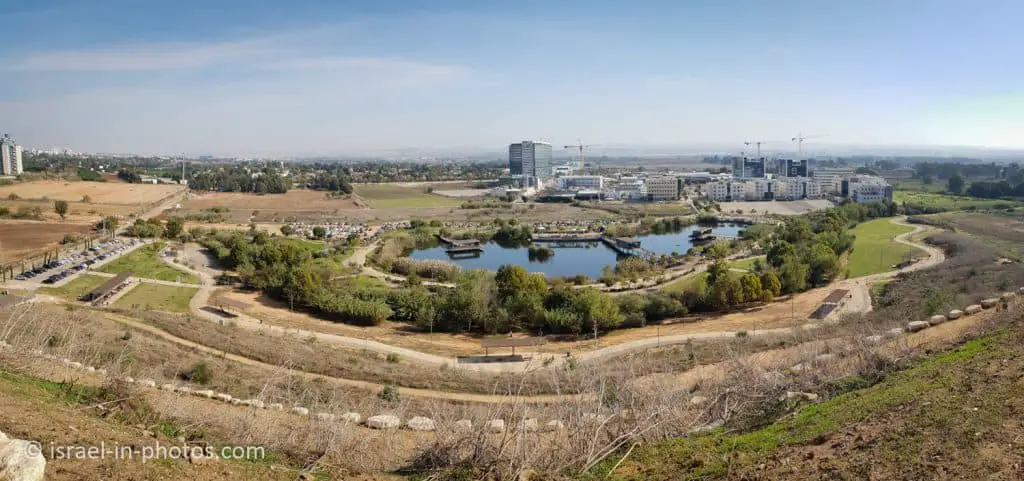 From the top, you get views of all the surrounding areas. But since the park is the closest, it is in the most impressive direction.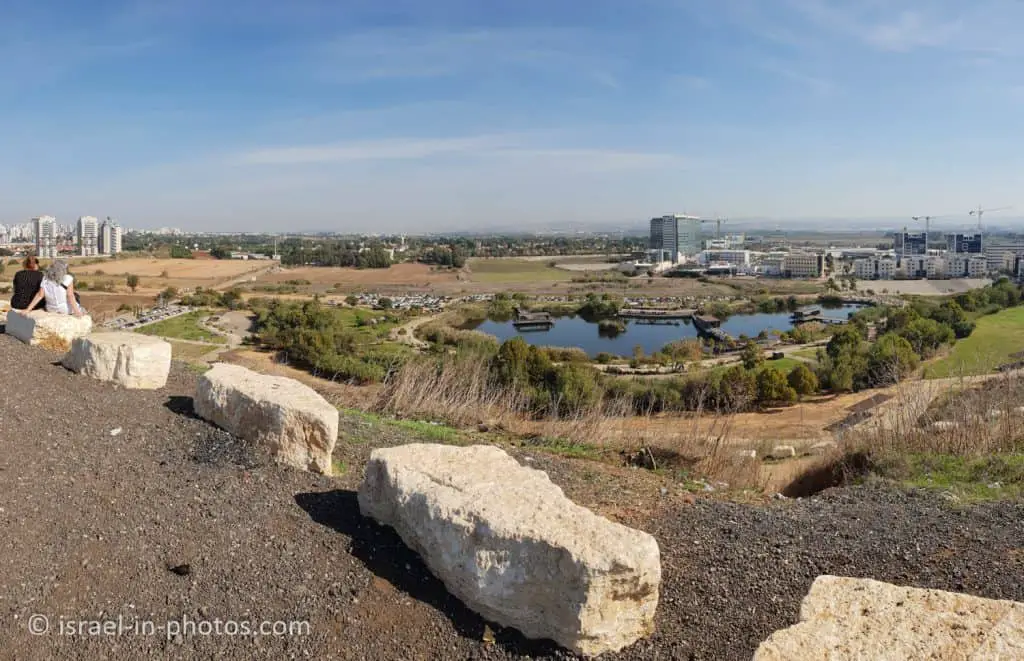 Birdwatching and Wildlife
There are birdwatching blinds and a tiny island for birds. Thus it should be the perfect place in theory. But this is a municipal park, and there are lots of people. If you can, I would suggest arriving for sunrise (during those hours, the birds are active, and there will be no people).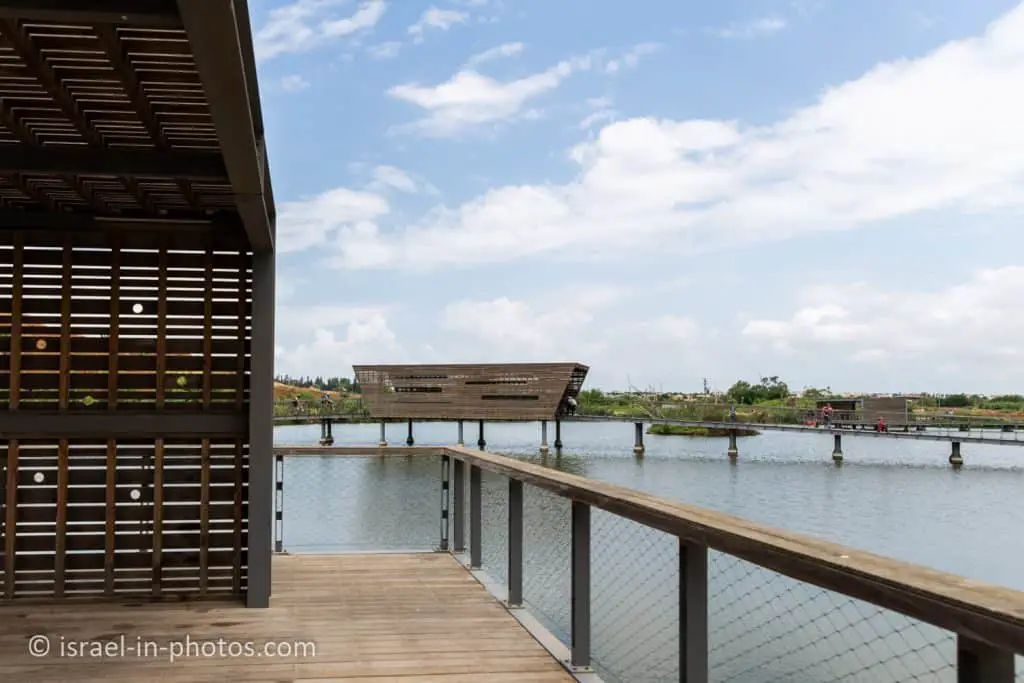 However, here are several of my photos from my evening walks.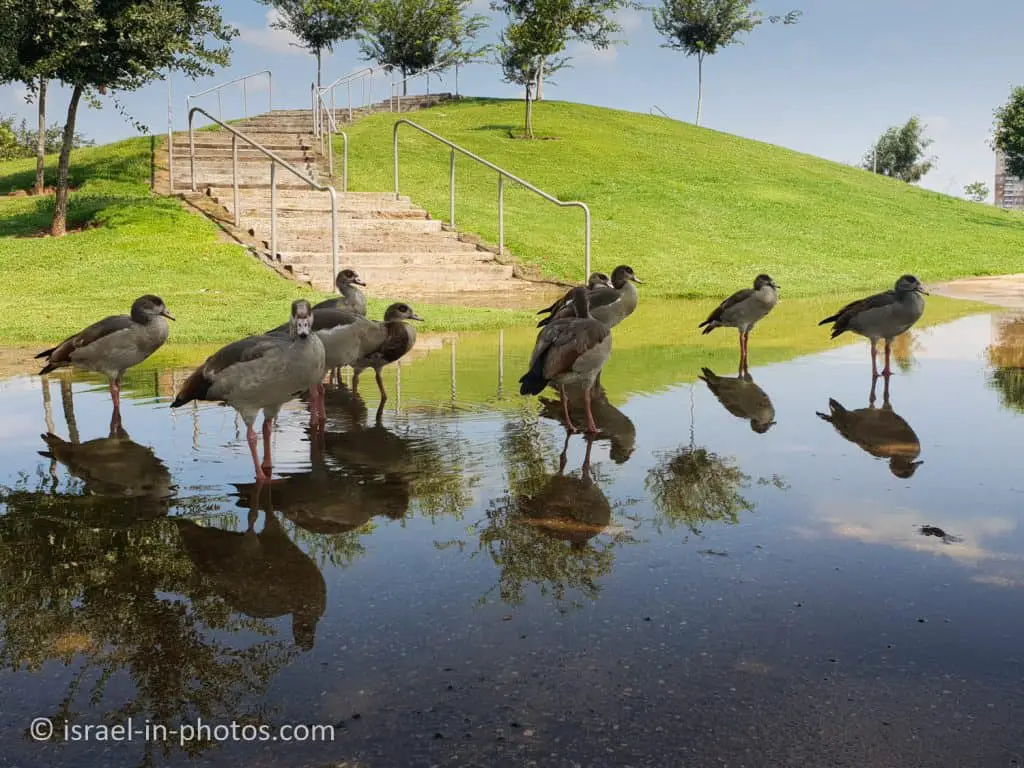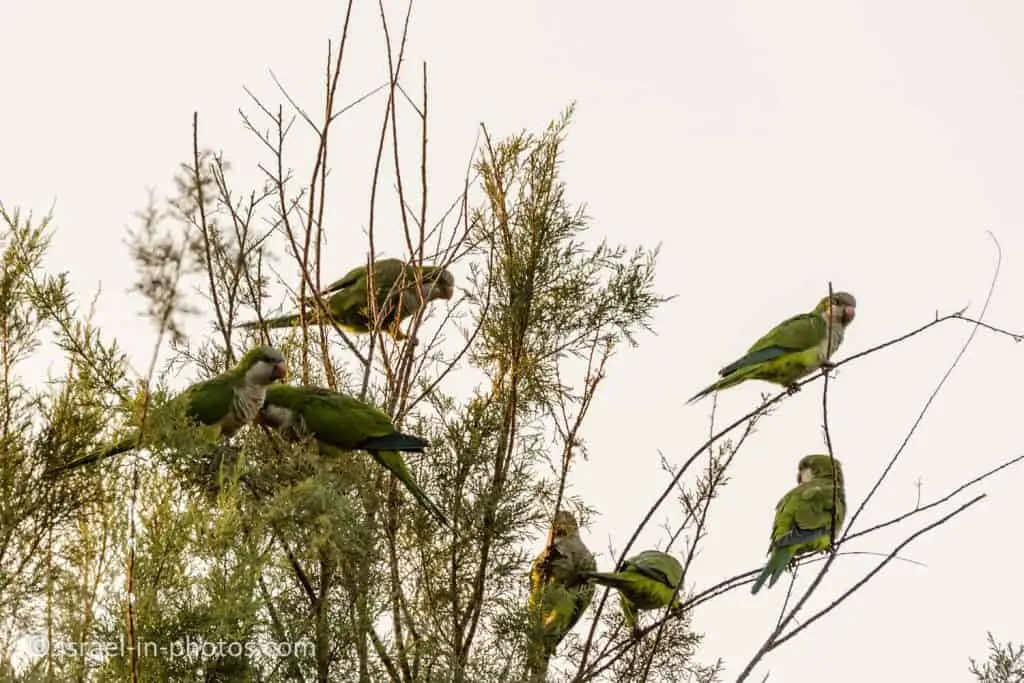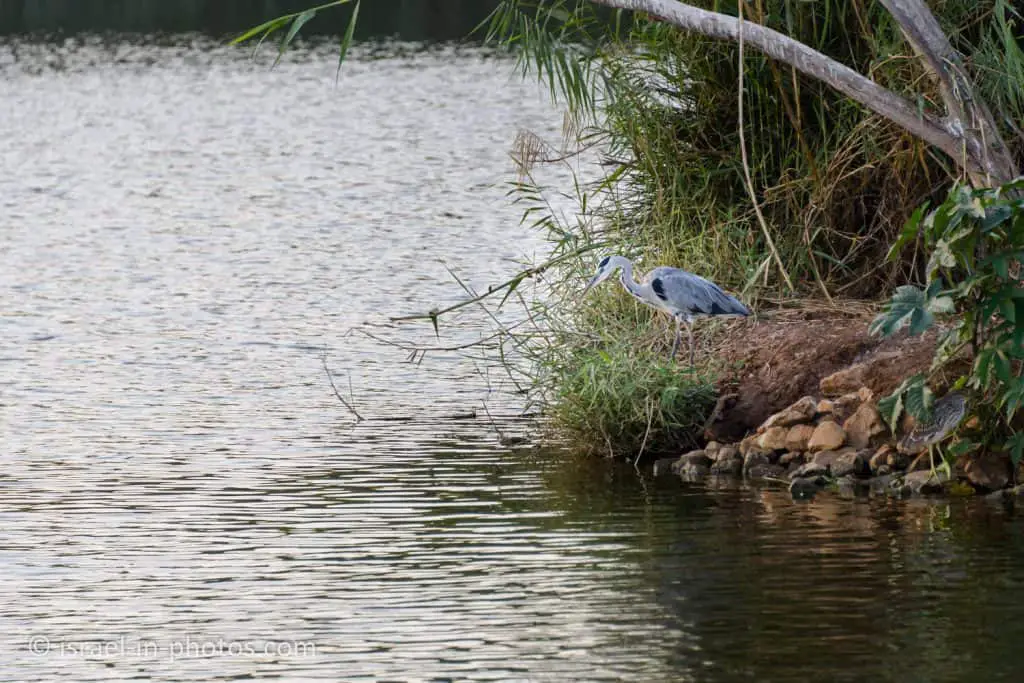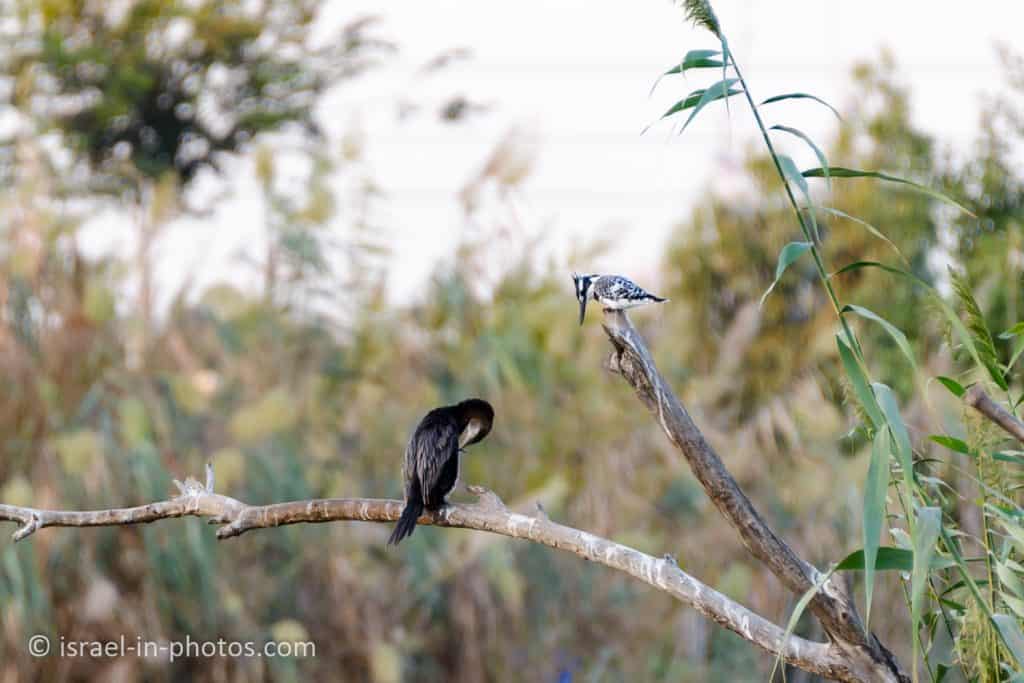 And here are several additional photos from the park.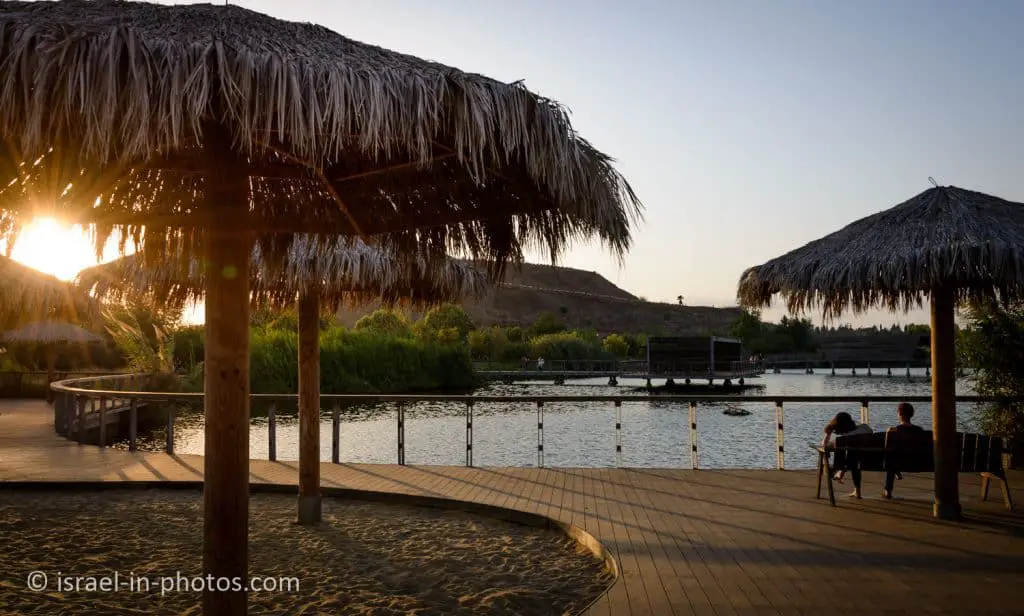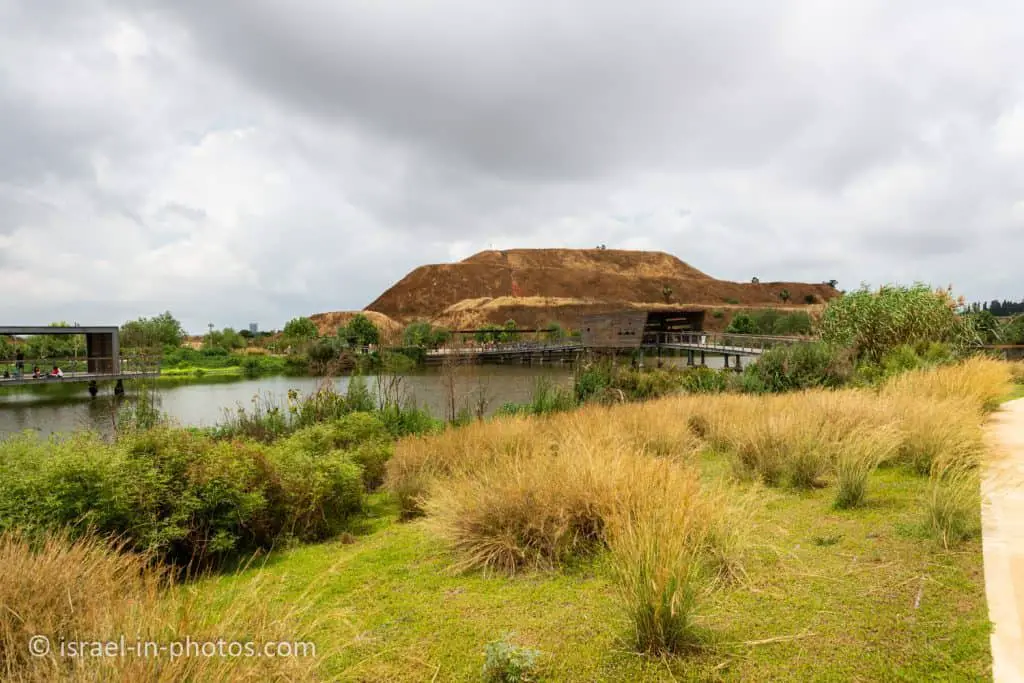 View of the lake and the garbage mountain that will be restored in the future.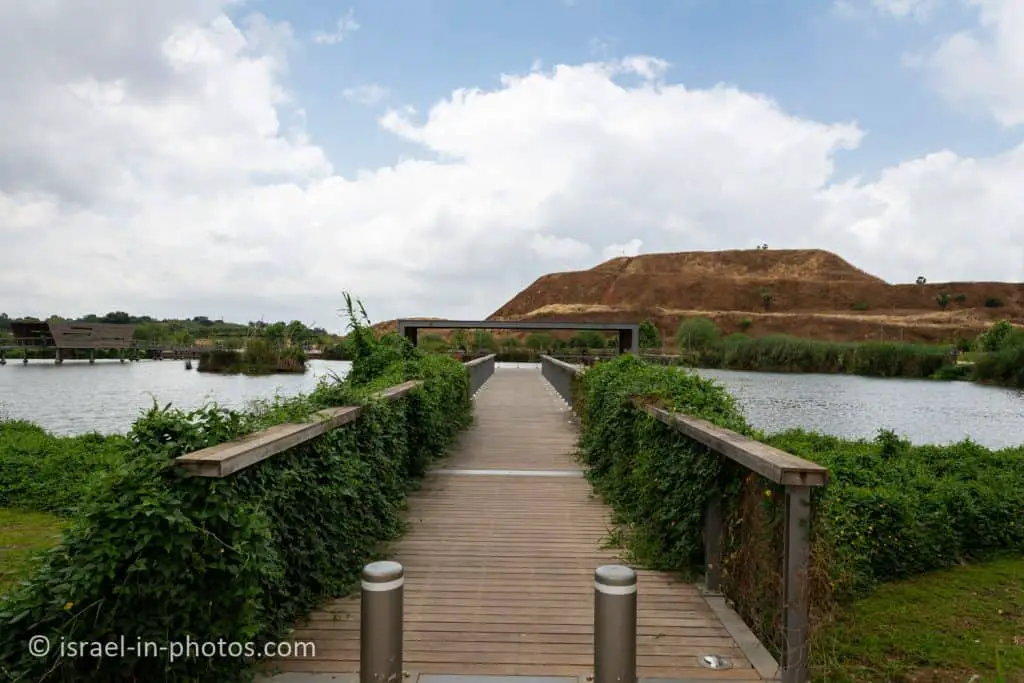 Hod HaSharon Park at Night
Hod HaSharon Park is illuminated at night. The wooden bridges have small lamps attached to the floor. Here are several photos: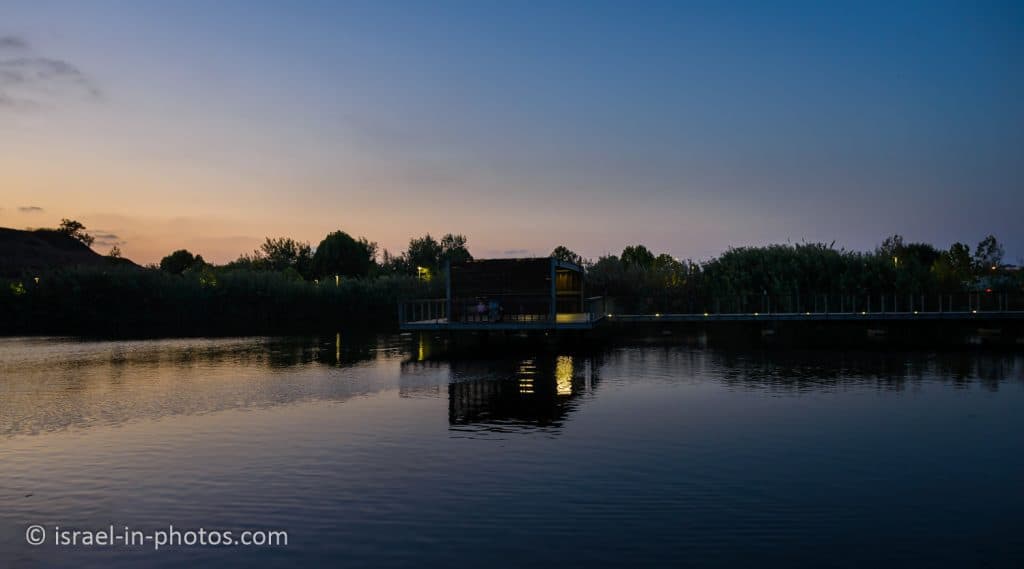 And the walking paths are illuminated as well. Thus you can use them after dark as well. But if you are planning on visiting at night, I would suggest taking a bug repellant.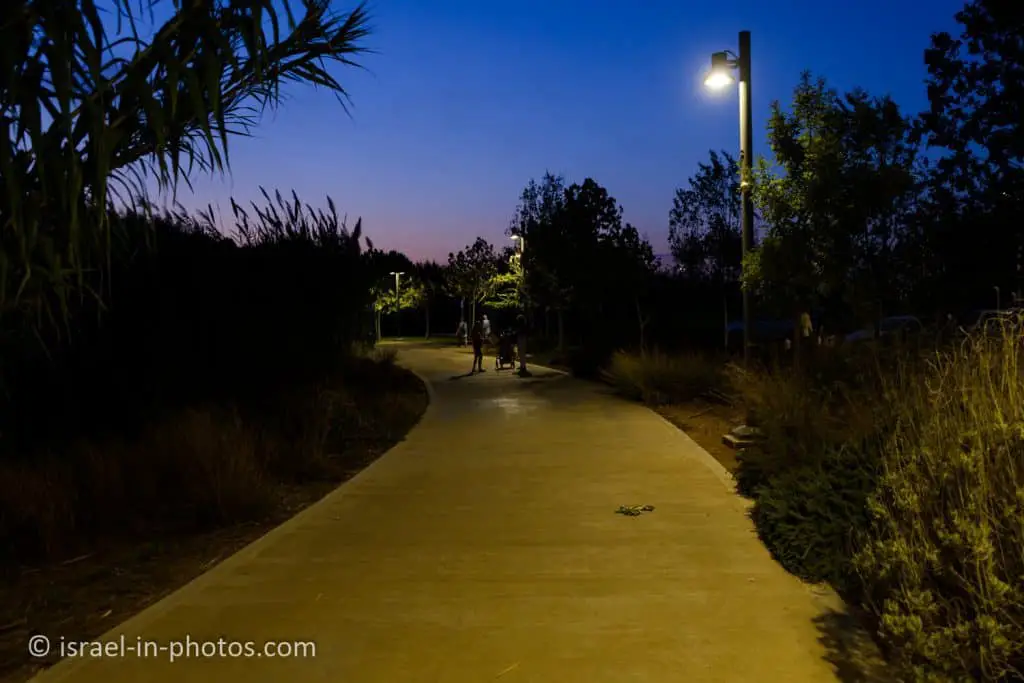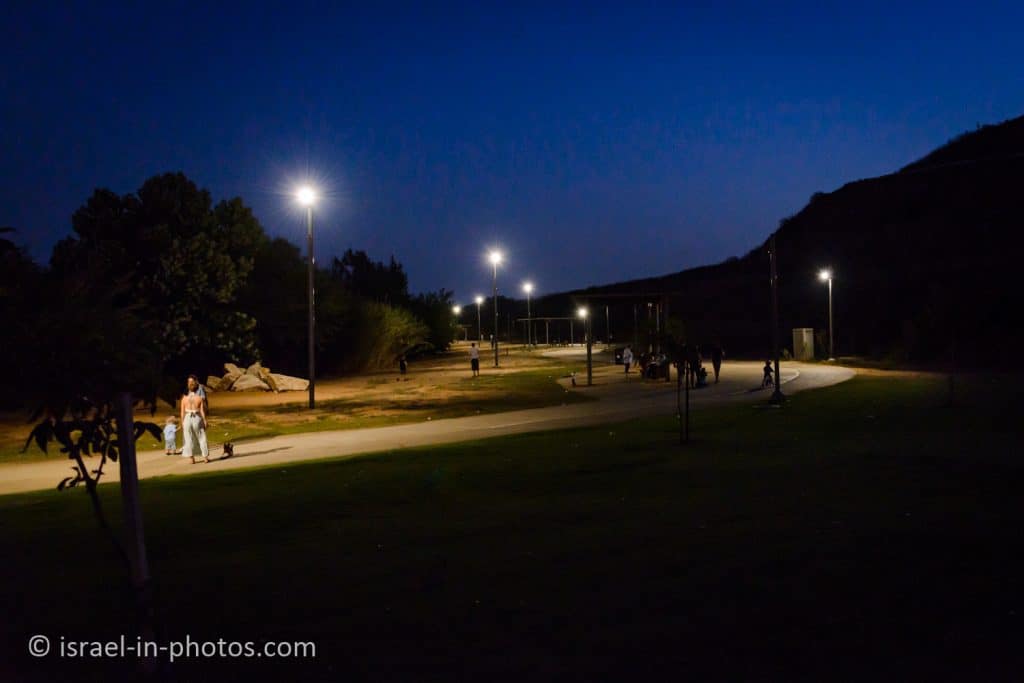 Summary
Hod HaSharon Park is not complete, but it is already a beautiful place to visit. A short walk around the lake usually takes 10 – 30 minutes (you can always make it longer using one of the mentioned paths), and the climb to the former waste dump ordinarily takes 15 – 40 minutes. Most of my visits were family visits with small children. And we explored the lake area for about 1 – 2 hours.
Have you ever been to Hod HaSharon Park? Tell us about your experience in the comments below.
That's all for today, and I'll see you in future travels!
Stay Tuned!
Additional Resources
Here are several resources that I created to help travelers:
And if you have any questions then check out
Useful Information For Tourists To Israel
.  
Did not find what you were looking for? Email me at
hi@israel-in-photos.com
, and I will do my best to answer your questions.