Jerusalem With Kids guide contains a list of 23 POI, including places you can visit on a rainy day, and a Saturday. Let's begin!
How It All Started
My wife loves Machane Yehuda Market and the surrounding area (Nachlaot). And one of the best times to visit the market is on a Friday morning. On Fridays, many people go to the market to buy fresh goods before Saturday. Therefore, this is reasonably the busiest day with the best produce.
To be early at the market on a Friday morning, we decided to take one night in a nearby hotel. This way, we extended our trip to Thursday, and half a day on Friday. Furthermore, since we were traveling with our daughter (she is in the first grade), we started to look for new attractions for children. And this is how the idea for Jerusalem with Kids post was born.
Indoors Attractions For Rainy / Hot Days
Our trip was during the winter, and we ordered the hotel for about a month in advance. But several days before the planned vacation, the weather forecasts predicted heavy rains, low temperatures, and even a possibility of snow. We also considered canceling the hotel, but we would lose most of the money. Thus we decided to continue according to the plan. But we had to look for indoor attractions. So here is the list of attractions for the rainy or very hot days.
Museums
Other POI In Bad Weather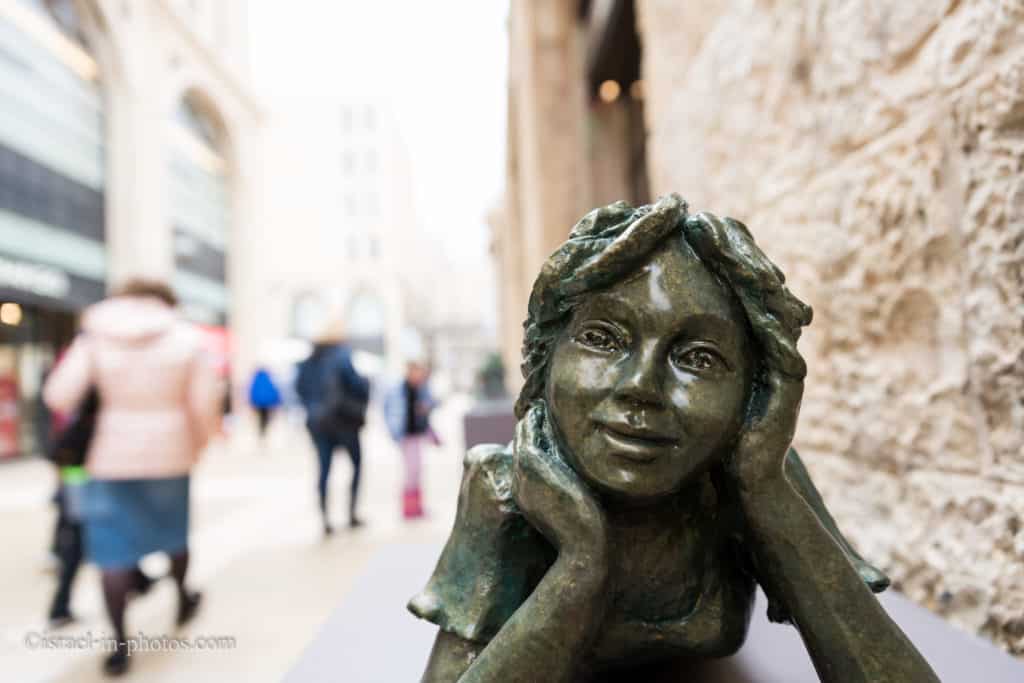 Outdoors – Attractions During Good Weather
And now let's go over the places that you can visit with children in good weather.
Jerusalem Biblical Zoo is one of my favorite zoos in Israel. And it is a lovely place for the whole family.
The Ramparts Walk in Jerusalem offers a new and exciting way to see the old city. While walking in the old town may be dull for kids, I learned that walking on the walls is much more interesting for my daughter.
Ein Yael Living Museum offers various workshops and demonstrations for kids that show how people lived two thousand years ago. We visited Ein Yael during Jerusalem Knights Festival.
Night Experiences at the Tower Of David can be a great alternative. But, keep in mind that you will be outside. Thus, bring hot clothes when needed, and it is not suitable for rainy weather.
The Jerusalem Botanical Gardens can be a good alternative for families that love nature.
The City Of David offers different routes, but IMO most of them should be done in good weather. For instance, Archaeological Experience in the Emek Tzurim National Park preferably should be done while it is not too hot and not rainy. And walking in the water at Hezekiah's Tunnel is an excellent attraction for warmer days.
Jerusalem Bird Observatory is located between Knesset and Wohl Rose Park. Best time to visit it is during migration season, as most of the birds are not local. And during severe weather, most likely that you will not see anything.
Ammunition Hill National Memorial Site offers tours for kids and adults.
Machane Yehuda Market may not sound like something that is suitable for children. But if you convert the visit to a tasting tour, then most kids will love it.
The Old City can be also a good alternative as long as you tell the kids good stories (at least this works in our case).
Further Away
Though we did not leave the city, you can consider it. As not far from Jerusalem, you can find several POI for kids.
Open On Saturday
Most of the museums that I mentioned above, as well as the zoo and the aquarium, are open on Saturdays. Moreover, all the "Further Away" attractions are open as well.
In the Mamilla mall, you can find different masterpieces from different artists. Most of these masterpieces are for sale and there is a phone number next to each one. I especially liked this sculpture: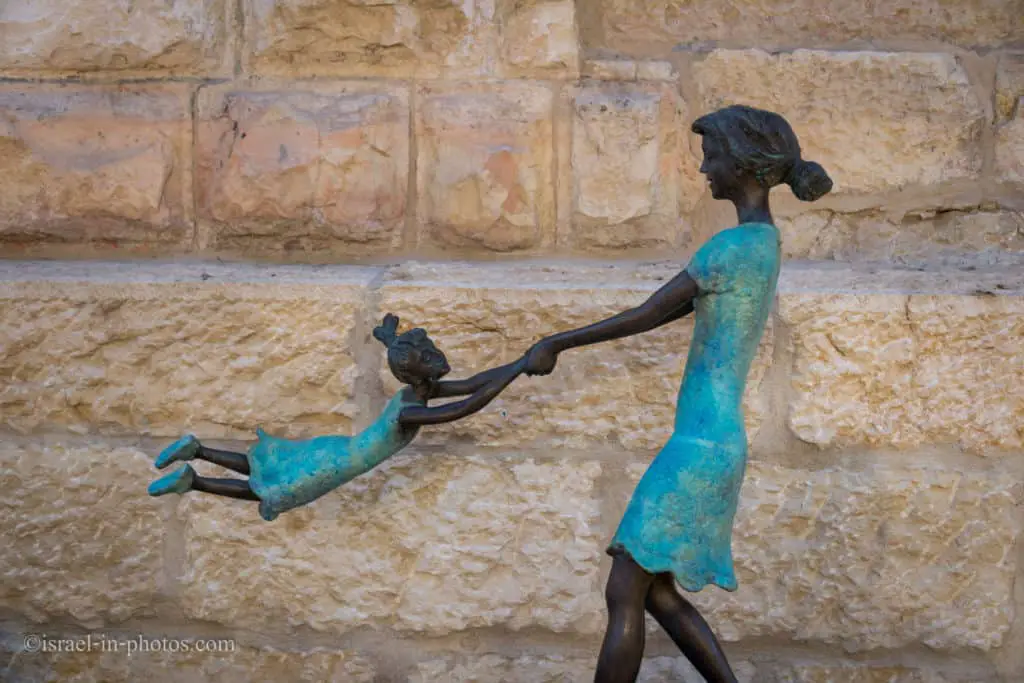 Our Trip
So far, I listed many different options. And now, I will go over the places we did visit. Also, keep in mind that we visited Jerusalem many times before, thus decided to skip some of the indoor attractions.
Thursday
We started Thursday morning with a visit to the Knesset – The Parliament Tours. And after the tour, we checked in to the hotel. As I mentioned, the hotel was at the Nachlaot neighborhood, and parking is very problematic in this area. Finding free parking is nearly impossible, and paid parking costs 18-25 NIS per hour. And for overnight parking, we used the one recommended by staff from our hotel, and the cost was 60 NIS per night (after 19 and till 9 AFAIR).
Graffiti at Nachlaot:
We left luggage at the hotel and went to the market for lunch. We picked one of our favorite places, the Hachapuria Georgian restaurant. I wrote about it and even photographed Khachapuri at my Machane Yehuda Market guide.
As we left the restaurant, the rain started to pick up. Thus we could not stay at the market. Instead, we headed to The Museum For Islamic Art (click the link to see my post). And when we ended this visit, it was quite late. So we returned to our hotel and went to Mahane Yehuda for dinner. There are many restaurants and pubs in this area, so you can easily find a place for a snack (at Machane Yehuda Market guide you can also find a list of restaurants).
Friday
We started Friday morning with breakfast at Machane Yehuda Market. Then we ate some more at several food stalls and headed to the Old City.
We parked at the Mamilla mall, and as you walk through the mall, you can always find art. Usually, these are statues for sale.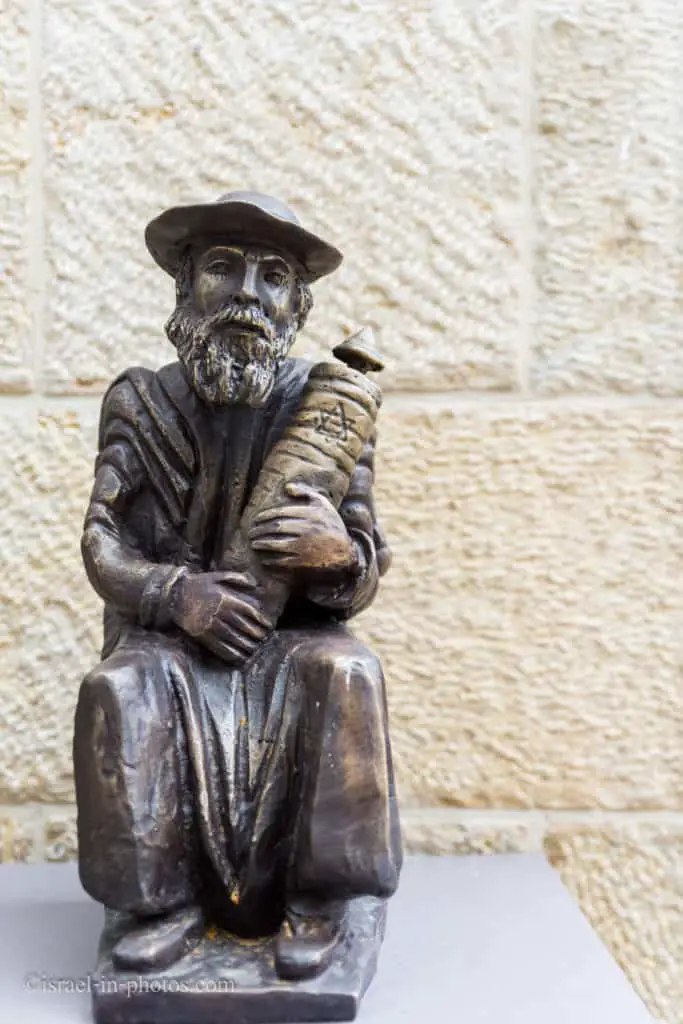 We headed through the market to the Church Of The Holy Sepulchre.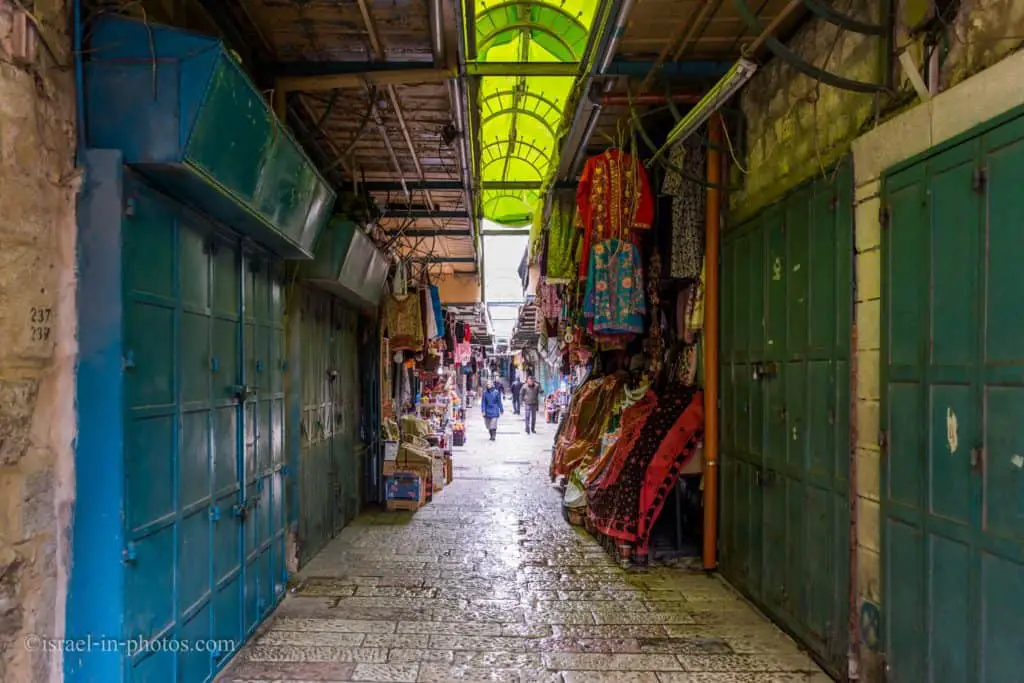 Church of the Holy Sepulchre
Church Of The Holy Sepulchre may not seem like the best place when visiting Jerusalem with kids. But if you keep in mind that children and adults like stories, then you can turn a visit almost to any site interesting for kids.
We wanted to head to the Western Wall, but it started raining, so we decided to return to Mamilla parking and head home.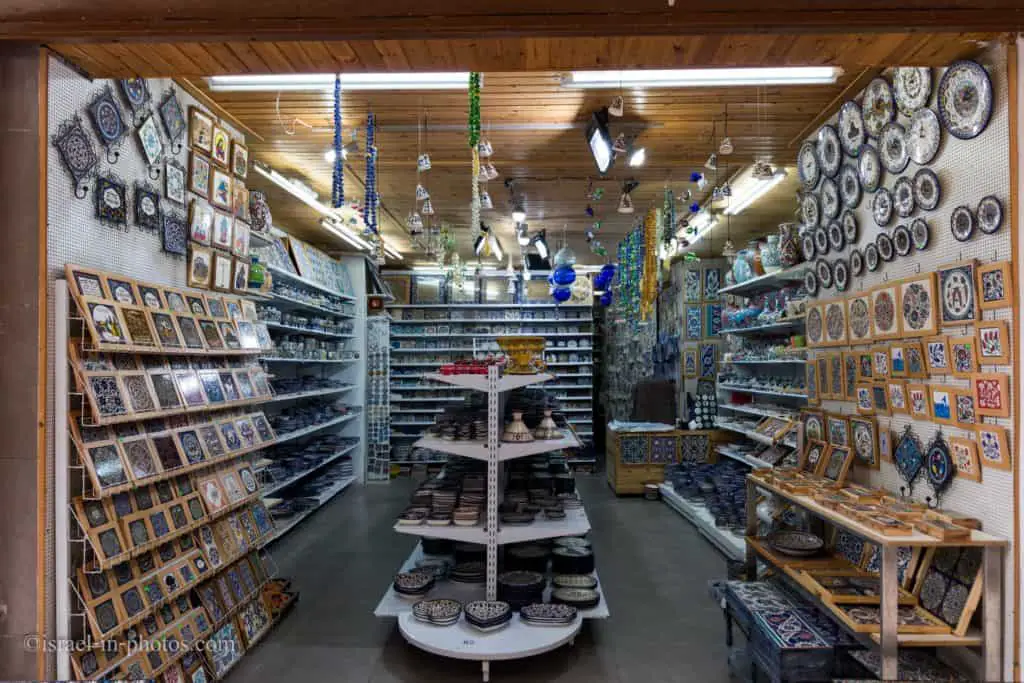 Summary
I hope this post gave you ideas about what places to visit in Jerusalem With Kids. And though attractions for children is not the first thing that comes to mind when you think about Jerusalem, there are many different options.
What are your favorite attractions when visiting Jerusalem With Kids? Tell us in the comments below.
That's all for today, and I'll see you in future travels!
Stay Tuned!

Additional Resources
Here are several resources that I created to help travelers:
And if you have any questions then check out Useful Information For Tourists To Israel.

Did not find what you were looking for? Email me at
[email protected]
, and I will do my best to answer your questions.