I realize that I rarely write about food and restaurants in Israel. It's not because food in Israel is not interesting. On the contrary, but I don't touch this subject a lot because I don't consider myself as a specialist in this area.
In my opinion, food in Israel is diverse and interesting. That's because there are Jews from all over the world. And when they migrated to Israel, they brought their food and habits with them. Kitchens are very diverse. You can find restaurants serving Indian / Chinese / Russian / Lebanese / Moroccan / American / Italian / Spanish / French / Japanese and many other kitchens. And in recent years fusion is becoming more popular and you can find restaurants mixing different kitchens.
Some might argue that since Kosher food is limited in indigents it might be more boring. I have two things to say to that. First of all, sometimes creativity sparks when you think inside the box (add some kind of limitation). Secondly, there are many Nonkosher restaurants in Israel. In fact, in some areas (mostly Israeli's center) there are more Nonkosher restaurants that Kosher ones.
In this post, I'll tell you about some of my favorite restaurants in Israel both Kosher and Nonkosher (keep in mind that if a restaurant is open on Saturday then it is Nonkosher regardless of the food being served there).
Bleecker Bakery
One of my favorite breakfasts is served by Bleecker Bakery (Kosher and closed on Saturdays). It is a small chain of bakeries (official site) that serve food (not only breakfasts) and sell pastries/cakes.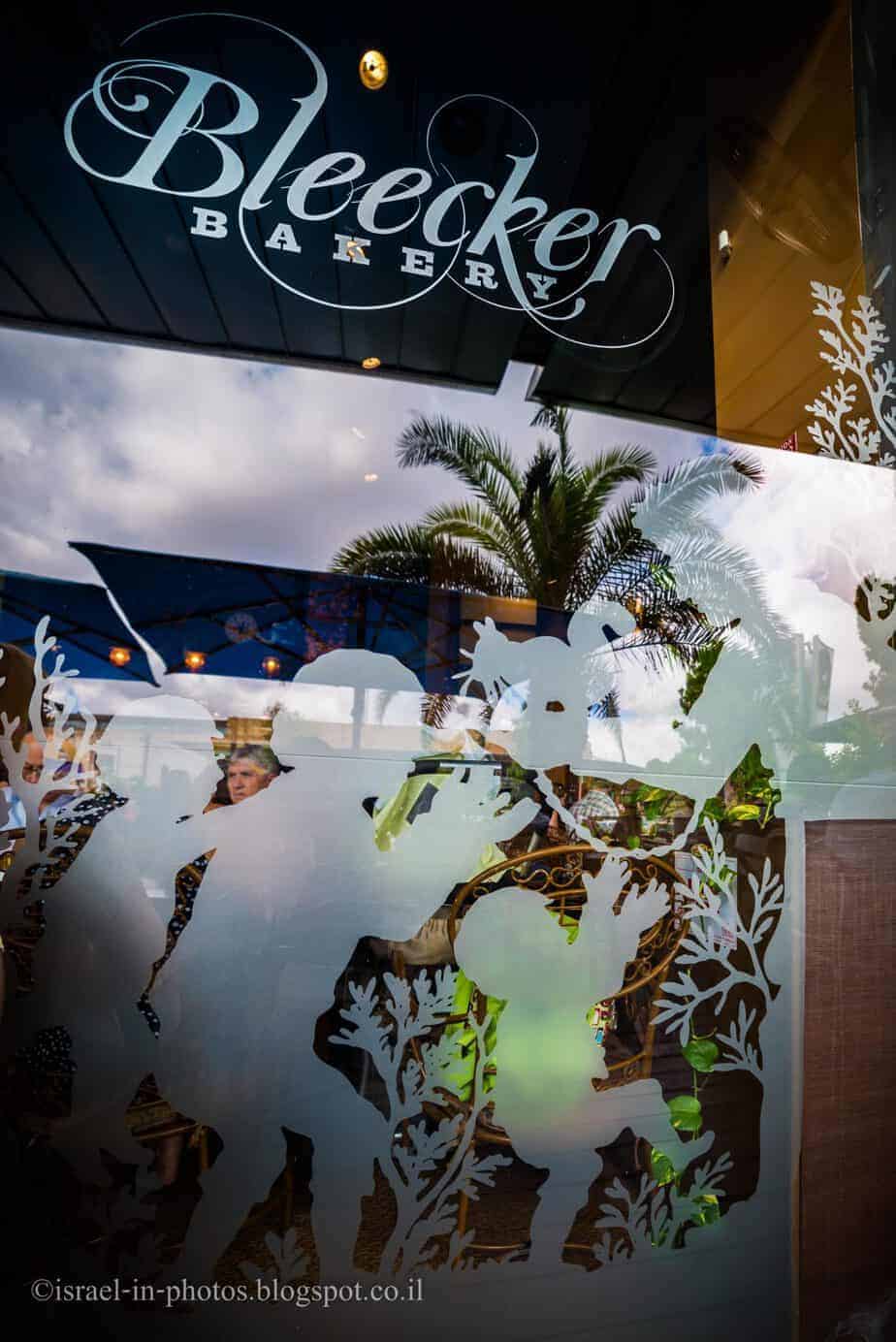 It's called: "croissant bakery":

A big croissant is split into two halves, then it covered with cream cheese, raw Solomon, tomatoes and eggs (slightly under-cooked). And of course a small side salad.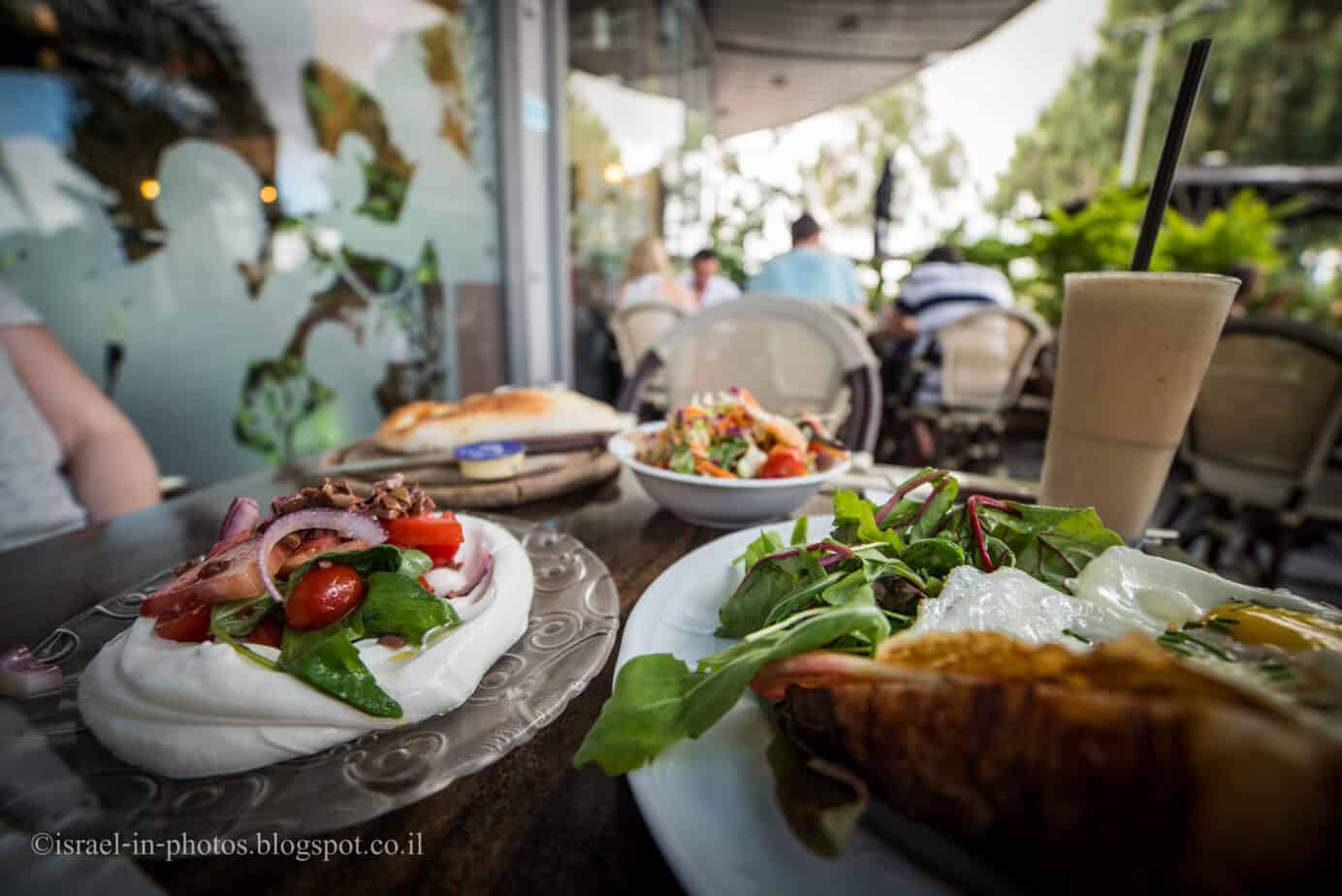 Then we ordered a dessert: "Chocolate surprise ball":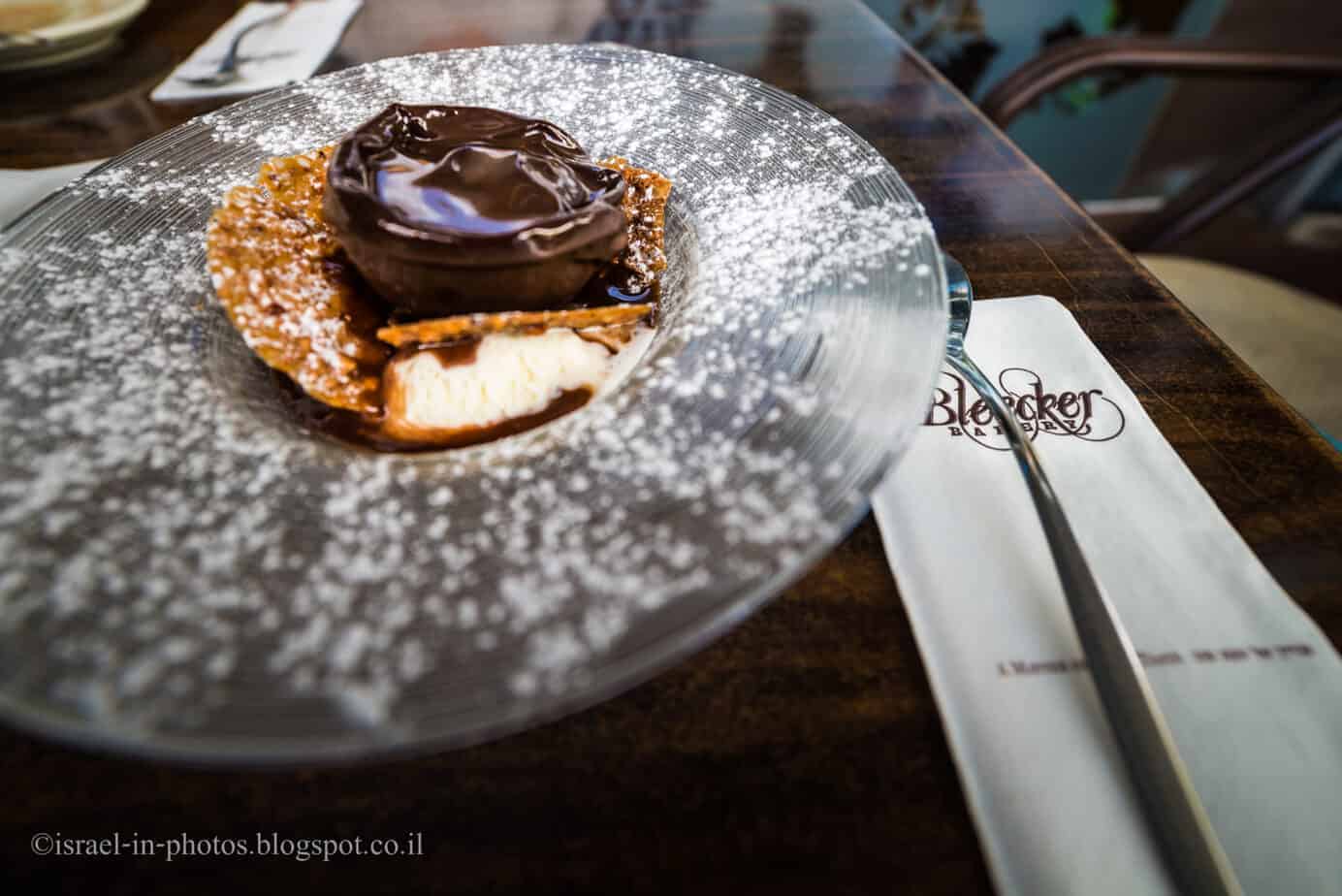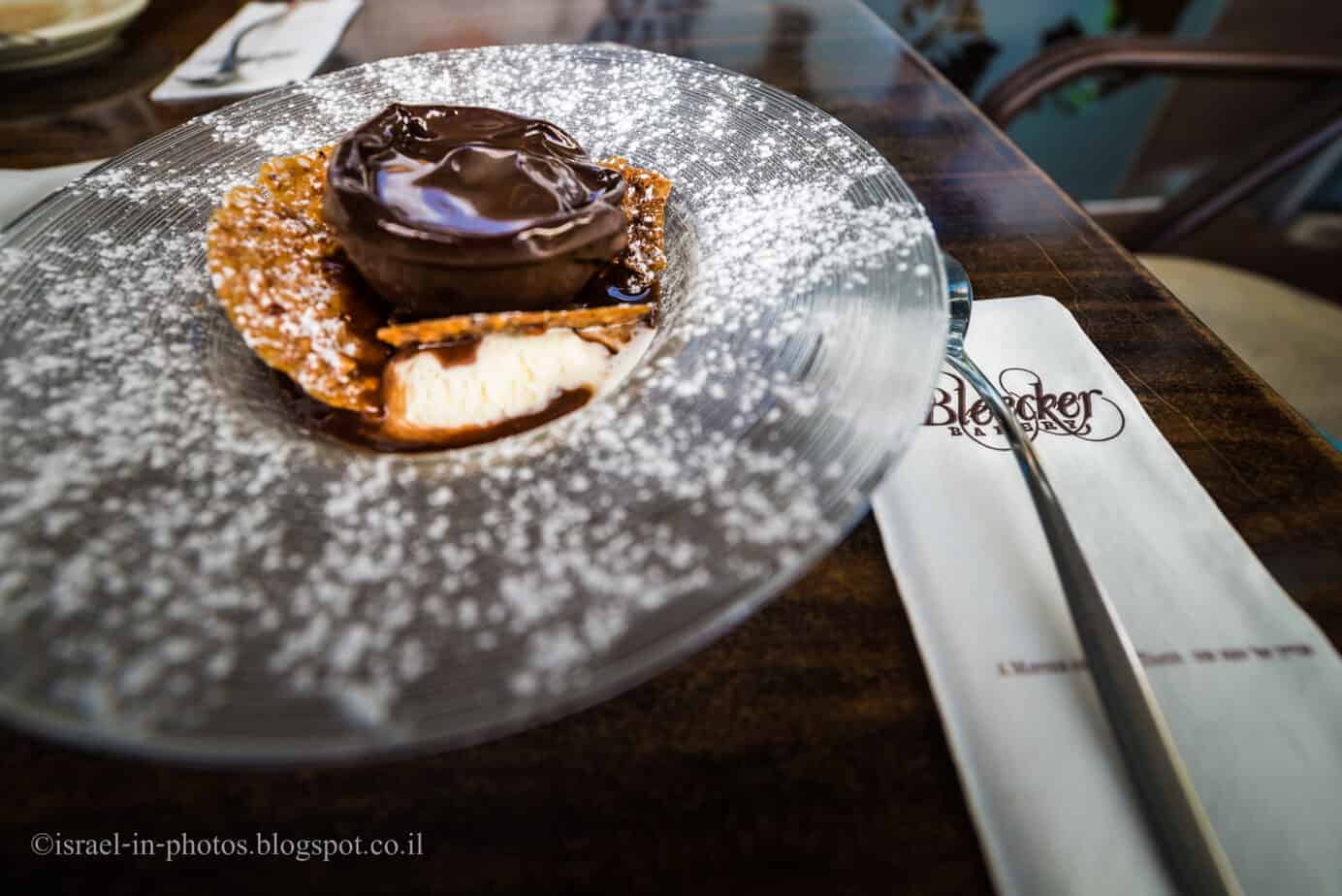 This is a chocolate ball filled with different goods. And when the waiter brings this dessert s/he pours hot chocolate on top of the ball. And the ball starts to melt. That was tasty. But of course, not for every day.
Much Israeli don't work on Fridays and in the morning go out for a breakfast. Most breakfasts include some kind of eggs, and this was one variation. Also, it's worth mentioning that good places get filled quite quickly (on Fri.). Thus, it's better to come early (usually before 9 am will be good enough).
Segev Restaurants
Moshe Segev is an Israeli Chef. He has several restaurants in central Israel (AFAIK all of which are Nonkosher). This is not a typical chain, each restaurant has a different concept the food type varies accordingly. What I like about his restaurants is that they serve better and more interesting food and the prices are reasonable. In other words, you get value for money.
Note: food in stores and restaurants in Israel are more expensive than in most Europian countries and US.
In most cases, Segev's restaurants are fully packed. Thus, you need to book places in advance.
Segev Kitchen Garden
The most recent Segev's restaurant is Segev Kitchen Garden (official site) in Hod ha Sharon. The idea behind it is that you're sitting inside a garden (it's a fully closed air conditioned rooms) and spices grow around you. These spices can be used to prepare the food.
Here is an interior photo I took during one of my visits there: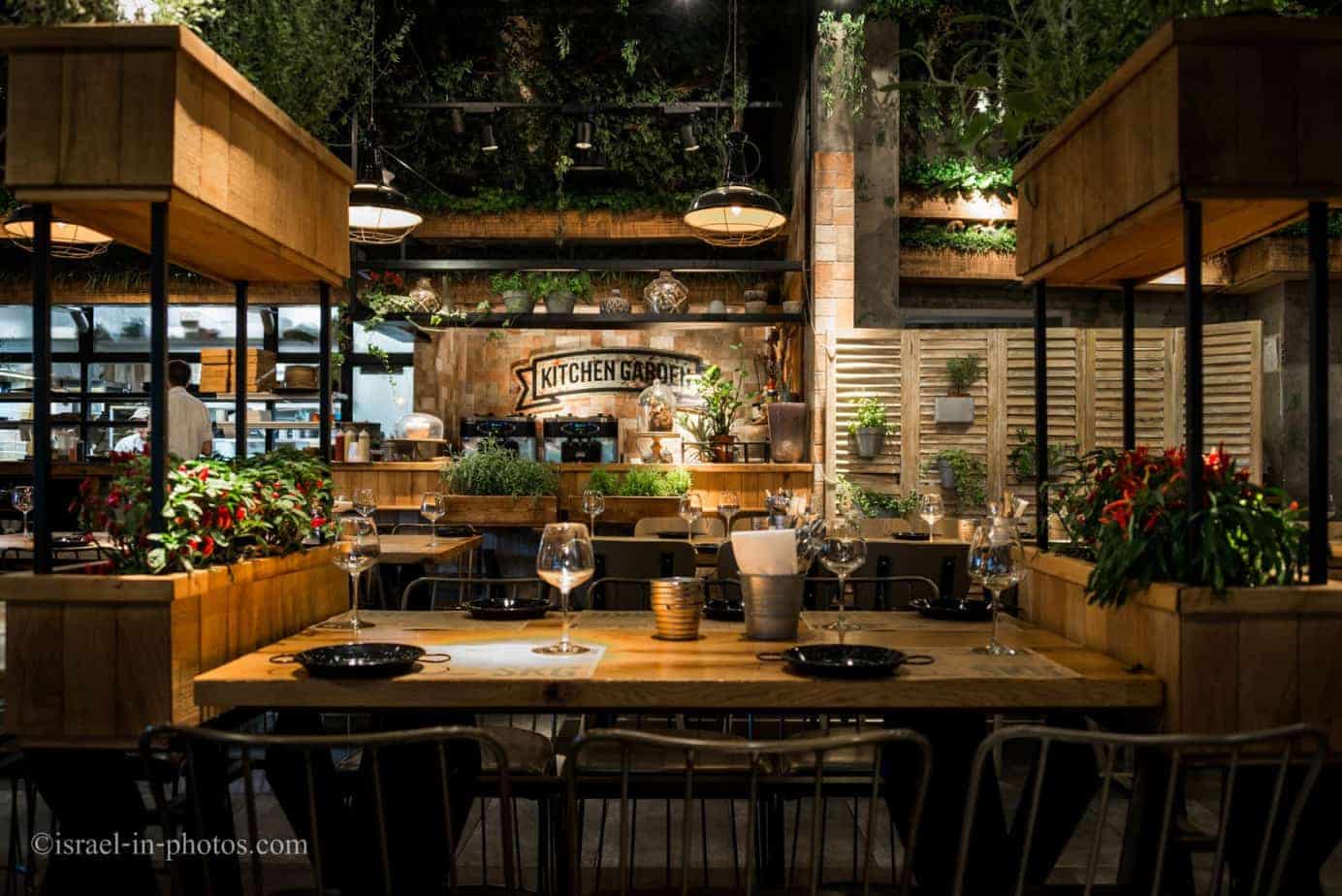 SegevArt in Herzliya
SegevArt restaurant is located Herzliya Pituah. And as you can understand from the name they emphasize the aesthetics of the meal. – This restaurant was closed.
During lunch time they offer a three-course meal for 125 NIS on weekdays or 155 NIS on Saturdays. Here are several photos from my meal.
Starters: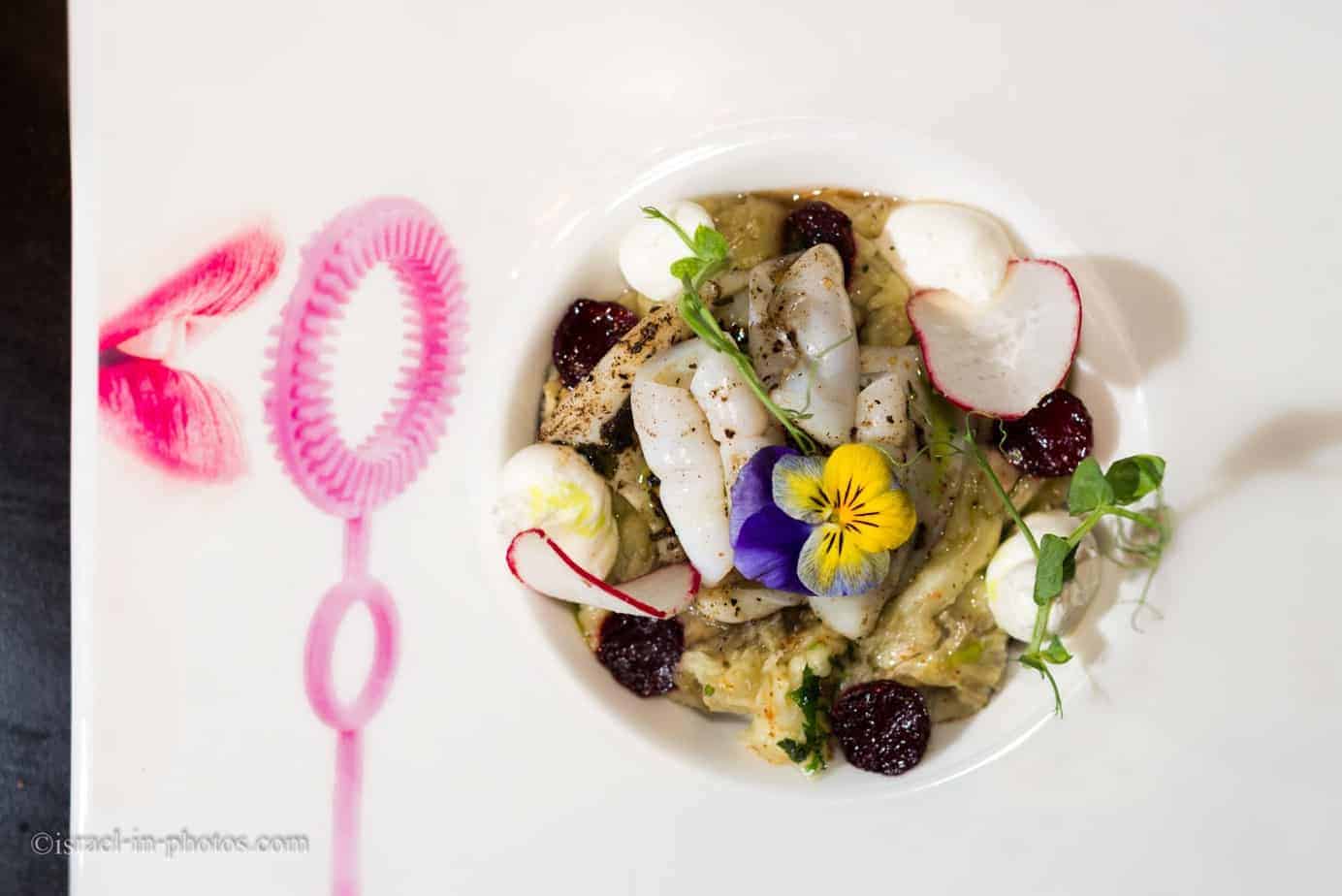 As you can see the plates are specially chosen for each meal.
While you choose the starters and the main dish from a dozen of options, you don't choose the intermediate course. It's usually something small just to freshen your senses.


My main course was Tuna with ravioli.

Though it might not look much, you get full after this meal. But since it was my Dad's birthday we also took desserts. Here is Pavlova:

That was both tasty and worth photographing 😉
Hummus
Many might argue that if you have not eaten Hummus in Israel then you did not try the Israeli kitchen.
Hummus is quite popular in Israel and there are many restaurants serving hummus (usually called humusioyot). But, not all of them are born equal.
The one my colleges and I visit is called Hummus Abu-Berkowitc and it is located at Ussishkin 9, Ramat Hasharon. Our favorite dish is hamshuka. It is a Hummus plate with a twist. Into the hummus, they add Shakshuka (eggs with tomato sauce).
Italian Kitchen
The Italian cuisine is popular in Israel. But many of the restaurants serve mediocre food. Our latest favorite Italian restaurant is NONO.
This restaurant is quite popular thus you need to book places in advance.
If you have any questions or comments please leave them in the comments below.
Bon Appetit and stay tuned!
If you are interested in food then check out food category. 
 
Additional Resources
Here are several resources that I created to help travelers:
And if you have any questions then check out Useful Information For Tourists To Israel.
 
Did not find what you were looking for? Leave a comment below, and I will do my best to answer your questions.