In recent years Hanukkah Tour in Jerusalem gained popularity. And in this guide, I will share my experiences.
While in 2016, there was one type of Hanukkah Tour, in 2017, there were already four different tour types. In this article, I will tell you about our visit to these tours.
Map
Directions for drivers: Link to Waze and Link to Google Maps
Directions for public transport: Link to Moovit
Interactive map of the area:
Offers:
Hotels, hostels, and apartments in this area:
Hanukkah Tour in The Old City of Jerusalem (2016)
About two weeks ago, my daughter told me they also mentioned Jerusalem as part of Hanukkah learning (in kindergarten). They were told that Jerusalem is wonderful during Hanukkah, and she would like to visit and see all the lights. Several days later, I saw a coupon for Hanukkah Tour in Jerusalem. It was a whole family tour, held not too late in the evening (18:00 till around 20:00). The ticket price was not high (42 NIS), and I decided to go for it.
We joined the Hanukkah Tour several days ago, and today I will tell you about it. But first, if you are interested in other attractions in Jerusalem, check out the Jerusalem page.
The Beginning of the Hanukkah Tour
Like most tours, the meeting point was Jaffa Gate, just outside the old city.
Hanukkiah and the Tower Of David (n the background):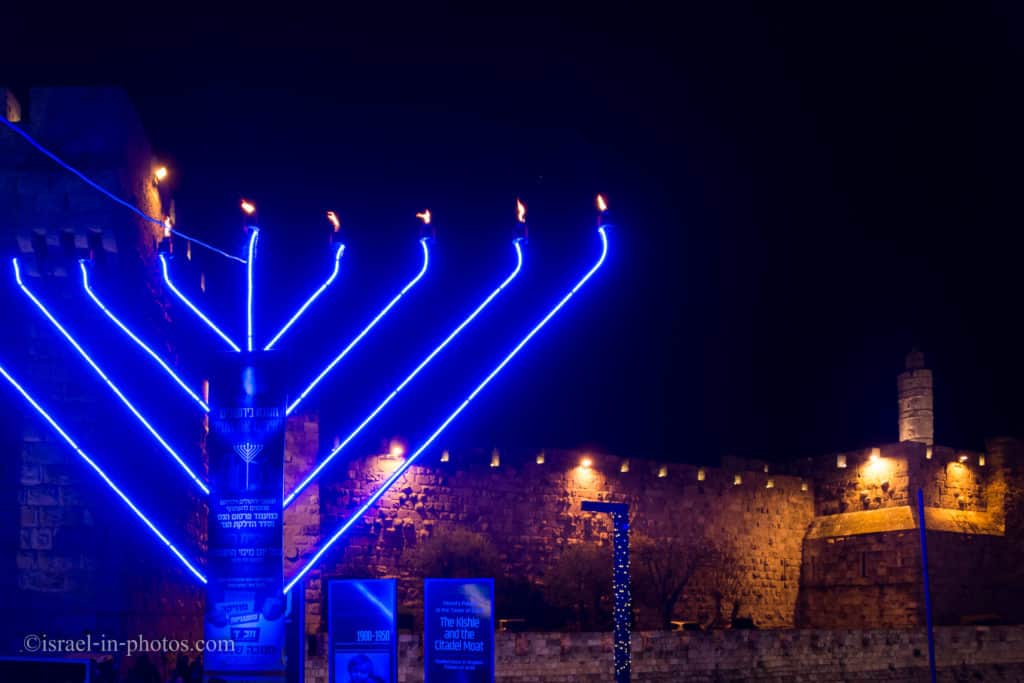 We arrived five minutes before 18:00, registered, and the tour started at 18:15 (this gave us just enough time to stop by the public restroom next to Jaffa gate).
Our tour stickers. We were the green group: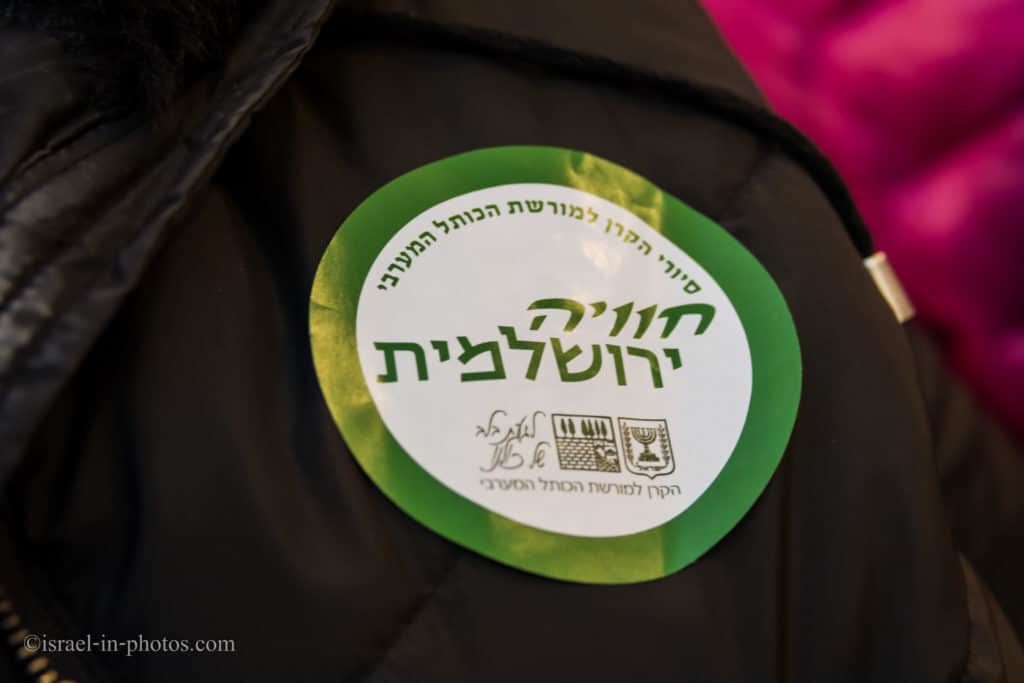 After Jaffa Gate, our next stop was the Tower Of David:
At these stops, we got a lot of background information about Jerusalem and Hanukkah.
A view into one of the alleys: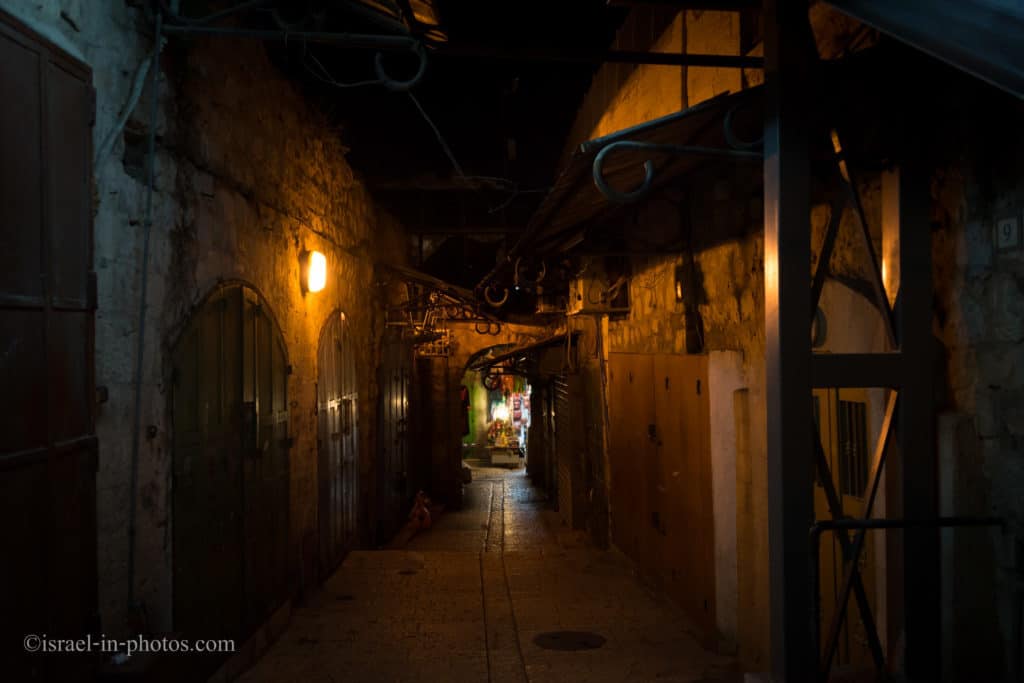 Then we went to the roofs of Jerusalem and talked about the Hanukkah miracle. There are two versions of what the miracle was. Either the small jug was magically refilled each night, or the oil was divided into eight small portions, and each small amount, which should not last a day, was burning the whole day.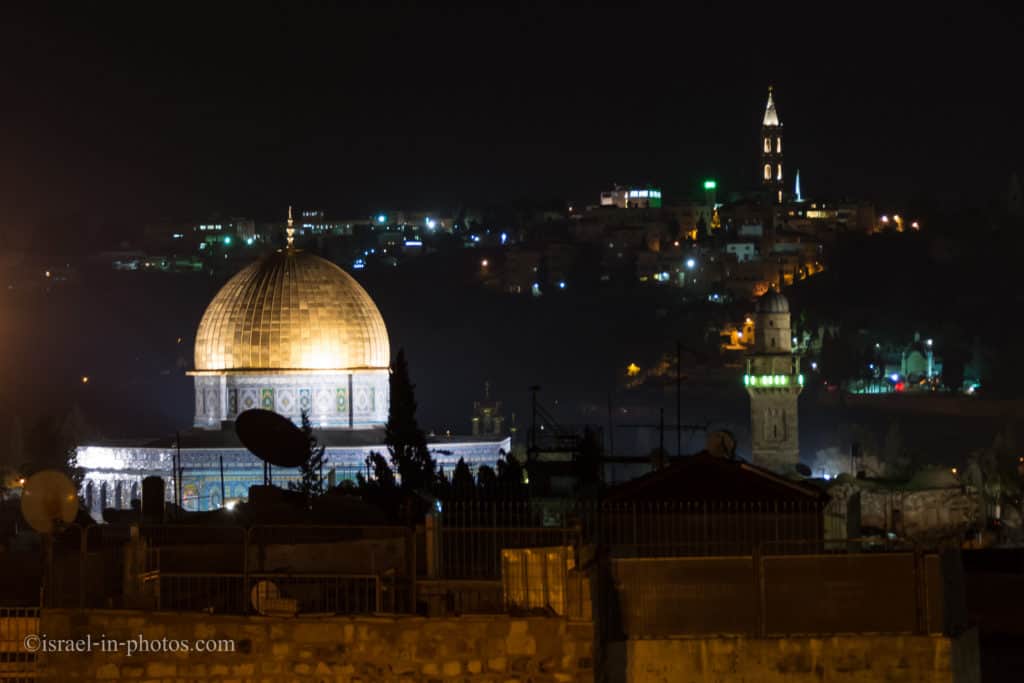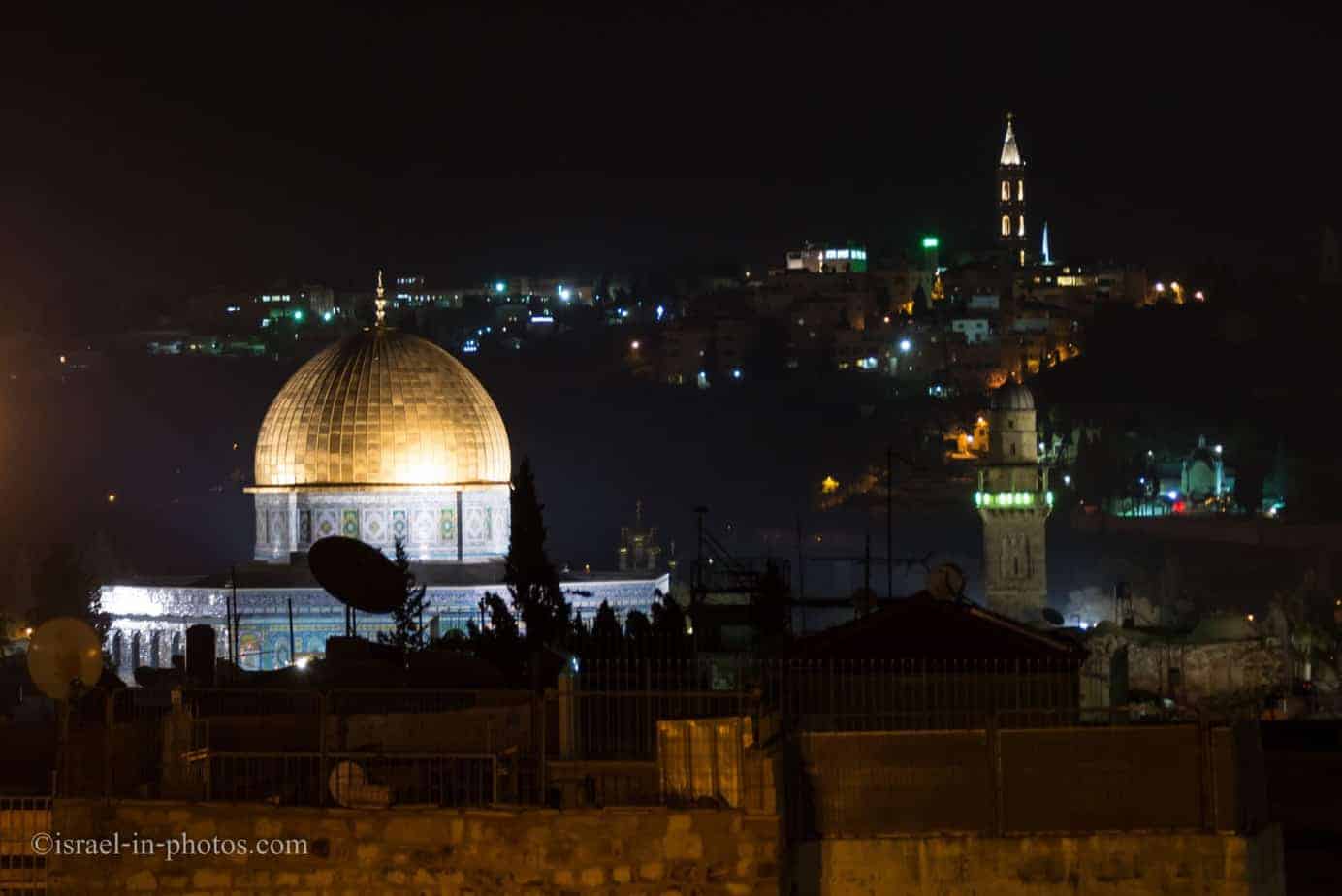 Then we talked about oil. There was a lot of olive oil inside the Temple, but when non-Jews touched it, it became impure and could not be used. Greeks removed the seals from all oil jugs, and the oil became impure. Judah Maccabee could say that it was an imperative move and use impure oil, but he decided to show the strength of faith and use only pure oil. And this leads us to our next question: "Why does Hanukkah last eight days?" Eight days is the time it took to go from Jerusalem to Galilee and bring pure oil, which means that after eight days, they would have plenty of pure oil.
At the Jewish Quarter
Then we walked around the Jewish quarter and talked about hanukkiahs: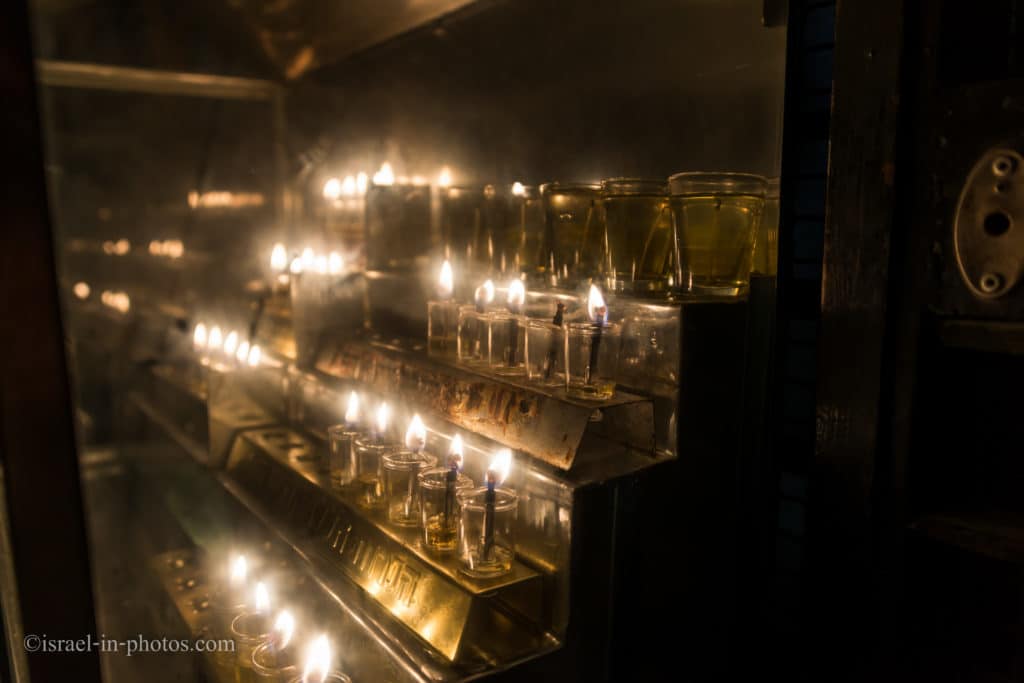 According to tradition, if you live on the ground floor, you put Hanukkiah to the left of the entrance, and if you live on higher floors, you put Hanukkiah on the window sill. Why to the left of the door? Mezuzah is always on the right side (when looking from the entrance). Thus, if you put the Hanukkah menorah on the left, the people who enter will be wrapped from both sides with holiness.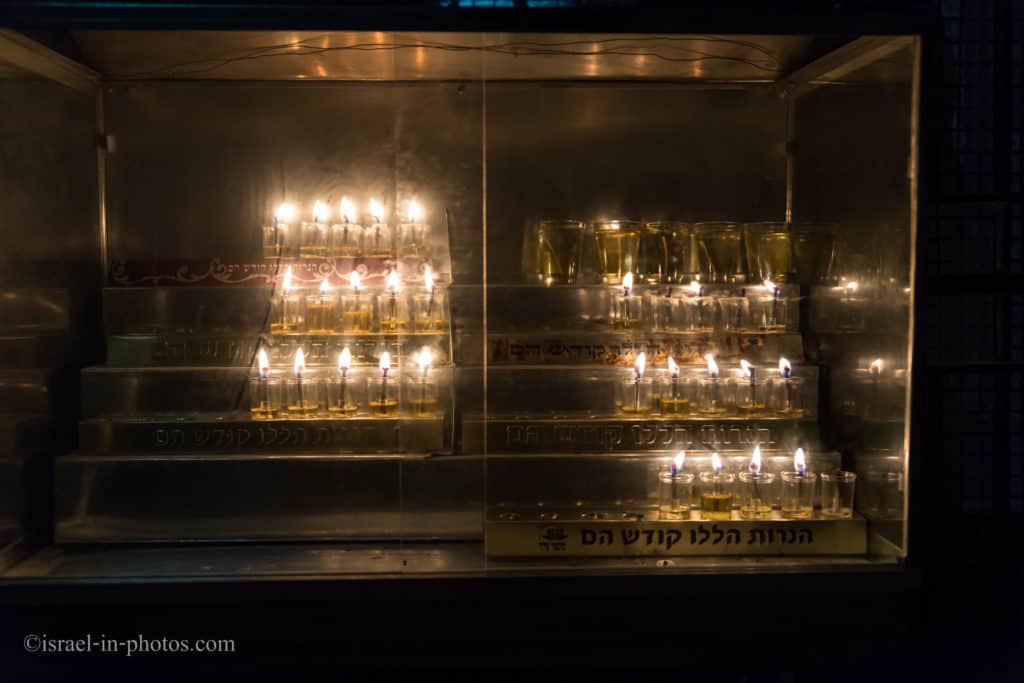 Who lights the Hanukkiah? There is a difference between Ashkenazi and Sephardi Jews. In Sephardi families, the father of the family lights the Hanukkiah. And at Ashkenazi, everybody can light a hanukkiah.
Moreover, since lighting the Hanukkiah is considered a blessing, each family member can light their own. Thus, if you look at the photo above and see seven hanukkiahs, this can mean seven Sephardi families or one Ashkenazi family (or something in between).
In the old city alleys: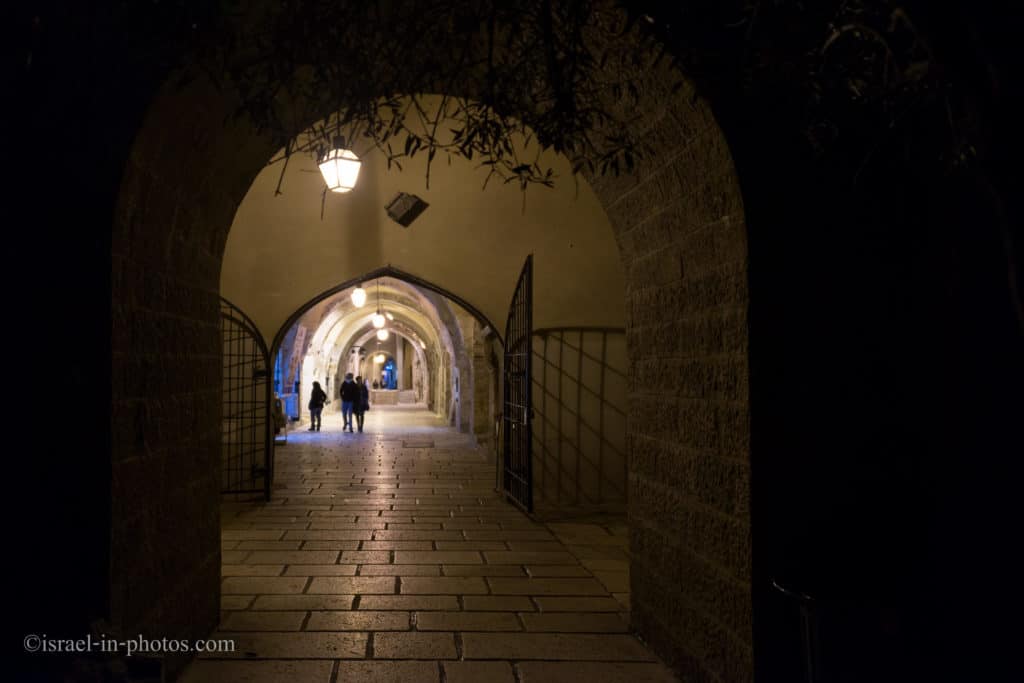 After about 90 minutes into the tour, we went to a local bakery and were treated to doughnuts.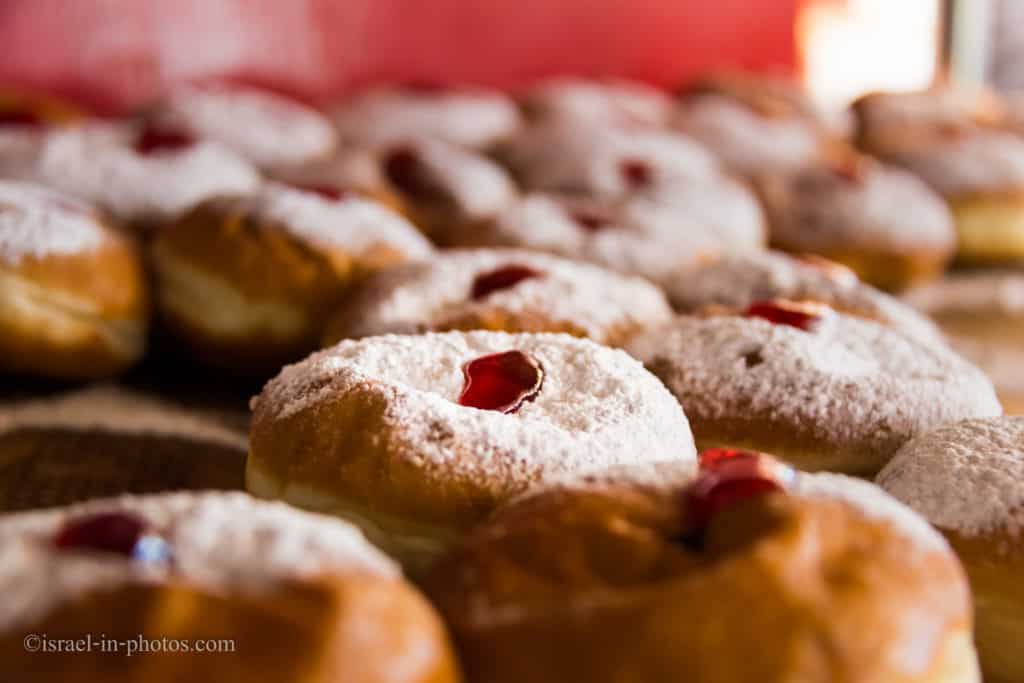 Four Sephardic Synagogues
Our next stop at this Hanukkah Tour was Four Sephardic Synagogues. In Yochanan ben Zakai Synagogue, two performers were waiting for us.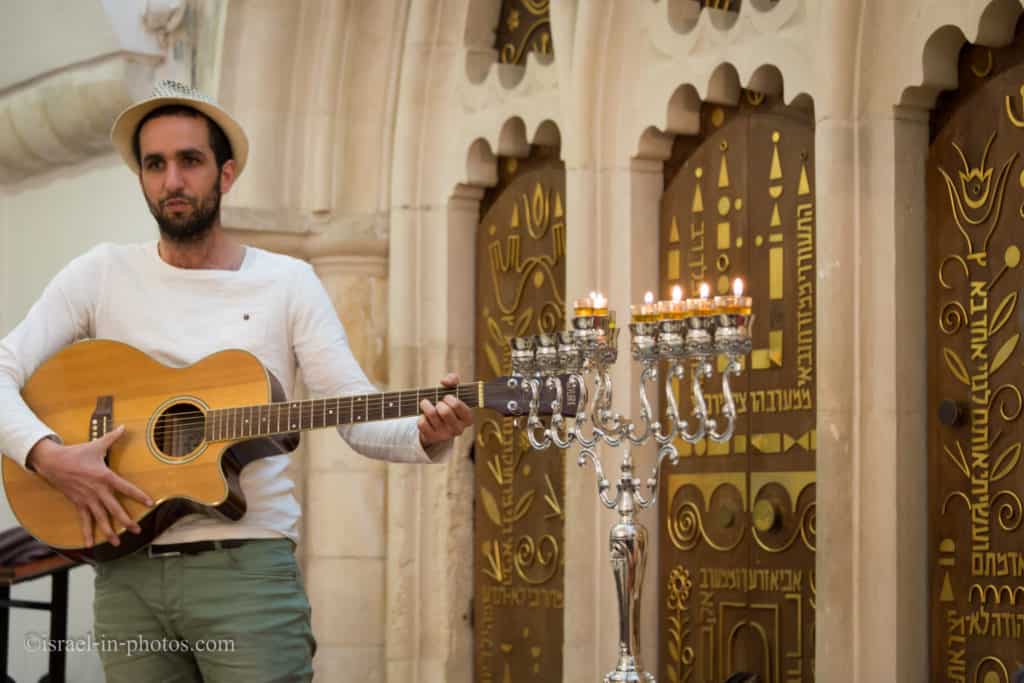 We lit oil candles and then listened to and sang Hanukkah songs.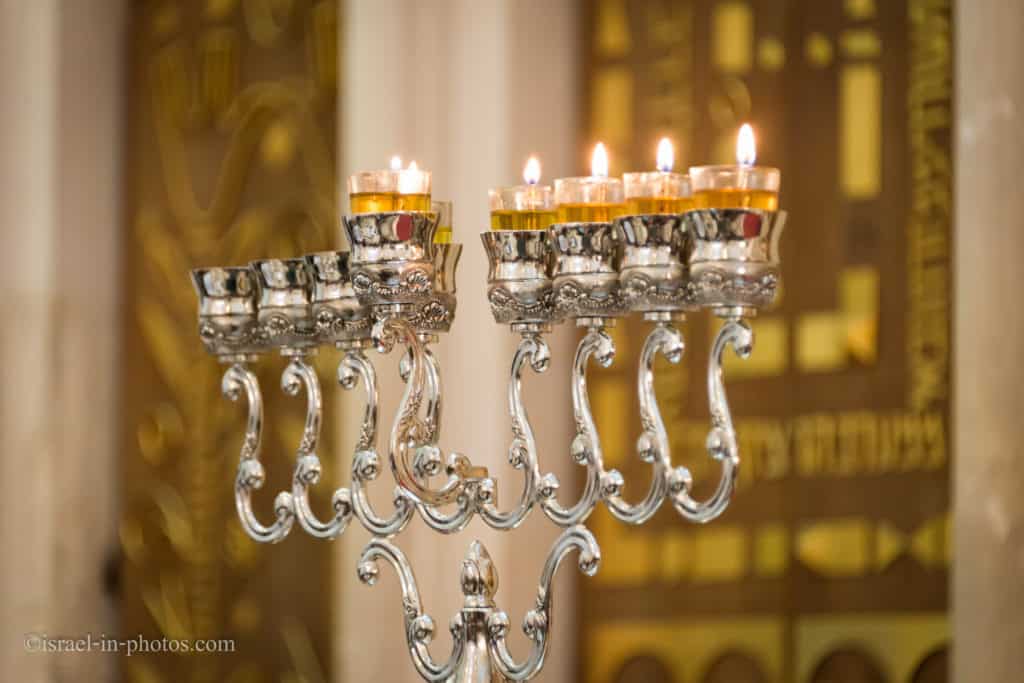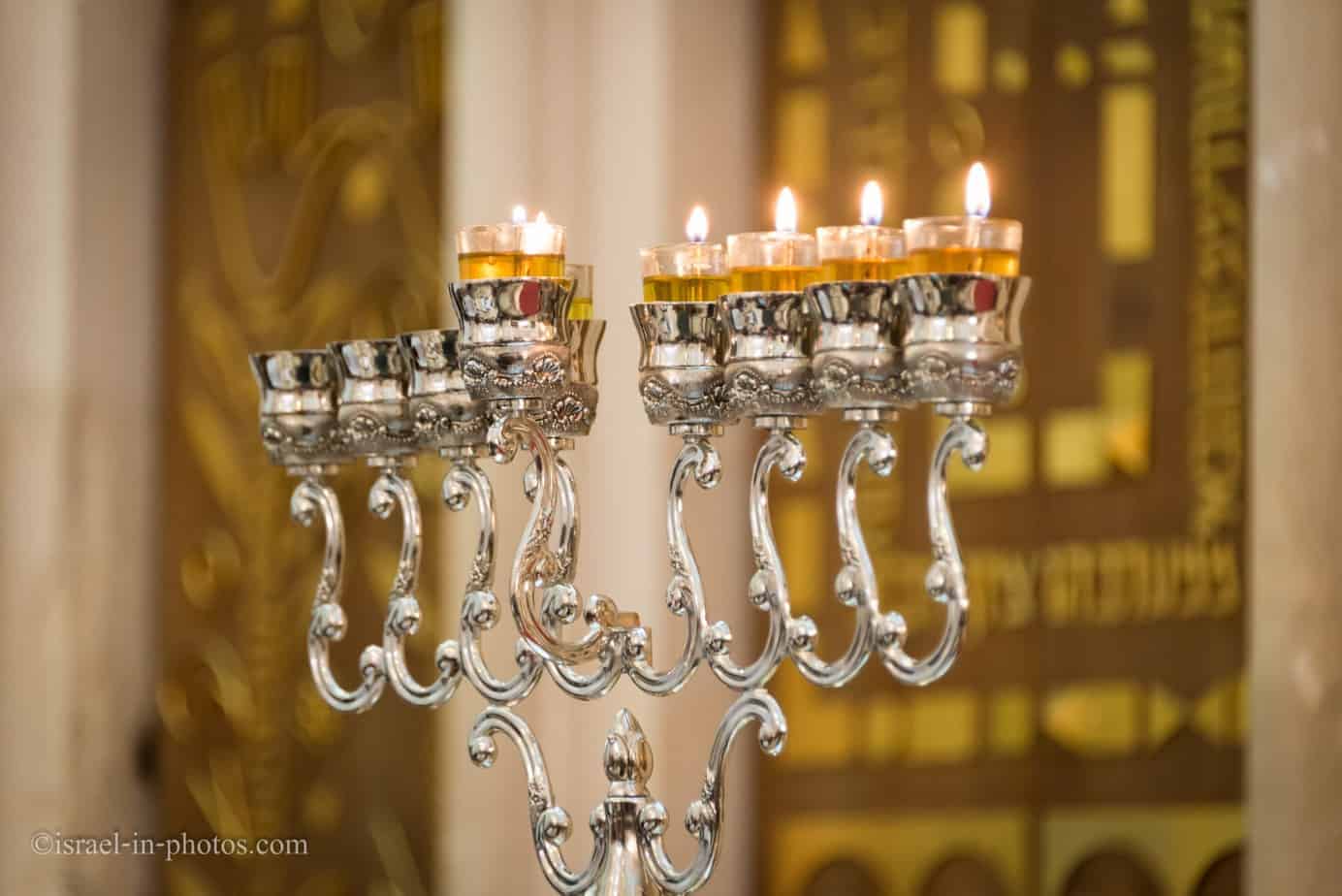 The Ending
Our last two stops were Hurva Synagogue and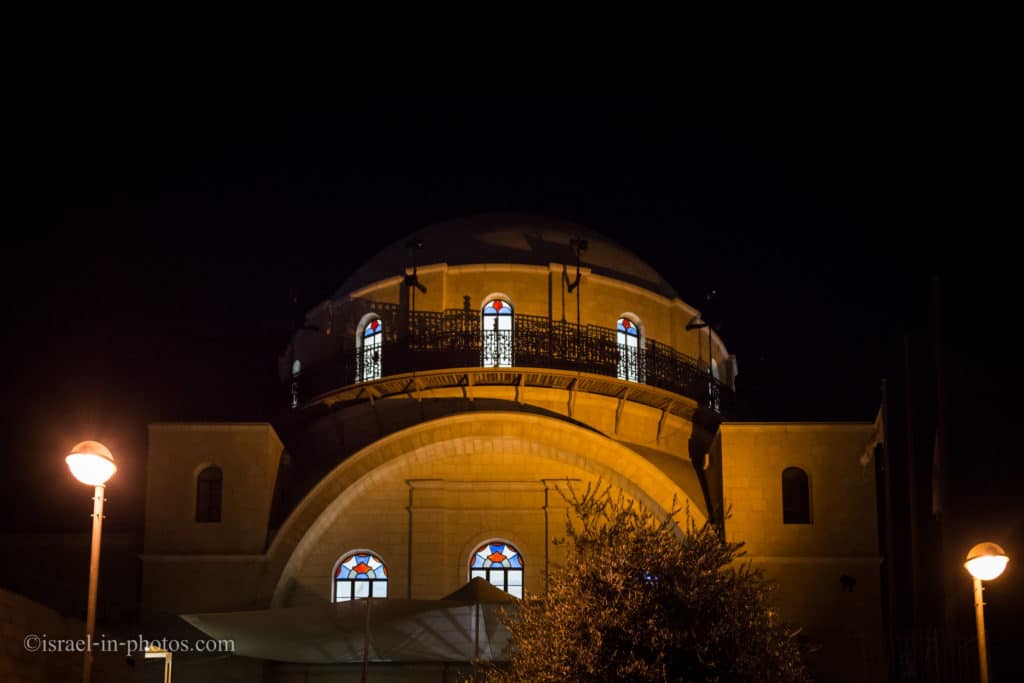 gold-plated menorah on the way to the Western Wall.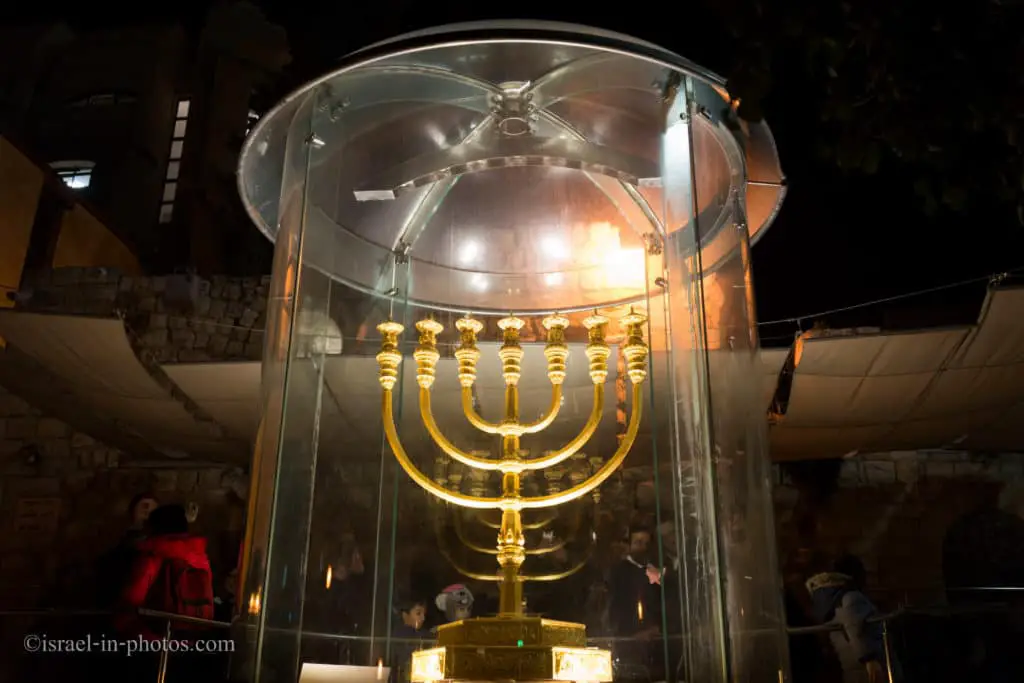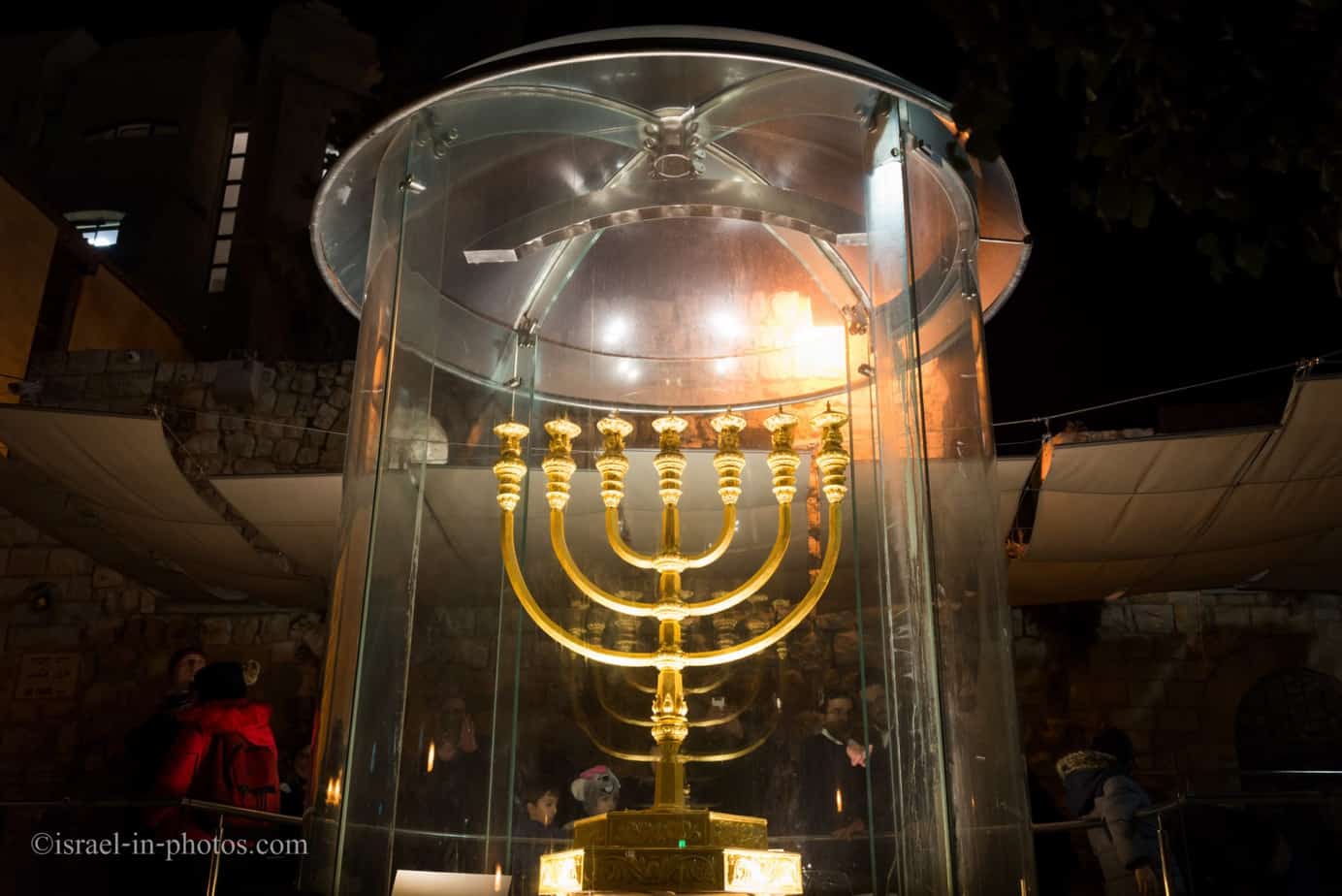 View of the Western Wall and Dome of the Rock:
Our Hanukkah Tour ended at the Western Wall plaza, and we said goodbye to our guide. This was around 20:30, and we continued to the Western Wall.
The big Hanukkiah next to the Western Wall: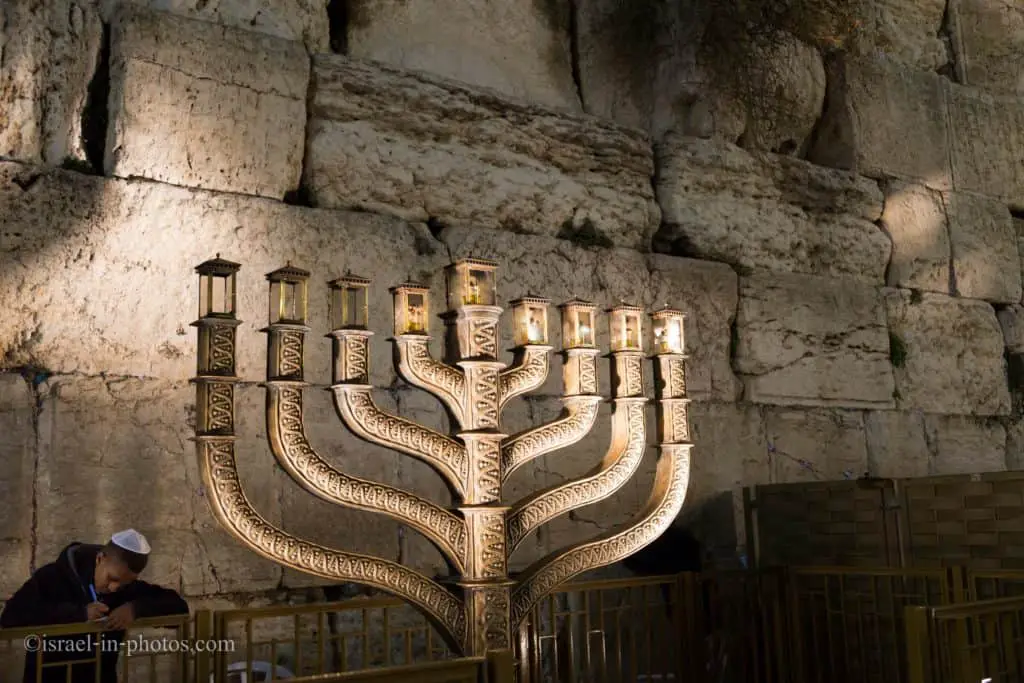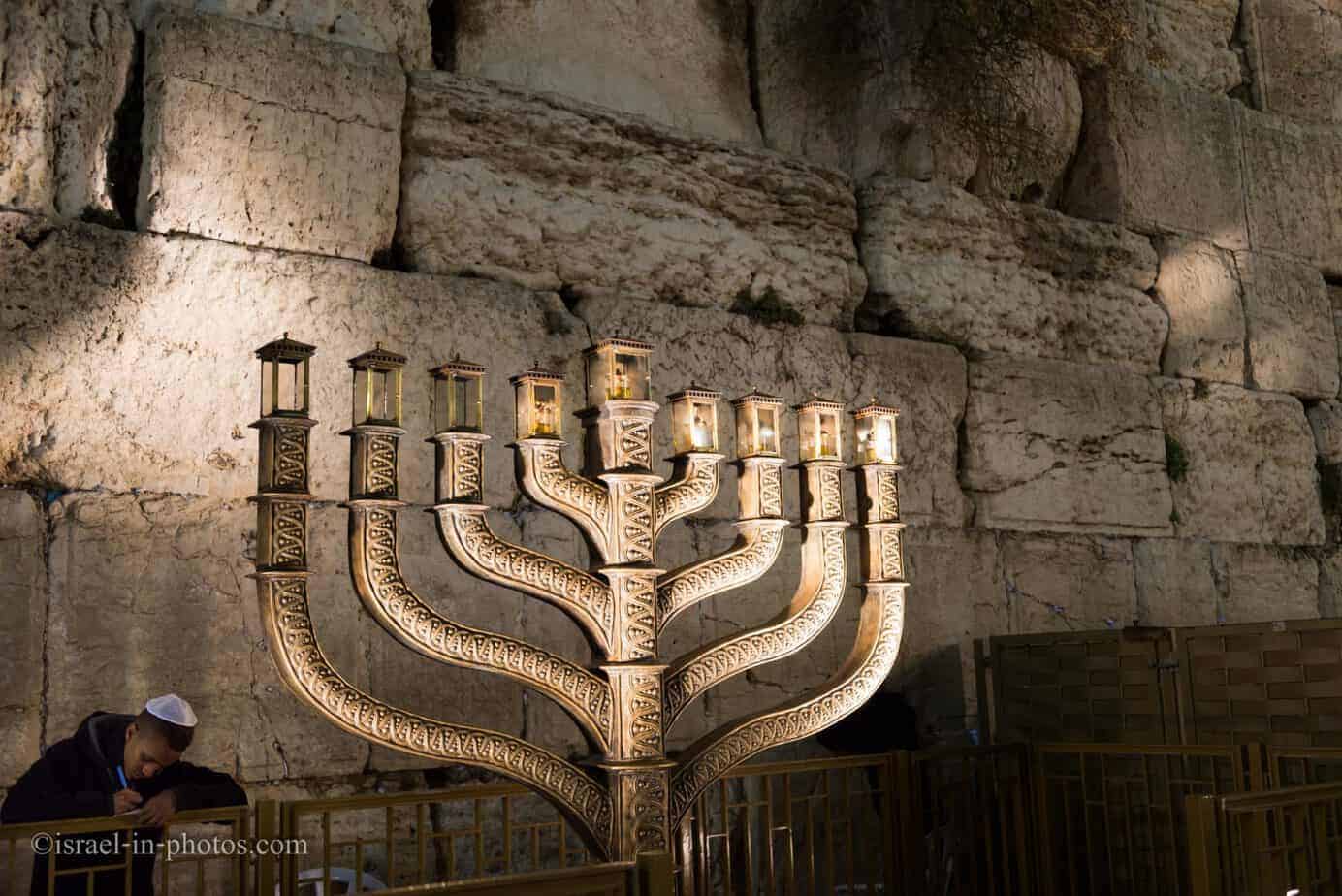 That was our last point of interest for that day. From there, we returned to Mamila parking.
Hanukkah Western Wall Tunnels Tour (2017)
In 2017, we wanted to try something different. Thus we joined the Western Wall Tunnels Tour. I preordered tickets online, and on the third candle of Hanukkah, we joined a tour at 17:00.
We parked at Giv'at HaTahmoshet and used the light train to arrive at the old city (you can find directions in the guide to the Old City Of Jerusalem).
The tour started at the Western Wall Tunnels. Thus, we hurried there. You can find additional info at Western Wall Tunnels.
Western Wall
We exited the tunnels and headed to a viewpoint next to the Western Wall.
We received some more explanations, and at this point, about ninety minutes after the tour started, it was the end.
When the tour ended, we headed to the Western Wall and the Jewish Quarter.
After coffee with some sweets, we walked through the Jewish quarter and looked at different Hanukkiahs.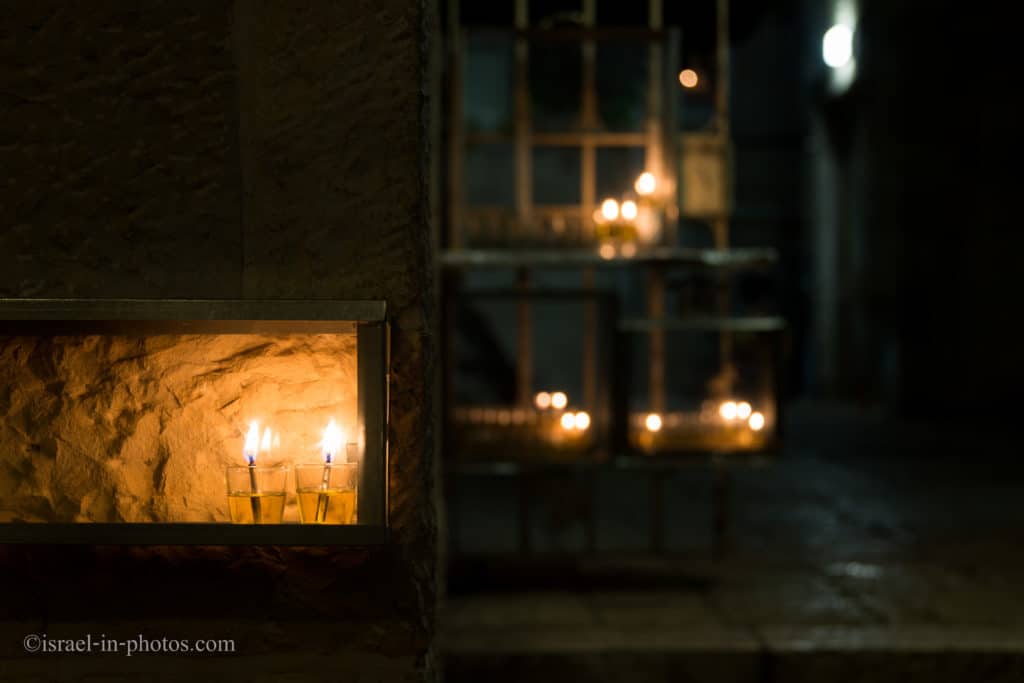 But it was getting late, so we returned to the light train station.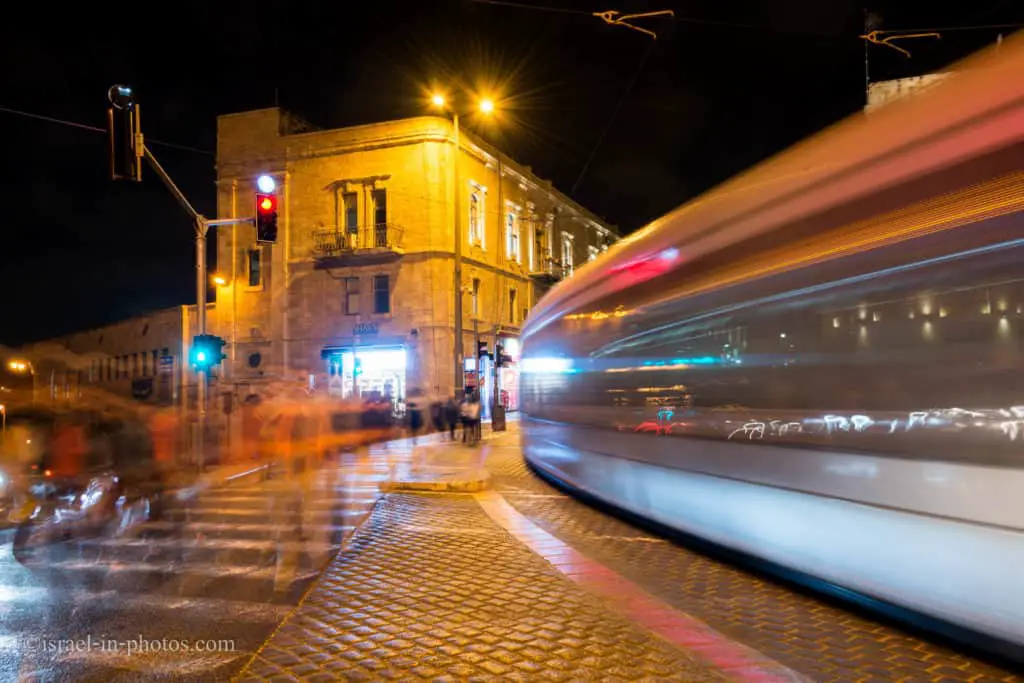 Summary
Overall, Hanukkah Tours are lovely. And I would recommend it to adults and families with older children. Remember that in some cases, Hanukkah is just an excuse, and the tour has little to do with the holiday. If it is acceptable to you, join one of the tours.
Both tours we visited were unsuitable for preschoolers and somewhat fit for elementary. Thus, I would recommend the Old City tour for families with younger children.
I want to finish today's post with a modern explanation of the Hanukkah miracle (I saw this somewhere on social networks): "Imagine you have a 10% battery on your phone, and it is enough to keep your phone alive for eight days."
That's all for today, and I'll see you in future travels!
Stay Tuned!
For additional nearby attractions, check out Jerusalem.
Additional Resources
Here are several resources that I created to help travelers:
And if you have any questions then check out
Useful Information For Tourists To Israel
.  
Did not find what you were looking for? Leave a comment below, and I will do my best to answer your questions.