Galita Chocolate Farm has two branches. And besides purchasing handmade chocolate, you can join tasty workshops.
Map
Galita Chocolate Farm has two sites: Kibbutz Degania Beit and Tzuba (near Jerusalem). In this article, we will visit both.
The first Galita Chocolate Farm is located in Kibbutz Degania Beit, close to the Sea of Galilee. And while driving there, we stopped at a small viewpoint overlooking the southern shore of the Sea of Galilee.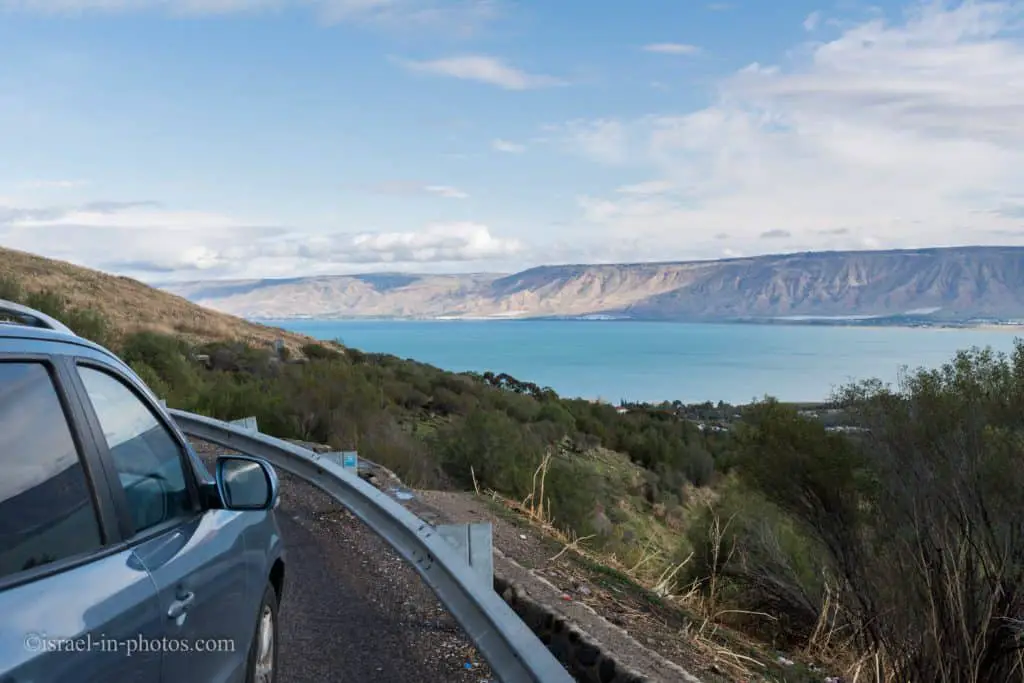 Directions for drivers: Link to Waze and Link to Google Maps
Directions for public transport: Link to Moovit
Interactive map of the area:
Offers:
Hotels, hostels, and apartments in this area:
And Galita in Tzuba is located near Kiftzuba.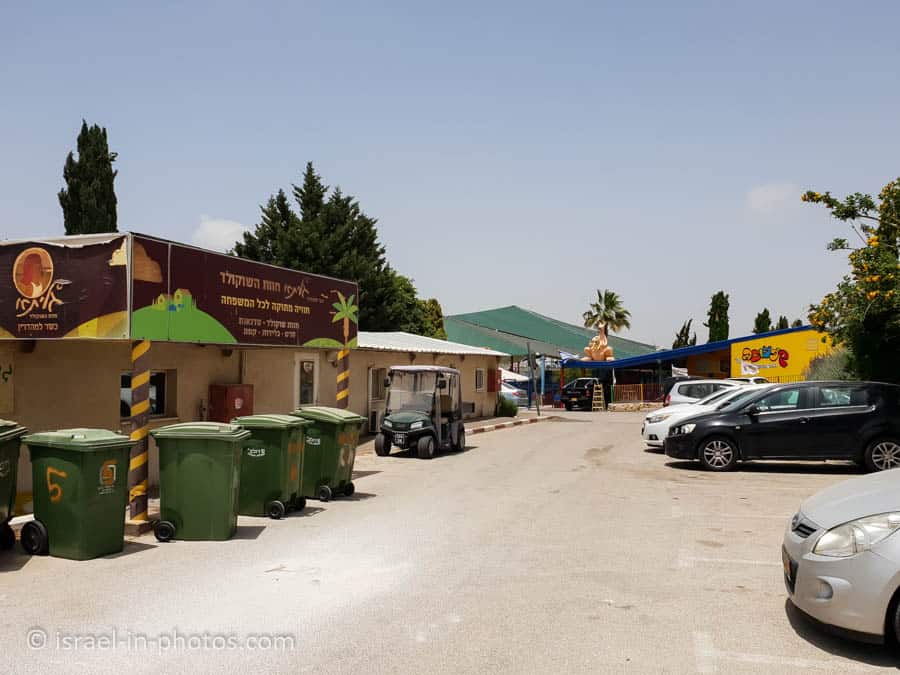 Directions
If you are driving, enter "Galita Chocolate Farm" or "Kibbutz Degania Beit" into Waze, and it will take you there. Galita is located near the entrance to the Kibbutz (you will see signs on-site). The directions to Galita in Tzuba are similar. And in both places, there are plenty of free parking spaces by the entrances.
And if you are using public transport to reach Kibbutz Degania Beit, here is the link to Moovit. I already preset it to give directions from Haifa to Degania Beit. And if you are starting from another point, enter it to get the updated directions.
Opening Hours
As mentioned above, Galita Chocolate Farm has two sites.
Degania Opening Hours
Sunday – Thursday, Saturday, and holidays: 10:00 – 18:00
Friday and holiday eves: 10:00 – 16:00
Note that the opening hours at the official site and on the following sign are a bit different.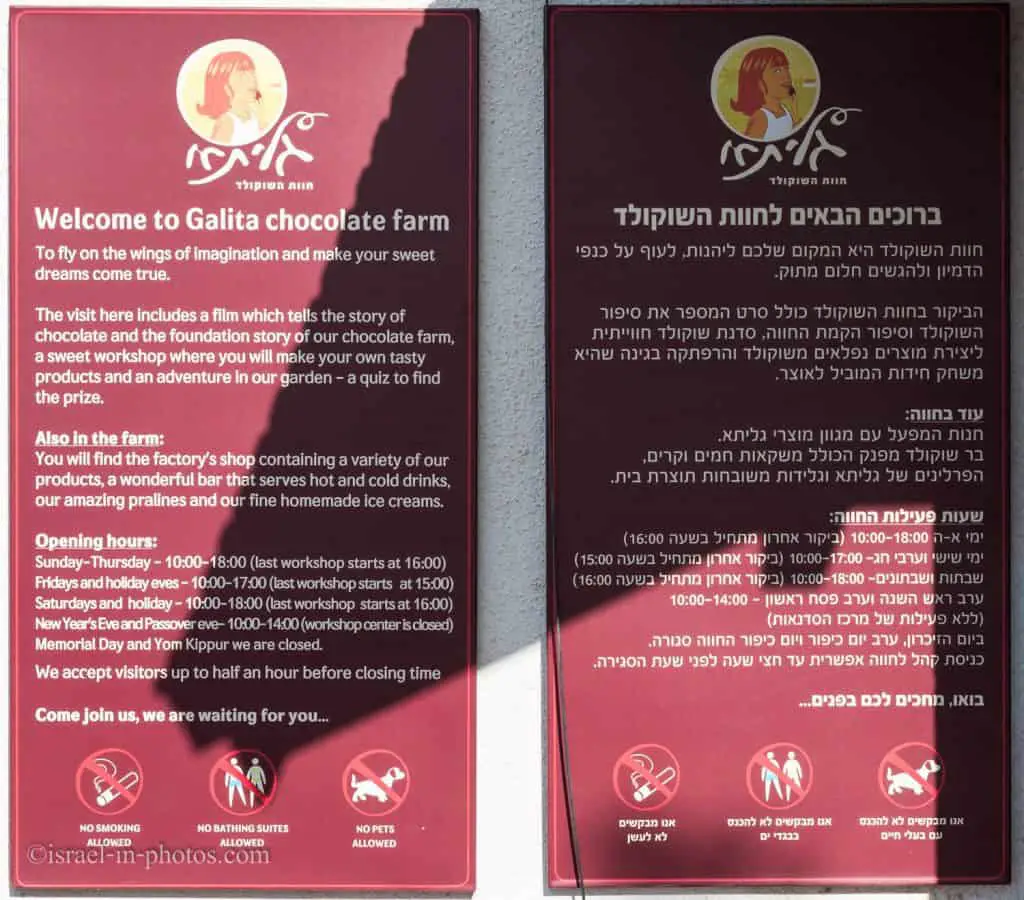 Tzuba Opening Hours
Sunday – Thursday: 10:00 – 18:00
Friday and holiday eves: 10:00 – 16:00
Saturdays and holidays: closed.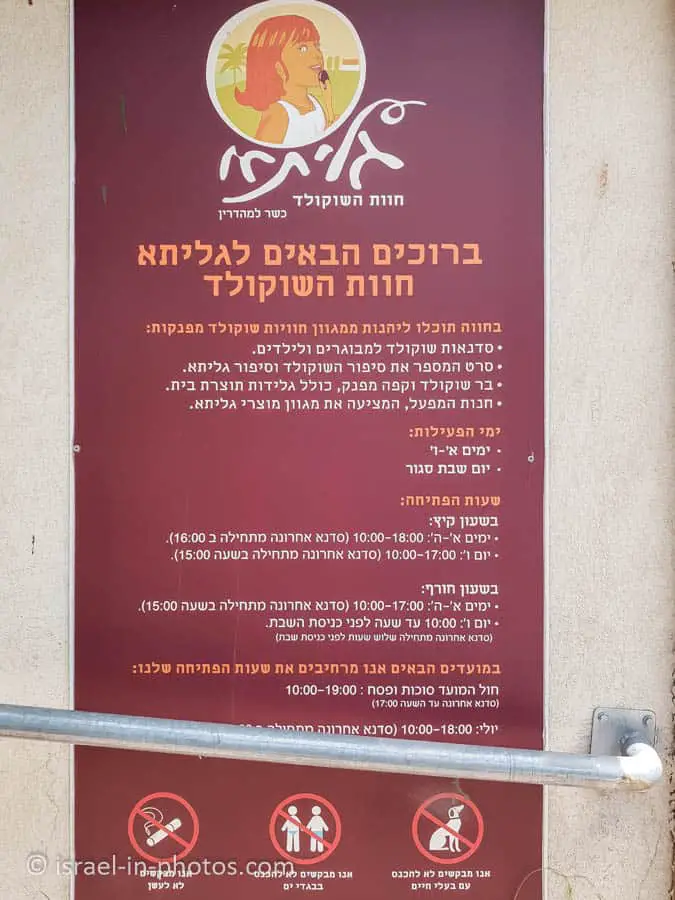 But since you can book places for workshops through the official site, I would recommend doing so instead of arriving at Galita. It is a popular attraction, and if you visit spontaneously, you might find no free spots in workshops.
Entrance Fee
As of May 2022, the prices per workshop are 99 NIS per participant and 49 NIS per escorting parent. The participant goes through the total workshop activity, and the escorting parent creates a chocolate lollypop during the workshop. We purchased a participant ticket for our daughter and escort tickets for ourselves. But since the activity suits all ages, you can also participate if you want.
Coupons
When booking workshops through the official site, you will see a list of all clubs that offer discounts. For example, you can buy discounted tickets for 78 NIS through Visa Cal. American Express offers 10% discounts for workshops. And other credit cards and clubs have their offers. Thus, search online for coupons before visiting.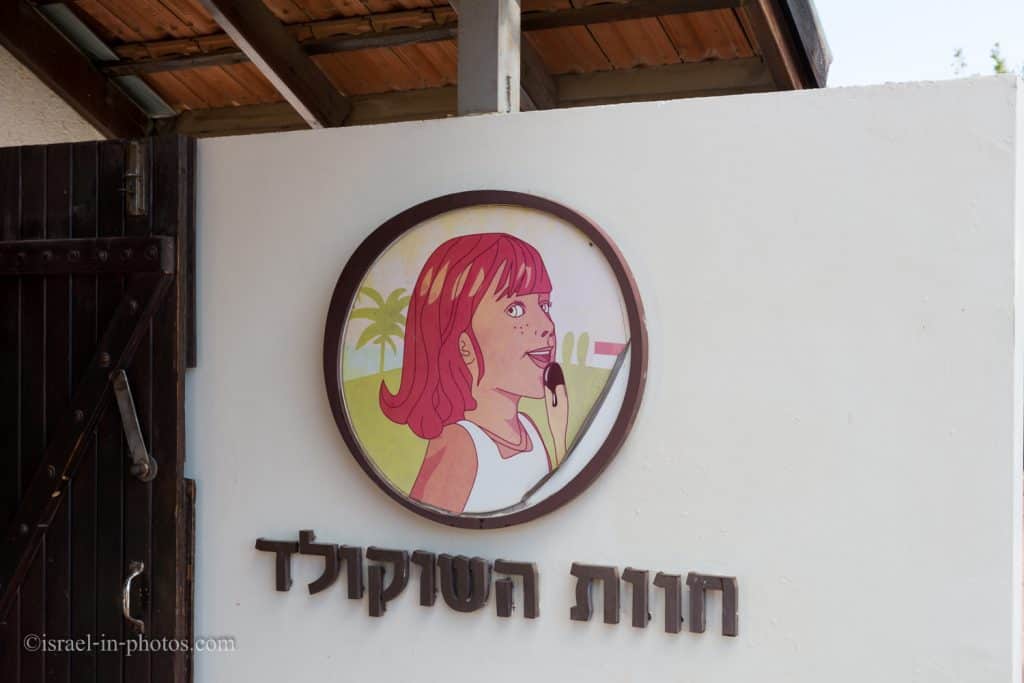 Store
When entering the main building of Galita, you will see a store.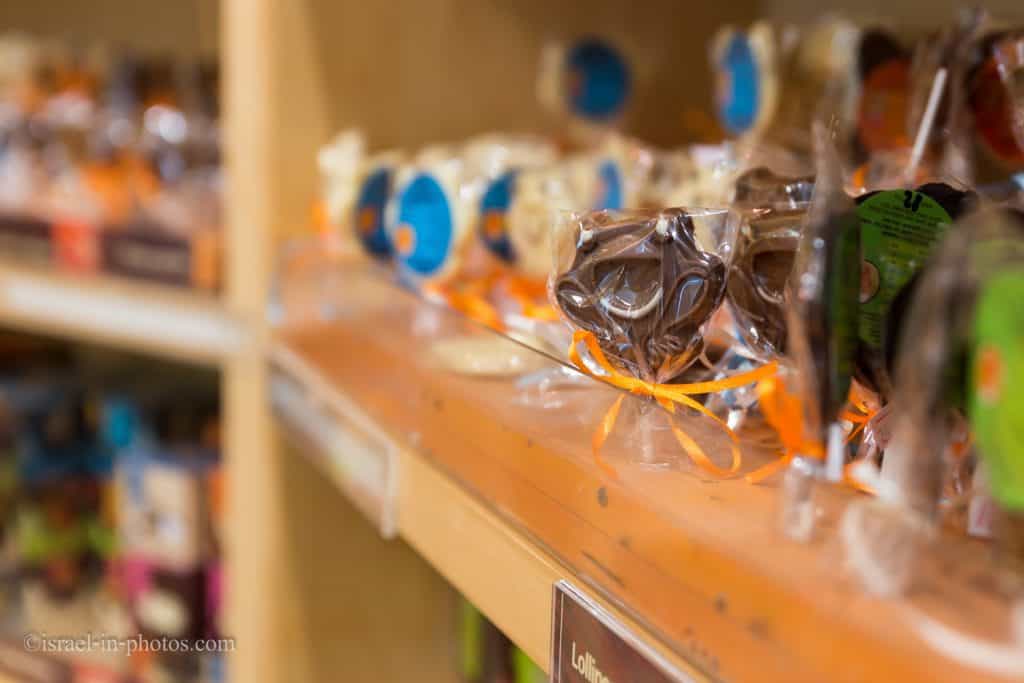 You can find various chocolate products, hot drinks, and cold beverages in the store. But the selection is not extensive. Moreover, it is somewhat limited.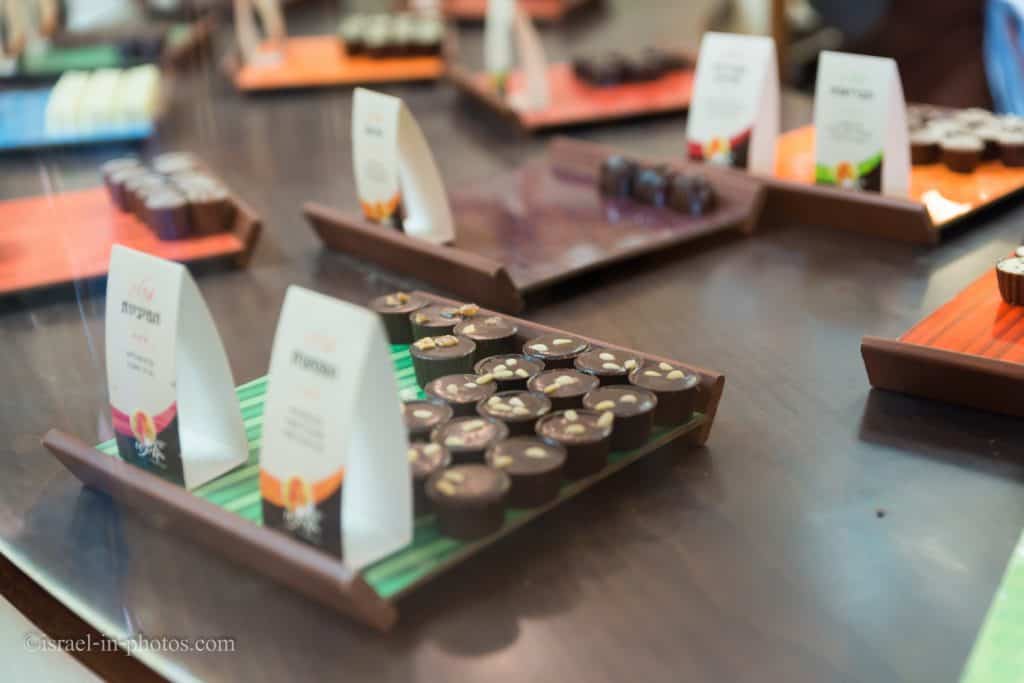 Plus, you can also find an ice cream stand.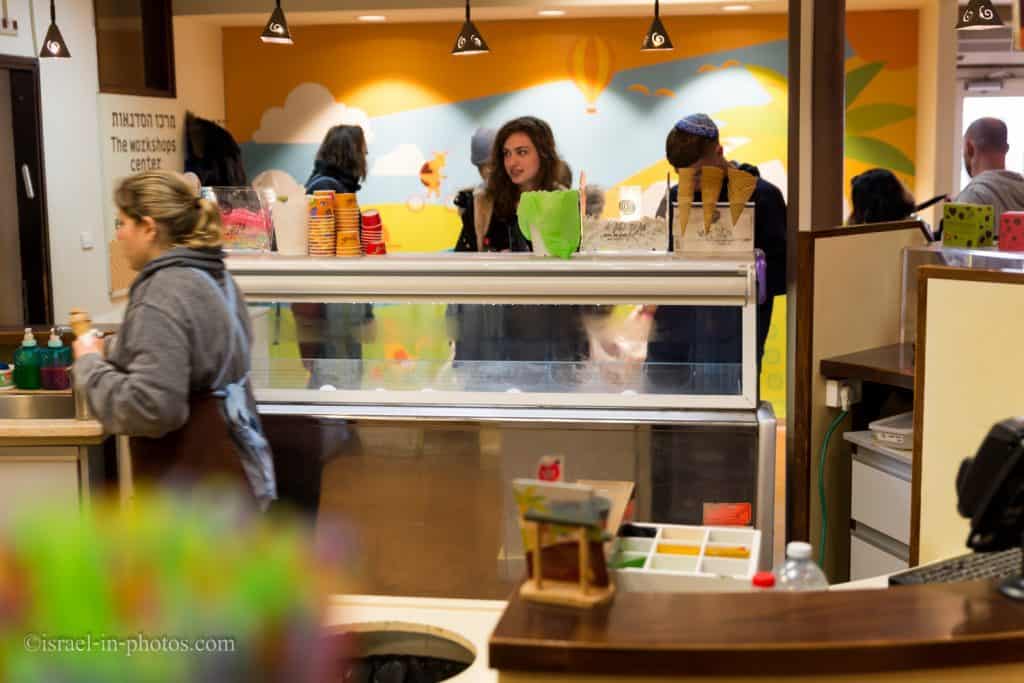 Workshop
Since I prebooked tickets for a workshop, we headed straight to the cashier. In front of the cash desk, you can see four chocolate crafts. And when purchasing a ticket for the workshop, you select which of the crafts you will be creating. During one of our visits, my daughter chose the house (top left).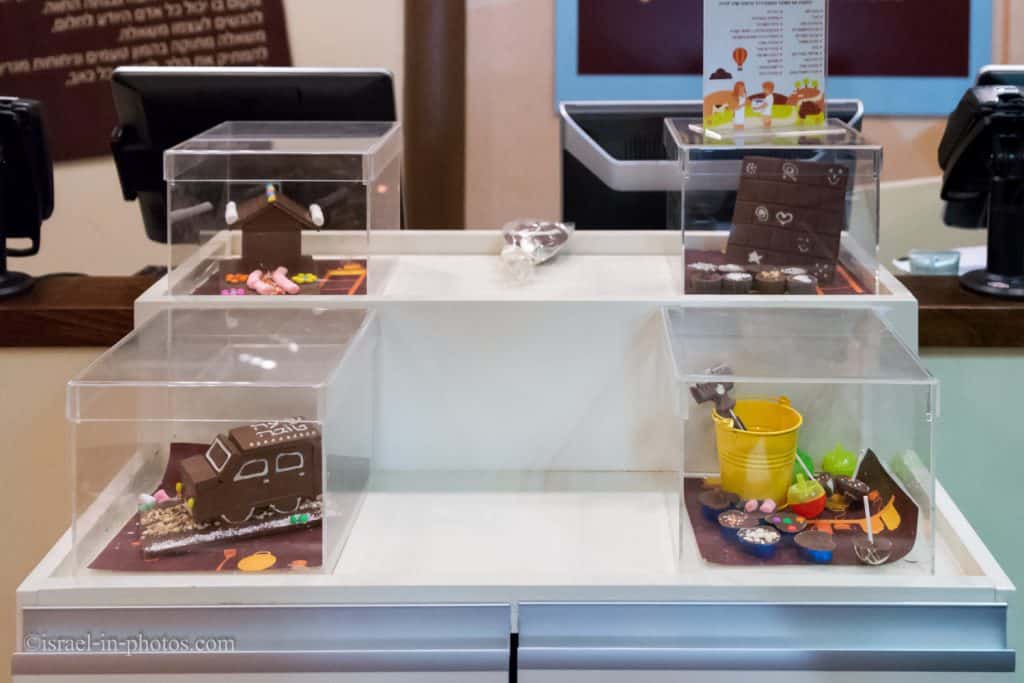 Short Film
The workshop starts with a short film. It tells the story of chocolate and a little about Galita.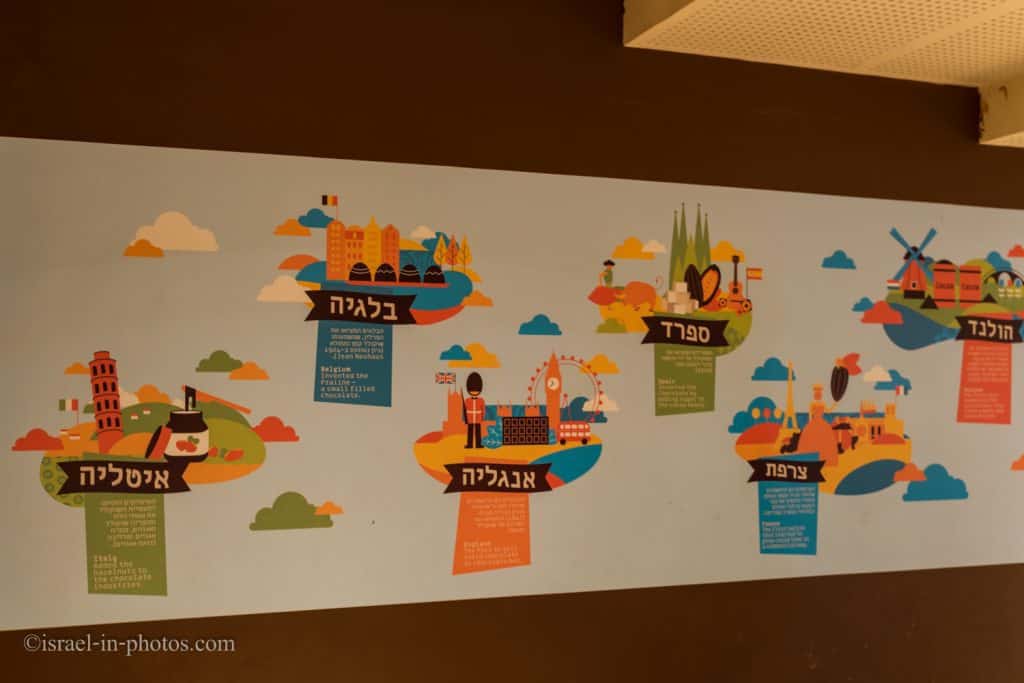 I did not know that Praline – small-filled chocolate was invented in Belgium. And England was the first to see solid chocolate as a chocolate bar.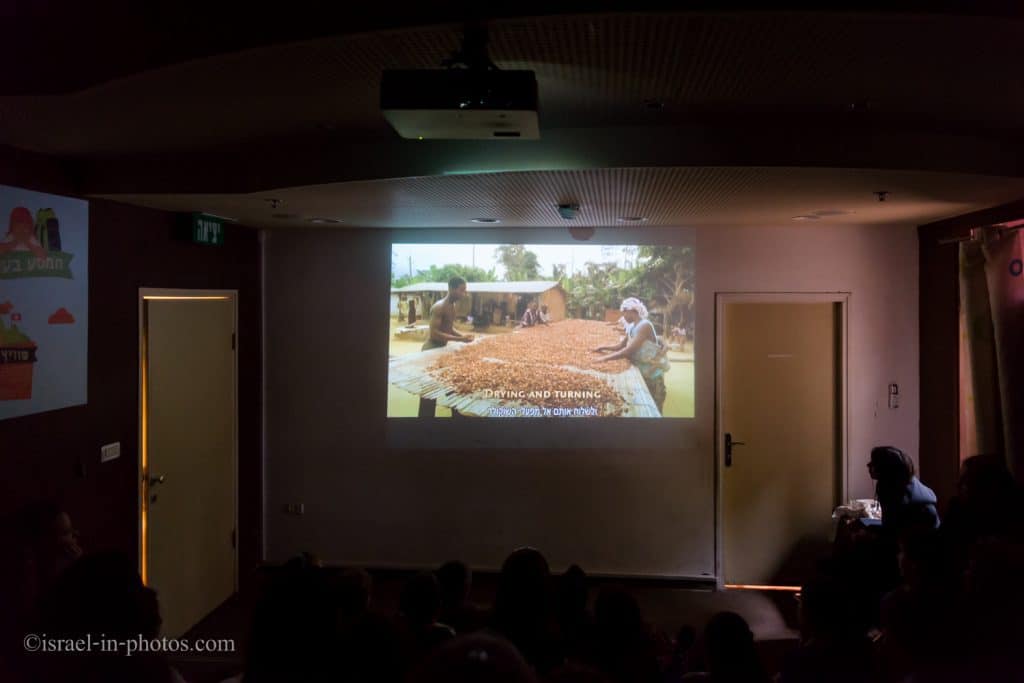 Chocolate Workshop
We headed to the nearby building for our workshop when the short movie ended.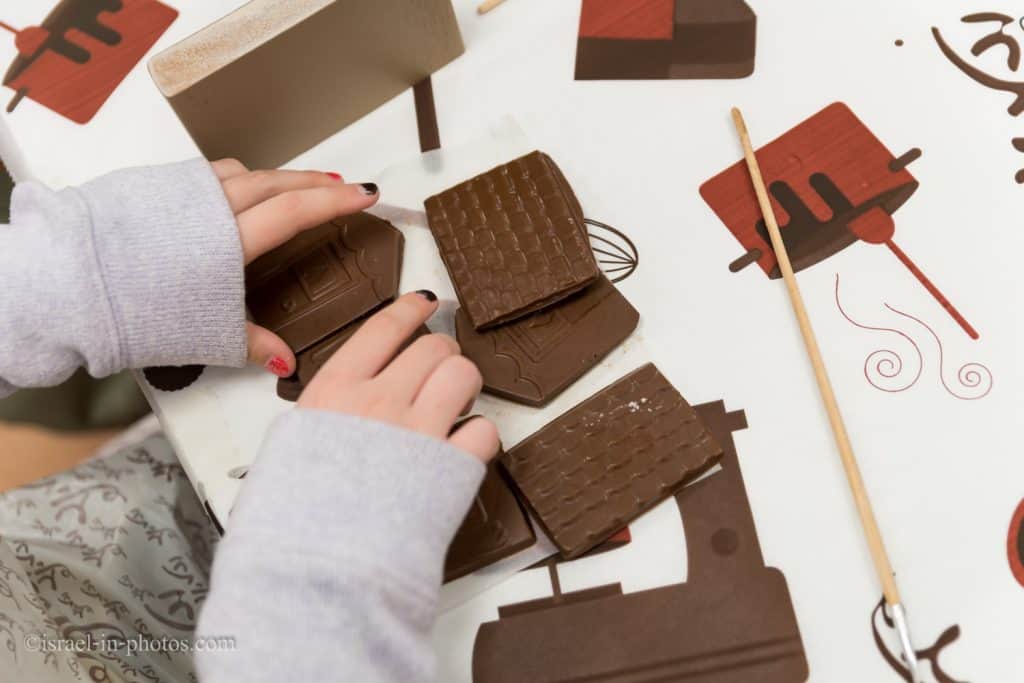 Since my daughter selected the house craft, the relevant pieces were waiting for her. And after receiving a short explanation, she started gluing the walls using melted chocolate.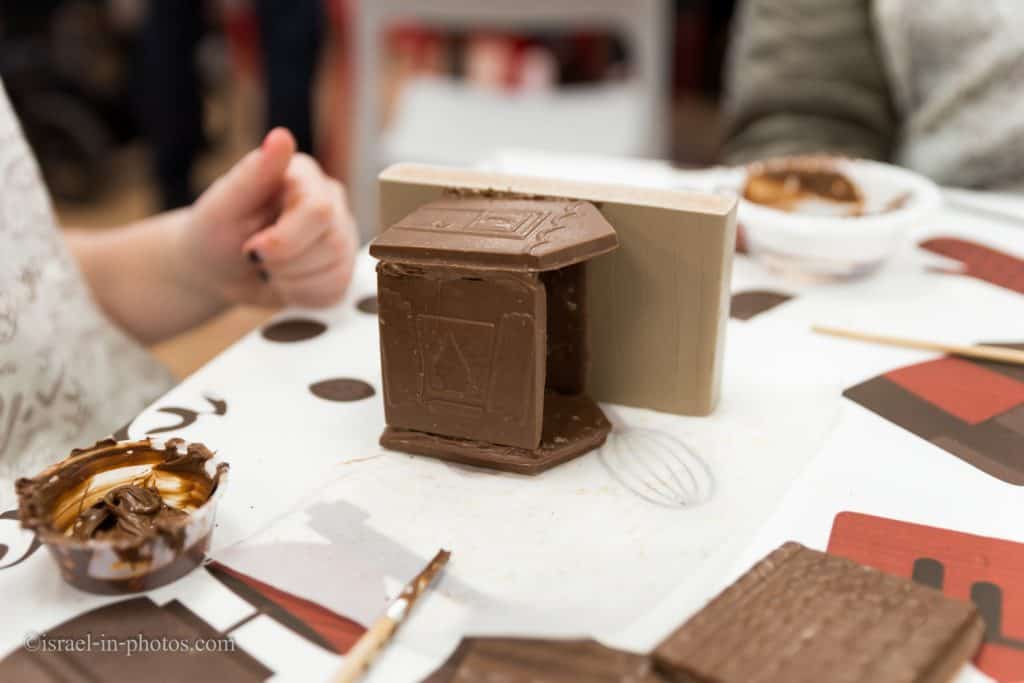 When the house was ready, she moved on to decorating it.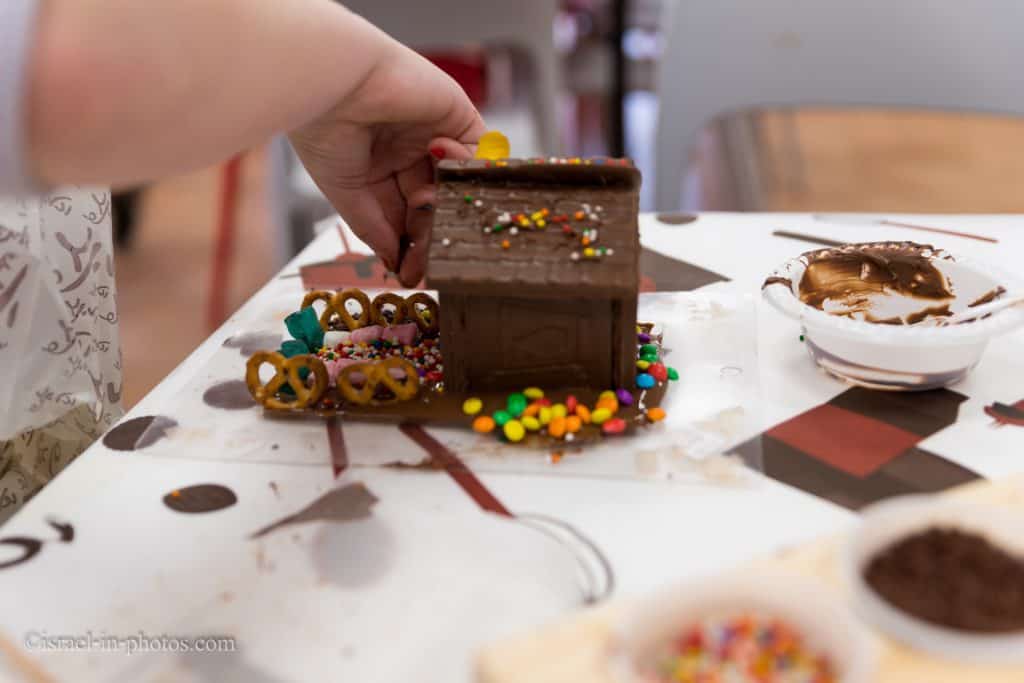 A staff member told us that the craft needed to cool down as the workshop ended. Thus, they will put it into the fridge, and we can return to pick it up in half an hour. And meanwhile, we can participate in the adventure in the garden.
Adventure in the Garden
We received a page with different riddles about animals. After solving each riddle, you find the relevant animal in the garden and write its number. In the end, you sum up all the numbers and go to the cash desk. You will receive a fridge magnet with a marker if you solve it correctly.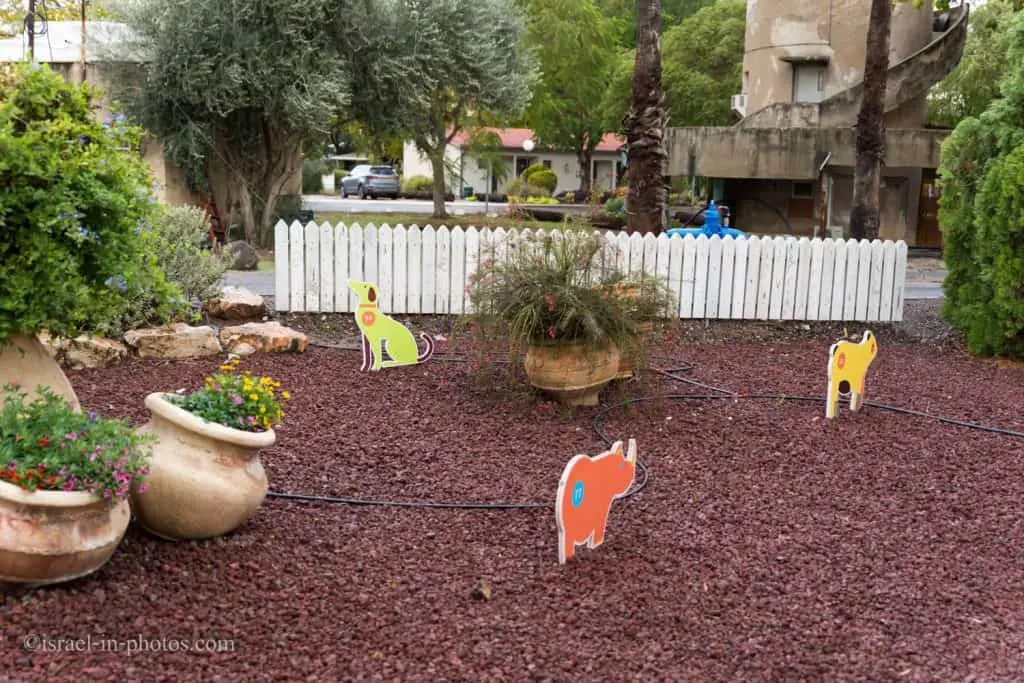 The whole visit took us about 75 minutes. The duration of the movie was approximately fifteen minutes. And the workshop part lasted roughly 45 minutes.
Galita in Tzuba
In 2022 we visited Galita in Tzuba, and the workshop was similar to the one in Degania.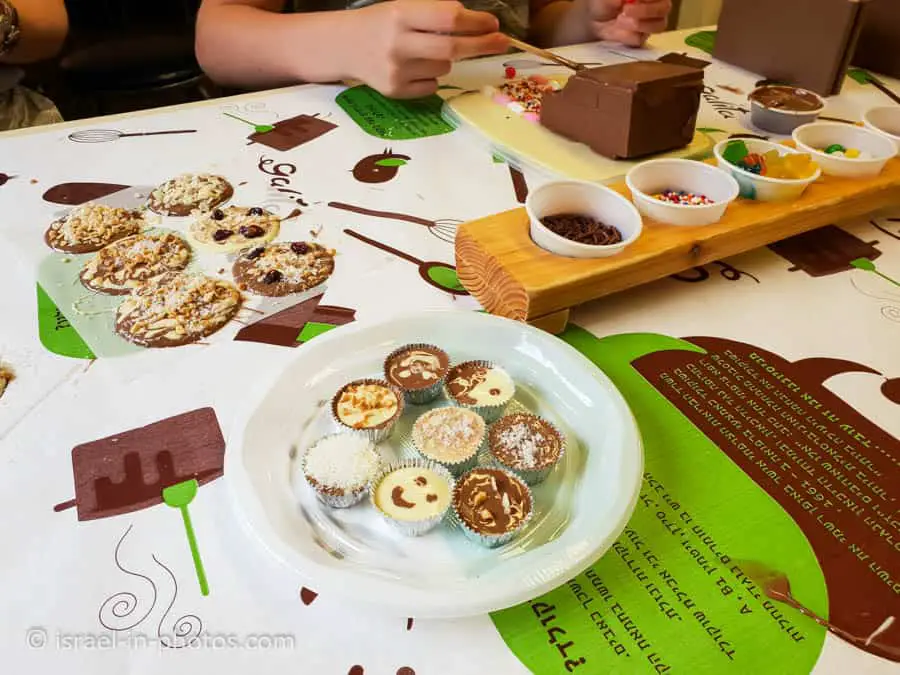 The only difference between the two branches is that Galita in Tzuba is smaller.
Other Chocolate Farms in Israel
Several years ago, we participated in a similar workshop at Shulman Chocolate, and there is also De Karina Chocolatier. And overall, all of them are enjoyable and pretty similar.
About Galita
How it all began?

On October 2, 1999, in the very early morning, at the (old) Ben Gurion Airport, I boarded the flight that changed my life. So, of course, I didn't know it and didn't realize how much and how my life was going to change, but that's where it all began.

On October 2, 1999, I went to Belgium.
About two weeks ago, I already knew that I was supposed to be going to Belgium for family reasons, for a good few years, and was looking for something to do with myself during that time.

I already completed my bachelor's degree at the Hebrew University of Jerusalem in African and Latino Spanish Studies (and please do not release now a shout of "What is this study?" Or "What to do with it?", Because between us can be excellent chocolatiers with these studies !!!!) And I was studying for fun, to pass the time.

The word chocolate suddenly popped into my head and didn't move. I didn't know what it meant and whether there were any such studies at all, but when I arrived in Belgium, I discovered a whole world, and I just fell in love.

I discovered an outer world of amazing raw material that embraces flavors, passions, feelings, stories, and legends. And I discovered an inner world within me of creation, and imagination and love I didn't know.

The chocolate touched me, and I touched back – in the abilities, creativity, thinking, and action that I realized existed in me. I was touched by the sweet because I touched my dream.

Schooling lasted three years – 3 years of dreaming when all day thinking, dreaming, touching, and tasting chocolate.

The studies included 1,000 hours of internship each year, where I went to work in magical chocolate places in Belgium.

I finally graduated with honors in two majors: chocolate and ice cream, and after three years I returned to a happy land.

How was Galita built?

Upon returning to Israel, I rented an apartment in Kiryat Ono and slowly started to build my business, with a lot of hard work and tons of patience, while at the same time working at the airport.

Very quickly, the family and close friends started to taste my attempts at pleasure and huge amounts of chocolate.

Somewhere in the middle of the first year of my return to Israel, a friend who worked with me at the airport (who got me a good box of pralines that day from me) approached me and put a $ 50 bill on the table and told me: "You have to start raising money for what you do because of these Great pralines." The next day, I was so excited that I brought him another box, this time a gift to thank him for the day before he paid me for the pralines I made. That's how he became my first customer. "

From that moment on, things started to roll, a friend brought another friend, another friend, another friend, and so on.

Suddenly, I got an offer to open a mall stall in Kiryat Ono, from where I was invited to Kiryat Atidim in Ramat Hachayal and Dizengoff Center. In short, three years had passed, and I was already living and breathing business. The moment came to make two terrifying decisions: one to quit the other job I was still working on, and the other to open my place.

I was anxious about where I wanted to start the business. And I wanted a place to welcome people too. I talked to a lot of friends and acquaintances, I consulted, confused them, and wondered aloud.

One of those friends was excited about the idea and, without my knowledge, contacted the secretary of Kibbutz Degania B and also excited him.

One day I got a phone call with a weird offer – come to Degania to start your business!

As a Kibbutz Afikim in the Jordan Valley, the Sea of ​​Galilee and Kibbutz Degania were no strangers to me. But moving the business there? What went crazy? Who transfers a business from the Periphery Center? How does a chocolate business grow when outside 40 degrees C onions? How can I get into Kibbutz Degania B after that summer of 1986 when I was 15 when we painted (children of Afikim) the children of Degania with a juicy toothpaste in the summer camp of the kibbutz movement?

Fears, fears and many more fears.

I debated, for two months, I postponed the decision for a host of unjustified reasons that made a lot of sense in my feverish mind. And two months later, the miracle happened to teach me once and for all to listen. Listen not only to those who speak to me or around me but also to listen to myself and sip on the universe around me.

I returned home (still in Kiryat Ono) after a weekend with my parents up north. I opened my wardrobe to put things back in when suddenly a cardboard box fell from the top shelf. In the crate were all my study materials from Belgium – a crate that was well closed for three years, a crate I had never opened in the country.

As the volume of the crate fell, all its contents scattered on the floor. I bent down to pick up all the notebooks and pages. My eyes immediately fell on the only notebook whose cover was colored – it was the conceptual project I submitted at the end of my studies – the imaginary business plan I had to prepare for a business that I would daydream of setting up.

I opened the booklet and stopped breathing – in distant Belgium, three years earlier, I dreamed of a chocolate house and ice cream for the Kinneret's canopy.

The beautiful pictures of the Sea of ​​Galilee that I then put into work now smiled at me with breathtaking beauty. I realized that when I could dream without any fears or restrictive thoughts, I dreamed about my business on the periphery in the 40-degree heat, and that's how I made the decision.

The chocolate farm

The chocolate farm in Degania opened on April 1, 2007.

I dreamed of the chocolate farm while studying in Belgium. I dreamed of a place where I could bring people together with the joy of life that chocolate gave me, where anyone who knows how to dream can fly on the wings and fulfill a sweet dream.

The farm includes the Workshop Center, which offers adult and child workshops, a chocolate bar featuring unique chocolate desserts, ice cream, and hot and cold beverages – and all the homemade, a movie that tells my chocolate and story and the factory store that offers all brand products.

My intention, in setting up the farm, was to allow anyone who loves chocolate to touch this wonderful material without barriers and traces.

You can do it in workshops – making different chocolate products, you can do it in the chocolate bar with its unique chocolate desserts and ice cream, you can do it in the movie with the explanation and spectacular pictures that show the whole chocolate-making process, and of course, you can shop in different and varied chocolate products.

Anyone can choose their way …
Source: translated from the official site.
Summary
Galita Chocolate Farm offers a lovely experience, and my daughter enjoyed our visits. And though we mostly saw families with kids, there were some groups of adults only. So it can be a good bonding opportunity both for children and adults.
Thus, if you love such activities, definitely consider joining. Moreover, since the workshops are inside buildings, it is a good option for a hot or rainy day.
Have you ever visited the Galita Chocolate Farm? Let us know in the comments below.
That's all for today, and I'll see you in future travels!
Stay Tuned!
Additional Resources
Here are several resources that I created to help travelers:
And if you have any questions then check out
Useful Information For Tourists To Israel
.  
Did not find what you were looking for? Leave a comment below, and I will do my best to answer your questions.