Mini Israel is a miniature park near Latrun, and it features 385 models of Israel's most important sites. Let's begin with our visit!
Basic Info
Mini Israel is a miniature park. And according to the official site, it "features over 385 beautifully crafted replica models of Israel's most important historical, religious, archaeological and modern sites, at a scale of 1:25, including 25,000 7cm high miniature residents within the models themselves".
Map
Mini Israel is located near Latrun, about halfway between Tel-Aviv and Jerusalem (about 30 min from either one).
Map of the area:
How To Get To Mini Israel Park?
If you are using public transport, then you can take a bus to Latrun or even to Mini Israel junctions. But keep in mind that if you take the bus to Latrun and walk from there, despite this is not a long walk, you will be walking just beside the highway (which is not a nice walk, especially considering you are most likely with children). Here is a link to Moovit where you can set your origin, as see the directions.
And if you are reaching by car, then enter "Mini Israel" into Waze or Google Maps, and you will get there. Also, there is plenty of free parking on site.
Opening Hours
September – June: 10:00 – 17:00
July – August: 17:00 – 22:00
These opening hours refer to Sunday through Thursday and Saturdays. On Fridays, the park is open until 14:00.
Entrance Fee
The regular entrance fee is 69 NIS (for two years old and above), and the discounted is 59 NIS. The discounted ticket price is relevant for students, retirees, and soldiers.
Note: opening hours, ticket prices, and discounts were updated in December 2018. In any case, recheck them at the official site before visiting.
Discounts And Coupons
As you can see, the entrance price is quite costly for spontaneous users, but if you prepare in advance (and find coupons and deals), then you can buy much cheaper tickets. And when performing a search, I see they work will all major credit card companies. Meaning, you can purchase discounted tickets through Visa, Isracard, Leumi Card, and American Express. If you have one of those cards, then check their site. They are usually offering one of the best discount rates. Most of them provide 1+1, meaning two tickets for 69 NIS. And Visa Cal offers a ticket for 36 NIS. These are 50% discounts.
Moreover, you can buy tickets to Mini Israel through various consumer clubs like Hever, Teachers Union, Mega, HTZone, etc. For example, currently, HTZone is offering tickets for 34 NIS.
If you do not have one of the mentioned Israeli credit cards and do not belong to one of the consumer clubs, then you can purchase tickets through one of the sites. For example, here you can find tickets for 52 NIS, and this coupon offers a 25% discount. And when I tried to purchase tickets at the official site, I was redirected to here, where tickets are offered for 59 NIS.
Guided Tours Between The Models
Sometimes on Saturdays at 13:00, there are guided tours. If you are interested in joining one of such tours, contact Mini Israel park either at [email protected] or by 1-700-559-559.
When To Visit?
It is an outdoor attraction. Thus it gets quite hot in the summer. But, in the summer, they are open late. Therefore, you can come before sunset and see the models in sunlight and with lights turned on. In any case, there is practically no shaded area, and I would not advise visiting during the hot hours. Beyond the heat, there are no limitations, and you can see all year round.
Series Of Images From Our Recent Visit
Mini Israel park is arranged into sections that represent six main regions of Israel, which are: North, South, Center, Tel Aviv, Jerusalem, Haifa.
On our visit, we started from Tel-Aviv, and these are Azrieli towers: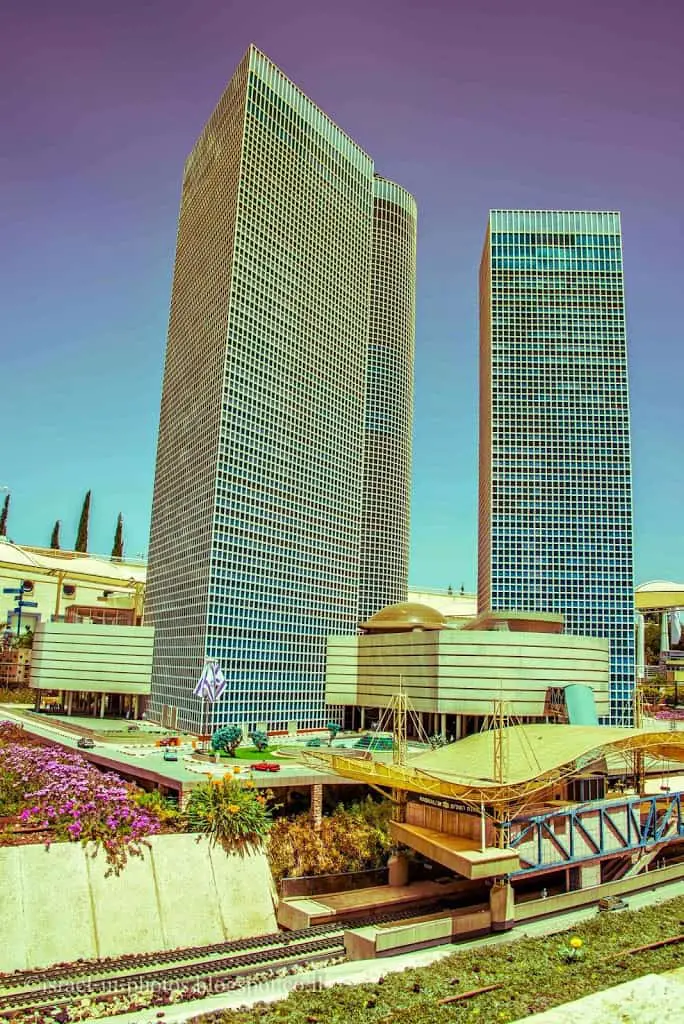 Yad Eliahu basketball stadium in Tel-Aviv: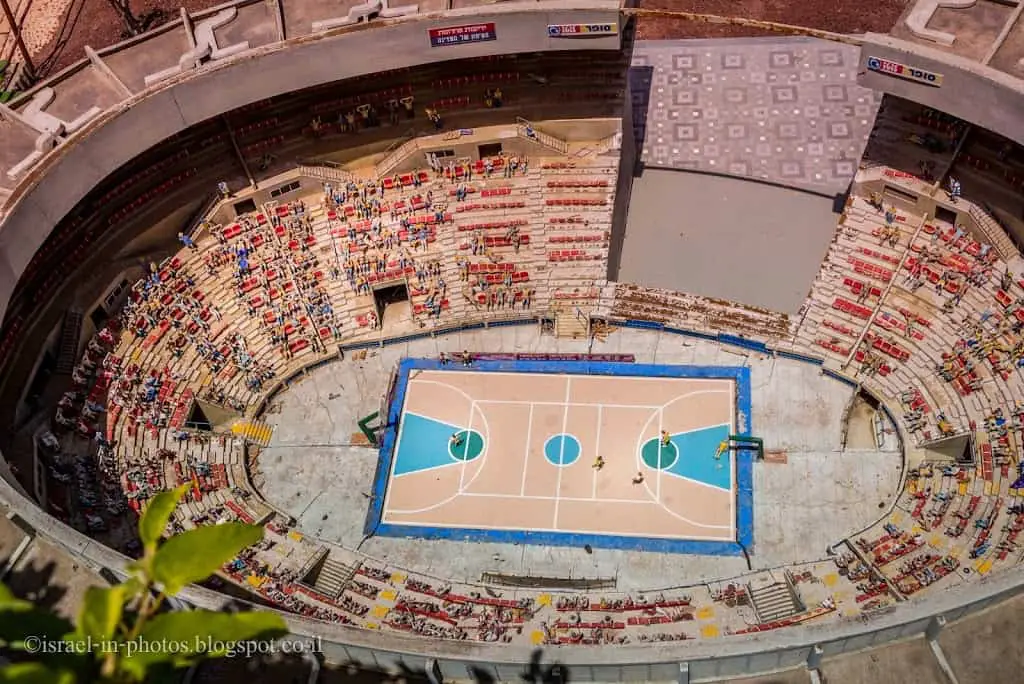 Dizengoff Center: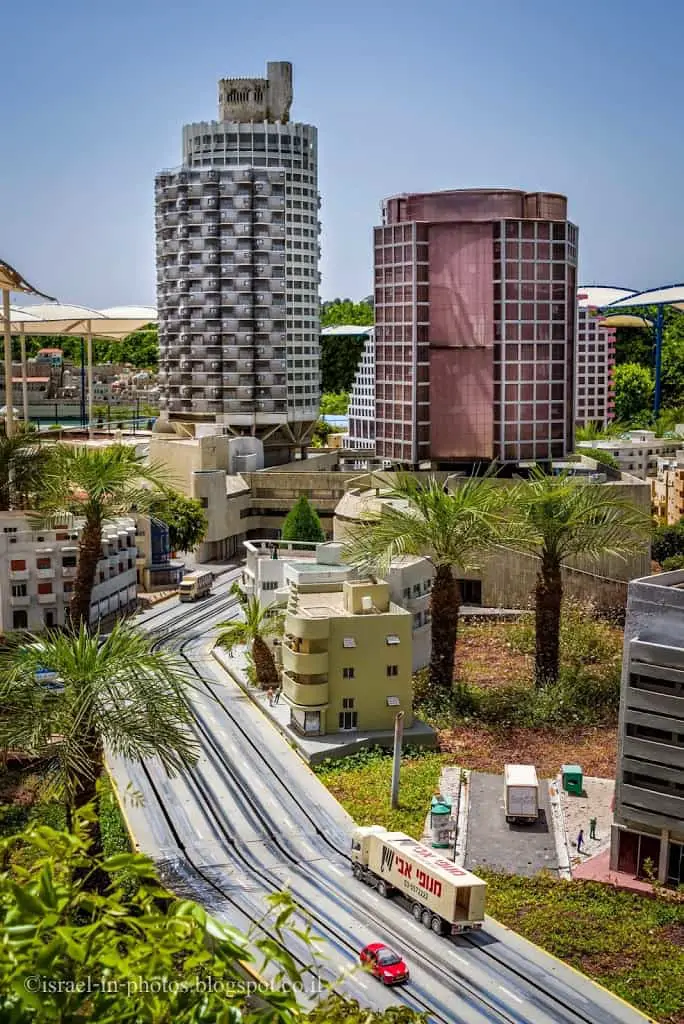 Yafo (Jaffa):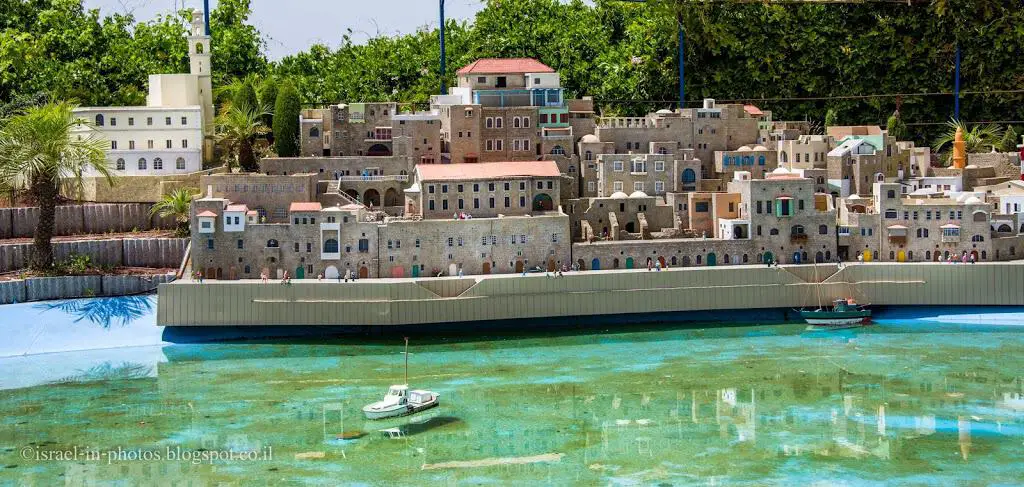 Caesarea National Park: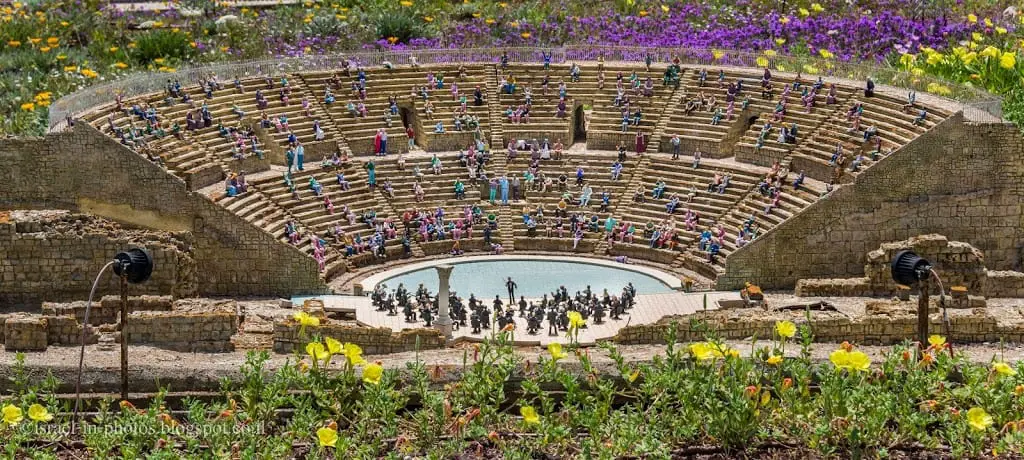 Masada: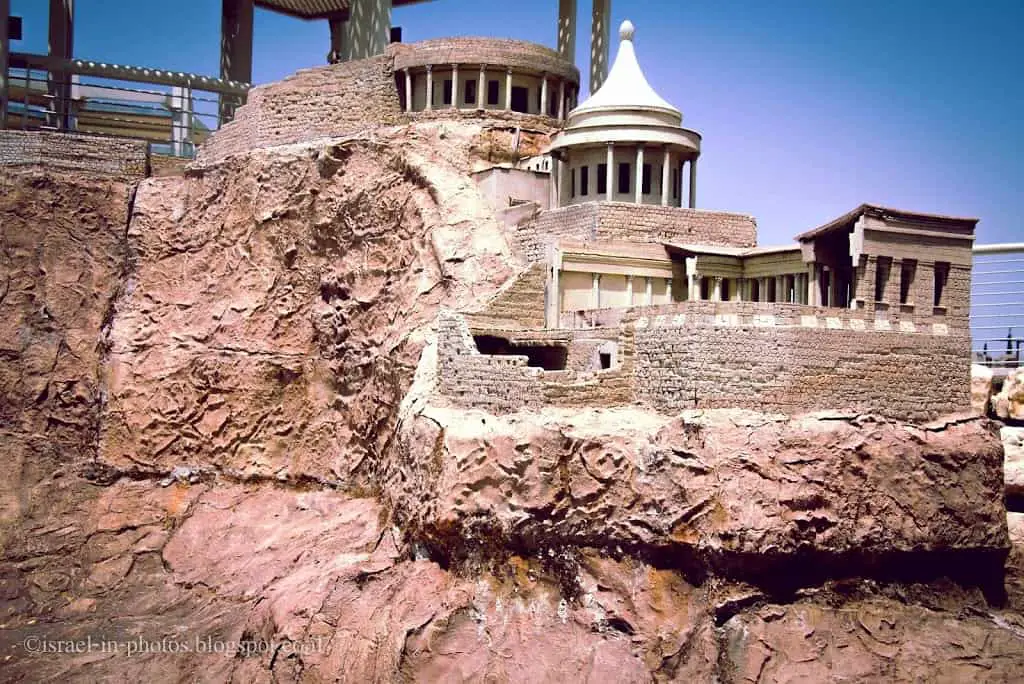 Eilat hotels: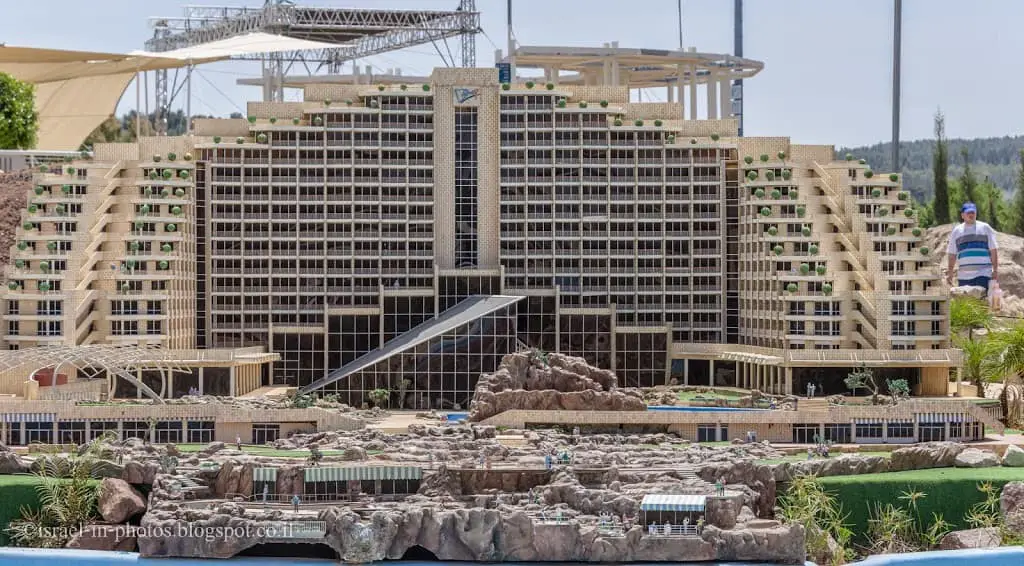 Jerusalem: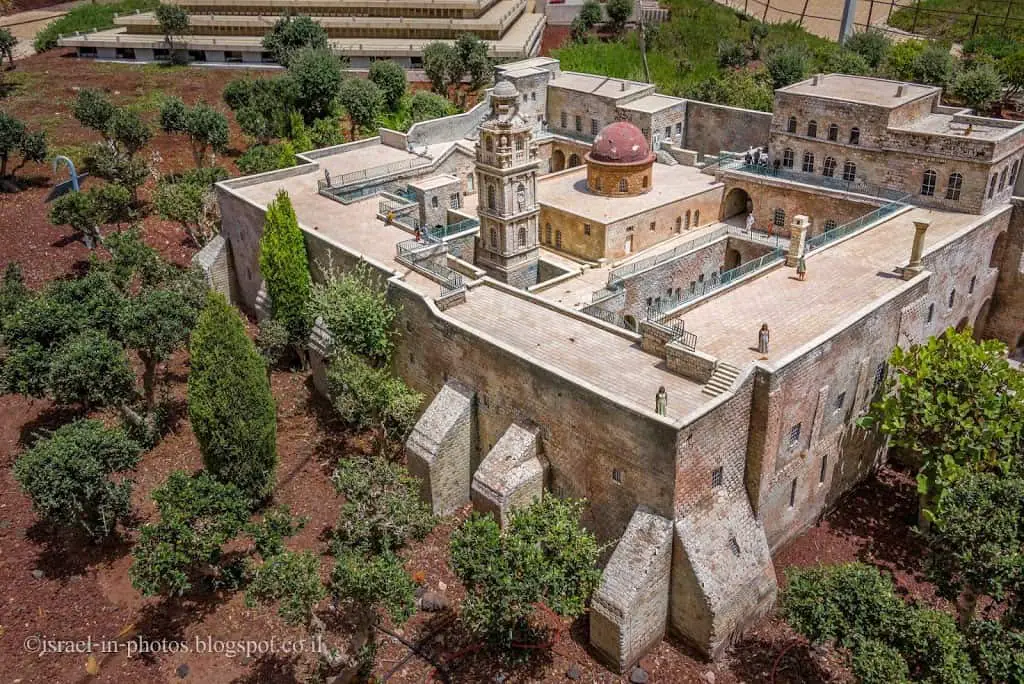 Dormition abbey: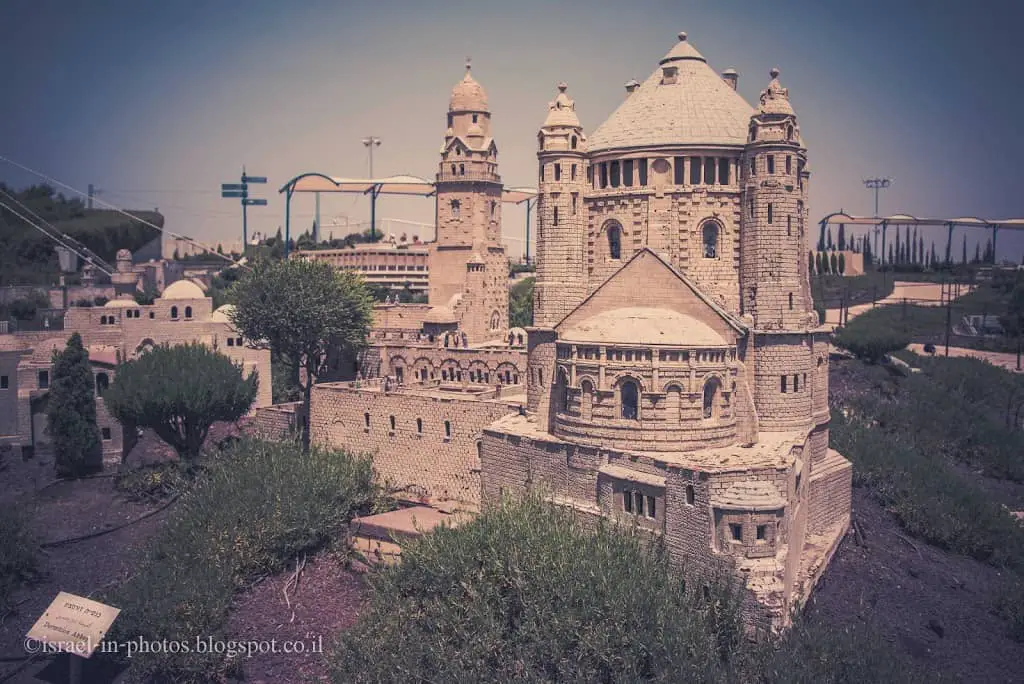 Augusta Victoria hospital: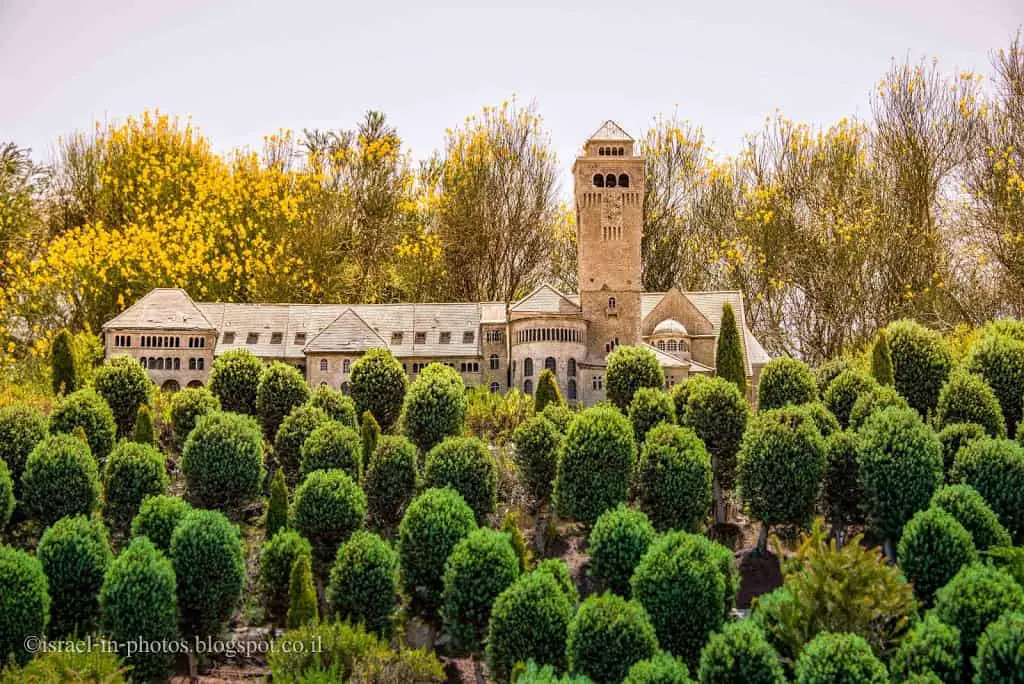 Dome of the Rock:


Church of Mary Magdalene: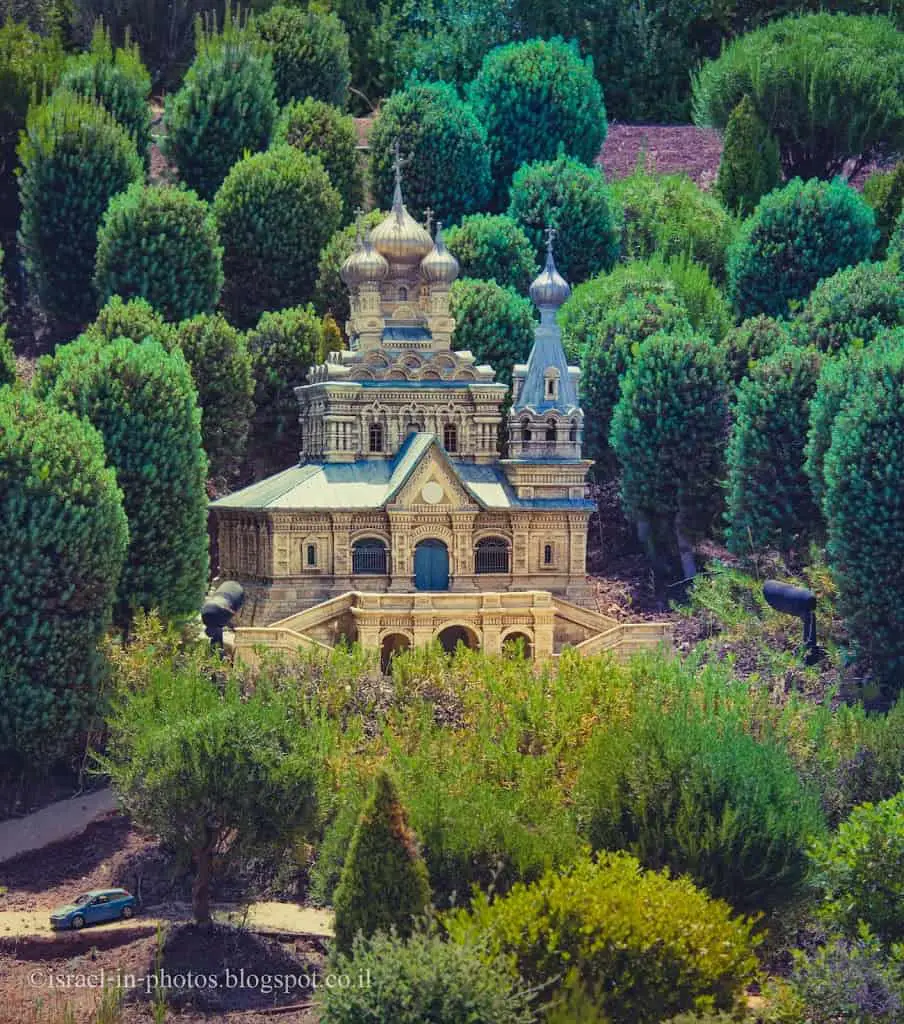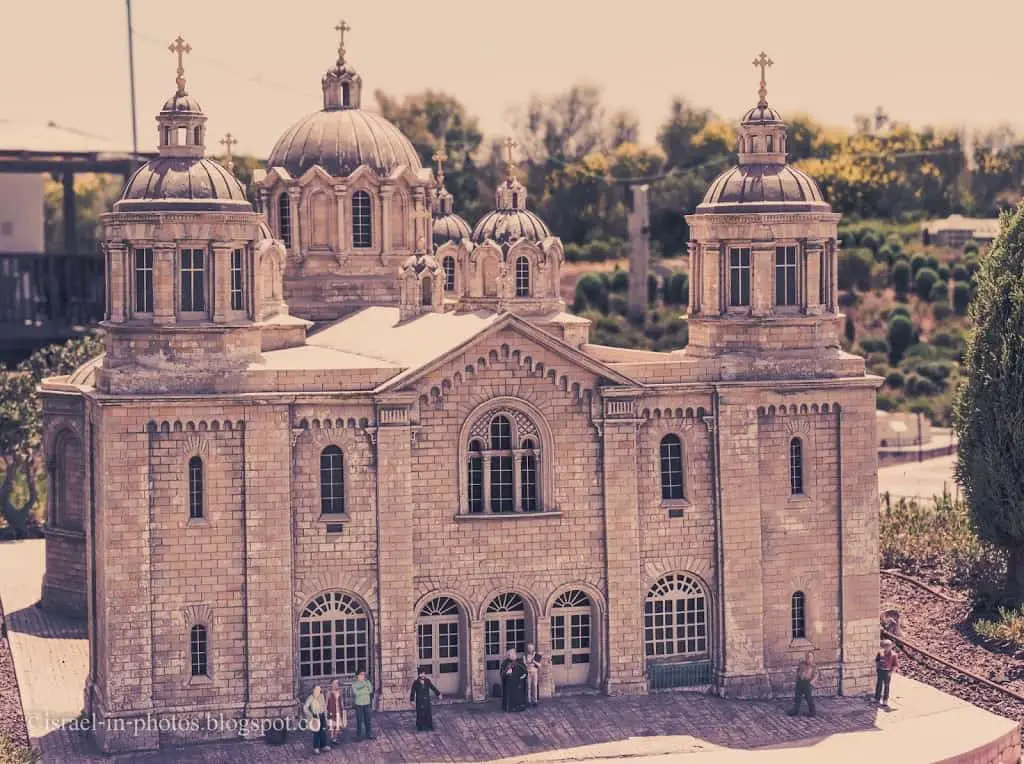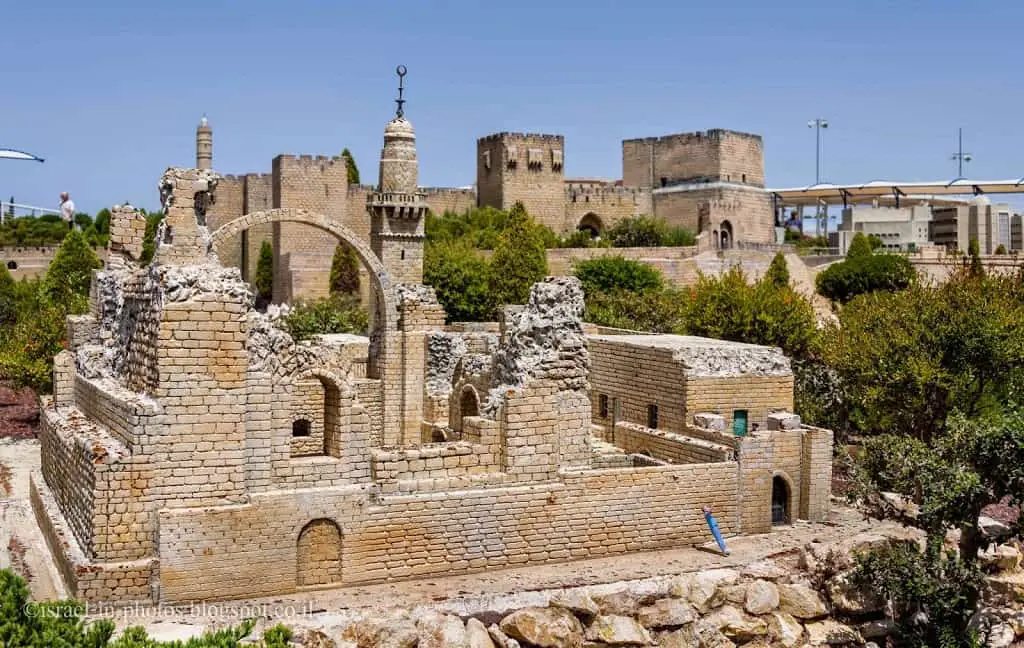 Western Wall and Dome of the Rock: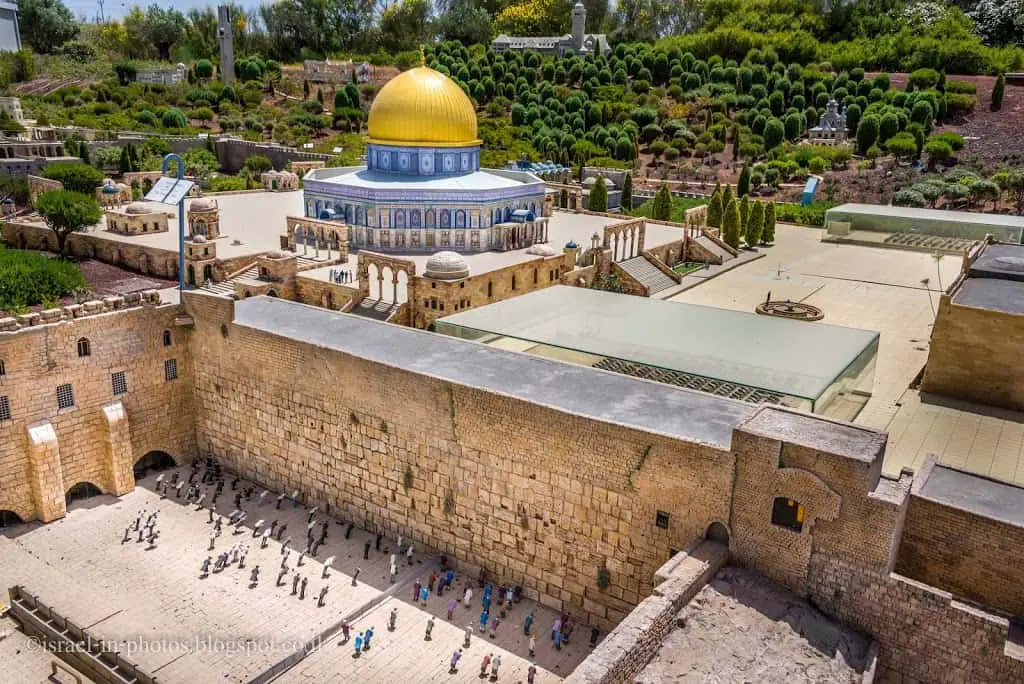 Damascus gate:

Ethiopian church: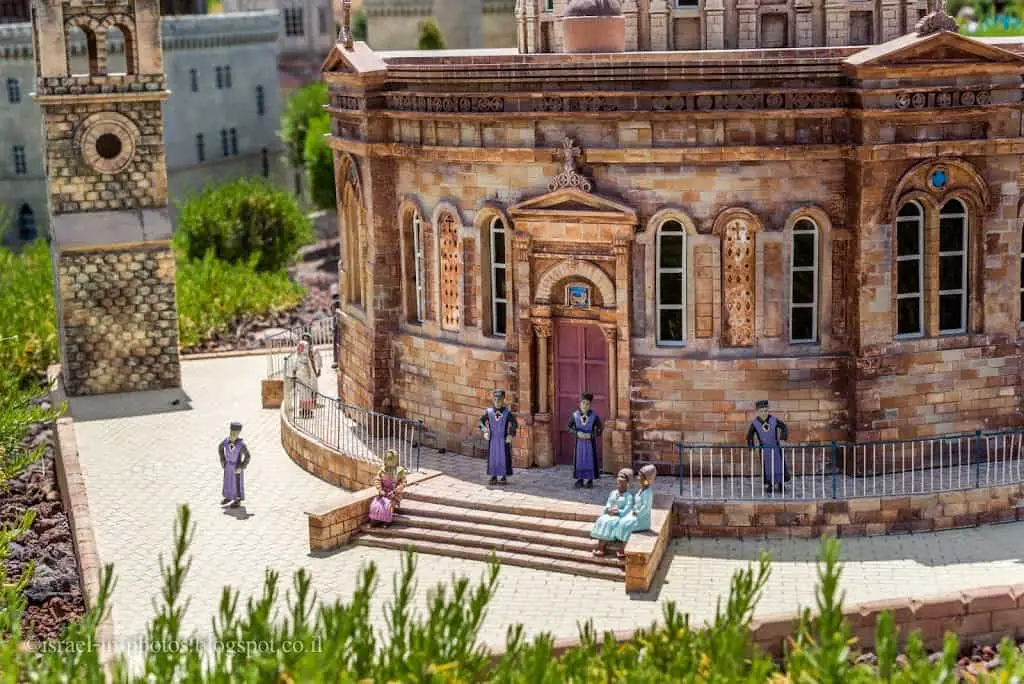 Western Wall and Dome of the Rock in the distance: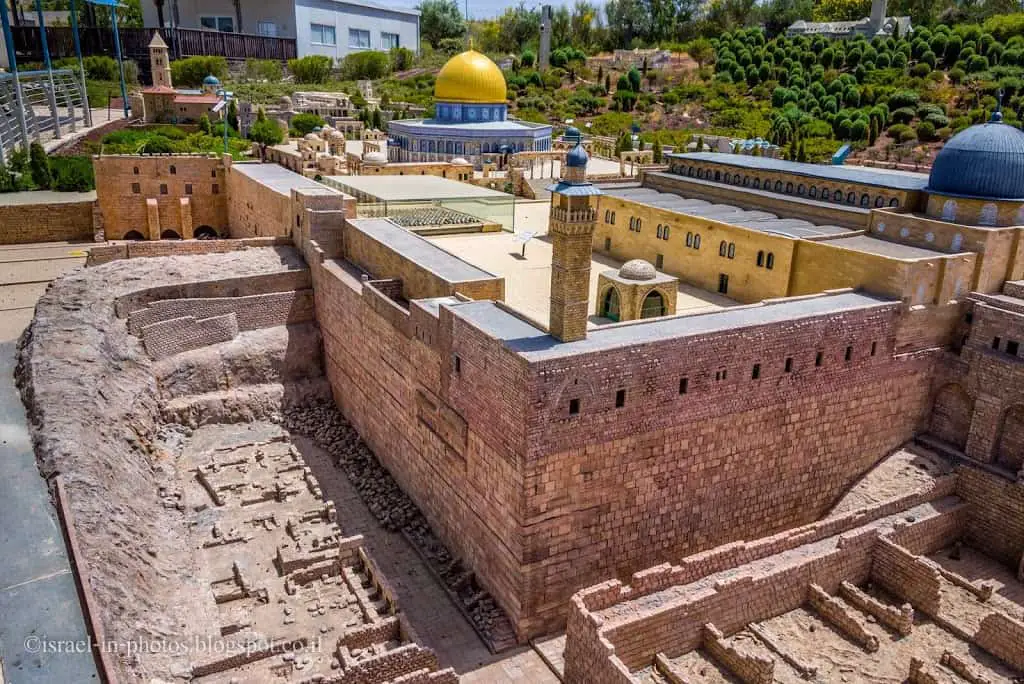 Tower Of David: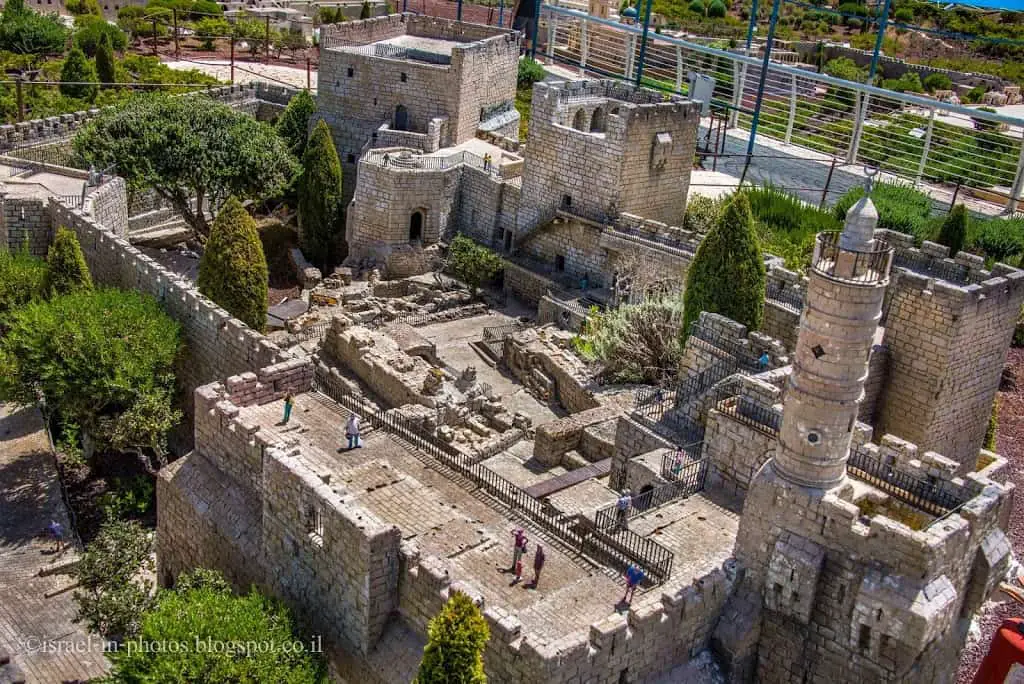 Yemin Moshe Neighborhood in Jerusalem: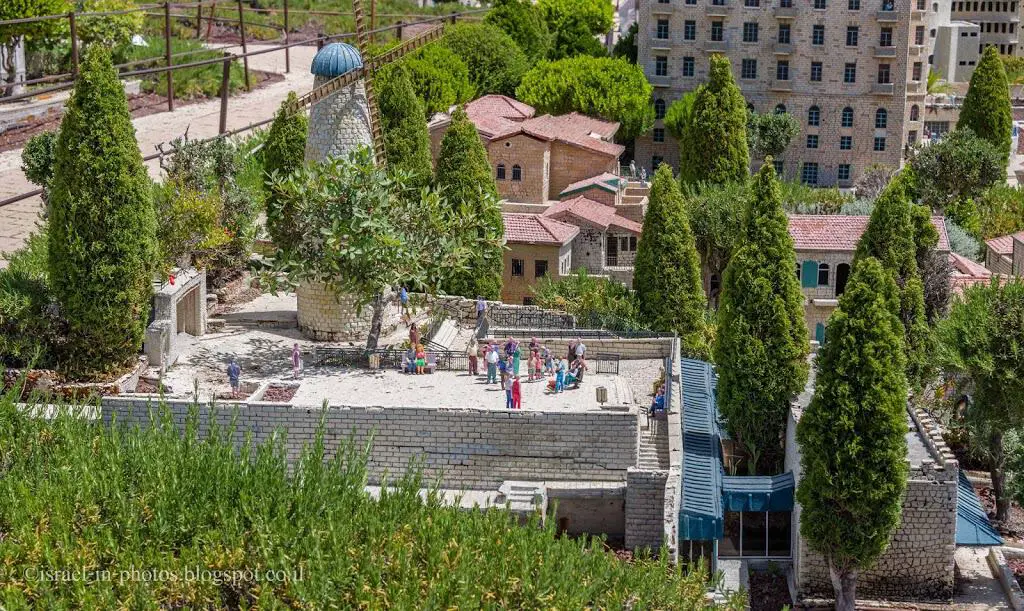 Latrun Monastery is located not far from Mini Israel. In front of the model, there are steps. If you will climb on them and look west, you will see the monastery. And this is the model: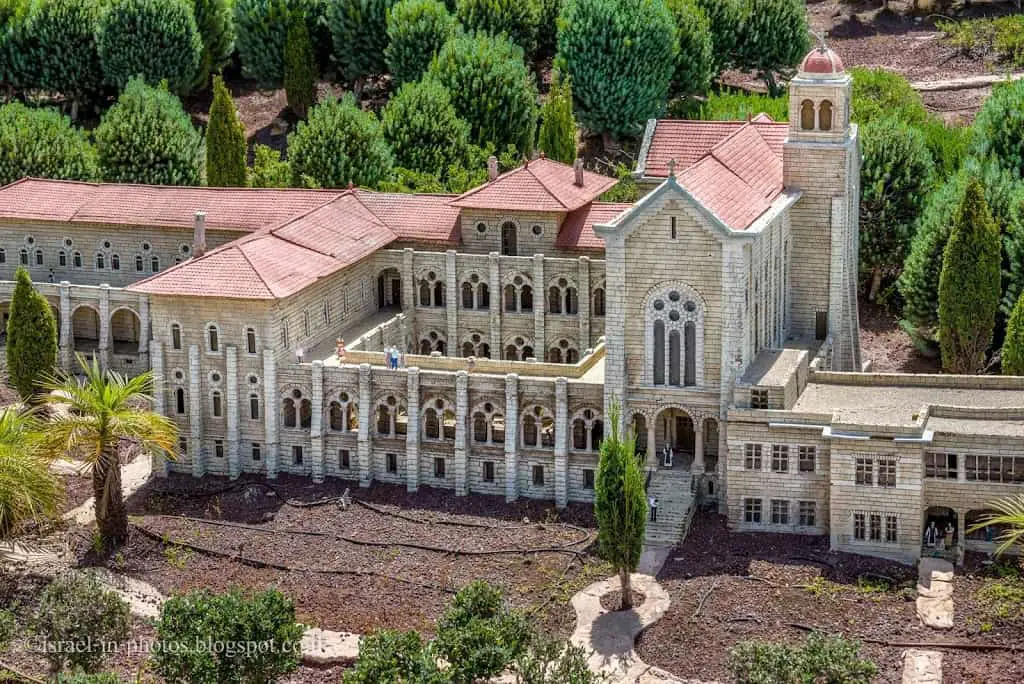 Old Acre: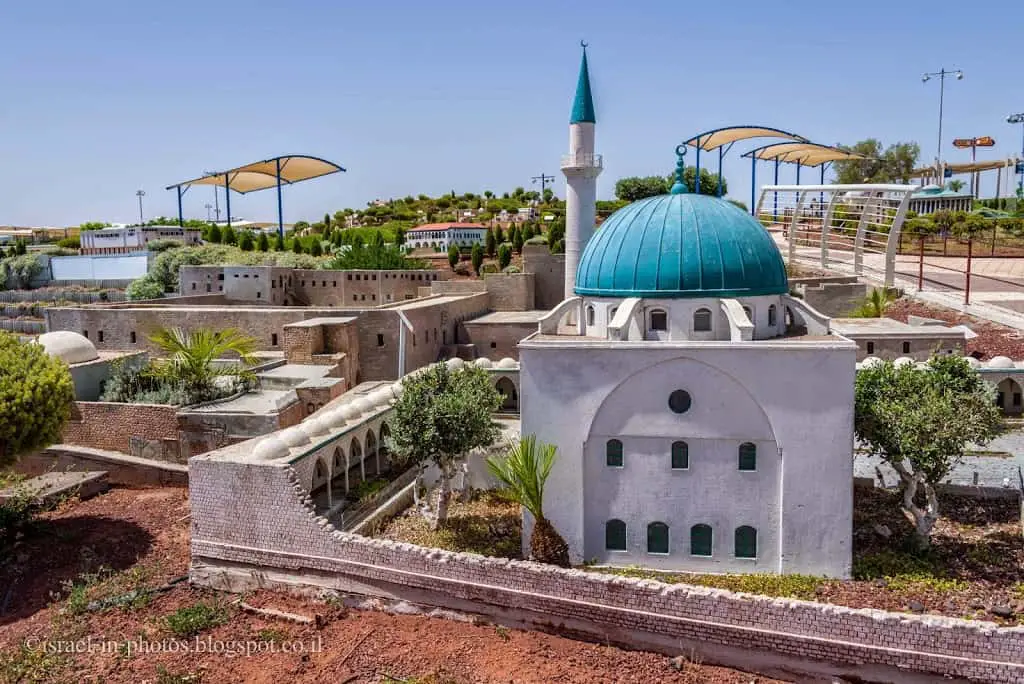 Video
Some of the models are static. But there are many moving parts all over the park. Some are moved continuously, like cars and airplanes. And others start moving after you press a button. Here is a short video I created from our visit.
How Much Time A Typical Visit Takes?
Mini Israel is not a small park, but it is not big either. A typical visit would take 2-3 hours. And according to Google: "People typically spend up to 2.5 hours here".
Latrun Attractions
Here is the list of other nearby attractions in the Latrun area:
Yad La-Shiryon – The Armored Corps Memorial Site and Museum at Latrun.
Latrun Monastery is the only Trappist monastery in Israel.
Emmaus Nicopolis was the Roman name for one of the towns associated with the Emmaus of the New Testament, where Jesus is said to have appeared after his death and resurrection. Emmaus was the seat of the Roman Emmaus. In contrast, Nicopolis was the name of the city from the 3rd century CE until the conquest of Palestine by the Muslim forces of the Rashidun Caliphate in 639. In the modern age, the site was the location of the Palestinian Arab village of Imwas, near the Latrun junction, between Jerusalem and Tel Aviv, before its destruction in 1967. The site today is inside Canada Park, a place maintained by the Israel Nature and Parks Authority. However, the archaeological site has been cared for by a resident French Catholic community since 1993. (source).
And you can combine several attractions for an adventure.
Summary
Overall, it is a lovely attraction for both adults and children. Moreover, it gives an overview of the most exciting places in Israel. But, three reasons prevent me from recommending this place to everyone. The first reason is the high entry price (see discounts and coupons section). Secondly, there is almost no shade, and thus it is boiling in the summer. And thirdly, the maintenance of the park is not a top-notch (we saw cracks in some models and broken parts in others, probably due to the hot climate). Moreover, the park has not changed since my initial visit, which was more than a decade ago. Thus there is no reason for revisiting.
I hope that after reading this post, you will know what to expect. And with the appropriate planning (coupons and visiting time), this will be an enjoyable event.
Have you visited Mini Israel? Tell us about your experience in the comments below.
That's all for today, and I'll see you in future travels!
Stay Tuned!

Additional Resources
Here are several resources that I created to help travelers:
And if you have any questions then check out Useful Information For Tourists To Israel.

Did not find what you were looking for? Email me at
[email protected]
, and I will do my best to answer your questions.