Neve Tzedek was the first Jewish neighborhood outside Jaffa (in 1887). For years, the area prospered as Tel Aviv grew up around it.
But after prosperity, years of neglect and disrepair followed. And since the early 1980s, Neve Tzedek has become one of Tel Aviv's latest fashionable and expensive districts, with a village-like atmosphere.
Map
Neve Tzedek is located in southwestern Tel Aviv near Jaffa.
Directions for drivers: Link to Waze and Link to Google Maps
Directions for public transport: Link to Moovit
Interactive map of the area:
Offers:
Hotels, hostels, and apartments in this area:
Note: see the walking route map below.
Parking
You can find parking lots in different areas, but I usually park at HaTachana Compound. There is a medium-sized paid parking lot, and I always found a place there.
Walking Route
Usually, we make a circuit route starting and ending at HaTachana Compound. We use Barnet and Amzaleg Streets from the old train station to explore the neighborhood's small streets, like Shimon Rokah, Stein, Kfar Saba, and Bostanai. And then, using Shabazi street, we return to the starting point. And this is also approximately the same route we will be doing today.
Here is a suggested route that I made using Google maps. And the length of this walking path is 2.3 km. Of course, you can modify it according to your preferences.
The walking path goes near several attractions, and we will go over them below.
What Does Neve Tzedek Mean?
Neve Tzedek can be translated in several ways from Hebrew, but according to different sources on the web, the intention is: "House of Justice." And according to the Bible, Jeremiah 50:7:
All that found them have devoured them: and their adversaries said, We offend not, because they have sinned against the LORD, the habitation of justice, even the LORD, the hope of their fathers.
It is also one of God's names.
What can you find at Neve Tzedek?
If you are a photographer, you can find many opportunities for architectural and design photos (as you can see by the number of my photos). Moreover, you can find art galleries, small art museums, and historical buildings (including famous people's houses).
At Neve Tzedek
Neve Tzedek has different areas, some with reconstructed/reserved houses and greenery around them and others without. Here is the dark side of Neve Tzedek.
The Suzanne Dellal Center for Dance and Theater
The Home for Dance in Israel. The Suzanne Dellal Centre for Dance and Theatre is Israel's premier presenter of Israeli and international contemporary dance companies. Established in 1989, the mission of the Suzanne Dellal Centre is to cultivate, support, and promote the art of contemporary dance in Israel. The Centre pursues this mission by offering diverse performances, events, festivals, and workshops from the worlds of contemporary dance, theater, and performing arts.

The Suzanne Dellal Centre has two primary goals: creating world-class dance productions and engaging educational activities and facilitating the high-quality presentation of Israeli and international choreographers. The Centre has launched dozens of innovative programs to nurture and support new work and emerging artists, providing platforms to expose young artists and bring dance to new audiences.

The Suzanne Dellal Centre's sprawling multi-level campus consists of four performance halls, rehearsal studios, a restaurant and cafe, and wide plazas that host outdoor performances and events. The Centre is home to the Batsheva Dance Company, Inbal Dance Theatre, Inbal Pinto, and Avshalom Pollak Dance Company.
Source: Wikipedia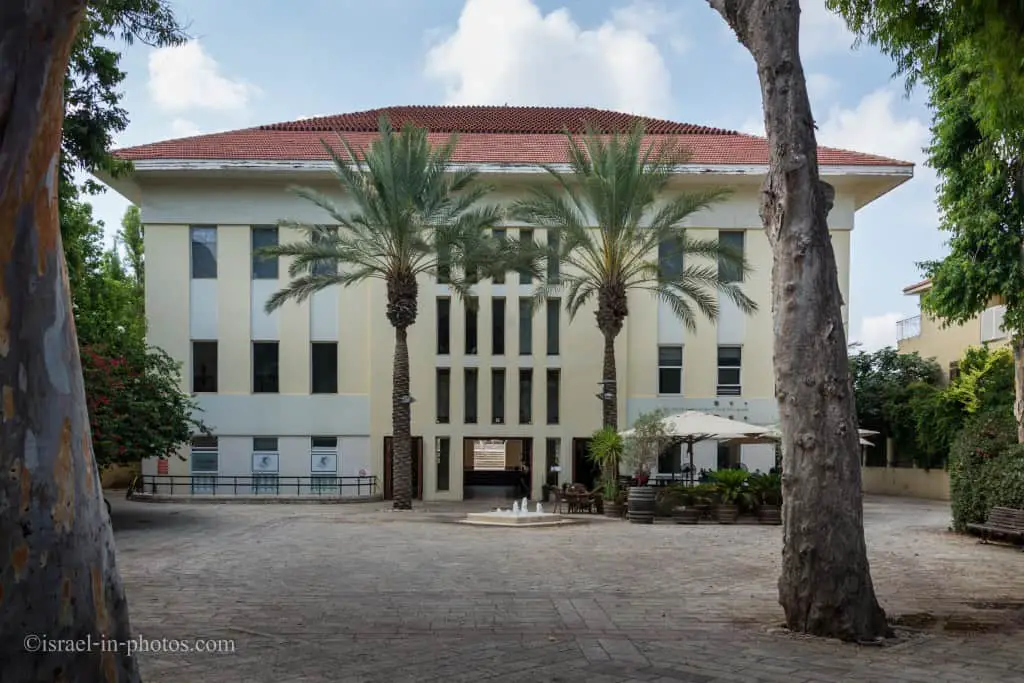 Once you pass through the building in the photo above, you will enter this lovely area.
Though Neve Tzedek is a fashionable and expensive neighborhood, you can also find street art there. Here are several examples:
To find out more about street art in Tel Aviv, see Graffiti At Florentin.
On the border of Neve Tzedek, you can find this narrow and long parking. Today, it serves as parking, but it was where the train passed back in the day.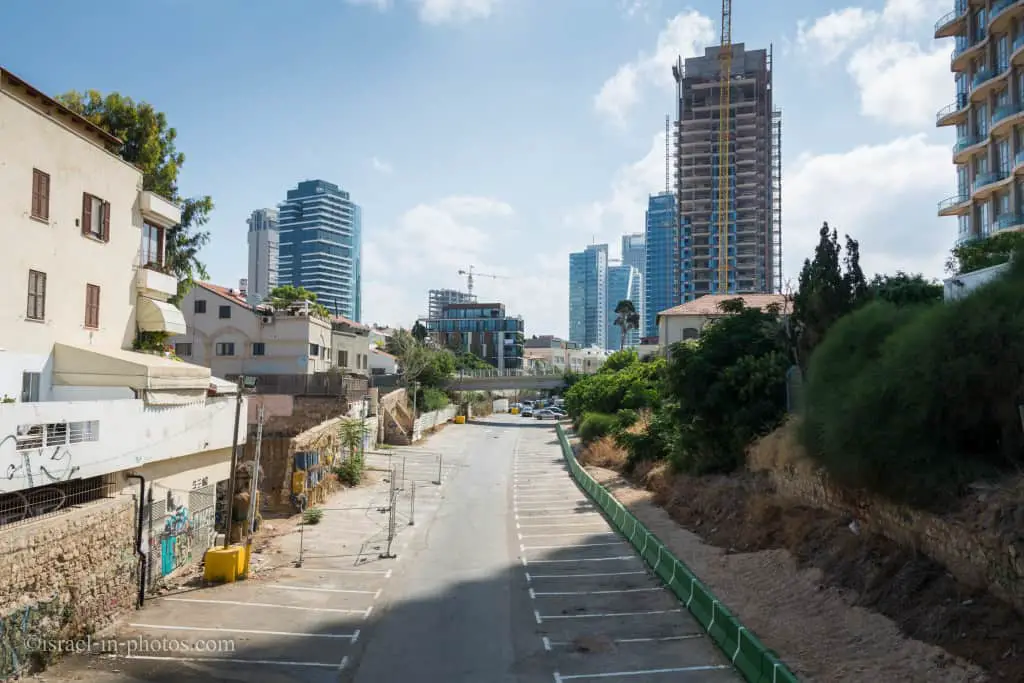 I took the photo above in 2016. Later, the parking was removed, and this street was converted into a long park. Here is how it looks in 2022:
Neve Tzedek Tower was a controversial project. Many neighbors opposed it because the whole area has low construction (2-3 floors). But after several lawsuits, the construction was finished in 2007.
Nachum Gutman Museum
There are several small museums in this neighborhood. One of them is Nachum Gutman Museum.
Nachum Gutman was born in Teleneşti, Bessarabia Governorate, then a part of the Russian Empire (now in the Republic of Moldova). He was the fourth child of Sim[c]ha Alter and Rivka Gutman. His father was a Hebrew writer and educator who wrote under the pen name S. Ben Zion. In 1903, the family moved to Odessa, and two years later, to Ottoman Palestine. In 1908, Gutman attended the Herzliya Gymnasium in what would later become Tel Aviv. And in 1912, he studied at the Bezalel School in Jerusalem. In 1920–26, he studied art in Vienna, Berlin, and Paris.

Gutman was married to Dora, with whom he had a son. After Gutman died in 1980, Dora asked two Tel Aviv gallery owners, Meir Stern of Stern Gallery and Miriam Tawin of Shulamit Gallery, to appraise the value of all of the works left in his estate.
Source: Wikipedia
The Nahum Gutman Museum of Art opened on May 3rd, 1988, by the Nahum Gutman Society and the Tel Aviv Foundation, in the presence of Israeli President Ezer Weizman. The entire museum collection was donated by the artist's family who wished to emphasize Na​hum Gutman's multi-dimensional character and portray him as a painter, illustrator, sculptor, and children's author, thus allowing the public to become acquainted with his oeuvre.
Source: museums.gov.il
And near the Nachum Gutman Museum, you can find Rokach House.
Rokach House
According to ilmuseums.com:
Rokach House was built in 1887, the house of Shimon Rokach, the head of community who had the vision and the initiation to build the first Jewish neighborhood outside of Jaffa walls. Following the construction of Neve Zedek, more houses and new neighborhoods were built, conquering the dunes and spreading out to form the city of Tel Aviv. Rokach House – encounter with life 120 years ago, operates as a museum dedicated to the period, it includes furniture, household goods, clothing, photographs, historical background, and a short film. The house features the sculpture and paintings of Lea Majaro Mintz Shimon Rokach's granddaughter, who restored the house.
Even the cats are stylish 🙂
Eden Theater
At Lilenblum Street 2, you can find Tel Aviv's mythological theater.
In 1914 the Neve Tzedek neighborhood reached a new level of culture. The cutting-edge technology of the time that was used worldwide to screen movies was still in its initial stages. Still, seasoned entrepreneurs succeeded in erecting a cinema in Tel Aviv. The structure, built without a roof, was used during the warm summer evenings. One thousand seats were brought from Austria, and a projector and generator were shipped from France. Eliezer Ben Yehuda, who was the driving spirit behind the revival of the Hebrew language, coined the word "Ree-Noah," which means "see, move" since the films were silent. The hall was also used as a cultural center for the entire Jewish community. It hosted plays, operas, Purim balls, and community-wide gatherings. The theater shut its doors in 1975 and is awaiting renovation.
Lilenblum Kiosk
At Lilenblum Street 3, you can find one of the kiosks built in Tel Aviv more than a century ago.
The Third Kiosk in Tel Aviv was built in 1920 at the corner of Lilenblum 3 and HaRishonim, and it is the only remaining kiosk from its period in the city that retains its authenticity. The building is hexagonal and designed in an eclectic style. It is built from concrete and prefabricated elements made by the Chelouche Freres. It has a wooden canopy roof with galvanized tiles and a lightning rod at the top. The kiosk represents the commercial and entertainment development of the city in the 1920s, and it is located opposite the Eden cinema: the first cinema in Tel Aviv. During these years, around 100 kiosks operated in the city under the Association of Kiosks and Soft Drink Store Owners became a national pastime and functioned as an informal meeting place. Over the years, the kiosks operated as currency changes. The kiosk was preserved and returned to its original use in 2016.
Source: sign
And now, let's return to the main street in Neve Tzedek.
Shabazi Street
When looking to the north of Shabazi Street, you can see Shalom Meir Tower.
On Shabazi Street, you can find stores, art galleries, and restaurants. Here are several photos from Shabazi Street:
Here is one of the more known houses in Neve Tzedek. It is covered with sculptures:
If you are hungry, there are several fine dining restaurants in this neighborhood. And if you want something sweet, visit Anita ice cream and yogurt cafe. From our experience, they are great.
Though the neighborhood is not that big, we did not cover all of it in several hours. And that is because there are many things to see. For example, we did not touch on the subject of famous residents like Shai Agnon. But our time was running out, so we headed back to the HaTachana Compound.
Note: there are public restrooms at HaTachana Compound.
History
The Establishment
Neve Tzedek was established in 1887, 22 years before the 1909 founding of Tel Aviv, by a group of Mizrahi Jewish families seeking to move outside of overcrowded Jaffa. Soon, additional small developments grew around Neve Tzedek and were incorporated into the contemporary boundaries of the neighborhood.

The residents preferred constructing the new quarter with low-rise buildings along narrow streets. These homes frequently incorporated design elements from the Jugendstil/Art Nouveau and later Bauhaus art movements and featured contemporary luxuries such as private bathrooms.
The Beginning of the Previous Century
At the beginning of the 1900s, some artists and writers made Neve Tzedek their residence. Most notably, future Nobel prize laureate Shmuel Yosef Agnon and Hebrew artist Nachum Gutman used Neve Tzedek as both a home and a sanctuary for art. Rabbi Abraham Isaac Kook was the first Rabbi of Neve Tzedek; he even maintained a Yeshiva there. During his time in Neve Tzedek, he became very close friends with many writers, especially Agnon.

However, as Tel Aviv began to develop away from the Jaffa core, the more affluent people started moving out from the city's southern end to inhabit the newly-developing northern areas. With its buildings abandoned, neglected, and subjected to the unsightly corrosive effects of the shore atmosphere upon concrete and stucco, Neve Tzedek degenerated into disrepair and urban decay. As with the rest of South Tel Aviv, after 1948, it became a predominantly Mizrahi area.
A Slum?
By the 1960s, city officials deemed the neighborhood – by this time almost a slum – incompatible with the modern image of a busy, bustling city. However, plans to demolish the historic neighborhood to make way for high-rise apartments were eventually canceled, as many Neve Tzedek buildings were placed on preservation lists. At the same time, the old, worn-out neighborhood was also becoming appreciated as an oasis of semi-pastoral and picturesque amidst the modernist development of the city center.
The Renovation
By the end of the 1980s, efforts began to renovate and preserve Neve Tzedek's century-old structures. New establishments were housed in old buildings, most notably the Suzanne Dellal Centre for Dance and Theatre and the Nachum Gutman Museum, located in the artist's home. This gentrification led to Neve Tzedek's rebirth as a fashionable and popular upmarket residence for Tel Avivians. Its main streets became lined again with artists' studios, including the ceramics studio of Samy D., alongside trendy cafés and bars and, more recently, boutique hotels and shops selling hand-made goods to wealthy Israelis and tourists.

The Tel Aviv Light Rail, expected to pass near Neve Tzedek, will make the neighborhood even more accessible for visitors and residents.
Source of all history quotes: Wikipedia
Nearby Attractions
Here are several nearby attractions that you can reach within a short walk:
Summary
Neve Tzedek neighborhood is a lovely place where you can spend several hours to half a day. It is fun to mingle, eat, and shop. Moreover, you can visit one of the museums. And many firms and guides offer tours in this neighborhood. Thus if you want to upscale your journey, you can.
Have you ever been to Neve Tzedek Neighborhood? Tell us about your experience in the comments below.
That's all for today, and I'll see you in future travels!
Stay Tuned!
For additional points of interest nearby, see Tel Aviv-Yafo.
Additional Resources
Here are several resources that I created to help travelers:
And if you have any questions then check out
Useful Information For Tourists To Israel
.  
Did not find what you were looking for? Leave a comment below, and I will do my best to answer your questions.