Nachalat Binyamin Market (also called the Nachalat Binyamin art fair and the arts and crafts fair) is Israel's most significant art fair.
Map
Nachalat Binyamin Market resides on the street under the same name in Tel Aviv. A part of Nachalat Binyamin Street, the one closer to Carmel Market, is a pedestrian zone. And this is where the market takes place.
Directions for drivers: Link to Waze and Link to Google Maps
Directions for public transport: Link to Moovit
Interactive map of the area:
Offers:
Hotels, hostels, and apartments in this area:
Directions
If you walk to the Nachalat Binyamin Market, you can set the navigation app to Nahalat Binyamin Street 25 or Nahalat Binyamin Street 1, Tel Aviv.
If you are using public transport, then a variety of buses reach this area. Here is already a preset link to Carmel Market on Moovit. And Nachalat Binyamin is nearby. Just enter your starting point, and you will get the updated directions.
And if you are driving, then you will need to find parking.
Parking
There are several paid parking lots in the area. The closest ones are located on Gruzenberg Street 16 and Mohaliver Street 18. Moreover, check the parking suggestions that I mentioned at Carmel Market.
Opening Hours
The fair is open twice a week. And here are the opening hours according to the official site:
Tuesday: 10:00 – 17:00.
Friday: 10:00 – 16:30.
Note: the market takes place in an open area. Thus, if it were drizzling in the morning, many artists would not come.
Entrance Fee
Free.
Restrooms
You can find toilets at the intersection of Nachalat Binyamin and Allenby Streets. The opening hours are Sunday – Friday: 8:00 – 19:00. Here is a photo: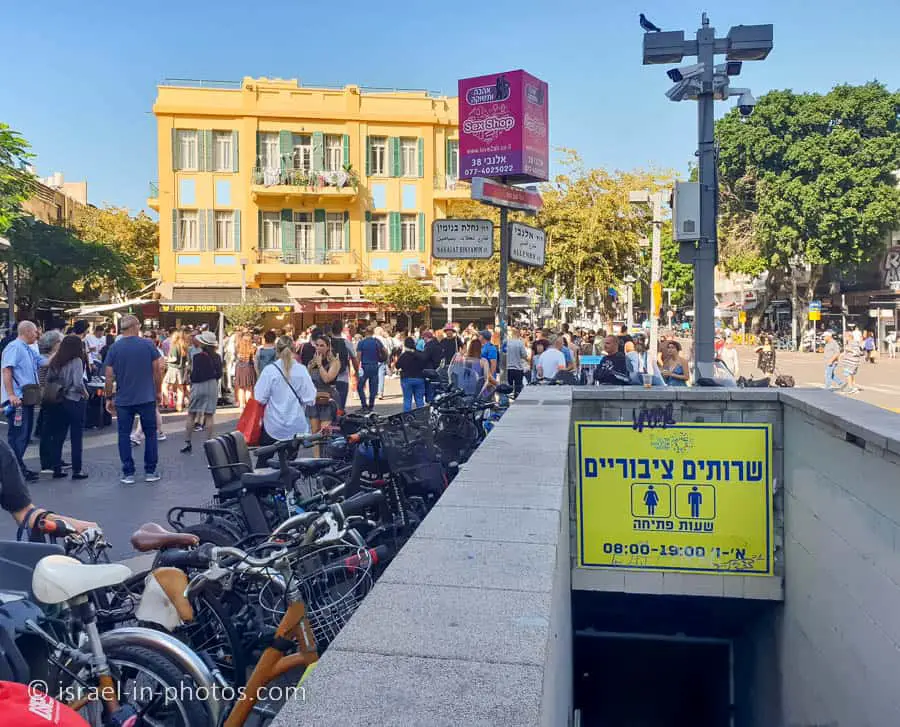 The Art Fair
Nachalat Binyamin Art Fair is the biggest and oldest in Israel, and one of the most beautiful and esteemed in the world.

The art fair was established in 1988 and is open every Tuesday and Friday, as well as on holidays and "Chol HaMoed" days.

The art fair spans across more than half a kilometer, through the promenade of Nachalat Binyamin and branching to the streets of Rambam and HaShomer.

The Art Fair's unique location in the heart of the hustling and bustling midtown Tel-Aviv and the special urban surroundings, which includes several unique historic buildings and dozens of graffiti and street art, is a great attraction for a fun day in Tel-Aviv.

The art fair is run and managed by Tel-Aviv-Yafo Municipality and is well organized and secured.

All the artists participating in the art fair undergo an admissions committee and are acting according to a permit issued by Tel-Aviv-Yafo Municipality.

The Art Fair is dedicated to arts and crafts. There are more than 230 stalls that showcase art and handmade products in the fields of Painting, Sculpting, Ceramics, Jewelry, Textile, Woodwork, Glass, Paper, Plastic, Stone, Judaica, Toys, Games, Dolls, Recycling and much more…

You can visit the stalls and meet the artists themselves selling their handmade creations.
Source: official site
Artists at Nachalat Binyamin
Nachalat Binyamin Market consists of many stalls where each artist sells their creations.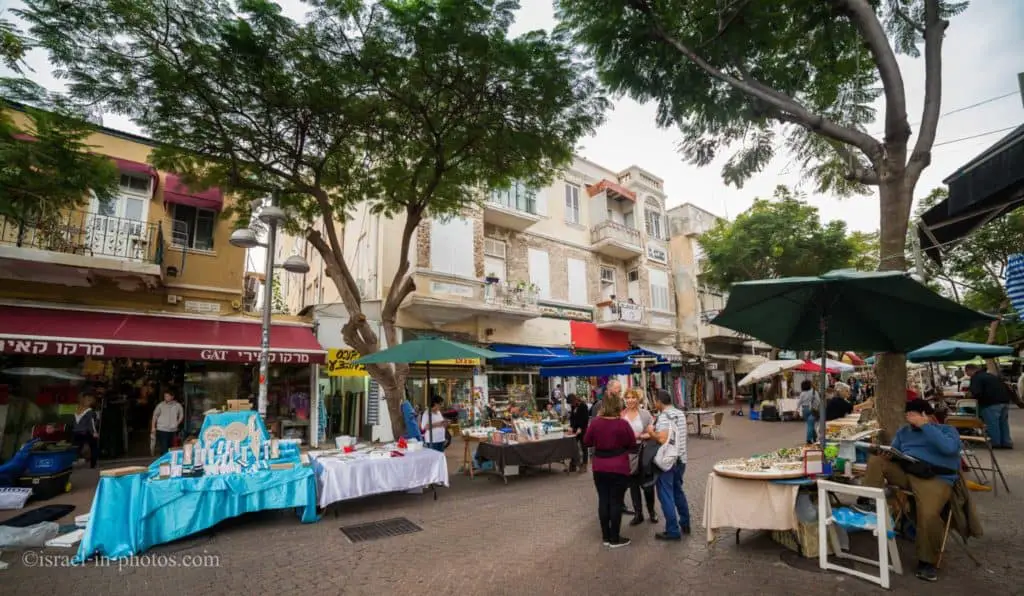 You can find a variety of handmade products. Here are several examples.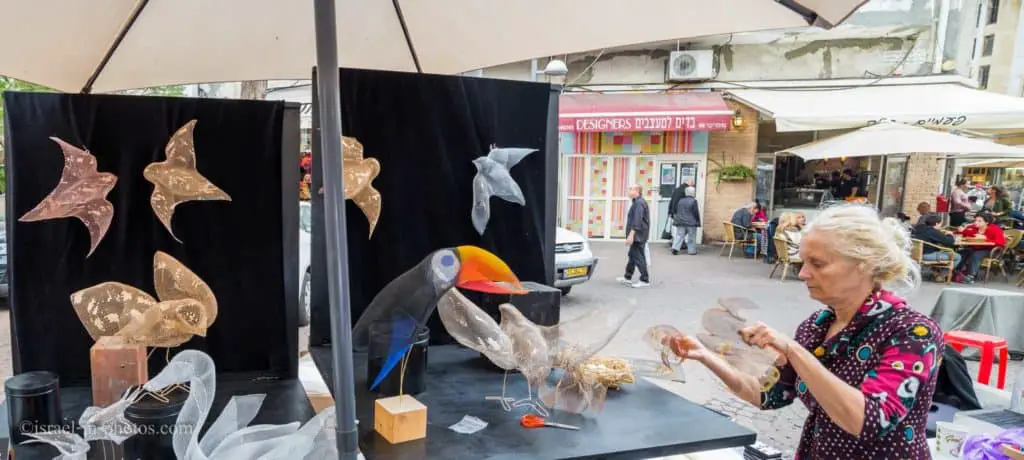 Though it is a touristic place, some artists may object to photography. I understand their worries about somebody copying their work, but that is not the way. If somebody wants to copy it, they will find a way to reproduce it.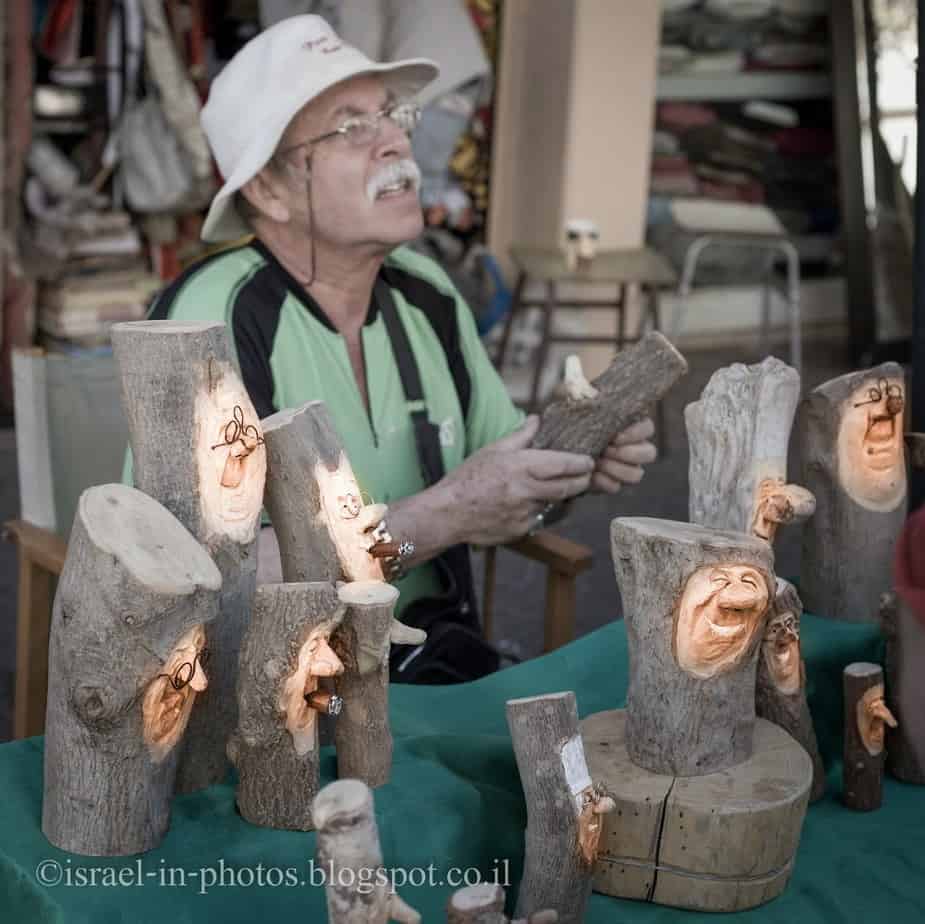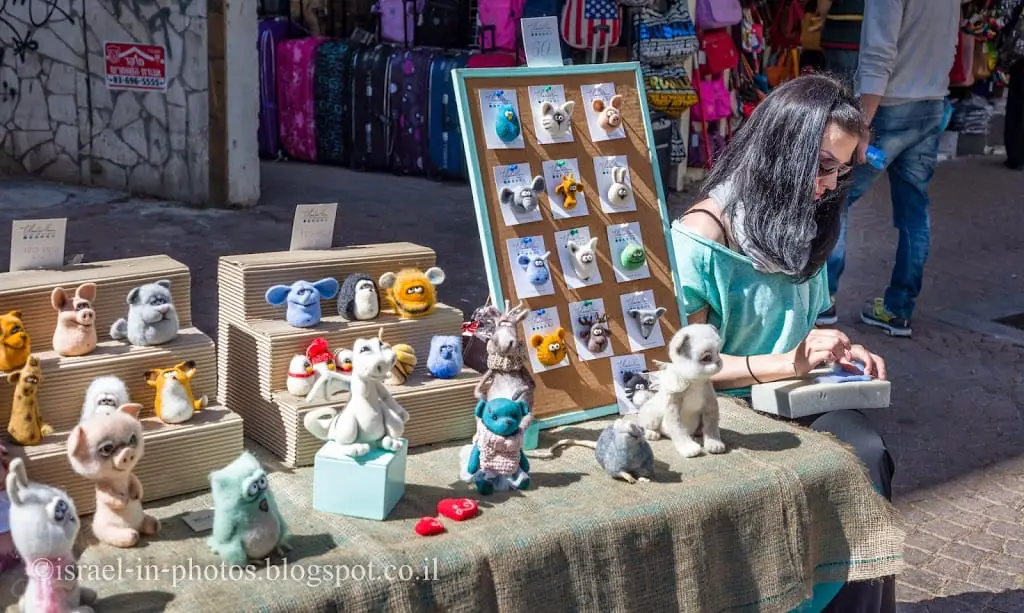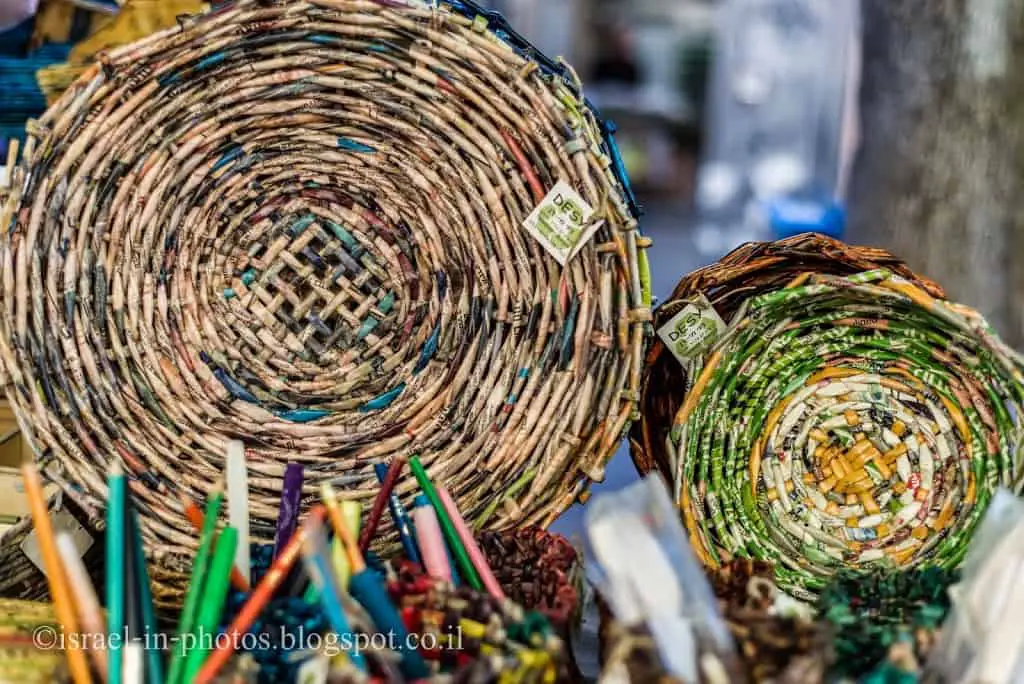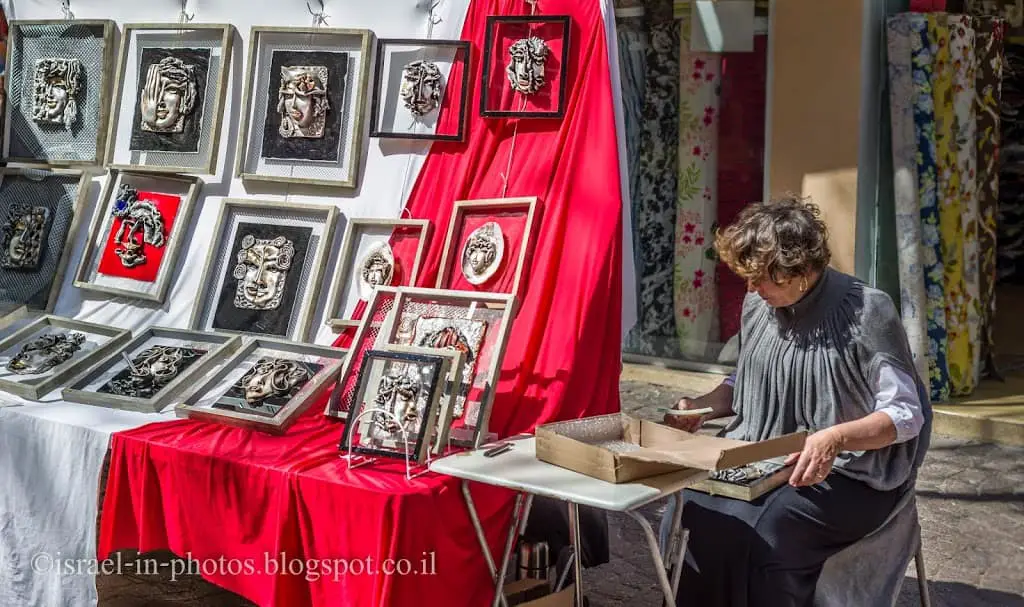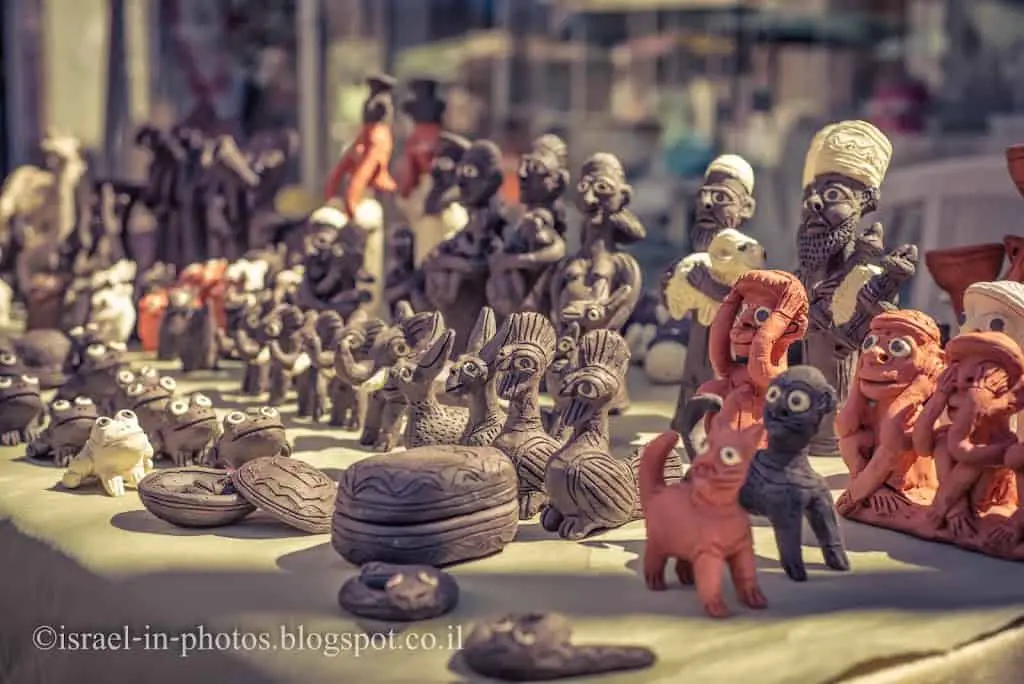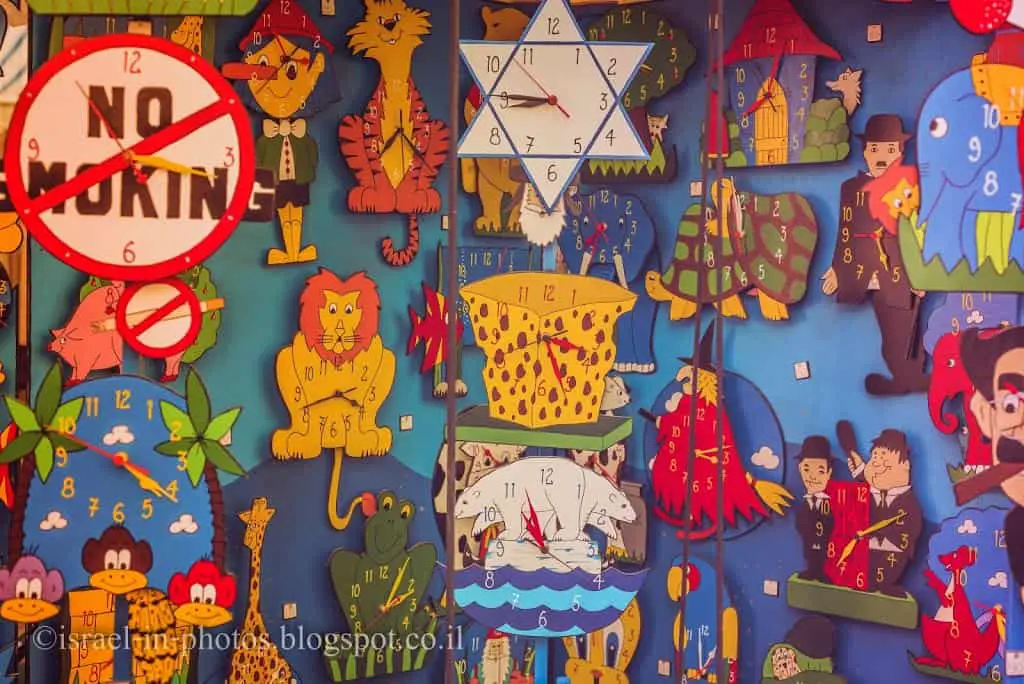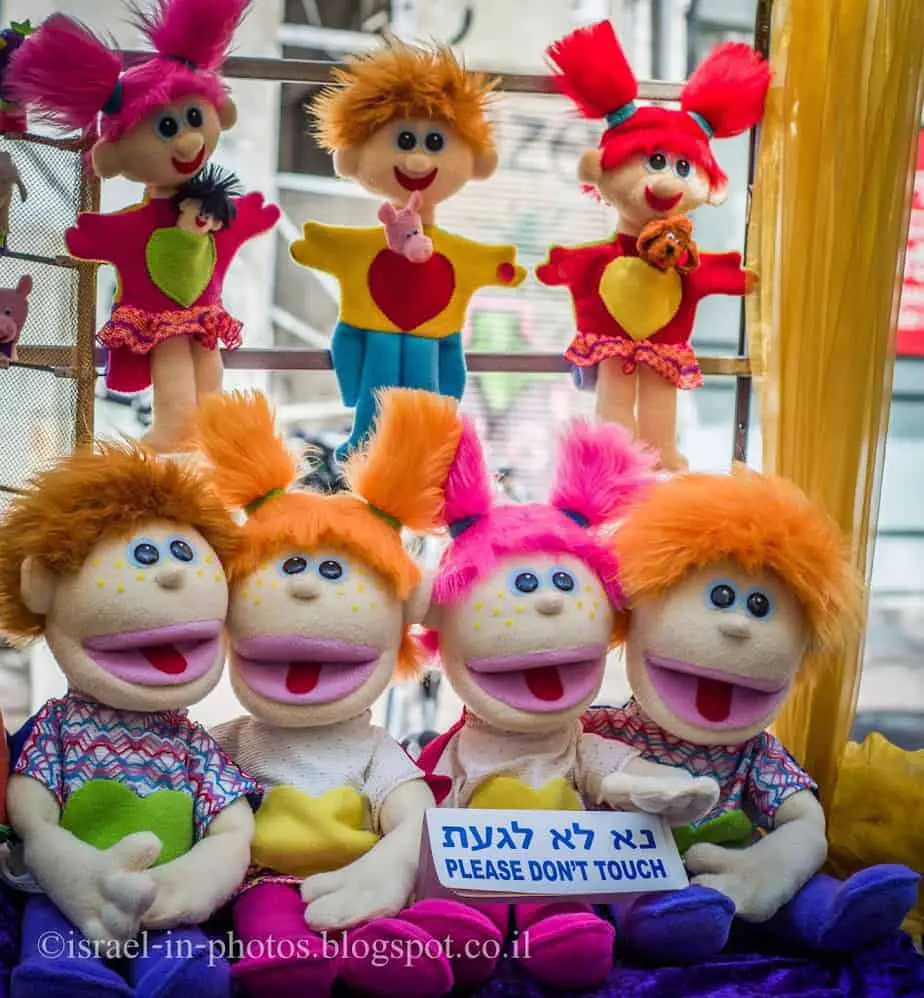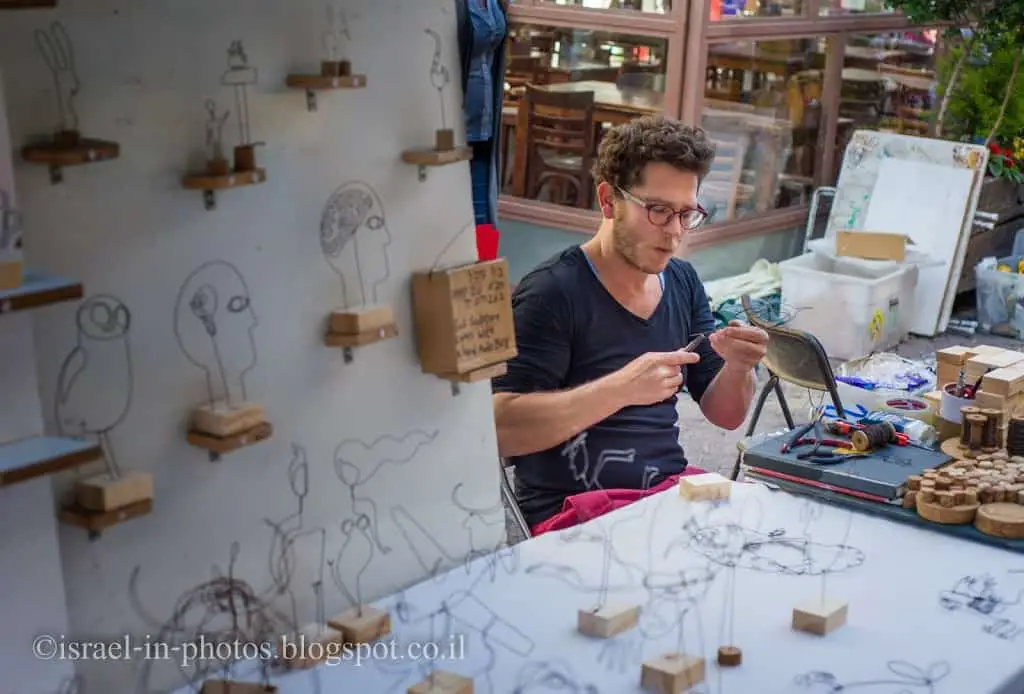 The fair is an extraordinary experience. It is full of unique handmade creations and designs. But keep an eye on the historical buildings in the background. Here is one of them.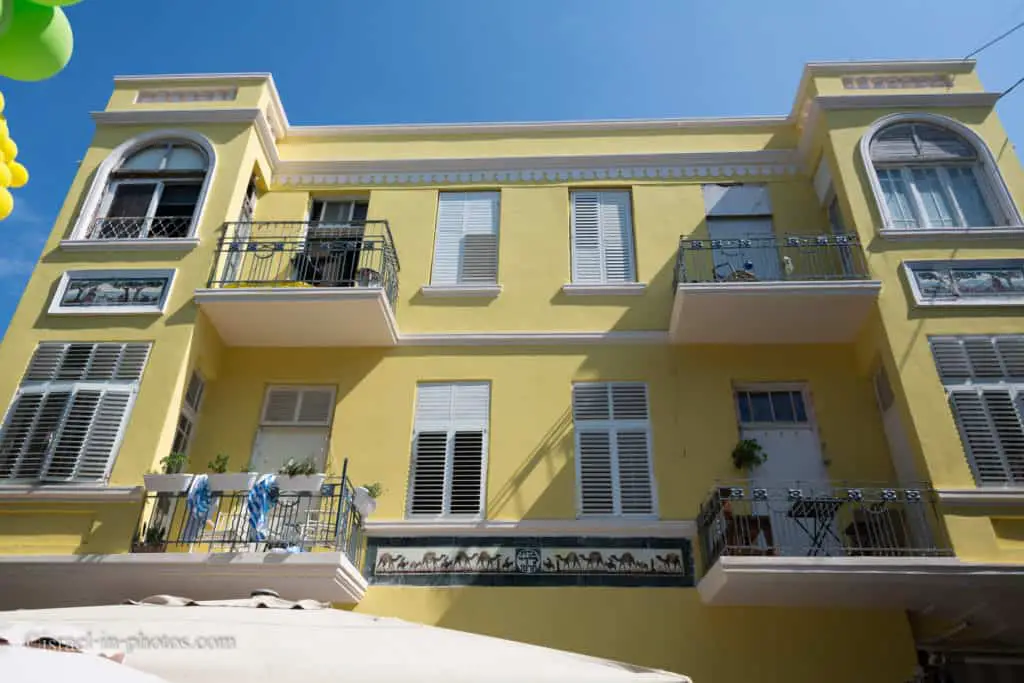 Besides the art fair, there are many coffee shops on Nachalat Binyamin street. Thus you can combine a visit to the market with a brunch, for example. And you can also find there one of my favorite ice creams – Arte Italian Ice Cream at Nahalat Binyamin 11.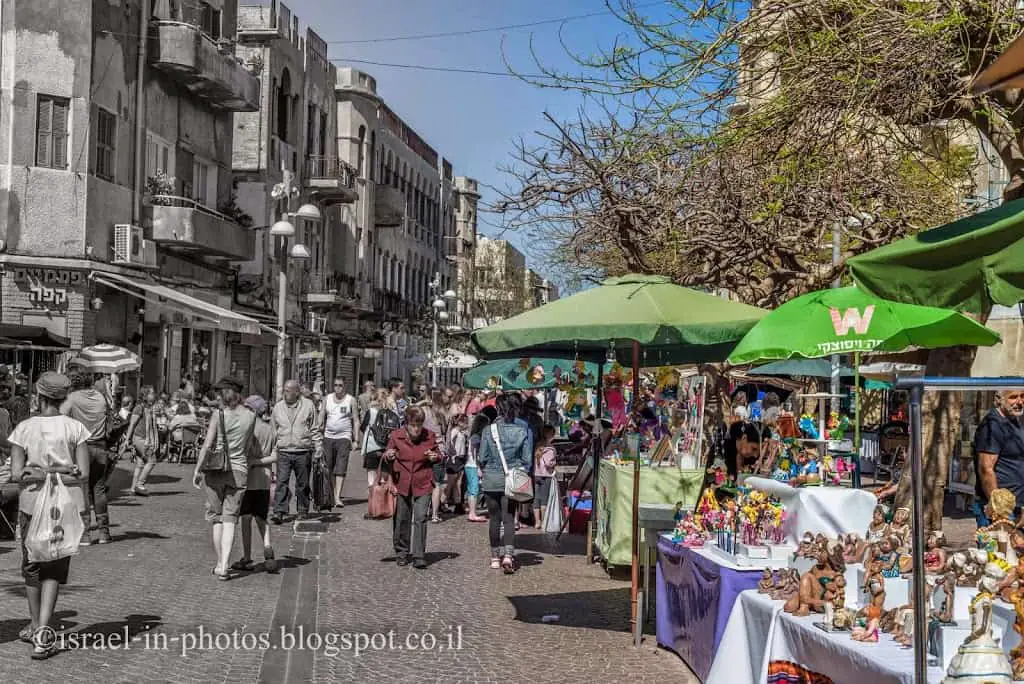 Graffiti
On Nachalat Binyamin and nearby streets, you can find graffiti. And if you love street art, then check out Graffiti At Florentin.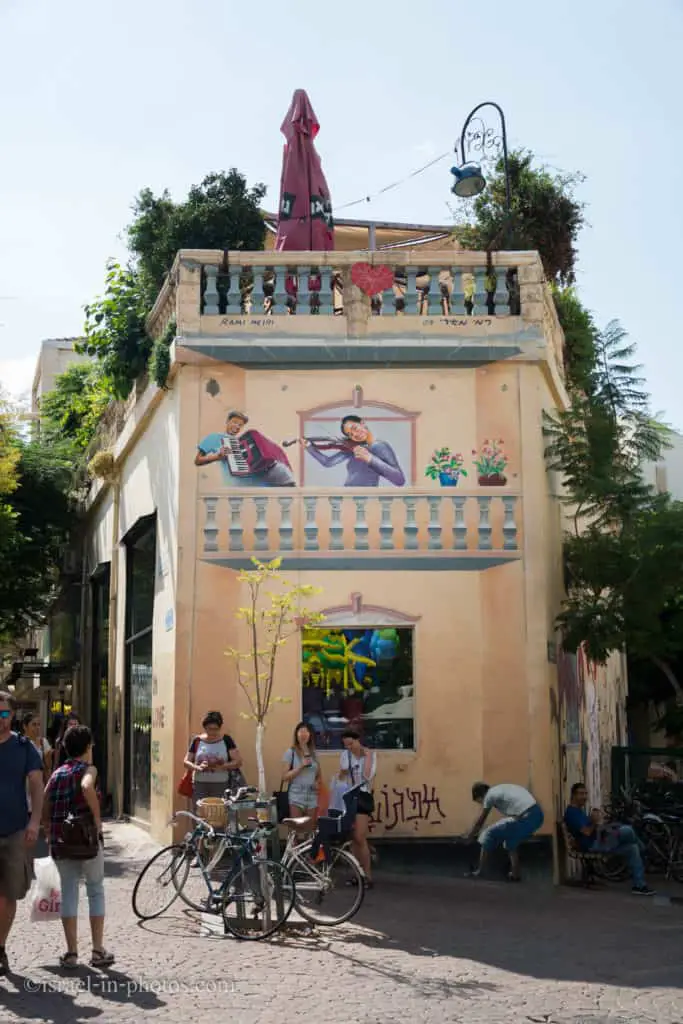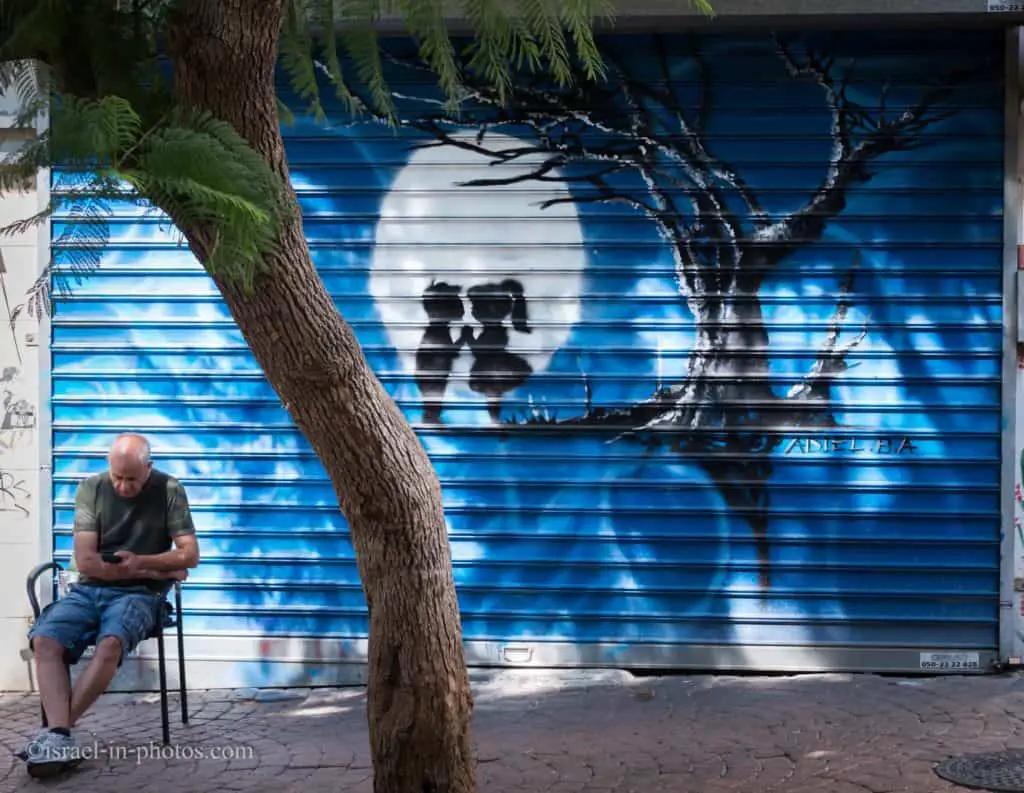 Street Performers
Mainly on holidays, but sometimes on Fridays as well there are street performances and live music. For example, on our visit to this market during the Sukkot vacation, we saw a circus performance, a music show, and several live statues.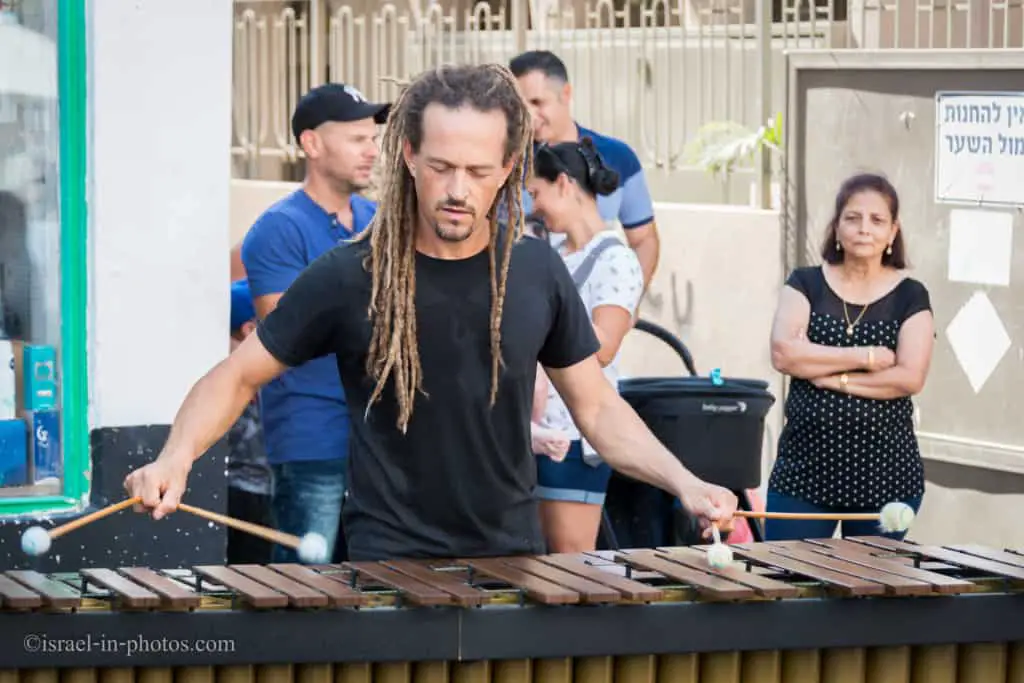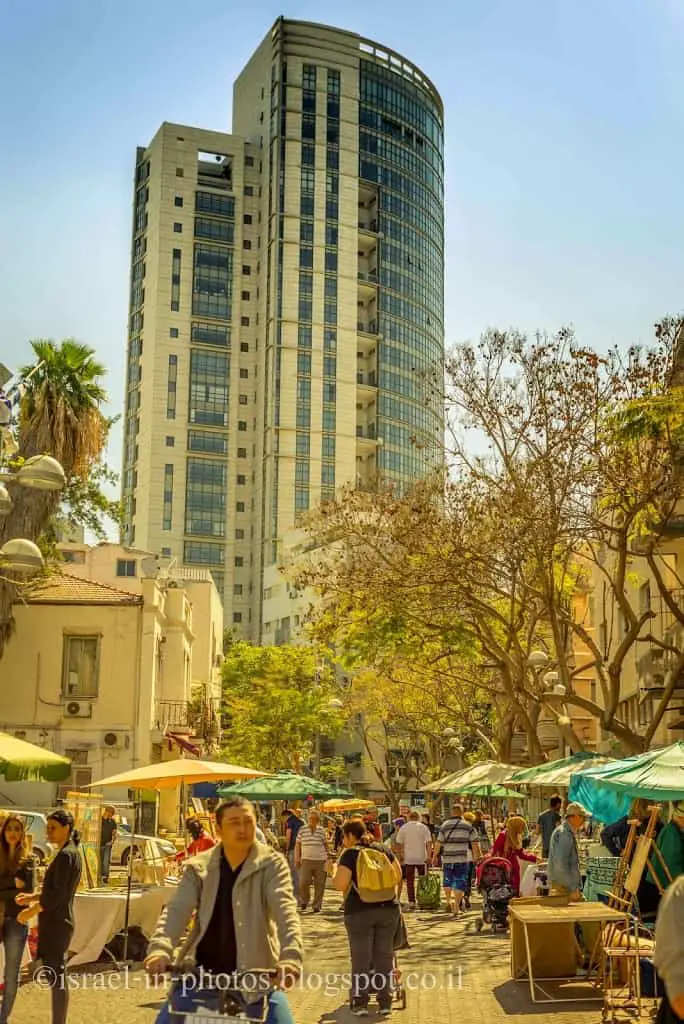 We visited the Nachalat Binyamin market about a dozen times. And our typical visit was up to one and a half hours. Thus, you can combine the artists' fair with other points of interest. And this leads us to the next section.
Nearby Attractions
Here are several nearby attractions that you can reach on foot:
Summary
If you have never visited Nachalat Binyamin and love such events, I recommend seeing it. Moreover, you can find there lovely and unique souvenirs.
If you love markets, check out Markets In Tel Aviv And Jaffa. And for additional points of interest nearby, see Tel Aviv-Yafo.
Have you ever been to the Nachalat Binyamin Market? Tell us in the comments below.
That's all for today, and I'll see you in future travels!
Stay Tuned!
Additional Resources
Here are several resources that I created to help travelers:
And if you have any questions then check out
Useful Information For Tourists To Israel
.  
Did not find what you were looking for? Leave a comment below, and I will do my best to answer your questions.