Let's visit the Russian Orthodox Church in Israel, also known as the Church of Saint Peter and Saint Tabitha in Jaffa or Tabitha`s Tomb.
We have received recommendations regarding a newly built park in Tel Aviv. Thus, one Saturday morning, we went to check it out. We did not know that the park was located next to the Russian Orthodox Church in Abu Kabir.
Map
Russian Orthodox Church is located in the Abu Kabir neighborhood, Southern Part of Tel Aviv. Next to Ofer Cohen and Levanon streets.
Directions for drivers: Link to Waze and Link to Google Maps
Directions for public transport: Link to Moovit
Interactive map of the area:
Offers:
Hotels, hostels, and apartments in this area:
The park next to the church is indeed quite lovely. There is free parking (entrance from Ofer Cohen Street while driving east). Close to the parking, you can find tables for a picnic, which is convenient since you will not need to carry food. If you continue into the park, you will find greenery, a big playground for children, and the Russian Orthodox Church in Abu Kabir.
Abu Kabir
I mentioned that the church is located in Abu Kabir. Today Abu Kabir is one of Tel Aviv's neighborhoods. But did you know that it was founded by the Egyptians almost 200 years ago?
Abu Kabir was a satellite village of Jaffa founded by Egyptians following Ibrahim Pasha's 1832 defeat of Turkish forces in Ottoman-era Palestine. During the 1948 Palestine war, it was mostly abandoned and later destroyed. After Israel's establishment in 1948, the area became part of south Tel Aviv. Officially named Giv'at Herzl, according to the name of an adjacent Jewish neighborhood, the name Abu Kabir continued to be used.

Part or all of Abu Kabir was officially renamed Tabitha by the Tel Aviv municipality in 2011.
Source: Wikipedia
Russian Orthodox Church
Today's post will be about that church. I always saw it while driving at Derech Kibbutz Galuyot but never visited it inside. Let's check it out.
Opening Hours
Friday: 08:00 – 11:00 and 15:00 – 19:00.
Saturday: 07:00 – 11:30 and 15:00 – 19:00.
Sunday: 07:00 – 11:30.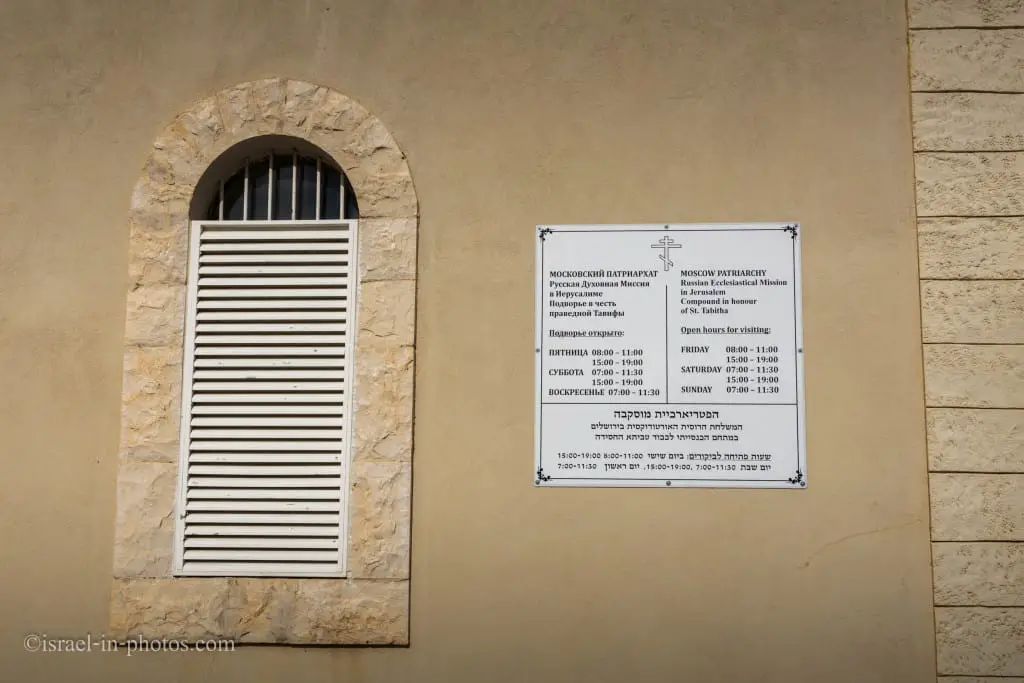 Different Names
First of all, naming is somewhat problematic. Different sites refer to it using different names. Some refer to it as the Russian Orthodox Church, others as Church of Saint Peter or Church of Saint Peter and Saint Tabitha in Jaffa (though it is not located in old Jaffa), and sometimes this site is called Tabitha's Tomb.
The Name Tabitha
Tabitha is an English language feminine given name, derived from an Aramaic word, ṭaḇīṯā "[female] gazelle," Hebrew: Tzviya. It is a biblical name from Acts of the Apostles 9:36, which in the original Greek was Ταβιθά, in which Tabitha (Dorcas in Greek) is a woman raised from the dead by Saint Peter. Other alternate spellings include Tabytha, Tabatha, Tabathina, and Tabea. Nicknames include Tab, Tabbi, Tabby, Tabbie, Tabi, and Tabs.

The name was common in 18th century New England, and of those born between 1718 and 1745, ranked about 31st as a most common female given names, about 0.56% of the population. The name gained a resurgence in the United States in the 1970s and 1980s, ranking among the 200 most popular names for girls. The character Tabitha Stephens, a child witch on the 1960s television situation comedy Bewitched, raised the name's profile. It has since declined in popularity. In 2009 it was the 647th most popular name for girls in the United States. The name was the 209th most popular name for girls in England and Wales in 2007.

Tabitha is rare as a surname.
Source: Wikipedia
Who Was Dorcas?
Tabitha in Greek is referenced as Dorcas. And since today, many places refer to her as Dorcas, so here is the relevant value from Wikipedia:
Dorcas was a disciple who lived in Joppa, referenced in the Acts of the Apostles (9:36–42) in the New Testament. Her name in the Textus Receptus is "Ταβιθά" (Tabitha).

On October 25, the Eastern Orthodox Church celebrates Saint Tabitha the Widow, raised from the dead by the Apostle Peter.

Acts recount that when she died, she was mourned by "all the widows… crying and showing (Peter) the robes and other clothing that she had made while she was still with them" (Acts 9:39). The Greek construct used in this passage indicates that the widows were the recipients of her charity, but she may also have been a widow herself. She was likely a woman of some means, given her ability to help the poor. The disciples present called upon Peter, who came from nearby Lydda, where her body was being laid out for burial and raised her from the dead.

This narrative concerning Tabitha/Dorcas indicates her prominence in the community at Joppa. It might also be indicated by the fact that Peter took the trouble to come to her from a neighboring city when requested by the community members.
Thus, according to the New Testament, both Saint Peter and Tabitha visited this location, and a cave that is located nearby is believed to be Tabitha's burial cave.
Also, since we mentioned Saint Peter, then check out the Guide To Attractions In Old Jaffa, where among other attractions, we visit Saint Peter's Church as well.
Short History
The Russians acquired the land during the late Ottoman period, in 1874. An ancient, 2000-year-old Jewish cemetery from the Roman period was discovered on the hill slope in the 19th century. In 1835 a burial cave was discovered by a Russian monk who thought it belonged to the ancient Tabitha, a girl whom Saint Peter revived and cured, according to the New Testament. This burial cave was proclaimed as a holy place, and the church (inaugurated in 1894) was dedicated to Saint Peter.
Its location was strategic: close to the main Jaffa – Jerusalem road, which was the road pilgrims used to take from the port of Jaffa to the holy city of Jerusalem. The church provided lodging to Russian pilgrims.
Cell prayer in the name of the Holy Tabitha: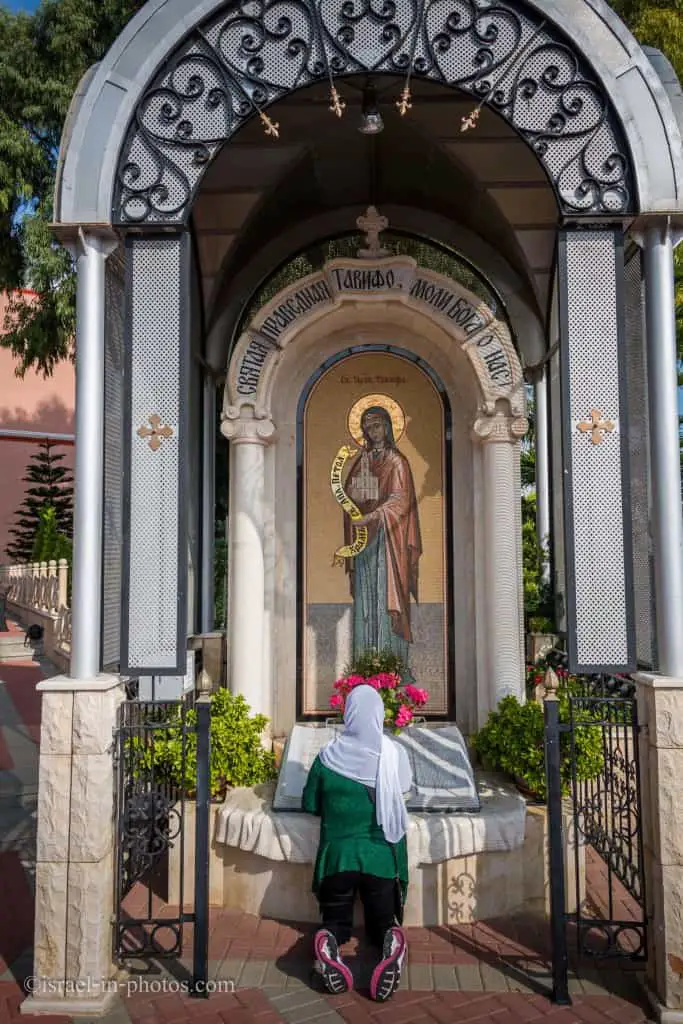 The Church Building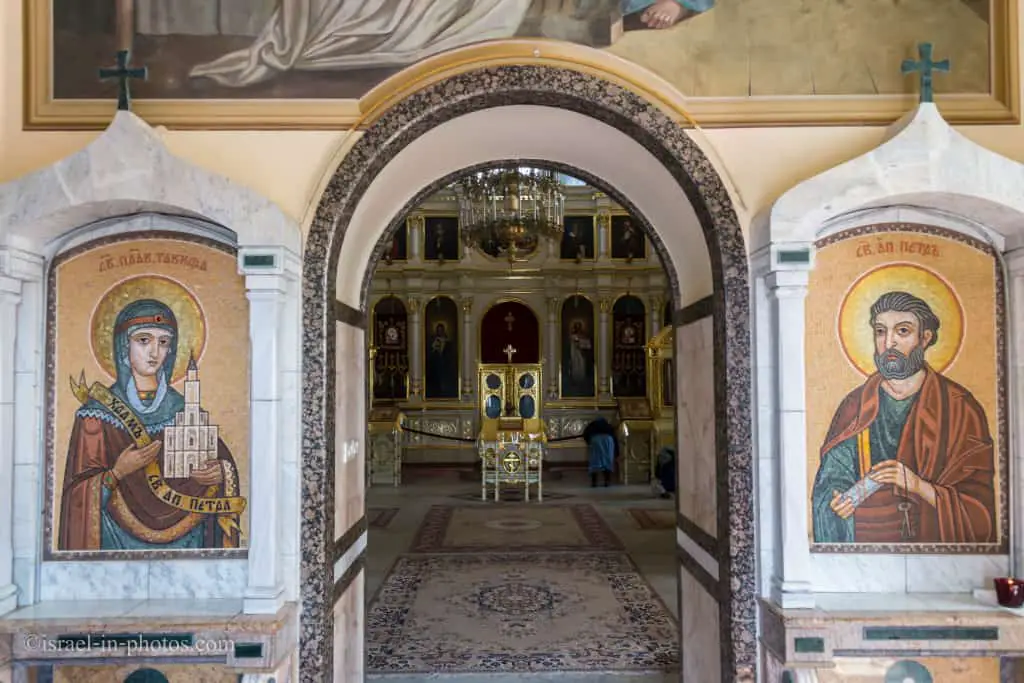 The walls and ceiling of this nineteenth-century house of prayer are almost entirely covered with beautiful murals and icons.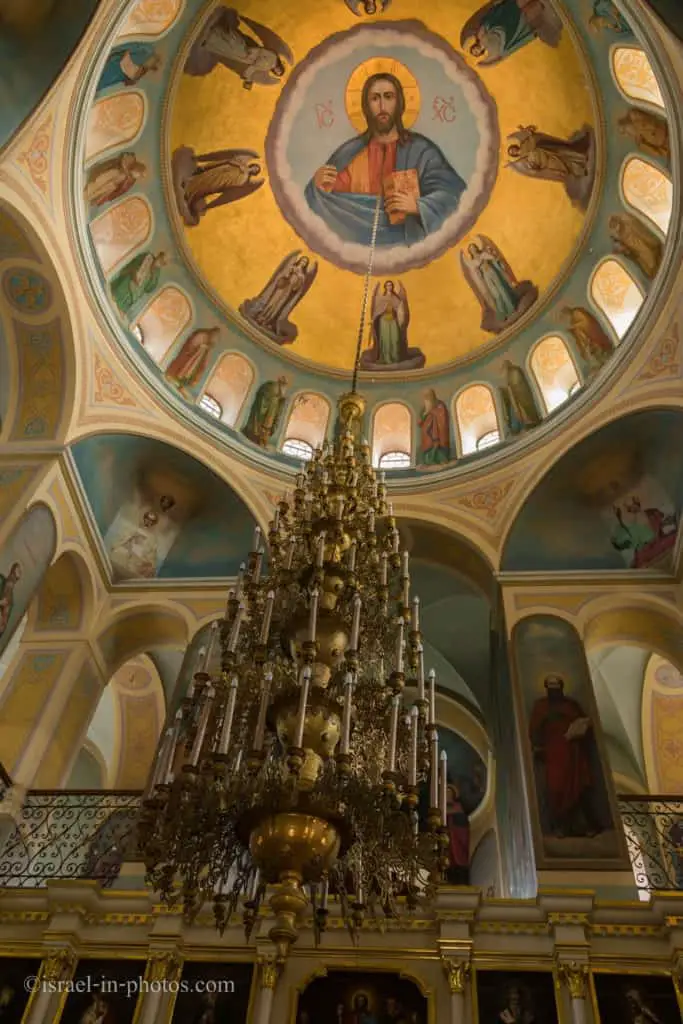 Here are several additional interior photographs: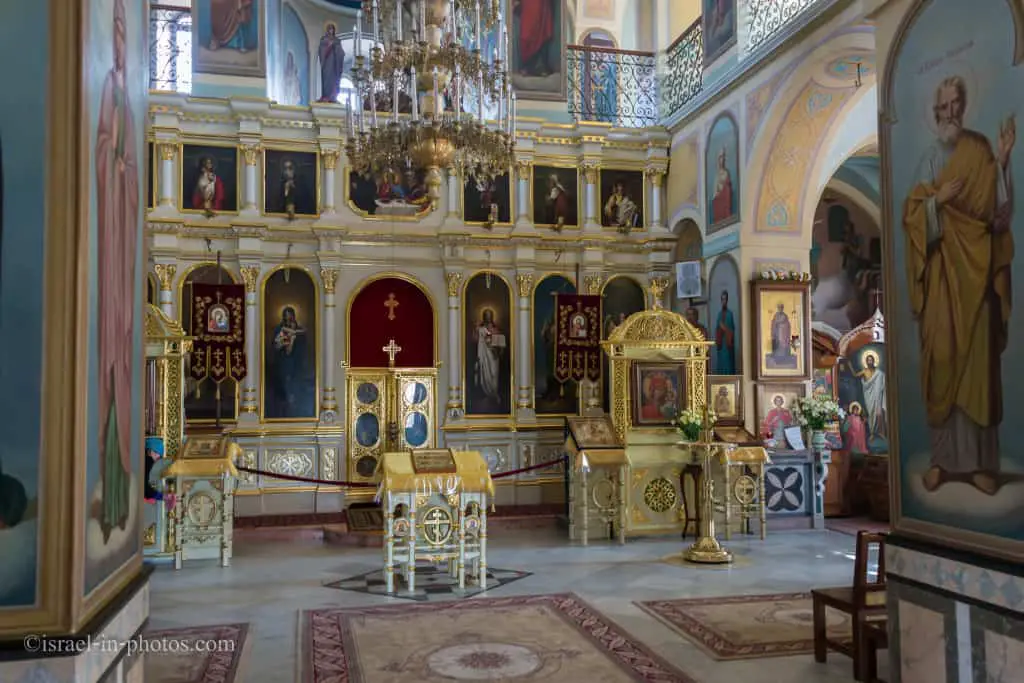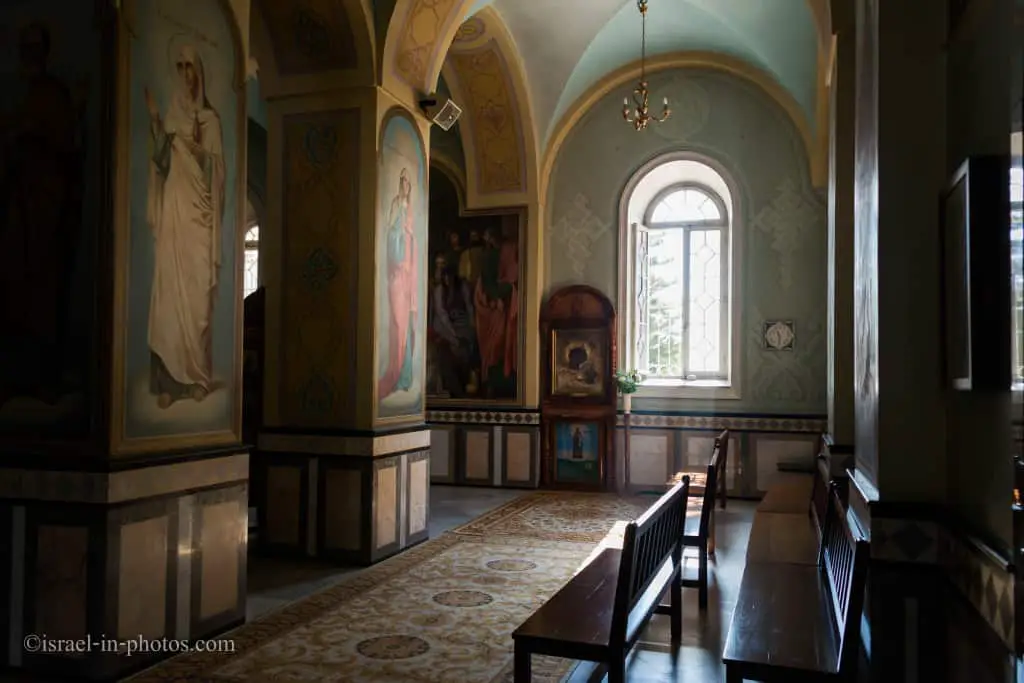 And this is the entrance: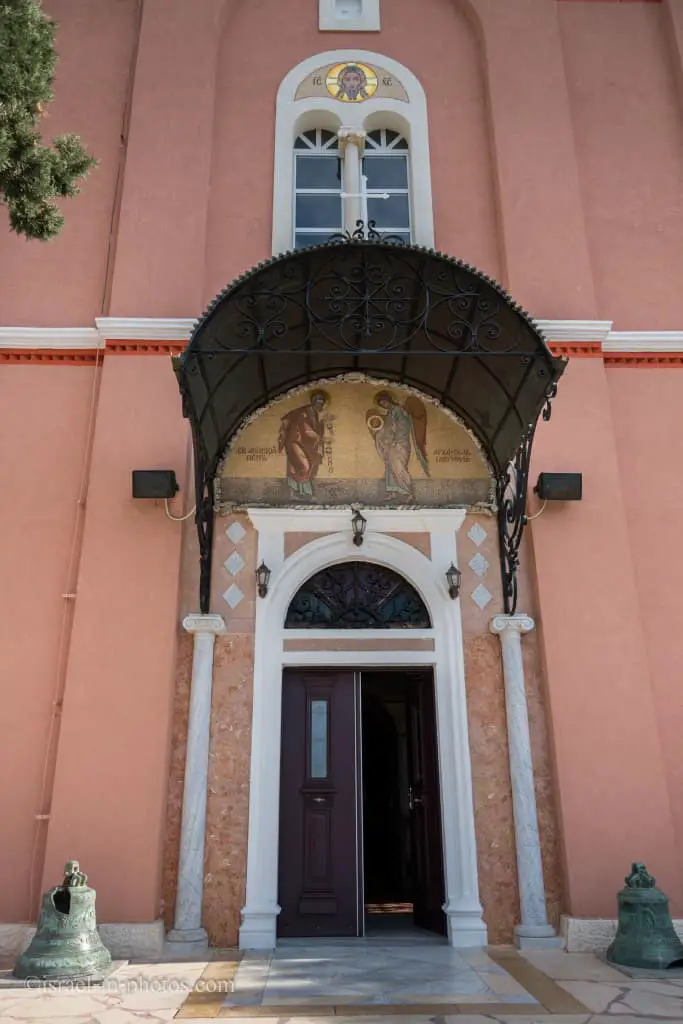 The main tower: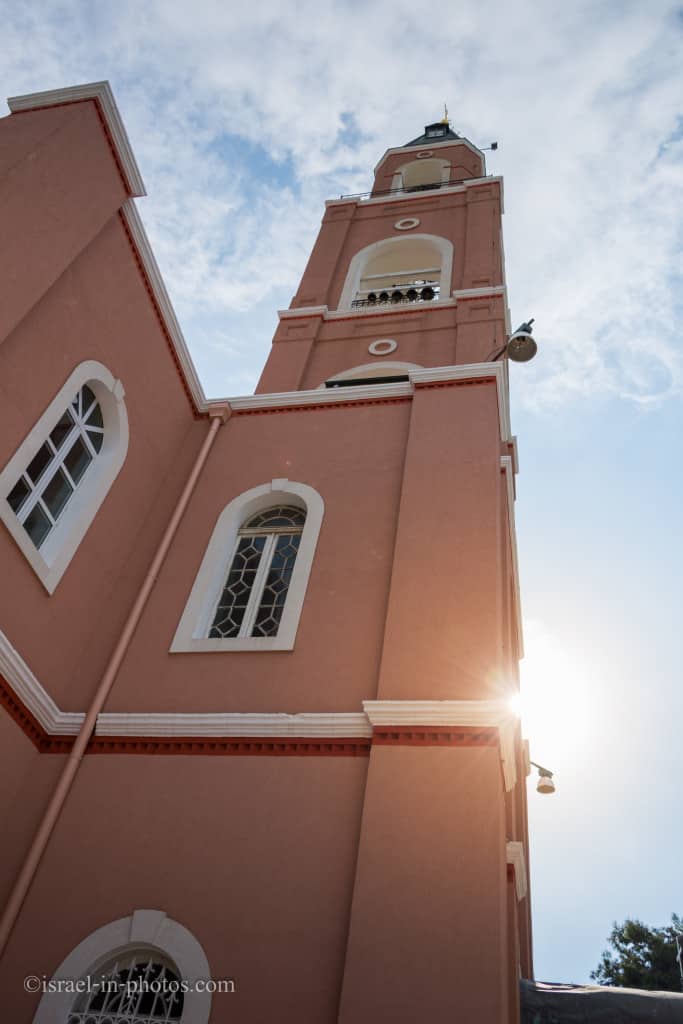 Tabitha's Burial Cave
If you continue north to the gate, you will see a trail on the left side. At the end of that trail, you can find the burial cave.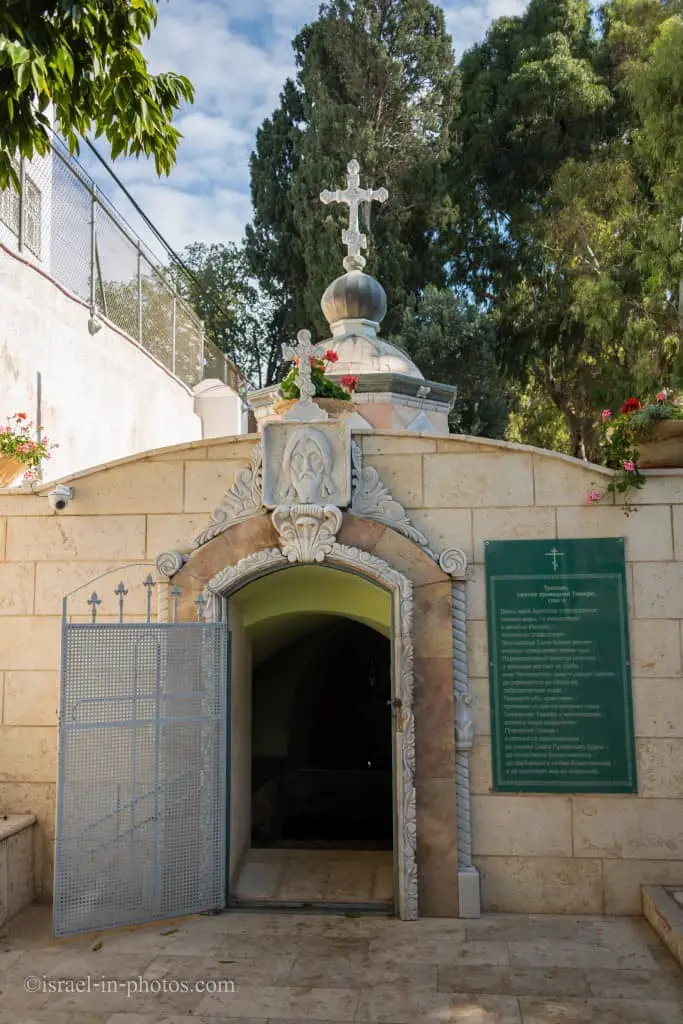 Inside the cave: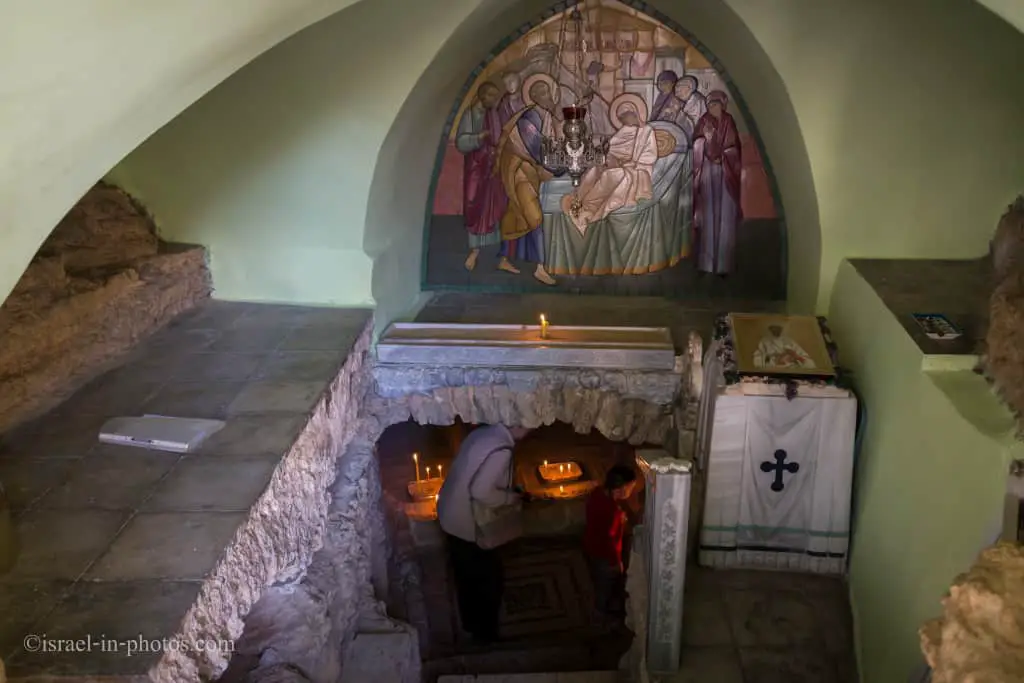 Parrots in the gardens:
The towers of the Russian Orthodox Church in Abu Kabir: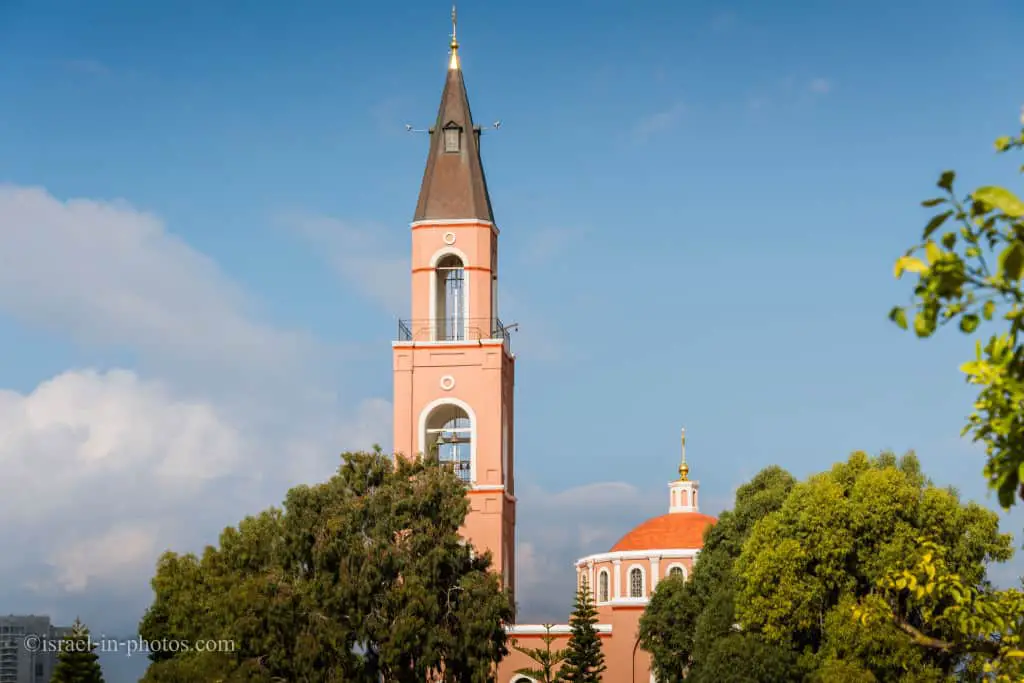 And the last look at the church with the gardens: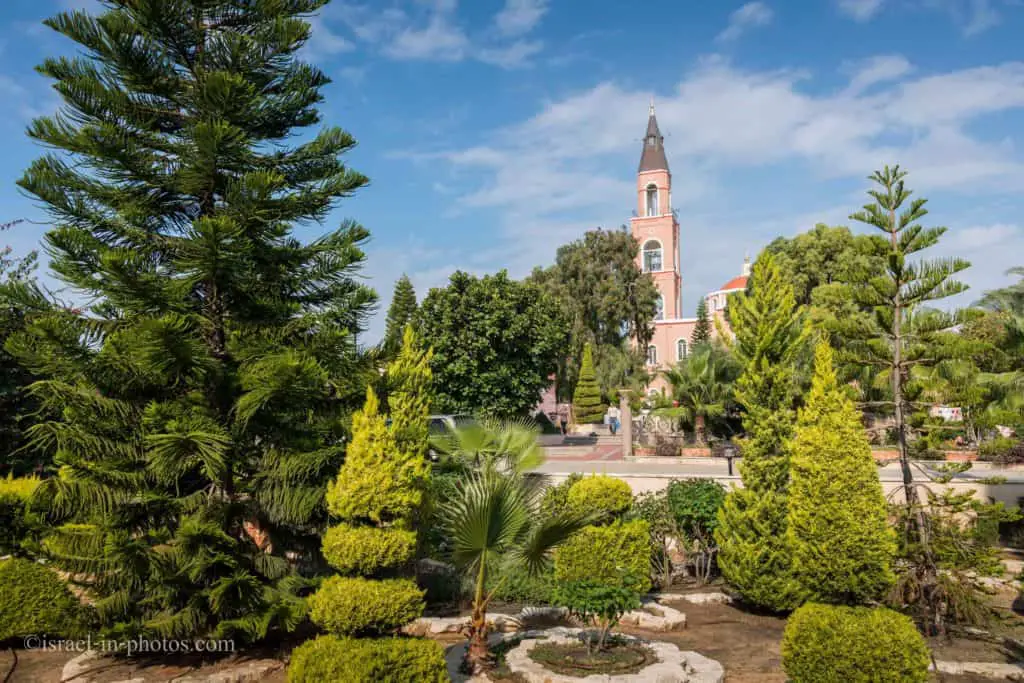 Summary
It is a small hidden gem in Tel Aviv. And it took me more than 20 years of living in Israel till I visited the Russian Orthodox Church in Tel Aviv. Moreover, the new parks around it add another reason for visiting.
Have you ever been to the Russian Orthodox Church in Tel Aviv? Tell us about your experience in the comments below.
That's all for today, and I'll see you in future travels!
Stay Tuned!
For additional points of interest nearby, see Tel Aviv-Yafo.
Additional Resources
Here are several resources that I created to help travelers:
And if you have any questions then check out
Useful Information For Tourists To Israel
.  
Did not find what you were looking for? Leave a comment below, and I will do my best to answer your questions.