There are shops (art boutiques, designer stores, and second-hand places) and restaurants at Jaffa Flea Market (Shuk Hapishpeshim).
Notes:
This post focuses on Jaffa Flea Market. If you want to see other attractions in Jaffa, check out Old Jaffa and Jaffa Port.
Shuk Hapishpeshim means Flea Market in Hebrew.
Map
Jaffa Flea Market is located close to the Jaffa Clock Tower. And here is the first important tip. There is a public toilet just before the tower, inside an alley on the left.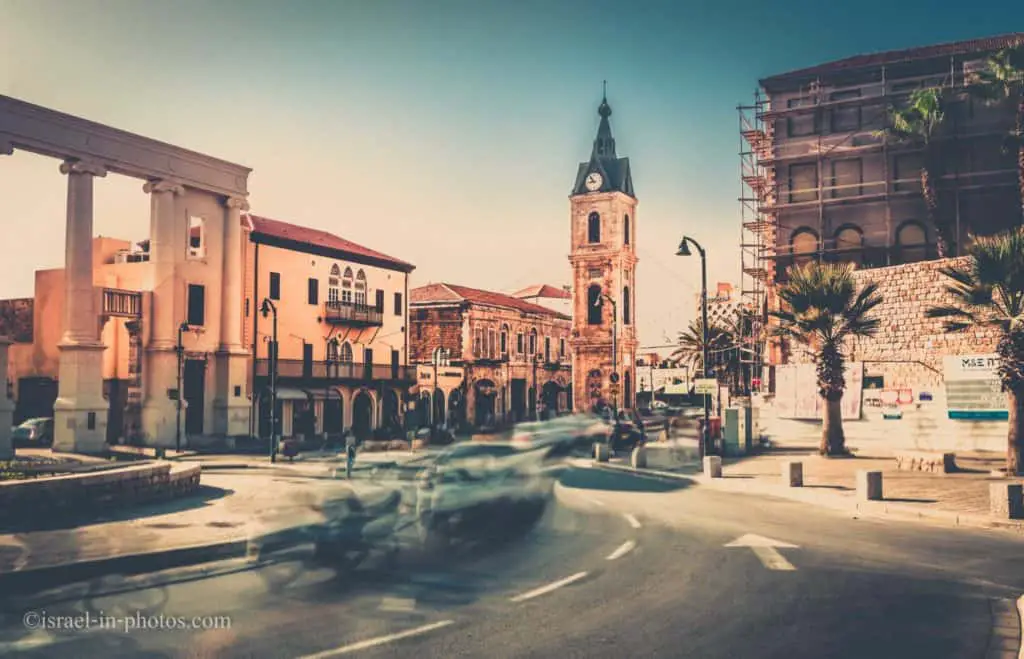 While standing next to the restroom, you will see people gathered next to the tower (in the arc). Many tours start at the clock tower.
More about The Clock Tower and other attractions in Jaffa can be found in my guide to Old Jaffa.
Directions for drivers: Link to Waze and Link to Google Maps
Directions for public transport: Link to Moovit
Interactive map of the area:
Offers:
Hotels, hostels, and apartments in this area:
The Flea market is located on Olei Zion, Yehuda Margoza, Beit Eshel Streets, and the alleyways connecting them. And if you are interested in coffee shops, head to the nearby Rabbi Pinhas and Ami'ad Streets (and the alleys connecting them).
And here is the map of attractions in Old Jaffa and the flea market in the top left corner:
Note: you can click on the map to enlarge it.
Opening Hours
Sunday to Thursday – 9:00 – 17:00.
Fridays 9:00 – 14:00.
Saturday – closed.
Opening Hours During Festivals & Holidays
Sometimes, during festivals and holidays, the Flea Market will also be open in the evening. For example, last August, every Thursday, the market was open from 20:00 to 24:00. There were street performers, musicians, and even shows by a street theater.
In any case, I would suggest rechecking the official website before a visit.
When to Visit
I visited the Flea Market many times, which was always Friday mornings. Friday morning was not selected by coincidence. Many Israeli do not work on this day. Moreover, many make it a shopping day, the busiest time in the market. Furthermore, On Fridays, there will be portable stands where artists show their creations, and people will sell second-hand stuff. On the one hand, the market will be the busiest on Friday, on the other, you will see the widest variety.
Jaffa Flea Market at Night
You might think that since the market is closed in the evening, this area is deserted later in the day. On the contrary, many people hang out at restaurants and coffee shops on Rabbi Pinhas and nearby streets. There are a relaxed vibe and tasty food. An excellent companion, and you are set.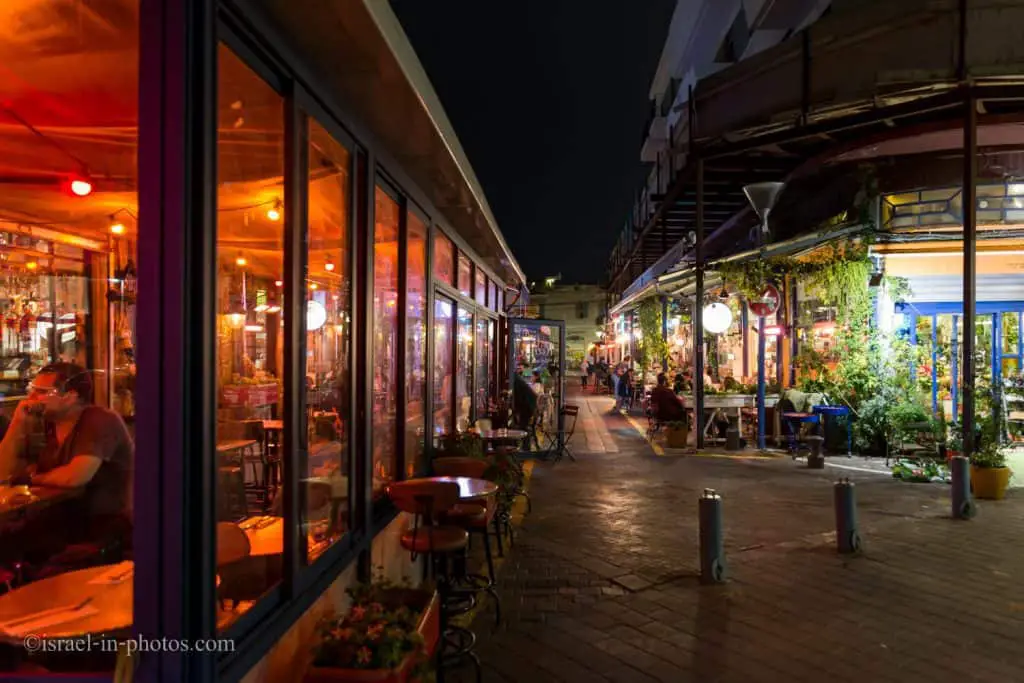 Parking
First of all, I should mention that finding parking in this area is not an easy task. Thus, if you can consider reaching on foot or public transport. If you decide to take the car, here are several suggestions.
There are several free parking lots in the Jaffa area. If you come till 9:00, then you can park here. Between 9:00 and 10:00, you can look for parking here. And after 10:00, you can try here. Moreover, check out the parking suggestions in the guide to Old Jaffa.
Eat Shop Love
In the last part of the title, I added "Eat Shop Love," a paraphrase from Gilbert's best-selling memoir, "Eat Pray Love." In many aspects, Jaffa Flea Market reminds Elizabeth Gilbert's journey, just all in one place. Instead of flying to Italy, you can eat and enjoy life in numerous cafes and restaurants. And though there are many holy places in Israel (saves the trip to India 😉 ), I do not feel spiritual there. Thus, I replaced that word with shopping. And there are many types of shops (from junk to boutiques). And many people fall in love with this area and visit it repeatedly.
Basic Info
Just next to Jaffa's picturesque Old City and ancient Clock Tower is a treasure trove of antiques, handmade and second-hand items over at the Jaffa Flea Market. Literally "the Flea Market," this port-side neighborhood of alleyways, covered walkways, and outdoor verandas has been operating for more than 100 years across the same sprawling streets. Open six days a week, from Sunday through Friday, from morning through early evening hours. It is where to go to find those unique, one-of-a-kind items from long ago. This marketplace is filled daily with tourists and locals alike, all seeking the perfect (bargained for) purchase that captures the charm and magic of this unique market. Recently some trendy furniture and clothing shops have cropped up alongside vendors selling traditional Arabic pottery and ceramic items. Restaurants and coffee shops line the streets for weary shoppers to refresh and watch the crowds go by.
Note: unless stated otherwise, all quotes were taken from the official site.
Tours
While browsing the official site, I saw that they offer tours. If you would like to dive further into history and hear the stories of shop owners, then I would suggest joining a tour. Since I have not joined one of those tours yet, I can not share my experience.
You can find additional information here.
Origin Of The Name
Where did the Flea Market get its name from? The French named it after those pesky little parasites (wingless bloodsuckers) that infested mattresses and upholstery of old furniture brought out for sale.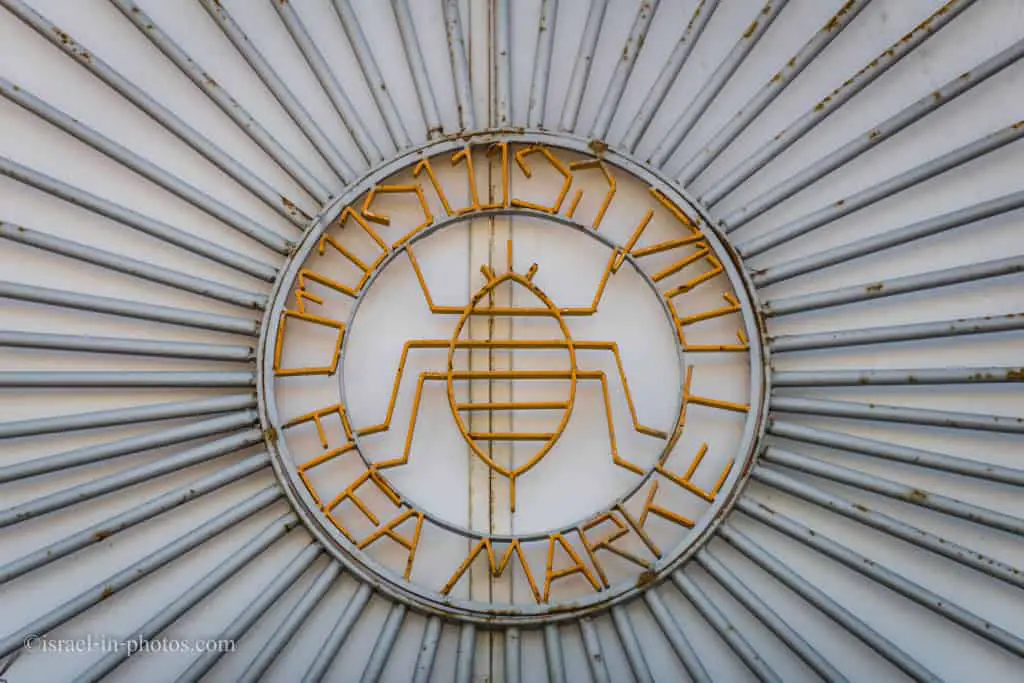 This is the sign above the entrance to the Jaffa flea market, containing the parasites in the middle.
Restaurants and Food Stalls
There are several clusters of Restaurants And Food Stalls in this area. One is at Jaffa Port, and the other is in and around the flea market. And in this section, we will cover some of the places.
Abulafia Bakery
Before going to the market, we decided to grab something to eat. If you continue straight on Yefet Street, you will reach Abulafia bakery. When standing next to Abulafia, you will see the clock tower.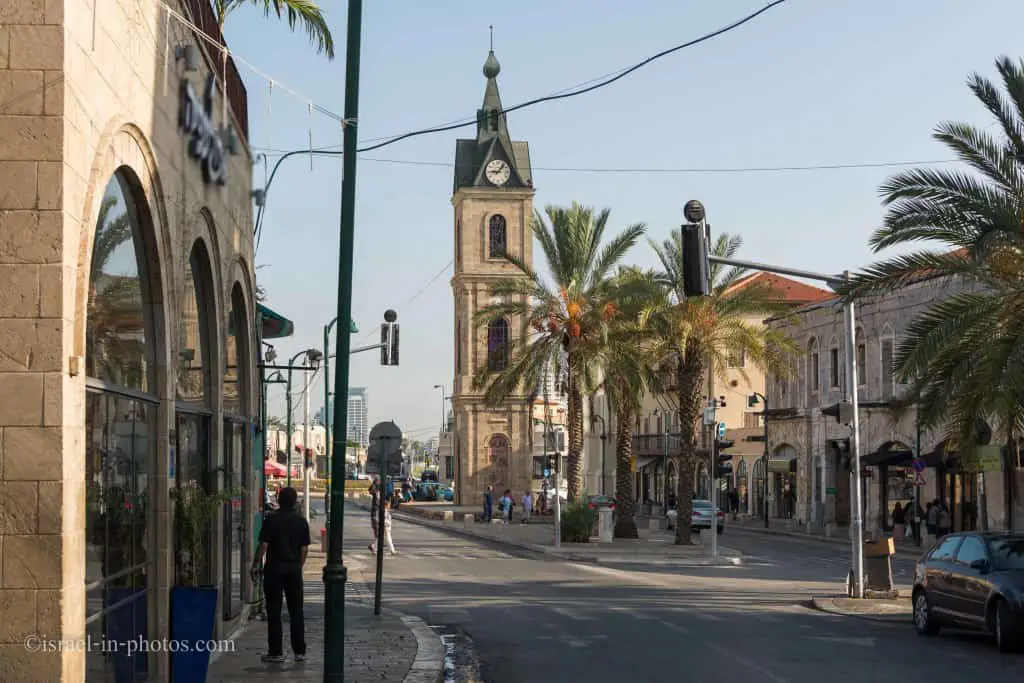 Abulafia bakery was founded in 1879, one of the oldest businesses in Israel. It is also among the only bakeries open 24 hours a day.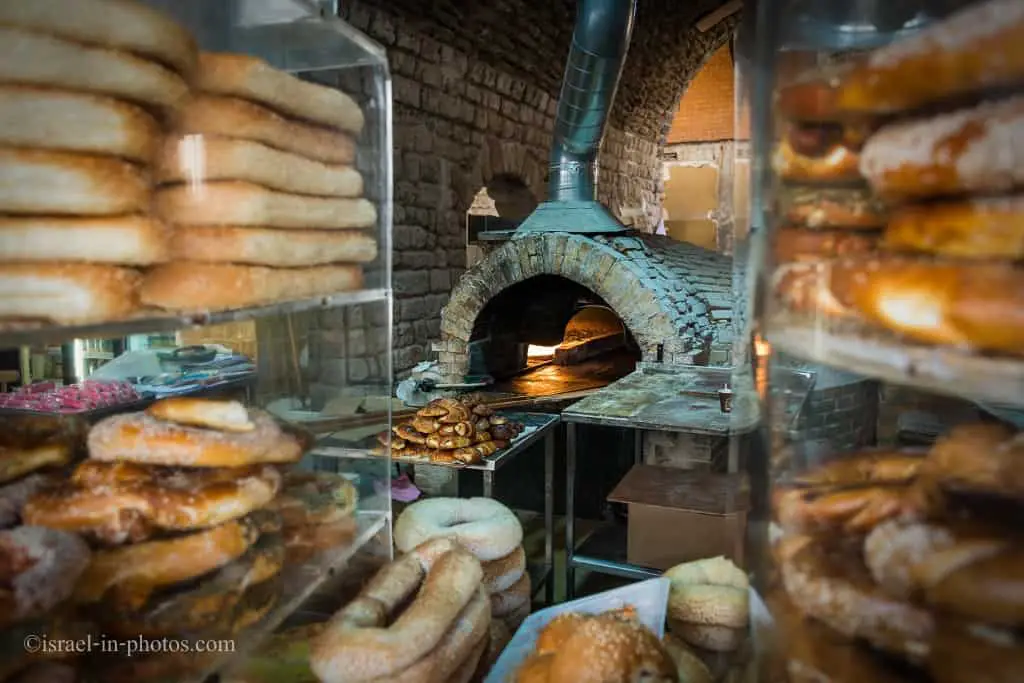 After making an order, they will heat it in a brick oven, and several minutes later, you are ready to go.
Leon Bakery
On one of our visits to Jaffa, my wife wanted to eat Bourekas. Friends recommended visiting Olei Zion 17 in Tel Aviv-Yafo, where you can find Leon Bakery. Leon Bakery specializes in handmade Balkan pastries from filo dough without margarine. And indeed, this was one of the healthier Bourekas that I ate.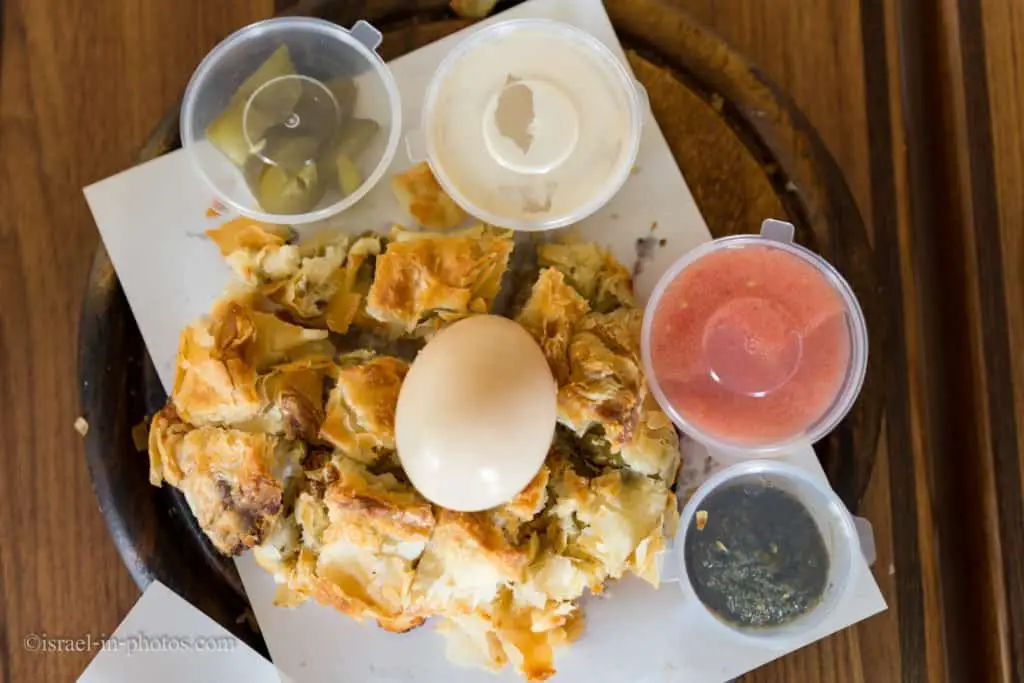 The immigration from Bulgaria in 1948 brought grandmother Julie and her family. To make a decent living in the new state of Israel, granny began to work in the hand of Bulgarian filo dough. She was the first and only one to do so at the time.

In the mornings, Grandma Jolie turned the beds upside down and stretched the dough. The residents of this area created an echo and demand that caused residents from all over the country to go up to Jaffa and purchase the traditional dough. To speed up the process, Grandma Jolie had put down wicks under special wooden tables she had built and recruited her child Leon, who worked as her right hand.

When he finished his studies, Leon decided to expand his heritage. He opened a shop in Jaffa, where he developed technological changes. In the 80's Leon's son, Avi joined the family business followed by Eli, the second son, and together developed quality products, home, and varied taste all over the country.

In 2004, Leon died and left behind the secrets of the profession he received from his mother and are preserved by his sons. These days, a dynasty of dough art continues to develop according to the spirit of the times, in a narrow and Bulgarian alley in Jaffa.
Source: official site
Tash & Tasha
Update: during my last visit, I saw signs that Tash & Tasha is moving to the HaTachana Compound.
If you love Georgian food, then Tash & Tasha at Beit Eshel 31 is the place for you.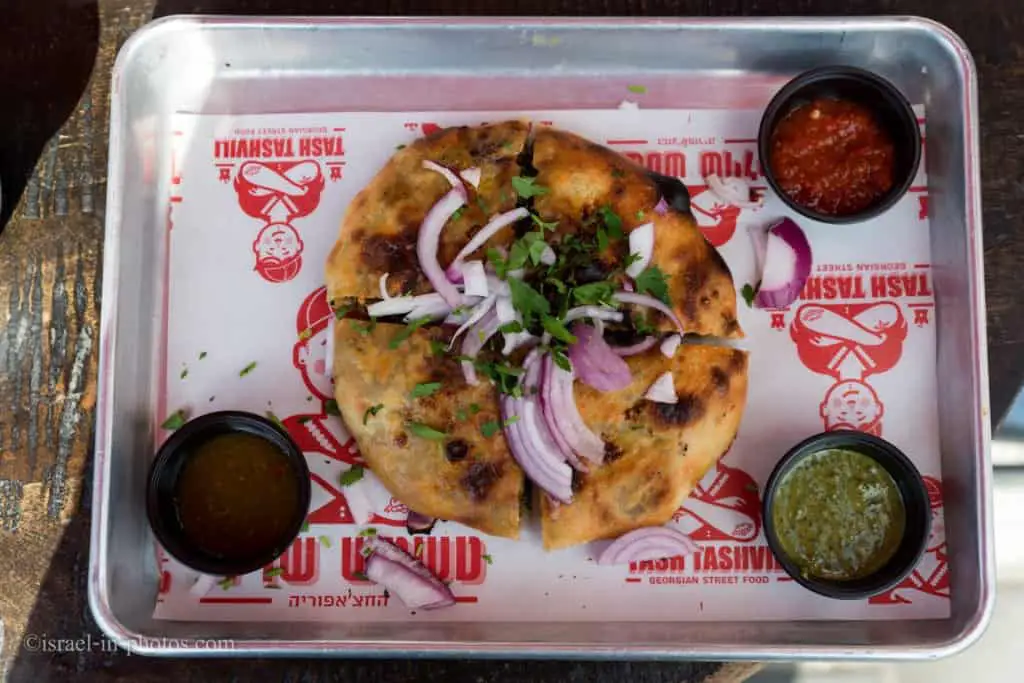 I took the photo above when we recently ate at their new food stall, which was opened near the restaurant.
Yaffa Knafeh
If you are looking for something sweet and authentic, Yaffa Knafeh at Olei Zion Street 24 is a good option.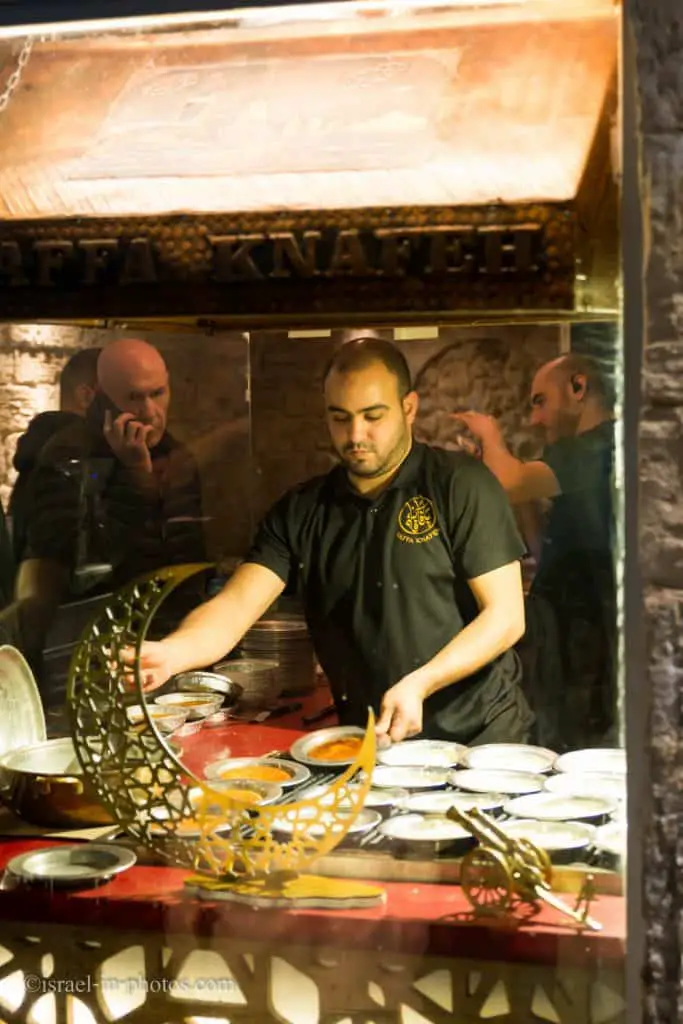 Kanafeh is a traditional Middle Eastern dessert made with thin noodle-like pastry, or alternatively fine semolina dough, soaked in sweet, sugar-based syrup, and typically layered with cheese, or with other ingredients such as clotted cream or nuts, depending on the region.
Source: Wikipedia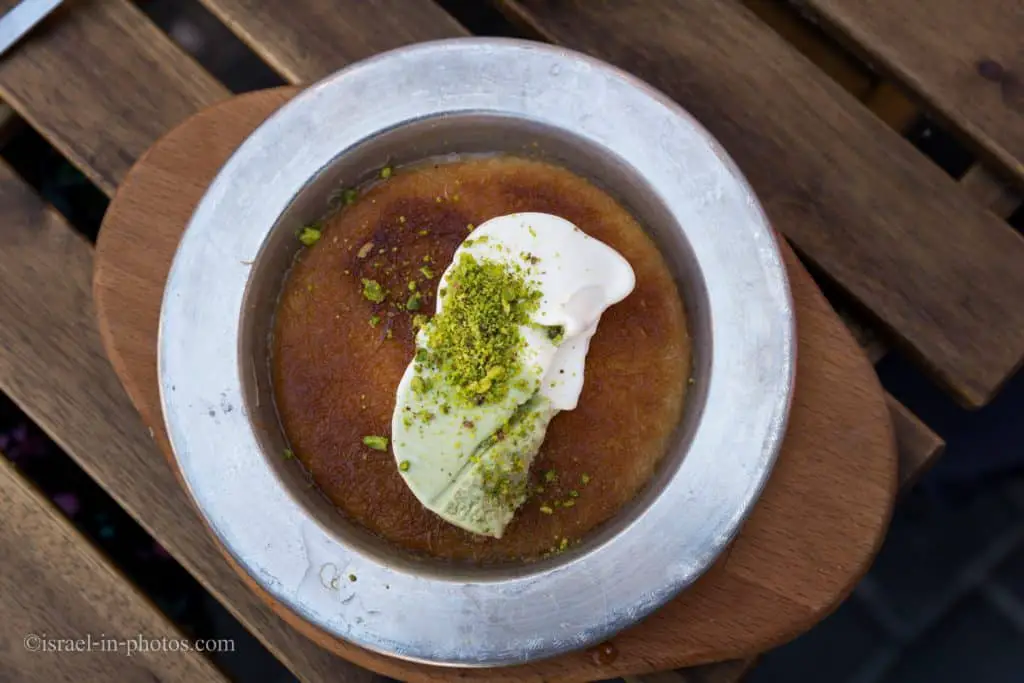 Baklava is a rich, sweet dessert pastry made of layers of filo filled with chopped nuts and sweetened and held together with syrup, frosting, or honey.
Source: Wikipedia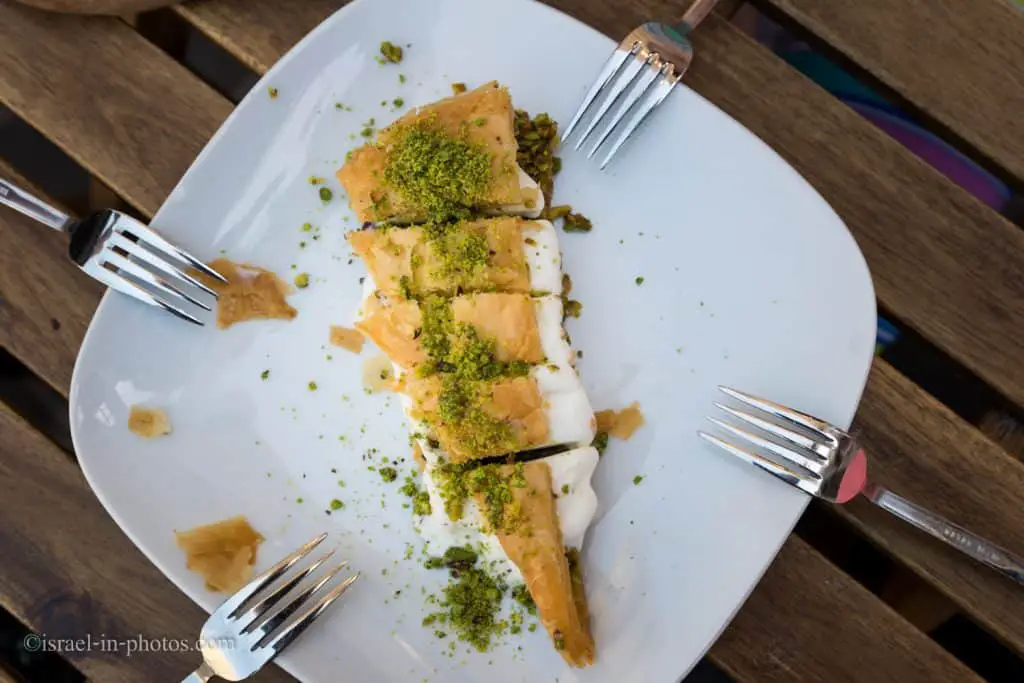 Other Places
And of course, this section would not be complete without mentioning Abu Hassan Restaurant. This small authentic restaurant at Shivtai Israel Street offers some of the best falafel and hummus in Israel.
Another popular place is Shaffa Bar at 2-3 Nachman Street. Their menu is very diverse, and you can find breakfasts, lunches, and dinners. If you are lucky, then there will be live bands.
The Old Man and the Sea at Jaffa Port (85 Kedem Street) specialize in seafood and is another favorite restaurant.
A good meal is not complete without a great dessert. And there is an abundance of places.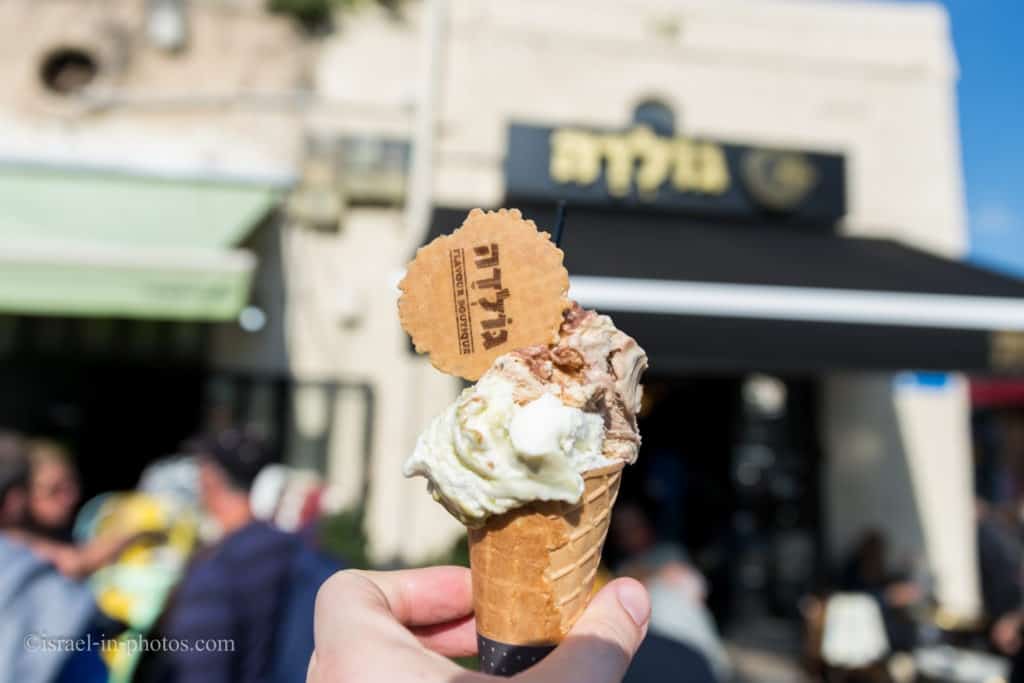 Stores at Jaffa Flea Market
From Abulafia Bakery, it is a two-minute walk to the Jaffa Flea Market. Many streets next to the market were affected by the market. Thus in this area, you can find many interior design stores.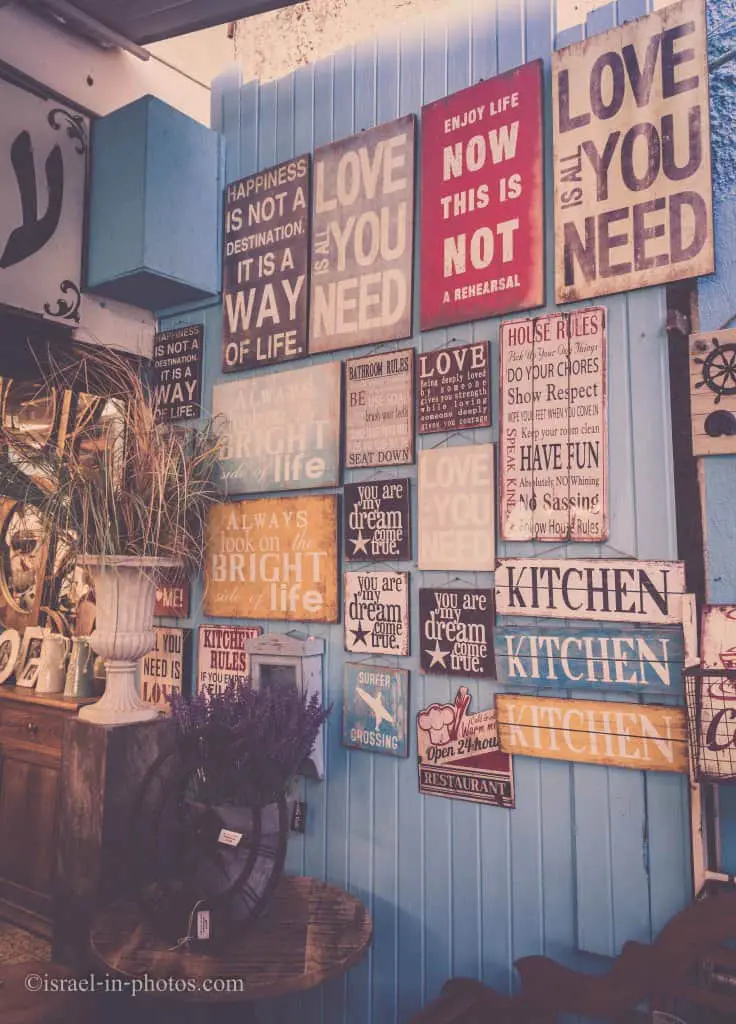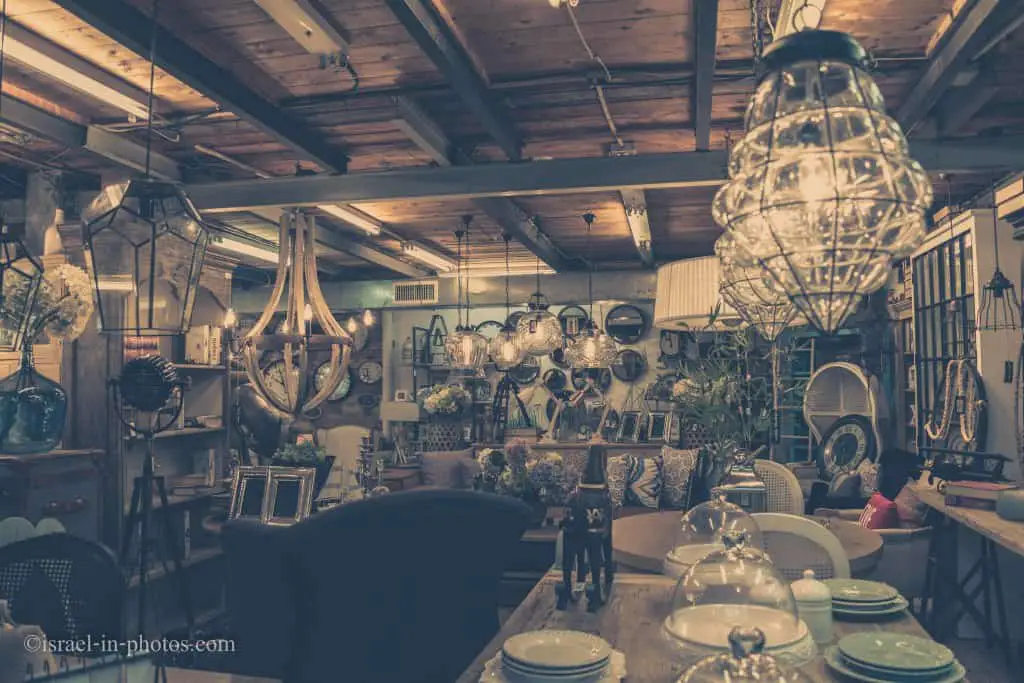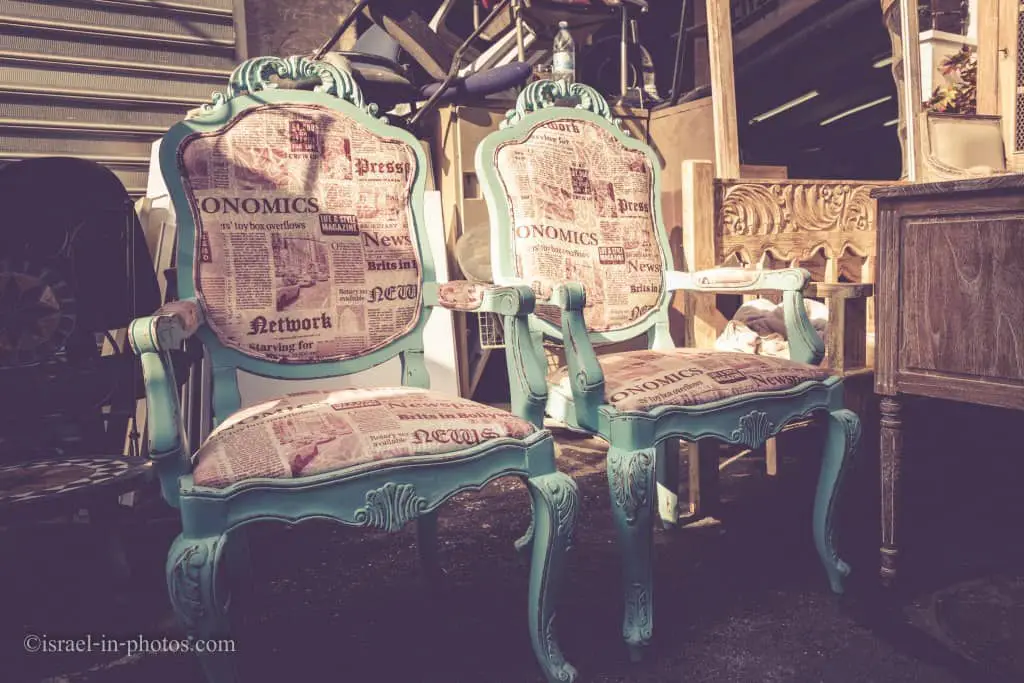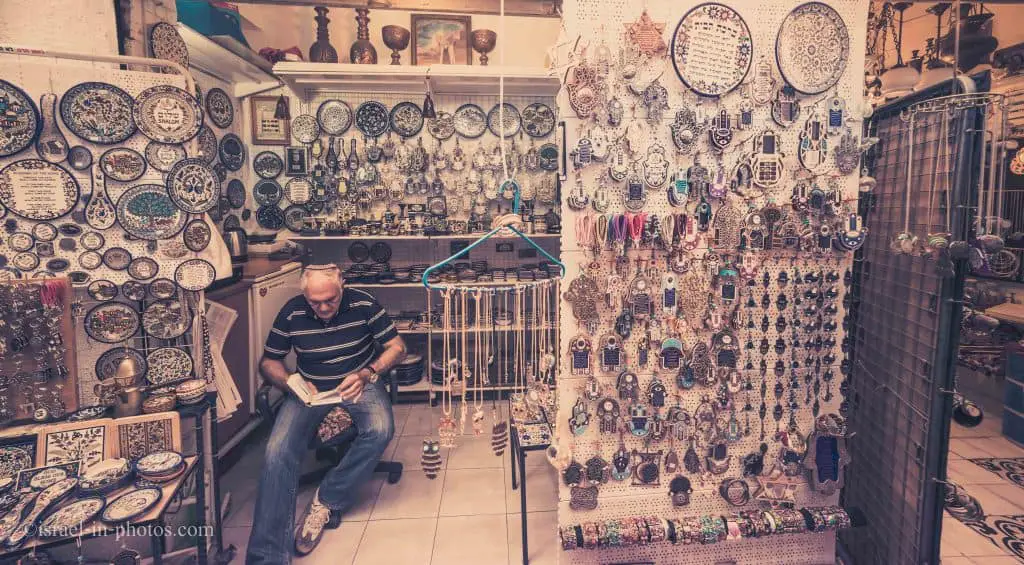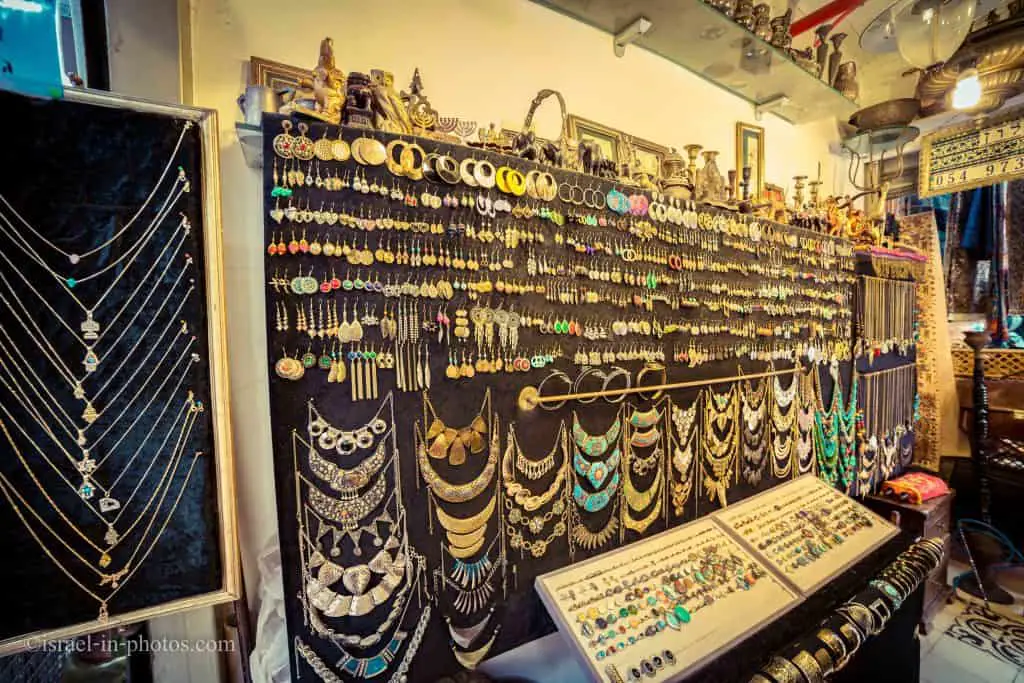 Inside the original part of the Jaffa flea market, you can find many jewelry and clothes stores.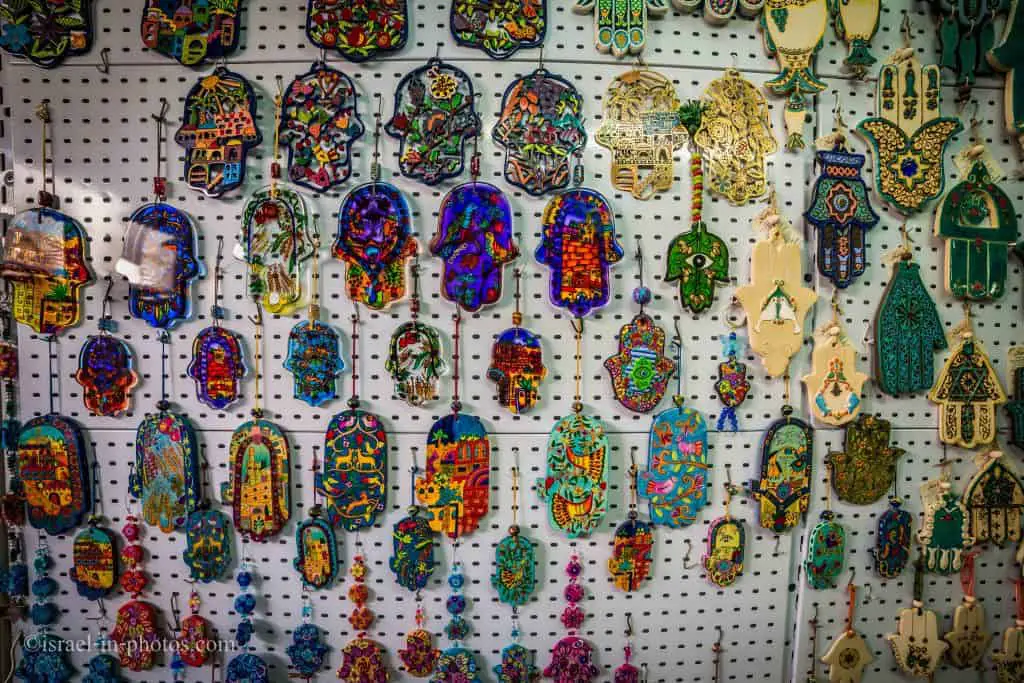 Hamsa in Arabic means five. The five fingers are a universal sign of protection. Interestingly, this ancient amulet (traced to ancient Mesopotamia) made its way into Muslim, Jewish, and Christian religions.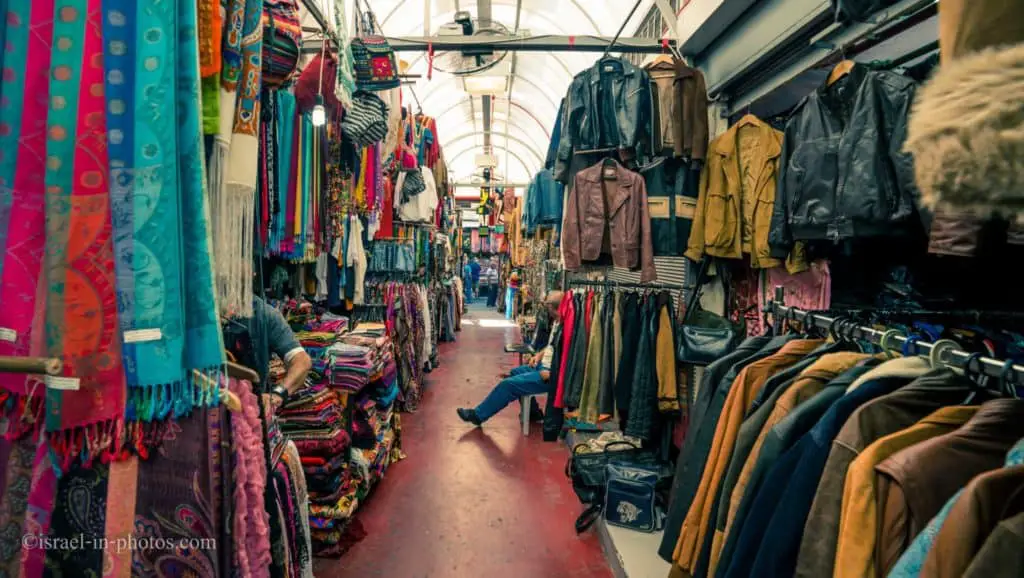 Pomegranate and carrot juices are popular in Israel.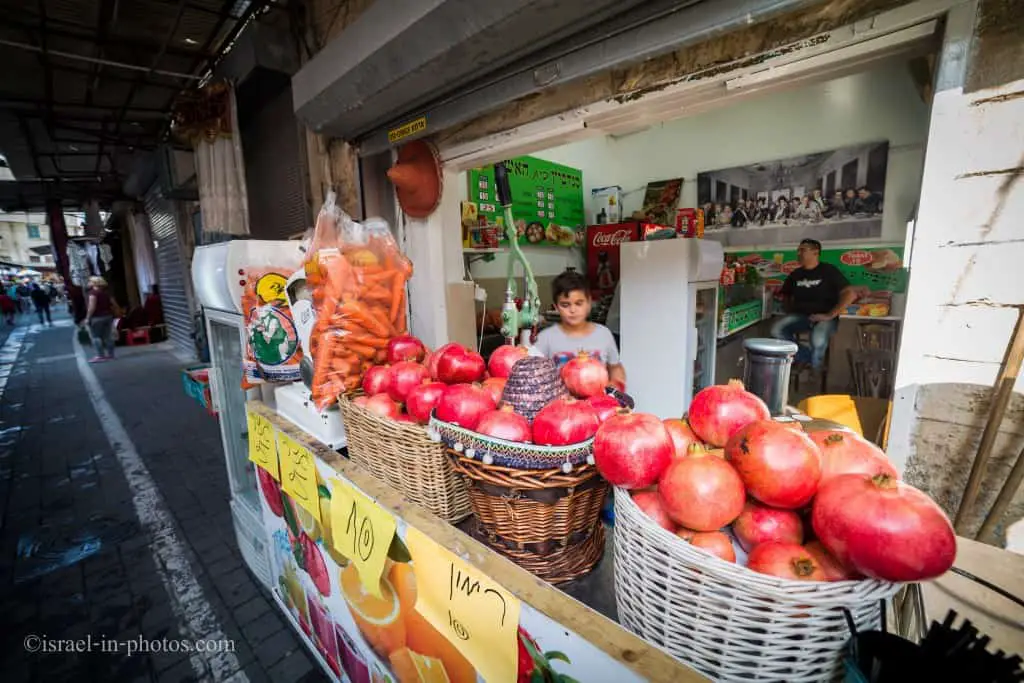 You can even buy a phonograph.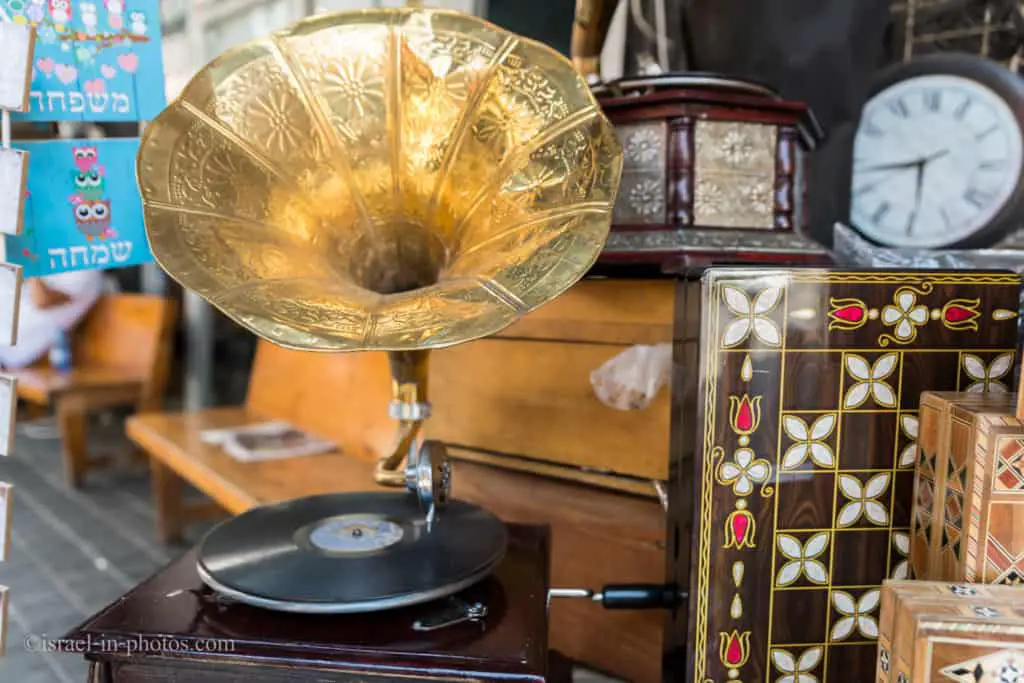 And there are records in a nearby store.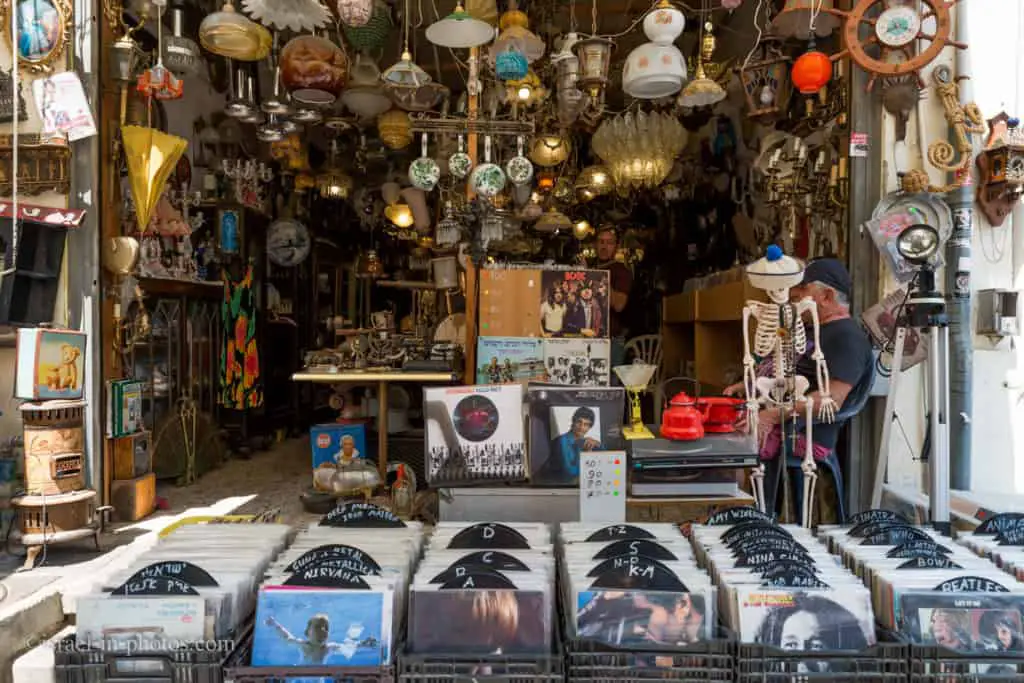 When you get tired of shopping, you can always get a snack.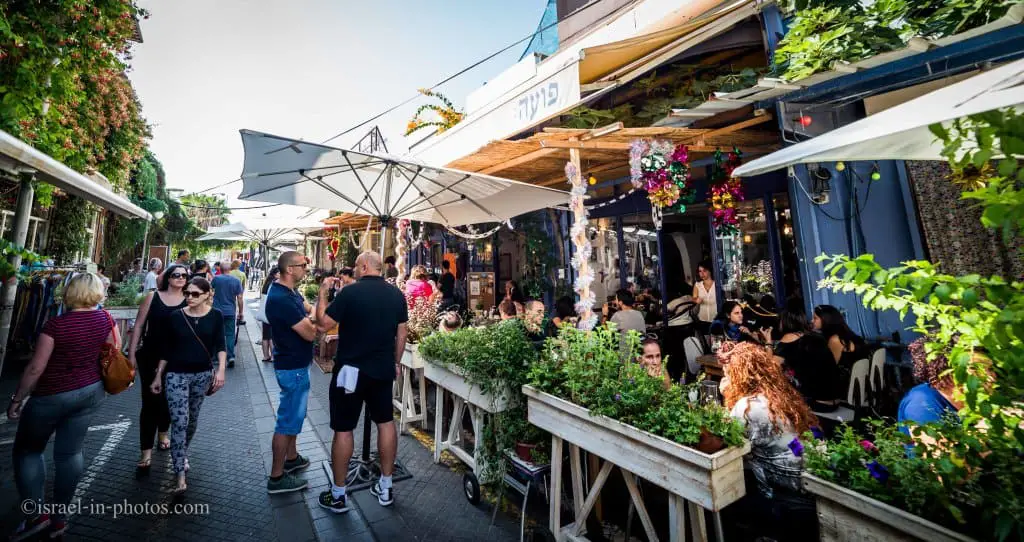 Or juice up.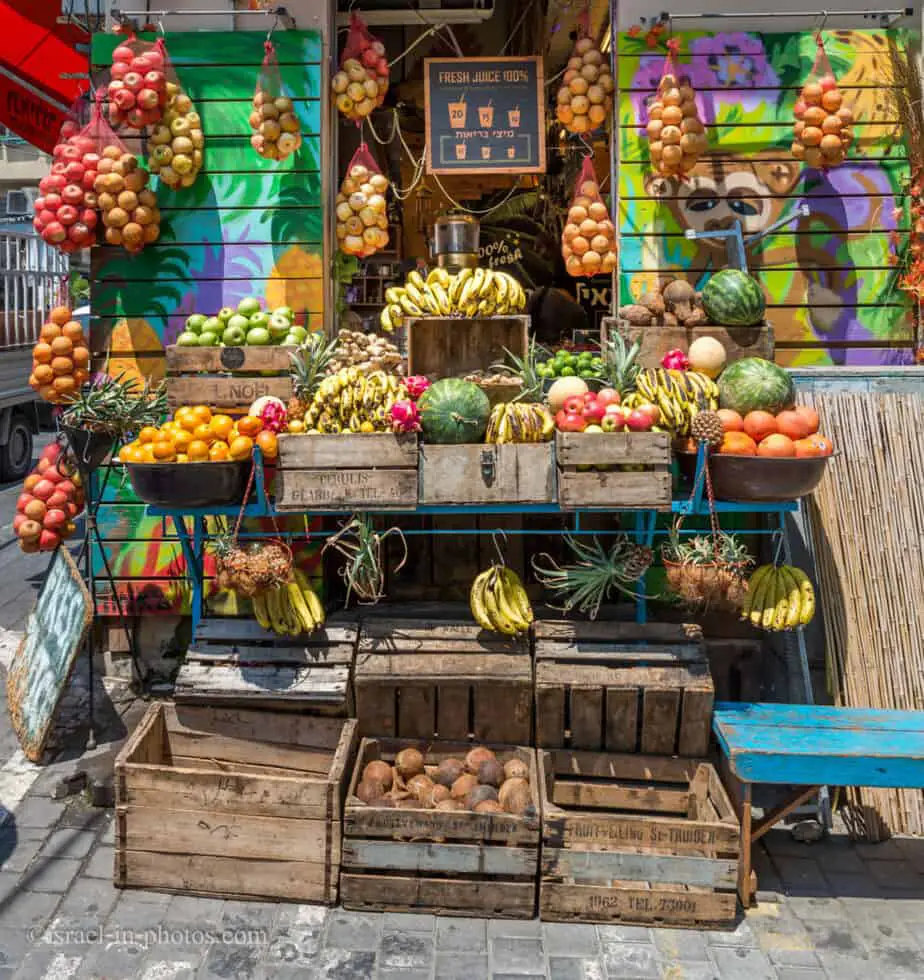 A wall covered with posters inside a jewelry store: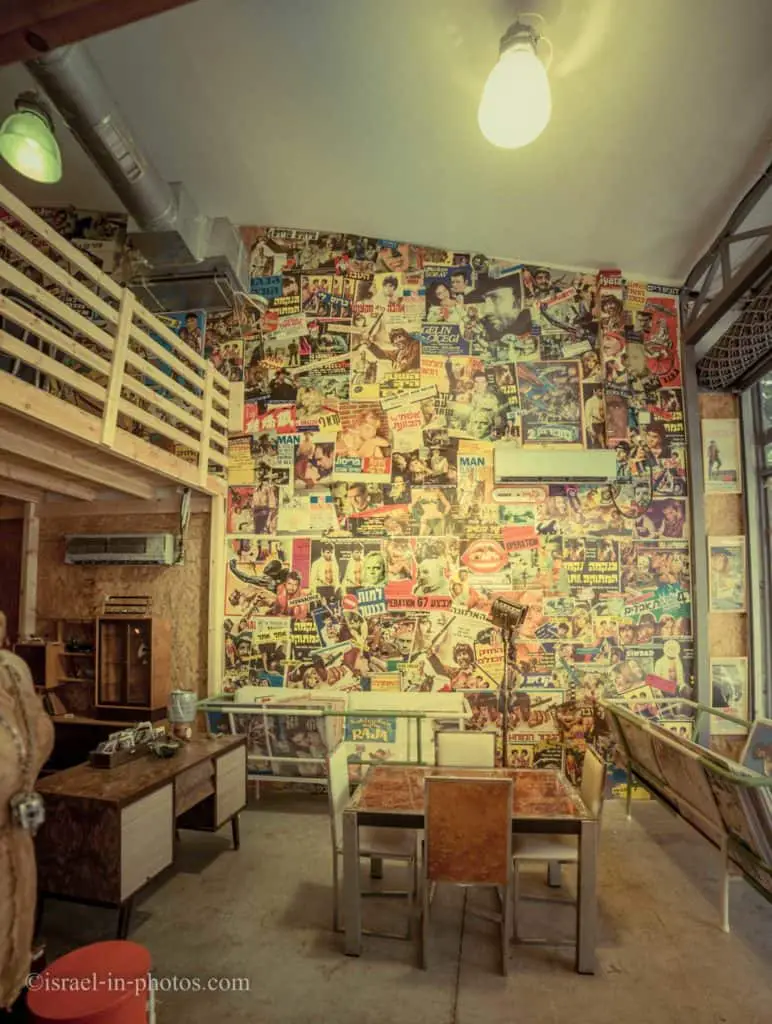 Types Of Stores
There are several types of stores in this area. Flea Market type shops, where you can find second-hand furniture and electronics, like this one: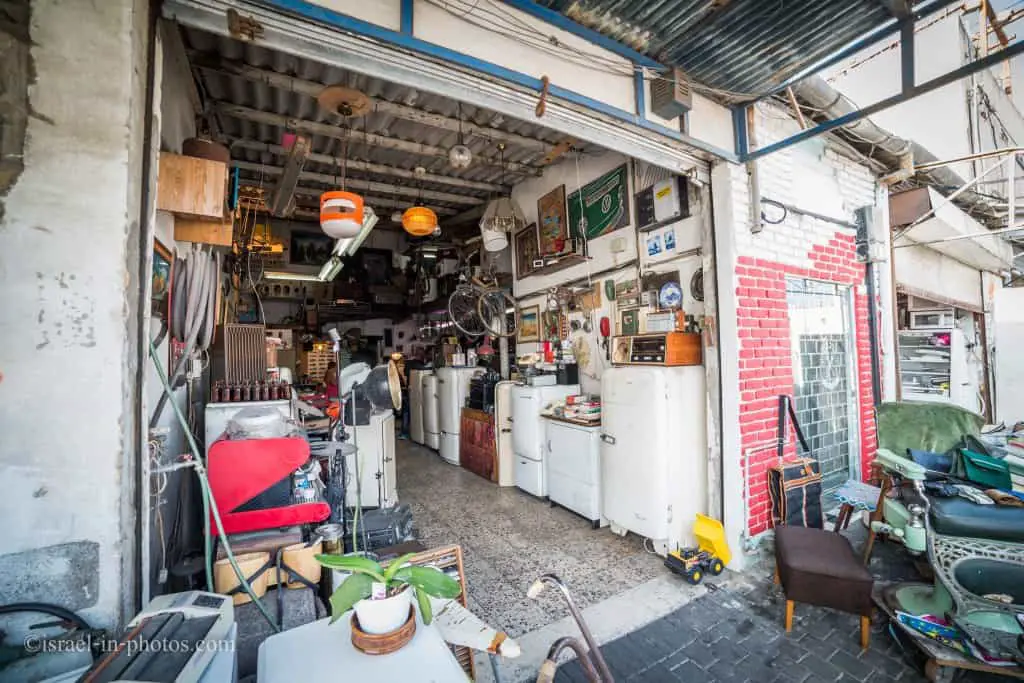 There is also an area with stands. People bring their old stuff and sell it: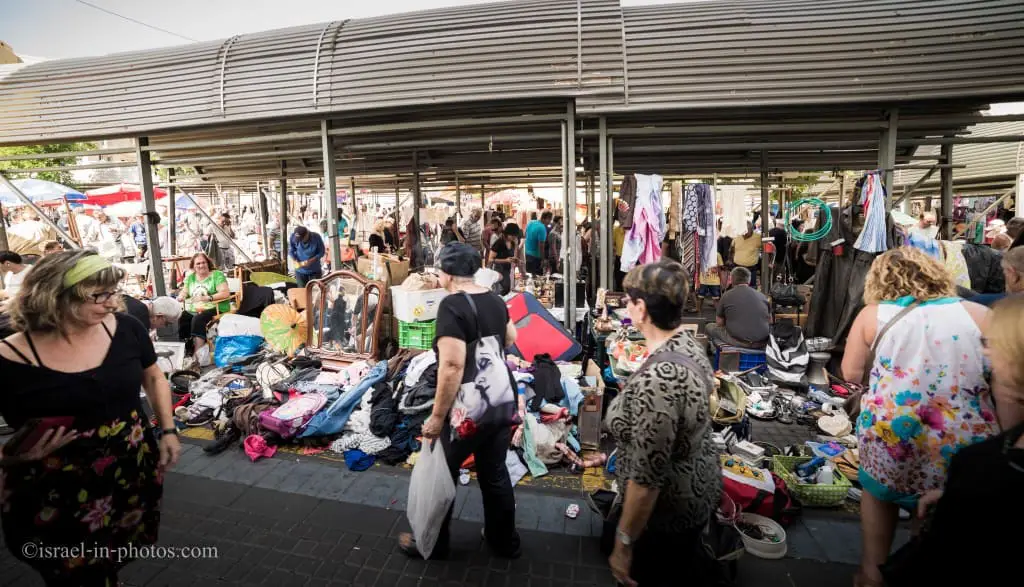 And there are art boutiques.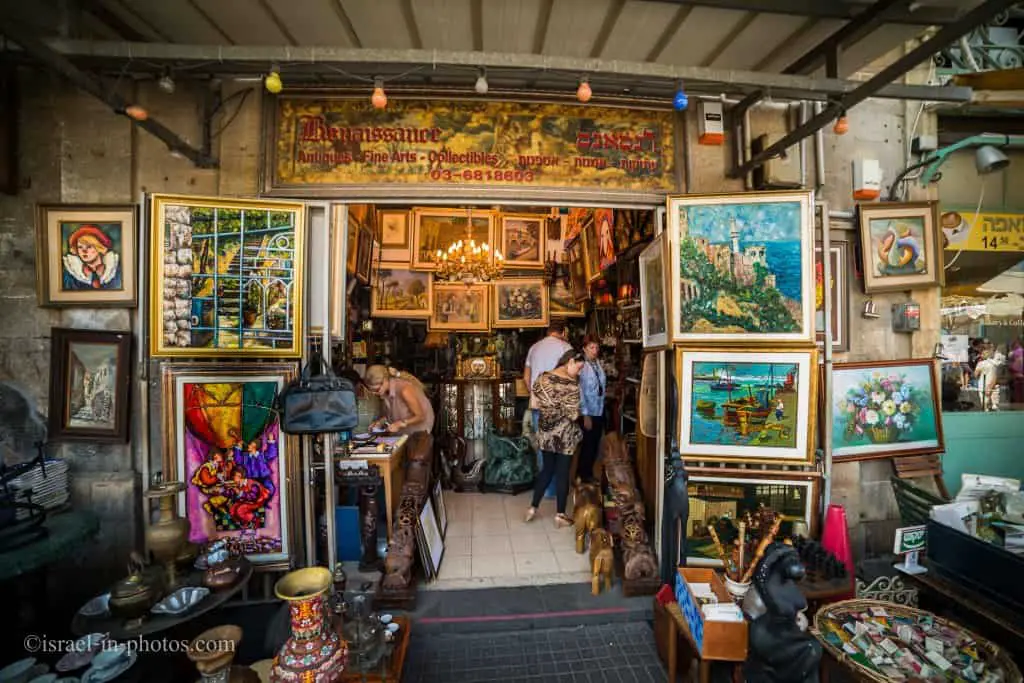 There are also modern designer stores with mass-production items.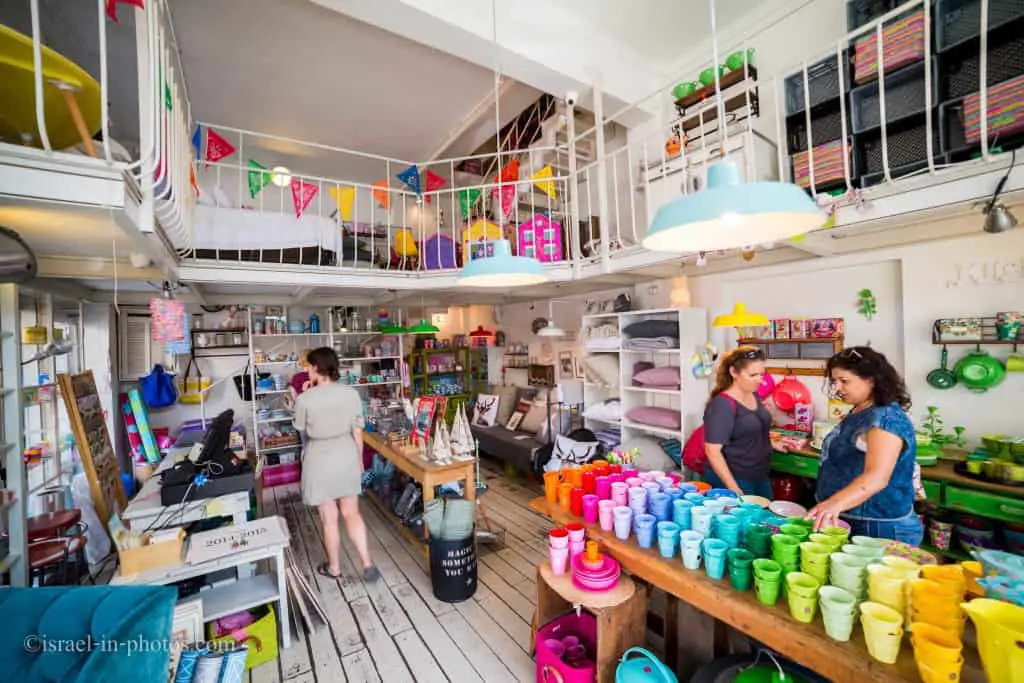 And there are handmade items as well.
As you can see, there is everything for everybody.
And towards the end of this post, I want to mention the Perfume Shop. It is a unique shop in Israel. In Zielinski and Rozen Parfumerie, they create original perfumes for customers, with no two scents alike. Neat concept.
Summary
Some people love flea markets, and others hate them. But, since the Jaffa flea market offers a wide variety of stores, including boutiques and art galleries, even the latter can enjoy spending several hours there.
As I mentioned initially, all our visits were on Friday mornings. It is the busiest time, with the widest variety. Thus, I would recommend coming at this time. And during events and festivals, you can visit during the evening. But if you do not like crowds, you can visit another time.
If you love Flea Markets, then you should visit this one. Also, consider visiting The Flea Market and Merchant Fair in Haifa. And if you want to see other nearby markets, check out my Markets In Tel Aviv and Jaffa.
Have you ever been to Jaffa Flea Market? Tell us in the comments below.
That's all for today. I hope you enjoyed this visit to the Jaffa flea market, and I will see you in future travels!
Stay Tuned!
For additional points of interest nearby, see Tel Aviv-Yafo.
Additional Resources
Here are several resources that I created to help travelers:
And if you have any questions then check out
Useful Information For Tourists To Israel
.  
Did not find what you were looking for? Leave a comment below, and I will do my best to answer your questions.