Tel Aviv Graffiti tours, especially at Florentin, became very popular in recent years. And today we will see what all the hype is about. Let's begin!
Offers
Get 5% off for your next vacation at Isrotel.
Get 5% off for your next tour at Bein Harim with coupon code 'LEV5#12305'.
Tours
At least half a dozen firms offer graffiti tours, and I considered joining one of them for a while. But since traveling with kids can contain uncertainties, I decided at first to make a pilot family tour.
But when I started to research the subject, I found there is a lack of information. Many places mention the Florentin neighborhood, but there are no street names or suggested routes.
After checking about twenty sites and reviewing several hundred photos, I was able to come up with half a dozen street names and created a circular route.
Map
Map of the area:
In many photos in this post, I deliberately included signs with street names. Moreover, I will write the names of the street we walked on (marked in bold) and nearby streets you should consider visiting.
Florentin
You can find street art in many areas in Tel Aviv, but the Florentin neighborhood has the highest density of graffiti.
Florentin is a neighborhood in the southern part of Tel Aviv, Israel, named for David Florentin, a Greek Jew who purchased the land in the late 1920s. Development of the area was spurred by its proximity to the Jaffa–Jerusalem railway.

Predominantly a low-income Mizrahi Jewish neighborhood, Florentin was initially populated primarily by poor Jewish immigrants from North Africa, Bulgaria, Turkey, Greece, and Bukhara. As with much of Southern Tel Aviv, for many decades the area has suffered from urban decay and poverty. However, today it also attracts many younger residents and artists, and the neighborhood is also associated with a bohemian lifestyle. Florentin now has numerous artists' workshops, cafes, restaurants, markets, and graffiti tours.

The area is known for its vibrant local art scene. With the arrival of a bohemian community and the opening of many workshops in the 1990s, the mix of garages and abandoned buildings in the area attracted many artists who used the areas' crumbling walls as a canvas for large works.

Street art in Florentin often has a strong political message. Local political conflicts between rival political groups have also taken place through graffiti battles on the walls of the neighborhood.
Source: Wikipedia
Best Time For A Graffiti Tour
The short answer is the weekend. We did the Tel Aviv Graffiti walk on Saturday evening since it is both a day off, and it is cooler in the evenings.
Saturday or Friday evening is the best time for graffiti watching. That is because many of graffitis are painted near or on top of the doors of small businesses. Moreover, some of those streets are very narrow, and it would be very inconvenient to visit them when there is additional traffic. Thus, to see all of them those businesses should be closed. Which means visiting on the weekend (not including Friday mornings).
Parking
If you are visiting in the middle of the week, then you can reach Florentin by public transport. But, if you will be visiting during the recommended time mentioned above, then public transportation is not an option (at least not in both directions). If you stay or leave nearby, then you can walk or cycle. And if you are located further away, then most likely you will need a taxi or a parking place.
As you can see from the map above, Florentin neighborhood is located near Old Jaffa and Neve Tzedek. Thus, the First Station paid parking lot is nearby. You can also park at Jaffa port and combine Graffiti with a stroll through Jaffa (for additional parking details see A Day In The Old Jaffa).
We parked not far from Gesher theater and started our visit at Eilat street.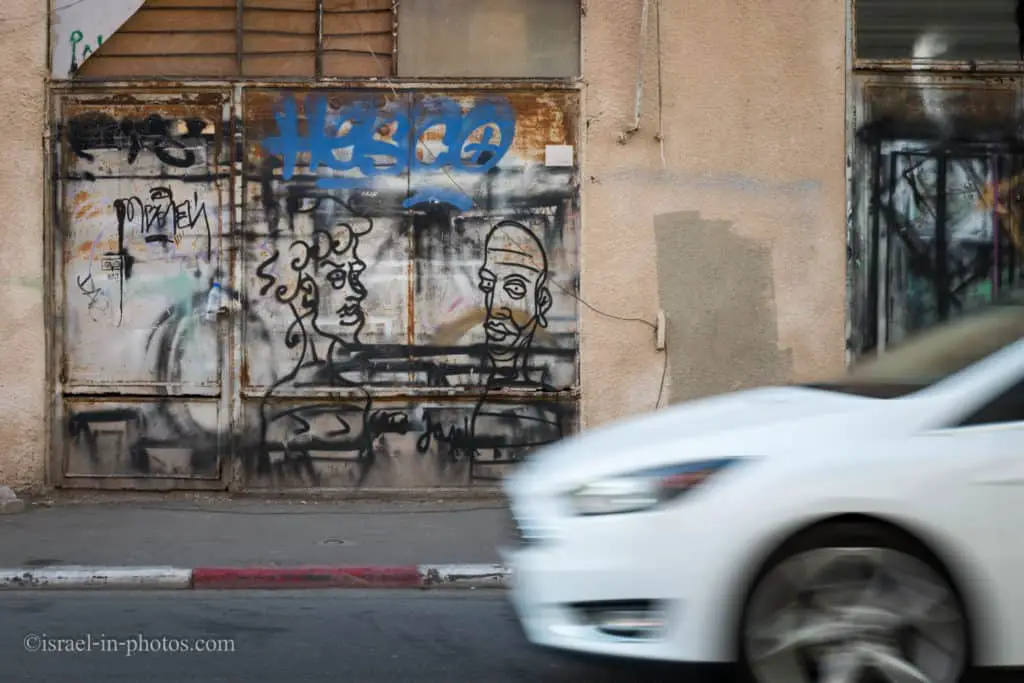 The American Colony
Since we already were in the area, we decided to make a small detour and visit the American – German Colony as well.
The facade of a recently restored building, The Drisco Hotel at Auerbach street.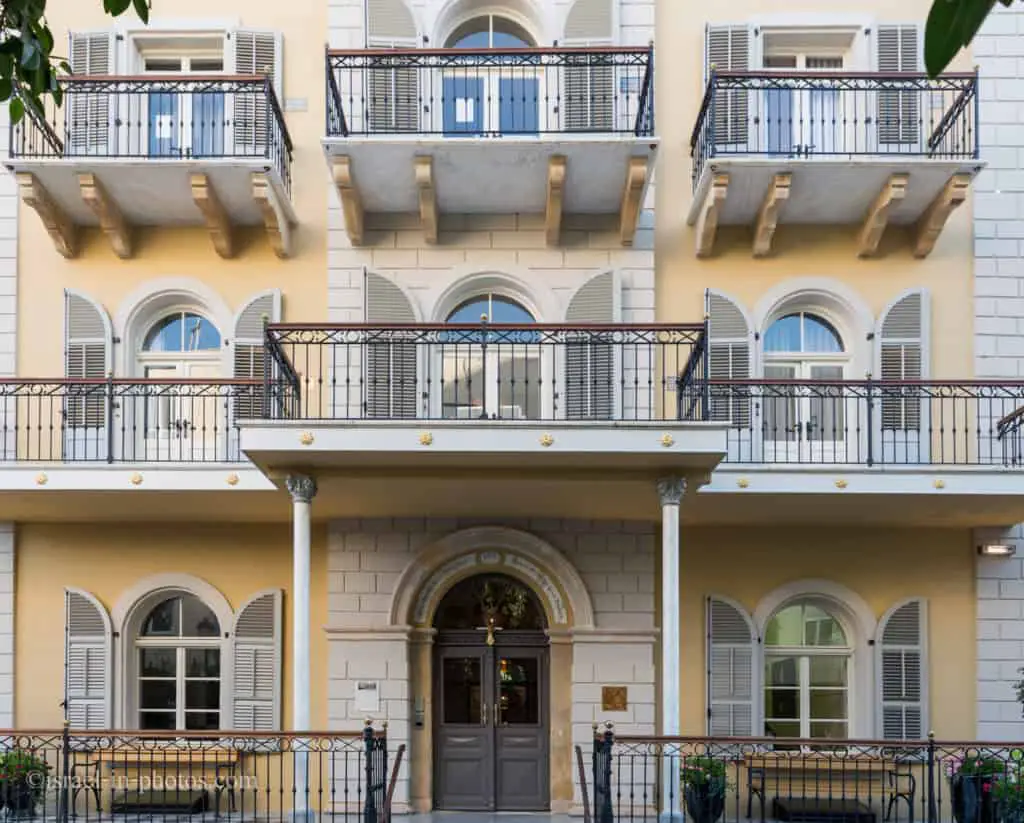 A small square in front of Immanuel Church with an authentic carriage.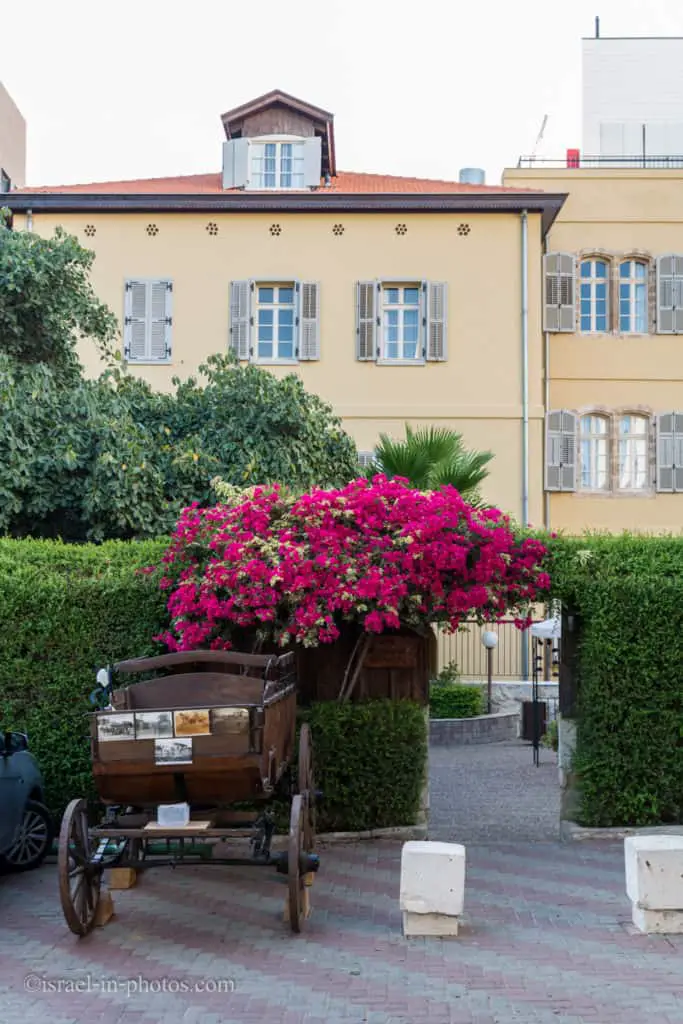 And this is the Immanuel Church: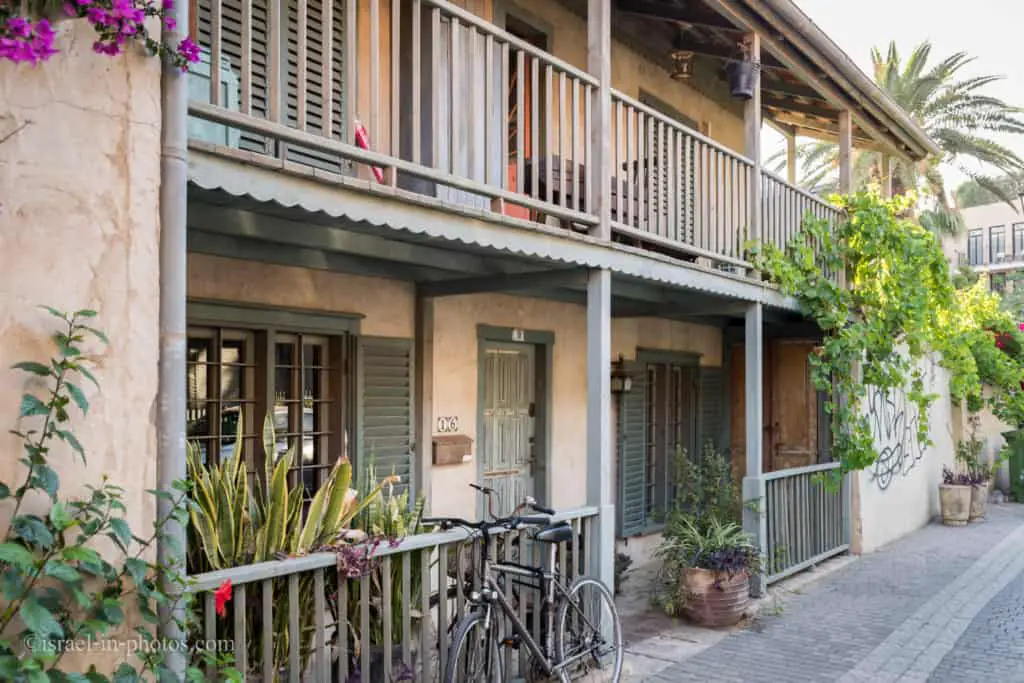 You can find the full post at American – German Colony.
Types Of Graffiti
After the short detour to The American Colony, we returned to HaRabi MiBachrach street and headed towards Florentin.
According to graffitocanberra.wordpress.com, there are eight common graffiti styles. This a piece.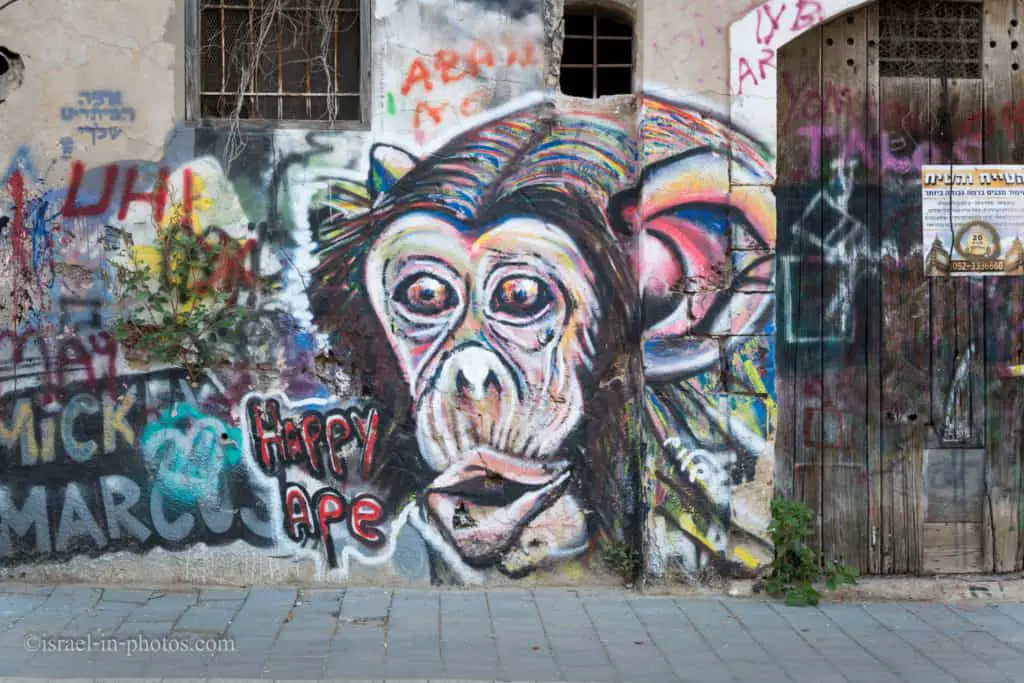 A piece is a picture that has been painted free hand. They contain at least three colors and take longer to paint. A piece in an obvious place will gain the artist respect from other artists because standing in an obvious place painting on walls where graffiti is illegal is a great risk.
Source of all graffiti types quotes: graffitocanberra.wordpress.com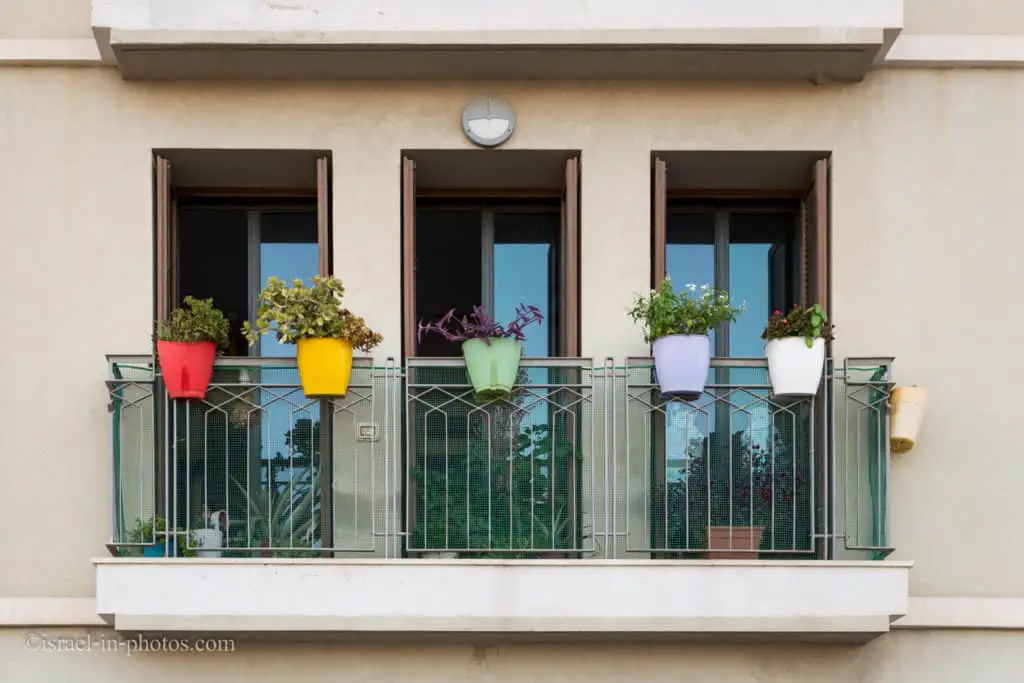 In this area, there is a mix of new homes and old buildings. And the graffiti can be found on the old houses.
And here is Heaven.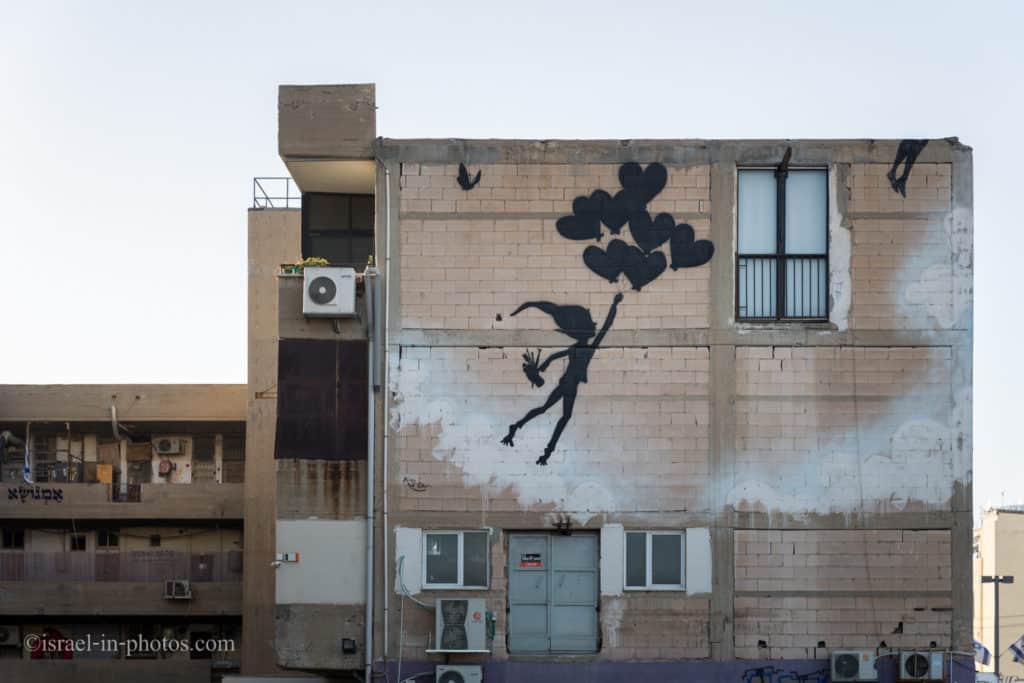 A heaven is a tag or artwork in a place that is extremely difficult to get to. An artist who manages to put one up gains a lot of respect from other artists.
I read then when art is located close to the top of the building, the artists do not climb the building. They are doing the opposite, getting access to the roof and then using ropes slide down and paint.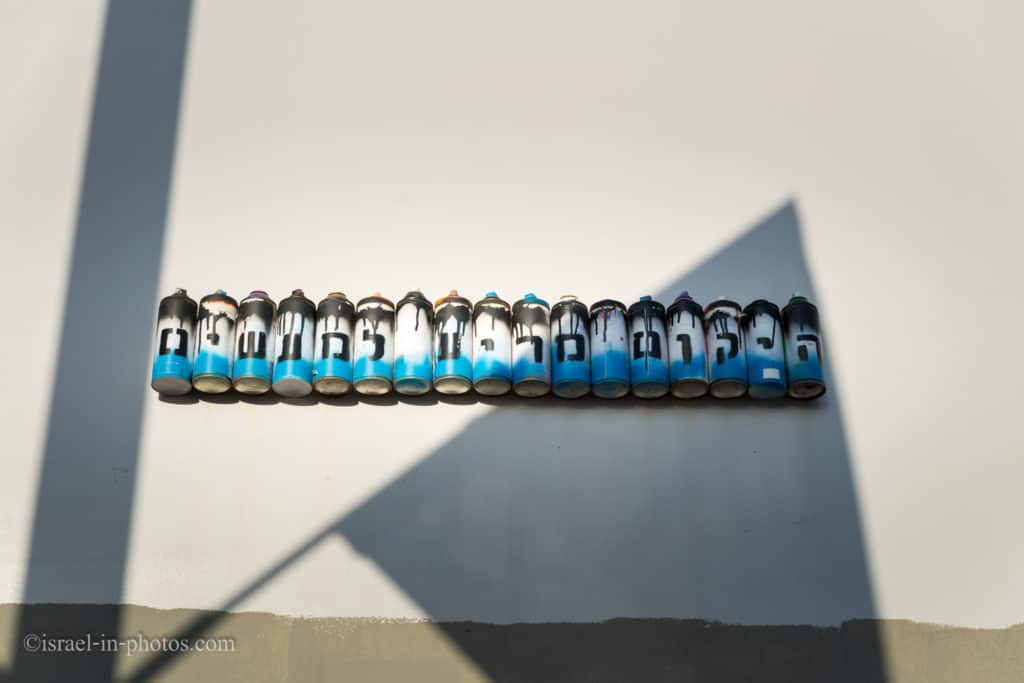 From HaRabi MiBachrach street we turned to HaMehoga street.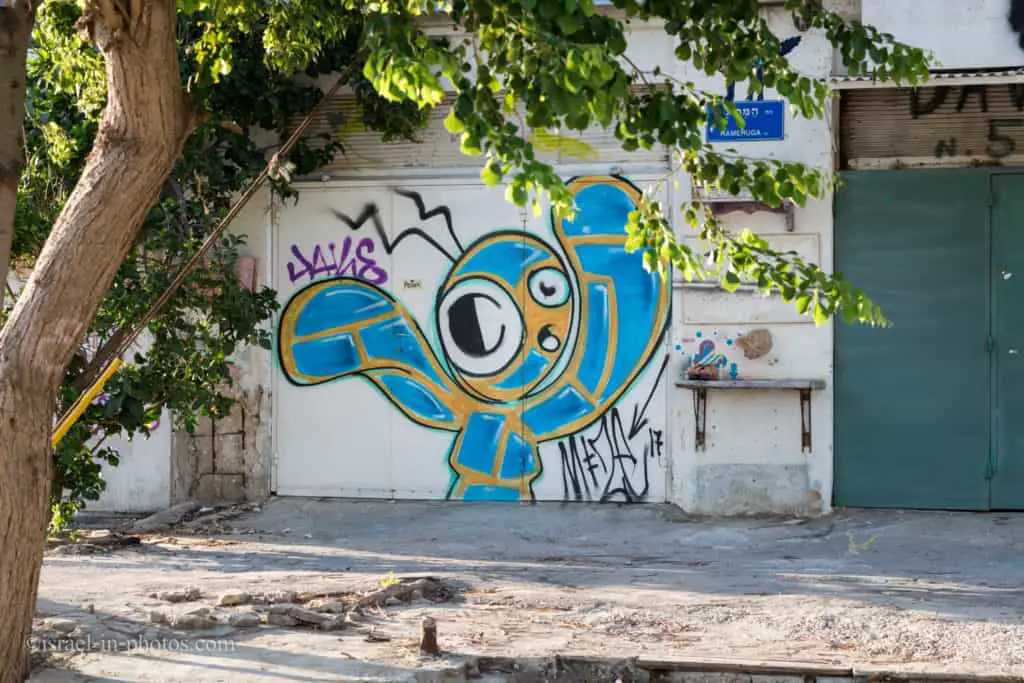 And here is an example of a stencil.

A stencil is an easy way to put up detailed pieces. By spraying over a stencil, you can produce a more detailed piece than by doing it free hand. And it is also repeatable.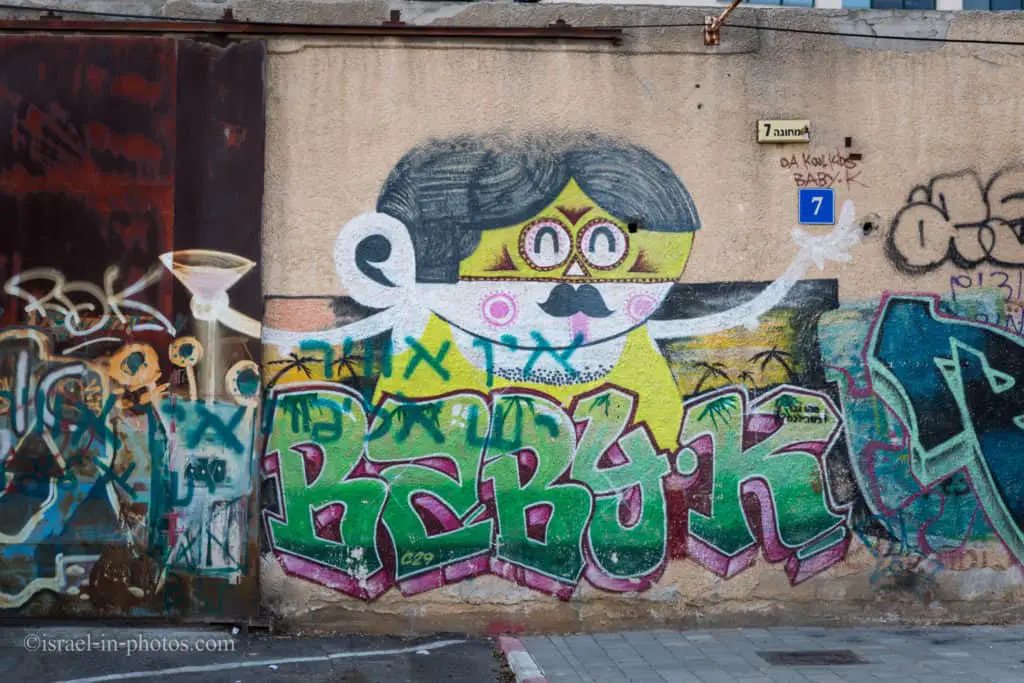 We took the right turn to HaNagarim street. And from there you can choose one of the narrow streets (Tsrifin, HaMasor, Khatserim) towards Abarbanel street. And if you have time, you can visit all of them.
I took this photo at the corner of HaMasor and HaNagarim streets.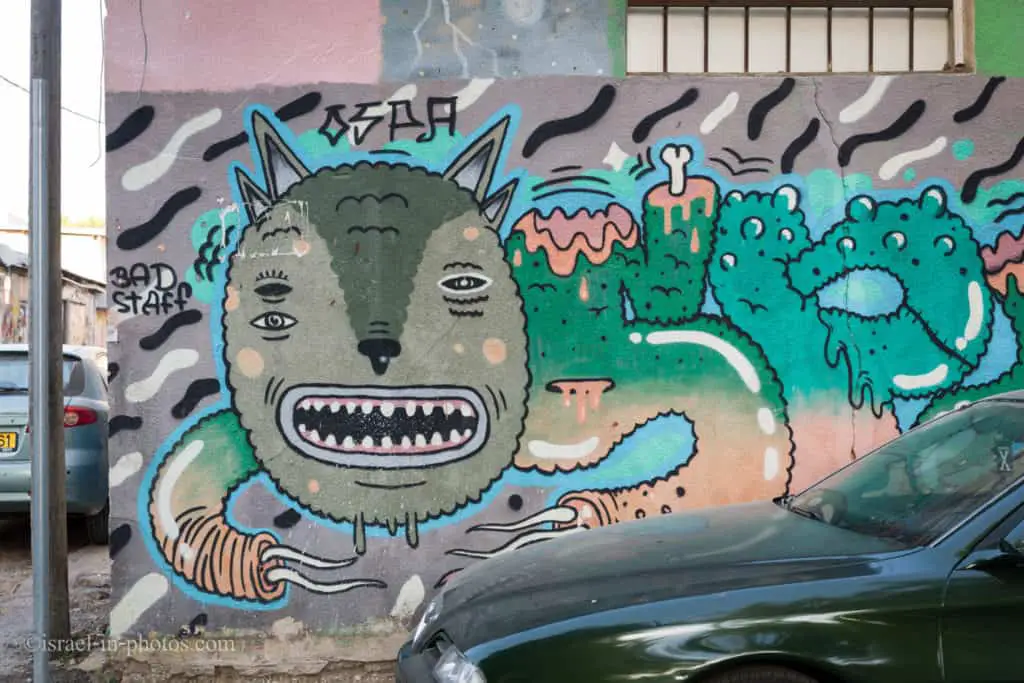 HaMasor street: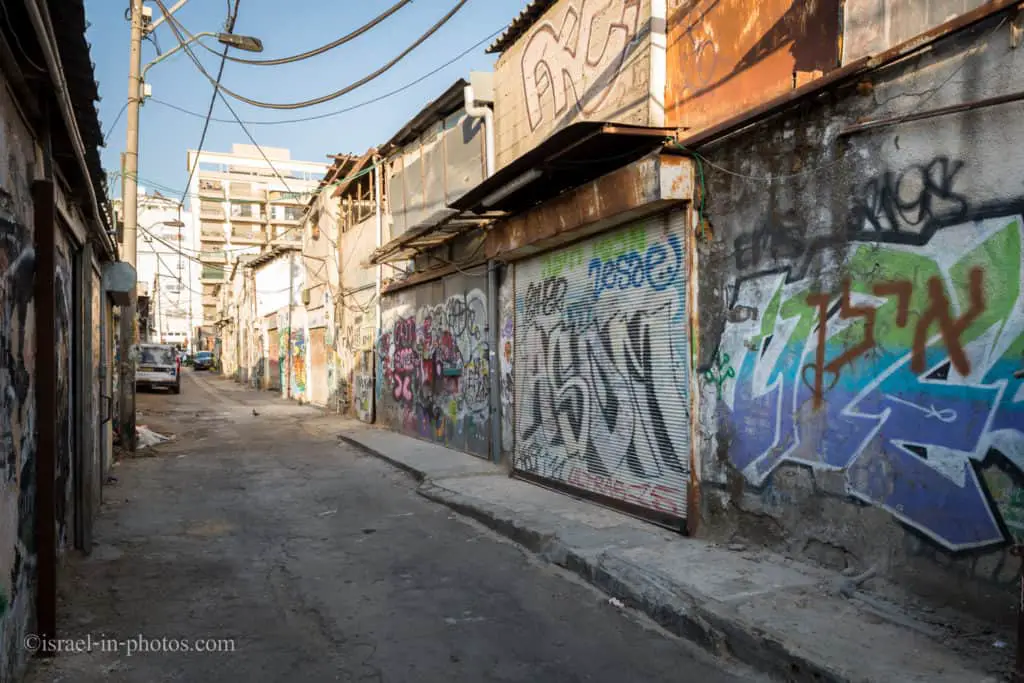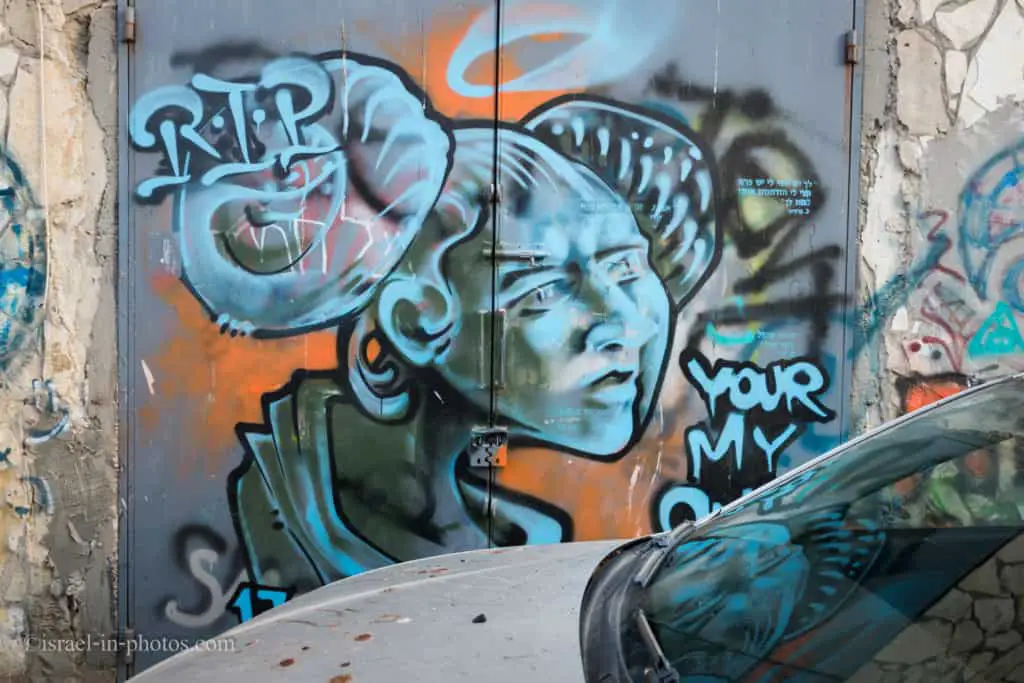 Tsrifin street: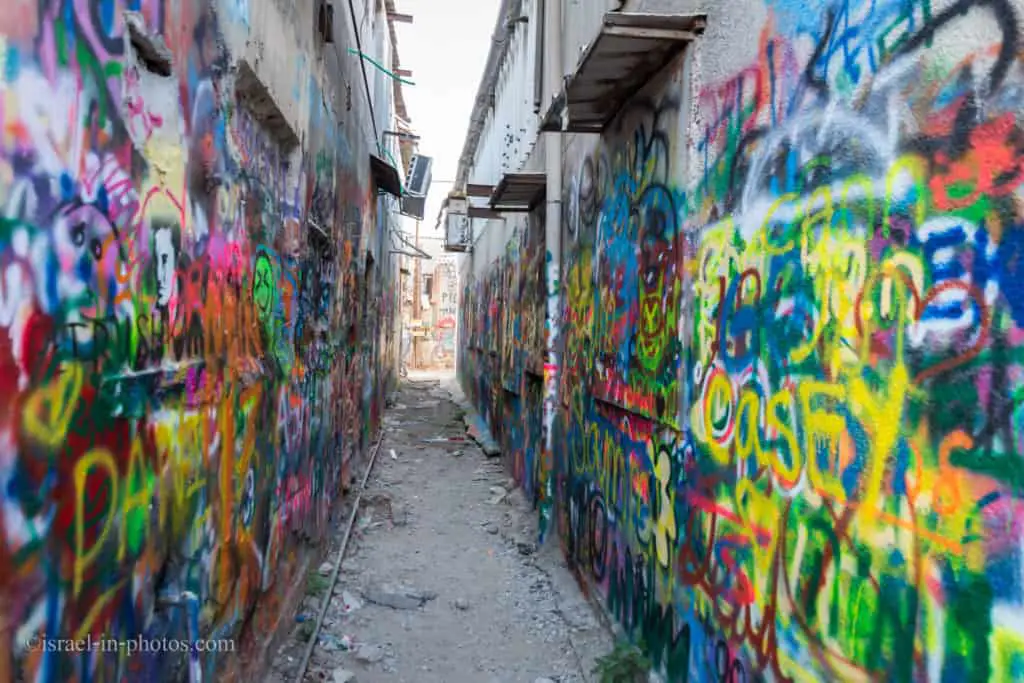 As you can see Tsrifin street is quite narrow. And since 24 mm was not wide enough, I had to take some photos at an angle. Moreover, there are many small workshops on these streets. That is why I recommend visiting on weekends.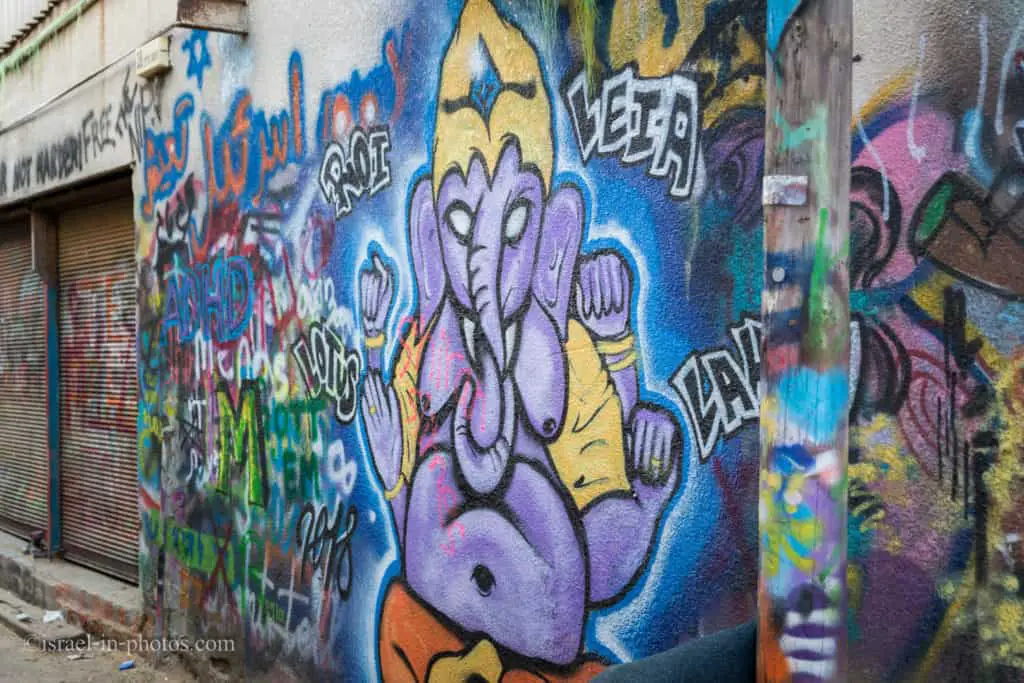 Since Netta Barzilai won the 2018 Eurovision Song Contest, her stencil appears in many places in Tel Aviv.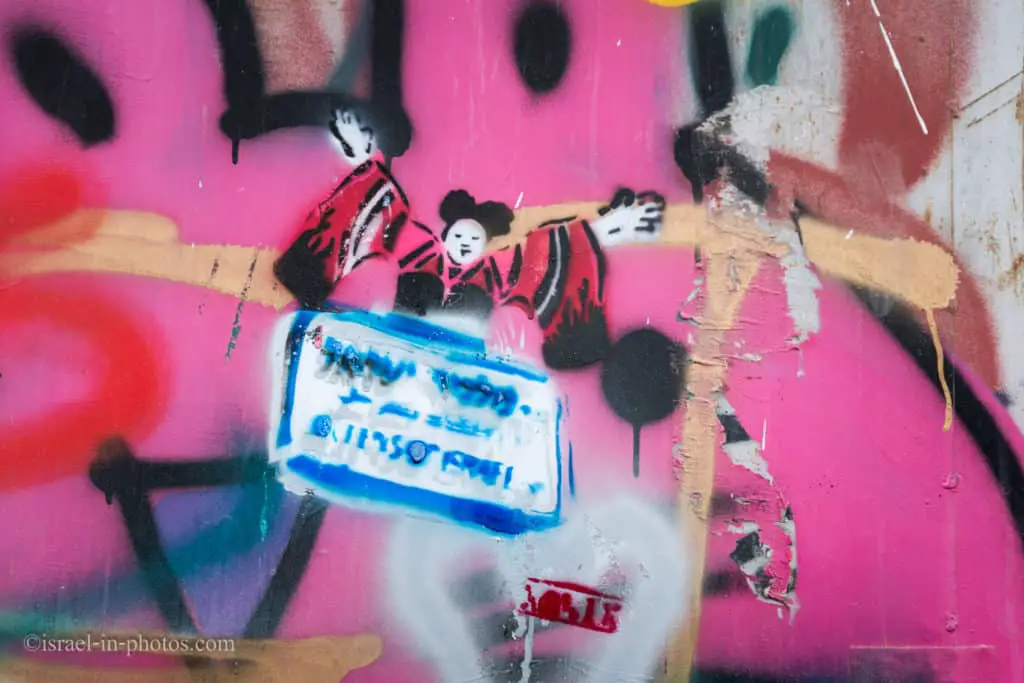 Heichal Menachem synagogue at Abarbanel street with Rainbow flags.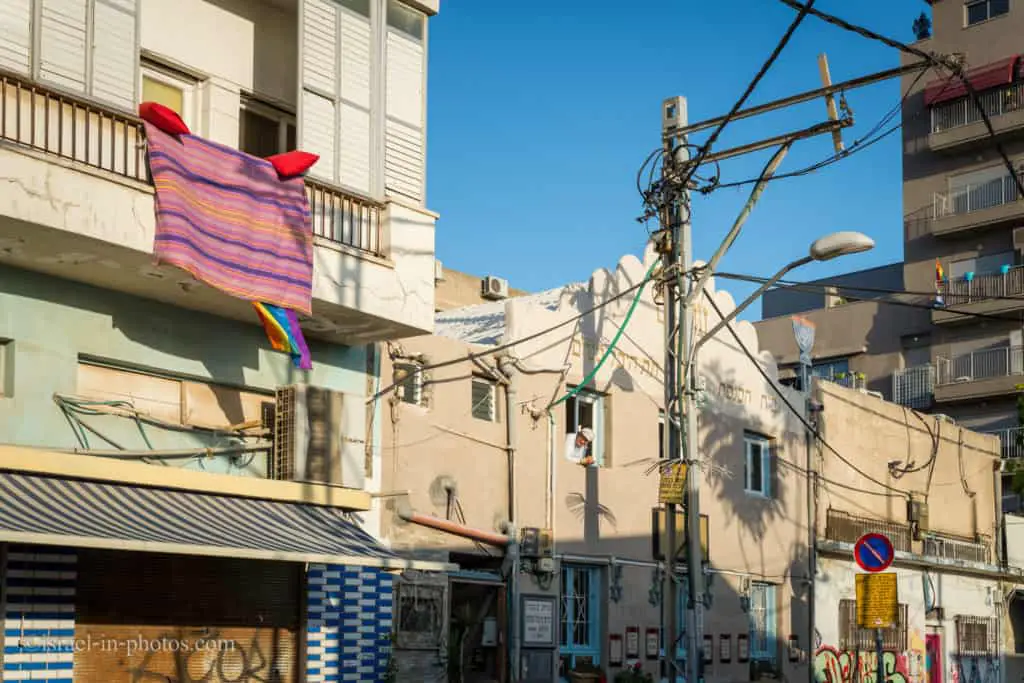 We took Abarbanel street towards Florentin road and then continued along Florentin street.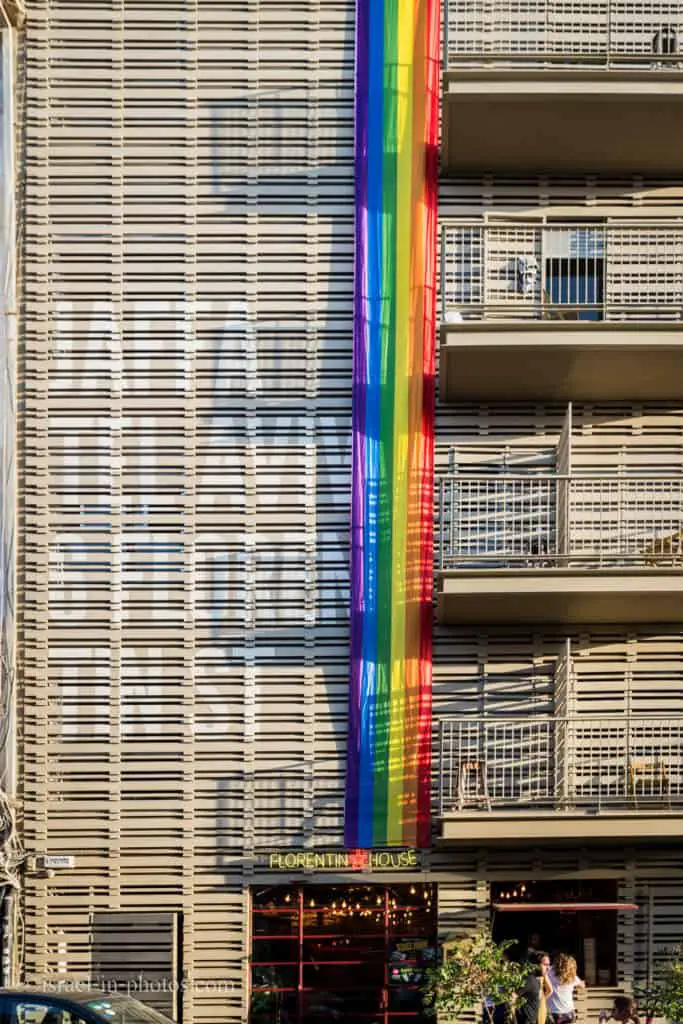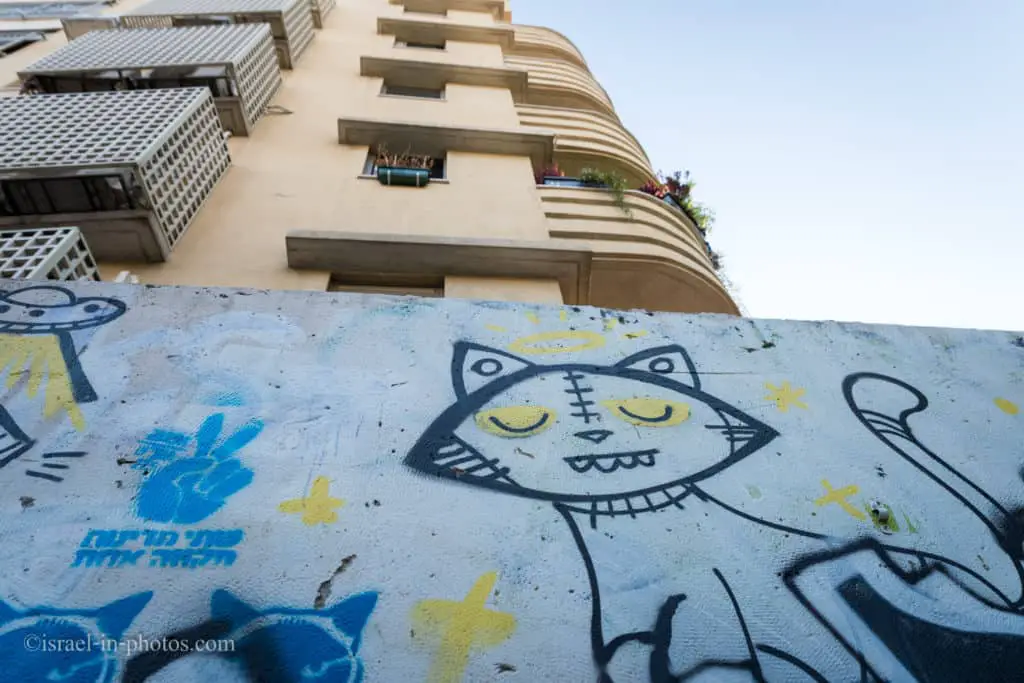 We saw not only drawn art, but we saw several knitted pieces as well.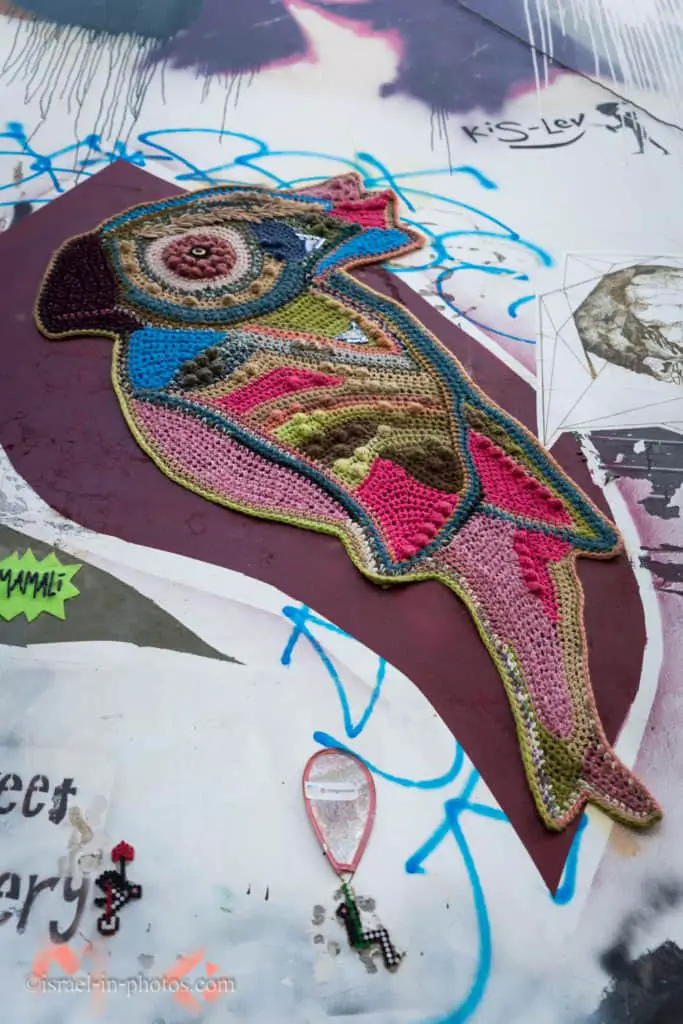 The knitted parrot is a type of a sticker.
A sticker is like a downsized poster, and just as easy to execute. Many stickers are simply tags on postage labels, but sometimes they are more elaborate.
27 Club Graffiti
At the corners of Haim Ben-Atar and Florentin streets, you can find 27 Club Graffiti. It appears in the center of the building (little higher than the lamp post) and depicts (from left to right), Brian Jones, Jimi Hendrix, Janis Joplin, Jim Morrison, Jean-Michel Basquiat, Kurt Cobain, Amy Winehouse and an unknown figure, "believed to be the artist, Jonathan Kis-Lev."
The 27 Club graffiti is a mural that was painted by the Israeli graffiti crew, Kis-Lev, on the side wall of a large building in Tel Aviv, Israel in September 2014. The artwork is 3 m high by 7 m wide, and depicts seven artists from the "27 Club", a list of popular musicians, artists, or actors who died at the age of 27.

Kis-Lev first came up with the idea to depict the seven figures when he was 26 years old. "I was about to turn 27 and, having read much about the 27 club. I was afraid I was to join them somehow. Some of my friends teased me that I would, being an artist and all… I promised myself that I would do a mural to commemorate these giants including my face in faded colors, and once I turn 28 to cover my face."
Source: Wikipedia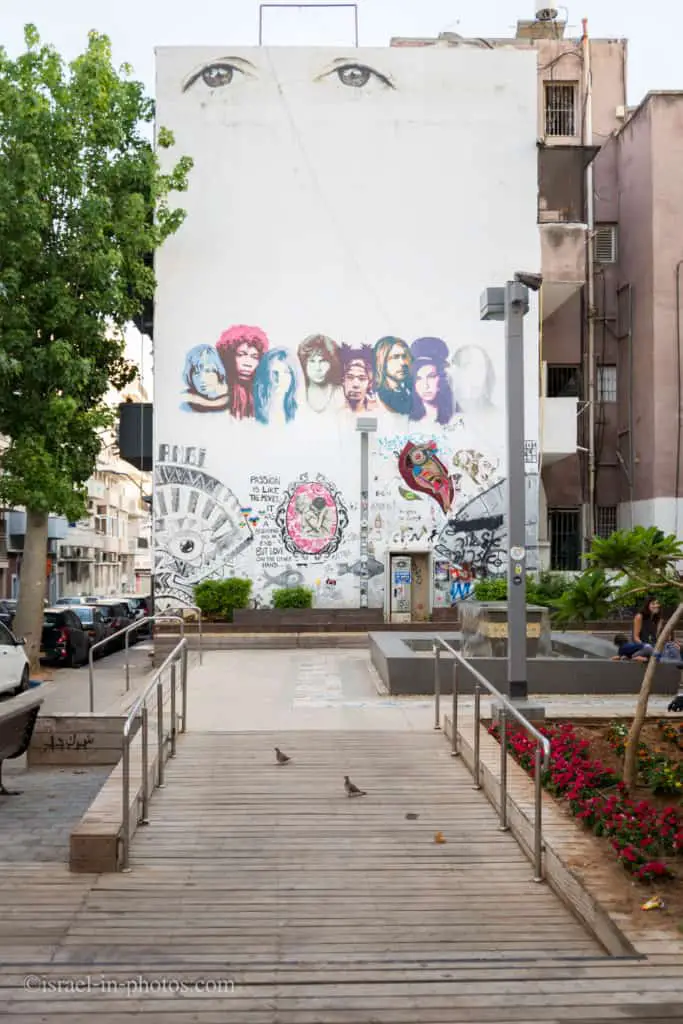 Jonathan turned 28, and the face at the right was covered.
Some artist took a step further, and on top of the painting glued some items. Here, for example, an earring was added.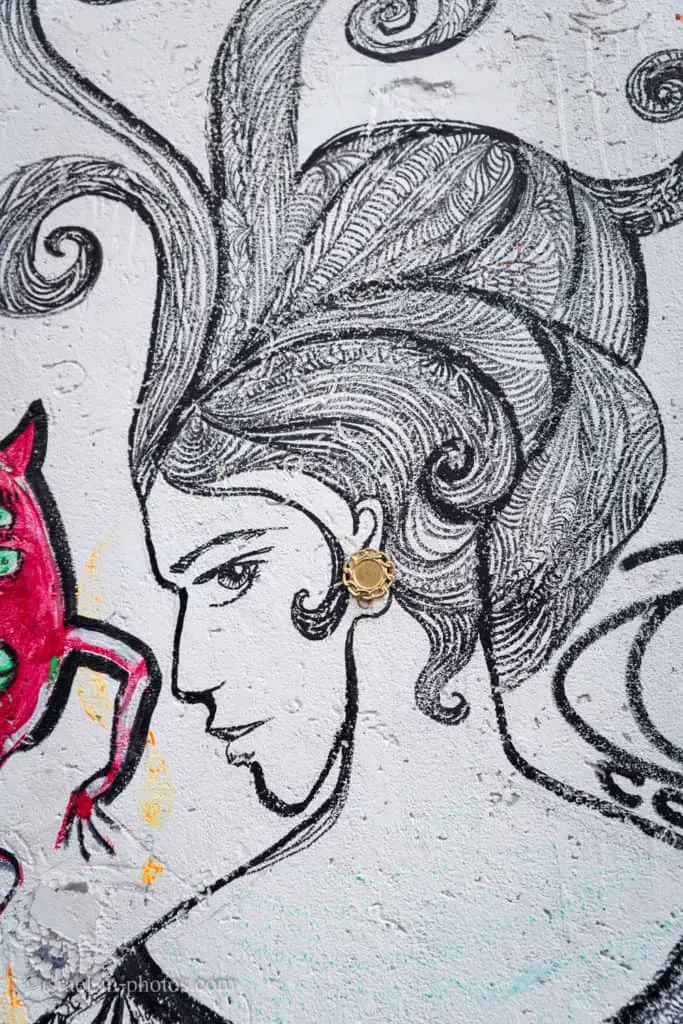 Yitzhak Rabin's Murder
At the corner of Washington Avenue and Florentin, you can find Rabin mural on the electricity infrastructure building by Yigal Shtayim.
"It was right after the Rabin assassination, and I thought that there was a lack of graffiti about the violence in Israeli society," said Shtayim. "I didn't want to do something typical with [Rabin's] face, but more about the trauma. It's like a map of social violence."

The mural depicts the moment of Rabin's murder when Yigal Amir shot Rabin from close range. Shtayim painted it as if seen through the security camera footage of the event, in black and white and a bit fuzzy.
Source: timesofisrael.com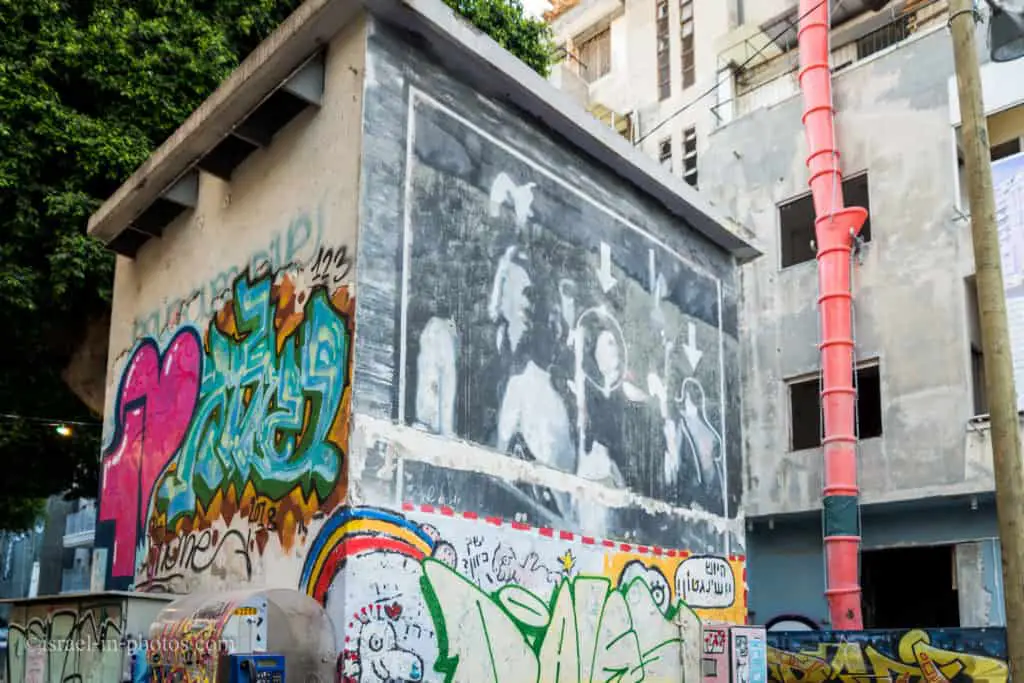 At the beginning of this post, I mentioned uncertainties when traveling with kids, and at this point, my daughter started to lose patience. And since we covered many of the places we wanted to see, we turned to Avraham Stern street and began to make our way back.
Classical vs. Modern sticker: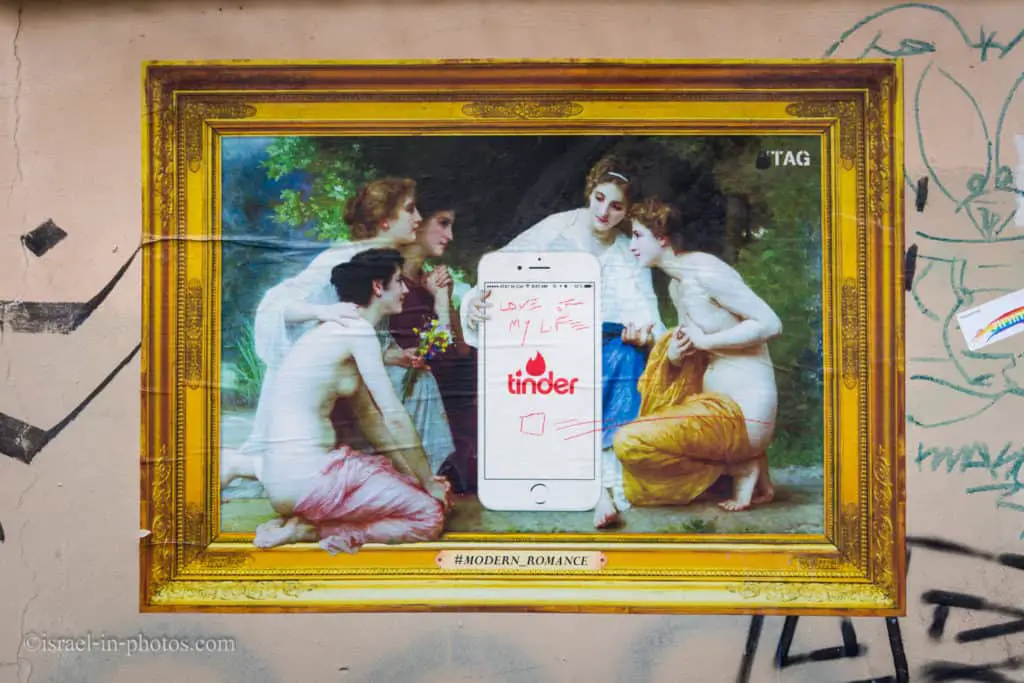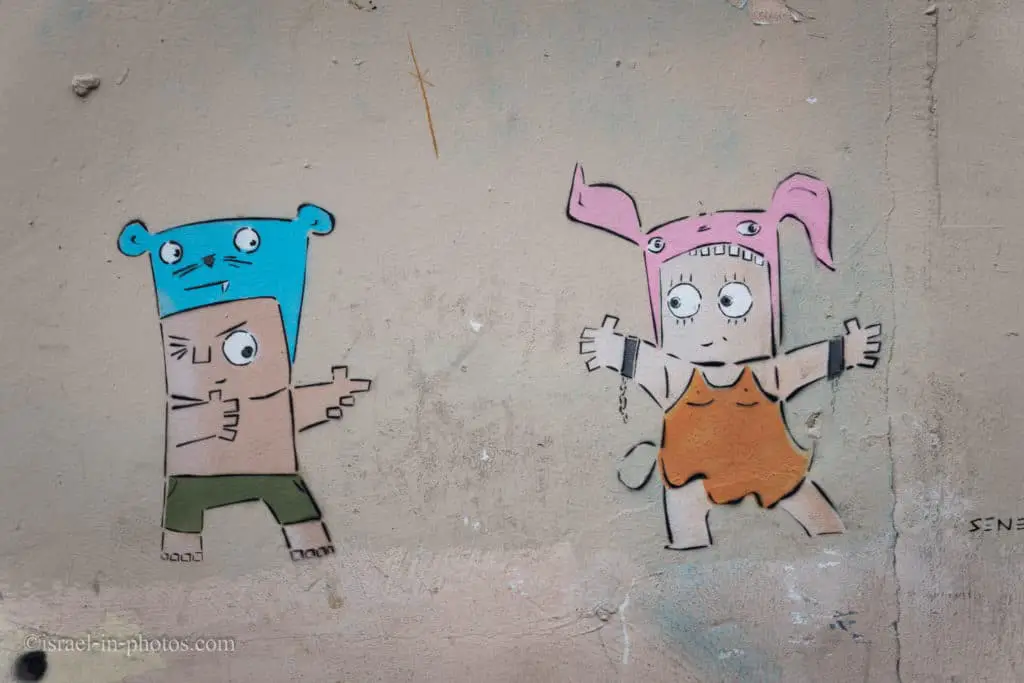 Some graffiti evoke strong feelings.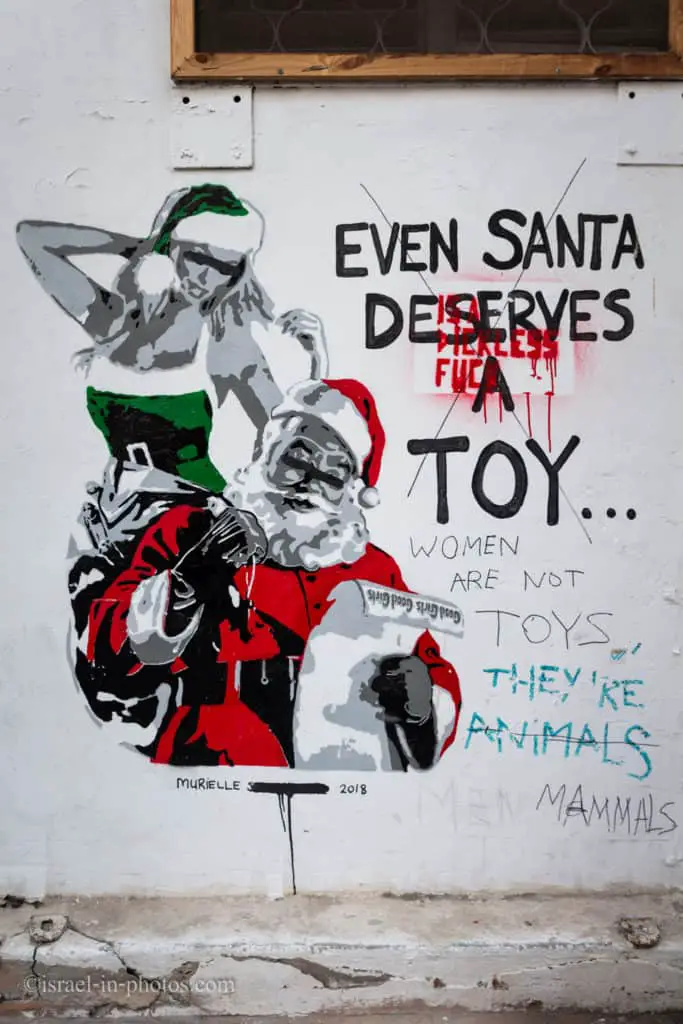 Then via HaRav Yizkhak Yedidya Frenkel, we returned to Abarbanel street.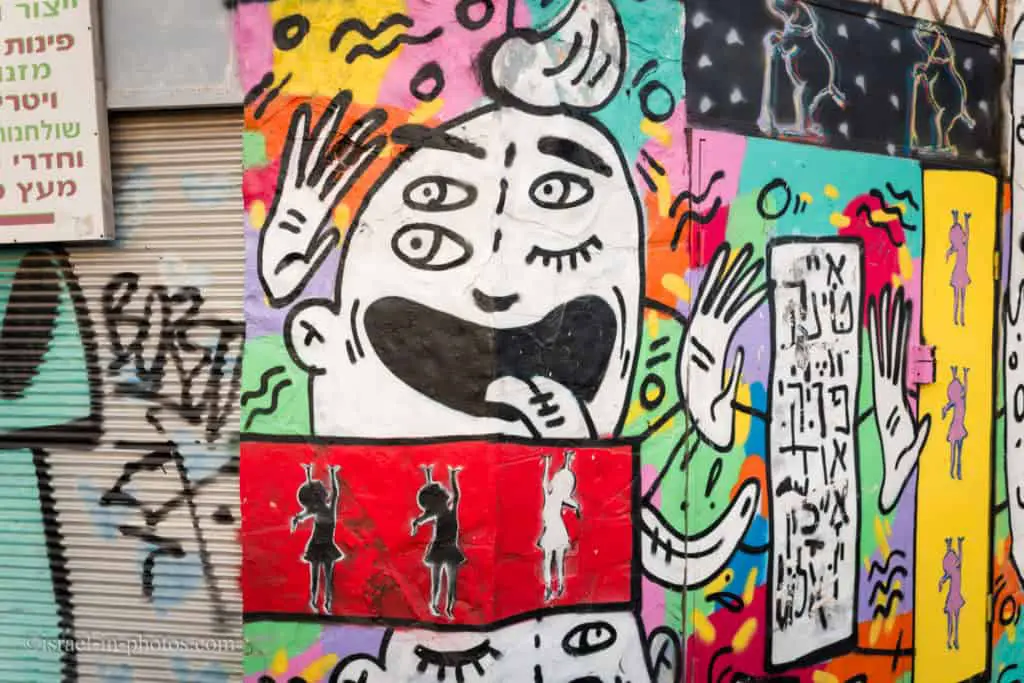 On Abarbanel street, you can find many small cafes, restaurants, and graffiti.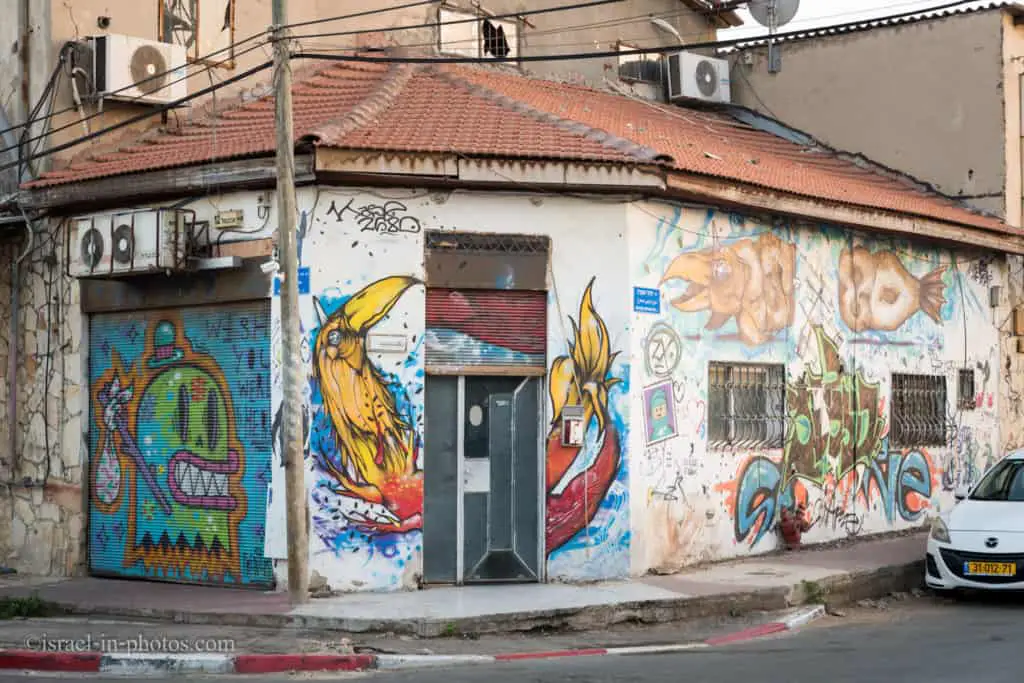 Neve Tzedek
We followed Abarbanel till Eilat street and then entered Neve Tzedek neighborhood near Neve Tzedek Tower.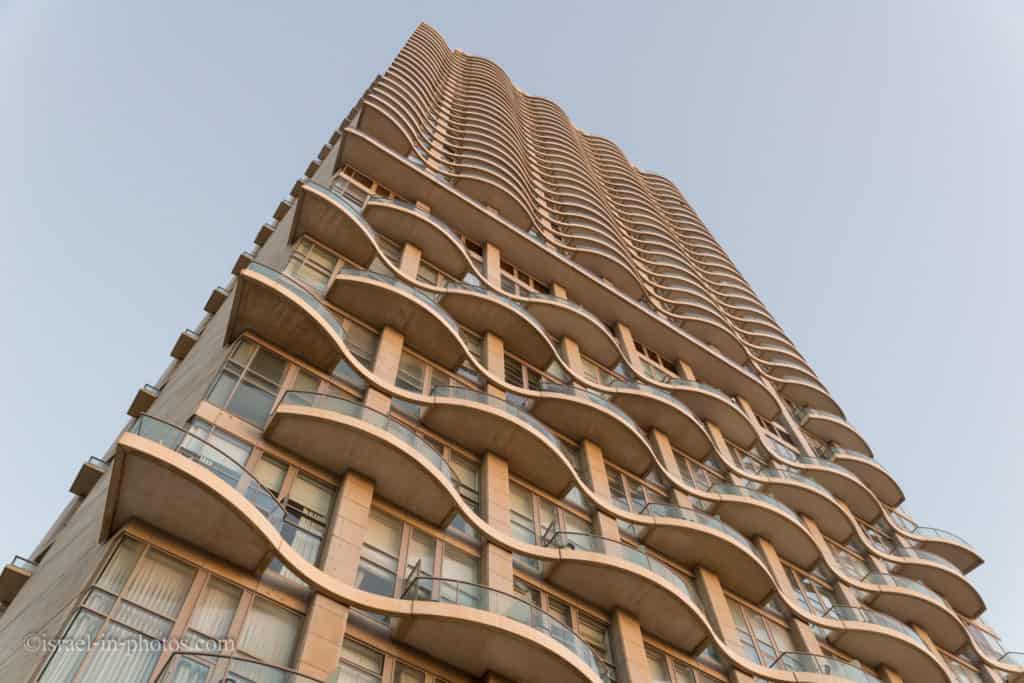 In Tel Aviv Walks #2, we visited Neve Tzedek. Thus, if you want to find out more information about this neighborhood, check it out.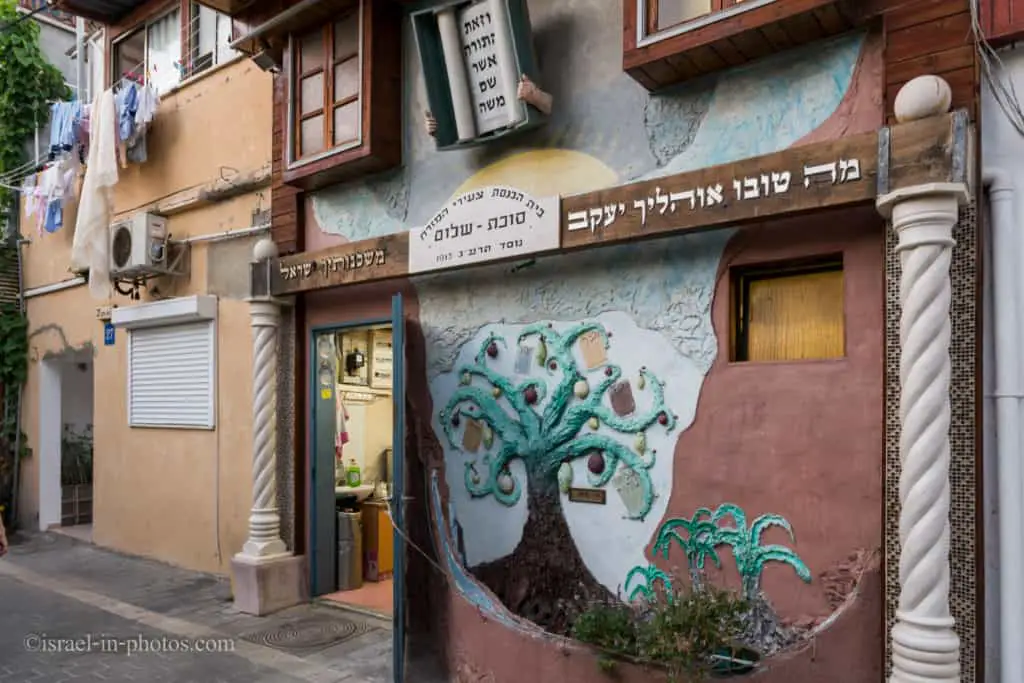 Probably one of the most noticeable houses in Neve Tzedek. It is decorated by several dozens of doll figures.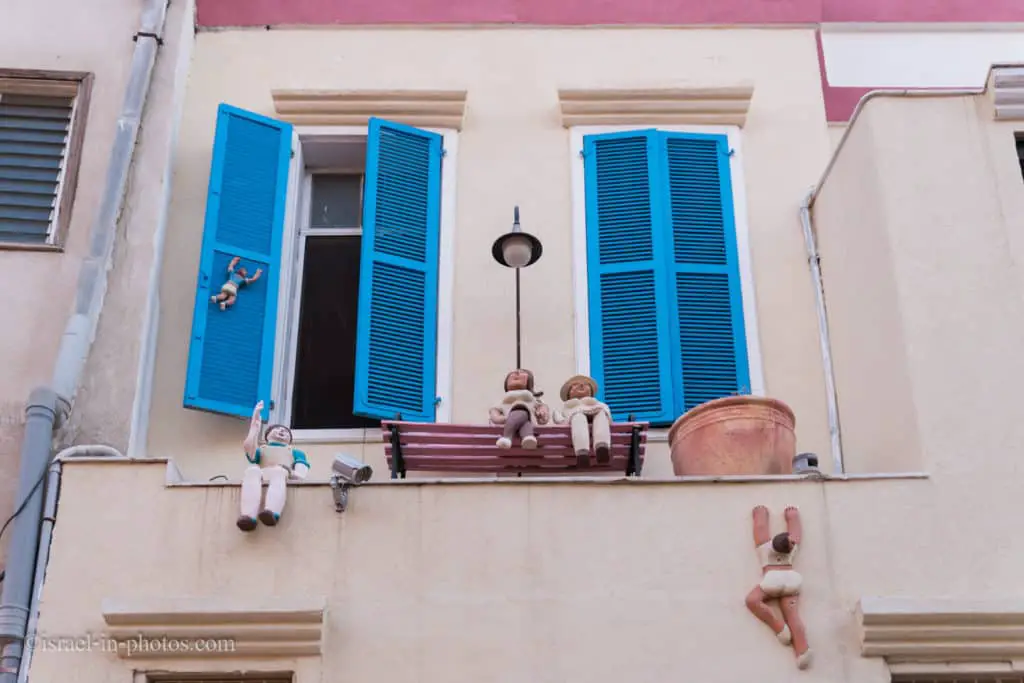 Neve Tzedek is a posh neighborhood, but even there you can find graffiti. Here is an example from Shabazi street.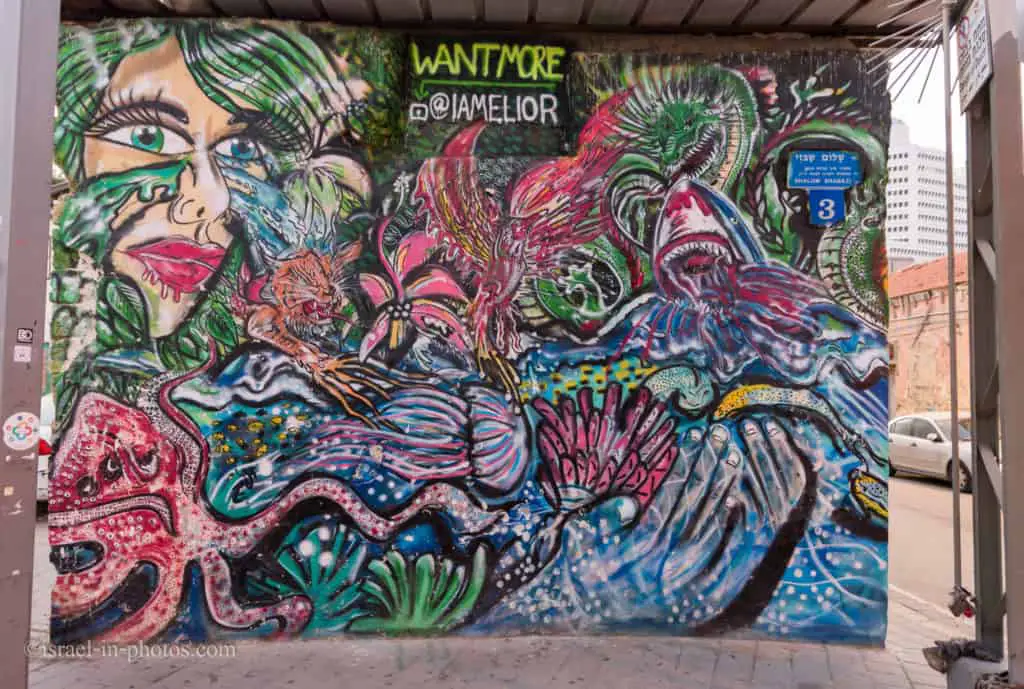 And our final stop was Old Train Station. In most of our visits to this area, we pass through the Old Train Station since it has one of the most important things for tourists. If you thought about restrooms, then you are right. 🙂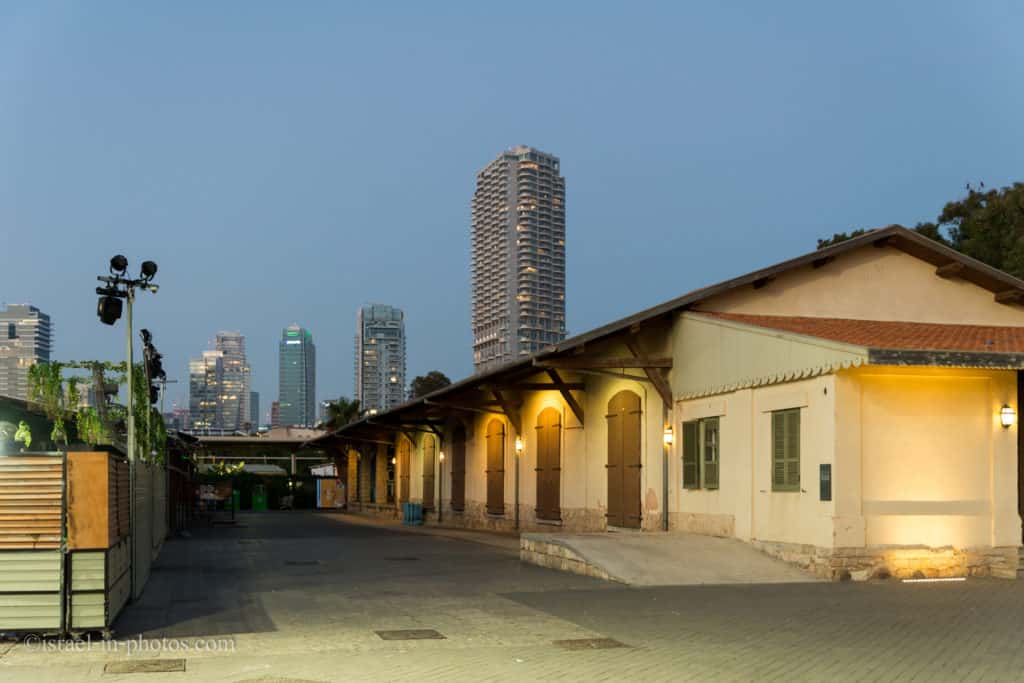 Summary
This Tel Aviv Graffiti walk took us almost three hours. But it could be easily shortened, as you can skip Neve Tzedek or the American Colony. And on the opposite side, you could easily make it a full day visit by including nearby neighborhoods and Jaffa.
Overall, I was impressed. I did not expect to see so many graffiti masterpieces and street arts in general. Thus, if you have the time, I would recommend paying a visit. And if you want to receive explanations during your walk, then join one of the tours.
Have you ever scouted for Graffiti in Tel Aviv? Tell us about your experience in the comments below.
That's all for today, and I'll see you in future travels!
Stay Tuned!
For additional points of interest nearby see Tel Aviv-Yafo page. 
 
Additional Resources
Here are several resources that I created to help travelers:
And if you have any questions then check out Useful Information For Tourists To Israel.