Levinsky Market is a specialty market named after the street it is located on. And besides food stores, there are many restaurants and bars.
About Levinsky Market
Levinsky Market is a small market named after the street it is located on (Levinsky Street). And it is a specialty market. Unlike Carmel Market and other markets in Tel Aviv, you can not find all the food groups there. Levinsky Market specializes in spices, dried fruits, and nuts. And similarly to other markets, in recent years, it has become a trendy area with bars, restaurants, coffee shops, and chef-owned establishments.
Map
Levinsky Market is located on Levinsky Street in Tel Aviv. Primarily on Levinsky Street between Ha'Aliya and Ha-Mashbir Streets.
Directions for drivers: Link to Waze and Link to Google Maps
Directions for public transport: Link to Moovit
Interactive map of the area:
Offers:
Hotels, hostels, and apartments in this area:
Note: during 2021, Levinsky street was converted into a pedestrian street. And despite what you see in some of my photos, now the street looks like this:
The streets that cross Levinsky are not only for pedestrians. Hence, at every road cross, you can see metal barriers. Furthermore, you can find many yellow chairs along Levinsky street. They are for public use.
Directions
If you walk to the Levinsky Market, you can set the navigation app to Levinsky Street 59 or 28, Tel Aviv.
If you are using public transport, then a variety of buses reach this area. Here is already a preset link to Moovit. Just enter your starting point, and you will get the updated directions.
And if you are driving, then you will need to find parking.
Parking
There are several paid parking lots in the area. And they are:
Parking Name
Parking lot address
Price
Distance to the market
The Market Parking
Hashuk Street 8
50 NIS for up to two hours and 20 NIS for every additional hour
You can exit at Levinsky Street 39, which is at the market.
Libar Parking
Pines Street 41
12 NIS per the first hour, and 3 NIS per every additional fifteen minutes
400 meters
Aliya Market Parking
Chlenov Street 22
Sunday – Thursday (07:00 – 16:00): 16 NIS per the first hour and 4 NIS per every additional fifteen minutes.
Weekends and evenings: 24 NIS per entrance
140 meters
Beit Hadar Parking Lot
HaRakevet Street 3
Sunday – Thursday (07:00 – 16:00): 16 NIS per the first hour and 4 NIS per every additional fifteen minutes.
Weekends and evenings: 24 NIS per entrance
700 meters
I usually park further away at the Beit Hadar parking lot. I prefer it due to its proximity to the Ayalon highway.
Opening Hours
There are many stores, stalls, and restaurants in the market and its surroundings. Each of them has its opening hours. Thus if you are interested in a specific place, check its opening hours. And the hours I am going to list now are the common ones when most stores are open.
Sunday – Thursday: 9:00 – 17:00.
Friday: 08:00 – 13:00.
Saturday and Jewish holidays – closed.
Note: most restaurants are open till late.
Tours
Tasting tours have become quite popular in Israel, and you can find them in many markets in Israel.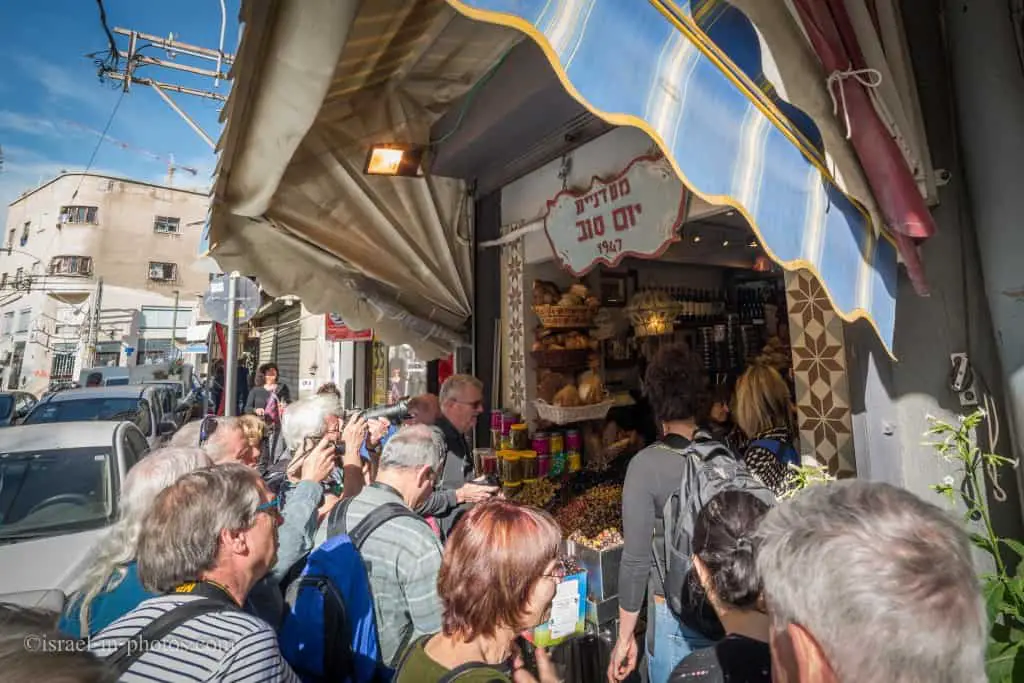 If you visit on a Friday morning, you will see many touring groups. Different firms offer a variety of tours and if you want a more in-depth experience, consider joining one of the tours.
Stores at Levinsky Market
And now, let's walk through Levinsky Market and see what it offers.
The market consists of many small stores specializing in spices, dried fruits, and nuts. Beyond these categories, you can also find delicatessen. Here is, for example, Chaim Raphael.
Chaim Raphael
This delicatessen was founded in 1958 by Chaim Raphael, a Holocaust survivor from Saloniki, Greece. It started as a small grocery store and, over the years, grew into a well-reputed delicatessen that was an integral part of Tel Aviv's historical culinary ventures. Today, the store boasts a steady stream of regulars who come for its wide selection of gourmet cheeses, cured olives, and meats – all prepared by traditional methods, recipes handed over by generations of Raphaels.

Chaim and his grandson, Tzadik, take pride in their traditional methods, but more in their love and respect for their food and cuisine. Weekend items include leek patties, meatballs, and stuffed vegetables like grape leaves and peppers.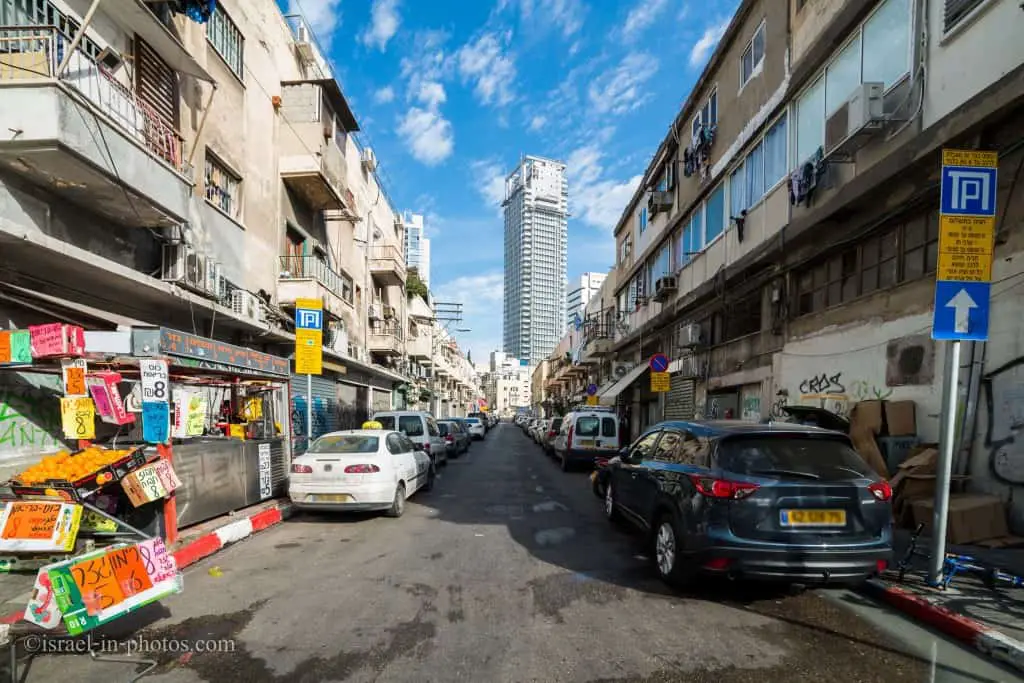 I have not made an extensive price comparison but checked several kinds of nuts, and the prices on the market were lower than in our supermarket.
HaChalban
The older stores usually have some sign that indicates their status. It can be an informational sign or simply writing the foundation year.
The perfect fromagerie for fans of local and imported cheeses, cured olives and other delicacies suited to the tastes of hard and soft cheeses. Especially recommended at this shop is a salty Iraqi cheese that when put in hot water takes on a stretchy or gummy consistency, perfect for summer dining with ripe, sweet watermelon.
HaChalban is a small store with olives and cheese. And I liked their cheese-shaped lamps.
Pereg Spices
PEREG GOURMET is one of the more known firms in Israel. It was established in 1906, and it is a family business that produces 60 varieties of spices, spice blends, and herbs.
The Shuk Levinsky branch of this nation-wide chain of spices is the most successful of all other franchises, perhaps a testament to the high culinary standards of local Tel Aviv residents. Founded by Chaim Pereg, formerly Parig, the Pereg Spices empire offers a wide range of local and Middle Eastern spices and herb blends of top quality, as well as olive oils made with traditional methods.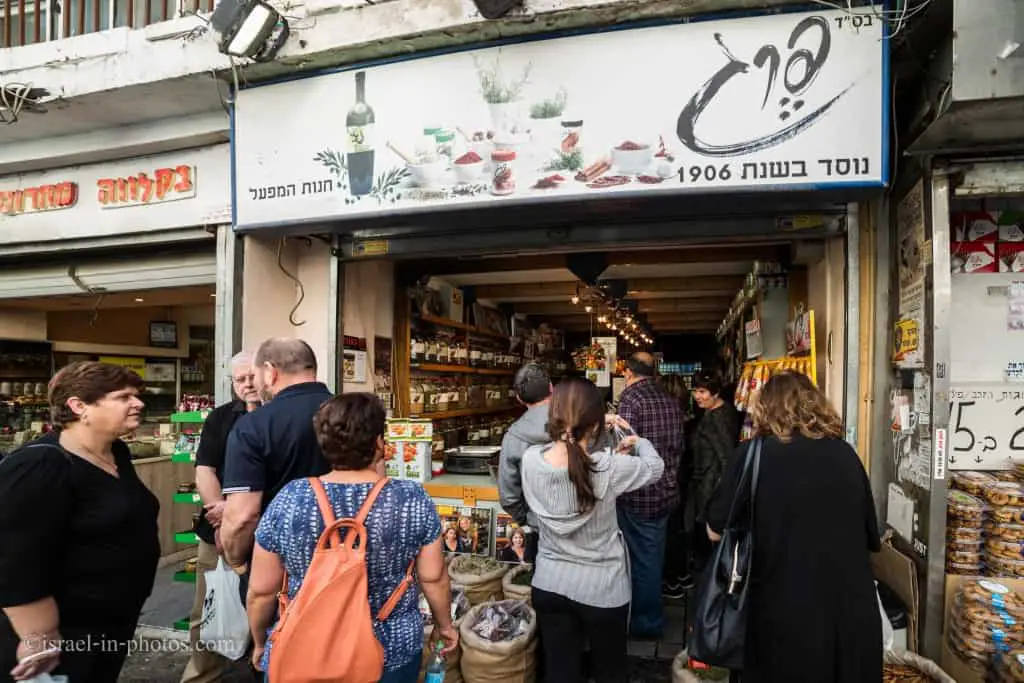 There are additional stores, but I think that by this point, you get the point. Moreover, you are probably hungry, so let's continue to the next section.
Restaurants and Food Stalls
There are many restaurants and food stalls in this area. And I usually suggest checking the current rating and choosing accordingly. That is because the quality of a place can change quickly, and many of the food joints close over time. Nonetheless, I will mention several businesses.
When you walk at Levinsky street, you will see several places selling Bourekas.
Bourekas
There are two famous places in the market. They are Burekas Penso and Levinsky Burekas. But let's start with the basics.
Bourekas are a popular Israeli baked pastry of Sephardi Jewish origin. Bourekas are made in a wide variety of shapes and a vast selection of fillings and are typically made with either boureka dough, puff pastry, phyllo dough, or brik pastry, depending on the origin of the baker.
Source: Wikipedia
Borekase's origin is Börek (also burek), and it came together with Jewish immigrants from Turkey. It is a family of baked-filled pastries made of a thin flaky dough known as phyllo. The shape indicates the filling. The most standard is probably triangular ones, usually filled with salty cheese. They are high in saturated fats (the dough is traditionally made with margarine or butter), thus considered by many as junk food. But, once in a while, it is ok 😉
Burekas Panso
For more than 70 years, Burekas Panso has been cooking up delicious, crispy, and fresh-baked pastries like burekas, the longer, and U-shaped Turkish-style burekas, and a Balkan version of the Middle Eastern slow-baked-dough Lachmajin. Wash down any of these hand-made delicacies with a range of sweet and fresh beverages such as Balkan summer cold yogurt drink Ayran, Tamarind juice, fresh-squeezed pomegranate and carrot juice, and almond drink. For dessert, try the Sotlatch, a sweet milk-cooked rice, or the Kadaif nest of honey and nuts.
Levinsky Burekas
Burekas Levinsky makes all their burekas by hand, with no margarine, and even offer a range of custom mixes alongside the traditional fillings.
The classical serving of a Bourekas is with a boiled egg, olives, and spices.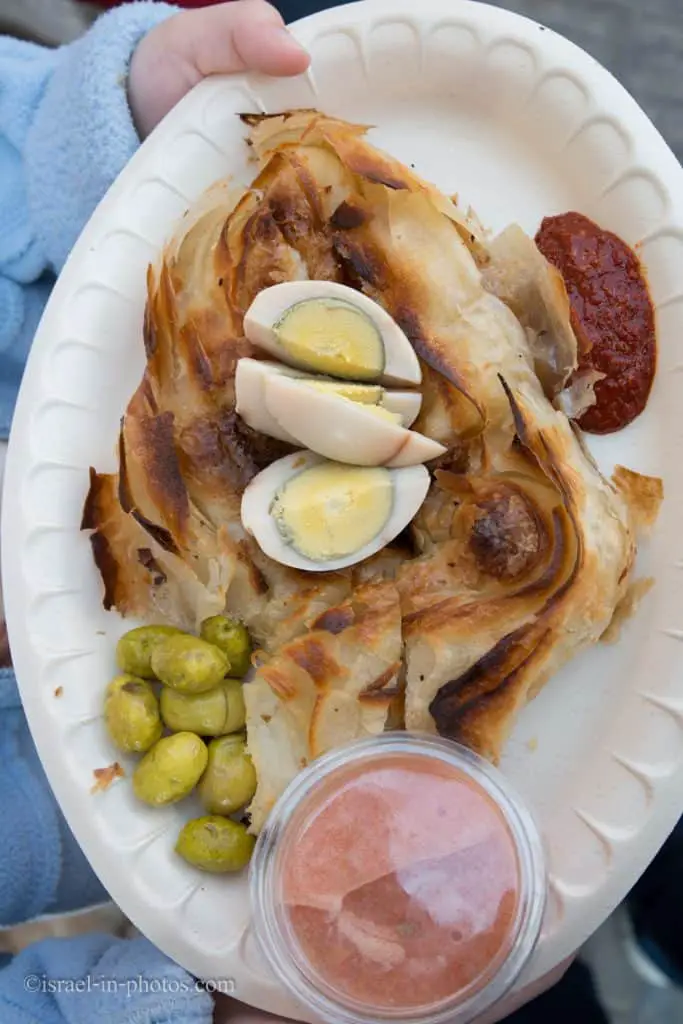 HaTahinia
On one of our visits to Levinsky Market, we visited HaTahinia. It is an exciting concept. You can Hummus joints everywhere. But what about one of its main ingredients, the tahini.
Here is what timeout magazine says about them:
After returning from culinary school in Paris and interning with three Michelin star restaurant owner Alain Ducasse, Chef Yehonatan Barbi came back to Israel to open his restaurant with a tahini theme. The dishes are mostly tapas-style, the atmosphere is colorful and joyful, the Ouzo and wine selection is plentiful, and the tahini comes in a diverse variety of mixtures, textures, and flavors. Everything is made from fresh ingredients right in front of customers. Including dishes like Tunisian-style potatoes with pickled fish, lemon, tomato, capers, olives, tahini and spices, and eggplant balls with red quinoa on harissa tahini over pickled and spiced vegetables, the menu is expansive, intricate, and mostly vegan.
We enjoyed the food and will return in the future.
Since we filled our dried fruits and nuts stocks and ate lunch, it was time to leave Levinsky Market and head to the summary section.
History Of Levinsky Market
During the 1930s, Tel Aviv was home to a small group of Jews from Saloniki, Greece. David Florentin was considered the leader of the group, which, together with his pioneering activities for developing the city, earned him the nickname 'David Palestina'. Most of the working-class immigrants settled in the southern Tel Aviv neighborhood now-called Florentin, after David Florentin's nephew Solomon Florentin, who was the first contractor in the area.

Before long, a range of spice shops and eateries opened up across the neighborhood, specializing in Balkan cuisine – and that's how this marketplace came to be what we know today. Legend even has it, that the first spice blends for early-State home cooking were created in, by and for these neighborhood residents.

With the creation of the State of Israel, an influx of Iranian immigrants to downtown Tel Aviv brought with it new tastes and herbs from Persian cooking. And as the population grew, so did the market place, developing from its nuts and spice stalls into a bustling, commercial marketplace with luxury stores and gourmet restaurants.
Note: unless stated otherwise, all quotes were taken from the official site.
Summary
Like other Markets In Tel Aviv And Jaffa, Levinsky Market is more than a site to buy food. It is also a place to grab something to eat, learn about food by joining a tour, and get a feel of Tel Aviv's vibe. If you have the time, I recommend visiting this market for the reasons mentioned.
If you love markets, then check out Markets In Tel Aviv And Jaffa. And for additional points of interest nearby, see Tel Aviv-Yafo.
Have you ever been to the Levinsky Market? Tell us in the comments below.
That's all for today, and I'll see you in future travels!
Stay Tuned!
Additional Resources
Here are several resources that I created to help travelers:
And if you have any questions then check out
Useful Information For Tourists To Israel
.  
Did not find what you were looking for? Leave a comment below, and I will do my best to answer your questions.