In this guide, we will go over all significant Markets In Tel Aviv and Jaffa. And then we will see which are the best ones. Let's begin!
Types Of Markets – New Vs. Old
In my blog, you can see referrals to the new and old markets. I usually divide them by their creation date. The number of years a market operates is not that important, but it affects the types of stores in the market. Markets that were created many years ago are usually more traditional. There are many fruits and vegetables stands. And some bakeries and fish, meat stores.
The newer markets are generally more upscale places. And for example, besides standard fruits and vegetables, you can also find unique produce. Moreover, in the new markets, there are typically many restaurants and small food joints.
Nonetheless, touristic markets, like Carmel Market and Mahane Yehuda, though they were founded many years ago, changed significantly over the last decades. Maybe you will not find there the same fancy produce as in Tel Aviv Port Market, but you can eat at many food stalls and restaurants while visiting them.
Here is the division of the markets. The "Old" Markets In Tel Aviv are Carmel Market, Nachalat Binyamin, HaTikva Market, Levinsky Market, and Jaffa Flea Market. And the "New" markets are Tel Aviv Port Market, North Market in Tel Aviv, Sarona Market, Rothschild Allenby Market, and Jaffa Port Market (though the last two are not operational anymore).
Carmel Market is probably the most famous marketplace in Tel Aviv. Similarly to other markets (like Mahane Yehuda Market in Jerusalem), it changed in recent years. Bars, restaurants, coffee shops, and chef-owned food stalls appeared. Travel firms started to offer Market tours. And today, it is a mix of the old market and a tourist destination.
You can find my full guide at Carmel Market.
Nachalat Binyamin Market has several names. It is also called the Nachalat Binyamin art fair, and the arts and crafts fair. And it is the most significant art fair in Israel.
You can find my full guide at Nachalat Binyamin Market.
HaTikva Market and Carmel Market are two competing outdoor markets in Southern Tel Aviv. But since Carmel Market is closer to the sea and there are numerous hotels in the area, over the years, it became popular among tourists.
HaTikva Market, on the other hand, is a more authentic market with fewer tourists and it almost had not changed over the last decades.
You can find my full guide at HaTikva Market.
Levinsky Market is a small market that was named after the street it is located on. The market specializes in spices, dried fruits, and nuts.
You can find my full guide at Levinsky Market.
So far, we covered the "old" Markets In Tel Aviv. They are Carmel Market, Nachalat Binyamin Market, HaTikva Market, and Levinsky Market. And let's go over the New Markets Of Tel Aviv, which are: Tel Aviv Port Market, North Market, Sarona Market, and Rothschild Allenby Market.
Port Market in Tel Aviv was opened in 2008. And it is the first one to open and start a new trend of "new" markets.
You can find my full guide at Tel Aviv Port Market.
North Market in Tel Aviv
And now we are going to visit North Market (official site) in Tel Aviv. Why North Market? It was opened by the same entrepreneur as the Port Market and in many ways similar to it.
North Market is located in Northern Tel Aviv (20 Raoul Wallenberg Street), hence the name.
Map of the area:

It was opened about a year ago in one of Tel-Aviv's industrial (mostly High Tech) zones. Therefore, next to regular stores, the market offers many restaurants.
Exterior: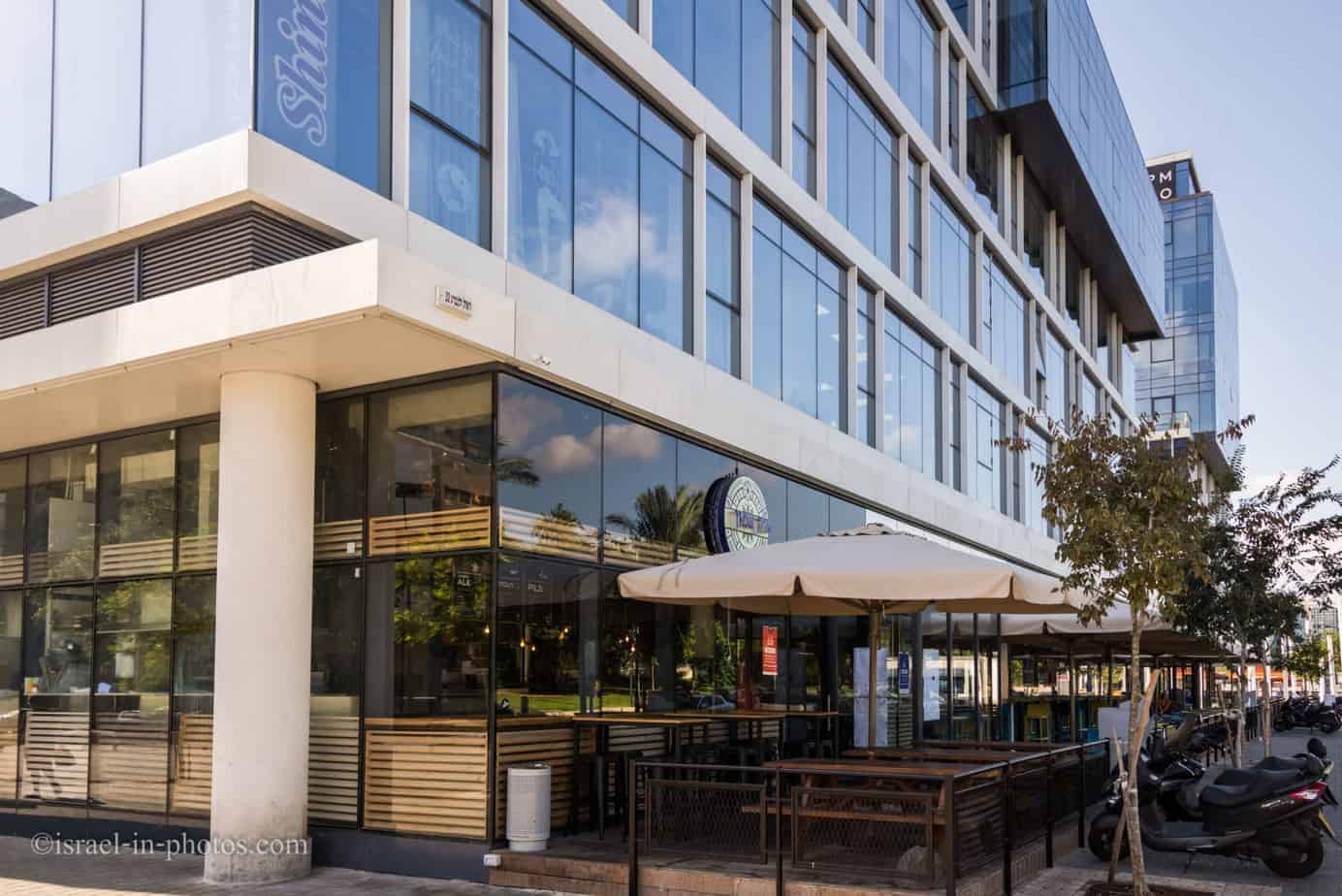 Since it is located in the industrial zone, it is hard to find parking. But since we visited on a Friday morning, we were able to find paid parking.
The stairs that lead to restrooms:

North Market is quite small. There are around 30 stores/restaurants in total. And there is also a florist: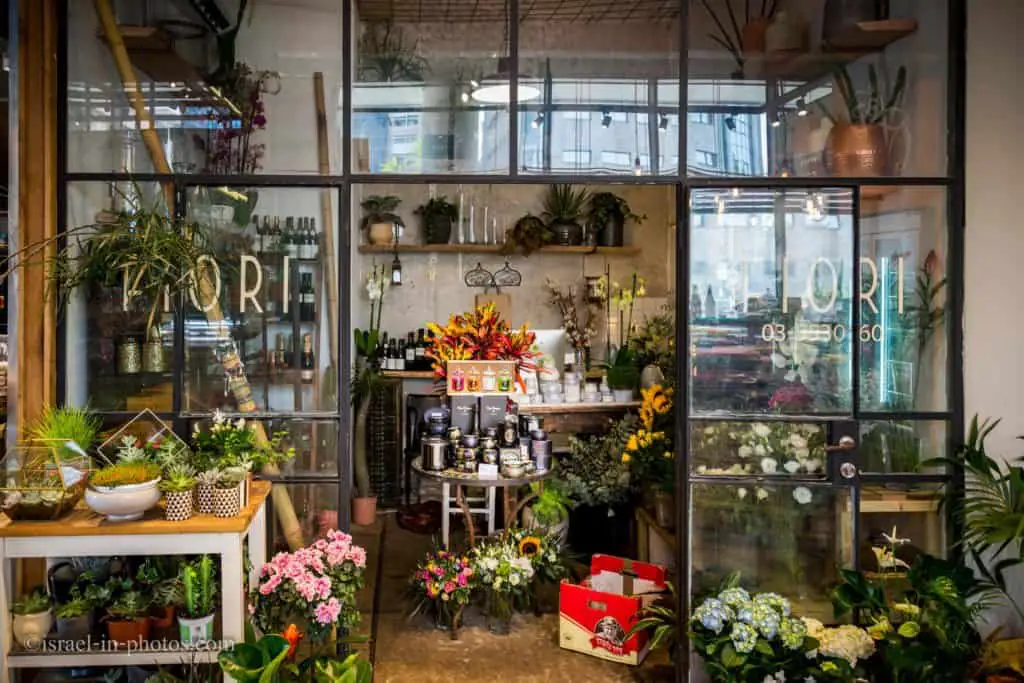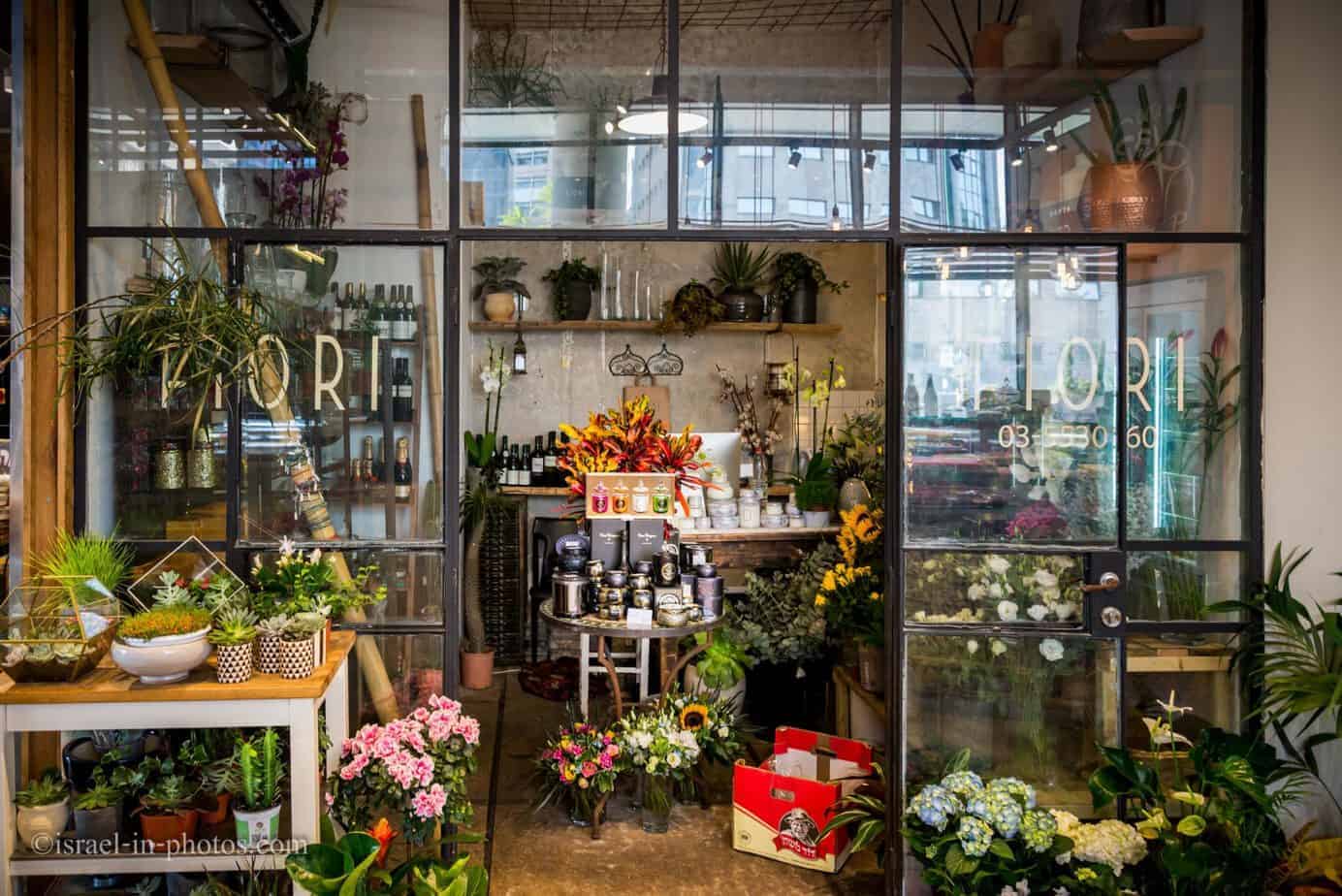 There are several bakeries:

Butcher shop:

Keep in mind that it's an expensive area, and most restaurants/stores are quite expensive. But, on the other hand, you can find delicatessen.
One of the corridors:

Fruits and vegetables:

Sabres, i.e. prickly pear:

Variety of bread in the second bakery:

North market entry from the other side (not Raoul Wallenberg Street):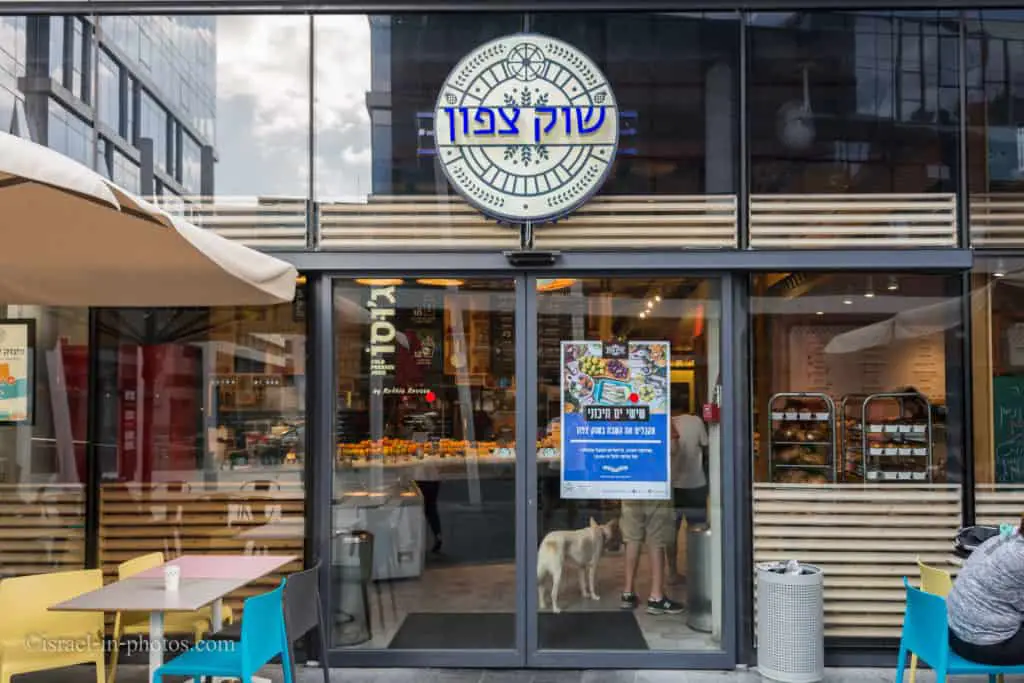 Close to the North Market you can find other stores as well. For example, there is a branch of "Artisan bread" bakery. It's one of my favorite bakeries in Israel. Not only because of their products but also because of their service. For example, when we bought bread there, they gave us a vacuum bag and told us that if we want to freeze part of the bread, then we should use this bag. It is not something big, but it shows their thoughtfulness and care.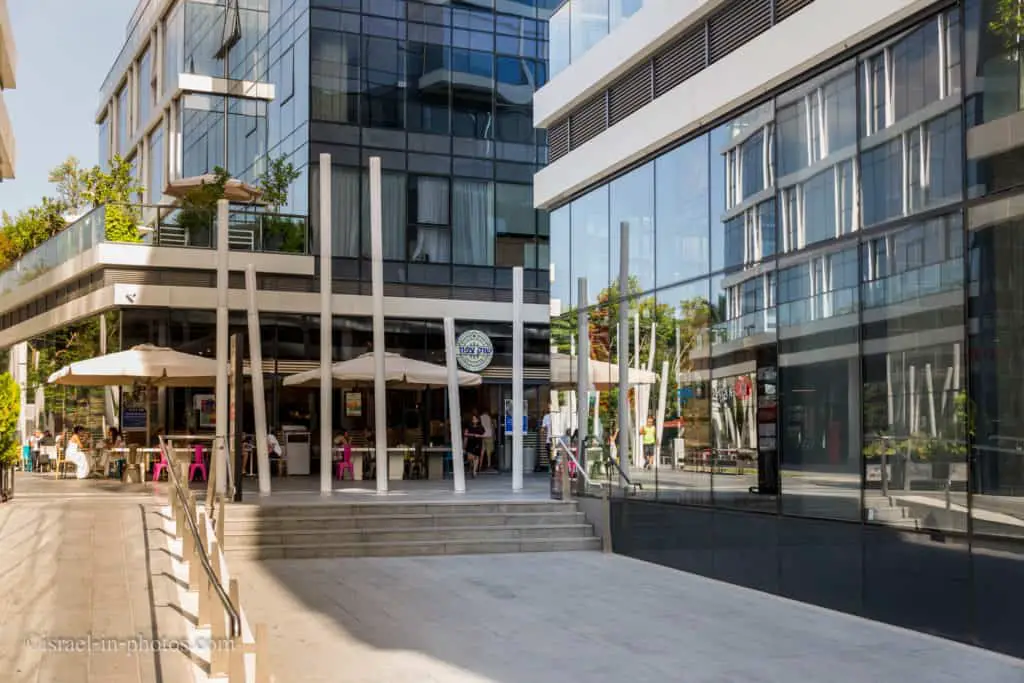 Back to the North Market, and this is a fish stand: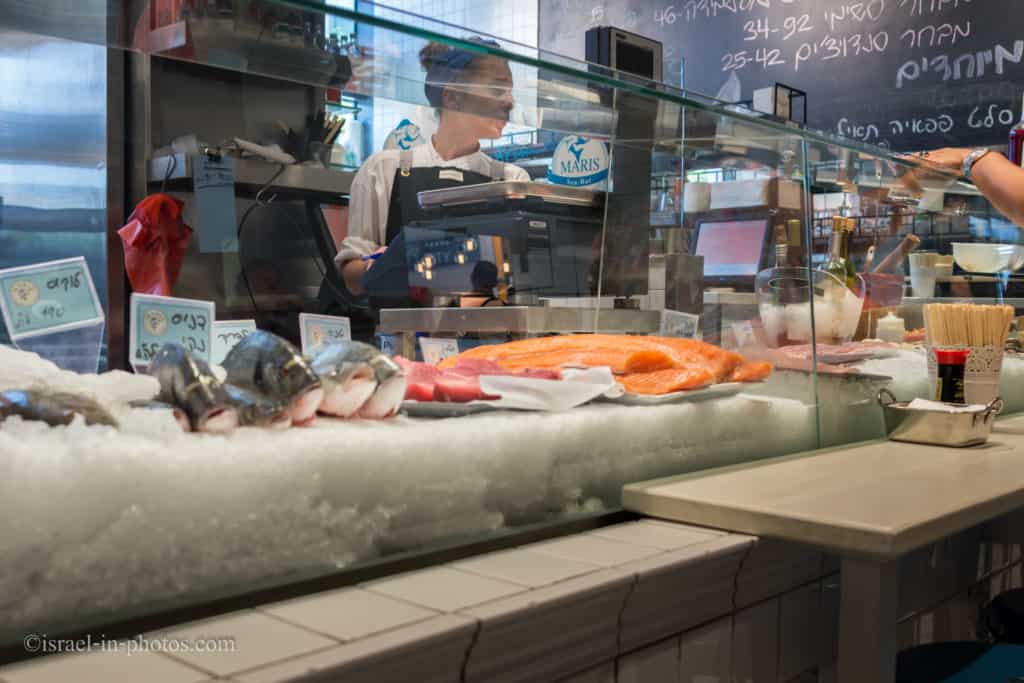 Various juices and drinks:

We tried two of those, and I can't recommend them.
After going through the market and back, we looked for a place to eat. But, since as I mentioned it was Friday morning, most restaurants were closed (opened only at noon). And in the end, we went to a nearby restaurant.
Reflections: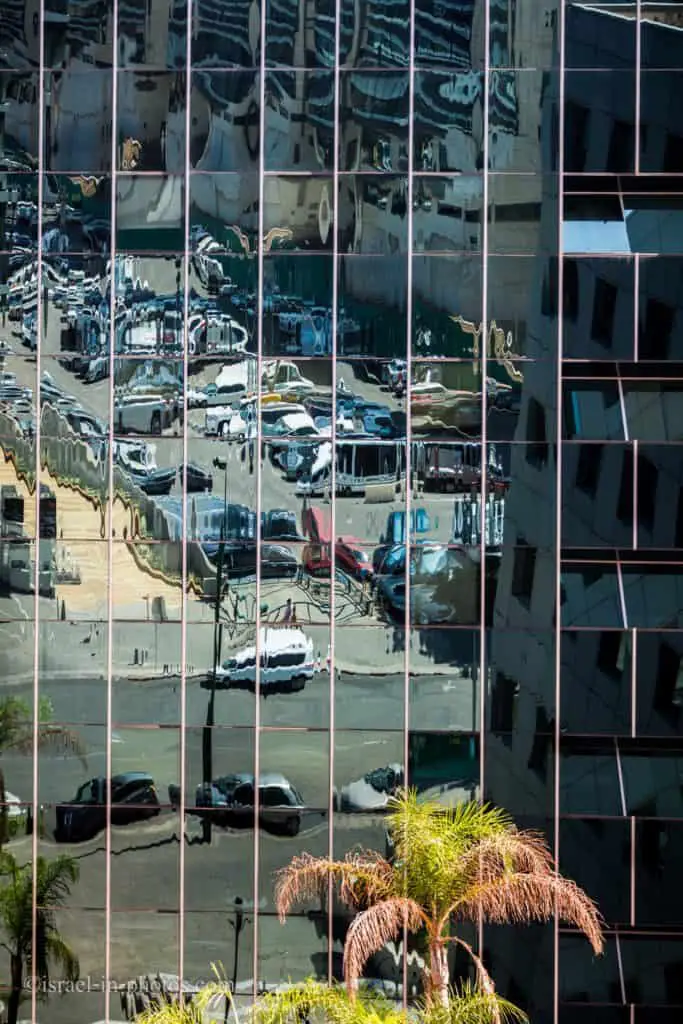 Overall, North market is not a big place and does not offer a great variety. If you are in the area, then you can visit and grab something to eat. But I would not drive there just for the sake of the visit. If you love such kind markets, then you should check out Sarona Market.
Sarona Market
Basic Info
Sarona Market (official site) is an indoor market at the center of Tel Aviv. Here is a quote from the official site:
The Sarona Market complex was established to be the heartbeat of Israeli culinary art. On an area of 8,700 square meters and with 91 shops of all categories, stalls, and restaurants, Sarona Market is Israel's largest indoor culinary market and operates seven days a week. Gindi Holdings constructed the project on Sarona Gardens in the heart of Tel Aviv.

Sarona Market is an innovative, contemporary urban market that combines the old world with the new. A gourmet and consumer product market featuring imported cheeses from across the globe, premium balsamic vinegar from Italy, fresh seafood from the Atlantic Ocean, French champagne and spices from the Far East along with the best local produce – fruit and vegetables from Emek Hefer and the Arava, lamb and veal from the Golan Heights, fresh fish from the Mediterranean Sea, local wines, boutique beer, chocolates and hand-made pastries. A central place where you can experience the full intensity of all the flavors of contemporary Israeli culinary art under one roof.
Map of the area:

Visiting Sarona Market
We parked at the Azrieli Center and started walking toward Sarona Market.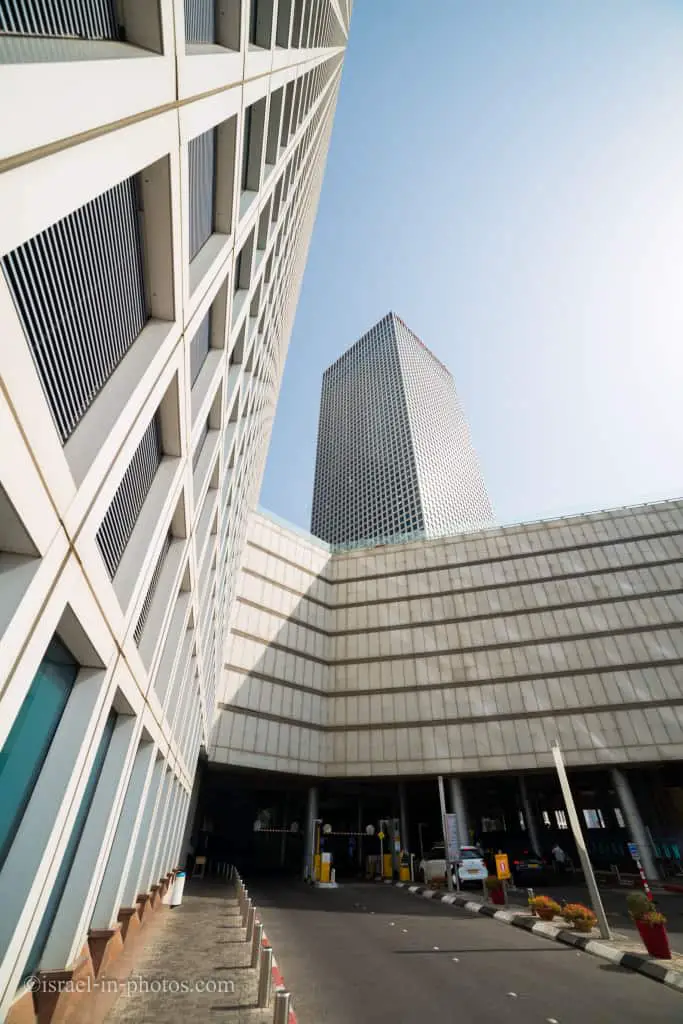 Another view of the Azrieli Center:

And after a 7min walk we can already see the entrance to Sarona Market:

At one of the entrances to Sarona Market: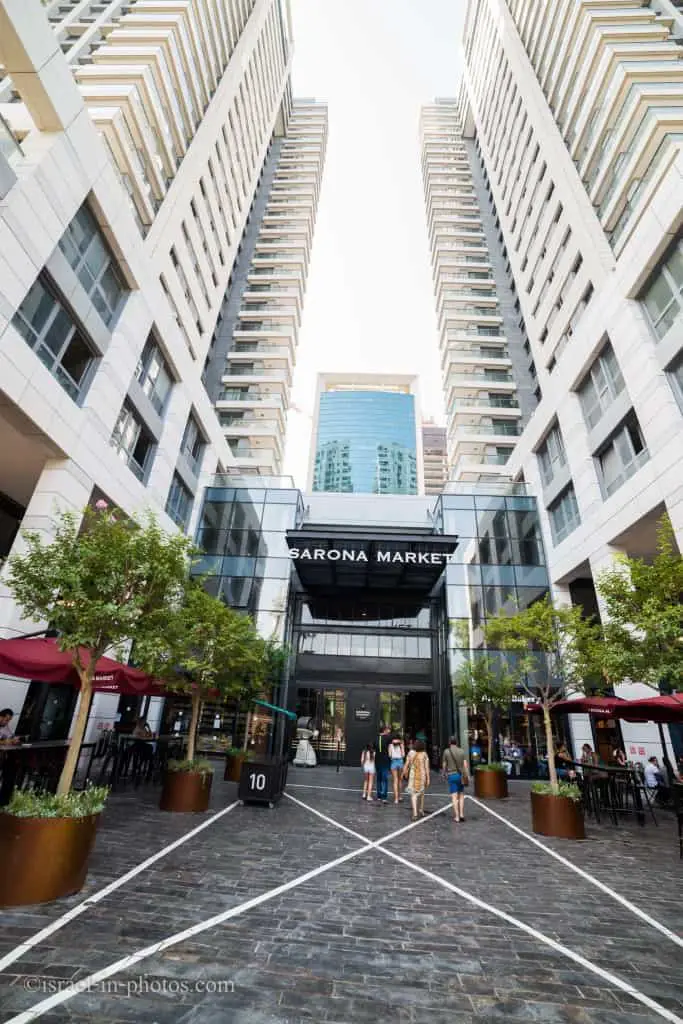 Sarona Market is one floor market beneath all those towers. The market mostly specializes in food, but you can also find books and office supplies:

Edible decoration for cakes: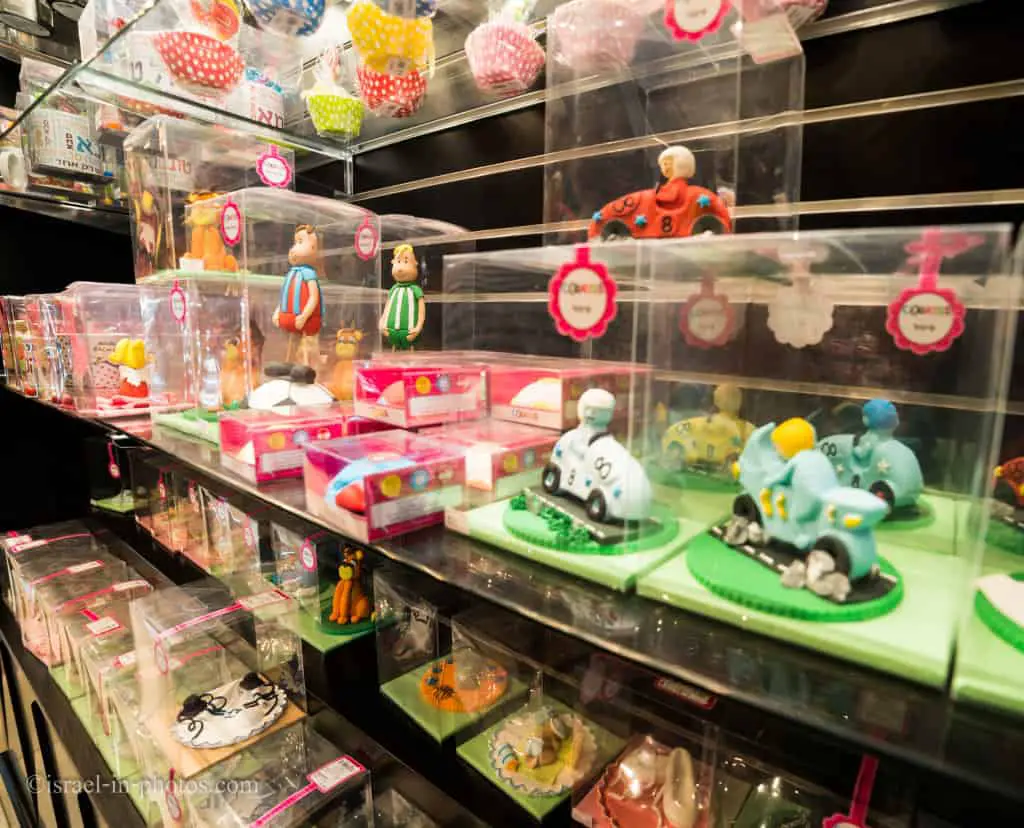 Liquor shop:

Olives:

Juices and kitchenware: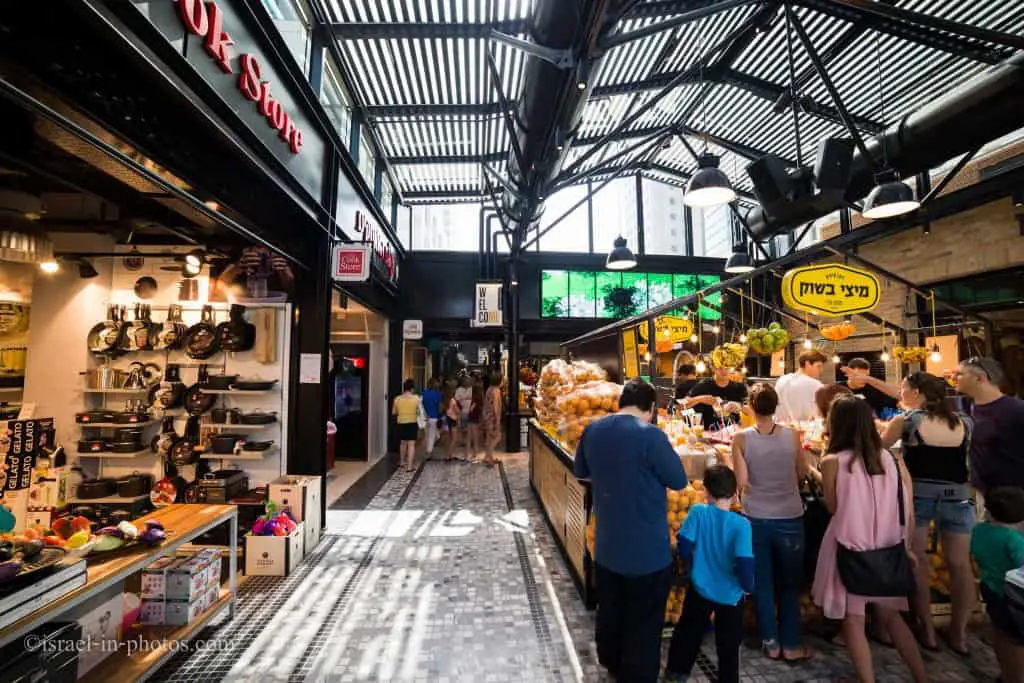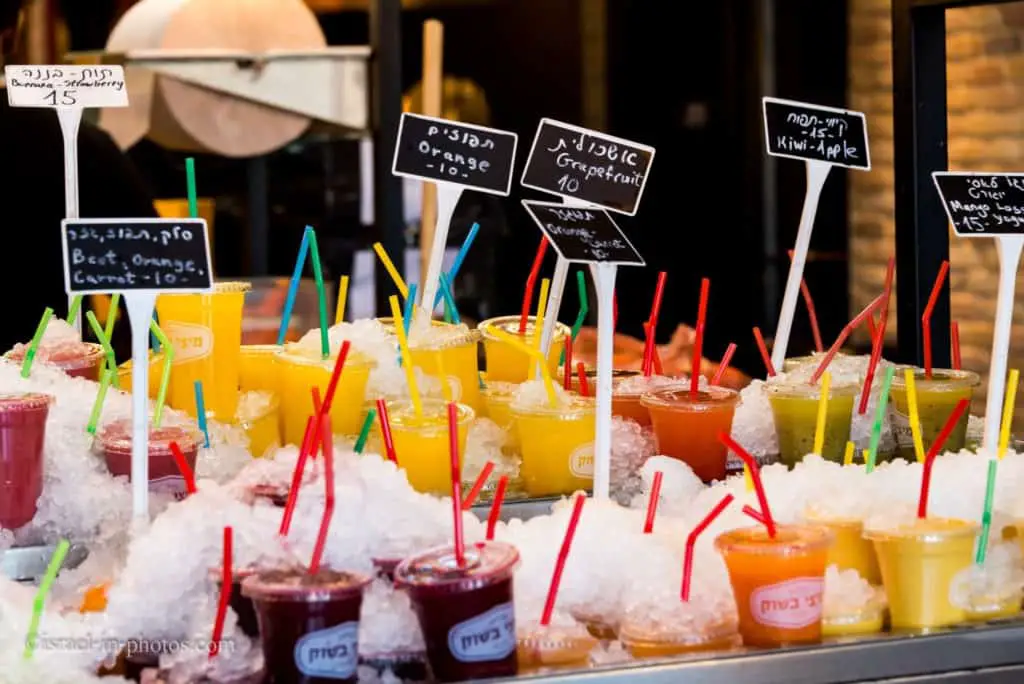 Preparing bread in a bakery: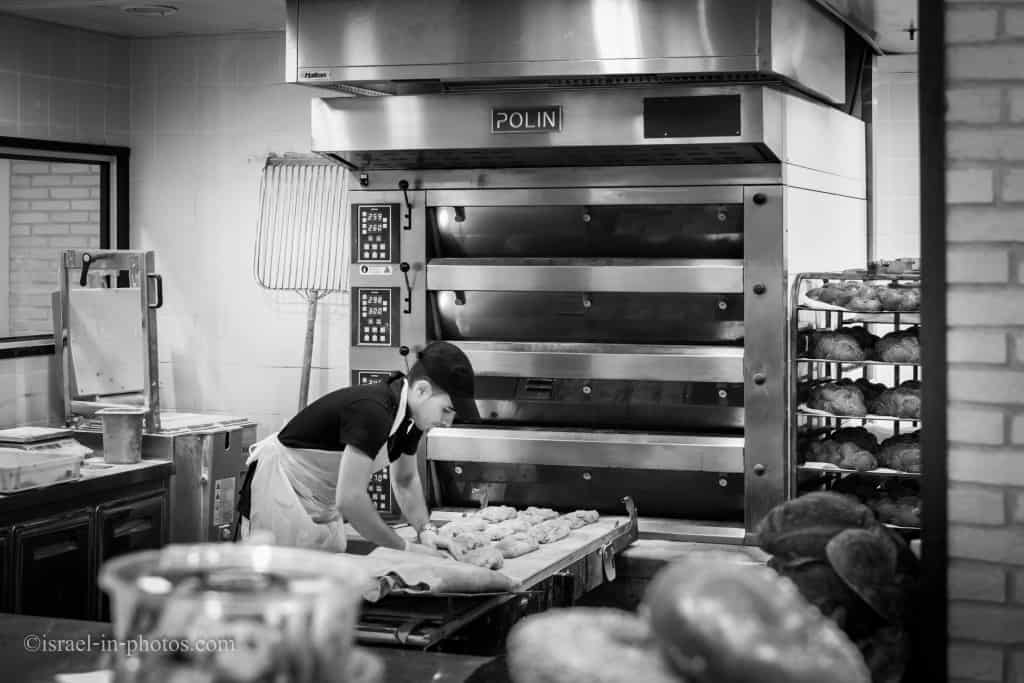 Wine Card? Why Not
That is a wine shop. But not the regular type. It allows you to buy a glass of wine. The system is that you buy a card which allows you to buy X glasses of wine. And each time you pass the store, you can select one of the wines, enter your card and select whether you want a full glass or a half glass.
Note: at my recent visit, I saw that this store was already closed.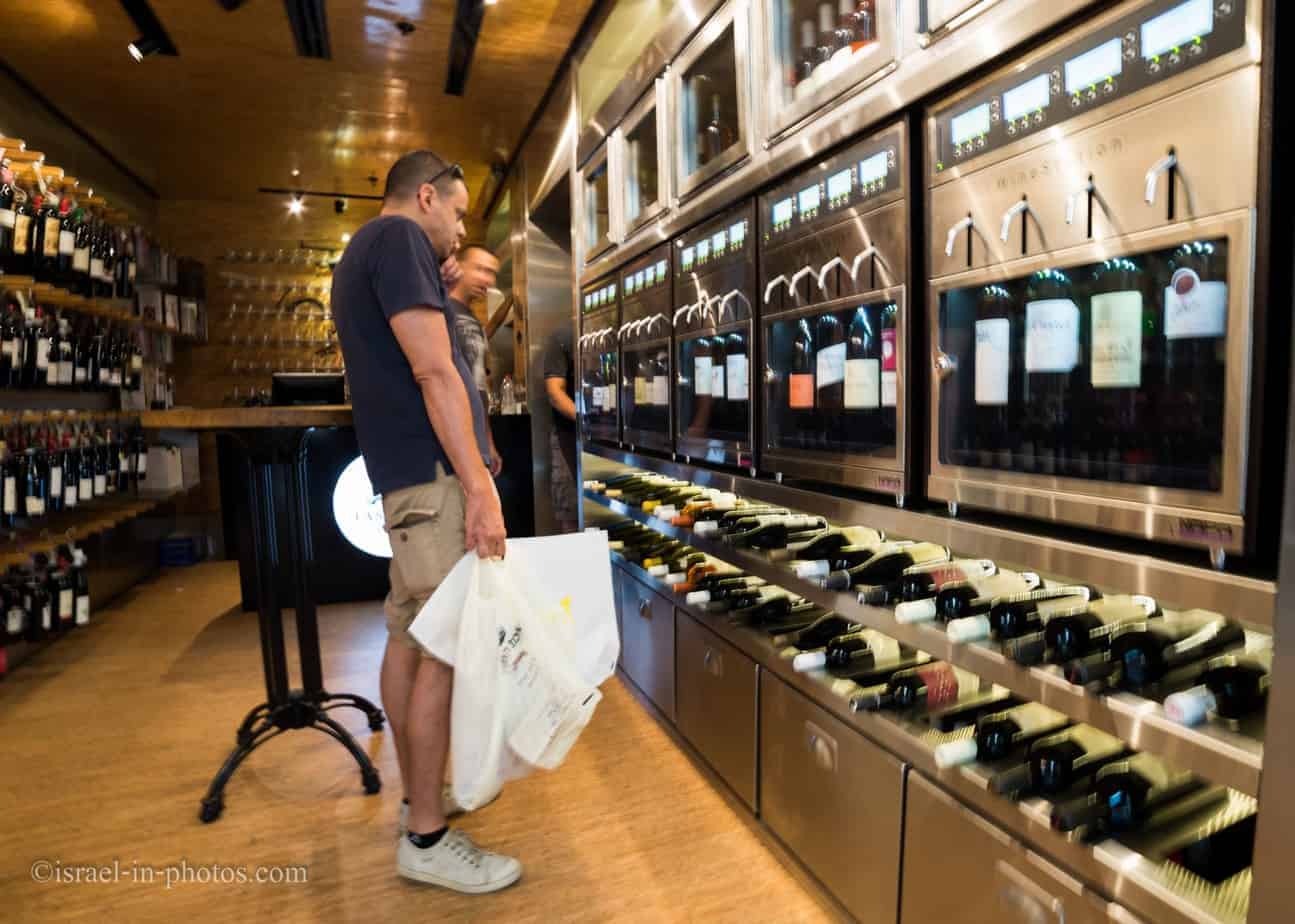 In one of the bakeries we bought macaroons and made a short break:

FAUCHON
That was a tasty break. After eating the macaroons we reached the FAUCHON stand. FAUCHON is famous for their macaroons, but unfortunately, we were too full at that point. Well, there is always the next time.
Update: In August 2017 FAUCHON officials said they would be closing the big store at Sarona and only a small stand will remain. They will also stop preparing the food themselves and outsource it.
Does anyone want Sushi?
Cheese boutique: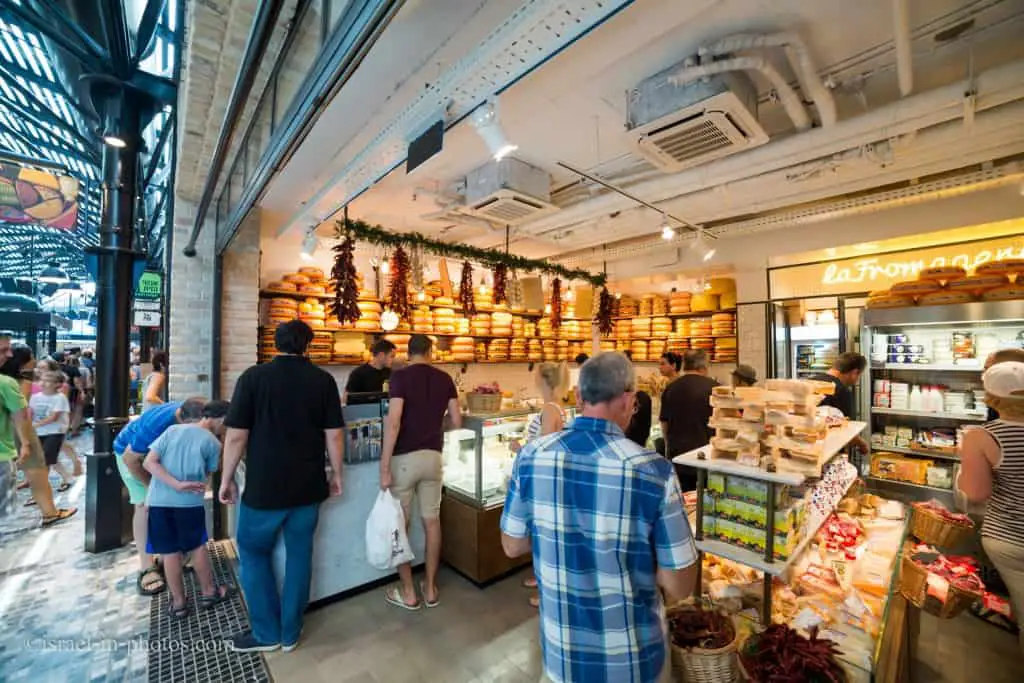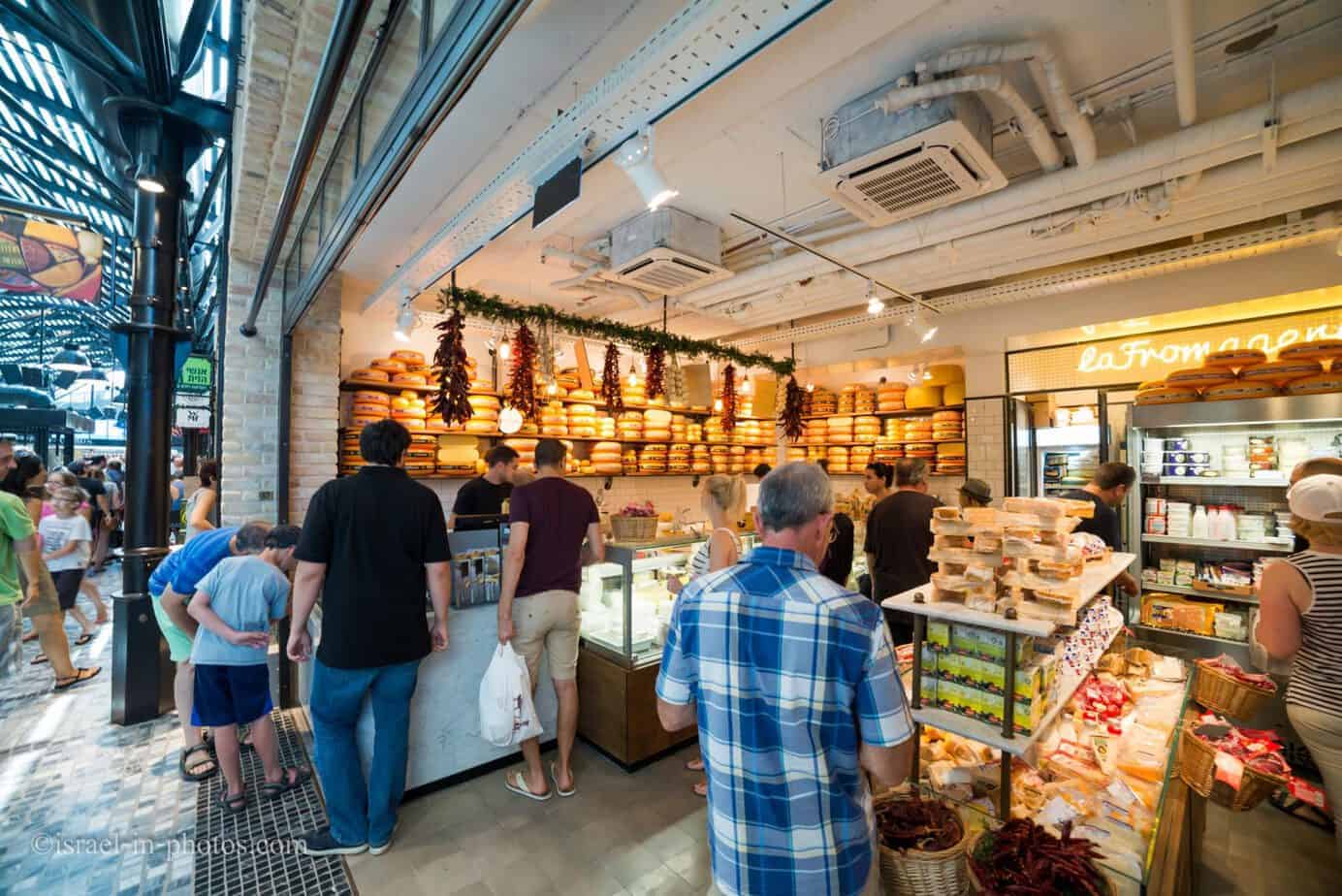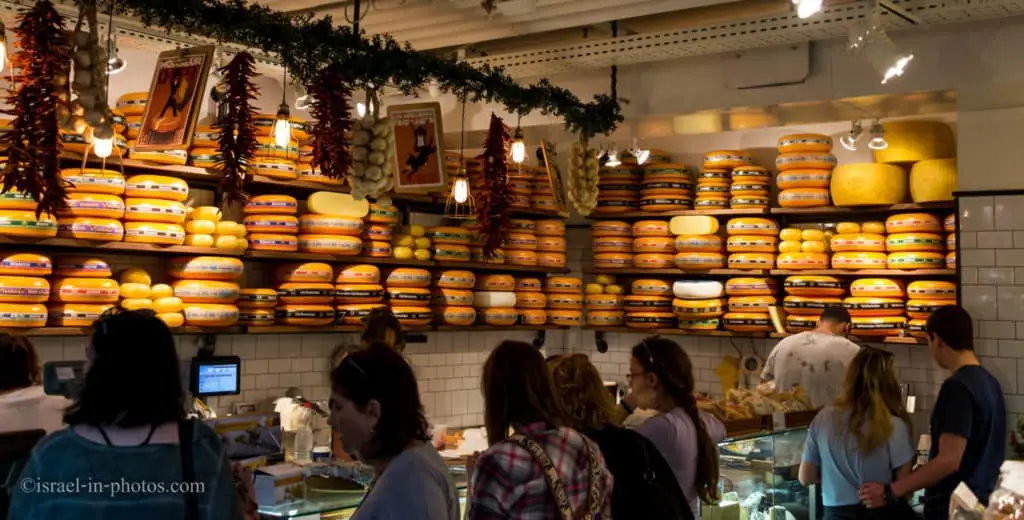 Sign with directions to all stores: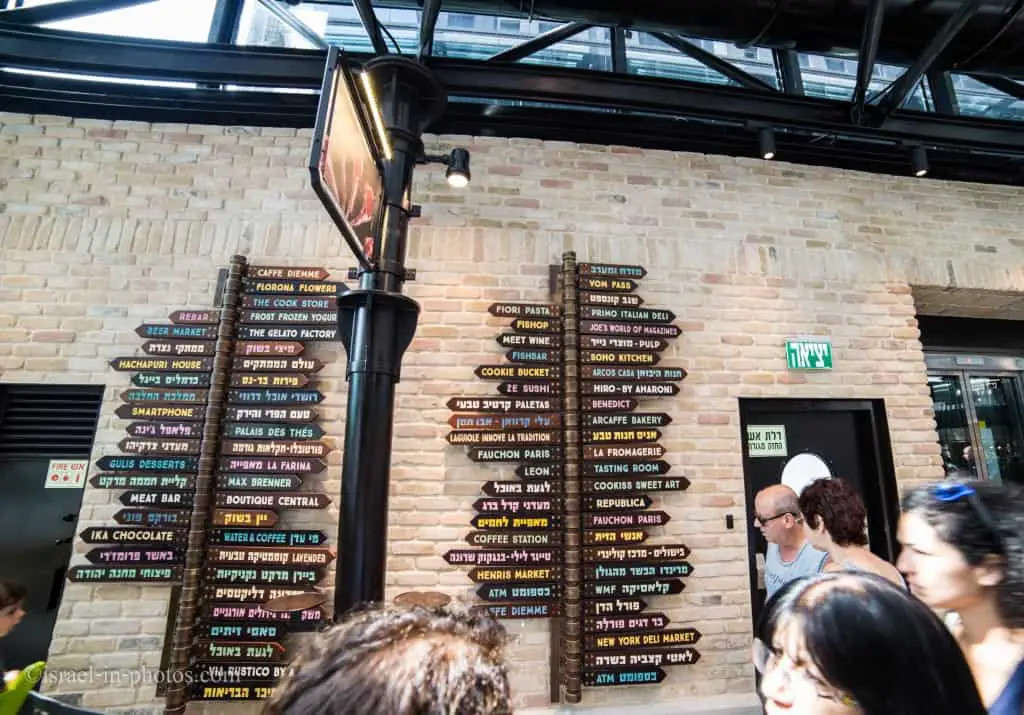 Herbs and spices:

And dried fruits as well: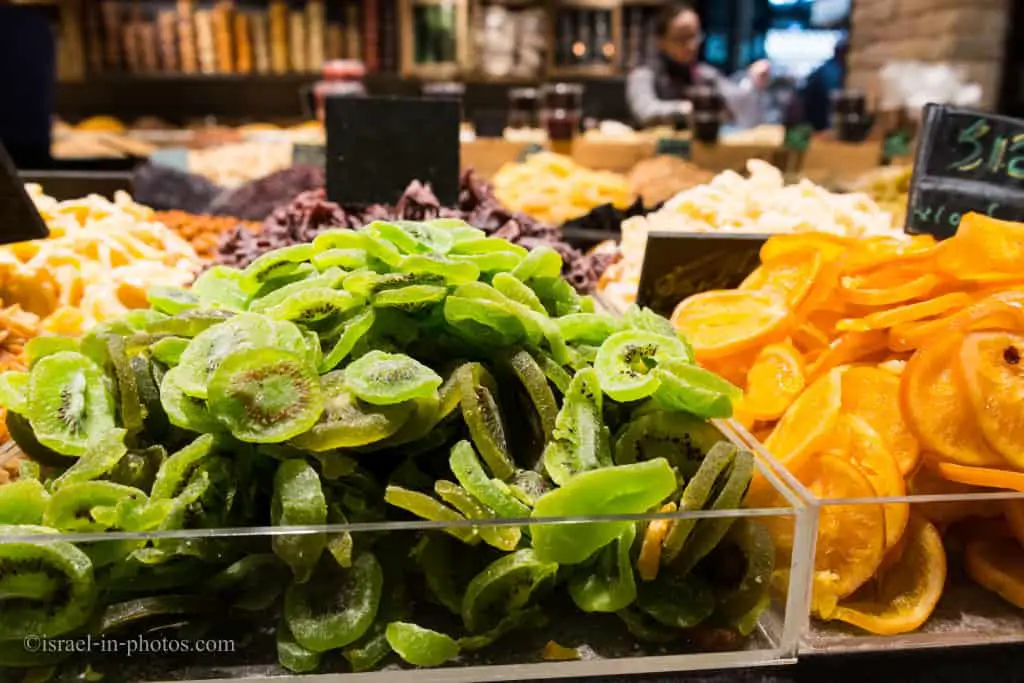 Many stores offer small snacks — not only bakeries but other stores as well. You can find different kinds of tapas and finger-food with fish, meat, and cheese. Overall, the stores in Sarona Market can be roughly divided into three categories. About 40% are food stores, 40% are restaurants, and 20% all the rest.
Halva:

Khachapuri
Another break with Khachapuri:

Khachapuri is a traditional Georgian dish of cheese-filled bread. The simplest Khachapuri is basically like a pizza with cheese both on the top and inside.
At a bakery:
Fish boutique:

In the photo above you can see Israel Aharoni, he is a celebrity chef and he also has a restaurant at Sarona Market.
Croissants:
One thing worth mentioning, we visited on a Friday morning. Thus you can see many people. On weekdays it is less crowded.
Our time was running out and we started to head back. Here is another exterior view: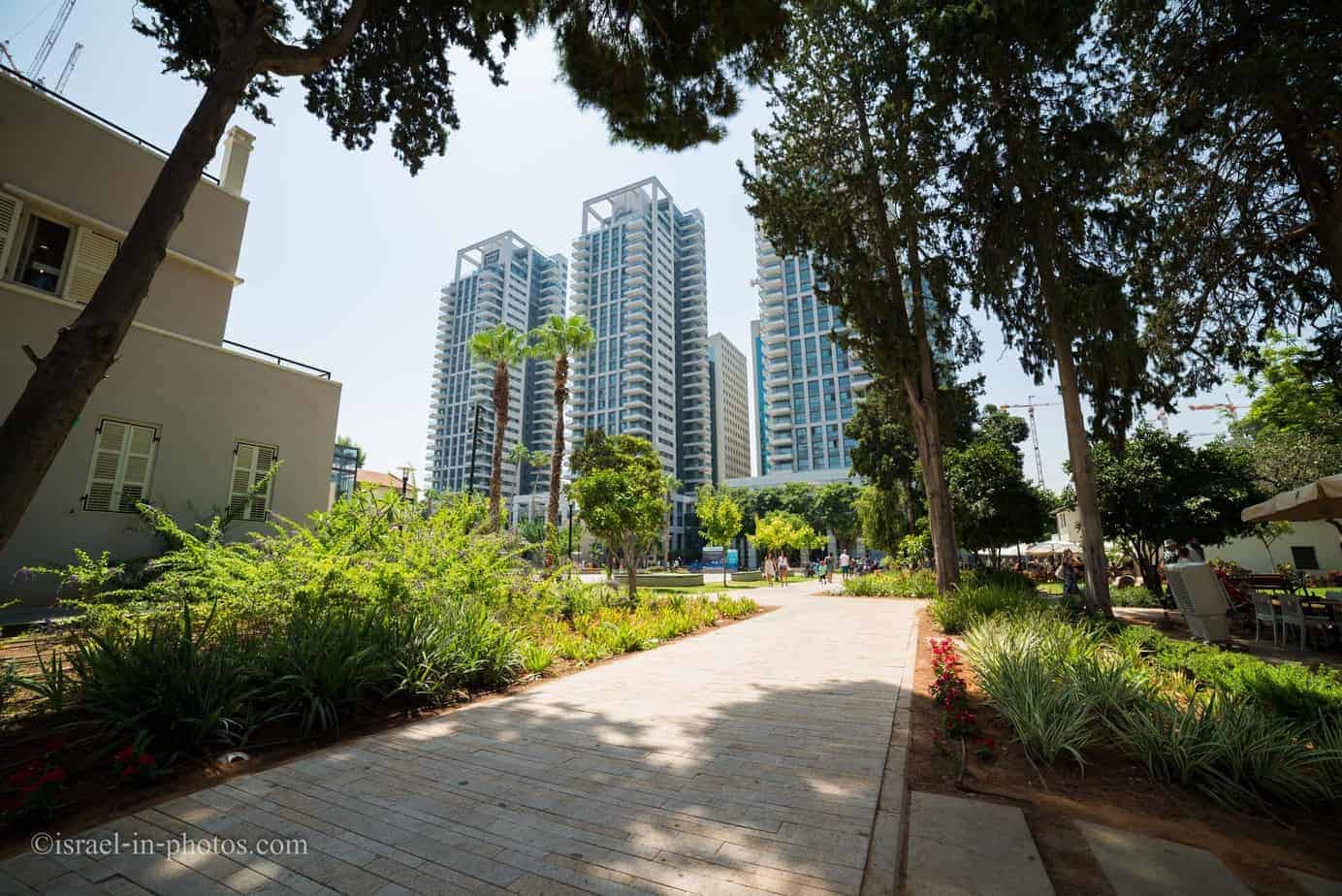 And back to Azrieli Center: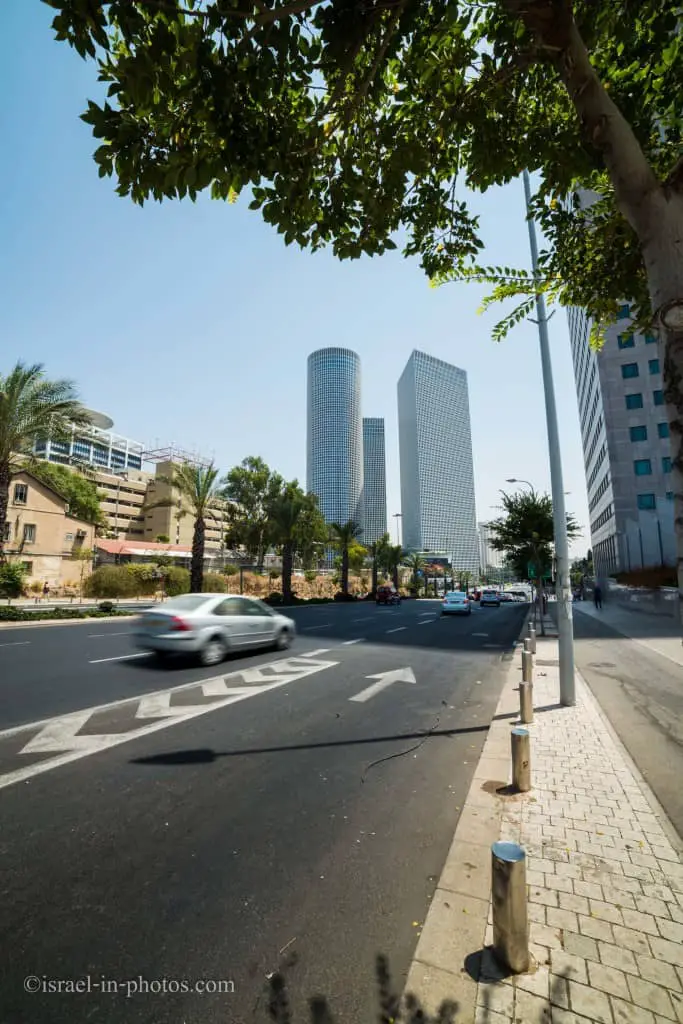 To sum up, Sarona Market is a lovely place to visit. Many Israelis define it as being in Tel Aviv but feeling like in Europe. It's a high-class market, meaning you can find many high-quality products and restaurants, but they are not cheap.
Note for photographers: on one occasion when I visited Sarona Market, the security saw my DSLR and asked me not to photograph inside. That happened once out of probably ten times.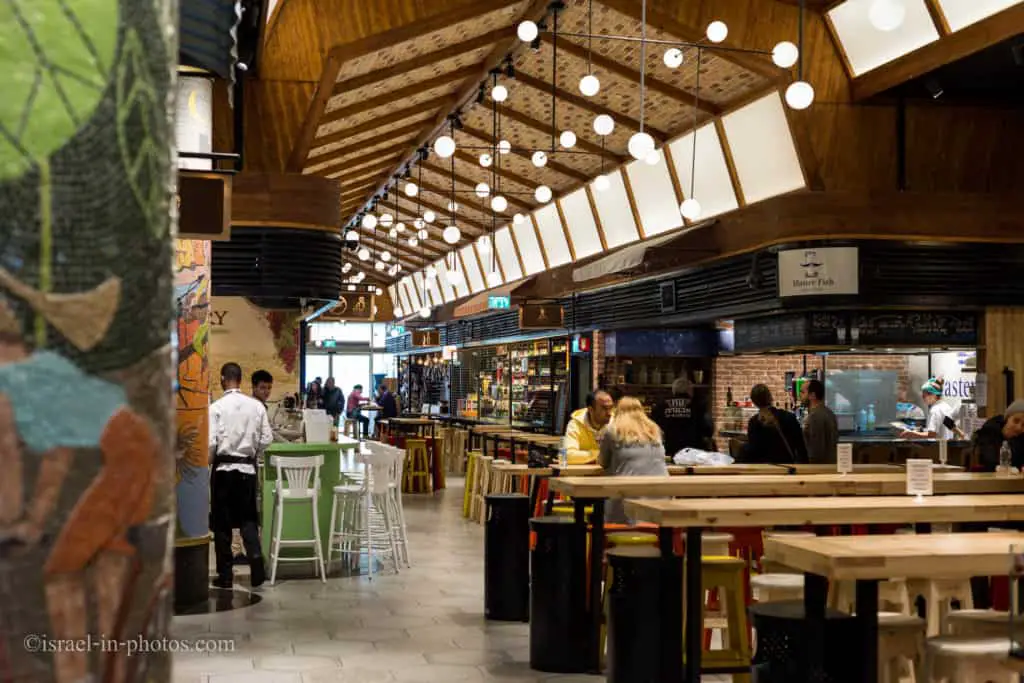 Update: the owners of Rothschild Allenby Market run into financial difficulties. This market was closed. And today, in this compound, you can find a Decathlon store. And if you want to see how it was, continue reading the original post.
Jaffa Flea Market (Shuk Hapishpeshim)
Jaffa Flea Market offers a wide variety of stores, including thrift stores, boutiques, and art galleries. Moreover, there are plenty of restaurants and cafes. Check out my full guide to Jaffa Flea Market.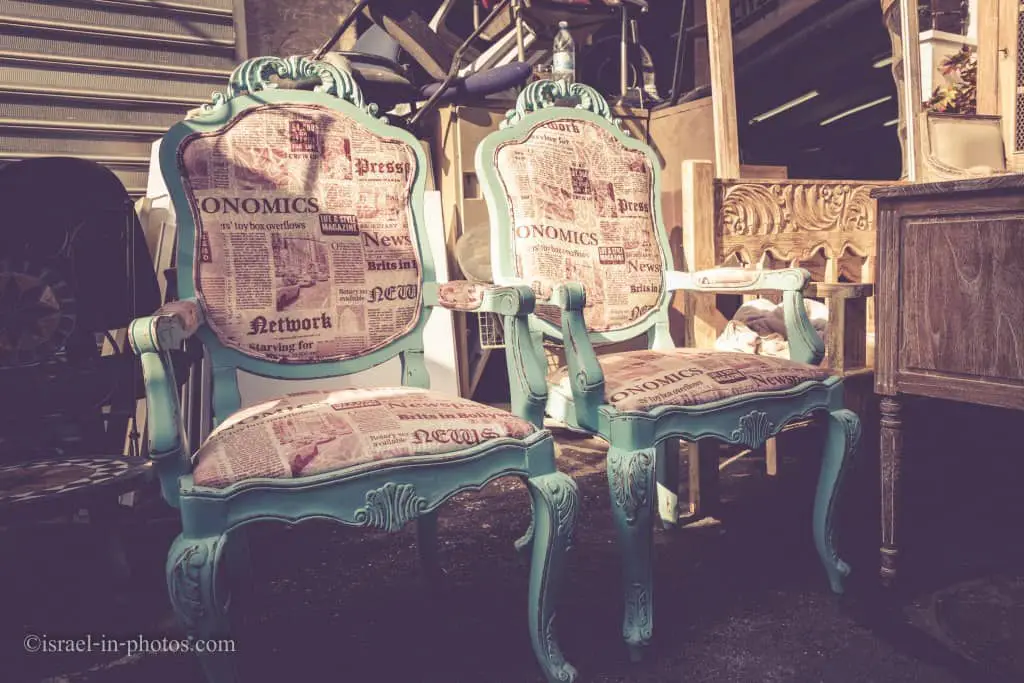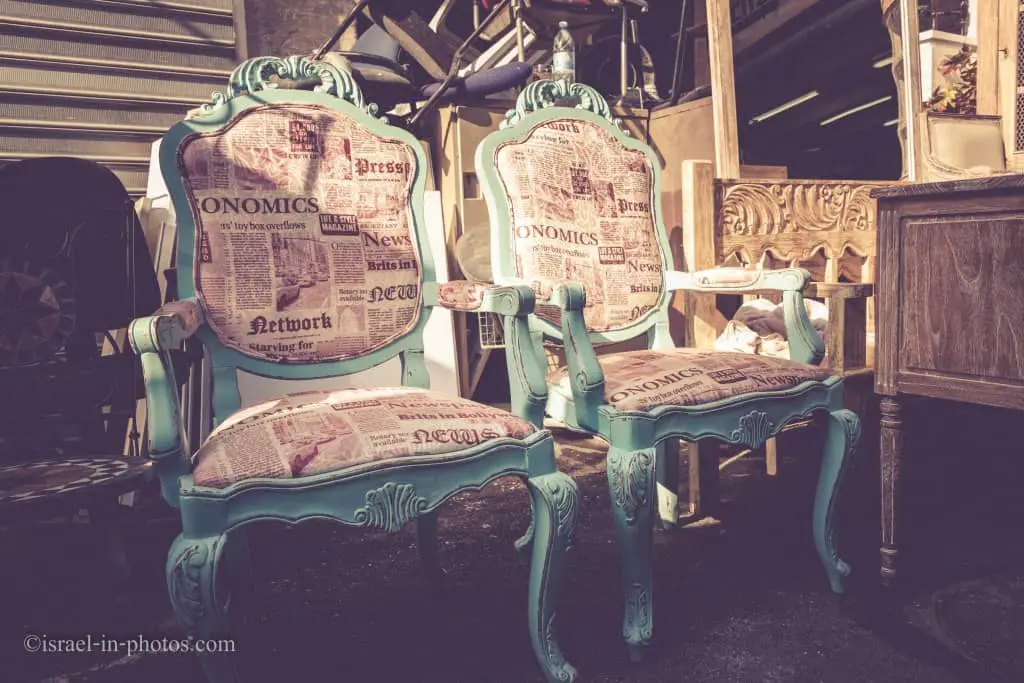 Jaffa Port Market
When Tel Aviv Port Market became successful, other similar markets started to pop up. One of them was Jaffa Port Market. But, not all markets thrived, and some closed or decreased their activity significantly. You can find additional information at Jaffa Port.
Summary
As a kid, I hated visiting markets, but today visiting Markets In Tel Aviv is both tasty and photographic. But that is a personal preference. If you have time, then visit all of them. But if you are limited in time, then I would choose Carmel Market and Nachalat Binyamin Market. They are close to each other. Thus you can visit both together. Just visit on Tuesday or Friday while Nachalat Binyamin Market is open. Moreover, if you have an option to make this visit during some holidays, prefer that as you might see street performers at Nachalat Binyamin.
New Markets Of Tel Aviv offers gourmet food and various delis. Of course, this comes at a price, but to people who love it, it is worth it. Where should you start? I would go to the biggest one, Sarona Market.
What markets In Tel Aviv did you visit? Which are your favorite ones? Tell us in the comments below.
That's all for today, and I'll see you in future travels!
Stay Tuned!
For additional points of interest nearby see Tel Aviv-Yafo.
Additional Resources
Here are several resources that I created to help travelers:
And if you have any questions then check out
Useful Information For Tourists To Israel
.
Did not find what you were looking for? Email me at
[email protected]
, and I will do my best to answer your questions.