Today we will be visiting all major Markets In Tel Aviv and Jaffa. Let's begin!
Types Of Markets – New Vs. Old
In my blog, you can see referrals to the new and old markets. I usually divide them by their creation date. The number of years a market operates is not that important, but it affects the types of stores in the market. Markets that were created many years ago are usually more traditional. There are many fruits and vegetables stands. And some bakeries and fish, meat stores. The new markets are usually more upscale places. And for example, besides standard fruits and vegetables, you can also find unique produce. Moreover, in the new markets, there are usually many restaurants and small food joints.
Nonetheless, touristic markets, like Carmel Market and Mahane Yehuda, though they were founded many years ago, changed significantly over the last decade. Maybe you will not find fancy produce as at Tel Aviv Port Market, but you can eat at many food stalls and restaurants while visiting them.
Here is the division of the markets. The "Old" Markets In Tel Aviv are Carmel Market, Nachlat Binyamin, HaTikva Market, Levinsky Market, and Jaffa Flea Market. And the "New" markets are Tel Aviv Port Market, North Market in Tel Aviv, Sarona Market, Rothschild Allenby Market, and Jaffa Port Market (though the last two are not operational anymore).
Carmel Market is probably the most famous marketplace in Tel Aviv. Similarly to other markets (like Mahane Yehuda Market in Jerusalem), it changed in recent years. Bars, restaurants, coffee shops, and chef-owned food stalls appeared. Travel firms started to offer Market tours. And today, it is a mix of the old market and a tourist destination.
You can find my full guide at Carmel Market.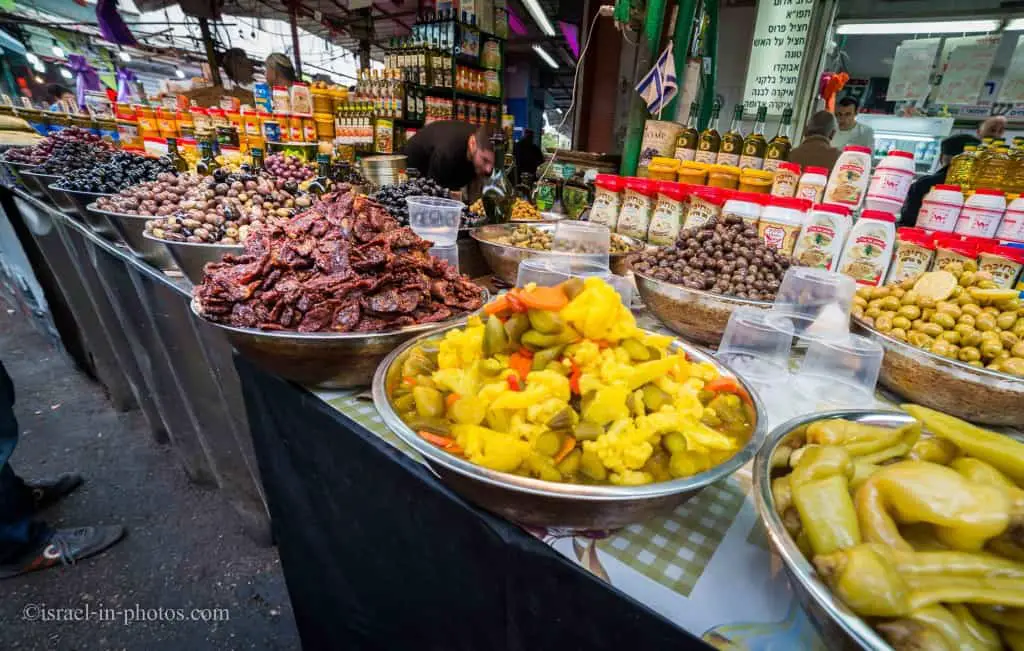 Nachlat Binyamin Market
Nachlat Binyamin market (official site) resides on the street under the same name in Tel-Aviv. Part of this street is closed to pedestrians. This part, the closer one to Carmel Market, used by artists to show their creations. Mainly there are handmade works, but sometimes there are music shows as well. This market occurs twice a week, every Tuesday and Friday.
Map of the area:

Nachlat Binyamin arts and crafts fair is the first and biggest of its kind in Israel, and one of the most beautiful market of its kind in the world. The market is original and renews itself with new products made by the artists and by new artists that join the market. All products are hand made and sold by the artists themselves making the visit to the market a very special one.
We have visited the Carmel Market on Friday, and I would recommend Fridays or Tuesdays. Since these weekdays, Nahalat Binyamin is active.
We exited the market and went towards Nahalat Binyamin.
Approaching Nahalat Binyamin: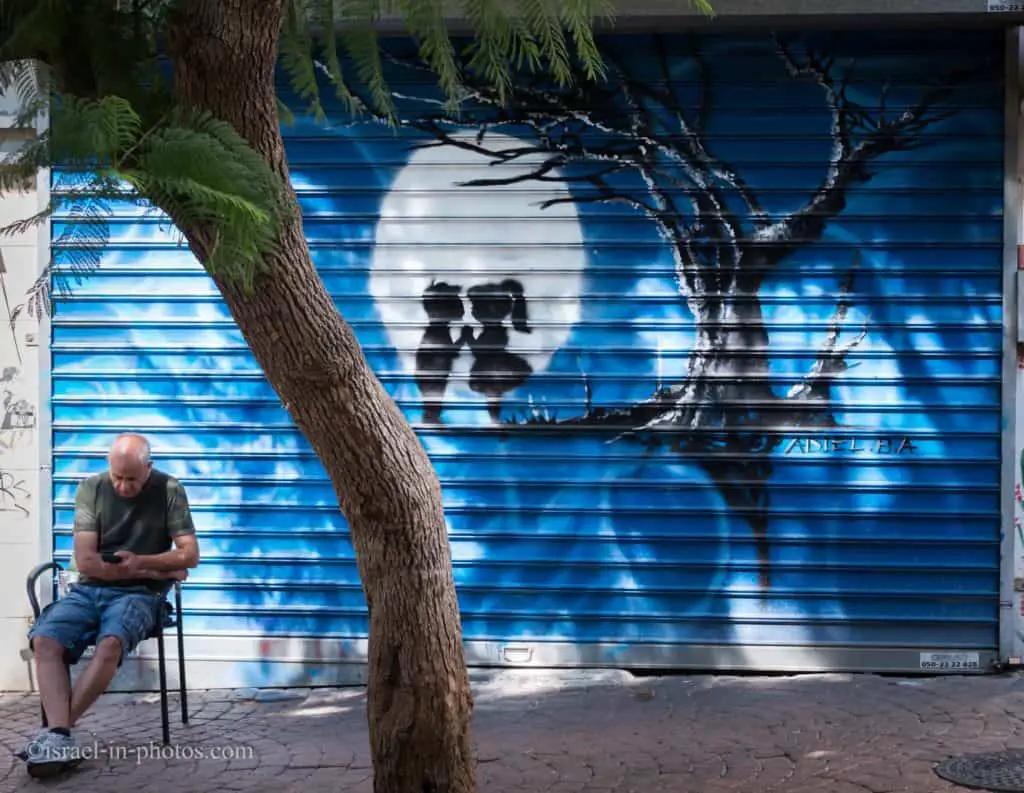 At Nachlat Binyamin
It's was after 10 am, but still many artists were just coming. Well, it's typical for Israelis.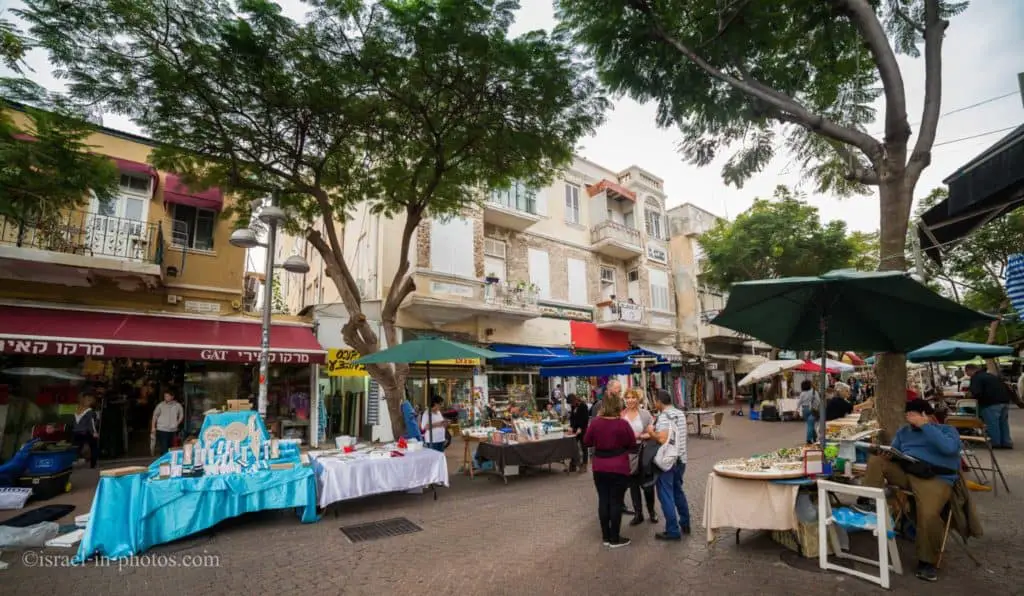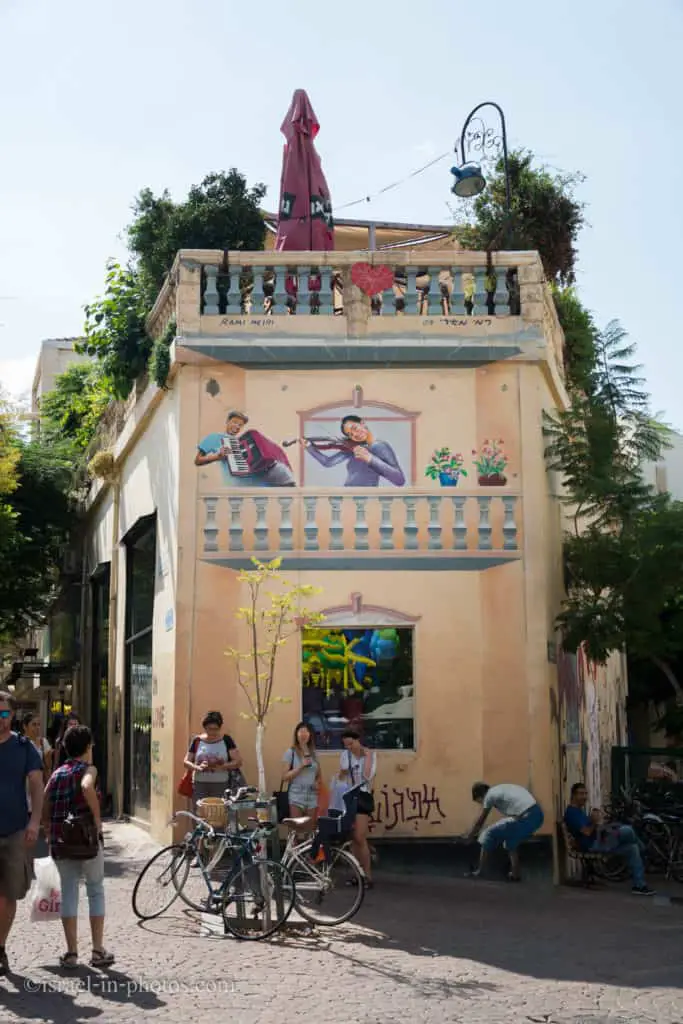 Metalwork artist: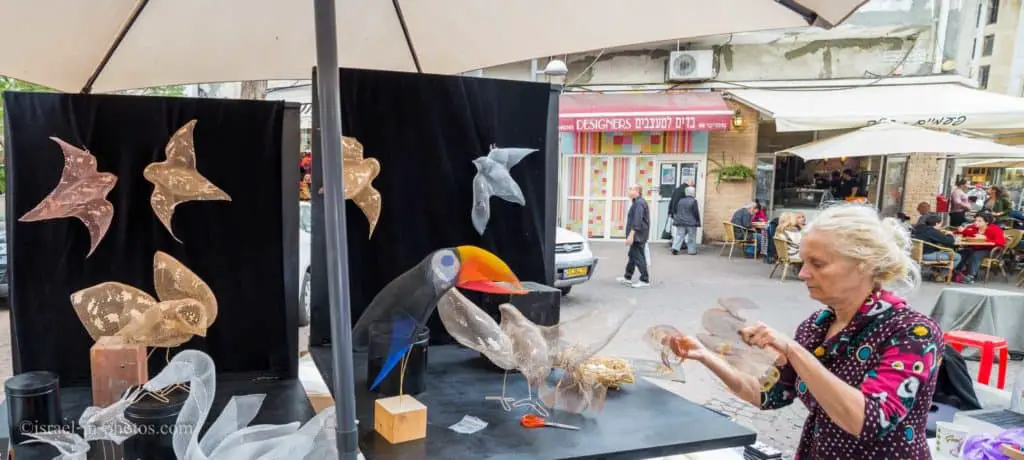 Though it's a touristic place, some artists may have objections to photography. I can understand their worries about somebody copying their work, but that's not the way. If somebody wants to copy, s/he find a way to copy. Additional photographs can do only one thing, bring potential customers.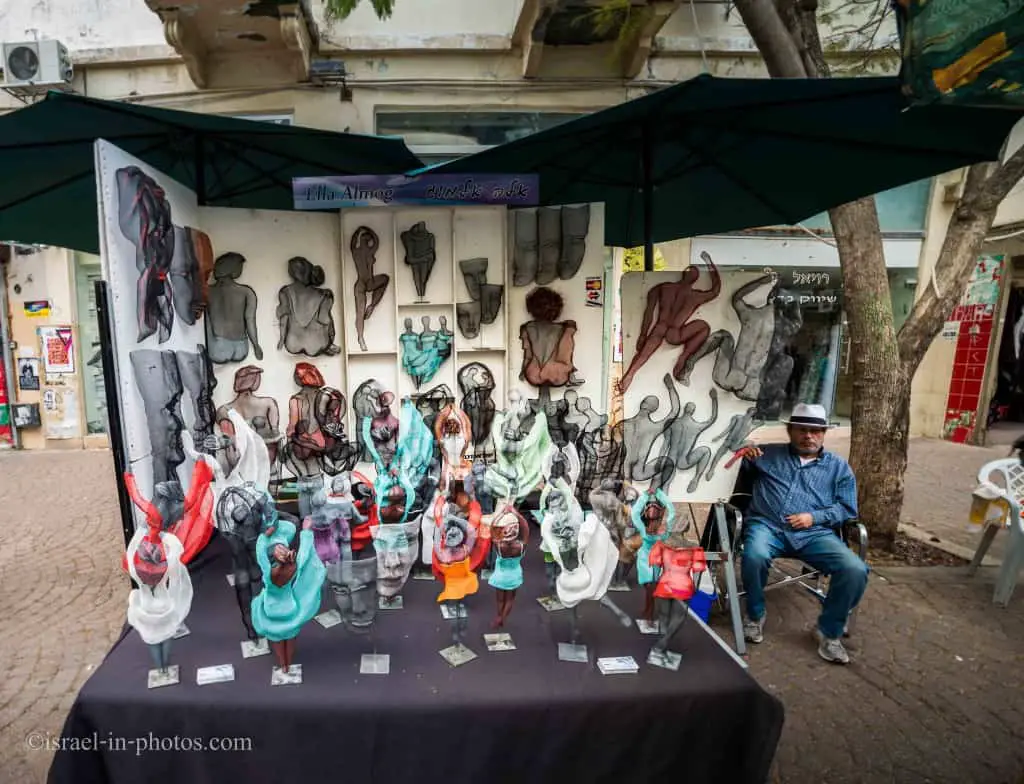 The fair is an extraordinary experience. It is full of exceptional and unique handmade creations and designs, beautiful buildings, coffee shops. Here is one of the buildings: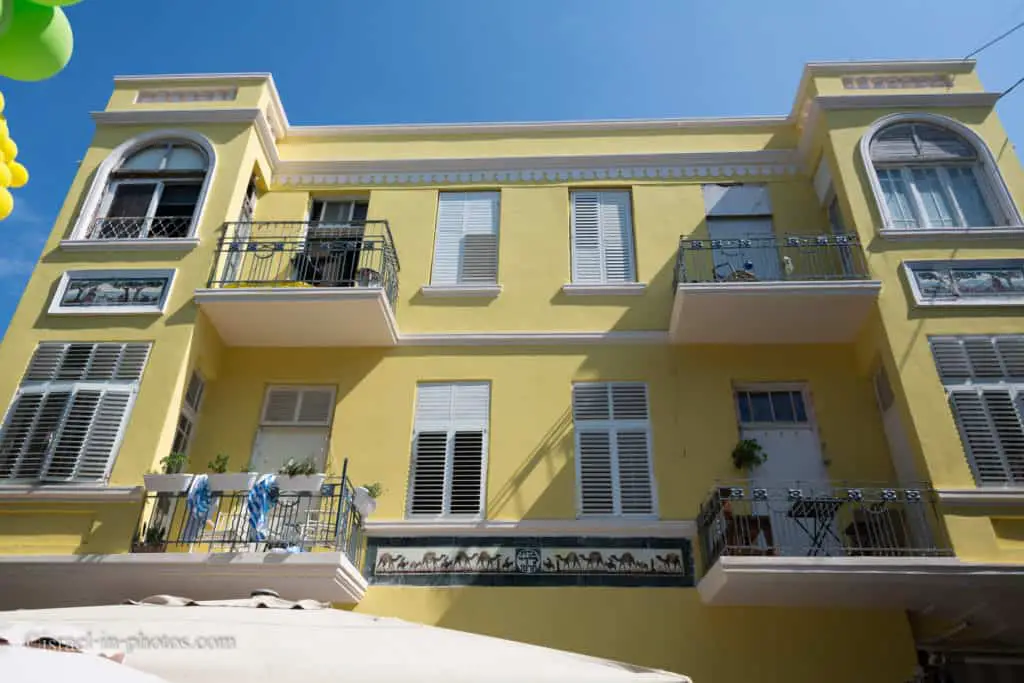 Mainly on holidays, but sometimes on Fridays as well there are street performances and live music. On our visit to this market during Sukkot vacation, we saw a circus performance, a music show, and several live statues. Here are the photos: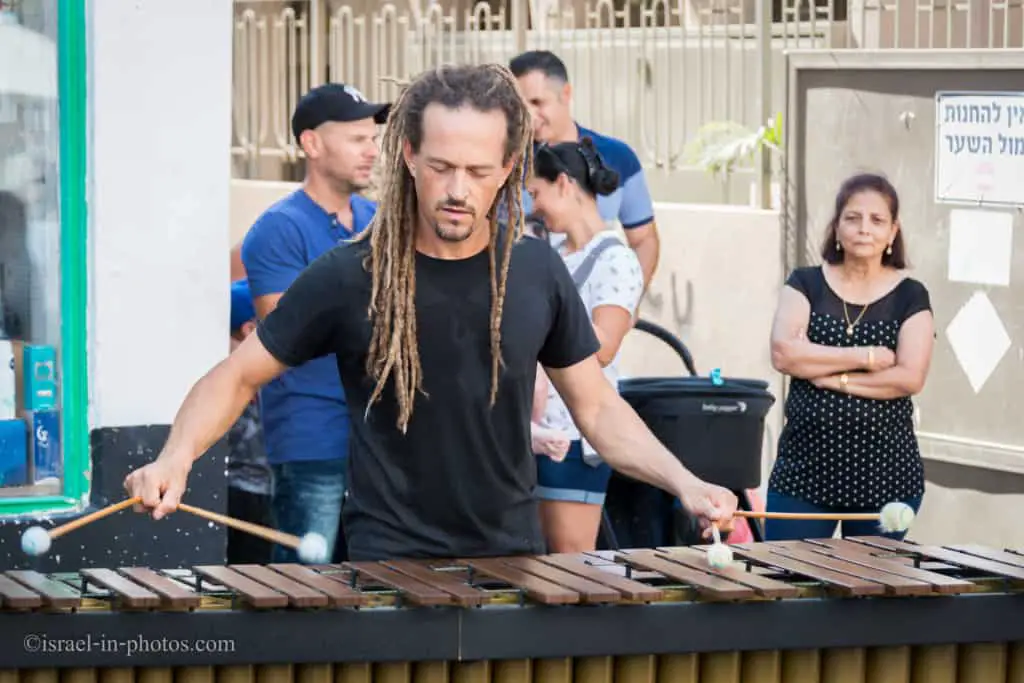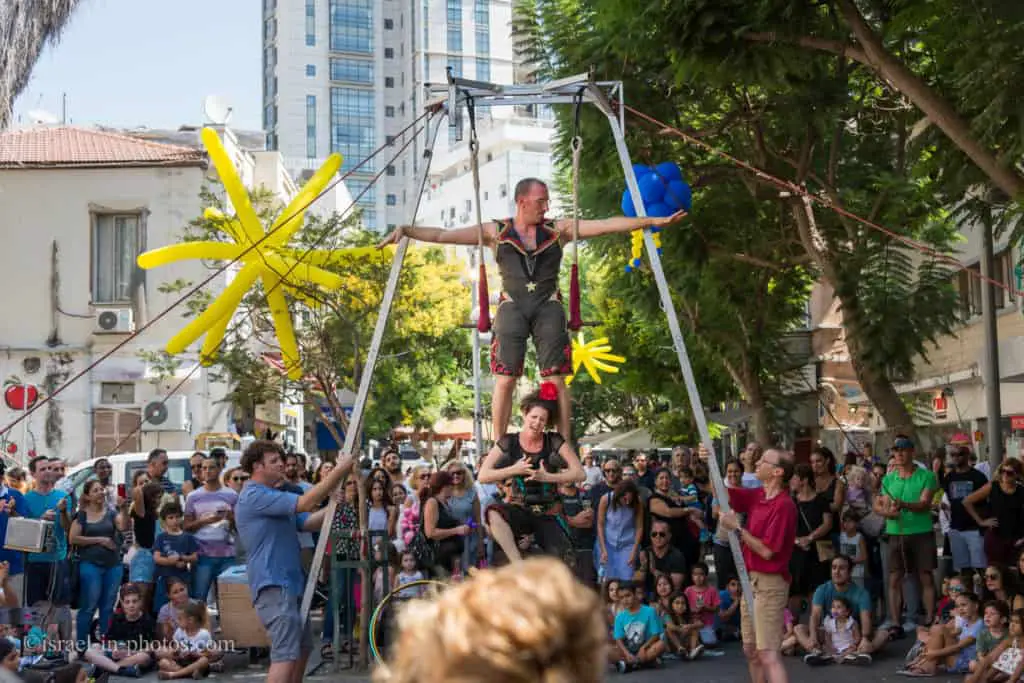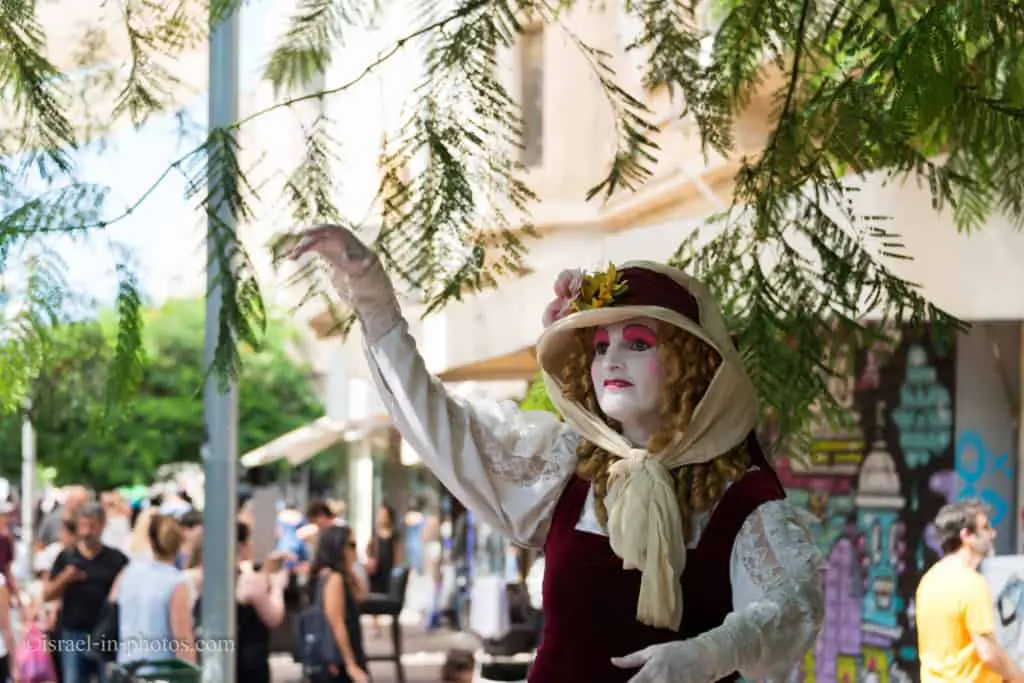 Opening Hours
The fair is open twice a week all year round on Tuesdays and Fridays from 10:00 to 18:00 (June) July– August until 19:00 and Tuesdays 10:00 – 17:00 Fridays 10:00 – 16:30 during the winter.
This artist specializes in woodwork: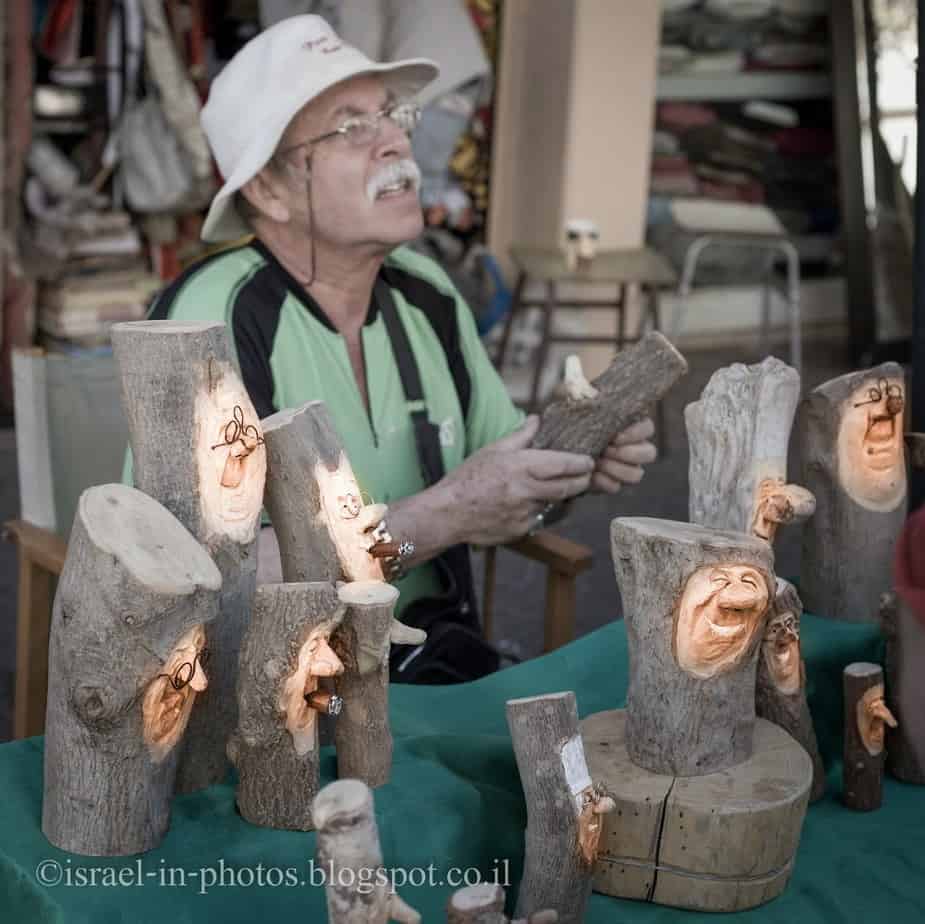 View from Nahalat Binyamin towards Allenby street: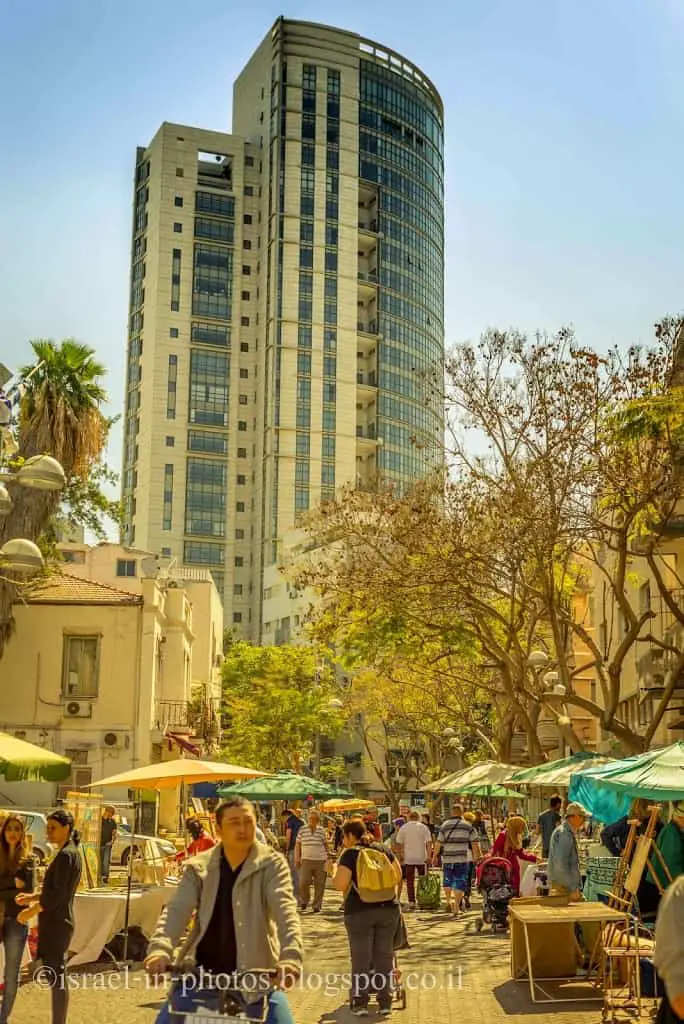 B&W to Color: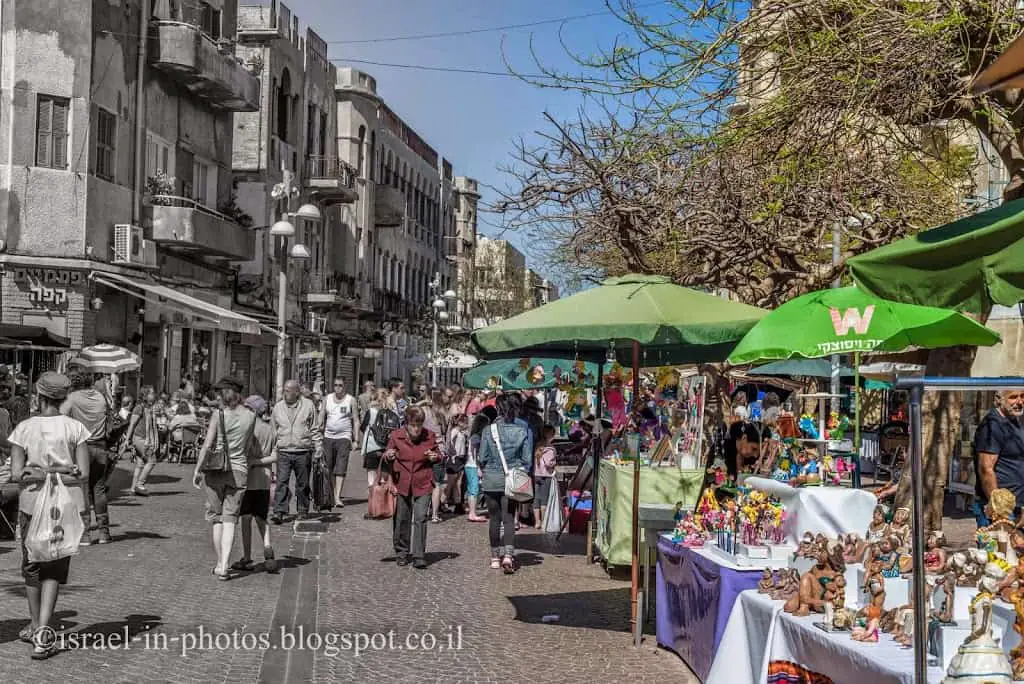 Various cute creatures: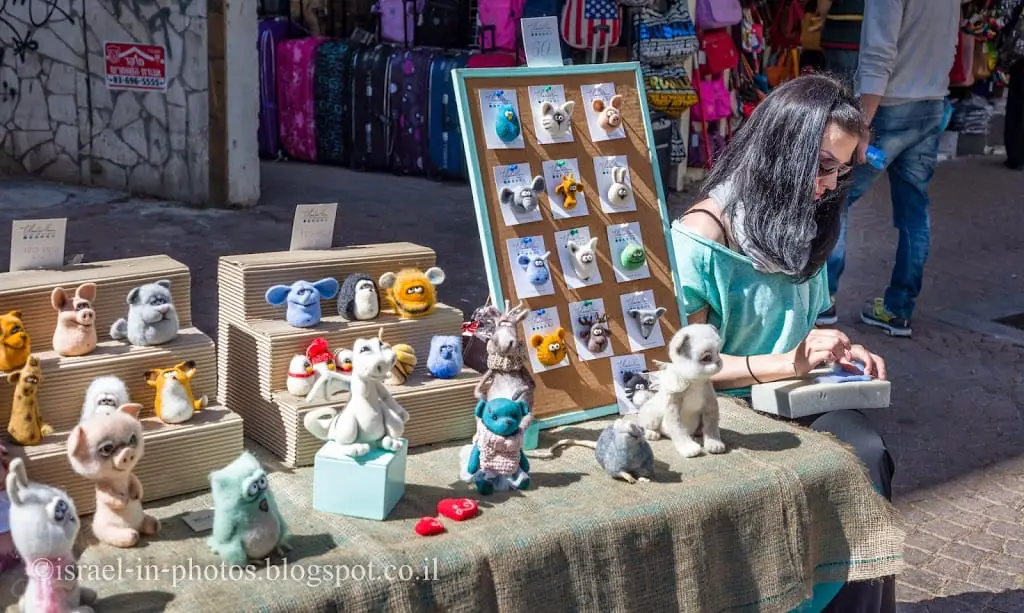 As long as I remember, this glass artist has always been there. He always creates his masterpieces while sitting there. I guess it both saves time and attracts people.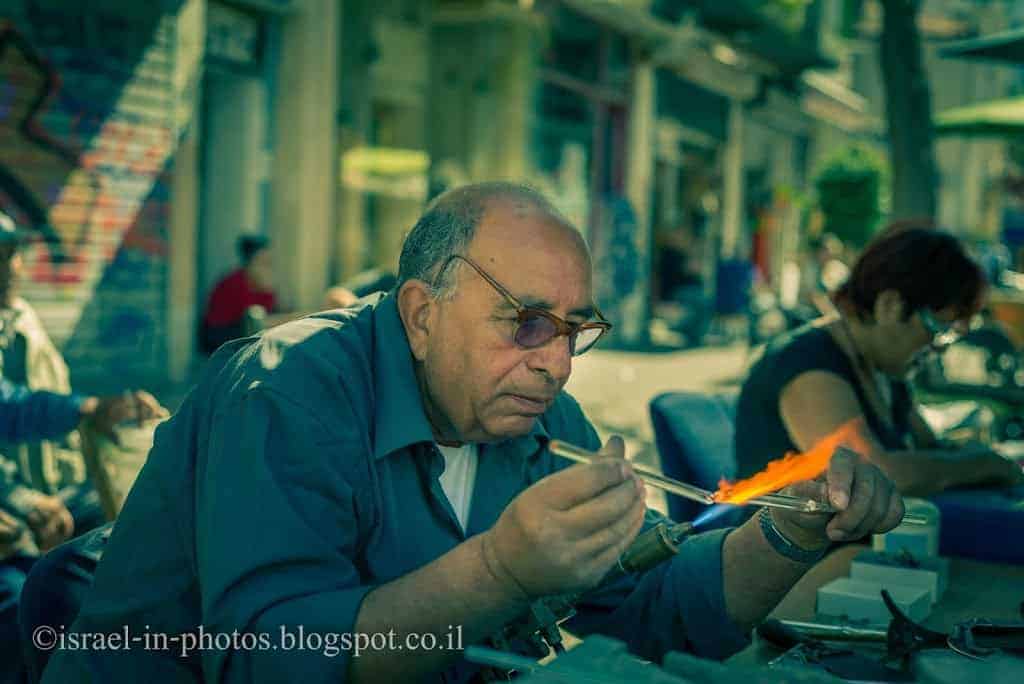 These baskets are created from old newspapers: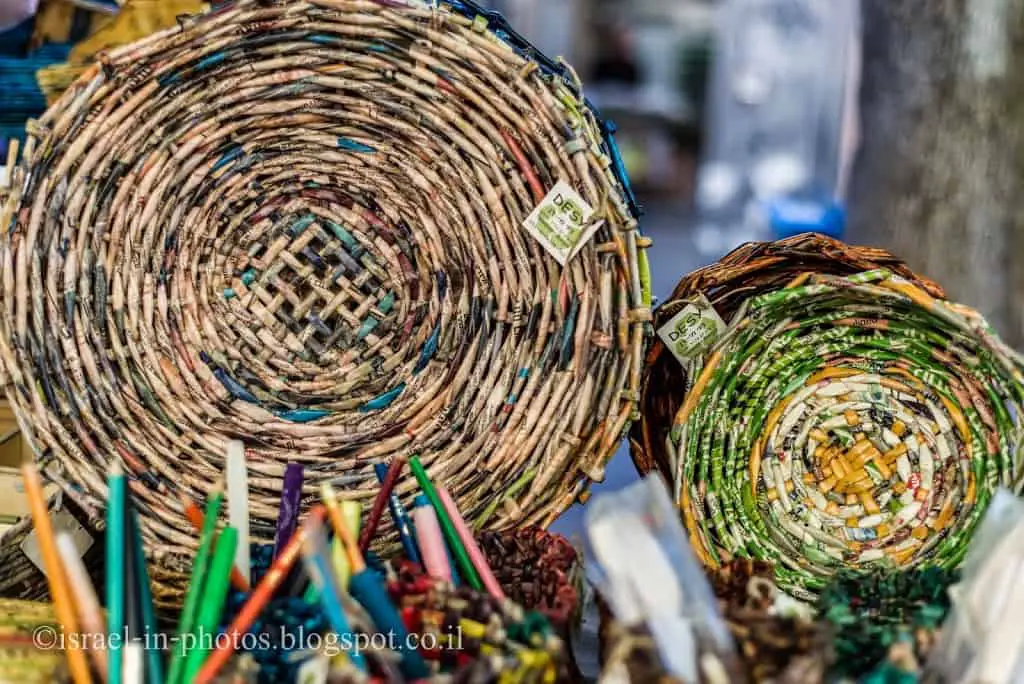 Metalwork: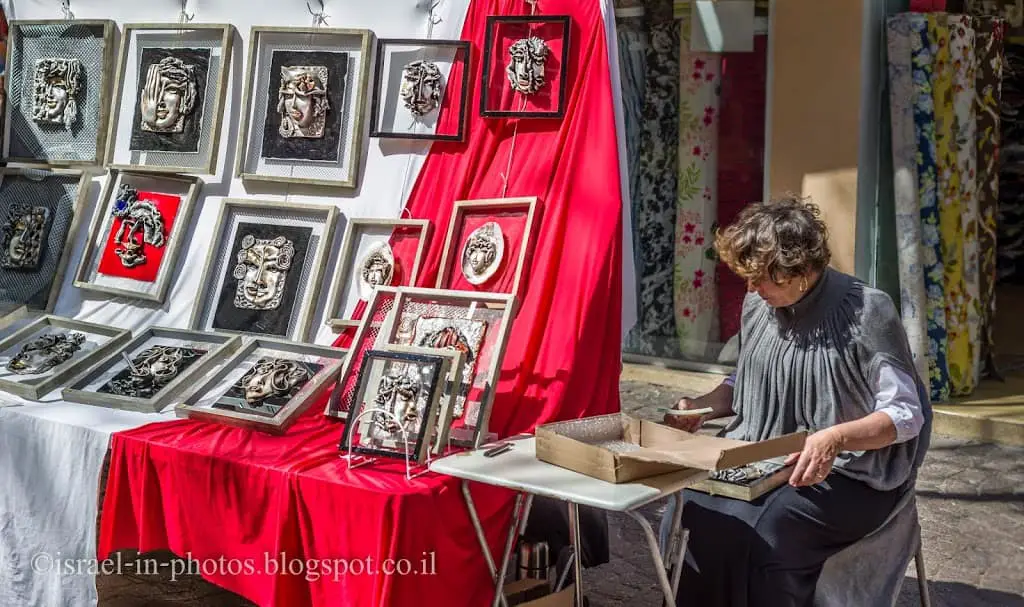 Ethiopian art: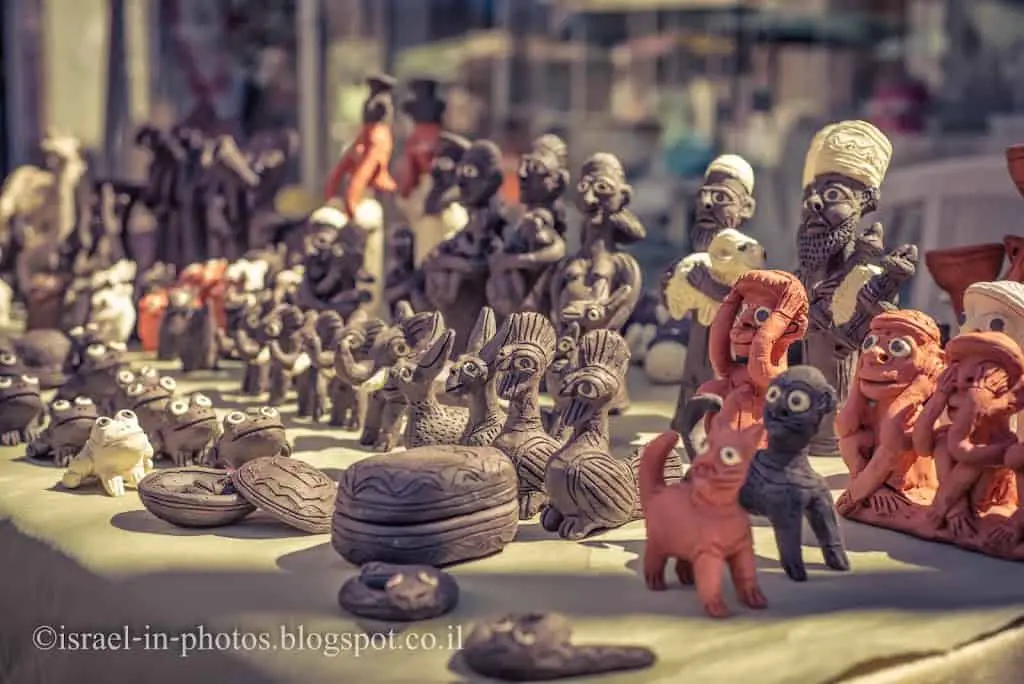 Clocks: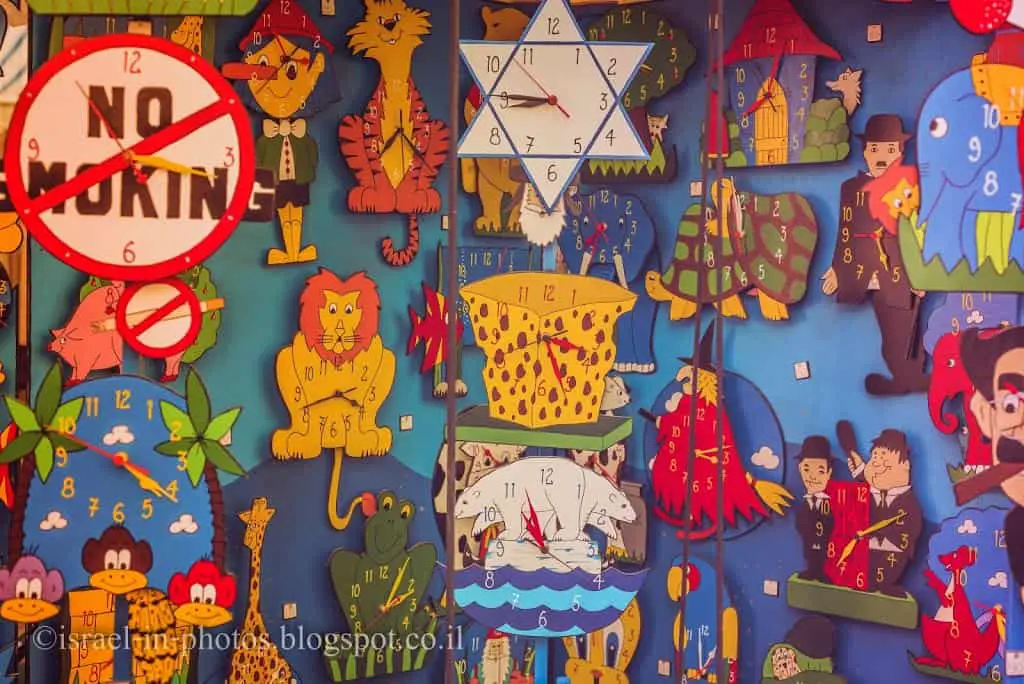 Dolls: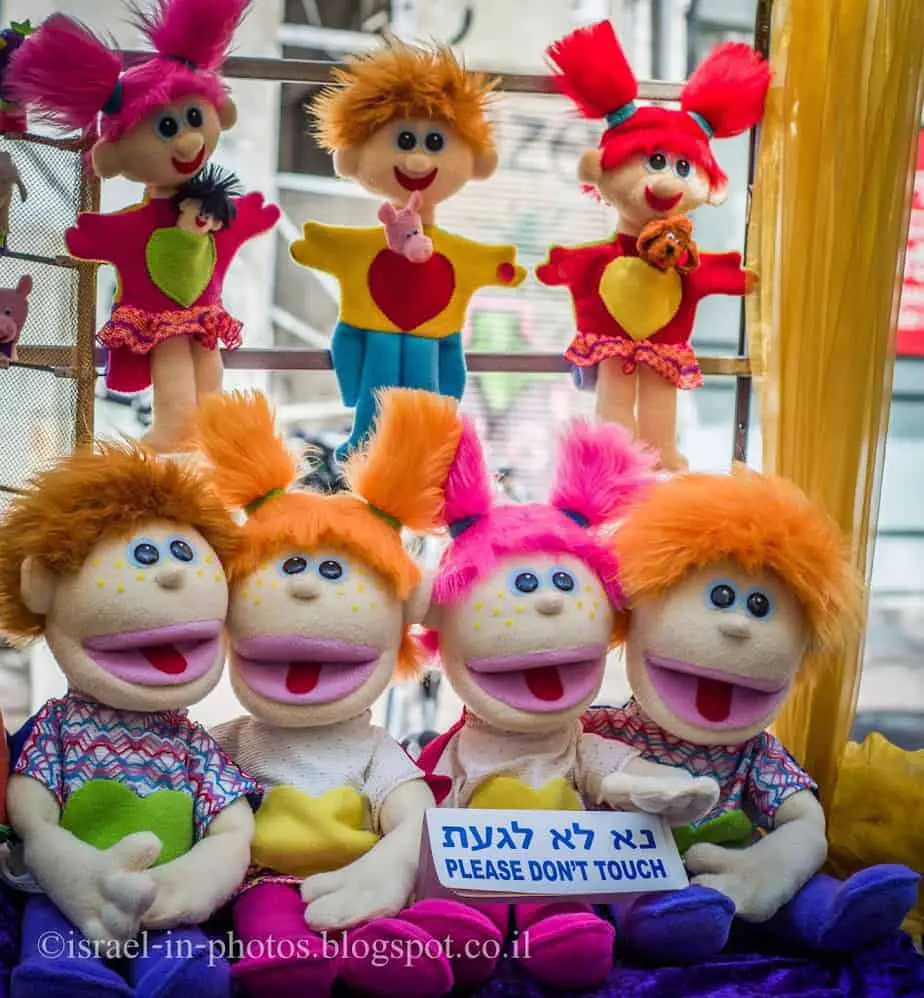 Wirework: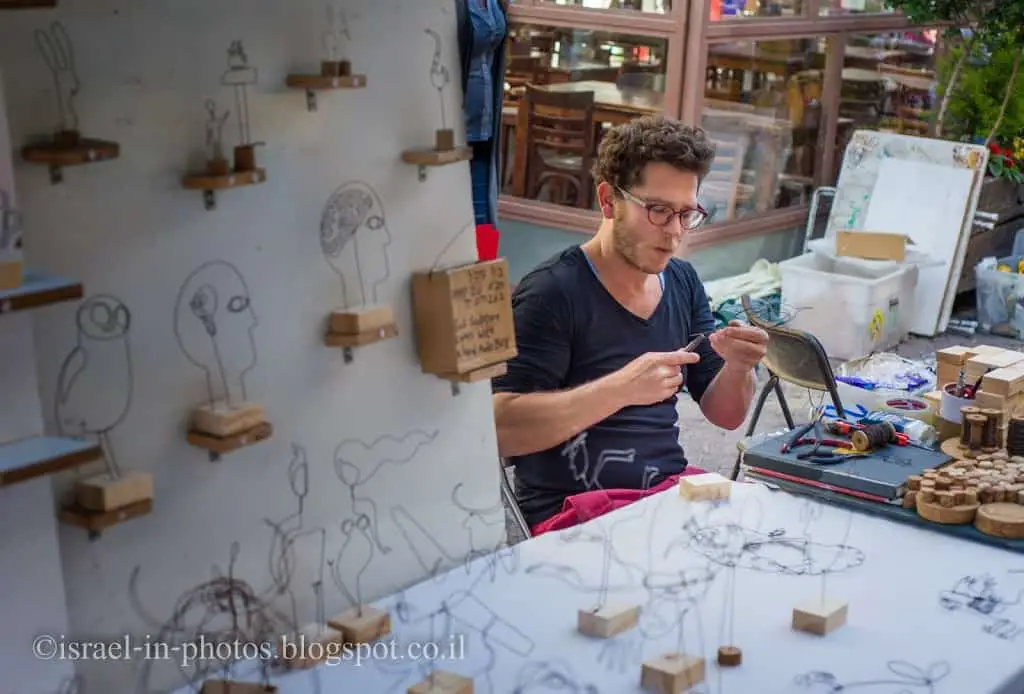 If you never visited Nachalat Binyamin and love such events, then I would recommend stopping there. Moreover, you can find there nice and unique souvenirs.
HaTikva Market
HaTikva Market and Carmel Market are two competing outdoor markets in Southern Tel Aviv. But since Carmel Market is closer to the sea and there are numerous hotels in the area, over the years it became a touristic spot as well. HaTikva Market, on the other hand, is a more authentic market with few tourists and almost no changes over the last decades.
HaTikva Market is located in the Hatikva neighborhood. Most of the market is on HaTikva street, but there are also shops/stalls on nearby streets. Though it's not a big market, it has everything from produce to meats and spices.
Map of the area:

Visiting HaTikva Market
We arrived at the market on a Friday morning. Parking is not that easy to find, but we were able to find free parking on Kemuel Street.
Approaching the market: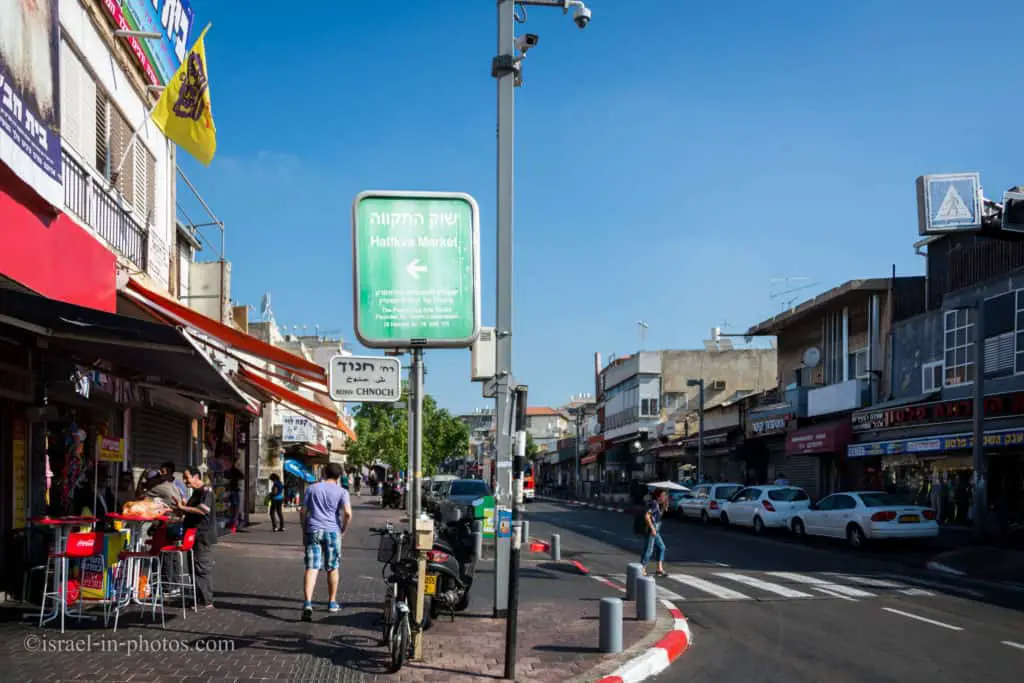 Fruit stand:


Bakery: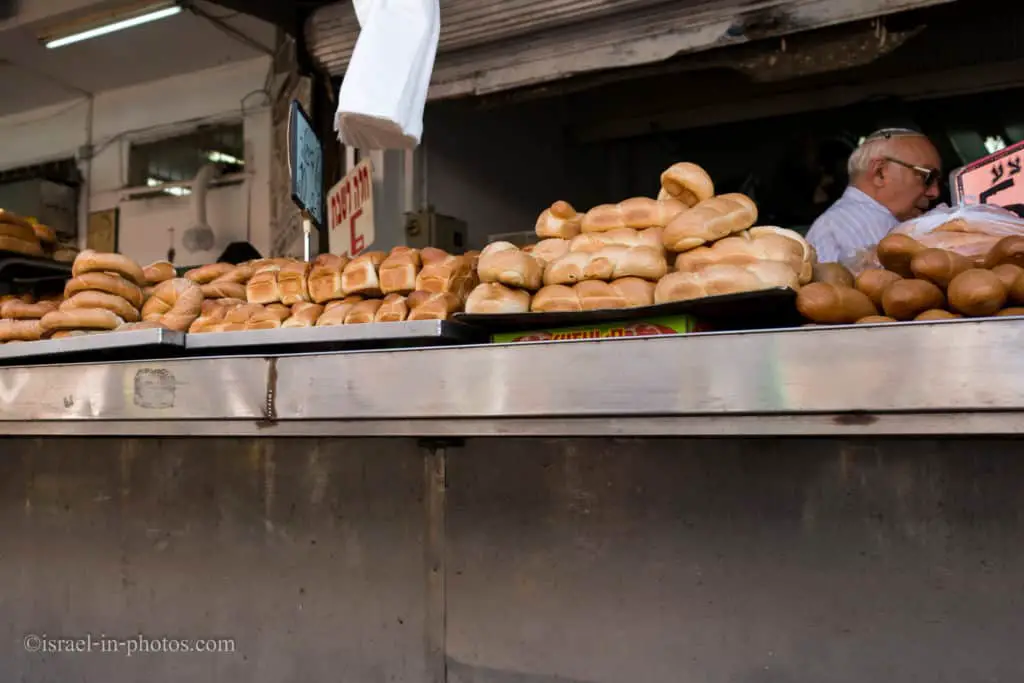 View of HaTikva Street: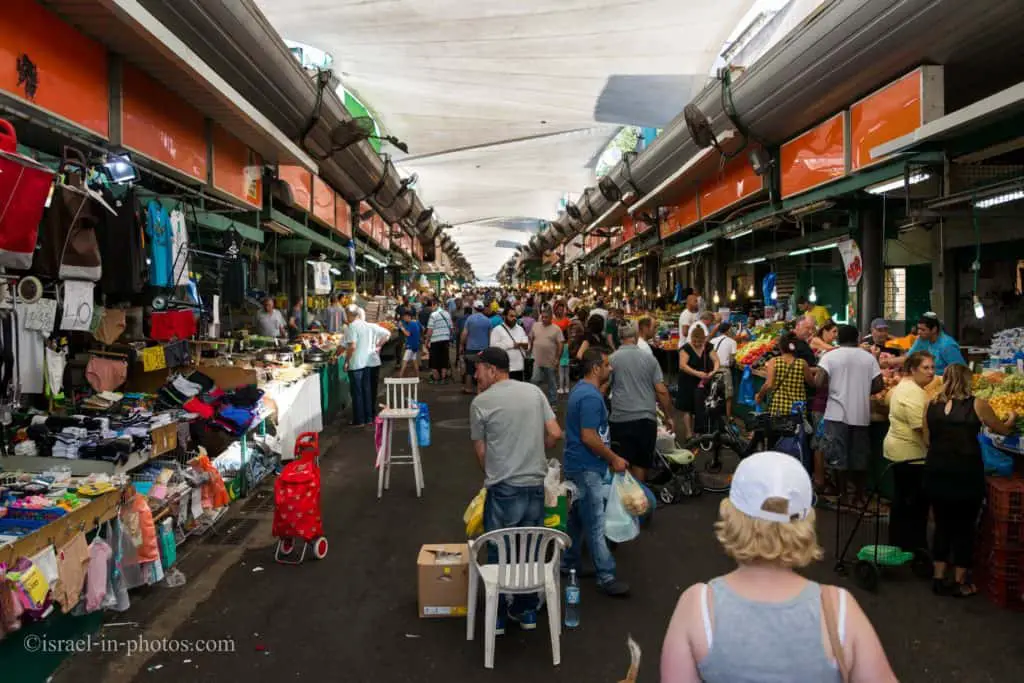 The market has undergone a renovation in recent years and besides new pavement, it also becomes easier to visit the market on hot days ( it became covered market with fans).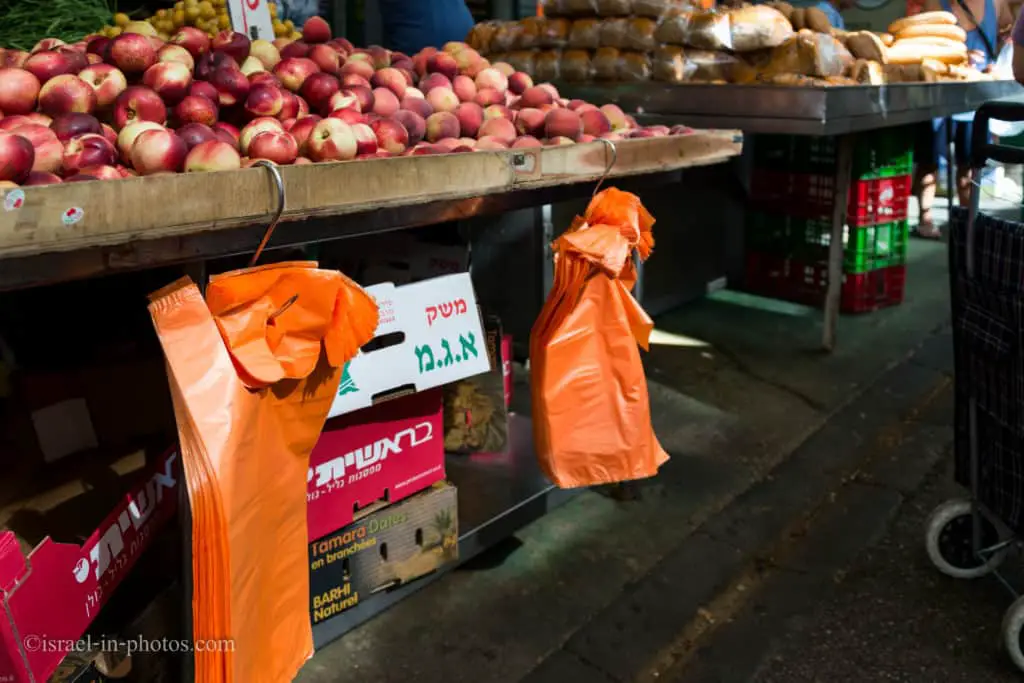 I was quite surprised at how clean the market was. I expected a much worse experience. We found public restrooms at Berekhya Street and they were reasonably clean as well.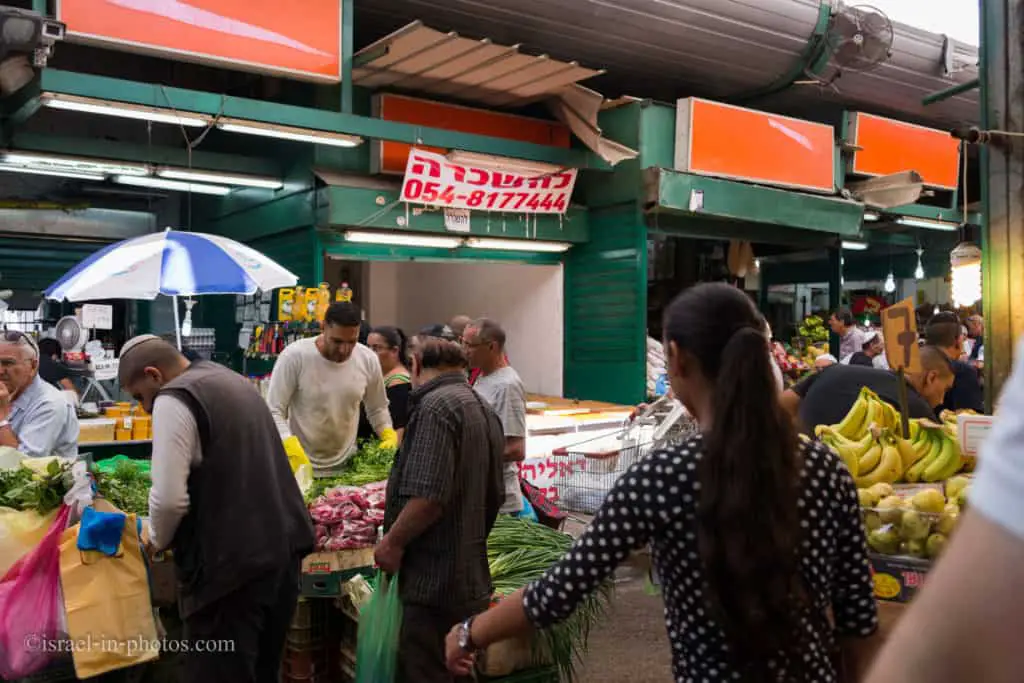 Restaurants At The Market
I've read about different restaurants at HaTikva Market, that serve authentic food. Maybe because it was too early we saw only one open restaurant, but it didn't appeal to us, so we didn't visit it. If you want to eat at the market, keep in mind that most of the people there haven't changed over the last decades. Meaning, don't expect to find healthy food there. Most of the food is either deep-fried food or has lots of oil (I'm not telling that it's not tasty, they just haven't heard about the healthy food trend yet).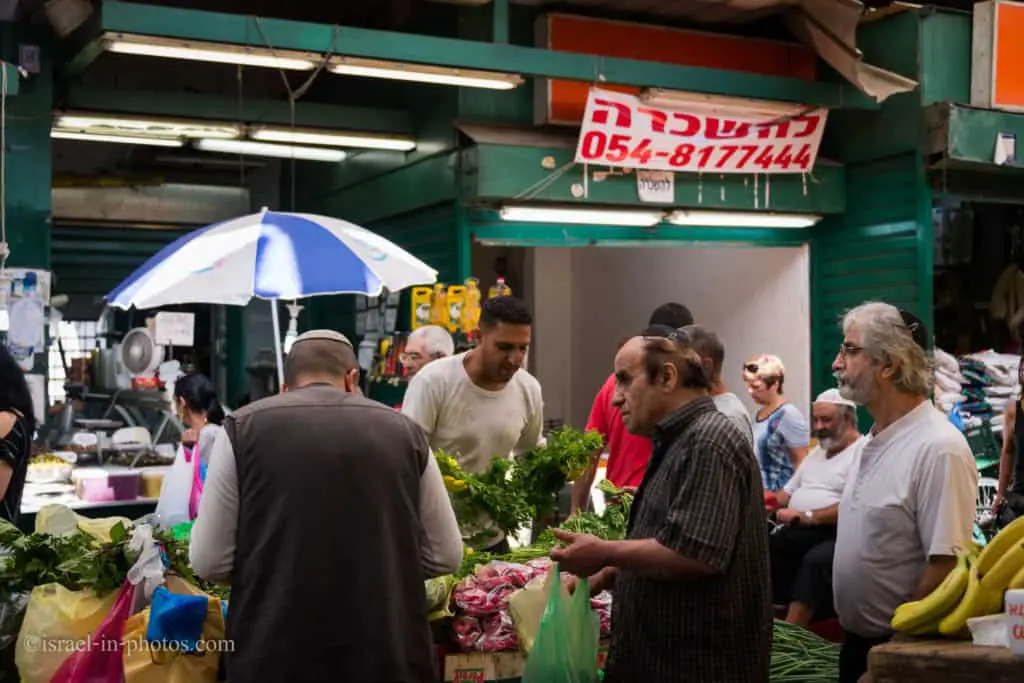 The main entrance to the market: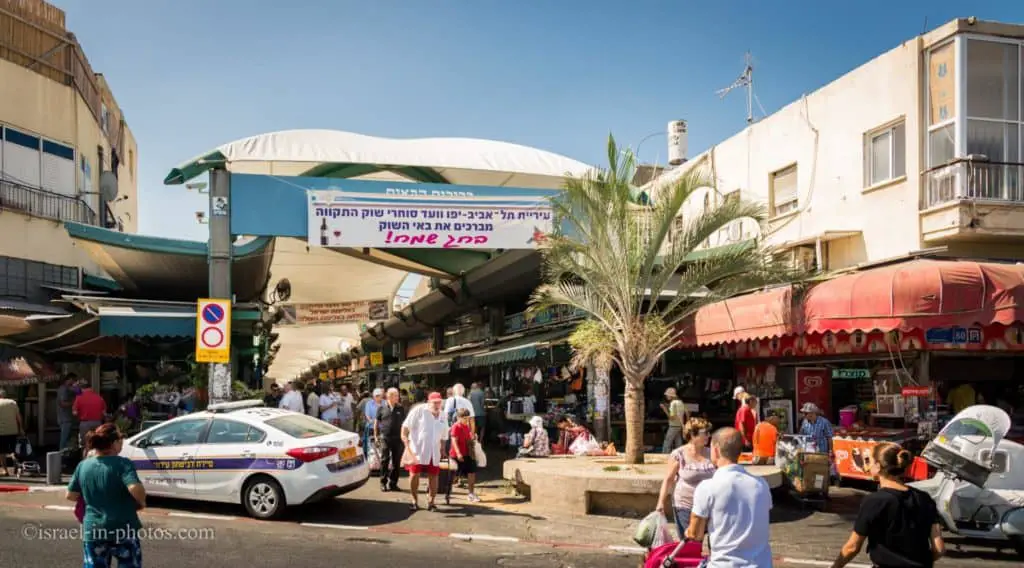 At the entrance to the market I saw this Vespa scooter: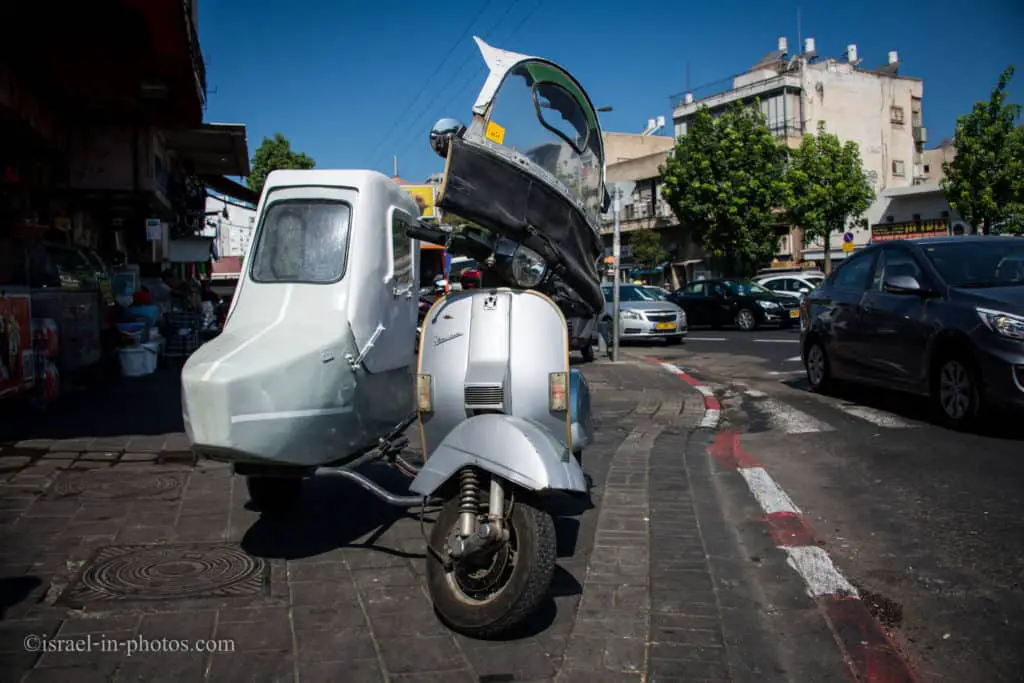 The attached sidecar is completely closed. In Israeli weather it means that you don't have to go to the sauna, you can simply sit in the sidecar 🙂
While visiting the market, I did not see any tourists, and there were no people with cameras. Thus I didn't feel very comfortable photographing and this post has fewer photos than usual.
Here is a nice video about the market I found on YouTube:
Levinsky Market
And now we are going to visit Levinsky Market in Tel-Aviv (official site).
Map of the area:

It's a small market that was named after the street it is located on (Levinsky street). The market specializes in spices, dried fruits, and nuts. But, let start from the beginning.

We've parked on HaRakevet St. (not far from Derech Menachem Begin) and then went on Derech Menachem Begin towards Levinsky street:

Some back alleys with a glance towards the financial district: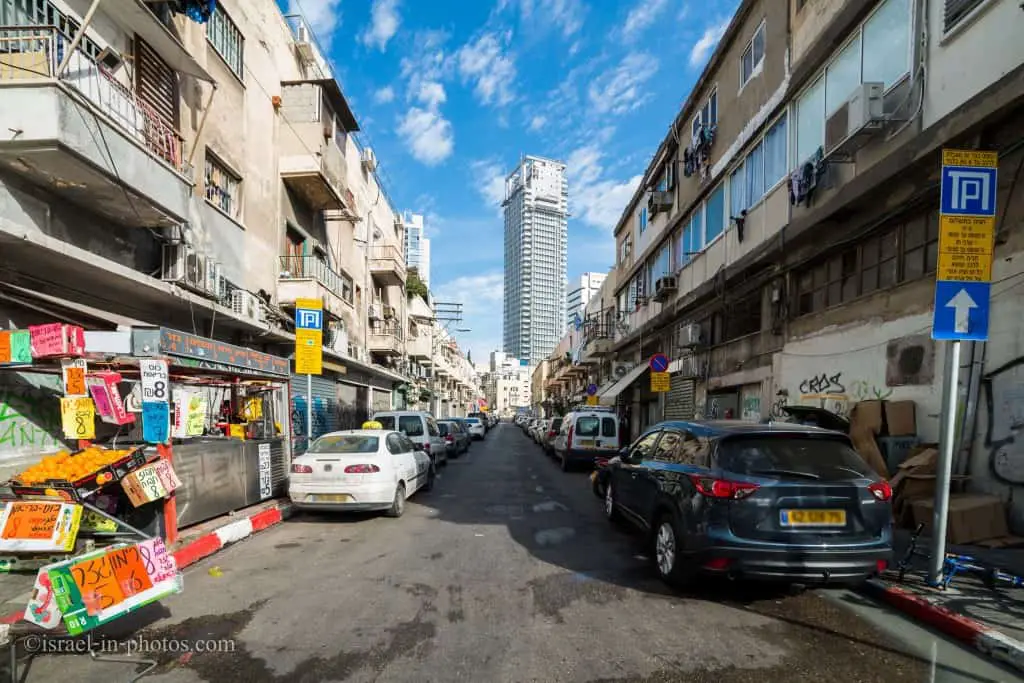 Useful information about Levinsky Market (from the official site):
Shuk Levinsky runs through Levinsky Street, beginning at the corner of HaAliya Street and spreading out across nearby streets until ending near HaMashbir Street.

The Shuk is open Sunday through Thursday, morning through evening. Some restaurants stay open during the late evening hours, check individual listings for details.

On Friday, the market closes in the early afternoon and on Saturday it is closed.
Brief History Of Levinsky Market
Taken from the official site:
During the 1930s, Tel Aviv was home to a small group of Jews from Saloniki, Greece. David Florentin was considered the leader of the group which, together with his pioneering activities for developing the city, earned him the nickname 'David Palestina'. Most of the working-class immigrants settled in the southern Tel Aviv neighborhood now-called Florentin, after David Florentin's nephew Solomon Florentin, who was the first contractor in the area.

Before long, a range of spice shops and eateries opened up across the neighborhood, specializing in Balkan cuisine – and that's how this marketplace came to be what we know today. Legend even has it, that the first spice blends for early-State home cooking were created in, by and for these neighborhood residents.

With the creation of the State of Israel, an influx of Iranian immigrants to downtown Tel Aviv brought with it new tastes and herbs from Persian cooking. And as the population grew, so did the market place, developing from its nuts and spice stalls into a bustling, commercial marketplace with luxury stores and gourmet restaurants.
Walk At Levinsky Market
And here we arrived at Levinsky Market: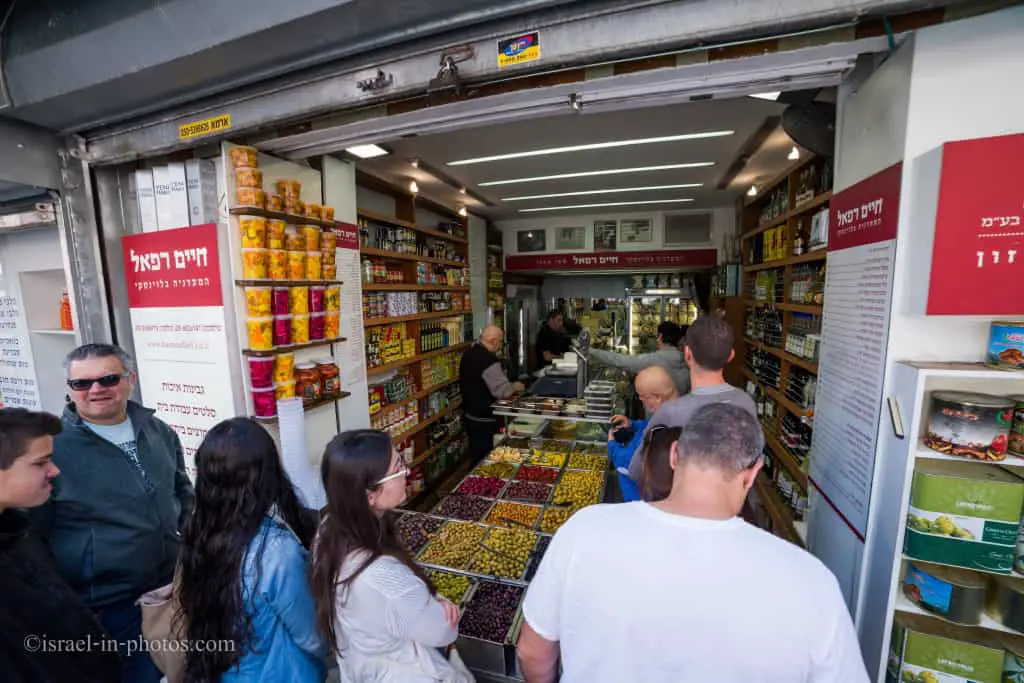 Borekas (a.k.a. Bourekas) stand:

Borekase's origin is Börek (also burek) and it came together with Jewish immigrants from Turkey. It's family of baked filled pastries made of a thin flaky dough known as phyllo. The shape indicates the filling. The most standard is probably triangular ones, and they are usually filled with salty cheese (Sirene). They are high in saturated fats (the dough is made with margarine or butter), thus considered by many as junk food. But, once in a while, it is ok 😉
When we arrived, there were several tours, and here is one of them: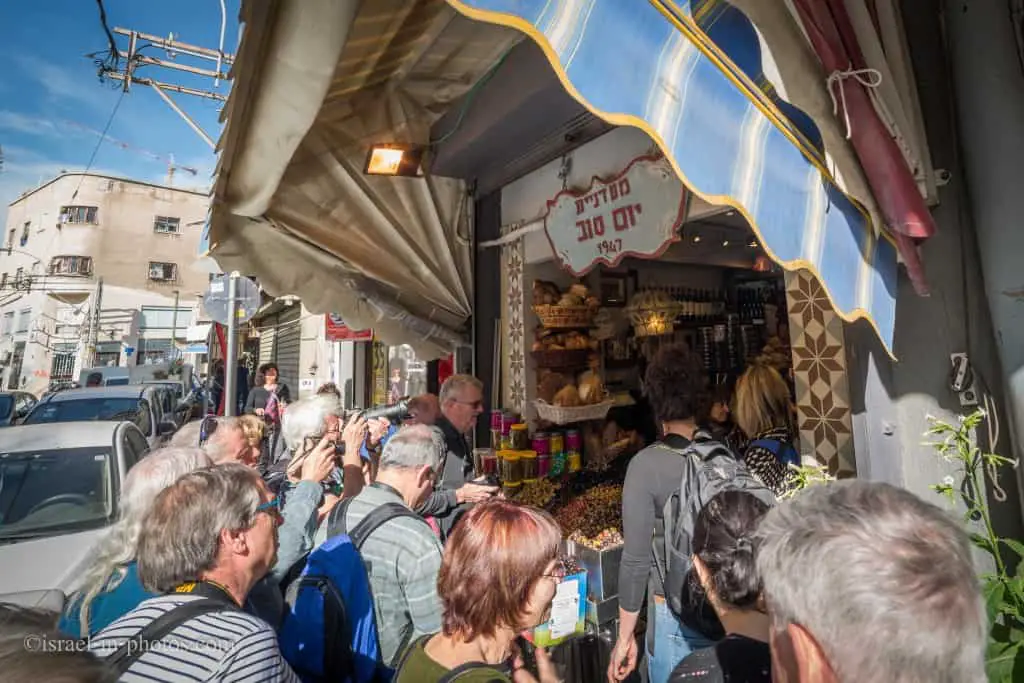 Tasting tours became quite popular in Israel and you can find them in many markets in Israel.
As I mentioned before, this market specializes in nuts, dried fruits, and spices:


Spices:


Spices also include various kinds of tea with/out dried fruits:


The market consists of many small stores: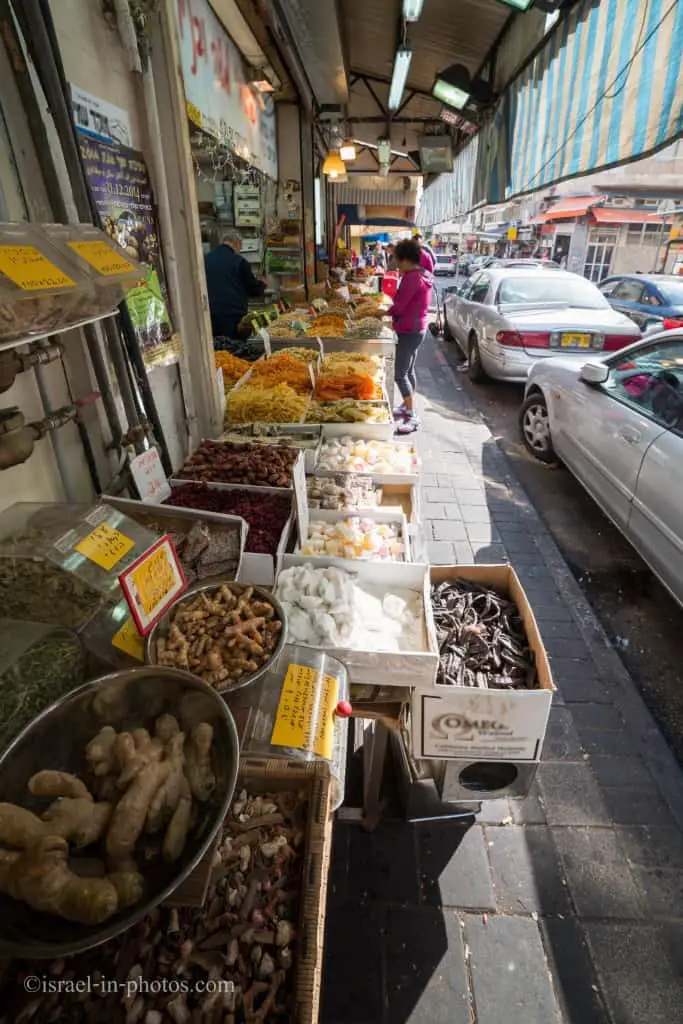 Nuts: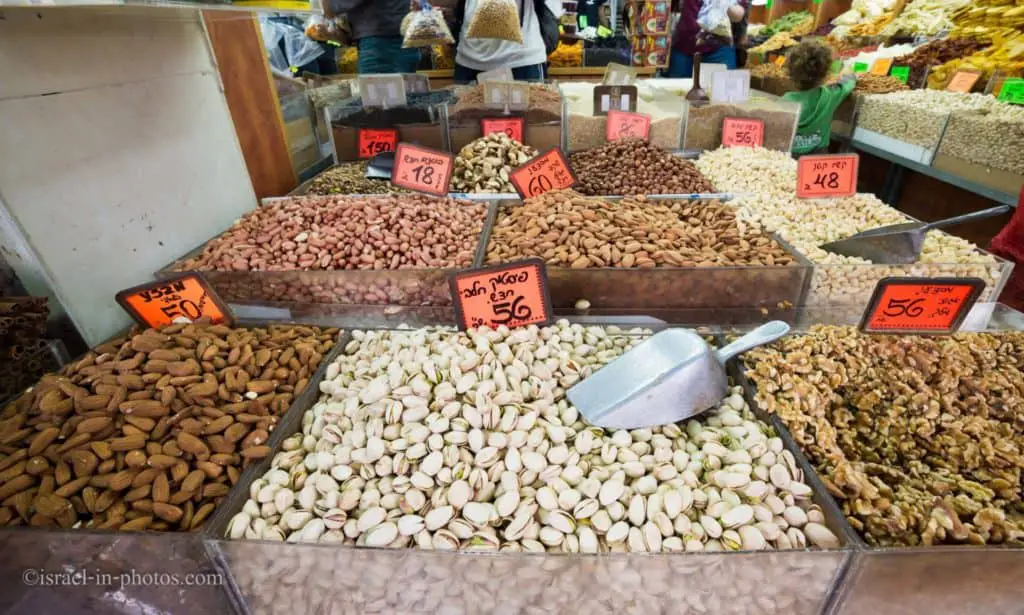 I haven't made an extensive price comparison but checked several kinds of nuts and the prices on the market were lower than in our supermarket.
PEREG GOURMET is one of the more known firms. It was established in 1906 and it's a family business that produces 60 varieties of spices, spice blends, and herbs: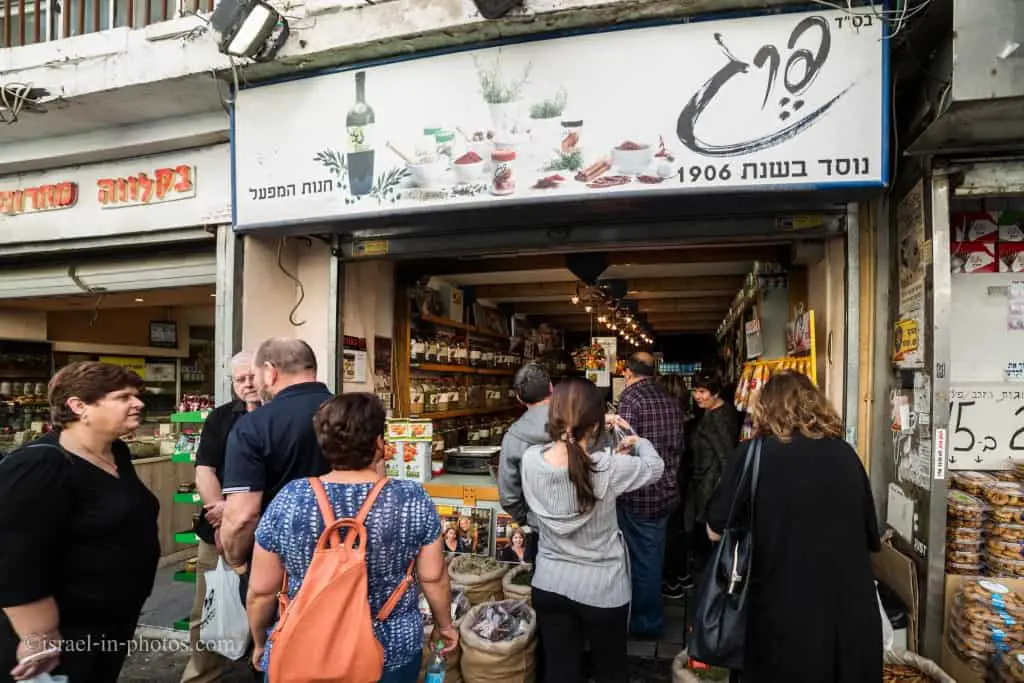 A small store with olives and cheeses. I liked their cheese shaped lamps:


We've filled our dried fruits and nuts stocks and it's time to leave Levinsky Market and head back to the car:


Last view on Derech Menachem Begin (the parking is on the left side):

I already wrote about the "old" Markets In Tel Aviv. They are Carmel Market, Nachlat Binyamin Market, HaTikva Market, and Levinsky Market.
Why did I call them "old"? To differentiate them from markets that were opened in recent years. And today we will be visiting the New Markets Of Tel Aviv. Which are: Tel Aviv Port Market, North Market, Sarona Market, and Rothschild Allenby Market. Let's begin.
Tel Aviv Port Market
We are starting our visit with Tel Aviv Port Market (official site) since it was the first one to open and start this new trend. The Port Market opened in 2008 at Tel Aviv's port.
Map of the area:

We left our car at Reading Parking and went towards the port.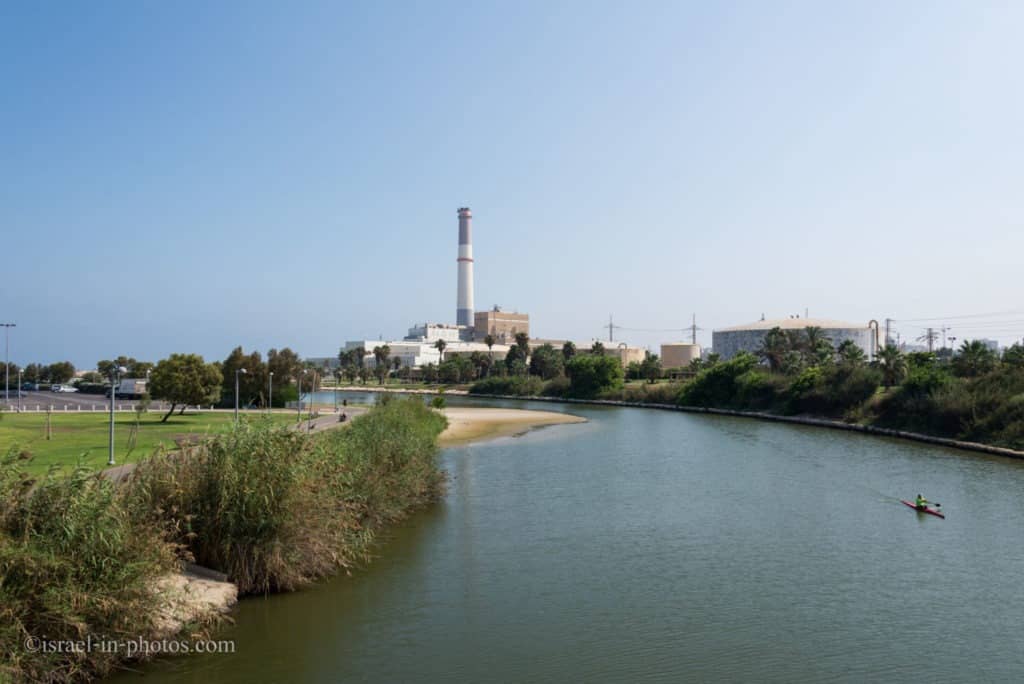 A bench on the way:
We visited the Port Market on Friday morning. On Fridays, next to the indoor farmers market, there is also an outdoor market (on both sides of the building).
Opposite to "old" Markets In Tel Aviv, the new market, like this one, are different. On the one hand, they are more expensive. And on the other hand, they offer unique, and top quality produce. Thus, if you are looking for something unique. Like different kind of berries, you will not find them at Carmel Market, but you will find them here, and it will not be cheap.
First time I saw Nopal at a market.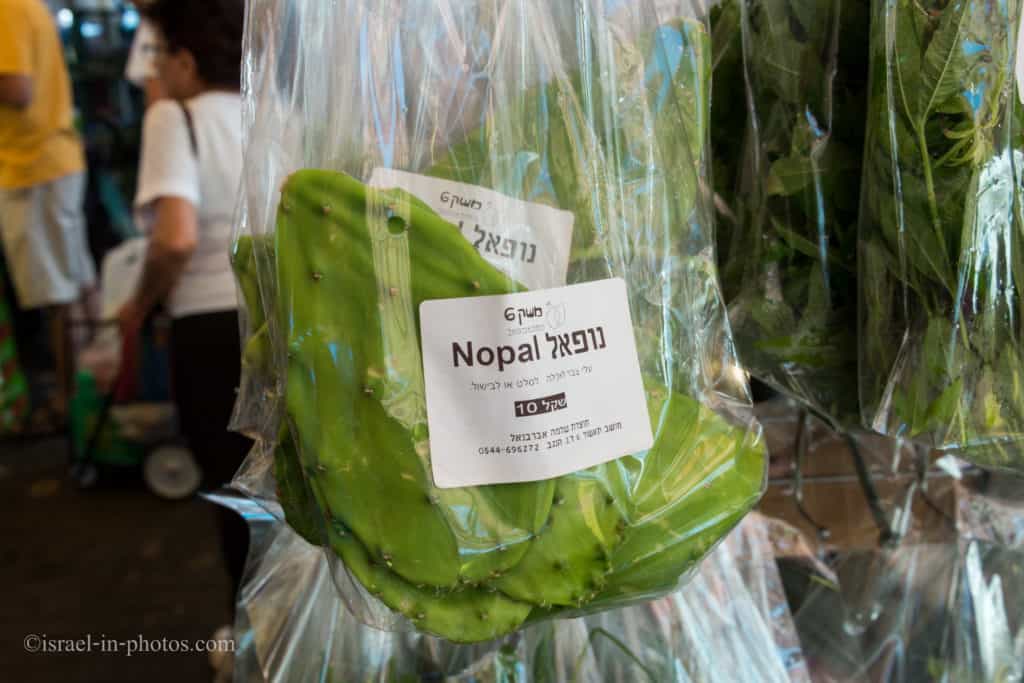 As you can see, the outdoor market is covered.
Dates with nuts: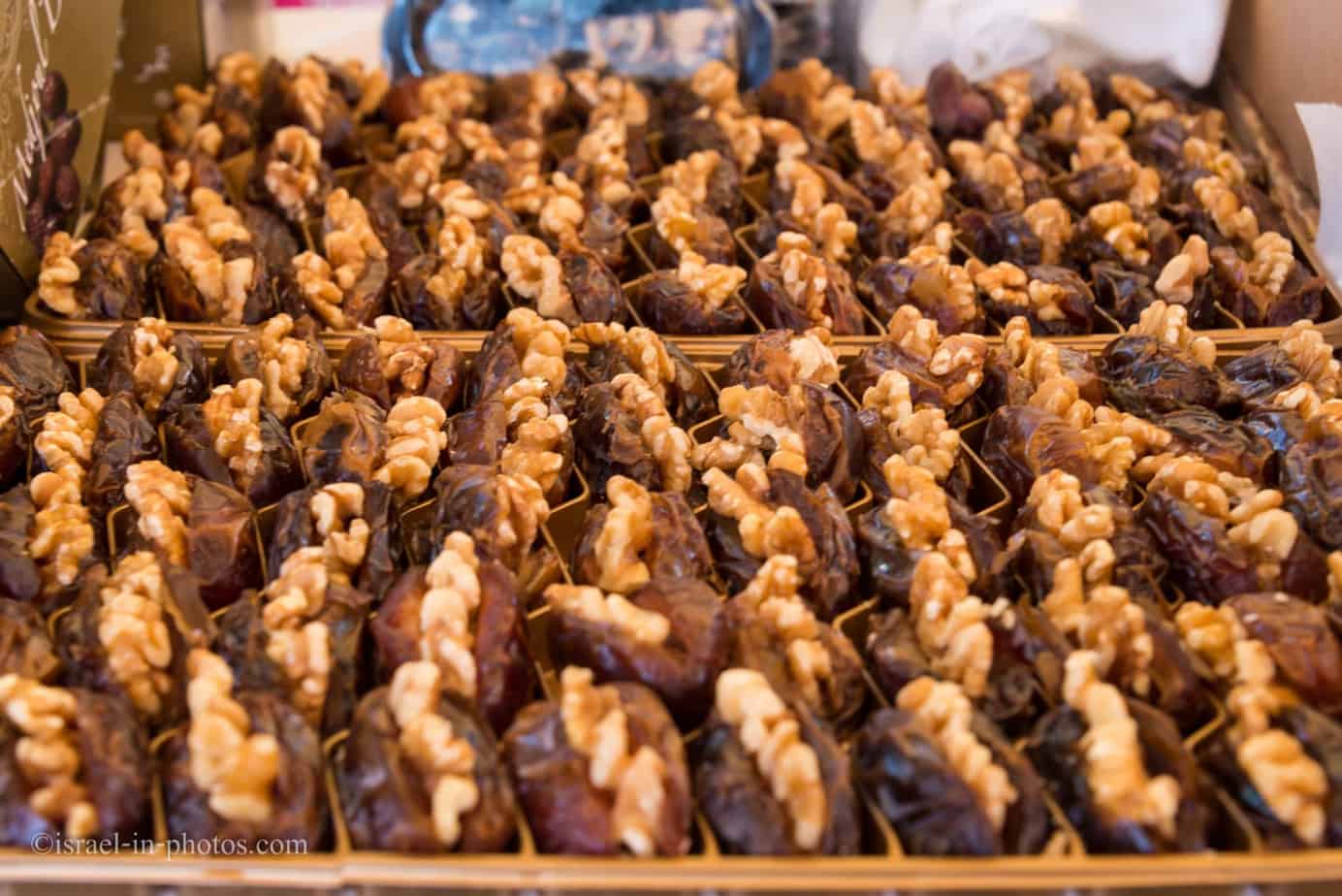 The Port Market is quite small. Even, with the outdoor part, you can pass from end to end within five minutes.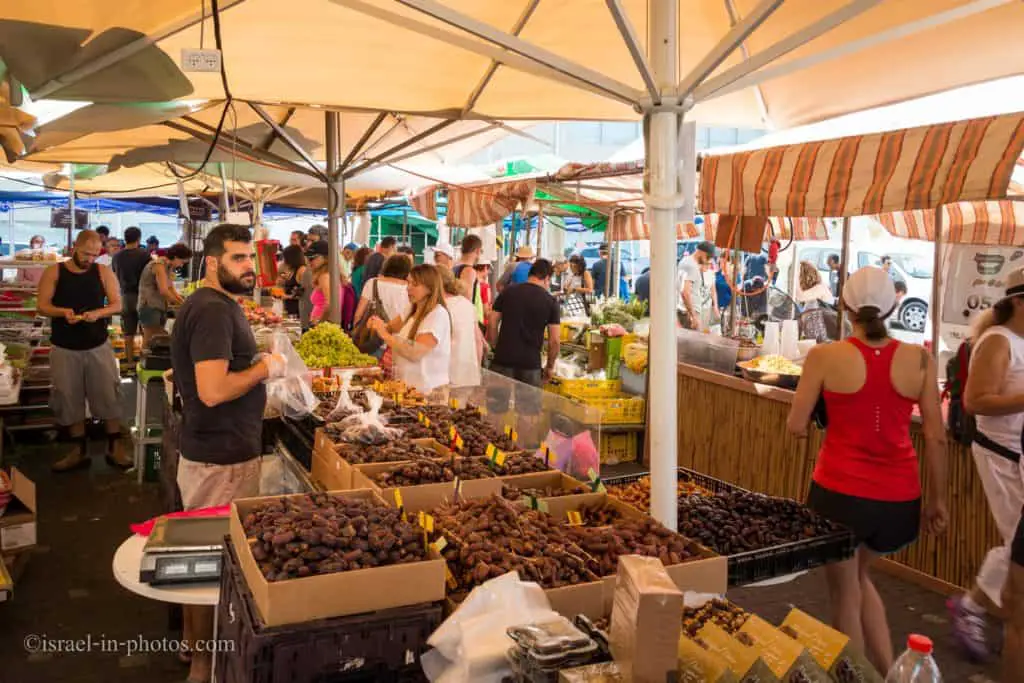 Carrots:

A view from the entrance to the indoor market: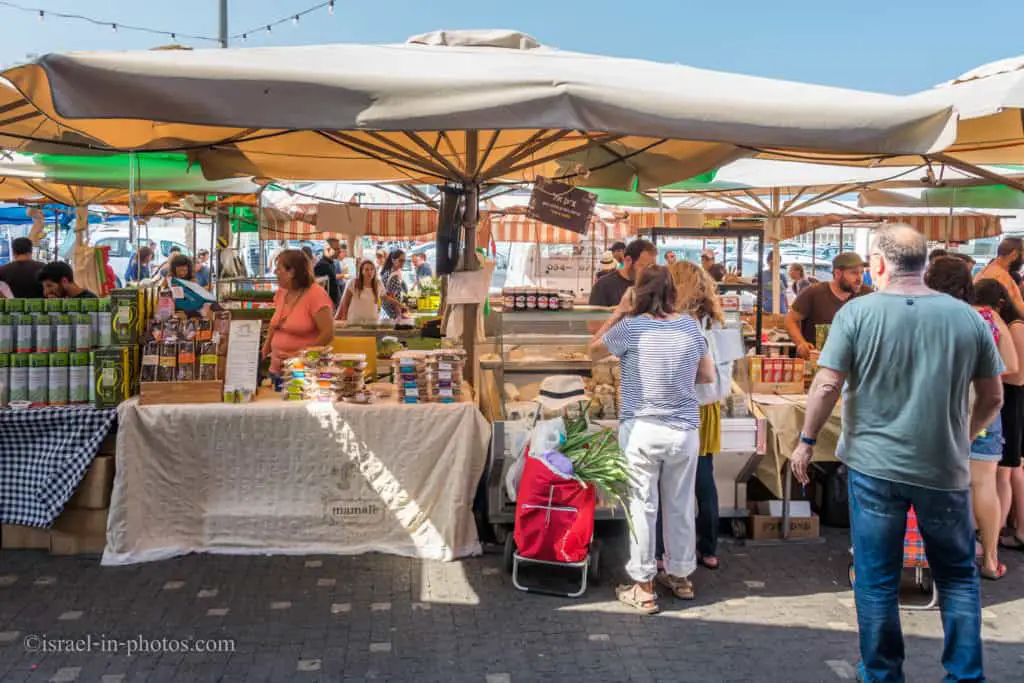 Indoor Farmers Market
Besides fresh produce, you can find several restaurants or buy a juice.
There are only several fruit and vegetable stands, but you will fill everything you need.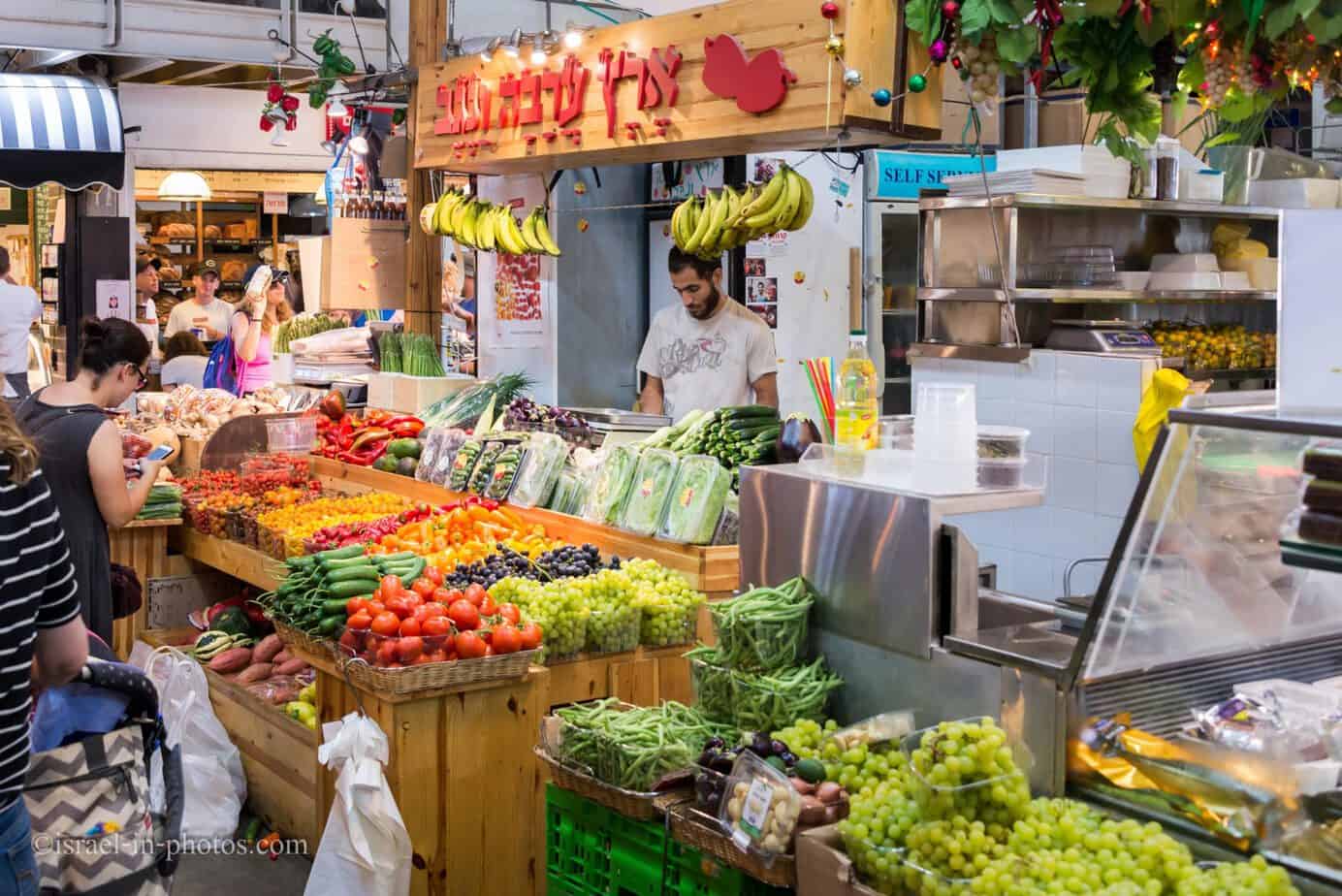 On the second floor, there is a restaurant, and the bathrooms are also there.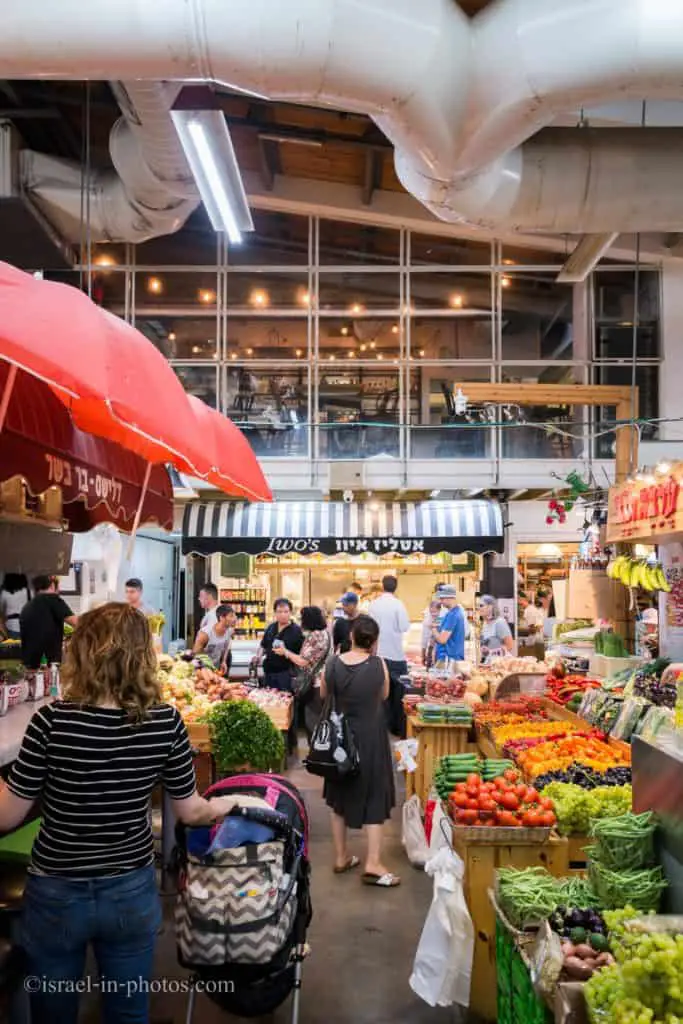 Also, keep in mind that Friday is the busiest day of the week. In the middle of the week, there will be significantly fewer people.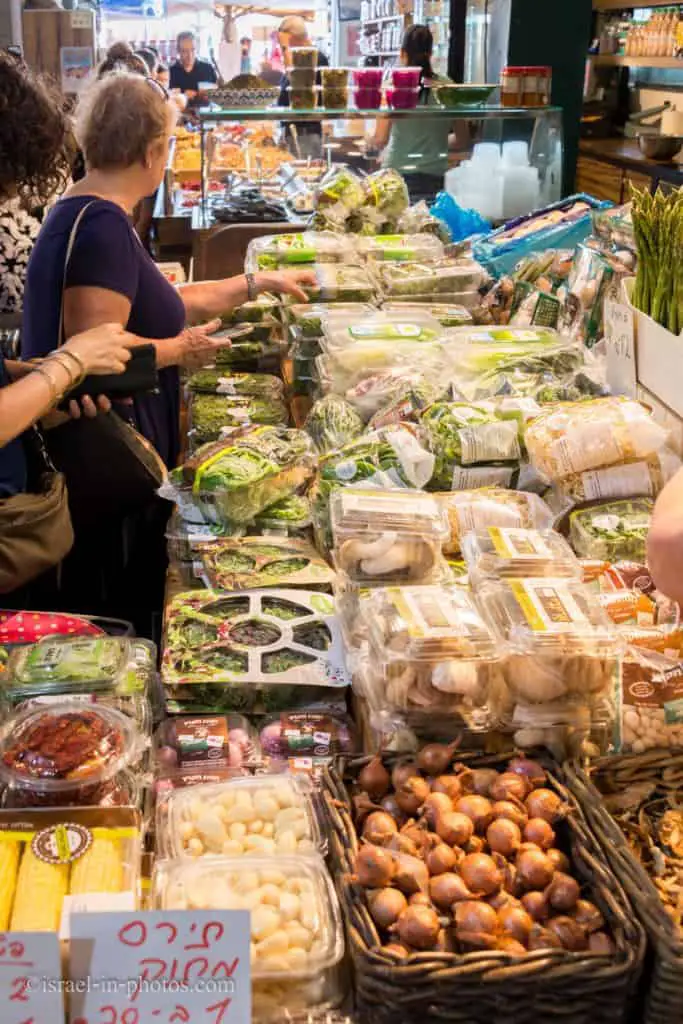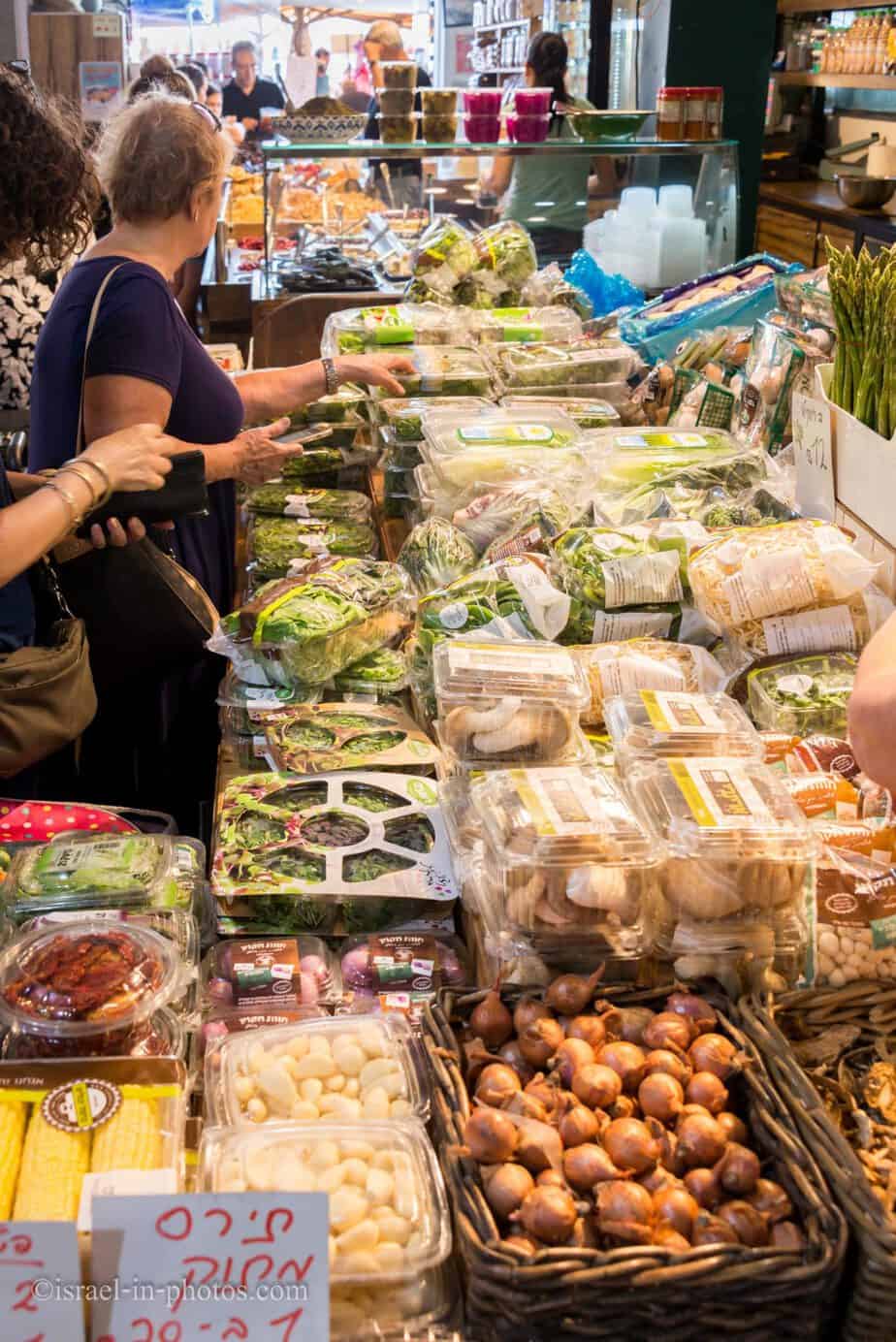 Cherry tomatoes:

After going through Indoor Farmers Market, we went to the outside part in the back.

There were about half a dozen stands in the backside.
I have read somewhere that Tel Aviv has the highest rate per capita of dogs. Thus, it is completely normal to take your dog to the market with you.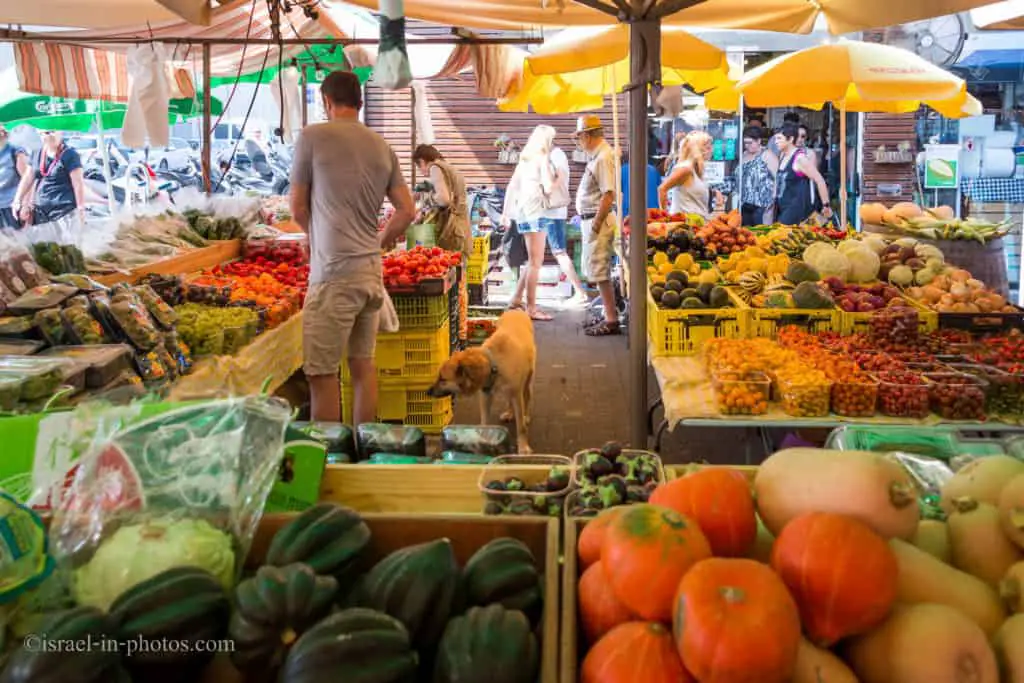 Challah at a bakery.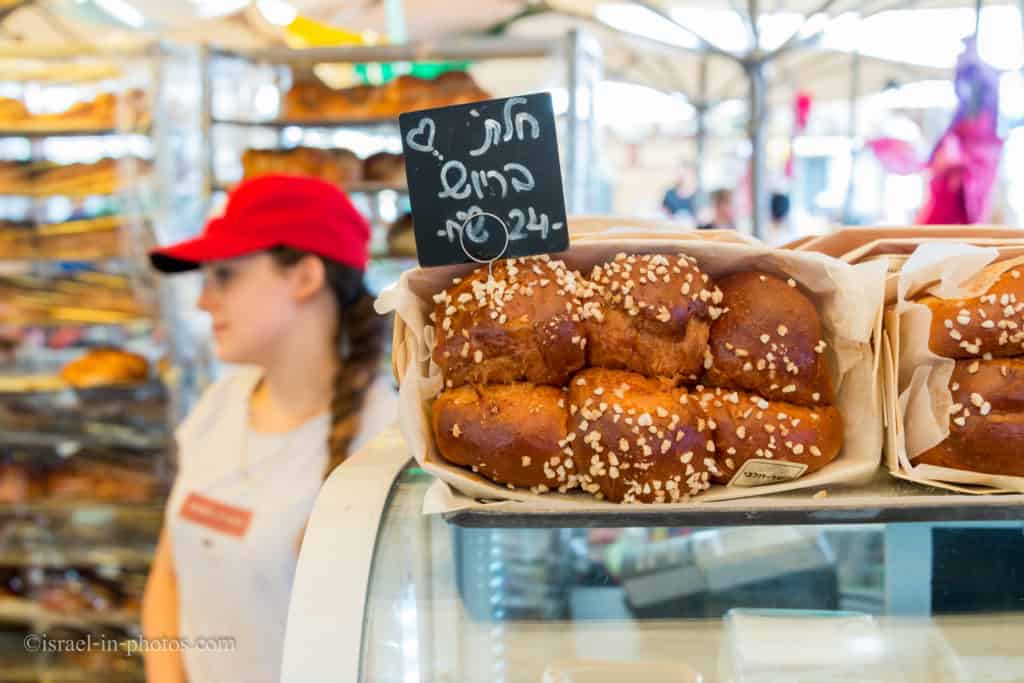 Back inside: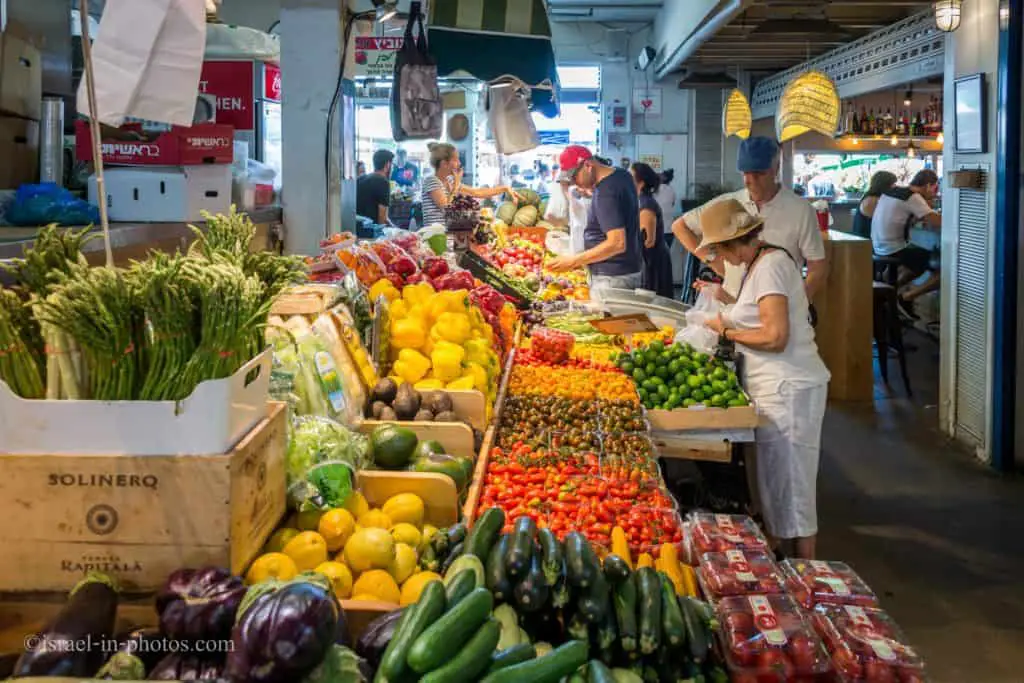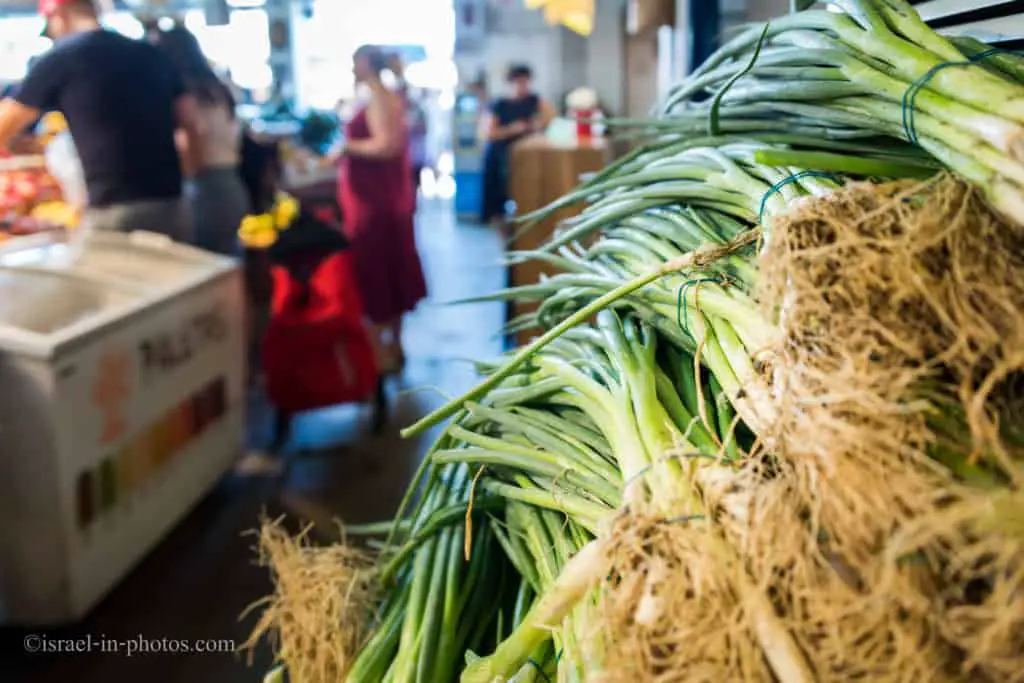 Who wants a yellow watermelon?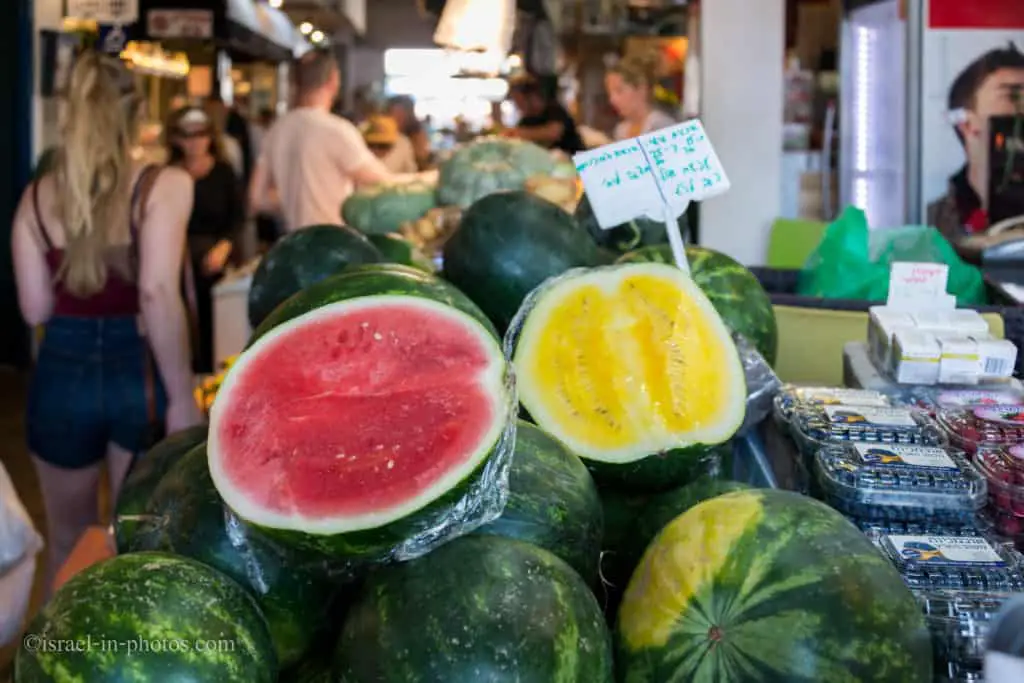 North Market in Tel Aviv
And now we are going to visit North Market (official site) in Tel Aviv. Why North Market? It was opened by the same entrepreneur as the Port Market and in many ways similar to it.
North Market is located in Northern Tel Aviv (20 Raoul Wallenberg Street), hence the name.
Map of the area:

It was opened about a year ago in one of Tel-Aviv's industrial (mostly High Tech) zones. Therefore, next to regular stores, the market offers many restaurants.
Exterior: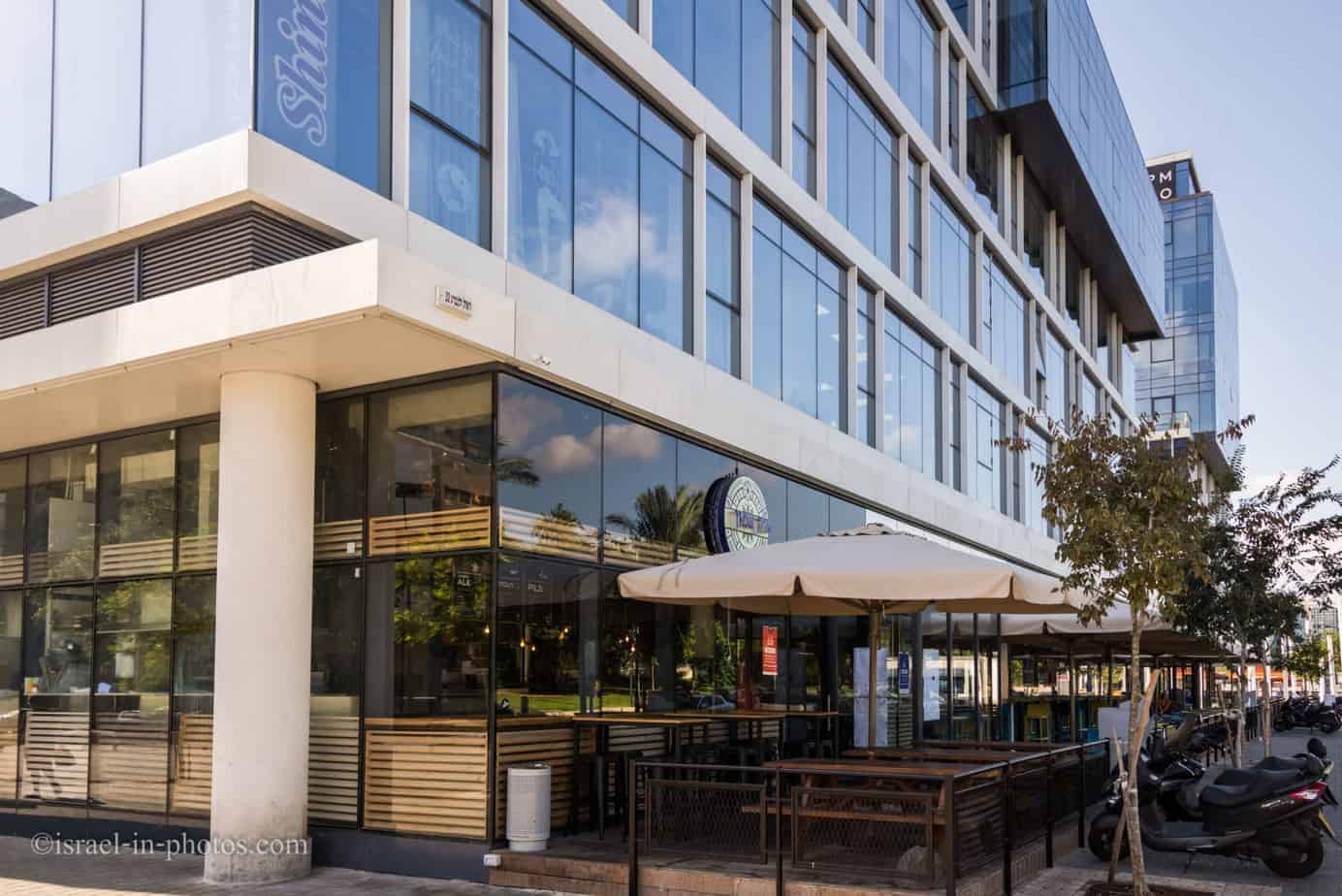 Since it is located in the industrial zone, it is hard to find parking. But since we visited on a Friday morning, we were able to find paid parking.
The stairs that lead to restrooms:

North Market is quite small. There are around 30 stores/restaurants in total. And there is also a florist: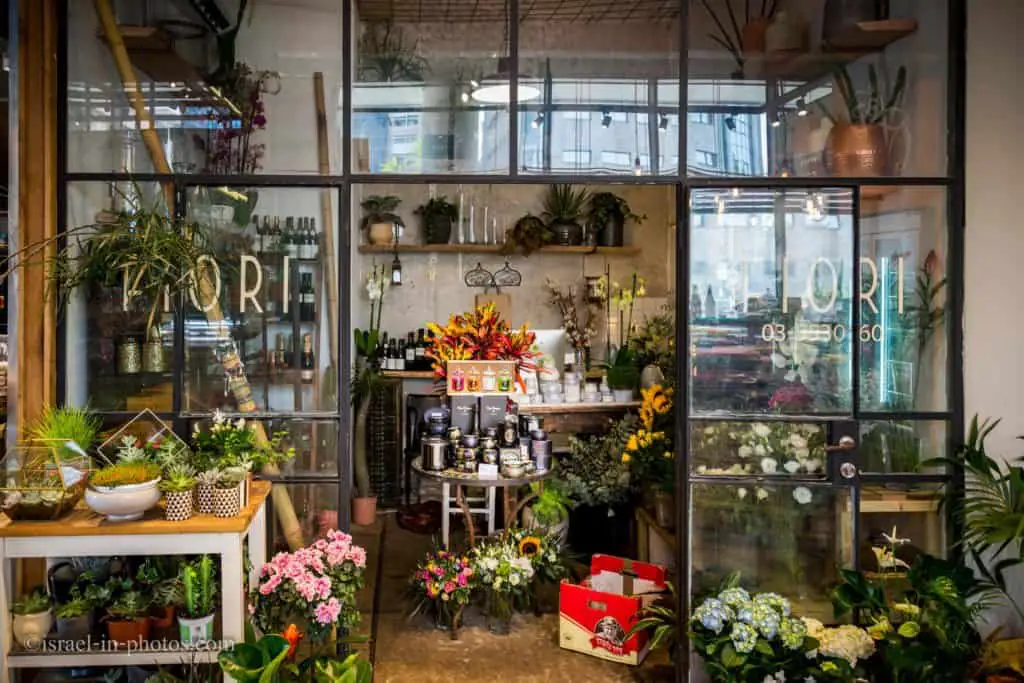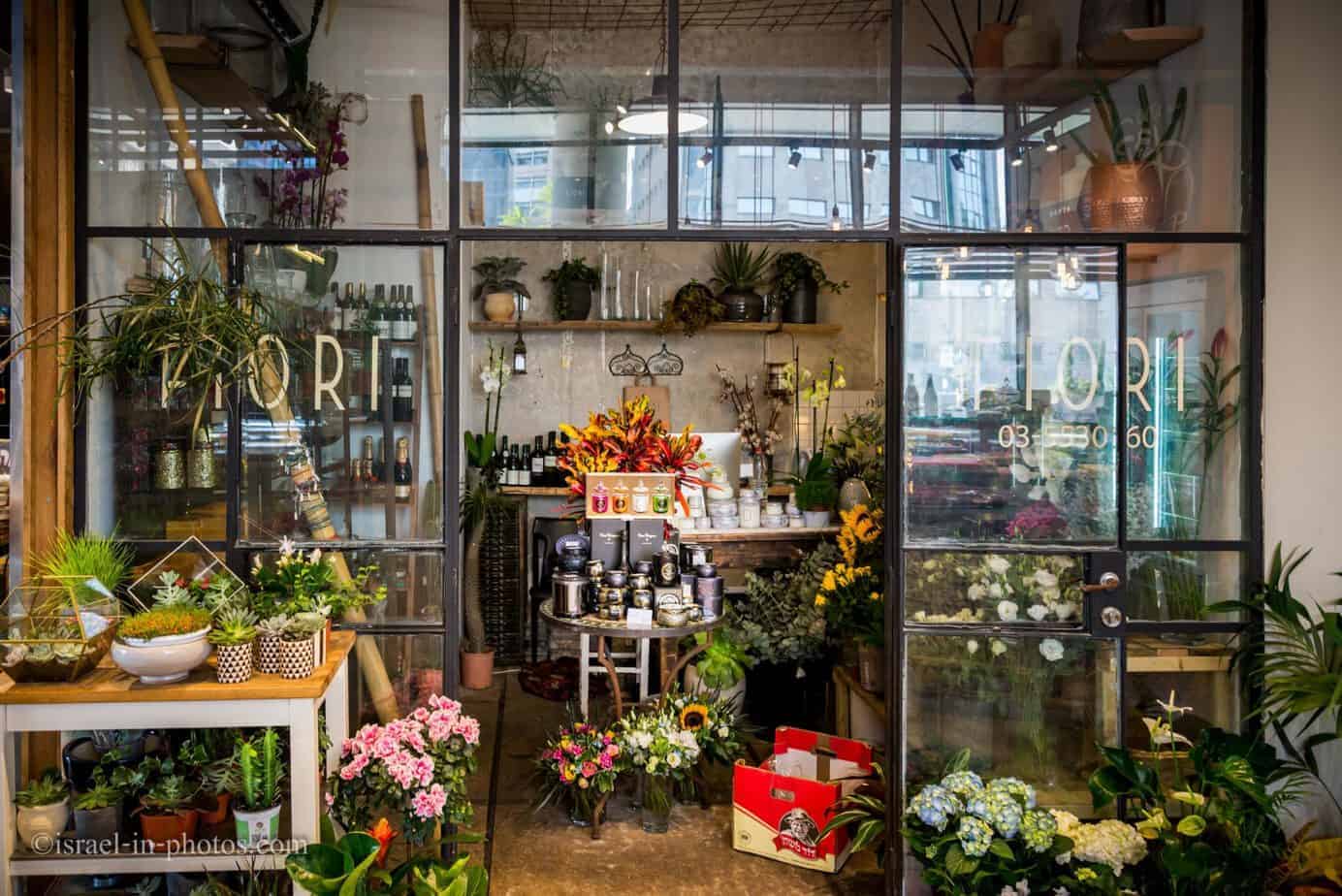 There are several bakeries:

Butcher shop:

Keep in mind that it's an expensive area, and most restaurants/stores are quite expensive. But, on the other hand, you can find delicatessen.
One of the corridors:

Fruits and vegetables:

Sabres, i.e. prickly pear:

Variety of bread in the second bakery:

North market entry from the other side (not Raoul Wallenberg Street):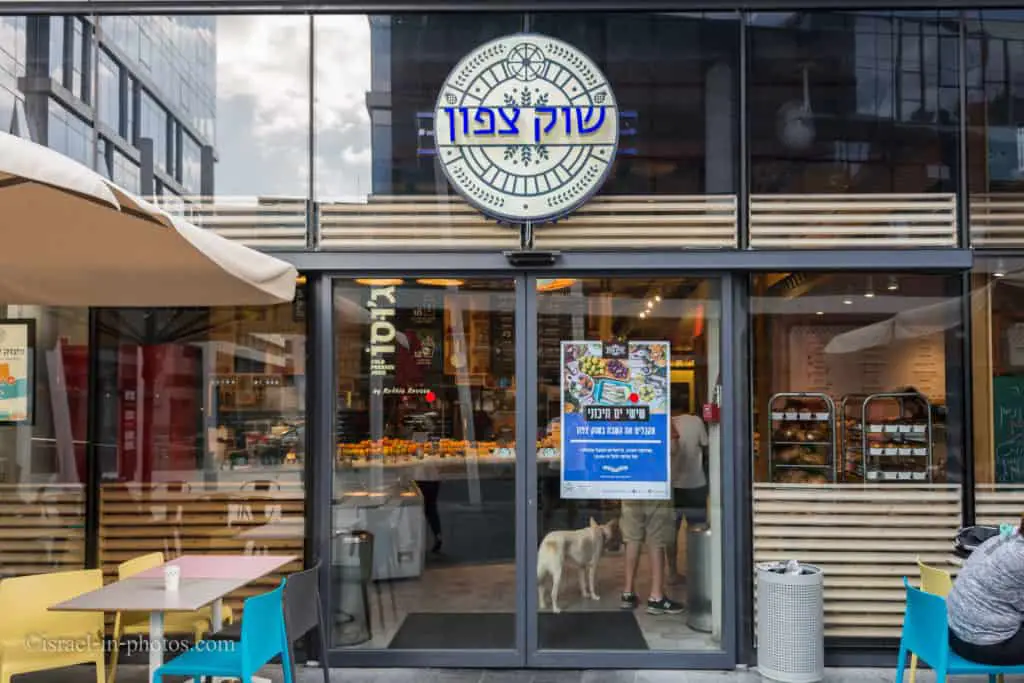 Close to the North Market you can find other stores as well. For example, there is a branch of "Artisan bread" bakery. It's one of my favorite bakeries in Israel. Not only because of their products, but also because of their service. For example, when we bought bread there, they gave us a vacuum bag and told us that if we want to freeze part of the bread, then we should use this bag. It is not something big, but it shows their thoughtfulness and care.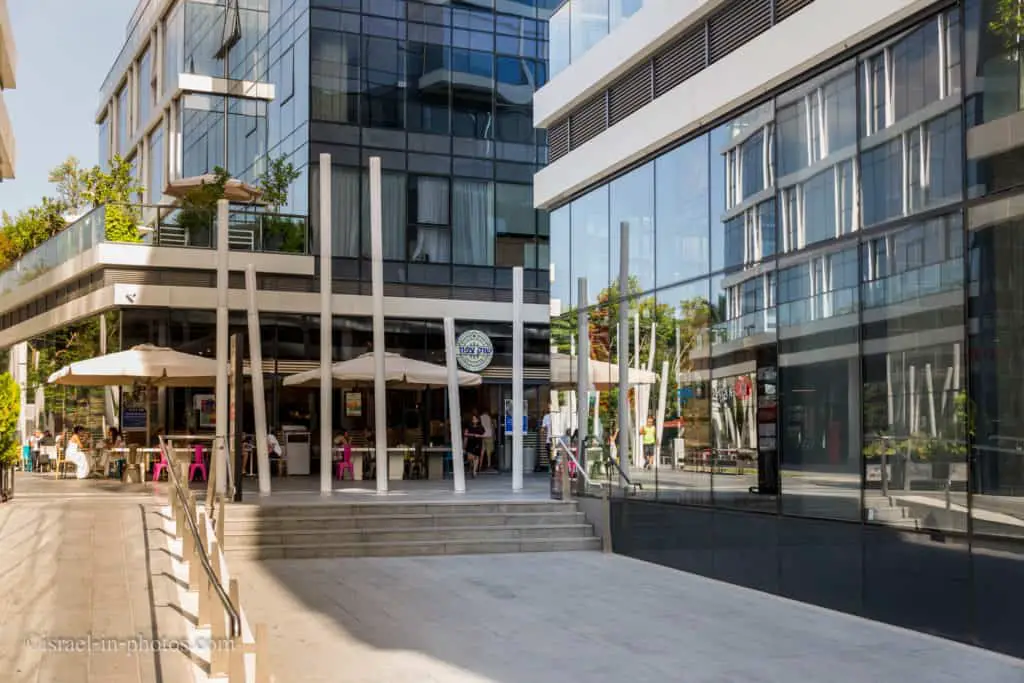 Back to the North Market, and this is a fish stand: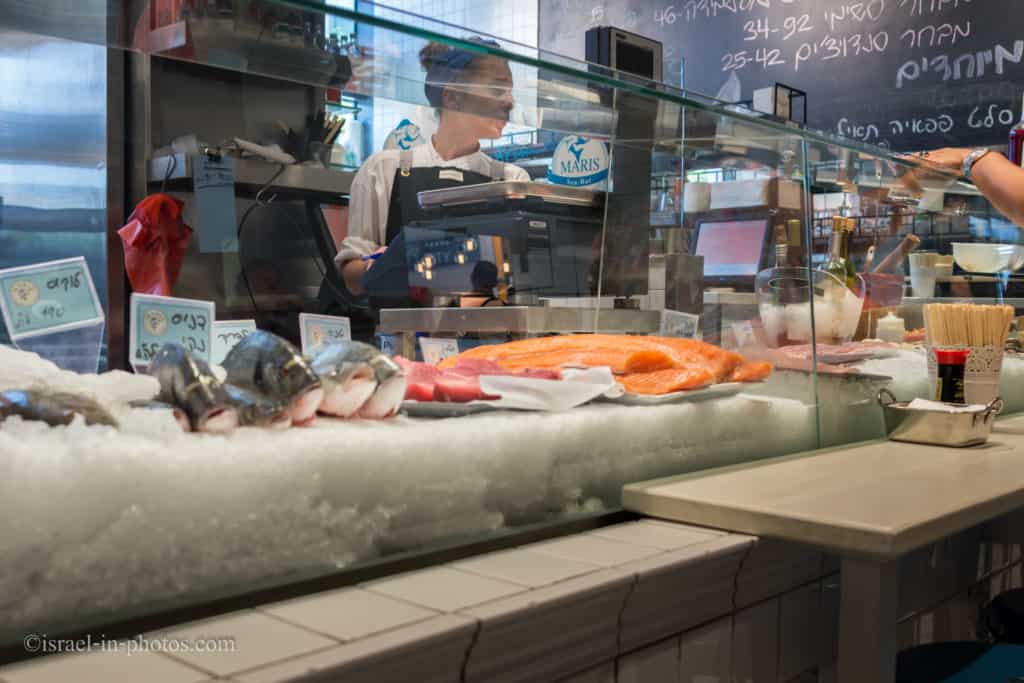 Various juices and drinks:

We tried two of those, and I can't recommend them.
After going through the market and back, we looked for a place to eat. But, since as I mentioned it was Friday morning, most restaurants were closed (opened only at noon). And in the end, we went to a nearby restaurant.
Reflections: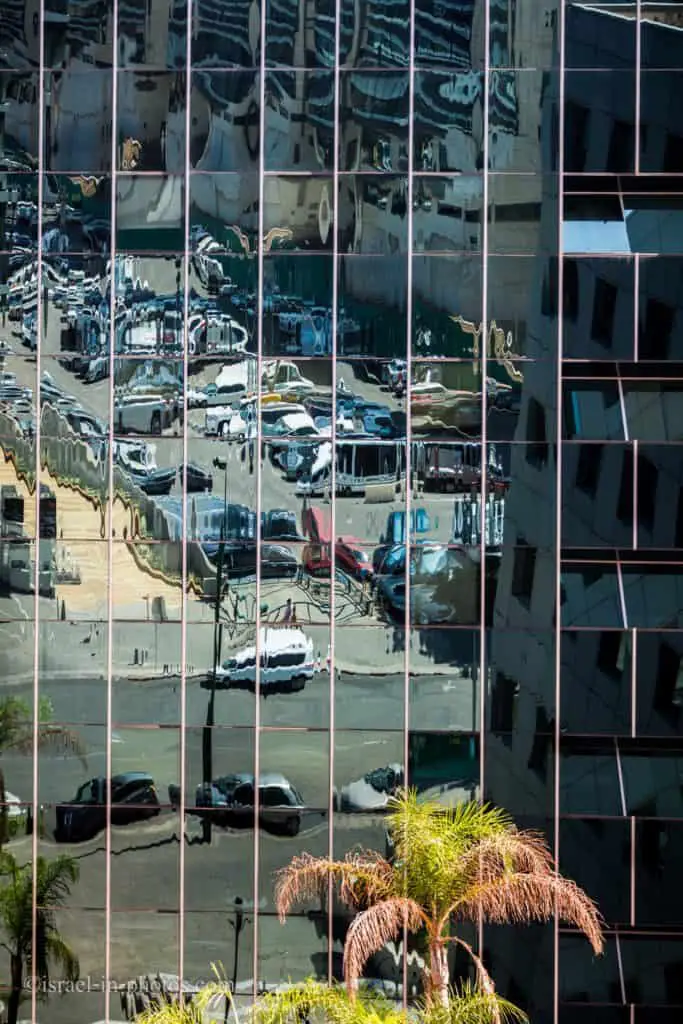 Overall, North market is not a big place and does not offer a great variety. If you are in the area, then you can visit and grab something to eat. But I would not drive there just for the sake of the visit. If you love such kind markets, then you should check out Sarona Market.
Sarona Market
Basic Info
Sarona Market (official site) is an indoor market at the center of Tel Aviv. Here is a quote from the official site:
The Sarona Market complex was established to be the heartbeat of Israeli culinary art. On an area of 8,700 square meters and with 91 shops of all categories, stalls, and restaurants, Sarona Market is Israel's largest indoor culinary market and operates seven days a week. Gindi Holdings constructed the project on Sarona Gardens in the heart of Tel Aviv.

Sarona Market is an innovative, contemporary urban market that combines the old world with the new. A gourmet and consumer product market featuring imported cheeses from across the globe, premium balsamic vinegar from Italy, fresh seafood from the Atlantic Ocean, French champagne and spices from the Far East along with the best local produce – fruit and vegetables from Emek Hefer and the Arava, lamb and veal from the Golan Heights, fresh fish from the Mediterranean Sea, local wines, boutique beer, chocolates and hand-made pastries. A central place where you can experience the full intensity of all the flavors of contemporary Israeli culinary art under one roof.
Map of the area:

Visiting Sarona Market
We parked at the Azrieli Center and started walking toward Sarona Market.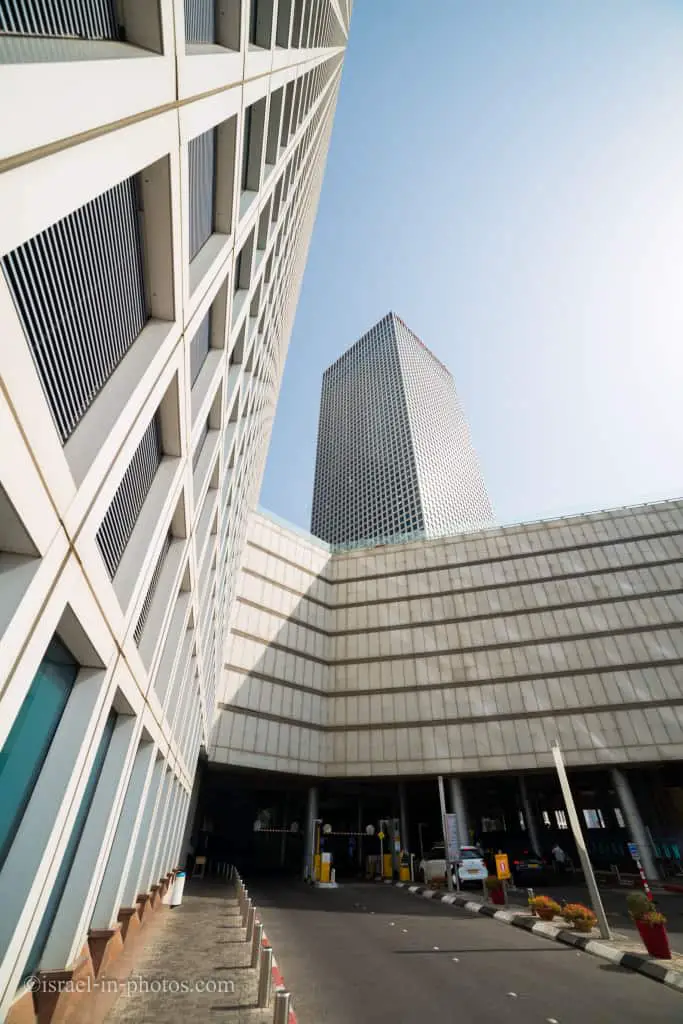 Another view of the Azrieli Center:

And after a 7min walk we can already see the entrance to Sarona Market:

At one of the entrances to Sarona Market: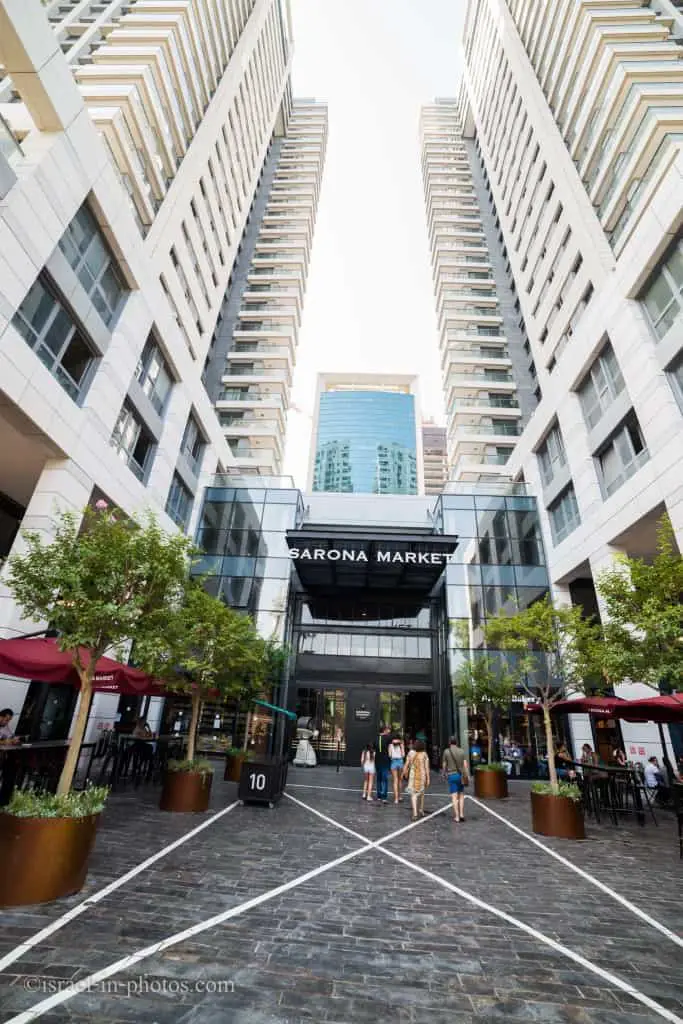 Sarona Market is one floor market beneath all those towers. The market mostly specializes in food, but you can also find books and office supplies:

Edible decoration for cakes: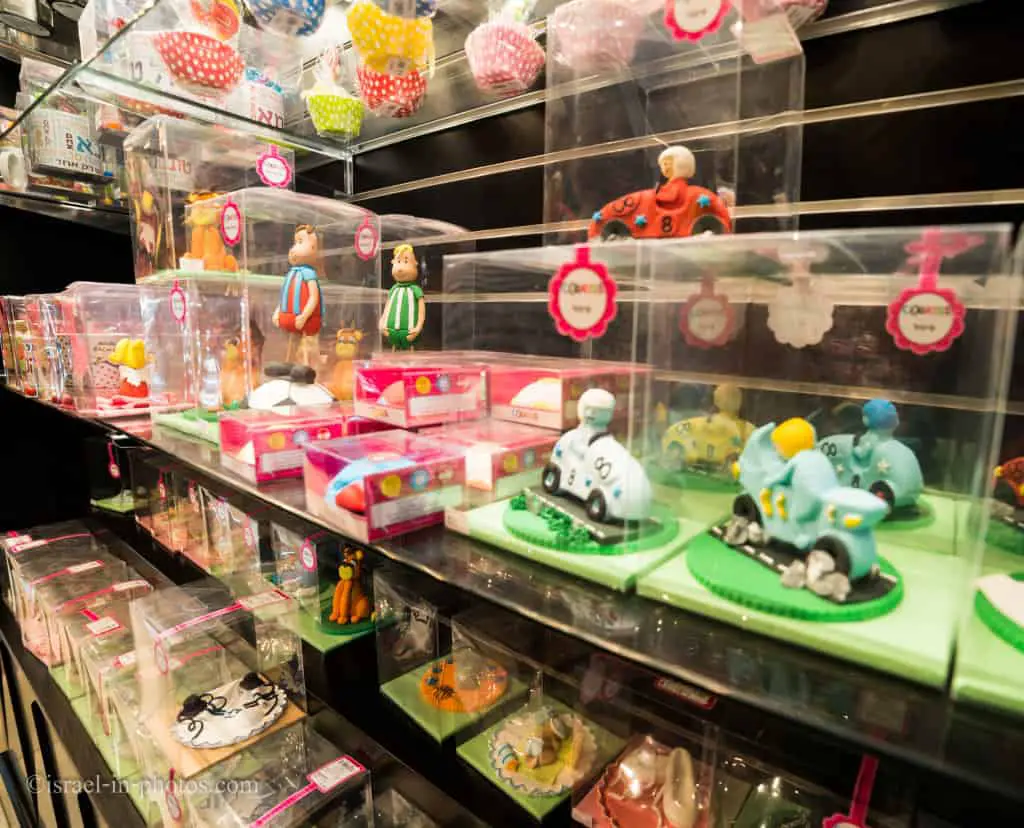 Liquor shop:

Olives:

Juices and kitchenware: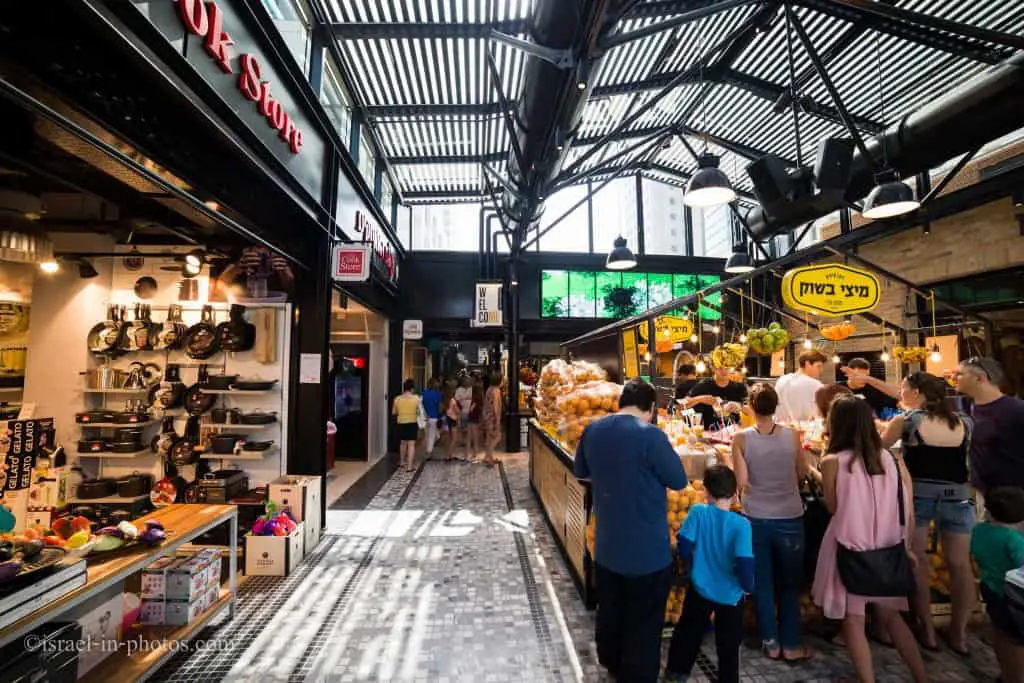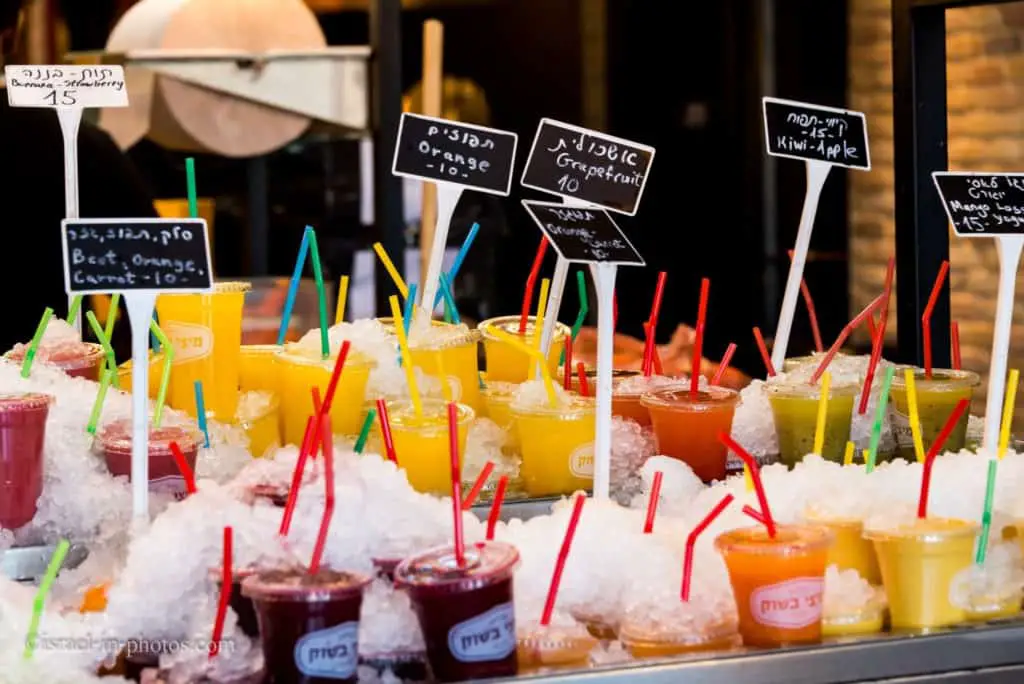 Preparing bread in a bakery: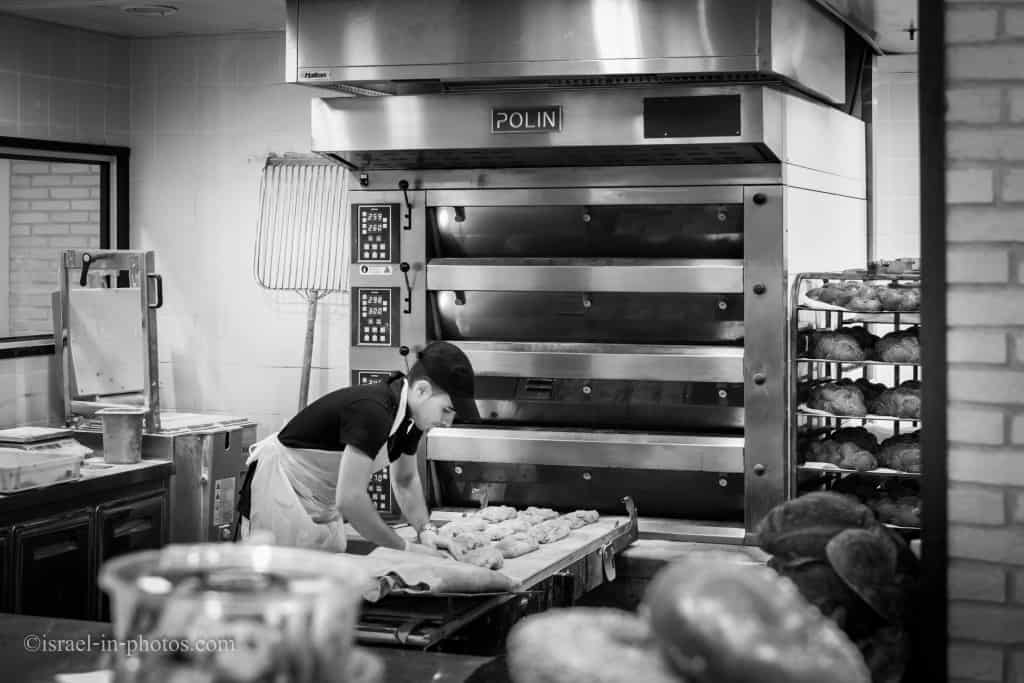 Wine Card? Why Not
That is a wine shop. But not the regular type. It allows you to buy a glass of wine. The system is that you buy a card which allows you to buy X glasses of wine. And each time you pass the store, you can select one of the wines, enter your card and select whether you want a full glass or a half glass.
Note: at my recent visit, I saw that this store was already closed.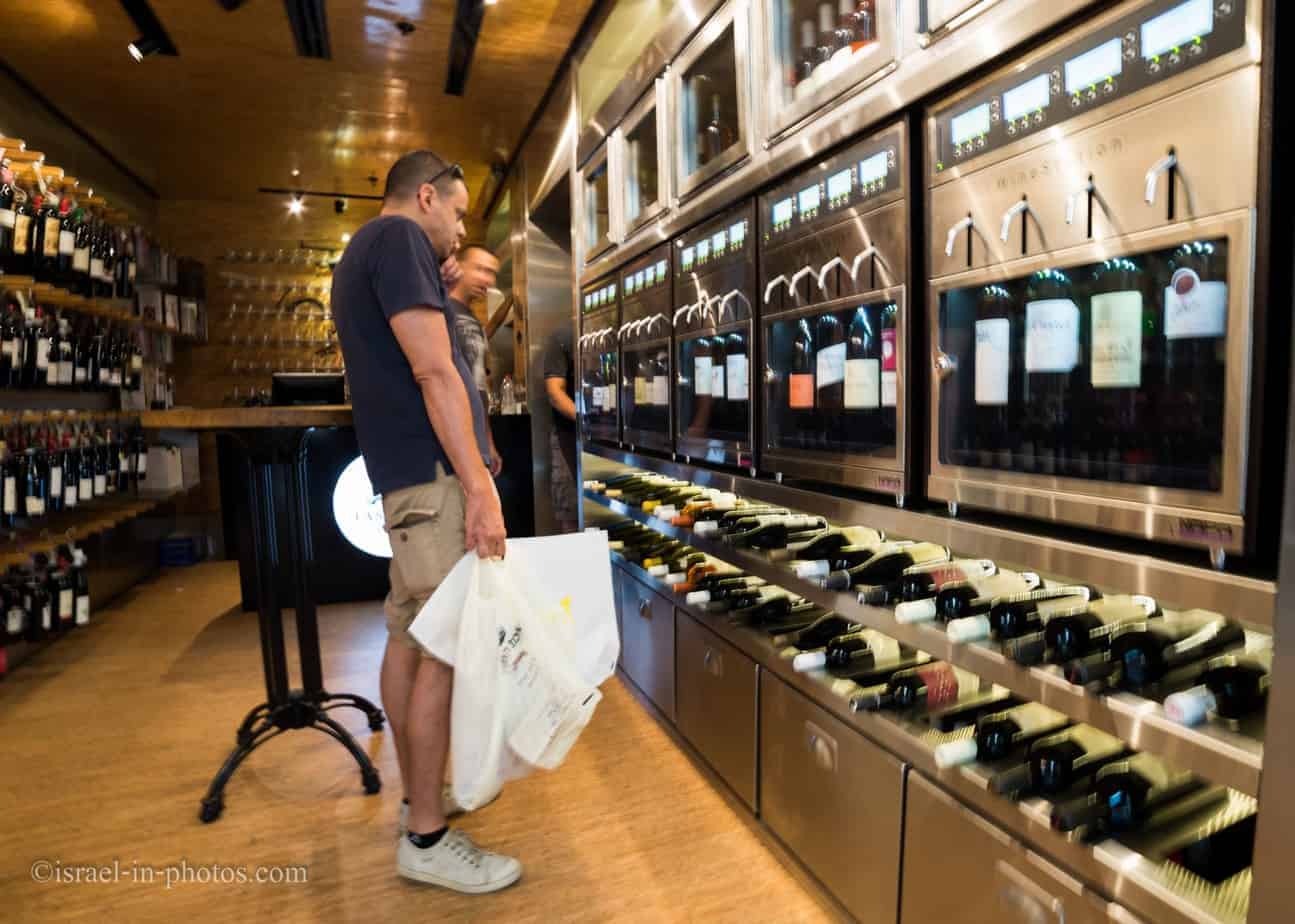 In one of the bakeries we bought macaroons and made a short break:

FAUCHON
That was a tasty break. After eating the macaroons we reached the FAUCHON stand. FAUCHON is famous for their macaroons, but unfortunately, we were too full at that point. Well, there is always the next time.
Update: In August 2017 FAUCHON officials said they would be closing the big store at Sarona and only a small stand will remain. They will also stop preparing the food themselves and outsource it.
Does anyone want Sushi?
Cheese boutique: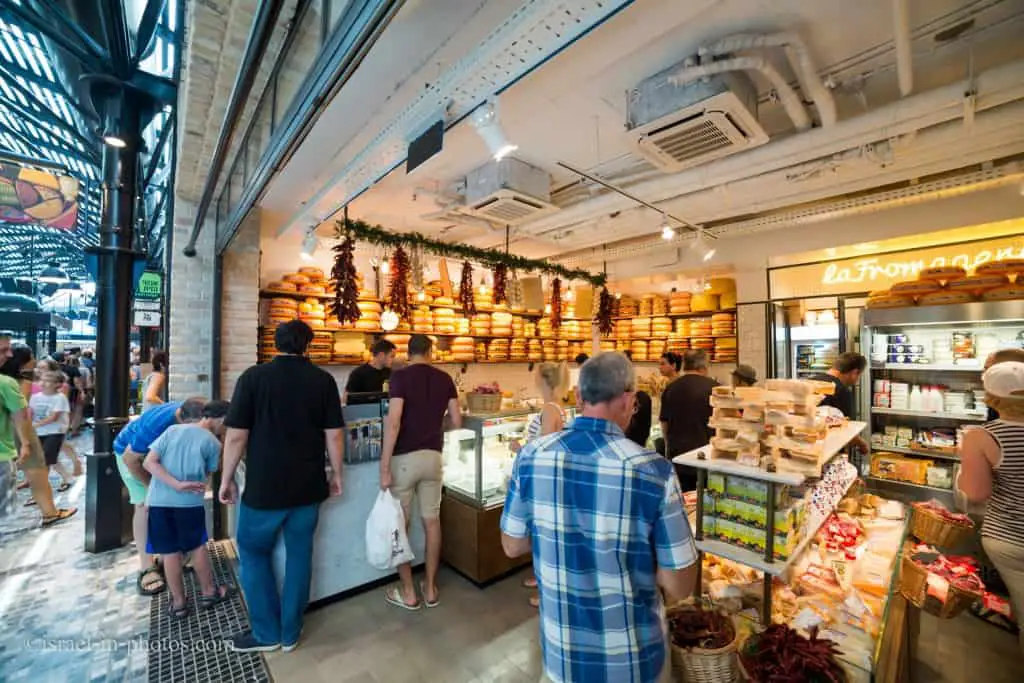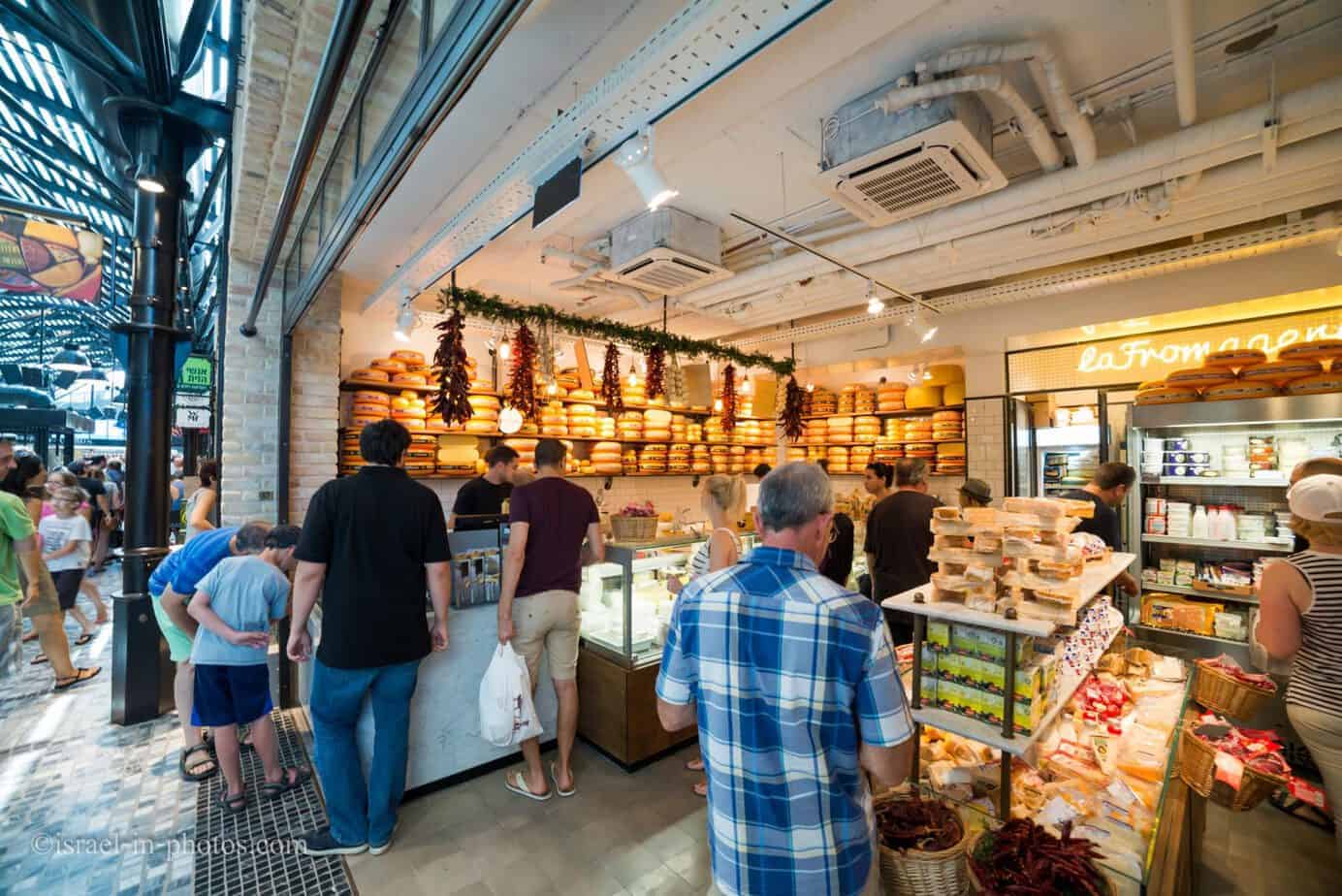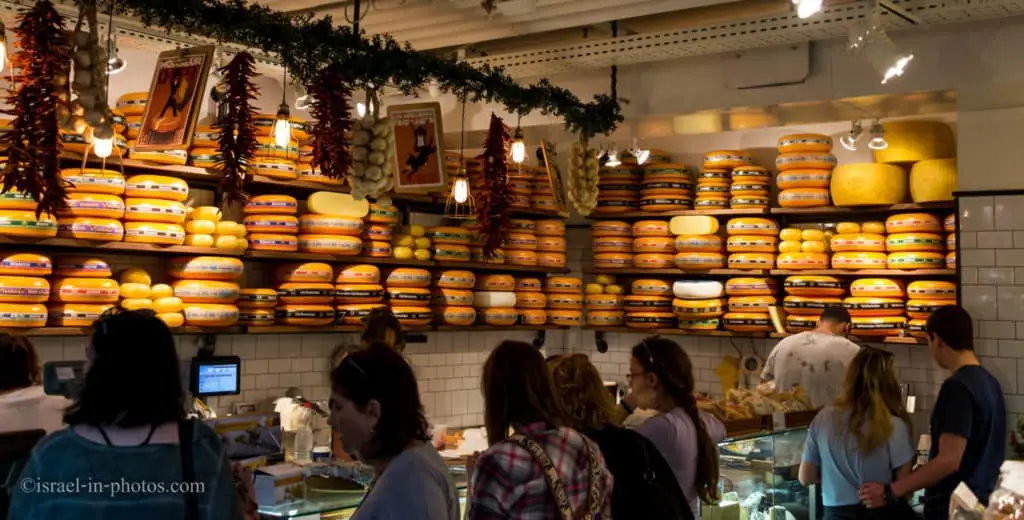 Sign with directions to all stores: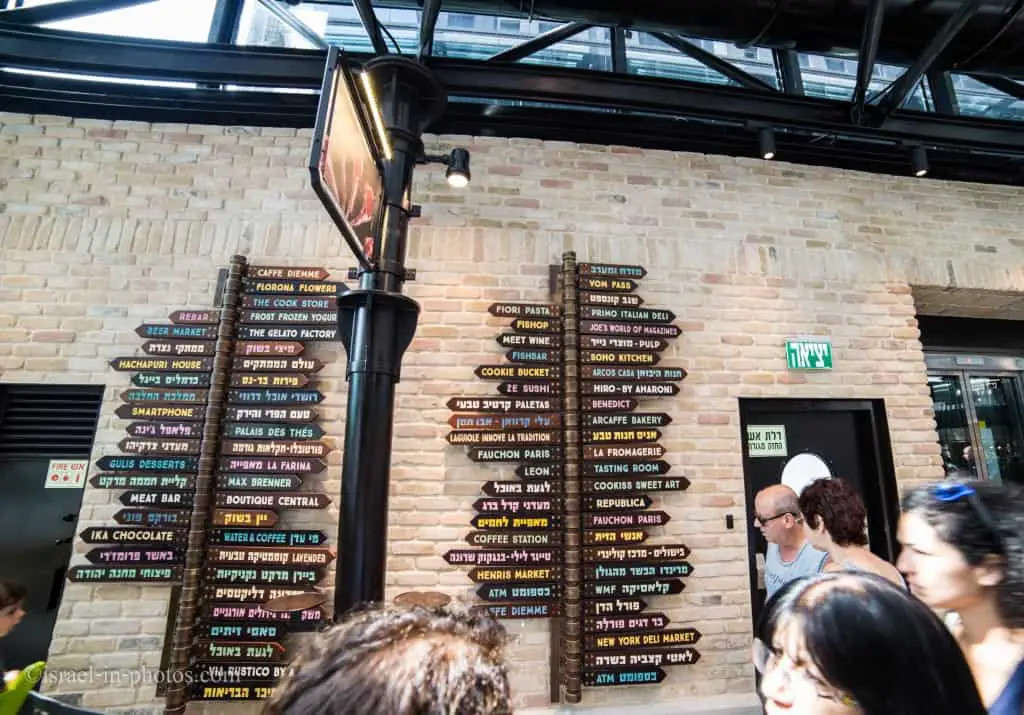 Herbs and spices:

And dried fruits as well: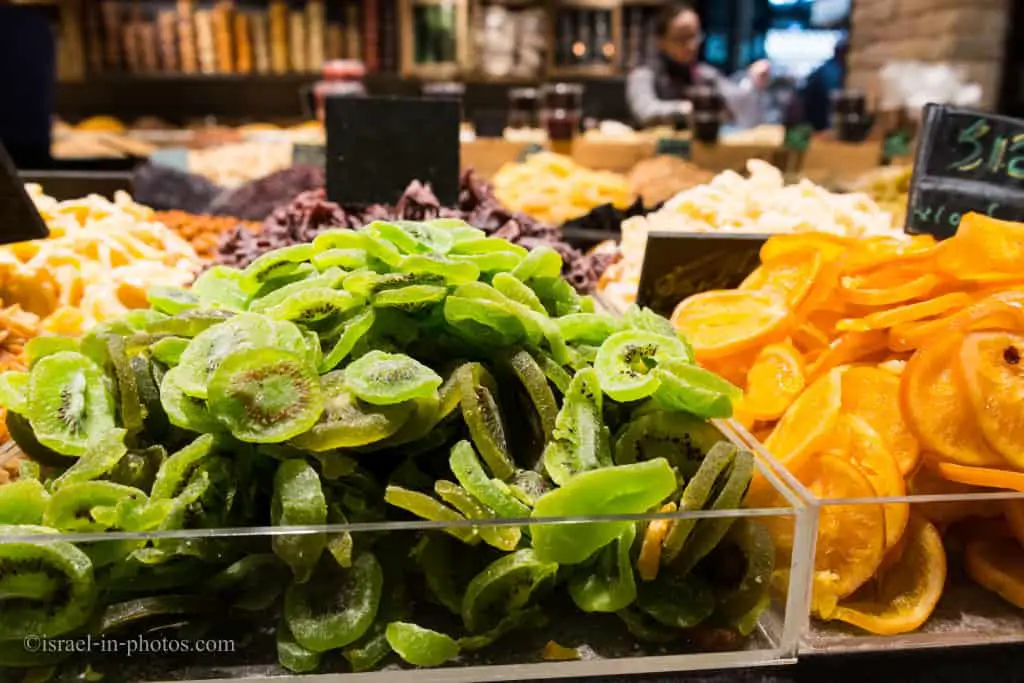 Many stores offer small snacks — not only bakeries but other stores as well. You can find different kinds of tapas and finger-food with fish, meat, and cheese. Overall, the stores in Sarona Market can be roughly divided into three categories. About 40% are food stores, 40% are restaurants, and 20% all the rest.
Halva:

Khachapuri
Another break with Khachapuri:

Khachapuri is a traditional Georgian dish of cheese-filled bread. The simplest Khachapuri is basically like a pizza with cheese both on the top and inside.
At a bakery:
Fish boutique:

In the photo above you can see Israel Aharoni, he is a celebrity chef and he also has a restaurant at Sarona Market.
Croissants:
One thing worth mentioning, we visited on a Friday morning. Thus you can see many people. On weekdays it is less crowded.
Our time was running out and we started to head back. Here is another exterior view: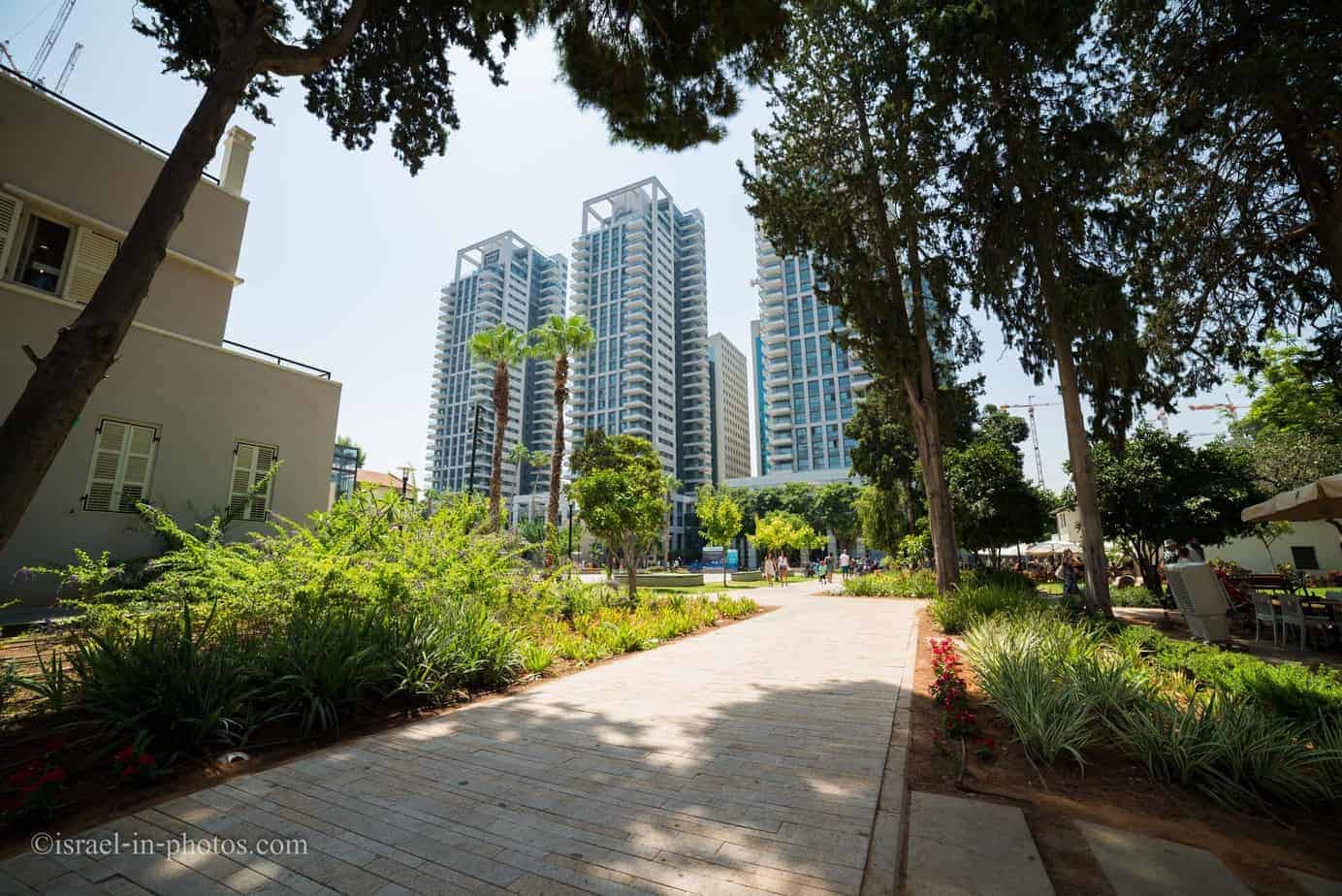 And back to Azrieli Center: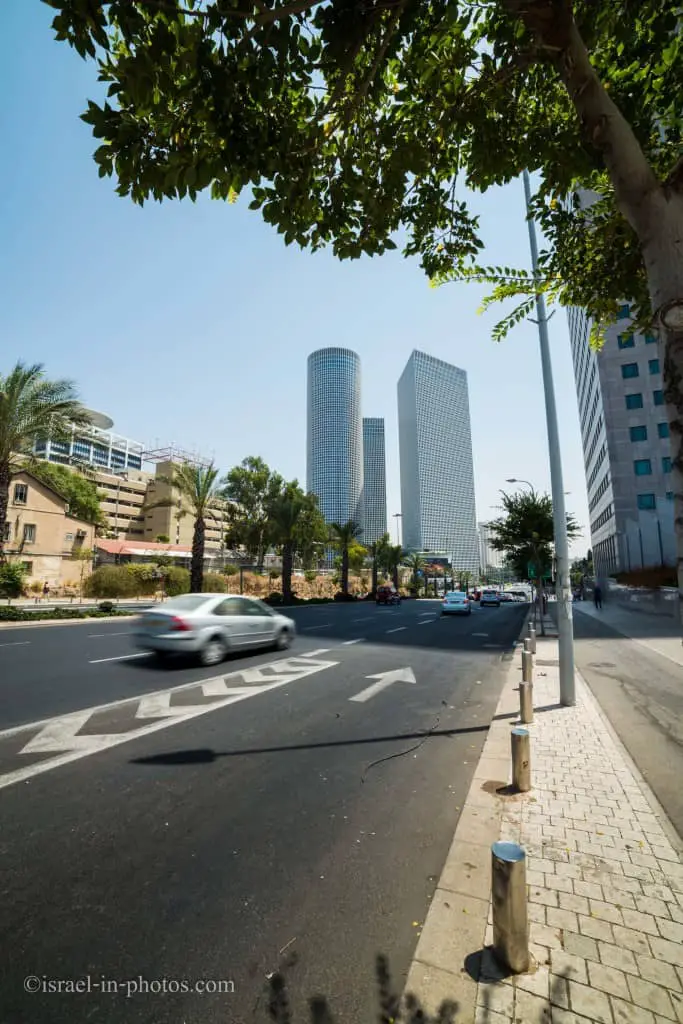 To sum up, Sarona Market is a lovely place to visit. Many Israelis define it as being in Tel Aviv but feeling like in Europe. It's a high-class market, meaning you can find many high-quality products and restaurants, but they are not cheap.
Note for photographers: on one occasion when I visited Sarona Market, the security saw my DSLR and asked me not to photograph inside. That happened once out of probably ten times.
Rothschild Allenby Market
Food markets became a real trend in Tel-Aviv, and Rothschild Allenby Market is the most recent one (till this date, opened at the end of 2016). These are the new kind of markets. Mostly they have restaurants and places to eat and a few stores where you can find raw materials.
Note: the owners of Rothschild Allenby Market run into financial difficulties. This market was closed. And today, in this compound you can find a Decathlon store.
The name Rothschild Allenby Market comes from the corners of the streets this market is located on.
Map of the area:

Last Friday morning we decided to visit the market and today I'm going to tell you about our visit.
My favorite nearby parking lot in this area is Beit Hadar that's located on HaRakevet street. From there it's a five-minute walk to the market.

Russian Embassy House:

More info about Russian Embassy House can be found at: Tel Aviv walks #1.
There are two entrances to the Rothschild Allenby Market. One at the corners of Rothschild and Allenby streets and the second one at Yavne street:

We were on-site around 9:30 and as expected the place was still quite empty.

Liquor store:

Fruits & Vegetables:

Jerusalem Artichoke
Despite its name, the Jerusalem artichoke has no relation to Jerusalem. And it is not a type of artichoke, though the two are distantly related as members of the daisy family. The origin of the "Jerusalem" part of the name is uncertain. Italian settlers in the United States called the plant Girasole, the Italian word for sunflower, because of its resemblance to the garden sunflower. Over time, the name Girasole may have been changed to Jerusalem. The English later corrupted Girasole artichoke (meaning, "sunflower artichoke") to Jerusalem artichoke.
Source: Wikipedia
Most of the places in the market are restaurants and there are quite few food stores. One or two fruits/vegetable stores, one liquor store, one fish store and the rest are restaurants/ready food stands.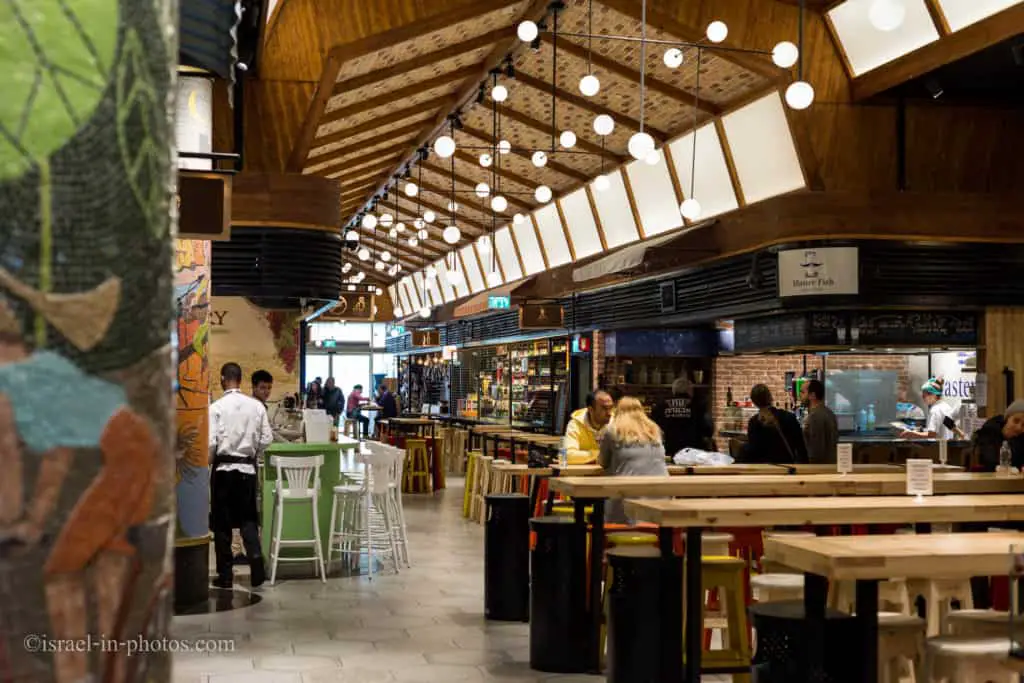 Mosaics on a column:

Stationary ice cream tricycle: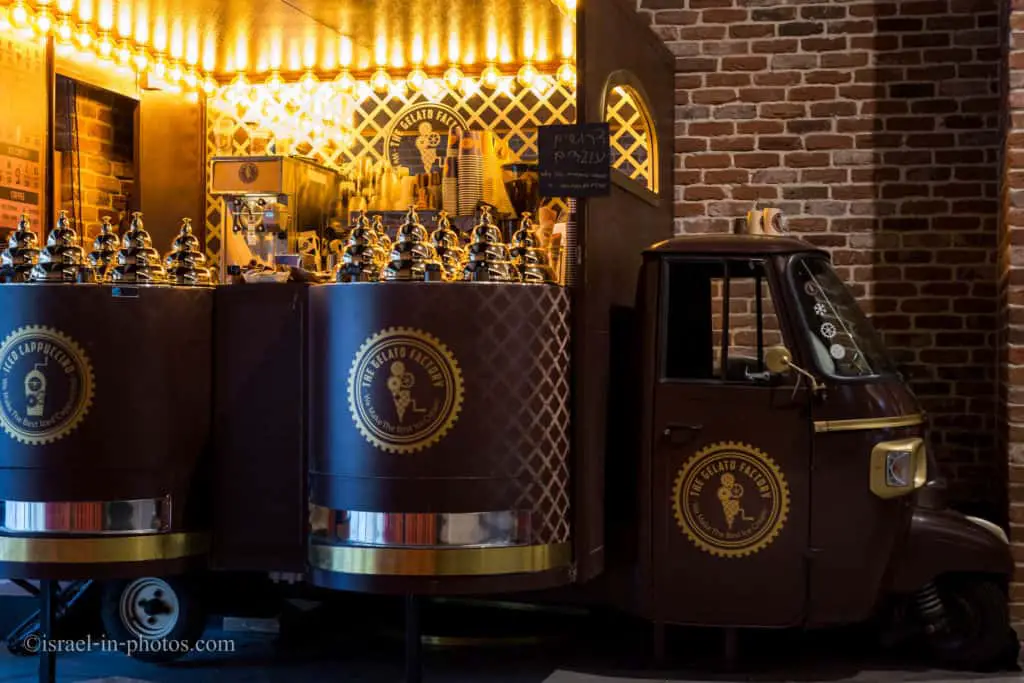 Since many places on the market were still closed, we decided to take a short stroll.
Migdal Shalom and Neve Tzedek
When we exited at Allenby street, we thought about where we should go. We saw Migdal Shalom (that can be seen in reflection) and decided to go in that direction.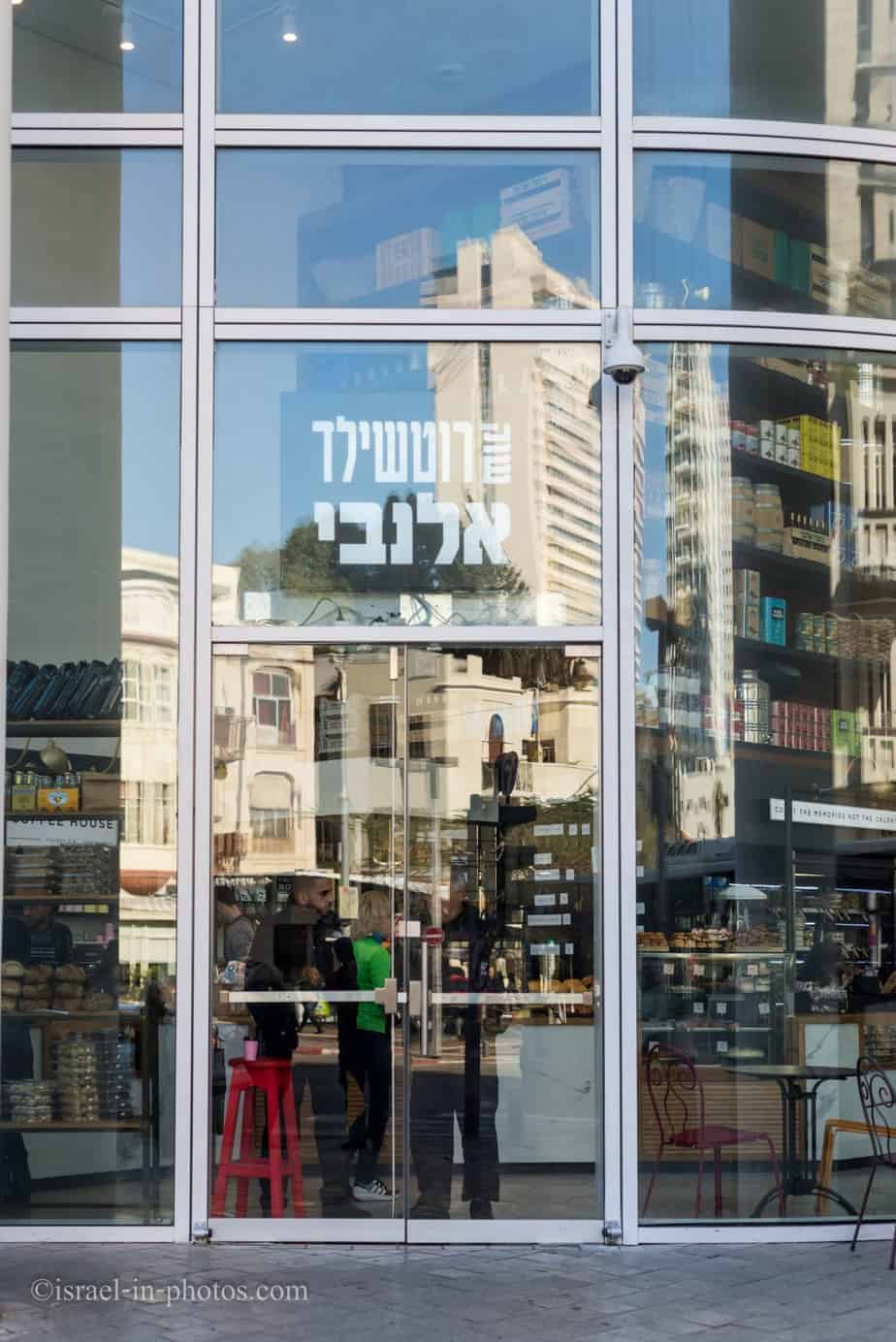 Rothschild Allenby Market from Allenby street: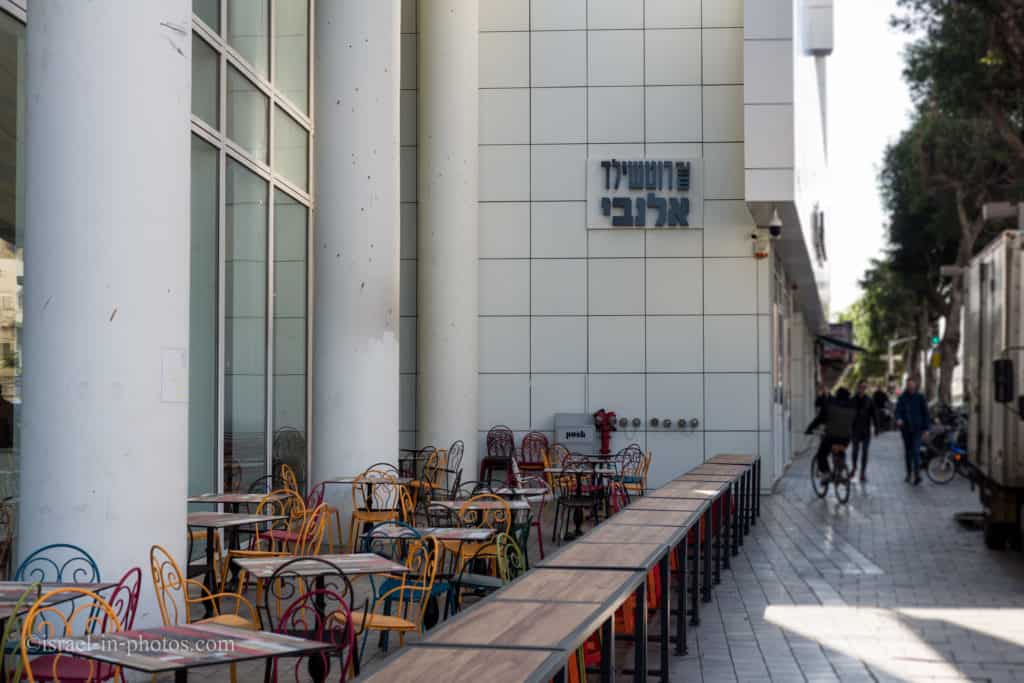 Renovated building on Allenby street: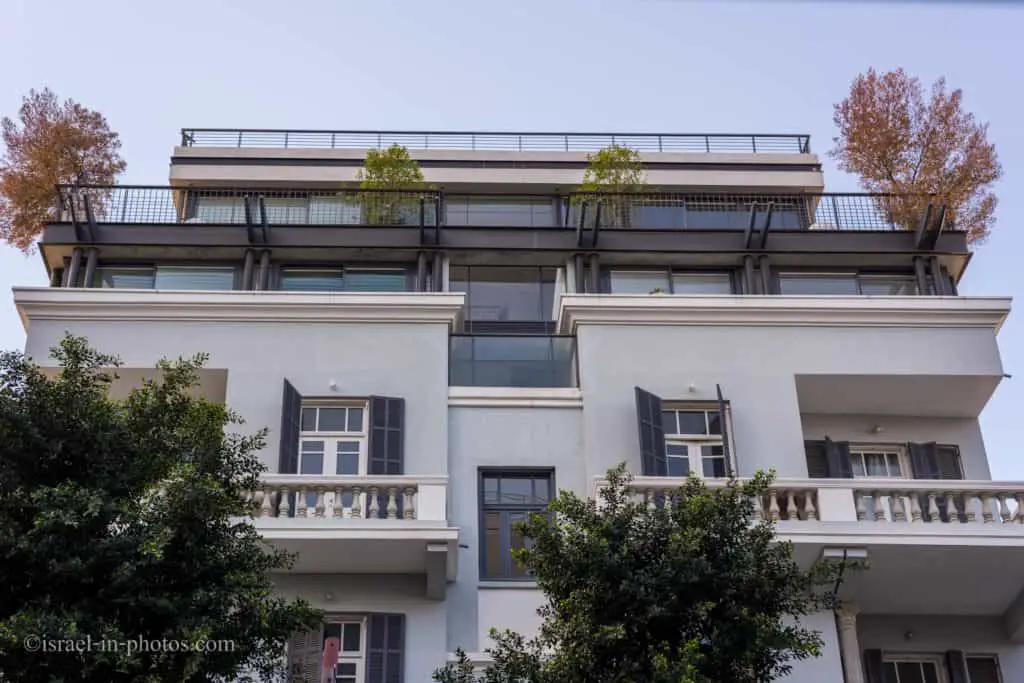 You might ask why in the previous photo I didn't shoot wider. The main reason is that I had one lens with me. Yes, all photos in this post were made with 50mm, or as some call it the plastic fantastic. It was intentional, a part of an exercise. Sometimes when you limit yourself (to one lens or in other areas of your life), you force yourself to become more creative.
For example, the first time I did panning not with a wide-angle lens:

Old mailboxes: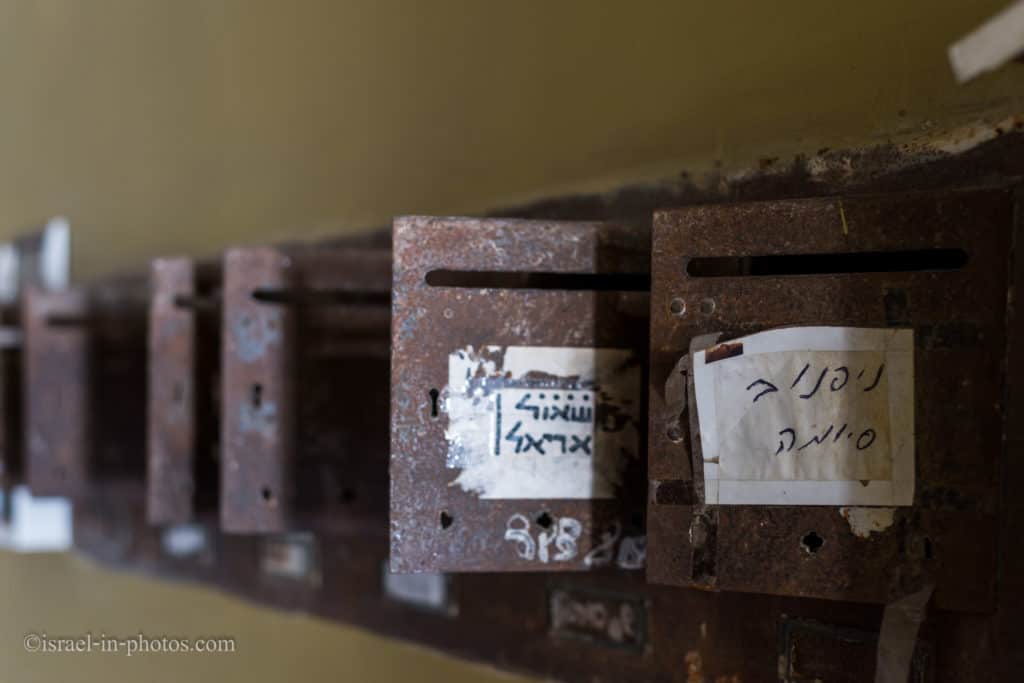 Balcony on the second floor:


I liked the repetitive pattern of the pillars and the lights: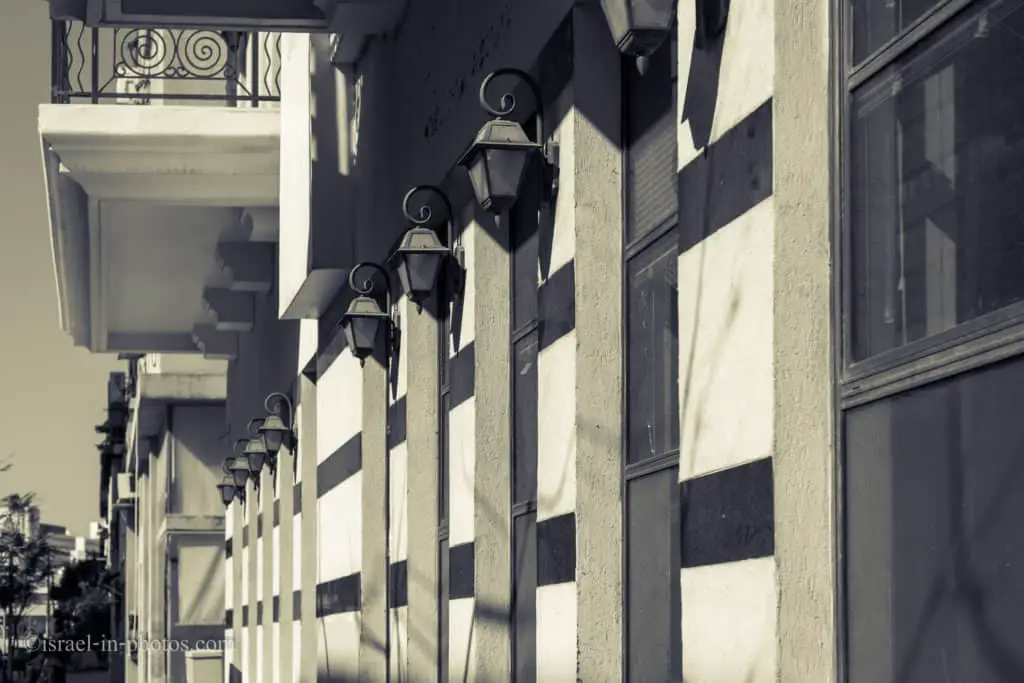 And don't forget to look up:

Migdal Shalom
The windows of Migdal Shalom:

Shalom Meir Tower (Migdal Shalom Meir; commonly known as Migdal Shalom) is an office tower in Tel Aviv, Israel. It was Israel's first skyscraper. When its construction was completed in 1965, it was the tallest building in the Middle East and rivaled the tallest buildings in Europe in height. To build the tower, the historic Herzliya Hebrew Gymnasium had to be demolished. The Shalom Tower now houses the Tel Aviv Center comprising a number of permanent and temporary exhibitions dedicated to the beginnings and development of Tel Aviv.
Source: Wikipedia
How tall is Migdal Shalom? It has 34 floor and total heights of around 130 meters. Thought in 1965 it was the tallest building, today in Tel Aviv's skyline it's one of lowest skyscrapers. Probably for that reason, the viewpoint that was on top of Migdal Shalom was closed. Instead, you can visit the Azrieli Observatory.
We continued towards Neve Tzedek.


Modern buildings: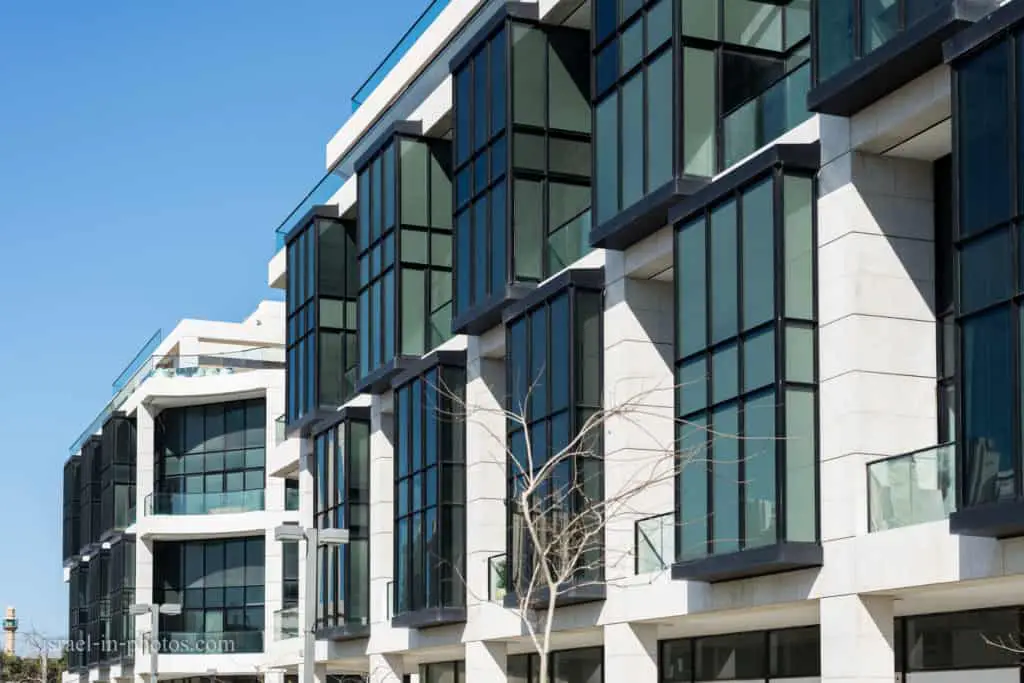 Towards landing:

You can find a dedicated post about this neighborhood at Tel Aviv walk #2 – Neve Tzedek.

Several more photos from Neve Tzedek: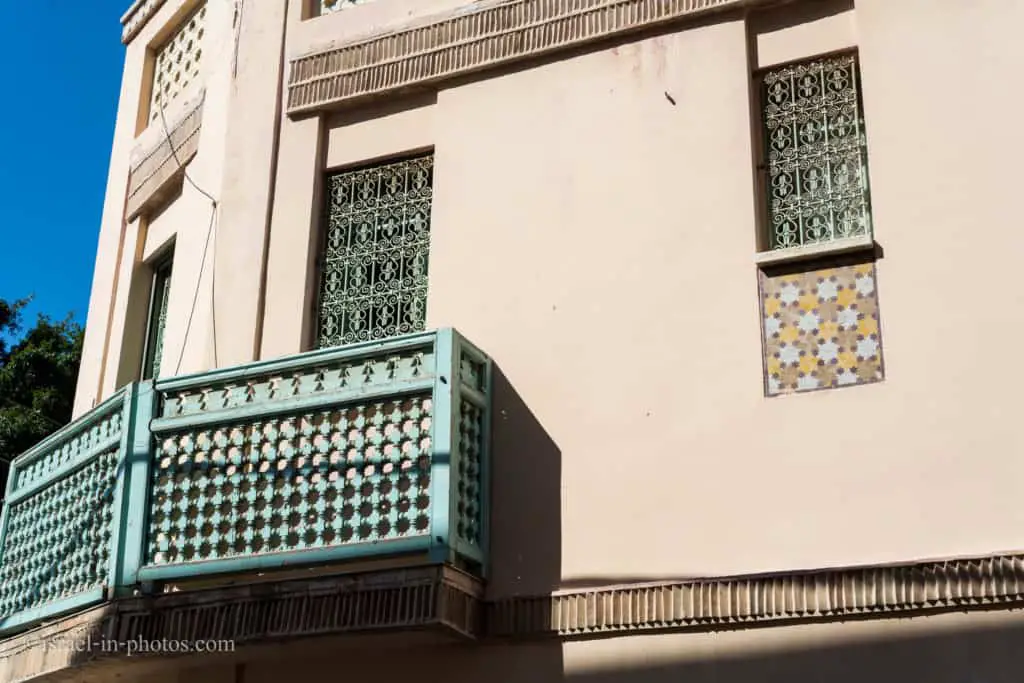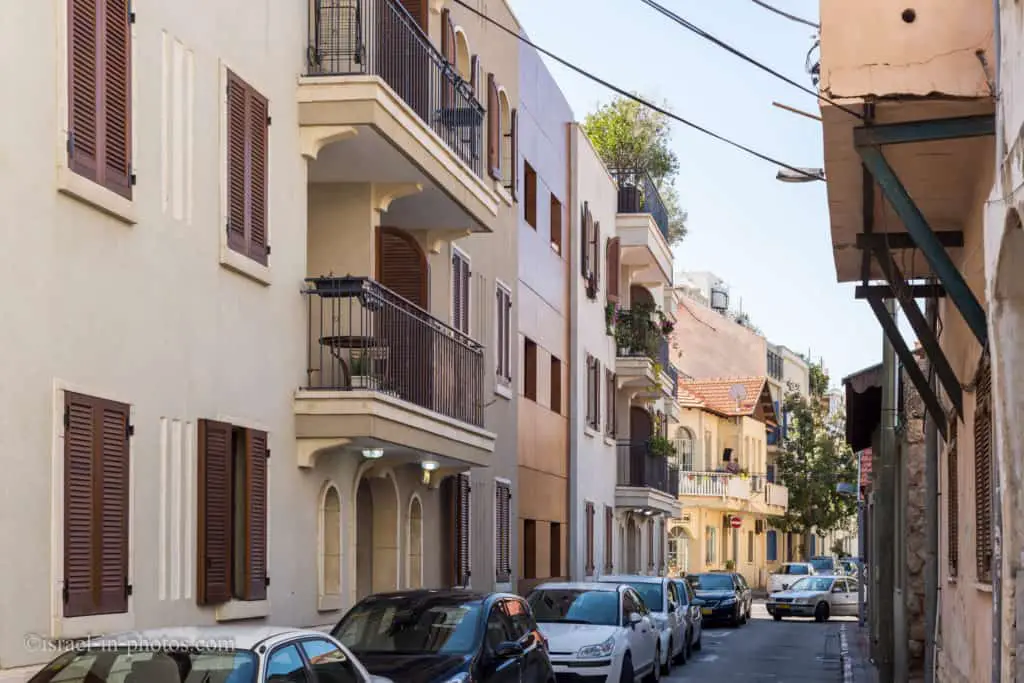 Back to Shalom Meir Tower:

Take a look at the following photo: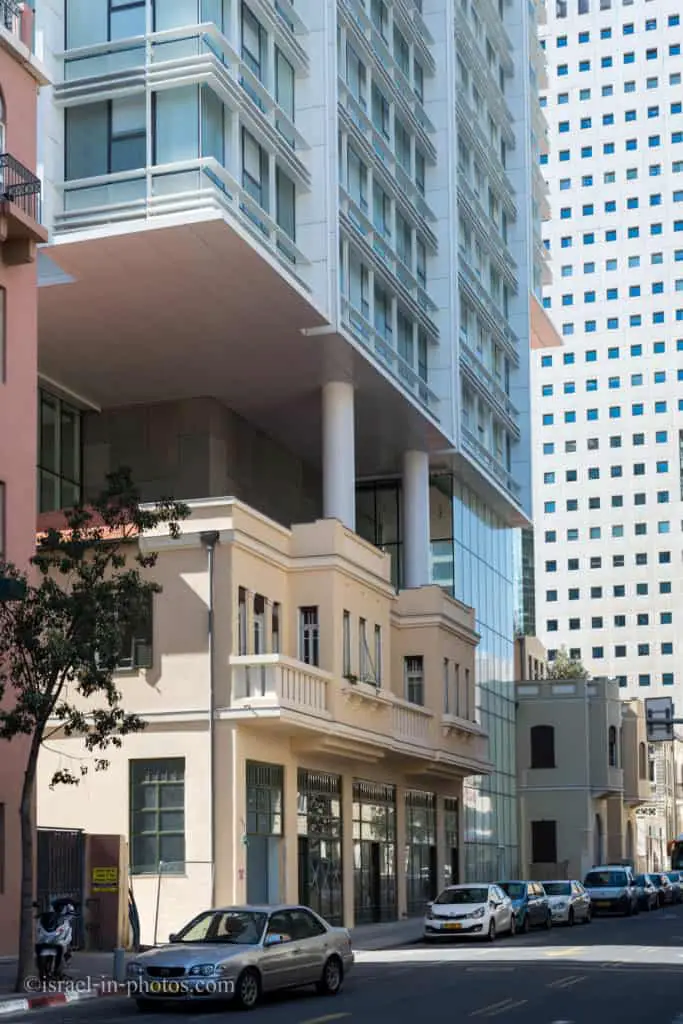 It looks like a building on top of another building. You can see similar things in other places in Tel Aviv. The entrepreneurs were probably obligated to restore the old building. So they restored it, and on top of it build a new skyscraper.
Back To The Rothschild Allenby Market
It was brunch time and the restaurants started to prepare for the flood of people.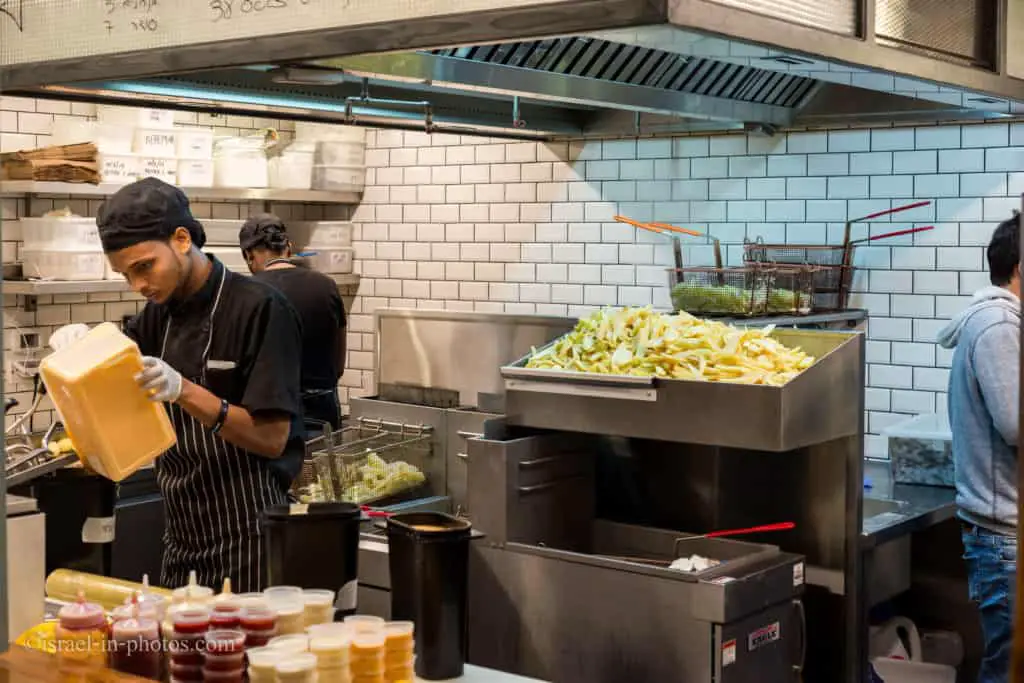 It worth mentioning that several times a week Rothschild Allenby Market is open late (until 2 am). This will allow pub visitors to find food late at night.
This is actually the view on the exit of one of the restrooms: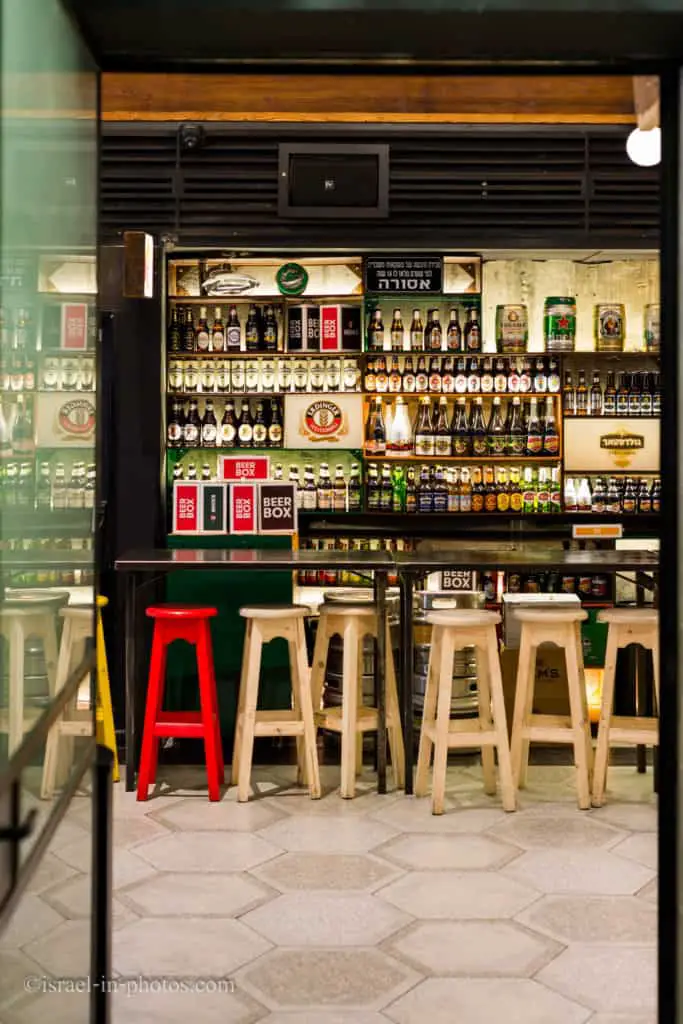 Still too early for me: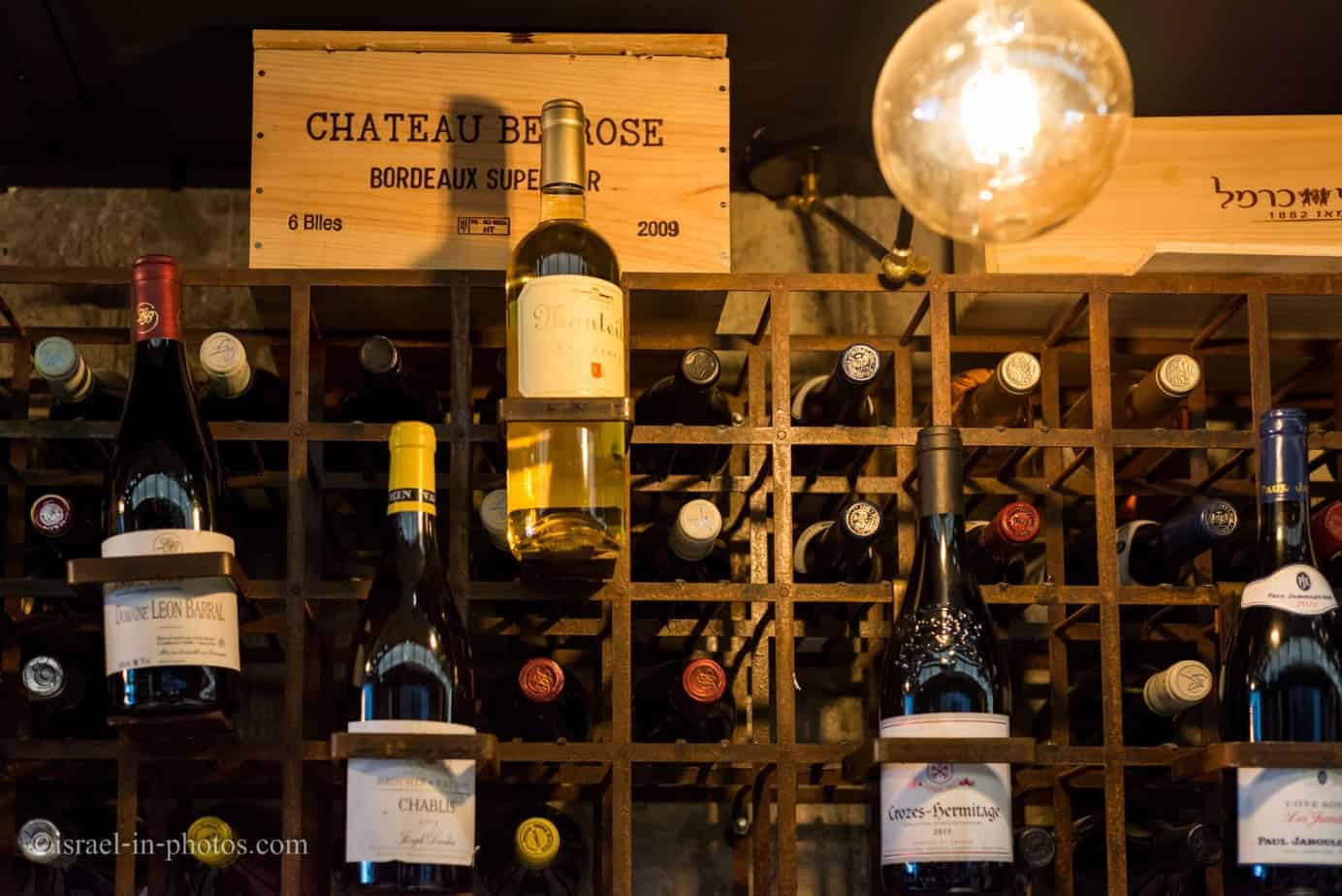 In this market, there is a branch of LaFarina. It's a bakery and a coffee shop. We first met them in Sarona Market, and since then each time we visit Sarona, buy something from them. This time we bought coffee, two salmon sandwiches, and a cake. Everything was fresh and tasty.
I shot this at our branch:

Overall, Rothschild Allenby Market is a small and nice market. If you are in the area and look for something to eat, you should check it out. But, if it is your first visit to such a market, then I would suggest starting with Sarona Market.
Jaffa Flea Market (Shuk Hapishpeshim)
Jaffa Flea Market offers a wide variety of stores, including thrift stores, boutiques, and art galleries. Moreover, there are plenty of restaurants and cafes. Check out my full guide to Jaffa Flea Market.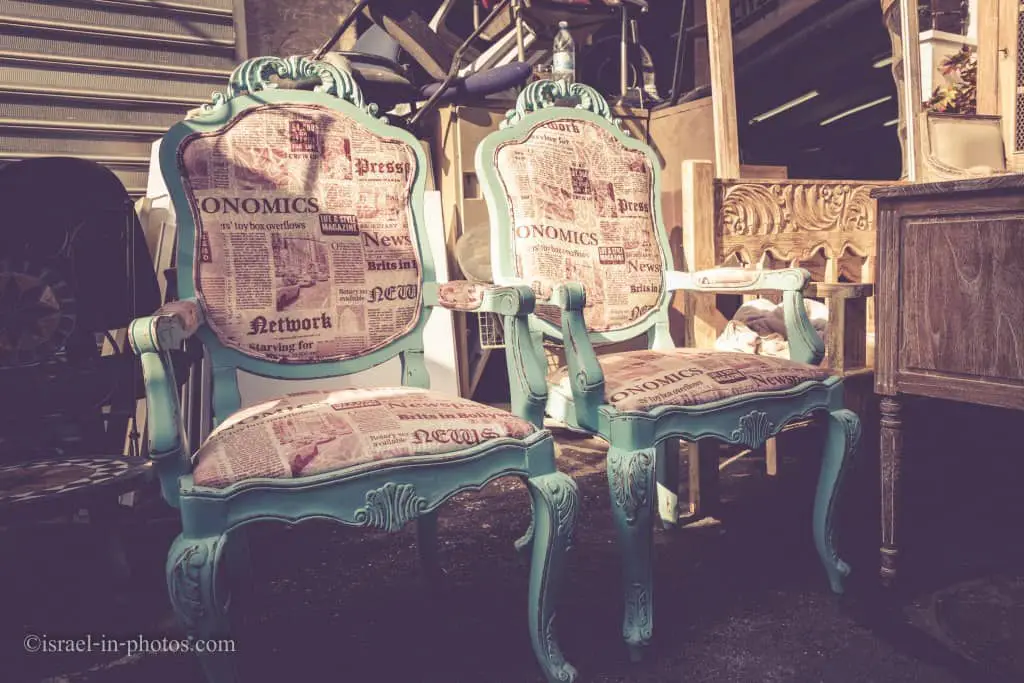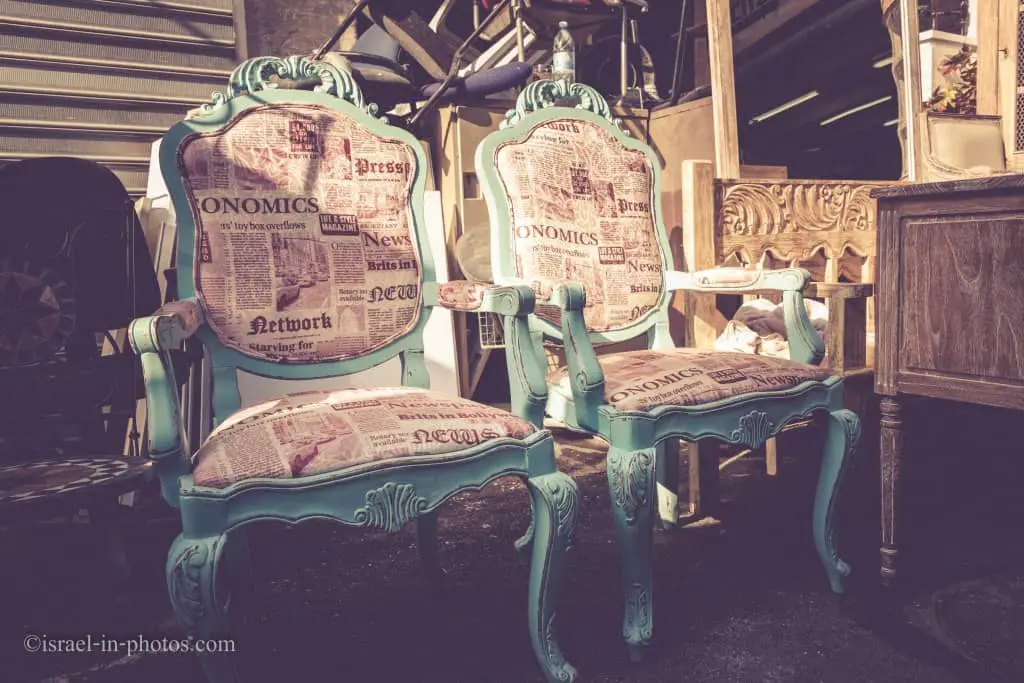 Jaffa Port Market
When Tel Aviv Port Market became successful, other similar markets started to pop up. One of them was Jaffa Port Market. But, not all markets thrived, and some closed or decreased their activity significantly. You can find additional information at my Old Jaffa (Yafo) post.
Summary
As a kid, I hated visiting markets, but today visiting Markets In Tel Aviv is both tasty and photographic. But that is personal preference. If you have time, then visit all of them. But if you are limited in time, then I would choose Carmel Market and Nachlat Binyamin Market. They are close to each other. Thus you can visit both together. Just visit on Tuesday or Friday while Nachlat Binyamin Market is open. Moreover, if you have an option to make this visit during some holidays, prefer that as you might see street performers at Nachlat Binyamin.
New Markets Of Tel Aviv offers gourmet food and various delis. Of course, this comes at a price, but to people who love it, it is worth it. Where should you start? I would go to the biggest one, Sarona Market.
What markets In Tel Aviv did you visit? Which are your favorite ones? Tell us in the comments below.
That's all for today, and I'll see you in future travels!
Stay Tuned!
For additional points of interest nearby see Tel Aviv-Yafo.

Additional Resources
Here are several resources that I created to help travelers:
And if you have any questions then check out Useful Information For Tourists To Israel.

Did not find what you were looking for? Email me at
[email protected]
, and I will do my best to answer your questions.